Thermaltake Toughpower PF1 ARGB 850W Power Supply Review
Introduction
Thermaltake was one of the first manufacturers on the market to combine LED fans and power supplies.
While everything on the market has gone RGB already, Thermaltake has again upped the ante with a digital RGB power supply that not only glows in millions of colors but offers addressable RGB so you can fine-tune every inch to match your own aesthetic needs.
Did we mention that it can also be controlled by your favorite RGB control platform?
ASUS Aura Sync, MSI Mystic Light Sync, Gigabyte RGB Fusion, and more are all compatible. If that wasn't enough, they did it right over the top of a fully modular 80 PLUS Platinum rated power supply. The Toughpower PF1 ARGB comes in three flavors from 850W to 1200W for even the biggest systems. If your proverbial cake still isn't sweet enough, the new digital platform offers class-leading 2% voltage regulation and sub 30mV ripple at all load levels for maximum performance out of your system. Let's give this monster a closer look!
ProClockers would like to thank Thermaltake for sending the Toughpower PF1 ARGB 850W power supply over to check out!
Thermaltake's stance on the Toughpower PF1 ARGB power supply:
Toughpower PF1 ARGB Platinum Series (850W/1050W/1200W) is crafted using premium components and advanced technology to become the fusion of aesthetics and performance. The patented 16.8 million-color Riing Duo 14 RGB fan with 18 LEDs preinstalled helps deliver brighter and richer lighting. The meticulously designed ARGB side panels allow the light to glow through. The series supports synchronization with RGB motherboards from ASUS, GIGABYTE, MSI, and ASRock for countless illumination possibilities. With near-silent and reliable operation, the Toughpower PF1 ARGB Platinum meets and even exceeds the demanding specification of the overclocker or enthusiast PC user.
Features & Specifications
Glow with the Flow
The built-in Riing Duo 14 RGB Fan features dual rings with 18 addressable LEDs, great light coverage, and uniform color and brightness to paint your build with 16.8 million colors.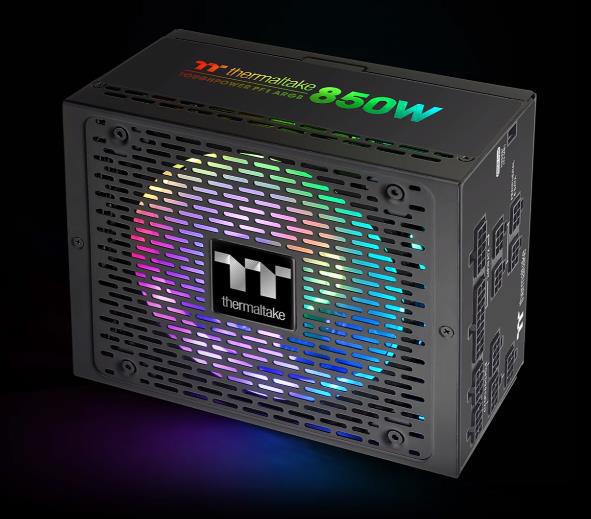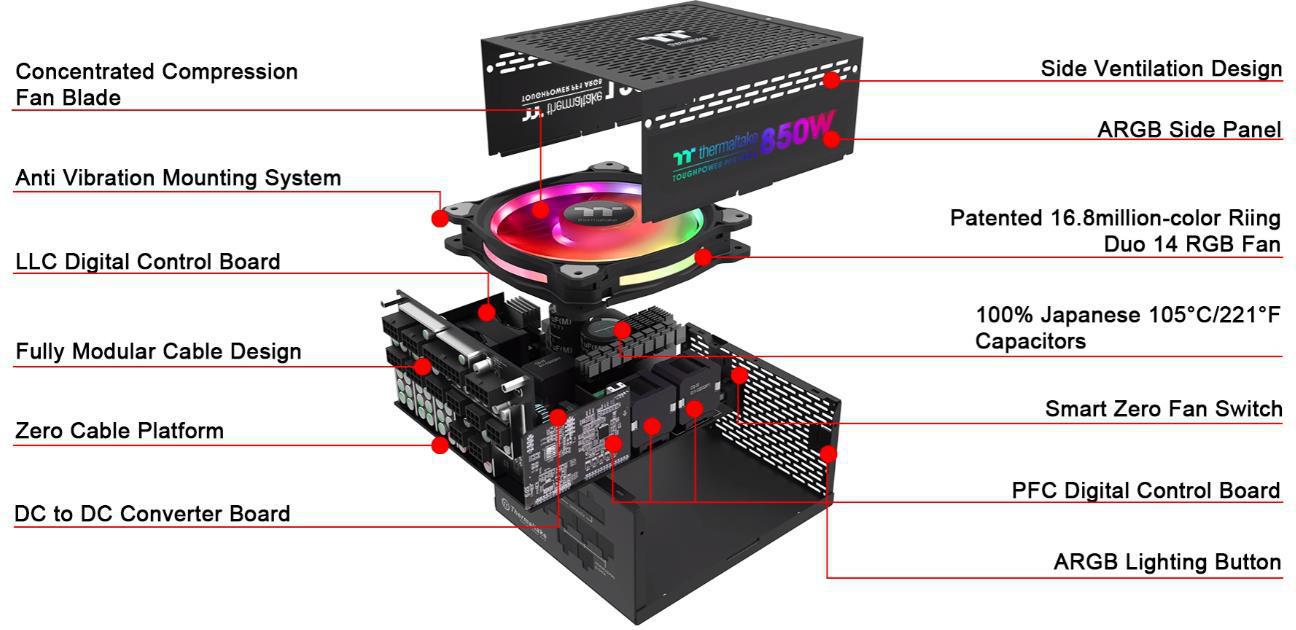 Be Seen from Various Angles
Show off the glamorous illumination through the unique ARGB Side Panel design and add the Wow factor to your build.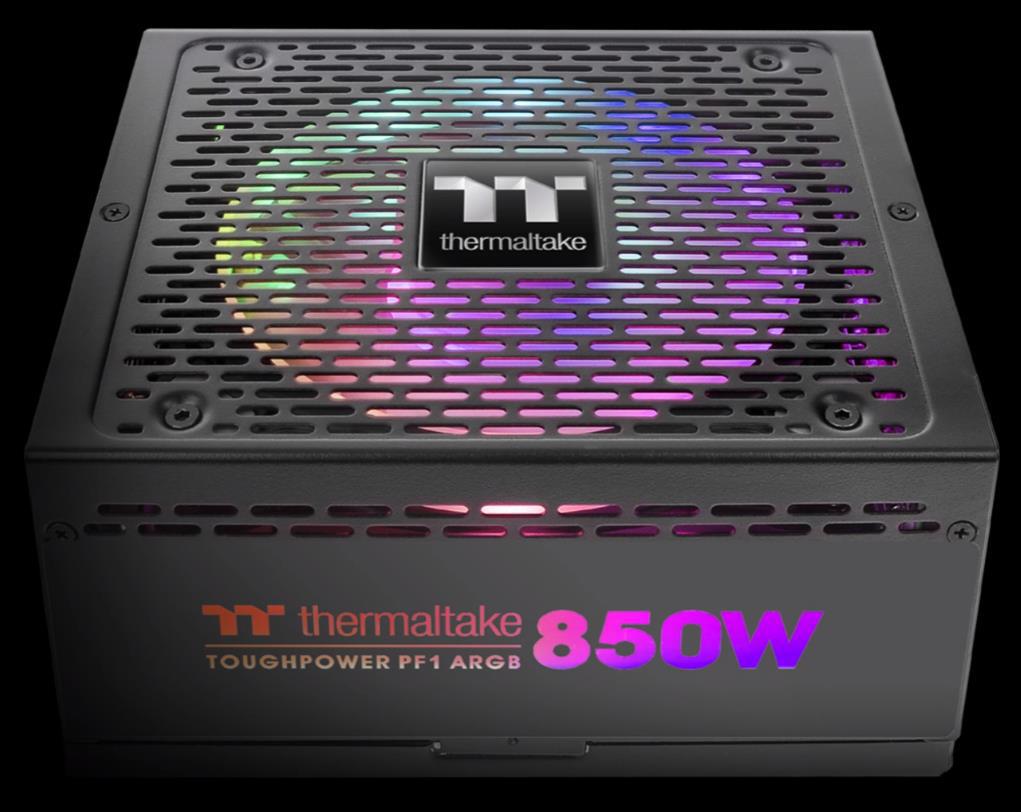 Sync with Motherboard RGB Software
Designed to synchronize with ASUS Aura Sync, GIGABYTE RGB Fusion, MSI Mystic Light Sync, and AsRock Polychrome. It supports motherboards that have a 5V addressable RGB header, allowing you to control the lights directly from the above-mentioned software without installing any extra lighting software or controllers. For more details, please visit ASUS, GIGABYTE, MSI and AsRock official websites.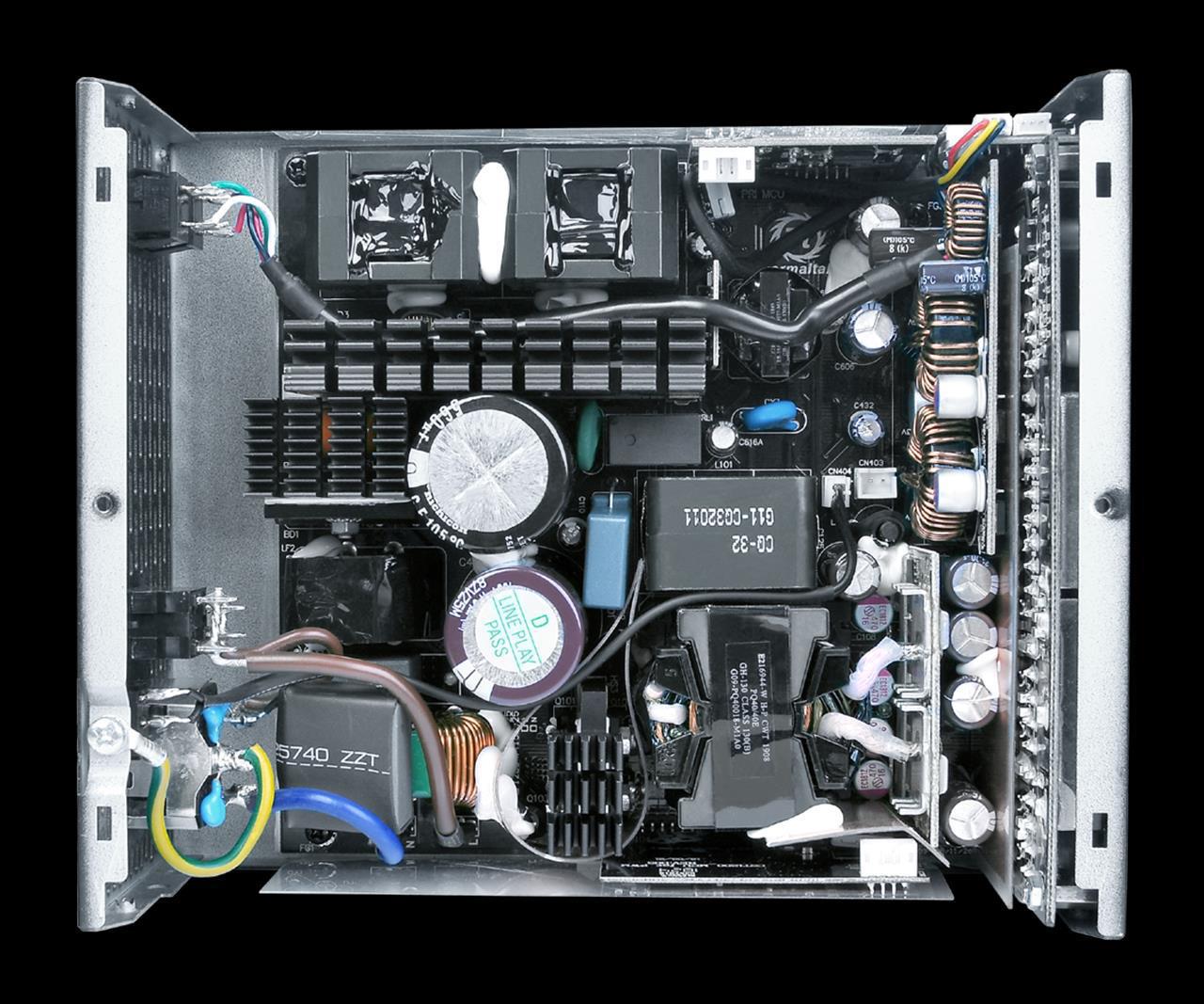 Zero Cable Platform
Farewell to messy cables! The daughterboards are directly soldered to the motherboard for better heat dissipation and impressive output power quality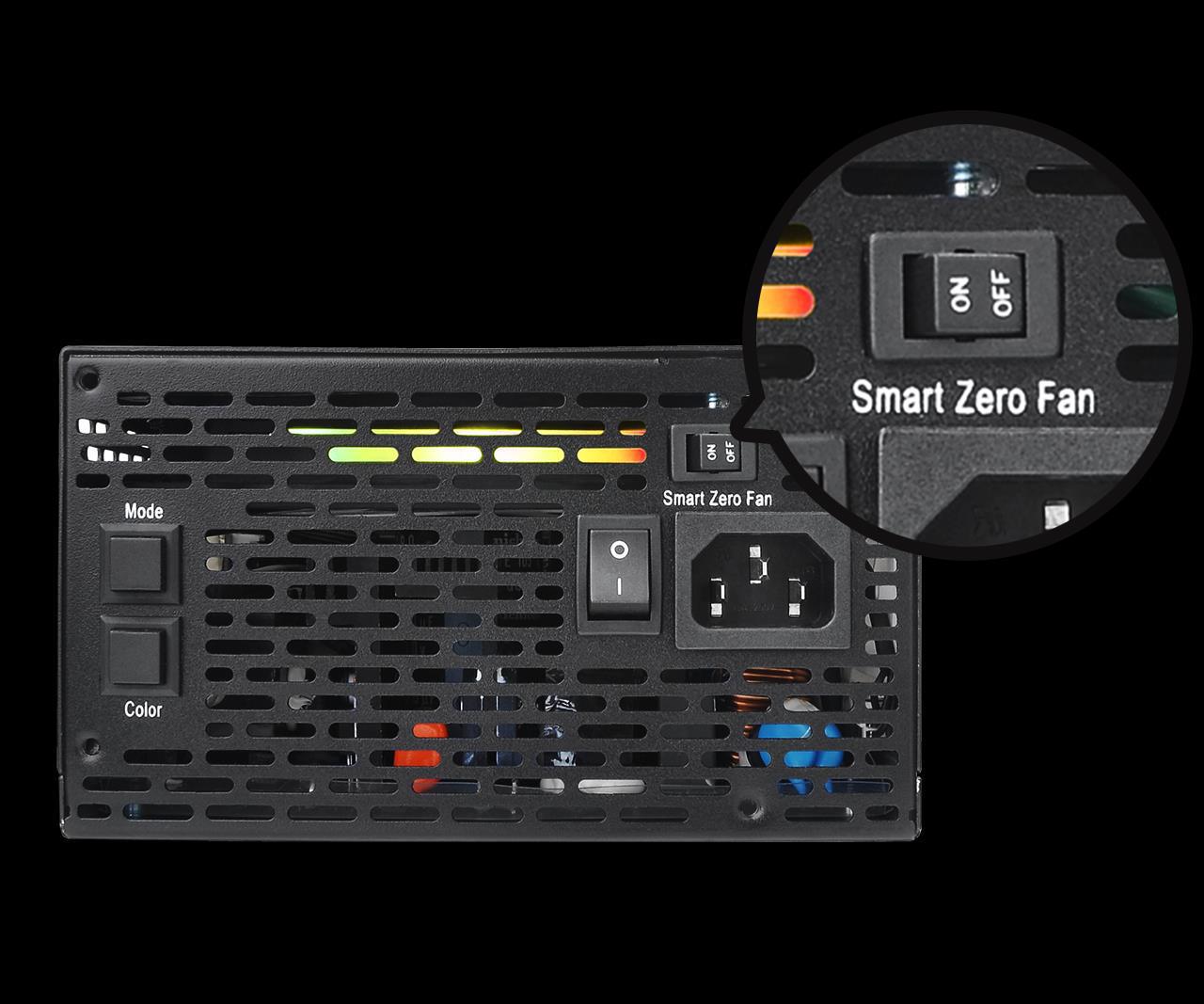 Ultra Quiet Smart Zero Fan
With Smart Zero Fan starting to operate when the power supply working load goes over 40%, the undesired noise will be minimized. A user-friendly switch is set on the back panel for those who prefer the fan to spin constantly.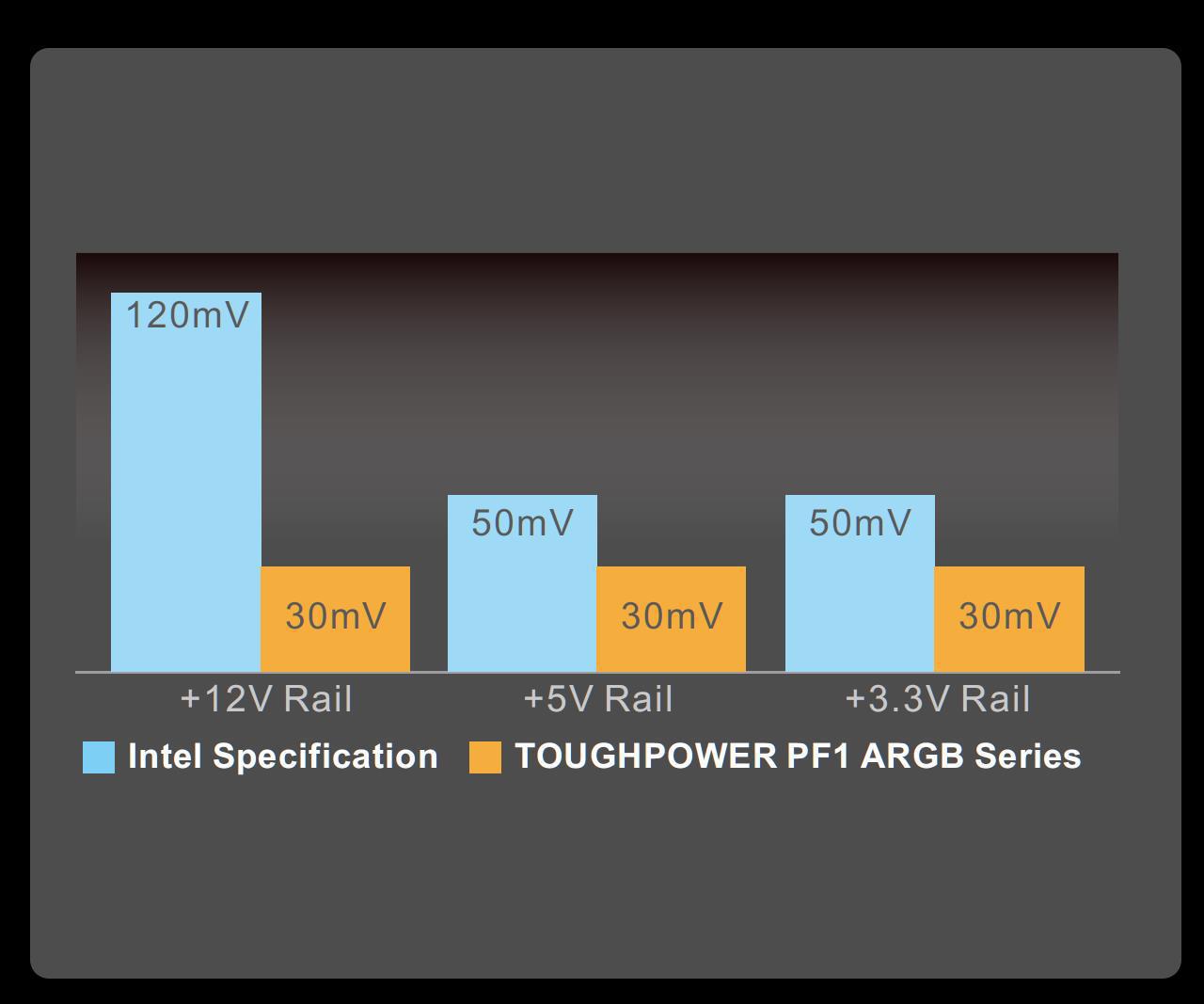 <30 mV Low Ripple Noise
All ripples are lower than 30mV on +12V, +5V, or +3.3V from 0% to 100% load to ensure excellent performance and reliable operation.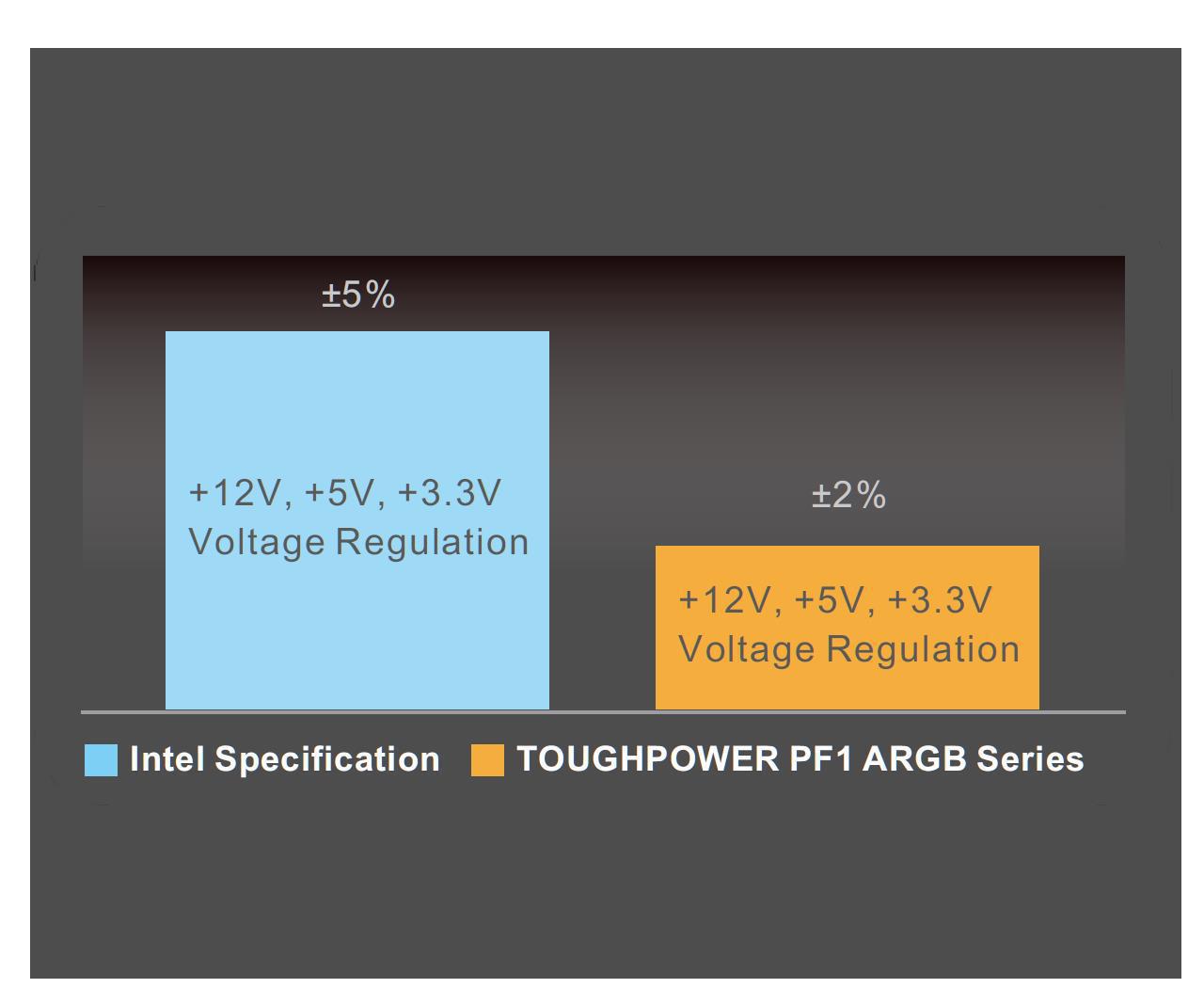 Extremely Strict Voltage Regulation <±2%
The voltage regulation, more strict than Intel's standard ±5% for major rails and ±10% for -12V, is set to no more than ±2% for major rails to meet the highest performance.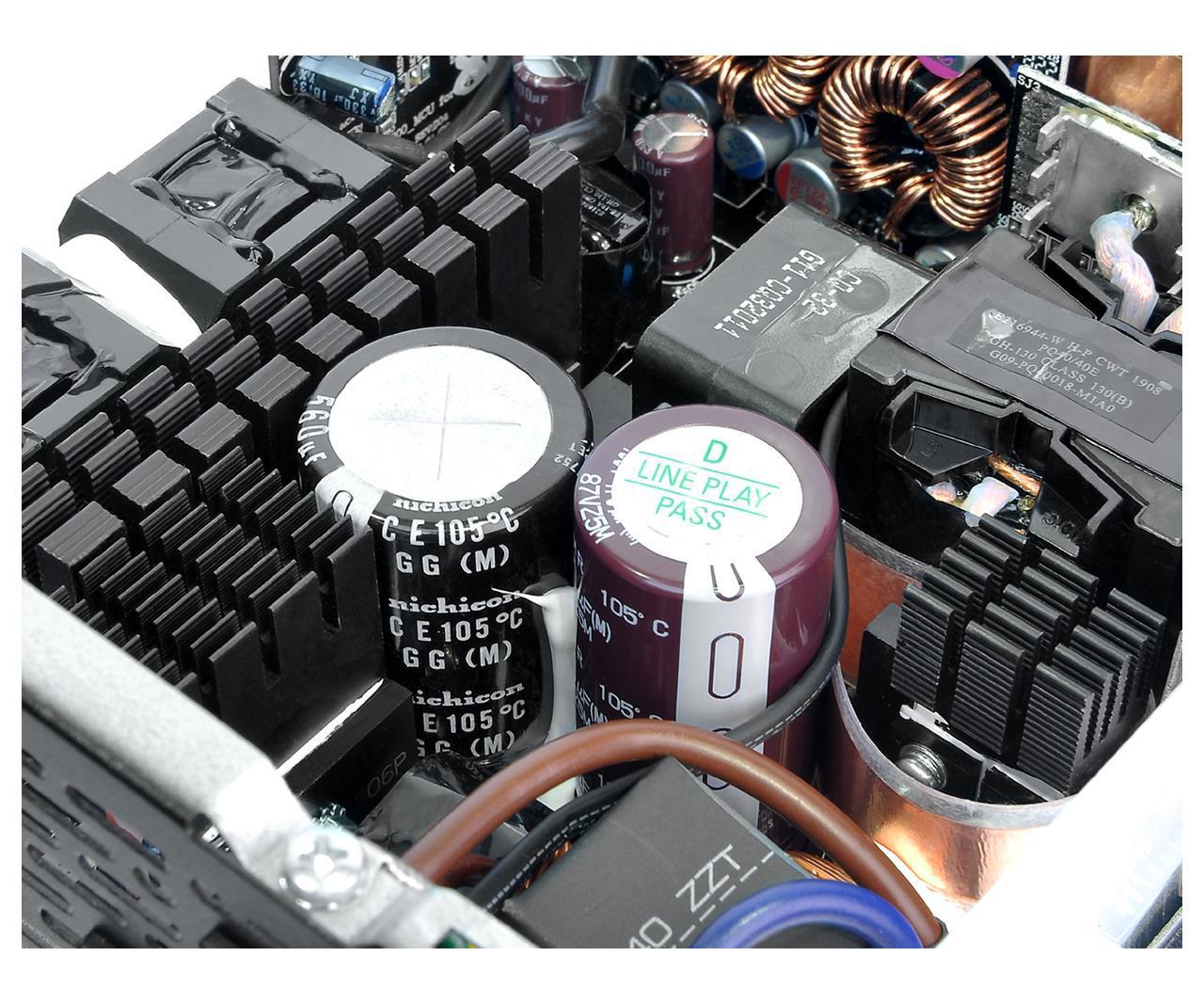 100% High-Quality Japanese 105°C/221°F Capacitors
It comes with high quality 105 °C (221 ° F) Japanese capacitors to help improve durability and offer impressive stability.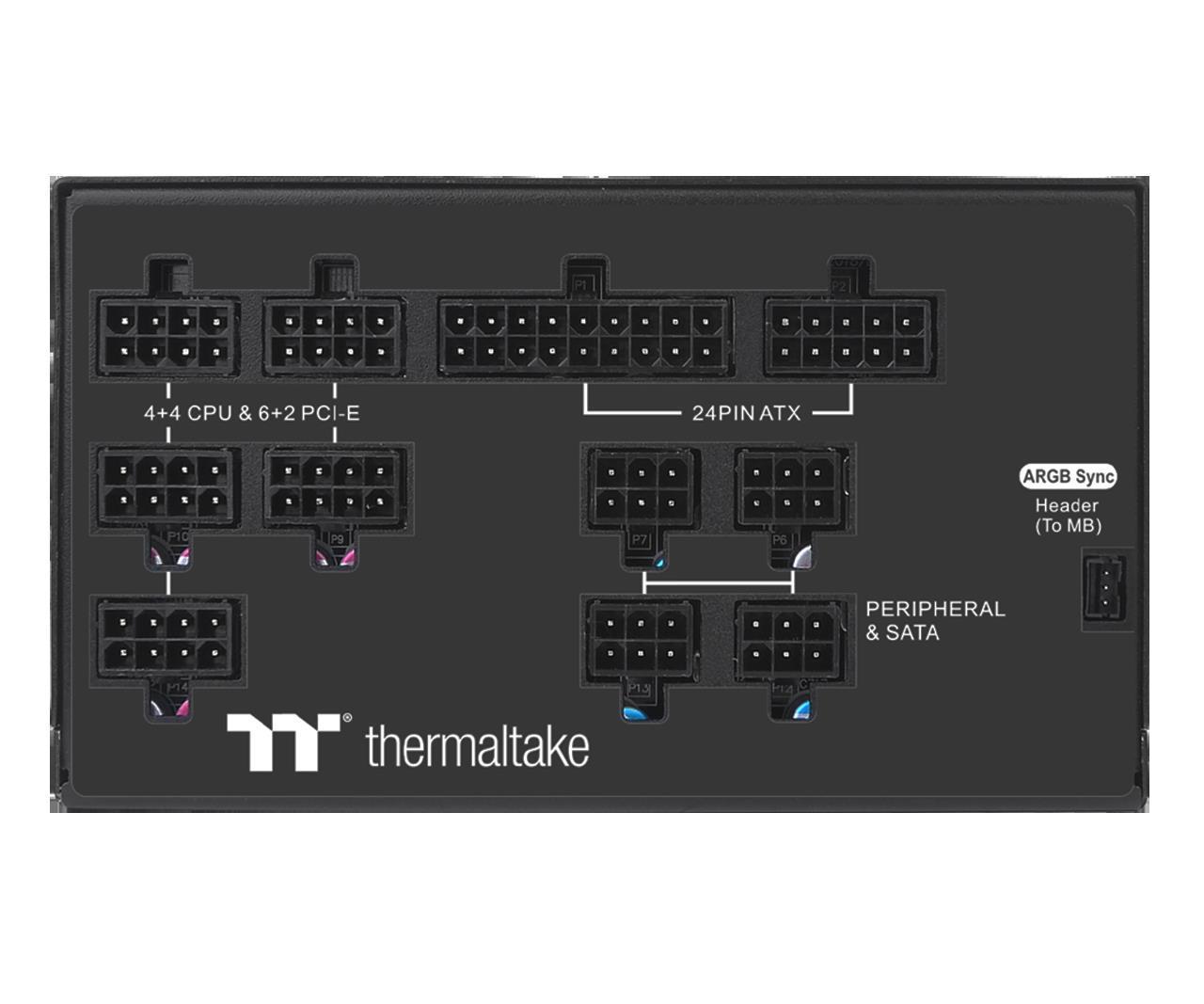 Fully Modular Low-profile Flat Black Cables
The series offers cable selection for users while powering the system at an advantageous voltage. The low-profile flat black cables make cable management easier, reduce clutter and increase airflow inside the chassis.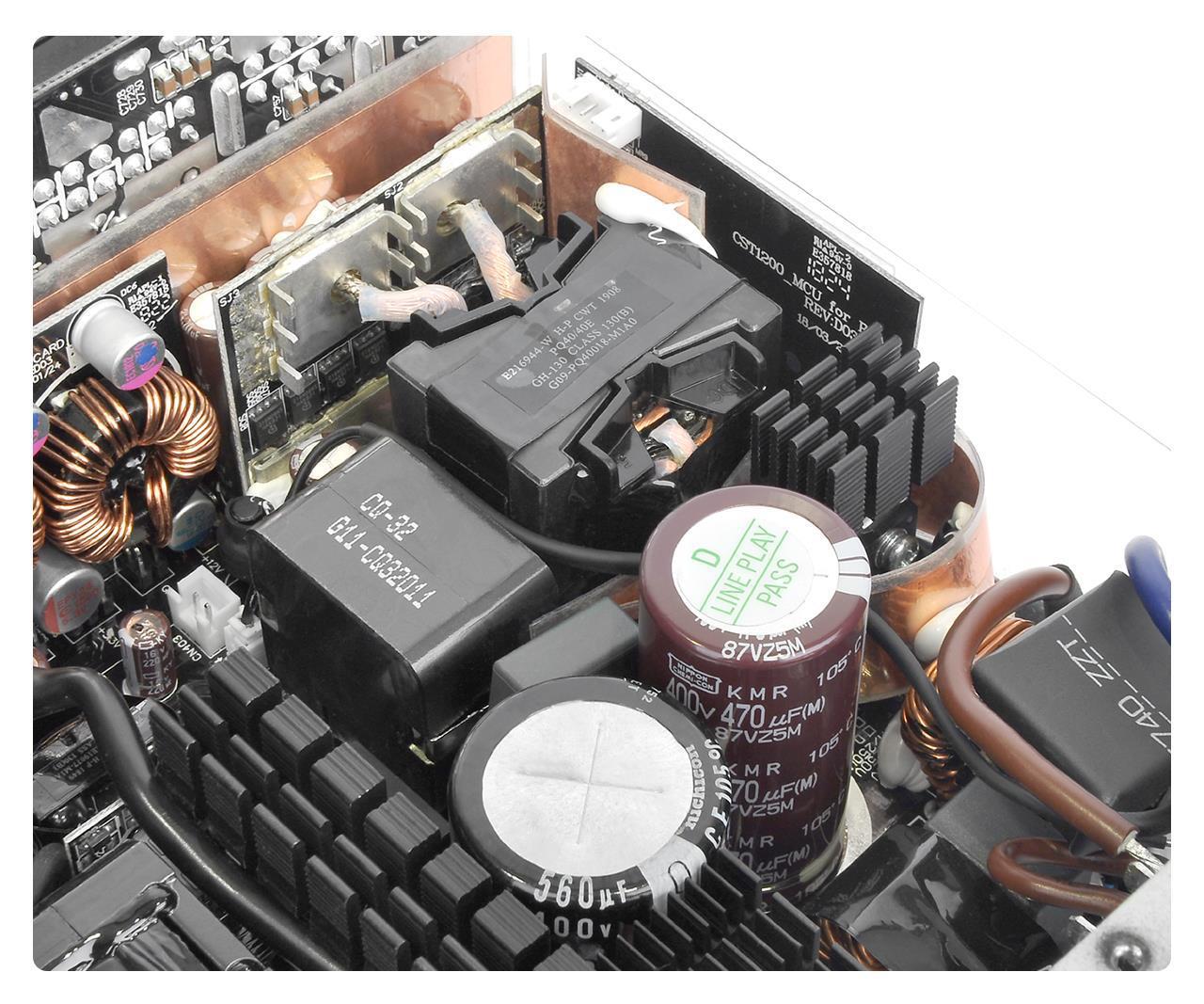 High Amperage Single +12V Rail Design
Powerful single +12V rail helps ensure a stable and reliable supply to other PC components.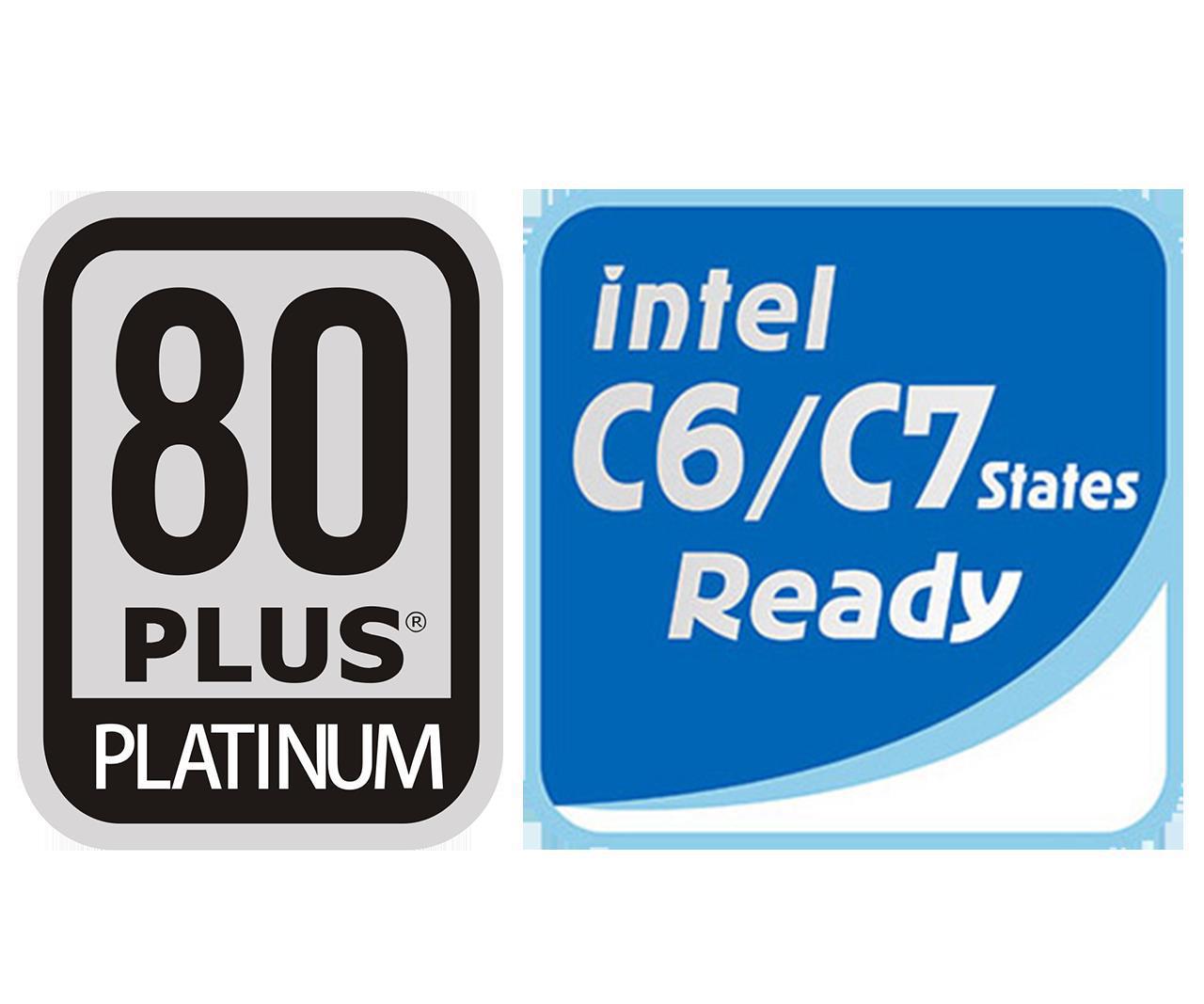 80 PLUS Platinum Certified and Intel C6/C7 States Ready
Saves energy through its high energy efficiency up to 92% and is certified to 80 PLUS® Platinum. The series has been optimized to work with all generations of Intel's processors to achieve maximum energy saving.
Specifications: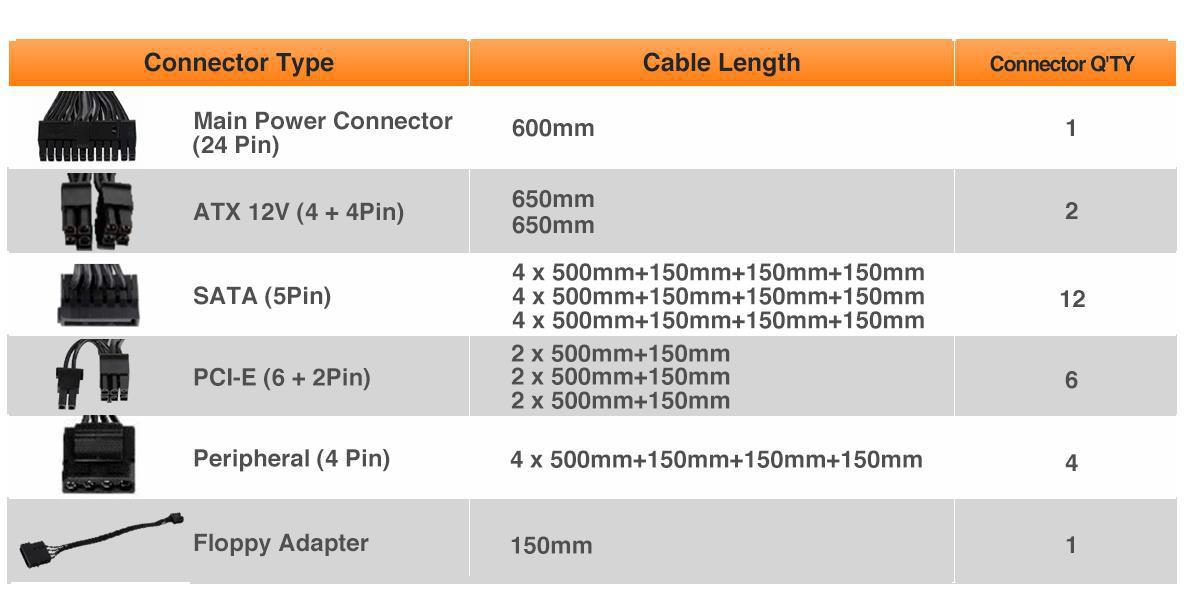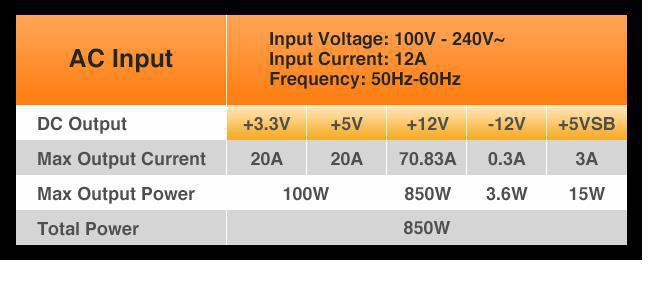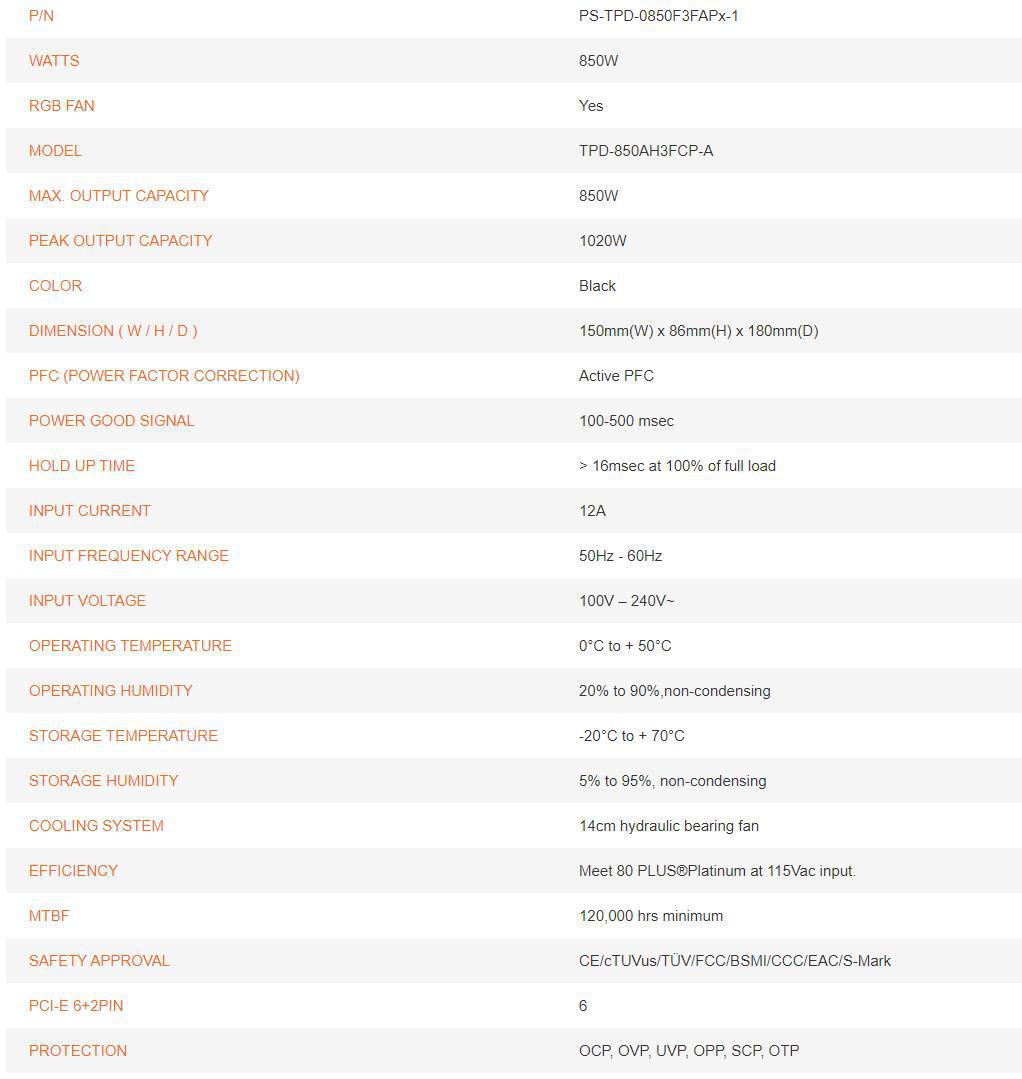 Packaging & Unboxing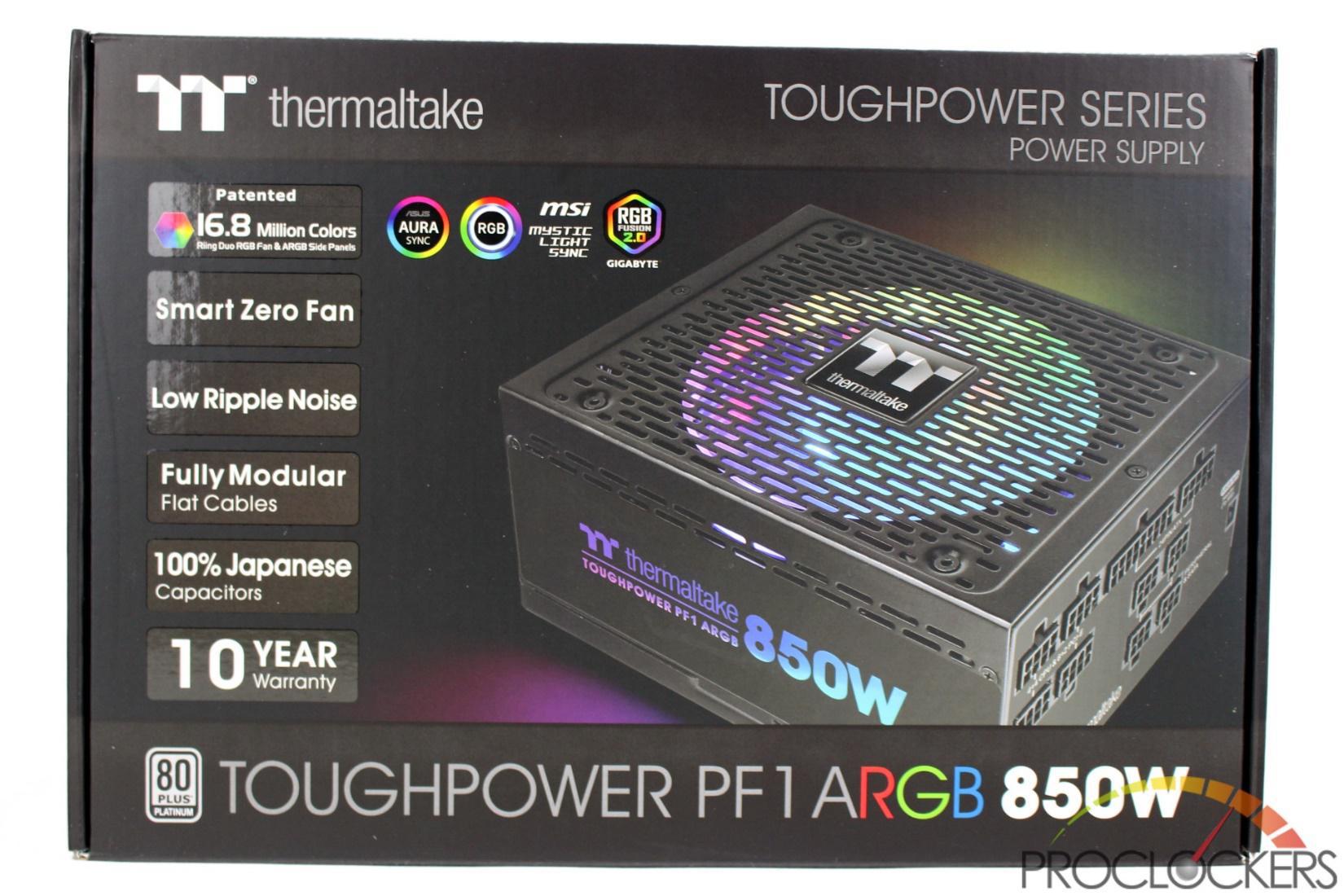 Thermaltake's packaging is almost as colorful as the Toughpower PF1 ARGB power supply inside. There is a picture of the unit inside, as well as several features available.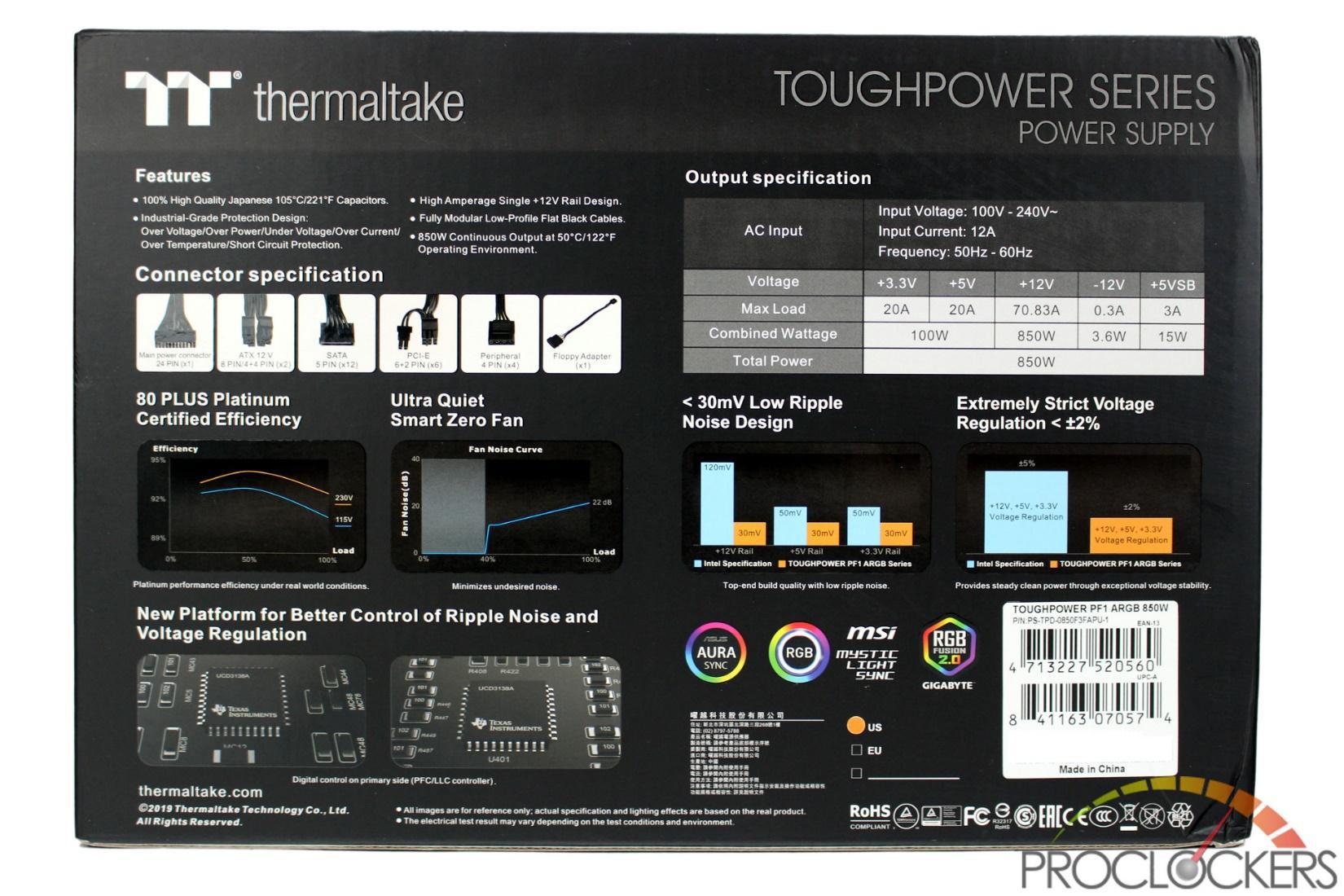 The rear of the box shows a few features but mostly covers specifications.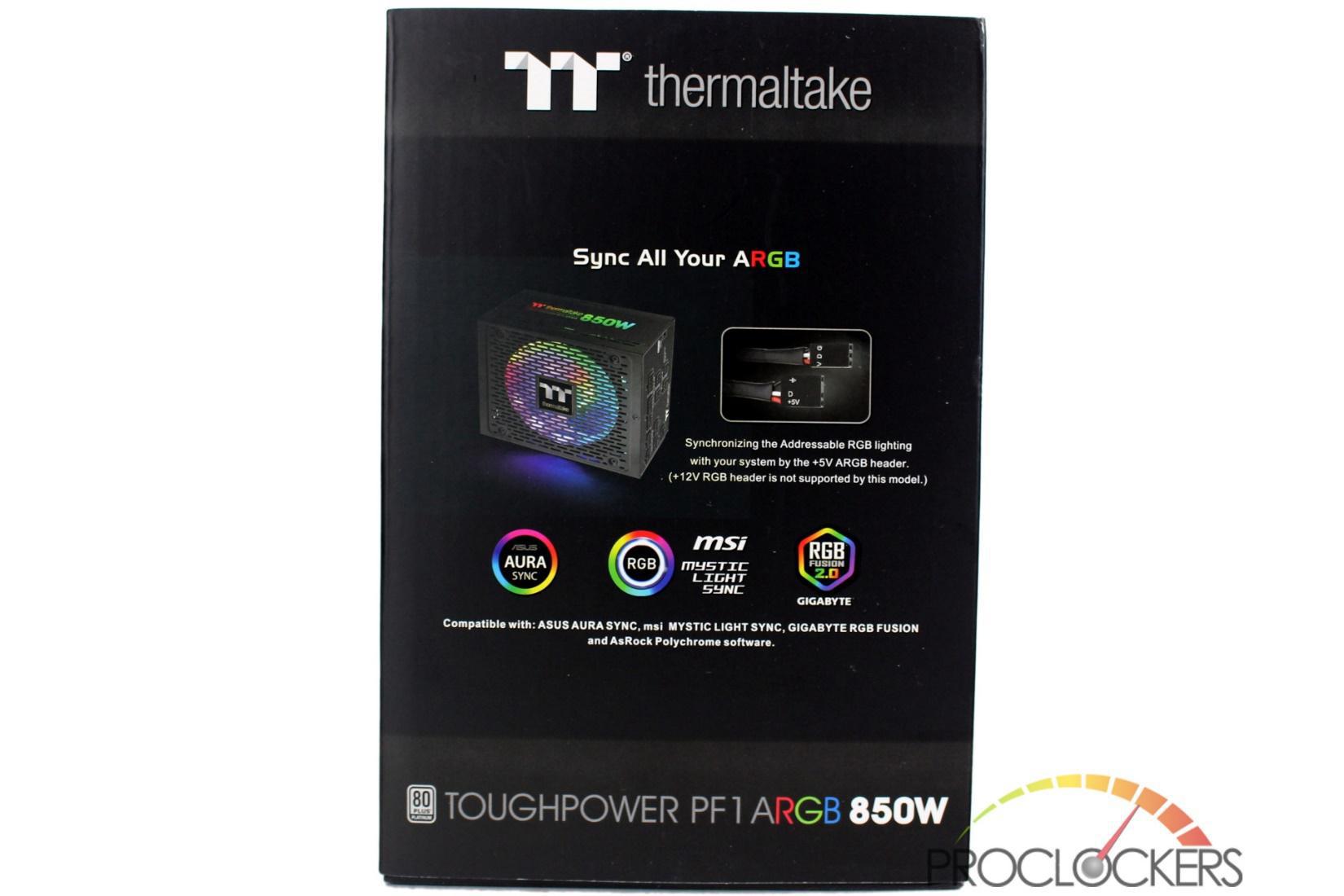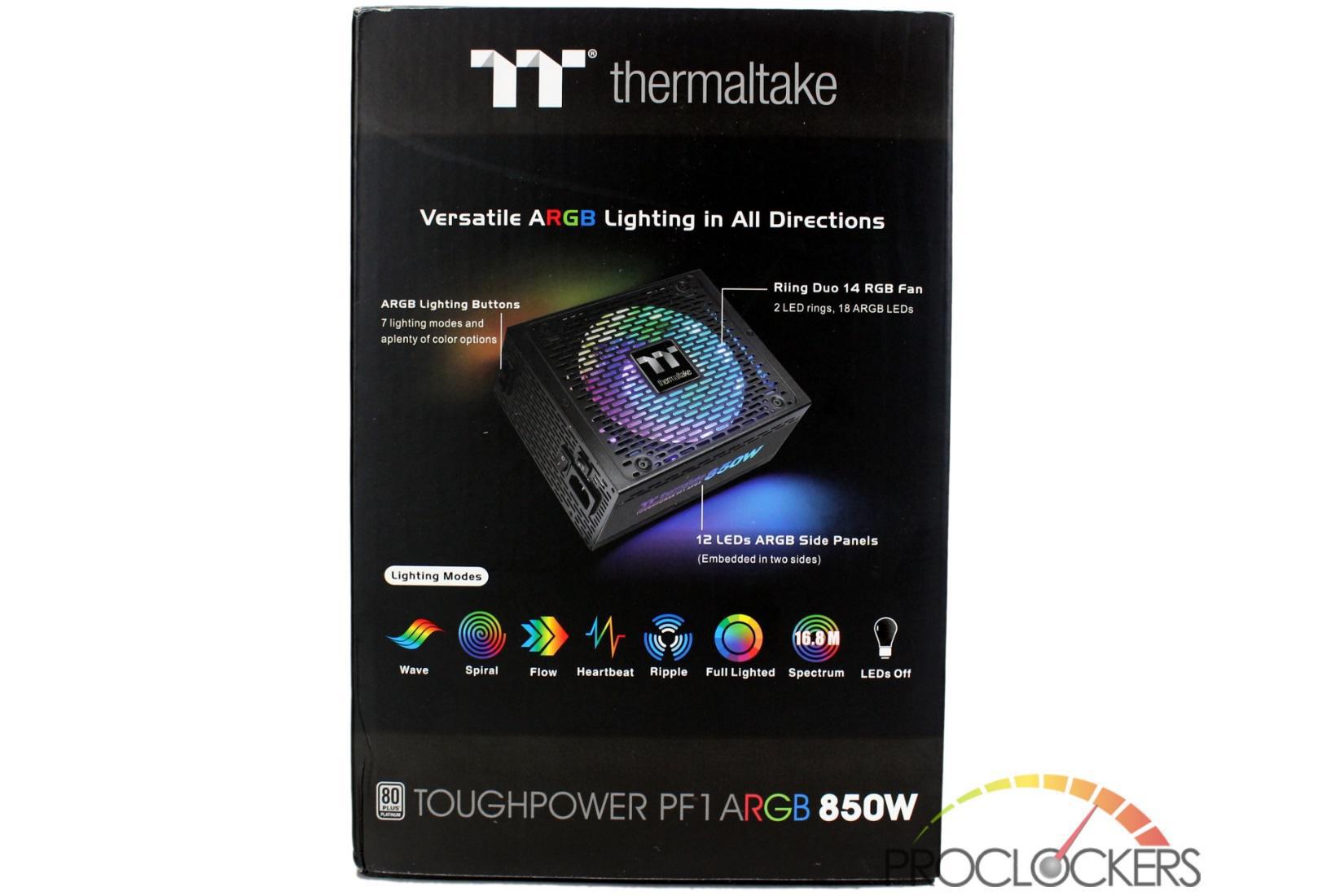 The sides of the box show all the fun stuff about ARGB and what it's compatible with.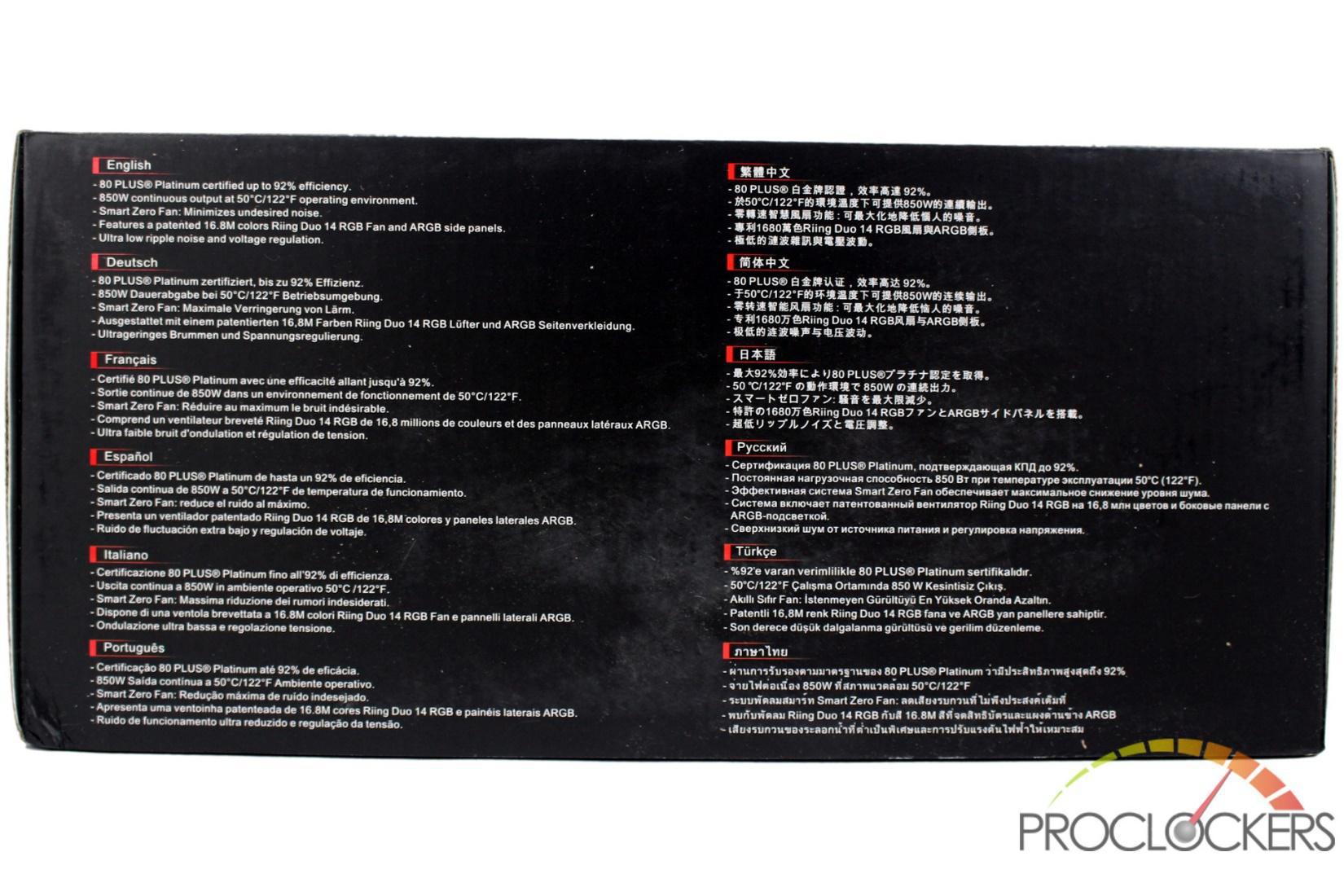 The bottom covers a few features in a multitude of languages.
Inside, we find a block of foam, a ziplock full of documentation and a black bag full of cables.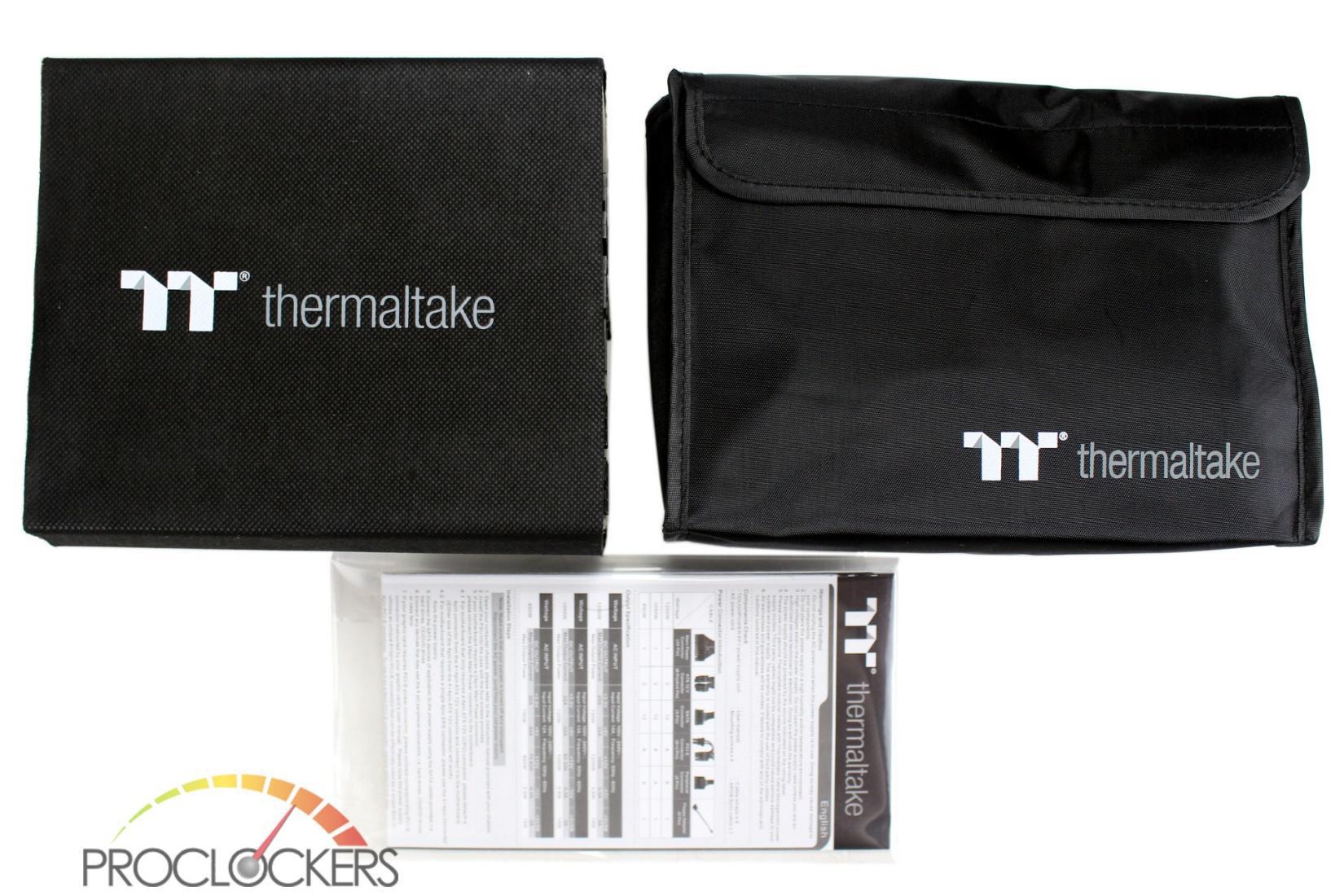 Inside the foam block, the power supply is wrapped in a Thermaltake cloth.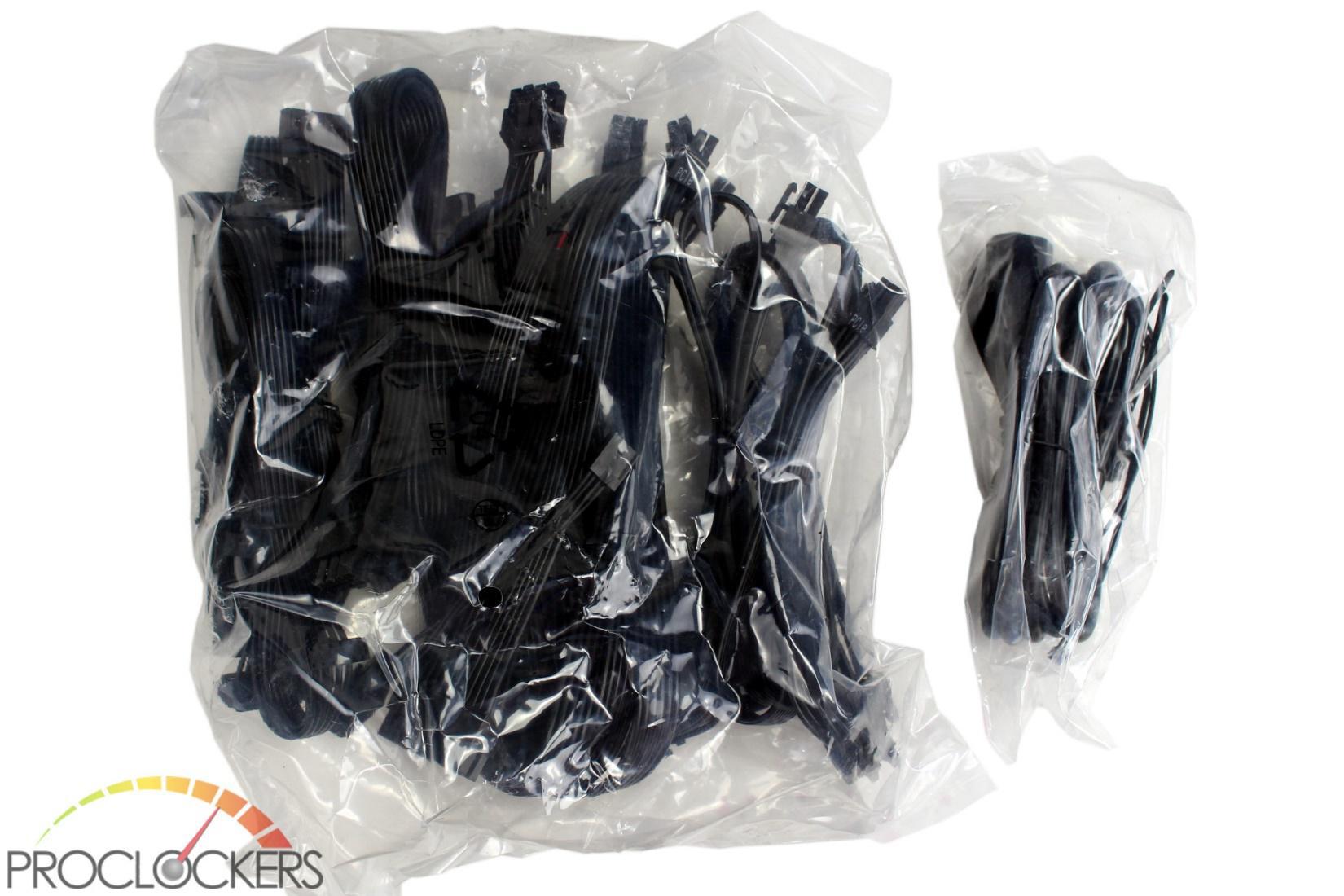 Inside the black bag, you get a plastic bag full of output cables, and another with the AC power cord and some zip ties.
A Closer Look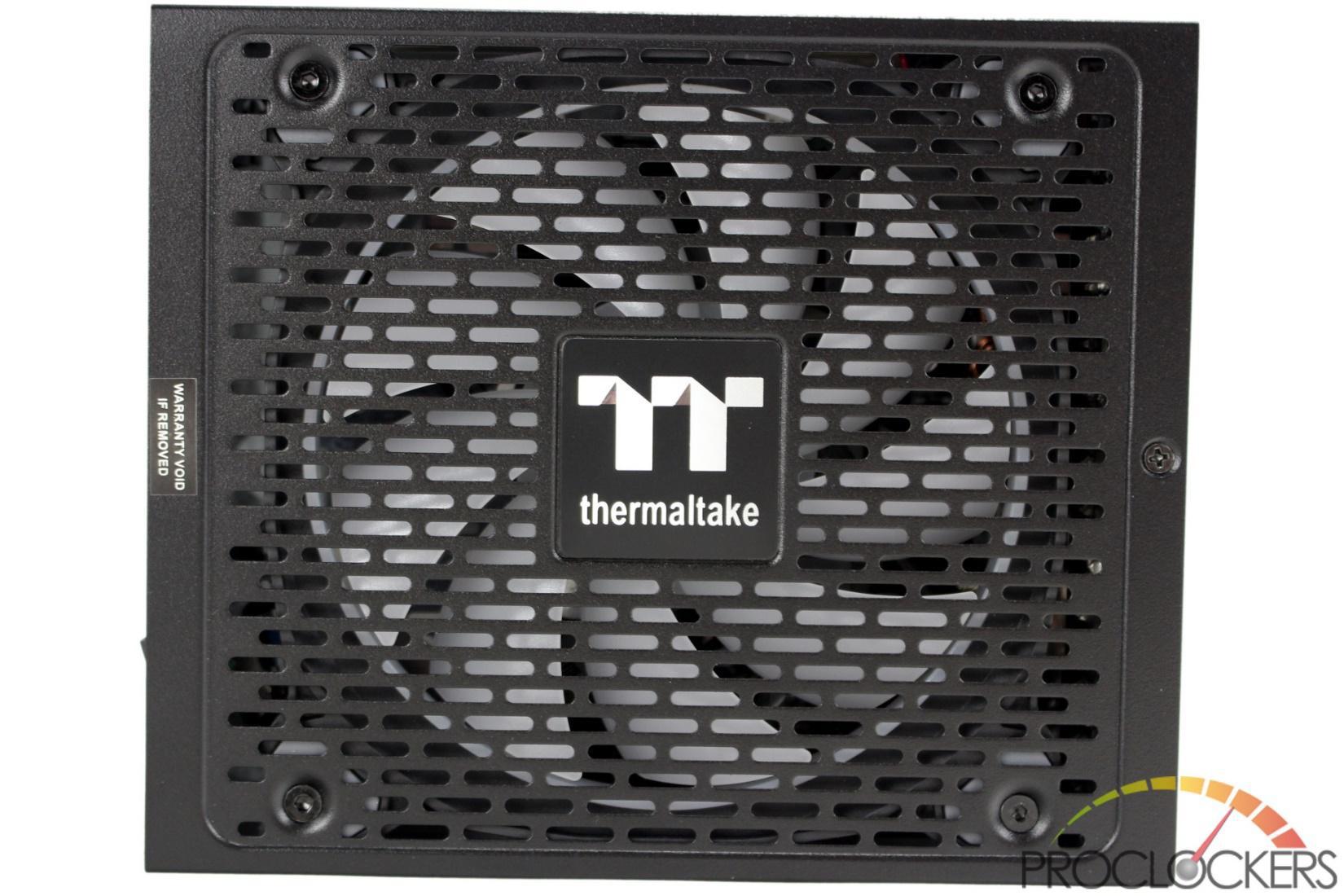 Thermaltake uses the same oval pattern grill on most of the power supplies. The internal fan has milky white translucent blades to show off the RGB effect.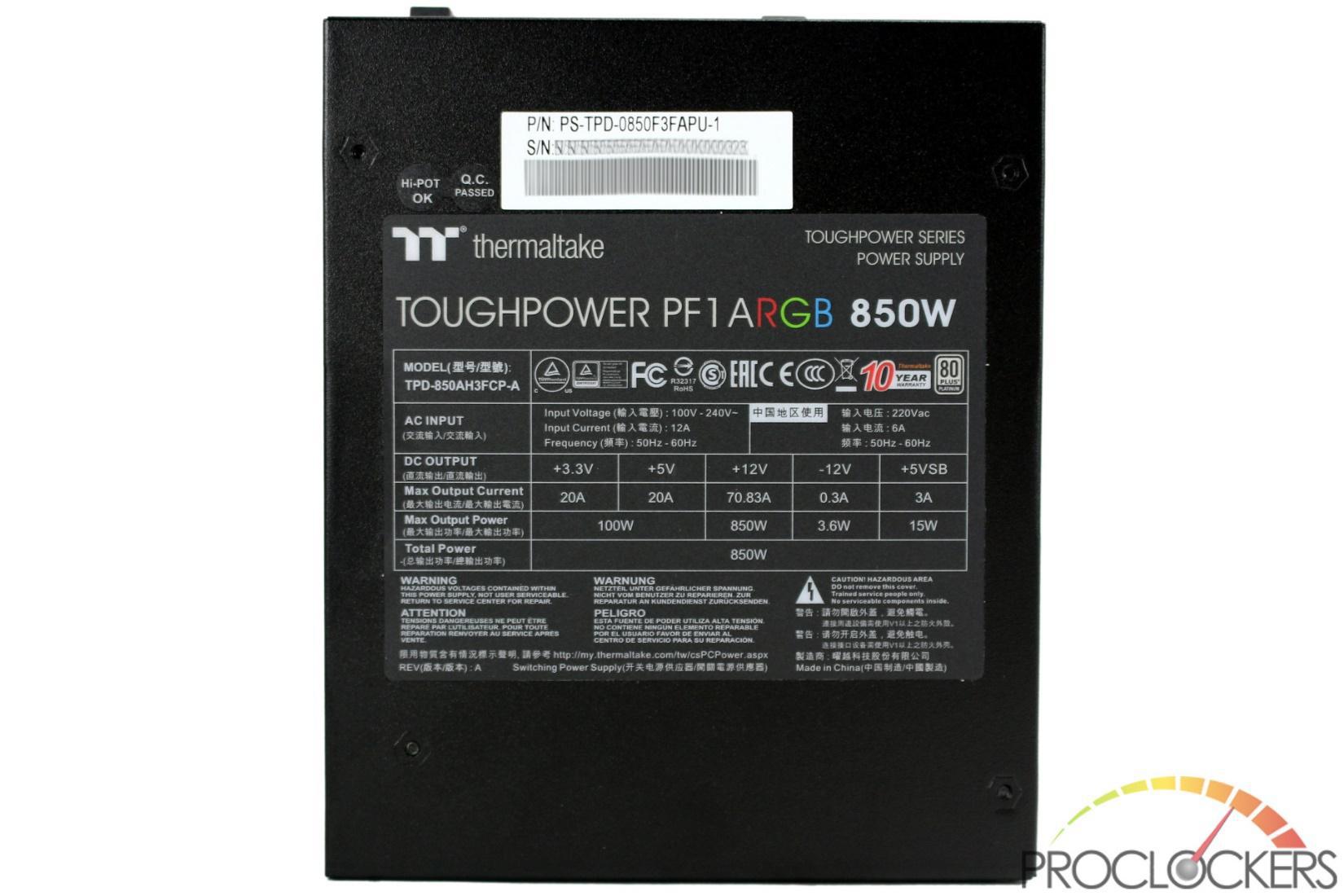 The backside has the main label with all of the electrical characteristics.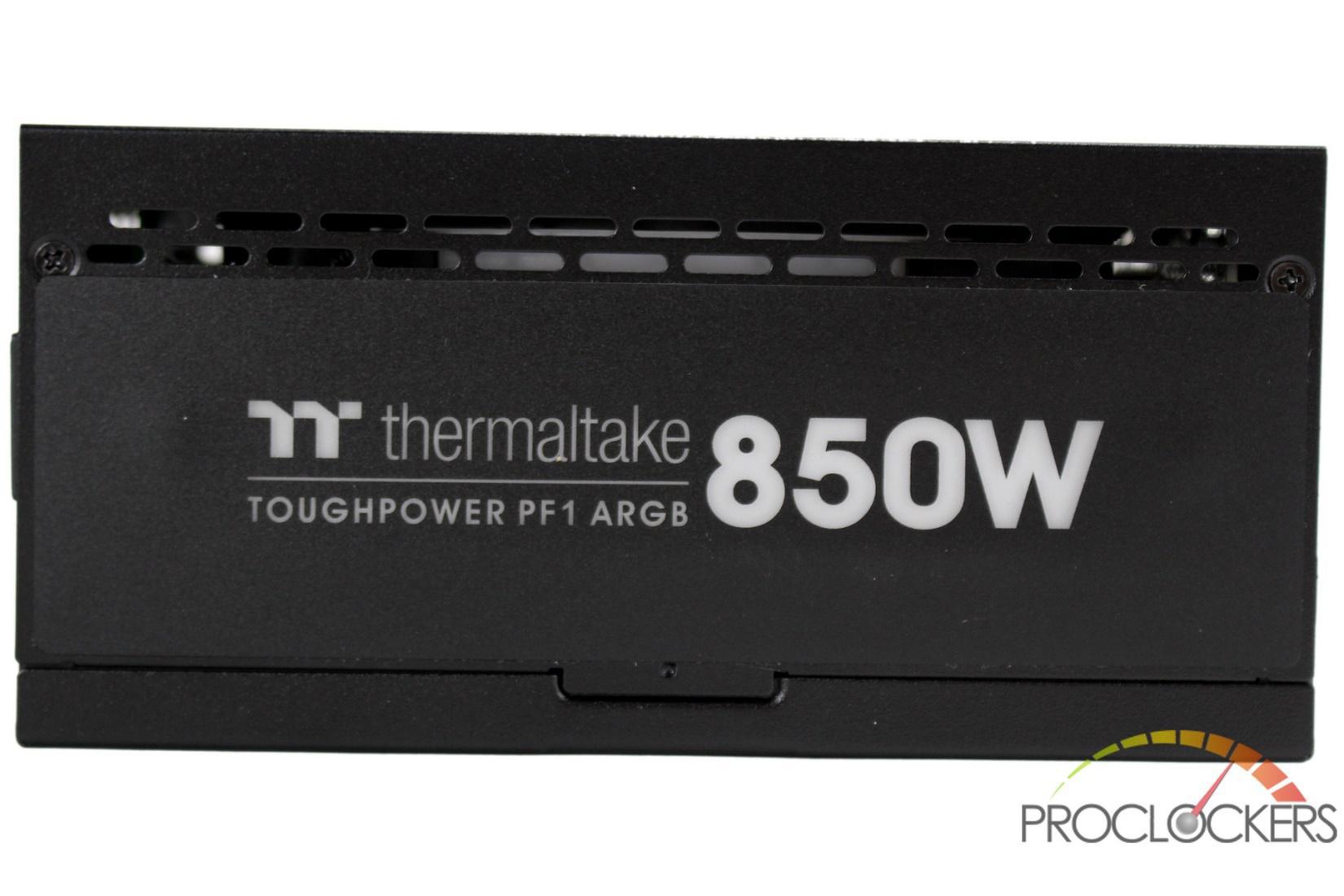 The side has the series label, but it also holds a bit of a secret we'll get to shortly.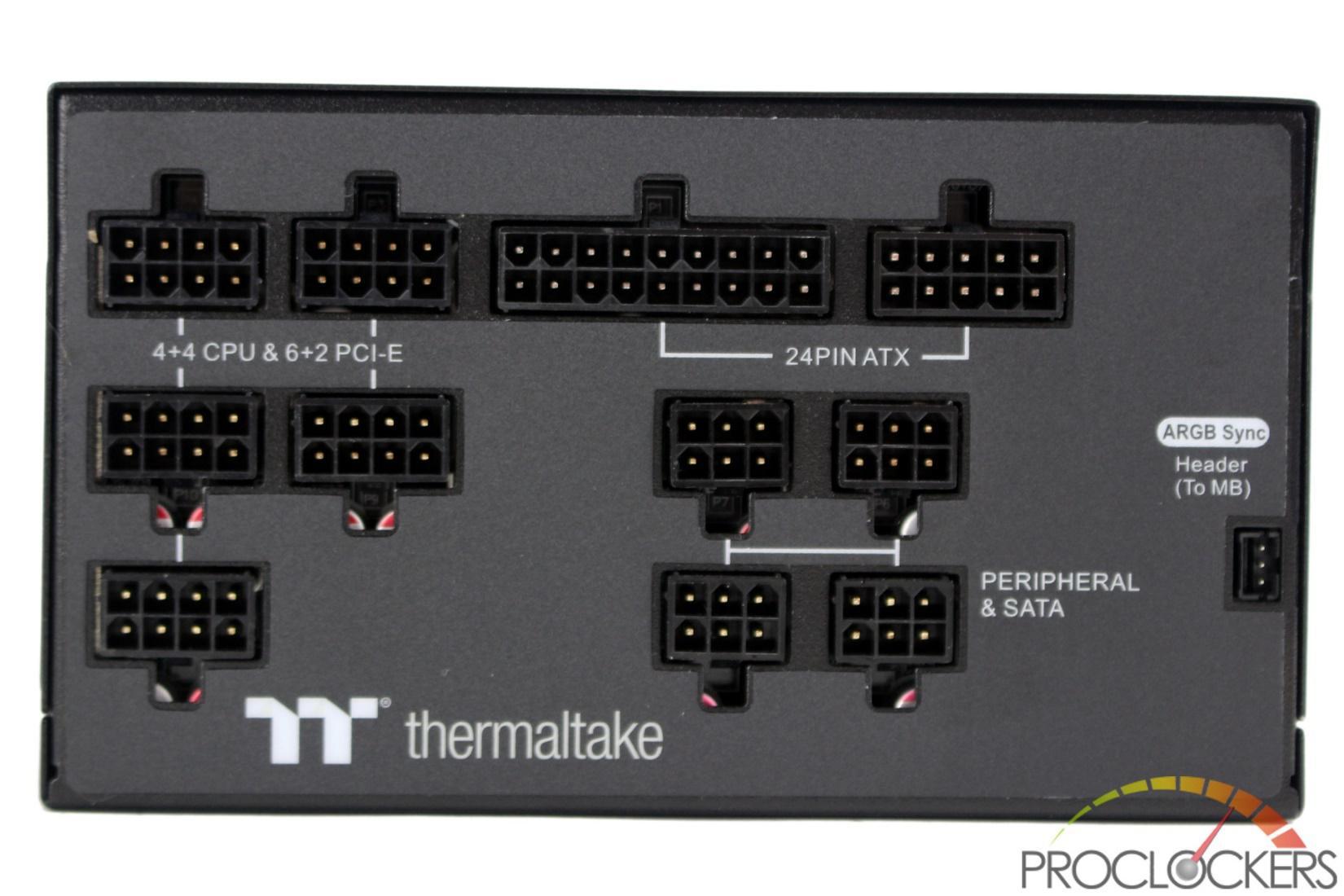 On the business end, every connector is fully modular. Off to the side is the 3-pin ARGB connector.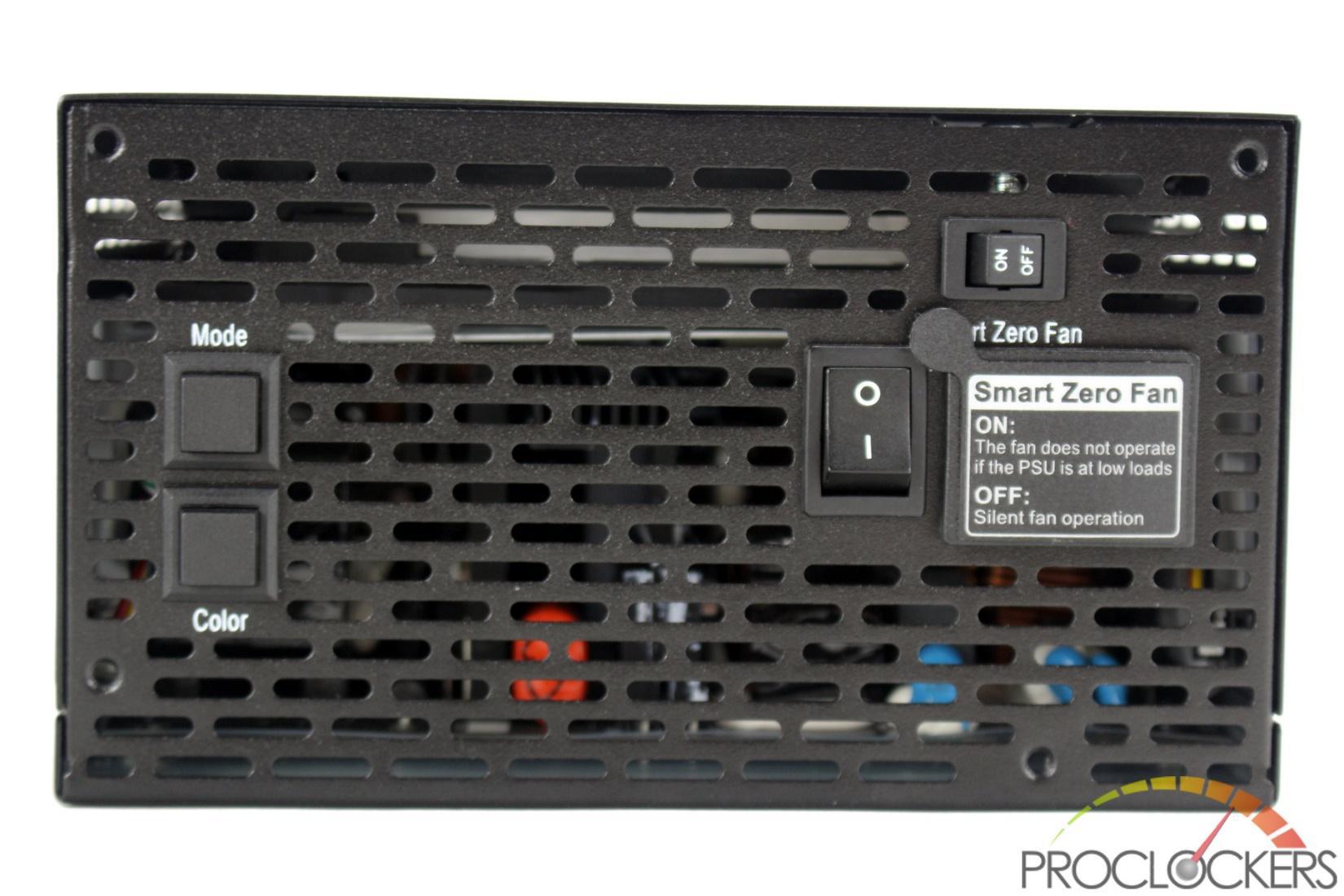 The backside is covered in switches and buttons. Beyond the normal main power switch, you get one to switch the Smart Zero Fan on and off, as well as two buttons to control the RGB system when it's not connected to your motherboard.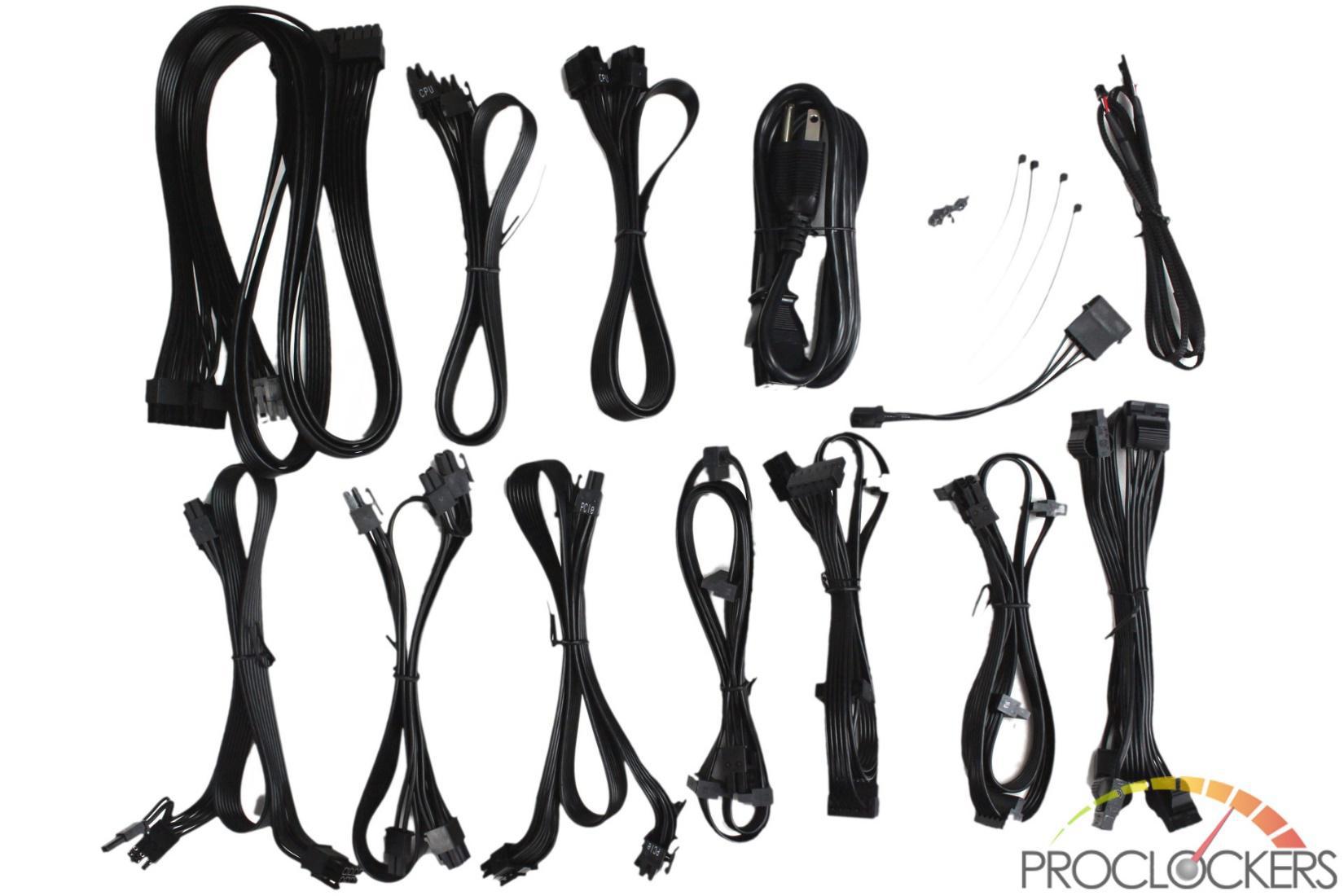 Cables included are the main 24-pin motherboard, a pair of 8-pin CPU cables, three VGA cables that each has twin 6+2 connectors, three SATA cables, and a molex type cable. You also get a Molex to berg style adapter if needed, the ARGB cable, some cable ties, and some mounting screws.
The motherboard cables are decently long, but we wish the PCIe cables were just a bit larger. Large cases may not be able to route them cleanly.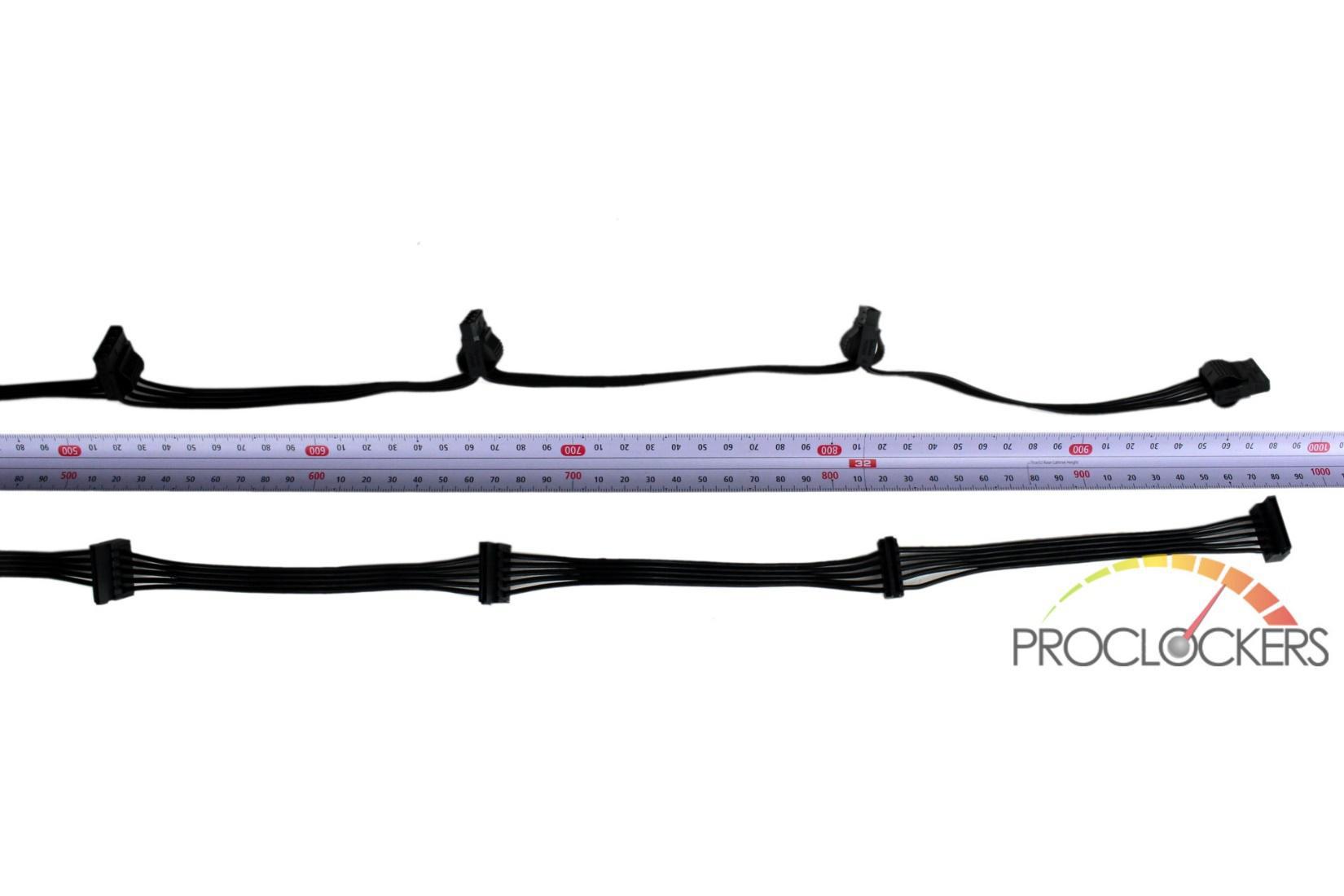 Peripheral cables are plenty long enough for most uses.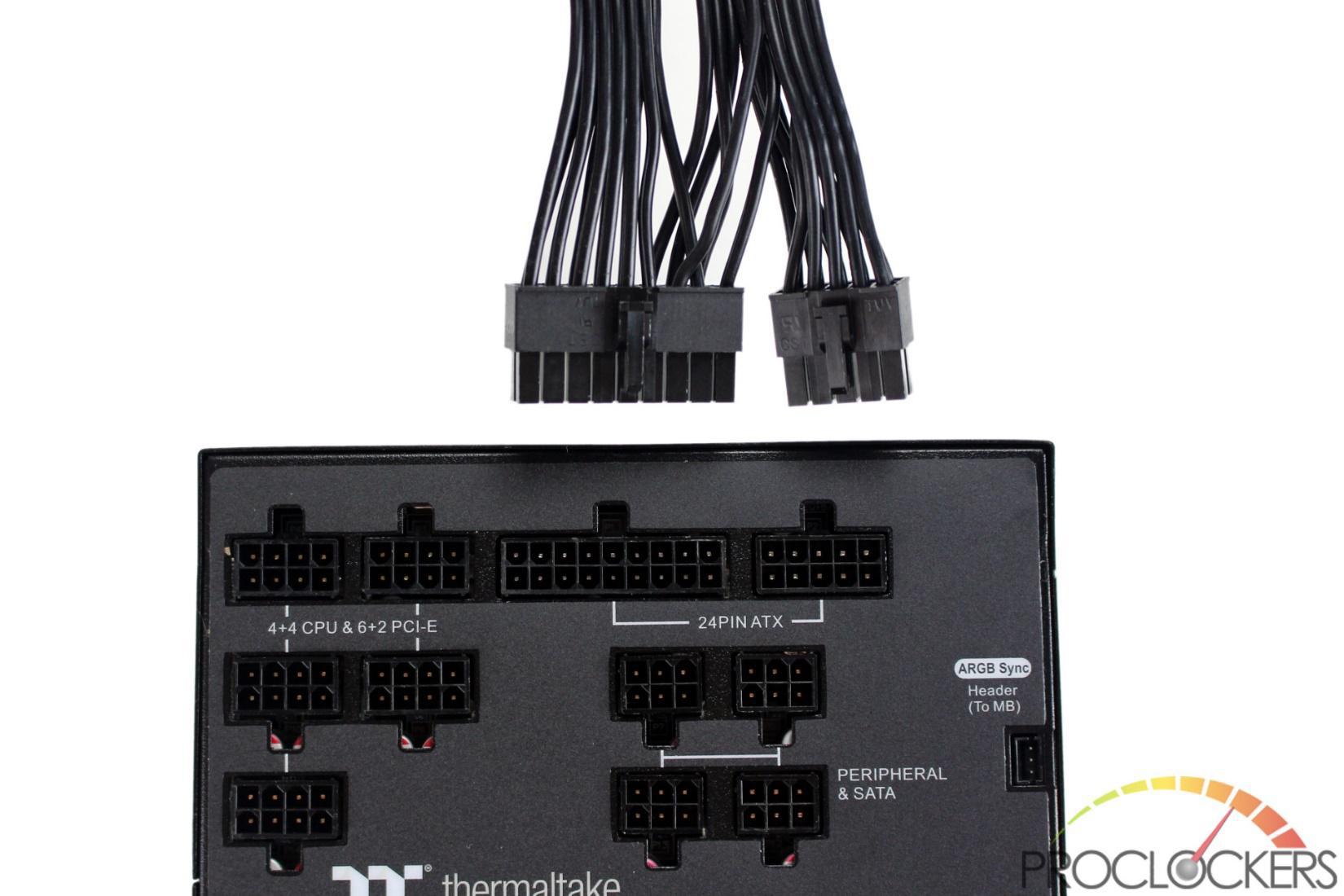 We noticed something weird when plugging in cables. Thermaltake routes some of the flat cables of the 24-pin cable to both of the PSU end plugs. That in and of itself isn't bad, but the plugs are very close together.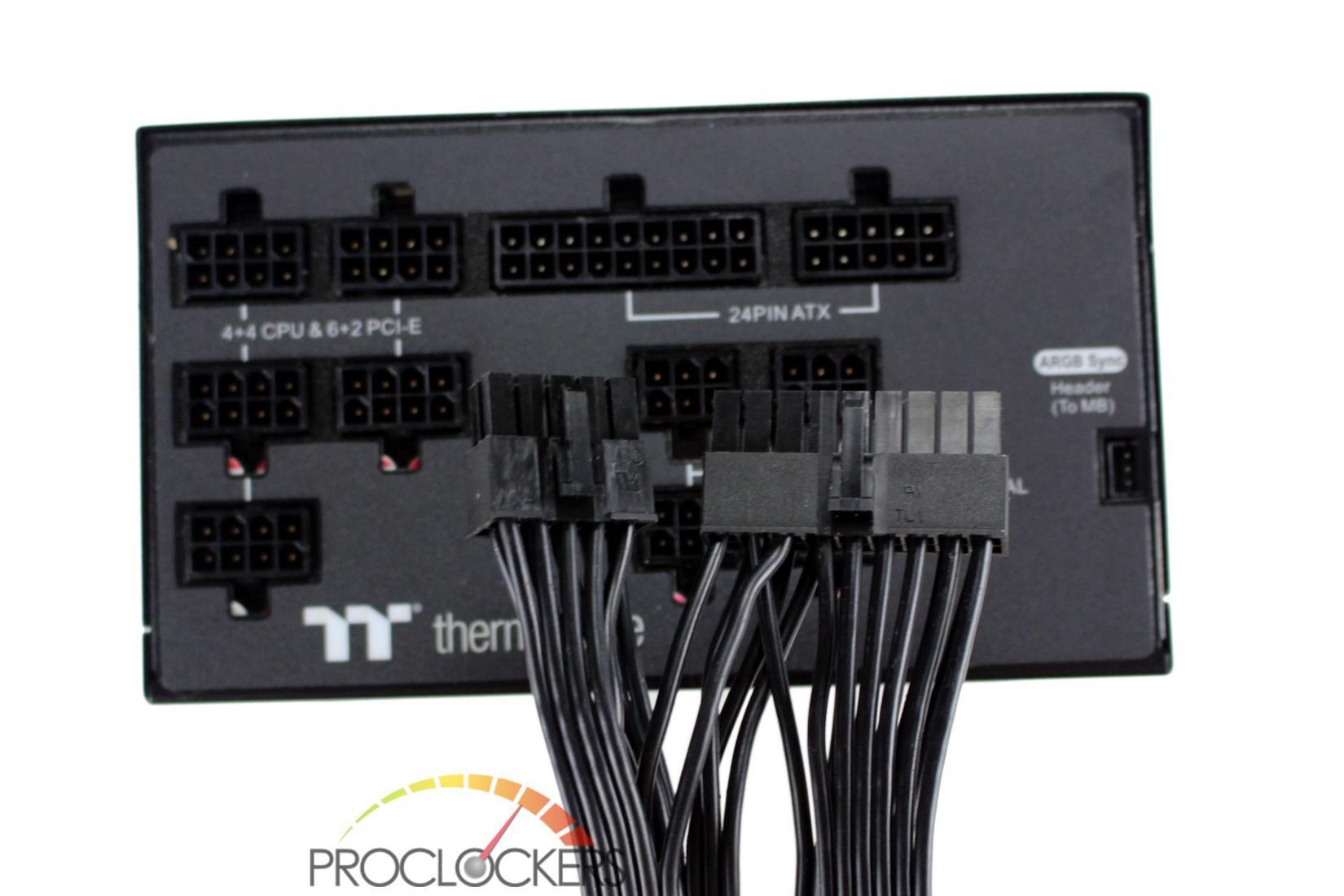 When you try to plug them in, the 18 and 10-pin plugs are effectively backward. There isn't enough slack to plug them correctly.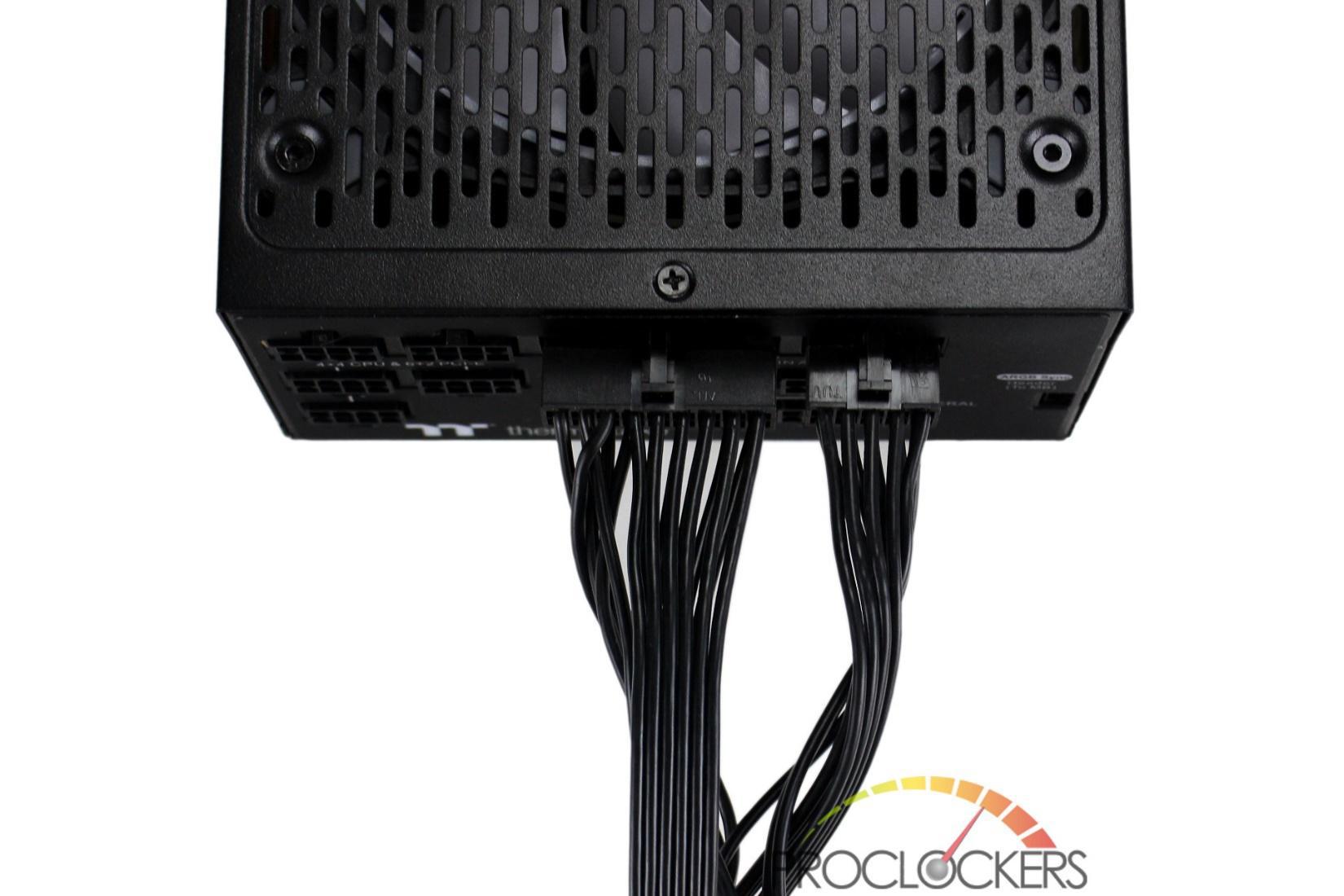 The only way around this is to peel them back and twist them around to plug them in. This should be out of sight in most cases, but the entire purpose of an RGB enabled power supply is to show it off, and you just can't get clean cable runs like this.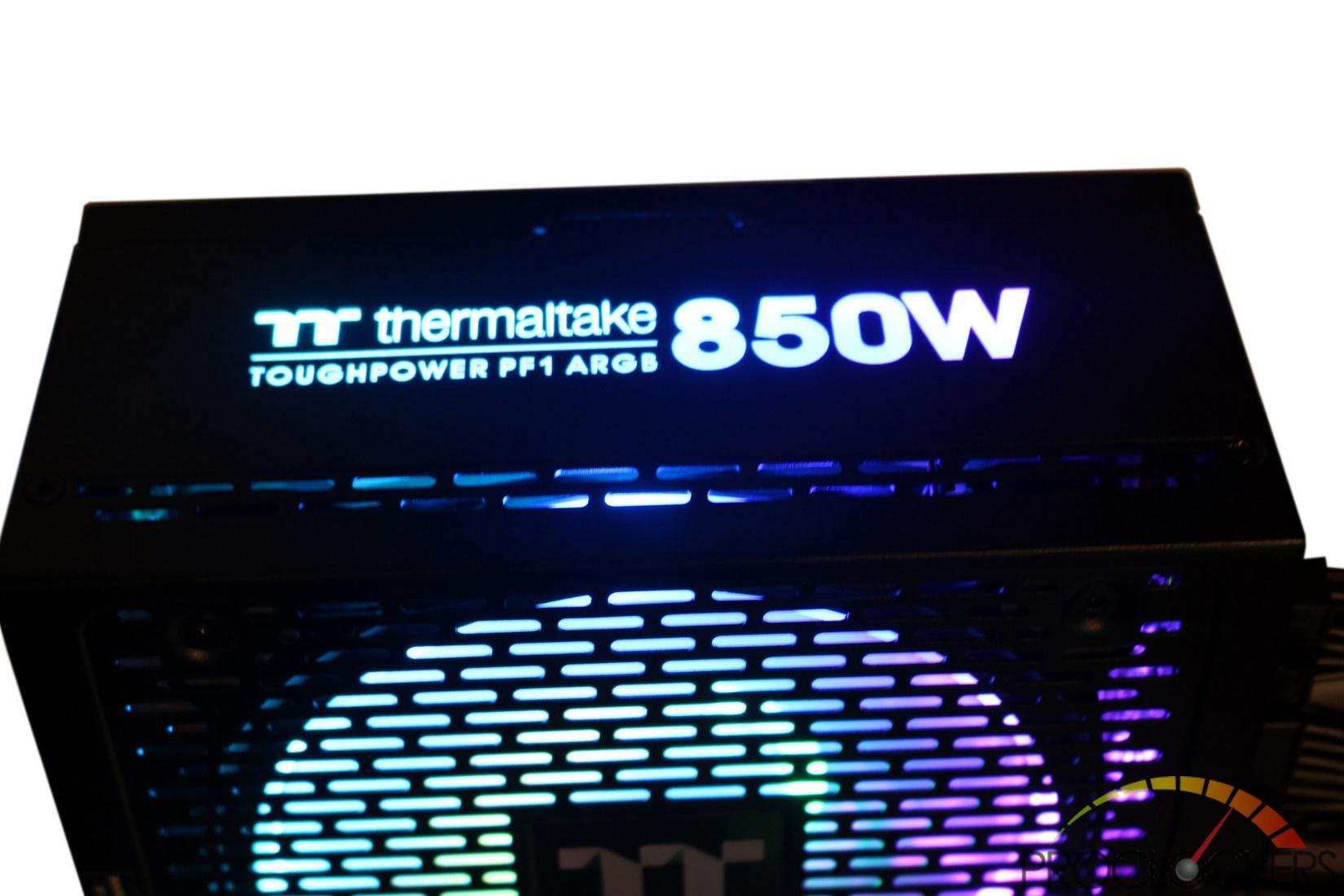 Once you get it plugged in and lit up, it's worth it though. The picture just doesn't do the lighting justice on how rich and smooth the lighting effect is in person.
Under the Hood

Thermaltake uses a large 140mm ARGB fan for cooling. It uses a 2-wire cable for 12V power and a 3-wire cable for the RGB system.

Both RGB side panels are daisy-chained together.

The power supply mainboard is very densely packed.

Incoming AC power is heavily filtered as it comes into the unit.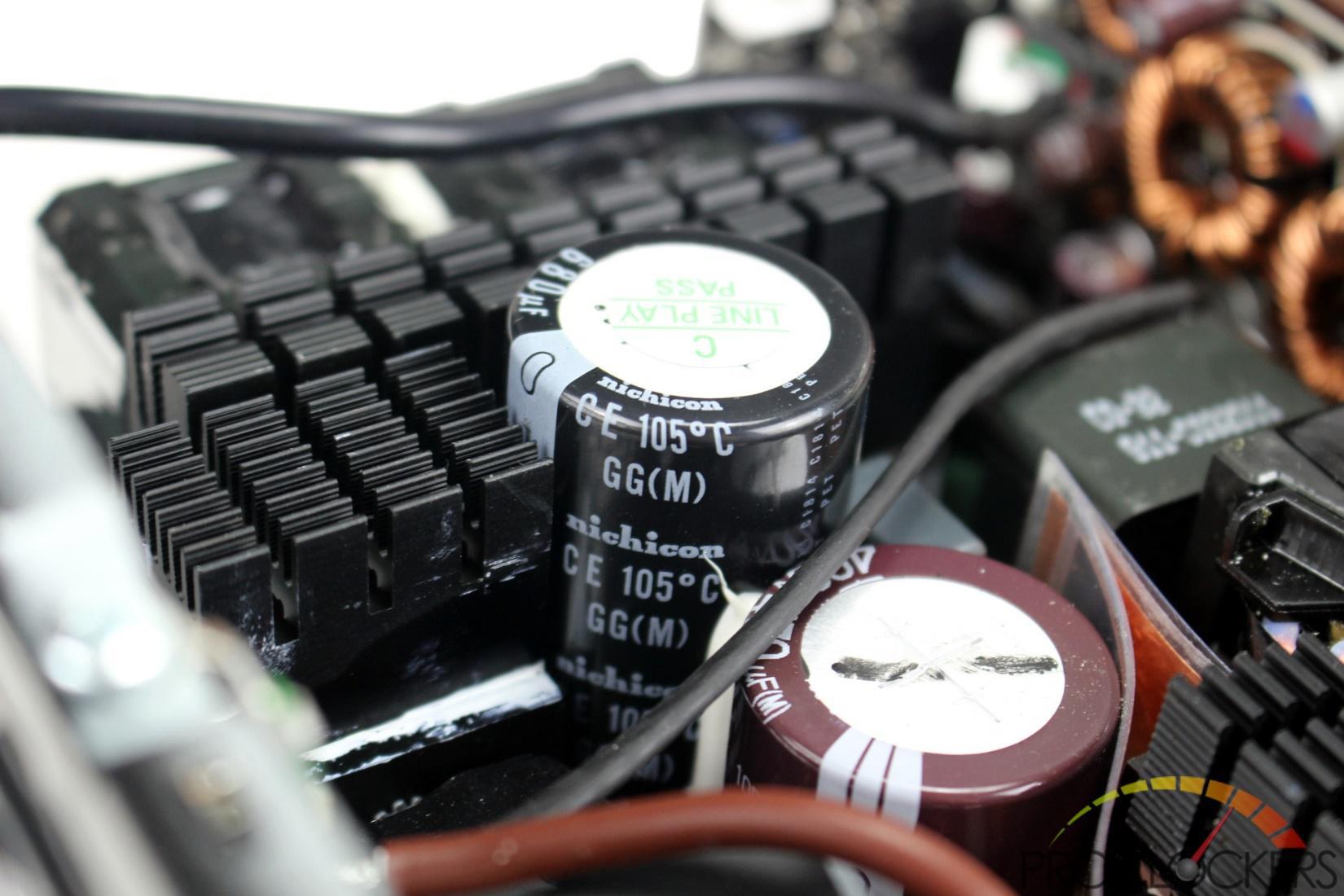 Main filter caps are Japanese Nichicon 105C rated caps that should provide a long and stable life.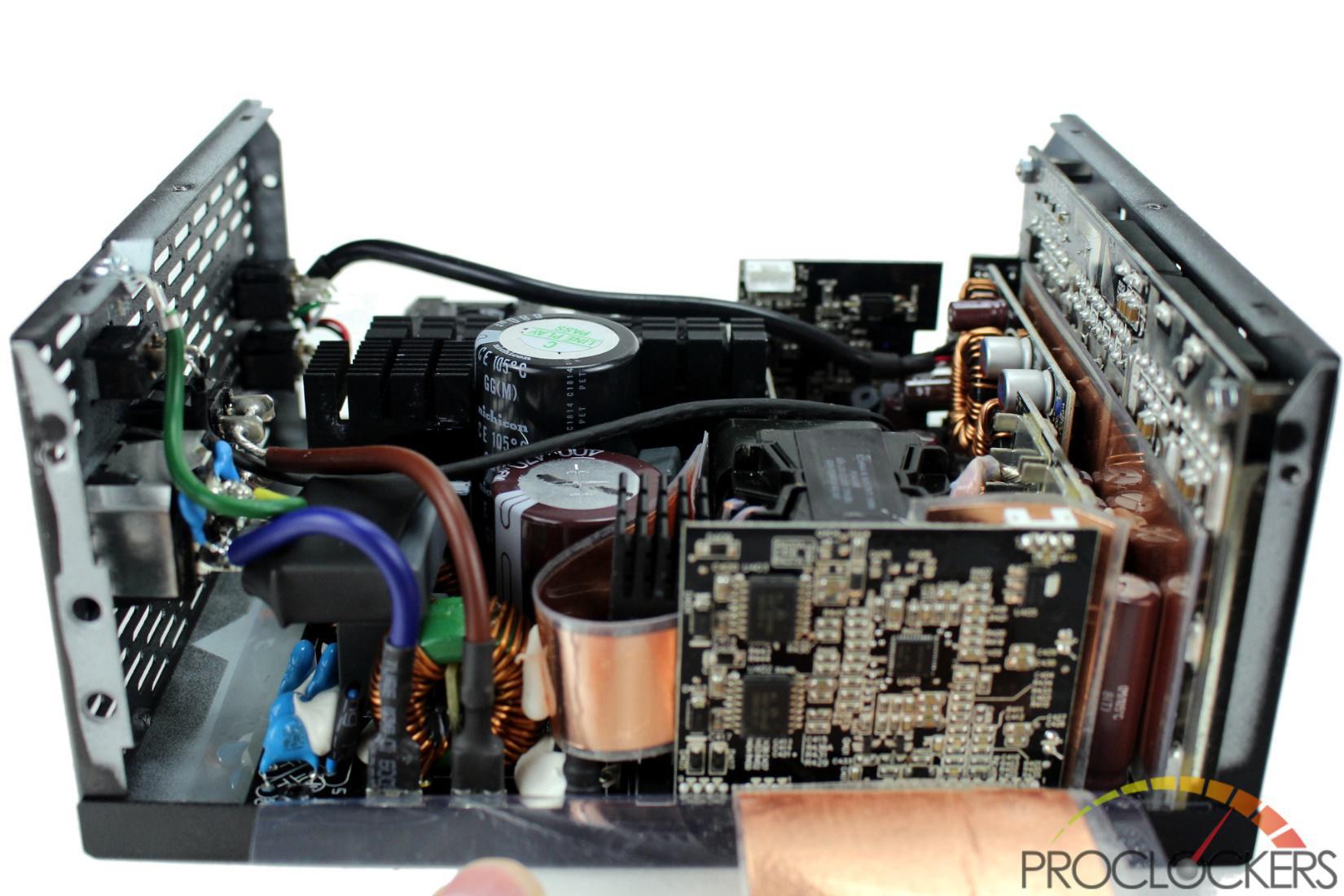 This is a rather unusual sight in the power supply world. Thermaltake uses quite a few plastic-clad copper sheets for shielding.

There is a ton of filtering and shielding even on the DC output side of the power supply.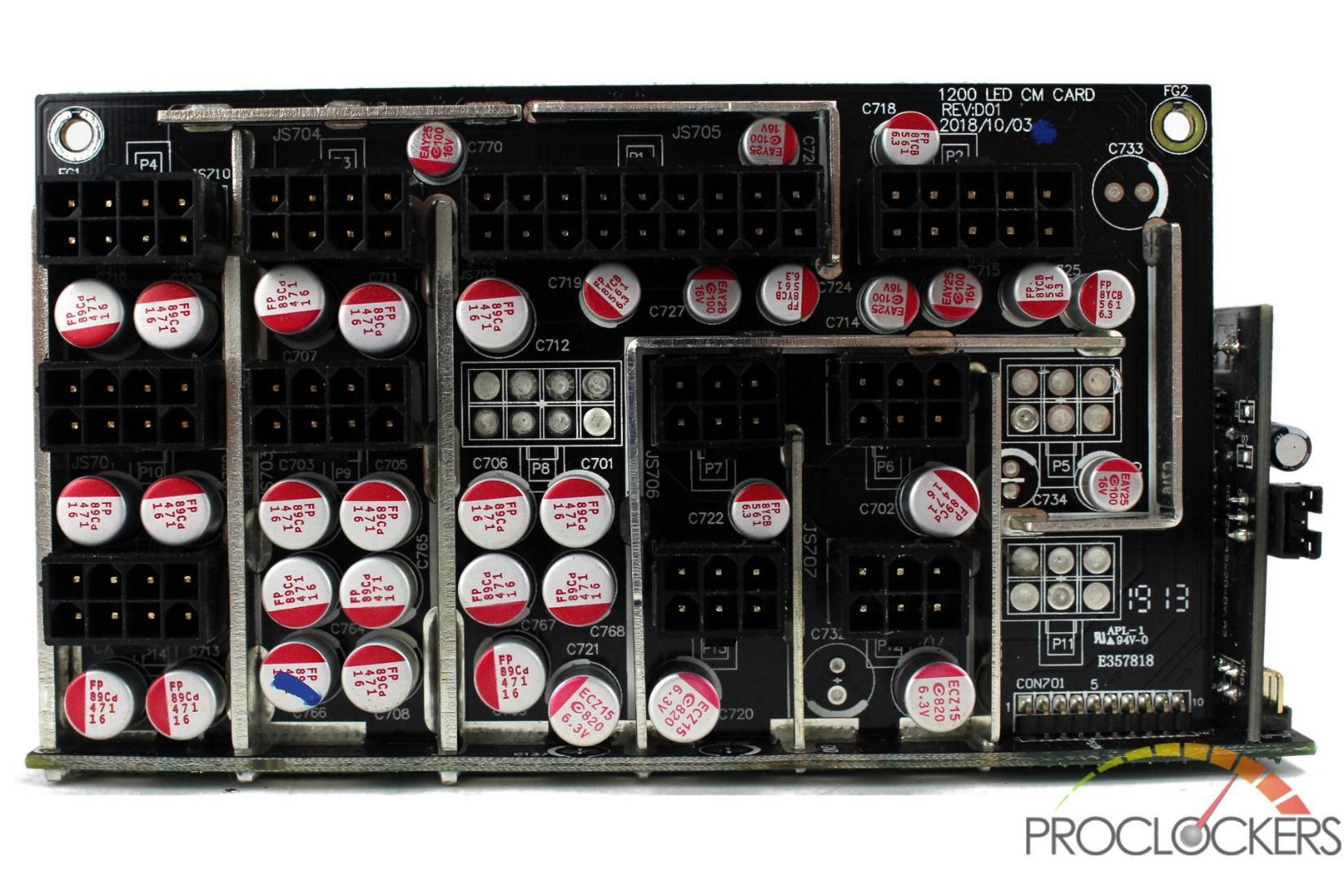 The entire DC output side runs with heavy bus bars rather than wires like lesser units. We also see that the same daughterboard is used on the largest 1200W unit, but with a few plugs missing.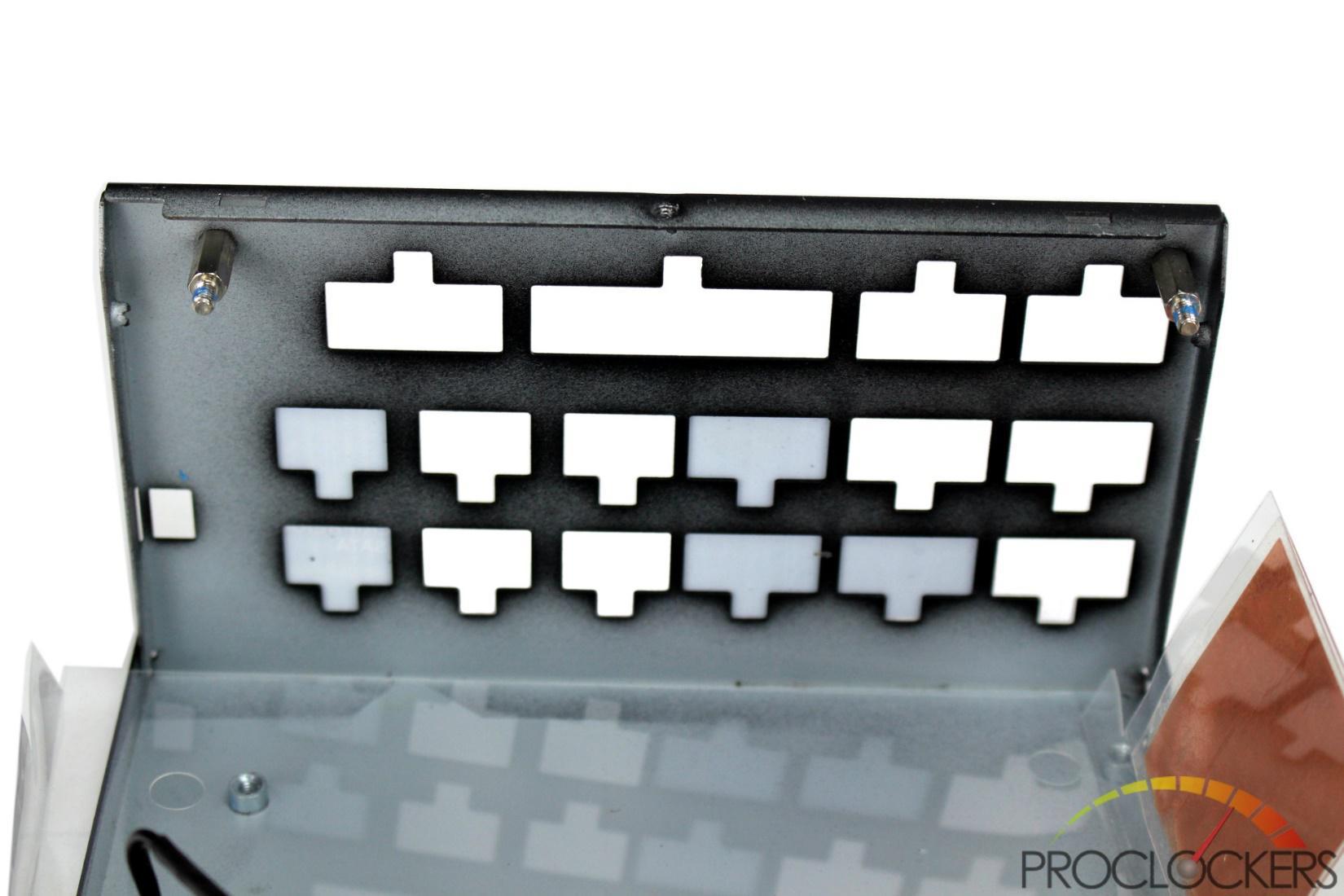 Even the casing has the same missing plug spots but is covered with a sticker from the outside.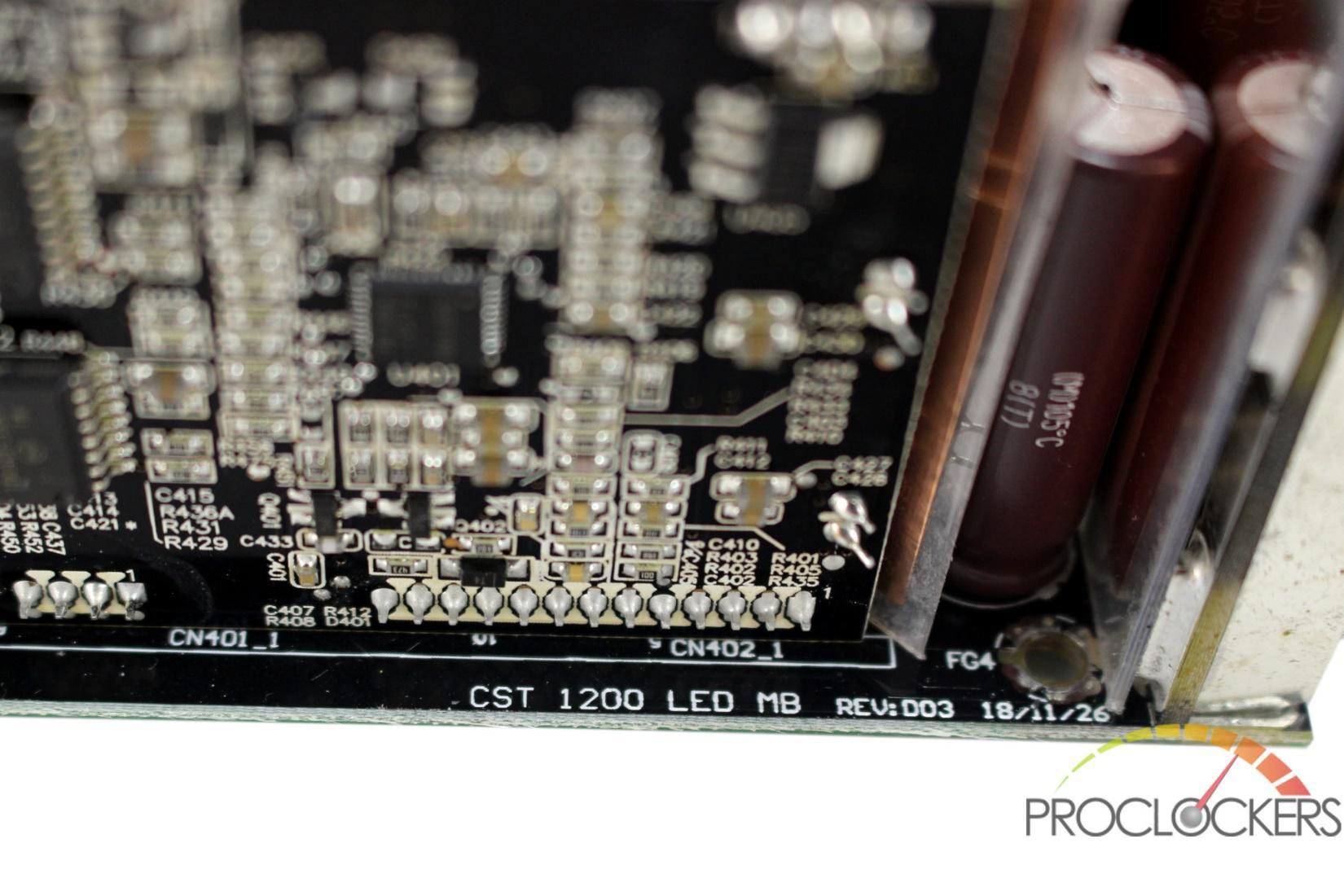 Looking a little closer, the mainboard also has the CST 1200 markings. It appears Thermaltake is using the same physical platform for all units in this lineup.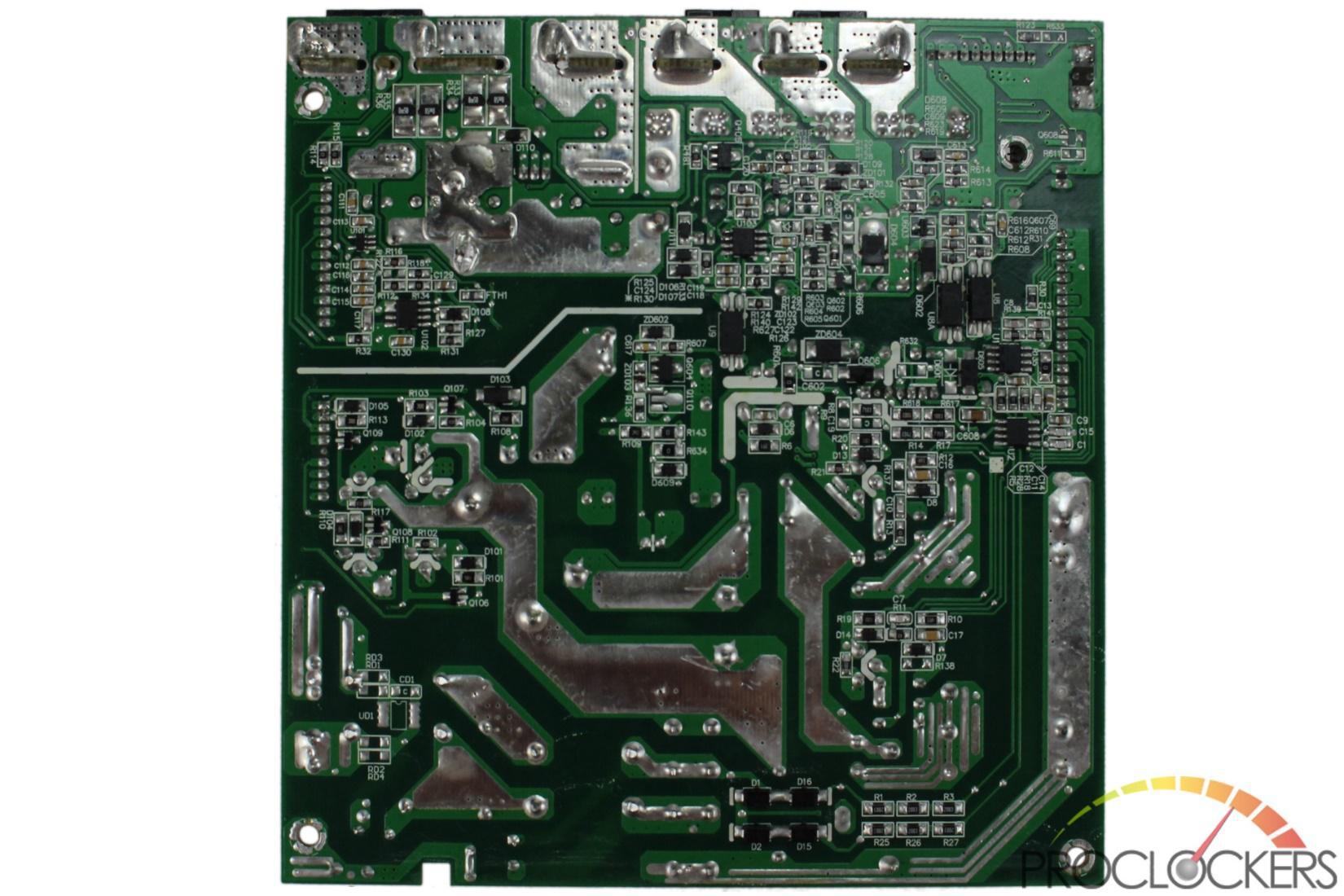 The solder job looks great on the bottom of the PCB and, rather amusingly, uses a green solder mask since it cant be seen.
Testing
CPU: Intel Core i9-9900k
Motherboard: ASUS ROG Strix Z390-E
RAM: 16GB G.Skill TridentZ Neo 3200 MHz.
GPU: Nvidia RTX 2080 Founders Edition
SSD: Samsung 960 PRO 2TB
OS: Windows 10 Professional X64
We'll start out saying we aren't equipped to do extremely detailed electrical analysis required to pick apart a modern power supply. It takes laboratory-grade dedicated equipment so we'll have to make do with some less precise testing.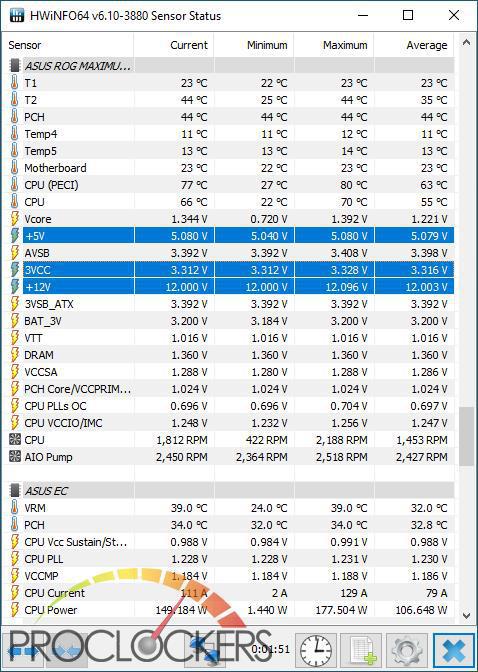 While we normally use a good Fluke Digital Multi-meter, we've found the onboard monitoring solutions in modern motherboards to be quite accurate and able to be easily logged with utilities like HWiNFO.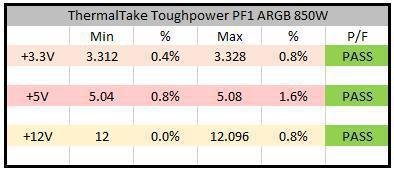 Thermaltake's Toughpower provides very good regulation on all three main rails with each staying well within the 2% They promise.
Next, we'll look at ripple on the rails with our Owon VDS-1022/I Digital USB Oscilloscope.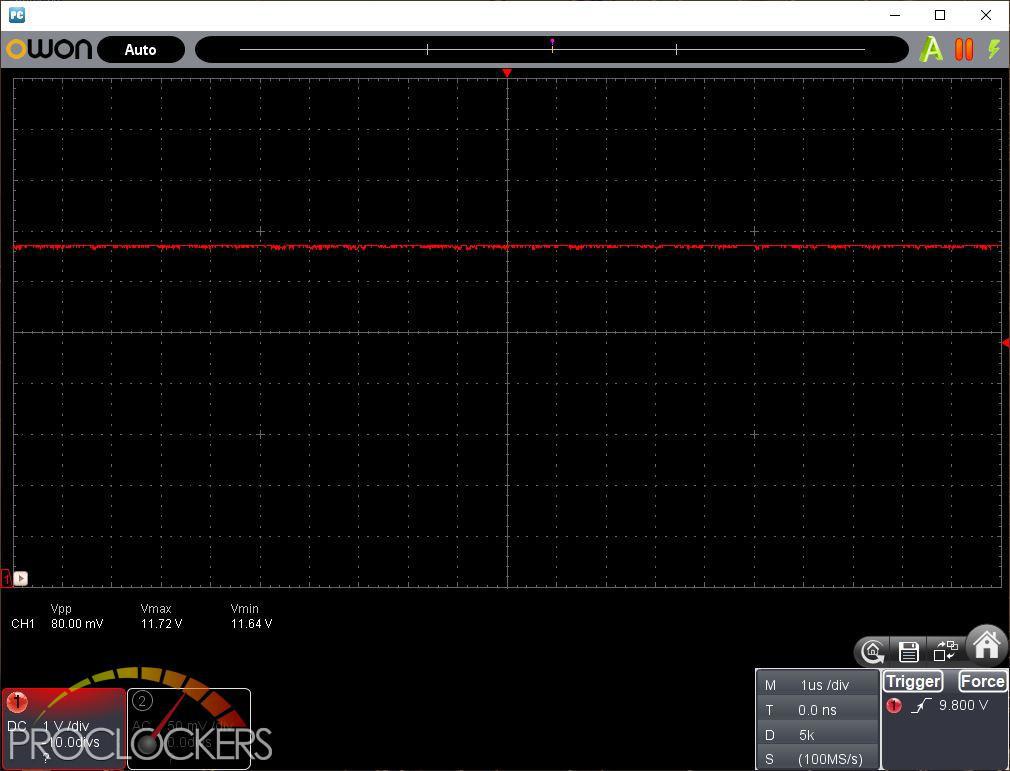 The +12V rail under a stress test load registers a peak of 80mV peak to peak ripple but averages in the 30-40mv range. This is really pushing the limits of our O-scope and it seems as if the rail generally does as Thermaltake promises.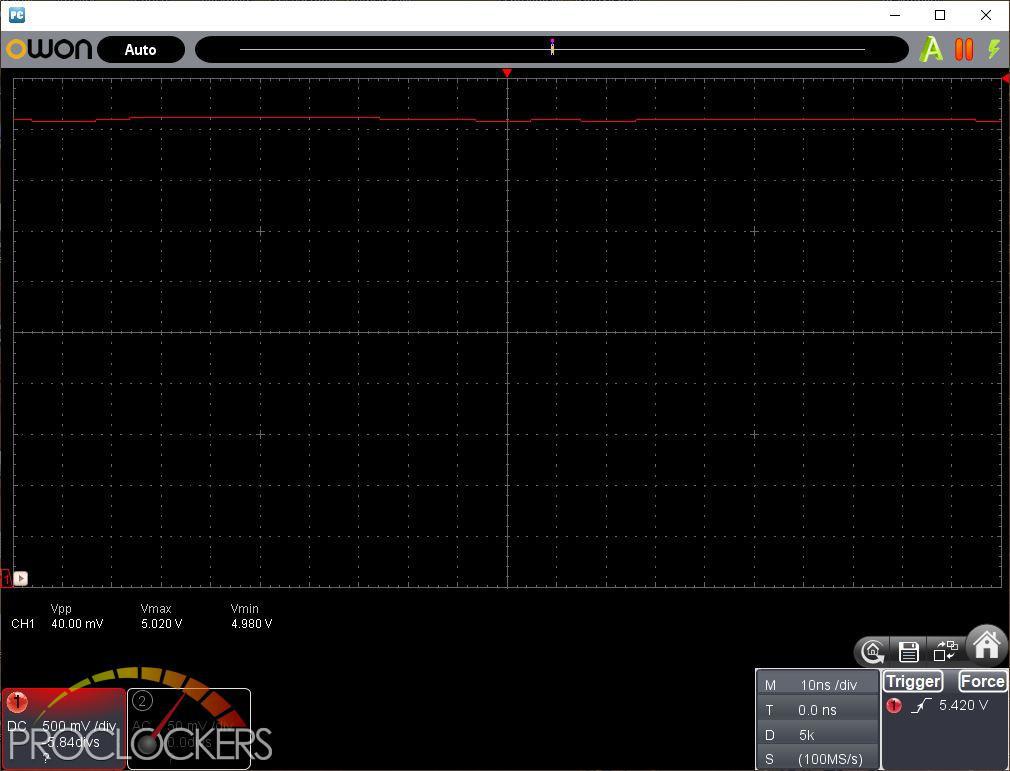 The 5-volt rail comes in around 40mV of ripple.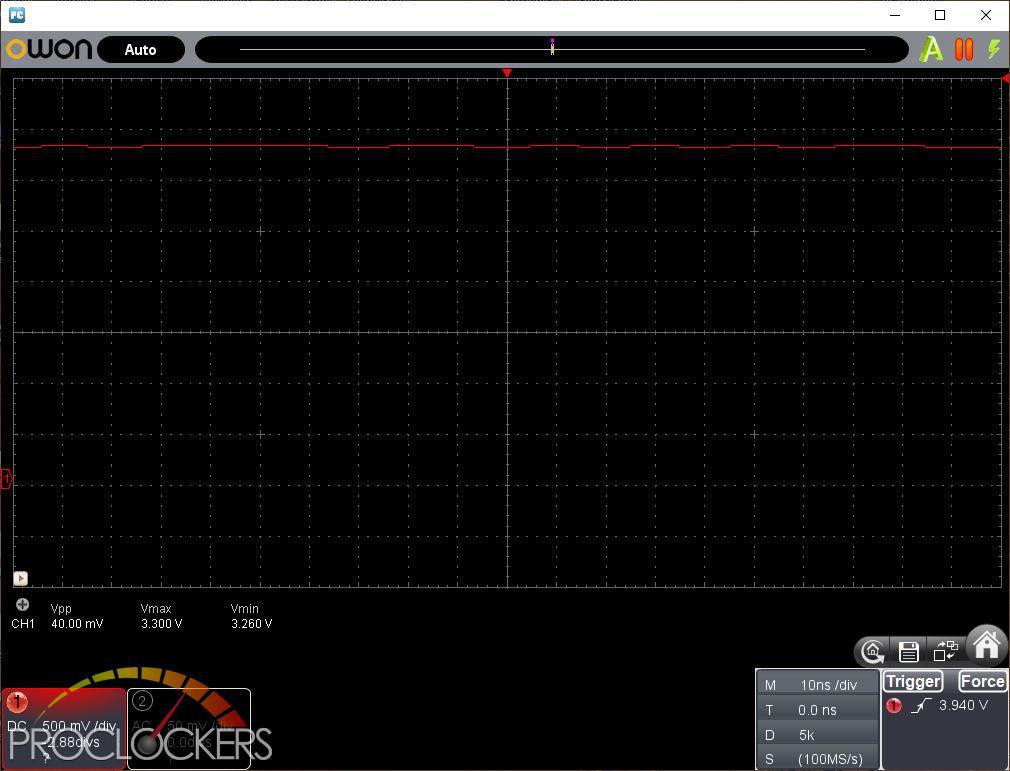 The 3.3V rail does a great job with 40mV of ripple. Modern systems typically put very little load on the 3.3V rail.
Final Thoughts & Conclusion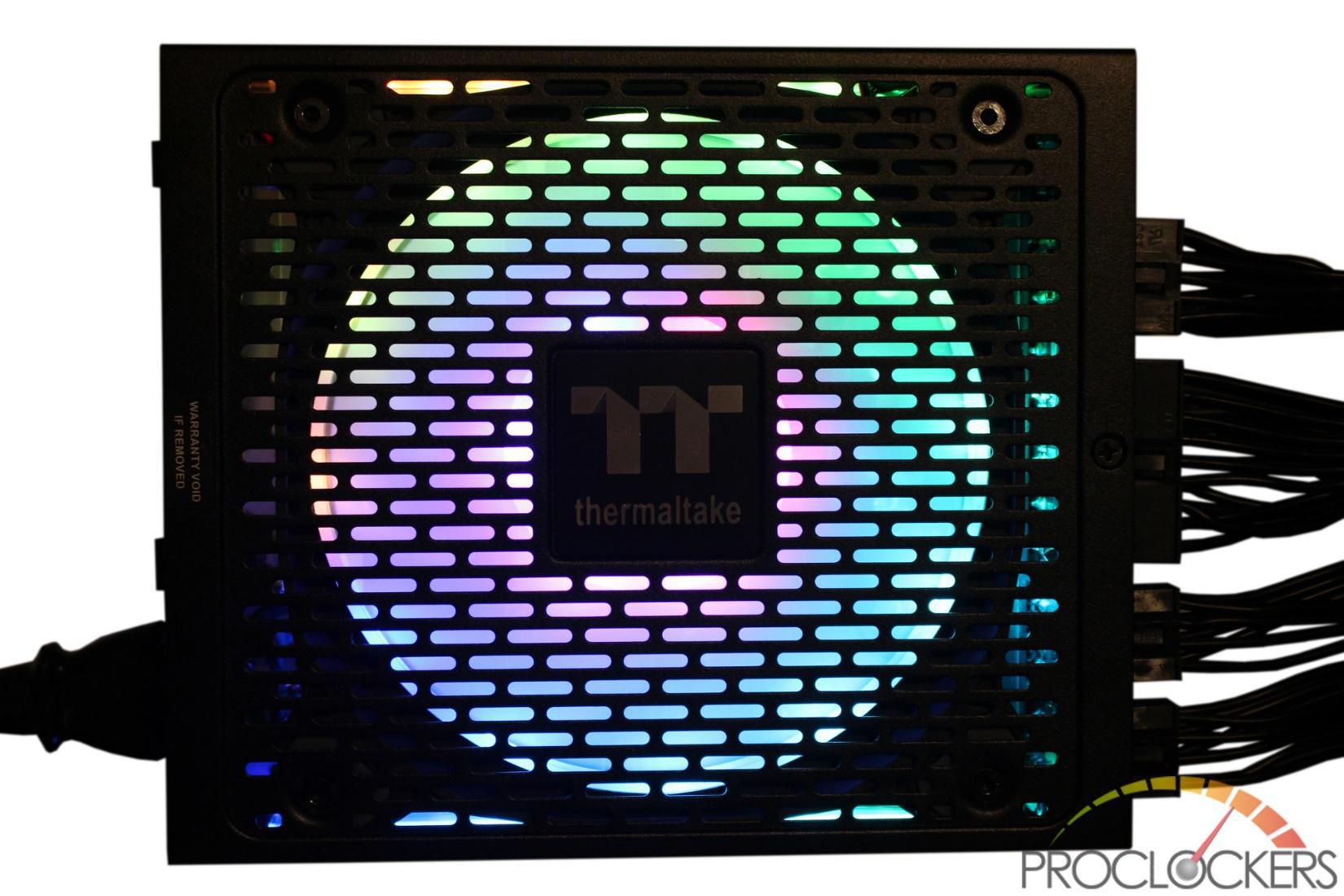 Thermaltake's previous RGB power supplies have always been 'good', but this is the first one I would consider really 'great!'. Aesthetically, it's pretty similar to former models externally with the same matte paint and grill pattern, but once the lights come on, it's on a whole other level. This is easily one of the most saturated and rich lighting effects of any RGB product despite being difficult to capture in a picture for the review. Being able to sync up to the rest of your system is a great thing to have and something I really hated not having on former models. I do like that it's capable of running on its own with numerous effects and colors if you can't connect to your board for whatever reason or just haven't upgraded to an ARGB capable platform just yet.

If looks alone were enough, Thermaltake would have this in the bag already, but a power supply is by far the most critical part of your build as it literally supplies everything else with the power it needs. Thermaltake doesn't fall short on that front either. Voltage regulation is very tight as promised, and ripple is some of the lowest we've ever measured. Granted, our equipment really isn't up the standards needed to pick apart this advanced of a power supply, you need lab-grade loads and measuring equipment to really split hairs, but what we were able to test was about the best we've ever seen. If you are in need of a flagship power supply that performs as well as it looks, your search is over!

Great job Thermaltake!

<![CDATA[ */ var zbjs = {"ajaxurl":"https:\/\/gaminggorilla.com\/wp-admin\/admin-ajax.php","md5":"d8e8b24d2fa18d2999e0fddcdd418586","tags":[],"categories":["Hardware"]}; /* ]]>