Patriot Extreme Performance Viper 3 1600MHz 8GB Kit Review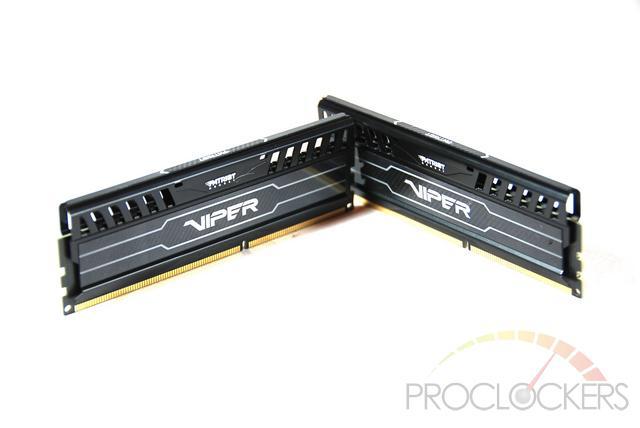 The new Viper 3 is a series aimed at enthusiast whose system is built around Intel's 6/7 series platform. The kits from this line-up are hand tested, uses great heat sinks for cooling and should (we are hoping) to have plenty of room left for some very decent overclocking.
Patriot Extreme Performance Viper 3 1600MHz 8GB Kit Review
Introduction
If you have been reading the pages of Pro-Clockers from the beginning you will know that Patriot was the first memory manufacturer we reviewed a kit from. I was a set of 8 gigs of DDR2 which is no longer part of Patriot's product line. Today we will be taking a look at one of the latest kits from Patriot.
The new Viper 3 is a series aimed at enthusiast whose system is built around Intel's 6/7 series platform. The kits from this line-up are hand tested, uses great heat sinks for cooling and should (we are hoping) to have plenty of room left for some very decent overclocking.
Patriot's take on Viper 3
Patriot Memory's Viper 3 Series are designed with true performance in mind. Tested and compatible with Intel's® and AMD's DDR3 compatible processors and chipsets, The Viper 3 series provides the best performance and stability for the most demanding computer environments.
The Viper 3 series utilizes a custom designed high performance heat shield for superior heat dissipation to ensure rock solid performance even when using the most taxing applications. Built from the highest quality Build of Materials, Patriot Memory's Viper 3 Series are hand tested and validated for system compatibility.
Available in single, dual and quad channel kits, 8GB, 16GB, and 32GB kits and 4GB and 8GB single DIMMs, Patriot Memory's Viper 3 Series will be offered at speeds from 1600MHz up to 2133 MHz at 1.5 volts and are XMP 1.3 ready. Hand tested for quality assurance, the Viper 3 series is backed by a lifetime warranty.
Specifications
Product Name: Extreme Performance
Patriot Part #: PV38G160C9K (2 x 4GB)
Description: Viper 3 Series, DDR3 8GB (2x4GB) 1600MHz Kit
Certifications / Safety: RoHS
Product Warranty: Lifetime Warranty
Unit Dimensions: .30" (D) x 5.2" (W) x 1.63" (H)/.76cm (D) x 13.3cm (W) x 4.1cm (H)
Unit UPC: 0815530014188
Packaging Type: Blister Pack
Packaging Dimensions: .54" (D) x 4.82" (W) x 7" (H)/1.37cm (D) x 12.24cm (W) x 17.78cm (H)
New Weight: .17 lbs / 77.4 gm
Gross Weight: .35 lbs / 157.1 gm
Units per Inner Carton: 20
Units per Master Carton: 120
Features

Series: Viper 3
Edition: Black Mamba
Capacity: 8GB (2 x 4GB) Kit
DIMM Type: 240-Pin NON-ECC UDIMM
Voltage: 1.5V
Tested Frequency: PC3-12800 (1600MHz)
Tested Timings: 9-9-9-24
Base Frequency: PC3-12800 (1600MHz)
Base Timings: 9-9-9-24
Tested Platforms: Intended for all DDR3 platforms
Feature Overclock: XMP 1.3
Closer look
The Viper 3 series has a pretty large line-up. Not only does the series comes in several different speeds ranging from 1600 MHz to 2133 MHz. at this rate Patriot has the integrated memory controller specs of current AMD and Intel processors with a little to play with.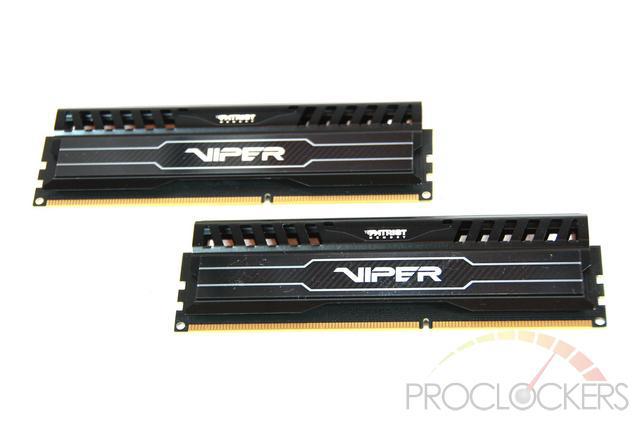 The sizes of the kits are from 4GB up to 32 GB supporting dual- and quad-channel systems. And for those for concerned about timing CAS 9 to CAS 11 is covered but it all depends on the kit's other specifications like speed. Our kit is rated at 9-9-9-24.
There are a total of thirty-six kits to decide from.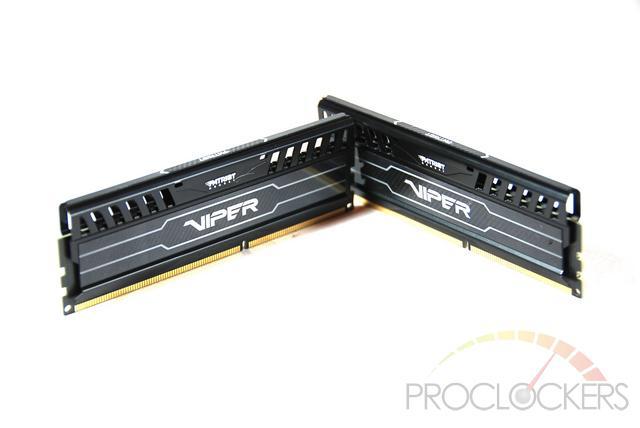 The Viper 3 series is quite different in designed to all the other Patriot modules I have seen over the years. Totally different from the tower-style heat spreaders of the first two models of the Vipers these are a little more simplistic visually.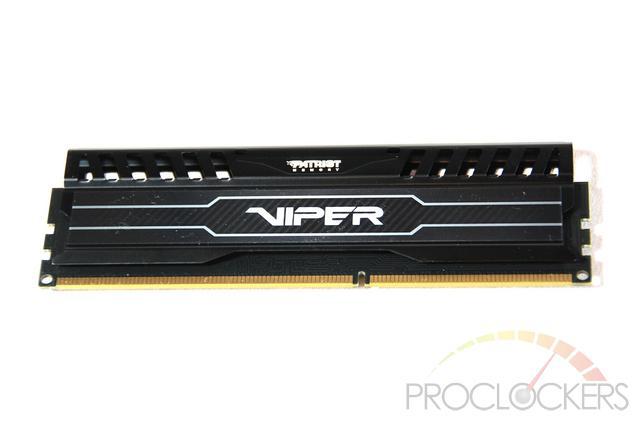 These new modules have a two piece aluminum heat spreader that covers the entire module. At 1.63" tall they should fit under some of the larger PCU coolers but not all. So, it is better to get a quick measurement before purchasing.
The kits' heat spreaders come in a few different colors to better to match the coloring of your system. The colors would include Venom Red, Black Mamba and Jungle Green. And for the Intel fanatics there is a fourth kit which is not technically part of this Viper line that is labeled the limited edition Intel Viper 3 that is blue.
Imprinted on one side of the modules is the product label. And for those wanting to know the PV38G160C9K stands for Patriot Viper 3 8GB 1600MHz CAS 9Kit.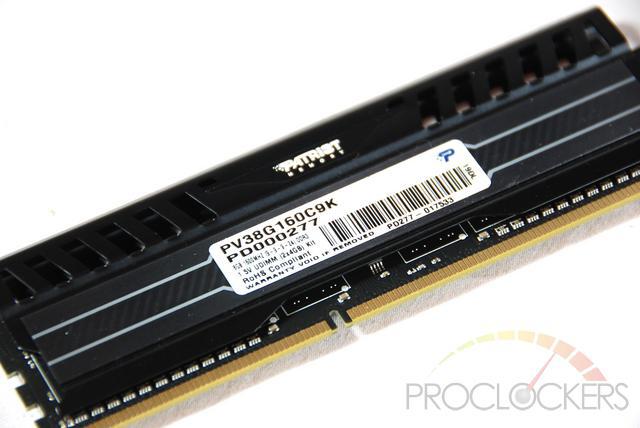 The opposite is pretty much about company branding.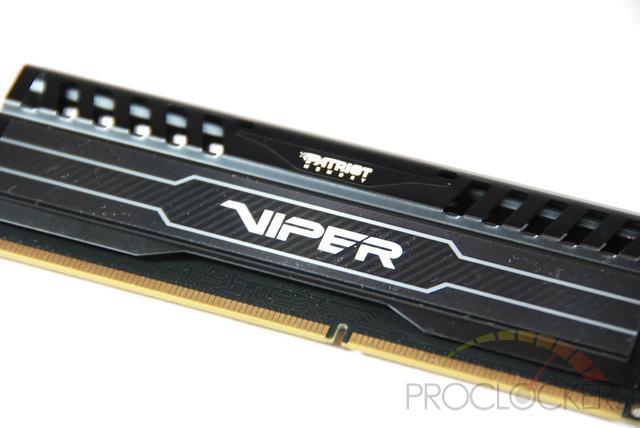 Testing Begins
Testing Hardware:
1. ASUS X79 Deluxe Motherboard
2. Intel Core i7 3930K Processor
3. Patriot Viper 3 1600MHz 8GB
4. Kingston V+ 200 120GB Solid State Drive
5. ASUS BC12B1LT BD-Rom Drive
6. Thermaltake Frio Extreme CPU Cooler
7. MicrocoolBanchetto 101 Open Air Test Bench
8. Silverstone Strider Gold Evolution 850W Power Supply
9. ASUS Nvidia GTX 560Ti 448 Graphic Card
Testing Software:
AIDA64 Extreme Edition
Super PI Modded 1.5
Flying Wild Hogs Hard Reset
FuturemarkPCMark Vantage
MaxxMEM 2
CPU-Z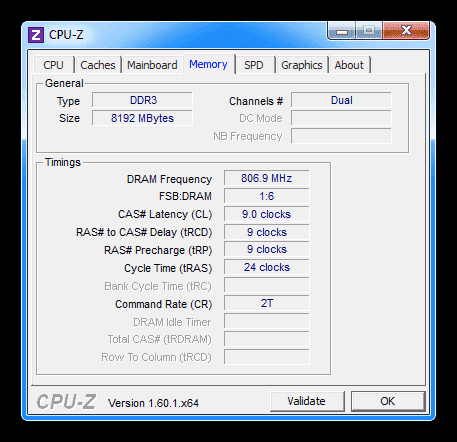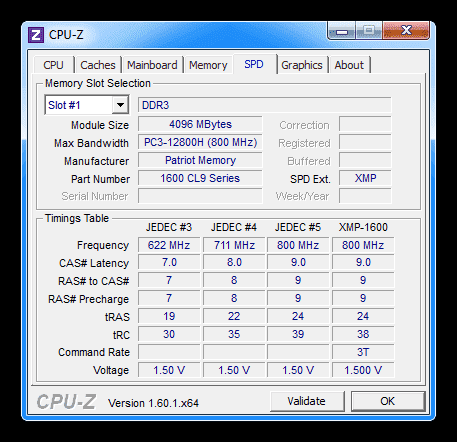 Overclocking
Going into the overclocking phase of this review I will have to admit I didn't have much faith in this kit reaching a high ceiling. Much of that has to do with companies like Axevir whose 8GB 1600 MHz kit we reviewed a few weeks ago is marketed for its overclocking ability. Patriot being the better rounded company, we figured would play the less aggressive roll. Once again, I was wrong.
We took this kit and tested in two different stages. The stages would be CAS 9 and 10. The reason for the lack of CAS 11 is because once we reach the max at CAS 10, CAS 11 did not make a different in obtaining a higher frequency. One must remember all testing was done at 1.5 voltages which is the kit's default.
With 1866 MHz selected in our BIOS, we were able to get the system to boot with no issues and Prime stable. This here is a nice jump from 1600 MHz and makes the kit worth its low asking price.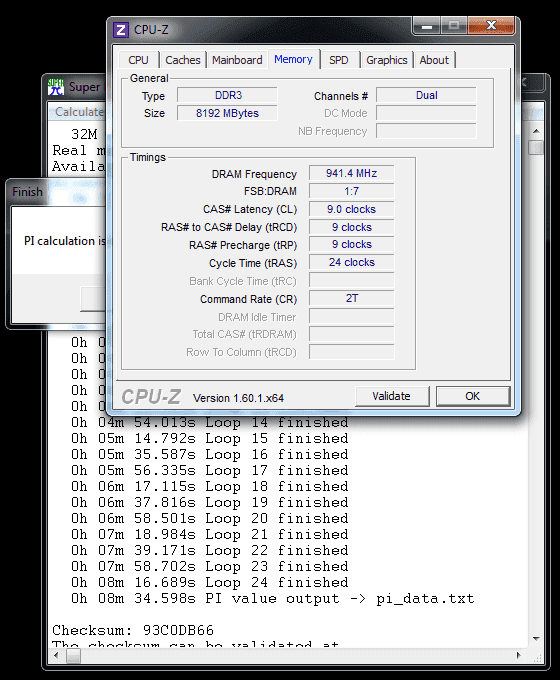 At CAS 10, we started at the very next selection in the BIOS which was 2000MHz. No problem, on to the next. 2133 MHz passed with flying colors. Our max came at the hands of 2200MHz.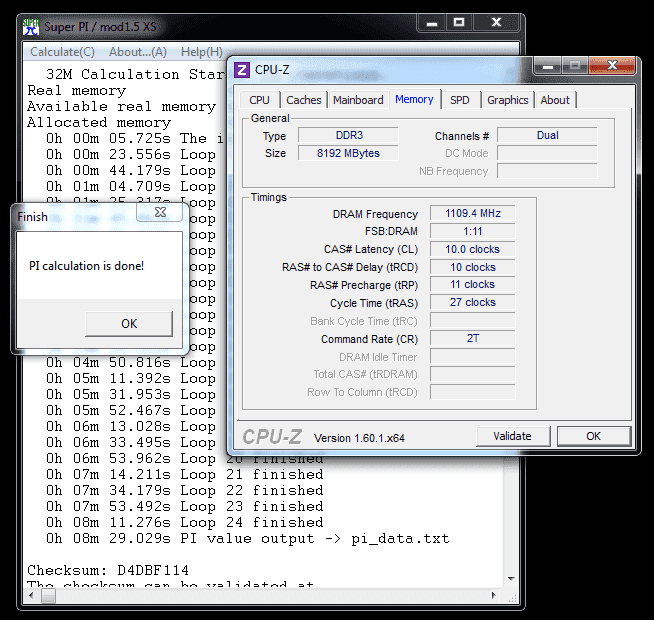 Note: As a bonus we decided to raise the voltage to 1.65 just to see what we could get from the kit. The conclusion was we were about to take it one notch up which was 2400MHz at CAS 10.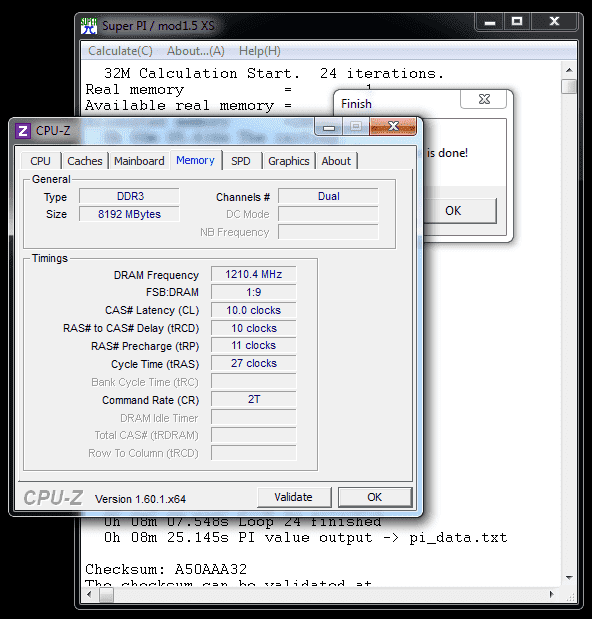 Results
AIDA64 Extreme Edition
"FinalWire Ltd. today announced the immediate availability of AIDA64 Extreme Edition 1.50 software, a streamlined diagnostic and benchmarking tool for home users; and the immediate availability of AIDA64 Business Edition 1.50 software, an essential network management solution for small and medium scale enterprises.
The new AIDA64 update implements AVX-optimized benchmarks for the upcoming Intel Sandy Bridge processors, adds a brand new video encoding benchmark, and supports the latest AMD and nVIDIA graphics processors."
Super PI Modded 1.5
"In August 1995, the calculation of pi up to 4,294,960,000 decimal digits was succeeded by using a supercomputer at the University of Tokyo. The program was written by D.Takahashi in collaboration with Dr.Y.Kanada at the computer center. This record should be the current world record. (Details are shown in the windows help.) This record-breaking program was ported to personal computer environment such as Windows NT and Windows 95. In order to calculate 33.55 million digits, it takes within 3 days with a Pentium 90 MHz, 40 MB main memory and 340 MB available storage."
Flying Wild Hogs Hard Reset
"Thee world as we know it ceased to exist. Humanity is at the verge of extinction, living in the last closed city of Bezoar. Mankind wages war against the machines controlling vast areas of what became the 'Barrens'. Machines want to control and assimilate 'The Sanctuary' a network that holds billions of digitalized human minds. Our hero, Maj. Fletcher, is a soldier of CLN – a corporation combat unit, established to protect the city. Machines are constantly assaulting the walls of Bezoar. Fletcher moves in when Bezoar's protective barrier is breached."
FuturemarkPCMark Vantage
"PCMark Vantage is a PC benchmark suite designed for Windows Vista offering one-click simplicity for casual users and detailed, professional grade testing for industry, press and enthusiasts.
A PCMark score is a measure of your computer's performance across a variety of common tasks such as viewing and editing photos, video, music and other media, gaming, communications, productivity and security.
From desktops and laptops to workstations and gaming rigs, by comparing your PCMark Vantage score with other similar systems you can find the hardware and software bottlenecks that stop you getting more from your PC."
MaxxMEM 2
"Is the *little brother of MaxxPI², it contains the same Memorybenchmark routine as MaxxPI² does.
So your reaced results will be comparable to Memory / Latency benchmarks done by MaxxPI²."
Conclusion
The new Viper 3 a great set of modules if you either a general PC user and this mostly due to the low prices or for the enthusiast who is looking for a performance kit that will also offer some overclocking room, even with the 1600 MHz we reviewed here today.
At 1600 MHz, we see that the Viper 3 was able to hold its own in our testing suite. Granted it did not outperformance kits in the 2133 MHz range and up. But look at how it did against kits in its own speed rating. Very well. Actually, it was amongst the tops in all five tests.
And if you are a novice there are two things to know about kit that you will love. First, it has a lifetime warranty. This is self explanatory. Second, it supports XMP profiling. Meaning if you are the slightest bit familiar with the BIOS of your motherboard, you can get this memory running at its rated specifications with the selection of a few options in the BIOS.
The heat spreaders used on the kit are very attractive without over doing it. The black coloring goes with almost any color scheme used by the system builder. They are a little tall so one would have to be selective on the CPU cooler used with them.
We feared that we would not get much from the kit when we first received them but after taking the kit for a ride on out Z77 OC from Asrock, we quickly changed our mindset. At the default 1.5 volts we did get the kit to 2200 MHz stable just loosen the timings to 10-10-11-27. Using the default timings we were hauled 9-9-9-24, we were halted at 1866 MHz.
{aseadnetadblock|Patriot viper 3|Patriot Extreme Intel}