A fan-favorite monitor among gamers, the Asus VG278Q is not only the cheapest 1080p 144Hz 1ms model on the market, but it also comes with certified G-SYNC compatibility and Motion Blur Reduction. That and much more features make this $300 monitor a popular choice for gamers that want great performance in competitive games.
Although released in 2018, this monitor is still a great choice in 2020 if you're looking for a new monitor. In our review, we will talk about the pros and cons, we'll take a look at the specs, go through the features, and finally talk about the price of the Asus VG278Q.
Before You Buy an Asus VG278Q
Before buying a monitor, make sure you know what you're looking for. First, decide how big you want it to be or whether you want a single, 2-monitor, or 3-monitor setup. Then there's the Full HD or 4K question, along with the panel or the option of getting a curved monitor instead of a flat one.
Decisions, decisions, right? If you can't make up your mind, take a look at our Asus VG278Q review to see if it satisfies your needs in terms of gaming and daily use.
Asus VG278Q – A First Look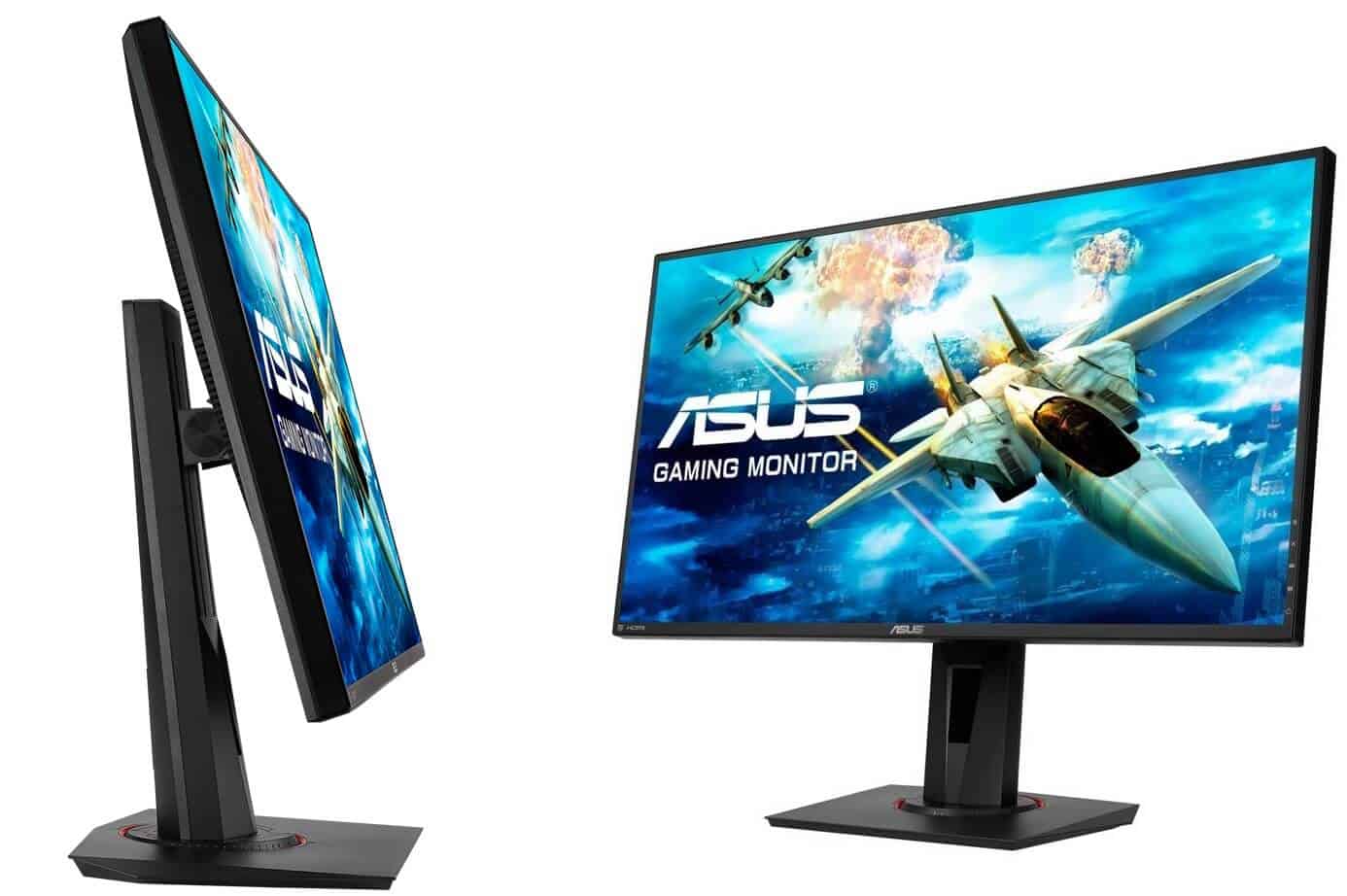 This monitor from Asus is aimed at competitive gamers that are looking for 144hz and 1ms gaming monitors. With a 1080p resolution, backlight strobing capacity, G-SYNC compatibility and AMD FreeSync support, the Asus VG278Q delivers a smooth gameplay experience.
Pros: G-SYNC compatibility and AMD FreeSync support, 144Hz refresh rate, fully adjustable stand, great gaming performance, low input lag,
Cons: Not the best viewing angles, low pixel density, not great image quality, a bit too expensive
ASUS VG278Q – Specifications
Screen Size: 27-inch
Resolution: 1920×1080 (Full HD)
Panel Type: TN
Aspect Ratio: 16:9 (Widescreen)
Refresh Rate: 144Hz
Response Time (GtG): 1ms (GtG)
Response Time (Extreme Low Motion Blur): 1ms (MPRT)
Adaptive Sync: FreeSync (40Hz-144Hz), G-SYNC Compatible
Speakers: 2x2W
Ports: DisplayPort 1.2, HDMI 1.4, DL-DVI-D
Other Ports: Headphone Jack
Brightness: 400 cd/m2
Contrast Ratio: 1000:1 (static)
Colors: 16.7 million (6-bit + FRC)
VESA: Yes (100x100mm)
ASUS VG278Q – Image Quality and Performance
The ASUS VG278Q is not exactly an amazing product when it comes to image quality, and that's because of its TN (Twisted-Nematic) panel. TN panels deliver an inferior image quality compared to an IPS panel.
Even with a TN panel, the monitor delivers good gray-scale images and has decent viewing angles.
For gamers, viewing angles shouldn't be a problem since you need to face the monitor. What may not go well with some gamers that want a higher resolution is that the ASUS VG278Q only has a 1080p resolution, but then again, the VG278Q is popular among those that are looking for a good 144Hz monitor.
The 27″ monitor may have a low pixel density (81 pixels-per-inch), but in video games it's not an issue, plus you're not staring at a screen from a 5-inch distance, right?
Maybe things may get a bit annoying if you're watching a movie, but with the right calibration, the ASUS VG278Q delivers a good enough image quality.
In terms of performance, the VG278Q offers a 1ms response time, so there's no motion blur in fast games. You can use ASUS Extreme Low Motion Blur (ELMB) which will use backlight strobing to remove ghosting and trailing and set it at a fixed refresh rate (120Hz or 144Hz).

Compared to a 60Hz display, the 144Hz refresh rate on the VG278Q will certainly change the way you're gaming.
Now when it comes to presets, the monitor comes with some picture presets like Scenery, Racing, Cinema, RTS/RPG (Real-Time Strategy/Role-Playing Game), FPS (First Person Shooter), and sRGB modes.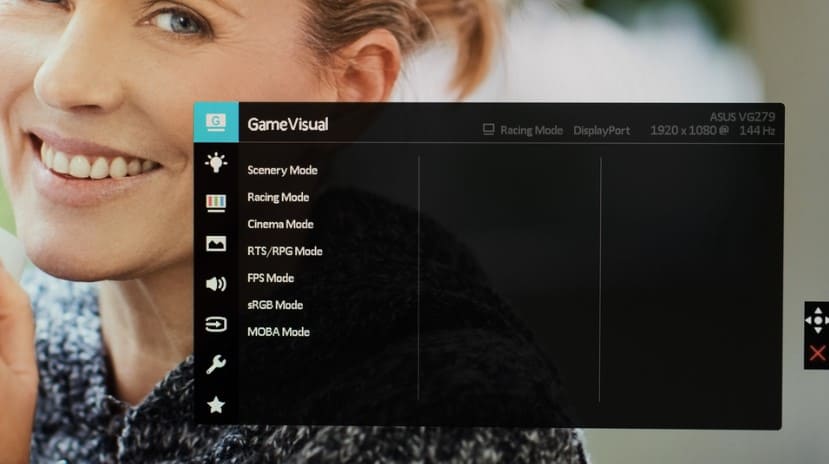 Those are the extra presets aside from the Brightness and Contrast settings, five Blue Light Filter settings (and an off option to turn it off), three Skin Tone settings (Reddish, Natural, and Yellowish), four Color Temperature settings (Cool, Normal, Warm, and User) and an ECO mode to reduce the brightness of the panel and save energy consumption.
A lot of ASUS VG278Q users have reported that the colour accuracy of the monitor is off the chromaticity tests, but it can be tweaked to yield better results. When it comes to tinting, oversaturated colours, colour shifting when changing the viewing angle or issues with delivering every shade of grey, the ASUS VG278Q has absolutely no problem at all.
ASUS VG278Q – Features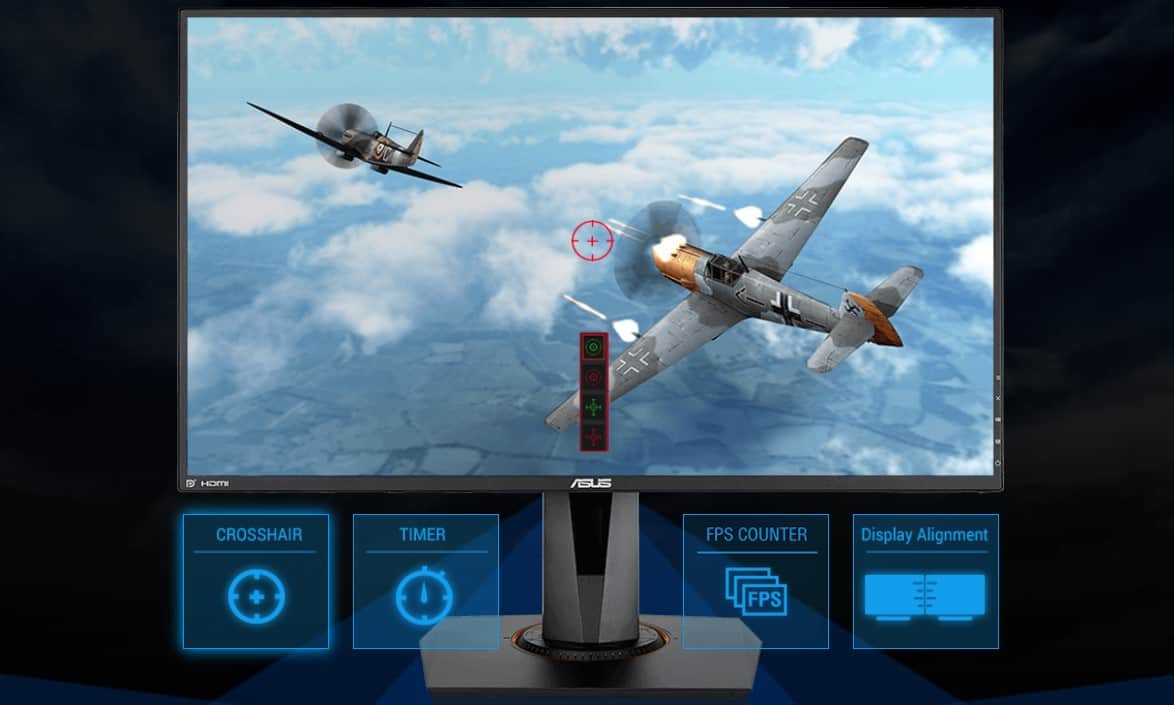 The VG278Q monitor comes with some features from ASUS, such as the GamePlus – which offers custom crosshairs, timers and an FPS counter, GameVisual – which comes with some pre-calibrated picture preset for FPS, RTS/RPG, Racing, and MOBA games.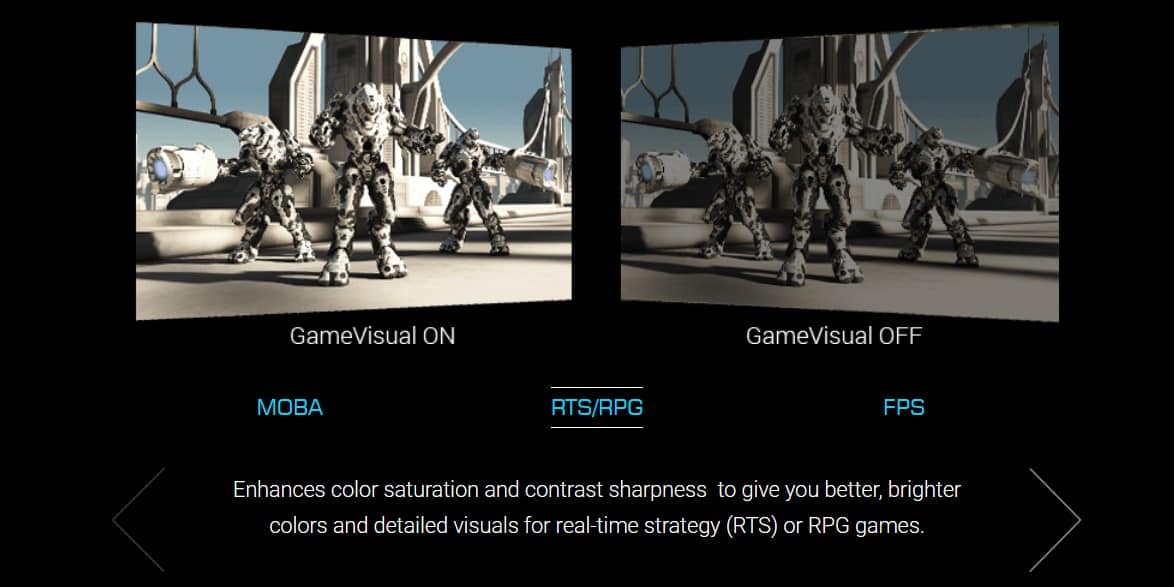 There is also the Adaptive-Sync technology that is compatible with both AMD and NVIDIA GPUs so that users can enable FreeSync or G-SYNC.
Using a DisplayPort connection for Adaptive-Sync will result in a variable refresh rate of 40-144Hz, while using an HDMI connection will have a variable refresh rate of 40-120Hz.
ASUS VG278Q – Build and Connectivity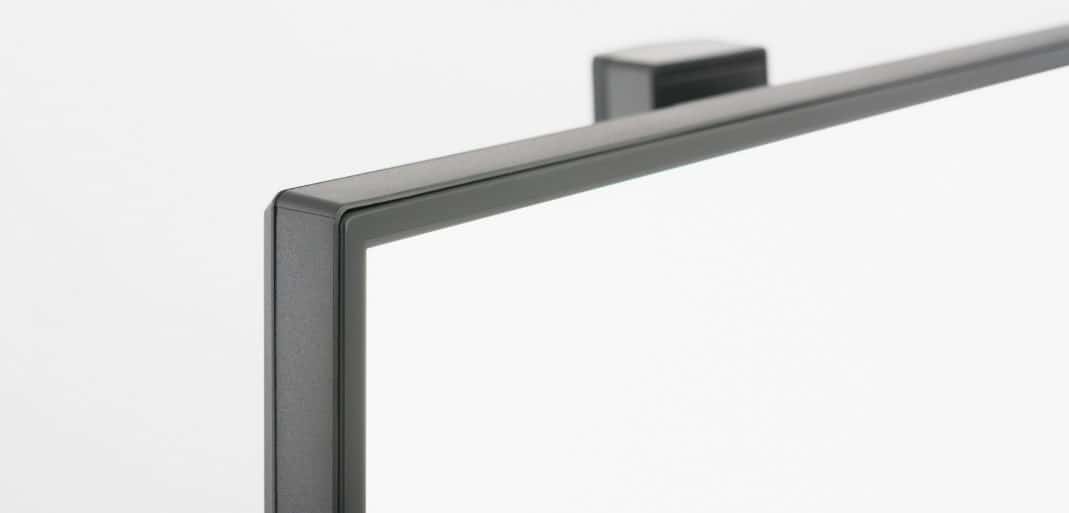 In terms of build, the VG278Q looks pretty nice and solid. It has thin (0.4 inch) bezels that are great if you want to have a dual-monitor setup.
The monitor has a matte coating and a fully ergonomic stand that can be adjusted to reach up to 130mm height.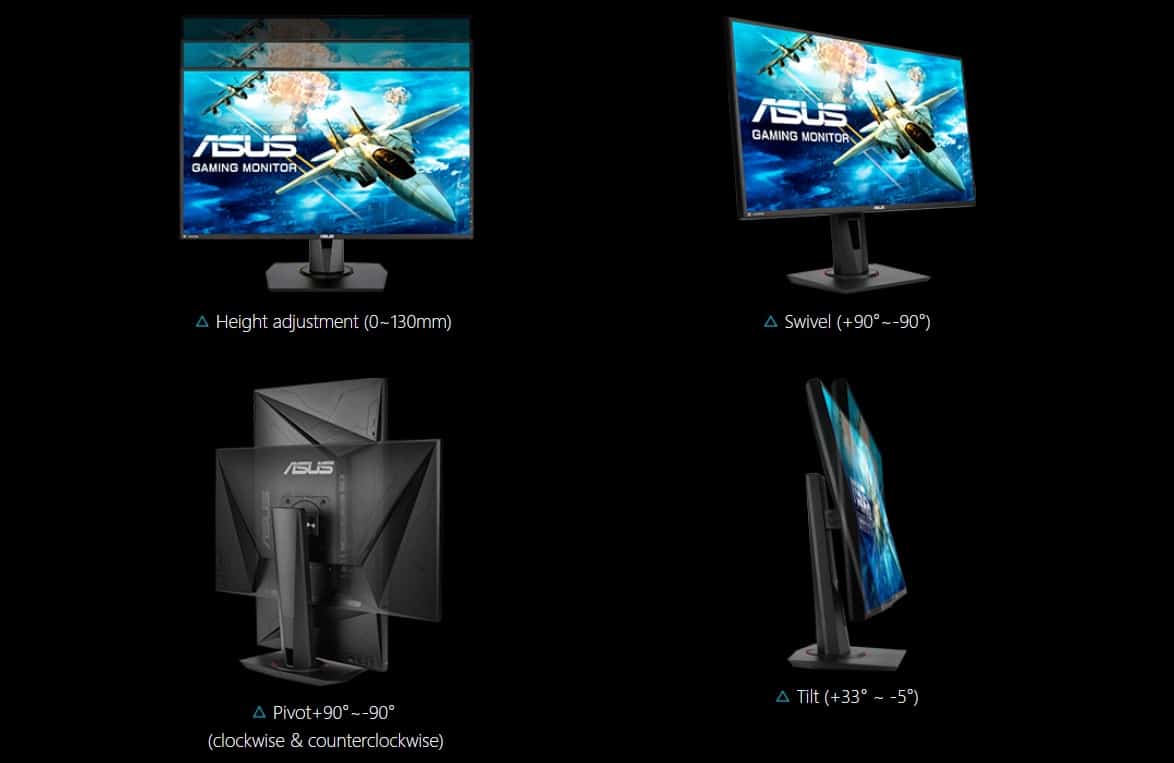 It can be swivelled and pivoted at a +/- 90°, and has a -5°/33° tilt. If you're looking to add a VESA mount, the VG278Q is compatible with 100 x 100mm mounts.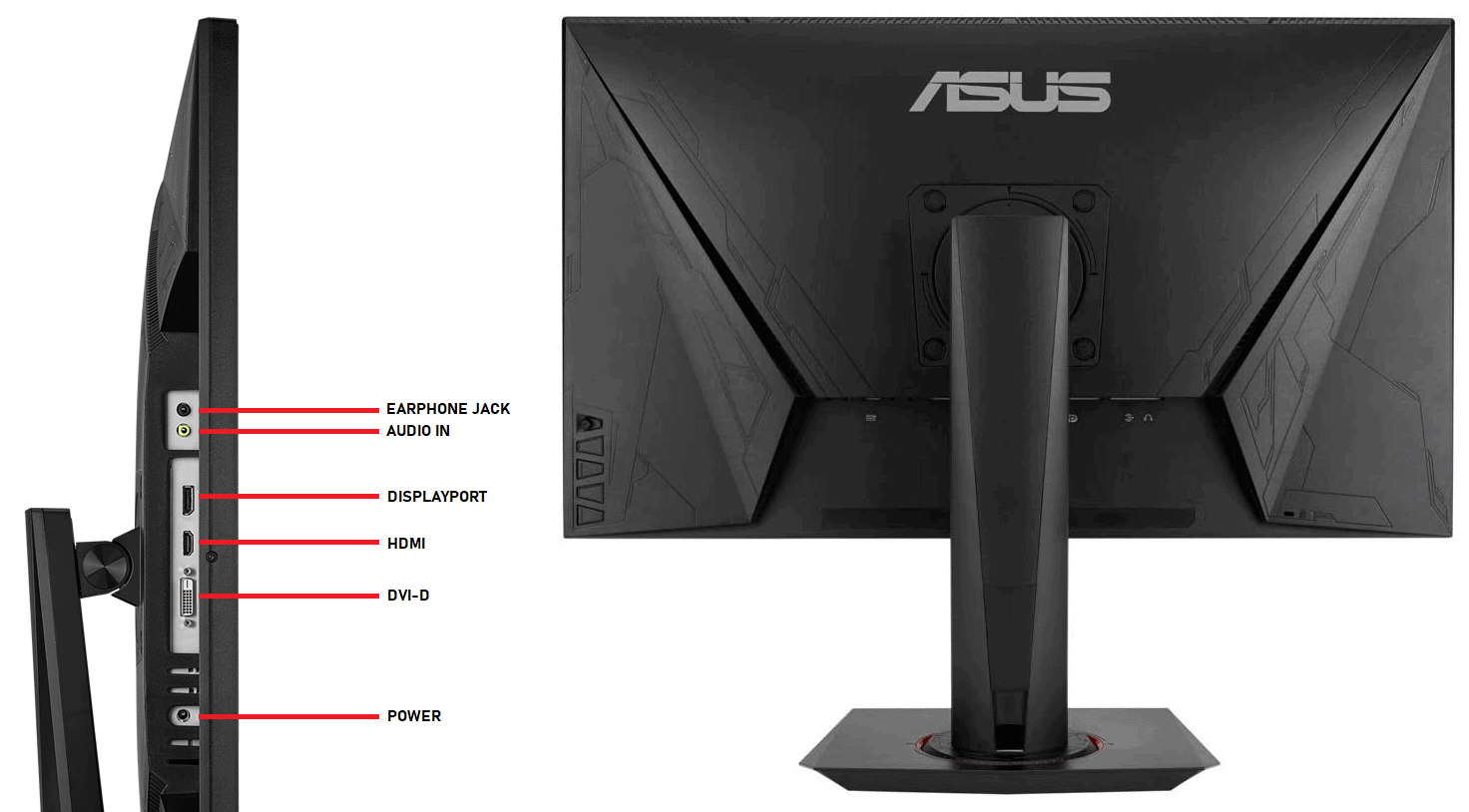 As you can see in the image provided above, there's a DisplayPort 1.2, HDMI 1.4, Dual-Link DVI-D, and a headphones jack. The monitor also comes with two 2W built-in speakers, but you won't exactly use them for gaming or anything because they cannot replace PC speakers.
The monitor has four buttons on the back (right side) – there's a power button, a five-way jog dial that lets you easily navigate the settings menu.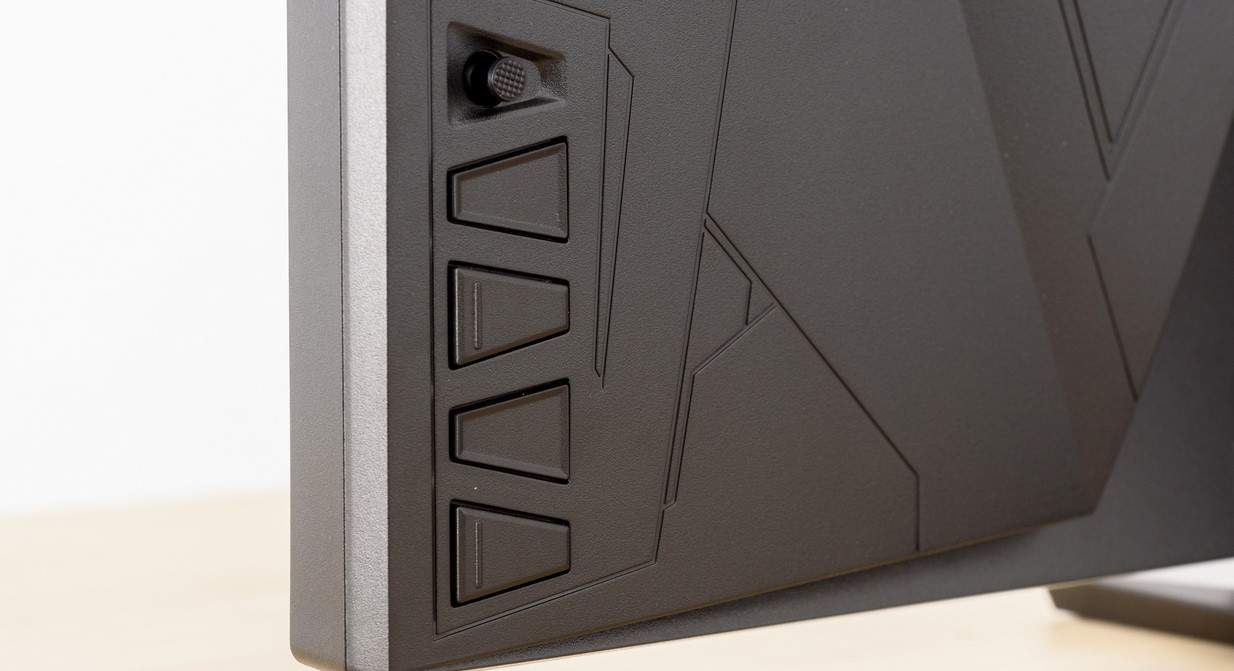 ASUS VG278Q – Price and Competition
Now for the moment of truth. Is the ASUS VG278Q worth those $300? Well, if you're looking for a 1080p 144Hz 1ms monitor that supports G-SYNC/Free-sync compatibility and Motion Blur Reduction, this is the cheapest offer on the market.

If you're looking for a 240Hz gaming monitor at around the same price, there's Acer XF252Q or the Acer XF250Q or the LG 27GL83A, which has a 1440p 144Hz monitor with a 1ms IPS panel (for an extra $80).

So should you buy an ASUS VG278Q? For this price, it offers a strong gaming experience and plenty of features and settings for your games. And if you're on a tighter budget, you could go for the $290 ASUS VG279Q or the 24″ ViewSonic XG2402, which is $240.

P.S., if you already own this monitor, check out this guide for the ideal settings for this monitor.

<![CDATA[ */ var zbjs = {"ajaxurl":"https:\/\/gaminggorilla.com\/wp-admin\/admin-ajax.php","md5":"d8e8b24d2fa18d2999e0fddcdd418586","tags":[],"categories":["Hardware"]}; /* ]]>