Kingston Canvas Go Plus 128GB UHS-I microSDXC Card Review
Introduction to Kingston's Canvas Go Plus 128GB UHS-I microSDXC Card
As a professional content creator, the quality of the storage media I use matters, and nothing is worse than ordering a new SD card, only to find that it actually performs too poorly to use in any of my DSLRs, GoPros, or drones. This happened to me recently, and this leads me down a path searching for actual SD card performance reviews rather than blog-style marketing posts, something I found very little of. So I have decided to take matters into my own hands, and over the next few months, I am going to be releasing a new SD card review every week. This week we are taking a look at Kingston Technology's Canvas Go Plus Line and will be reviewing the 128GB model.
Kingston added the Canvas Go! Plus line of Class 10 UHS-1 U3 SD Cards back in March of 2020 with the mobile media creator in mind. This new line of SD cards is ideal for shooting 4K UHD video and burst-mode photography on a DSLR or using with your 4K action cameras and drones. Kingston features the Canvas Go! line in full-size SD as well the microSD format with capacities up to 512GB, and claims fast write times of 90MB/s.
From The Manufacturer: Specifications on the Canvas Go Plus 128GB UHS-I microSDXC Card
Kingston's Canvas Go! Plus, SD is for the adventurers who are always on the go chasing the perfect moment to capture. With superior transfer speeds of up to 170MB/s1, the Canvas Go! Plus SD card accelerates your workflow and efficiency so that you'll have more time to take your creativity onto the next adventure. With U3 & V30 speed performance, shoot stunning 4K Ultra-HD videos without worrying about slow speeds and dropped frames or shoot sequential burst-mode photography that's seamless and consistent. View the world as your canvas and take your creativity and inspiration on the road with the Canvas Go! Plus SD.
Specifications
Capacities:

64GB, 128GB, 256GB, 512GB

Standard/Class: Class 10, UHS-I, U3, V30
Performance: 170/70MB/s Read/Write (64GB) | 170/90MB/s Read/Write (128GB-512GB)
Dimensions: 24mm x 32mm x 2.1mm
Format: exFAT
Operating temperature: -25°C to 85°C
Storage temperature: -40°C to 85°C
Voltage: 3.3V
Warranty/support: Lifetime
Testing the Canvas Go Plus 128GB UHS-I microSDXC Card
All testing was completed using the following hardware.
Testing PC Specs
Dell G7 7588 Gaming Laptop

Intel Core i7 8750H
SK Hynix 16GB (2x8GB) 2666Mhz DDR4
Nvidia GeForce 1060 Max-Q
Windows 10
USB Port 1 (USB 3.1) used for Testing
Testing Hardware
Kingston USB 3.0 High-Speed Card Reader (Plugged into USB Port 1 on Dell G7)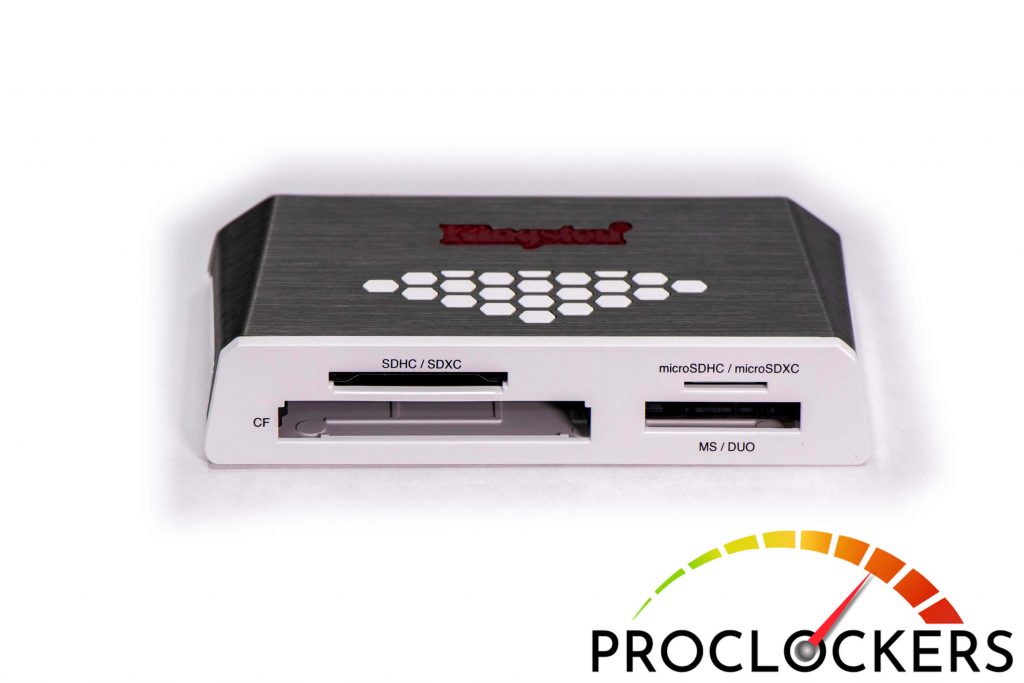 Kingston's USB 3.0 High-Speed Media Reader reads all major card format types and supports UHS-I and UHS-II SD card speeds, featuring USB 3.0 high-speed performance with up to 5.0Gb/s data transfer speed, up to 10 times faster than USB 2.0.
All storage media is fully formatted using Window's built-in formatting tools and verified to be empty before each benchmark is run. We only run benchmarks once unless the returned results appear to be erroneous, at which time we reformat the storage media, and rerun the benchmark.
Testing Software
Crystal Disk Mark (CDM) – An open-source disk drive benchmark tool for Microsoft Windows. Based on Microsoft's MIT-licensed Diskspd tool, this graphical benchmark is commonly used for testing the performance of solid-state storage. It works by reading and writing through the filesystem in a volume-dependent way.
Anvil Storage Utilities (ASU) – Anvil's Storage Utilities is a freeware SSD benchmarking application: Endurance and benchmark testing tool for analyzing the performance of both solid-state and traditional hard disk drives. ASU test throughput as well as IOPS and Disk Access Times. It features a preset SSD benchmark and is also capable of performing endurance testing and threaded I/O read, write, and mixed tests.
ATTO Disk Benchmark (ATTO) – Is a robust hard disk and solid-state storage benchmarking tool. Several options are available to customize your performance measurement, including queue depth, overlapped I/O, and even a comparison mode with the option to run continuously. ATTO Disk Benchmark can be used to test any RAID controller, storage controllers, host adapters, hard drives, and SSD drives, or another solid-state storage medium that interfaces as a drive in your system.
Kingston Canvas Go Plus 128GB UHS-I microSDXC Card Benchmarks
Crystal Disk Mark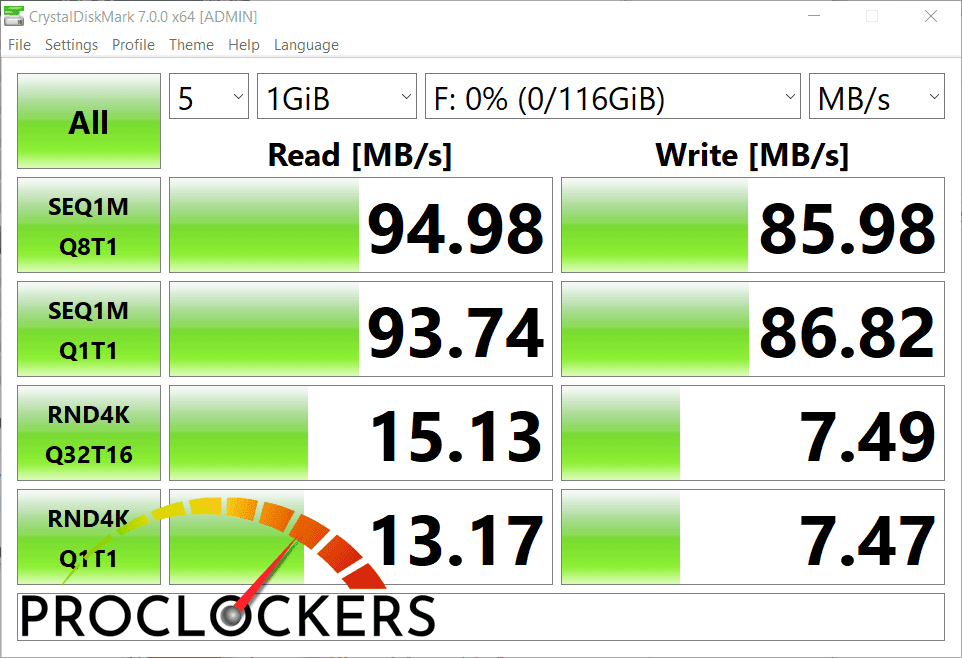 The Kingston Canvas Go Plus 128GB managed 94.98MB/s read, and 85.98MB/s on the SEQ1M Q8T1 test, which simulates 8 sequential operations at once utilizing a single thread. This simulates moving large files such as photos or videos from the card to a PC, saving a burst of photos from your DSLR to the card, or writing a continuous video file to the card.

The Canvas Go Plus 128GB was a bit slower at the random RND4k Q32T16 test with just 15.13MB/s read and 7.47MB/s write. This test simulates 32 random operations at once across 16 threads. This test indicates the performance during operations such as reading or writing to and from a database, as one might expect if using the SD card with a single-board-computer such as the Raspberry Pi.
Anvil Storage Utilities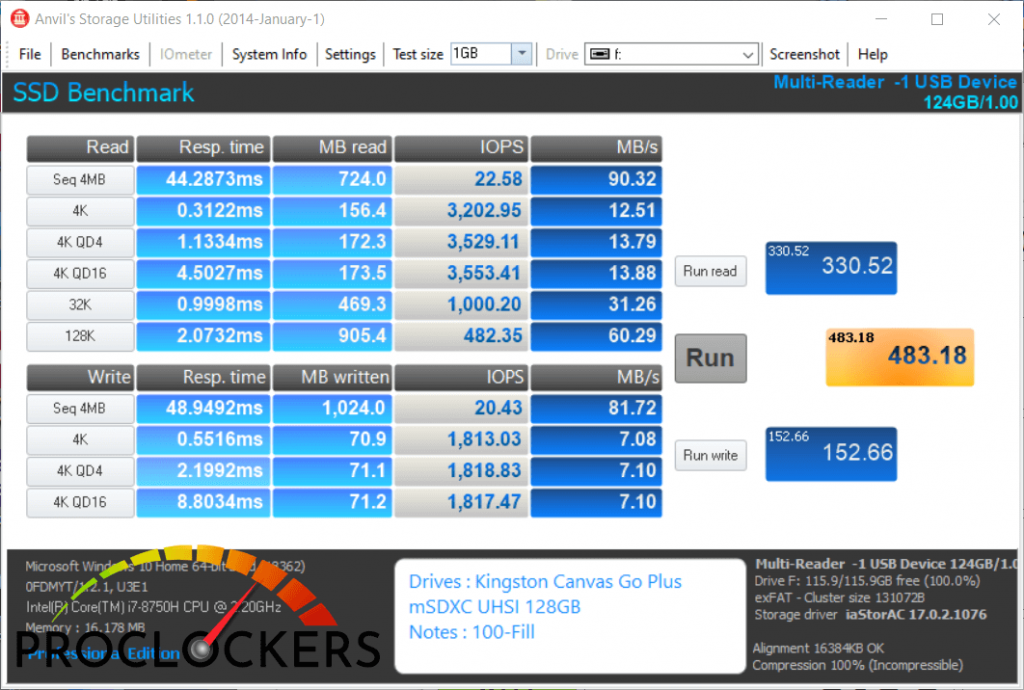 When testing using Anvil's Storage Utilities, we find very similar numbers to those that we found when benchmarking with Crystal Disk Mark. Sequential 4MB file operations averaged to 90.32MB/s while sequential write operations averaged to 81.82MB/s.
ATTO Disk Benchmark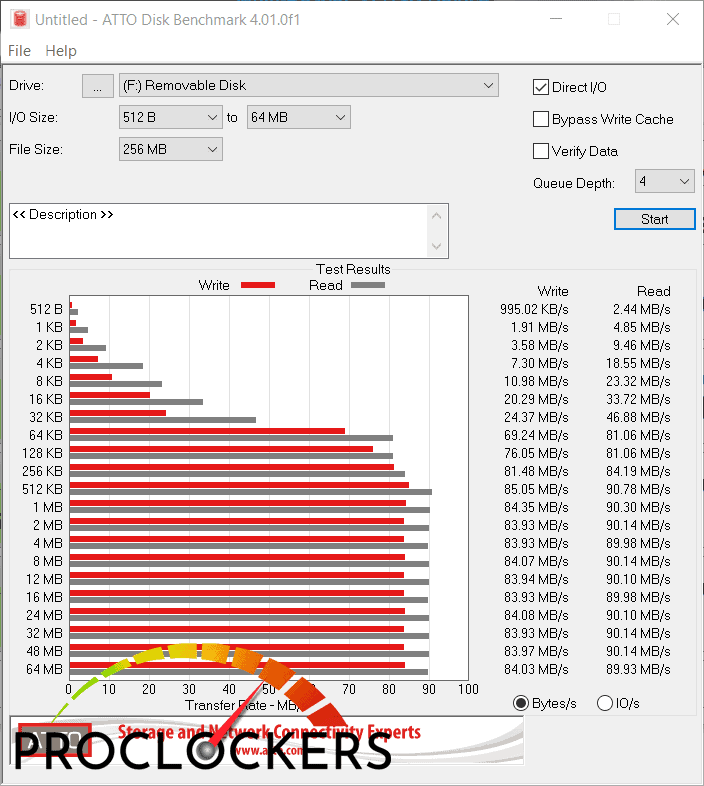 The results from ATTO were within the same range of the previous two tests with 4MB sequential read speeds averaging to 89.98MB/s and write speeds averaged to 83.93MB/s.
Final Thoughts on Kingston's Canvas Go Plus 128GB UHS-I microSDXC Card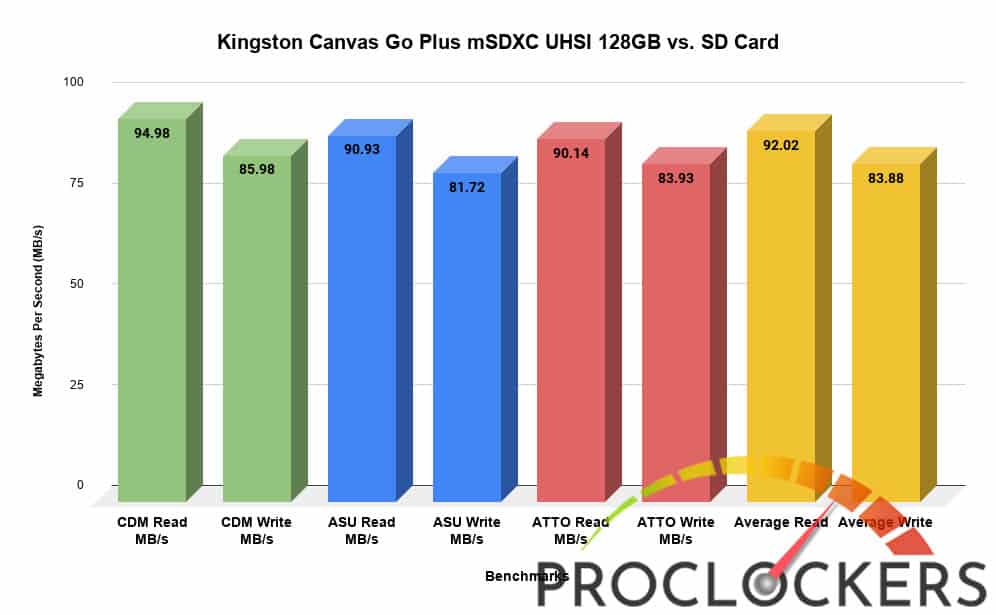 Kingston's Canvas GoI Plus 128GB SD Card performed well across all of the benchmarks performed, averaging 92.02MB/s read speeds and 83.88MB/s write speeds. This is quite impressive, considering that similarly priced SD Cards of the same capacity from just a couple of years ago perform about half as fast. With GoPros, DSLRs, and drones pushing the limits today with 4K and 8K cameras, fast cards like this one are becoming increasingly more important.
Numbers are great and all, but how does that relate to real-world usage? The best test I could come up with to test everyday performance that would actually impact my life was to test if the card could keep up with my Canon EOS 80D DSLR in burst mode. With the card freshly formatted in the DSLR, I was able to continuously take photos in burst mode without hitting the camera's buffer limit. This means that the card was able to accept data from the camera's data buffer faster than the camera could write new data to the buffer.

Overall the Kingston Canvas Go! Plus 128GB SD card performed exceptionally well and was quite impressive for such a large-capacity card. This card is an exceptional value coming in at under $30 for either the standard SD or microSD variant, and I highly recommend it for anyone looking for a high-quality, high-capacity SD card for their DSLR, action camera, or drone.
<![CDATA[ */ var zbjs = {"ajaxurl":"https:\/\/gaminggorilla.com\/wp-admin\/admin-ajax.php","md5":"d8e8b24d2fa18d2999e0fddcdd418586","tags":[],"categories":["Hardware"]}; /* ]]>