Silicon Power Superior Pro 512GB UHS-1 microSDXC Card Review
Introducing Silicon Power's Superior Pro 512GB UHS-1 microSDXC Card
It's week number six of my 2020 SD Card review series, and this time we're switching manufacturers and taking a look at a high-capacity UHS-I full-sized SD card from Silicon Power, the 512GB Superior Pro mSDXC UHS-I.
Silicon Power released the Superior Pro line of Class 10 UHS-I V30 SD Cards in late 2019 targeting the prosumer / professional photography and videography markets. The Superior Pro line of SDXC cards is ideal for video and burst-mode photography on a DSLR, or with 4K action cameras and drones, and with capacities up to 256GB, these cards make great mobile device storage upgrades.
From The Manufacturer: The Superior Pro 512GB UHS-1 microSDXC Card
"Looking to record outdoor adventures, weekend trips, or sporting events without missing any action? With UHS Speed Class 3 (U3) and UHS Video Speed Class 30 (V30), the Superior Pro microSDXC UHS-I card allows you to capture uninterrupted 4K Ultra HD videos. Furthermore, read and write speeds up to 100 and 80 MB/s, respectively, ensure that you're spending more time recording and less time waiting.
With an A1 rating, the Superior Pro microSDXC UHS-I card is optimized for app performance. A minimum random read of 1,500 IOPS and random write of 500 IOPS equate to faster launches and enhanced operation. This translates to an overall superior user experience on your Android-based smartphone, tablet, and other app-running mobile devices. It also saves internal storage space on your device.
Fill in the blank: digital camera, smartphone, drone, portable game console, tablet, etc. The Superior Pro microSDXC UHS-I card comes with up to 512GB storage capacity – that's up to 77,300 songs, 150,300 photos, or 24 hours of 4K Ultra HD video. It's the superior choice to upgrade your mobile device to the speed of life so you can capture those moments at the speed of life, too."
Specifications
Class: C10,UHS-I U3, A1, V30
Capacity: 64GB, 128GB, 256GB, 512GB
Dimensions: 15.0mm x 11.0mm x 1.0mm
Performance: Read(max.)100MB/s
Performance: Write(max.)80MB/s
Durability: 10,000 insertions (minimum)
Operating Temperature: 0°C – 70°C
Storage Temperature: -40°C – 85°C
Humidity Limits: 8% – 95%
Operation Voltage: 2.7V – 3.6V
Warranty: 5 years
Features
Meets the UHS Speed Class 3 (U3) and the UHS Video Speed Class 30 (V30) standards for 4K Ultra HD video recording
Specifically designed for high-speed capture of high-quality images and extended lengths of Full-HD and 4K Ultra HD video with high-speed continuous shooting.
Meets the new A1 standards for app performance, delivering minimum random read of 1,500 IOPS and random write of 500 IOPS, as well as sustained sequential speeds of at least 30 MB/s
Read and write speeds up to 100 and 80 MB/s respectively.
Up to 512GB storage capacity so you can get more out of your mobile devices.
Fit for apps, photos, videos, music, and games to meet all the needs of digital life on your smartphone, tablet, digital camera, video recorder, and more.
Waterproof, dustproof, temperature-proof, and X-ray-proof for use in extreme environments.
Equipped with an automatic error correction code (ECC) function
Testing Methodology on Silicon Power Superior Pro 512GB UHS-1 microSDXC Card
All testing was completed using the following hardware:
Testing PC
Dell G7 7588 Gaming Laptop
Intel Core i7 8750H
SK Hynix 16GB (2x8GB) 2666Mhz DDR4
Nvidia GeForce 1060 Max-Q
Windows 10
USB Port 1 (USB 3.1) used for Testing
Kingston USB 3.0 High-Speed Card Reader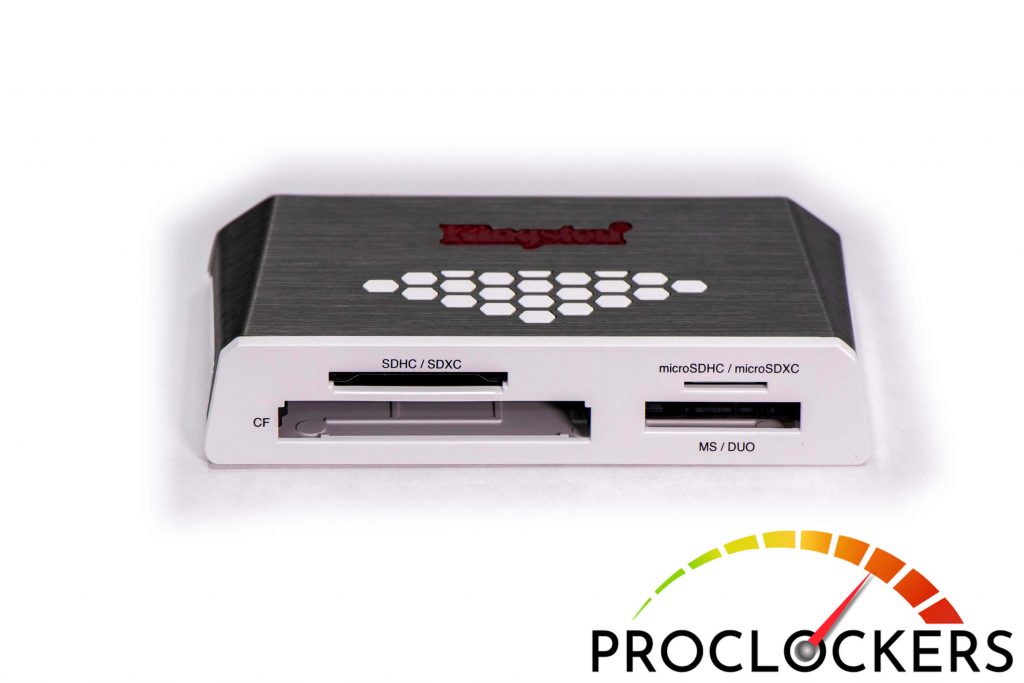 Kingston's USB 3.0 High-Speed Media Reader reads all major card format types and supports UHS-I and UHS-II SD card speeds, making it ideal for photographers, videographers, design studios and printing houses. This versatile reader lets you easily transfer photos, videos, music and other data between your favorite cards and your PC. Features USB 3.0 high-speed performance with up to 5.0Gb/s data transfer speed, up to 10 times faster than USB 2.0.
All storage media is fully formatted using Window's built-in formatting tools and verified to be empty before each benchmark is run. We only run benchmarks once unless the returned results appear to be erroneous, at which time we reformat the storage media, and rerun the benchmark.
Testing Software
Crystal Disk Mark (CDM) – An open-source disk drive benchmark tool for Microsoft Windows. Based on Microsoft's MIT-licensed Diskspd tool, this graphical benchmark is commonly used for testing the performance of solid-state storage. It works by reading and writing through the filesystem in a volume-dependent way.
Anvil Storage Utilities (ASU) – Anvils Storage Utilities is a freeware SSD benchmarking application: Endurance and benchmark testing tool for analyzing the performance of both solid-state and traditional hard disk drives. ASU test throughput as well as IOPS and Disk Access Times. It features a preset SSD benchmark and is also capable of performing endurance testing and threaded I/O read, write, and mixed tests.
ATTO Disk Benchmark (ATTO) – Is a robust hard disk and solid-state storage benchmarking tool. Several options are available to customize your performance measurement including queue depth, overlapped I/O, and even a comparison mode with the option to run continuously. ATTO Disk Benchmark can be used to test any RAID controller, storage controllers, host adapters, hard drives, and SSD drives, or another solid-state storage medium that interfaces as a drive in your system.
Benchmarking the Superior Pro 512GB UHS-1 microSDXC Card
Crystal Disk Mark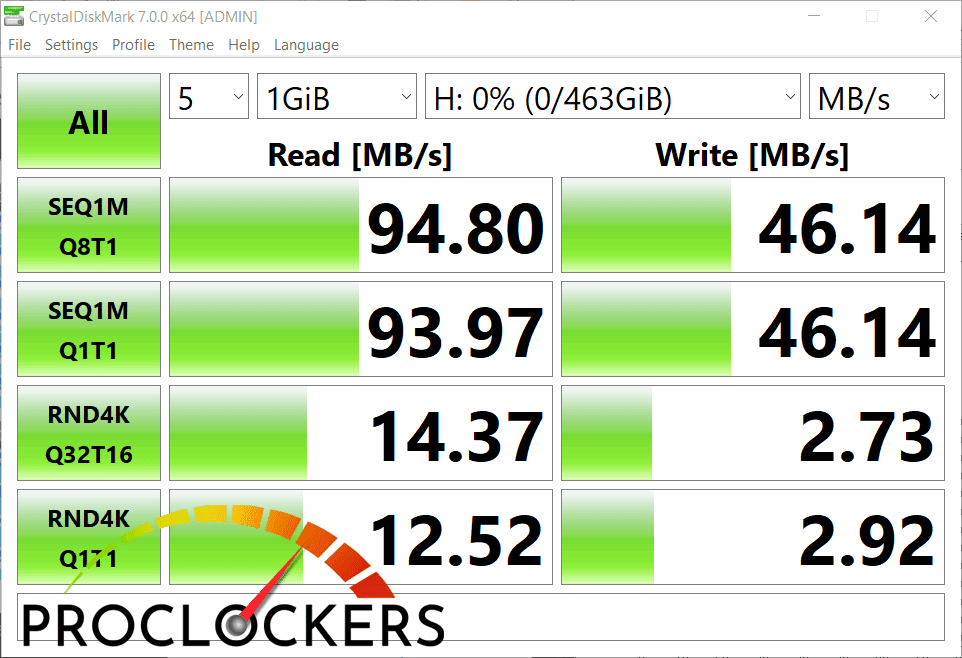 The Silicon Power Superior Pro mSDXC UHSI 512GB SD card posted a respectable 94.80MB/s read speed, but a write speed of 46.4MB/s was a little bit of a letdown on the SEQ1M Q8T1 test. This simulates moving large files such as photos or videos from the card to a PC, saving a burst of photos from your DSLR to the card or writing a continuous video file to the card. 94.80MB/S read speed is quite close to the 100MB/s read speed advertised by Silicon Power, and is inline with what I expect from a Class 10 V30 UHS-1 microSDXC card. .
The Superior Pro mSDXC UHS-I 512GB did impress me with the random RND4k Q32T16 test scoring a 14.37MB/s read score but was again a little slow on the write speed posting just 2.73MB/s. This test simulates 32 random operations at once across 16 threads, and indicates the performance during operations such as reading or writing to and from a database, as one might expect if using the SD card with a single-board-computer such as the Raspberry Pi.
Anvil Storage Utilities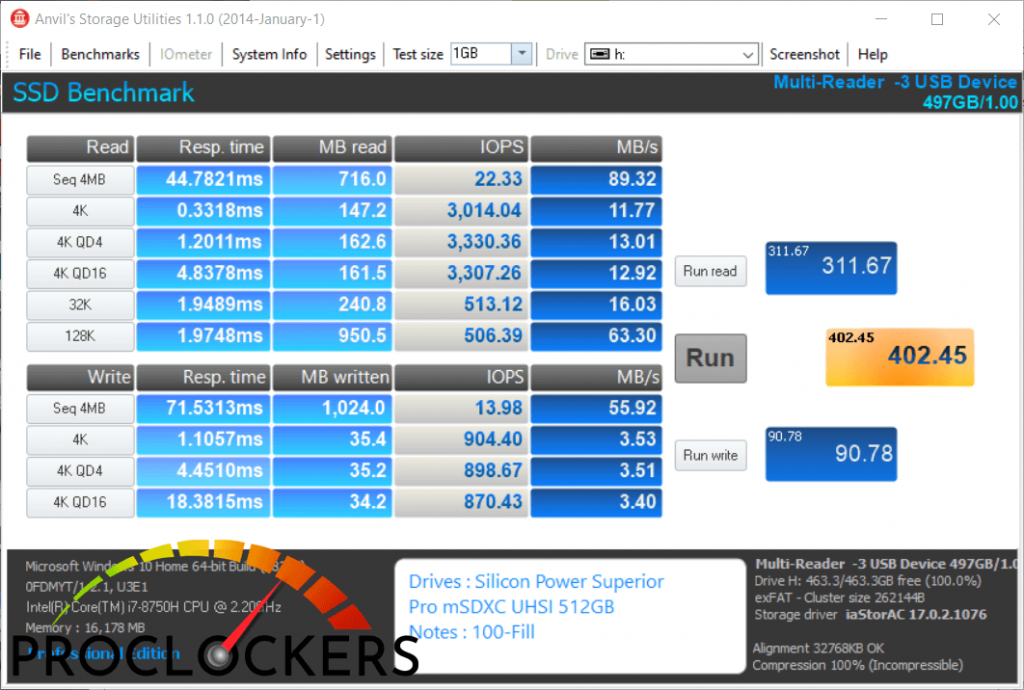 Anvil's SSD benchmark reported a slightly slower 89.32MB/s read speed, but the write speed was up a little over CDM at 55.92MB/s.
ATTO Disk Benchmark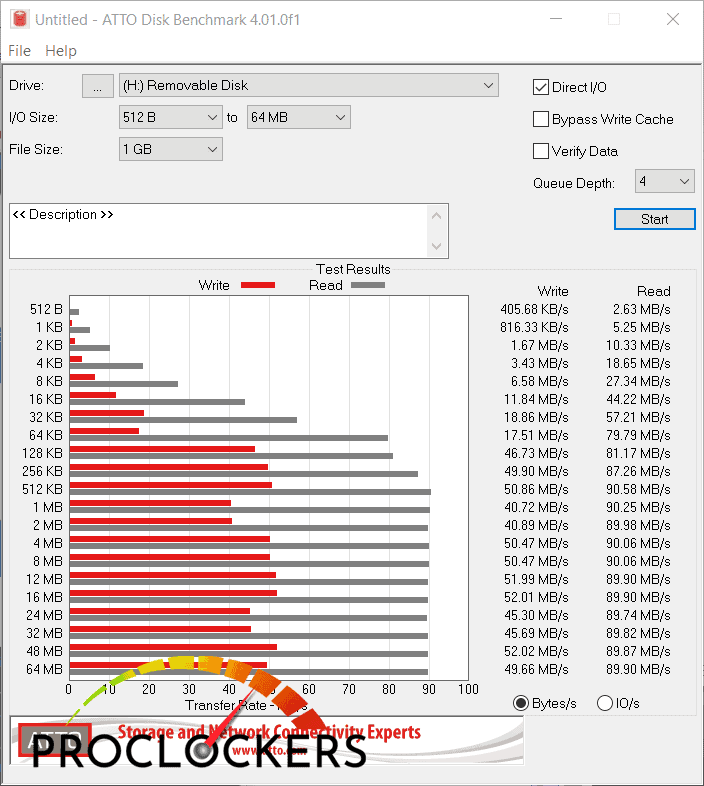 ATTO's results were the best out of the testing set this time with both Crystal Disk Mark and Anvil, reporting lower speeds on both read and write. The 512GB Superior Pro mSDXC UHS-I posted a 4MB sequential read speed of 90.06MB/s and a write speed of 50.47MB.
Final Thoughts on Silicon Power's Superior Pro 512GB UHS-1 microSDXC Card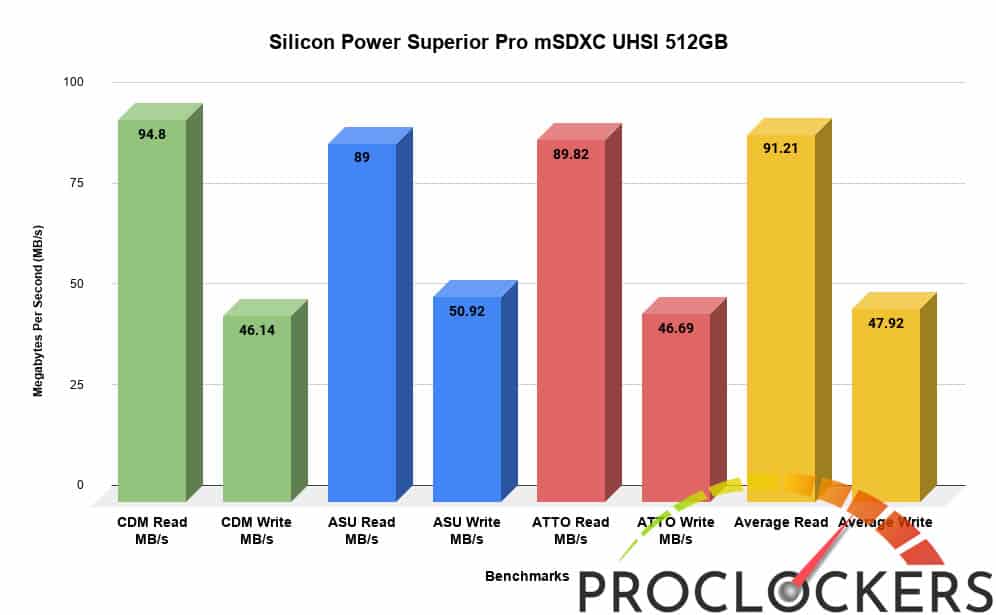 The Superior Pro mSDXC UHS-I 512GB microSD card is a solid performer for the every-day, average consumer, and would perform just as well as part of a professional's kit. It's large capacity lends for longer shooting times without the need to carry multiple memory cards out into the field. Much like the Silicon Power Superior microSDXC V30 UHS-I 128GB SD card I reviewed last week, the Superior Pro performed inline with most of the UHS-1 cards I have tested this year, averaging 91.21MB/s read speeds and 47.92MB/s write speeds.
Silicon Power claims this card is capable of read speeds up to 1000MB/s, which is close to the average read speed reported in our testing, and the card holds up to the marketing hype.
Data-based benchmarks are great, but how does that relate to real-world usage? The best test I could come up with to test everyday performance that would actually impact my life was to test if the card could keep up with my Canon EOS 80D DSLR in burst mode. Again, just like the Silicon Power Superior microSDXC V30 UHS-I 128GB SD card I tested previously, I was able to continuously take about 18 photos (RAW+JPG) in burst mode without hitting the camera's buffer limit. I repeated this test several times, and anywhere between 16 and 23 photos were taken before the camera's buffer filled up. This means that the card was not able to write data from the camera's data buffer faster than the camera could write new data to the internal buffer, causing the camera to briefly pause image capturing until the buffer had free space.
Overall the Superior Pro mSDXC UHS-I 512GB microSD card performed well in my testing and reported similar sequential read and write speeds of other UHS-1 Class 10 SD cards I have tested. Retailing at under $65 (at time of publication) this 512GB is a decent value for anyone looking to add another high-capacity V30 UHS-I SD card to their kit. This SD card performed well, and it's advertised speeds were mostly accurate, so for that reason, I can recommend it for anyone looking for a high-quality, high-capacity SD card for their DSLR, action camera, or drone.
<![CDATA[ */ var zbjs = {"ajaxurl":"https:\/\/gaminggorilla.com\/wp-admin\/admin-ajax.php","md5":"d8e8b24d2fa18d2999e0fddcdd418586","tags":[],"categories":["Hardware"]}; /* ]]>