Silicon Power 512GB PCIe Gen 3 SSD Review
Budget gaming can be tough for newcomers to the PC world. When it comes to storage, there is no shortage of choices, and even those choices branch into how you'll use the drive. Do you get the legacy disk drives that support the highest amounts of storage, but lead to slow boot times? An SSD would help those boot times out, but we're in a more modern era. With PCIe 3.0 NVMe M.2s, boot times feel like milliseconds and now companies like Silicon Power have introduced their M.2 SSD into the mix.
Some Specs
The P34A80 PCIe M.2 supports 3DNand, and NVMe 1.3 and comes in 2280 (22mm wide and 80 mm long), 3DNand in simple terms, is a flash memory stacking process used to save space and cost, while still achieving high capacity. NVMe 1.3 is a logical device interface for how to access that 3DNand Memory using low latency, so your speeds are in the GB/s for read and writes.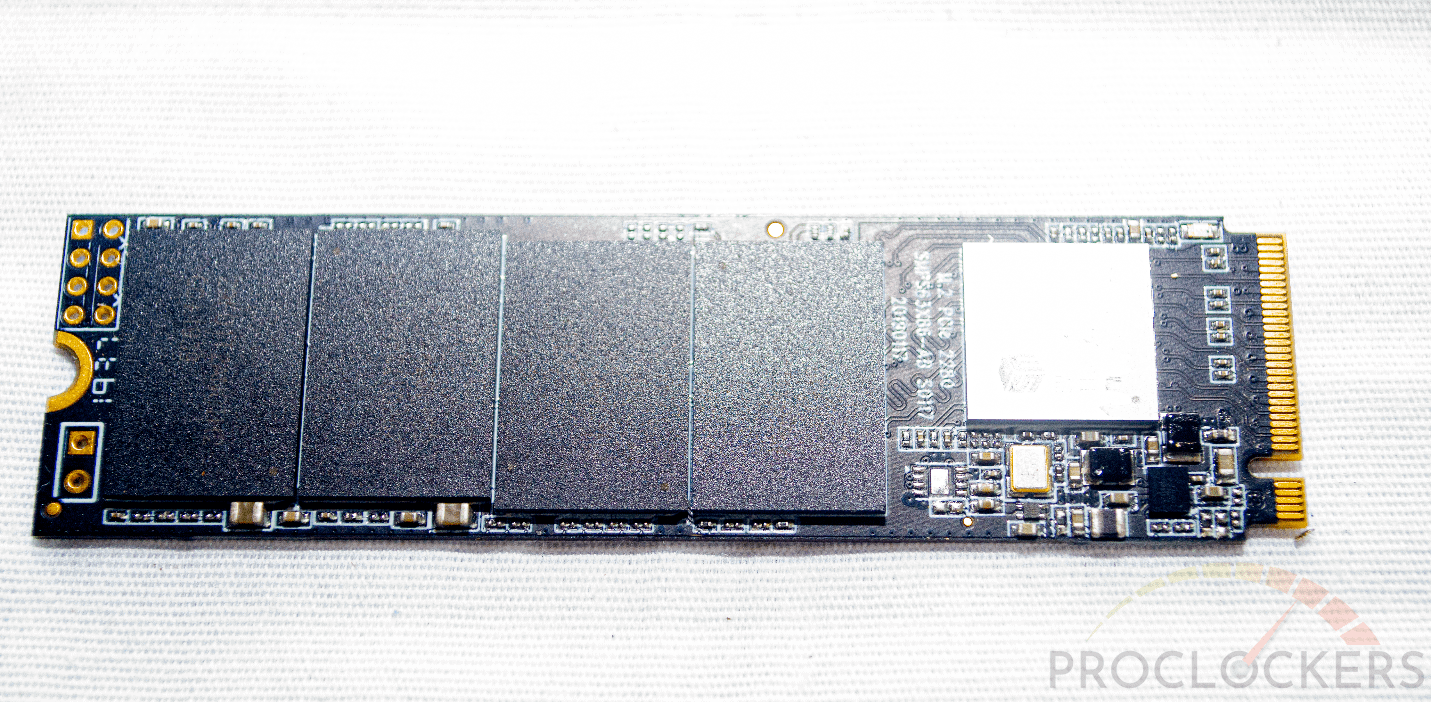 "Under the Hood"
The beautiful 3D NAND TLC Memory, TLC or Triple-level cell uses fewer bits compared to QLC or quad-level cell. This still yields high performance, as TLC can withstand a higher number of program/erase cycles before the cells start wearing out. Think of it as the middle ground performance in everyday computing.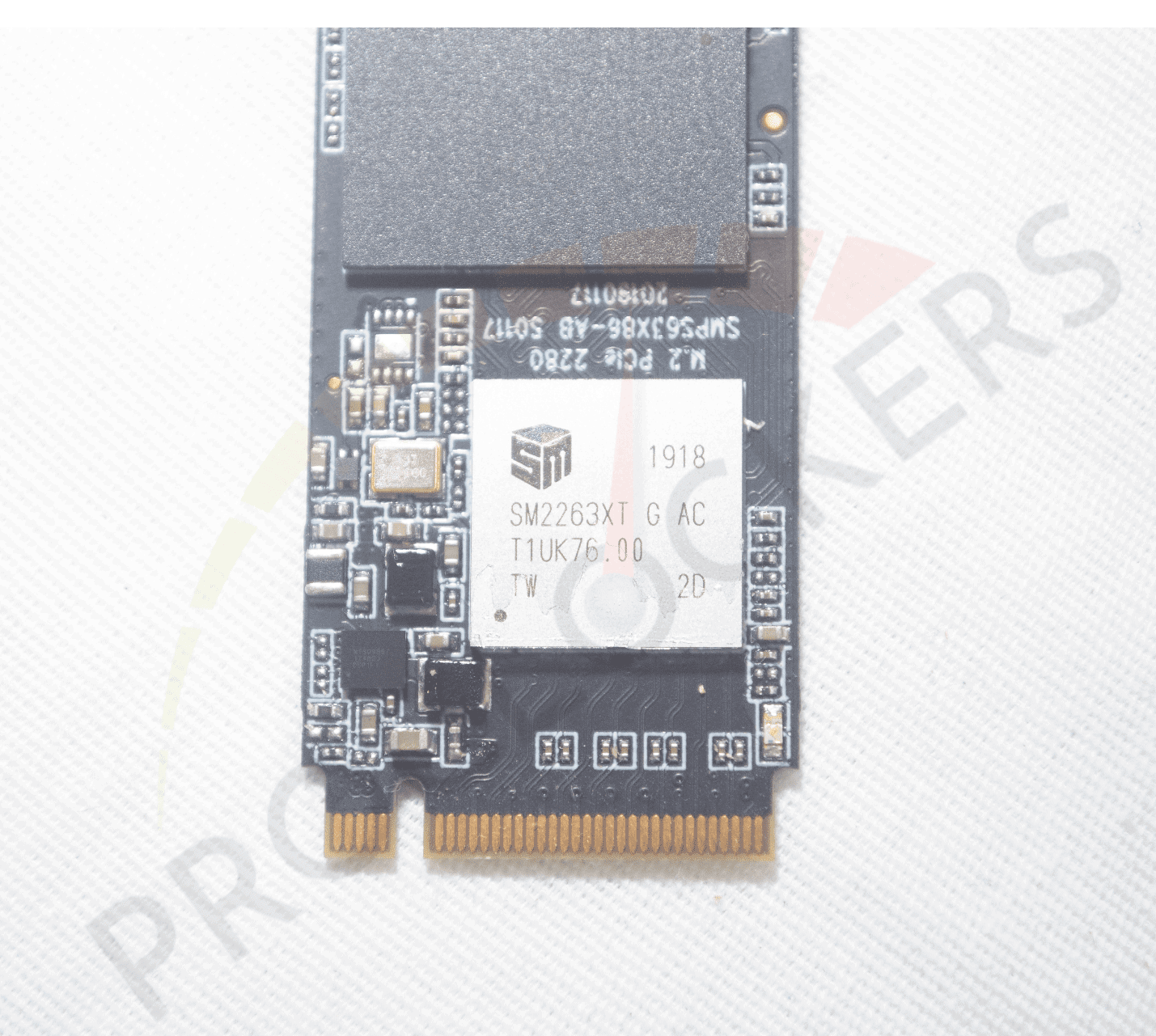 The SiliconMotion SM2263XT controls the flow of information between PCIe to motherboard. They are 4-channel high-performance PCIe Gen3 x4 SSD controllers. This specific controller is made for cost-effective, small for factor and low power SSDs. The SM2263XT's DRAM-less design reduces cost and also slightly hinders performance. This has been a increasingly big trend for budget SSDs, as the performance suffered wouldn't be noticeable to an indie gamer or an office user.
Key Features Include:
PCIe Gem3 x4 with 4- NAD Channels for smooth data flow.
Best-in-class low power- Active power state @50mW, L1 and L2 (sleep states) @<2mW
Datapath protection – End-to-end data protection W/ SRAM ECC
NANDXtend ECC Technology- Which future protects your data and enhances endurance and retention of data.
Supporting NVMe 1.3 which came out in 2017, brought significant features to the protocol. One of these features is the ability for the host machine to tell the drive to start a self-test without having to mount the volume. This self-test is similar to SMART, in that it allows you to determine data integrity and potential hardware failures.
The new protocol also adds support for boot partitions that won't be stored in the UEFI firmware. In addition, drives will also have two boot partitions to reduce the risk of failure during a corrupt firmware upgrade. According to specs, this feature won't be useful to user-upgradable drives but is a feature that will help cut costs on embedded systems SSDs like NVMe BGA for high-performance storage.
Another interesting feature I've found is a Sanitize feature, which is used as a secure way of erasing data, as it cleans the data from the main NAND flash memory chips and also the controller memory buffer and the drive carious caches.
At the max performance of the SM2263XT controller, we can expect around 2,400MB/s Sequential Reads and 1,700MB/s Sequential Writes. Depending on which Tier memory SSD you have (from 256GB to 2 TB), you could experience higher or lower speeds. Higher speeds on the 1Tb drives are typically experienced.

Silicon Power 512GB PCIe Gen 3 SSD Testing and Performance
Overpowered Test
Geared toward the budget users, this makes an exceptional boot drive. Using the latest version of windows 10, x299 Motherboard, i9-7960x and 90 GB of ram, I was able to boot into windows in about 139.1 seconds. Not too bad considering my main M.2 boots in about 60 seconds. Although, boot times may vary since my CPU does have to do more checks than the average budget gamer's CPU has to. Read and write speeds sat at a respectable 1866.68 MB/s read and 1565.02 MB/s writes using a 1GB file, and stayed within that range from 1GB to 10GB with 4k read/writes being in just the right spot for this budget M.2. You'll notice compression files had a little more gain at around 1900 MBs read, and though a slow start for writing, you notice it gradually shortens the big spike, which is most likely from caching and is unnoticeable in everyday use.
Gaming Load Test
Since gaming is usually high on the list of reasons consumers get an M.2, we'll test out loading times across 10 games. We used the Samsung 970 EVO for comparison. This M.2 is the Jack of M.2s with its supreme speed and reliability. Although it's pricey, it will be the perfect competitor for the SP A80 to show the difference between budget and high end.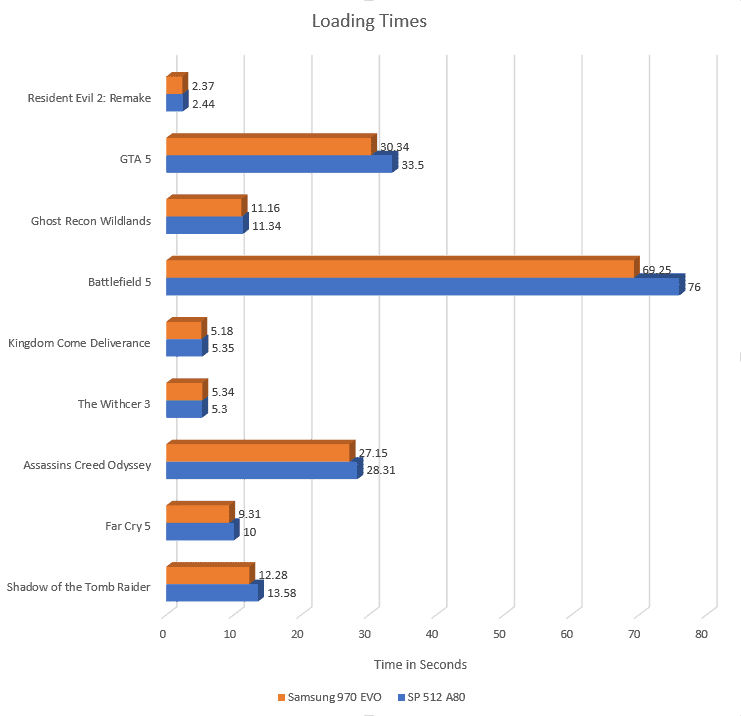 Loading times are the one annoyance that can make or break your entire gaming session. There have been times when I've played BF4 on an HDD and found myself loading almost 5 mins after the game started, usually ending in a kick for being "idle". Battlefield still doesn't disappoint as being a load time conundrum, but with a story feel to the load screens it makes it seem like you are just watching a short intro before landing in your tank. At the highest times in our test at 76 seconds to load in, it's definitely an improvement over the old disk drives. The Samsung showing its power at 69.25 seconds, still high but about as fast as you might get unless you were in RAID. Certain games showed close comparisons, but that might only be the difference in human interaction when starting the timer. This could also show as a comparison of how much faster the Samsung is. Regardless, times were insanely quick with KOD and Wither 3 hitting 5 second load times. RE2 showed significant times as well. With it being an extremely linear game and short at that, resources are loaded rather quickly.
Final Thoughts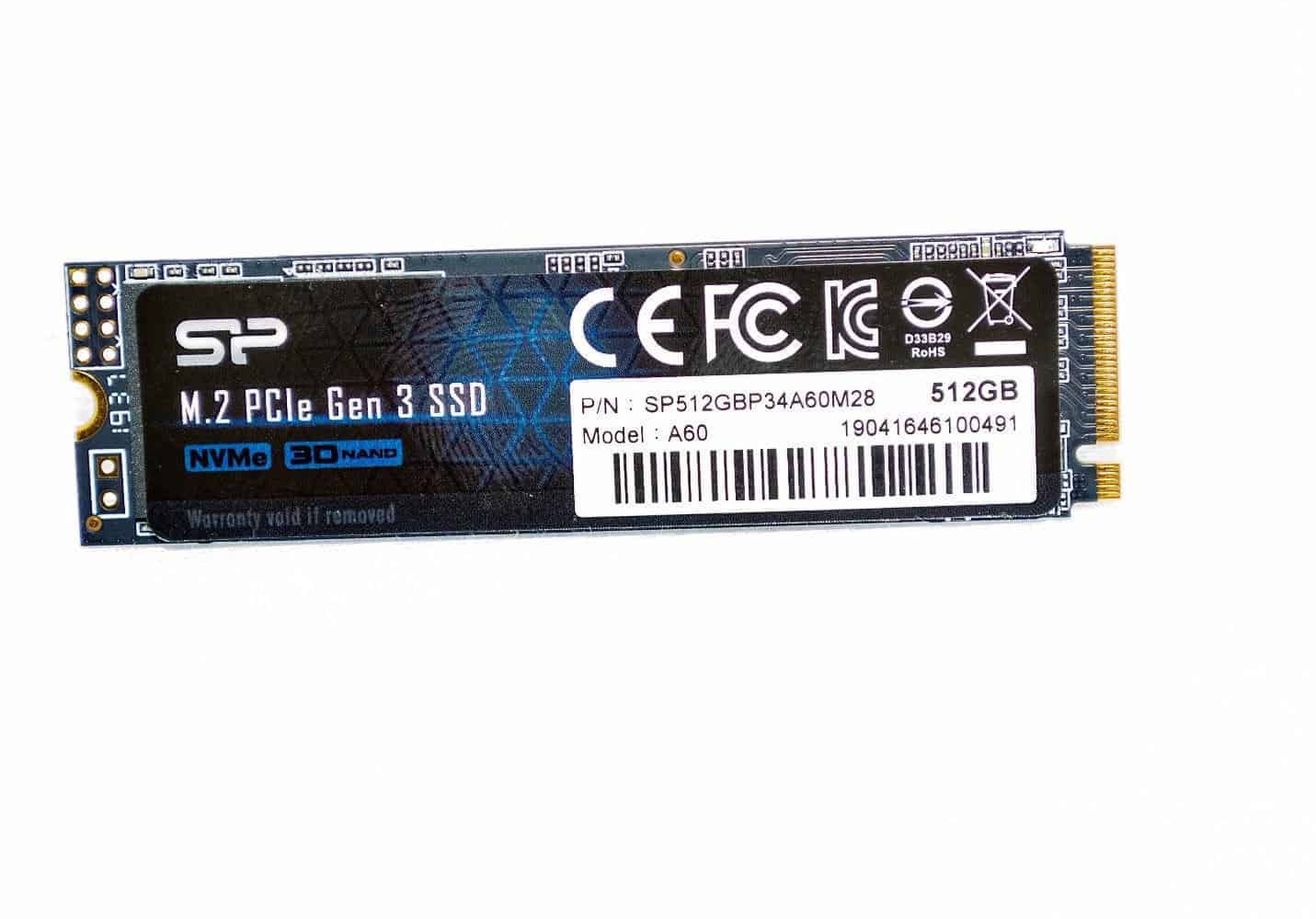 Silicon Power has produced an easy solution to budget PC use and at $69.99 it will easily fit into any building plan. Perfect all around, though it is the slower speed of the M.2 families. However, it's worth every penny for those that don't want to spend upwards of $300 on the same M.2 only faster. Silicon Power also has 1Tb and 2Tb with speeds in the upper 3500mb/s writes, and 3000mb/s reads.
<![CDATA[ */ var zbjs = {"ajaxurl":"https:\/\/gaminggorilla.com\/wp-admin\/admin-ajax.php","md5":"d8e8b24d2fa18d2999e0fddcdd418586","tags":[],"categories":["Hardware"]}; /* ]]>