Xigmatek Hera Gold 850W Power Supply Review
Introduction
Few things in a build warrant as careful consideration as the power supply. This silent partner in your build provides the very lifeblood your system needs to perform it's best: clean, stable power. IT may get the least fanfare of any component, but it is by far the most important. Xigmatek's Hera Gold family provides 650-850 watts of single rail power to your system with Japanese capacitors, gold plated terminals, Active Power Factor correction and 80+ Gold efficiency for reliable and efficient operation, even in your fieriest digital battles. Today we'll be taking a look at the Hera Gold 850W and seeing how it does.
ProClockers would like to thank Xigmatek for sending the Hera Gold 850W power supply over to check out!
Xigmatek's take on the Hera Gold power supply:
Xigmatek proudly introduce HERA series power supply, a smarter power supply with 80 Plus Gold-certified efficiency, wattage range available in 650W, 750W, 850W, latest Full-Bridge Topology with LLC Resonant Converter and DC to DC circuit design, built with 100% Japanese Electrolytic Capacitors, Aluminum Electrolytic Solid Capacitors and top-grade Japanese components to ensure the best building quality and reliability, It's the perfect solution for any professional and high-performance PC system.
80 PLUS Gold Certified Efficiency
100% Full Modular Cable System
All Black Flat Cables & Connectors
Gold-Plated High-Current Cable Terminals
Active PFC, Full Range 100V to 240V AC Input
Full-Bridge Topology with LLC Resonant Converter
DC to DC Converter, Single +12V Rail
135m FDB Silent Fan & Smart ECO Switch
High Quality 100% Japanese Electrolytic Capacitors
Intel ATX12V v2.4 and EPS 2.92 compliance
Support Multi-GPU Technology
Compliance with ErP Lot 6 2013 Requirement
Protection Circuit: OCP/OPP/SCP/OVP/UVP/OTP
Operating Temperature: 0~40C
PSU Dimensions: 165mm x 150mm x 86mm

About Xigmatek
Founded in 2005 at Germany, due to the experience with solid requirement toward R&D and quality of the product, Xigmatek became expert in industrial cooling field right away.
In 2006, Xigmatek set up HQ office in Taiwan. With the R&D technology experience in the cooling field, and the market study of the IT industry. Xigmatek officially steps into the consumer computer part's market.
Within three years, Xigmatek extended product line quickly into chassis, power supply, and computer peripherals and popularize the company step by step all over the world till now.
Final goals for Xigmatek is continuously introducing innovative and attractive products to the public.
Features & Specifications
Smart ECO Technology
Hera equipped with Smart ECO Technology, it's a smart fan control innovation which will adjust the fan RPM automatically to provide the best balance between noise level and cooling smartly, minimize noise level without temperature increase, maximize cooling during heavy system loading.

Smart ECO Switch
Smart ECO Off: PSU fan will spin at the system startup – fan speed RPM will self-adjust smartly according to PSU actual operating temperature.
Smart ECO On: PSU fan will not spin during system startup and light loading, it will start to spin when PSU reach to mid loading (approx. at 40% loading), fan speed RPM will self-adjust smartly according to PSU actual operating temperature.
Gold-Plated High Current Cable Terminals
Improve connection quality to deliver clean and stable power.
Full-Bridge Topology with LLC Resonant Converter
New generation PSU topology, designed to deliver high efficiency and strong power output.
DC TO DC Converter, Single +12V Rail
Improved load regulation and ripple & noise, greater system stability, single-rail +12V DC output offer the best compatibility for latest PC system.
High Quality 100% Japanese Electrolytic Capacitors
High-quality material, ensure the best quality and longest lifetime.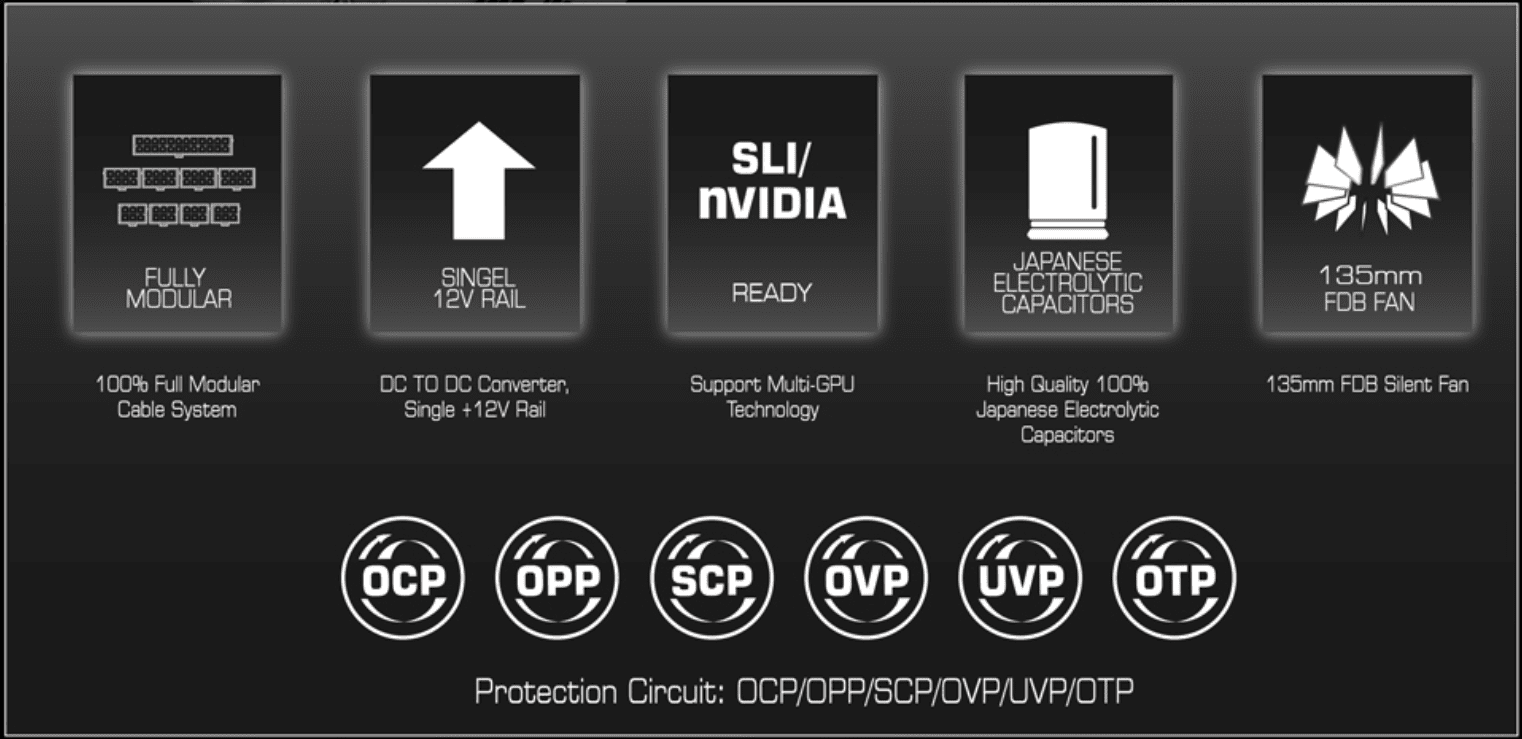 Complete Protections: OCP/OVP/OPP/OTP/SCP/UVP
Provide full protection to the PSU, secure and safe
Specifications: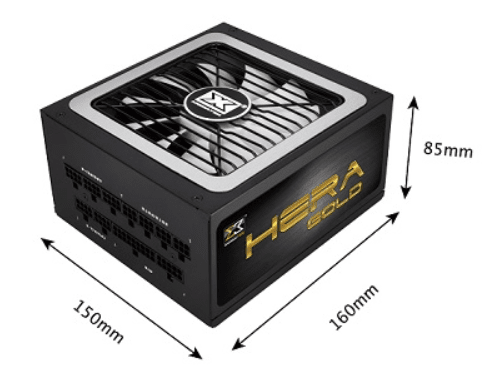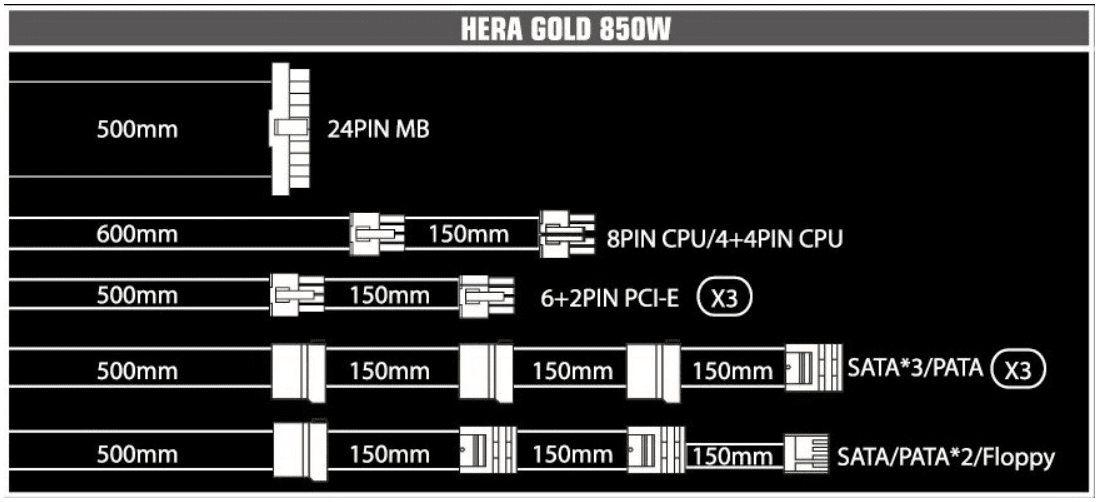 Packaging & Unboxing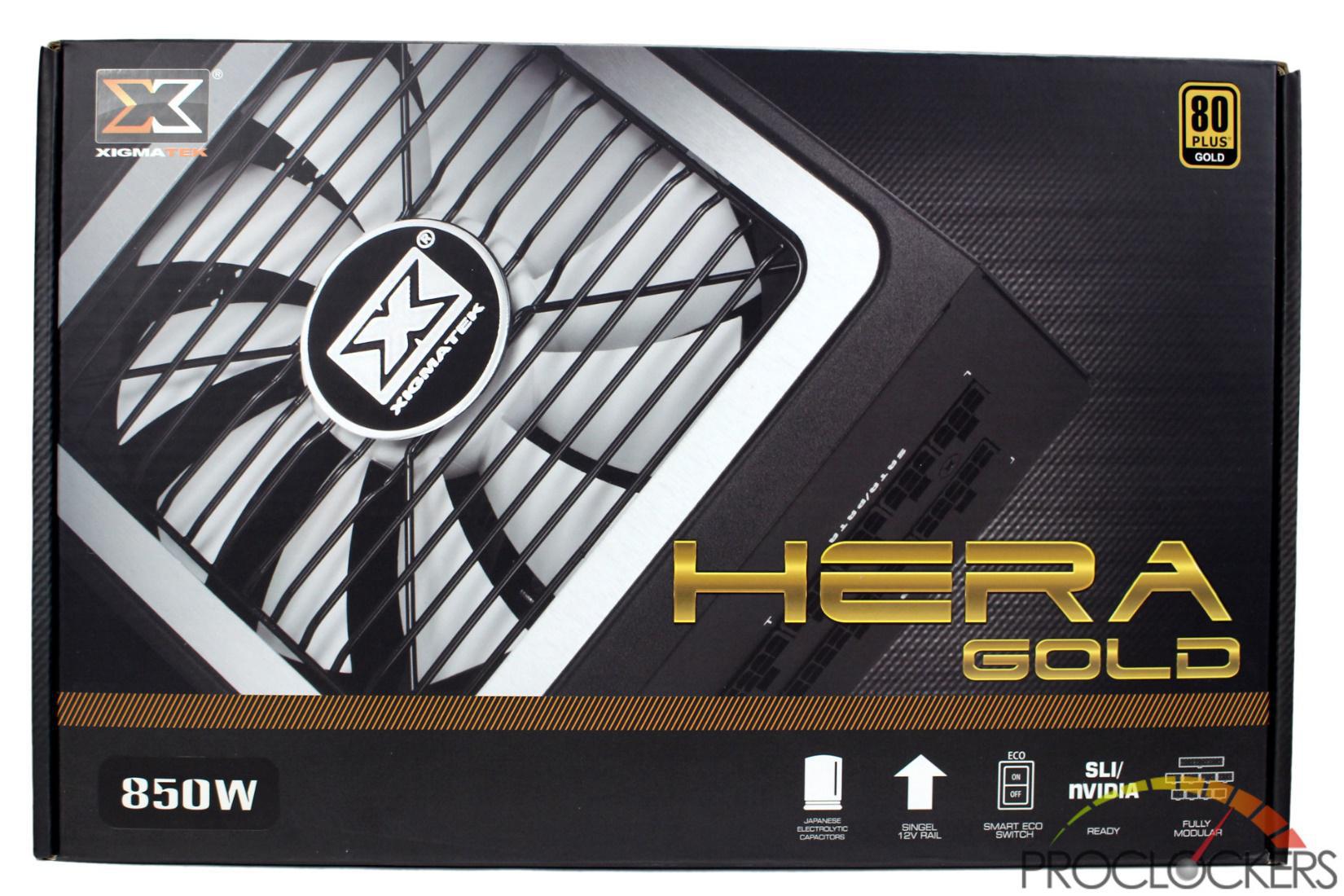 Xigmatek's Hera Gold power supply comes in a black box with a picture of the unit inside taking up most of the front of the box.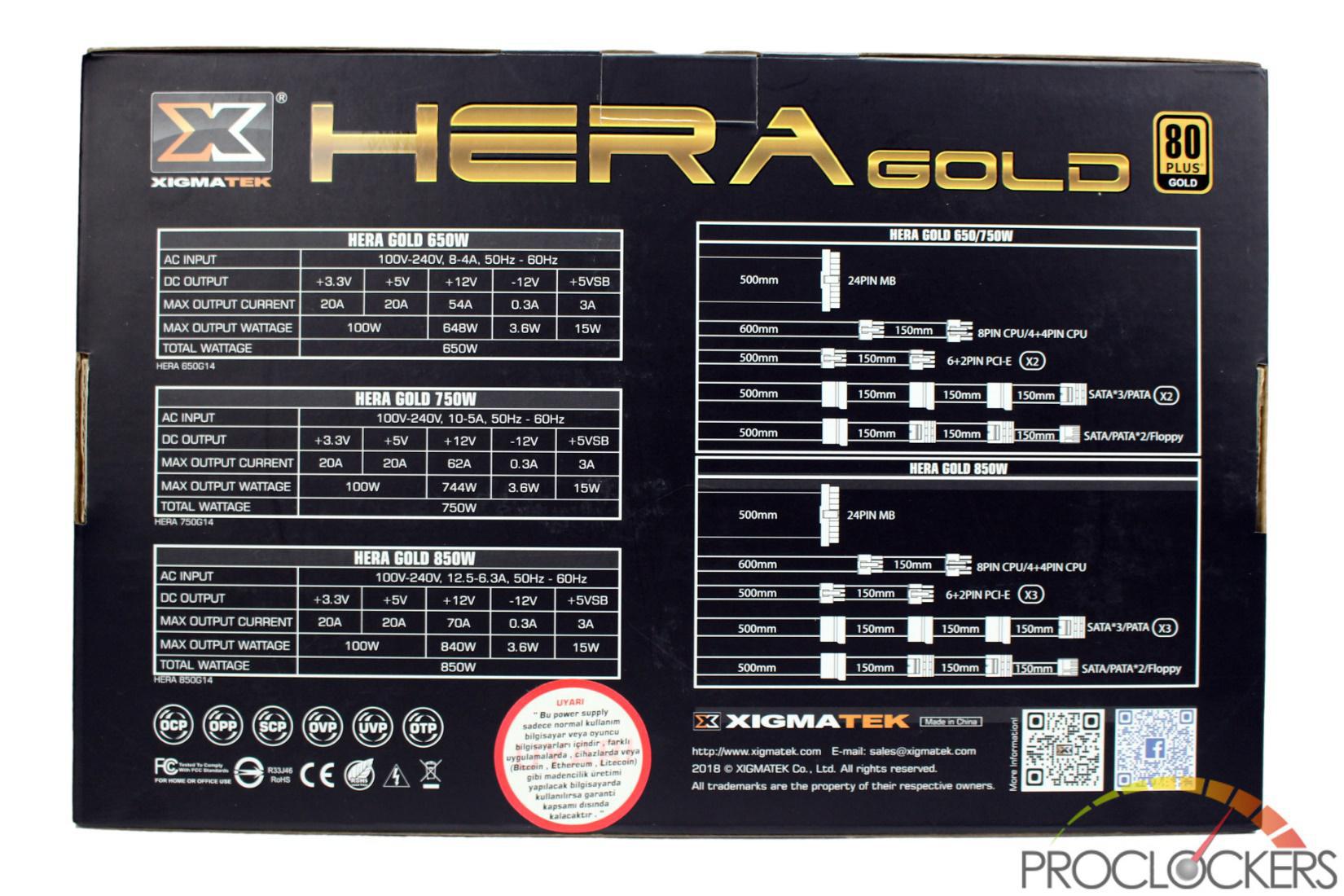 The back of the box has basic specs for all units in the series including the 650W and 750W models.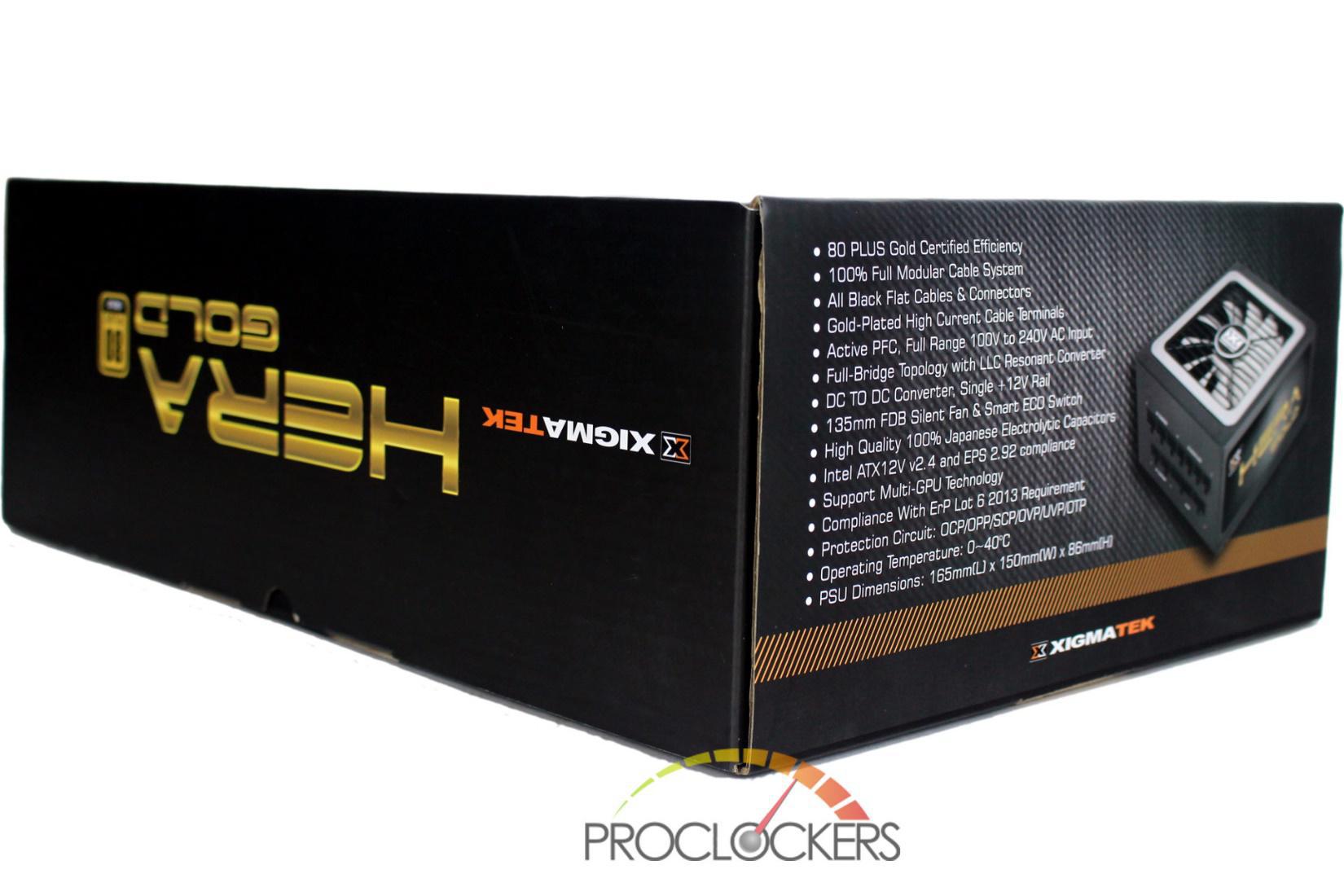 Some features adorn the ends of the box while the model holds the top and bottom edges.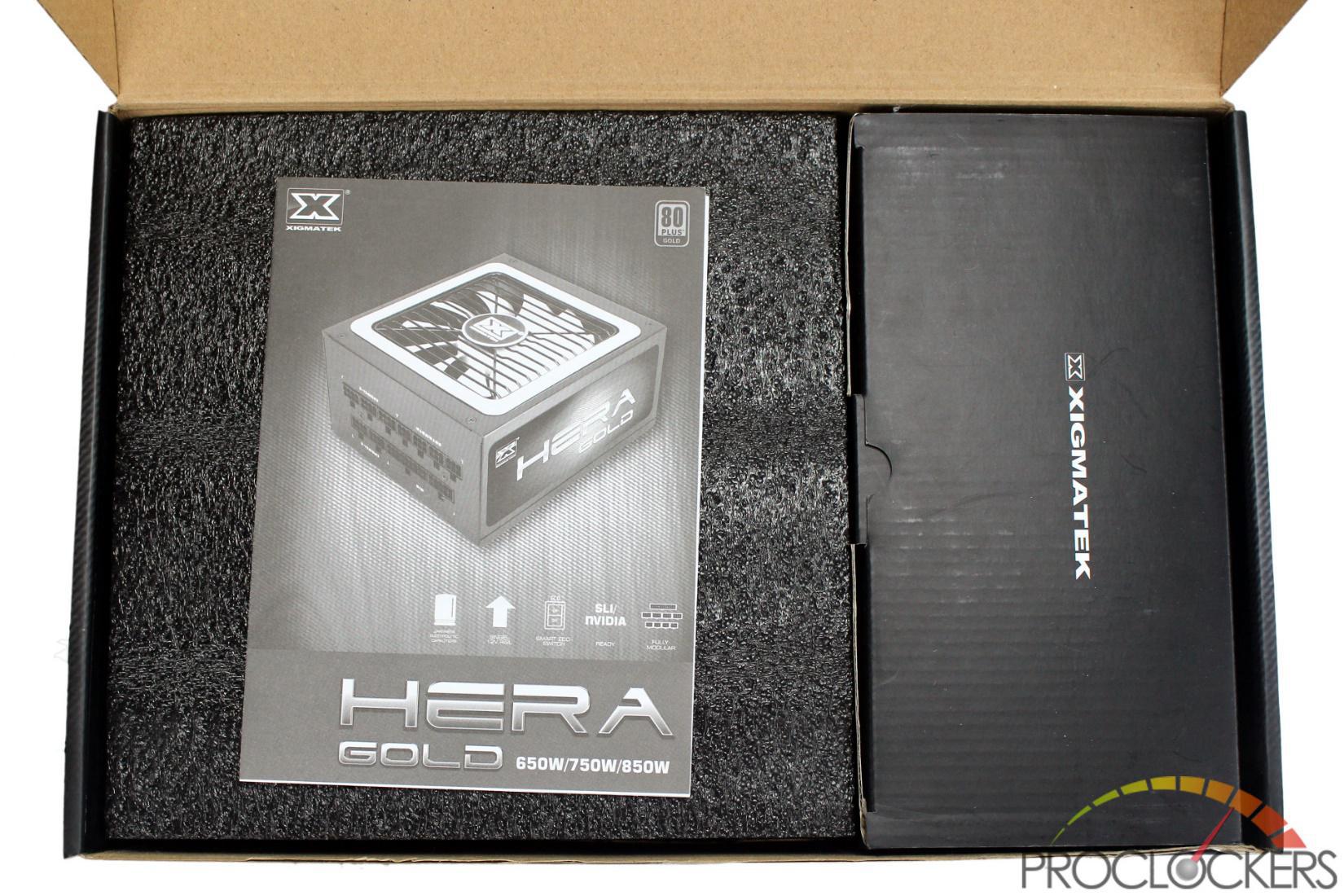 Inside you find a block of foam, a manual and another box that holds the cables.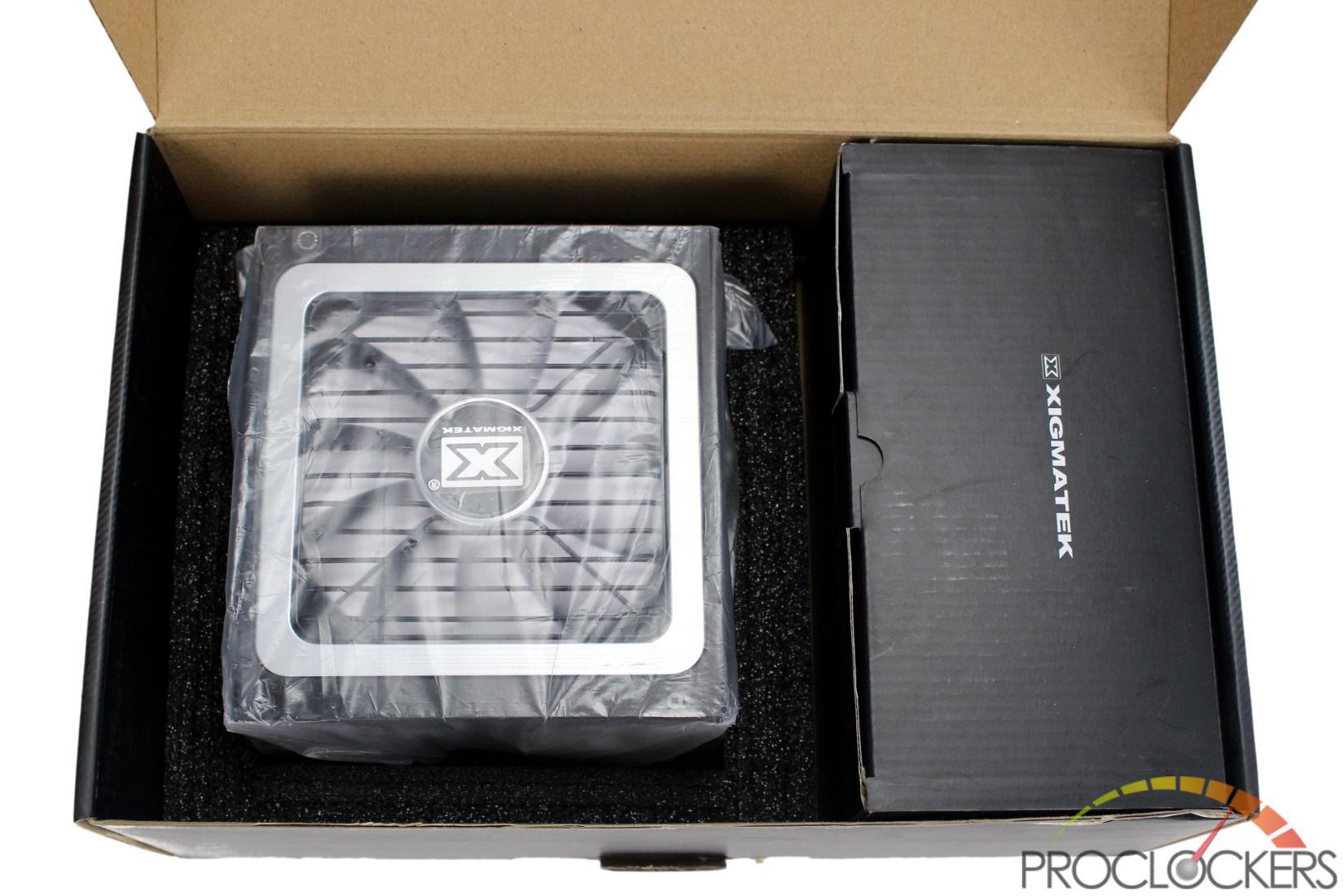 The unit sits safely inside a solid block of foam and wrapped in a plastic bag.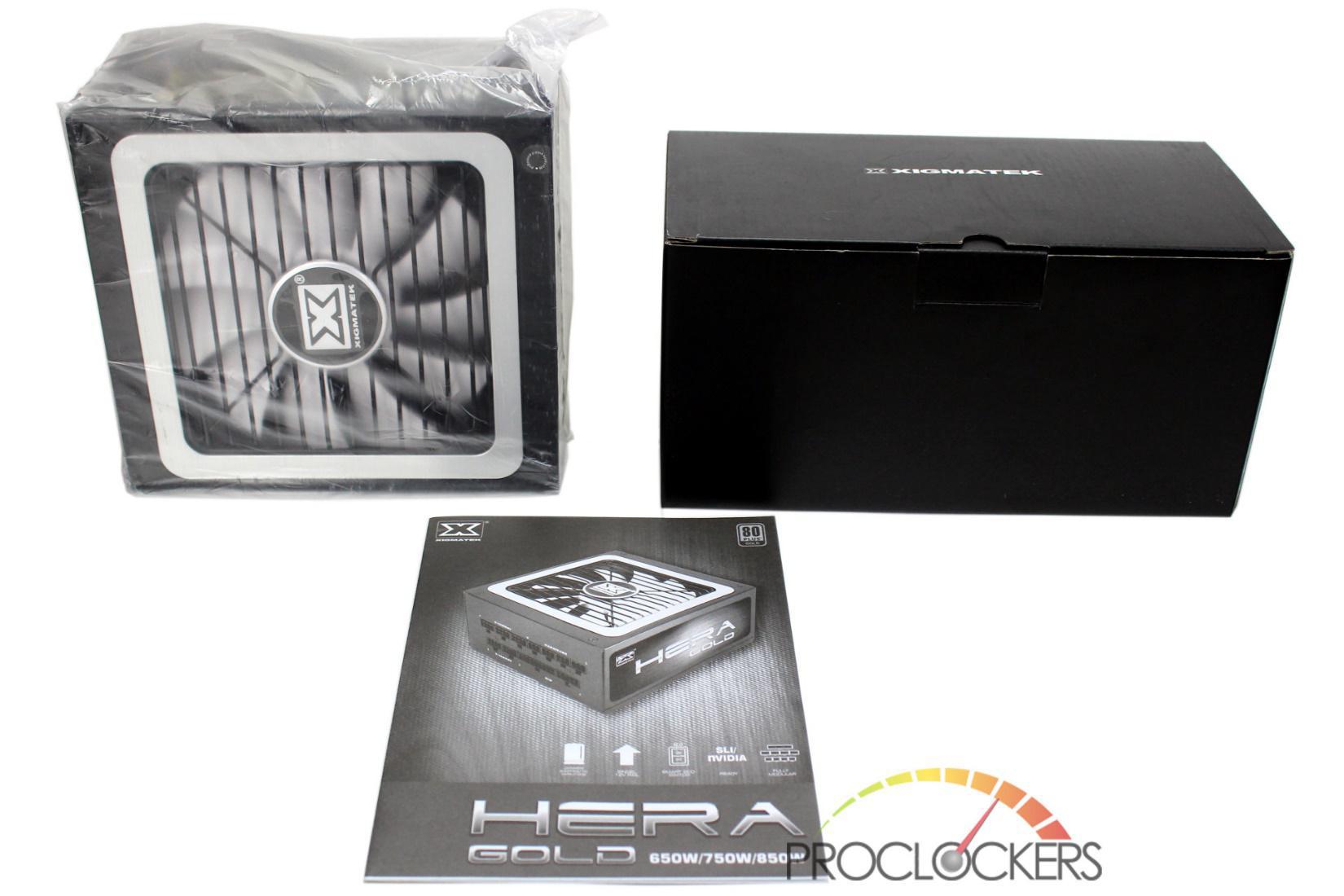 The complete contents of the box are on display here.
A Closer Look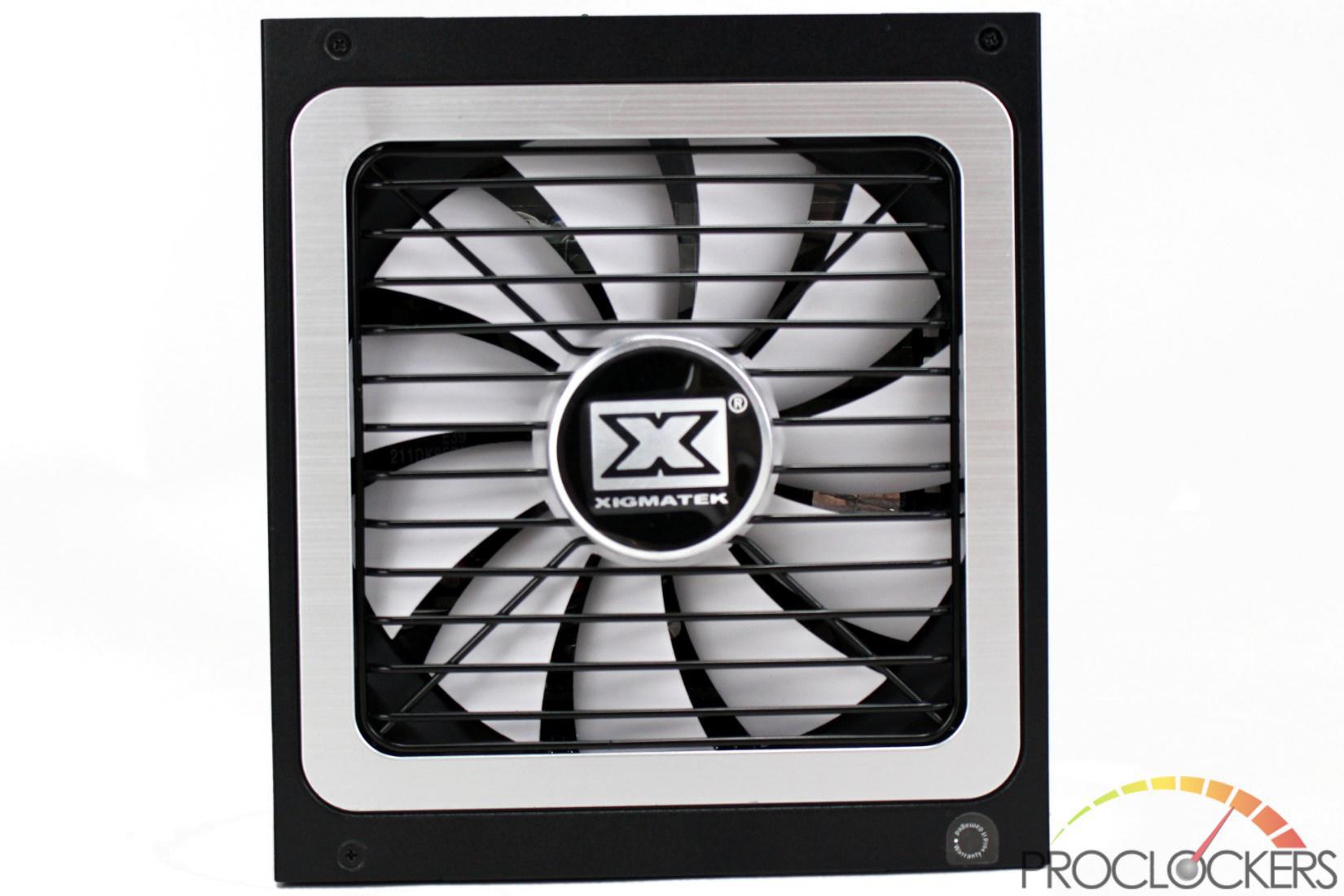 The Hera Gold is a solid black unit with a white fan and silver trim ring.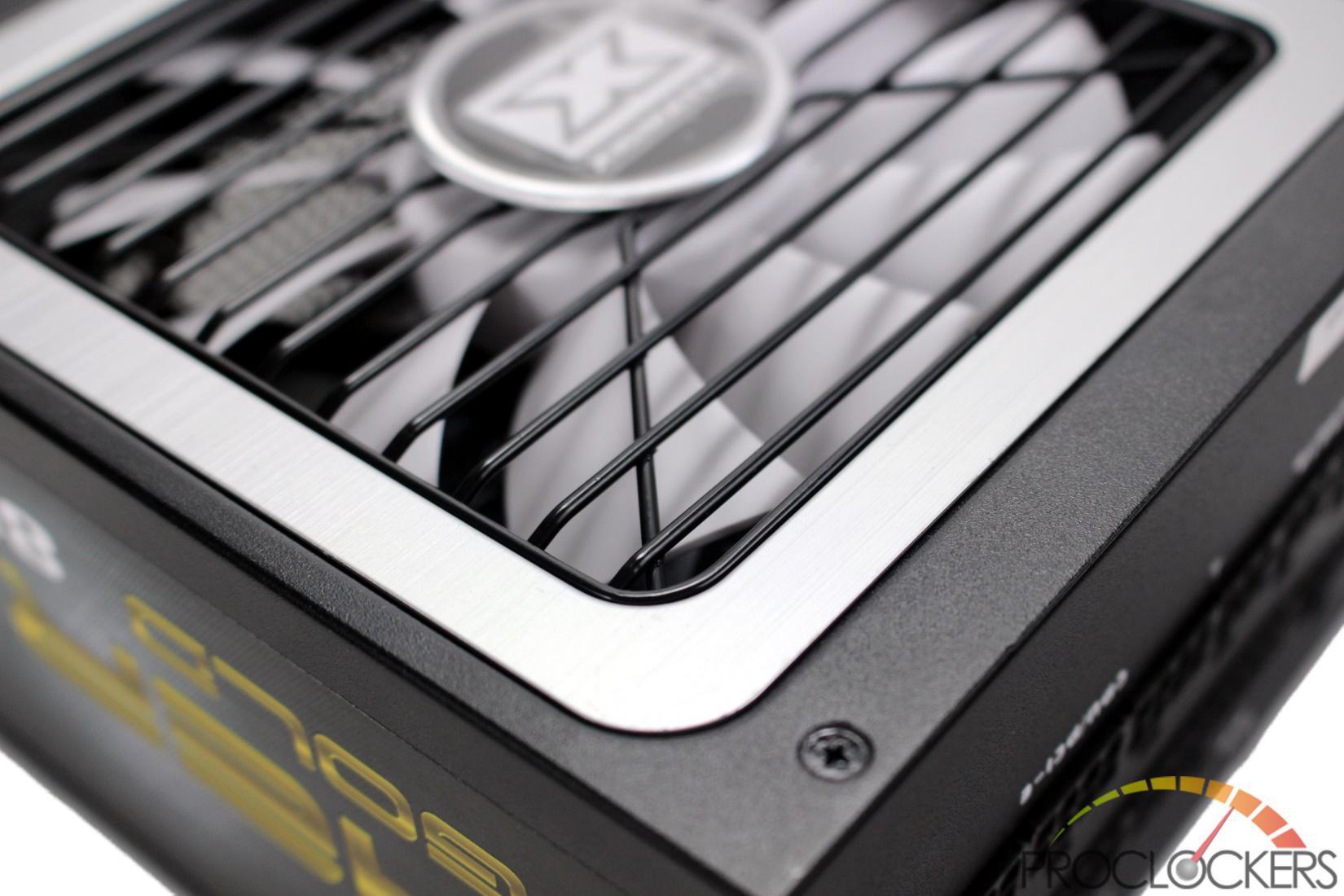 The trim ring has a subtle but very nice brushed effect on it.

The sides of the unit proudly display the Hera logo in large gold lettering.

The business end of this fully-modular unit has plugs for the main 24-pin, up to five 12V cables for either CPU or GPU, and five peripheral cables.

The bottom of the unit has a large label that shows the full electrical specifications.

The backside of the power supply has a standard IEC power inlet, the main power switch, and an eco-switch. Most of the rear is ventilated.

Being an 850W unit, the selection of modular cables is diverse. You get the main 24-pin, a pair of 4+4 EPS cables, three PCIe cables that have a pair of 6+2 pin connectors each, and a pile of peripheral cables that have assorted SATA, PATA, and even a BERG connector.

The main cables are long enough for most builds, but extremely large cases may get a little tight.

The peripheral cables mix and match SATA and PATA connectors on each cord, and one of them even has the old floppy drive style berg connector if you happen to need one.
Inside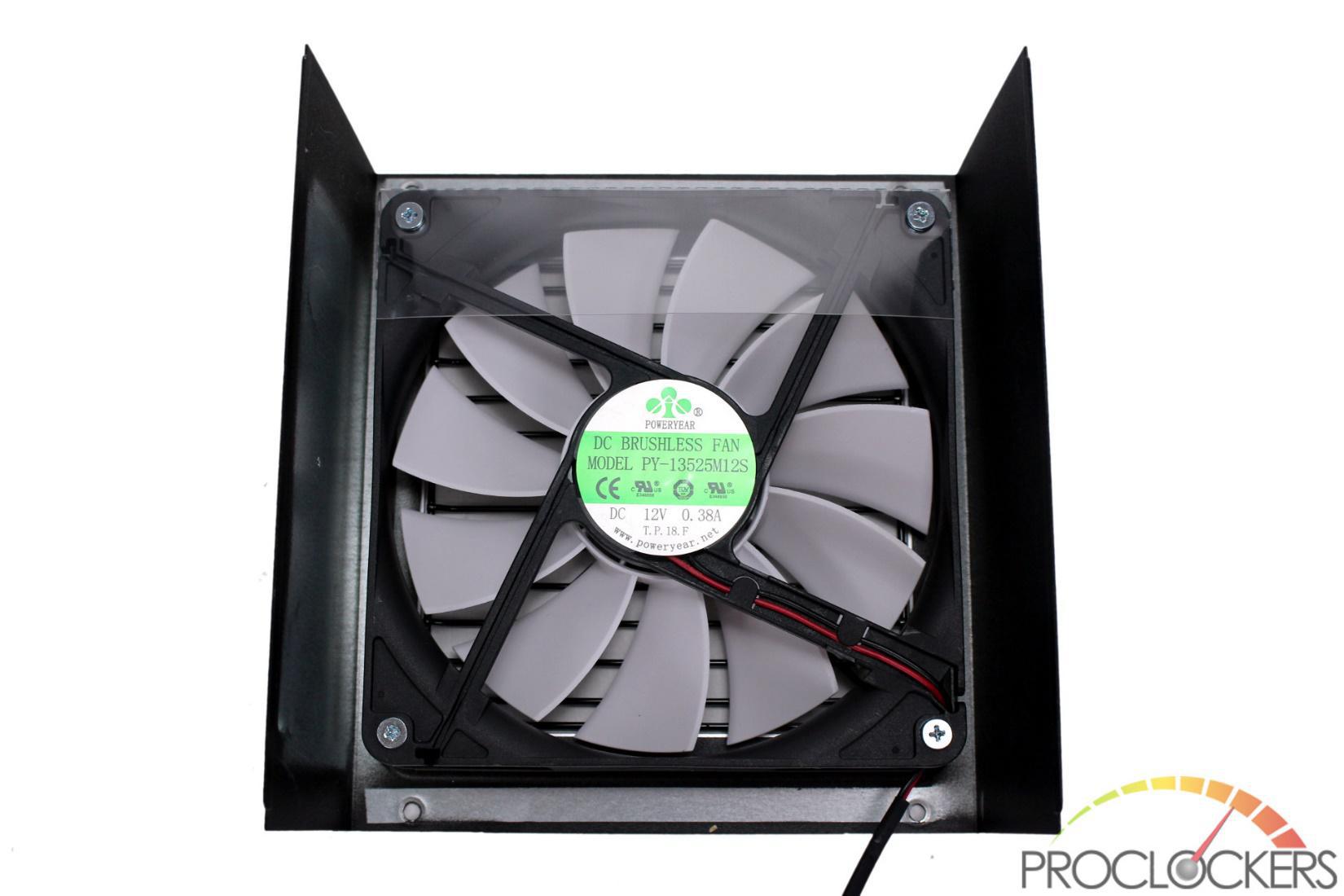 Xigmatek uses a large 135mm FDB fan for cooling.

The AC Inlet uses quite a bit of filtering of incoming power before it even gets the main PCB where there is even more filtering.

Despite the fairly small footprint, the main PCB inside is even smaller and leaves a lot of free space near the rear of the unit.

The heatsinks are all quite large for good passive cooling without the fan running.

The solder job is clean and well done and shouldn't have any issues. Several of the MOSFETs move heat to the casing using a couple of thick thermal pads.

The modular cable board has quite a few large filtering capacitors as well as heavy busbars to the mainboard.
Testing
CPU: Intel Core i9-9900k
Motherboard: ASUS ROG Strix Z390-E
RAM: 16GB G.Skill TridentZ Neo 3200 MHz.
GPU: Nvidia RTX 2080 Founders Edition
SSD: Samsung 960 PRO 2TB
OS: Windows 10 Professional X64
We'll start out saying we aren't equipped to do extremely detailed electrical analysis required to pick apart a modern power supply. It takes laboratory-grade dedicated equipment so we'll have to make do with some less precise testing.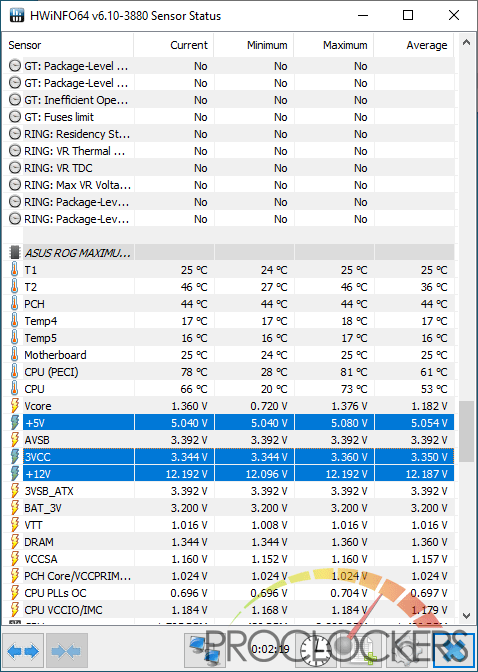 While we normally use a good Fluke Digital Multi-meter, we've found the onboard monitoring solutions in modern motherboards to be quite accurate and able to be easily logged with utilities like HWiNFO.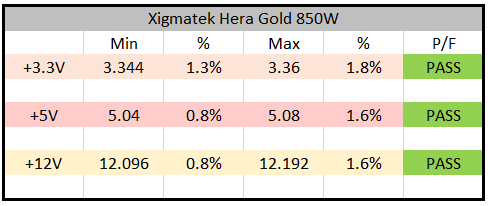 Xigmatek's Hera provides very good regulation on all three main rails.
Next, we'll look at ripple on the rails with our Owon VDS-1022/I Digital USB Oscilloscope.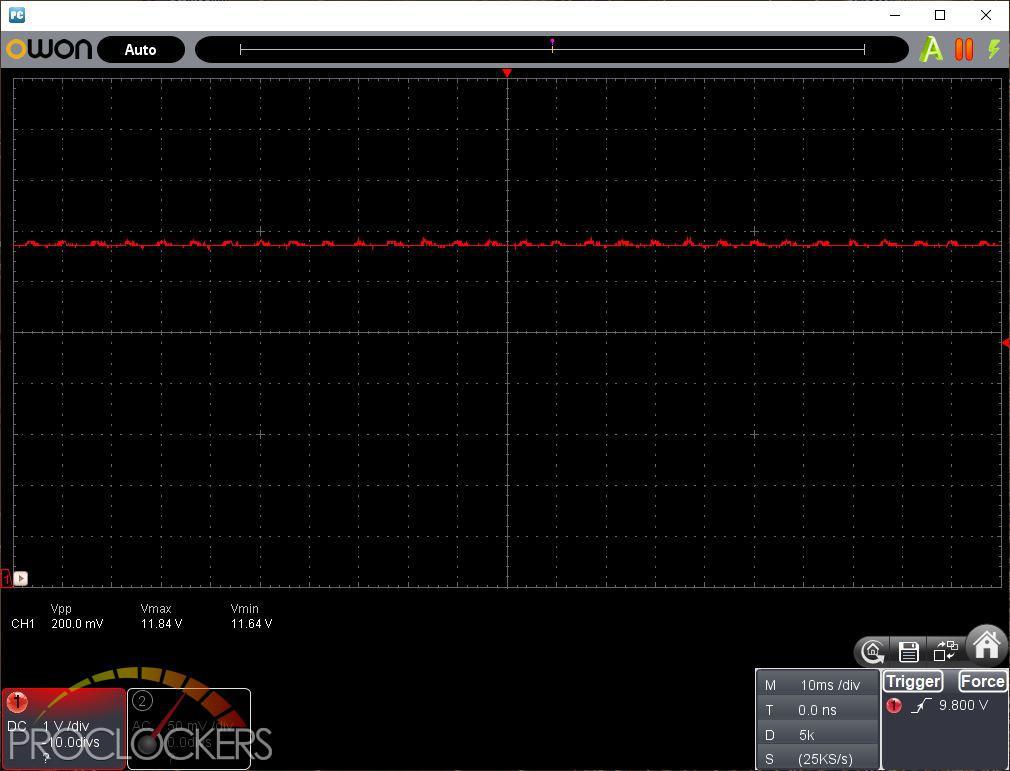 The +12V rail under a stress test load registers a peak of 200mV peak to peak ripple.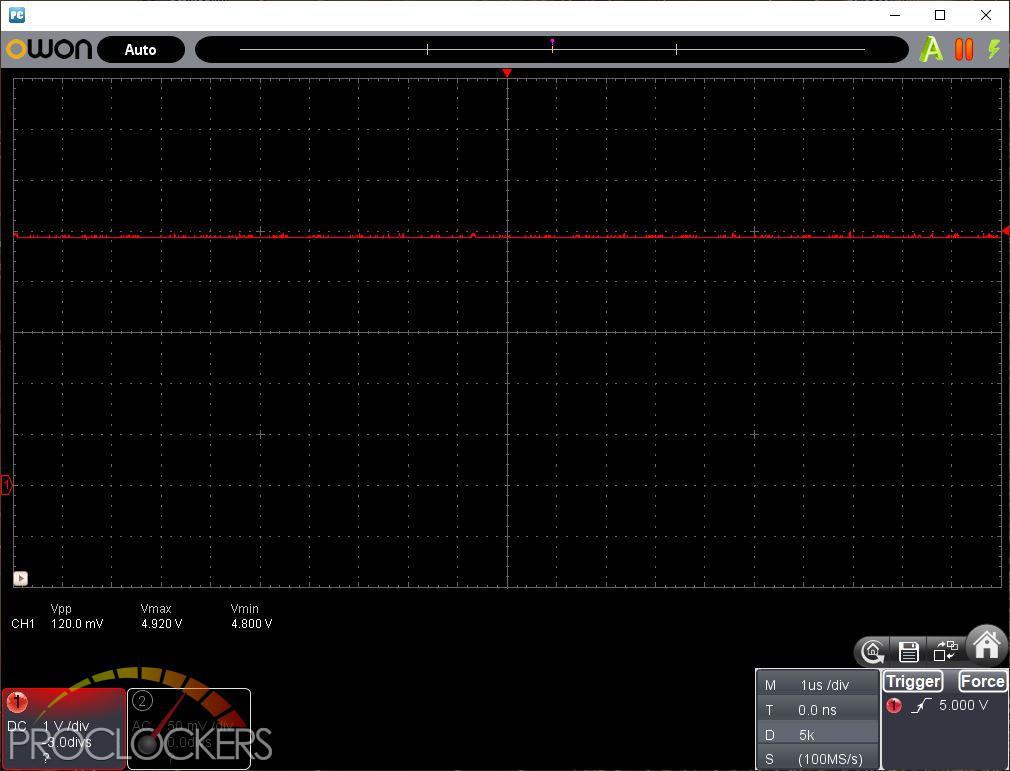 The 5-volt rails fairs a bit better at around 120mV of ripple peak but also averages much lower.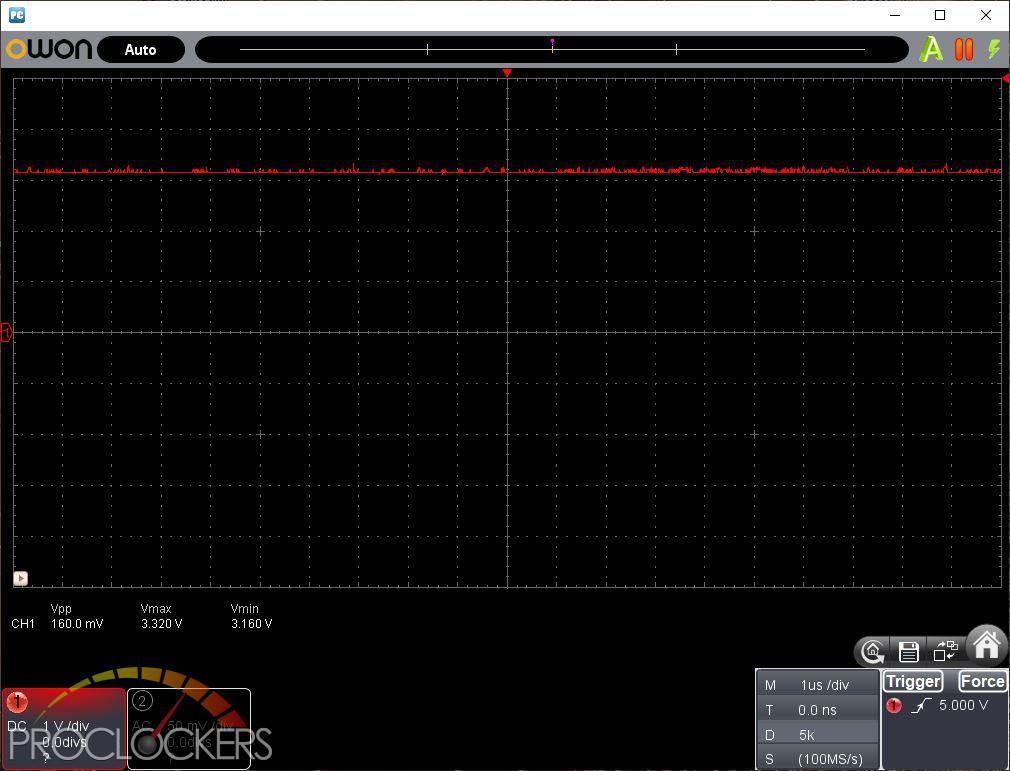 The 3.3V rail does a decent job with 160mV of ripple. Modern systems typically put very little load on the 3.3V rail.
Final Thoughts & Conclusion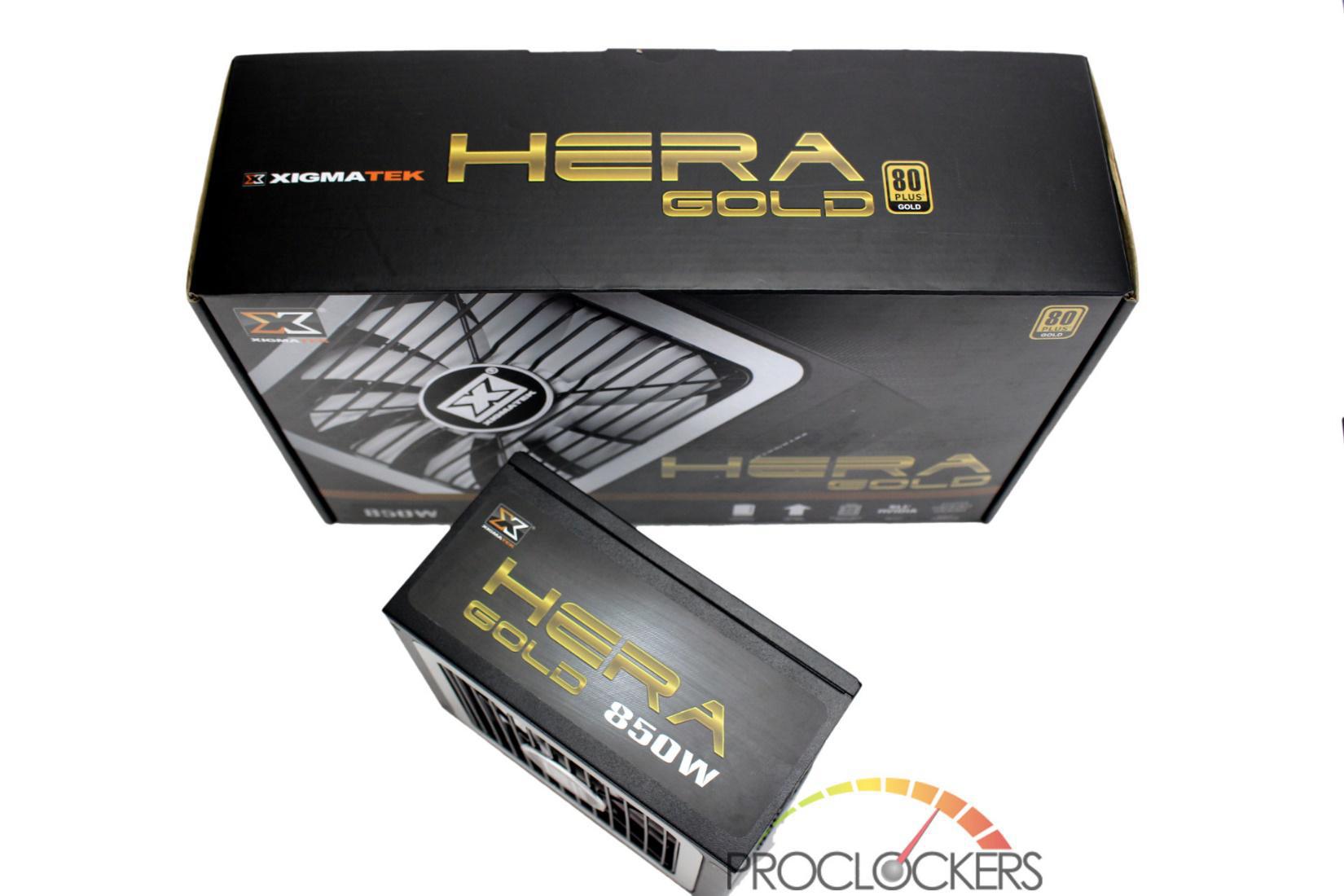 Xigmatek's latest addition to their legendary family. Hera was the sister to Zeus; the god of lightning and thunder and power seems to run in the family. Silent operation and rock-solid voltage regulation course down flat black cables to every corner of your build. Active PFC and full range voltage input mean you get stable power anywhere in the world with no pesky switches to configure, just plug it in and game. Configurable semi-fanless operation gives you silence nearly all the time but we didn't really notice any heat coming from the unit, even when loaded up fairly heavily thanks to the 80 PLUS gold rating.

Great job Xigmatek!

<![CDATA[ */ var zbjs = {"ajaxurl":"https:\/\/gaminggorilla.com\/wp-admin\/admin-ajax.php","md5":"d8e8b24d2fa18d2999e0fddcdd418586","tags":[],"categories":["Hardware"]}; /* ]]>