BIOSTAR H310MHD PRO Motherboard Review
Introduction
In a world of flashy, wallet breaking 'gaming' components, it's easy to forget the other 90% of the market. For your office, the kid's computer, or even your home theater system you just want something reliable and affordable, and BIOSTAR has a pair of boards targeted directly at that corner of the market. Between the B360MHD PRO and the H310MHD PRO, BIOSTAR has the entry-level 8th generation Intel market squarely in its sights and today we'll be taking a closer look at the H310MHD PRO.
ProClockers would like to thank BIOSTAR for sending the H310MHD PRO over to check out!
BIOSTAR's take on the H310MHD PRO:
The micro-ATX BIOSTAR H310MHD PRO features the new entry-level H310 chipset that supports the LGA 1151 8th generation Intel Core processors. It supports the dual-channel memory of up to DDR4-2666MHz, PCI-E 3.0 x16 slot with reinforced slot protection design and USB3.1 Gen1. Other notable features include 6+ Experience and Charger Booster Technology for quick mobile phone charges.
BIOSTAR H310MHD PRO for office and home entertainment applications. The H310MHD PRO have BIOSTAR's all-new Nano Carbon Coating Heatsink for improved cooling over aluminum-extruded heatsinks, AudioArt Capacitors projecting artistic-like sound and Hi-Fi audio amplification effects and Tough Power Enhanced to ensure full energy output without additional energy loss.
PRO Series redefines the norm of the motherboard with advanced enhancements such as AudioArt Capacitor and Tough Power Enhanced to transform the PC into a professional entertainment and office hub.
Features & Specifications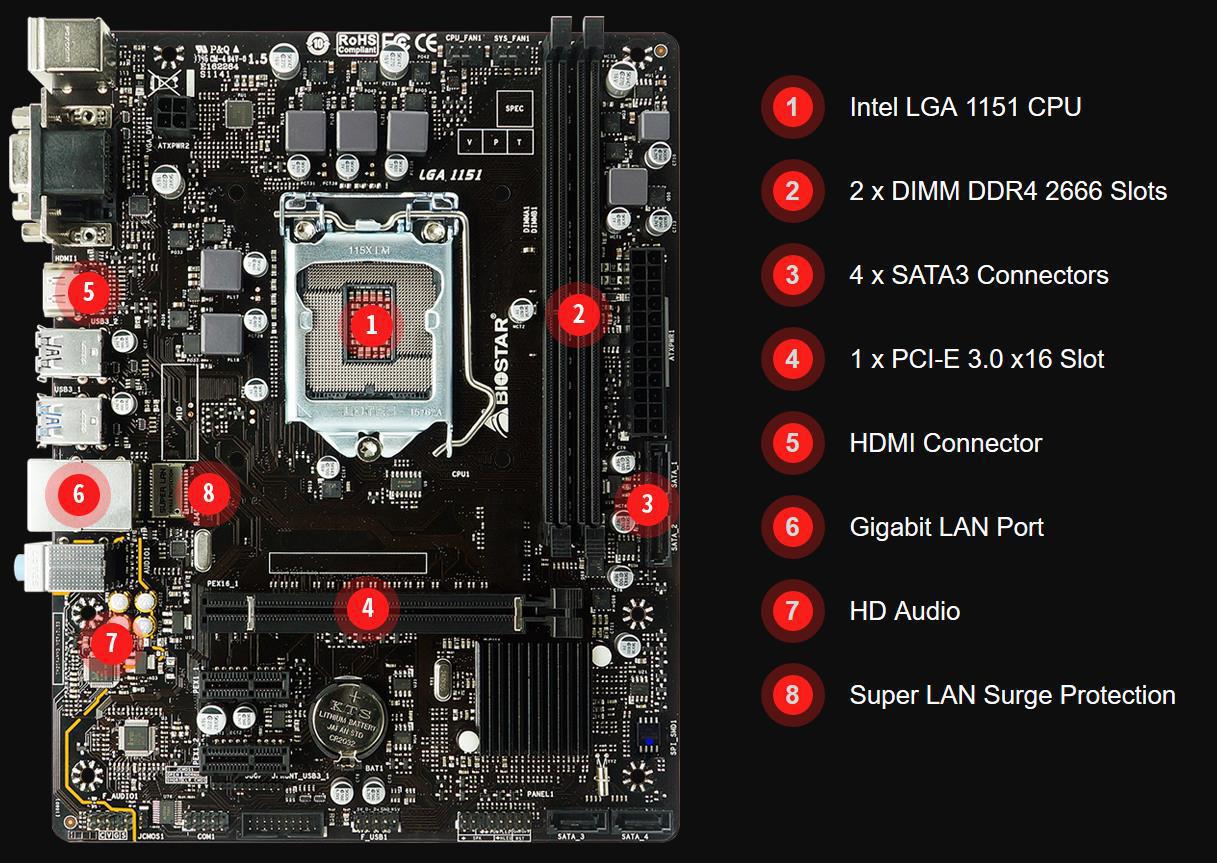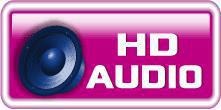 HD Audio
Provides high quality sound with minimal loss of audio fidelity.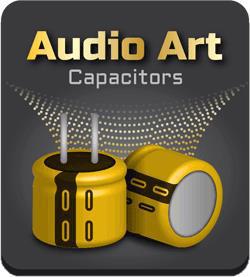 AudioArt Capacitors
PRO series comes with Nichicon high-end audio capacitors. Nichicon Capacitors offer artistic-like sound resolution and Hi-Fi audio amplification effect, making your room a live concert.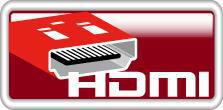 Integrated HDMI with HDCP
Onboard HDMI connector allows full video & audio support. It has industry-leading high definition video quality.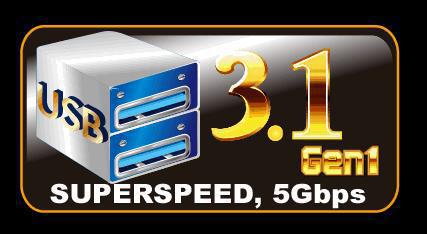 USB 3.1 Gen 1 Type-A
Experience Fastest data transfers at 5 Gbps with USB 3.1 Gen 1–the new latest connectivity standard. Built to connect easily with next-generation components and peripherals, USB 3.1 Gen 1 transfers data 10X faster and backward compatible with previous USB 2.0 components.

SmartSpeedLAN
SmartSpeedLAN is a free software application which monitors and manages your PC's network behavior. With user-friendly GUI, it allows you to select and prioritize different types of network traffic, including gaming, media streaming, communications or web surfing.You can also set any specific applications, choosing to prioritize or block accordingly. SmartSpeedLAN can feature automatic management options that use adaptive networking intelligence to ensure that you are getting the best online experience possible.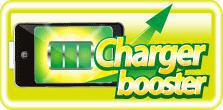 Charger Booster
Charger booster is the best and efficient charger solution for apple devices such as iPad, iPhone. Basically, Charger booster Technology is able to boost the charging time to be more efficiency and faster once any apple goods connecting to our Motherboard. With charger booster technology, you are able to charge your apple devices up to 42 % faster.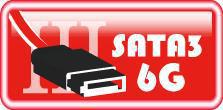 SATAIII 6Gbps
SATAIII 6Gbps provides a higher bandwidth to retrieve and transfer HD media. With this super speed data transfer, SATAIII allows an incredible data boost which is 2x faster than the SATA 3G.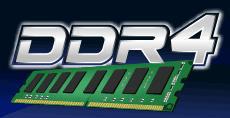 Dual DDR4
The primary advantages of DDR4 over DDR3, include higher module density, lower voltage requirements, coupled with higher data transfer rate.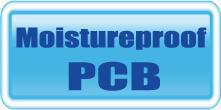 Moisture proof PCB
The popularity of PC usage and working environment is getting deteriorating and moist(rural, coastal, etc.). The PCB will be oxidizing easily by damp or absorbed moisture, and ionic migration or CAF (Conductive Anodic Filament) will be generated. Moisture-proof PCB meets high density and high reliability requirements for moisture proof.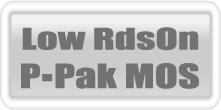 Low RdsOn P-Pak MOS
Low resistance design can significantly reduce the current out of energy loss. Low temperature, small size, excellent thermal conductivity.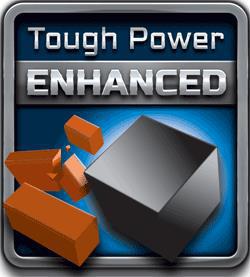 Tough Power Enhanced
To ensure the longevity of motherboard, PRO series with Tough Power Enhanced can endure massive electric current and ensure full energy output without additional energy loss, just like a super man protecting your PC system.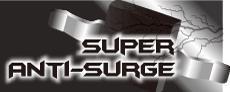 Super Anti-Surge Protection
BIOSTAR exclusive Anti-Surge design provides the best protection of board and extends the product life. Having the latest model of "Transient Voltage Suppressor" on- board can effectively protect the board circuit, reducing the shocks caused by ESD as well as other damages arising from overvoltage transients to enhance system durability.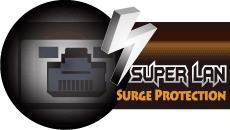 Super LAN Surge Protection
Super LAN Surge Protection, providing LAN port with more advanced antistatic protection capabilities by adding an integrated chip to strengthen electrical stability and prevent damage from lightning strikes and electrical surges. SLSP (Super LAN Surge Protection) series motherboard upgrades the existing system protection standards with maximum 4X protection comparing to other board makers.

Nano Carbon Coating Heatsink
Nano carbon coating heatsink enlarges the heat dissipation area to increase heat conductivity efficiently, compared to the aluminum-extruded heatsink.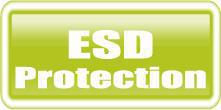 ESD Protection
ESD (Electrostatic Discharge) is the major factor to destroy PC by electrical overstress(EOS) condition, ESD occurred by PC users when touch any devices connect to PC, which may result in damage to motherboard or parts. ESD protection is designed to protect the motherboard and equipment from damage by ESD.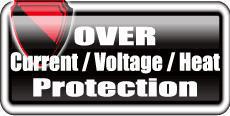 OC / OV / OH Protection
All BIOSTAR special circuit design detects overvoltage conditions and prevents voltage surges from spreading in real time. It also actively cuts off the overvoltage supply to protect your system. Overcurrent protection, avoid motherboard damage when doing overclock or an unusual current import. Overheat protection, avoid motherboard & CPU from burning when exceeding the temperature limitation.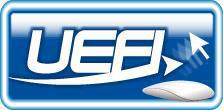 UEFI BIOS
Unified Extensible Firmware Interface (UEFI) is a brand-new framework that provides a revolutionary interface. It is a modern clear and easy-to-use graphical user interface. The UEFI comes with a colorful easy-understand icon leads users into the setup layer directly.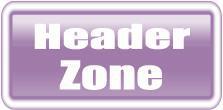 Header Zone
Users can easily assemble their own computer, a simple-swap data discs and other accessories.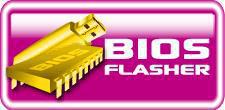 BIO-Flasher
Update BIOS effortlessly from a USB flash disk before entering the OS. BIO-Flasher is a convenient BIOS update tool. Just launch this tool and put the BIOS on USB pen driver before entering the OS. You can update your BIOS with only a few clicks without preparing an additional floppy disk or other complicated flash utility.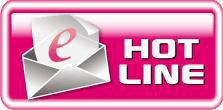 eHot-Line Utility
Integrated e-service automatically sends your technical support request to Biostar Globe tech support without any delay.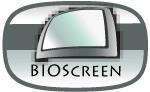 BIOScreen Utility
Personalize your desktop with customizable boot logo. BIOScreen is the new feature that lets you personalize and create your own style with unique, custom-made boot logo.
Specifications:
Chipset
CPU SUPPORT

8th Gen Intel® Core™ i7 LGA 1151 Processor
8th Gen Intel® Core™ i5 LGA 1151 Processor
8th Gen Intel® Core™ i3 LGA 1151 Processor
8th Gen Intel® Pentium® LGA 1151 Processor
8th Gen Intel® Celeron® LGA 1151 Processor

MEMORY

2 x DDR4 DIMM Memory Slot
Max. Supports up to 32GB Memory

EXPANSION SLOT

1 x PCI-E 3.0 x16 Slot
2 x PCI-E 2.0 x1 Slot

STORAGE
USB

2 x USB 3.1 Gen1 Port
1 x USB 3.0 Header
4 x USB 2.0 Port
1 x USB 2.0 Header

LAN

Realtek RTL8111H – 10/100/1000 Controller

INTEGRATED VIDEO

By CPU model
Supports DX12
Supports HDCP

CODEC

Realtek ALC887 8-Channel HD Audio
Support HD Audio

REAR I/O

1 x PS/2 Mouse
1 x PS/2 Keyboard
2 x USB 3.1 Gen1 Port
4 x USB 2.0 Port
1 x HDMI Connector, resolution up to 4096*2160@24Hz, compliant with HDMI 1.4
1 x DVI-D Connector, resolution up to 1920*1200@60Hz
1 x VGA Port, resolution up to 1920*1600@60Hz
1 x RJ-45 Port
3 x Audio Connector

INTERNAL I/O

1 x USB 3.1 Gen1 Header
1 x USB 2.0 Header
4 x SATA3 6Gb/s Connector
1 x Front Audio Header
1 x Front Panel Header
1 x CPU Fan Header
1 x System Fan Header
1 x Serial Header

H/W MONITORING

CPU / System Temperature Monitoring
CPU / System Fan Monitoring
Smart / Manual CPU Fan Control
System Voltage Monitoring

DIMENSION

Micro ATX Form Factor Dimension: 22.8 cm x 17.7 cm ( W x L ) ( W x L )

OS SUPPORT

Support Windows 10(64bit)

ACCESSORIES

1 x SATA Cable
1 x I/O Shield
1 x DVD Driver
1 x User Manual
Packaging & Unboxing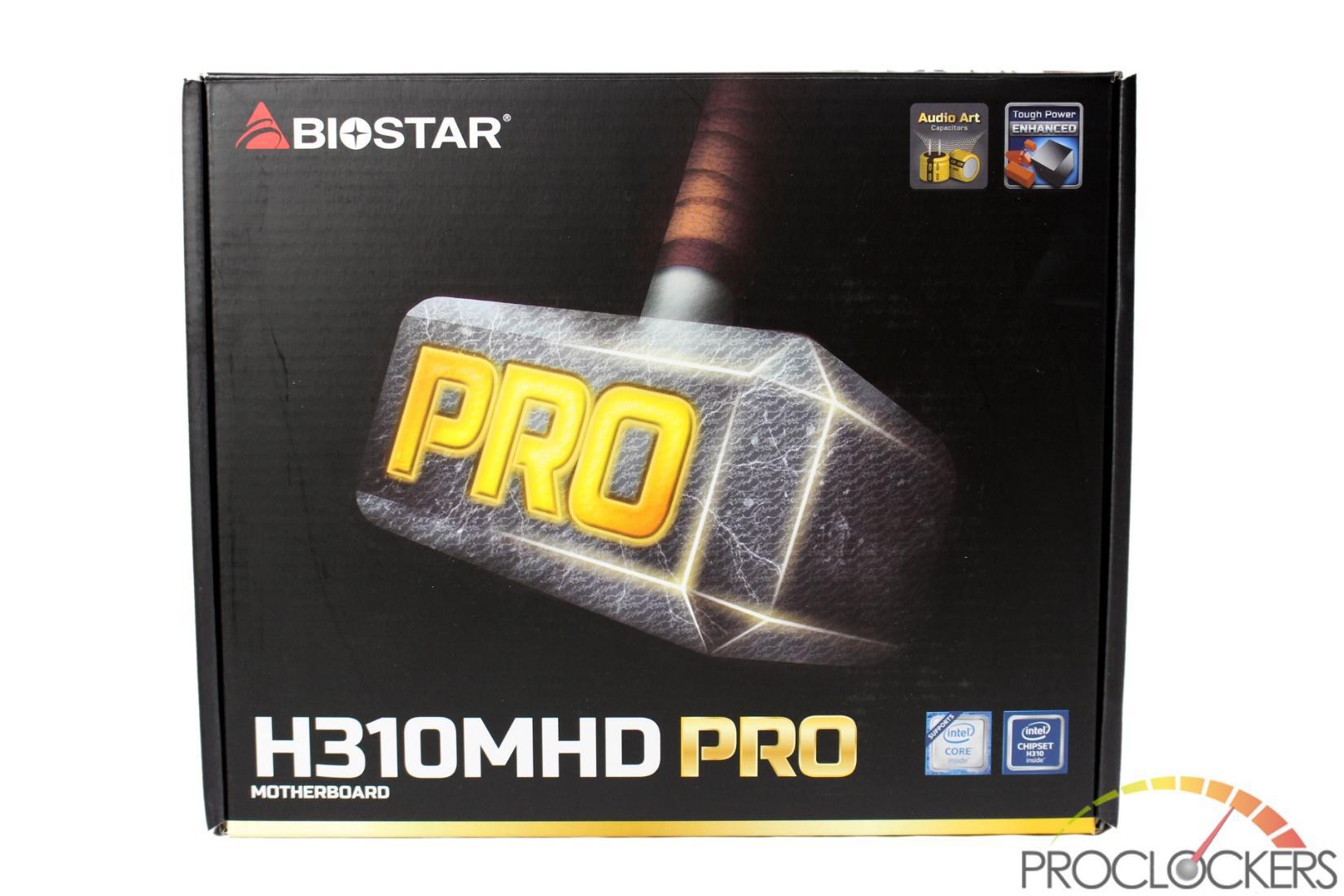 BIOSTAR's H310MHD PRO comes in a matte black box with the PRO series 'hammer' logo taking up most of the front.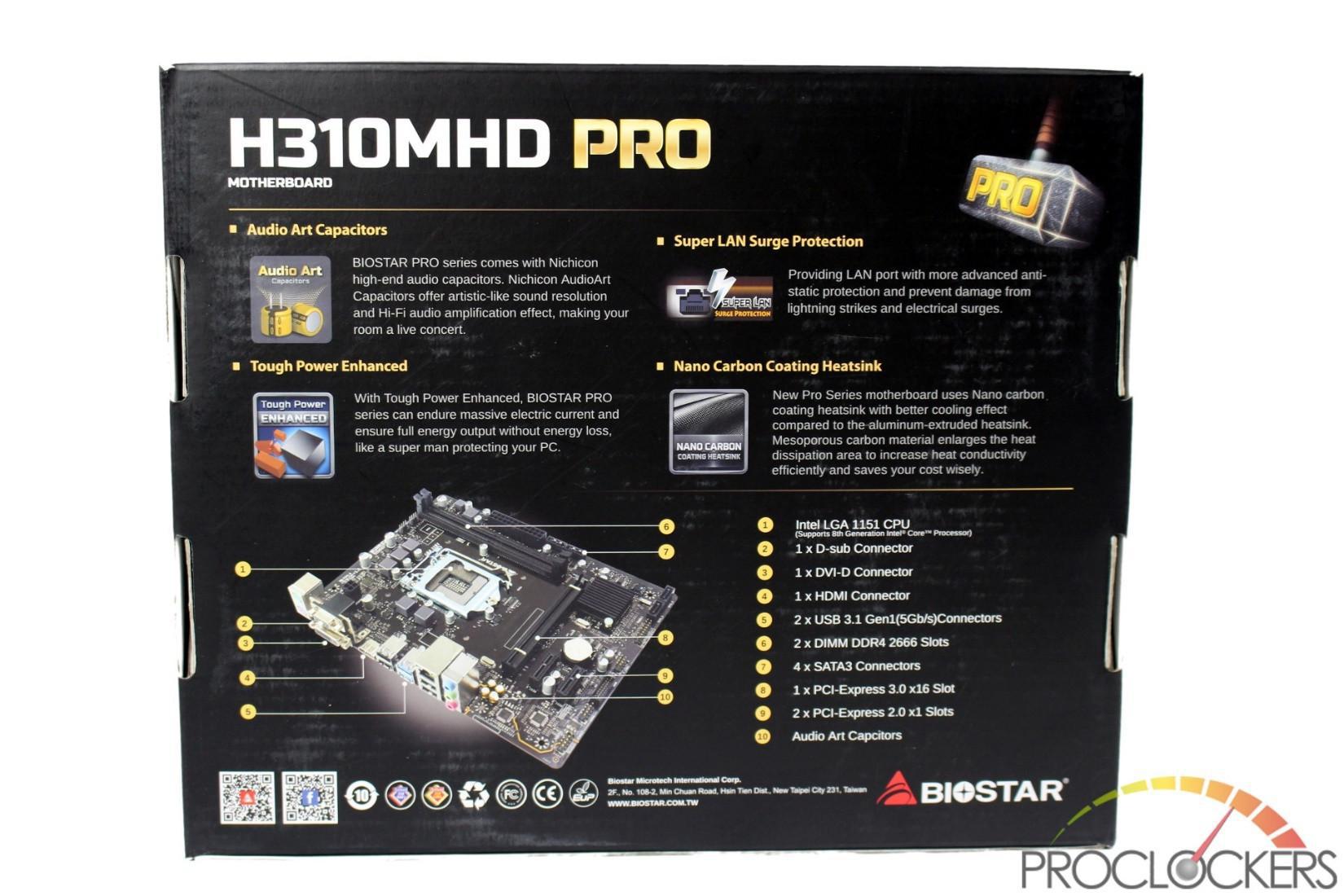 The rear of the box has a picture of the board with the connectors pointed out along the bottom and a few features highlighted along the top.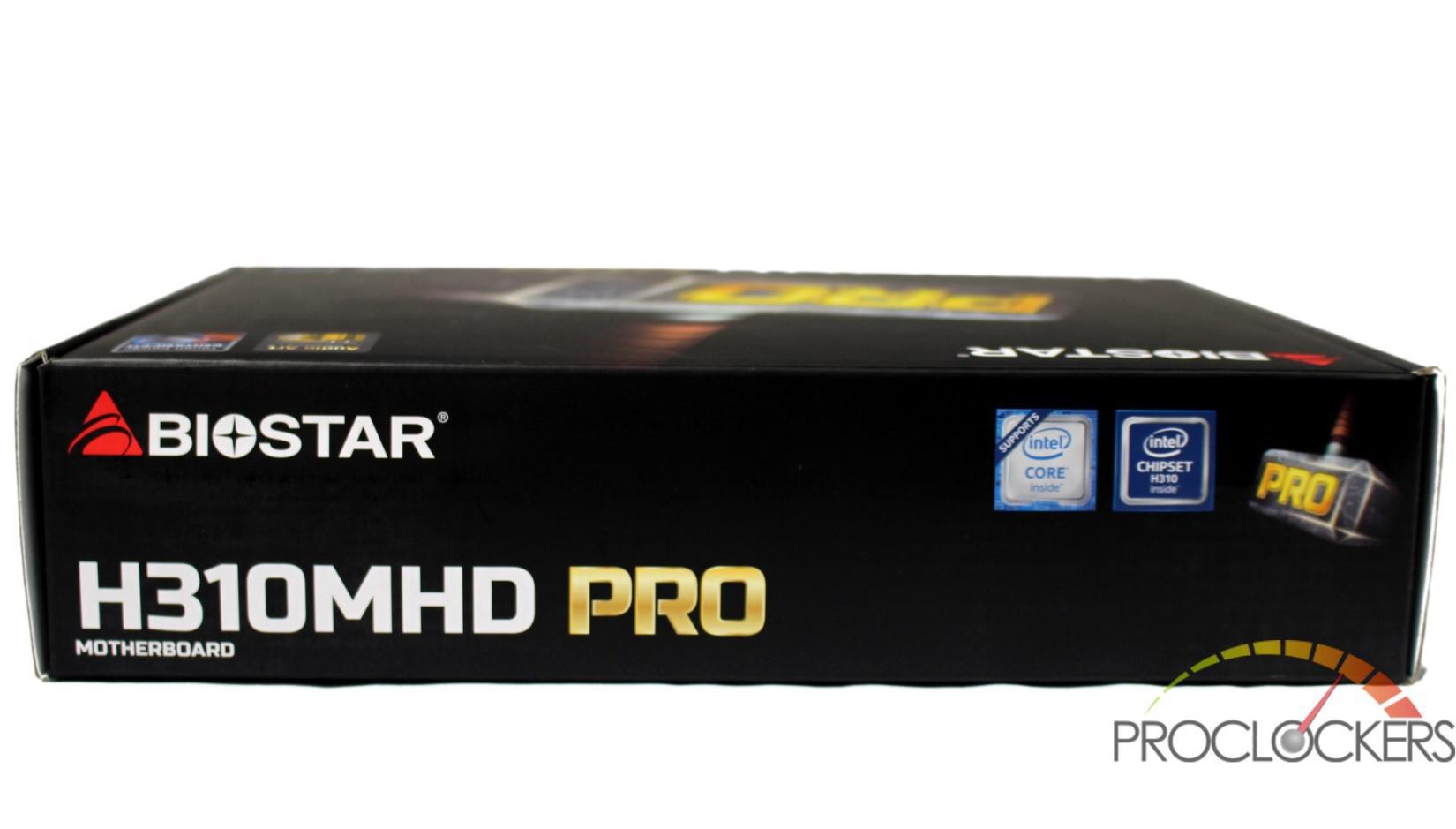 The sides of the box have the BIOSTAR logo and the model, as well as the appropriate Intel logs.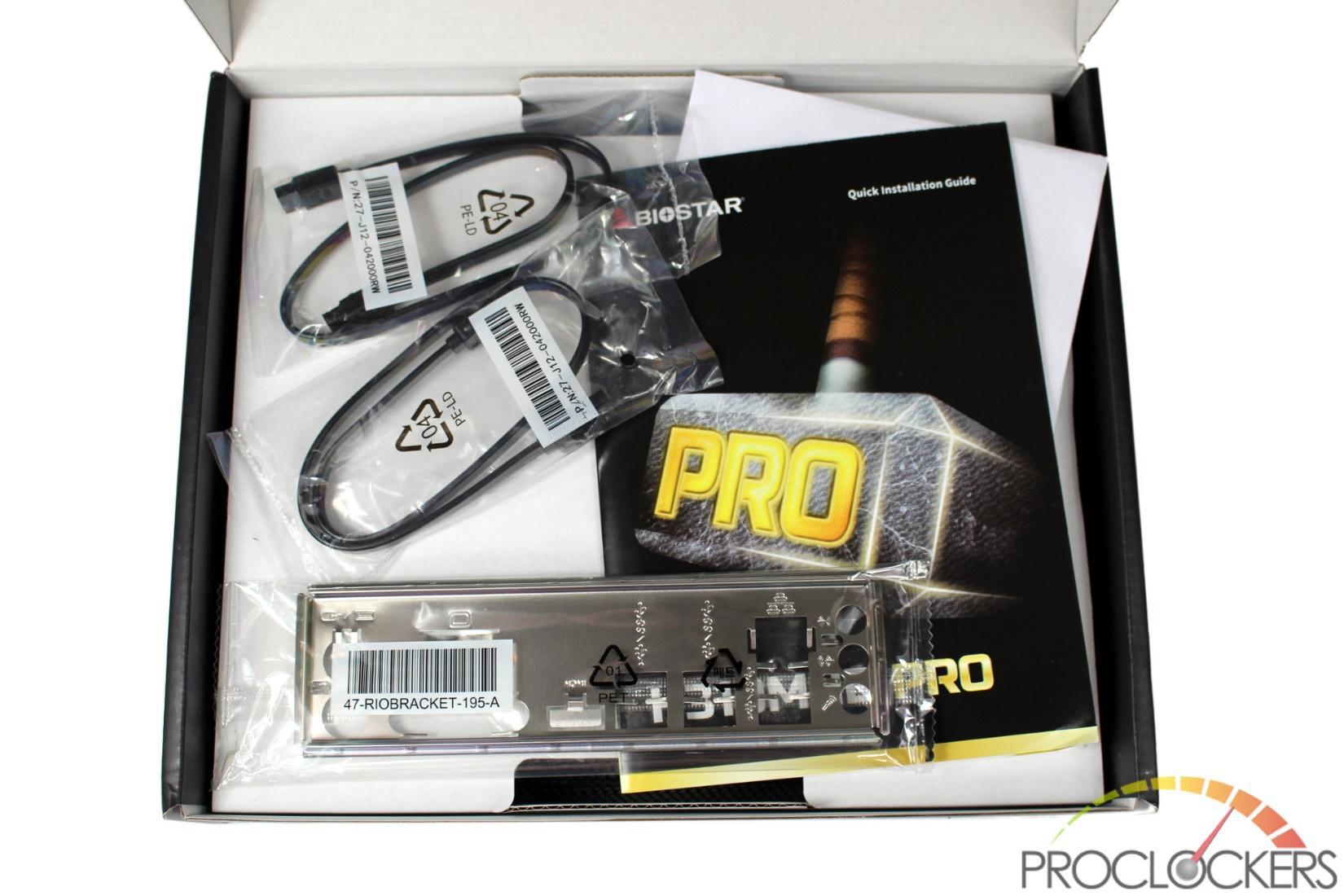 Opening the box up, we are immediately greeted with the inclusions on top of a tray.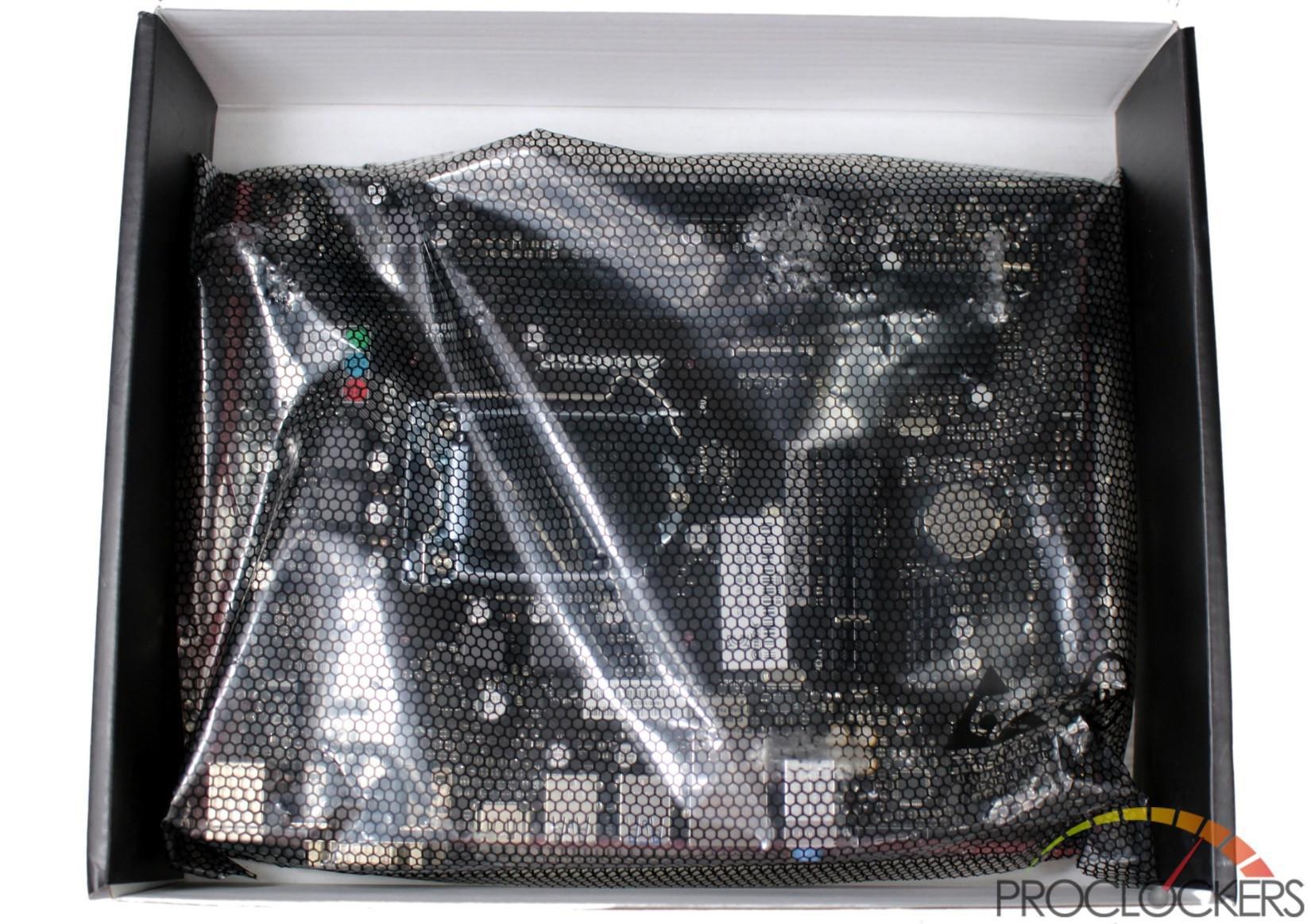 The motherboard itself is wrapped in an ESD bag and sits in the bottom of the box.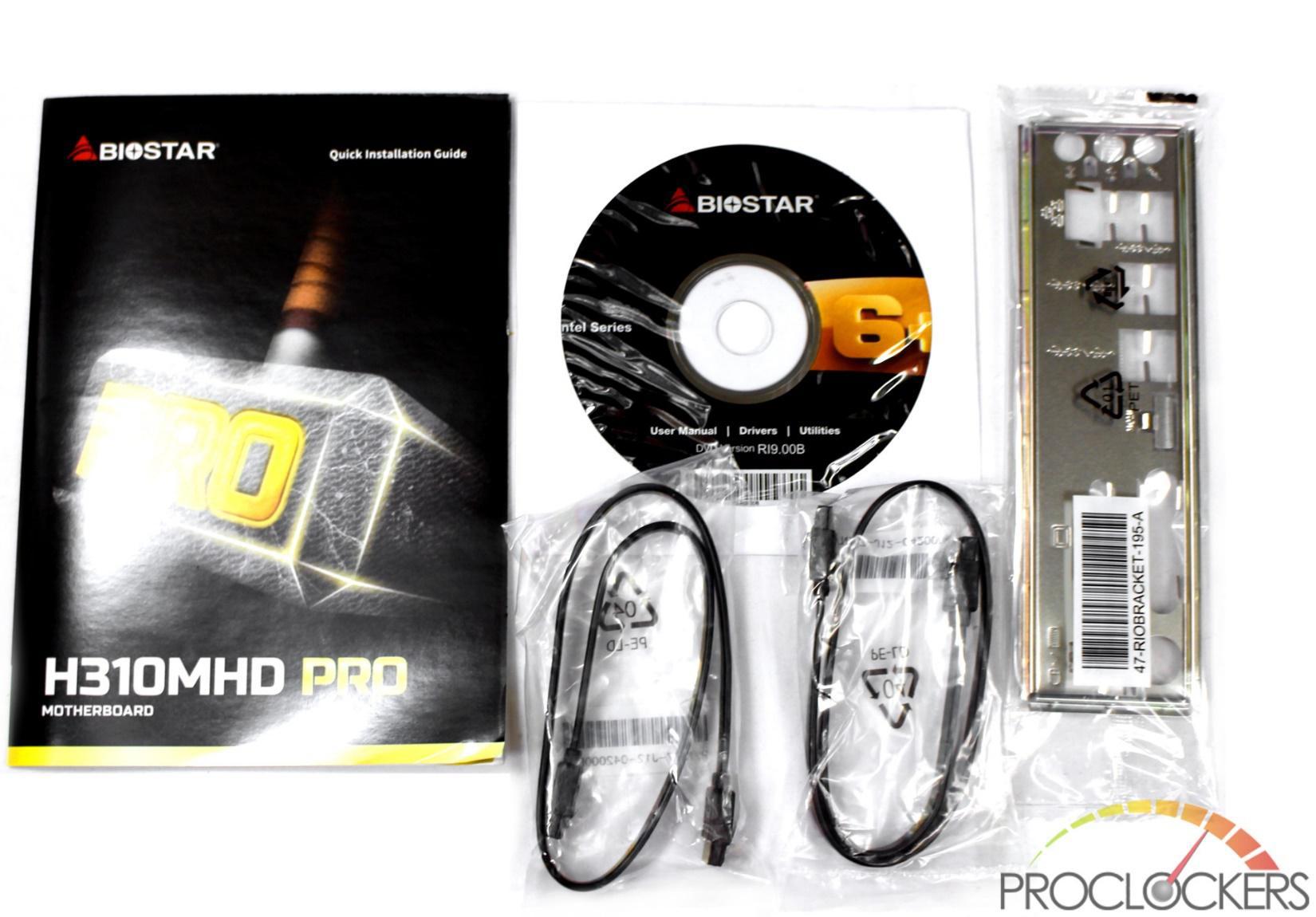 With the board, you get the manual, a drive and utility disk, the rear I/O shield and a pair of SATA cables.
A Closer Look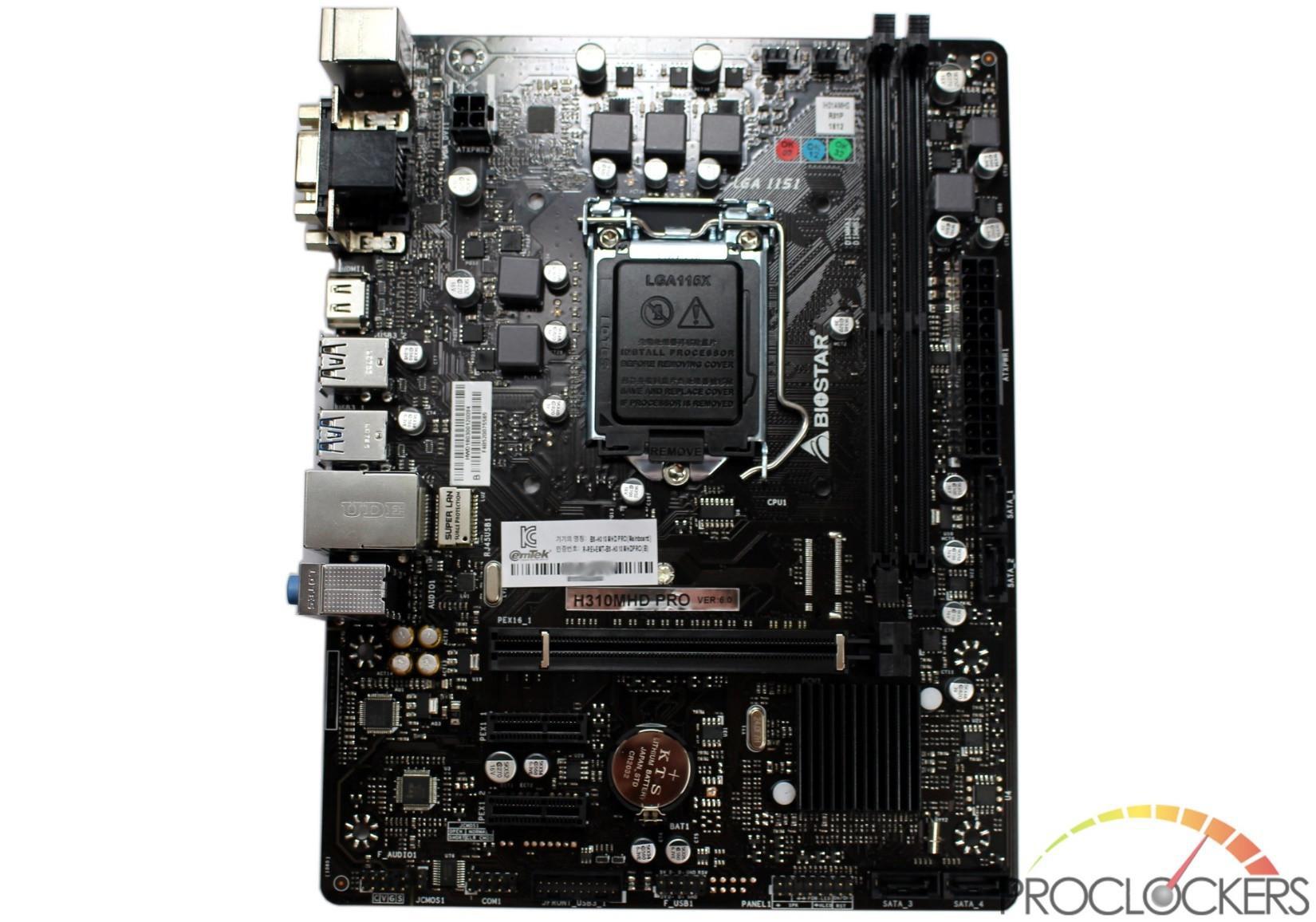 BIOSTAR's H310MHD PRO is considered a Micro-ATX board, but more closely fits the layout of a Flex-ATX due to the narrow width and mounting hole pattern. It should fit in most ATX or microATX cases and may even fit a few taller ITX cases.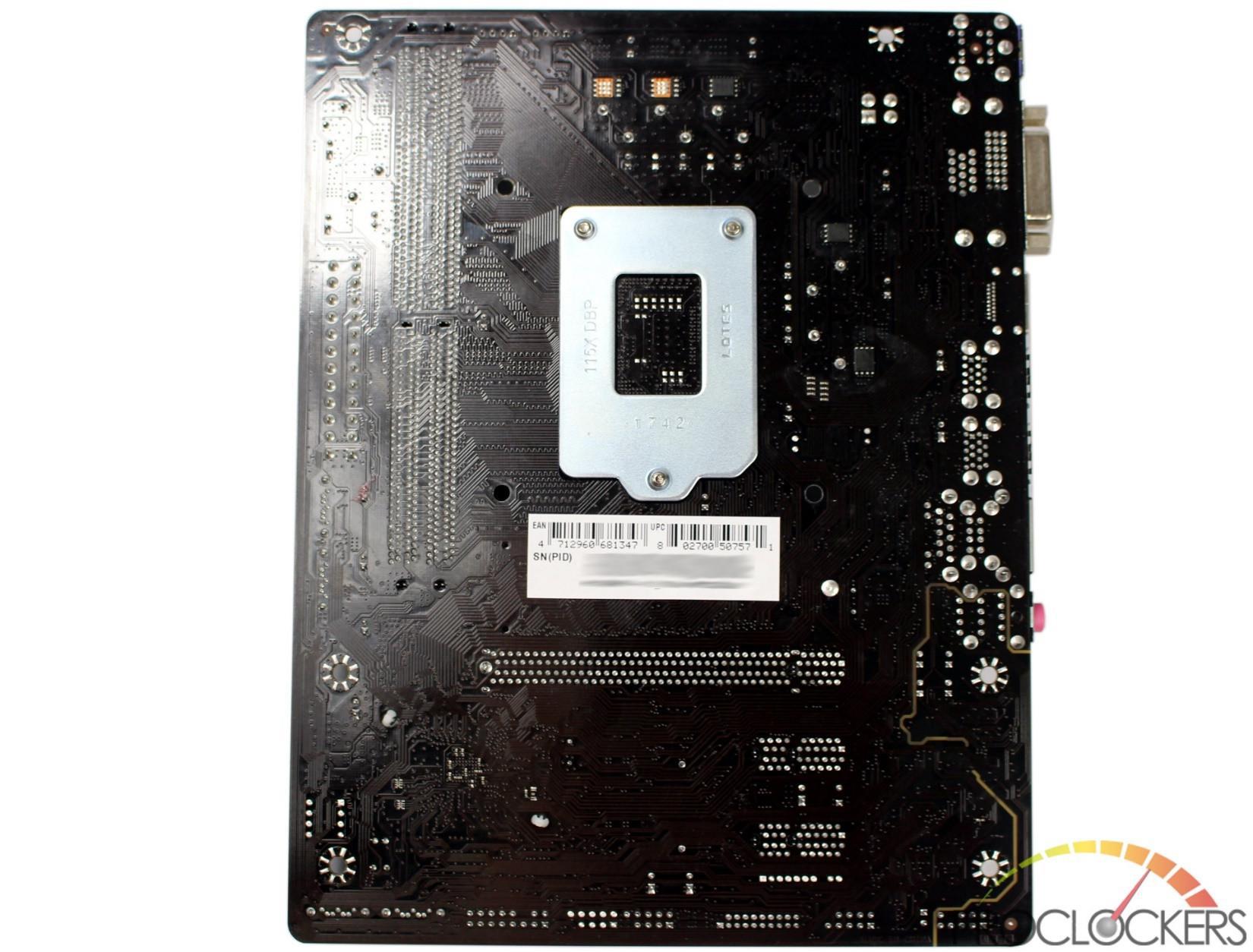 The back of the board is mostly clear of components, only a couple of IC's around the socket and the large serial number label. You can also see here BIOSTAR isolates the audio area of the board to minimize interference and improve audio quality, not something you typically see on the more budget-friendly designs.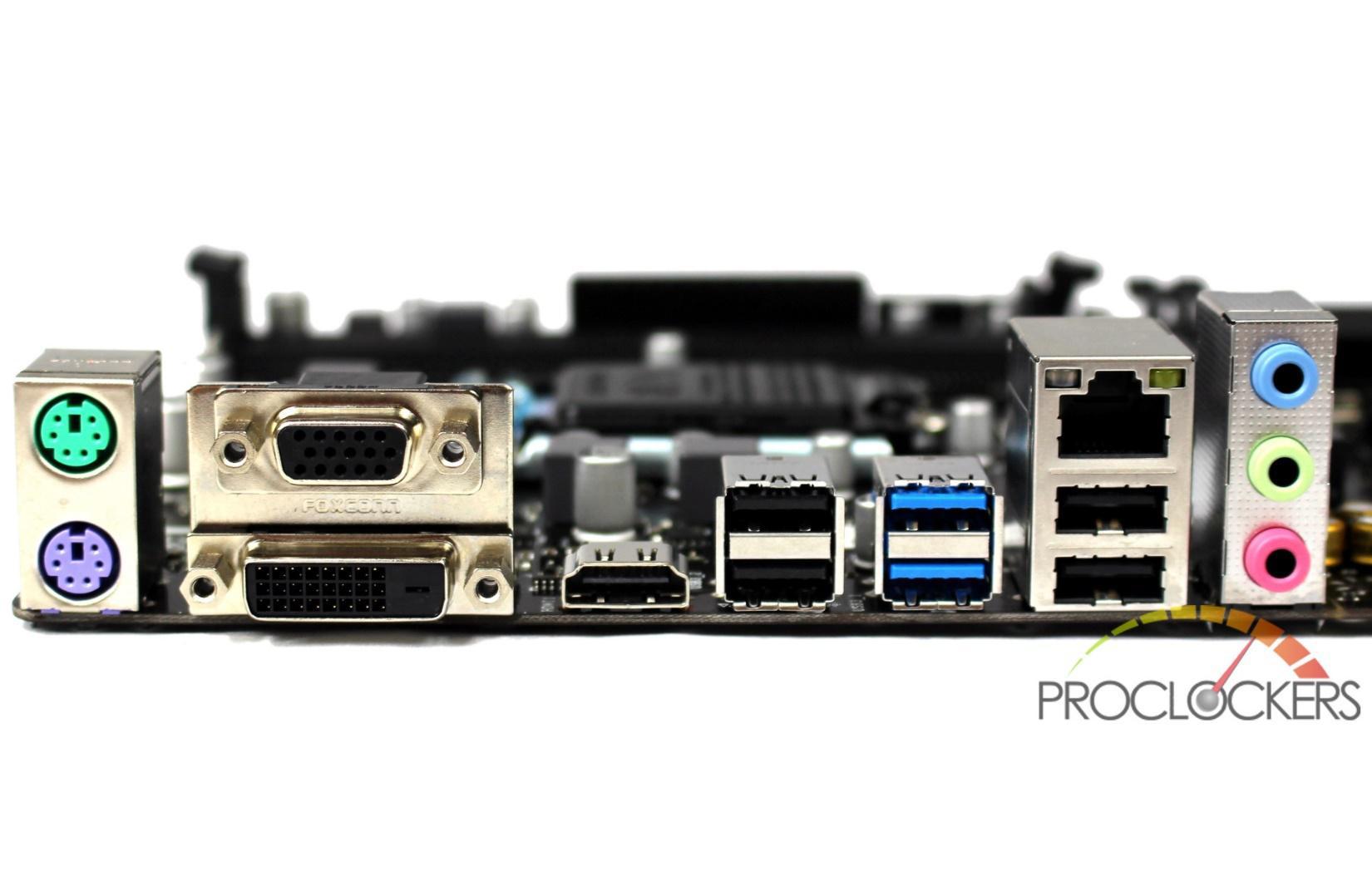 Rear I/O packs VGA and DVI-D video output along an HDMI 1.4 port. Also includes a Gigabit Ethernet port, 2x USB 3.1 Gen1, 4x USB 2.0, 2x PS2 ports, and 3x Audio ports.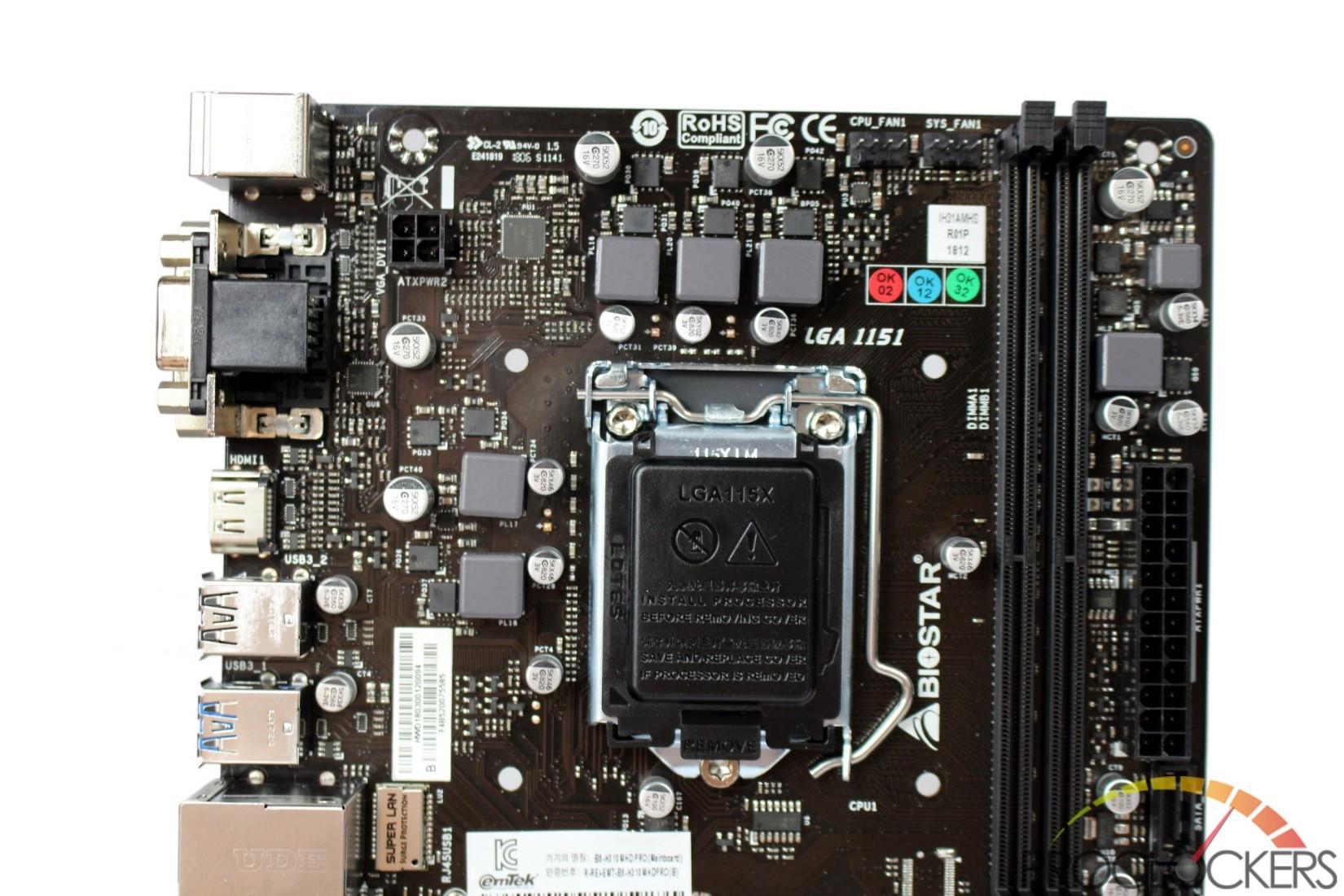 The top of the board has the CPU socket centered with a 5-phase VRM around it and a pair of DDR4 DIMM slots to the right. A single 4-pin 'P4' power connection for the CPU sits in the top left corner, a pair of 4-pin fan headers sits along the top edge of the main 24-pin power beside those.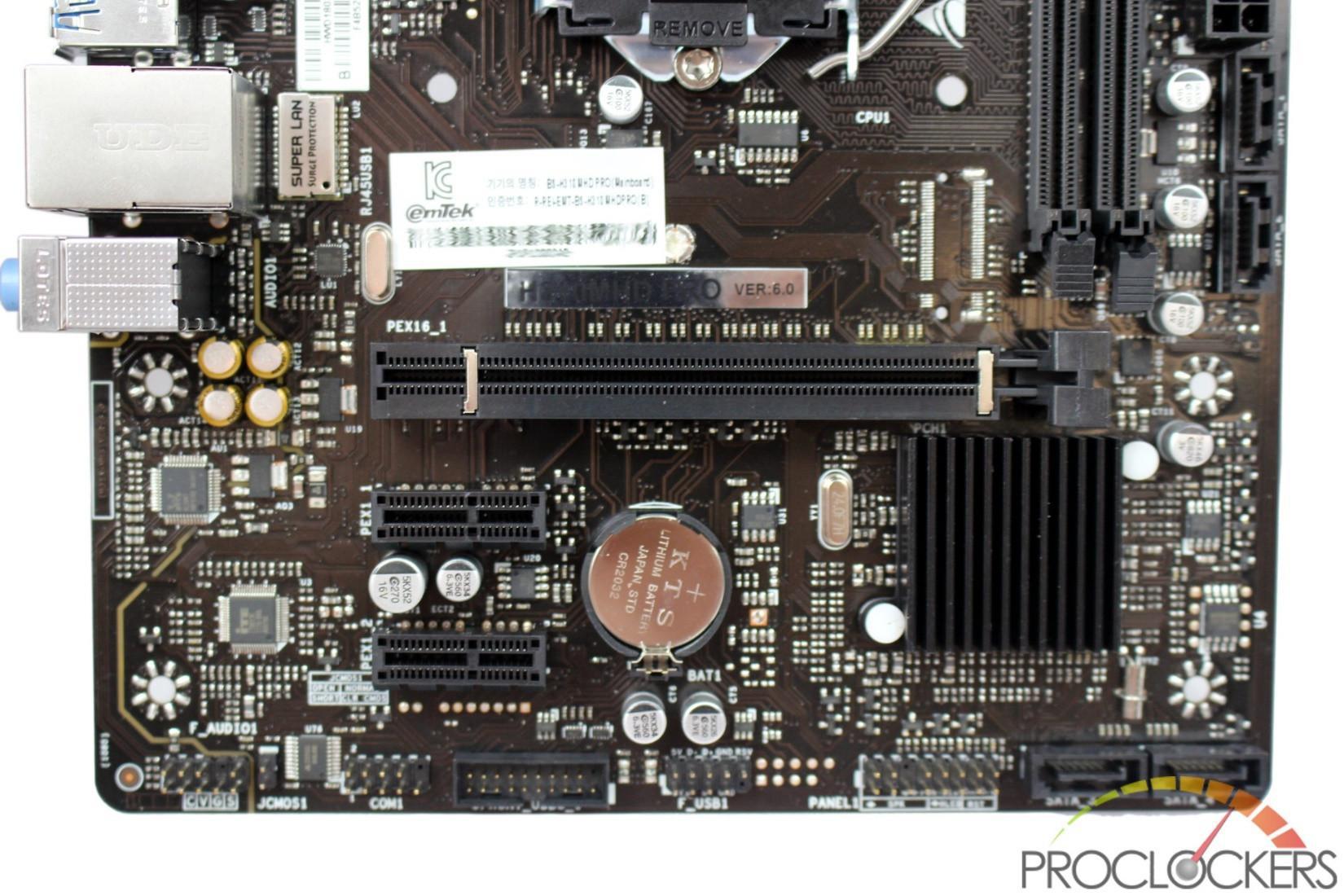 The bottom of the board has a single reinforced PCIe x16 fed from the CPU with a pair of x1 connections from the chipset. Solder points for an M.2 slot can be seen near the rear of the PCIe x16 slot, it's a shame that didn't make it into the final design. Along the bottom you have your front panel audio connection, a clear CMOS jumper, a serial COM port connection, USB 3.0 and USB 2.0 headers, front panel I/O connections and a pair of SATA ports.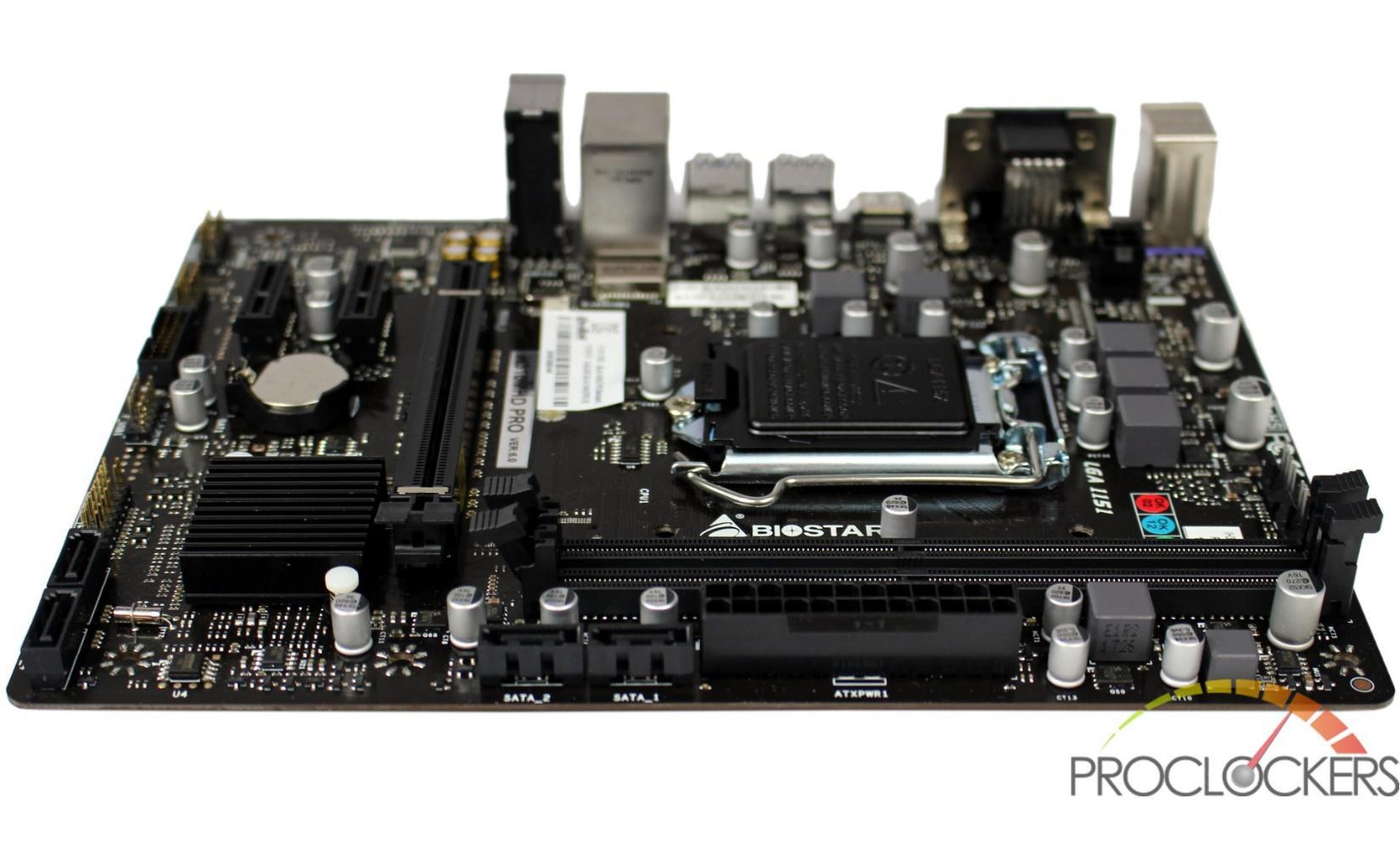 Two more SATA ports are on the front edge of the board just under the main power connection.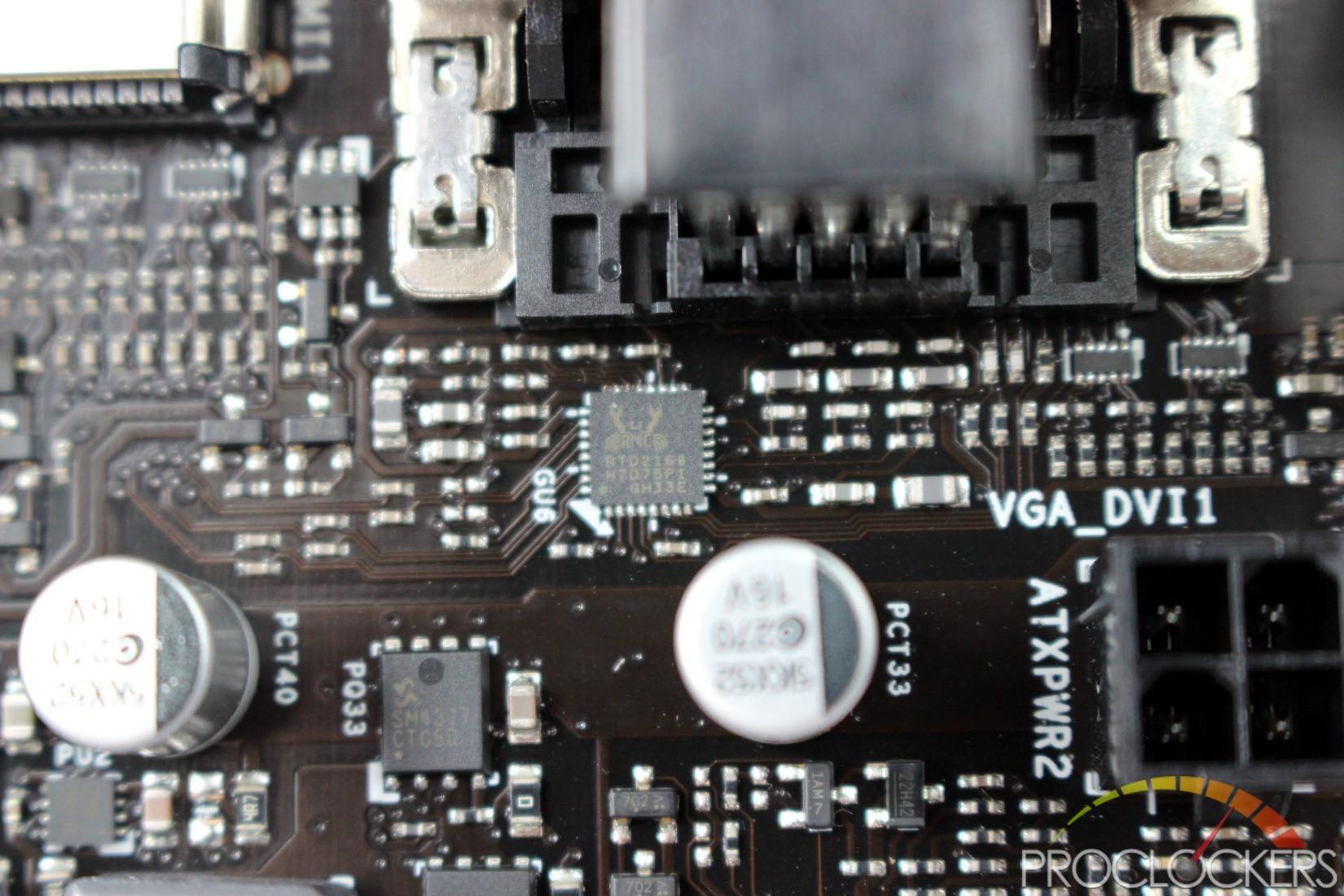 A Realtek RTD2482D handles some of the Video outputs on the rear I/O panel.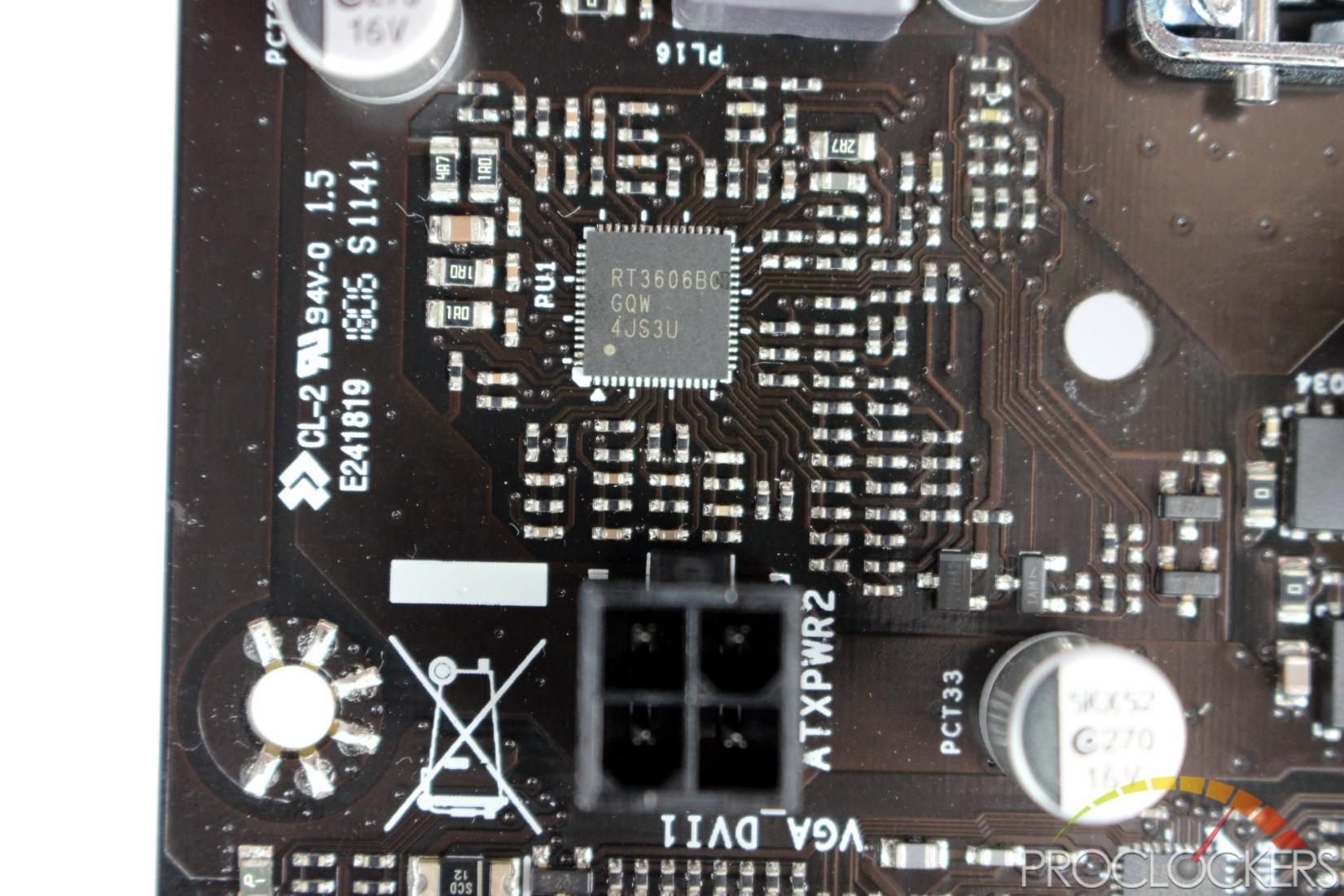 A Richtek RT3606BC Dual-Channel PWM Controller drives the VRM stages for the CPU.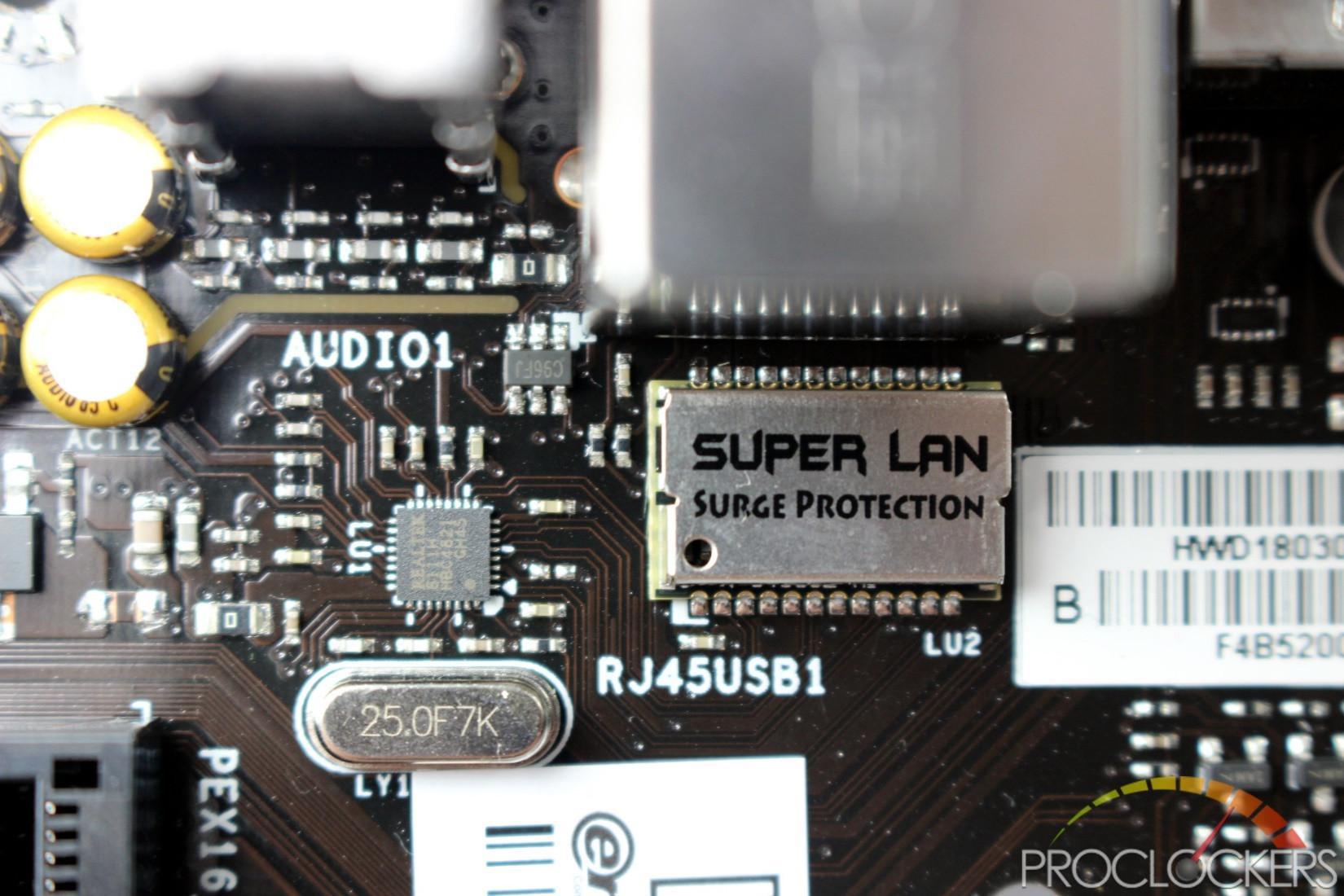 One of BIOSTAR's calling cards for this model is surge protection, while most of it is not readily obvious, the Super Lan surge protection is hard to miss and protects your board from power spikes coming in over your network connection.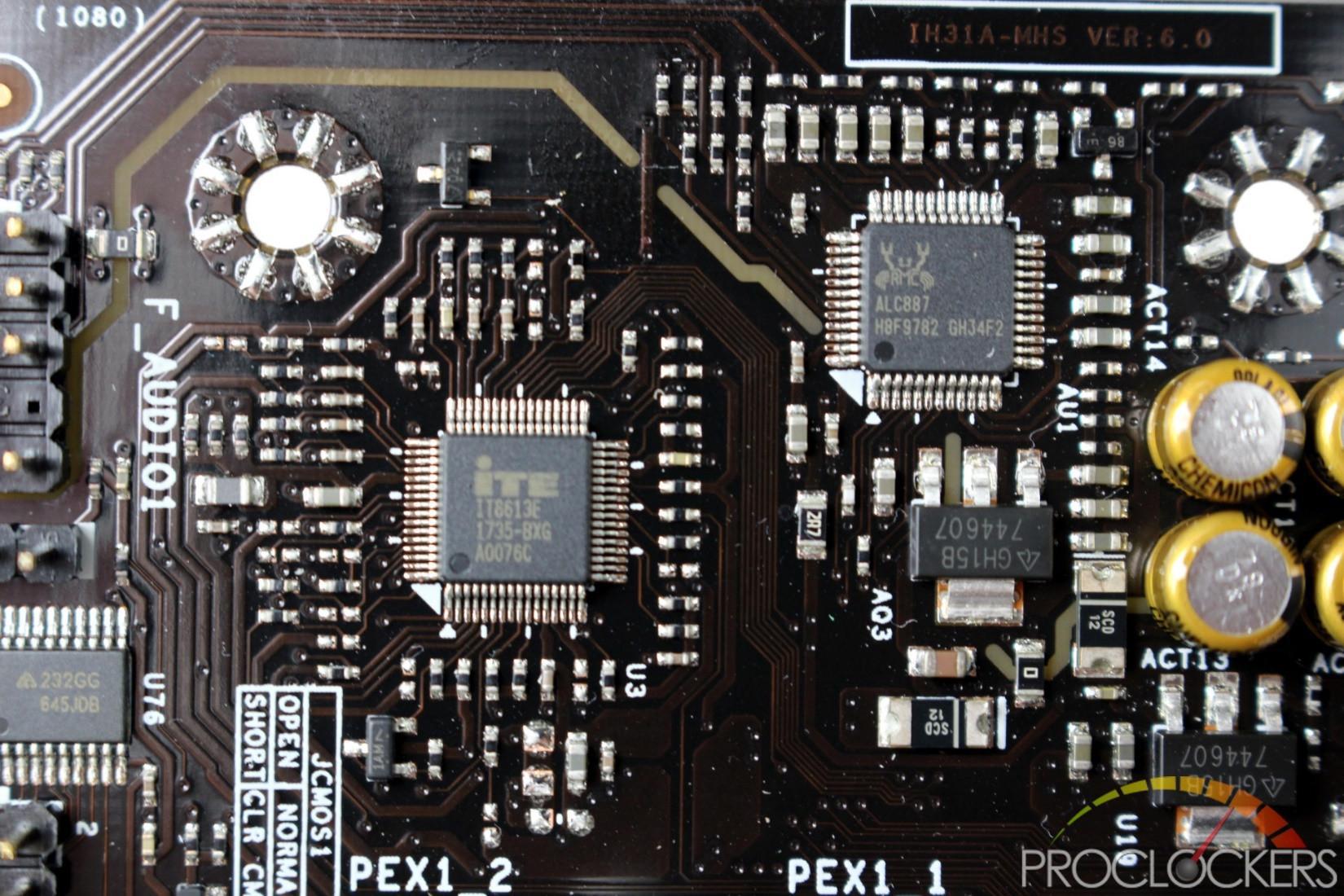 ITE Tech's LPC Super I/O interface is responsible for lots of things like fan control, voltage and temp monitoring, and several other functions. Realtek's ALC887 high performance 7.1 channel audio solution provides 24bit 192kHz audio at a 100dB S/N ratio for quality audio. Nichicon Chemicon gold caps provide the rest of the quality audio interface.
System Configuration & BIOS
CPU: Intel Core i7-8700k
Motherboard: BIOSTAR H310MHD PRO
RAM: 16GB G.Skill TridentZ RGB 3200Mhz (platform capped at 2666Mhz)
GPU: Galax GTX 1070 HOF
SSD: Sandisk Ultra 256GB
OS: Windows 10 Professional X64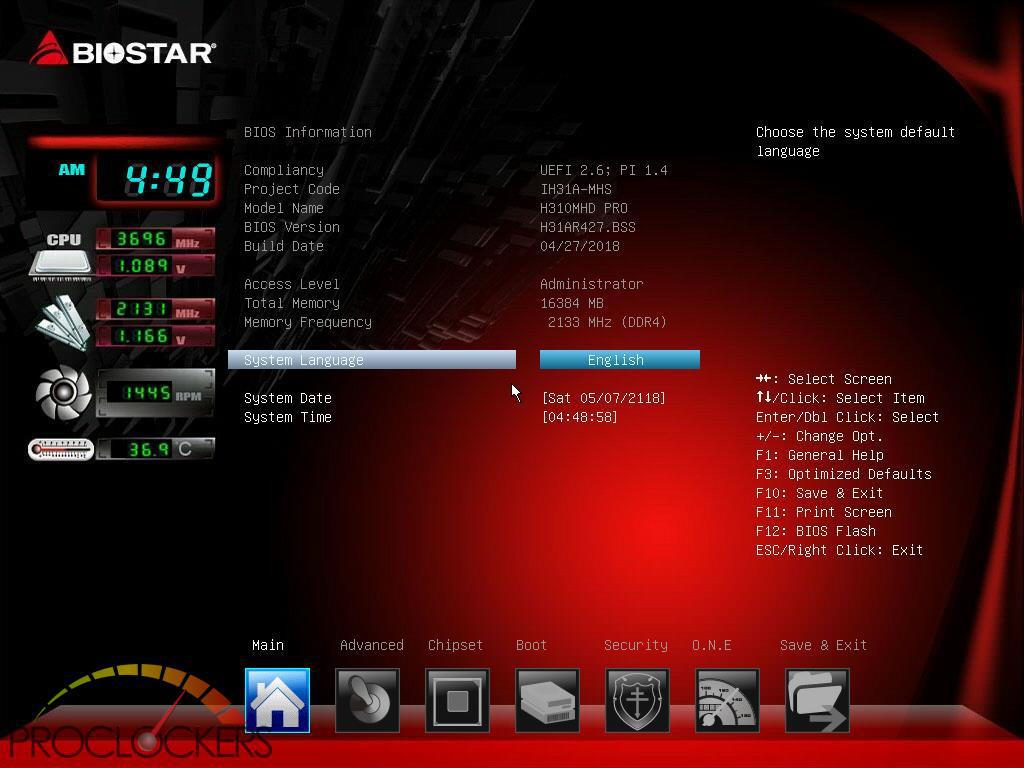 BIOSTAR has a very clean and easy to navigate UEFI (BIOS) that is broken out into 6 main areas with a quick summary along the left side of the screen. The main page gives you a quick overview of your board and the BIOS revision, as well as installed memory.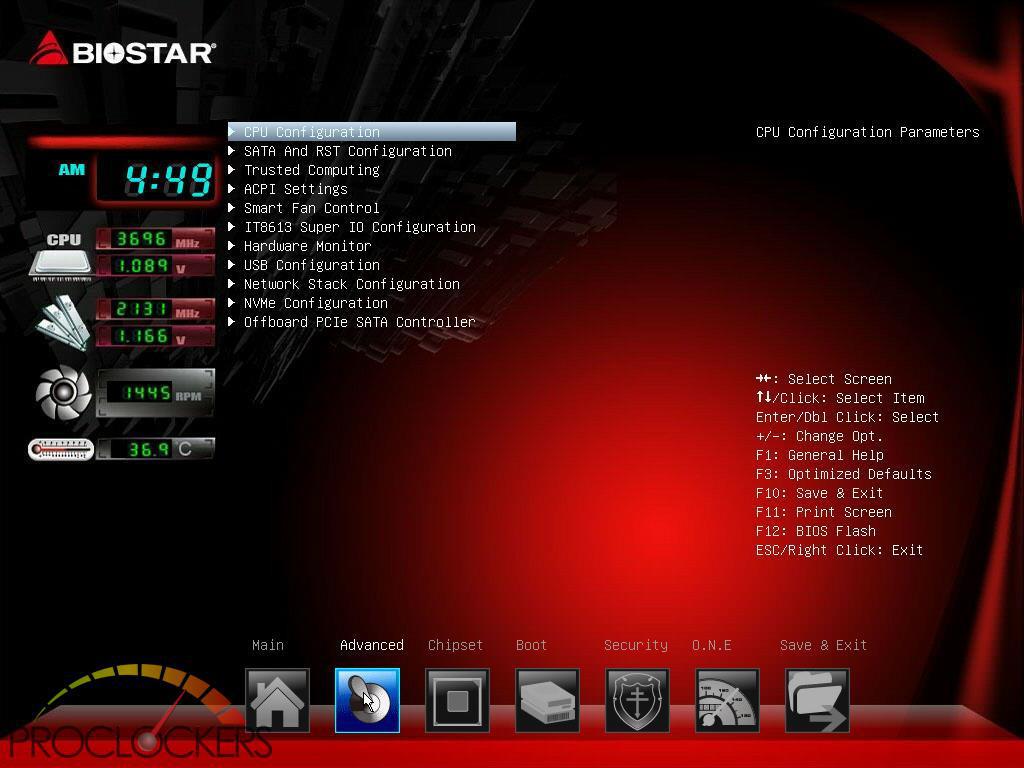 The advanced tab is where you can actually start digging into settings.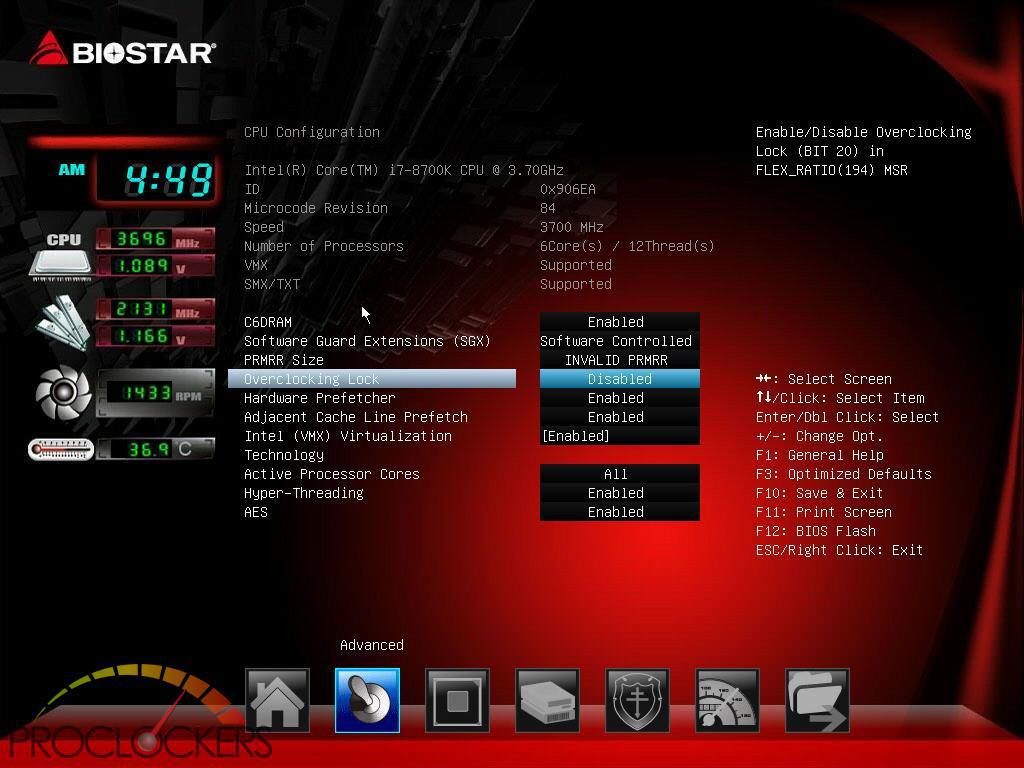 The CPU configuration sub-menu shows you the currently installed CPU as well as turn on and off its various features like Hyper-Threading or Virtualization support.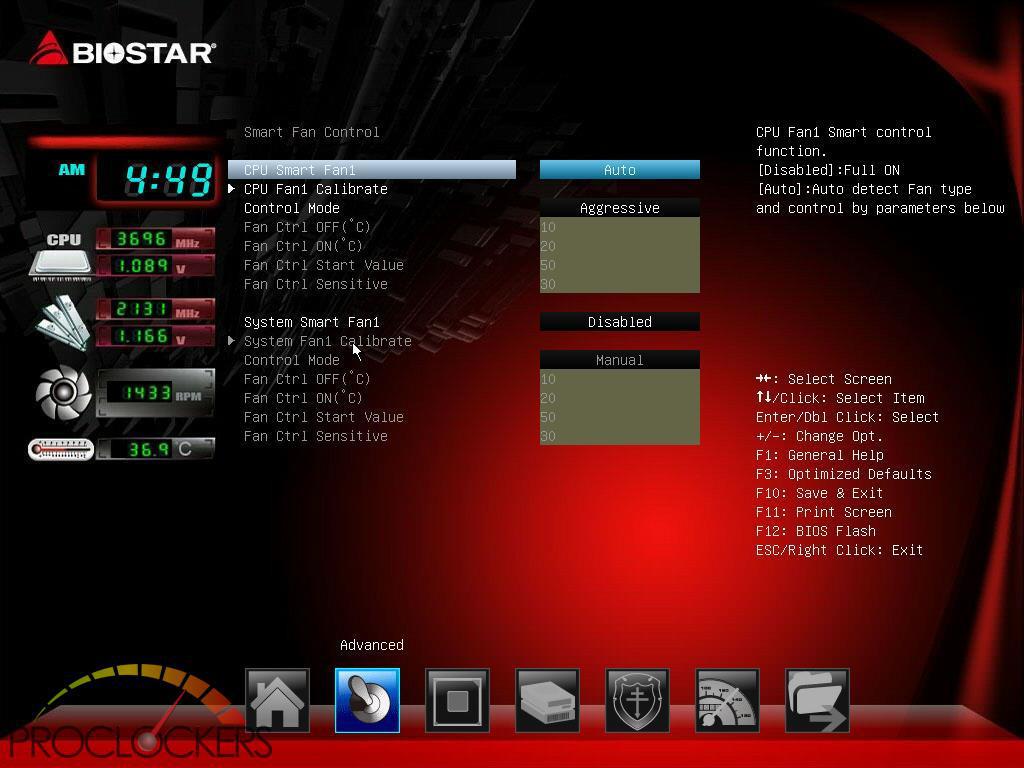 Smart Fan Control is pretty easy to understand. You can set performance profiles and then tweak them for both the CPU and system fan header.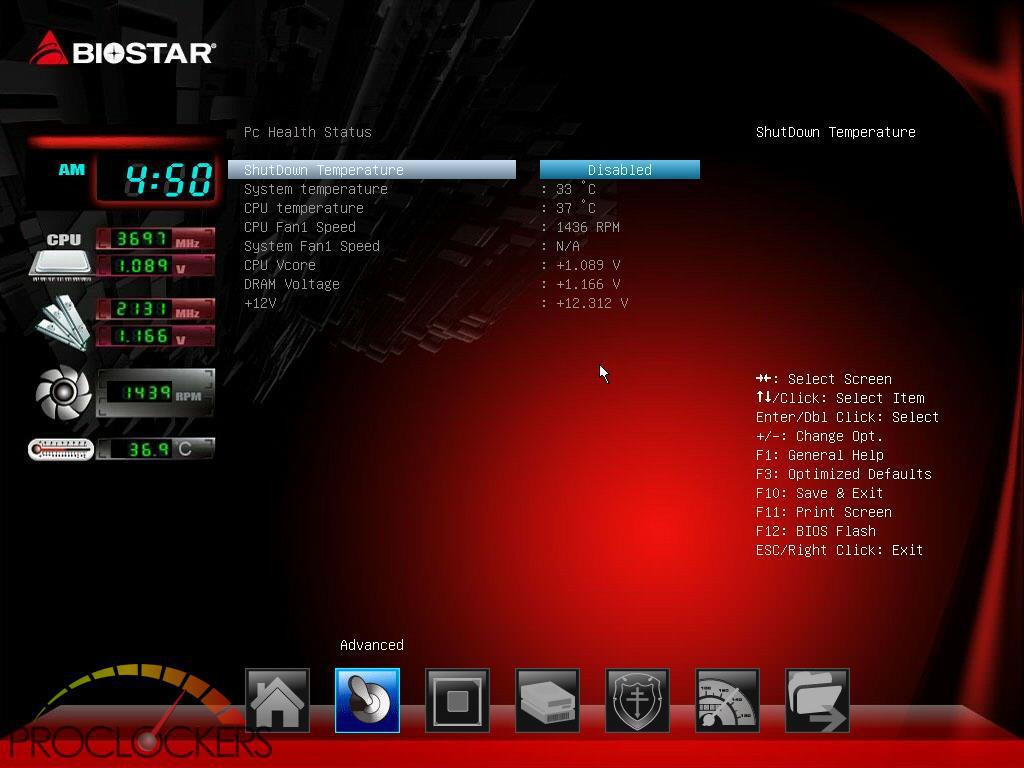 PC Health Status is what is called hardware monitor on most platforms. You can see temps, fan speeds and voltages here.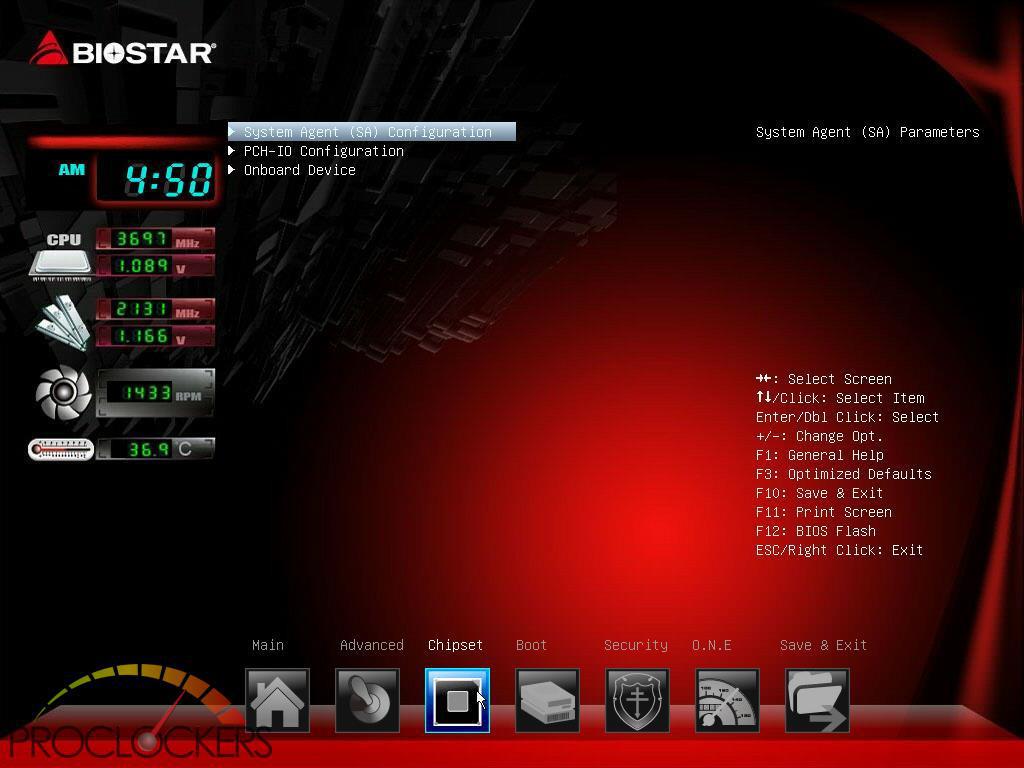 The chipset section lets you adjust everything else on the board such as integrated devices.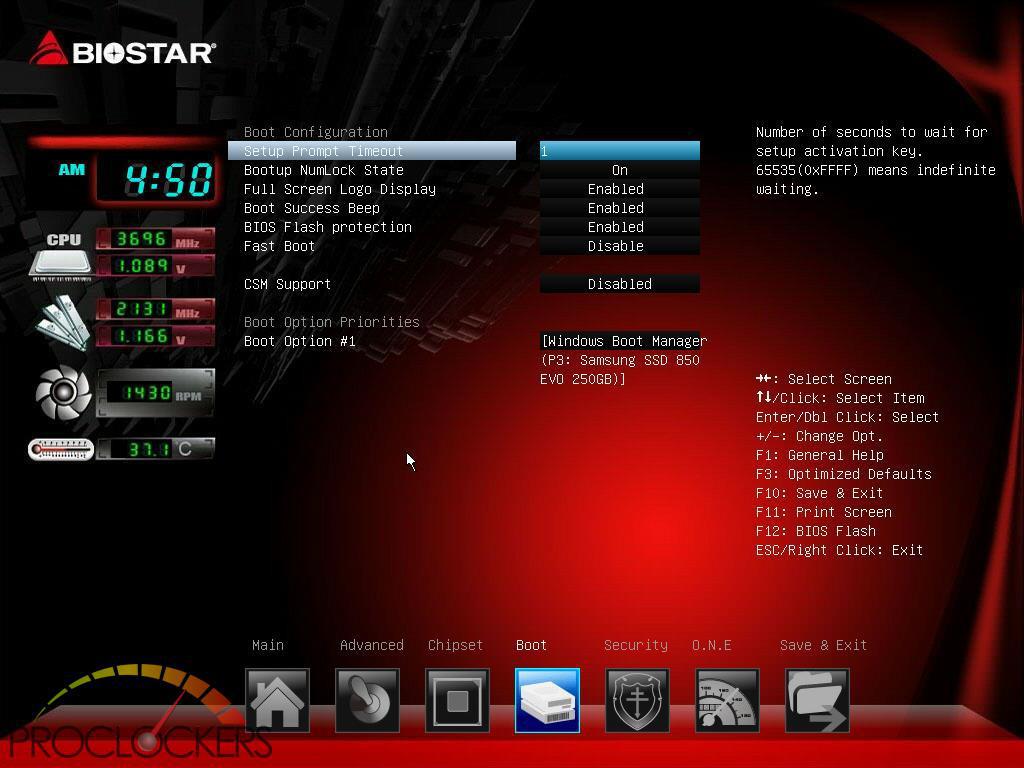 The Boot configuration is another easy one, hop in here to adjust boot order and related settings such as NumLock that was off on ours.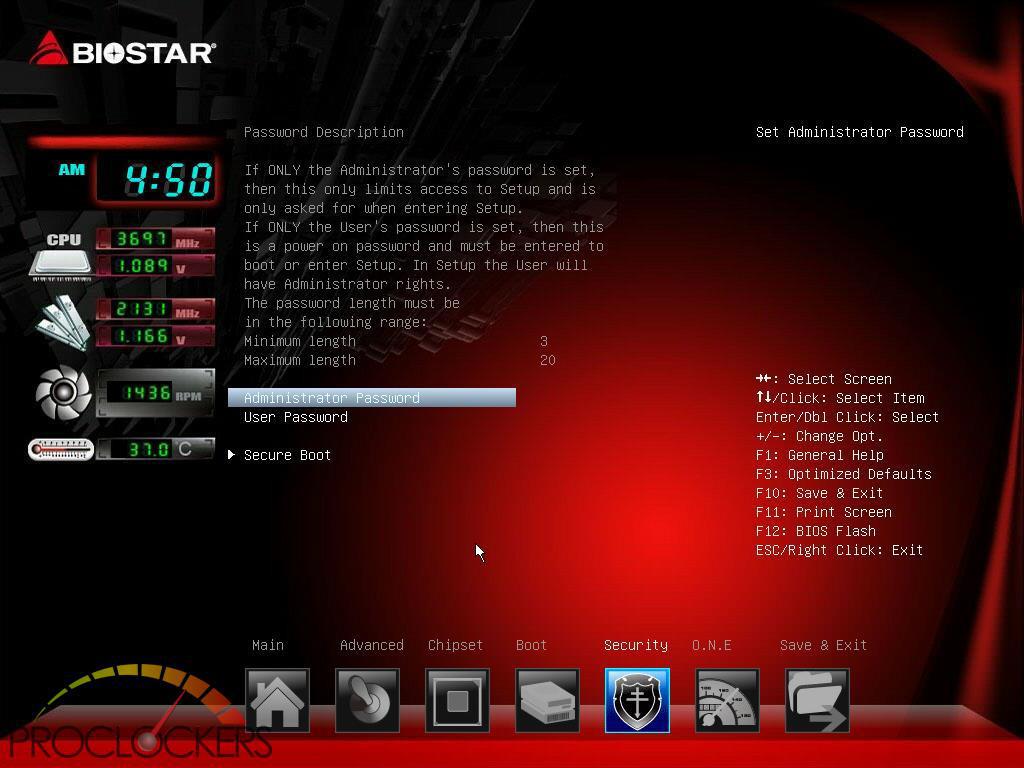 The Security tab will probably one be used in business settings, getting into the BIOS is a daily occurrence for us at home so no need for a password.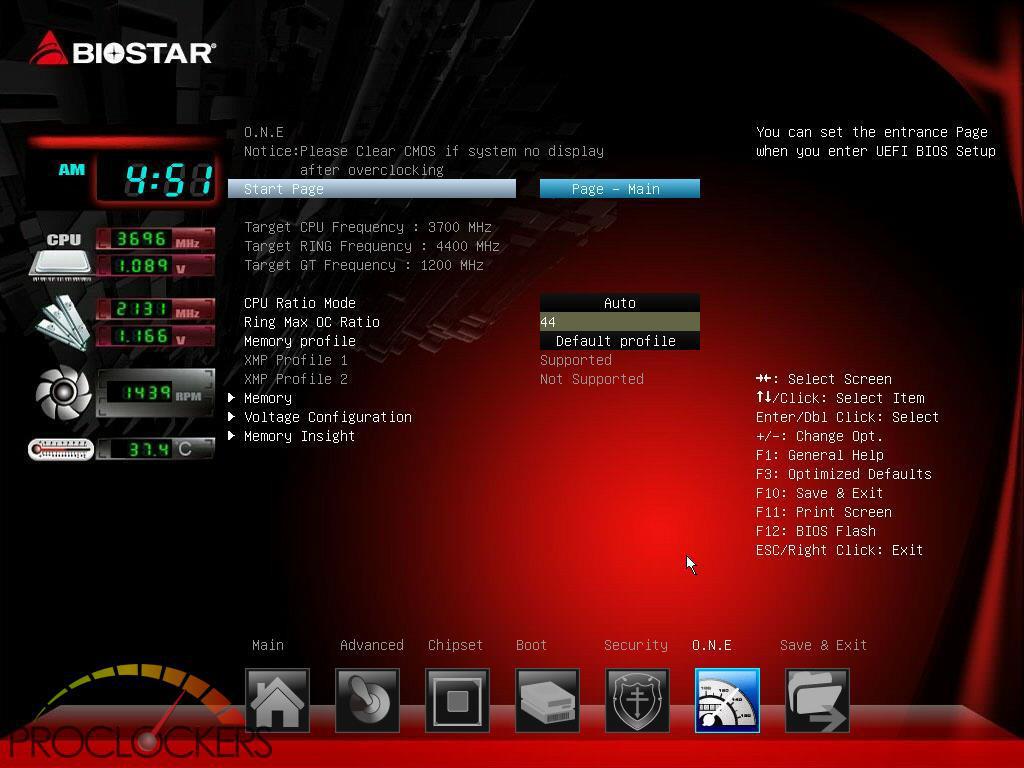 The O.N.E. tab is your performance tuning section. The H310 Chipset limits this heavily compared to something like the Z370 chipset, but there are important things in here like memory XMP settings, even if speeds are platform limited to 2666Mhz.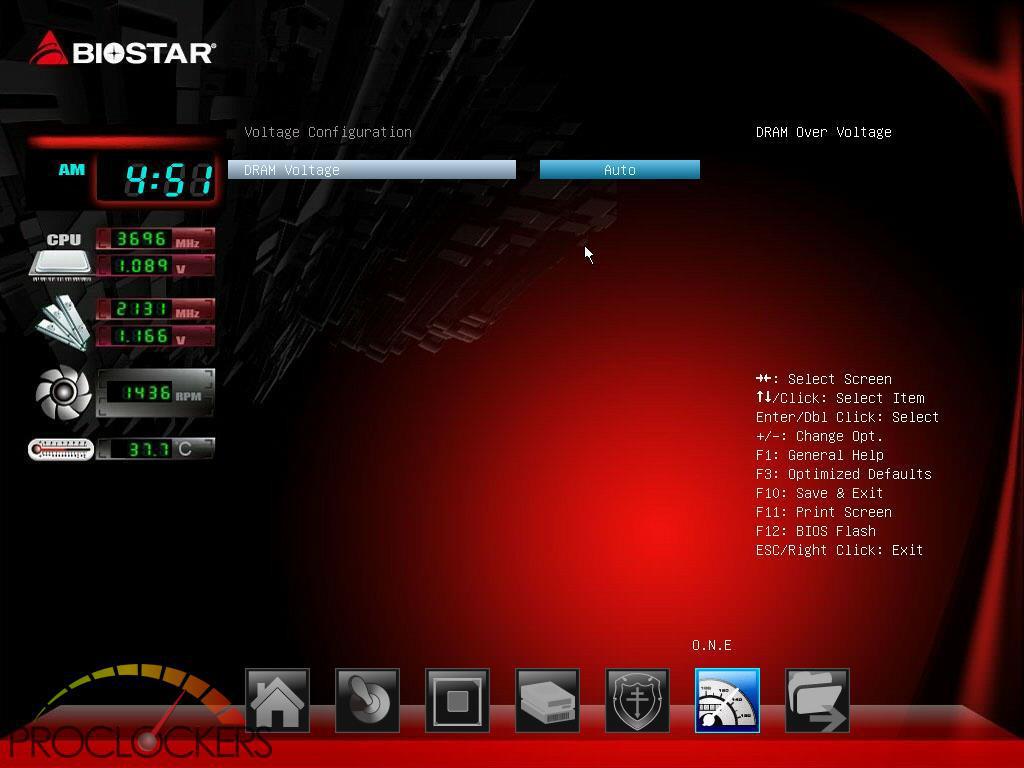 Voltages are pretty well fixed to auto outside of the memory voltage itself.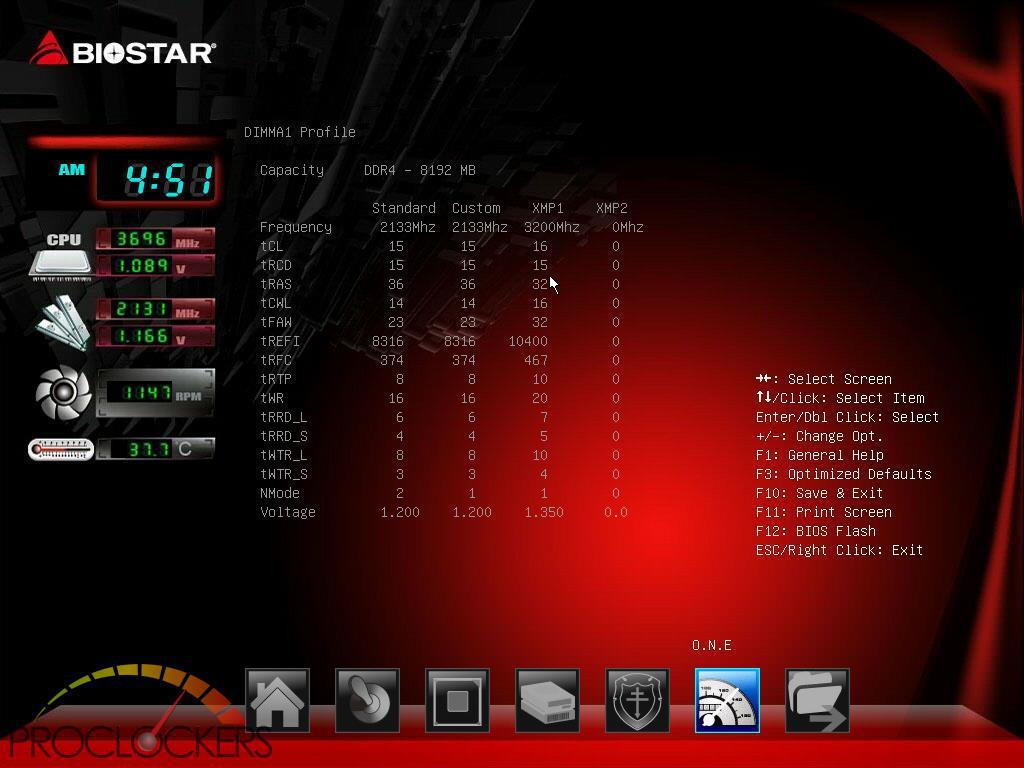 The memory insight sub-section does let you check out the SPD information for your installed memory sticks.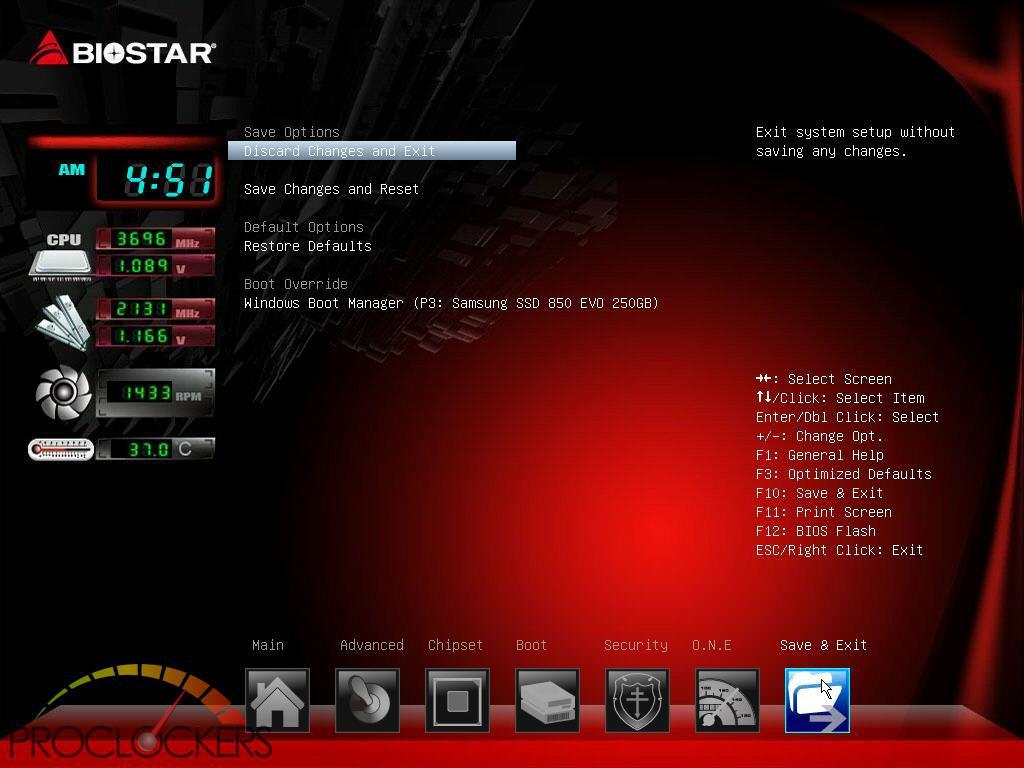 Nothing worth nothing on the Save and Exit tab, pretty standard fare here.
Software
BIOScreen Utility
This utility allows you to personalize your boot logo easily. You can choose BMP
image as your boot logo so as to customize your computer.
eHot-Line Utility
Integrated e-service automatically sends your technical support request to Biostar Globe tech support without any delay.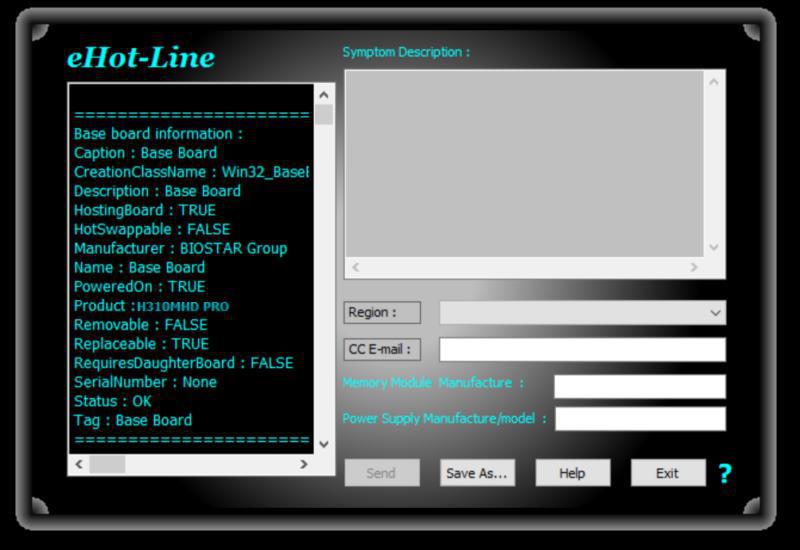 SmartSpeedLAN
SmartSpeedLAN is a free software application which monitors and manages your PC's network behavior. With user-friendly GUI, it allows you to select and prioritize different types of network traffic, including gaming, media streaming, communications or web surfing. You can also set any specific applications, choosing to prioritize or block accordingly. SmartSpeedLAN can feature automatic management options that use adaptive networking intelligence to ensure that you are getting the best online experience possible.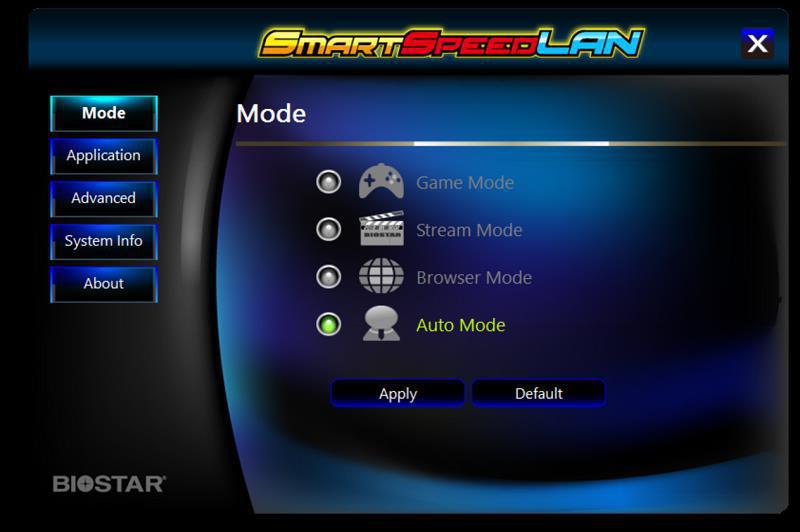 Testing & Performance
General Performance Testing
All performance testing was done with an i7-8700K and GTX 1070 at default clock speed. CPU was left with Speed Step and Turbo Boost enabled. The only setting changed was enabling XMP memory settings in the BIOS. Games where ran at a resolution of 1920 x 1080 and higher settings enabled as noted.
PCMark 8
"Use the PCMark 8 Storage benchmark to test the performance of SSDs, HDDs and hybrid drives with traces recorded from Adobe Creative Suite, Microsoft Office and a selection of popular games. You can test the system drive or any other recognized storage device, including local external drives. Unlike synthetic storage tests, the PCMark 8 Storage benchmark highlights real-world performance differences between storage devices."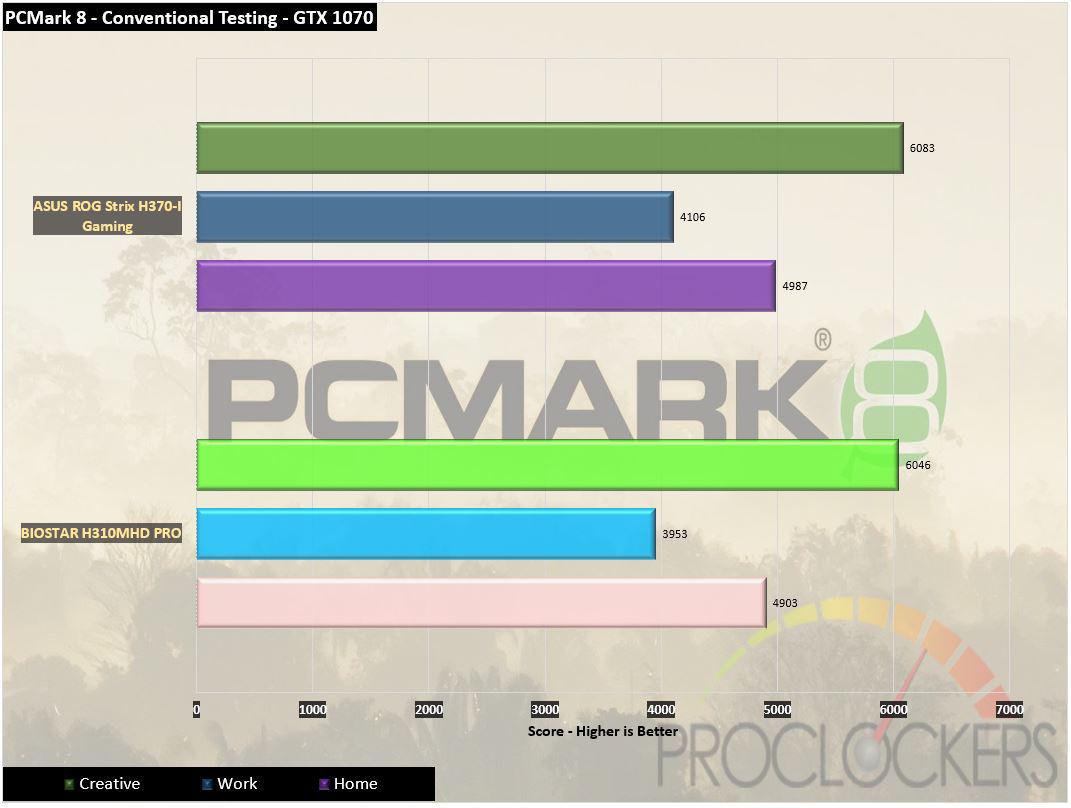 PCMark 8 testes common tasks for this type of machine. It suppers here a bit from the use of a SATA drive over our more commonly tested NVMe drive but does great otherwise.
PCMark 10
PCMark 10 is the complete benchmark for the modern office. It is the ideal test for organizations that are evaluating PCs for a workforce with a range of performance needs. The tests in this benchmark cover a wide range of activities from everyday productivity tasks to demanding work with digital media content.
PCMark 10 uses a modular approach to build relevant benchmark tests around common end-user scenarios. A Test Group is a collection of workloads that share a common theme or purpose. There are four test groups in PCMark 10, we use three of them.
Essentials: covers the common, everyday ways that people use a PC. The workloads include Web Browsing, Video Conferencing, and App Start-up time.
Productivity: measures system performance with everyday office applications. This test group includes the Spreadsheets and Writing workloads.
Digital Content Creation: This test group's workload reflects the demands of working with digital content and media. The tests include Photo Editing, Video Editing, and Rendering and Visualization.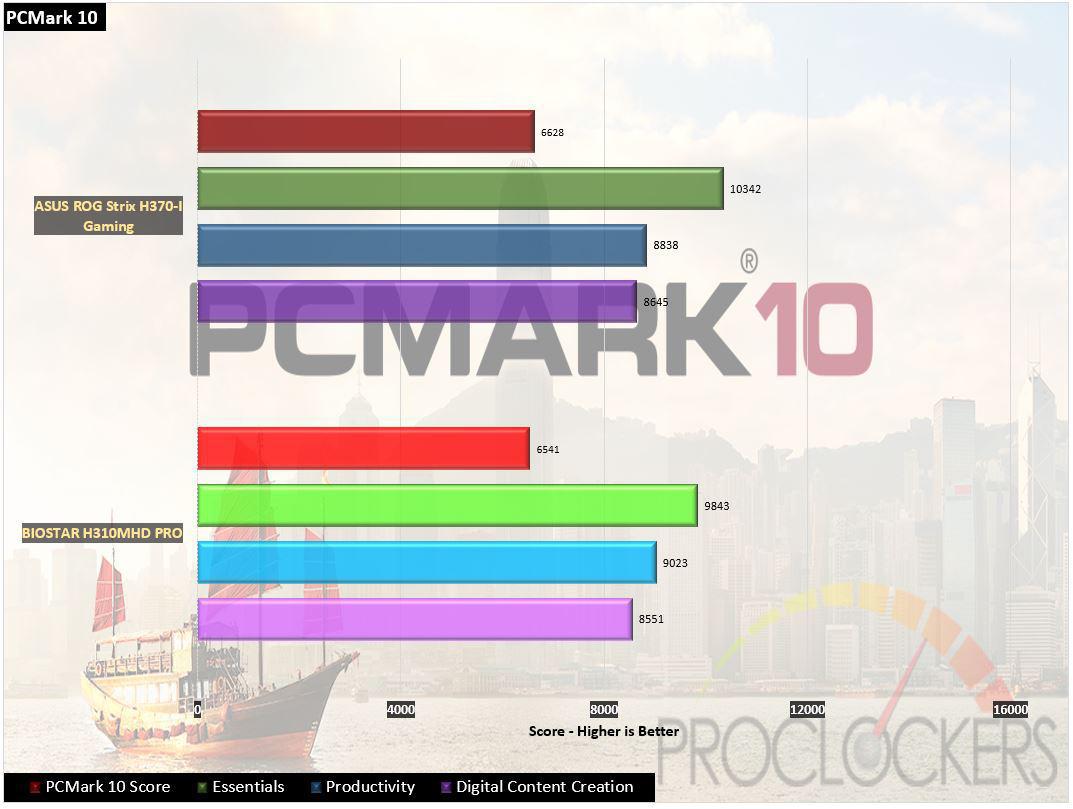 PCMark 10 sees the same result, strong scores but lagging our other non-Z test board thanks to a slightly slower disk.
WebXPRT 2015
WebXPRT 2013 uses scenarios created to mirror the tasks you do every day to compare the performance of almost any Web-enabled device. It contains four HTML5- and JavaScript-based workloads: Photo Effects, Face Detect, Stocks Dashboard, and Offline Notes. WebXPRT is run with the latest stable release version of Google Chrome browser, in this case, Version 65.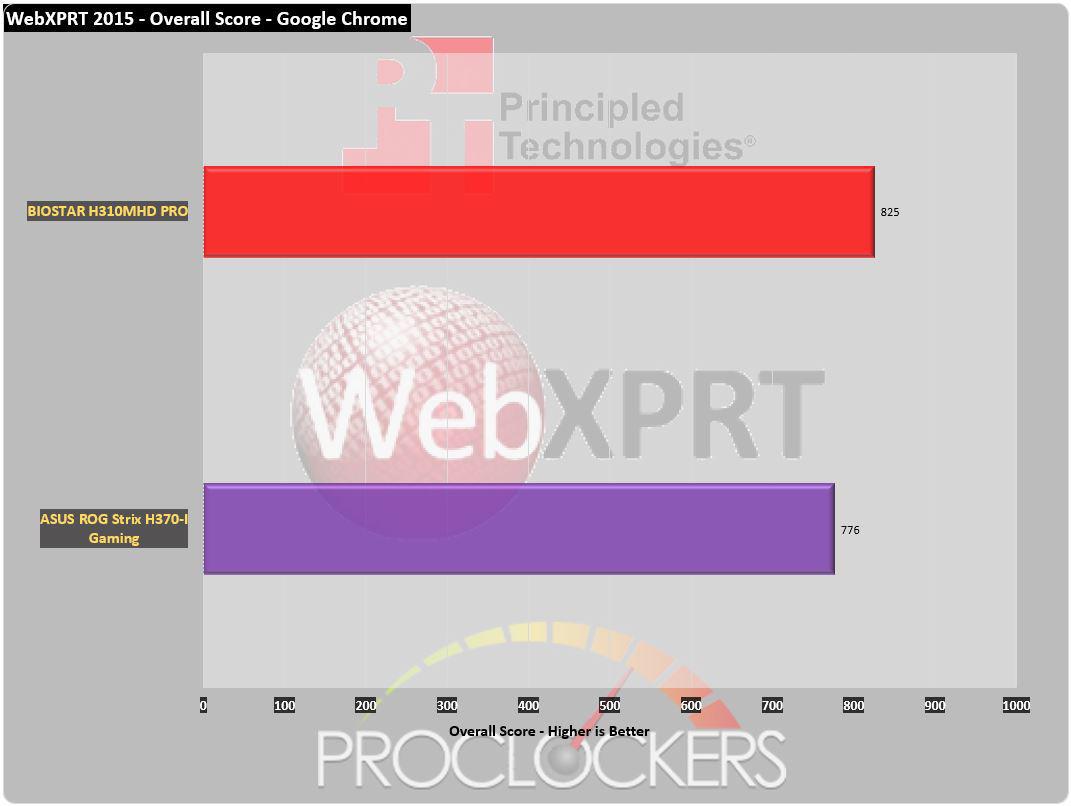 Disk speeds don't hurt our browser-based WebXPRT 2015 test at all and the H310MHD walks away with an easy win, even outpacing several of our enthusiast systems.
CPU Performance Testing
Super PI Modded 1.5
"In August 1995, the calculation of pi up to 4,294,960,000 decimal digits was succeeded by using a supercomputer at the University of Tokyo. The program was written by D.Takahashi in collaboration with Dr.Y.Kanada at the computer center. This record should be the current world record. (Details are shown in the windows help.) This record-breaking program was ported to personal computer environments such as Windows NT and Windows 95. In order to calculate 33.55 million digits, it takes 3 days with a Pentium 90 MHz, 40 MB main memory and 340 MB available storage."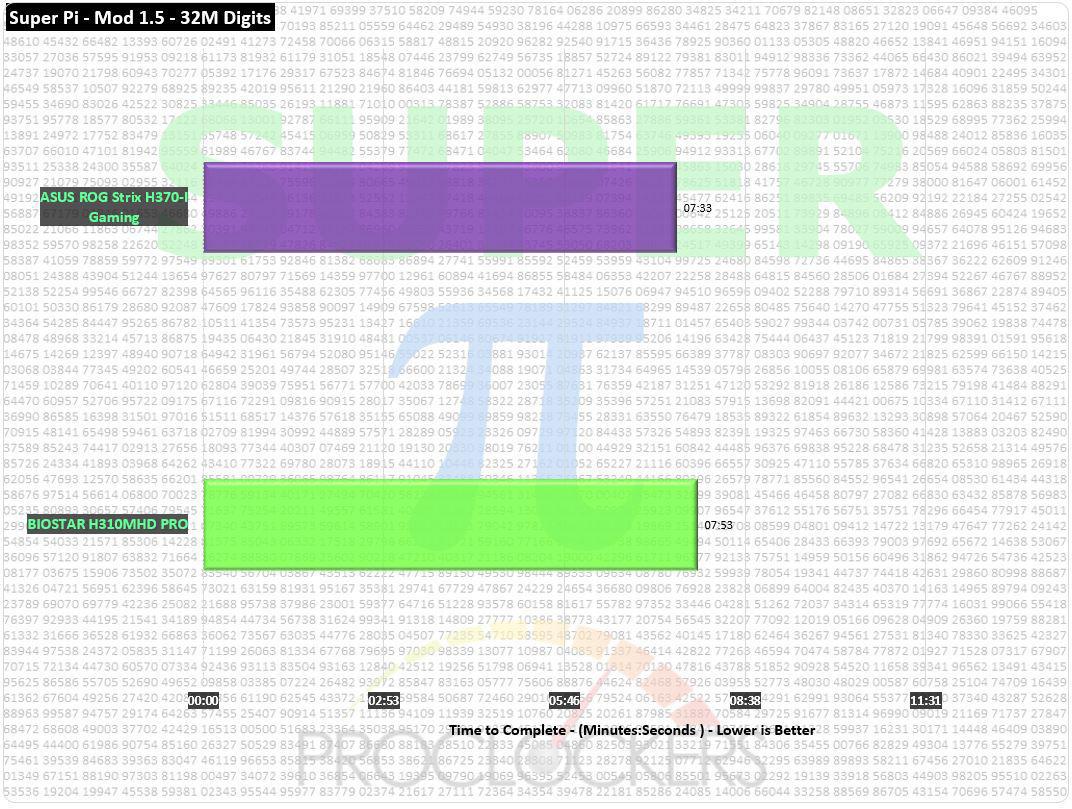 The H310MHD comes in at 7 seconds under 8 minutes on this single threaded test. Not the best time we've seen, but not terrible.
CINEBENCH R15
"CINEBENCH is a real-world cross platform test suite that evaluates your computer's performance capabilities. CINEBENCH is based on MAXON's award-winning animation software CINEMA 4D, which is used extensively by studios and production houses worldwide for 3D content creation. MAXON software has been used in blockbuster movies such as Iron Man 3, Oblivion, Life of Pi or Prometheus and much more.
CINEBENCH is the perfect tool to compare CPU and graphics performance across various systems and platforms (Windows and OS X). And best of all: It's completely free."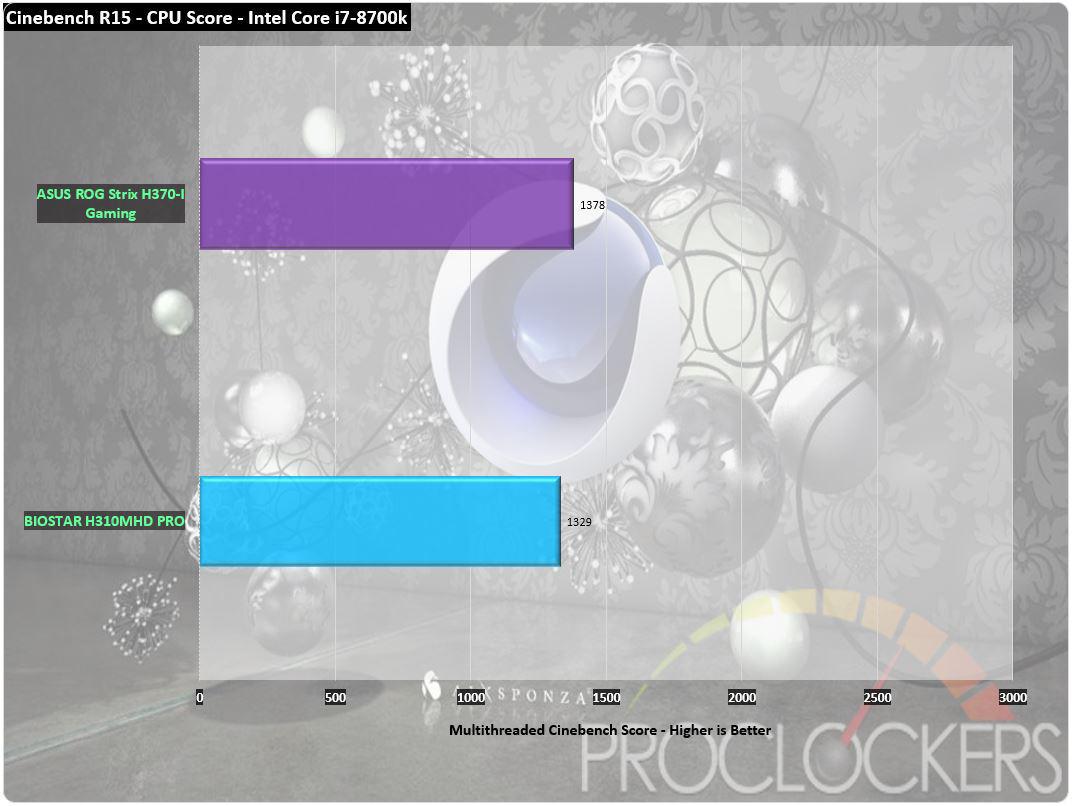 Able to put all 12 threads to use, Cinebench gets a score of 1329 points. With the 5-phase VRM likely the limit, we see the 95W CPU dial back the clock speeds here and there under full load.
7-Zip
The benchmark shows a rating of MIPS (million instructions per second). The rating value is calculated from the measured speed, and it is normalized with results of Intel Core 2 CPU with multi-threading option switched off. So if you have modern CPU from Intel or AMD, rating values in single-thread mode must be close to real CPU frequency. There are two tests, compression with LZMA method and decompression with LZMA method. Once the total passes reach 100, the score is taken.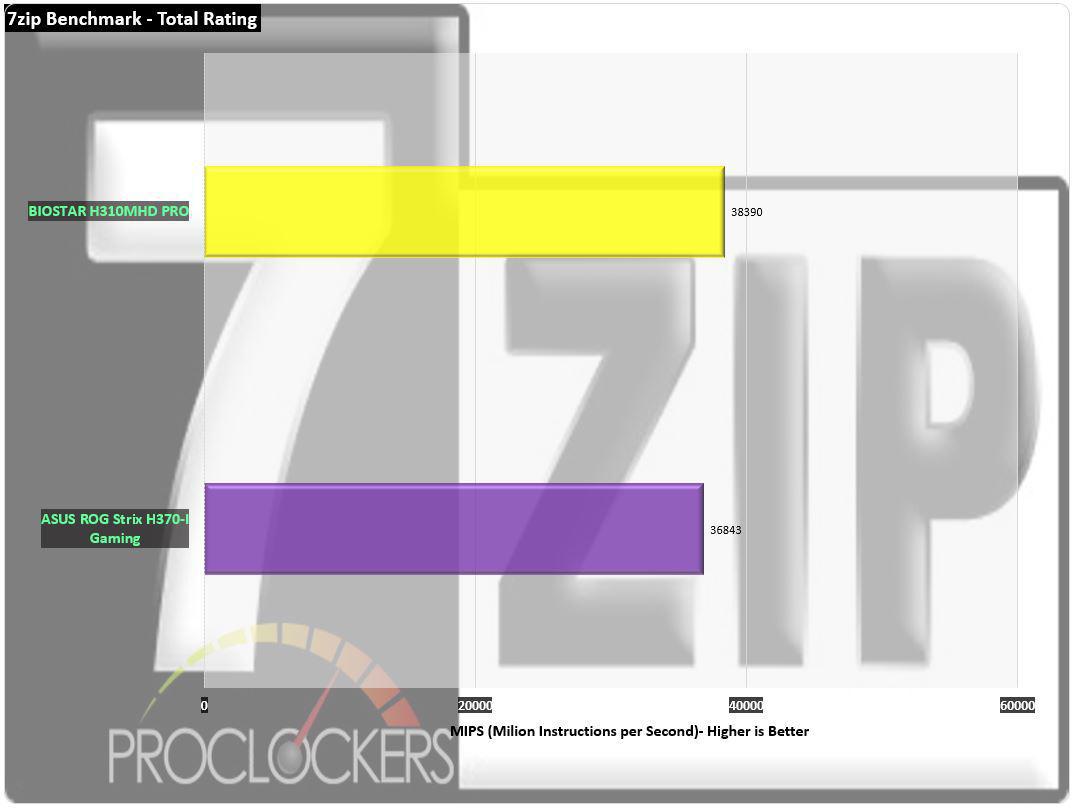 BIOSTAR's board shows strong memory performance and that is likely the cause of the nearly 39k points scored in 7-zip's built-in benchmark.
Memory Performance Testing
AIDA64 Engineer Edition
"FinalWire Ltd. today announced the immediate availability of AIDA64 Extreme Edition 1.50 software, a streamlined diagnostic and benchmarking tool for home users; and the immediate availability of AIDA64 Business Edition 1.50 software, an essential network management solution for small and medium scale enterprises. The new AIDA64 update implements AVX-optimized benchmarks for the upcoming Intel Sandy Bridge processors, adds a brand new video encoding benchmark, and supports the latest AMD and NVIDIA graphics processors."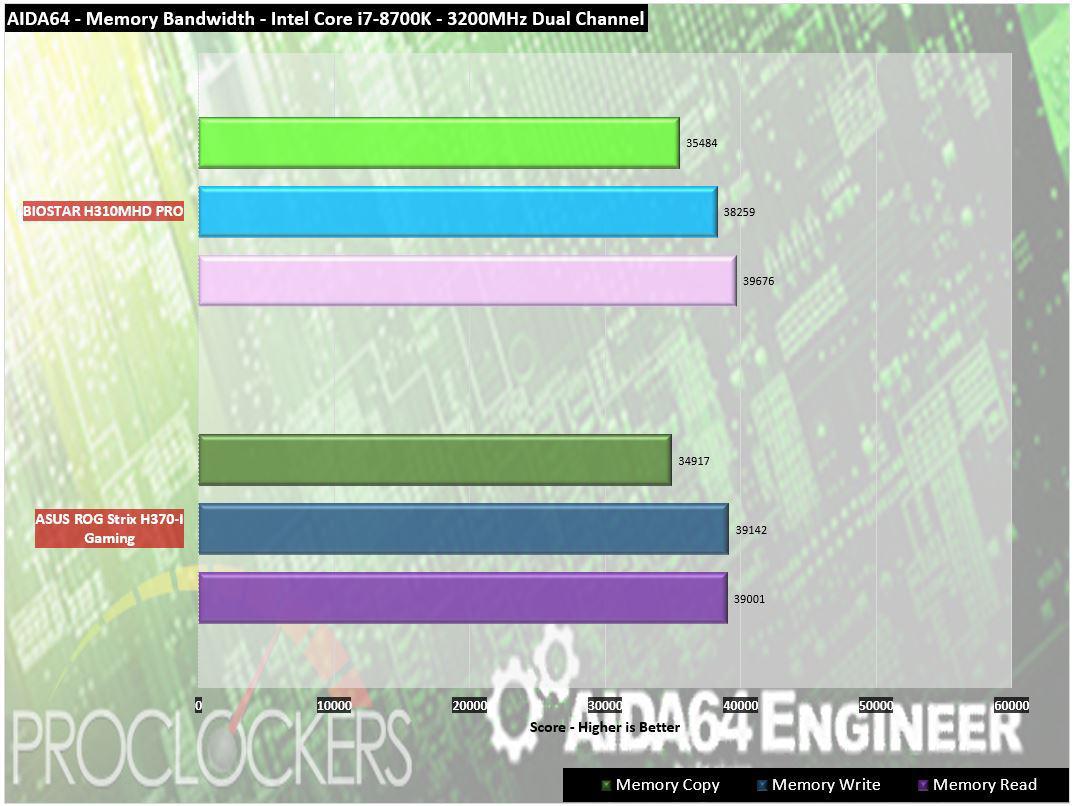 Speaking of strong memory performance, we see the exact same ram and CPU used on both boards giving us nearly 1GB/s more bandwidth.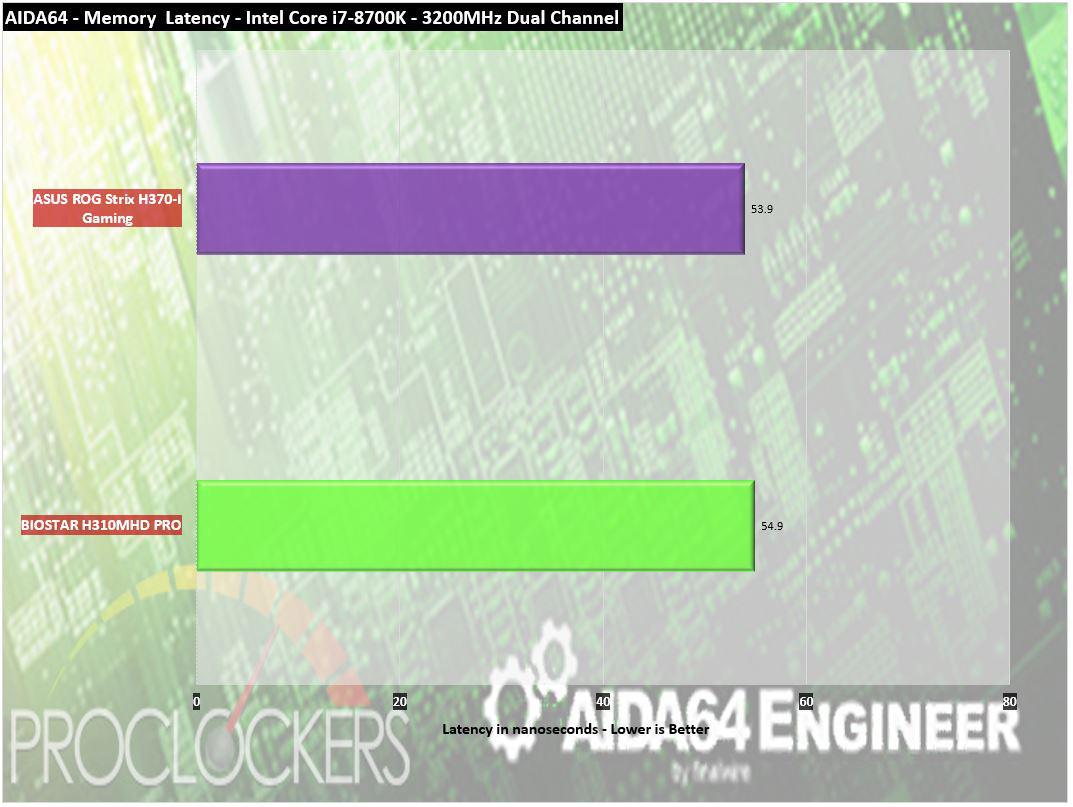 Latency takes a small hit, coming in 1ns slower.
Passmark Performance Test – Memory Mark – Threaded
"Fast, easy to use, PC speed testing and benchmarking. PassMark PerformanceTest ™ allows you to objectively benchmark a PC using a variety of different speed tests and compare the results to other computers."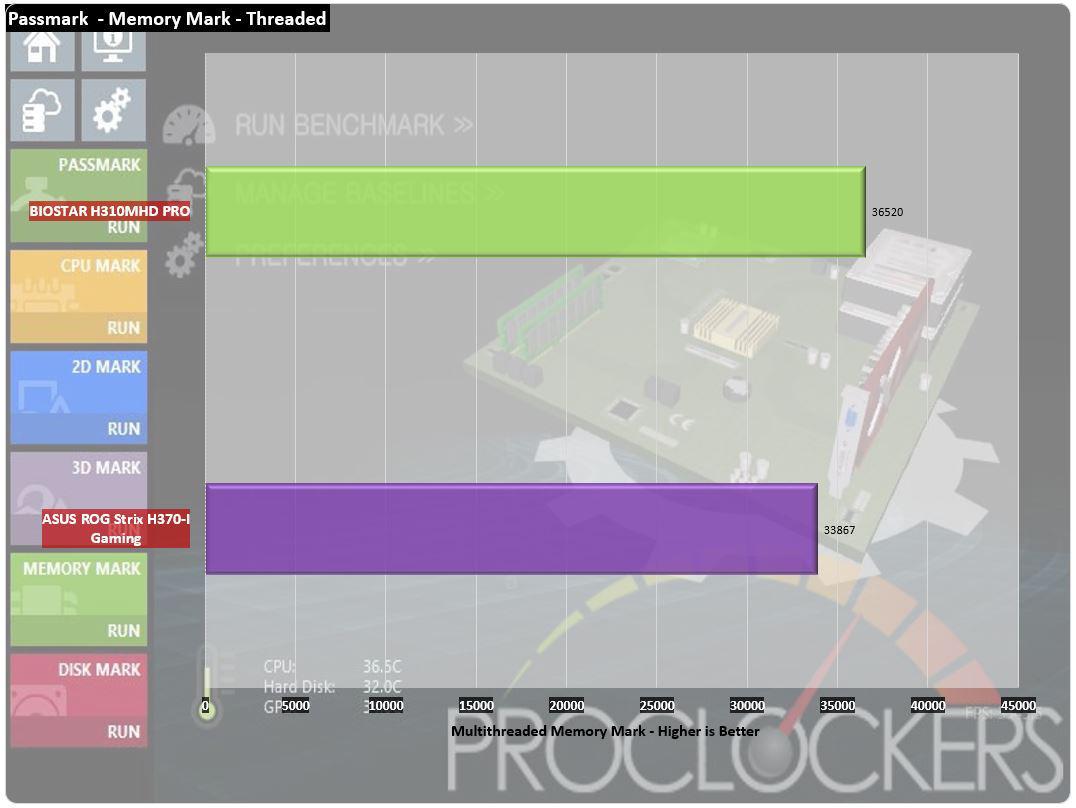 Passmark's Threaded Memory Mark also shows a strong advantage to the BIOSTAR board.
SiSoft Sandra
"SiSoftware Sandra provides a robust package of diagnostic tools for testing your system and teasing out its problems–or potential headaches."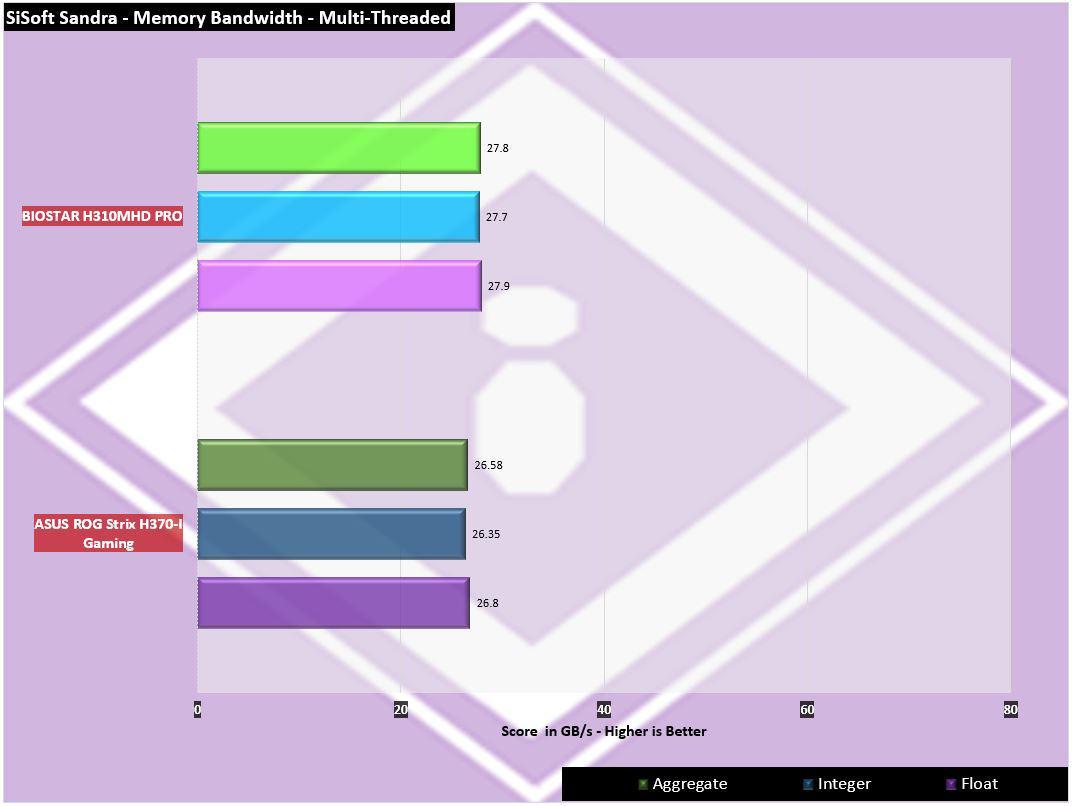 Our last memory Specific test is SiSoft Sandra, and again, more than 1GB/s faster than our other Non-Z 300 series test board.
Storage Testing
ATTO Disk Benchmark
"As the industry's leading provider of high-performance storage & network connectivity products, ATTO has created a widely-accepted Disk Benchmark freeware utility to help measure storage system performance. As one of the top tools utilized in the industry, Disk Benchmark identifies performance in hard drives, solid state drives, RAID arrays as well as connections to storage. Top drive manufacturers, like Hitachi, build and test every drive using the ATTO Disk Benchmark"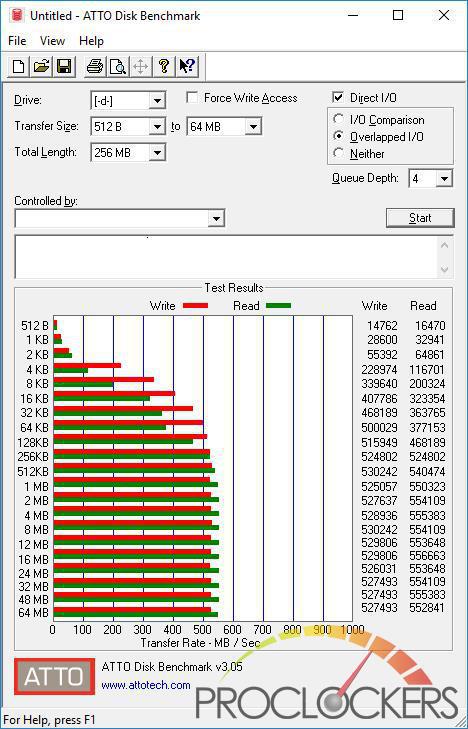 While we are limited to SATA drives, there is obviously no limits to them, our drive was able to run even a hair faster than its rated speeds.
AS SSD
The AS SSD benchmark determines the performance of Solid State Drives (SSD). The tool contains six synthetic and three copy tests.
The synthetic tests determine the sequential and random read and write performance of the SSD. These tests are performed without using the operating system cache. In the Seq test, the program measures how long it takes to read and write a 1 GB file. In the 4K test, read and write performance is determined for randomly selected 4K blocks. The 4K-64 Third test is equivalent to the 4K procedure, except that the read and write operations are distributed to 64 threads. This test should show differences between the IDE operating mode where NCQ is not supported and the AHCI mode for SSDs with Native Command Queuing (NCQ). The additional compression test can measure the performance of the SSD as a function of the compressibility of the data. This is especially important for the controllers that are used to increase the performance and life of the cell compression.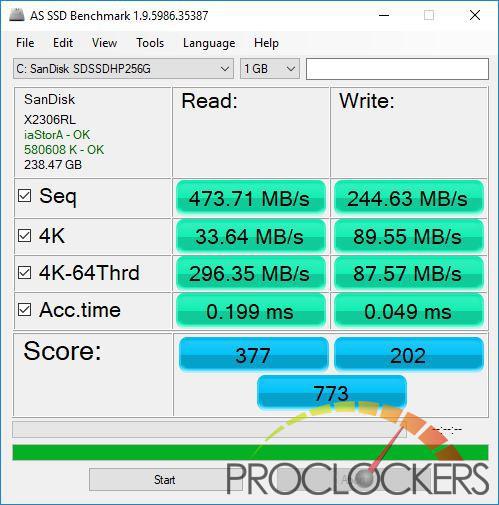 AS SSD also does decently, although it shows a bit lower write speeds than we normally see.
Game Testing
3DMark – Fire Strike
"Fire Strike is a showcase DirectX 11 benchmark designed for today's high-performance gaming PCs. It is our most ambitious and technical benchmark ever, featuring real-time graphics rendered with detail and complexity far beyond what is found in other benchmarks and games today"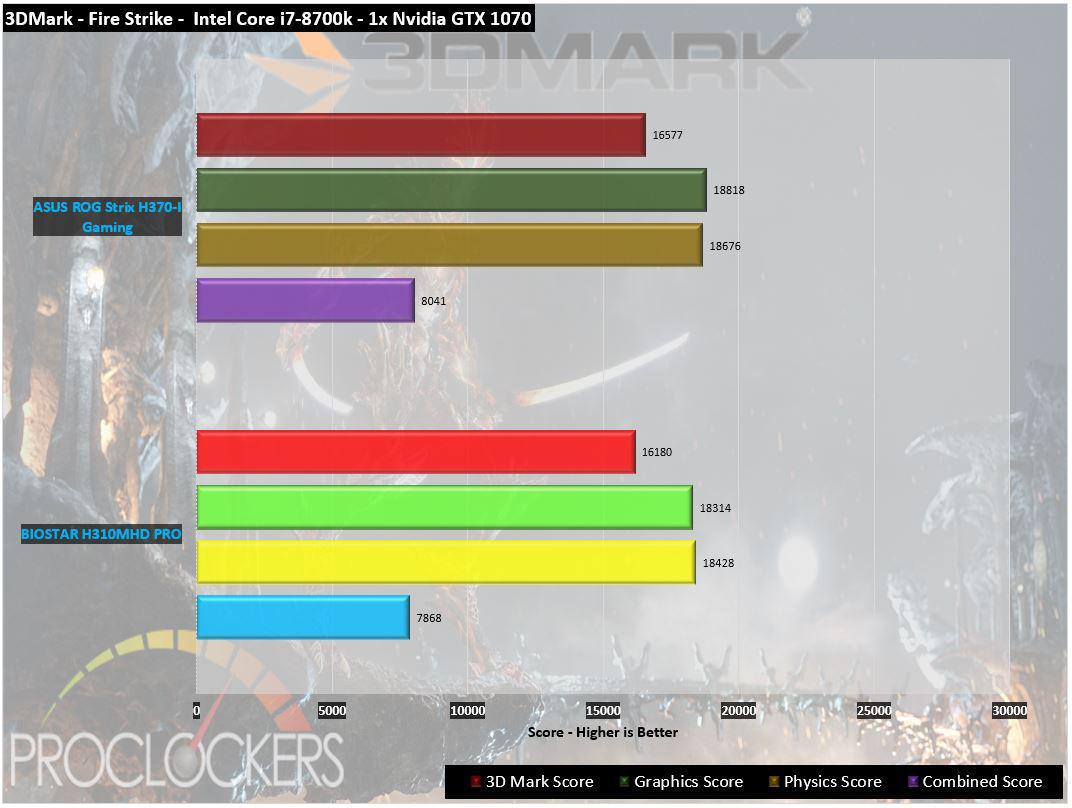 The H310MHD PRO scores well in 3DMark's Firestrike, within a fraction of a percent of our other platform.
3DMark – Time Spy
"3Dmark Time Spy is a new DirectX 12 benchmark test for Windows 10 gaming PCs. Time Spay is one of the first DirectX 12 apps to be built "the right way" from the ground up to fully realize the performance gains that the new API offers. With DirectX 12 engine, which supports new API features like asynchronous compute, explicit multi-adapter, and multi-threading, Time Spy is the ideal test for benchmarking the latest graphics cards."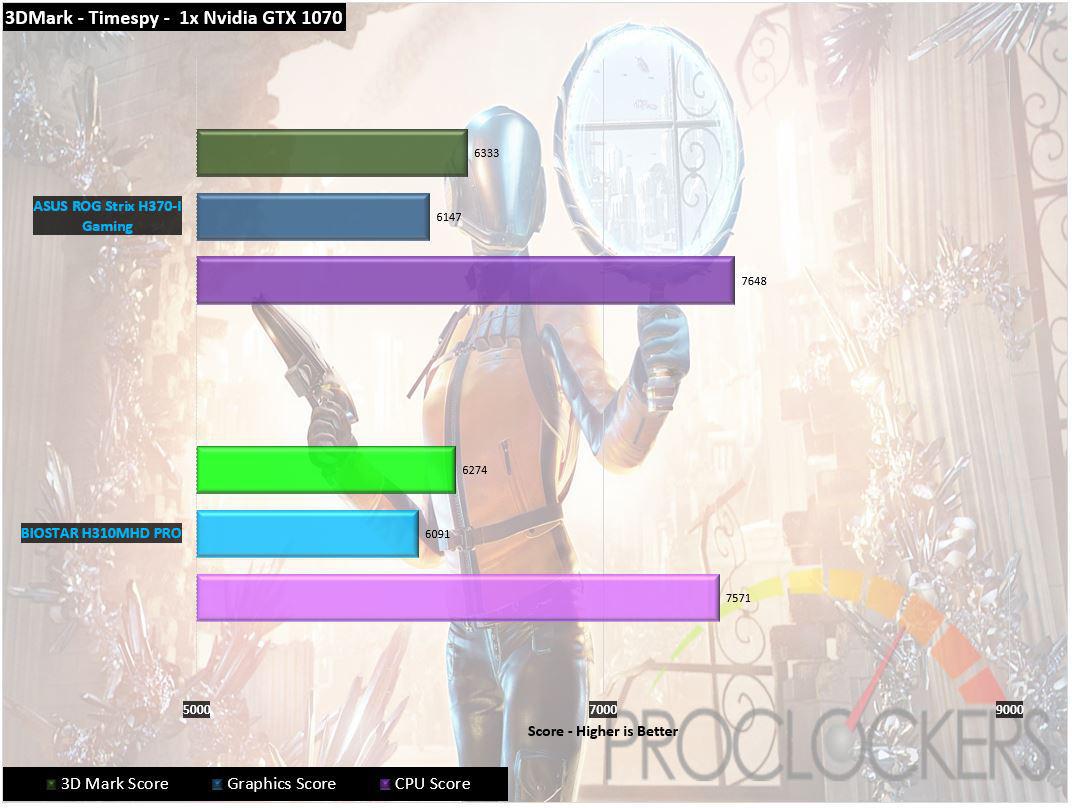 Again the difference is very minimal between test systems.
Grand Theft Auto: V
"When a young street hustler, a retired bank robber, and a terrifying psychopath find themselves entangled with some of the most frightening and deranged elements of the criminal underworld, the U.S. government and the entertainment industry, they must pull off a series of dangerous heists to survive in a ruthless city in which they can trust nobody, least of all each other."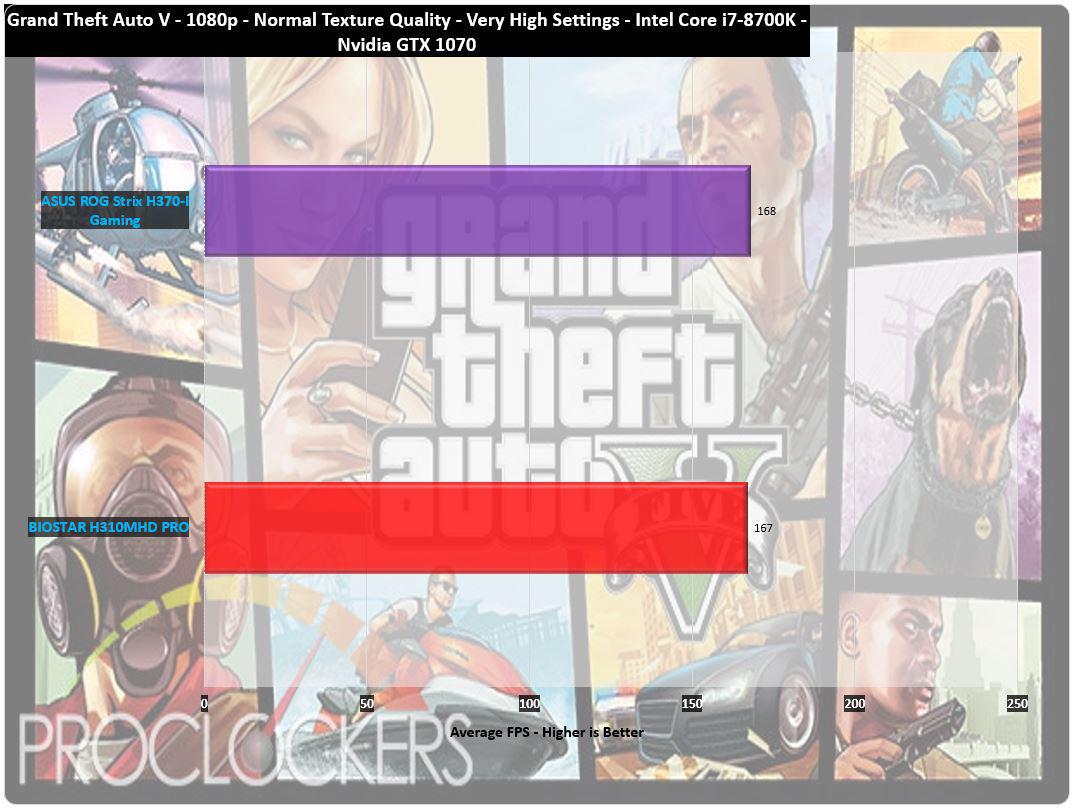 Realistically, we expect similar platforms to score similarly, and even in real-world games, we are within the margin of error.
Metro: Last Light
"It Is the Year 2034. Beneath the ruins of post-apocalyptic Moscow, in the tunnels of the Metro, the remnants of mankind are besieged by deadly threats from outside – and within. Mutants stalk the catacombs beneath the desolate surface, and hunt amidst the poisoned skies above."
Developed by 4A Games and published by Deepsilver, Metro: Last Light uses the 4A game engine. At its highest settings, the 4A game engine is capable of bringing all but the most extreme gaming systems to their knees.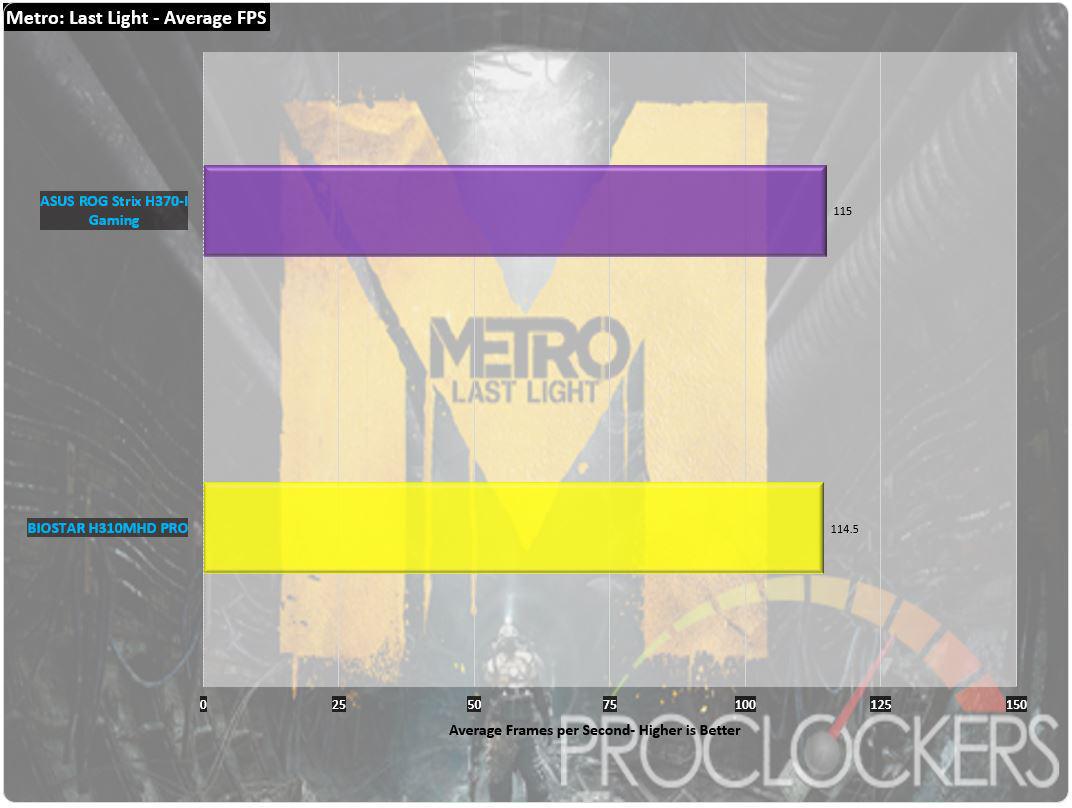 Metro Last Light comes in at a solid 114½ FPS.
Thief
"Garrett, the Master Thief, steps out of the shadows into the City. In this treacherous place, where the Baron's Watch spreads a rising tide of fear and oppression, his skills are the only things he can trust. Even the most cautious citizens and their best-guarded possessions are not safe from his reach."
Thief was developed by Eidos-Montréal and published by SQUARE ENIX, Eidos Interactive. The newest game in our benchmark suite, Thief is also one of the most demanding and has the highest recommended system requirements. Those heavy requirements allow it to use the Unreal 3 game engine to great effect. It also features AMD's Mantle API, as well as Microsoft's common DirectX 11 API.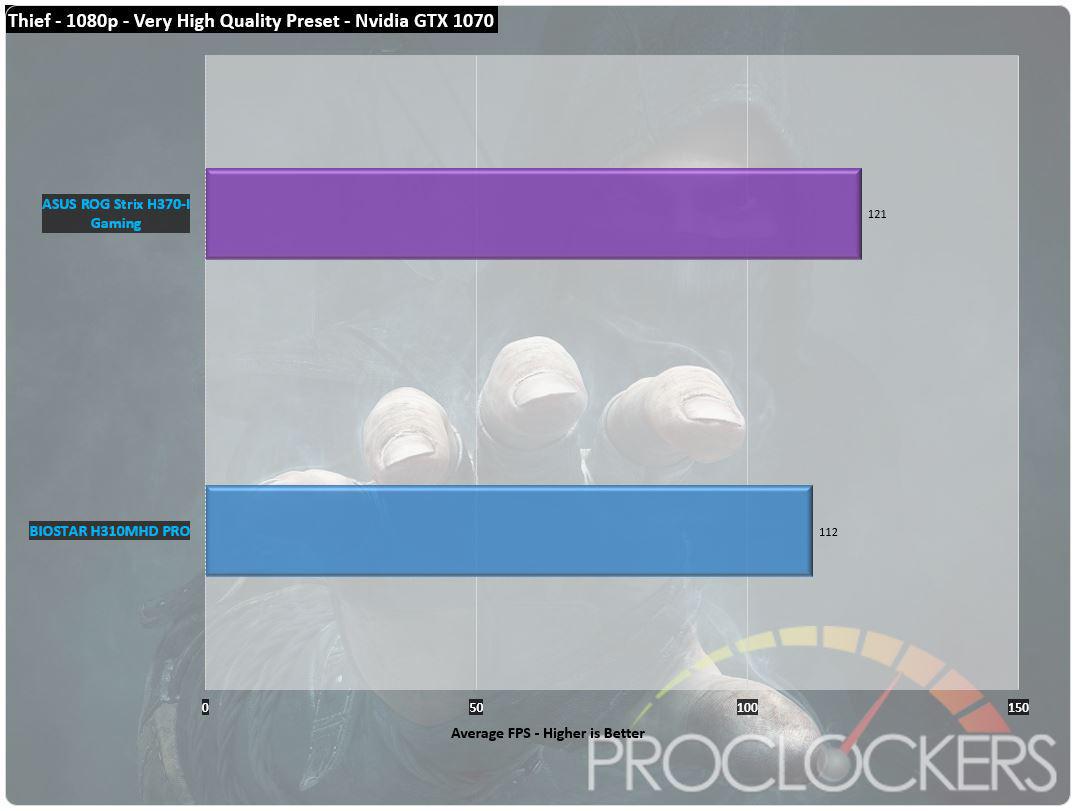 Thief is the only game that actually scores slightly different. An average FPS of 112 still isn't bad.
Final Thoughts & Conclusion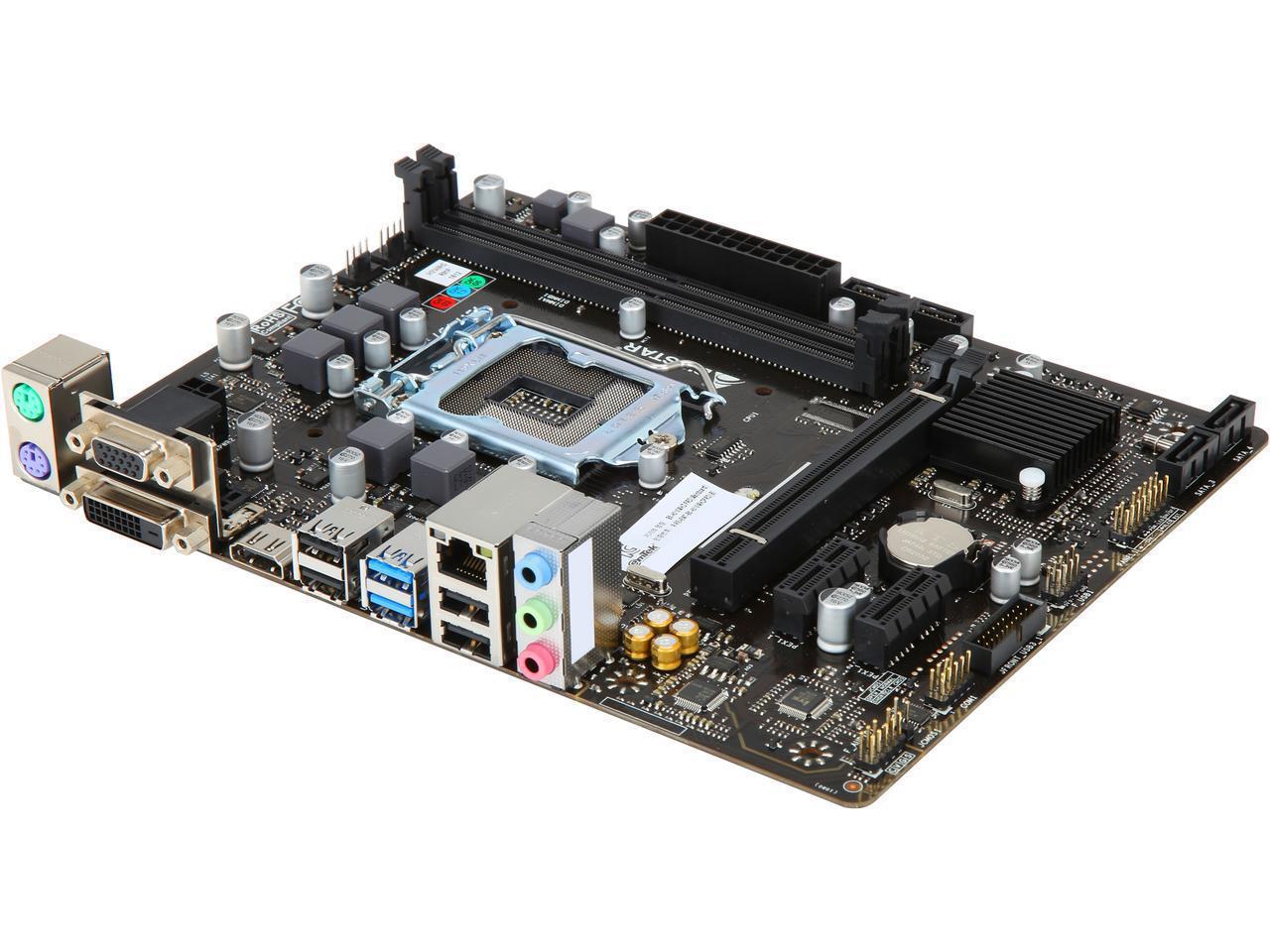 BIOSTAR's H310MHD PRO has a high-performance spirit trapped in an entry-level board. We saw impressive performance out of system memory that rivals higher end Z370 boards, and overall it scored well in our benchmark runs. We did see a tiny bit of the limits of the VRM, but who sticks a flagship CPU in an entry-level motherboard? You can't overclock it anyway, so not much point. With a more sensible CPU selection, even the i7-8700 (non-K) you wouldn't ever see the limits. Feature-wise, the H310MHD PRO checks every box but one, M.2 support. The place is there on the board, it just never made it into the final specs. With the proliferation of SATA and PCIe M.2 devices for competitive prices, we really feel this lack of support is the only thing keeping a good board from being great.
Good Job BIOSTAR!