ASUS ROG Maximus X Formula Z370 Motherboard Review
Introduction
Following in the footsteps of eight previous Maximus Formula predecessors dating back a decade to 2008, the Maximus X Formula brings the iconic ROG heritage to Intel's 8th generation platform. Featuring everything gamers have come to love about Formula from the EKWB powered VRM cooling, ROG Armor, steel backplate, and RGB lighting and mixed it in with the new LiveDash OLED display and the latest in connectivity for the ultimate gaming experience.
Pro Clockers would like to thank ASUS for sending over the ROG Maximus X Formula for us to check out!
ASUS's take on the ROG Maximus X Formula:
Drawing from a heritage that spans more than a decade, the latest incarnation of the Maximus series augments Intel's Z370 chipset with all the enhancements that enthusiasts crave. Each model sports a unique blend of features to cater to a distinct audience, yet the core ROG DNA ripples through the entire lineup. From overclocking and cooling options to satiate die-hard fanatics, to clean, refined aesthetics that are tastefully accented by RGB lighting, Maximus X-series motherboards bring the octane to your build.
ASUS ROG Maximus X Formula LGA1151 (300 Series) DDR4 DP HDMI M.2 Z370 ATX Motherboard with onboard 802.11AC WiFi and USB 3.1 for 8th Generation Intel® Core™ Processors
Designed exclusively for 8th generation Intel® Core™ processors to maximize connectivity and speed with Dual M.2, onboard 802.11AC WiFi, Gigabit LAN, front panel USB 3.1 Gen 2 and Intel® Optane™ Memory compatibility
5-Way Optimization with Auto-Tuning and FanXpert 4 automatically tailors overclocking profiles to your unique build for maximum OC performance and dynamic system cooling
Optimize system cooling with the CrossChill EK II VRM block and support for customized liquid cooling
Unmatched Personalization with ASUS exclusive AURA Sync RGB lighting, additional RGB headers, addressable RGB headers and LiveDash OLED display
Industry-leading 8-channel HD audio with dual headphone amplifiers and ROG exclusive SupremeFX S1220 CODEC driven by Japanese capacitors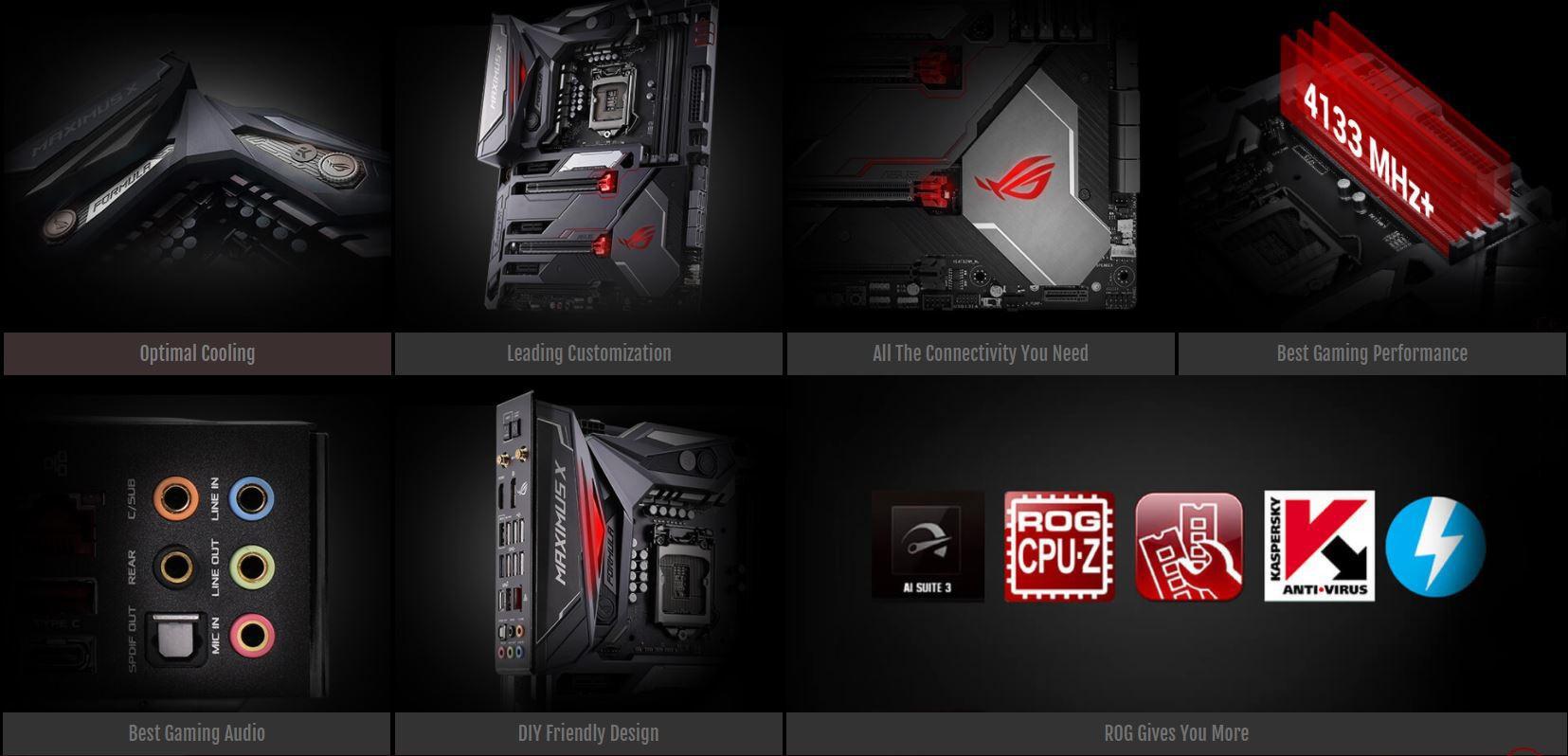 Features & Specifications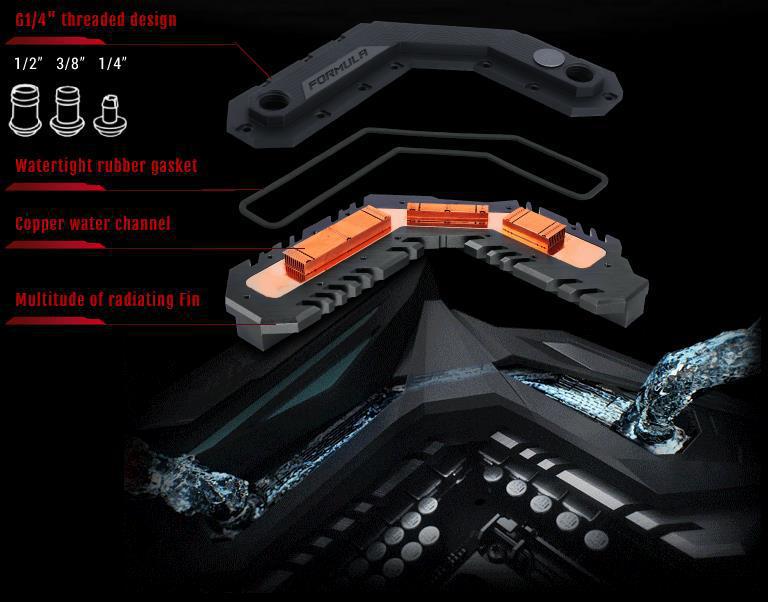 Expertly tooled totally cooled – Crosschill EK II
CrossChill EK II lets you cool with air or water, no fan required! Redesigned cooling fins deliver up to 35˚C-lower MOSFET temperatures on water, and the standard G1/4″ threaded fittings mean CrossChill EK II easily fits existing setups — so you'll benefit from efficient, quiet cooling with the minimum of effort!
M.2 Heatsink
ROG Maximus X Formula is equipped with an M.2 heatsink integrated into the PCH heatsink. With a huge cooling surface, the heatsink perfectly chills an inserted M.2 SSD — for maximum performance and reliability. Featuring a stylish angular design replete with an awesome glowing ROG eye logo, the heatsink adds a beautiful touch to the build, while the T-sensor allows you to connect a thermal probe and monitor M.2 drive temperatures in real time.
Cooler by design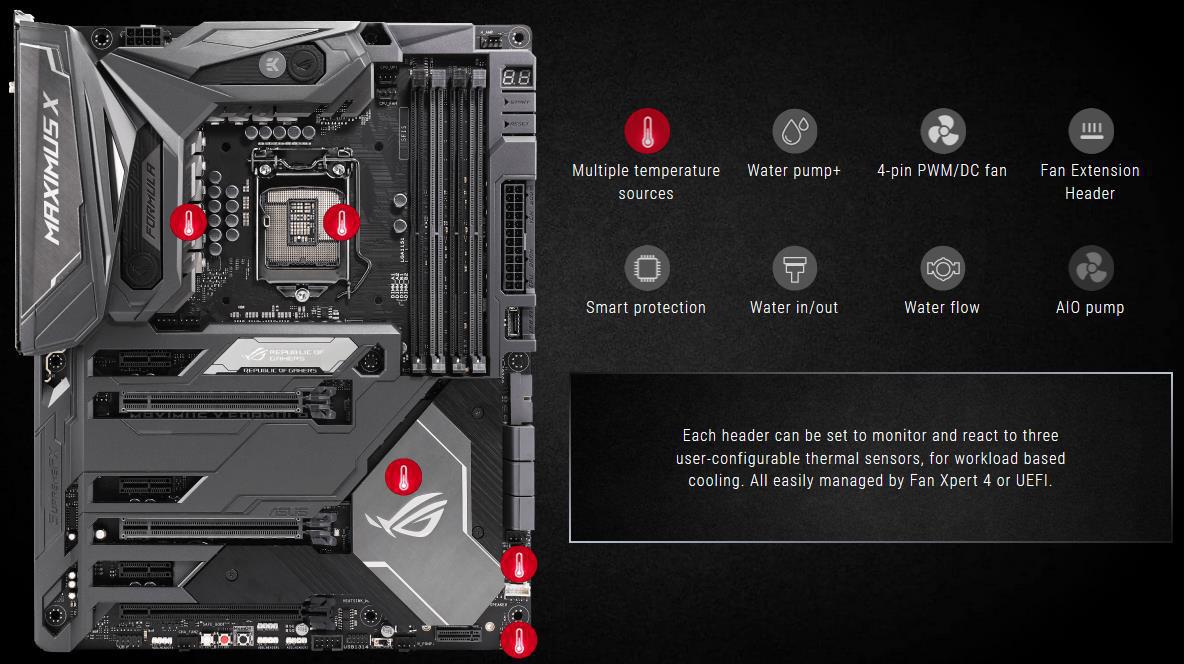 Leading Customization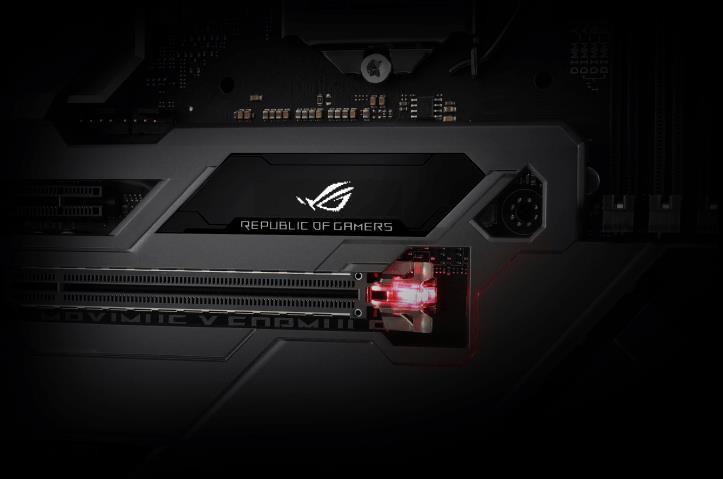 LiveDash OLED
Maximus X Formula is equipped with LiveDash, a built-in 1.3″ OLED panel that displays useful information and customizable graphics. During the power-on, self-test (POST) phase, LiveDash shows key progress stats in simple language and via traditional POST codes. Then, during normal operation, the panel shows a choice of CPU frequency, device temperatures, fan speeds or information from the Water Cooling Zone. You're even able to customize the default LiveDash GIF so that it'll display your own image or animation.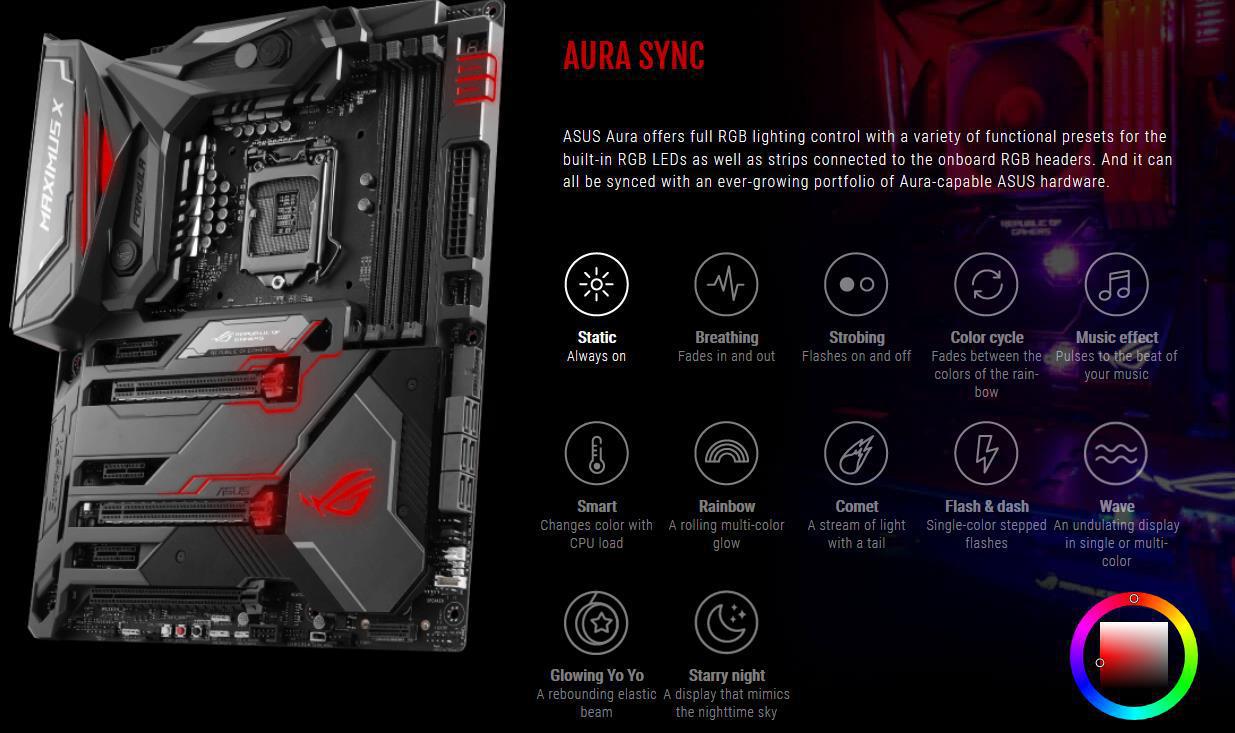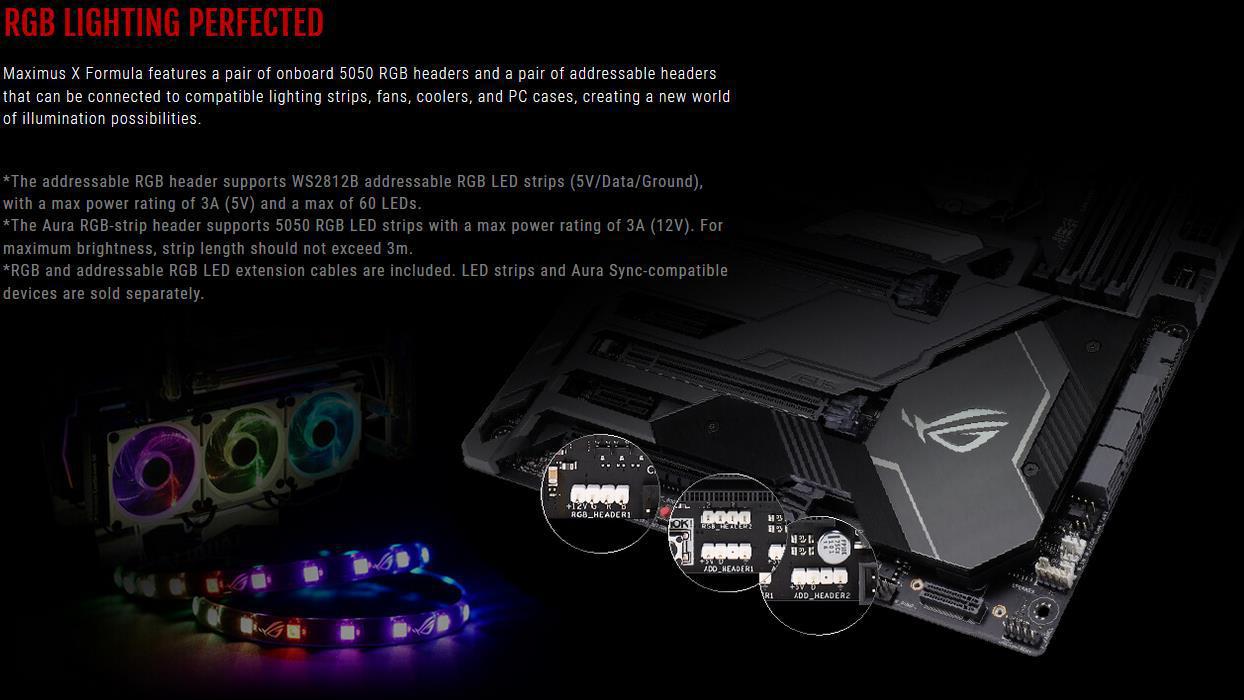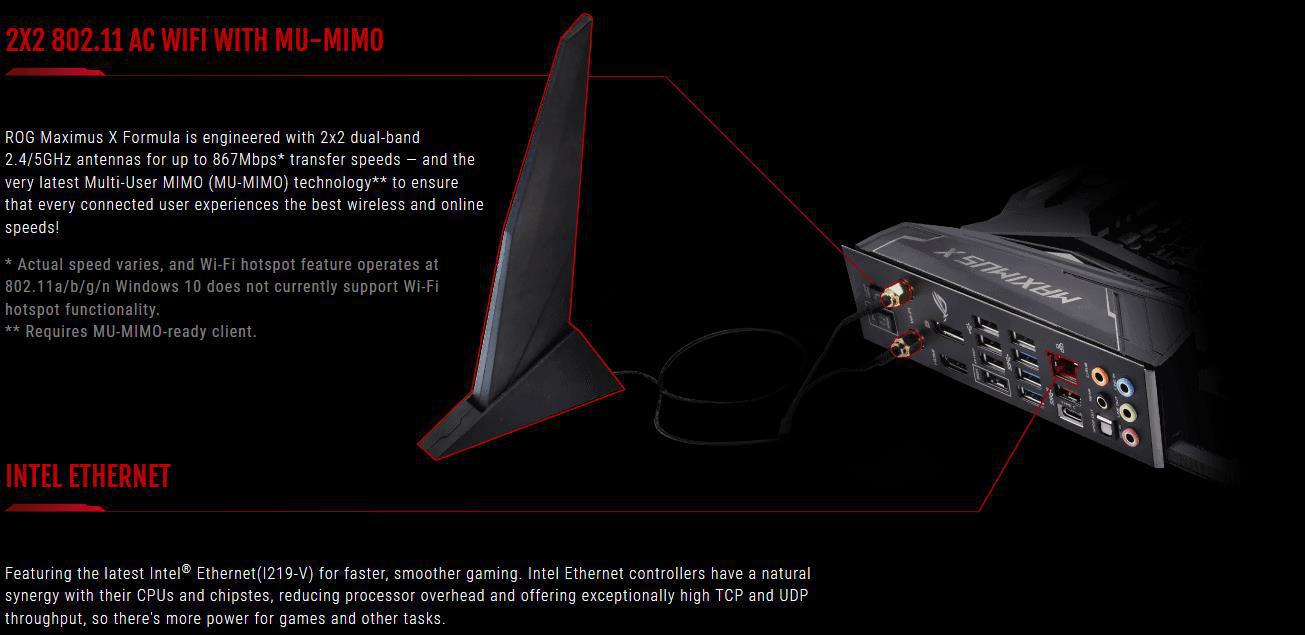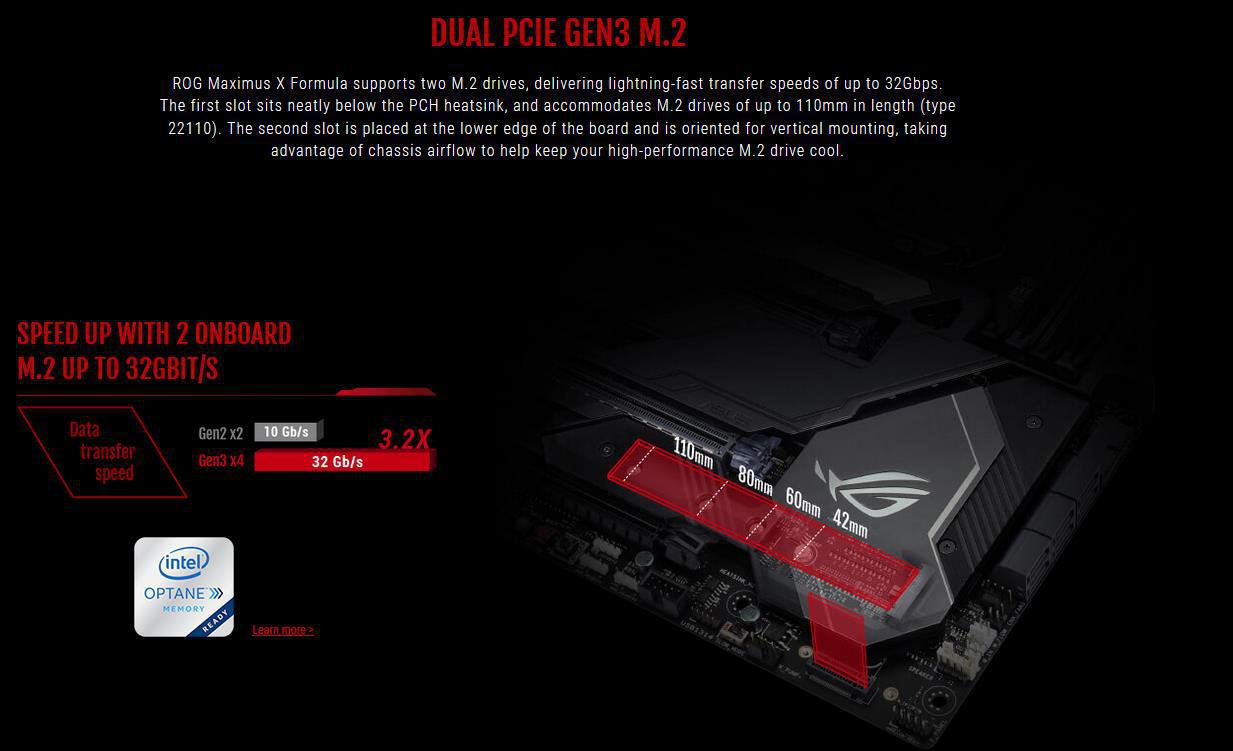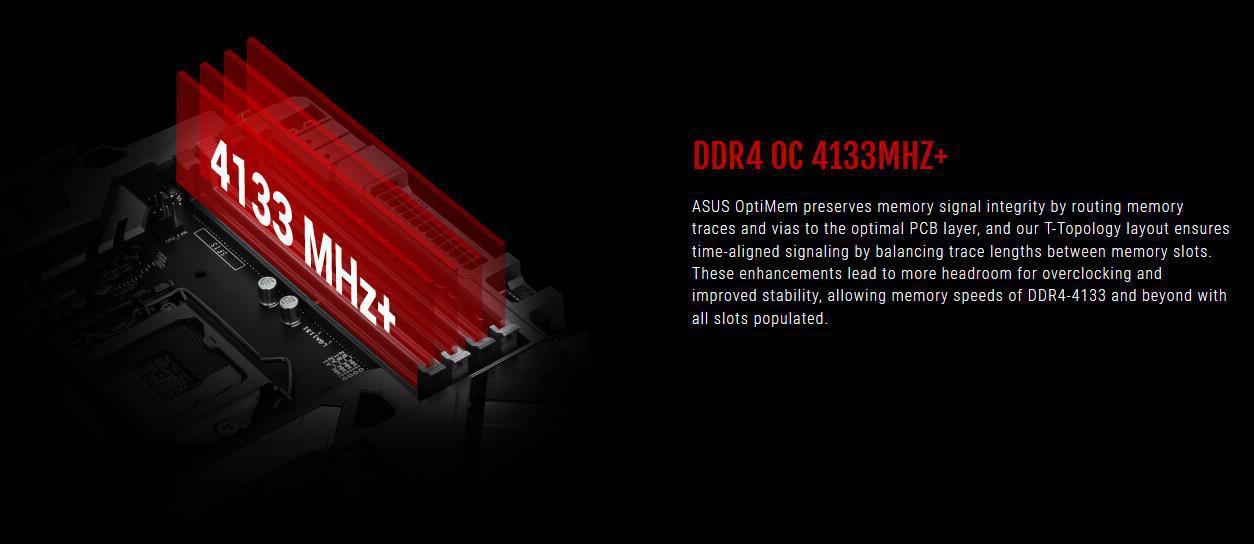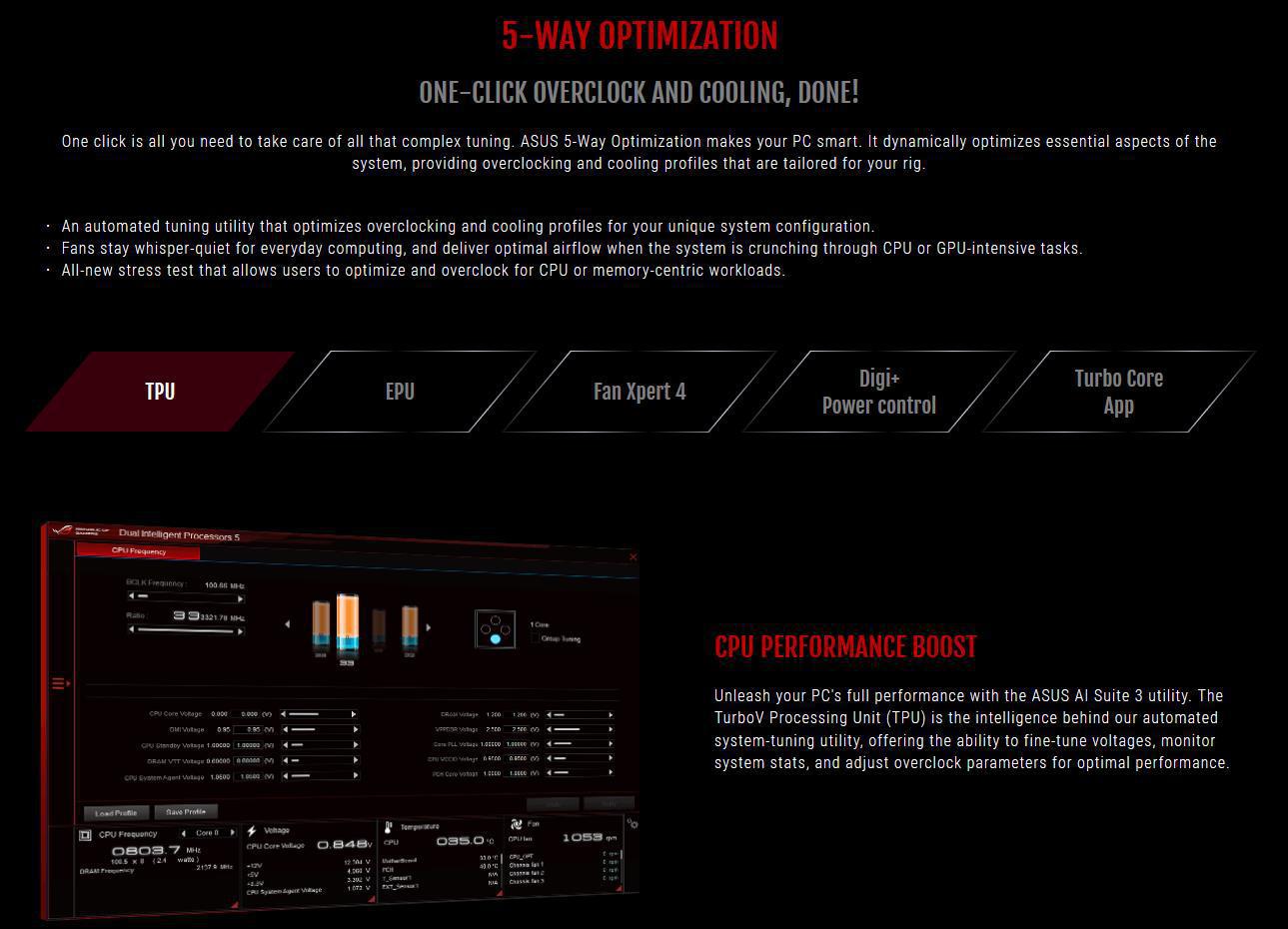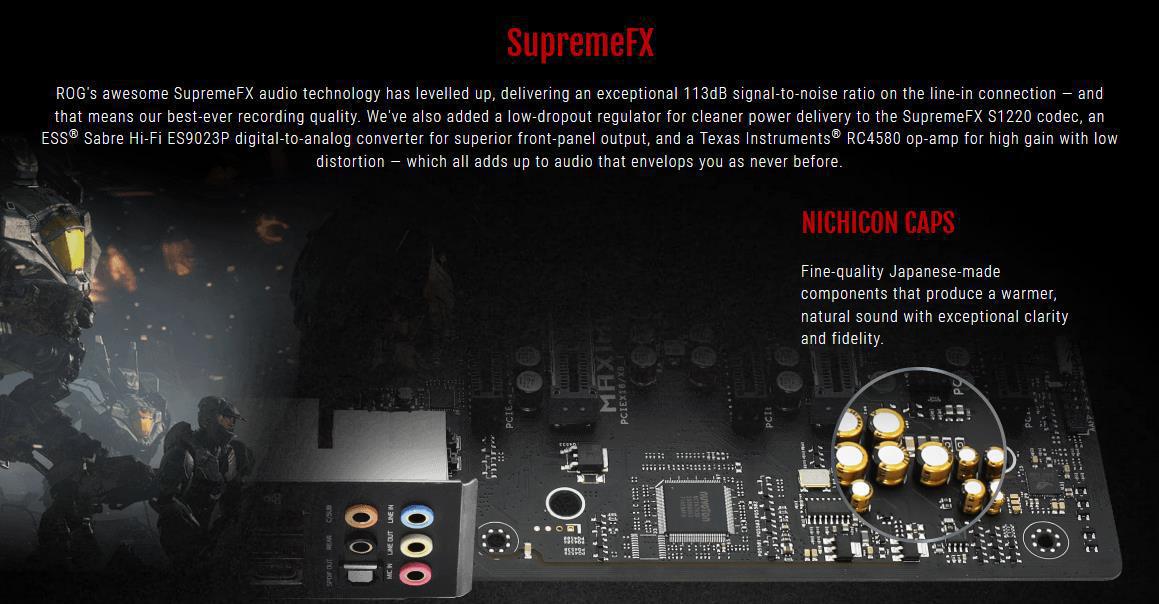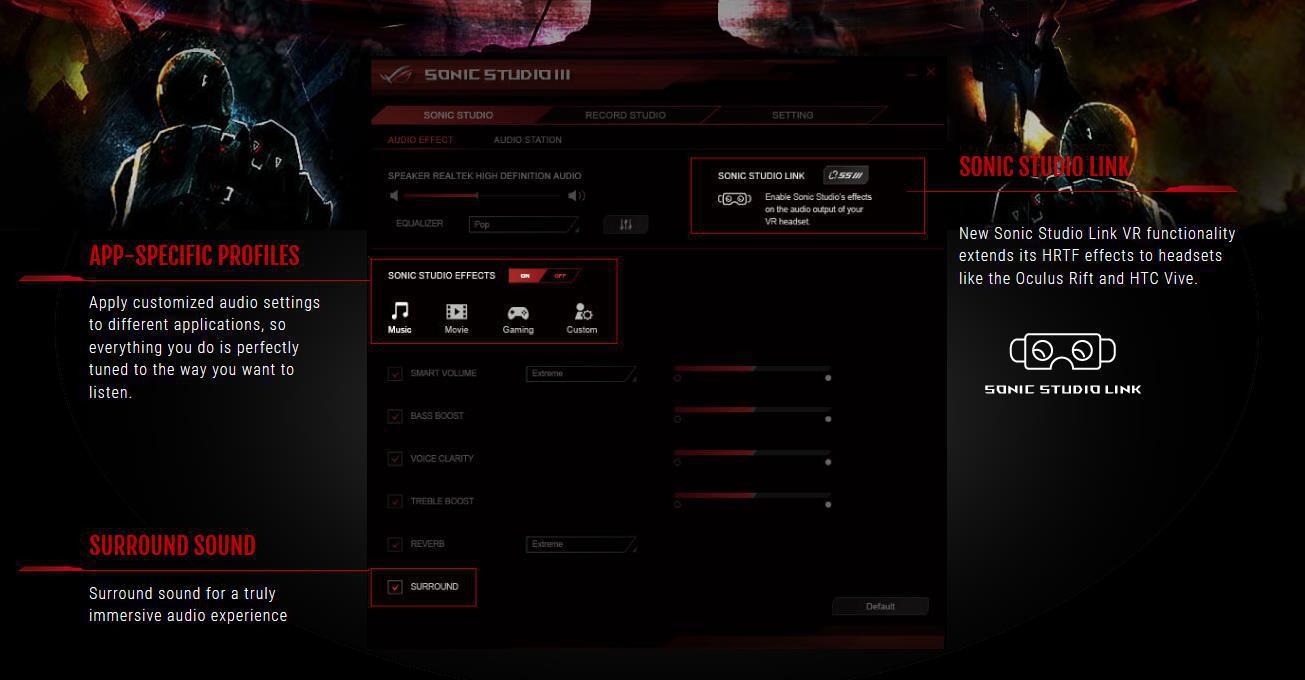 Sonic Studio III
Sonic Studio supports HRTF-based (head-related transfer function*) virtual surround for VR headsets, casting an immersive aural landscape that draws you deeper into the action. The intuitive Sonic Studio interface also offers a range of EQ options, allowing you to tailor acoustics to suit personal preferences or the characteristics of your headset.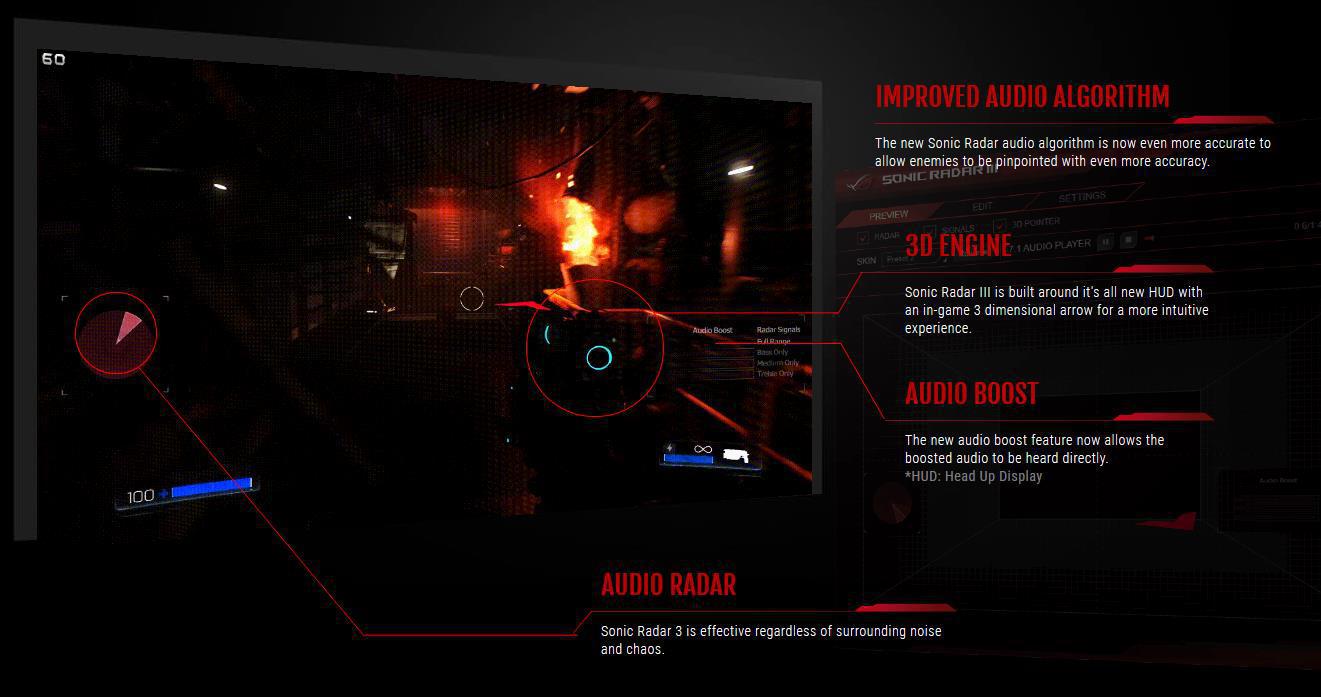 Scan and detect to dominate!
Sonic Radar III
Sonic Radar III features an evolved audio engine that processes sound more accurately than ever, ensuring you're always aware of what's going on around you. A new on-screen arrow has also been added to help you pinpoint the enemy position instantly!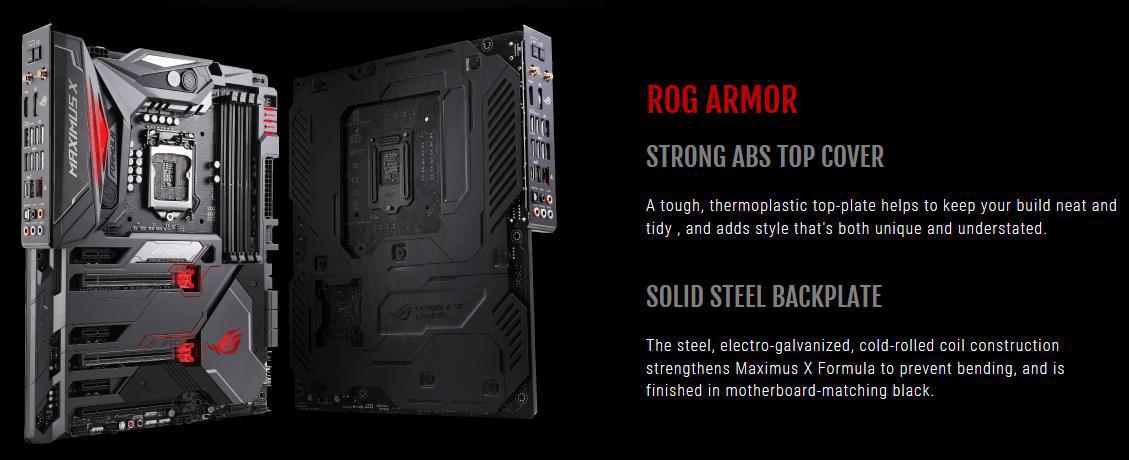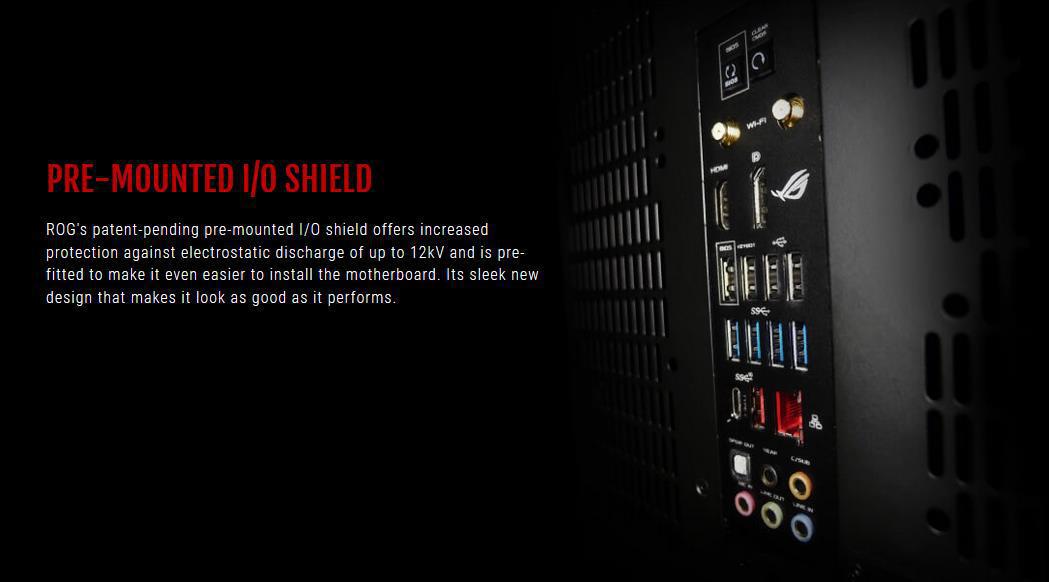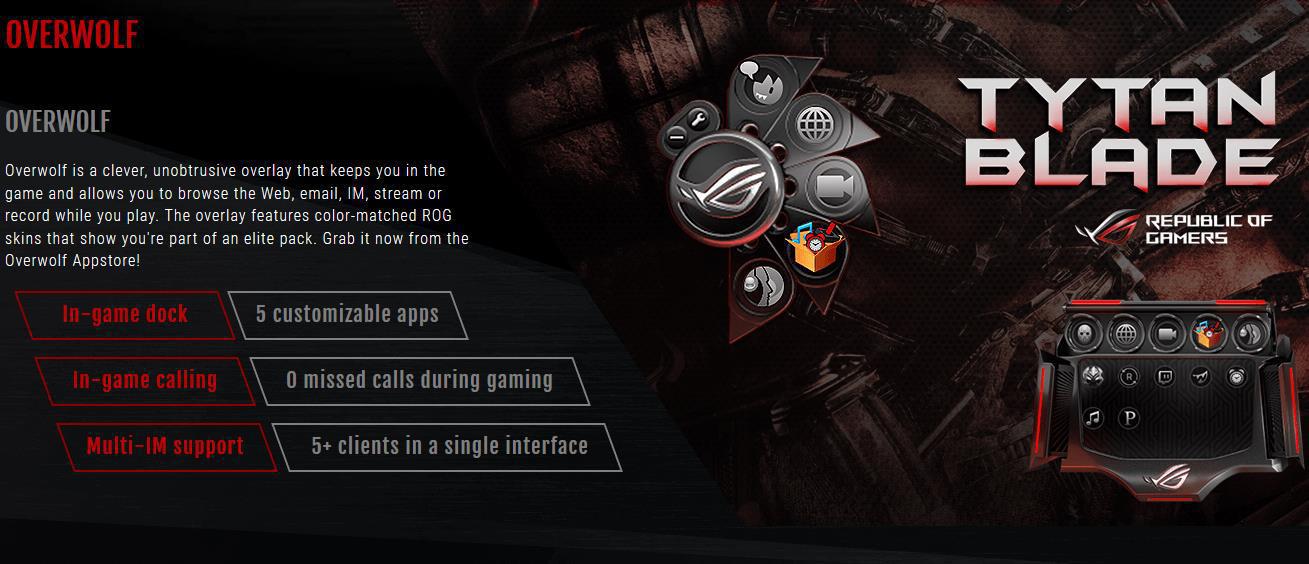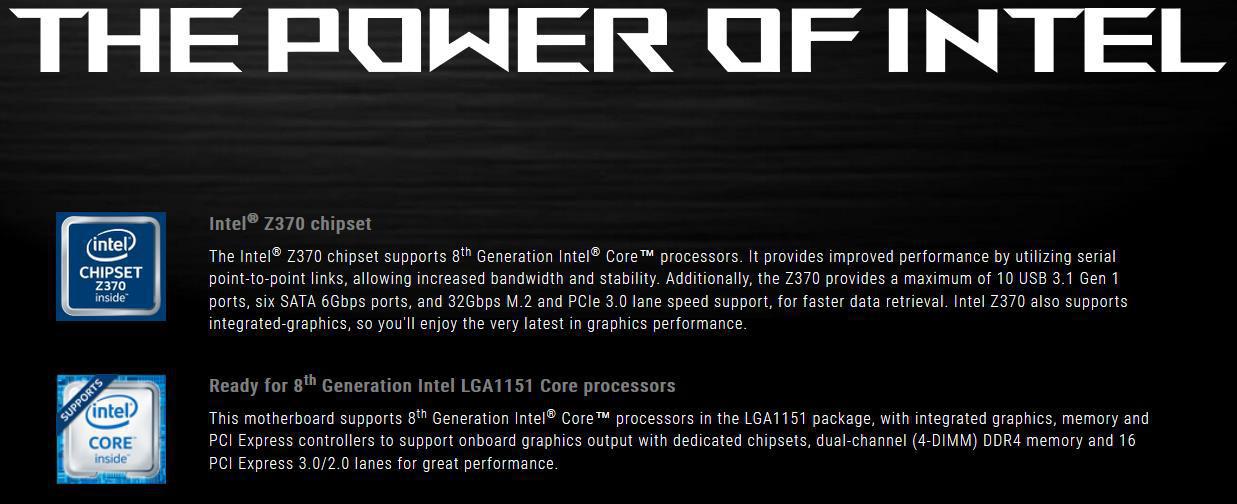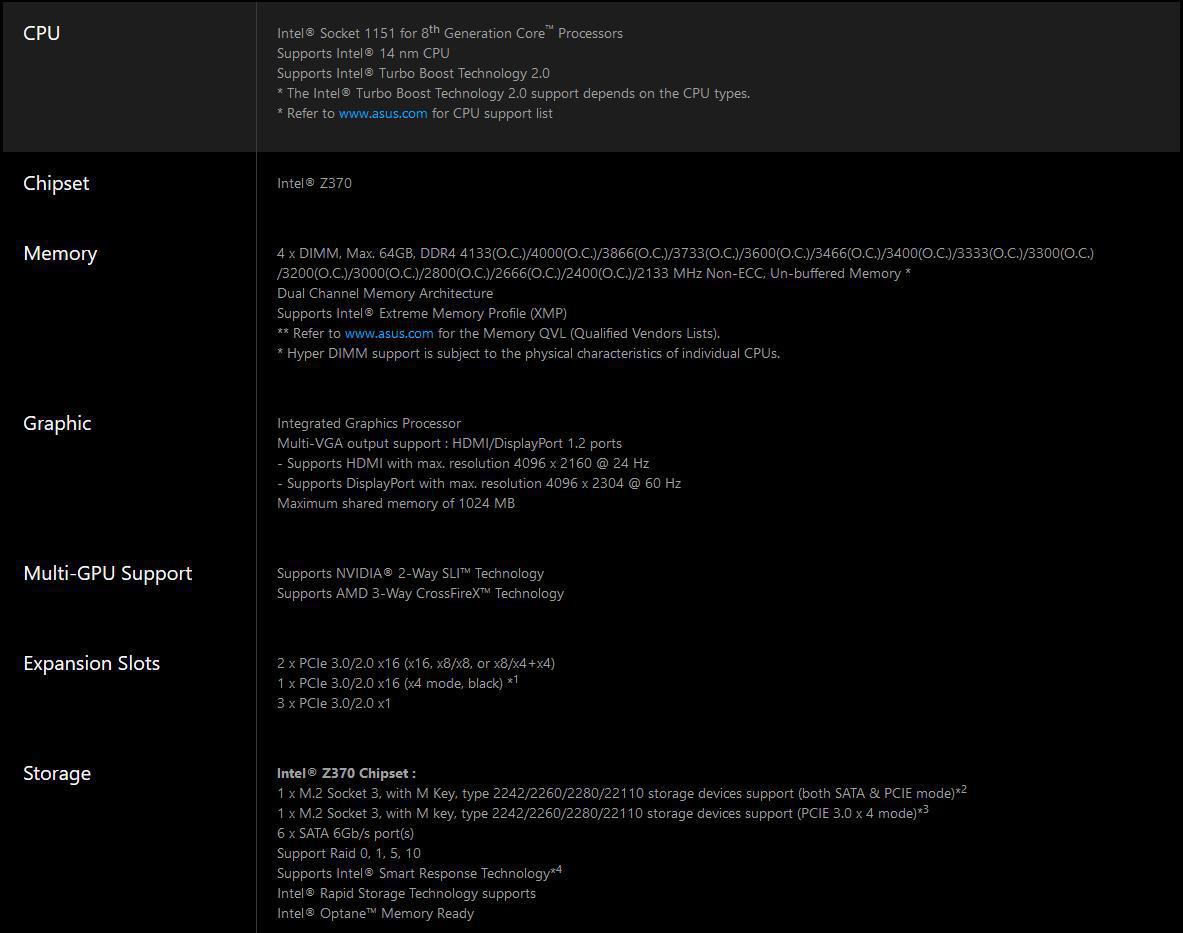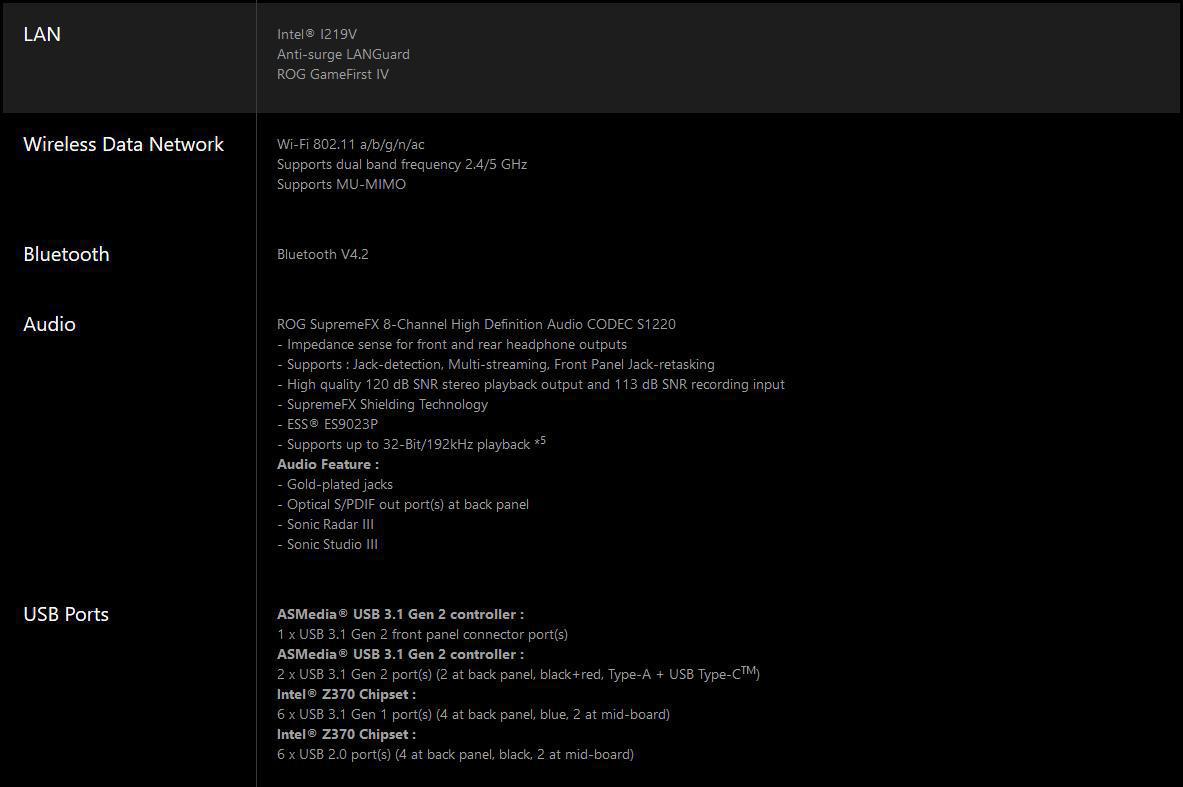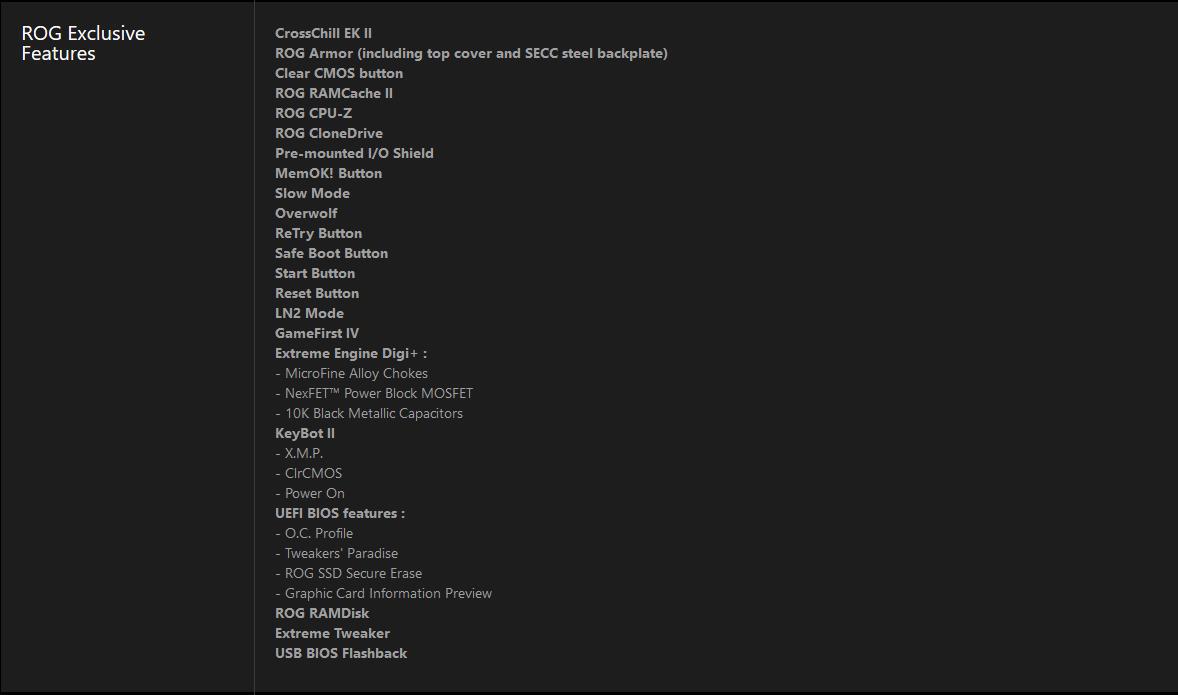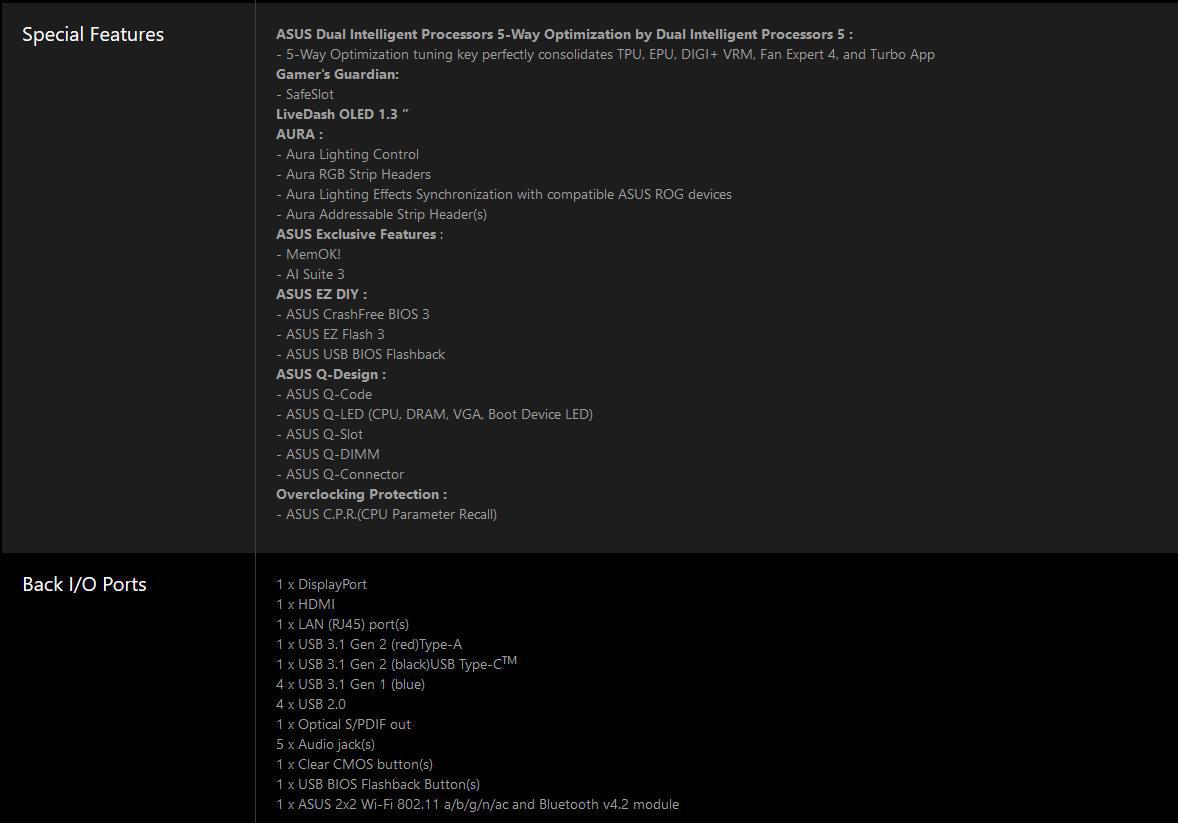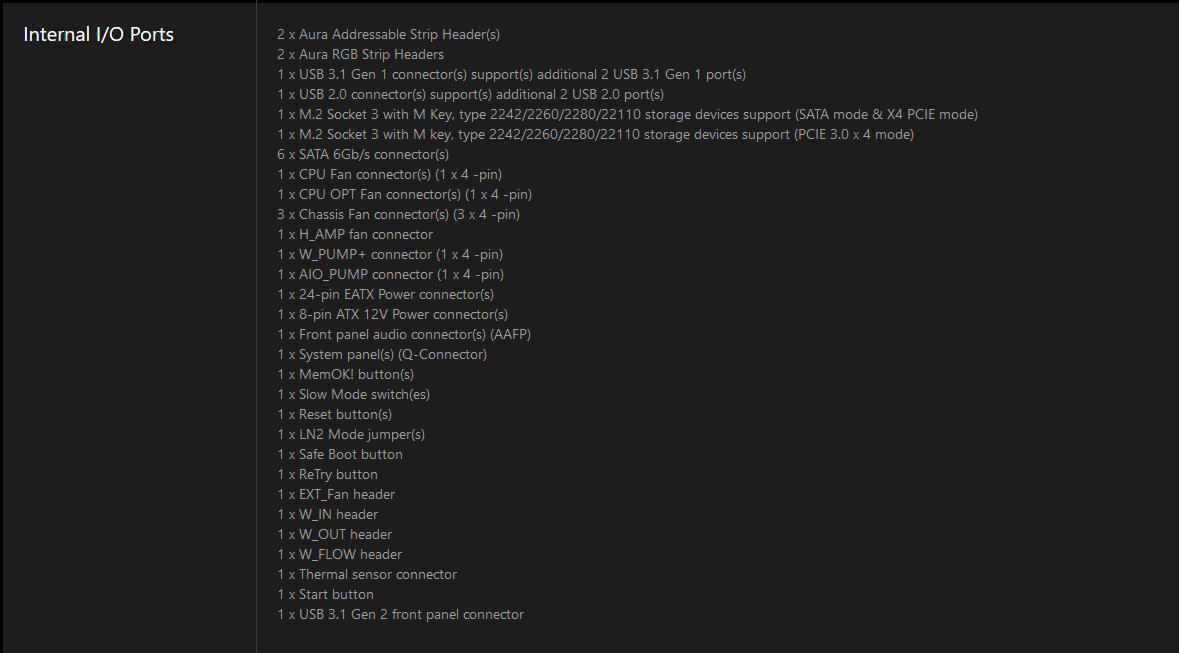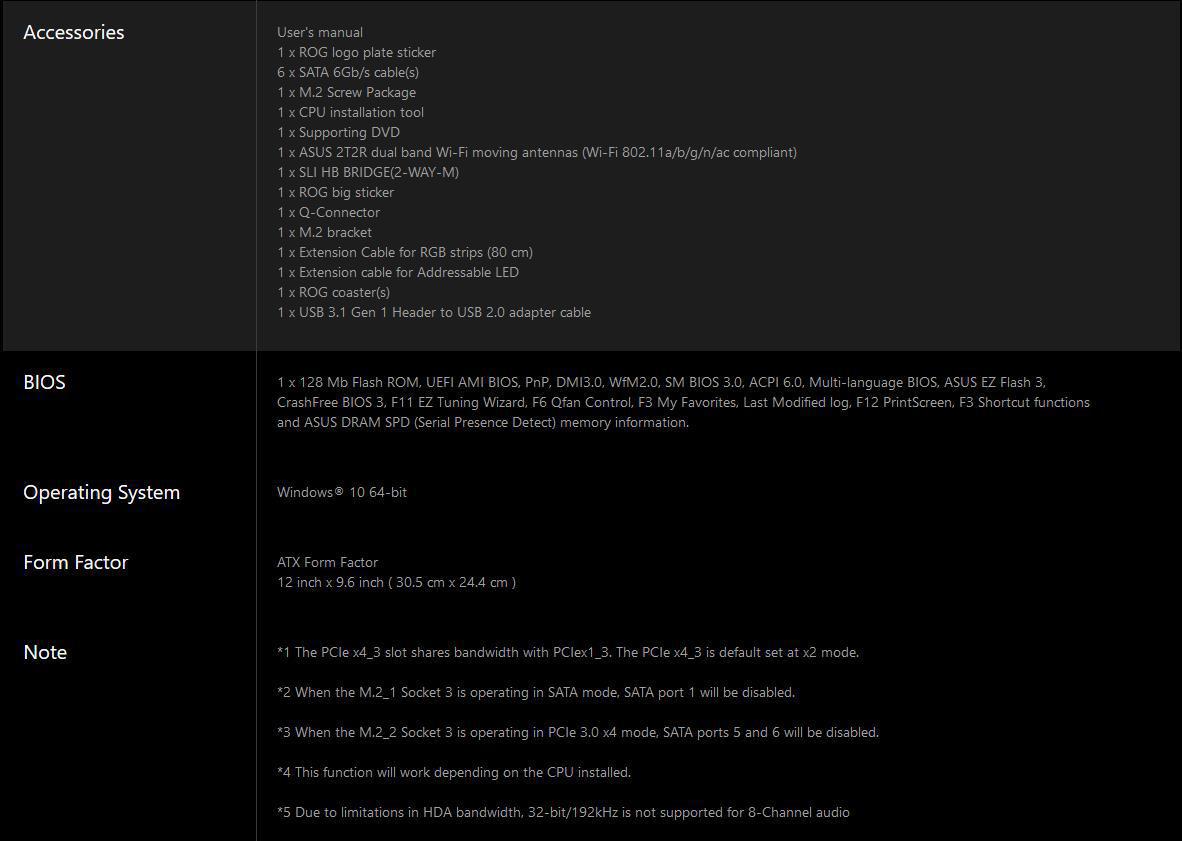 Packaging & Unboxing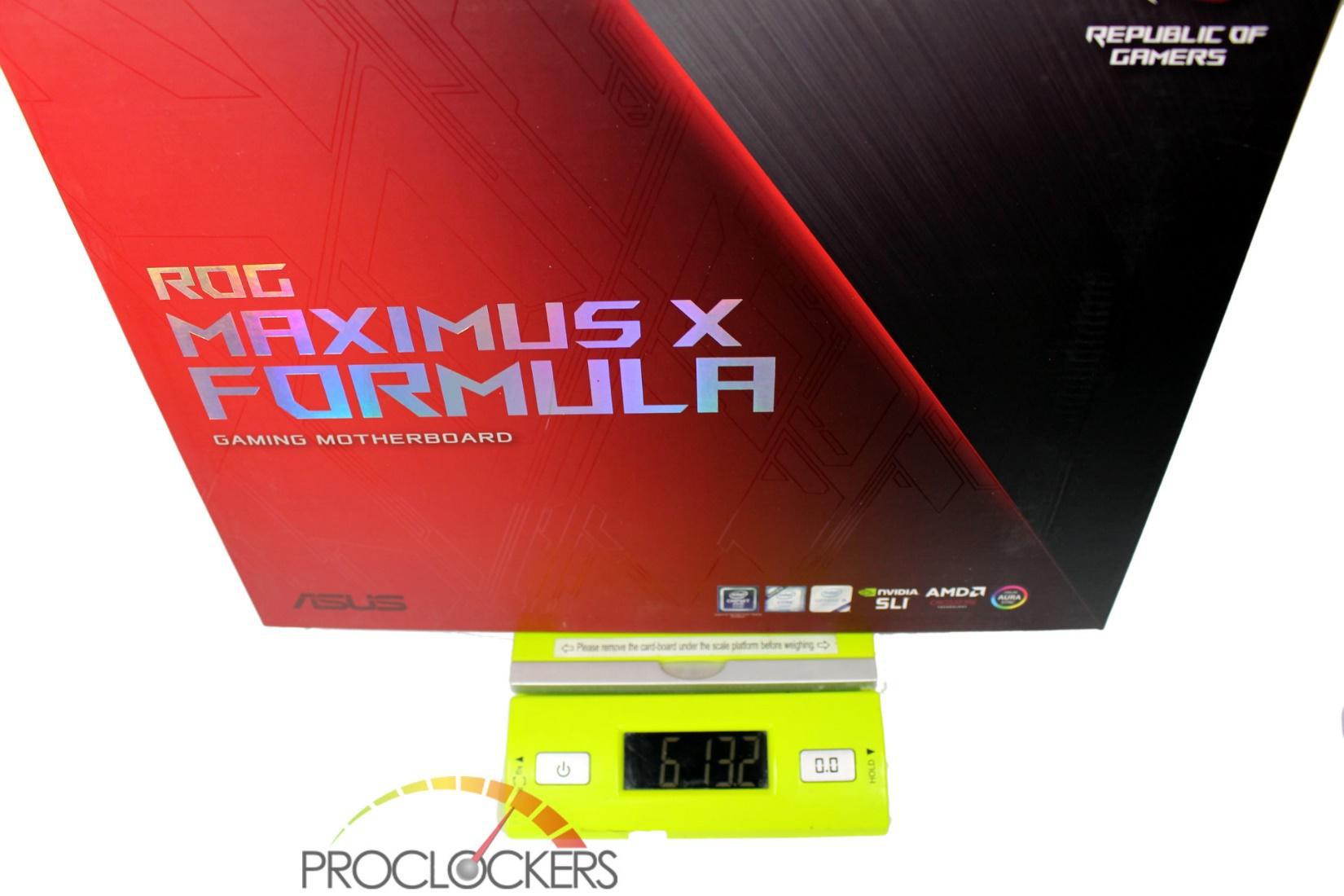 The first thing you notice picking up ASUS's ROG Maximus X Formula is how heavy it is. Coming in at almost 7 pounds picking up the box feels like picking up a gallon of milk.

The Maximus X Formula comes in the typical ROG red and black packaging with the model across the front in the metallic color-changing font with the ROG eye logo in the top right corner.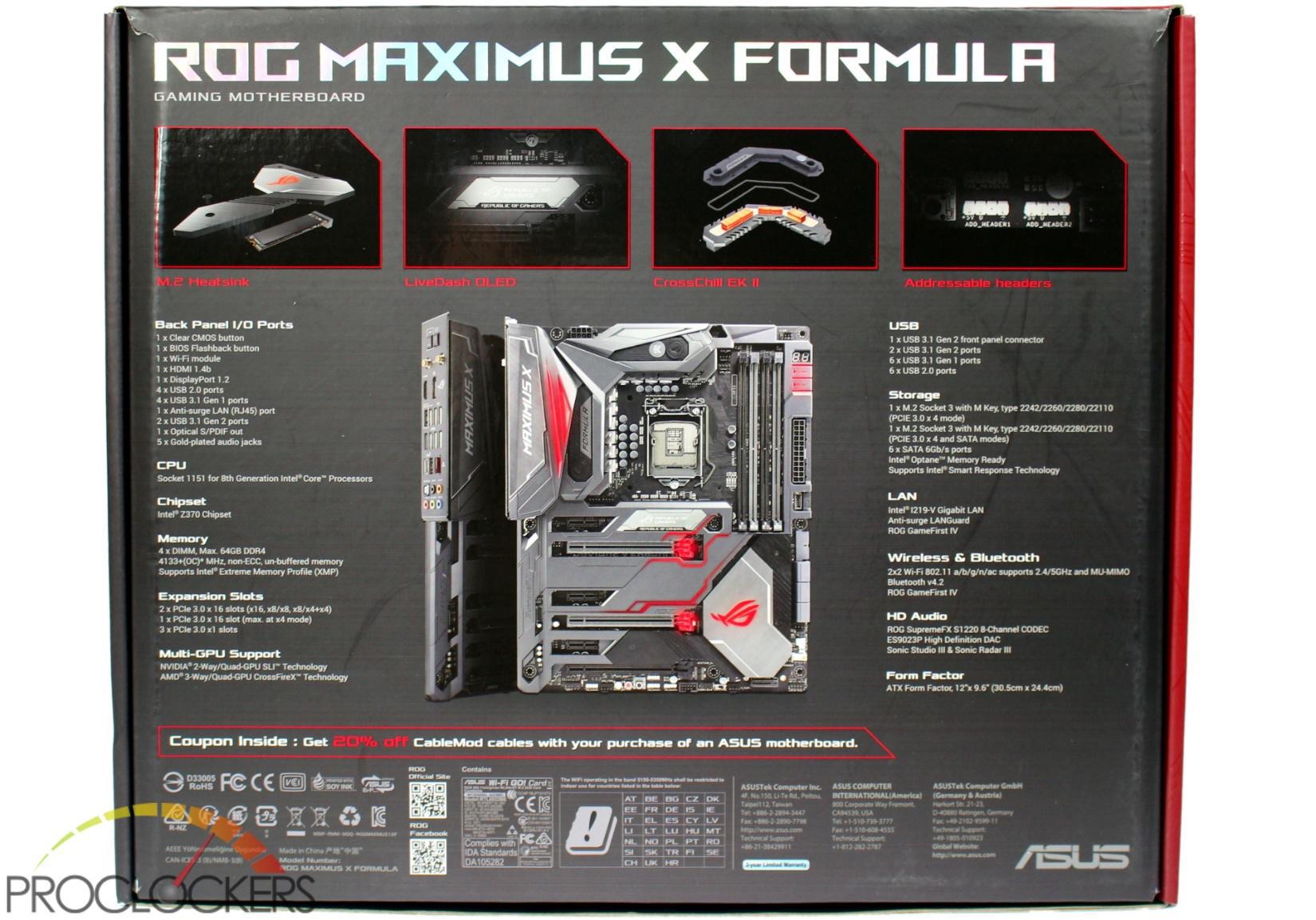 The rear of the box is in full color and shows the motherboard right in the center with some quick specs flanking it and a few of the main features along the top.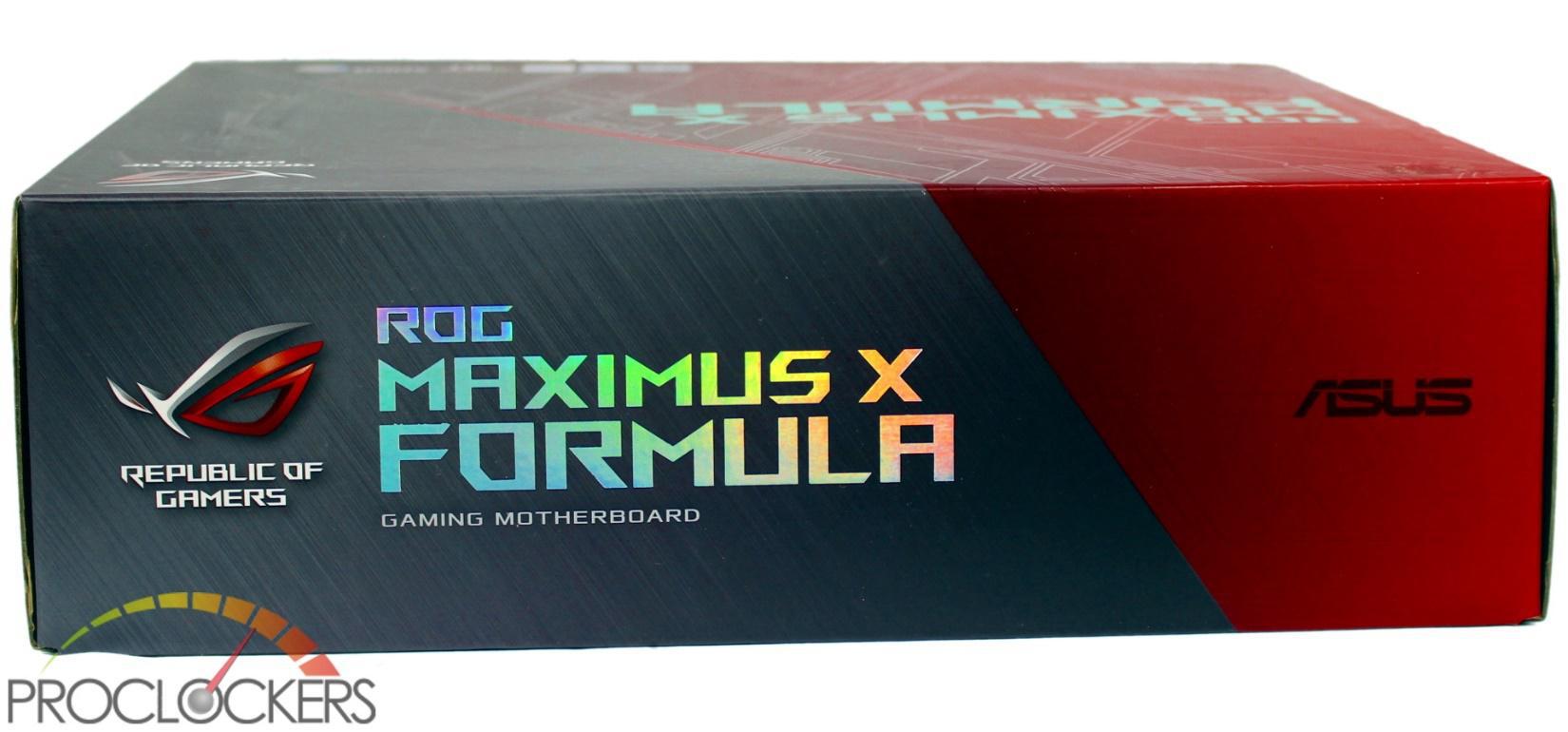 The two sides of the box have the model name in the same iridescent font as the front.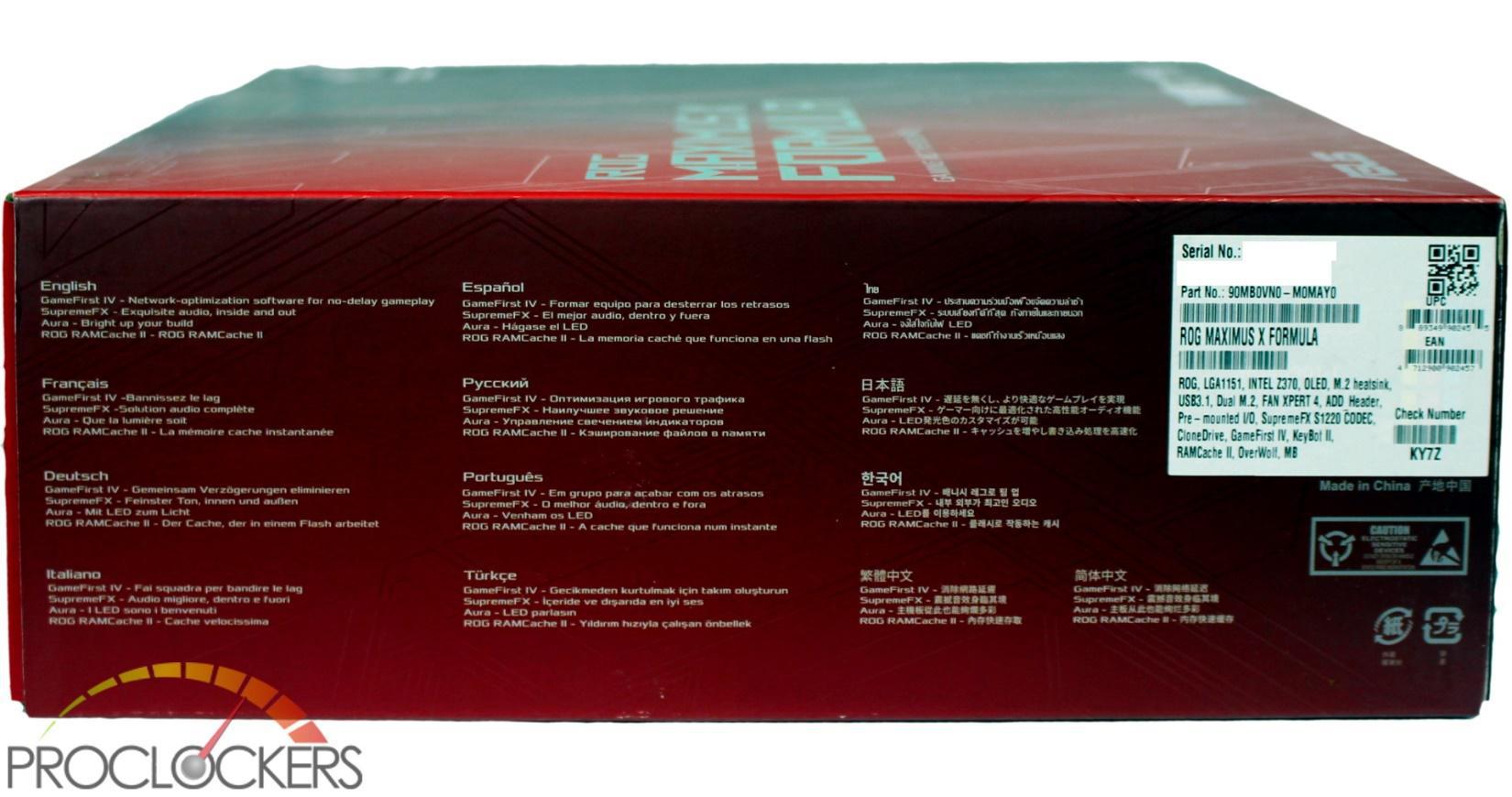 One end of the box has some basic features listed in several languages along with the UPC and serial information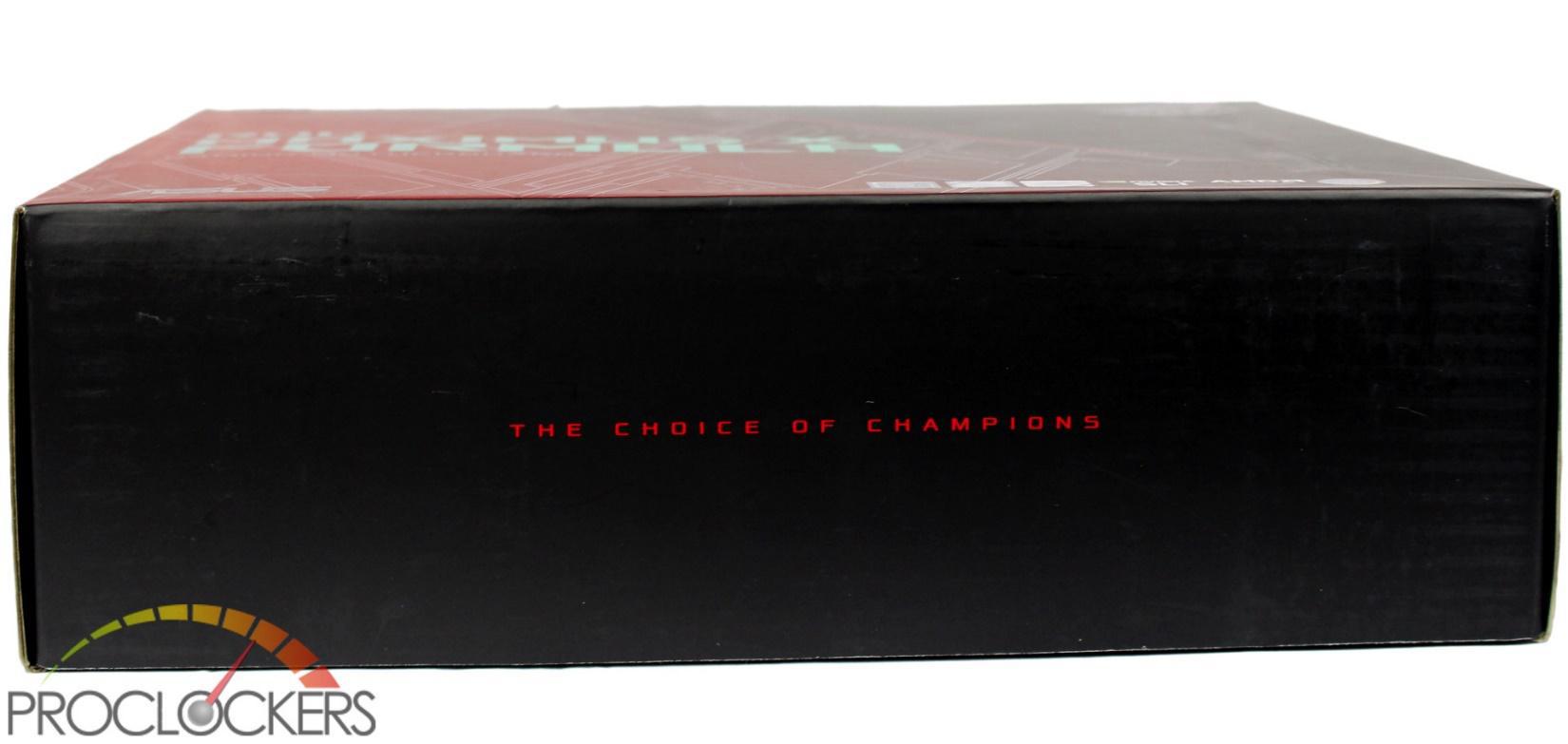 The bottom of the box is all black and shows a simple slogan: "THE CHOICE OF CHAMPIONS".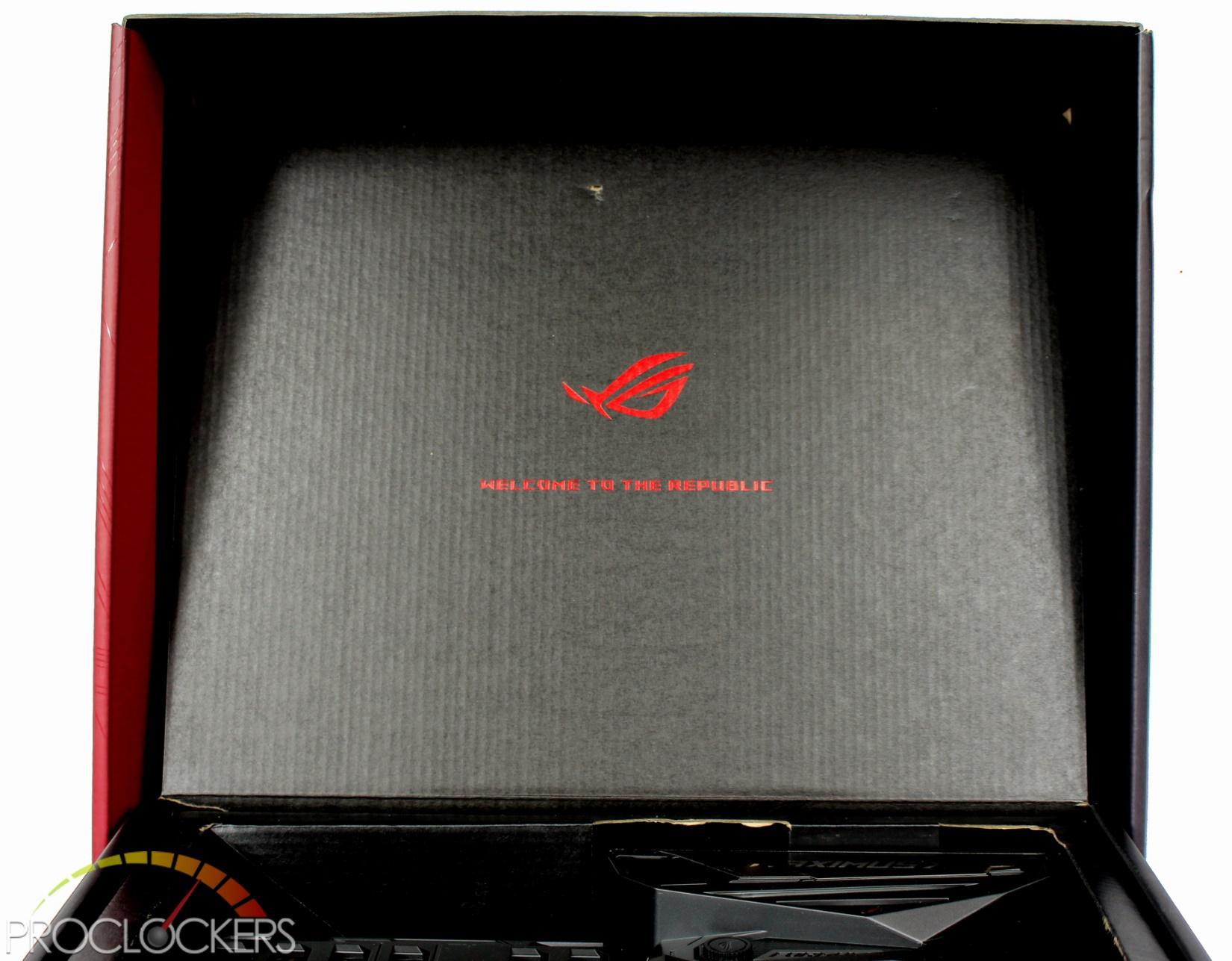 Opening the box up we are greeted with the ROG eye and 'welcome to the republic' like most of the other ROG boards.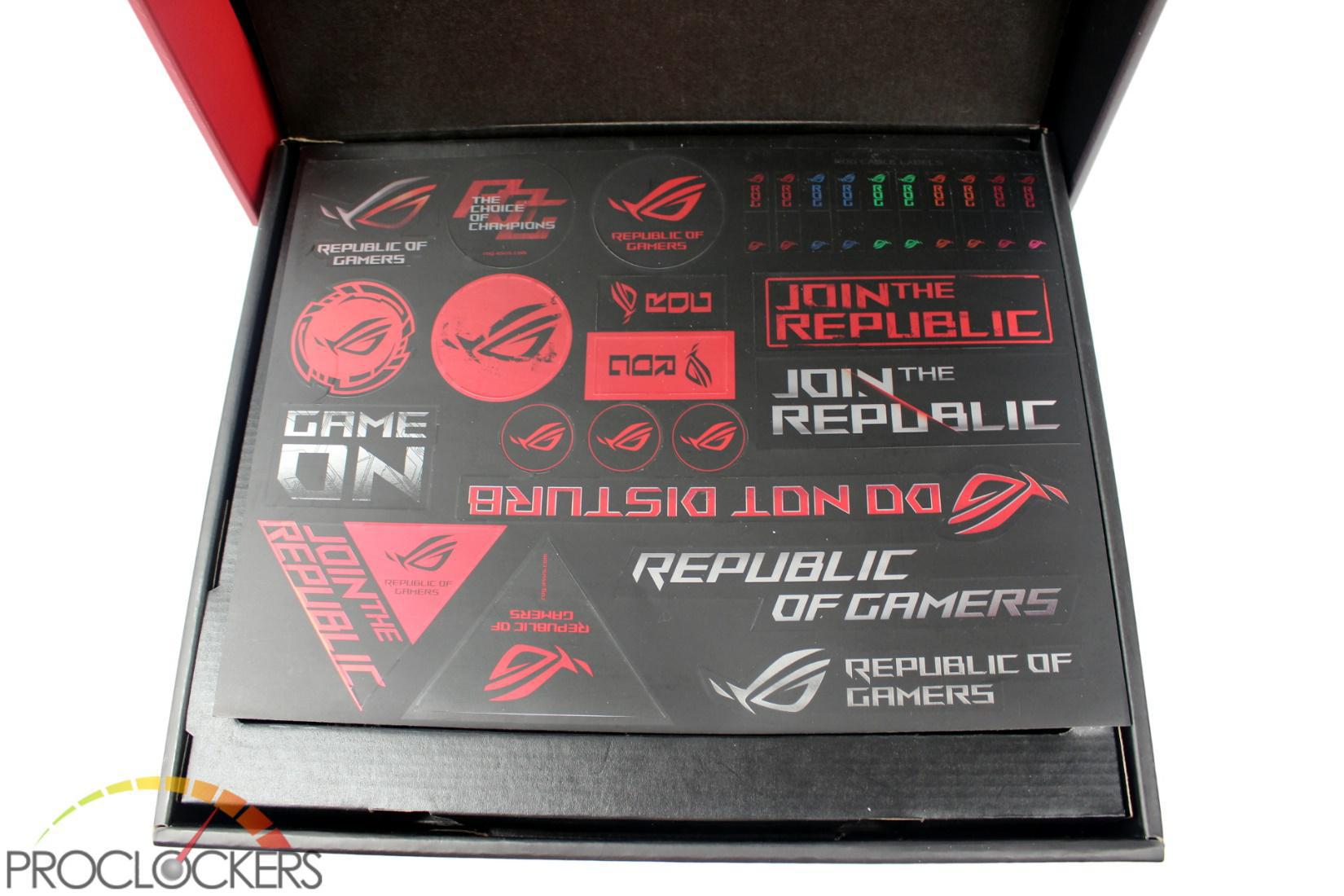 There is a sticker sheet laying on top of the tray cover with lots of ROG swag. The usual cable labels are here now as well and in several colors.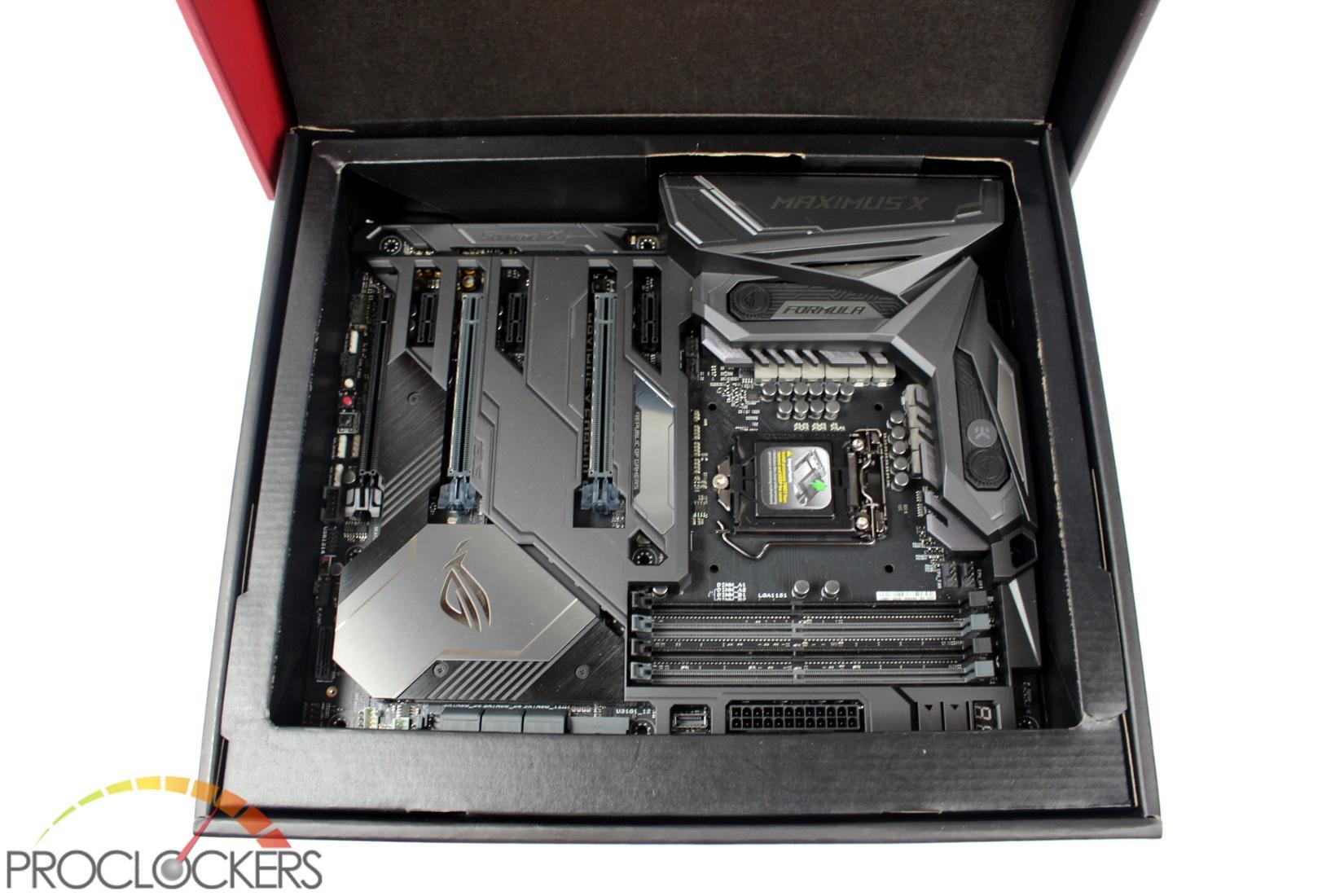 The ROG Maximus X Formula sits in its own tray.
Under the top tray with the motherboard is all of the inclusions and goodies in 3 compartments.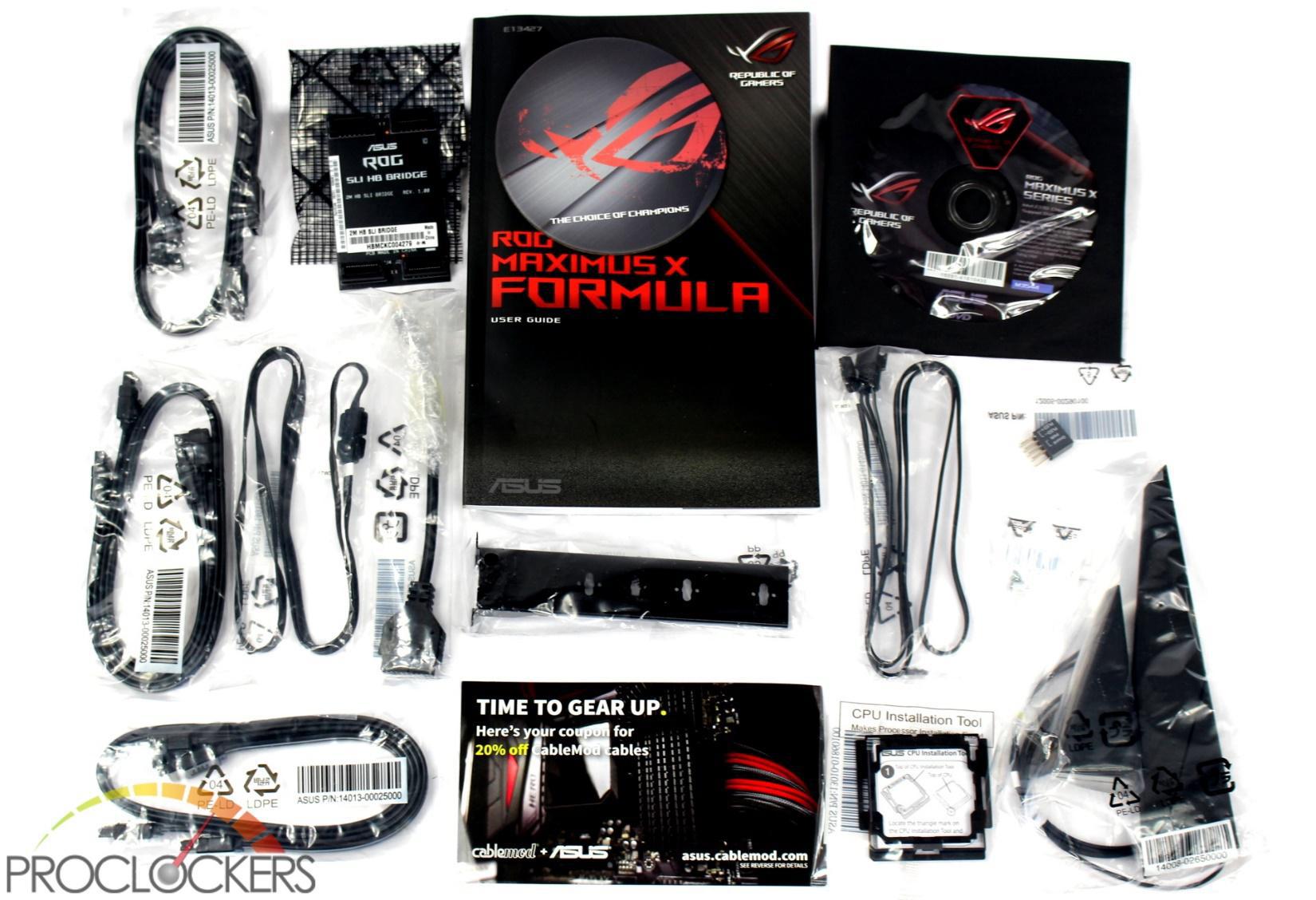 Like most ROG boards, the inclusion list is quite substantial. The usual driver disk, manual and SATA cables are here, as well as an SLI HB Bridge and a coaster. There are a few RGB cables, a USB 3.0 to 2.0 header adapter, ASUS's Q-connector for your front cables, a CPU installation guide/tool, the WiFi antenna, and the vertical M.2 bracket. ASUS has also partnered with CableMod to offer a 20% coupon good for a slick set of cables or extensions customized to your particular power supply and tastes.
A Closer Look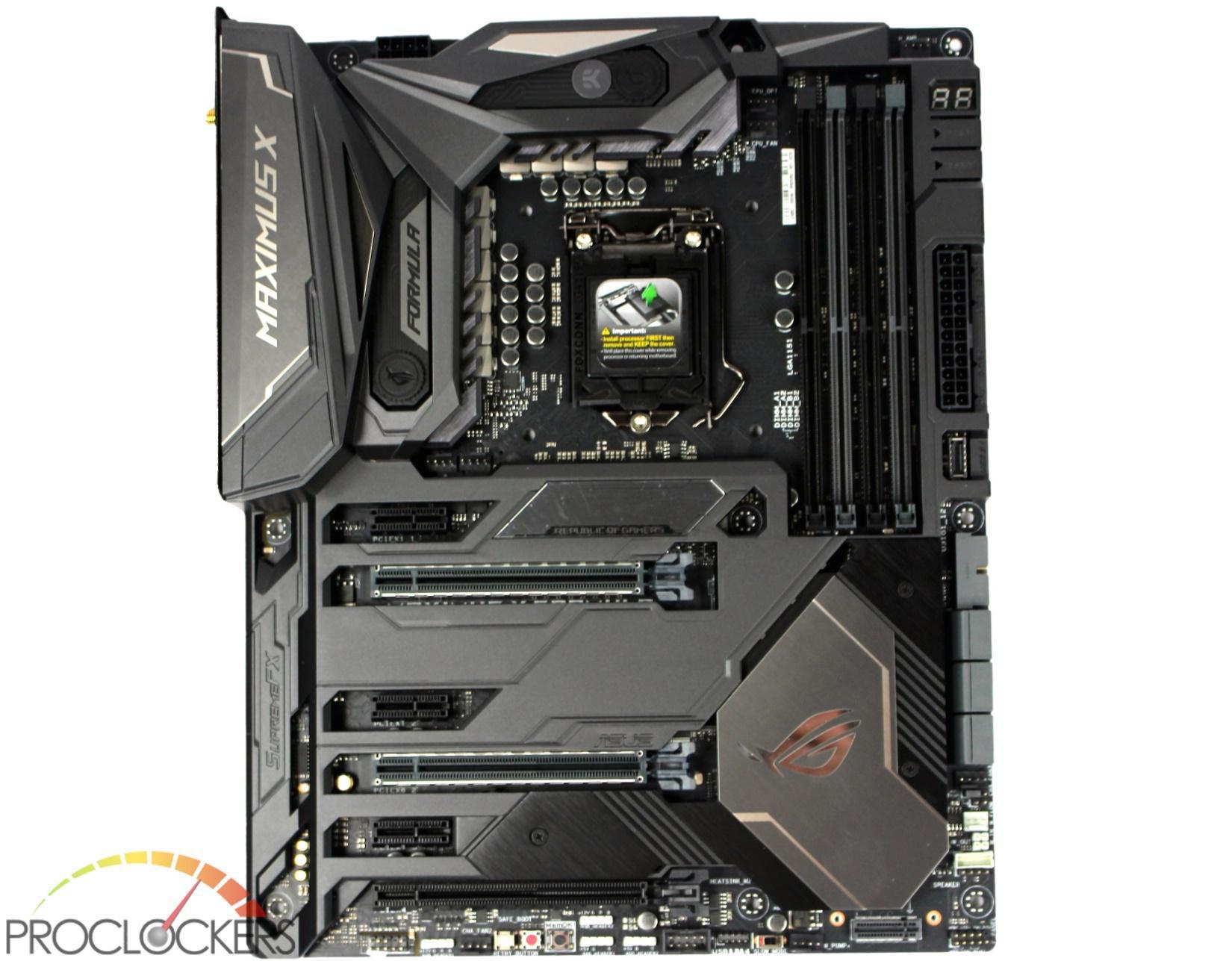 While aesthetics and ports have changed, the ATX layout really hasn't in the almost quarter-century it been around and ASUS's ROG Maximus X Formula follows along faithfully. All of the major components are right where you expect them to be.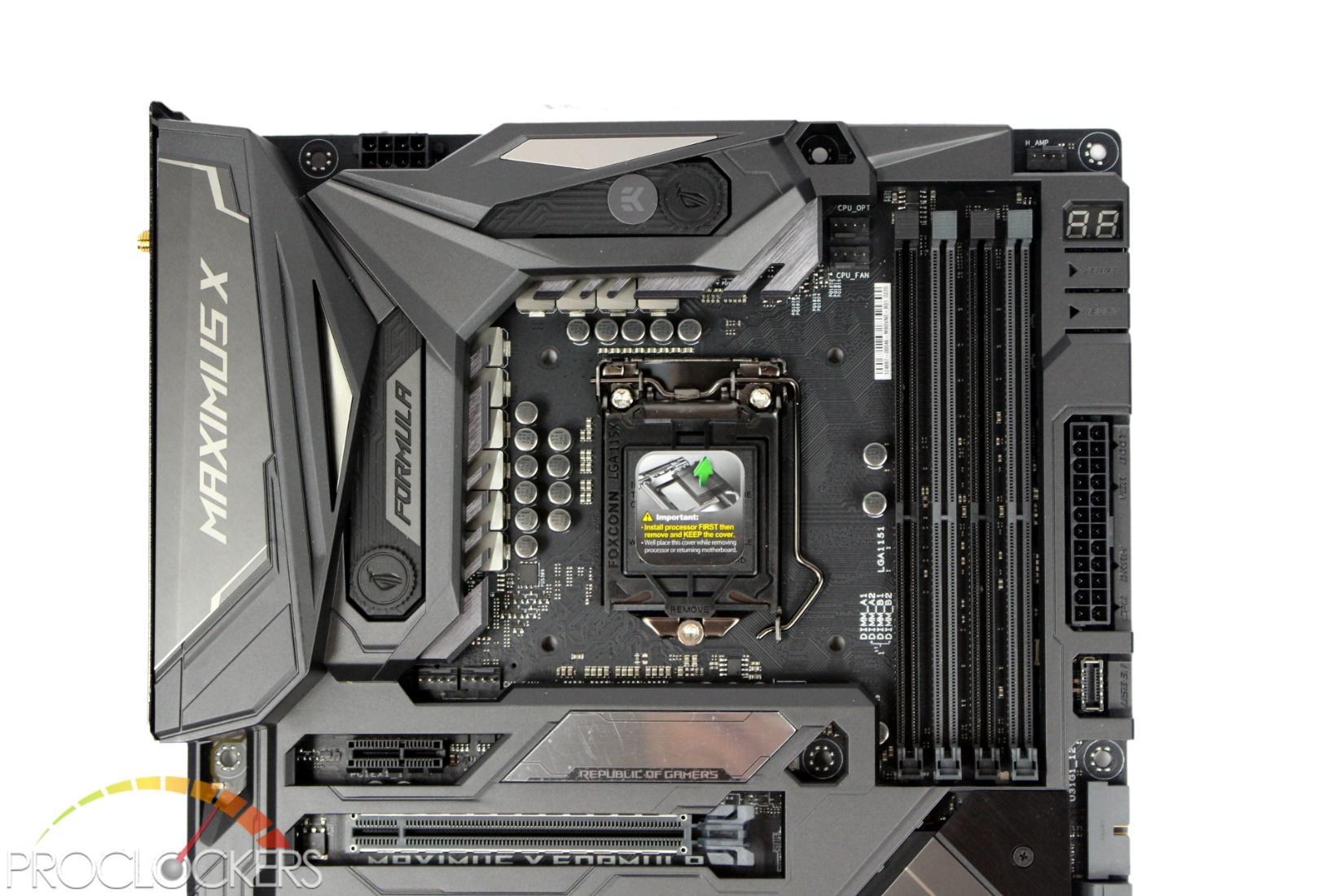 ASUS covers up most of the board making the PCB itself only visible around the CPU socket and along a few edges of the board. The LGA 1151 sits mostly in the middle of the top with 4 DDR4 DIMM slots to the right. In the Formula fashion, the VRM heatsink is mostly replaced with an integrated water block system designed by the cooling experts at EK Water Blocks. The ROG armor goes over this and almost everything else.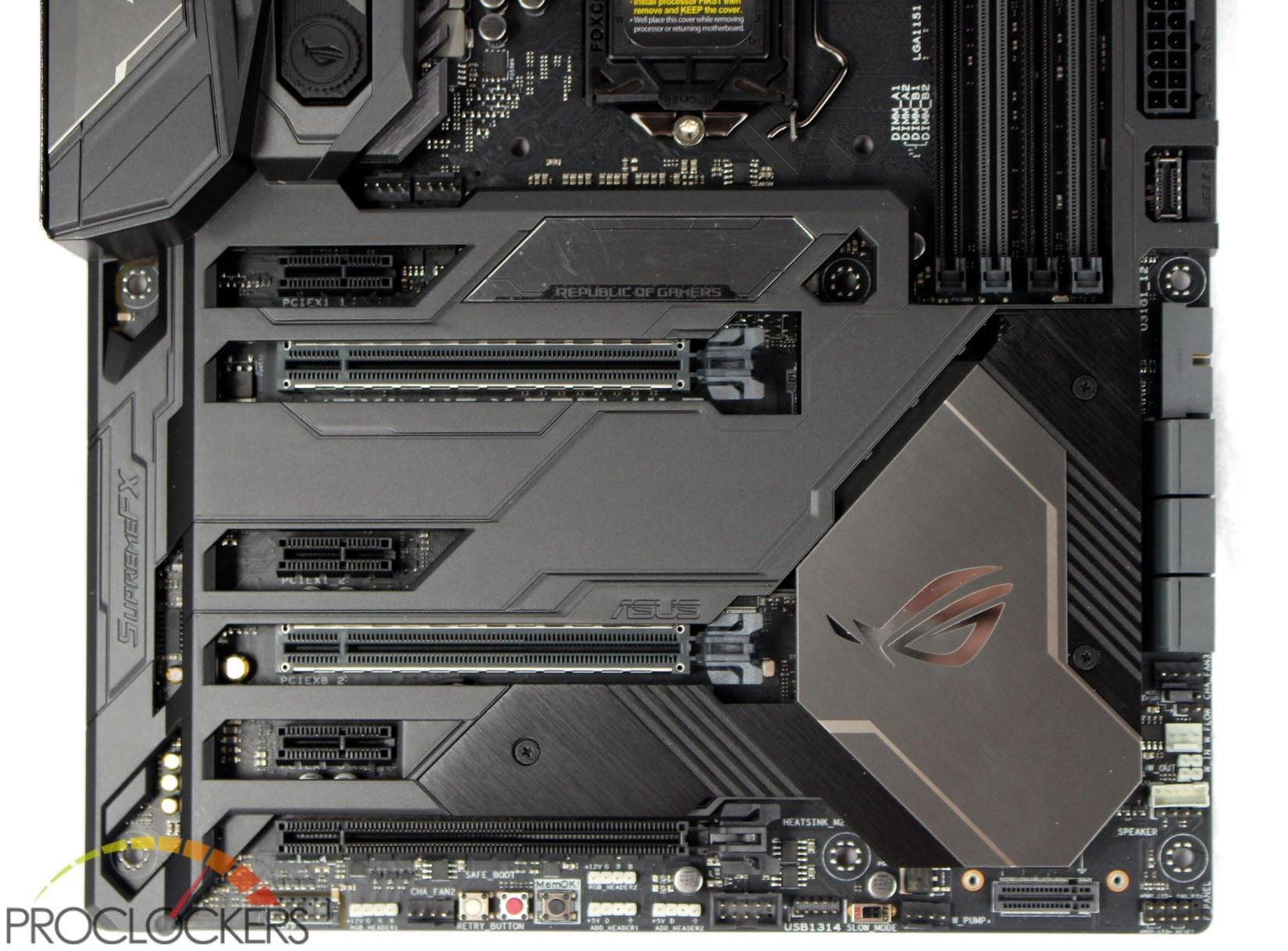 The bottom half of the board is mostly I/O slots with a pair of armored PCIe x16, a normal PCIe x16, and a trio of PCIe x1 slots. Under the cover in the bottom right corner hides an M.2 port, and a 2nd port sits vertically along the bottom edge. The very edge of the board is not covered due to the plethora of headers, ports, buttons, and switches ASUS has used here.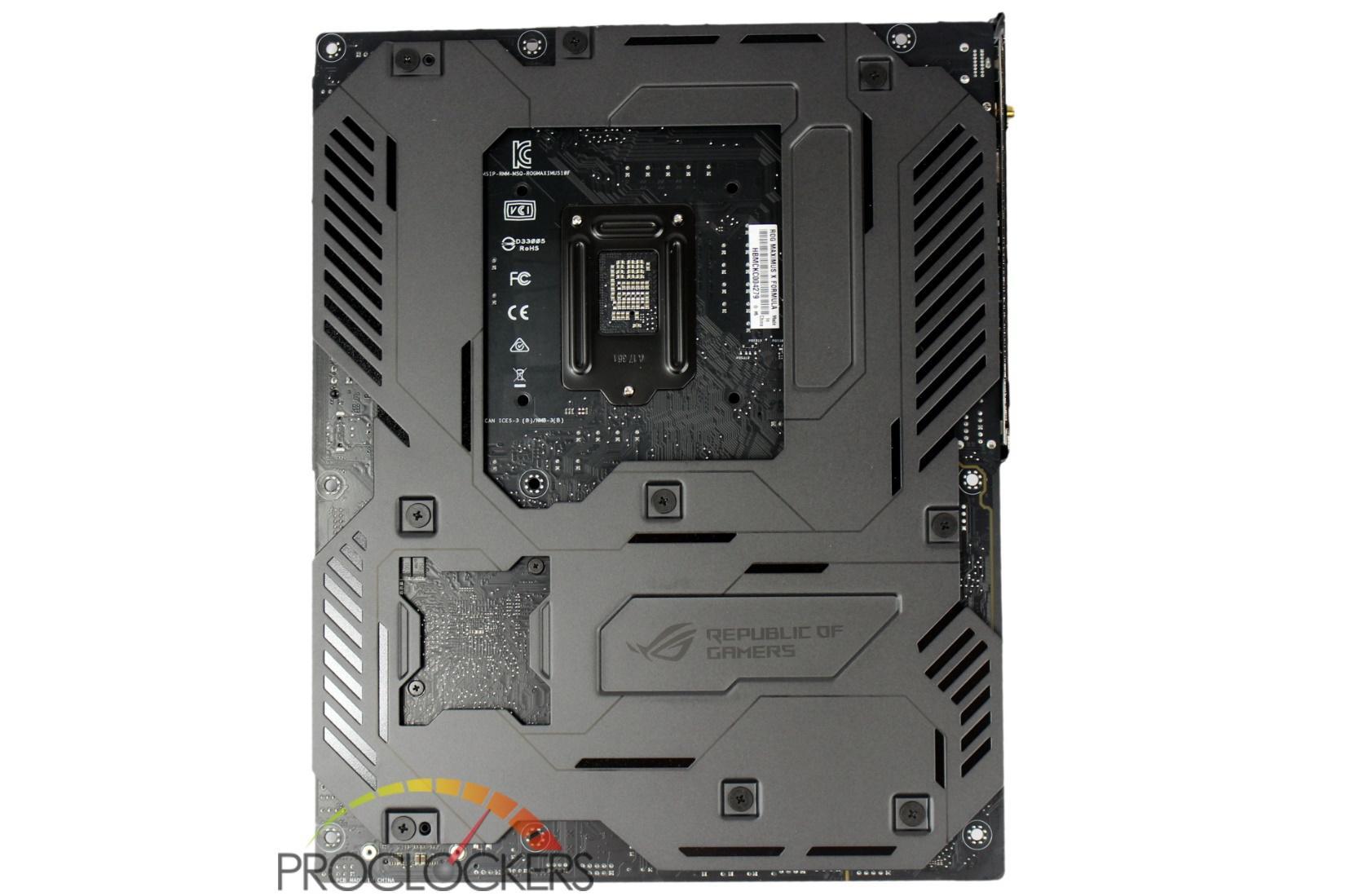 Not much can be seen of the back of the board, it is mostly covered by ASUS backplate. It does have quite a bit of attractive design so hopefully, you have a case that shows it off to some extent. There is a large cutout for cooler backplates if needed.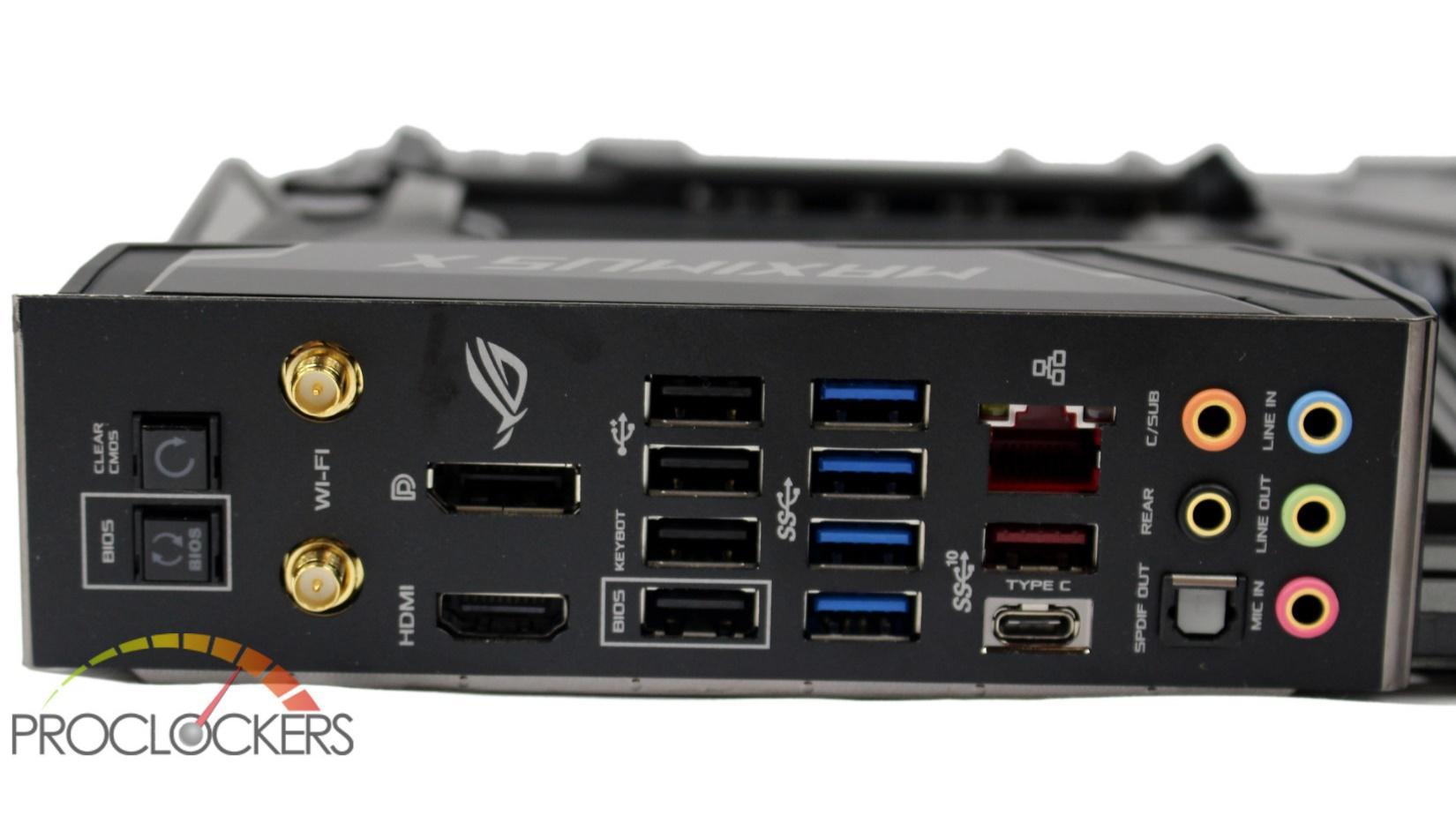 The Rear I/O area has an integrated shield and includes the usual ROG oriented features such as BIOS flashback and Clear CMOS buttons. An Intel-powered gigabit Ethernet port sits over a pair of USB 3.1 gen2 ports and next to four USB 3.0 ports, and four USB 2.0 ports. A DisplayPort and HDMI port are included for utilizing graphics options built into most compatible CPU's. Dual WiFi antenna connections, 8-channel audio, and an optical audio output port round out the rear I/O.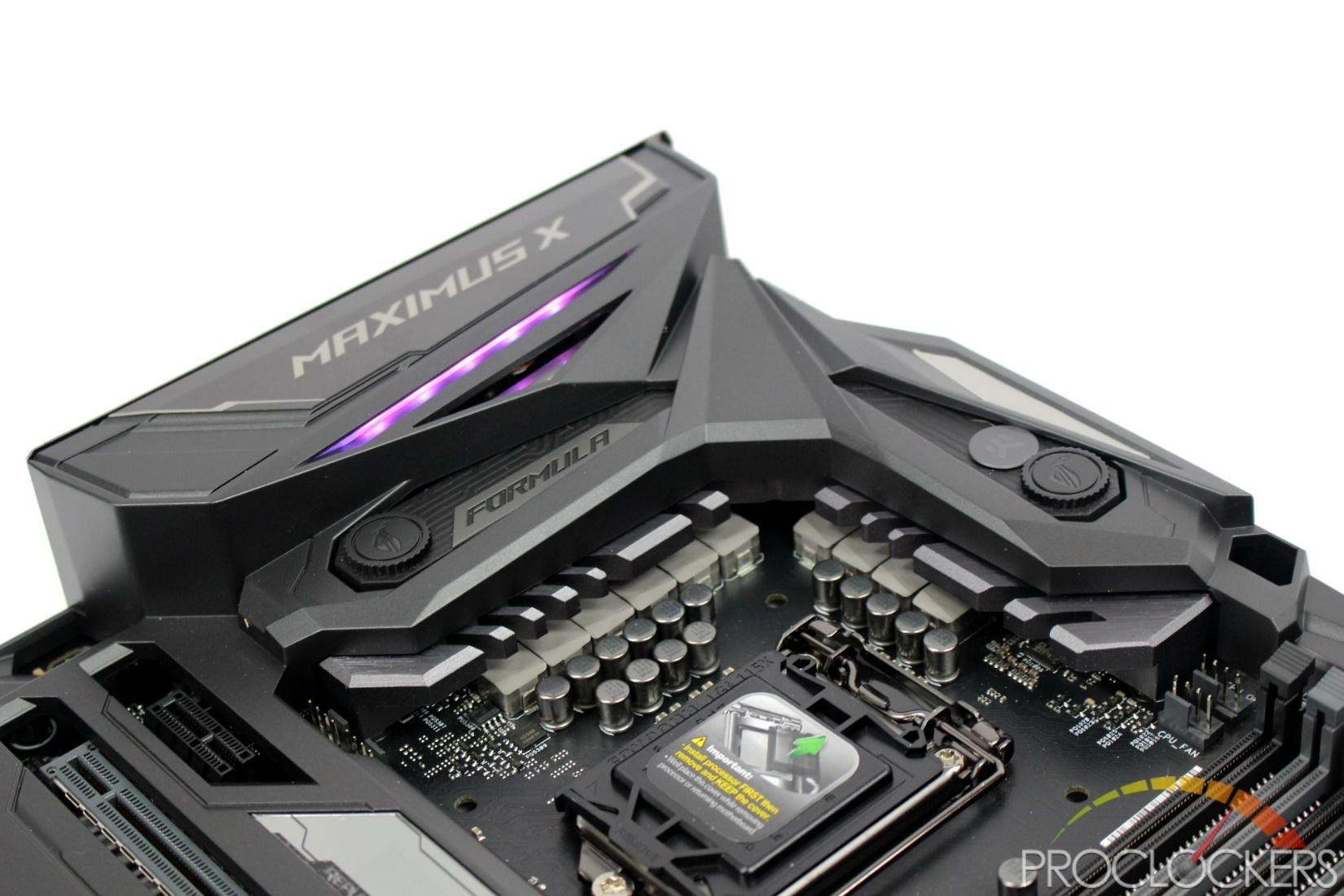 The Rear I/O is completely covered and an RGB accent strip runs most of its length.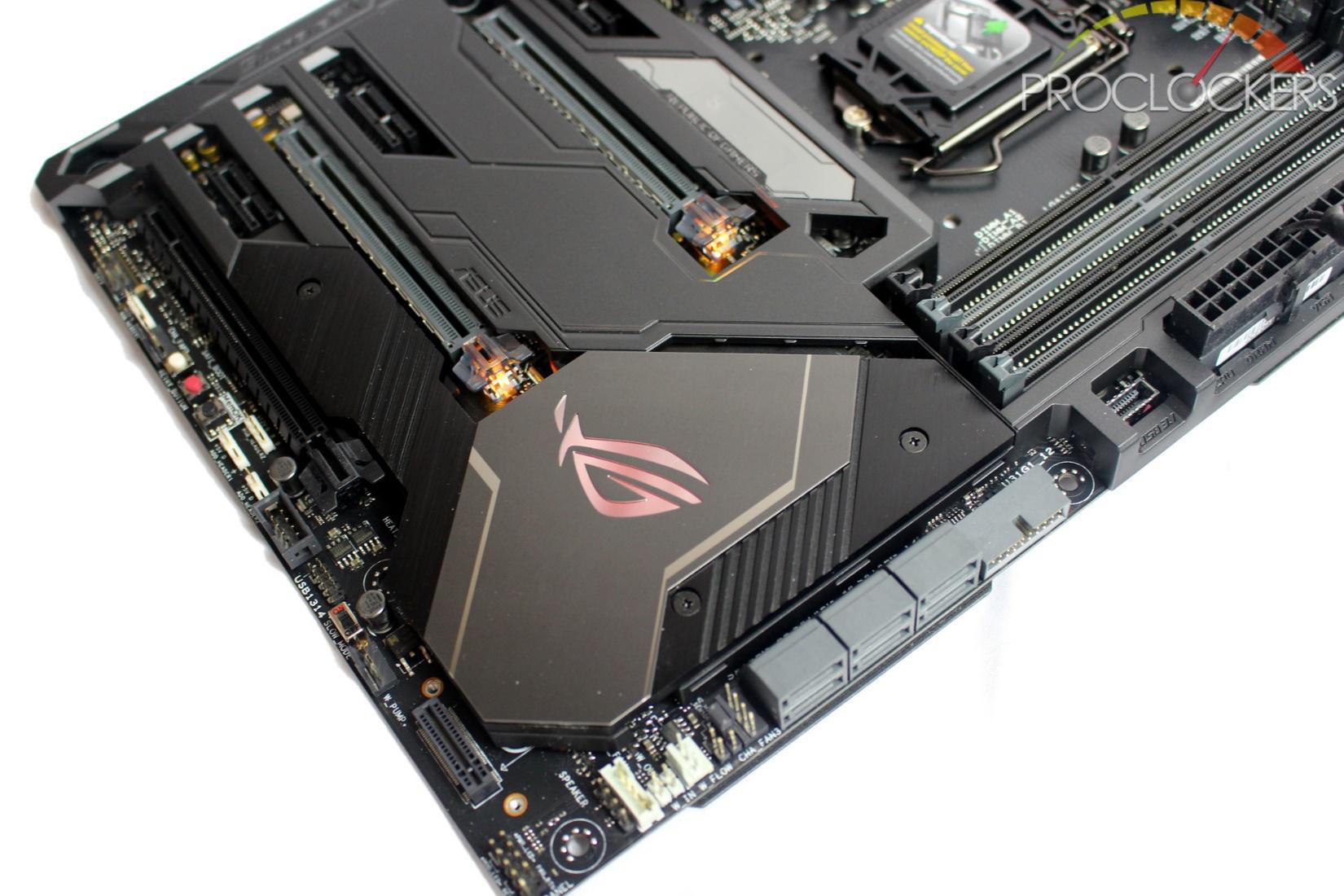 As for onboard lighting, the ROG eye logo over the chipset and the main PCIe latches are also lit.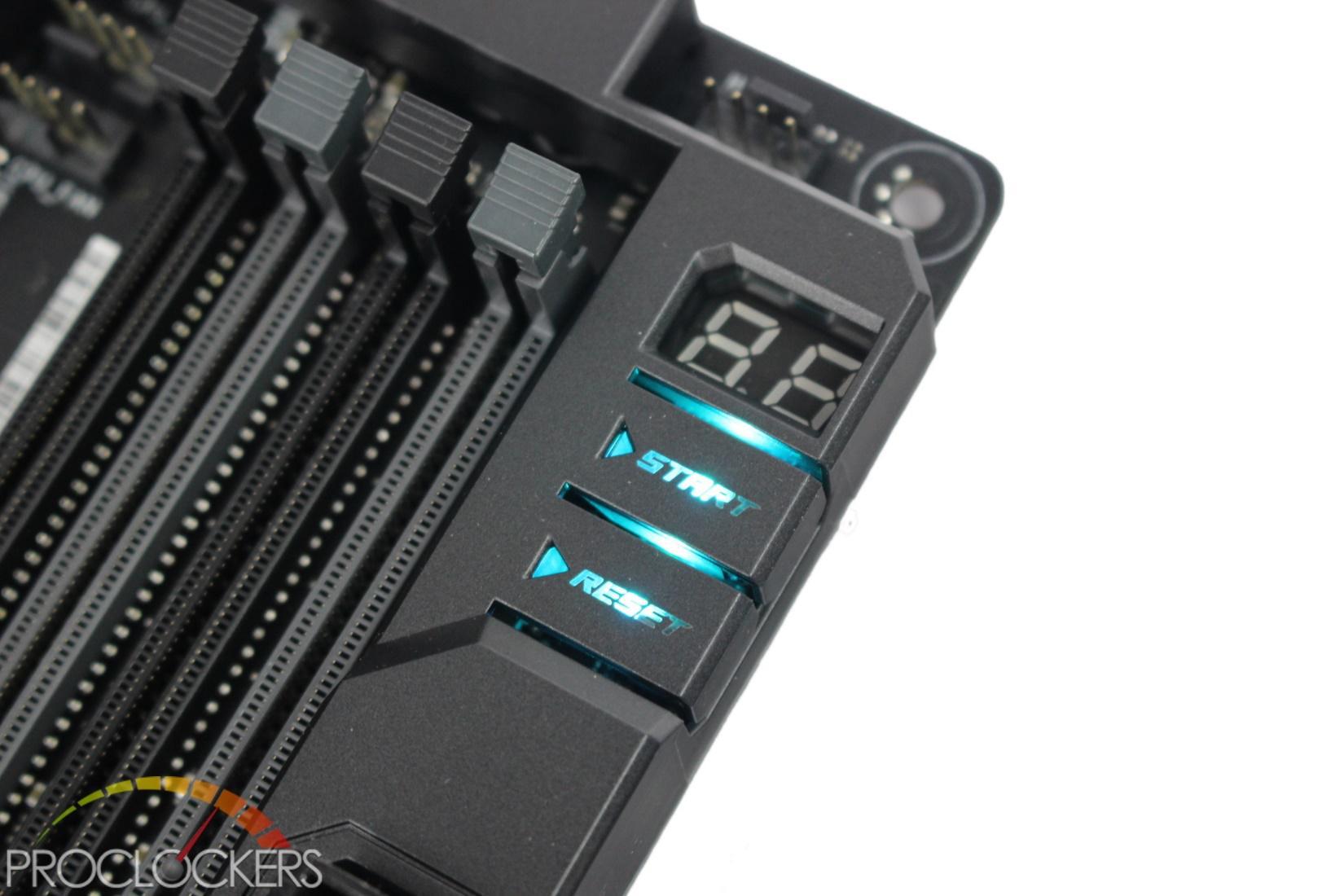 The integrated power (start) and reset buttons are also lit in full RGB as well in the top corner.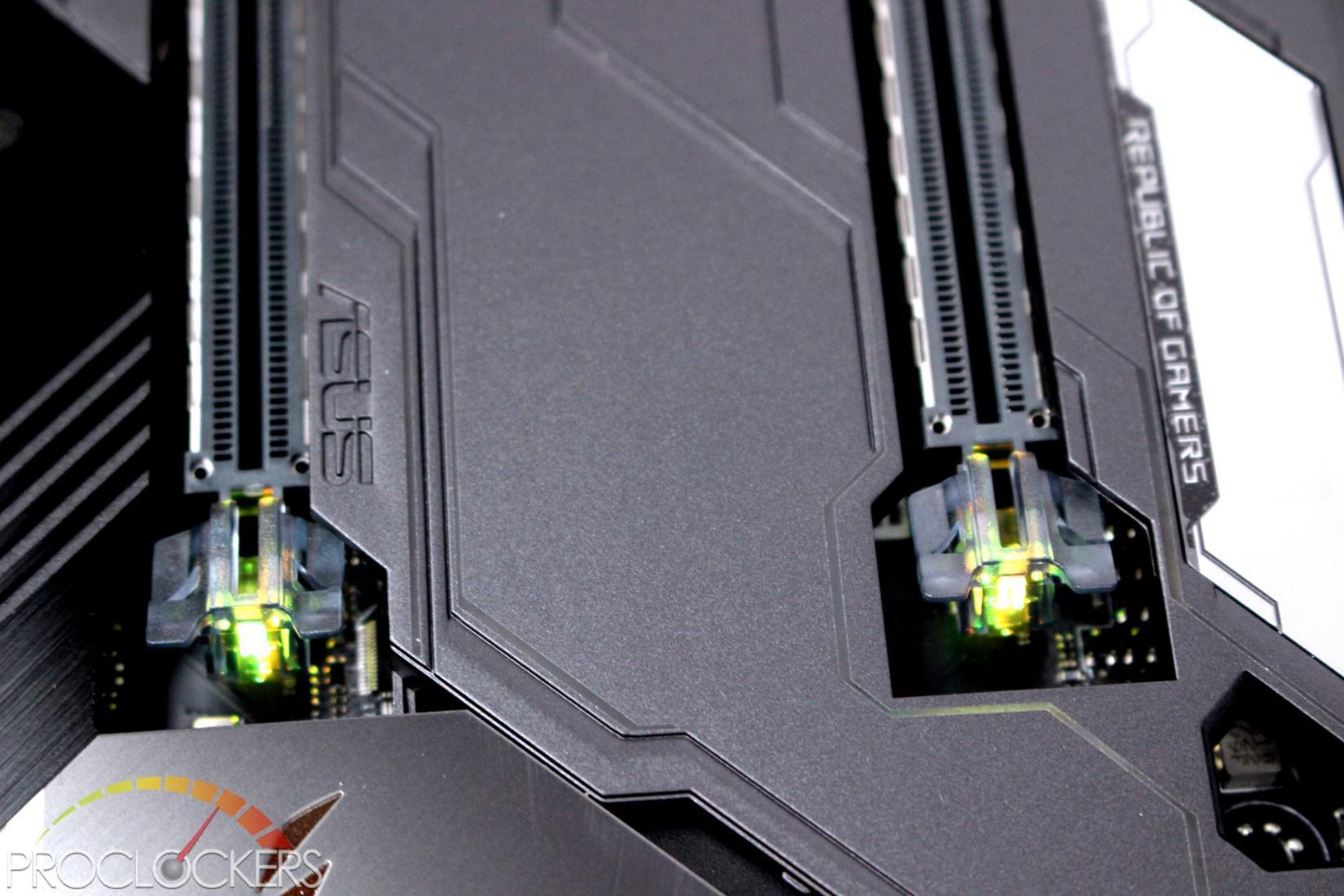 The clear PCIe latches are slightly blue tinted but the different colored lighting isn't affected heavily.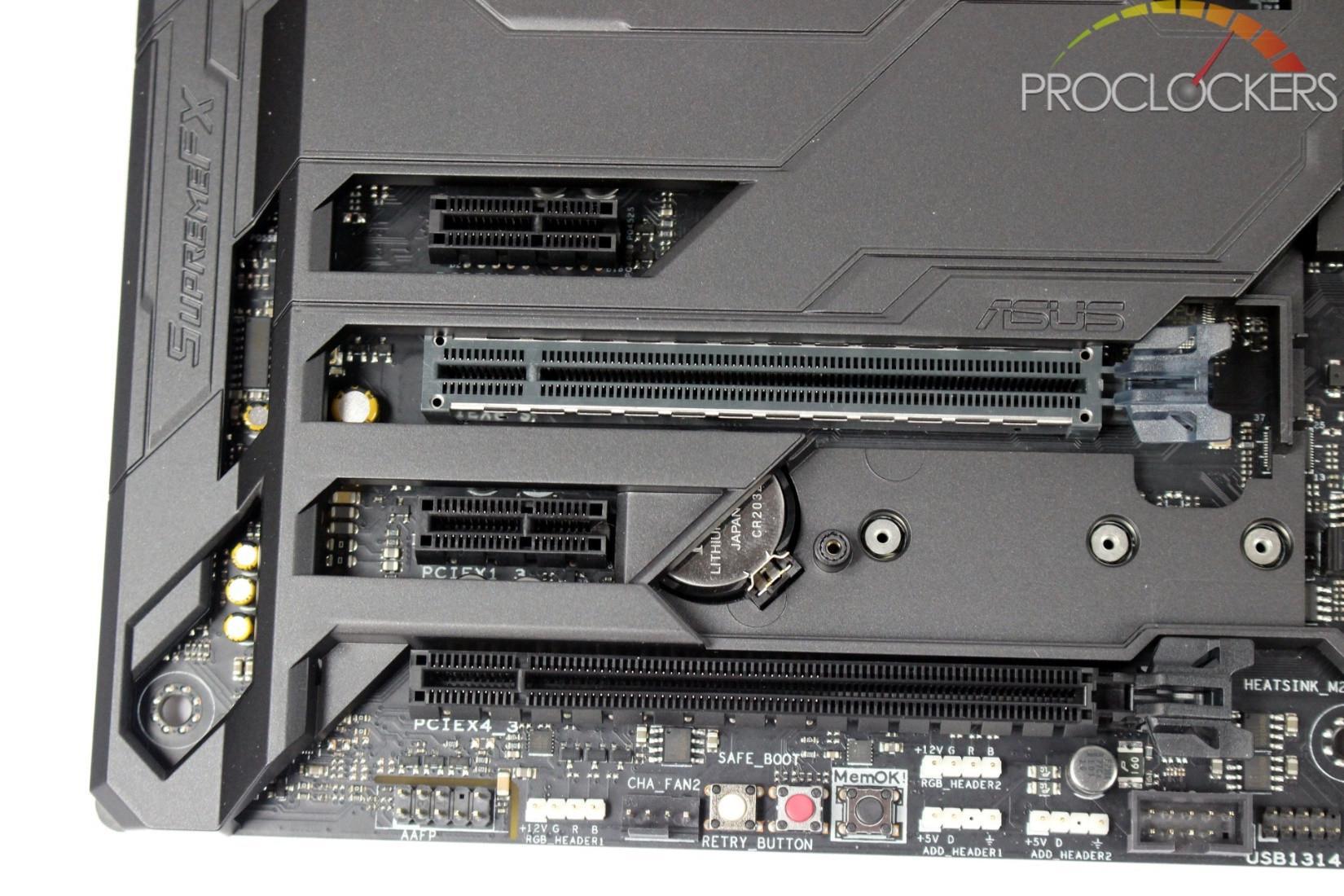 The edges of the board are very busy and packed with connectivity. The bottom left edge has no less than four RGB headers, two analog versions and a pair of digital /addressable versions. Your typical front panel audio headers are here along with a 4-pin fan header, the safe boot, retry and MemOK! buttons, and a USB 2.0 front panel header.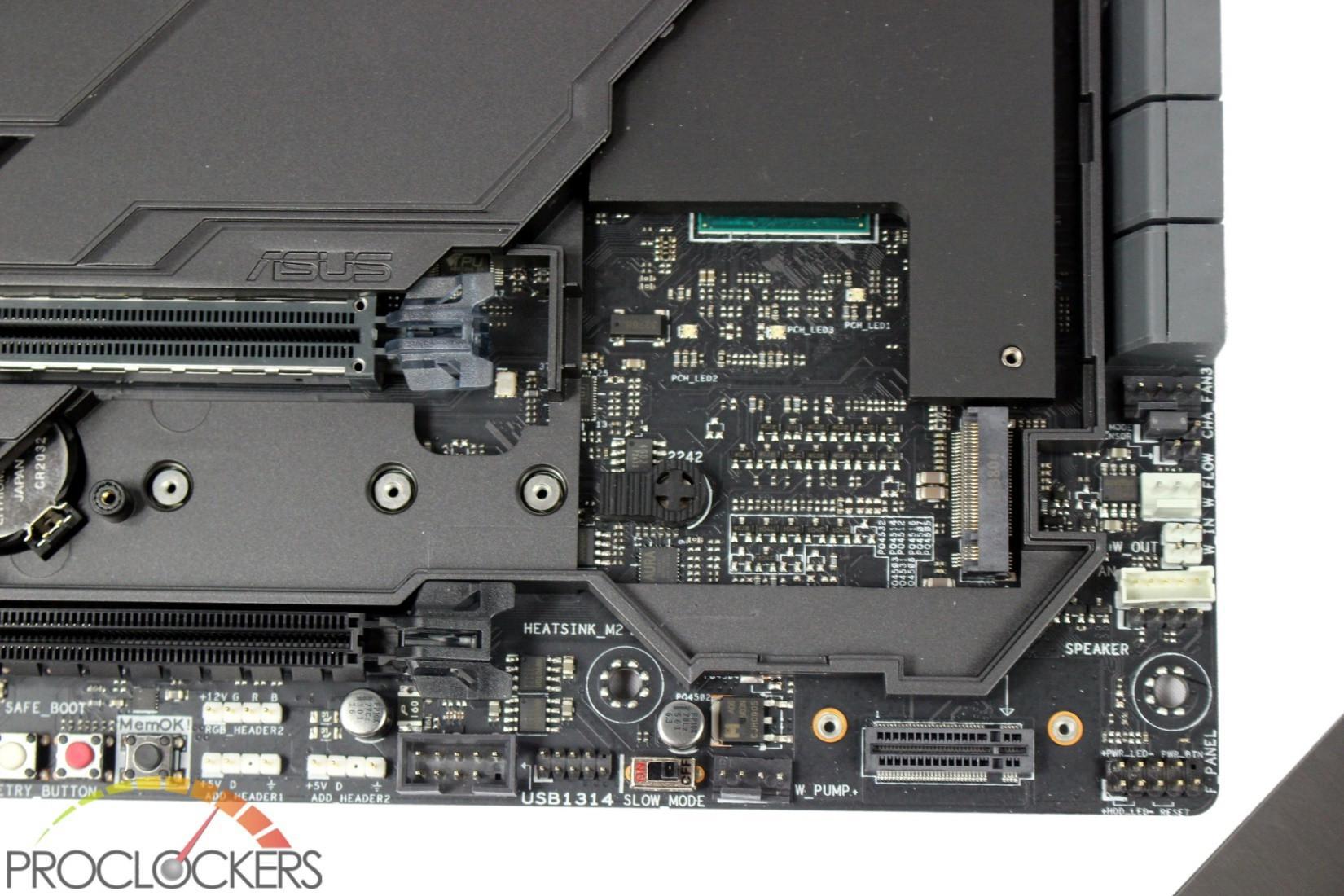 Towards the front is the slow mode switch, a high powered 4-pin header for liquid cooling pumps, the vertical M.2 port and the usual front panel I/O connections.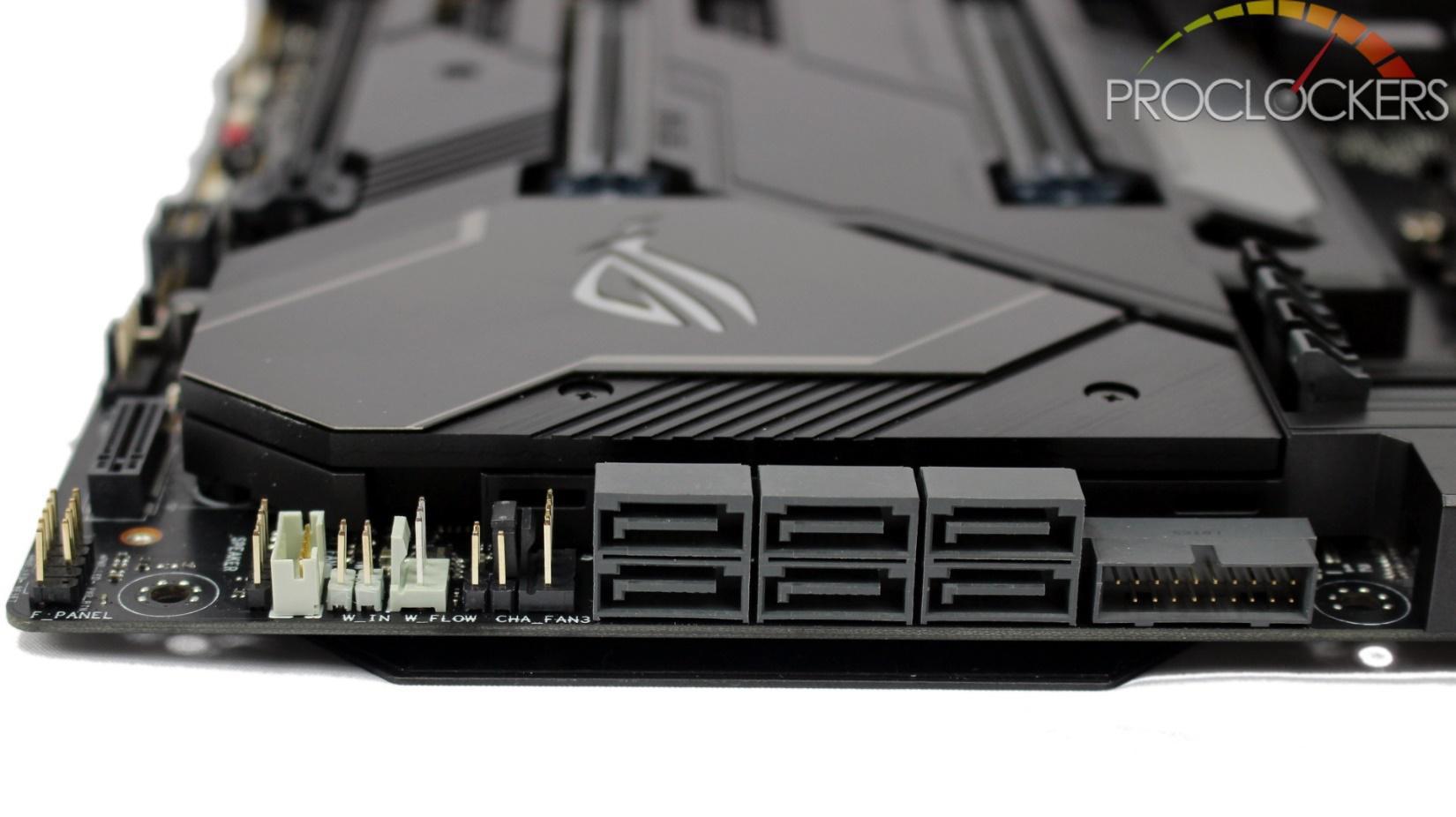 Going up the front edge, you have the speaker connection for POST code beeps and similar, fan extension header, water in and out temp probe headers, another 4-pin fan header, six SATA 6Gbps ports, and a front panel USB 3.0 header.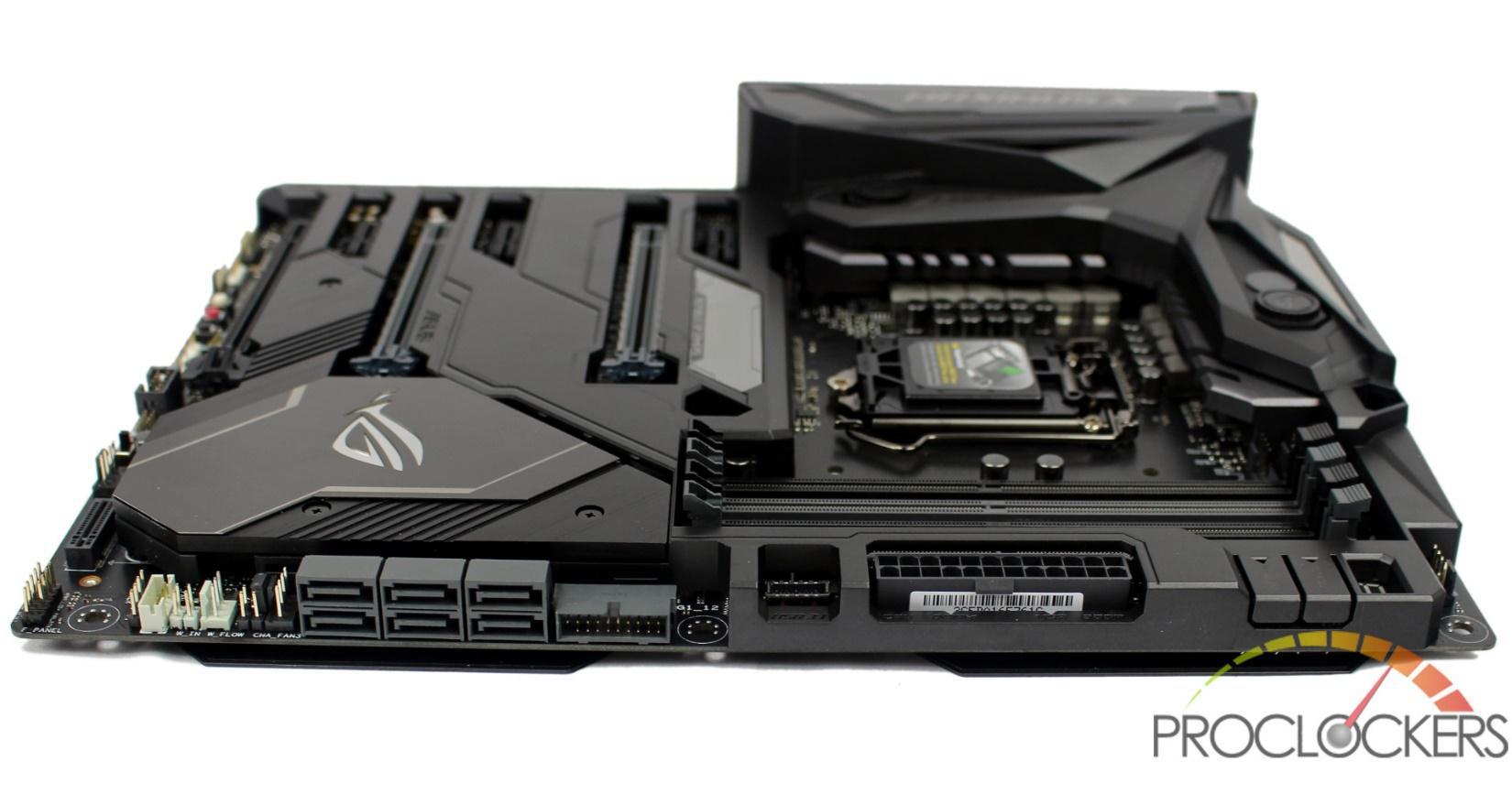 On up from there we find a USB 3.1 gen2 connection and the main 24-pin power. The built-in power and reset buttons and 2-digit readout occupies the top right corner.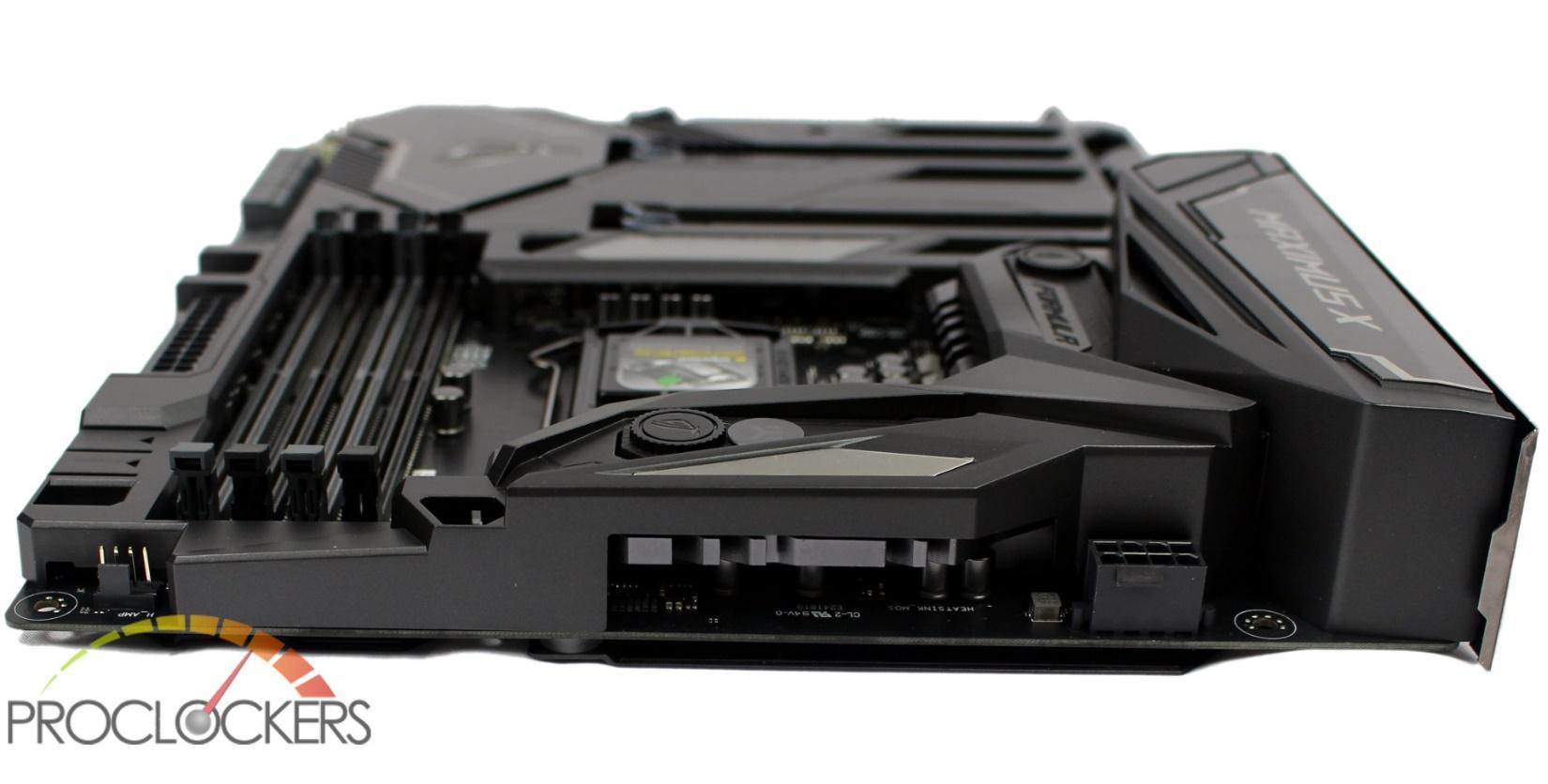 The top edge of the board doesn't have much to see, only a fan header and the 8-pin EPS connection for CPU power.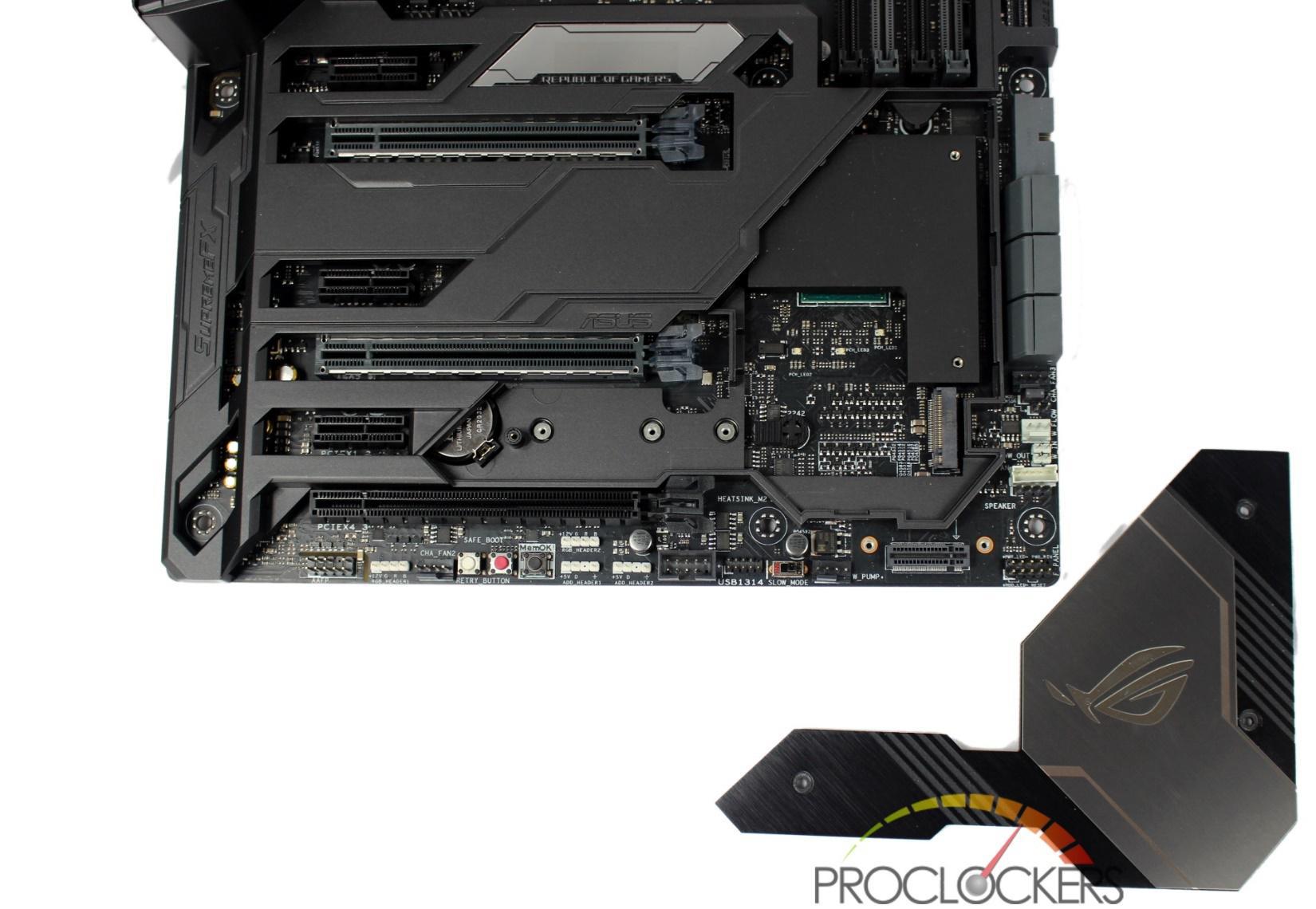 Three screws hold the M.2 heatsink and cover down. The M.2 below can support up to 110mm drives in PCIe and SATA flavors.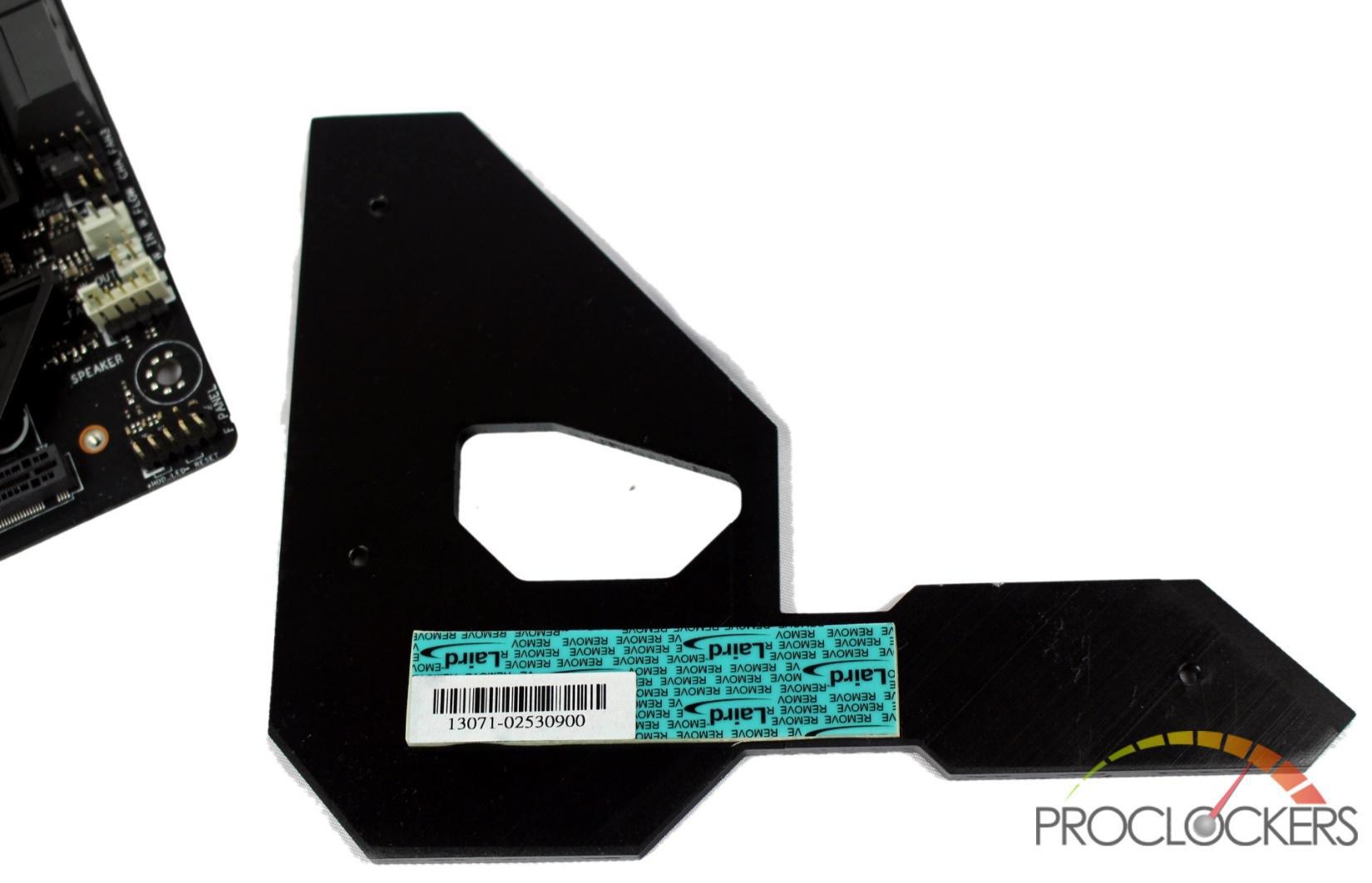 The cover itself has a pre-installed thermal pad to help remove heat from high-performance M.2 drives for maximum performance without all that pesky thermal throttling business.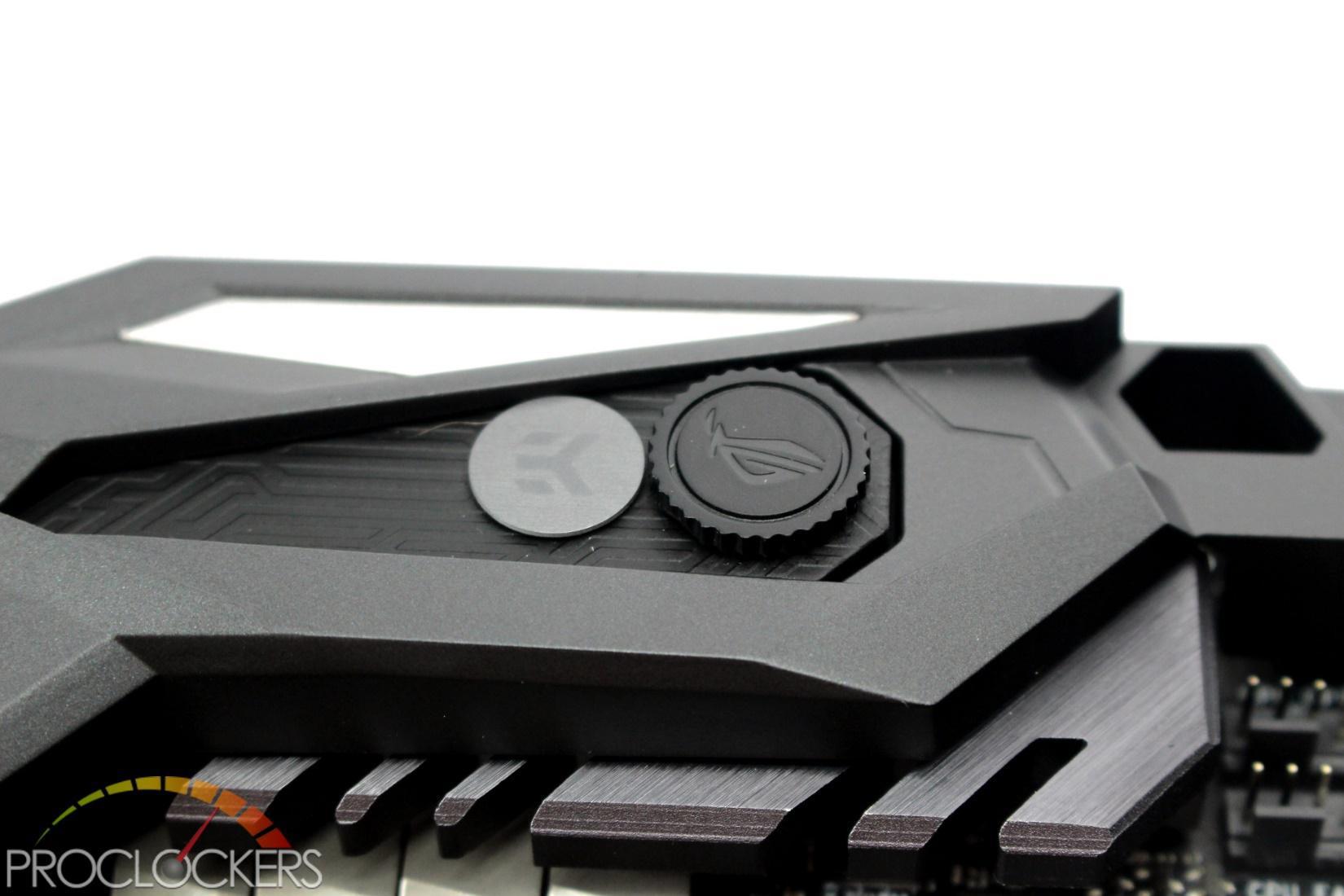 One of the main features of the Formula series the last few generations has been the built-in liquid cooling for the VRM stage. Again this time around the block is designed by EKWB but coves with ROG stamped protective caps and a ROG pattern over the entire cover.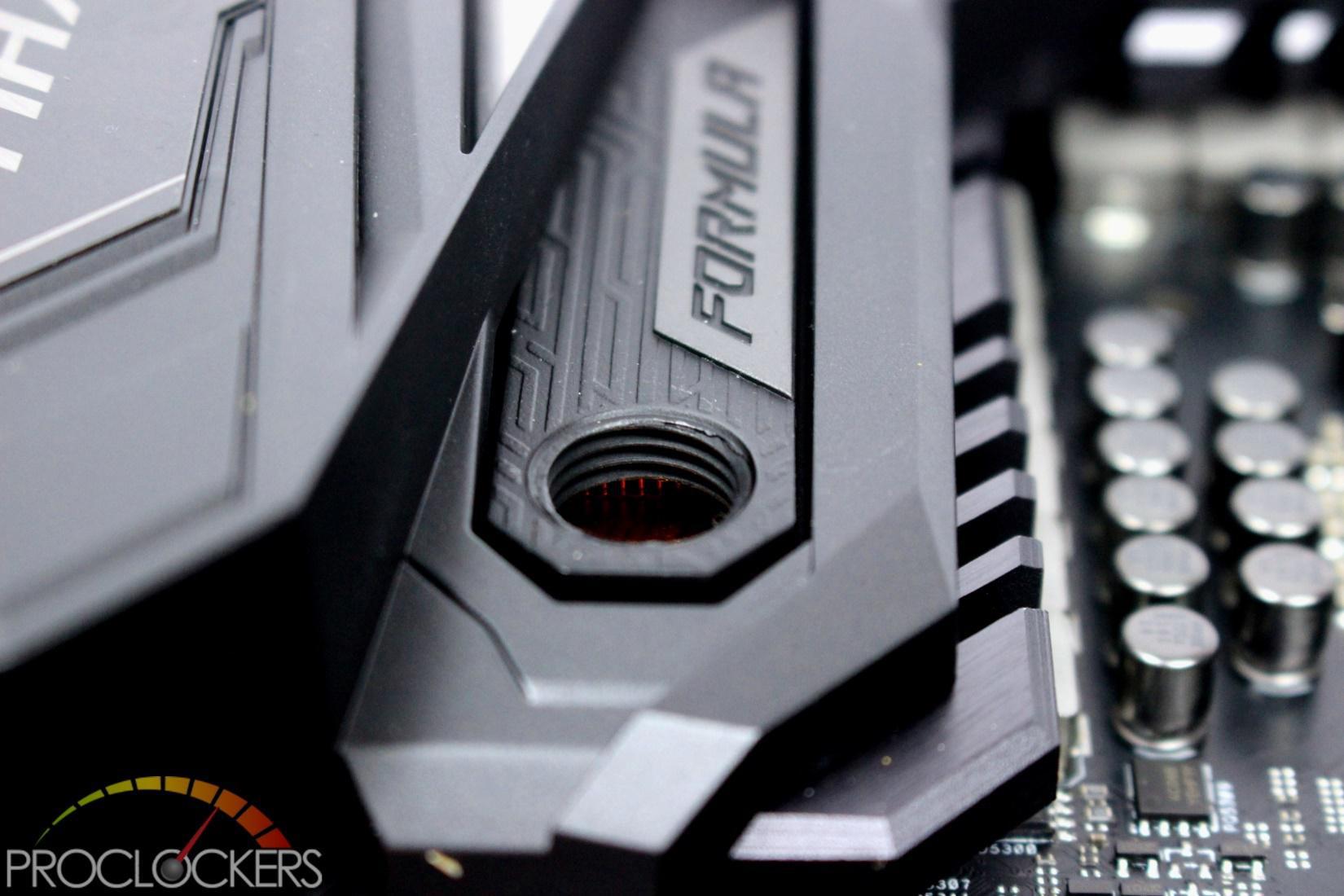 The Internals are copper which you can kind of see through the ports with a cap removed.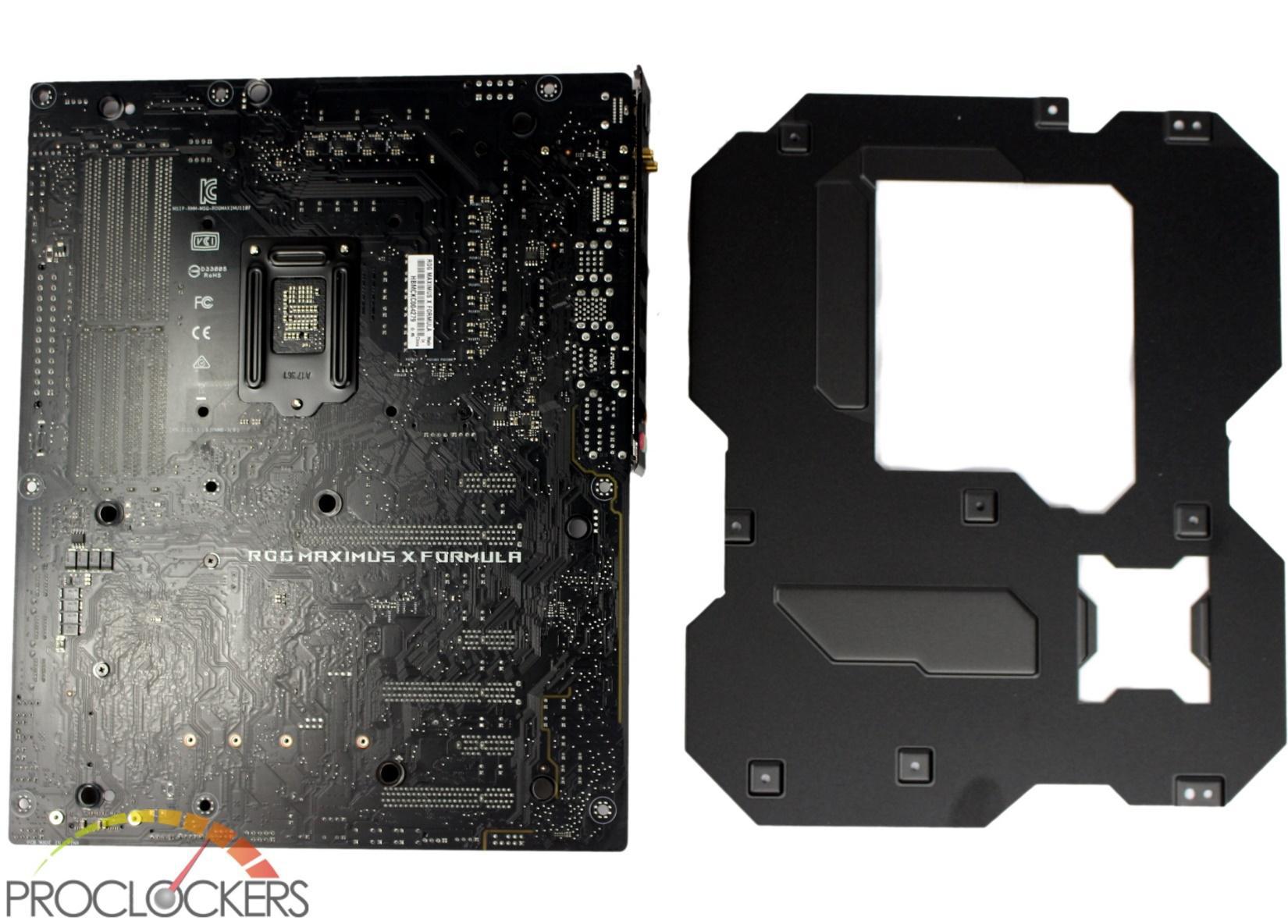 The board's backplate comes off easily with 9 screws that attach to the front armor directly through large holes in the board that are protected with plastic inserts.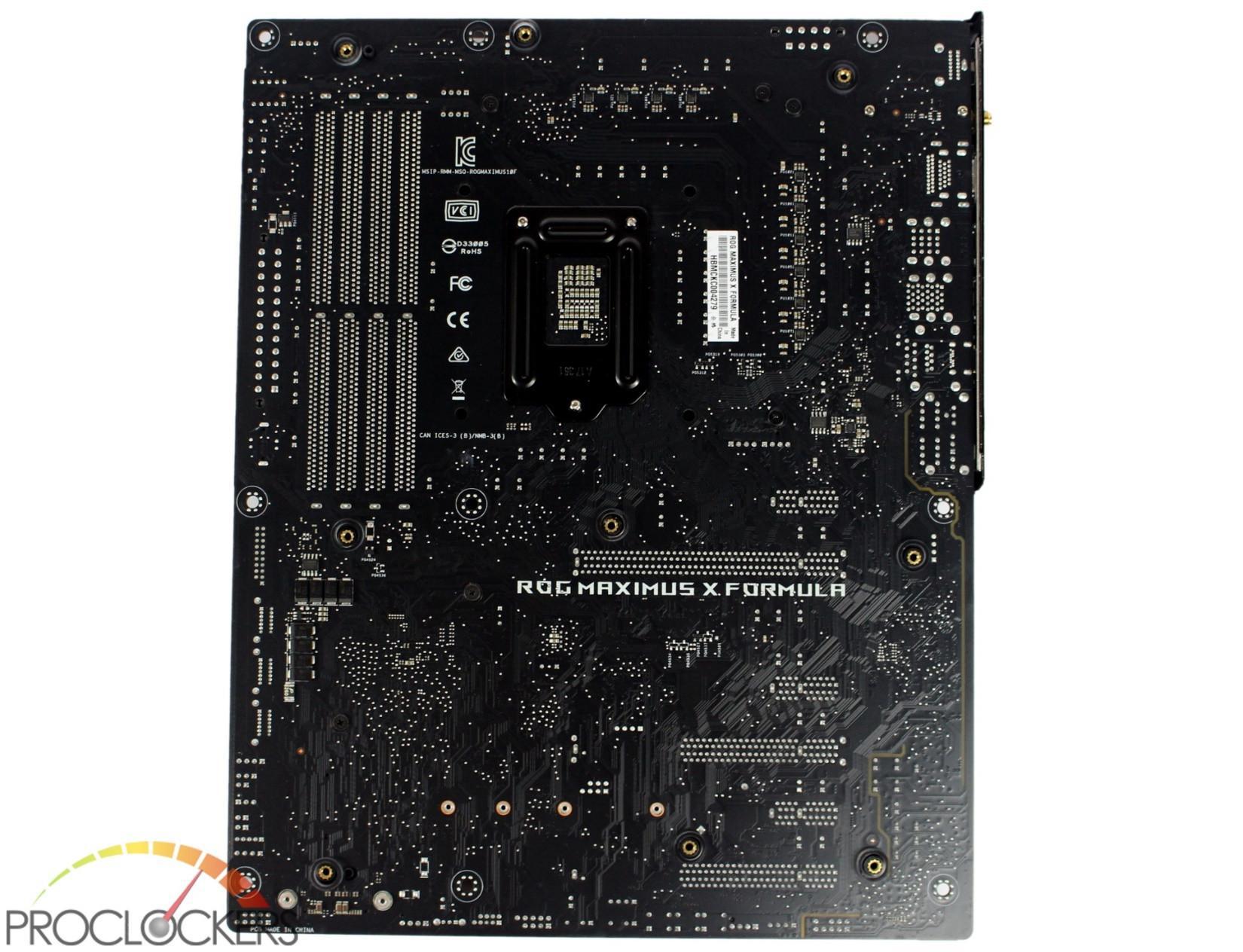 We'll pop the hood now and see what all is hidden under the Formula's protective armor. The rear of the board is pretty clean with only a minimal number of components on this side.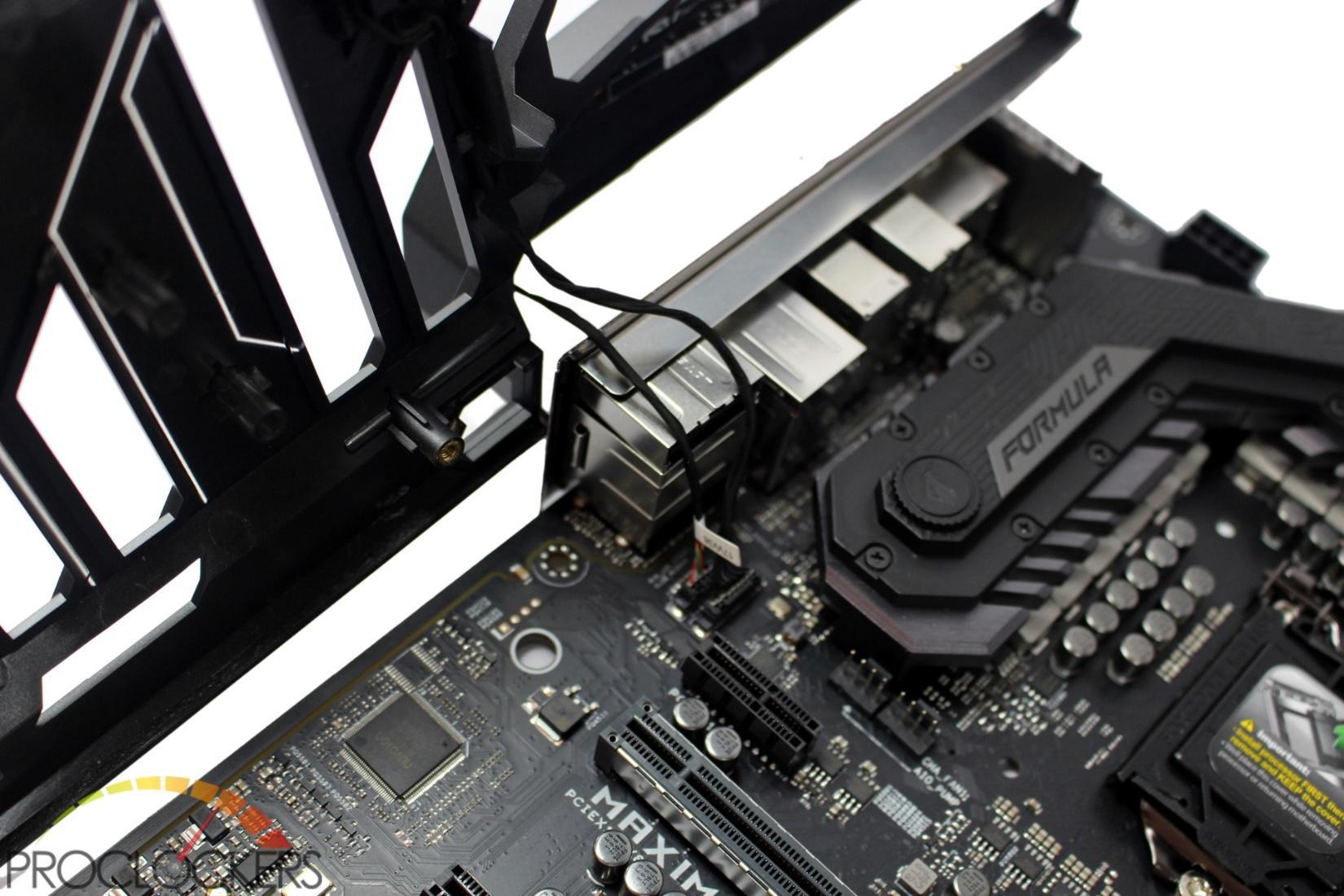 The front cover is tethered slightly by a pair of cables for the LiveDash display and the rear I/O area lighting, both are plugged in and can be easily disconnected if needed.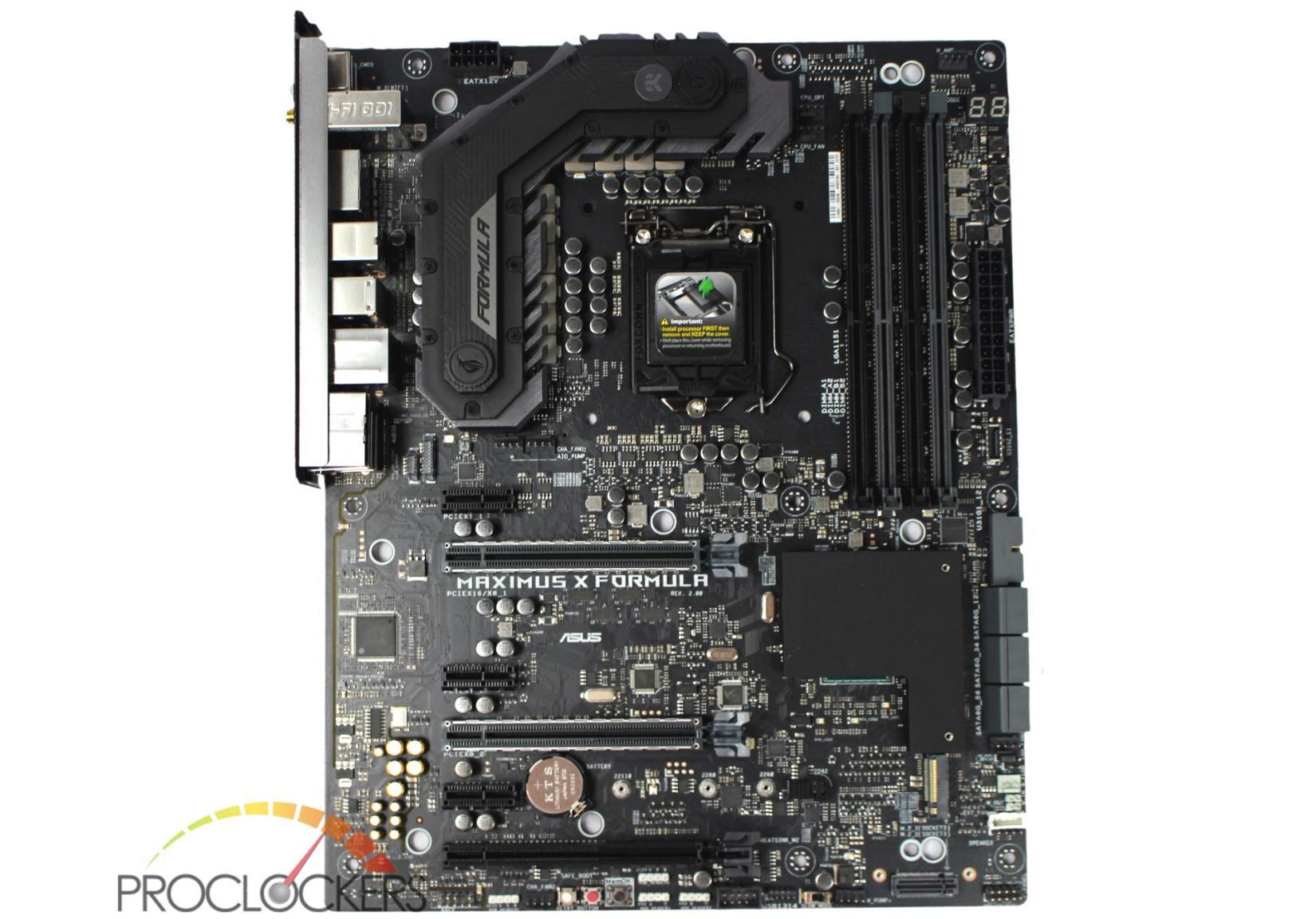 Without the ROG armor, the Maximus X Formula is pretty bland. The matte black PCB is only broken by a few great ports and the VRM water block.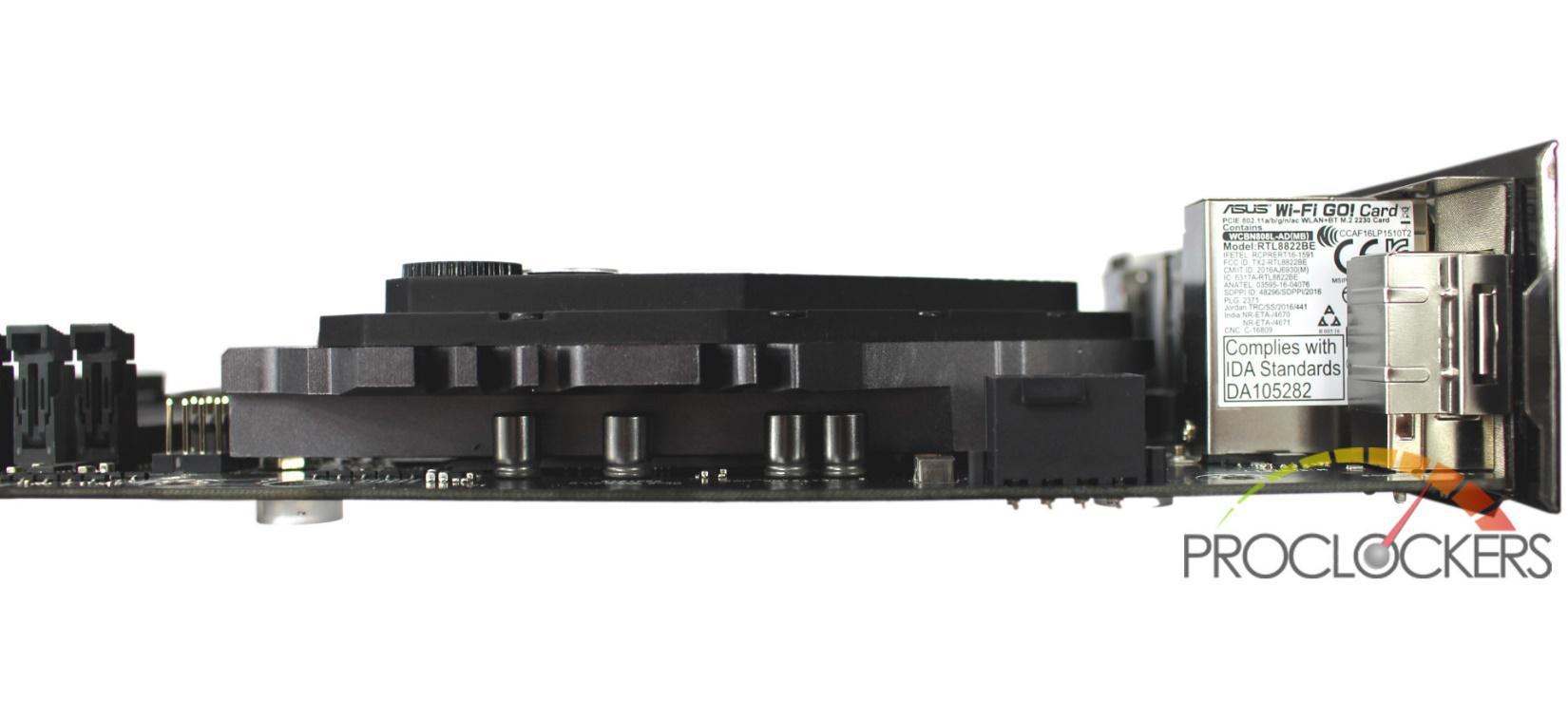 The VRM block is actually pretty small and is comprised of an aluminum base with a copper insert and an acetal lid.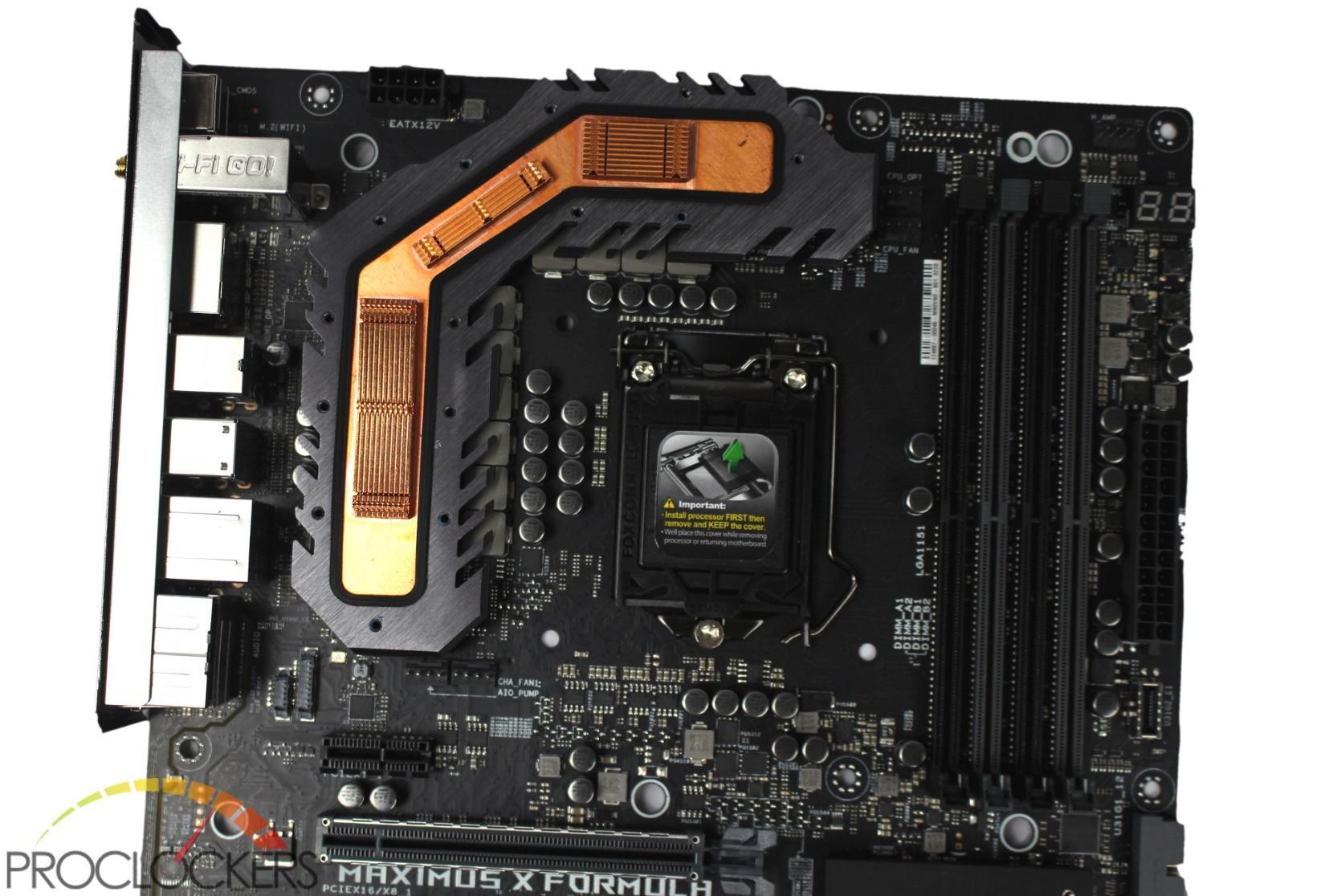 The bright copper cooling channel sits in stark contrast to the dark grey aluminum heatsink.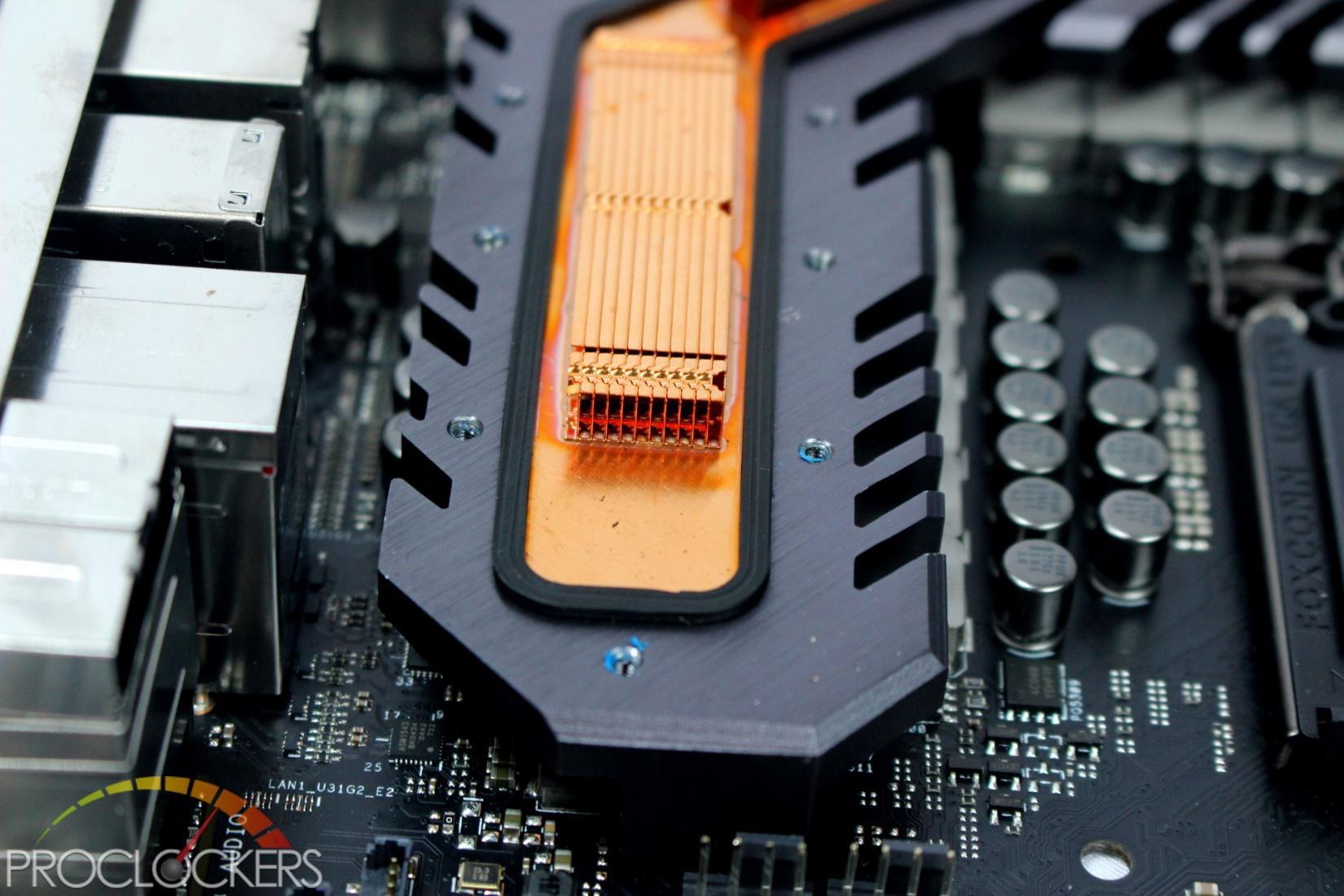 A wide gasket sits along the edge of the copper ensuring no coolant comes in contact with the aluminum base. An aggressive fin pattern in the aluminum gives some surface area for natural air cooling should you decide to stick with a conventional cooling plan.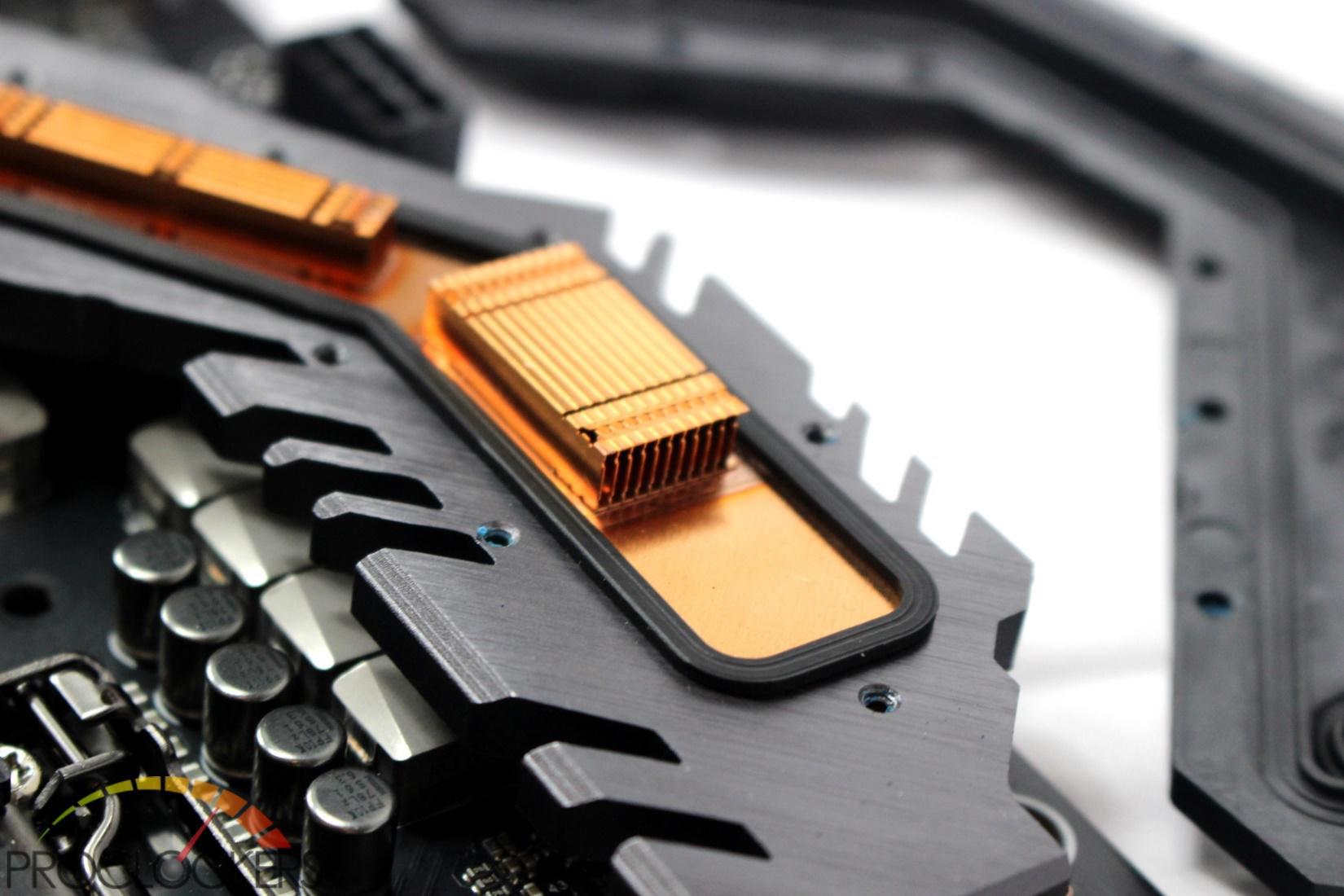 There are 3 raised sections of fins that give the water block a much-increased surface area for good cooling.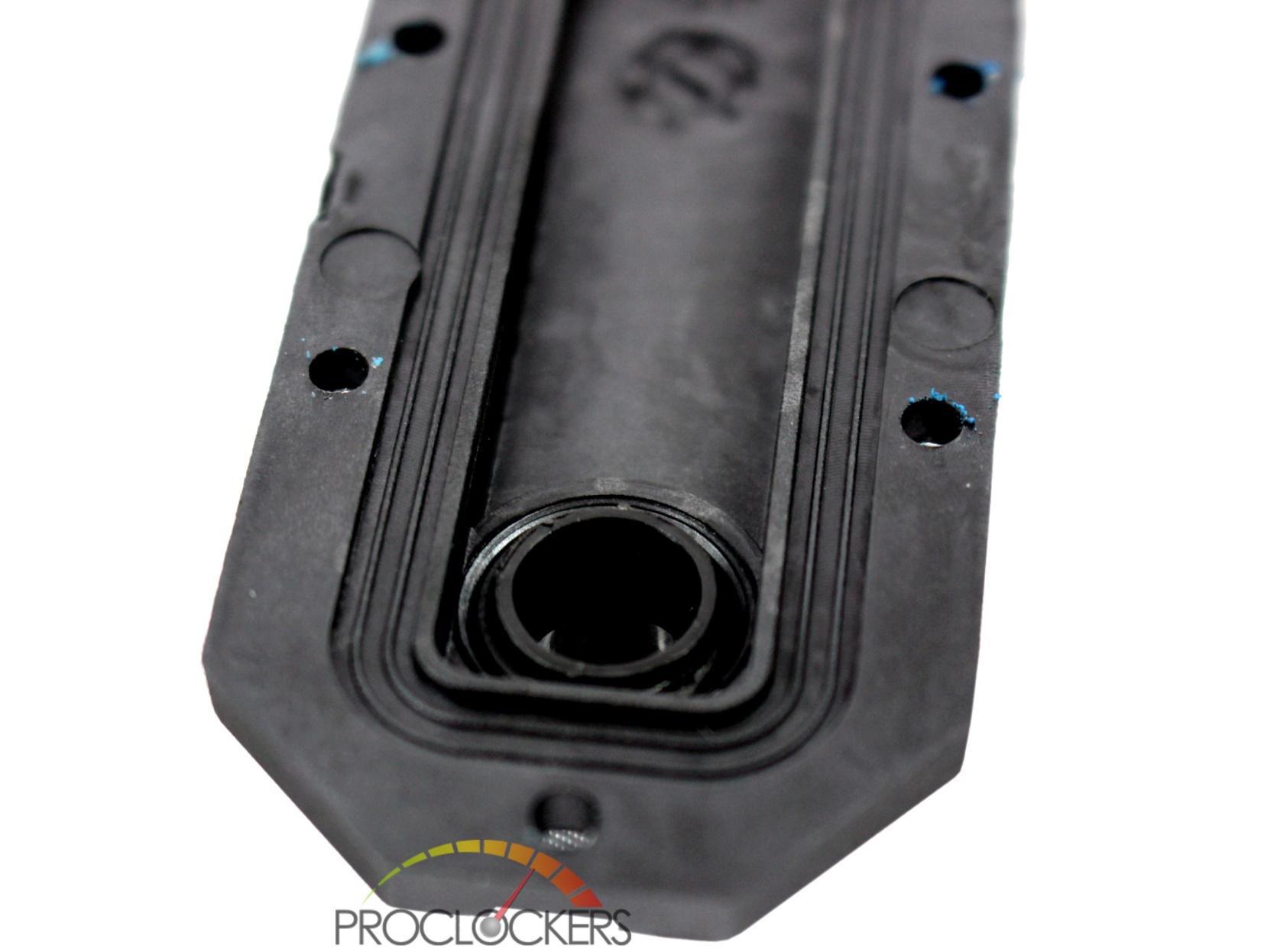 The black top of the block has a few ridges around the inside to bite into the gasket, providing redundant sealing. The screws used to hold it all together were also covered in a thread locking compound ensuring a lifetime a worry-free service.
System Configuration & BIOS
CPU: Intel Core i7-8700k
Motherboard: ASUS ROG Maximus X Formula
RAM: 32GB Corsair Dominator Platinum 3200Mhz
GPU: Galax GTX 1070 HOF
SSD: Samsung 960 PRO 2TB
OS: Windows 10 Professional X64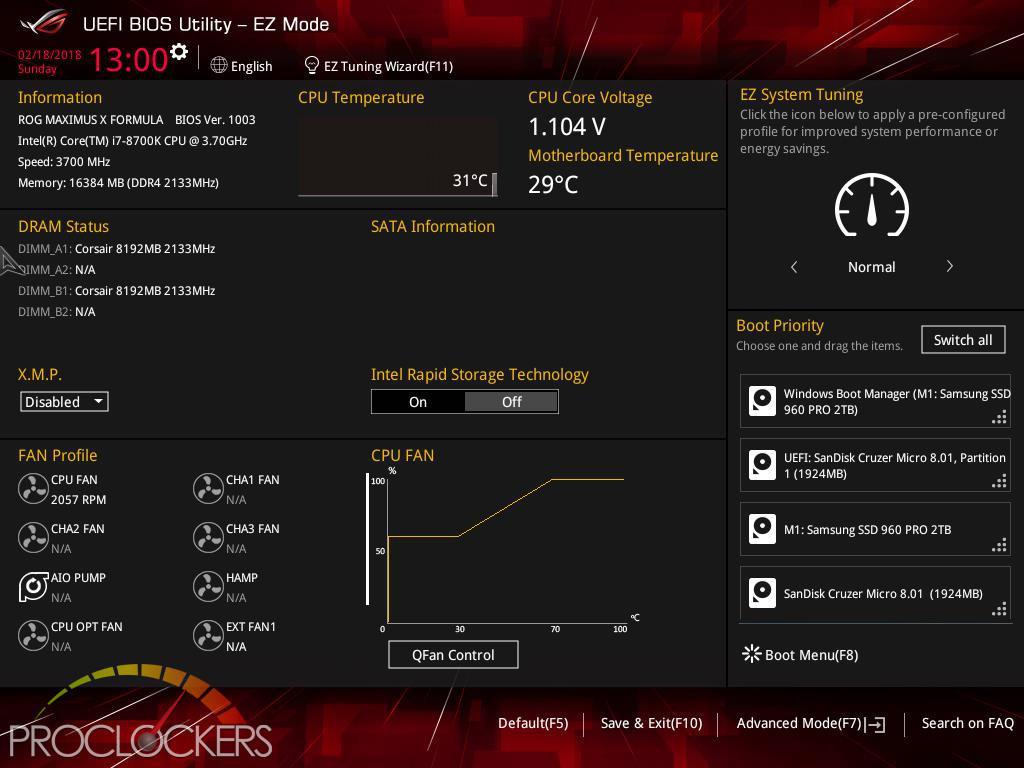 ASUS's EZ Mode gives you everything you need on one page to get going quickly. Important settings such as boot device and XMP memory overclocking are all available here.

Hitting F7 brings you to the Advanced Mode where things really get fun. The Main page just gives a quick rundown of the system and allows you to change the language and date/time settings.

Extreme Tweaker is the section you want to hit if you want to do some overclocking. You'll want to at least set your ram to its XMP overclocked speeds at least.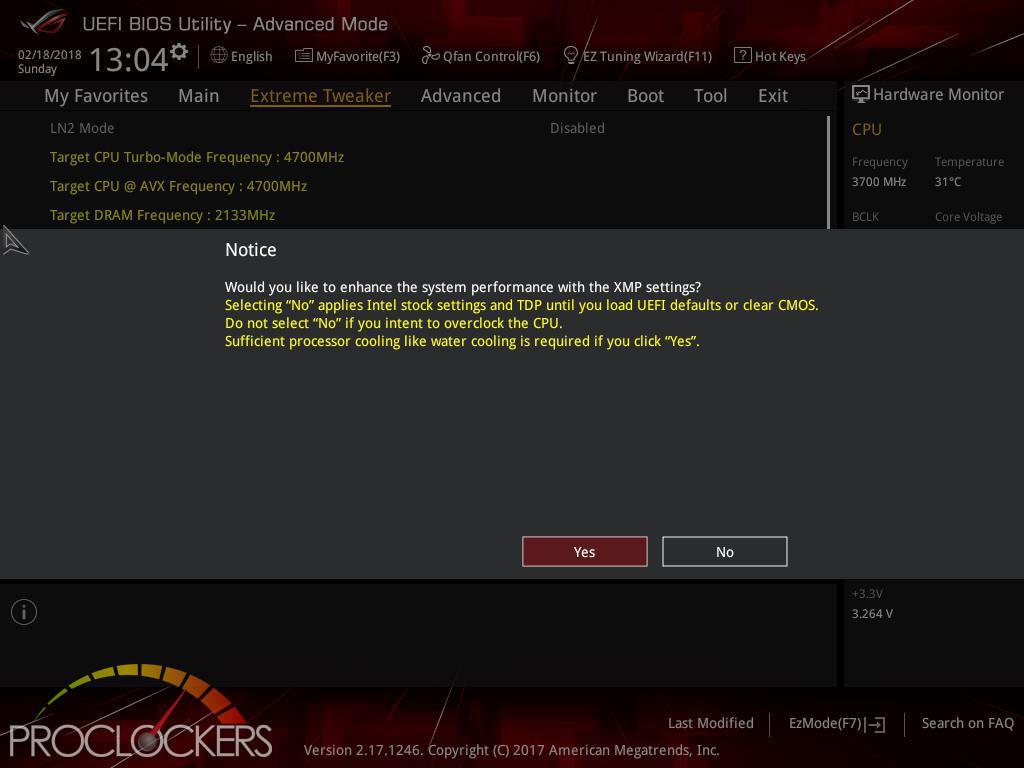 If you do this via the Ai Overclock Tuner you'll get the above notice that ASUS wants to enable their own Turbo Boost settings.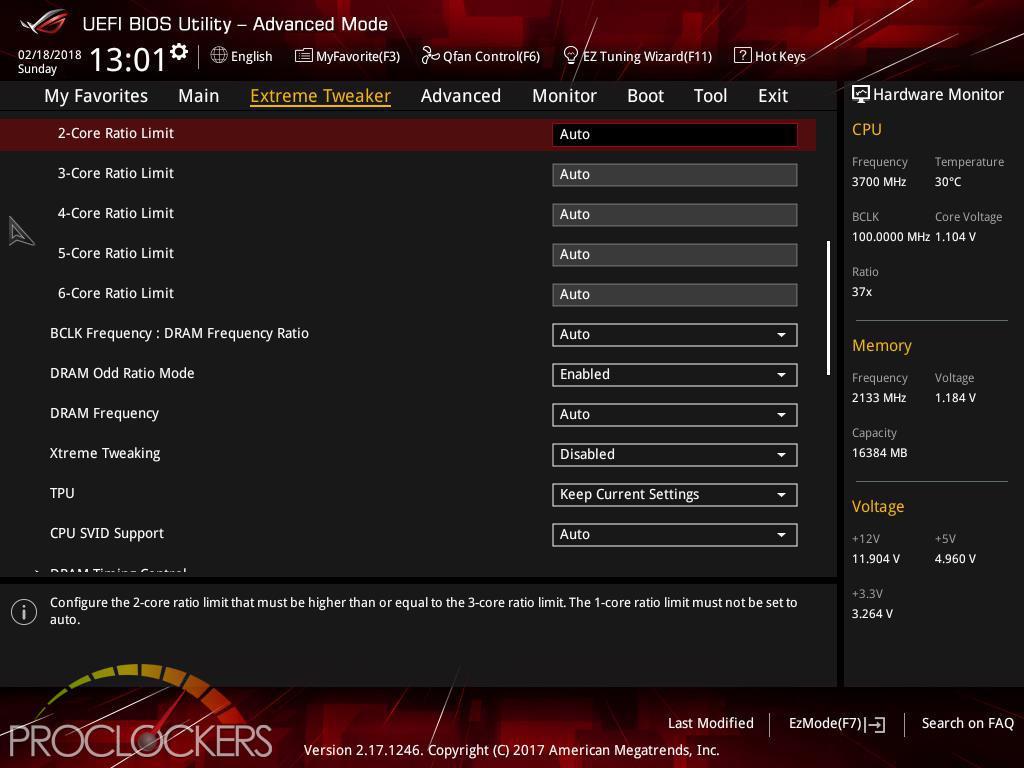 There are tons and tons more settings on further down including several specific sub-menus.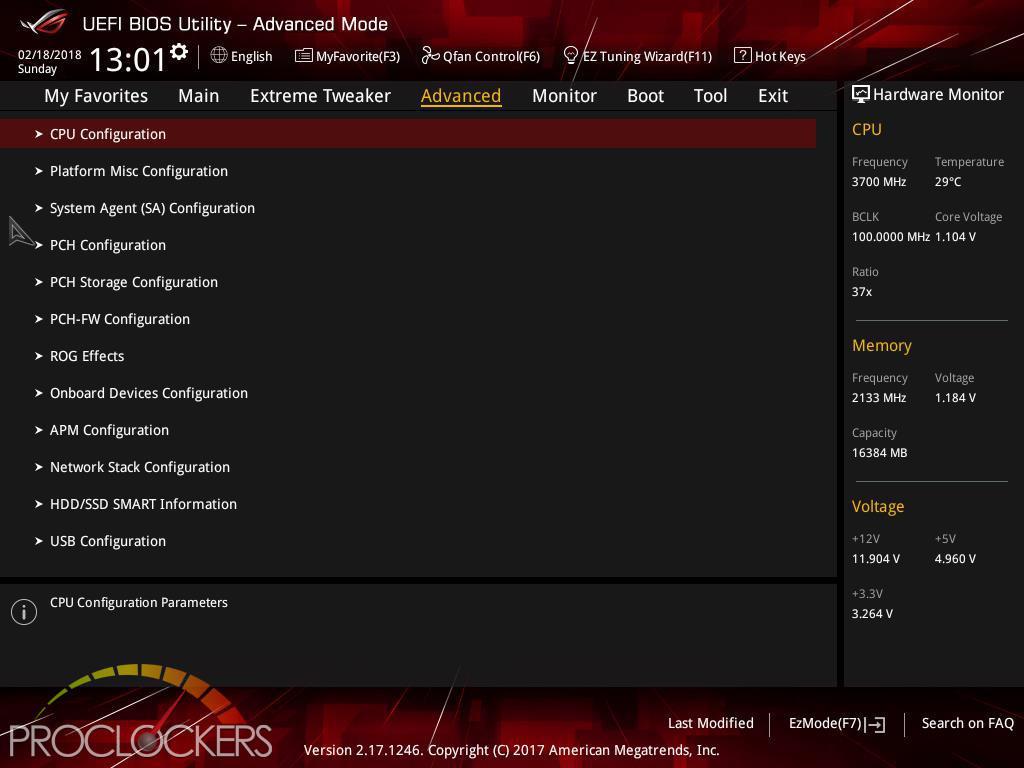 The Advanced tab has another veritable mountain of settings.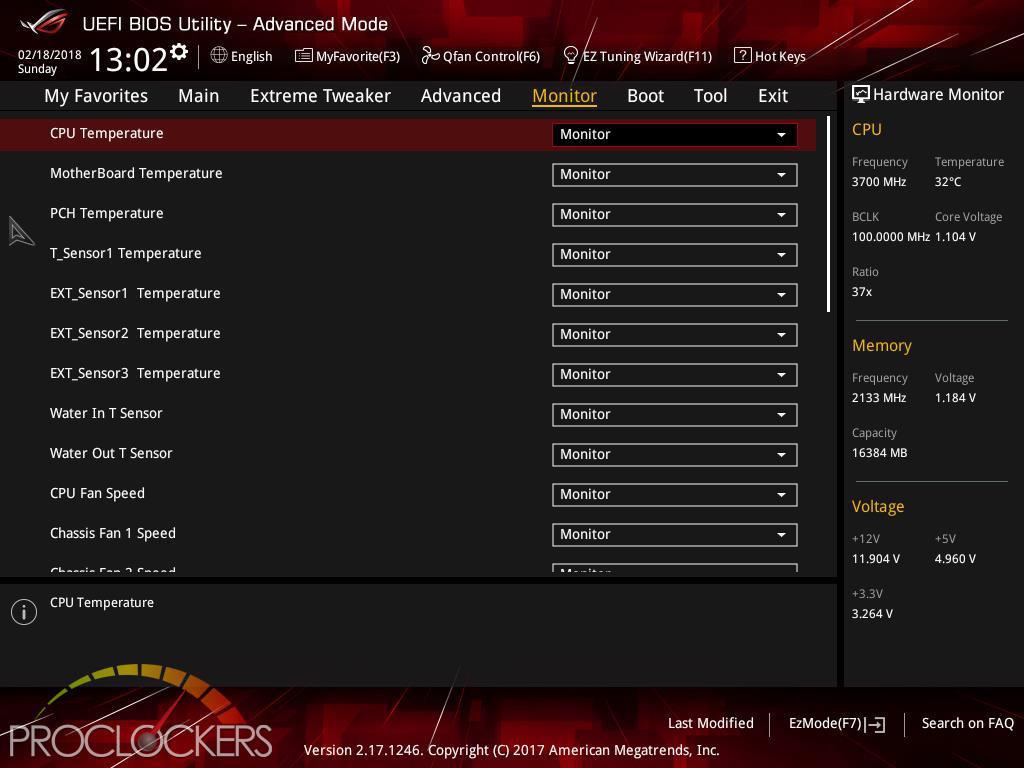 The Monitor tab gives you live readings of all voltage rails, fan and pump speeds, even temperature and flow rates if you have compatible hardware connected. You can also access Q-fan from the bottom of this page as well.

The boot section is pretty cut and dry, you won't spend much time here unless you have multiple bootable drives installed at the same time.

The Tools section is our first stop to access ASUS's EZ Flash 3 utility to load the very latest BIOS.


The area has several other useful tools such as the SPD Information page shown above.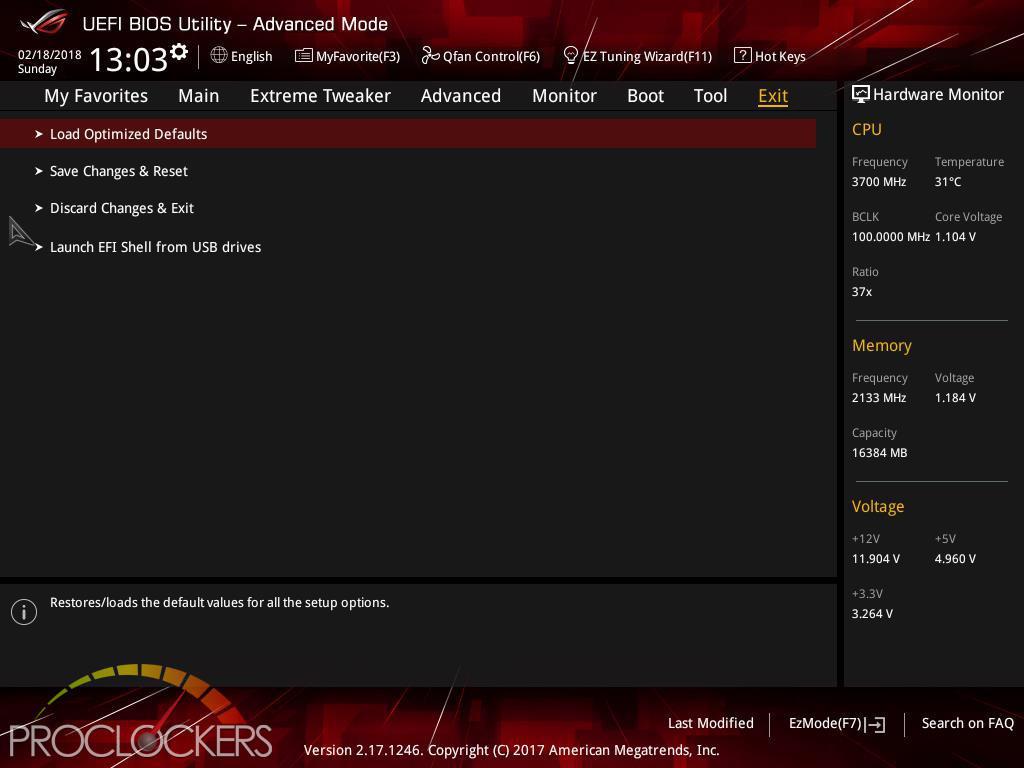 The Exit menu actually has a few things besides just exiting the BIOS. You can load defaults, and even directly boot to an EFI bootable USB device such as your favorite Windows 10 installation media.

Q-fan can be accessed from the monitor tab, or directly at any time by pressing F6.


Running the 'Optimize All' will run through each fan and determine its best settings by tuning to that specific fan. It takes a minute but works quite well.
Software
LiveDash
A built-in OLED dashboard that displays custom information such as system temperatures, CPU frequency, fan speed and error messages — so everything you need to know is available at a glance.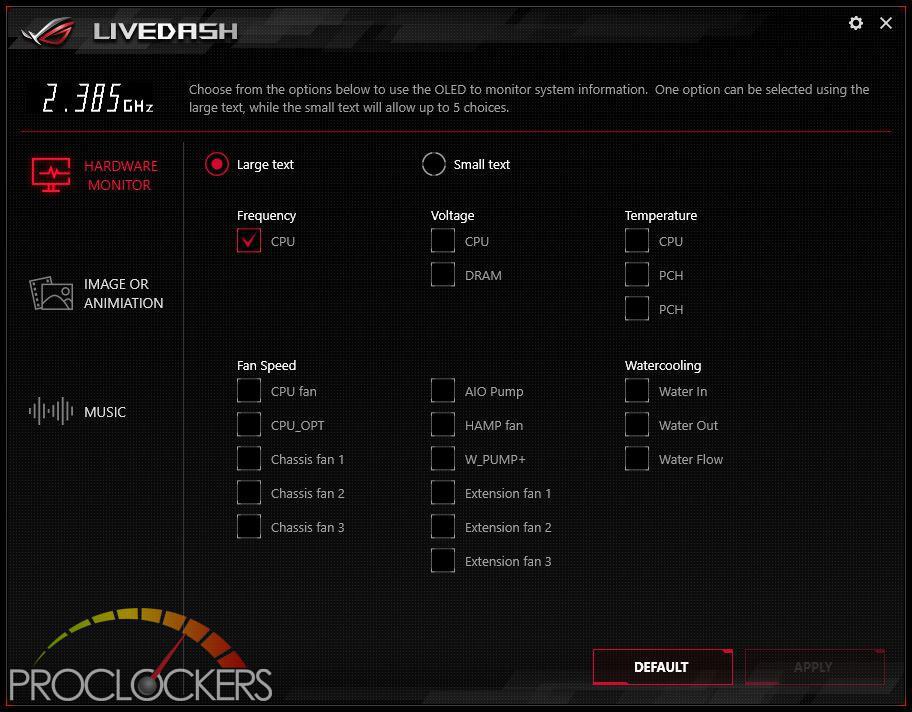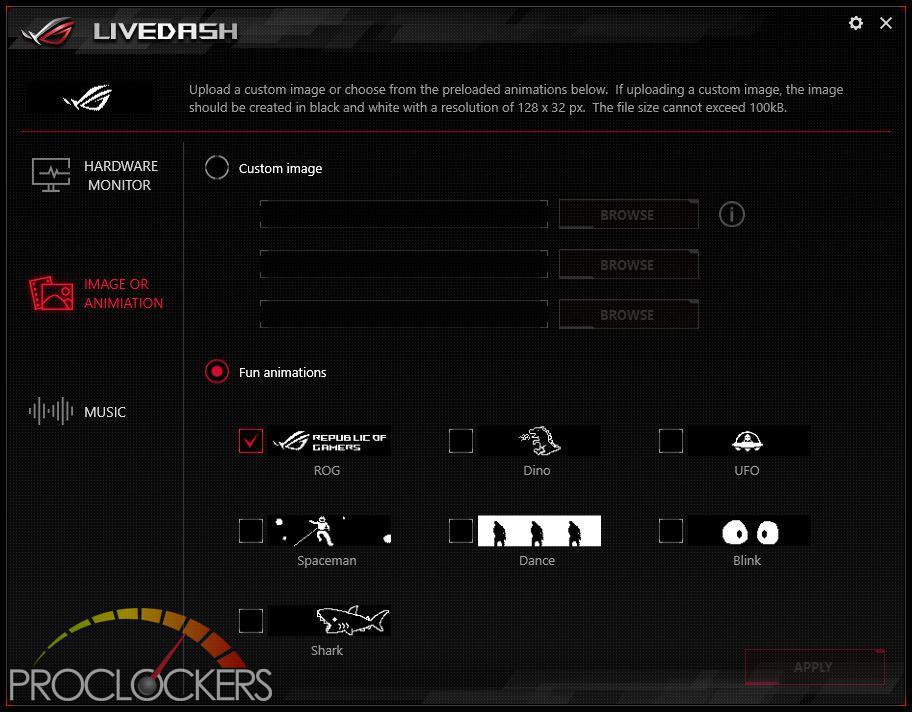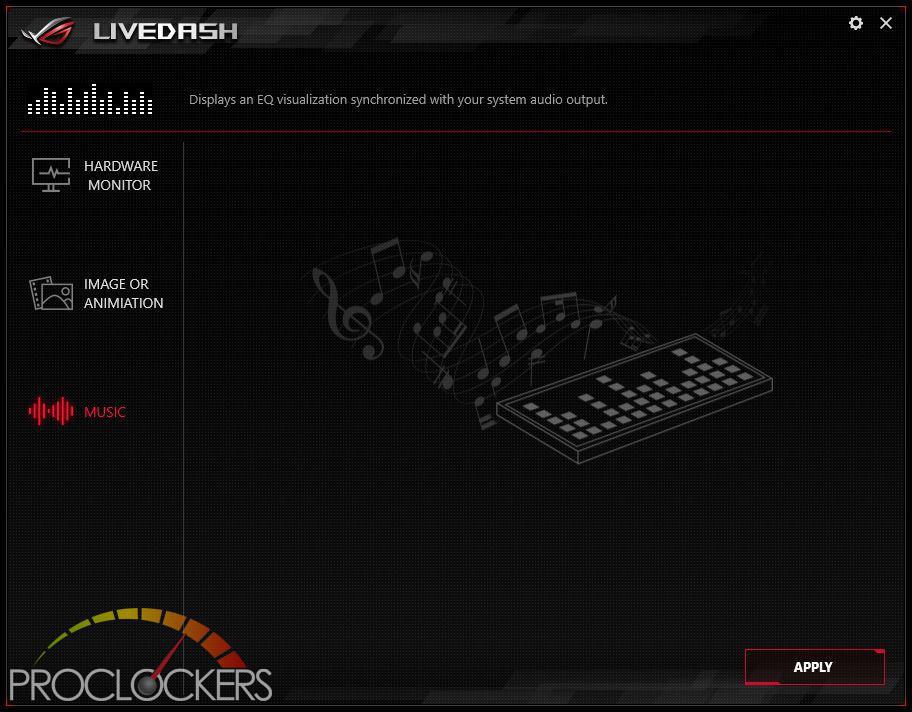 KeyBot II
KeyBot II is a built-in microprocessor that provides an instant upgrade to your keyboard. You can configure and assign macros to specific keys on your keyboard to perform specific or several tasks at the same time. You can also configure your PC to wake up in CPU overclocking, XMP, or directly to BIOS mode.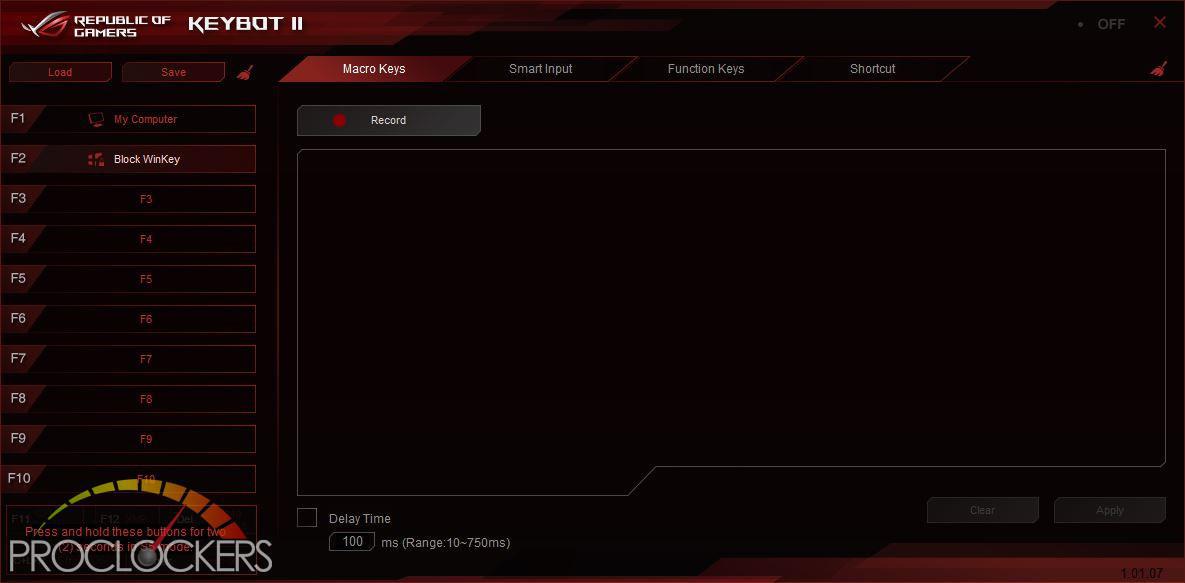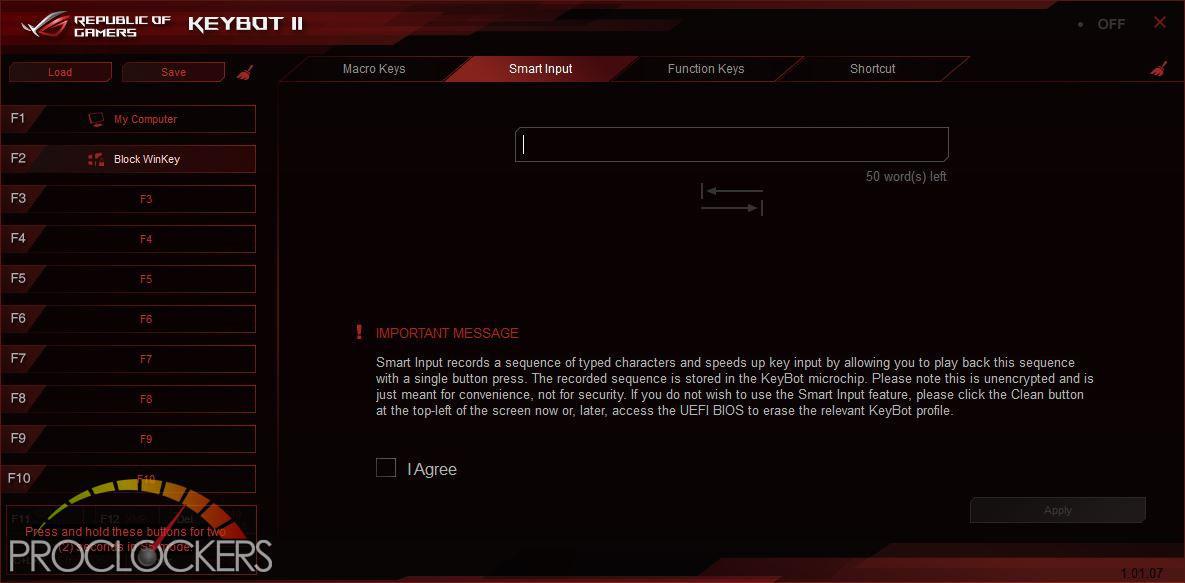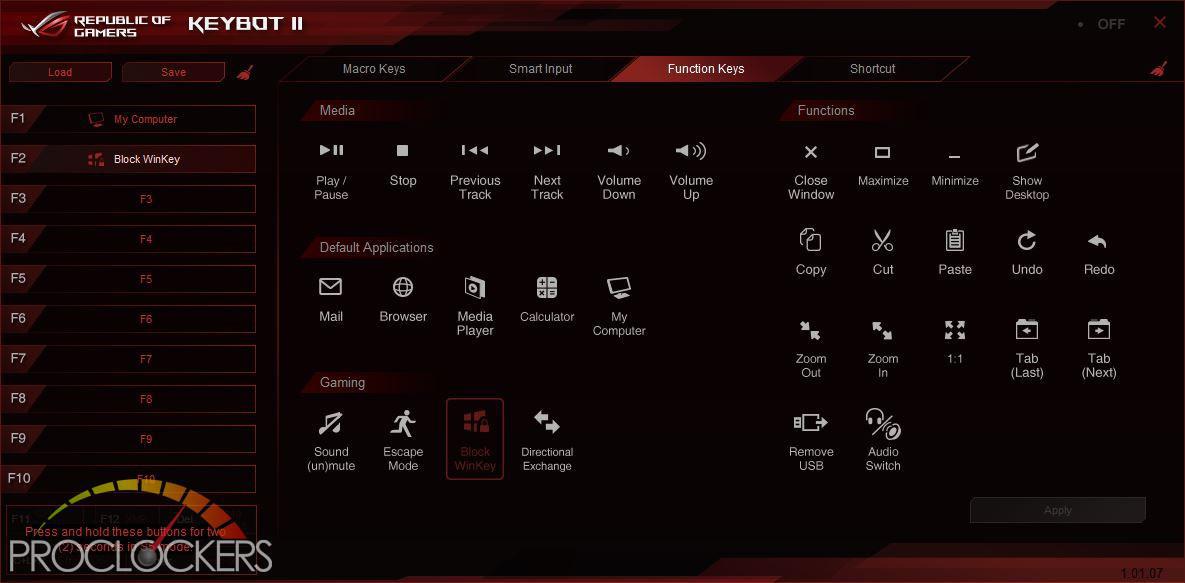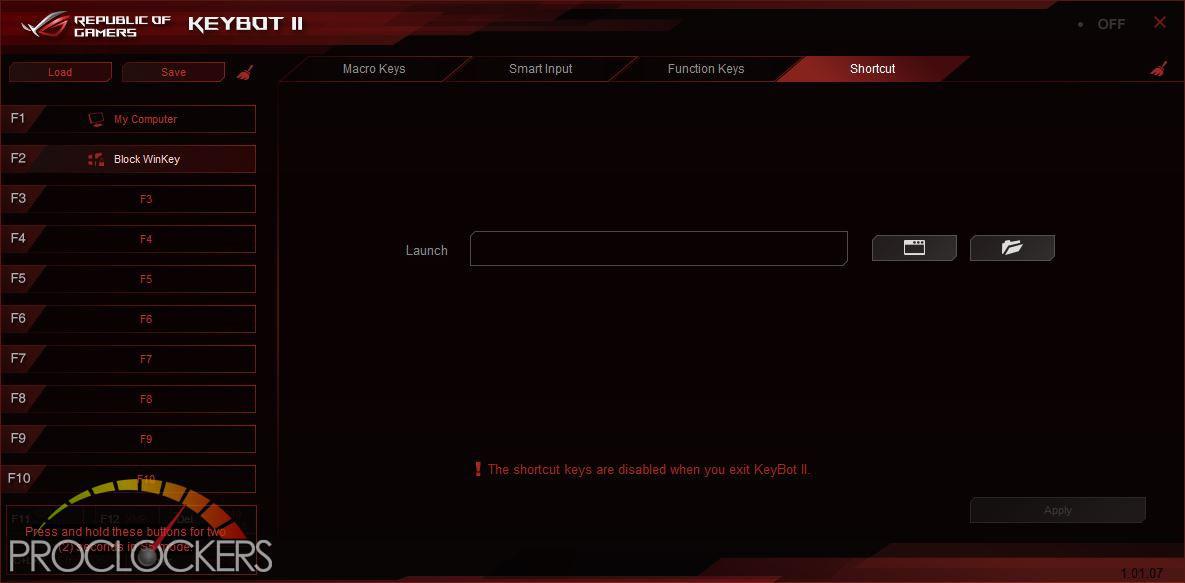 ASUS AURA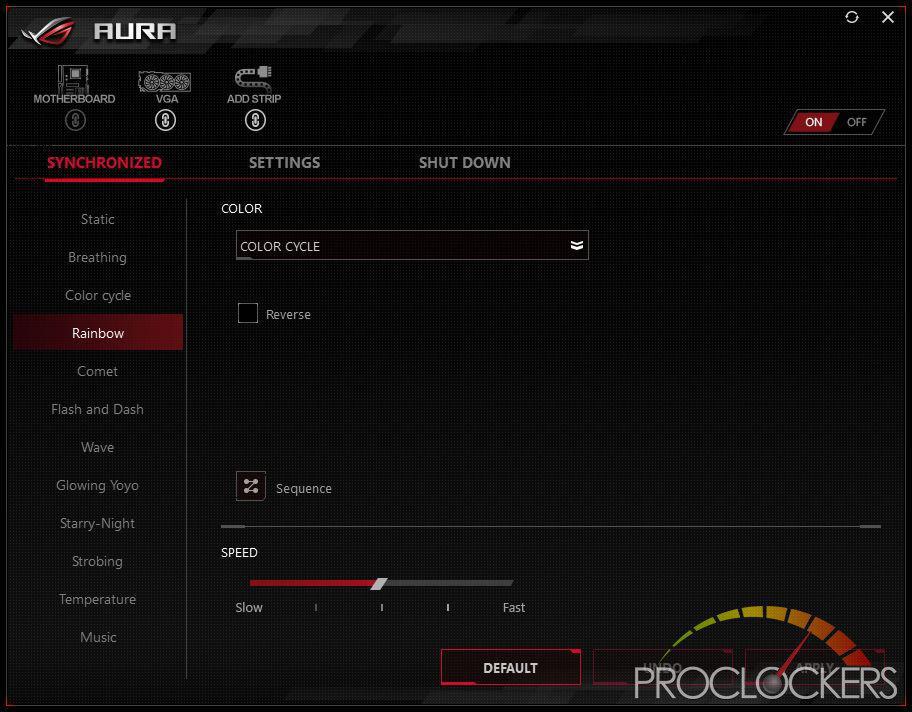 The Rear I/O Area lighting, as well as all analog RGB and Digital RGB headers, are controlled by ASUS's AURA software on the Extreme. There are quite a few effects to choose from, both static and dynamic, but our favorite was the Flash and Dance, as well as the Temperature mode.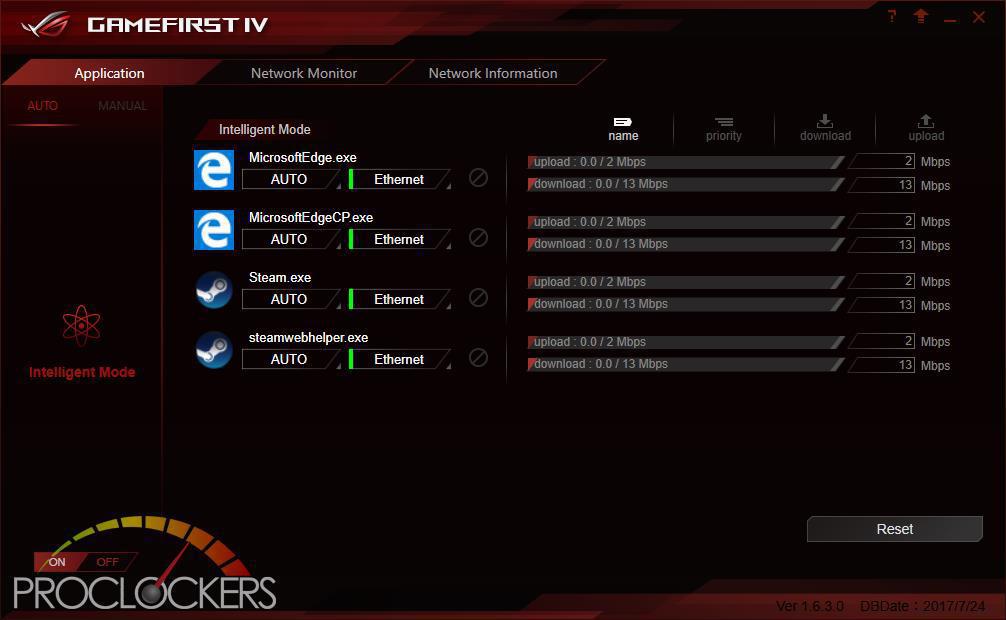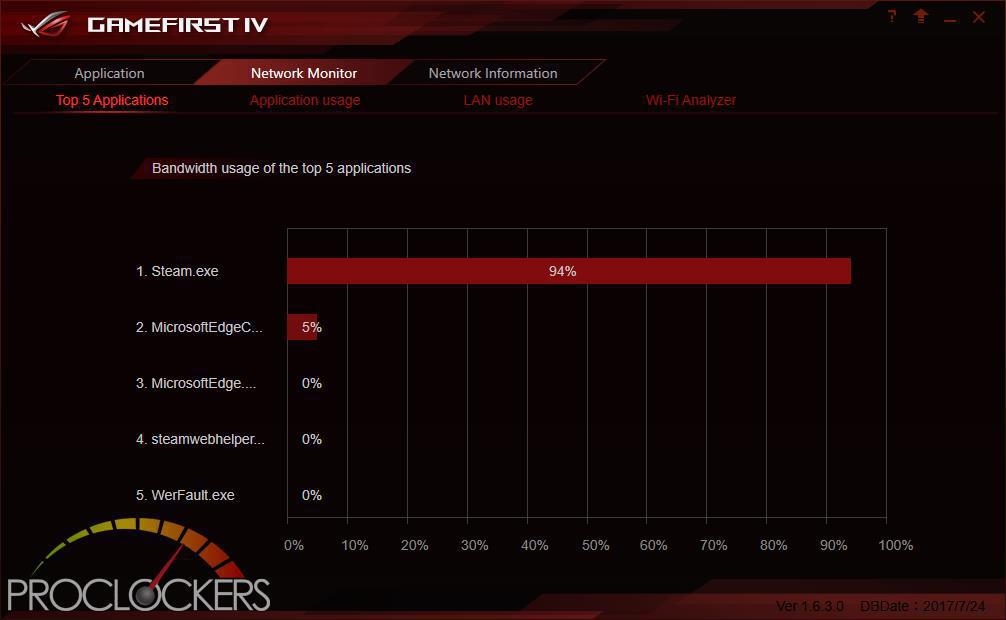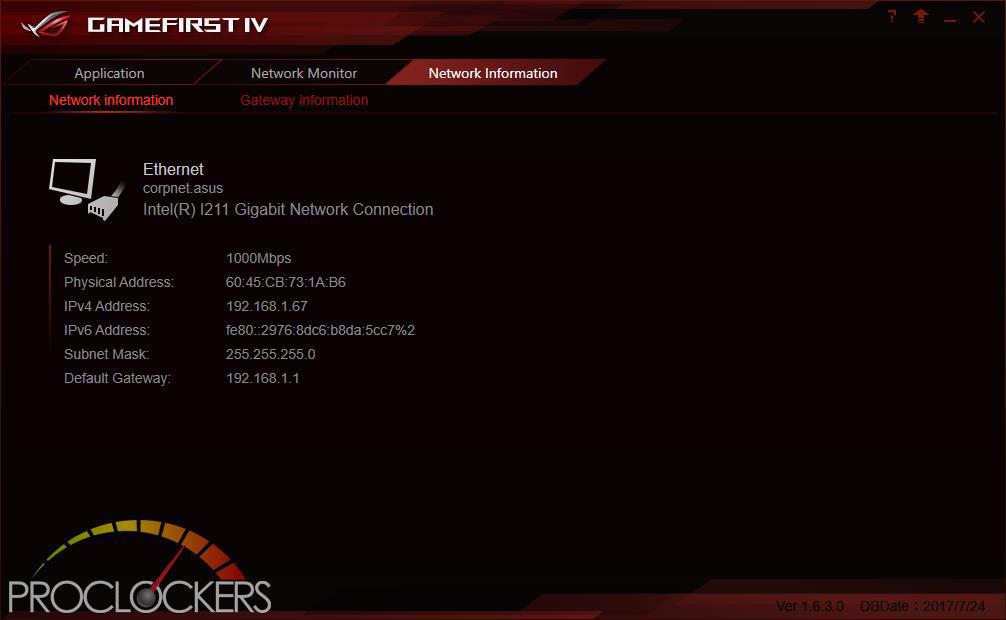 The GameFirst IV Application allows you to Monitor and control all traffic over the Intel Gigabit Lan connection, as well as see statistics and vital information. By Default, the application runs in intelligent mode and will prioritize Traffic based on its purpose, but you can switch to Manual mode and take over full control. You can see here while browsing the web and installing games on Steam for benchmarking where most of the bandwidth is being used.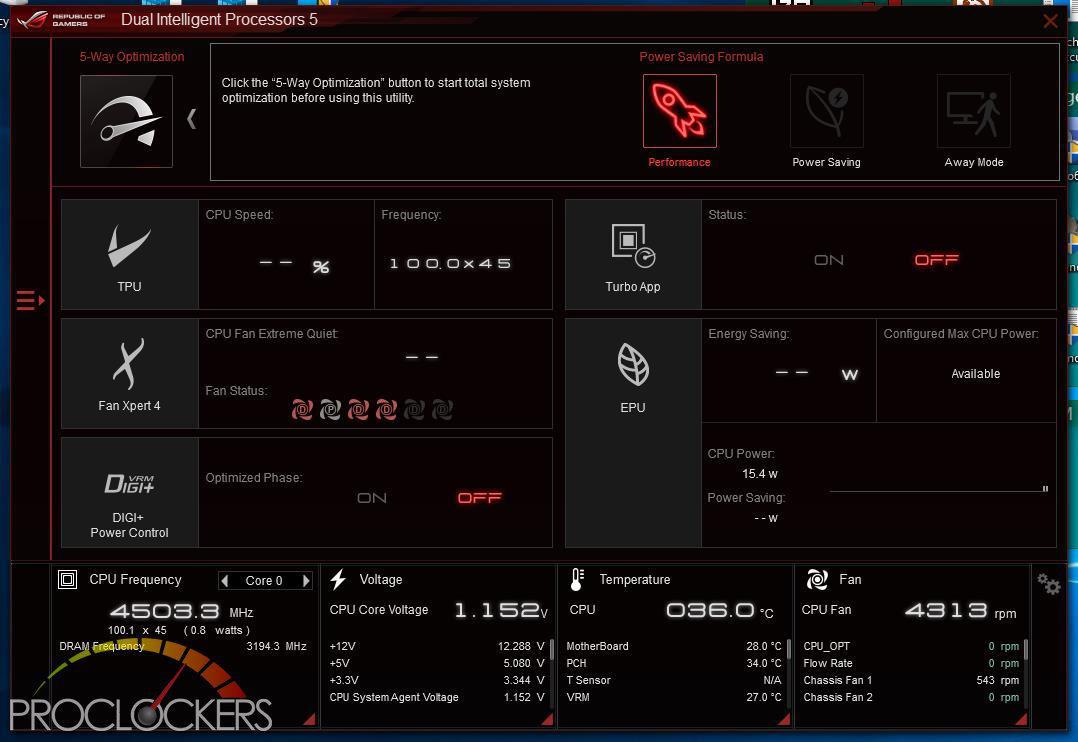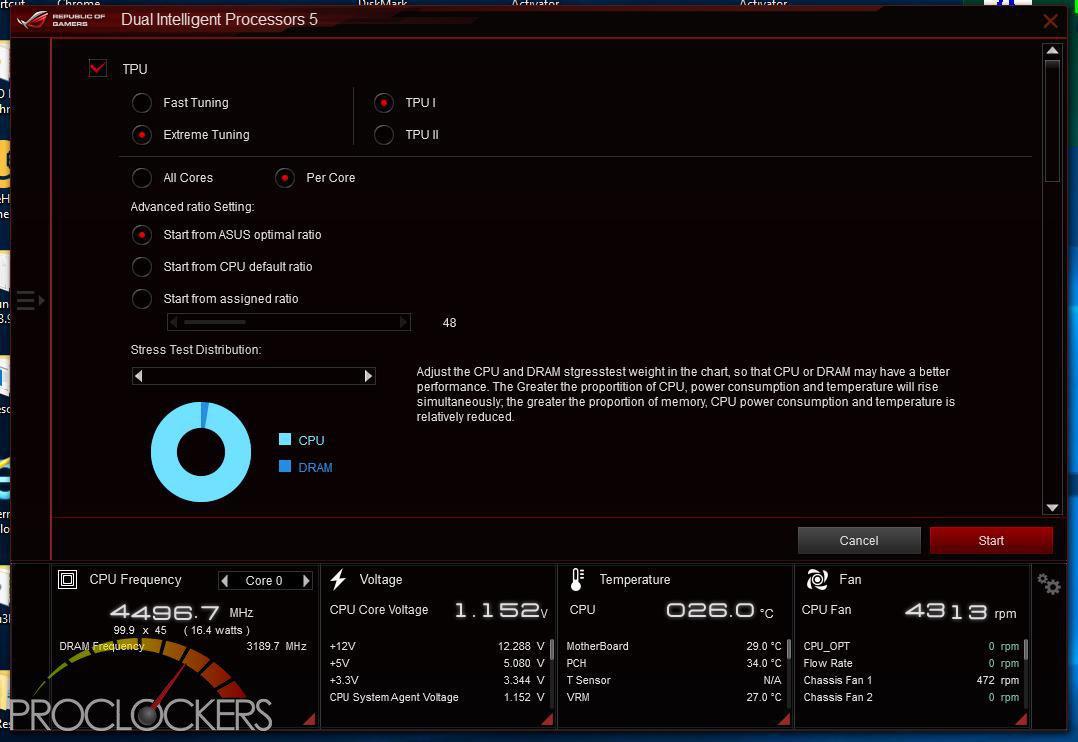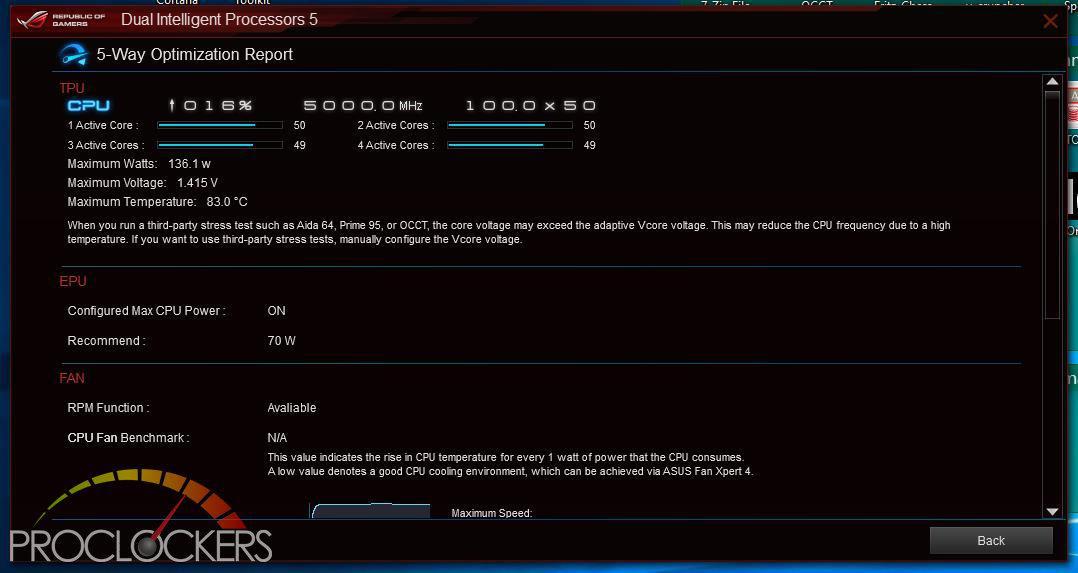 ASUS's Dual Intelligent Processors 5 application is a powerhouse and one you don't want to miss. Anything related to optimizing performance can be found here, from switching profiles to Auto overclocking to manual overclocking and change voltages and fan settings are here. You can even clean out temp and other unneeded files in a few clicks all from one application.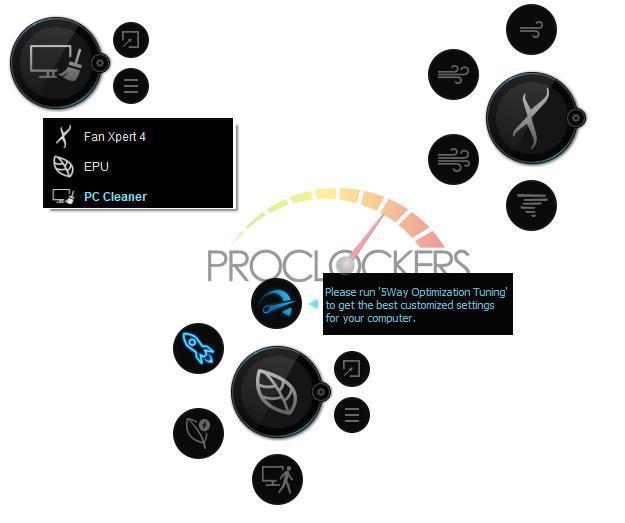 This application also runs similar to a desktop widget, gives you quick access to cooling, performance profiles and PC Cleaner without opening the full application.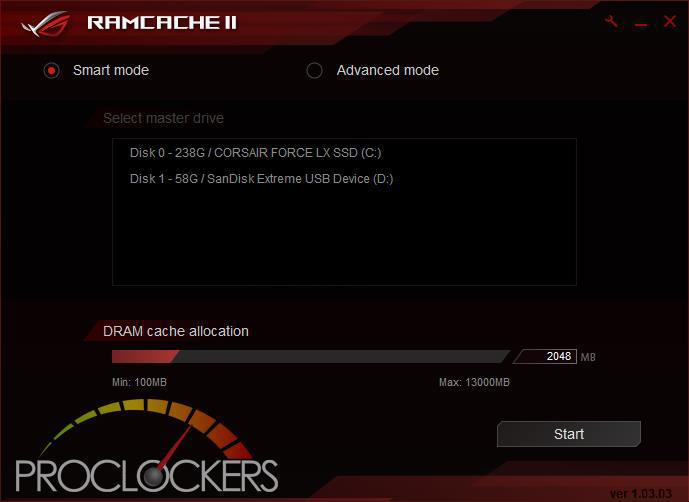 ASUS's RAMCACHE II carves off a user selectable portion of system memory to speed up Disk transfers. Even if you have the fastest NVMe drive out there, using your ram as a cache can speed it up significantly.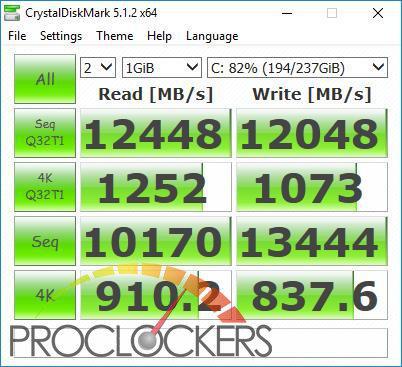 As you can see, this makes a standard SATA SSD into a Monster! More than 12GB/s from a drive rated for 500MB/s is pretty snappy, and at the cost of a few unused GB's of ram.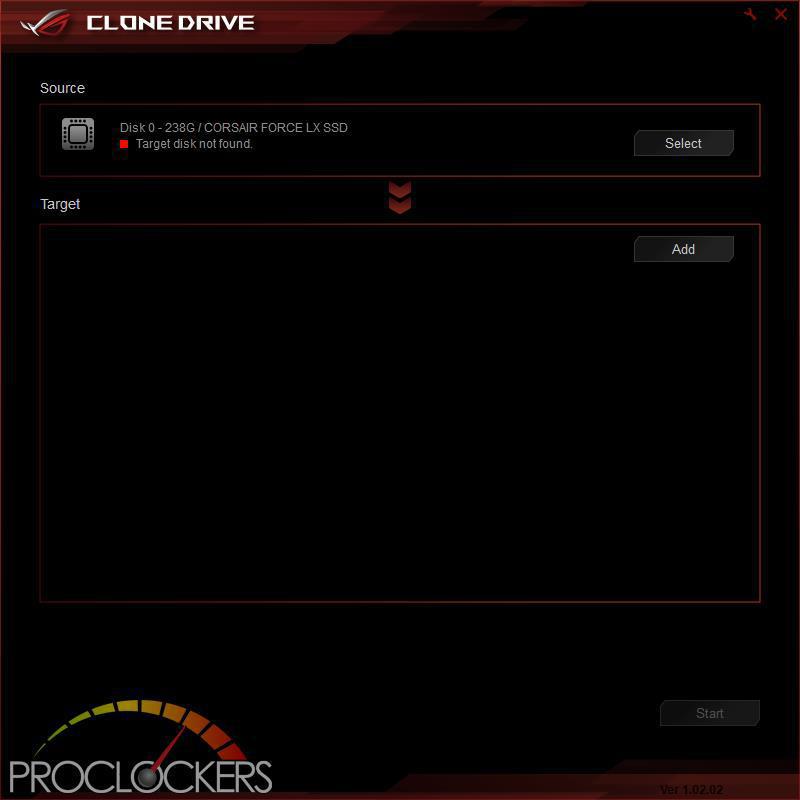 Clone Drive does exactly what the name implies. If you need to migrate to a new larger or faster SSD down the road, simply cone it over and away you go. It does work for data drives as well, not just your OS drive.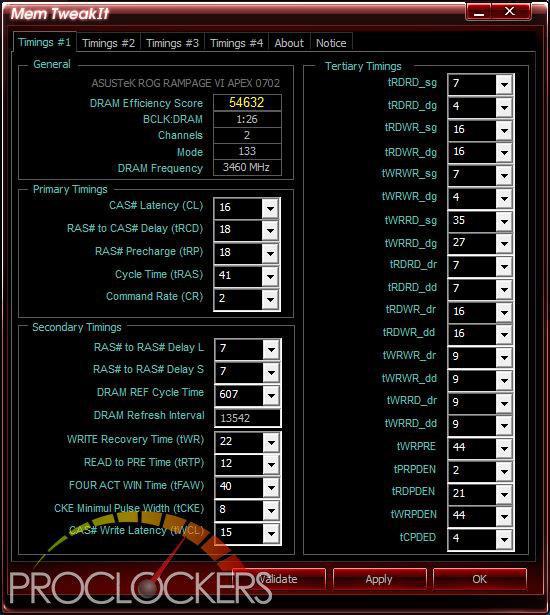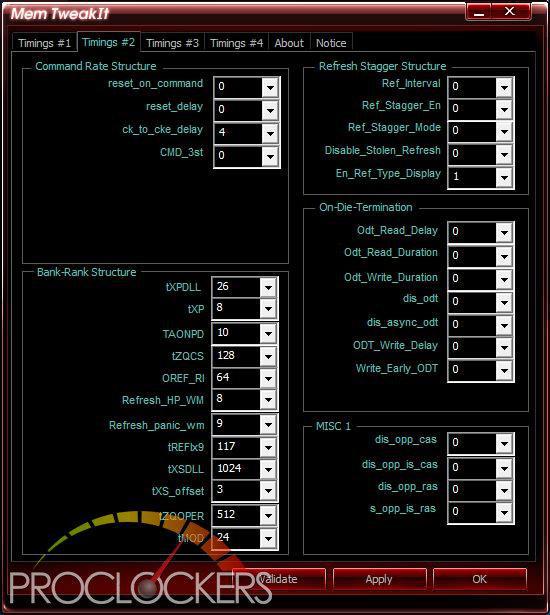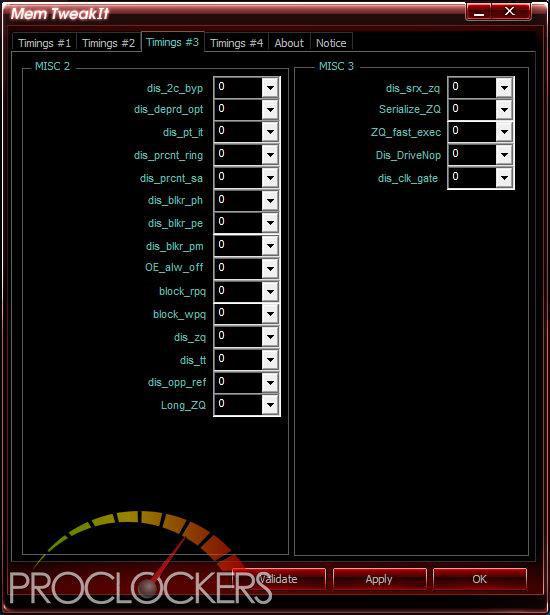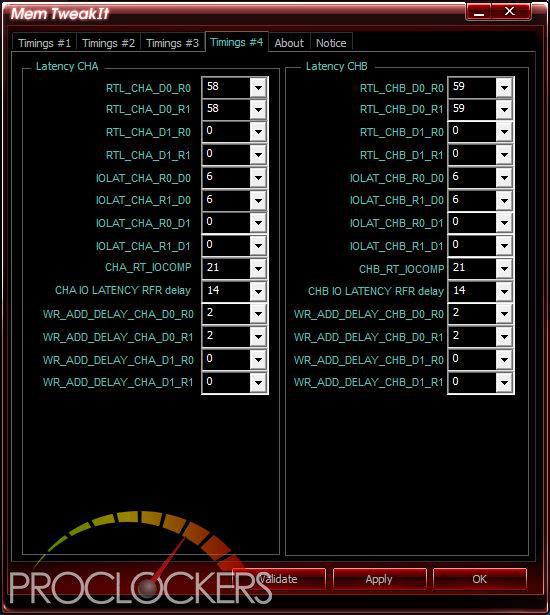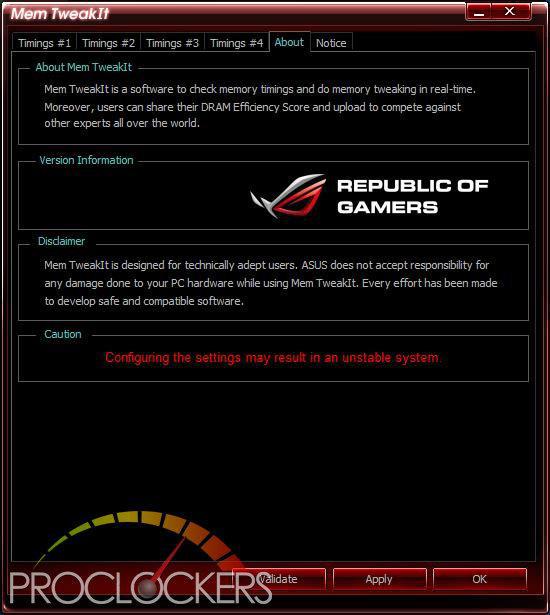 One Thing in the overclocking world that is a pain is overclocking your memory. For the most part, any change requires a reboot to BIOS. With ASUS's MEM TweakIT, that isn't the case. Almost everything can be adjusted live right from your desktop.
Overwolf
Overwolf is a clever, unobtrusive overlay that keeps you in the game and allows you to browse the Web, email, IM, stream or record while you play. The overlay features color-matched ROG skins that show you're part of an elite pack. Grab it now from the Overwolf Appstore!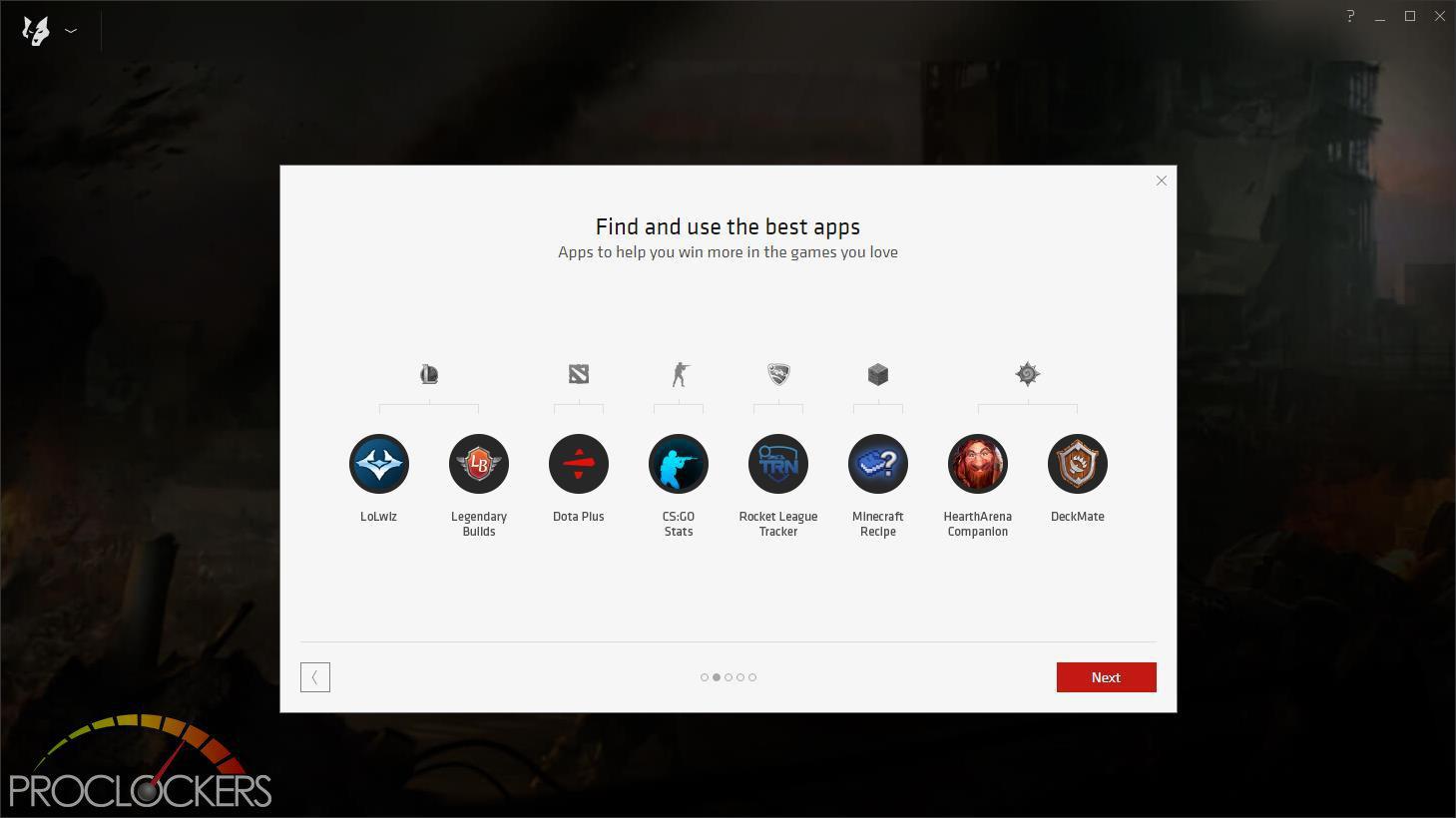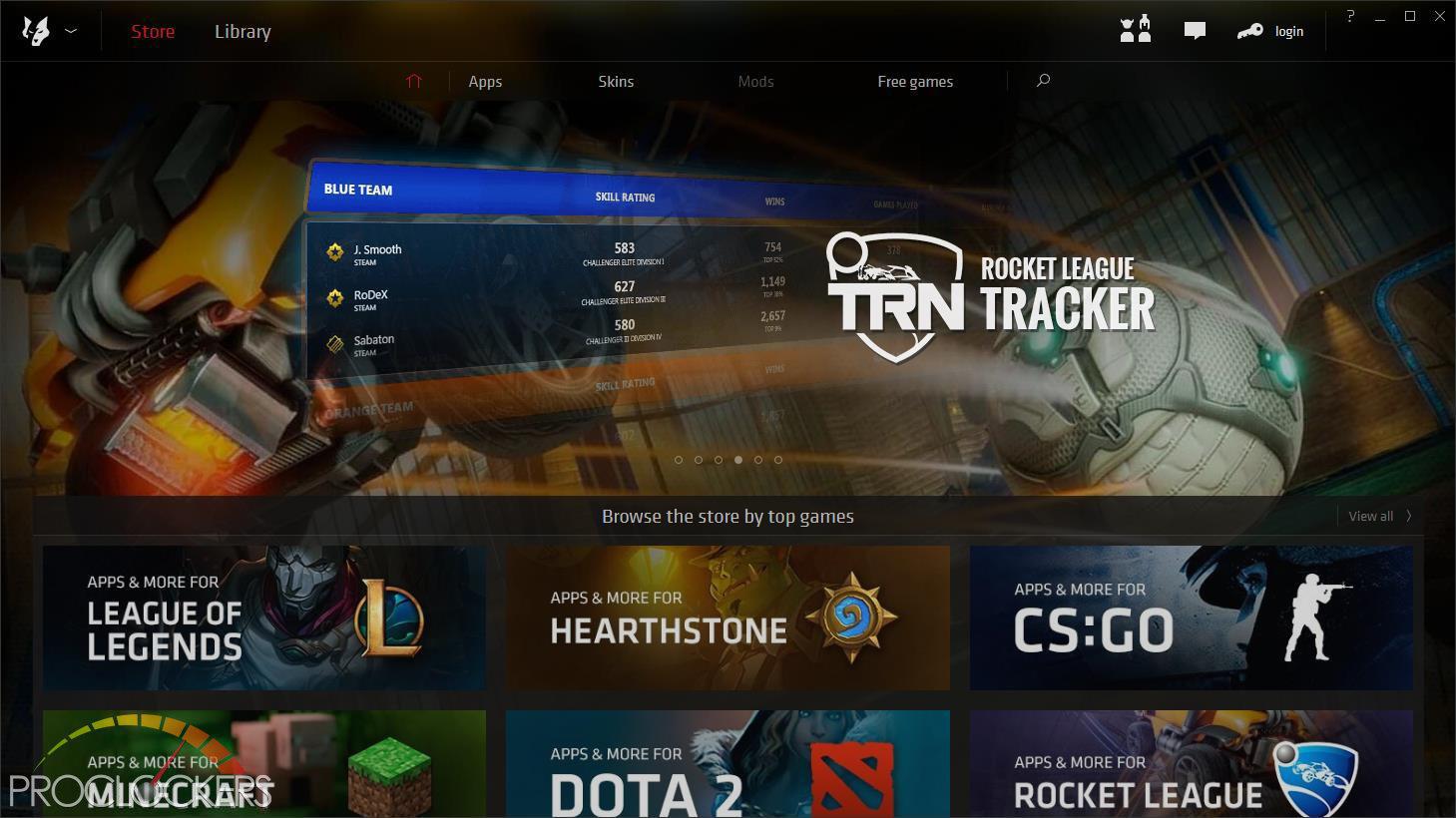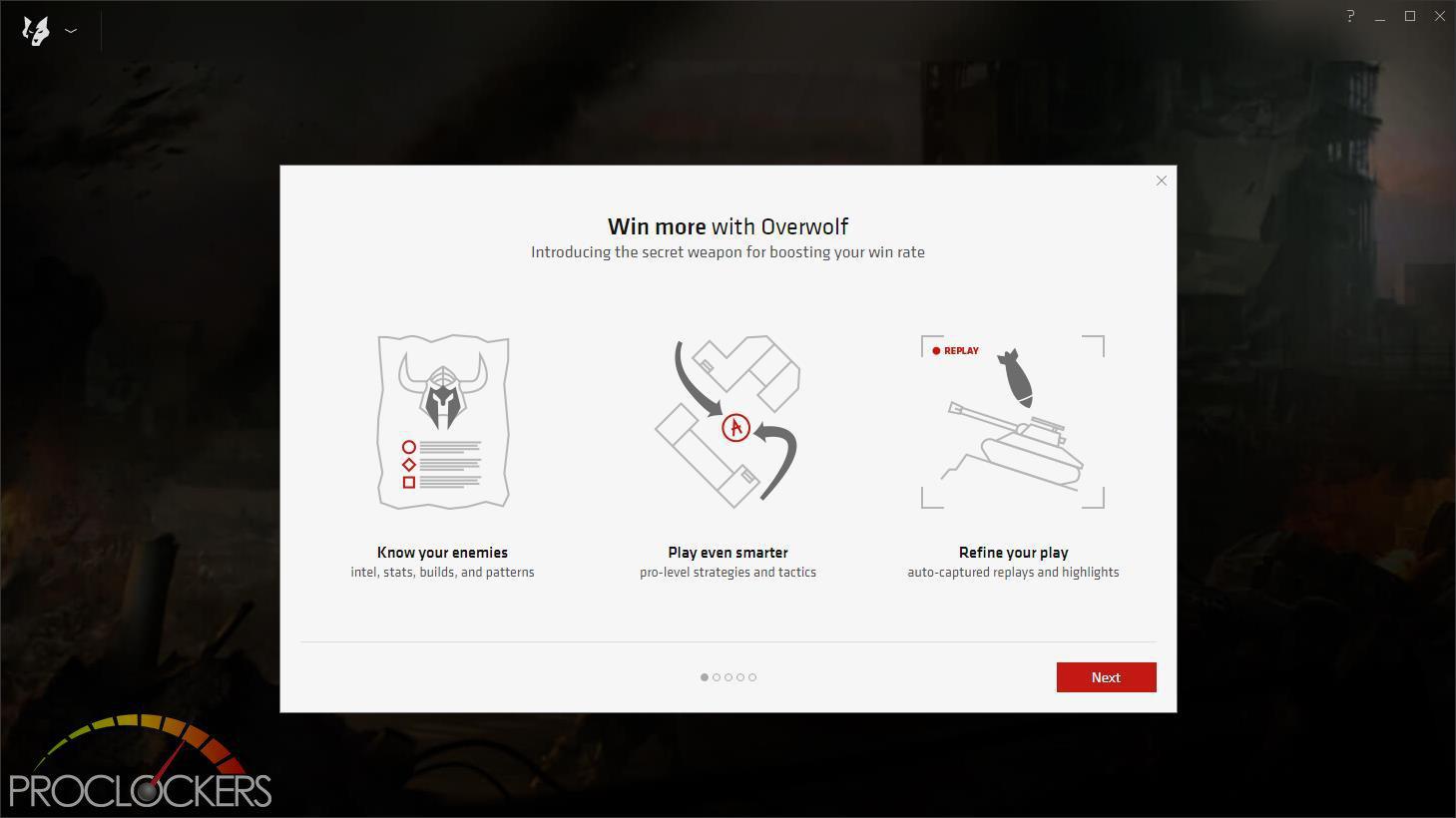 Overwolf provides access to lots of tools for many popular games, as well as some handy utilities for streaming and online play.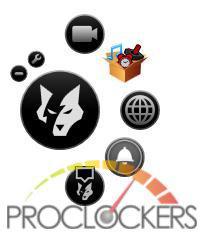 Overwolf also comes with a small desktop widget similar to Dual Intelligent Processors 5.
Performance & Testing
General Performance Testing
All performance testing was done with an i7-8700K and GTX 1070 at default clock speed. CPU was left with Speed Step and Turbo Boost enabled. The only setting changed was enabling XMP memory settings in the BIOS. Games were run at a resolution of 1920 x 1080 and higher settings enabled as noted.
PCMark 8
"Use the PCMark 8 Storage benchmark to test the performance of SSDs, HDDs and hybrid drives with traces recorded from Adobe Creative Suite, Microsoft Office and a selection of popular games. You can test the system drive or any other recognized storage device, including local external drives. Unlike synthetic storage tests, the PCMark 8 Storage benchmark highlights real-world performance differences between storage devices."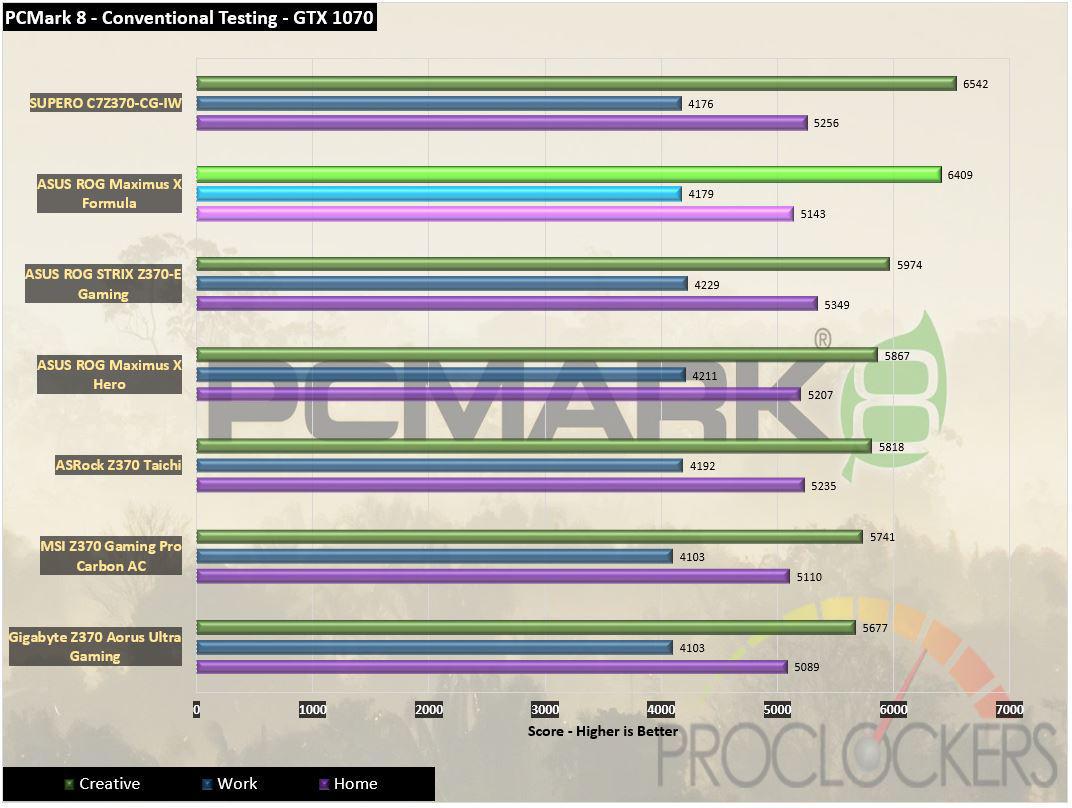 ASUS's Maximus X Formula does quite well on full system performance testing with PCMark 8 and trading blows with other Z370 boards to land near the top of the list.
PCMark 10
PCMark 10 is the complete benchmark for the modern office. It is the ideal test for organizations that are evaluating PCs for a workforce with a range of performance needs. The tests in this benchmark cover a wide range of activities from everyday productivity tasks to demanding work with digital media content.
PCMark 10 uses a modular approach to build relevant benchmark tests around common end-user scenarios. A Test Group is a collection of workloads that share a common theme or purpose. There are four test groups in PCMark 10, we use three of them.
Essentials: covers the common, everyday ways that people use a PC. The workloads include Web Browsing, Video Conferencing, and App Start-up time.
Productivity: measures system performance with everyday office applications. This test group includes the Spreadsheets and Writing workloads.
Digital Content Creation: This test group's workload reflects the demands of working with digital content and media. The tests include Photo Editing, Video Editing, and Rendering and Visualization.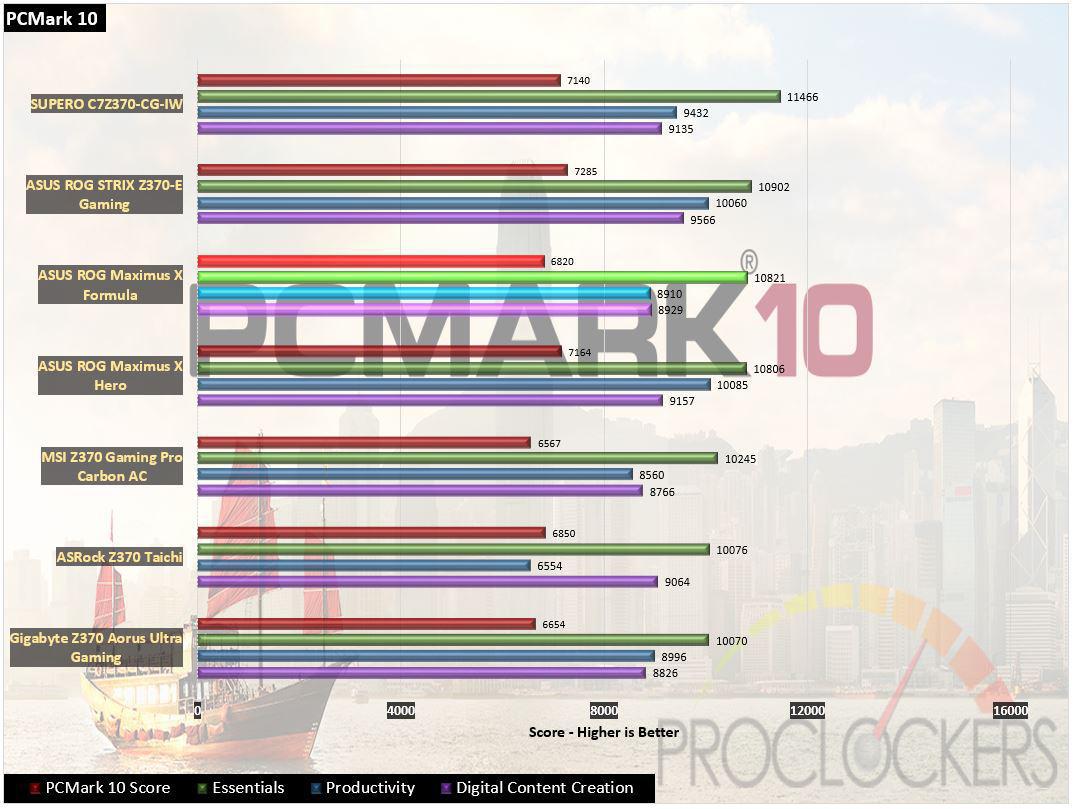 The Formula did well on PCMark 10 as well but scored slightly lower in Productivity than we expected which brought its overall score down a hair.
WebXPRT 2015
WebXPRT 2013 uses scenarios created to mirror the tasks you do every day to compare the performance of almost any Web-enabled device. It contains four HTML5- and JavaScript-based workloads: Photo Effects, Face Detect, Stocks Dashboard, and Offline Notes. WebXPRT is run with the latest stable release version of Google Chrome browser, in this case, Version 61.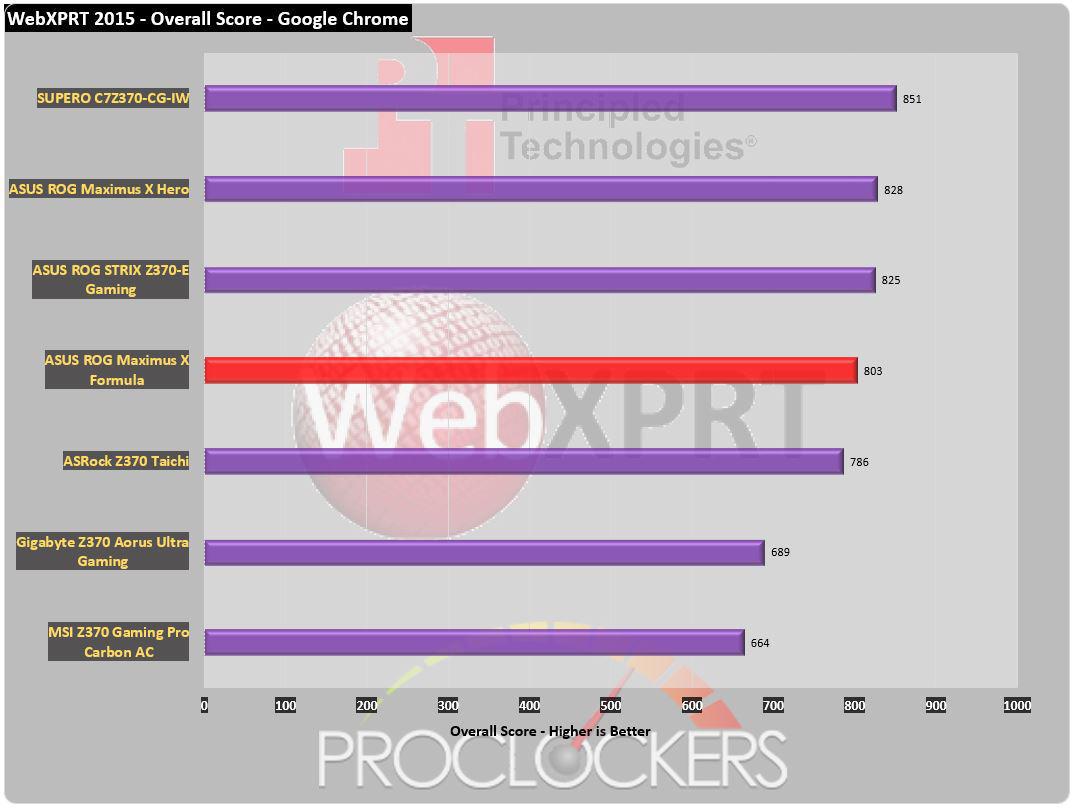 WebXPRT 2015 is browser-based and covers a wide range of media and web type content and the Formula did well, landing within a few percent of all of our other Z370 based ASUS boards.
CPU Performance Testing
Super PI Modded 1.5
"In August 1995, the calculation of pi up to 4,294,960,000 decimal digits was succeeded by using a supercomputer at the University of Tokyo. The program was written by D.Takahashi in collaboration with Dr.Y.Kanada at the computer center. This record should be the current world record. (Details are shown in the windows help.) This record-breaking program was ported to personal computer environments such as Windows NT and Windows 95. In order to calculate 33.55 million digits, it takes 3 days with a Pentium 90 MHz, 40 MB main memory and 340 MB available storage."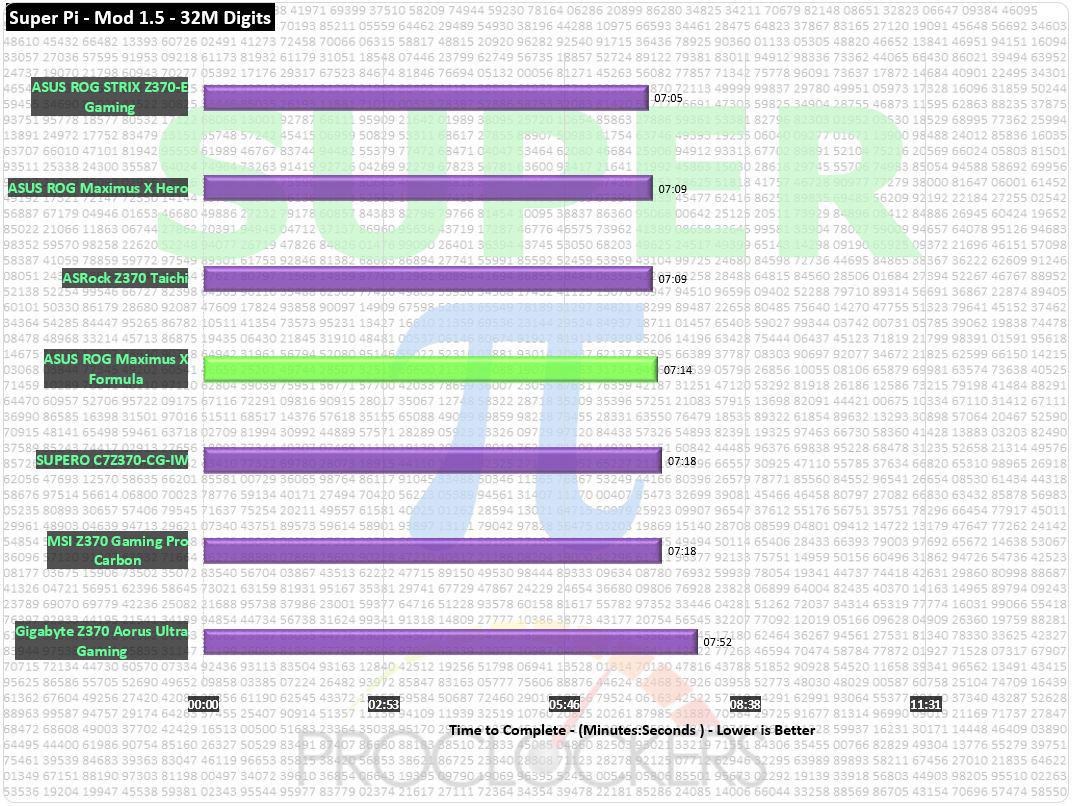 On Super Pi's single threaded benchmark, individual core speed is king. The Maximus board completed 32 million digits in 7 minutes and 13.96 seconds which places it in the middle of the pack of Z370 boards.
CINEBENCH R15
"CINEBENCH is a real-world cross platform test suite that evaluates your computer's performance capabilities. CINEBENCH is based on MAXON's award-winning animation software CINEMA 4D, which is used extensively by studios and production houses worldwide for 3D content creation. MAXON software has been used in blockbuster movies such as Iron Man 3, Oblivion, Life of Pi or Prometheus and much more.
CINEBENCH is the perfect tool to compare CPU and graphics performance across various systems and platforms (Windows and OS X). And best of all: It's completely free."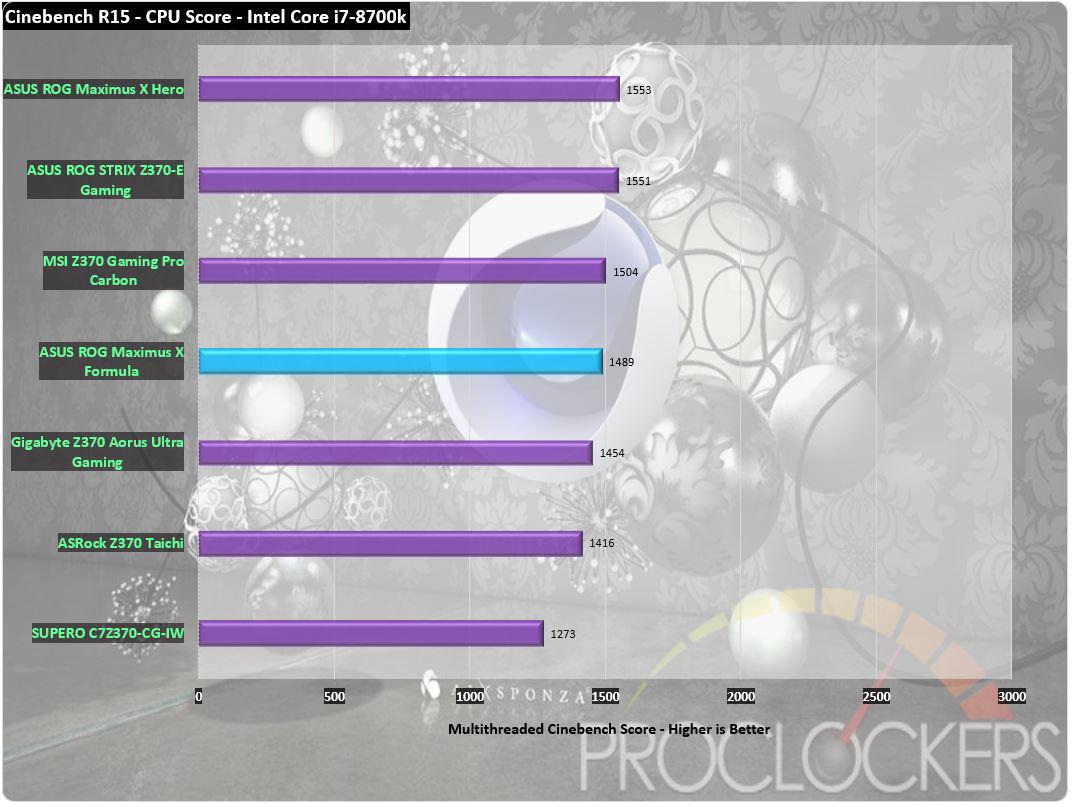 Cinebench emulates real-world content creation and rendering and can utilize about as many threads as you can throw at it. Using all 12 threads of the 8700K, the Formula completed the benchmark with a score of 1489.
7-Zip
The benchmark shows a rating of MIPS (million instructions per second). The rating value is calculated from the measured speed, and it is normalized with results of Intel Core 2 CPU with multi-threading option switched off. So if you have modern CPU from Intel or AMD, rating values in single-thread mode must be close to real CPU frequency. There are two tests, compression with LZMA method and decompression with LZMA method. Once the total passes reach 100, the score is taken.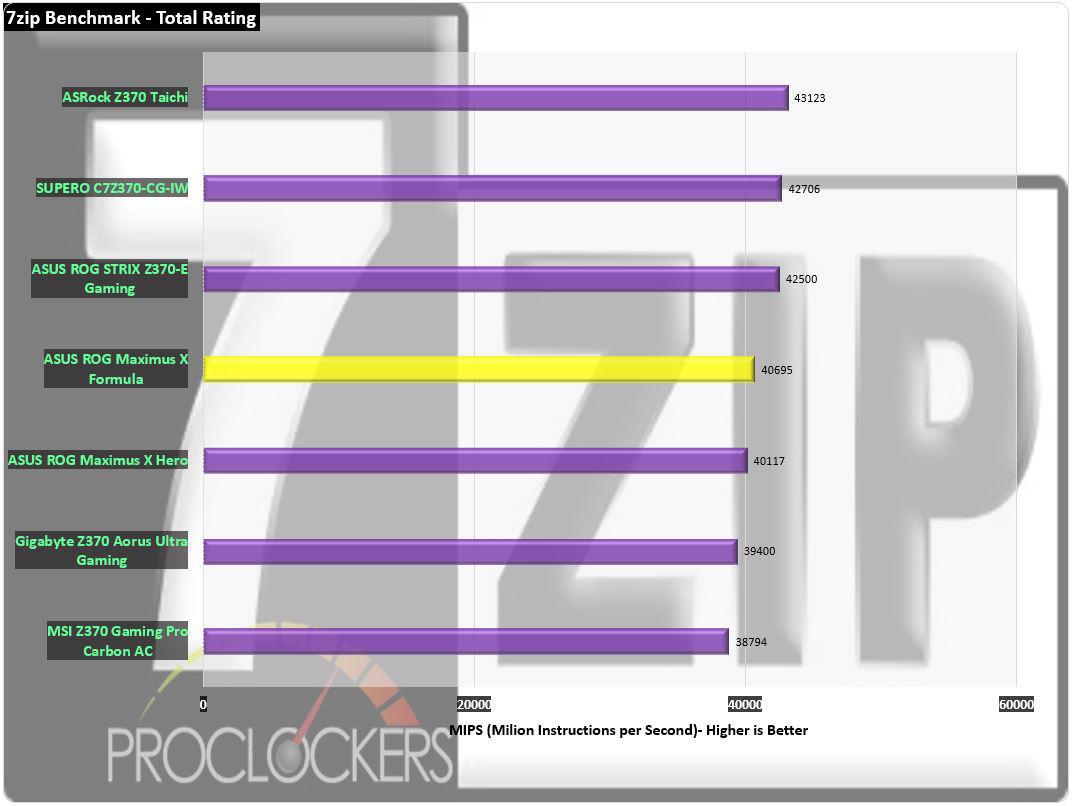 The Formula scored 40,695 Million instructions per second combined on 7-zip's built-in benchmark which just edges out the Maximus Hero but falls a bit behind the Strix.
Memory Performance Testing
AIDA64 Engineer Edition
"FinalWire Ltd. today announced the immediate availability of AIDA64 Extreme Edition 1.50 software, a streamlined diagnostic and benchmarking tool for home users; and the immediate availability of AIDA64 Business Edition 1.50 software, an essential network management solution for small and medium scale enterprises. The new AIDA64 update implements AVX-optimized benchmarks for the upcoming Intel Sandy Bridge processors, adds a brand-new video encoding benchmark, and supports the latest AMD and NVIDIA graphics processors."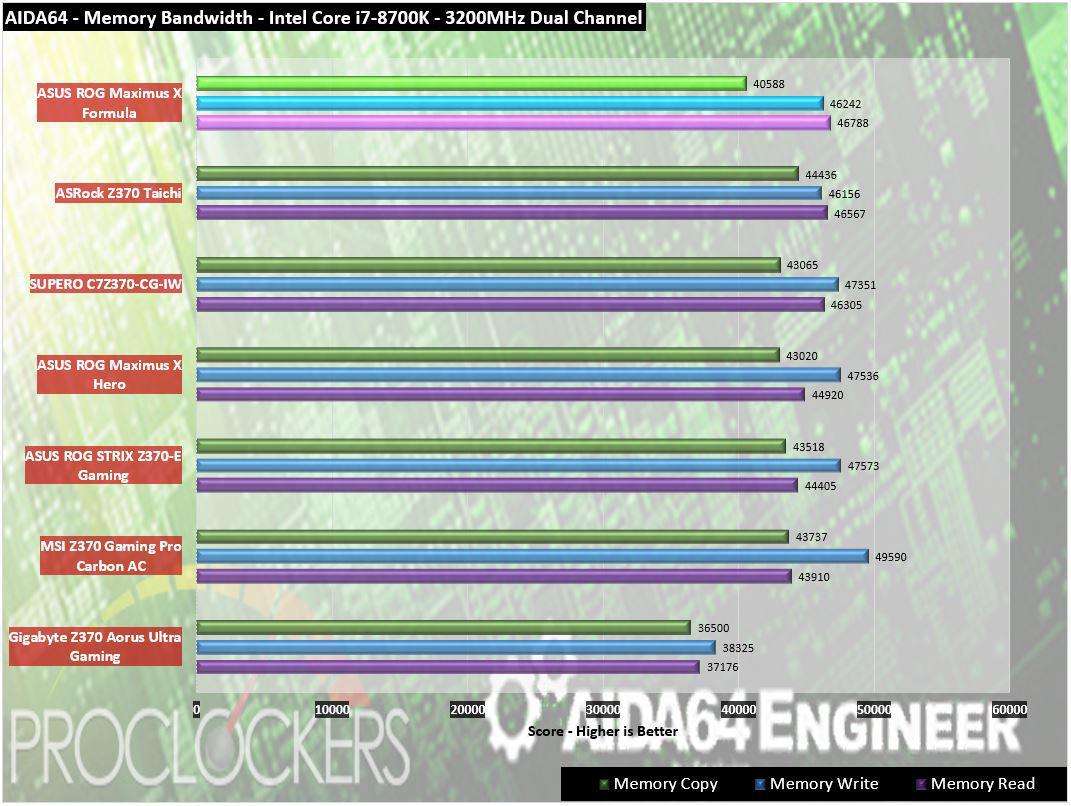 On AIDA64 memory testing, the Formula scores well over 46GB/s on reads and writes, and about 40.5GB/s on copy testing, placing it amount the fastest we've tested yet.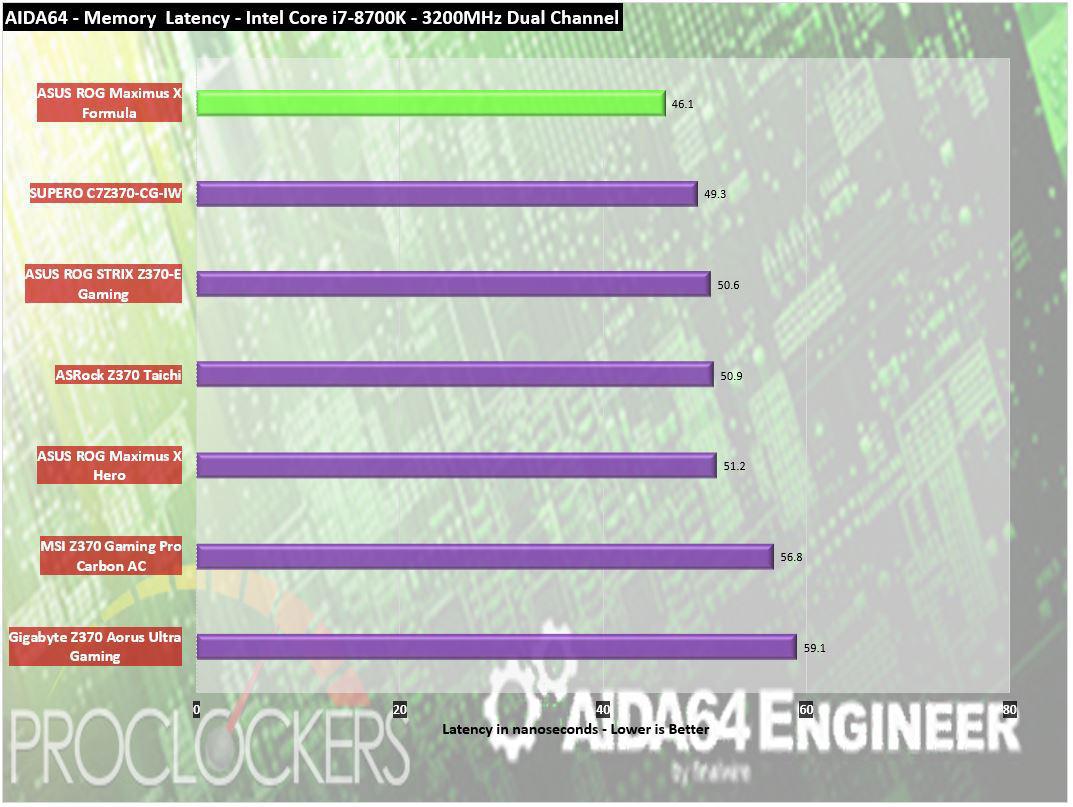 Memory latency is the lowest we've seen yet at 46.1 nanoseconds.
Passmark Performance Test – Memory Mark – Threaded
"Fast, easy to use, PC speed testing and benchmarking. PassMark Performance Test ™ allows you to objectively benchmark a PC using a variety of different speed tests and compare the results to other computers."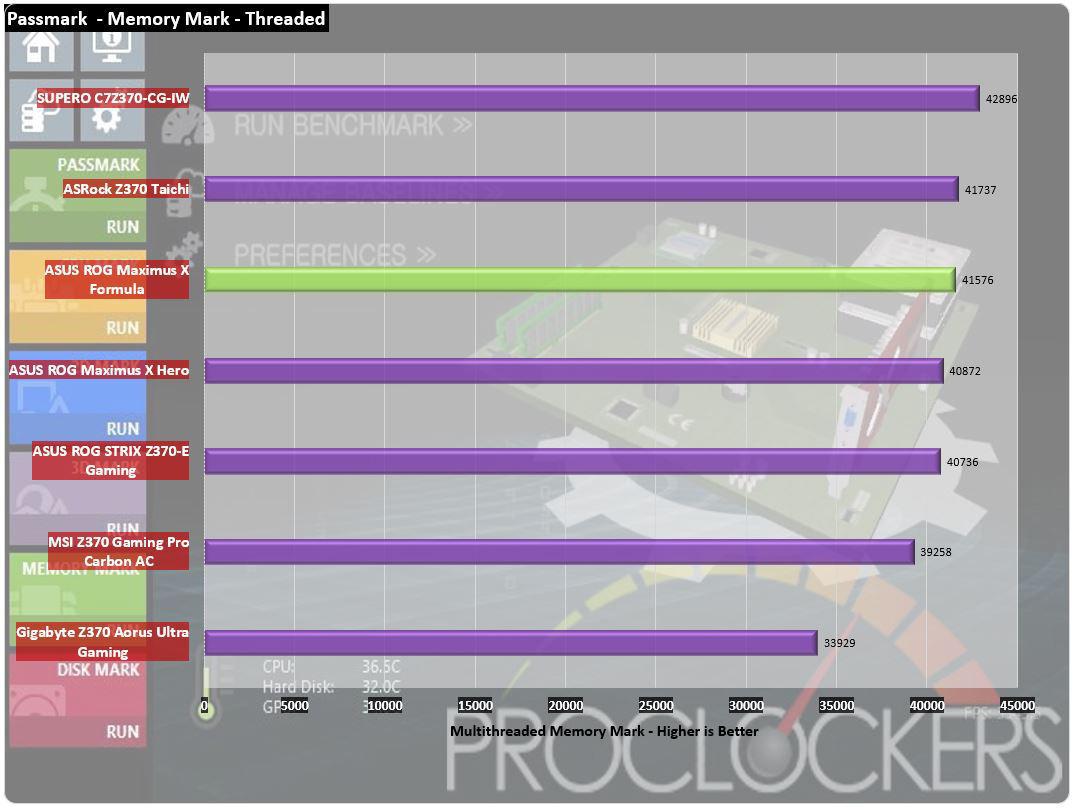 Passmark's threaded memory mark comes in with a score of 41,576 placing the Formula near the top of the pack.
SiSoft Sandra
"SiSoftware Sandra provides a robust package of diagnostic tools for testing your system and teasing out its problems–or potential headaches."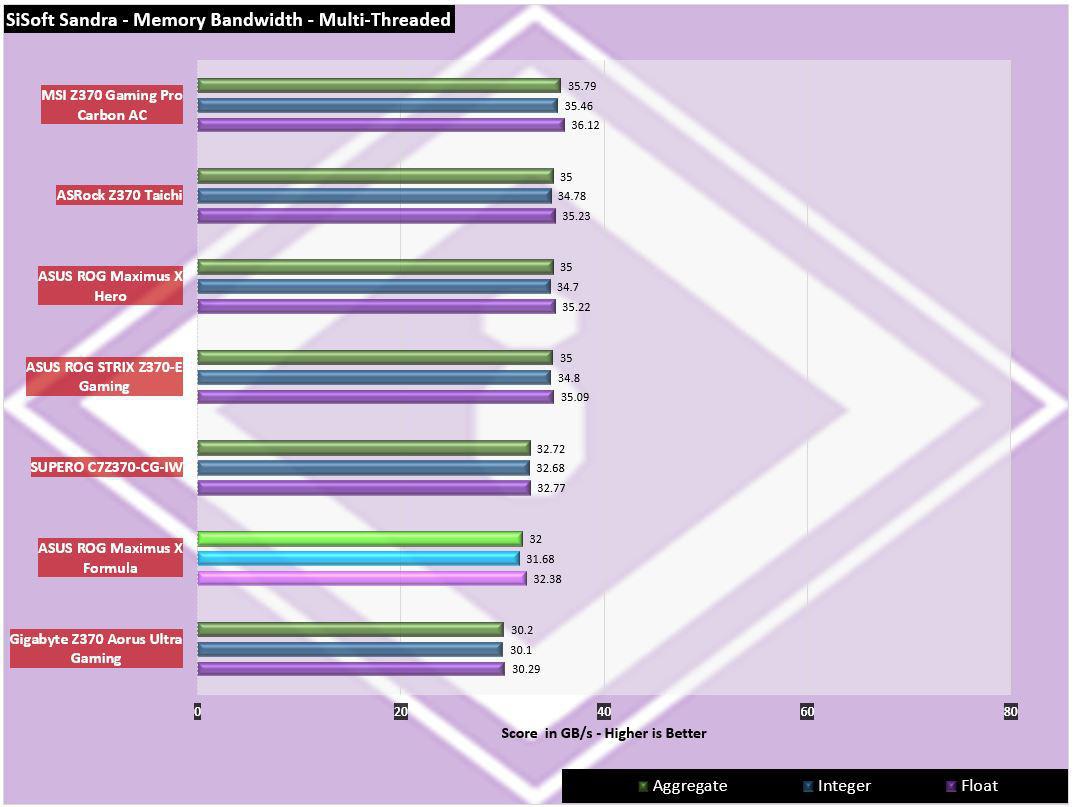 SiSoft Sandra, on the other hand, shows the Formula trailing 1st place by more than 3GB/s
Storage Testing
ATTO Disk Benchmark
"As the industry's leading provider of high-performance storage & network connectivity products, ATTO has created a widely-accepted Disk Benchmark freeware utility to help measure storage system performance. As one of the top tools utilized in the industry, Disk Benchmark identifies performance in hard drives, solid state drives, RAID arrays as well as connections to storage. Top drive manufacturers, like Hitachi, build and test every drive using the ATTO Disk Benchmark"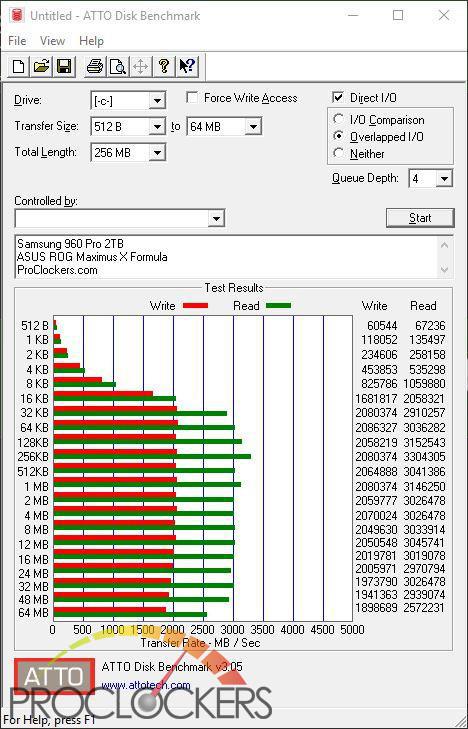 Using the M.2 port under the cover, out Samsung 960 PRO 2TB drive falls a little short of its 3500MB/s read rates but does come close to its rated 2100MB/s write speeds. The sheer amount of devices on the board draining bandwidth from the already cramped DMI link to the CPU from the chipset likely accounts for this small hit to the maximum bandwidth.
CrystalDiskMark 6.0
"CrystalDiskMark is designed to quickly test the performance of your hard drives. Currently, the program allows measuring sequential and random read/write speeds."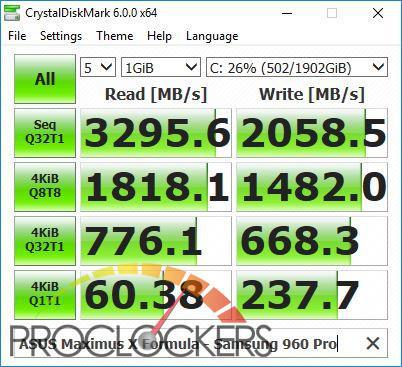 CrystalDiskMark fares slightly better hitting almost 3300MB/s in it's testing.
AS SSD
The AS SSD benchmark determines the performance of Solid State Drives (SSD). The tool contains six synthetic and three copy tests.
The synthetic tests determine the sequential and random read and write performance of the SSD. These tests are performed without using the operating system cache. In the sequential test, the program measures how long it takes to read and write a 1 GB file. In the 4K test, read and write performance is determined for randomly selected 4K blocks. The 4K-64 Third test is equivalent to the 4K procedure, except that the read and write operations are distributed to 64 threads. This test should show differences between the IDE operating mode where NCQ is not supported and the AHCI mode for SSDs with Native Command Queuing (NCQ). The additional compression test can measure the performance of the SSD as a function of the compressibility of the data. This is especially important for the controllers that are used to increase the performance and life of the cell compression.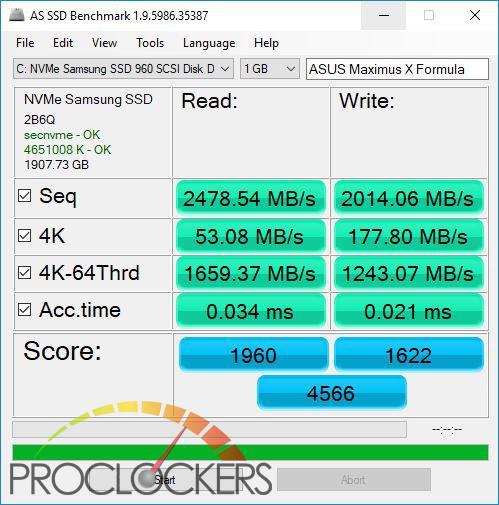 AS SSD uses different testing methods and will come up with a slightly different score than the previous benchmarks but shows results along the lines of what we were expecting.
Game Testing
3DMark – Fire Strike
"Fire Strike is a showcase DirectX 11 benchmark designed for today's high-performance gaming PCs. It is our most ambitious and technical benchmark ever, featuring real-time graphics rendered with detail and complexity far beyond what is found in other benchmarks and games today"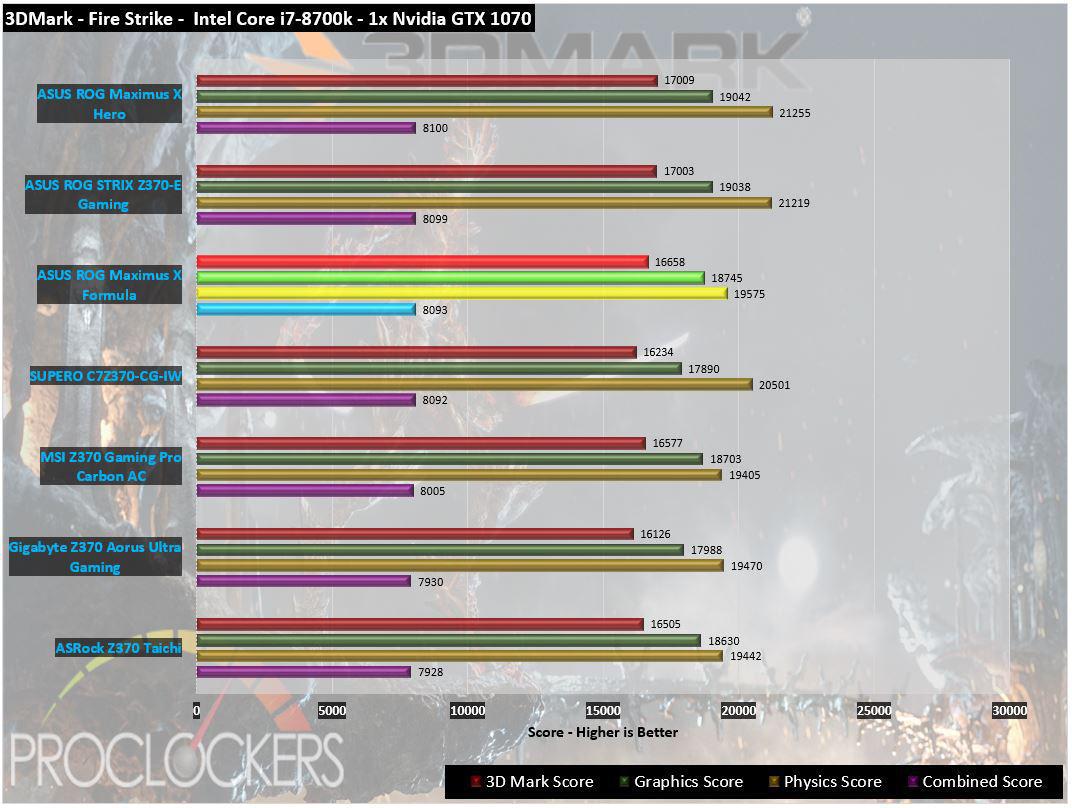 Our first synthetic gaming benchmark, Futuremark's 3DMark Firestrike, shows very strong performance out of the Maximus X Formula, just slightly losing out to the Strix, almost within the margin of error.
3DMark – Time Spy
"3Dmark Time Spy is a new DirectX 12 benchmark test for Windows 10 gaming PCs. Time Spay is one of the first DirectX 12 apps to be built "the right way" from the ground up to fully realize the performance gains that the new API offers. With DirectX 12 engine, which supports new API features like asynchronous compute, explicit multi-adapter, and multi-threading, Time Spy is the ideal test for benchmarking the latest graphics cards."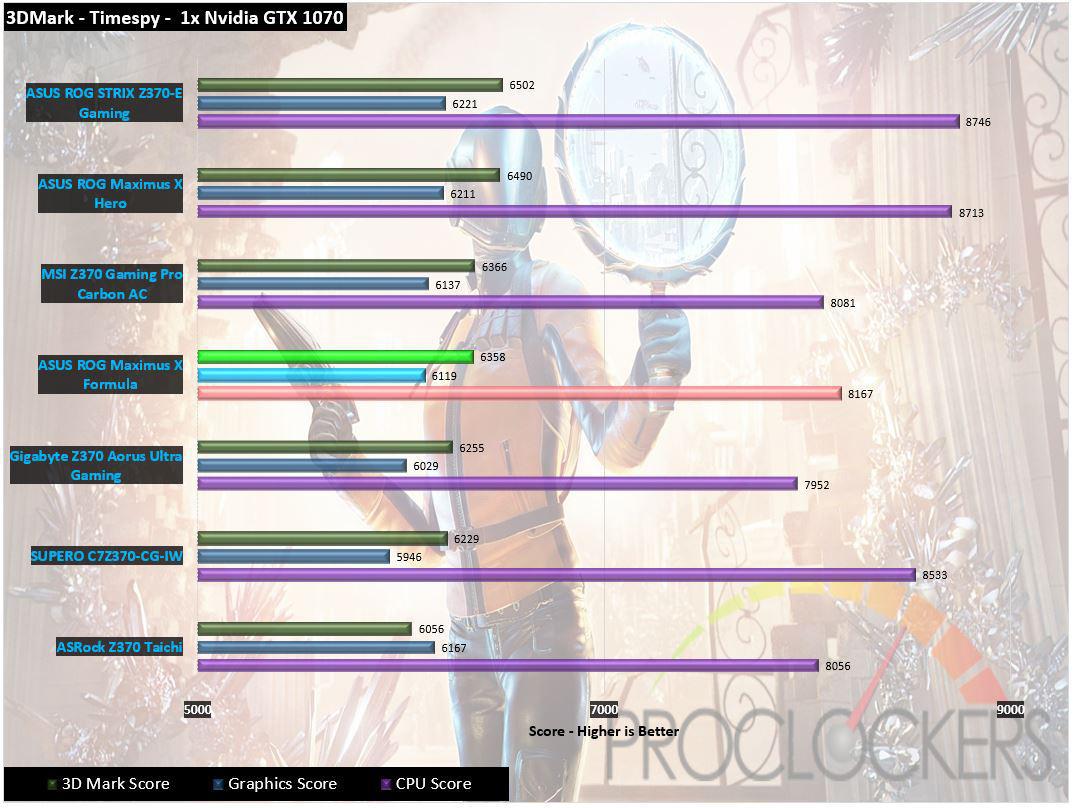 On Timespy, the Formula places closer to the middle of the pack.
Grand Theft Auto: V
"When a young street hustler, a retired bank robber, and a terrifying psychopath find themselves entangled with some of the most frightening and deranged elements of the criminal underworld, the U.S. government and the entertainment industry, they must pull off a series of dangerous heists to survive in a ruthless city in which they can trust nobody, least of all each other."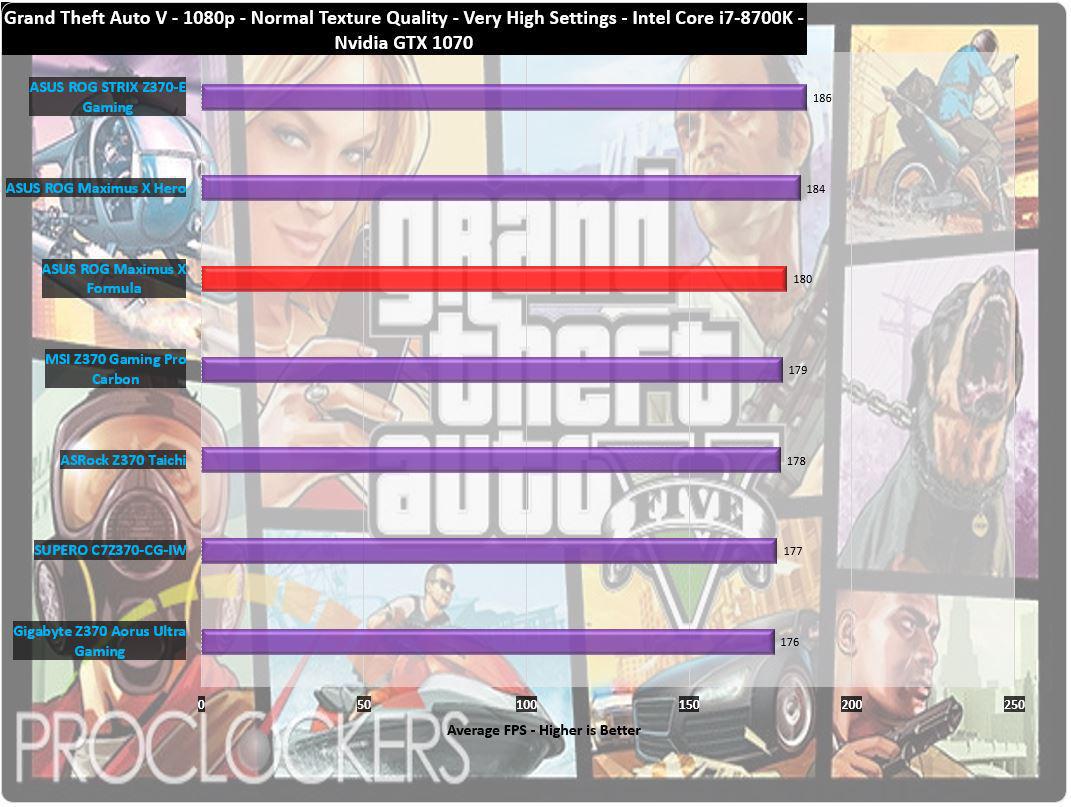 Even pushing 5 years old, Grand Theft Auto: V can put a heavy load on the most capable systems. The Formula still manages to come in at 180FPS which places it in 3rd place.
Metro: Last Light
"It Is the Year 2034. Beneath the ruins of post-apocalyptic Moscow, in the tunnels of the Metro, the remnants of mankind are besieged by deadly threats from outside – and within. Mutants stalk the catacombs beneath the desolate surface, and hunt amidst the poisoned skies above."
Developed by 4A Games and published by Deepsilver, Metro: Last Light uses the 4A game engine. At its highest settings, the 4A game engine is capable of bringing all but the most extreme gaming systems to their knees.
Metro: Last Light gives us an average frame rate of 128 FPS, only a fraction of a percent from 1st place.
Overclocking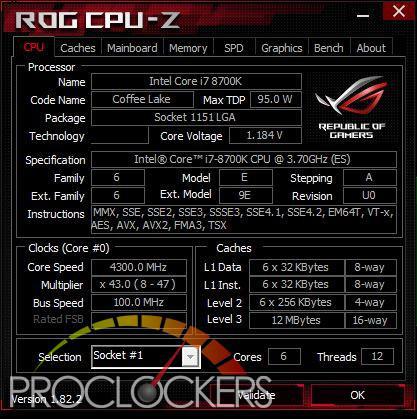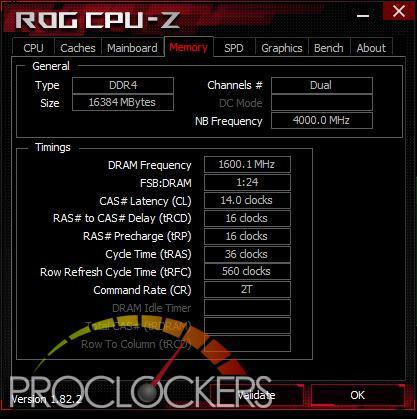 Starting out from stock, we'll see what we can get out i7-8700K up to. By default, the Chip can boost up to 4.7Ghz on a single core. Our memory will start at its XMP rated 3200Mhz.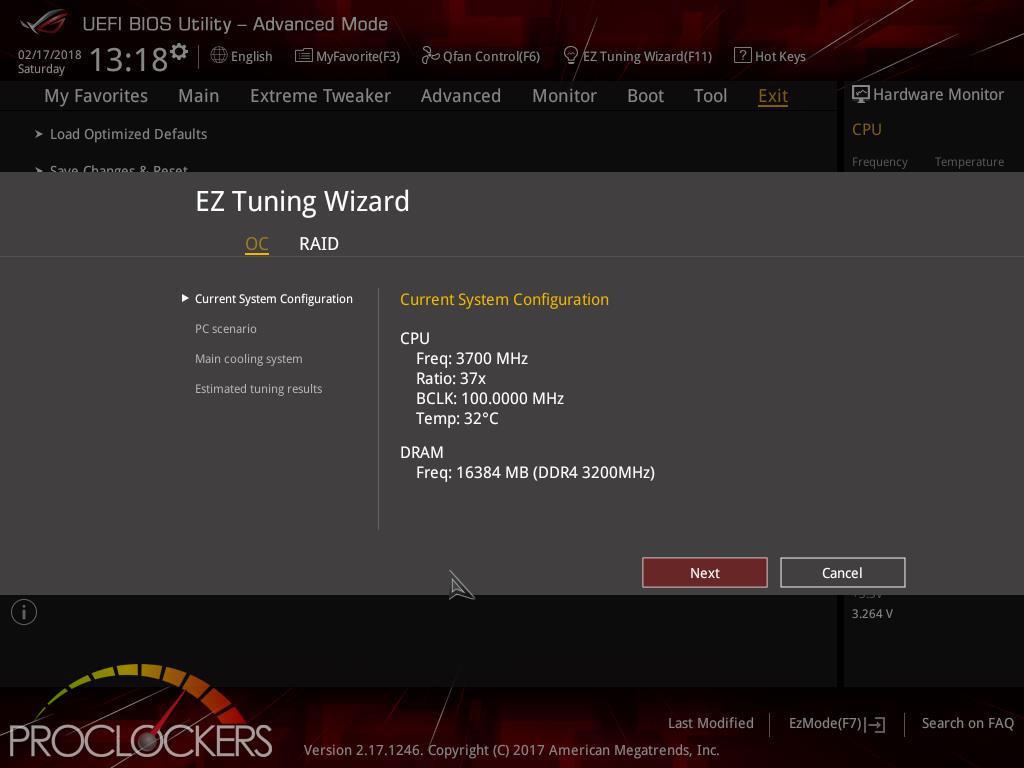 We'll first start out with ASUS's EZ Tuning wizard that can be accessed from the BIOS or via Ai Suite 3 from the desktop.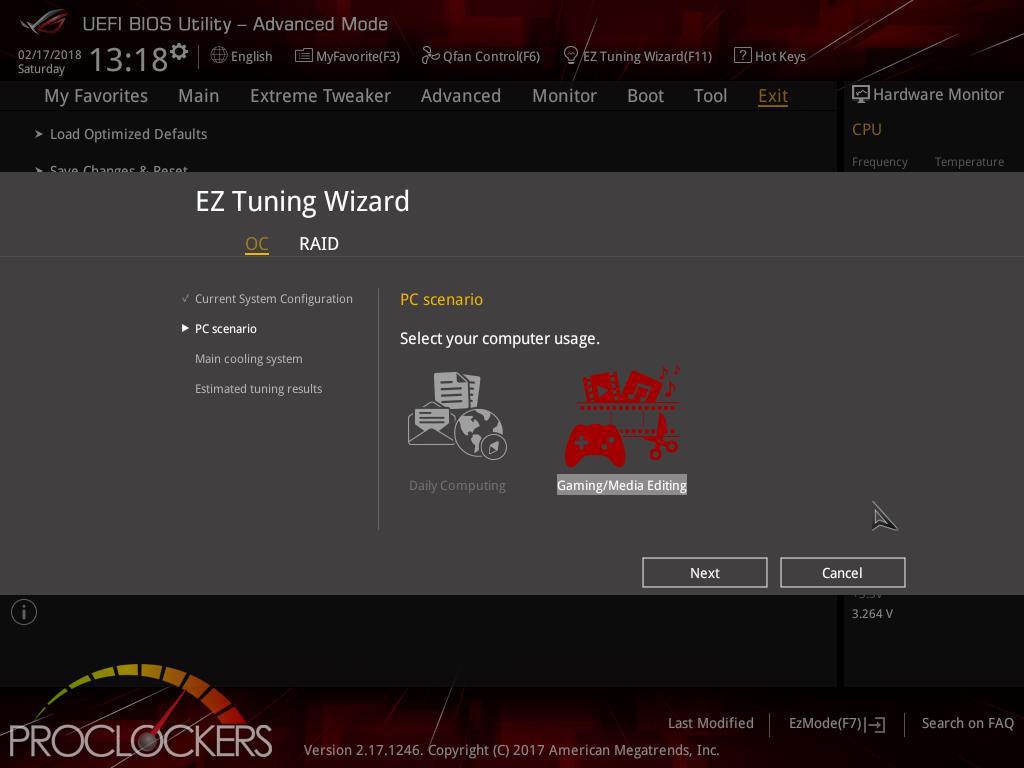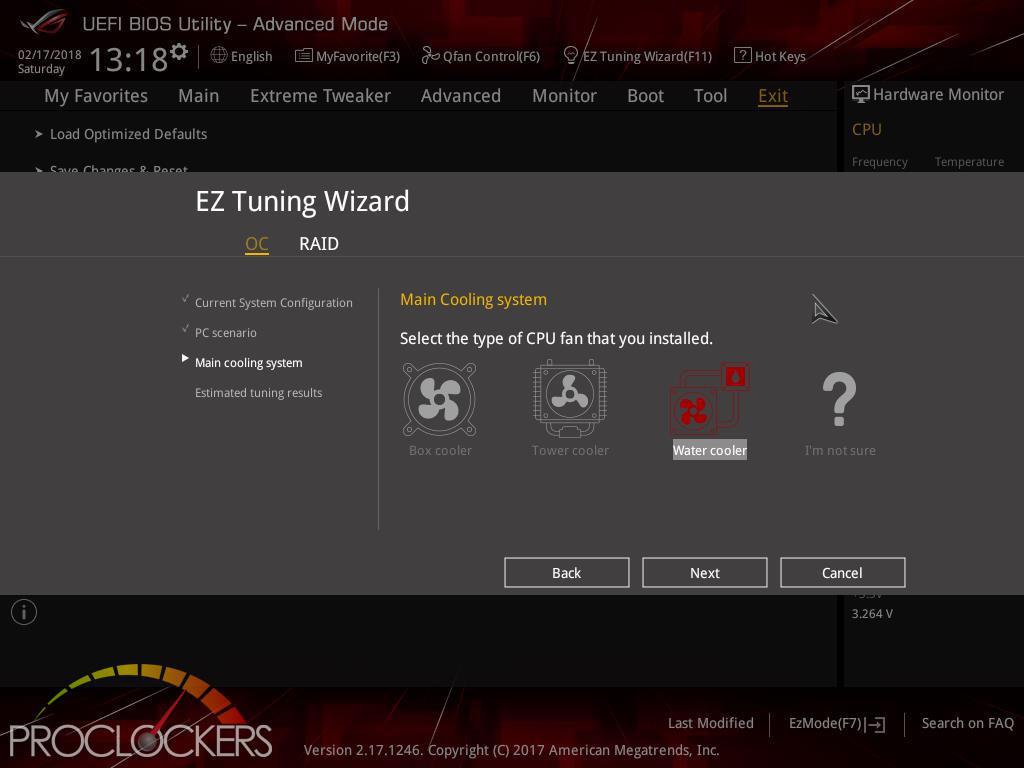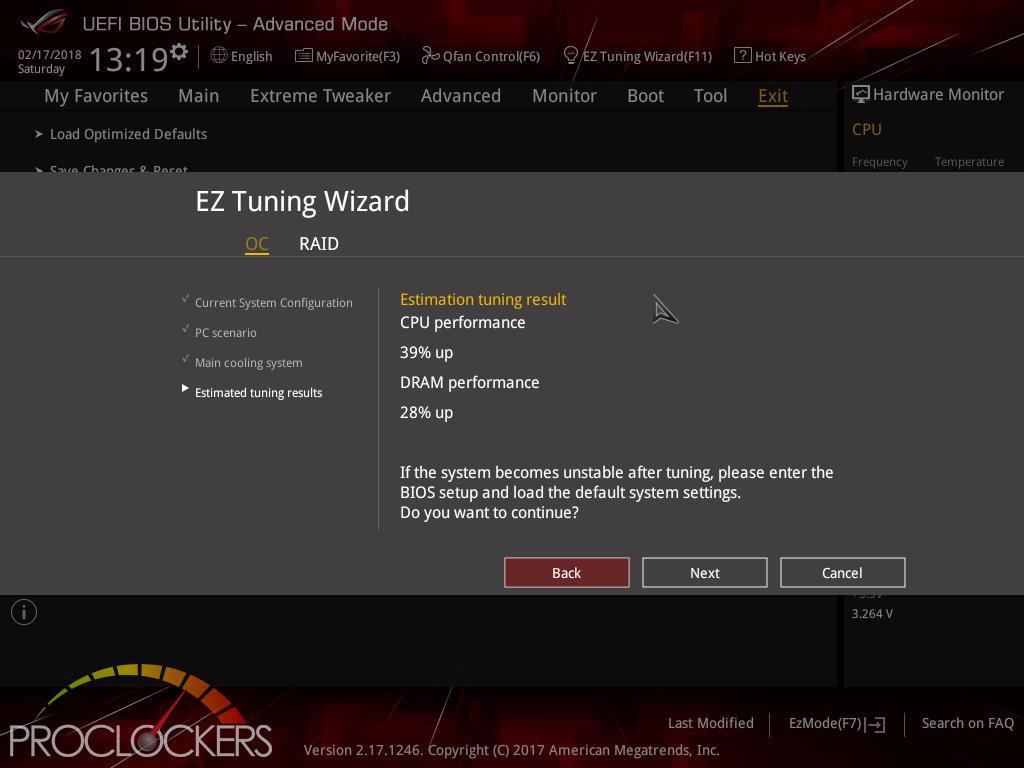 Answering a few simple questions gets you an estimation of performance gains,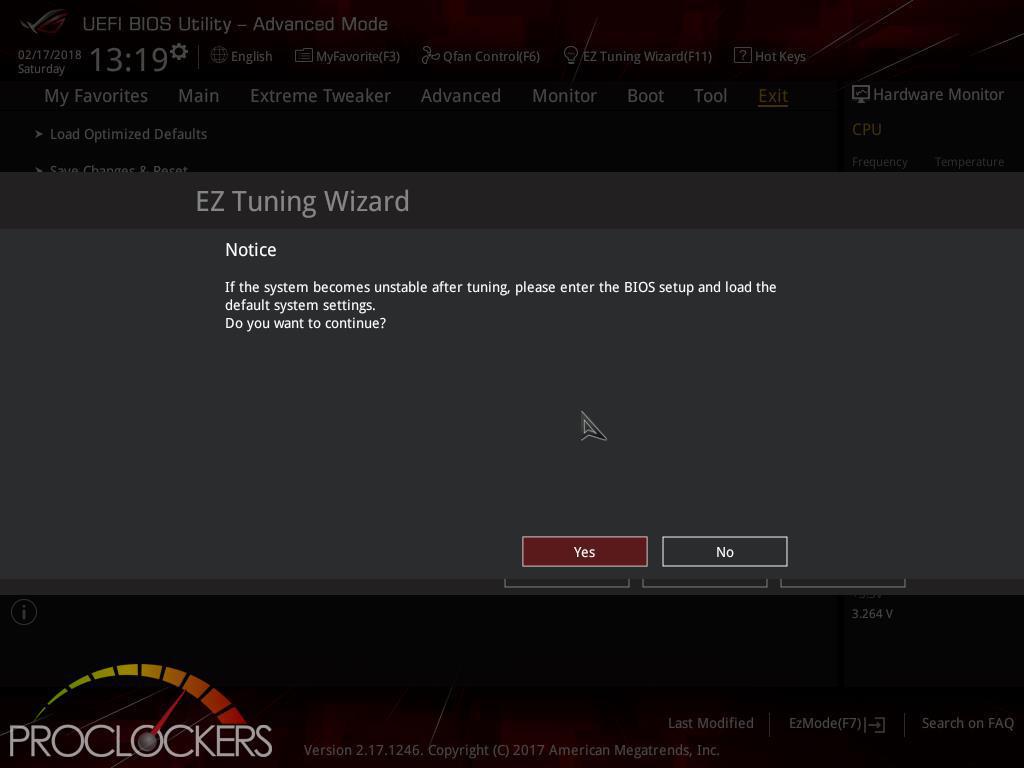 … and accepting them applies them and follows with a reboot.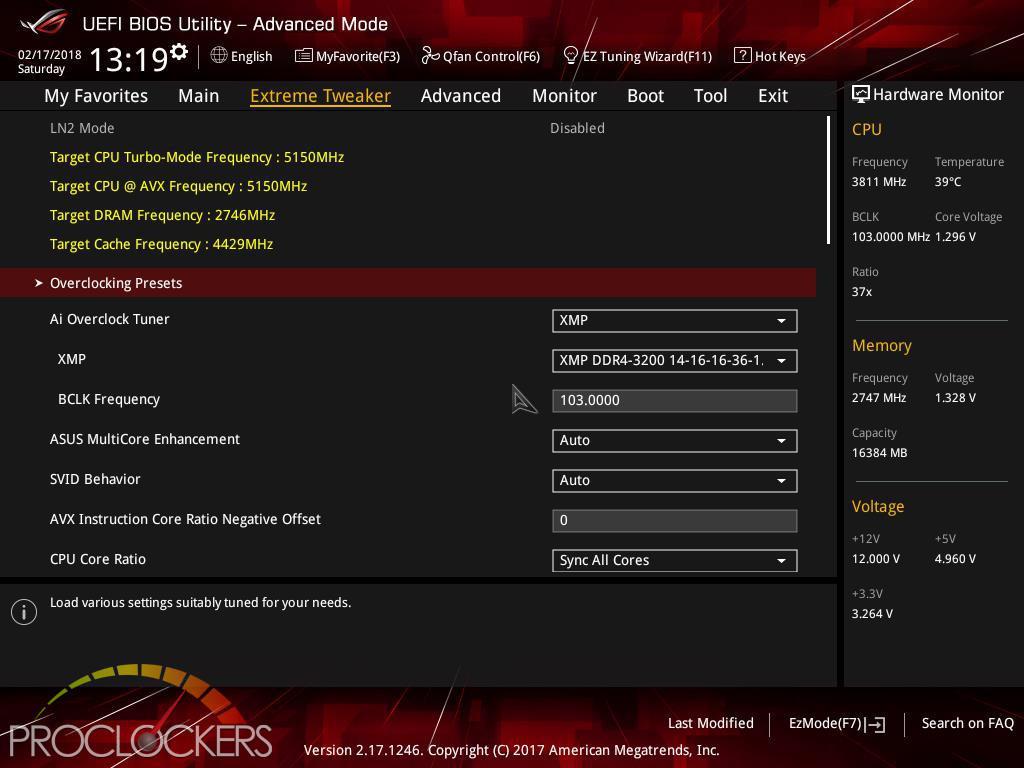 And we come out of a reboot at 5.15GHz with our ram running at a reduced 2746MHz effective.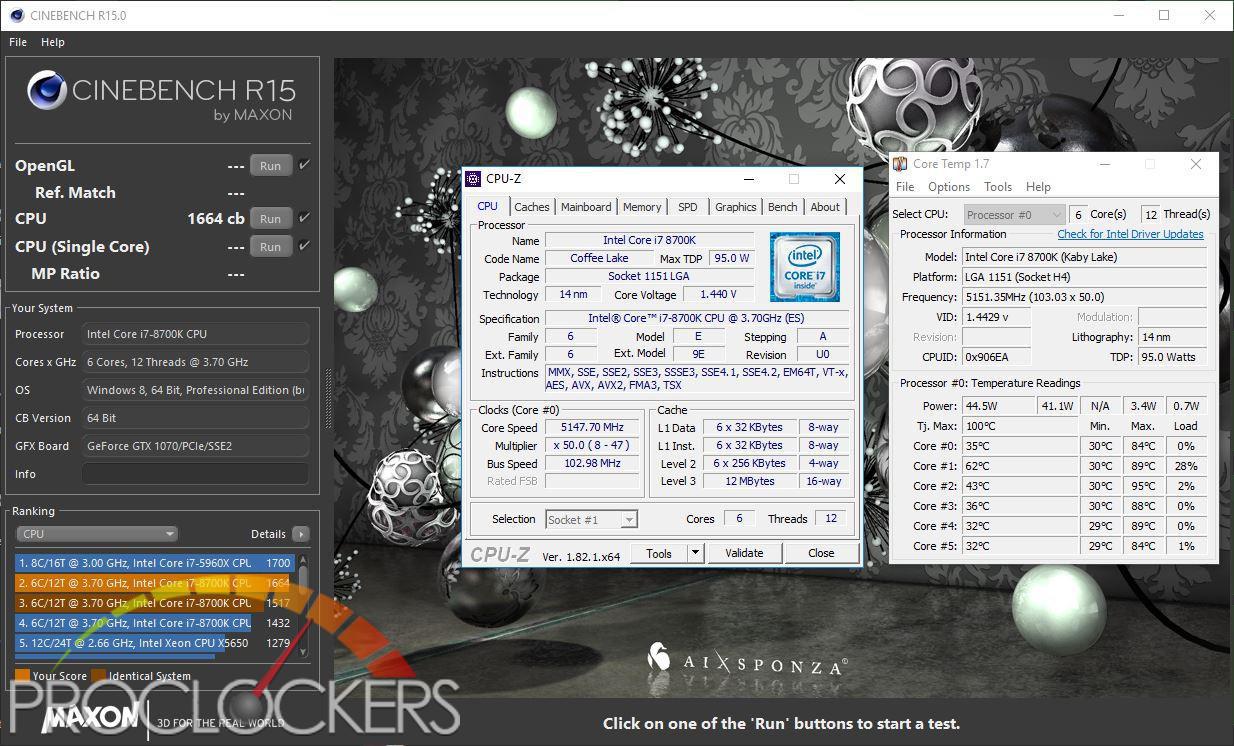 This gave us quite the boost from our stock 1439cb score! It did hit the voltage pretty hard, 1.44V is quite high and resulted in some very warm temps even with a high-performance water cooler.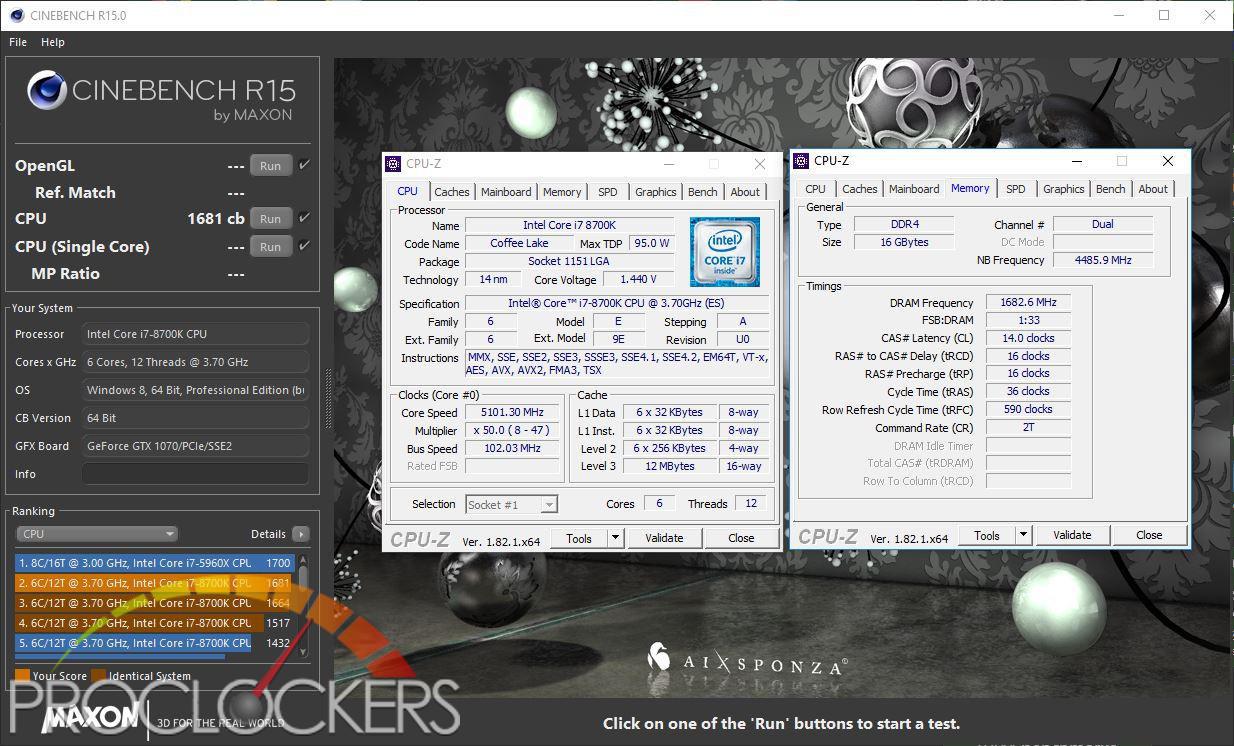 After tweaking the settings a bit, we backed off to 5.1GHz even, lower the voltage a hair, and pushed our ram back up to 3366 MHz which pushed our Cinebench score to 1681, a new best so far for this particular CPU.
We were able to push our CPU to 5.2GHz but couldn't quite get it 100% stable at a voltage we liked, so we didn't continue testing it.
FLIR Thermal Imaging
We'll start out with a big Thank You to FLIR for sending us the new FLIR ONE PRO to assist in this part of the reviews.
About the FLIR ONE PRO:
The FLIR ONE Pro gives you the power to find invisible problems faster than ever. Combining a higher-resolution thermal sensor able to measure temperatures up to 400°C with powerful measurement tools and report generation capability, the FLIR ONE Pro will work as hard as you do. Its revolutionary VividIR™ image processing lets you see more details and provide your customers with proof that you solved their problem right the first time. The updated design includes the revolutionary OneFit™ adjustable connector to fit your phone, without taking the phone out of its compatible protective case. An improved FLIR ONE app lets you measure multiple temperatures or regions of interest at once and stream to your smartwatch for remote viewing. Whether you're inspecting electrical panels, looking for HVAC problems, or finding water damage, the new FLIR ONE Pro is a tool no serious professional should be without.
THERMAL IMAGING: HOW IT WORKS
Thermal cameras work by converting that heat energy, emitted or reflected by practically everything on earth, into color images. These color images enable anyone to not only see in total darkness and through smoke and haze but to also safely measure temperature without touching a surface. They are sensitive enough to differentiate temperature differences to fractions of a degree.

Want one yourself or want to know more?
Testing environment – approximately 20C/68F
Air Cooled Mode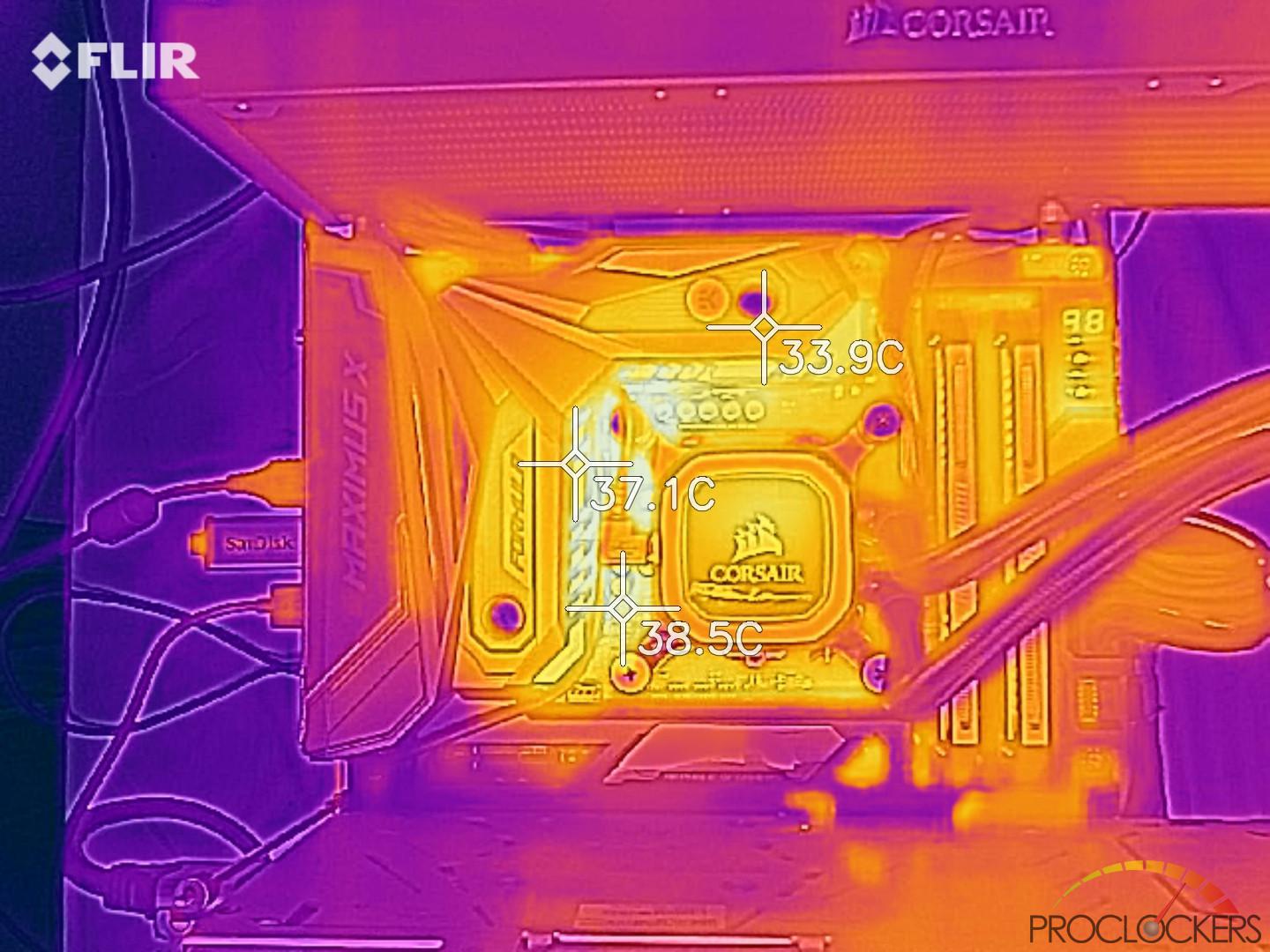 Starting out at Idle, we checked the temps with the VRM's at around 42C, the external surfaces can be seen above.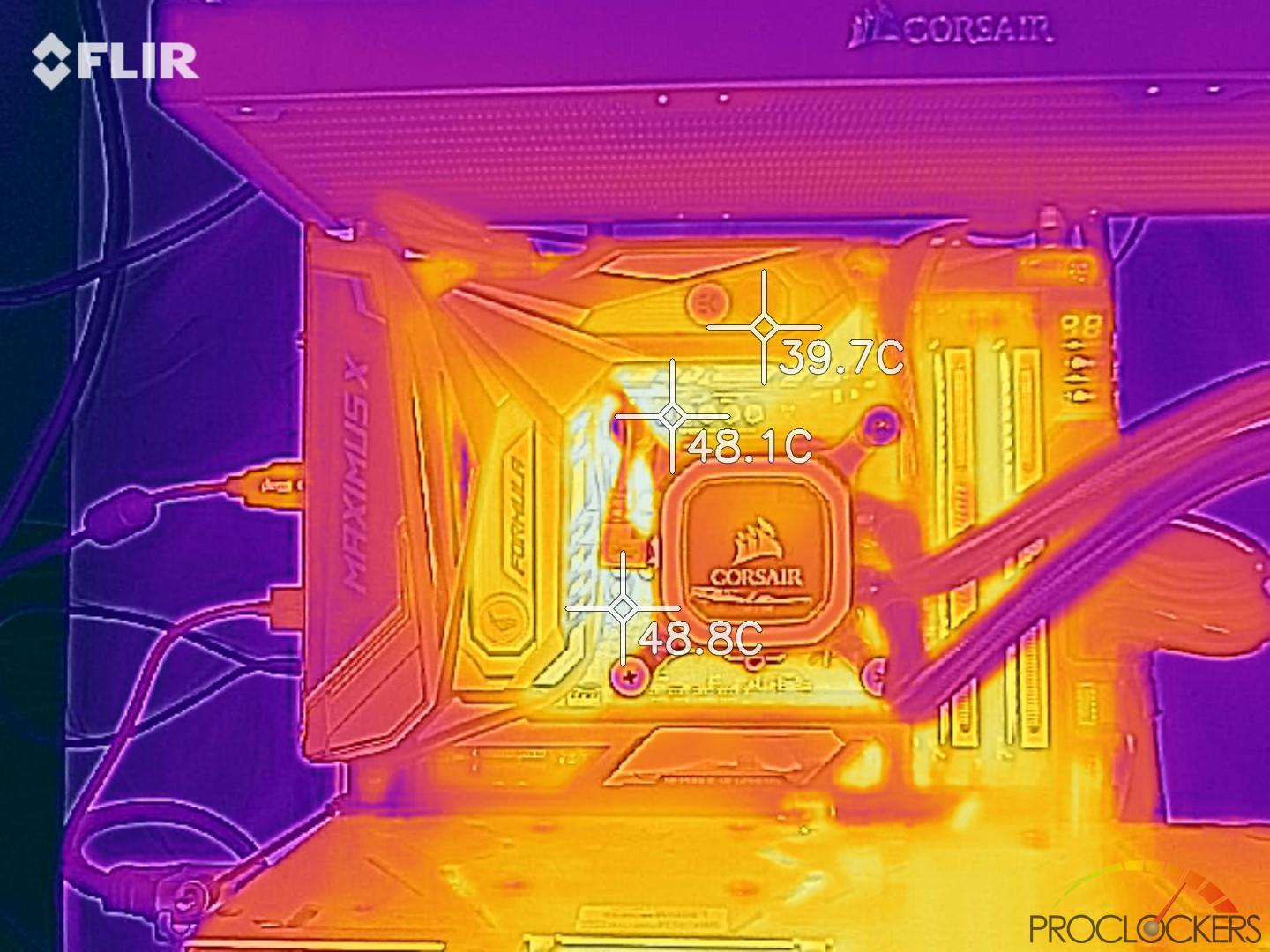 With our i7-8700k overclocked to 5.1Ghz to put a good load on the VRM, we see the VRM's hitting 70C and the external surfaces of the block hitting 40C, the PCB near the VRM's quickly climbed to more than 50C.
Water Cooled
This is actually where we ran into our first and only problem with the ASUS ROG Maximus X Formula.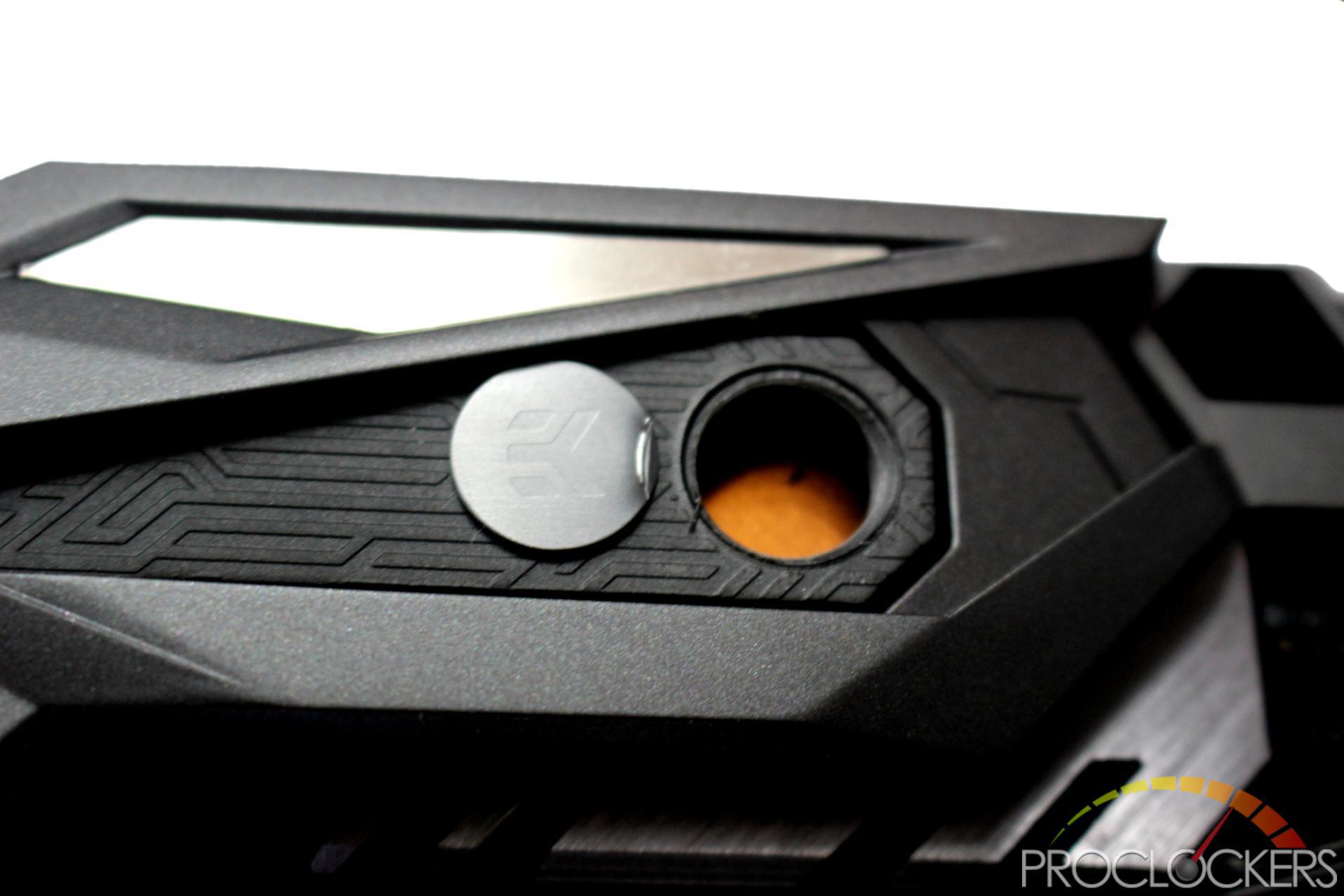 After conencting our Aquacomptuer Dr.Drop Pressure tester to make sure we didnt create any leaks after tearing the block down for pictures, we noticed we couldn't quite get a good seal on the top port.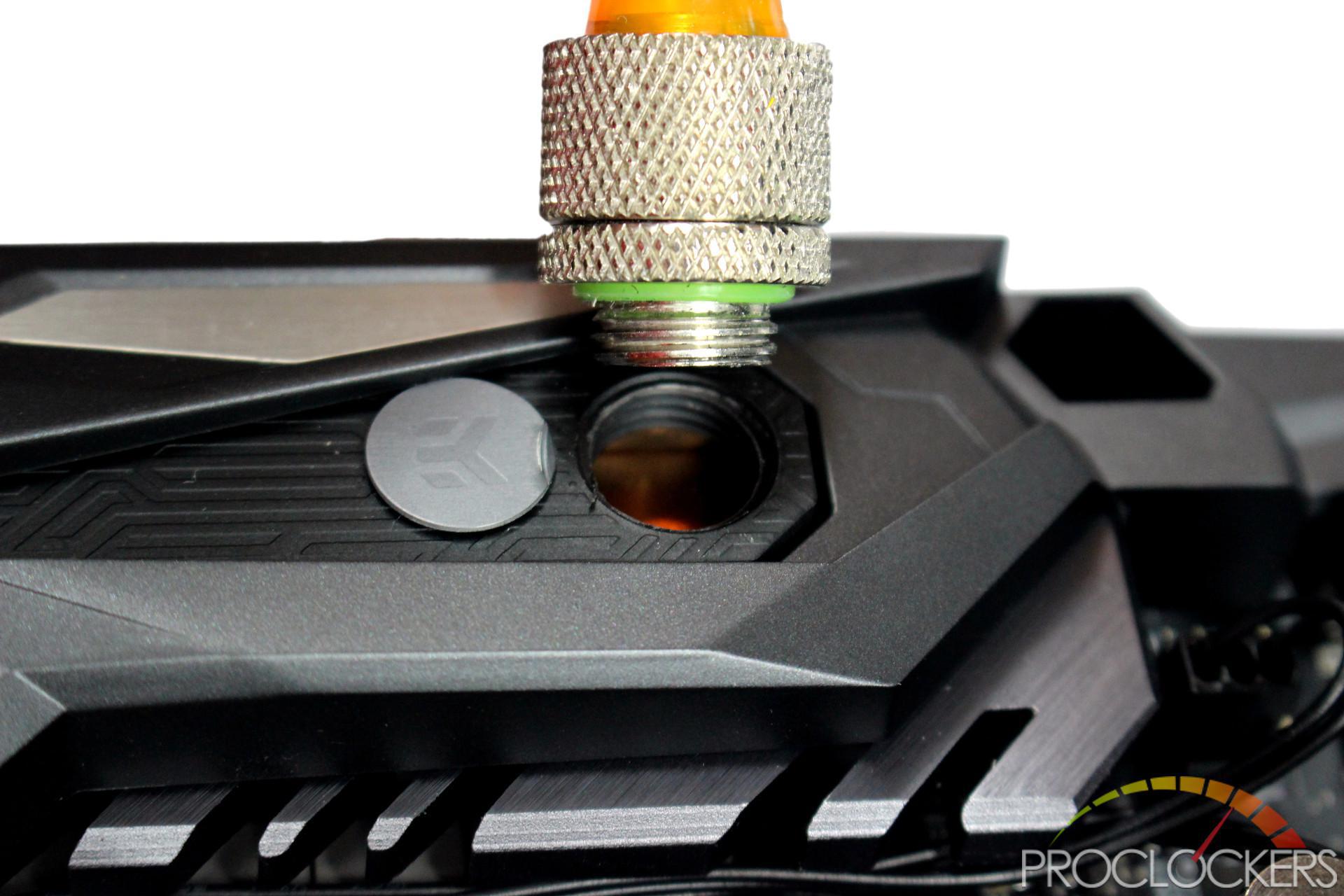 Even our fairly narrow 3/8″ x 1/2″ compression fitting was contacting the EKWB badge next to the port, not letting the fitting tighten down all the way.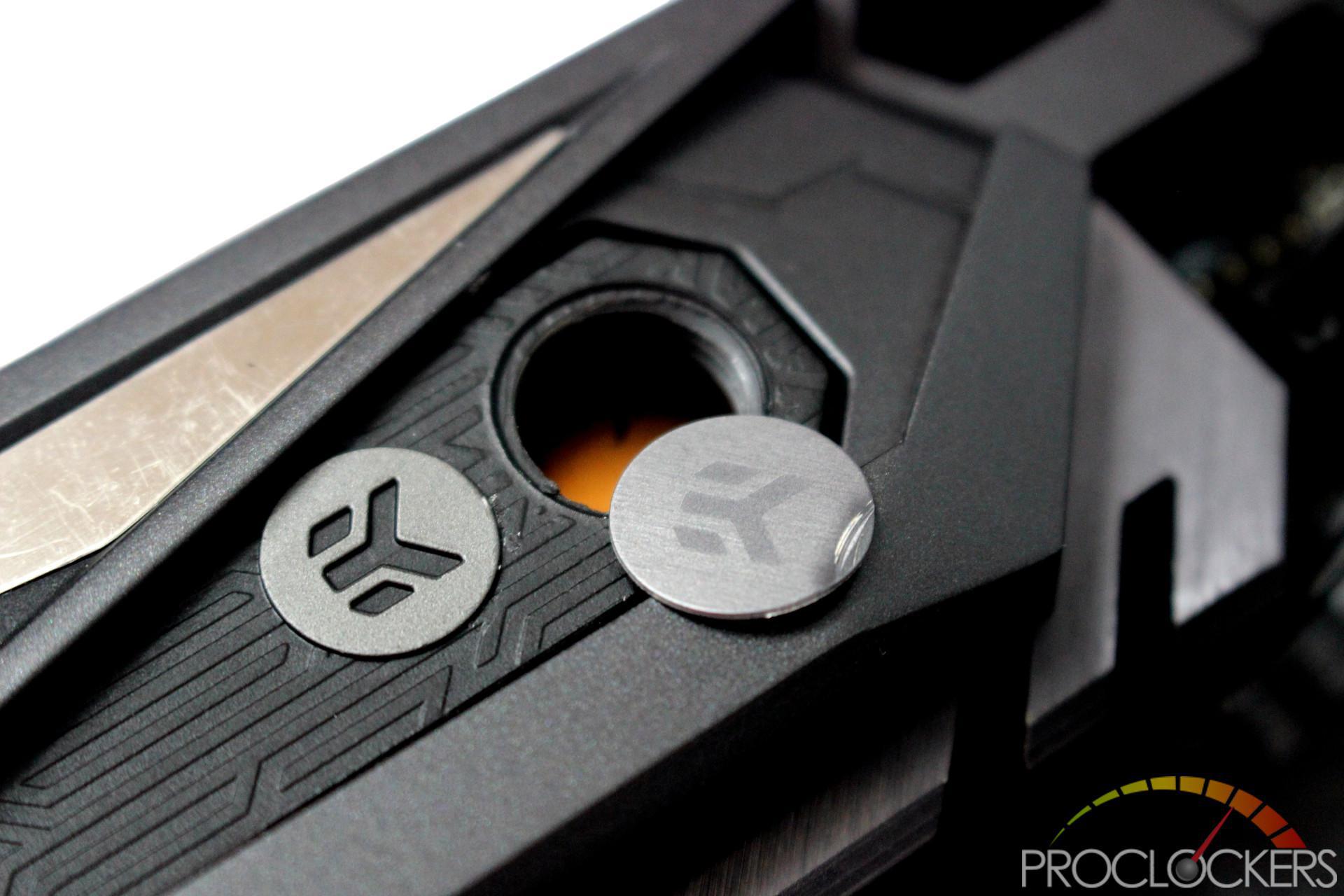 We decided to pop the badge off, only to find the EK logo is already carved into the top of the block to begin with, but not sticking up enough to interfere with the fitting. We really can't figure out why someone decided this extra metal sticker needed to be there, but it did interfere with almost every fitting we tried. Anyway, with that odd issue solved, and a good seal made, we'll move on with testing!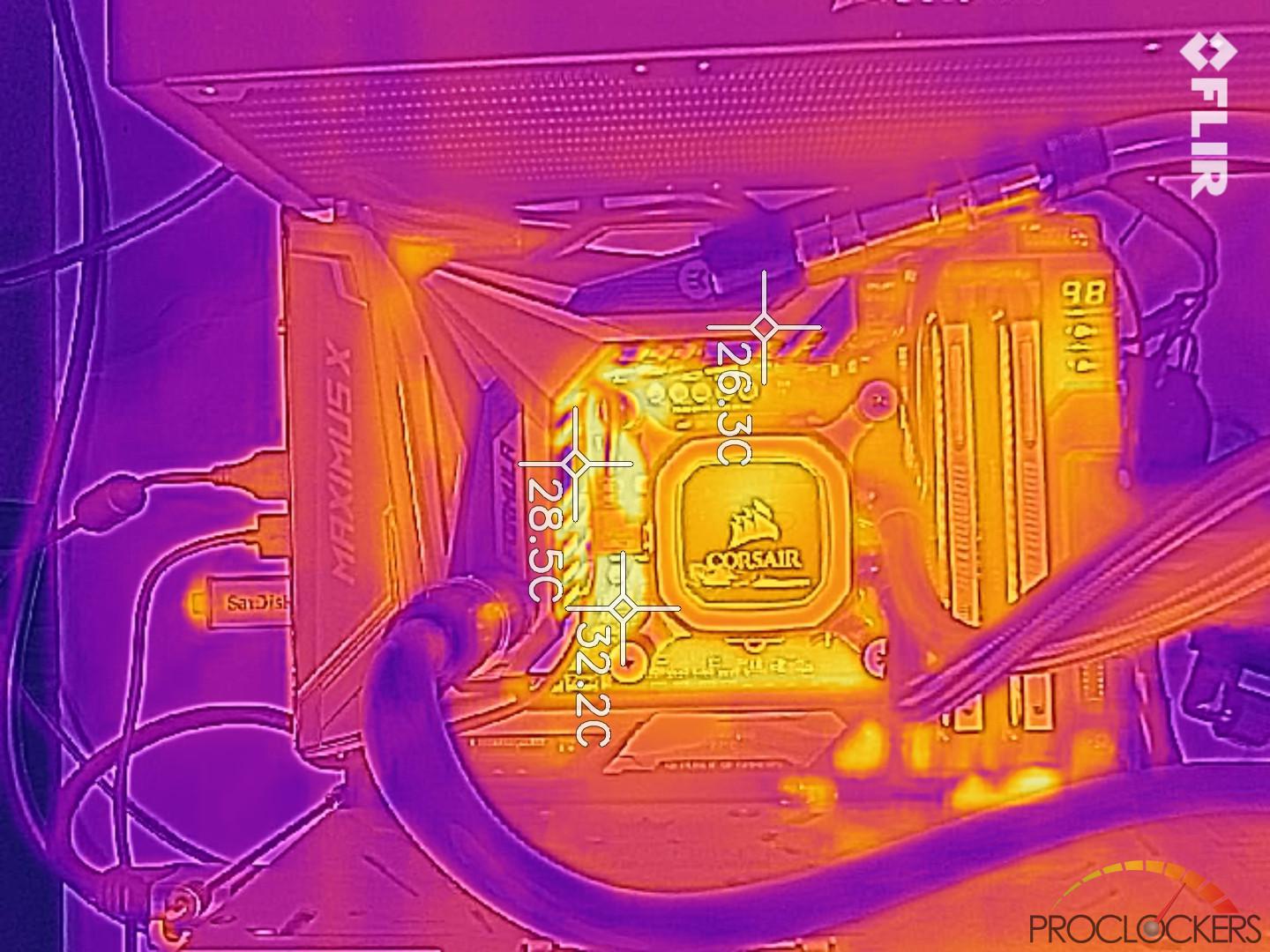 After connecting a small loop to the VRM, we see much cooler temps right out of the gate, even at idle with the VRM's hovering around 32C and the entire area much cooler in general.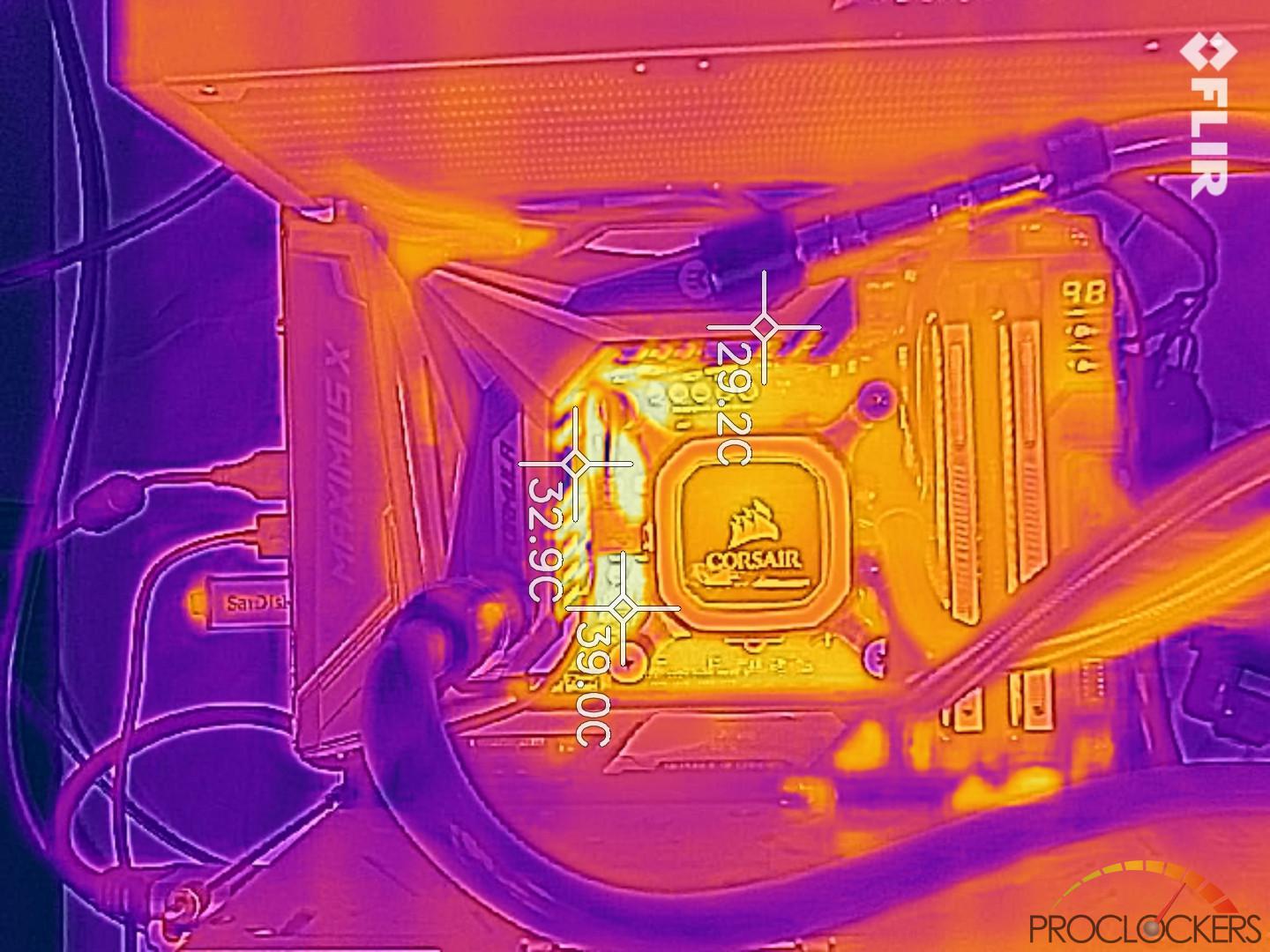 After lighting up a CPU stress test, we see the VRM's only climb into the lower 40C range under the same heavy load. While getting fittings tightened down as a tiny bit of a hassle, the end result is well worth it.
Final Thoughts & Conclusion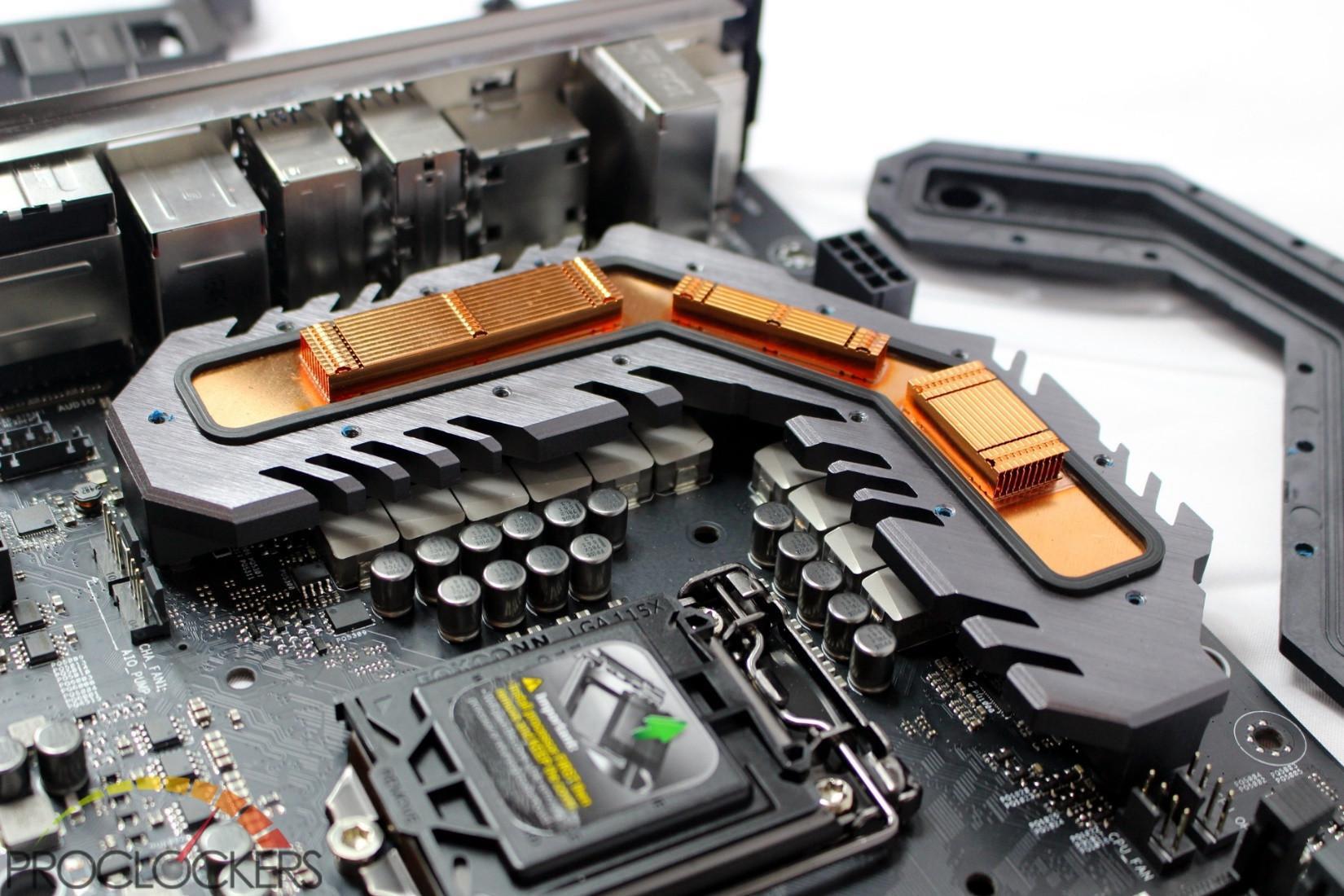 ASUS delivers again with the 9th iteration of the Formula family in a big way. We tested the Maximus X Hero several weeks back and came away impressed, but the Formula ices the proverbial cake. The VRM cooling system is a big part of the Formula's claim to fame, and while it didn't let the power delivery system throttle on air, it did keep it quite chilly with a little water running through it. The LiveDash is a really fun and quite useful feature we wish more ROG boards had. You do still have the 2 digit readout in the corner, but seeing what the board is doing in English is quite nice and being able to add a little, animated display of your own choosing or even creation is just fun.
Aesthetics of this new ROG series boards are subjectively quite beautiful. The metallic silvers, greys, and blacks look amazing while being able to blend well with any color accent, or all of them via RGB. The RGB lighting on the board itself looks great, and the plethora of RGB headers means the rest of your build can blend right in. The Armor and backplate are beautiful, and the VRM water block does great on air and water both, but combined it does make for a heavy board. The LiveDash is awesome and we hope this feature comes to all ROG boards in the future. The features list is long as is a number of useful software tools the board comes with. The latest connectivity is all present from USB 3.1 gen 2 to multiple Turbo M.2 ports supporting Optane and RAID.
The only fault we can find is EKWB's little logo sticker getting in the way of tightening down a fitting, but its minor and an easy fix, and it was an absolute pleasure to test this board out. Great job ASUS!

<![CDATA[ */ var zbjs = {"ajaxurl":"https:\/\/gaminggorilla.com\/wp-admin\/admin-ajax.php","md5":"d8e8b24d2fa18d2999e0fddcdd418586","tags":[],"categories":["Hardware"]}; /* ]]>