ASUS ROG Swift PG27U 4K 144Hz HDR Gaming Monitor Review
Introduction
Depending on your choice of games or game genera, you probably chose your monitor for its fast refresh or for its huge number of pixels. Competitive gamers tend to favor high refresh rates where every millisecond counts which hug the lower end of the resolution scale. If you like slower paced games with cinematic fantasy or dystopian landscapes, you probably want to see every jaw-dropping pixel in 4K UHD, but you won't be getting more than 60 frames per second out of your monitor. And that's IF you have a system with enough graphical muscle to even handle 4K resolution anyway. A lot of gamer's compromise, a higher resolution like 2560×1440 or maybe an ultra-wide 3440×1440 and a refresh rate in the 100-120Hz range which provides a good middle-of-the-ground approach.
What if you are the elite of the PC gaming world and can't stand the thought of compromising on anything? You have the fastest processor money can buy, a pair of the best video cards on the market and enough disposable income to not care about all that early adopter tax nonsense, so what do you choose for a monitor? If the above sounds like you, Asus has just the display for you. ASUS's ROG Swift PG27U is your wildest dreams brought to life and sat right in the middle of your battle station. Featuring a full 4K UHD resolution at a blistering overclockable 144Hz that supports Nvidia's G-sync variable refresh technology with more than a billion displayable colors with High Dynamic range for vivid details and lifelike contrast for a zero compromise, no-holds-barred gaming experience.
Pro Clockers can't thank Asus enough for sending over just an incredible piece of technology for us to experience.
ASUS's take on the ROG Swift PG27U Gaming Monitor:
SEE THE FUTURE OF GAMING

ROG Swift PG27U is a 4K UHD G-SYNC™ HDR gaming monitor with an overclockable 144Hz refresh rate for buttery-smooth gameplay. This 27-inch IPS display with quantum-dot technology heralds a new generation of gaming. It provides a wide DCI-P3 color gamut for more realistic colors and smoother color gradation, and HDR technology to deliver vivid details and lifelike contrast. Additionally, a built-in light sensor automatically adjusts the brightness of the screen according to the light conditions of your environment. And with Aura Sync, ROG Light Signal, and Light Signature, you can customize your gaming setup to suit your own style. See the future of gaming with ROG Swift PG27U.
ROG Swift PG27U Gaming Monitor – 27" 4K UHD (3840 x 2160), Overclockable 144Hz, G-SYNC HDR, Quantum-dot, IPS, Aura Sync
27-inch 4K UHD (3840 x 2160) HDR gaming monitor with an overclockable 144Hz refresh rate for super-smooth gaming visuals
NVIDIA G-SYNC HDR delivers lifelike contrast and color, with the brightest whites and darkest blacks bringing out details like never before
Quantum-dot IPS display with a wide DCI-P3 color gamut provides realistic colors and smoother gradation
ASUS Aura Sync technology creates immersive ambient lighting and supports synchronization with Aura-enabled components and peripherals
New ROG Light Signal casts the ROG logo to create the perfect atmosphere for your gaming setup
Features & Specifications
4K UHD with Super-fast 144Hz
ROG Swift PG27U is the very first monitor to run 4K UHD (3840 x 2160) content at a 144Hz refresh rate, providing gamers with detailed ultra-high definition visuals at extremely smooth frame rates and a 4ms response time. Get unmatched levels of details, sharp images, and crisp text.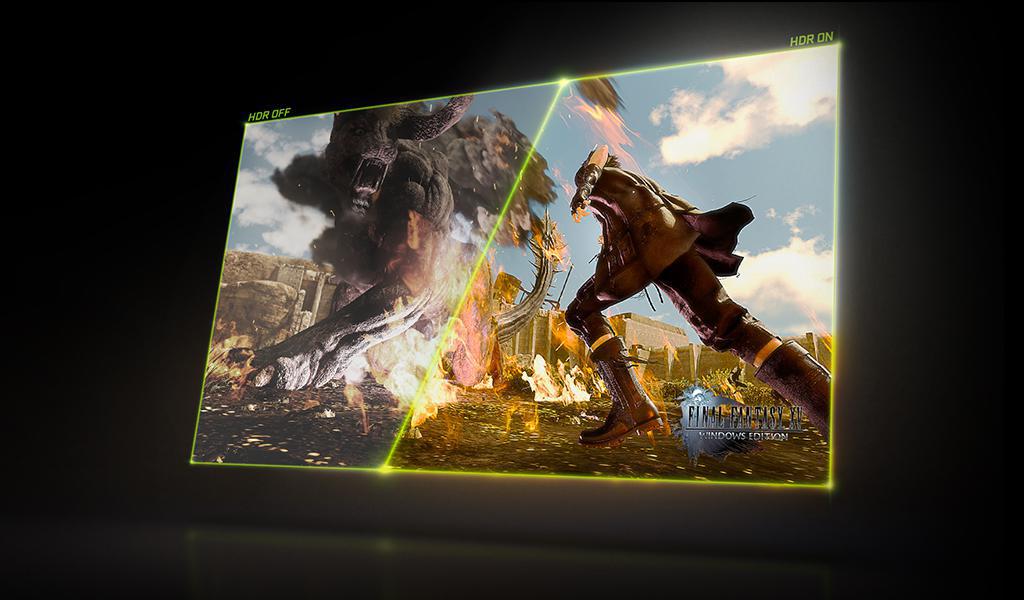 High Dynamic Range (HDR) with 384-Zone LED Backlight Control
ROG Swift PG27U features HDR technology for a range of luminance that is closer to what the human eye can experience, and provides a wider color range than traditional monitors. The brightest whites and darkest blacks are able to bring out details like never before.
PG27U is the first and only gaming monitor with DisplayHDR 1000 certification, the display industry's fully open standard specifying HDR quality, including luminance, color gamut, bit depth and rise time that targets not only gaming monitors but also displays for professionals, enthusiasts, and content creators.
With local dimming, its LED backlight is dynamically controlled across 384 zones, providing very high contrast for richer, more natural-looking dark scenes. It can selectively turn LEDs on and off to create a wide range of dynamic luminance for a much richer, nuanced image. And with HDMI support, you can enjoy super-detailed 4K HDR content with your console*, and watch stunning videos on your favorite streaming device.
* ROG Swift PG27U currently supports HDR compatible consoles.
Quantum-dot IPS Display for a Cinema-grade DCI-P3 Color Gamut
An IPS display with quantum-dot technology provides accurate color imagery and supports a cinema-standard DCI-P3 color gamut. DCI-P3 enables wider color range than sRGB, resulting in more realistic color reproduction.
NVIDIA G-SYNC Technology
ROG Swift PG27U features NVIDIA® G-SYNC™ display technology for the smoothest and fastest gaming imaginable, eliminating screen tearing and minimizing display stutter and input lag. Enjoy the latest first-person shooters, sports, and action-adventure games at super-fast frame rates, even at the highest graphics settings!
AURA SYNC LIGHTING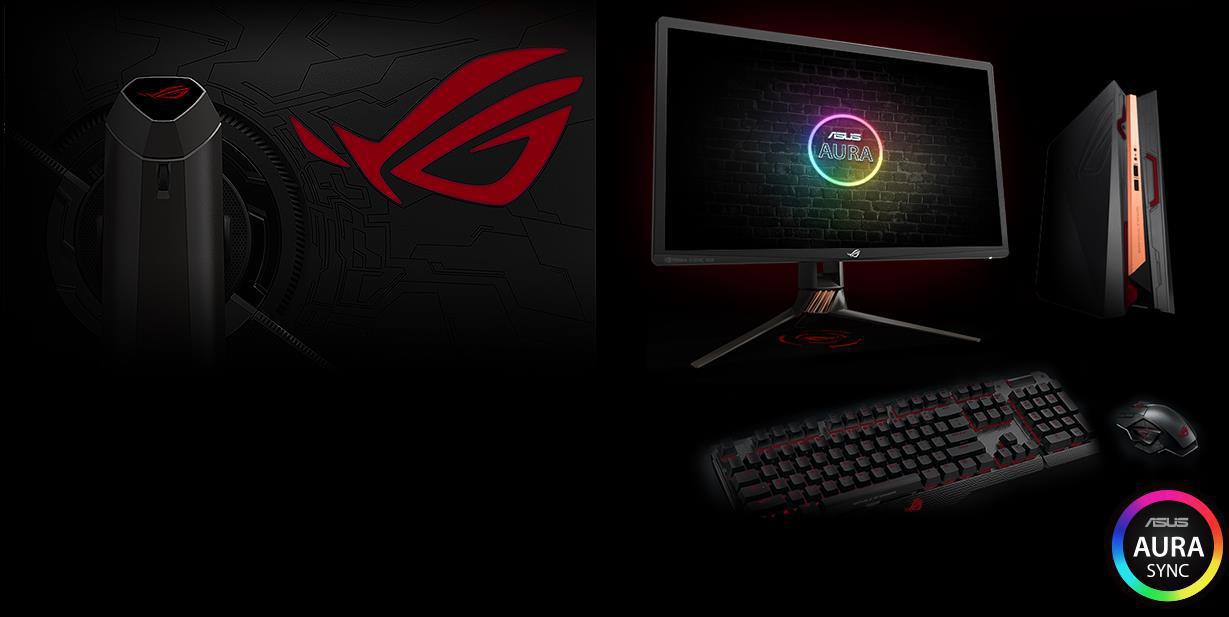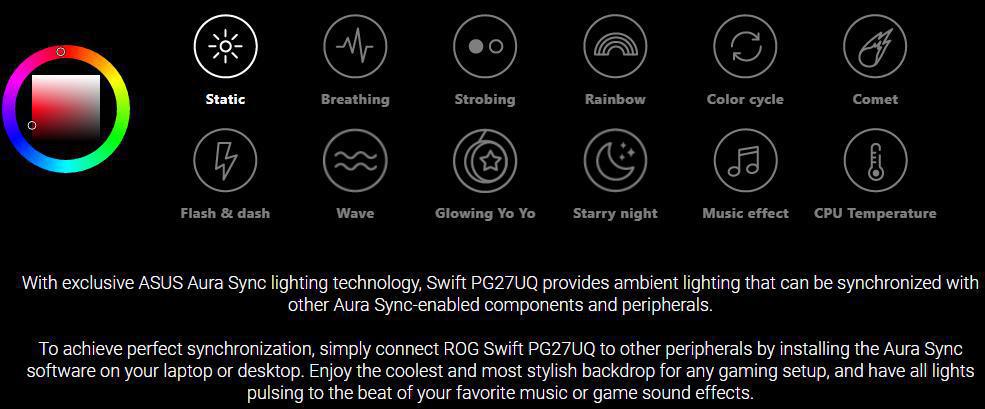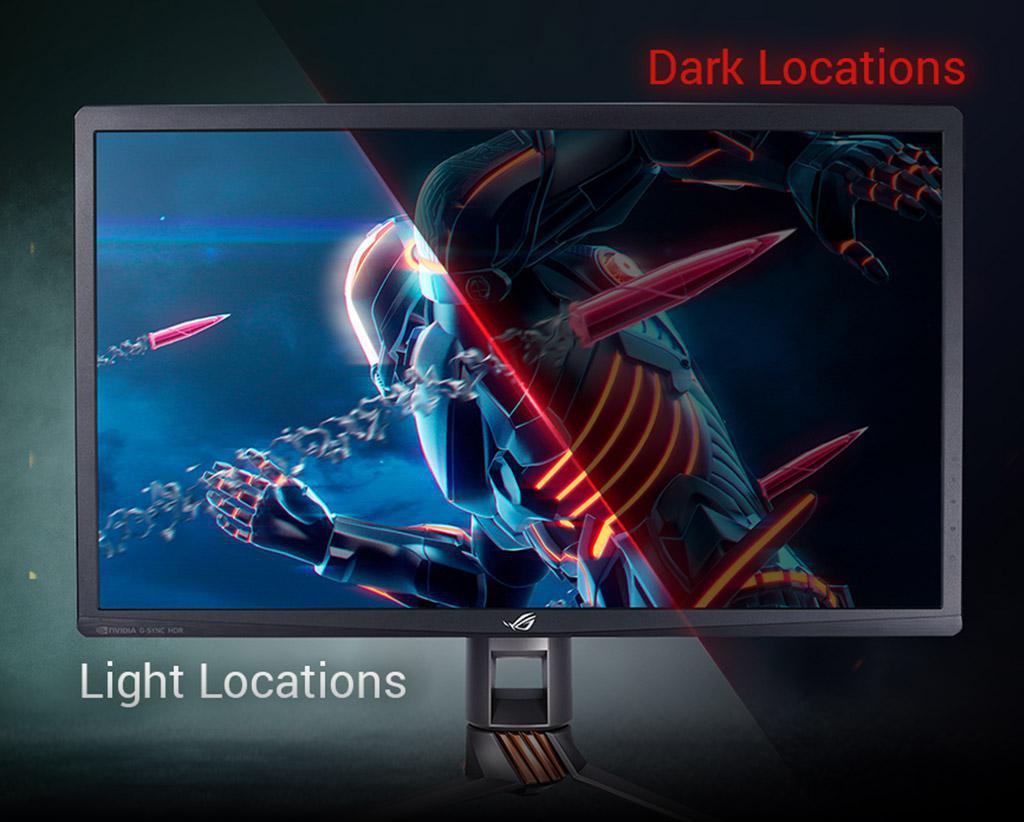 Ambient Light Sensor
ROG Swift PG27U uses an ambient light sensor to check the light conditions around you and adjust the brightness levels of the display. The sensor lowers brightness in dark conditions and raises brightness in well-lit conditions.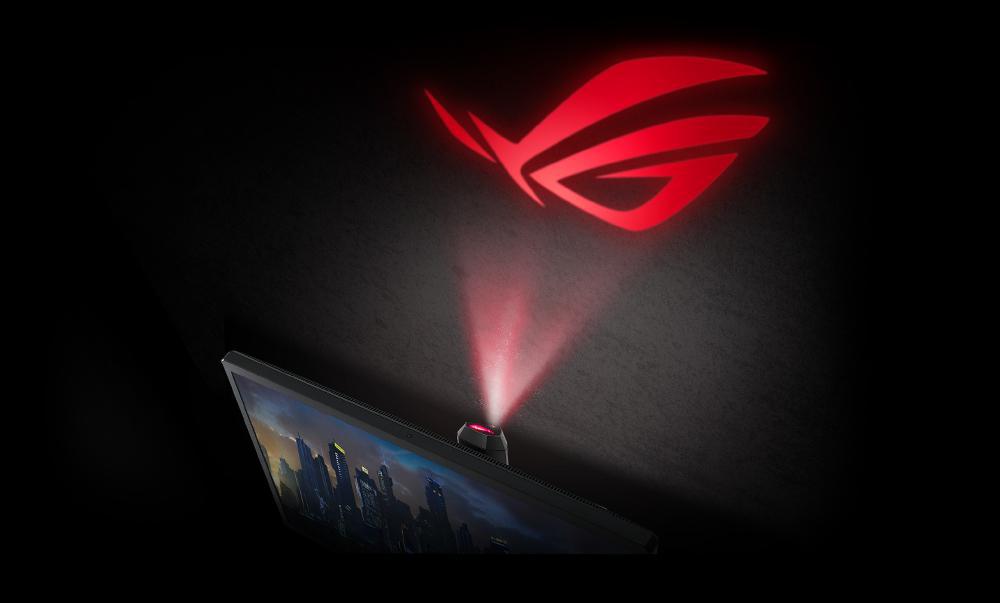 ROG Light Signal to Show Your Gaming Pride
With a built-in ROG Light Signal in its stand, ROG Swift PG27U lets you cast the ROG logo onto the wall to show your gaming spirit and create the perfect atmosphere for your gaming setup.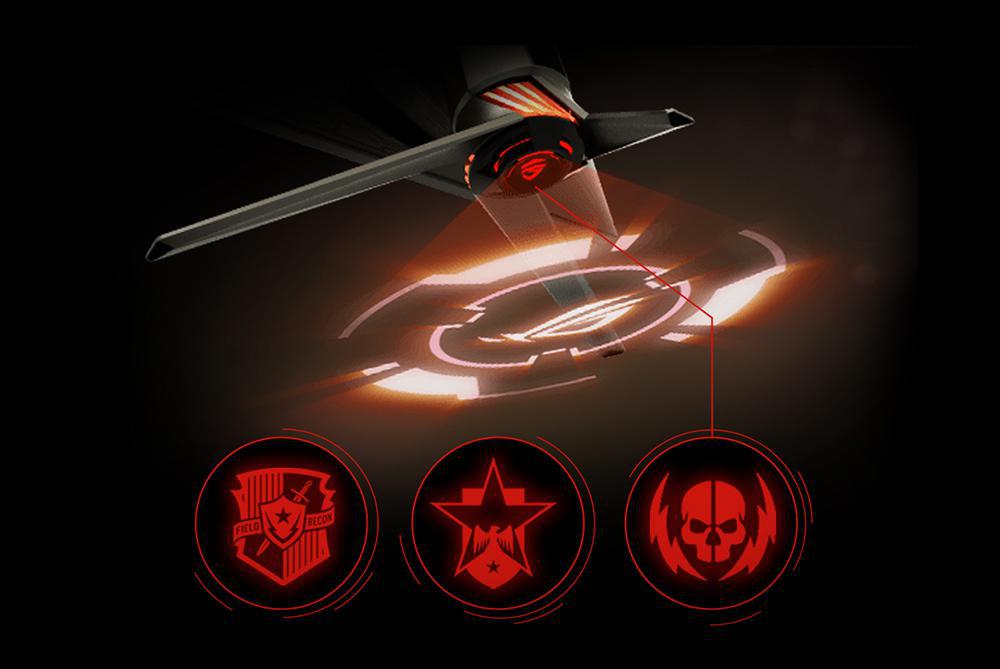 Customizable Light Signature
The Light Signature projection kit lets you create and customize light effects that are projected from ROG Swift PG27U onto your desktop surface. It includes two ROG logo covers and three blank covers that you can use to create customized light projections that show your unique gaming style.
GAMER-CENTRIC ENHANCEMENTS
GamePlus Technology
A crosshair overlay provides four different crosshair options, so you can select the one that best suits the shooter you're currently playing.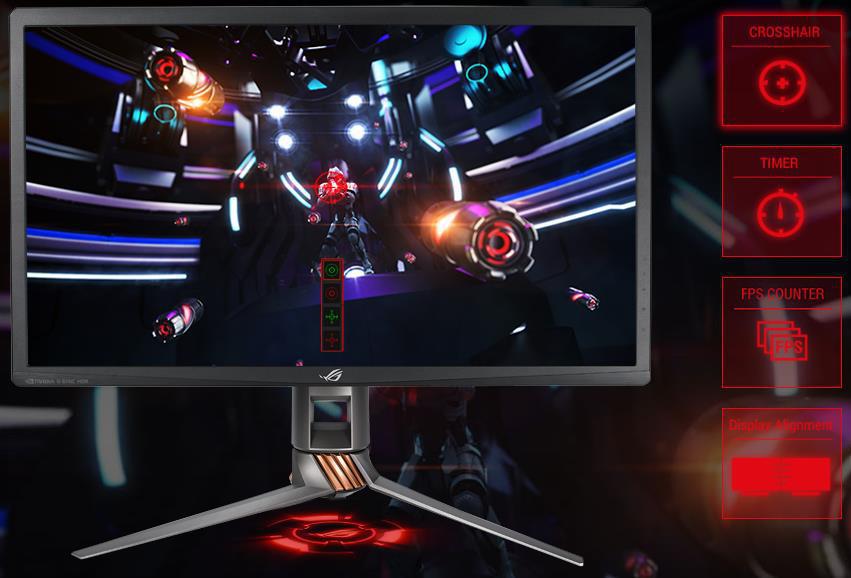 Stemming from the ROG commitment to creating the best gaming experiences, ROG Swift PG27U features the ASUS-exclusive GamePlus hotkey with in-game enhancements that help you get the most out of your game. This function is co-developed with input from pro gamers, allowing them to practice and improve their gaming skills.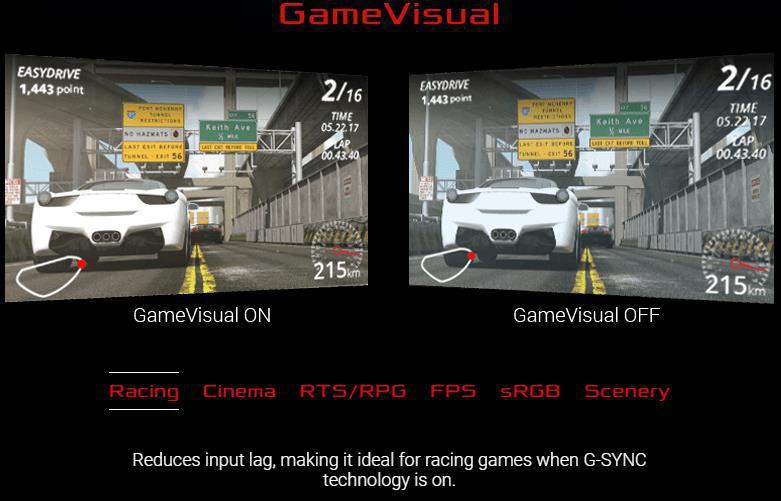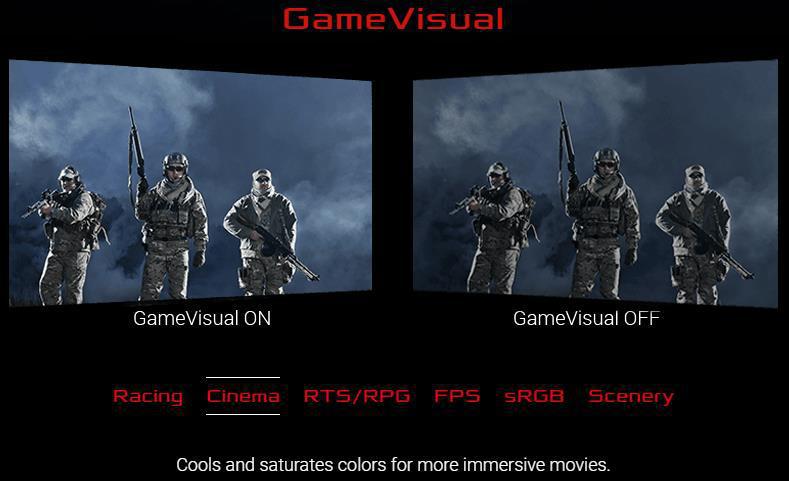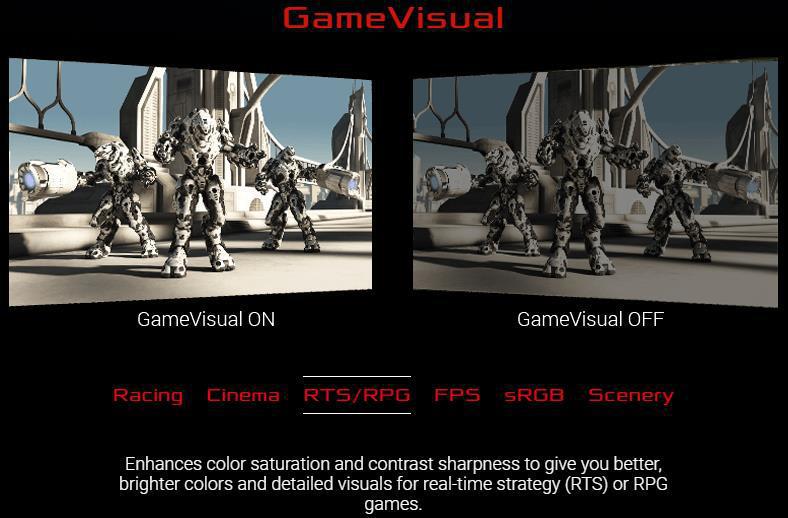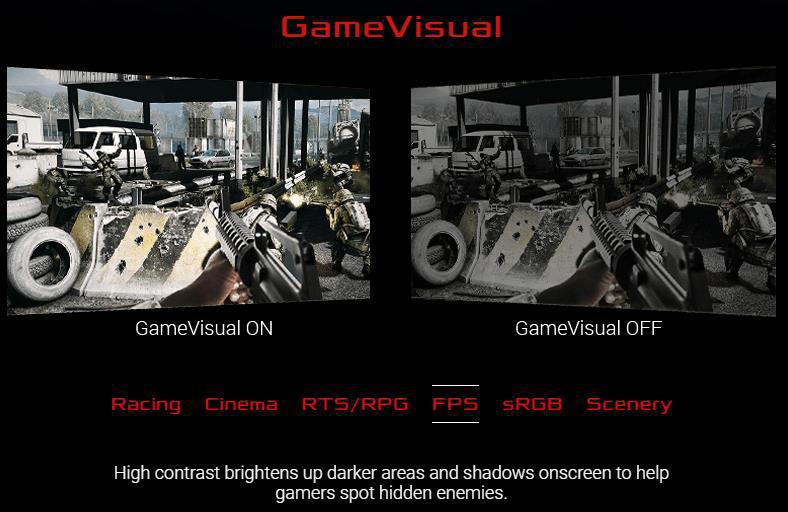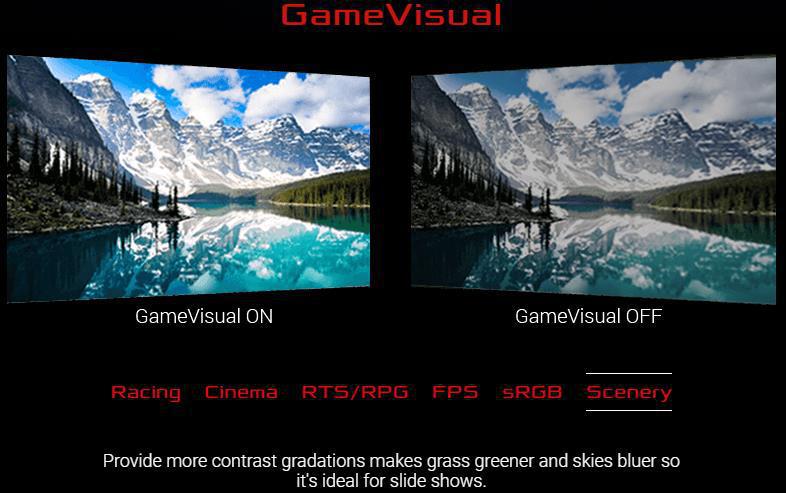 Robust Connectivity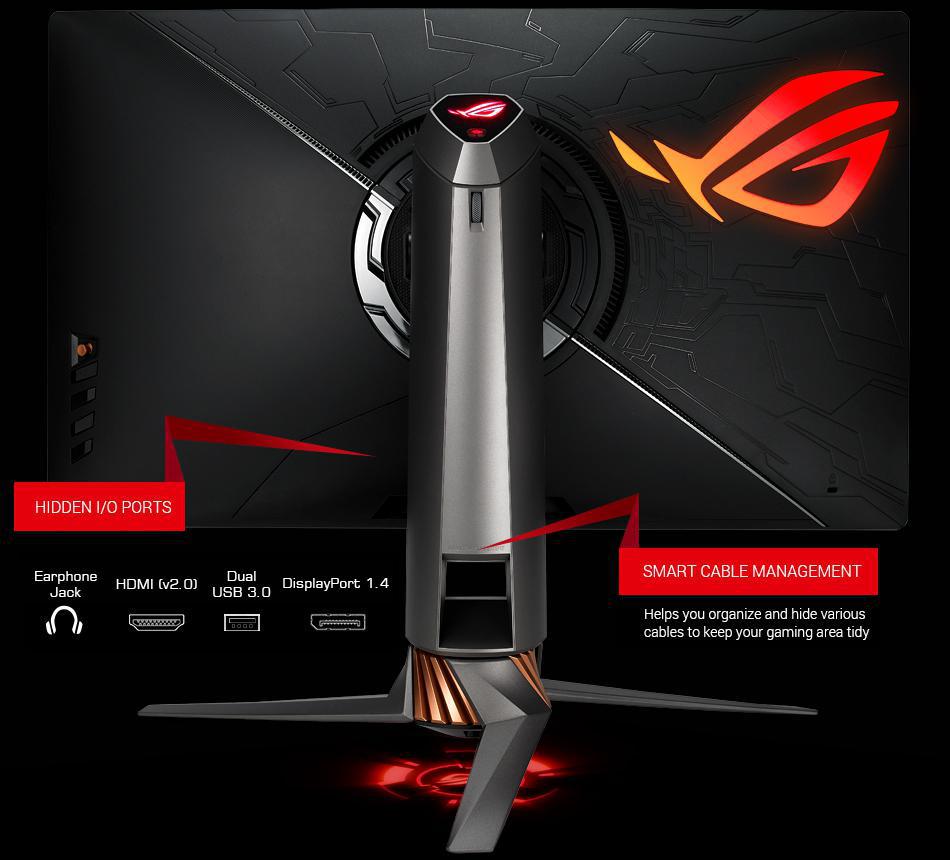 ROG Swift PG27U offers a wide selection of connectivity options, including DisplayPort 1.4 and HDMI (v2.0). There are also two USB 3.0 ports that can be used to charge your mobile devices while gaming or to connect your keyboard or mouse.
DESIGNED FOR MARATHON GAMING SESSIONS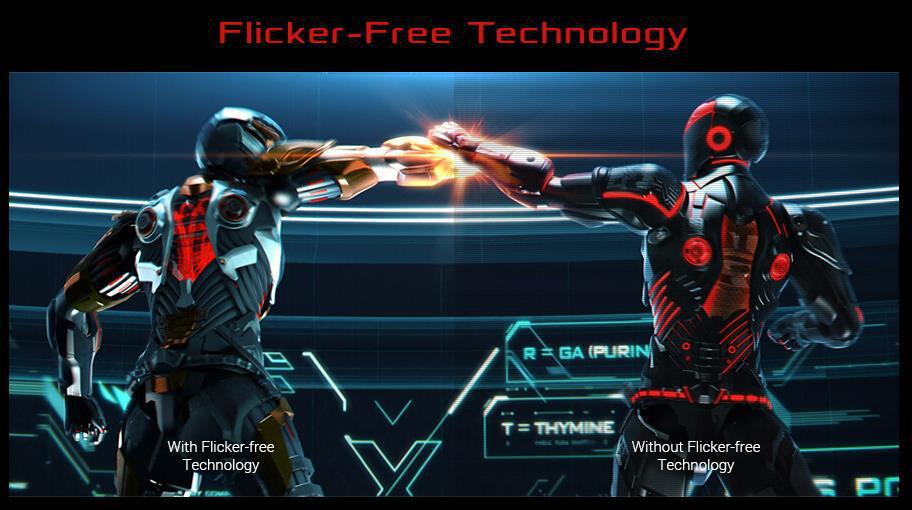 ROG Swift PG27U reduces on-screen flicker to minimize eye strain during marathon gaming sessions, giving you a more comfortable gaming experience.
ERGONOMIC DESIGN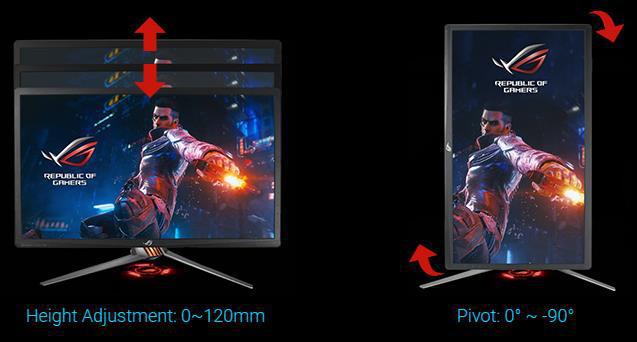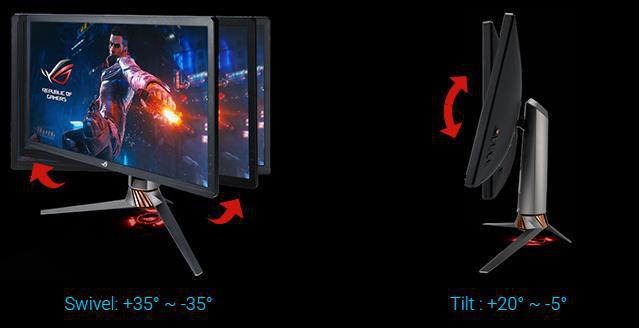 ROG Swift PG27U features a stand that's ergonomically designed to offer extensive swivel, tilt, pivot and height adjustment – so you can always get the perfect viewing angle.
SPECIFICATIONS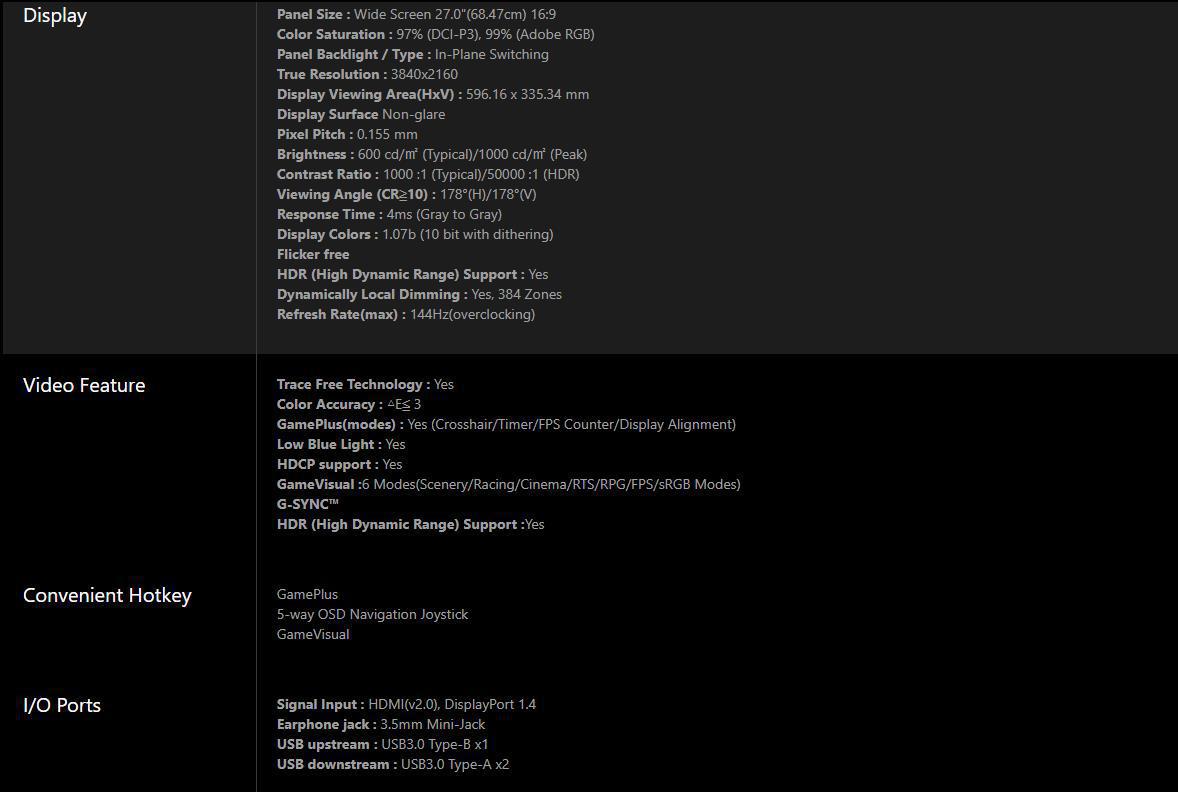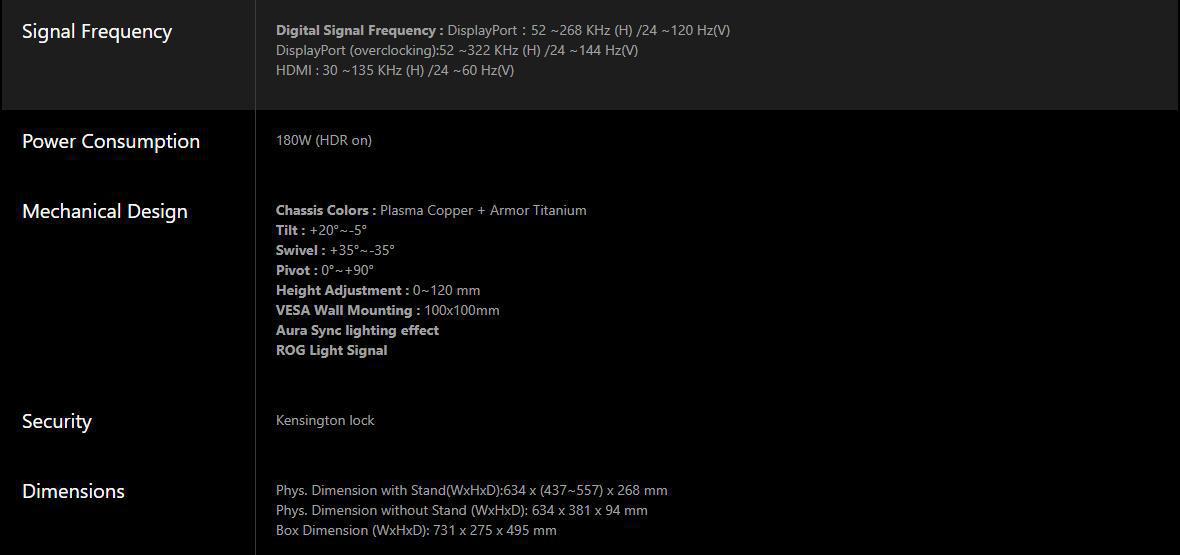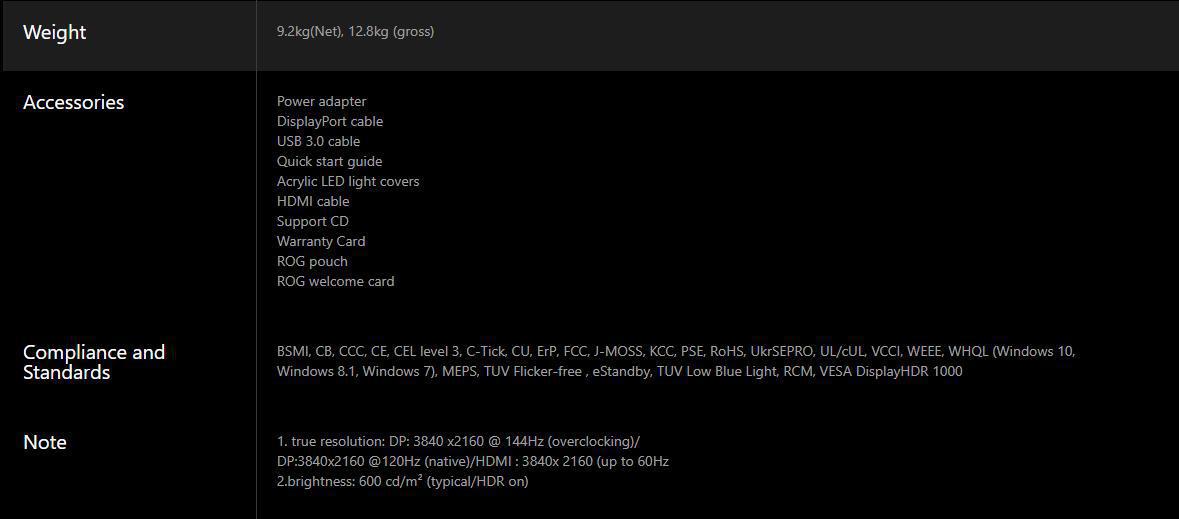 Packaging & Unboxing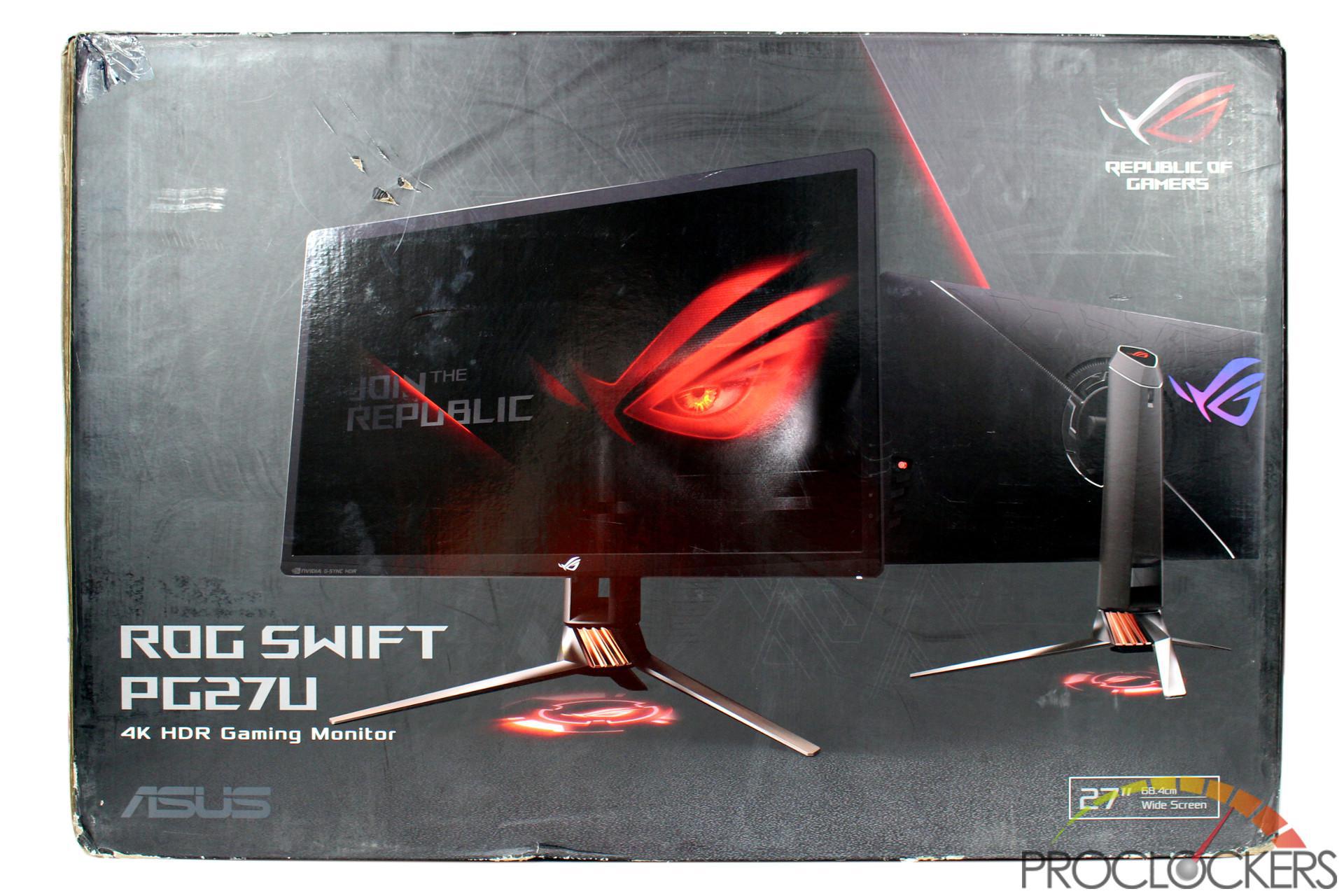 Our review sample of the ASUS ROG Swift PG27U monitor has been passed around a bit, so please excuse the slightly beat up box. A front and back picture of the monitor cover most of the box.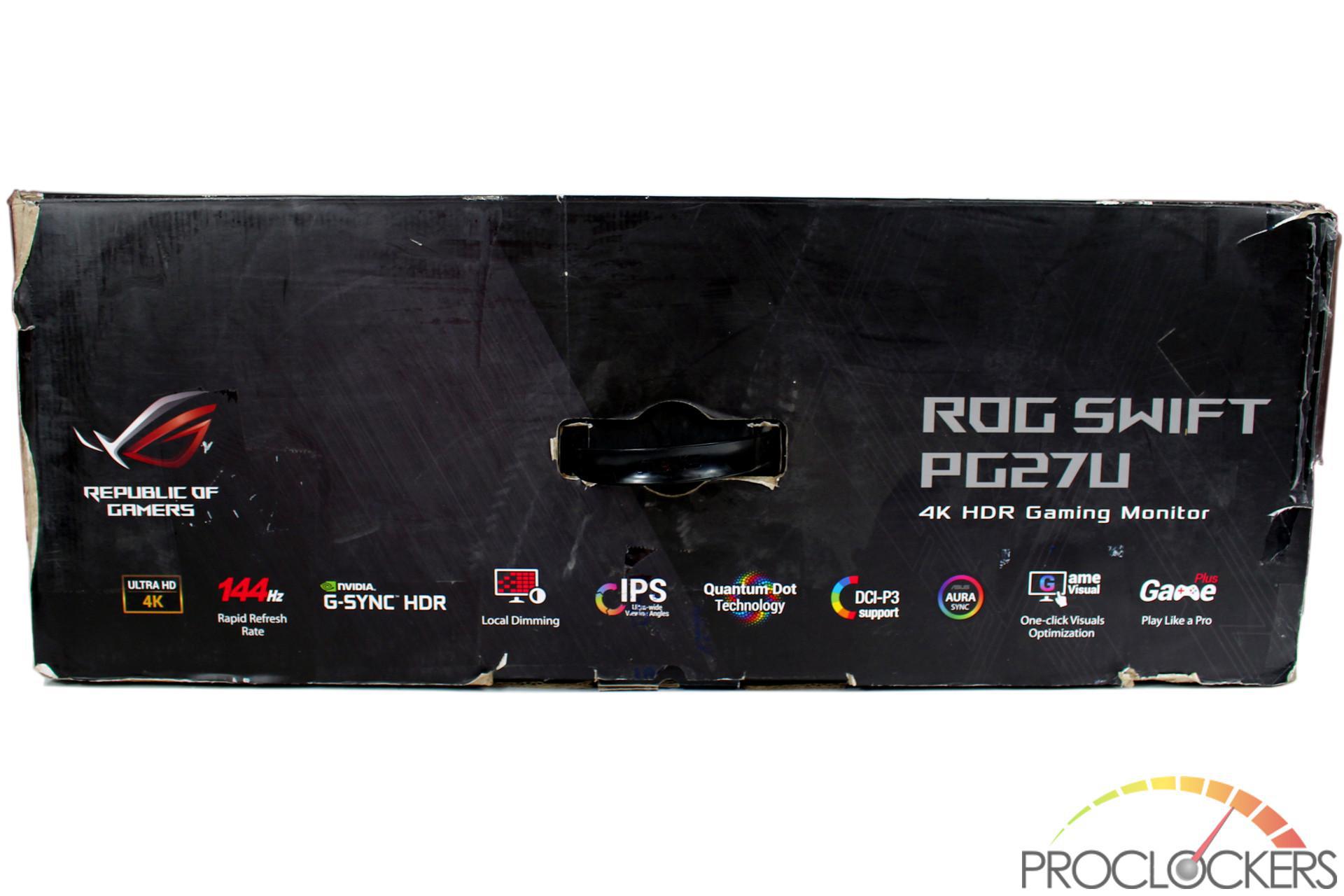 Besides the carry handle, the top of the box is adorned with logo after logo for all of the features of the monitor.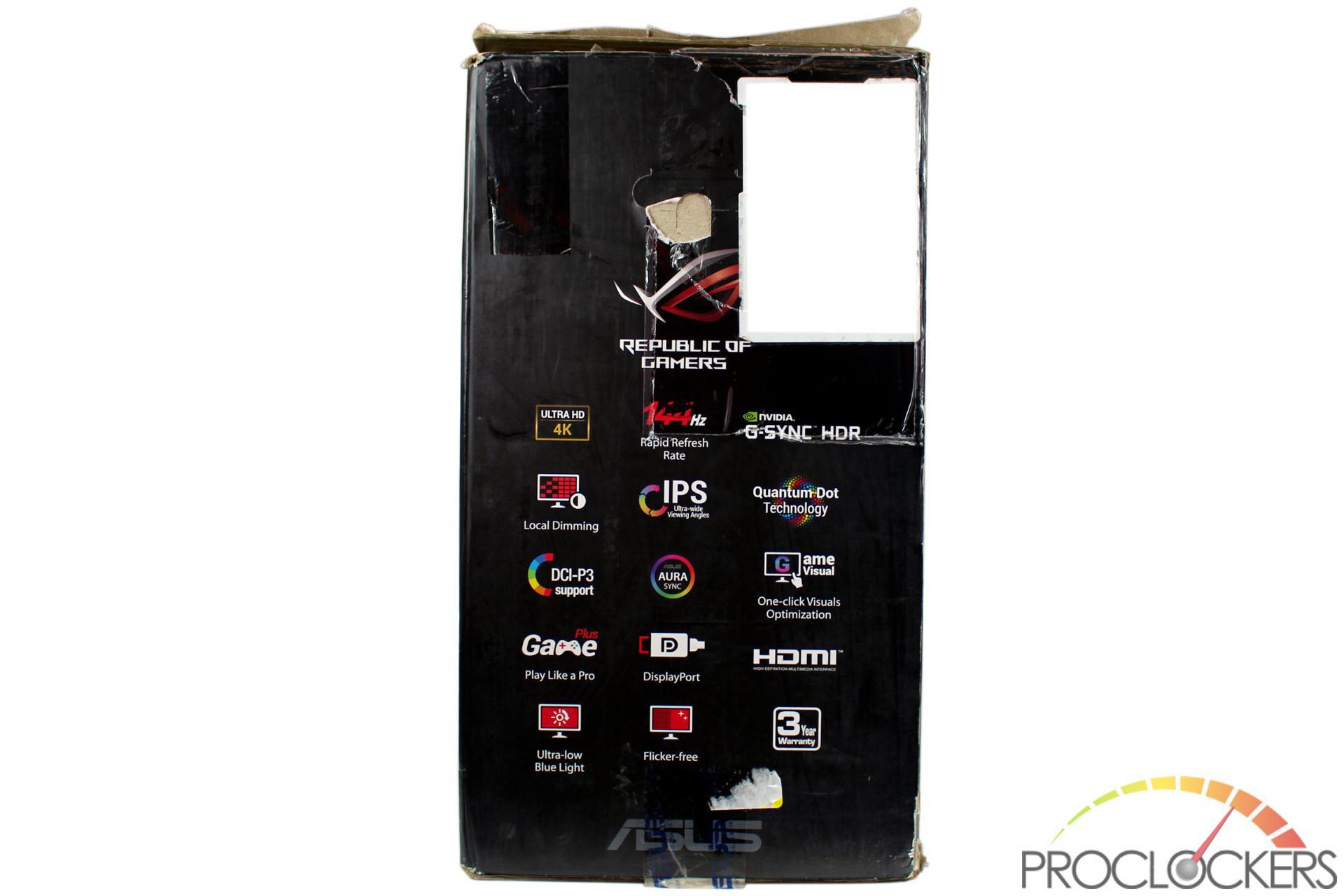 Most of the same logos can be found on the side of the box as well.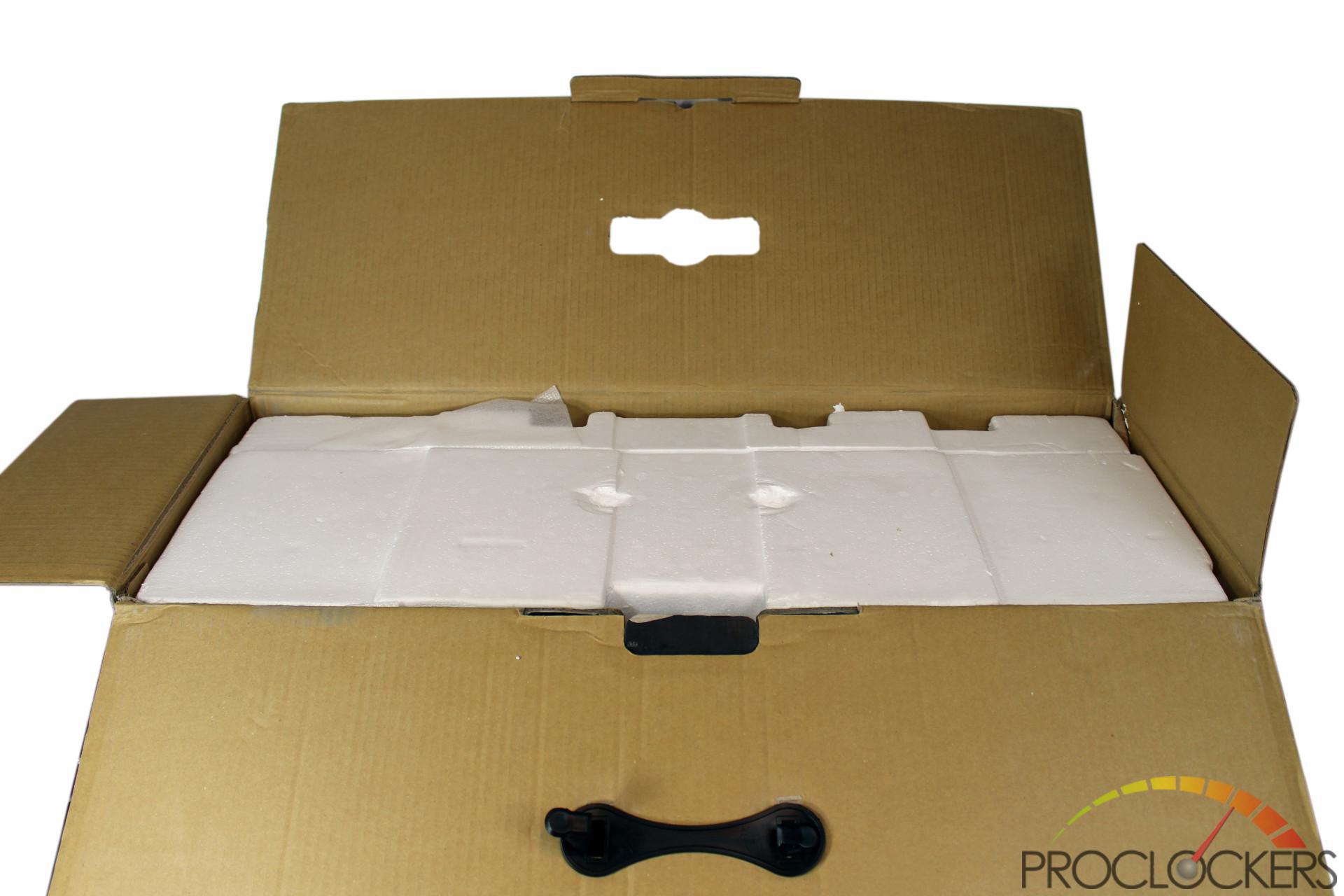 Inside the box, the PG27U is sandwiched in a massive block of Styrofoam like most monitors.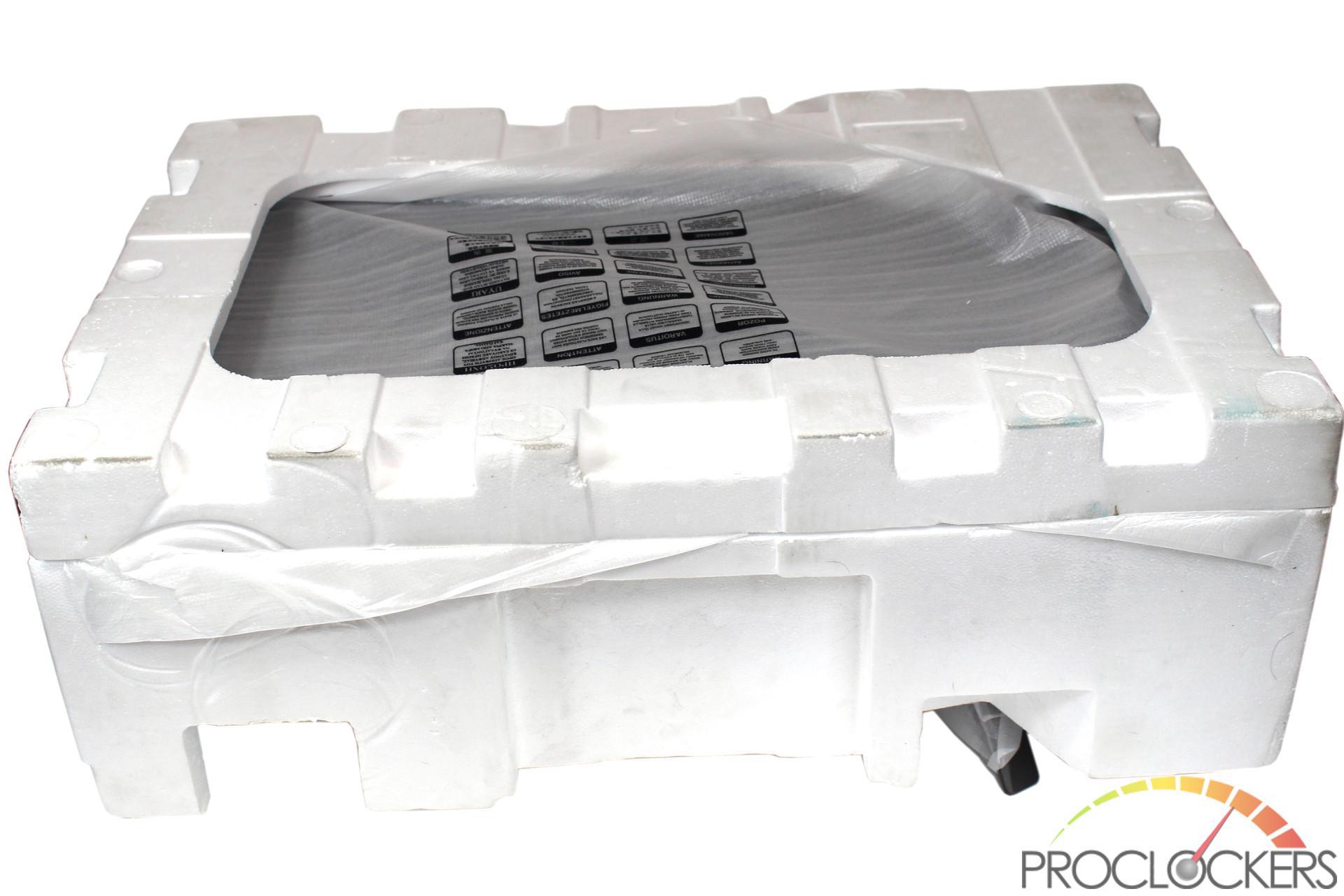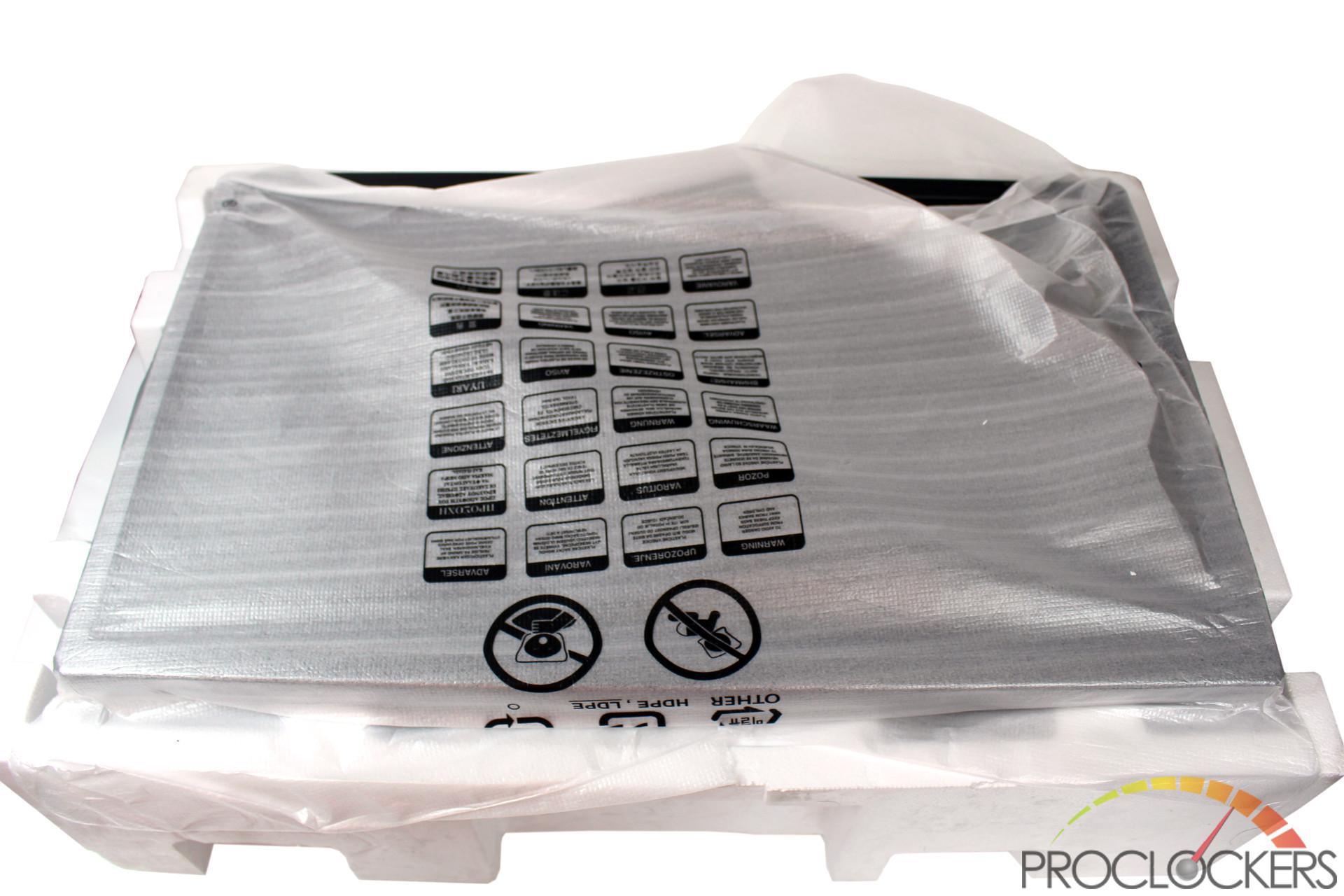 A protective padded bag covers the monitor inside the foam.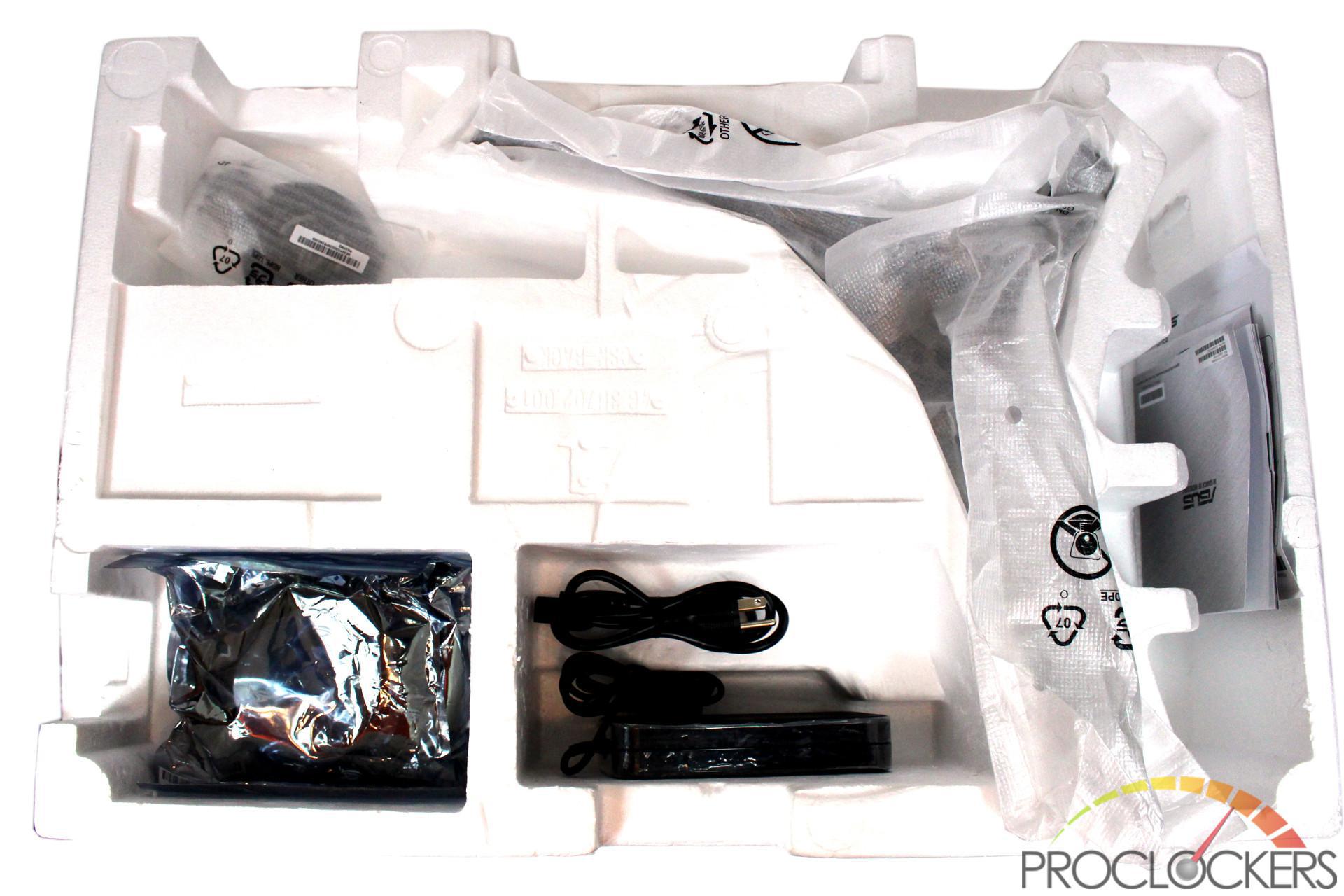 The rest of the stuff like the cords, power brick and stand in cutouts in the base block of foam.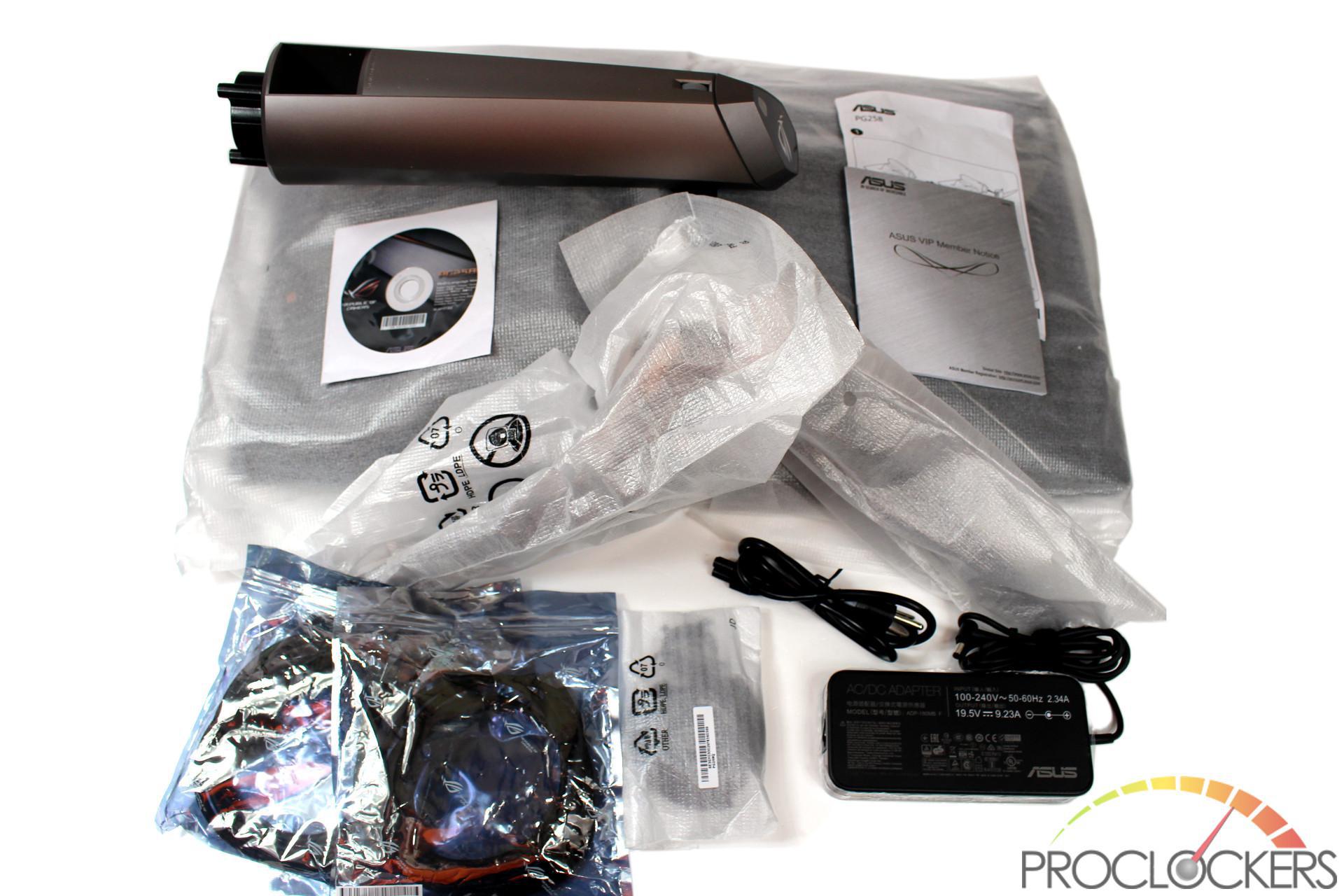 It takes a moment to fish all of the stuff out of the packaging.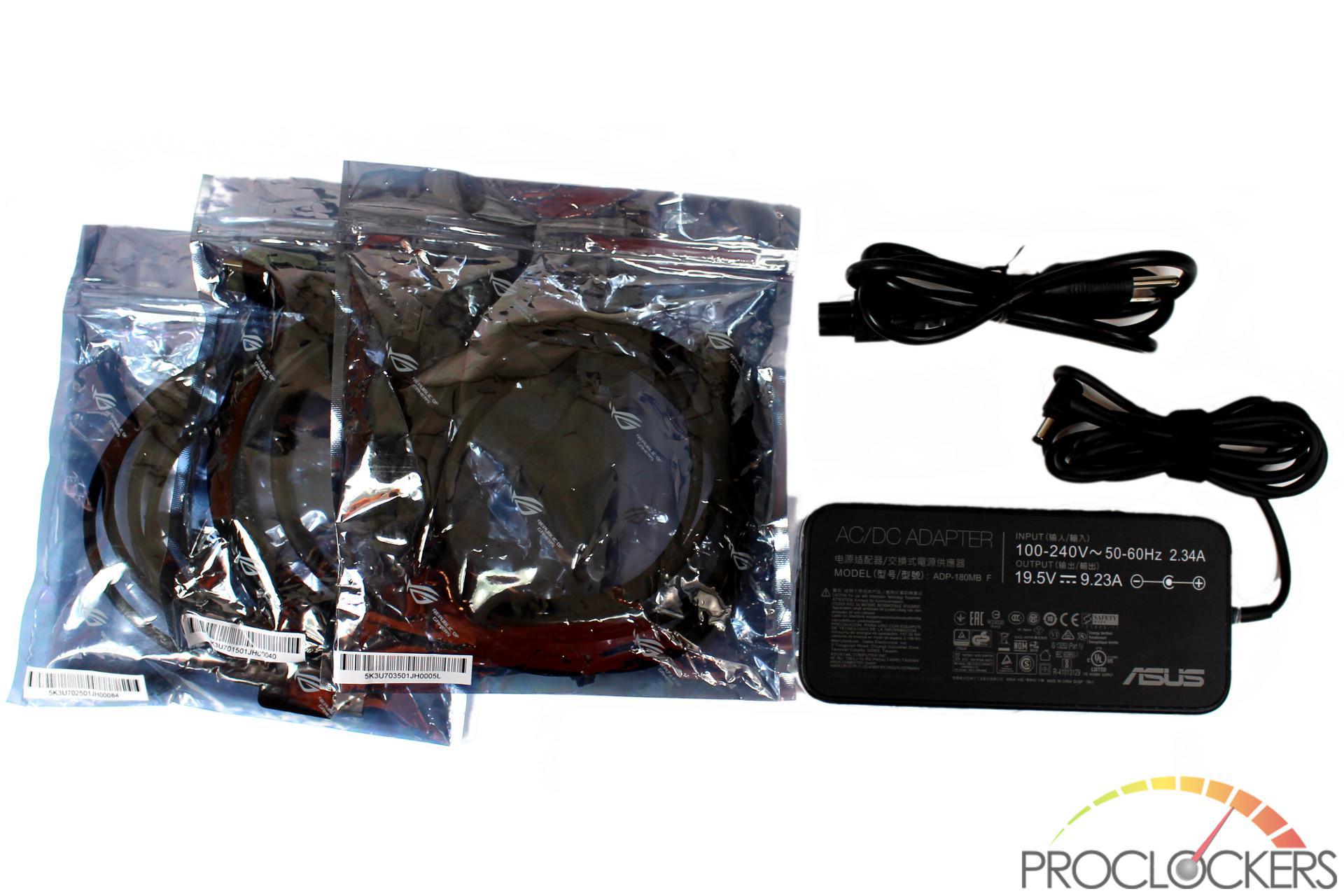 You get three ESD safe type bags with USB and display cables, and the power brick and regional appropriate power cord.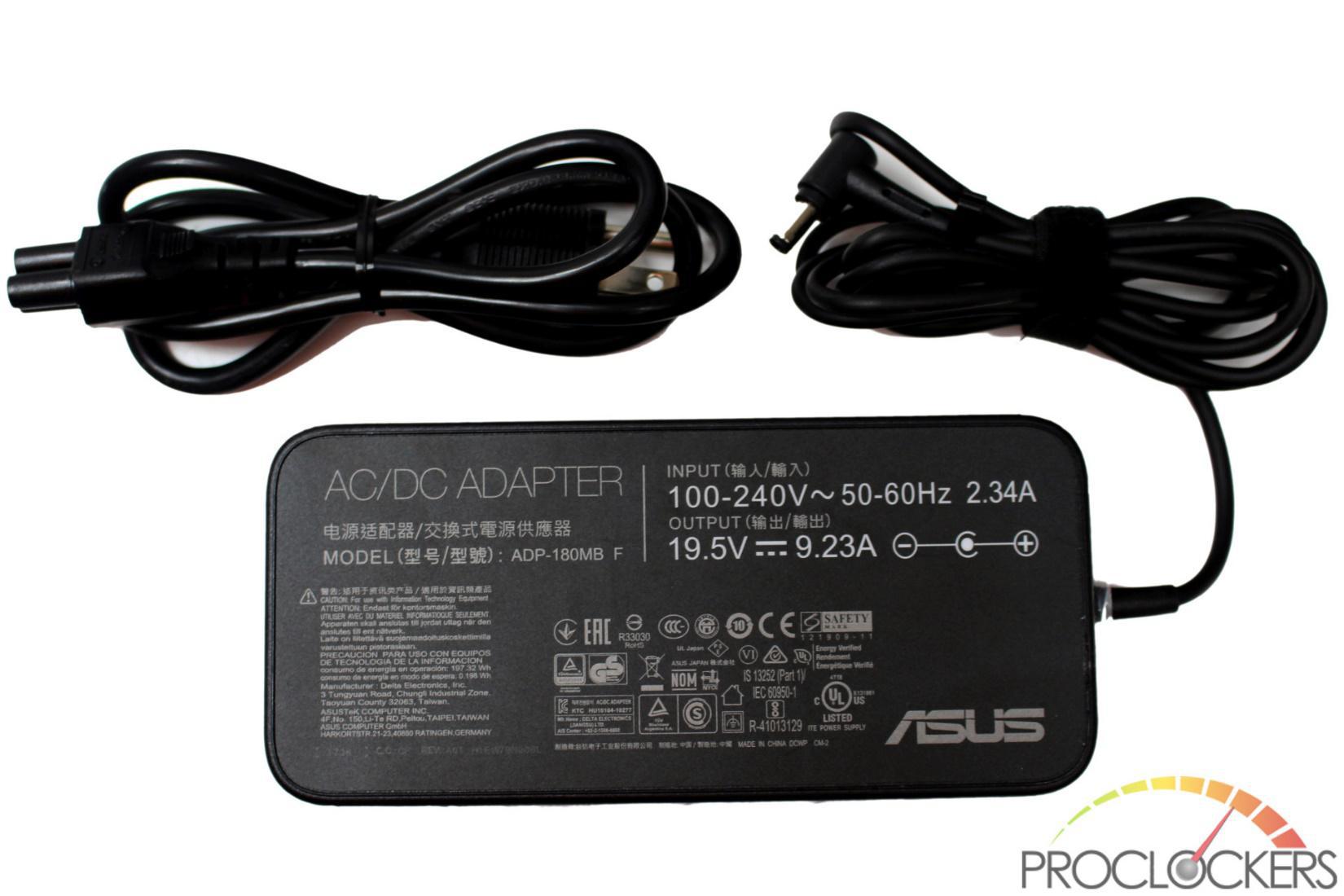 The brick is rated for 180W, enough for a high-end laptop.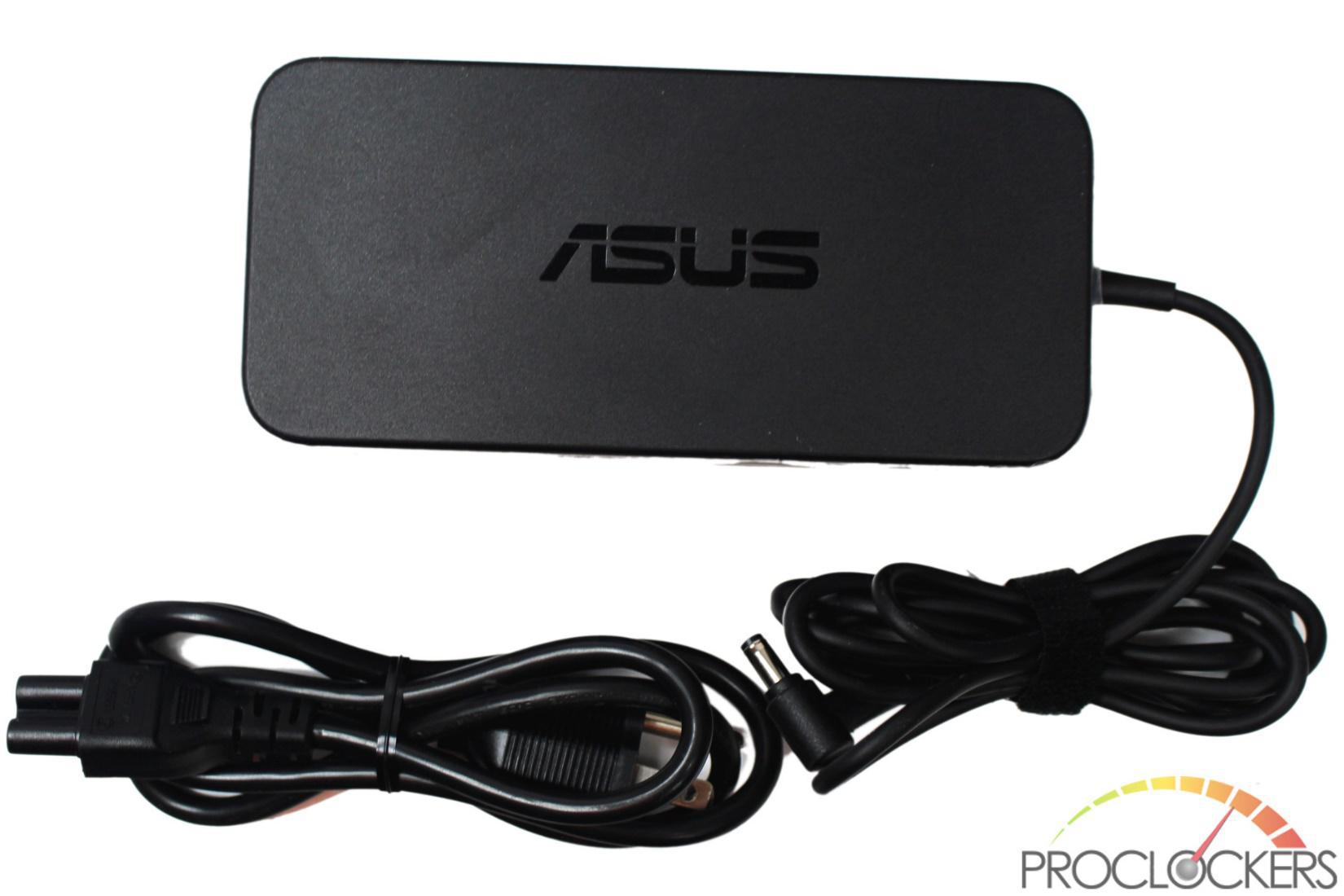 The top side carries a glossy ASUS logo.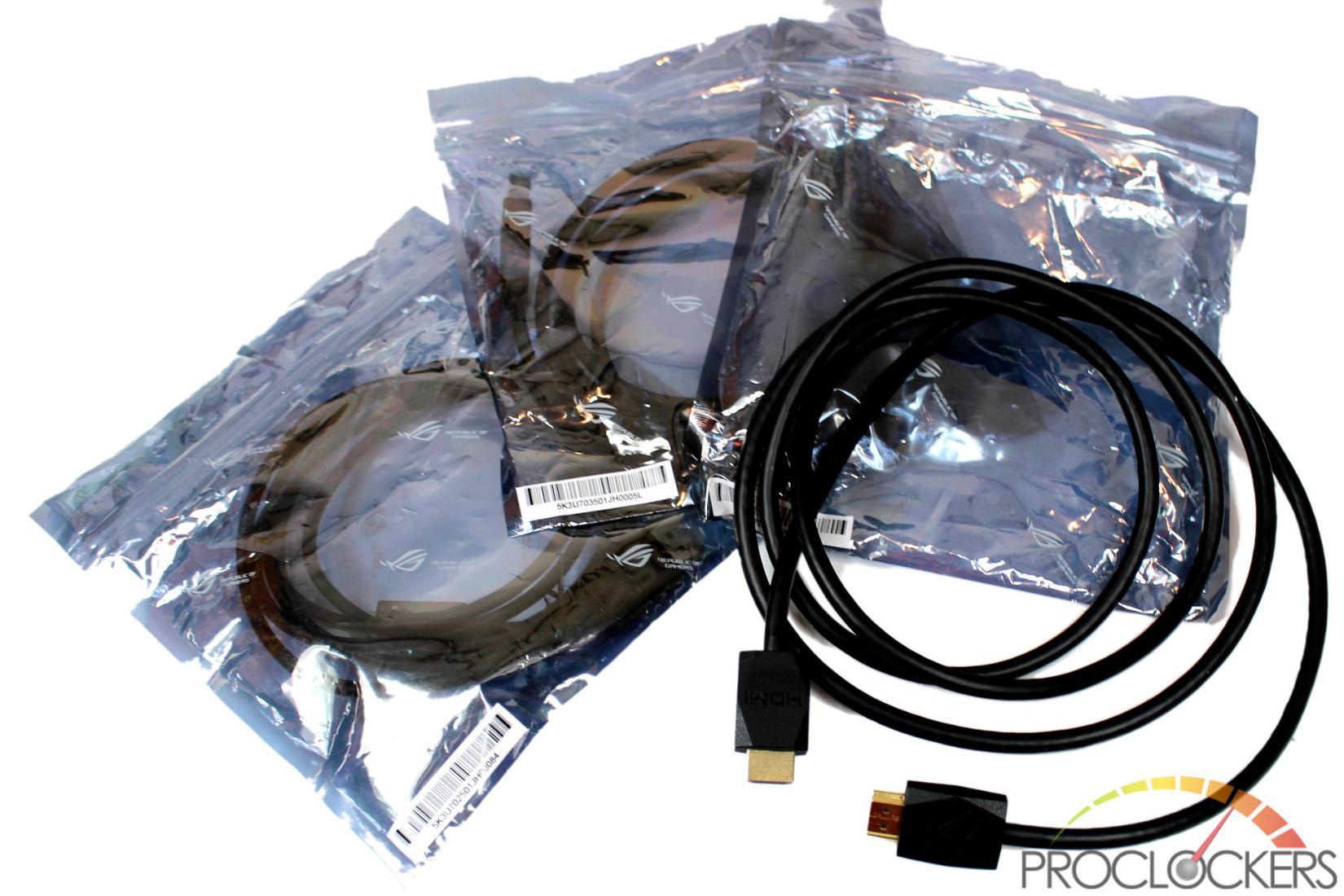 You get a DisplayPort, HDMI, and USB 3.0 cable.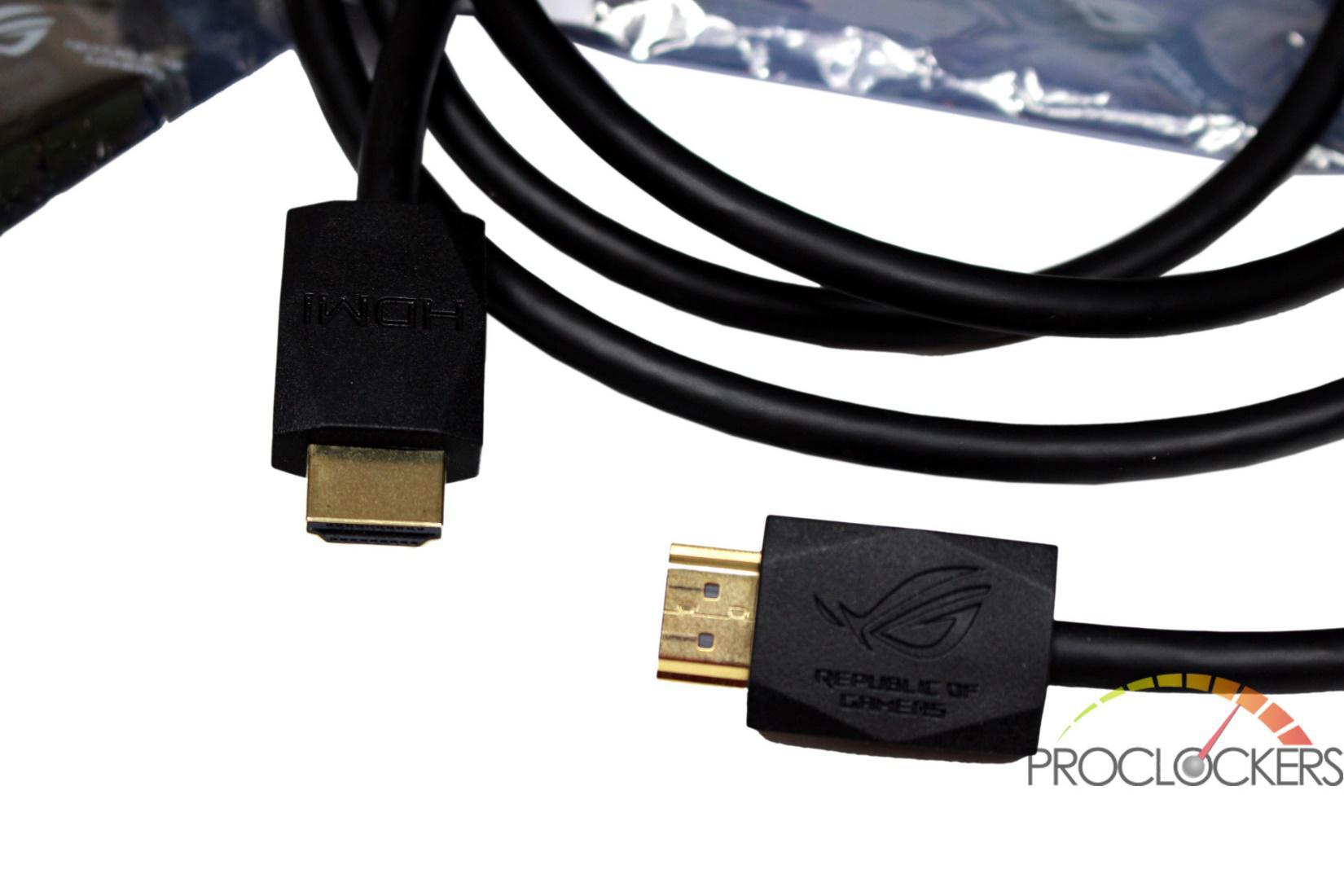 The cables are ROG branded with the signature ROG eye logo on each. Connectors and contacts are also gold plated.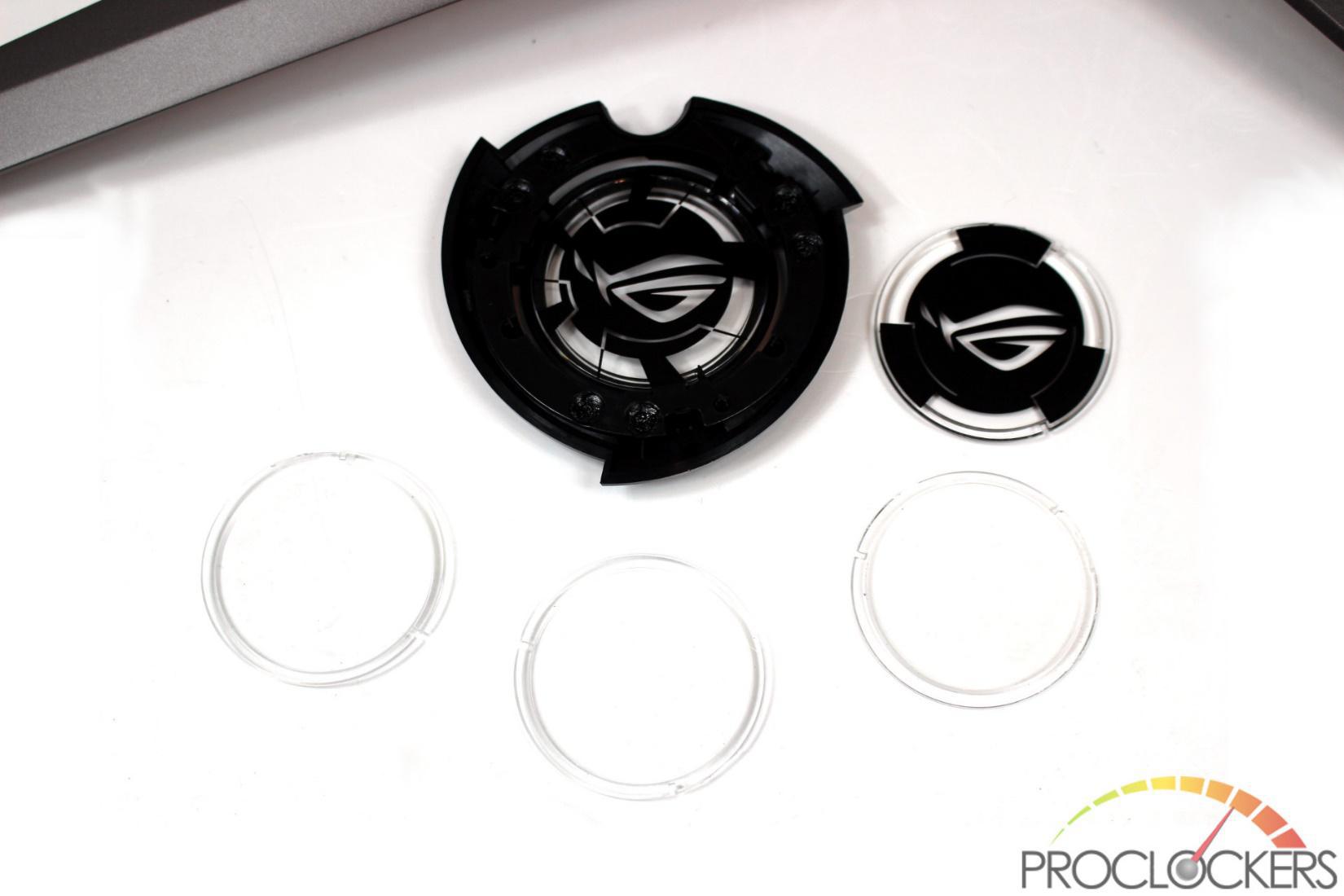 The light projection under the monitor is done via a user replaceable lens with the pattern you see. You also get a few blank lenses to put your own projection pattern on for complete customization.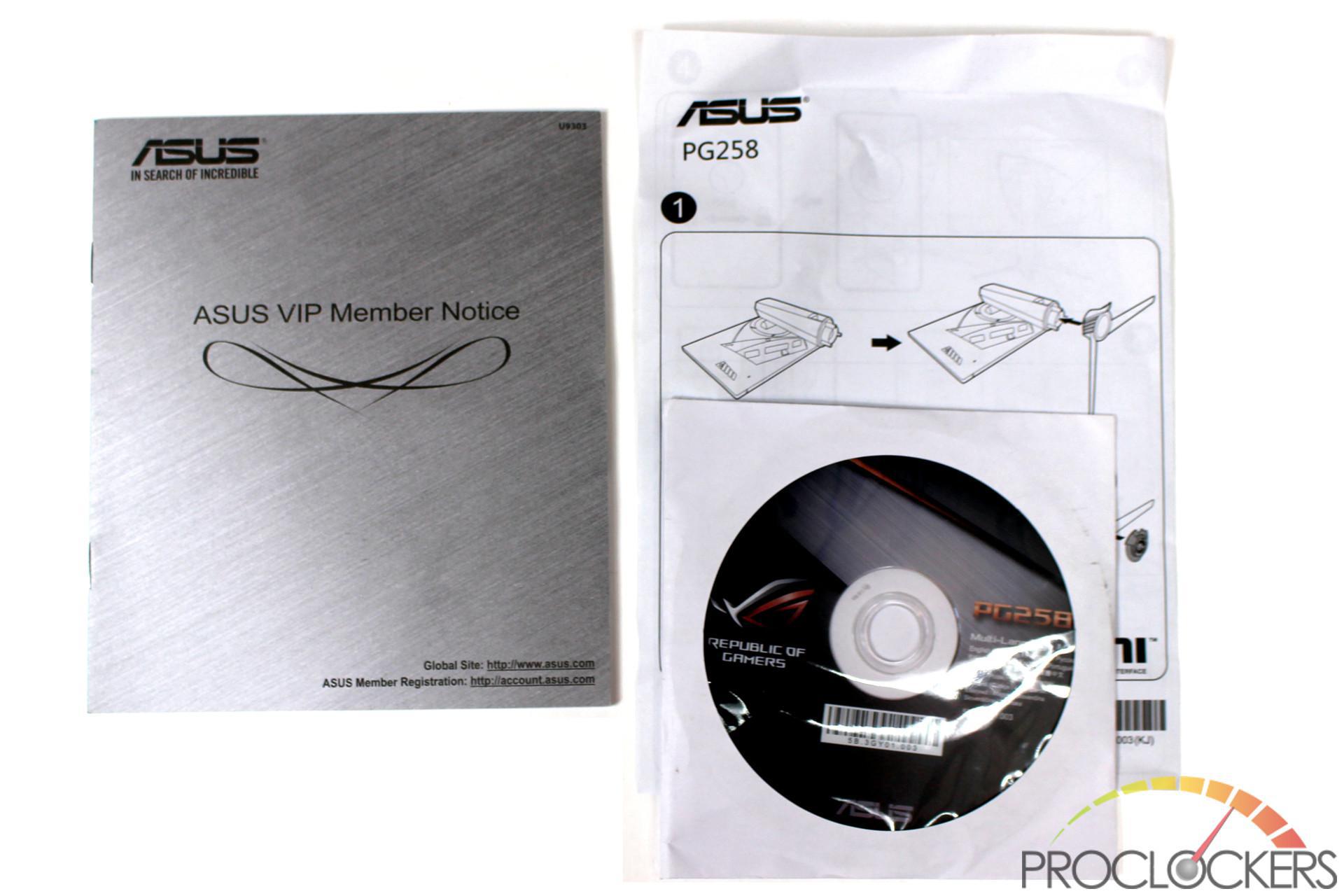 You also get a driver disk, which is somewhat amusing for a monitor
A Closer Look

Before you power it on the first time, the ROG Swift PG27U is by far better looking on the back side than the front, it's almost a shame most users will barely ever see this side again.
Besides the pattern frequented by ASUS, the giant super-reflective ROG eye stands out quite well.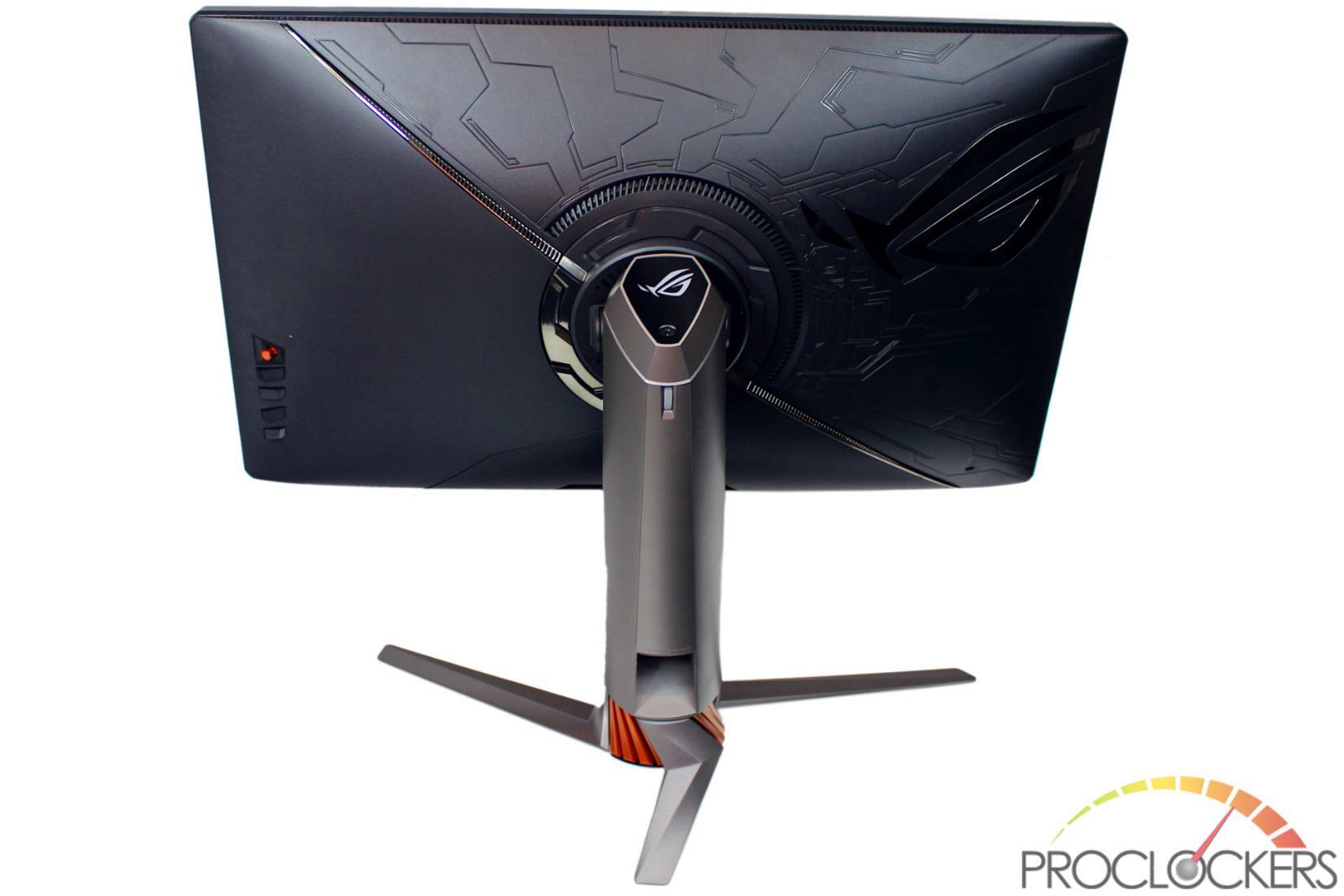 The contrast of the patterned black back of the monitor against the silver and orange stand looks great.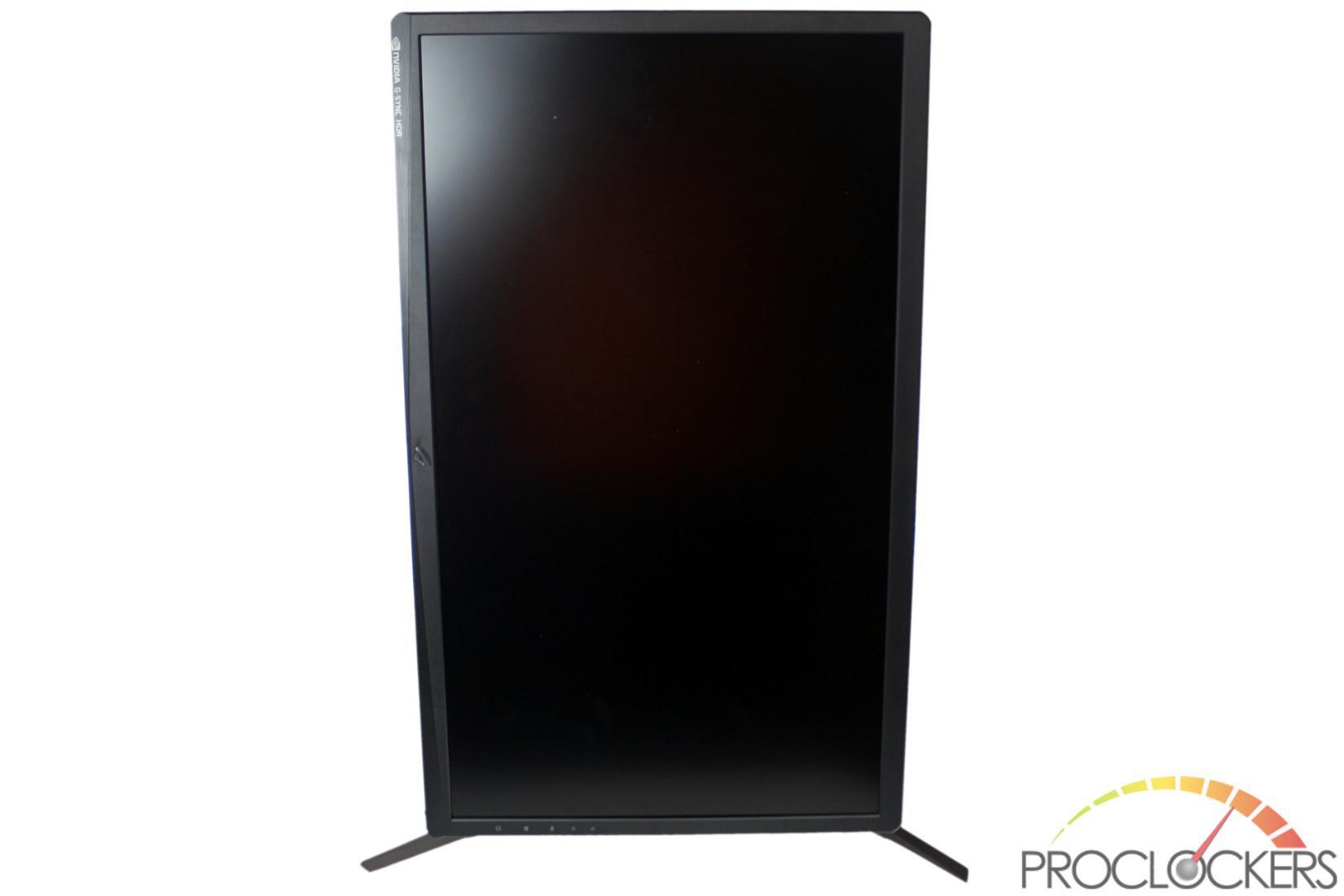 The monitor is quite adjustable and even offers rotation to portrait mode, something often only found on professional monitors.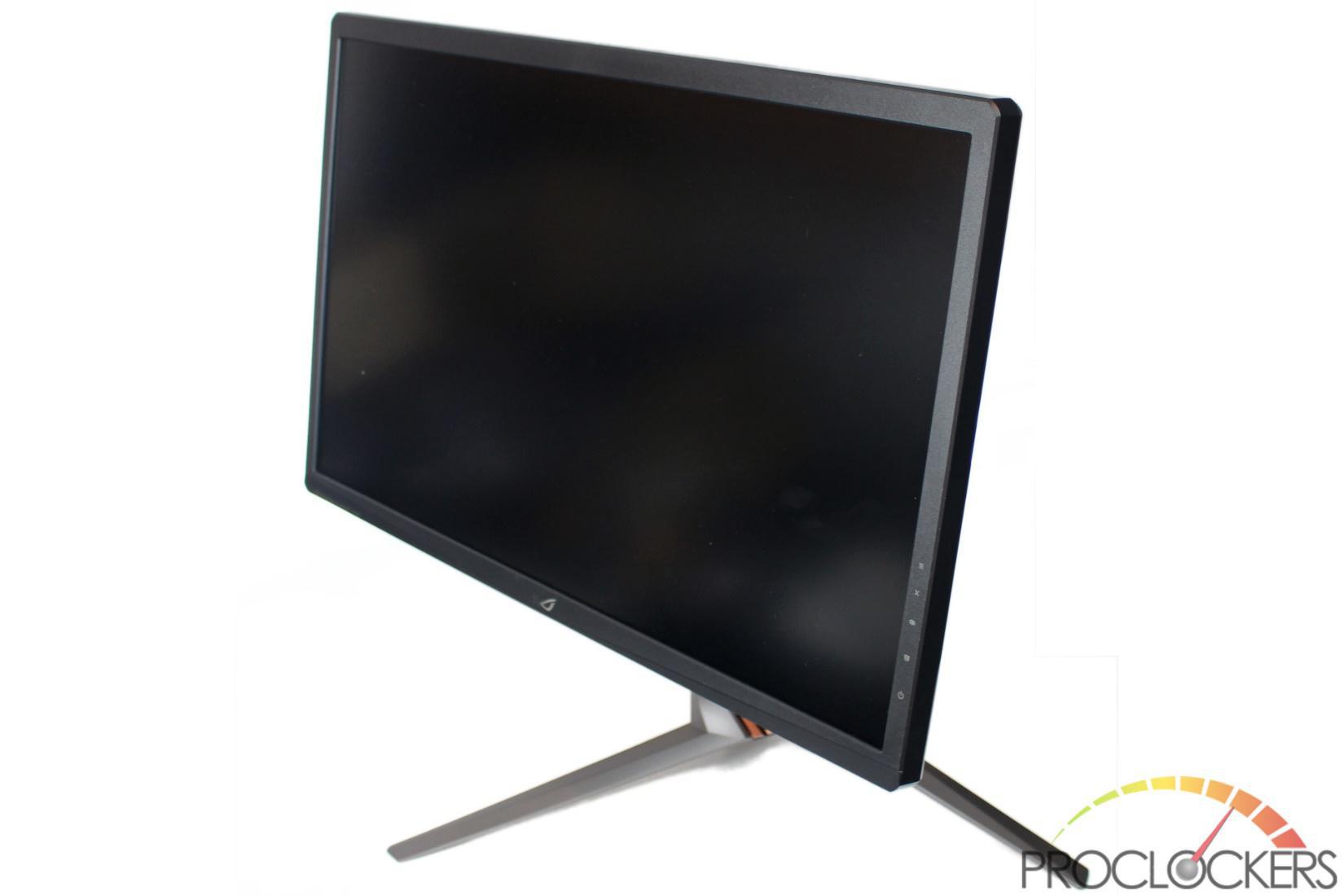 The ROG Swift PG27U can swivel 35 degrees from center each direction.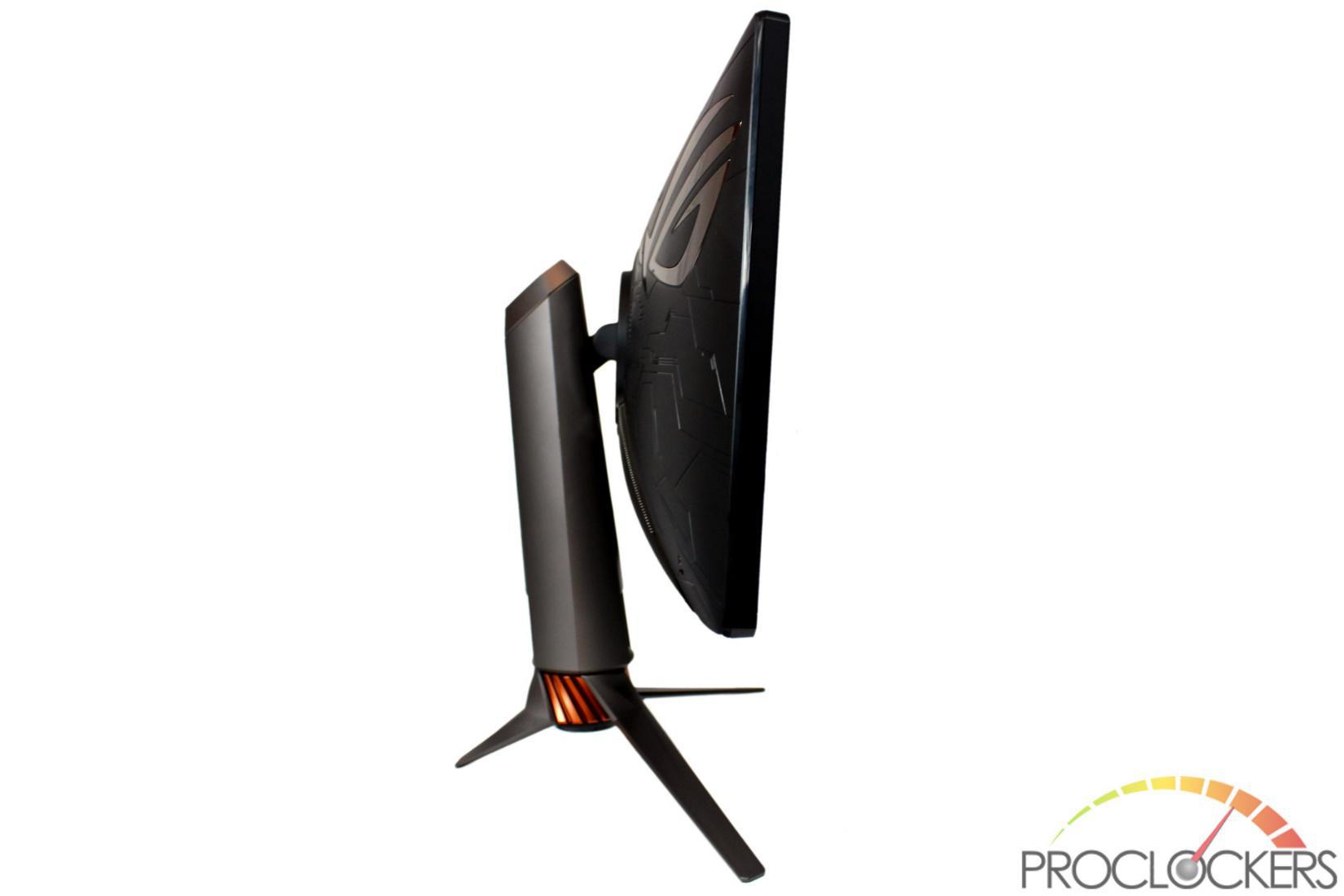 Tilt has a range of 5 degrees forward/down…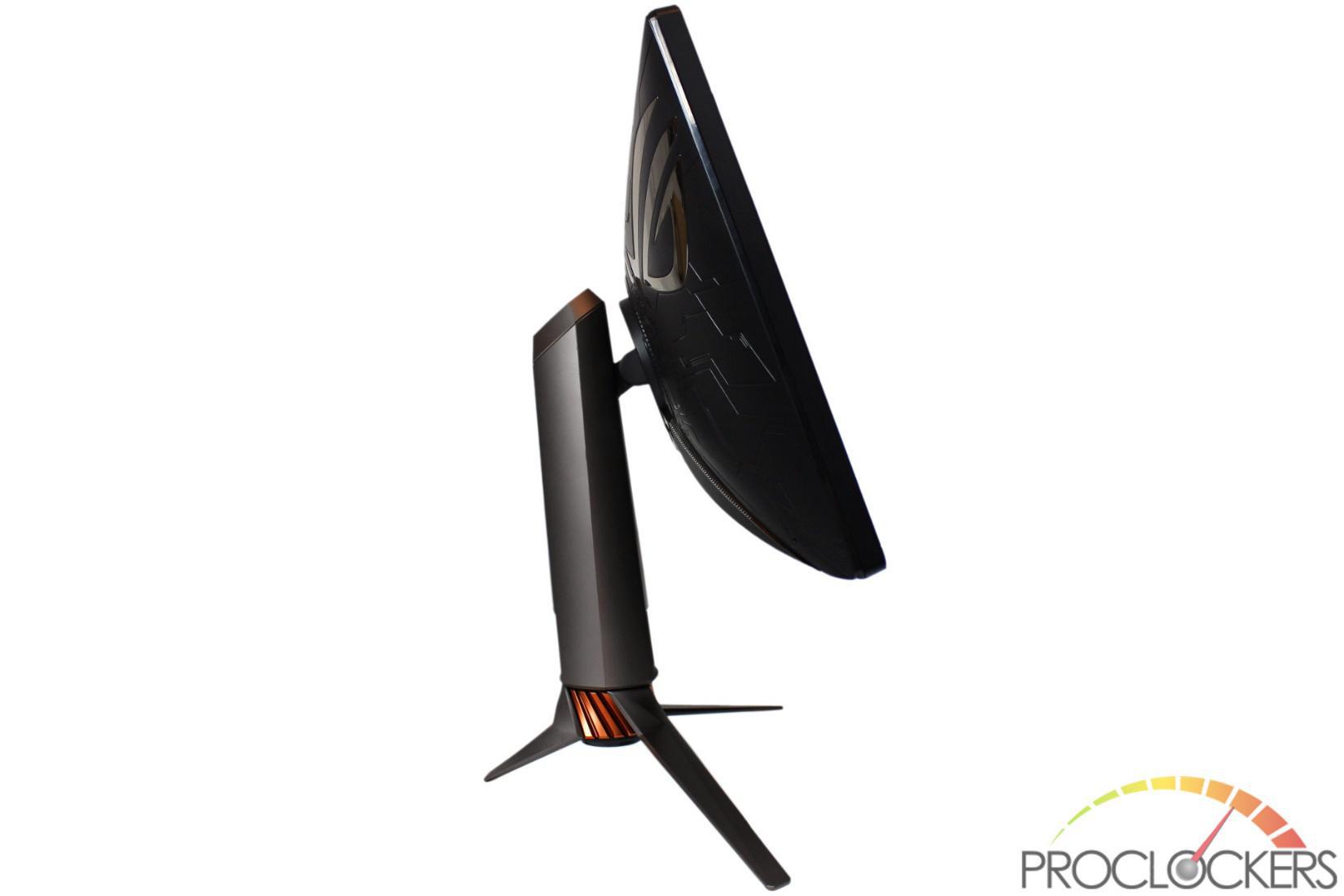 …and 20 degrees back/up. You also get to see from this angle how thick the monitor body is.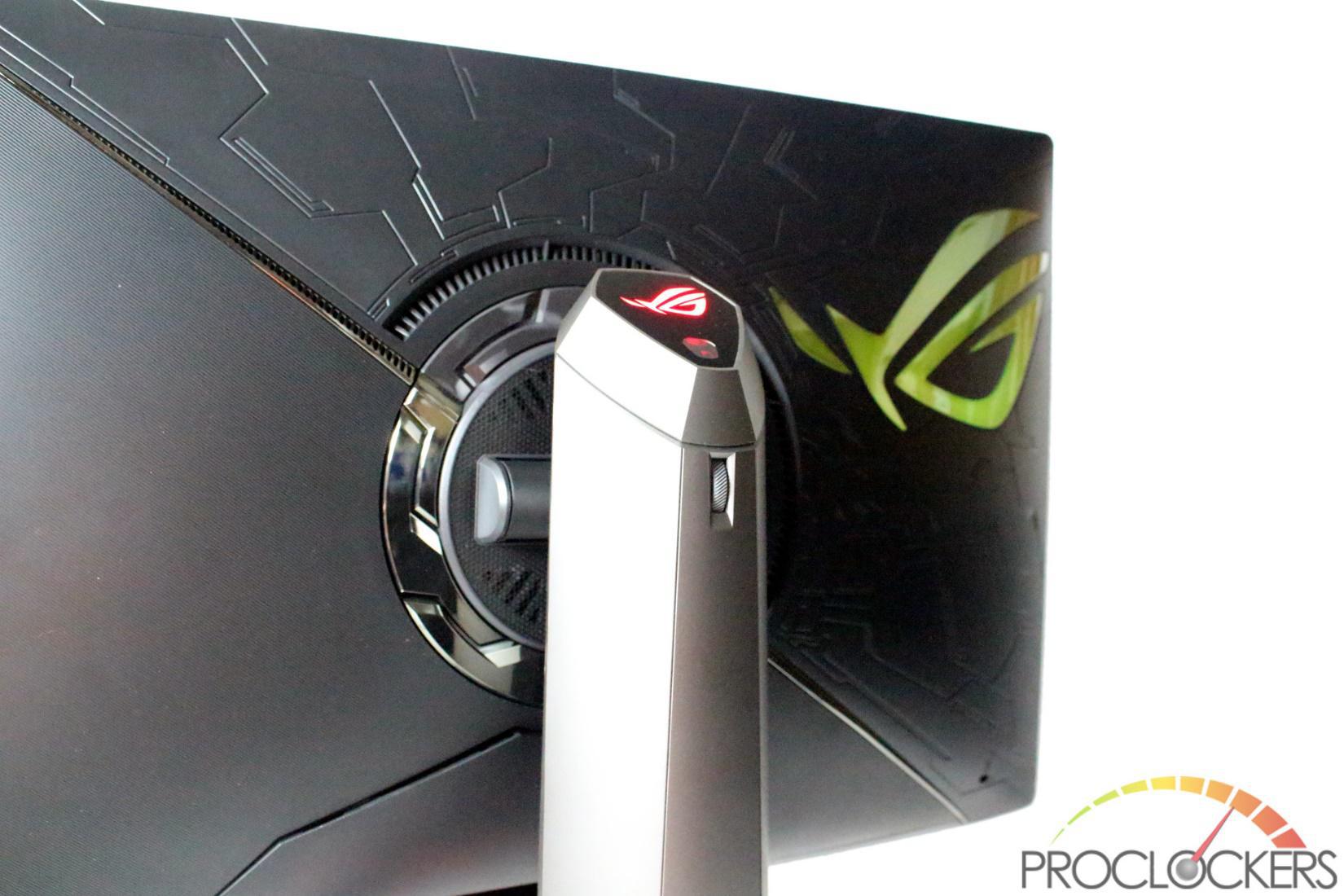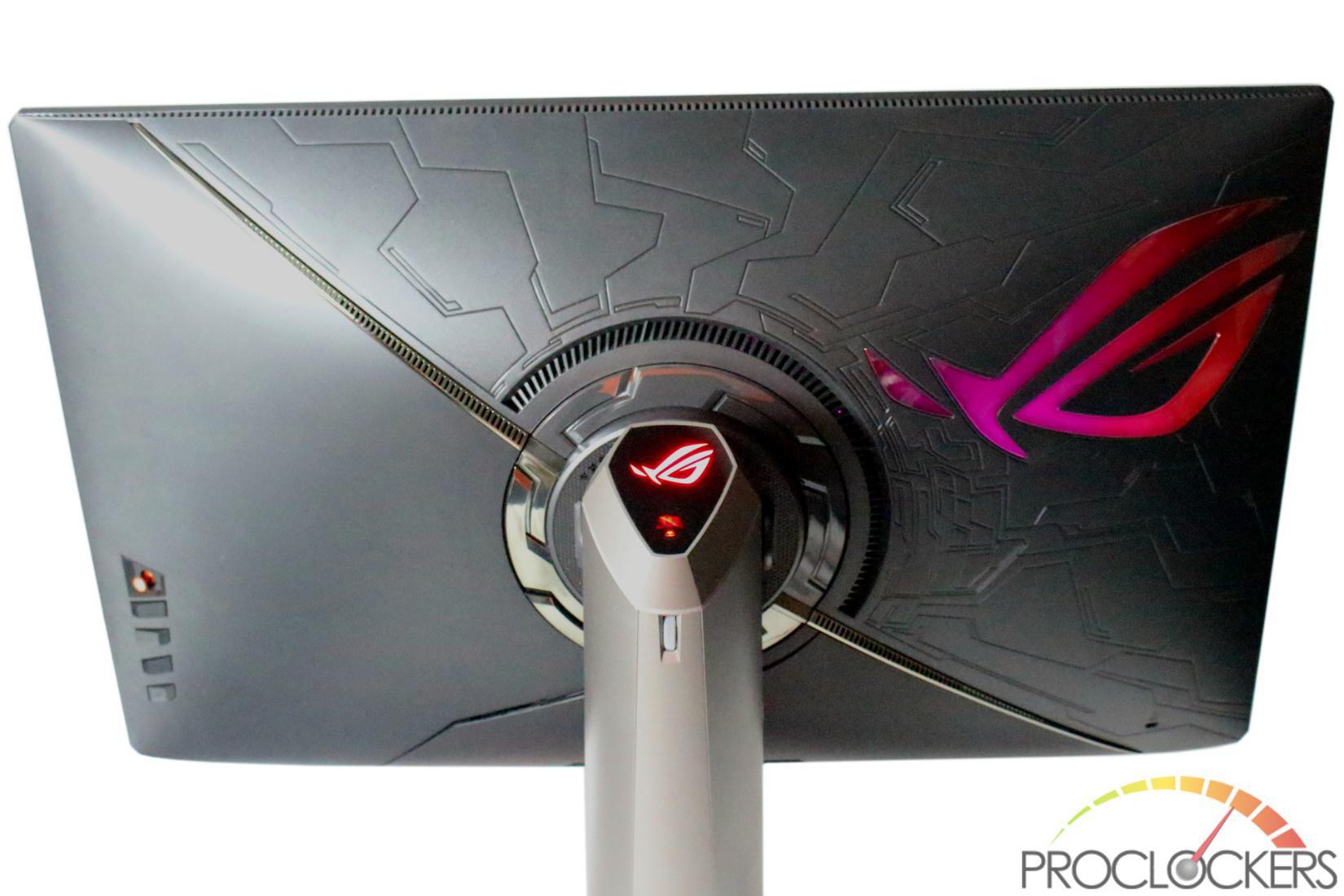 When you power the monitor up, you are greeted with a glowing red ROG eye logo on top of the stand as well as the giant ROG on the monitor slowly rotating through a rainbow of colors.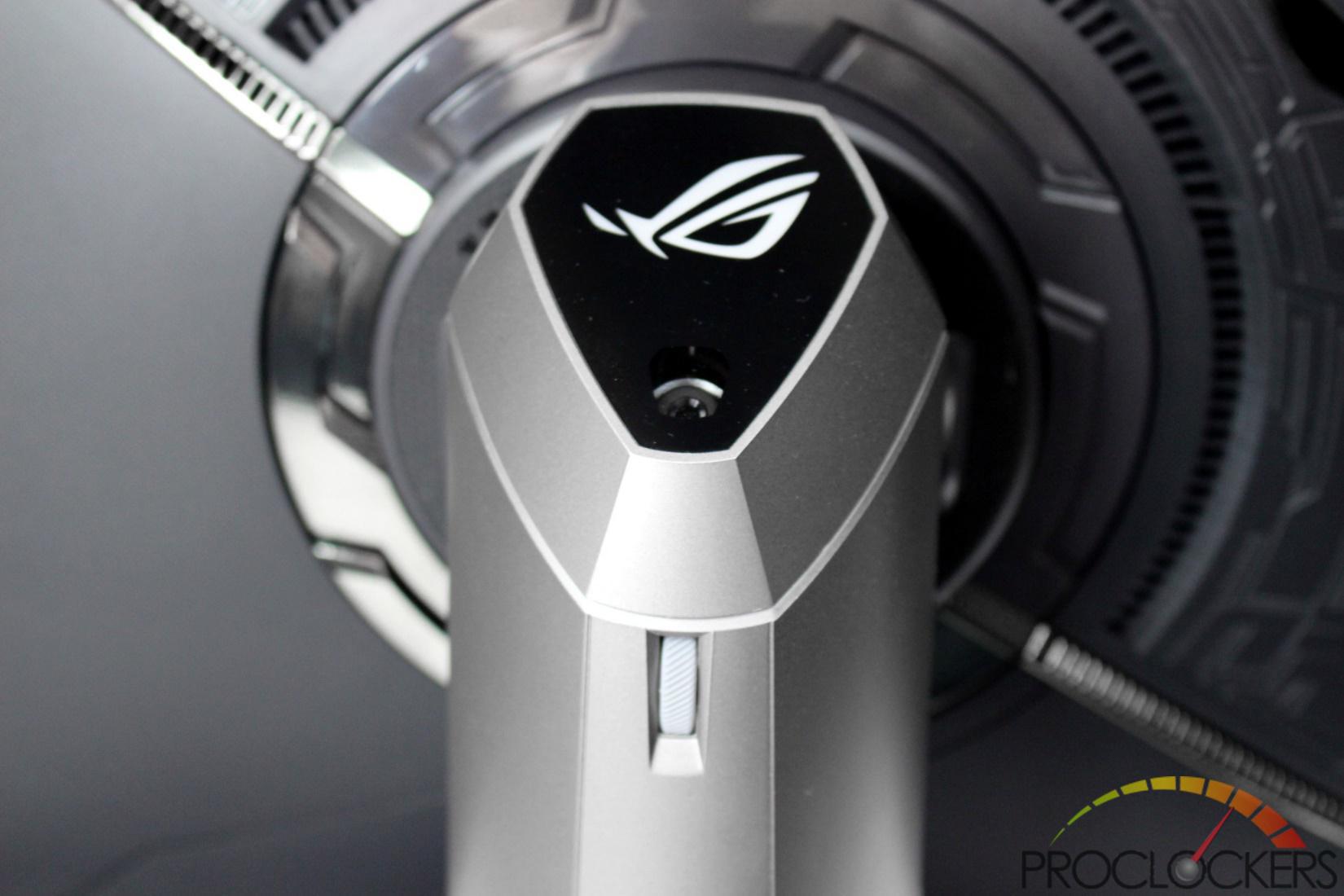 A small adjustment wheel here lets you keep the projected ROG logo small and near your monitor to large and well above your monitor to even project on the ceiling above you.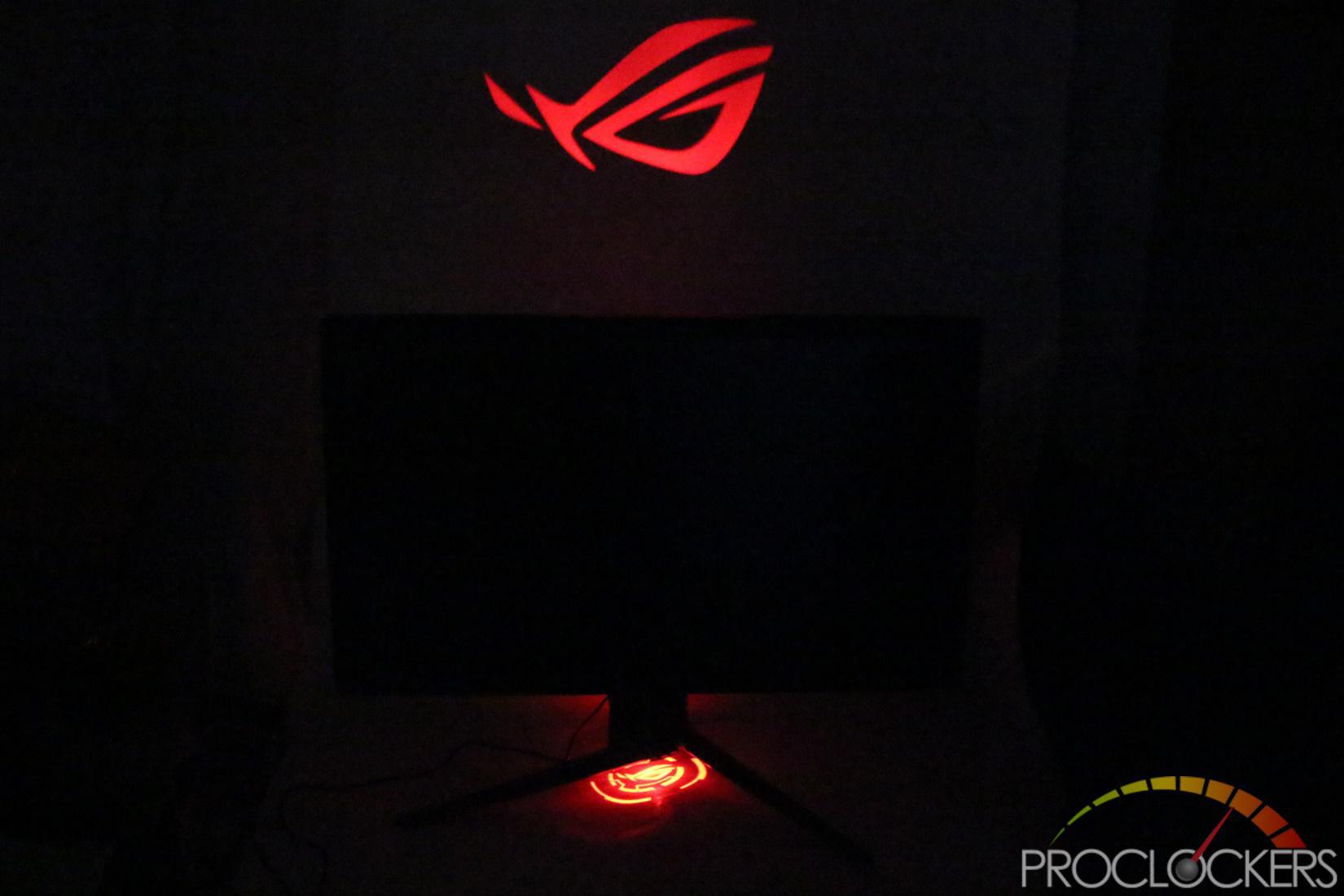 You can turn the lighting off, but why would you want to? Profess your love of ROG with a giant ROG Eye for all to see!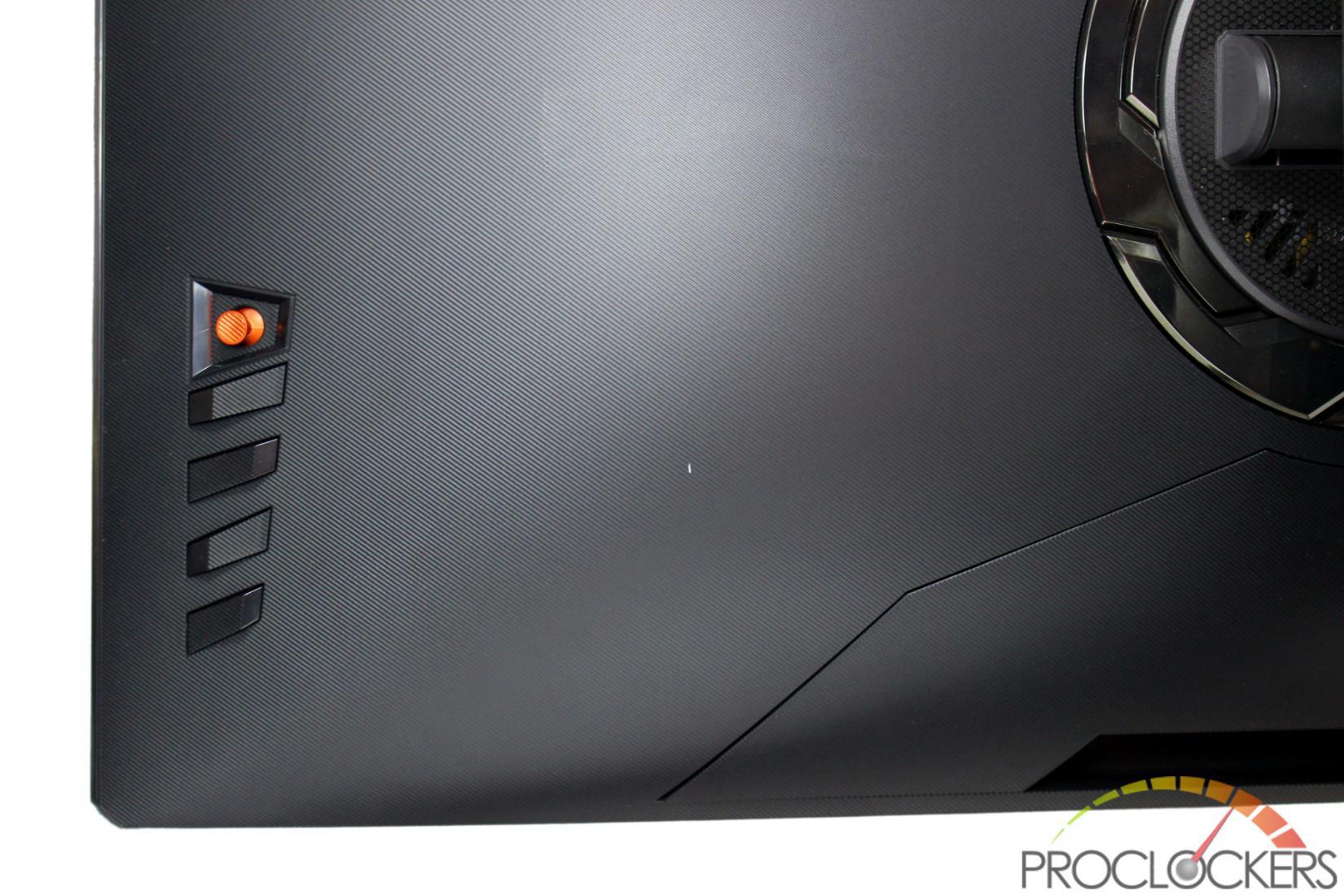 This is part of the ROG magic. That orange looking button Is actually a small joystick with a push in to click button under it. This provides the majority of your onscreen OSD adjustments and is incredibly intuitive. The physical buttons going down are a cancel button, the Game Plus button, the Game Visual Button, and the power button.
With as incredibly intuitive as the OSD Joystick is, we would love to see ASUS just abandon all other buttons beside the physical power switch. Many people don't even bother with anything found in the OSD simply because navigating a menu with buttons on the side, bottom or rear of a screen is just awkward and frustrating. After using the joystick, it really reinforces this notion and makes us wish that much more the gaming features were just absorbed into this system as well.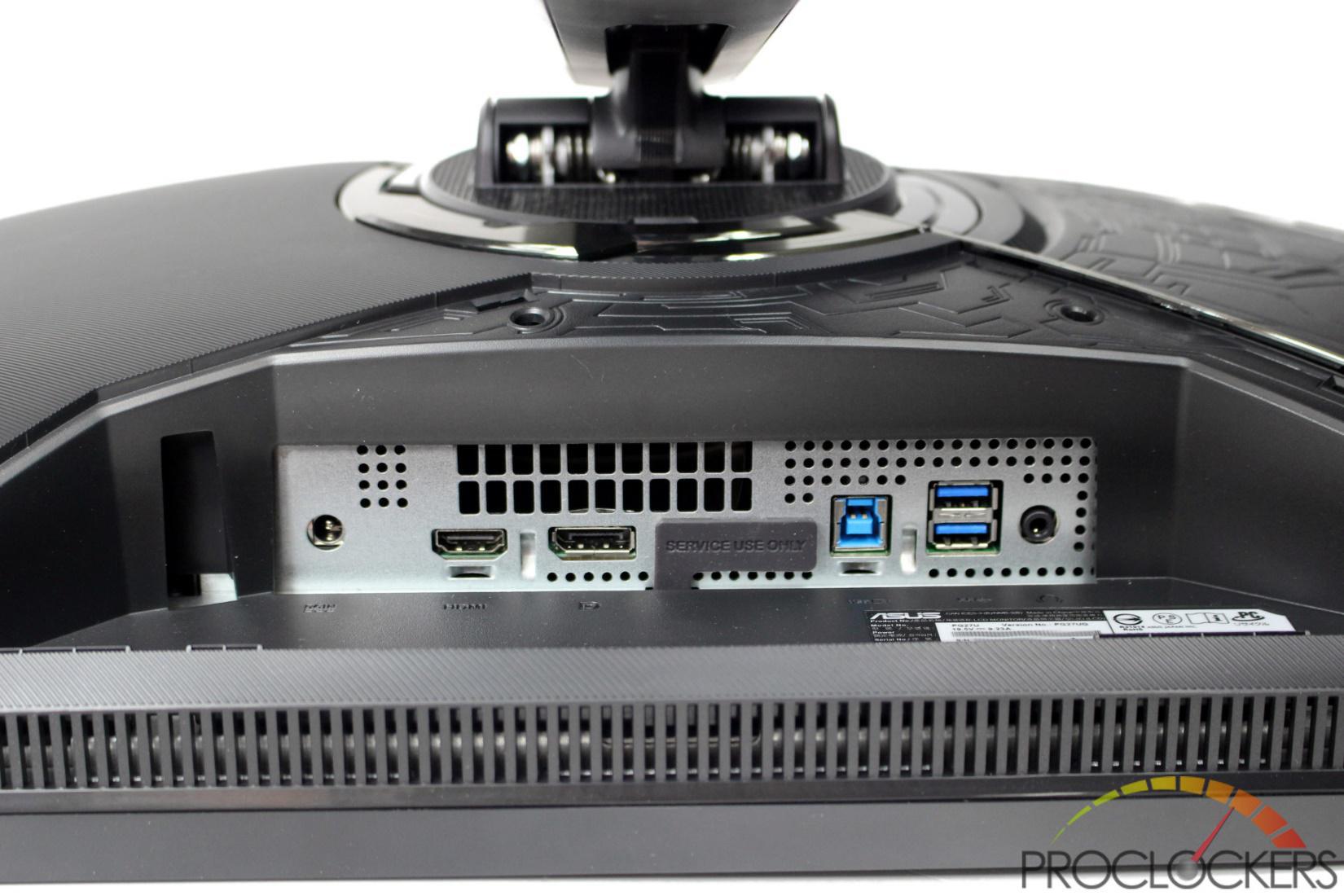 Main connectivity is through a DisplayPort 1.4 which is the only way G-sync will operate, but you can also connect a console or secondary system into the HDMI port to use the ROG Swift as a normal 4K monitor. A USB Type-B upstream port feeds not only the twin USB 3.1 gen 1 downstream ports, but also serves to allow control of the lighting via Asus Aura Sync. On the left is the monitor DC power input, and the right side gives you a 3.5mm line out jack for audio.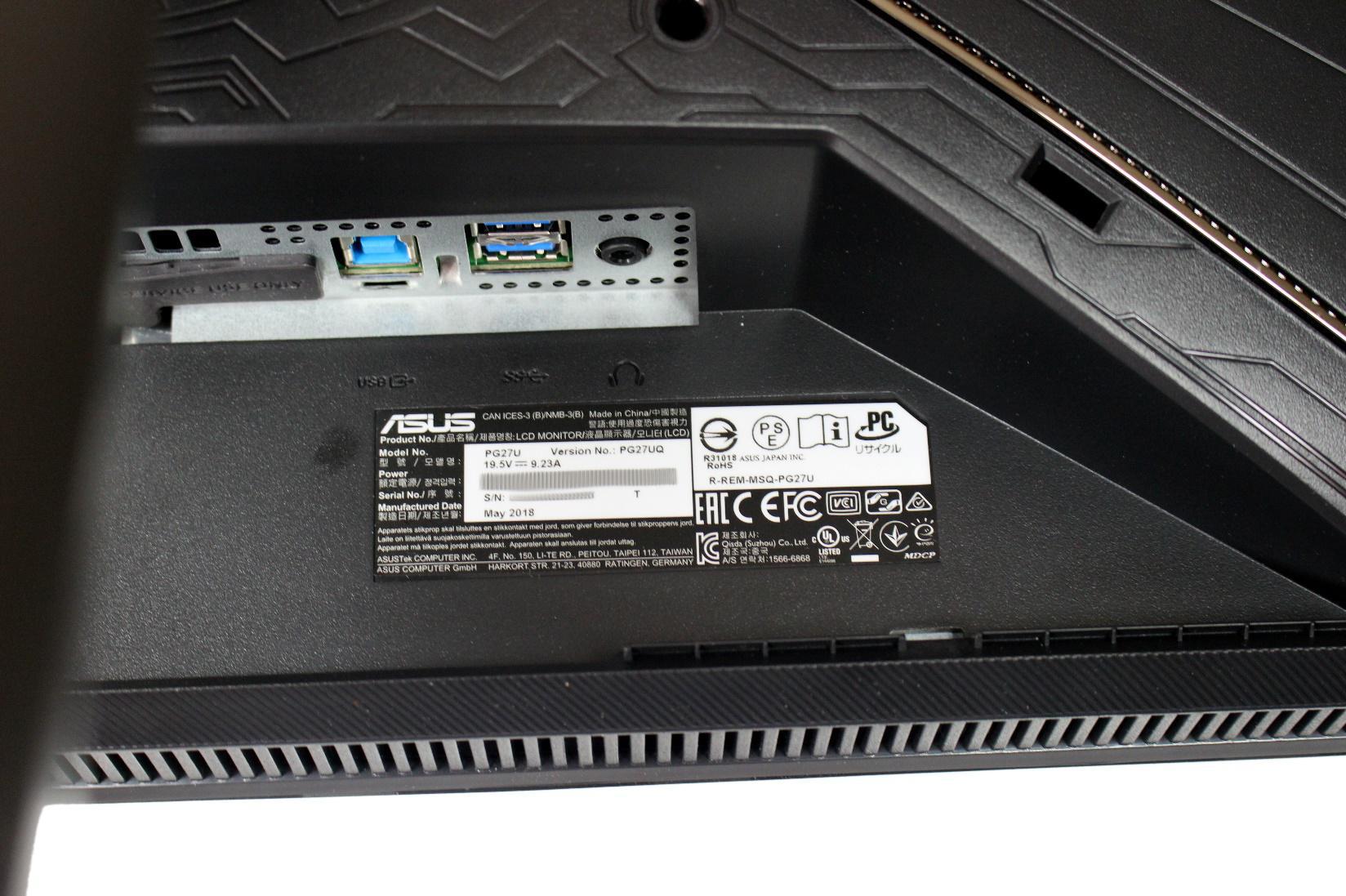 The main label is just under the input area. It indicates 19.5V @ 9.23A or 180 Watts. This is quite high for a monitor, so we'll have to measure actual consumption later on..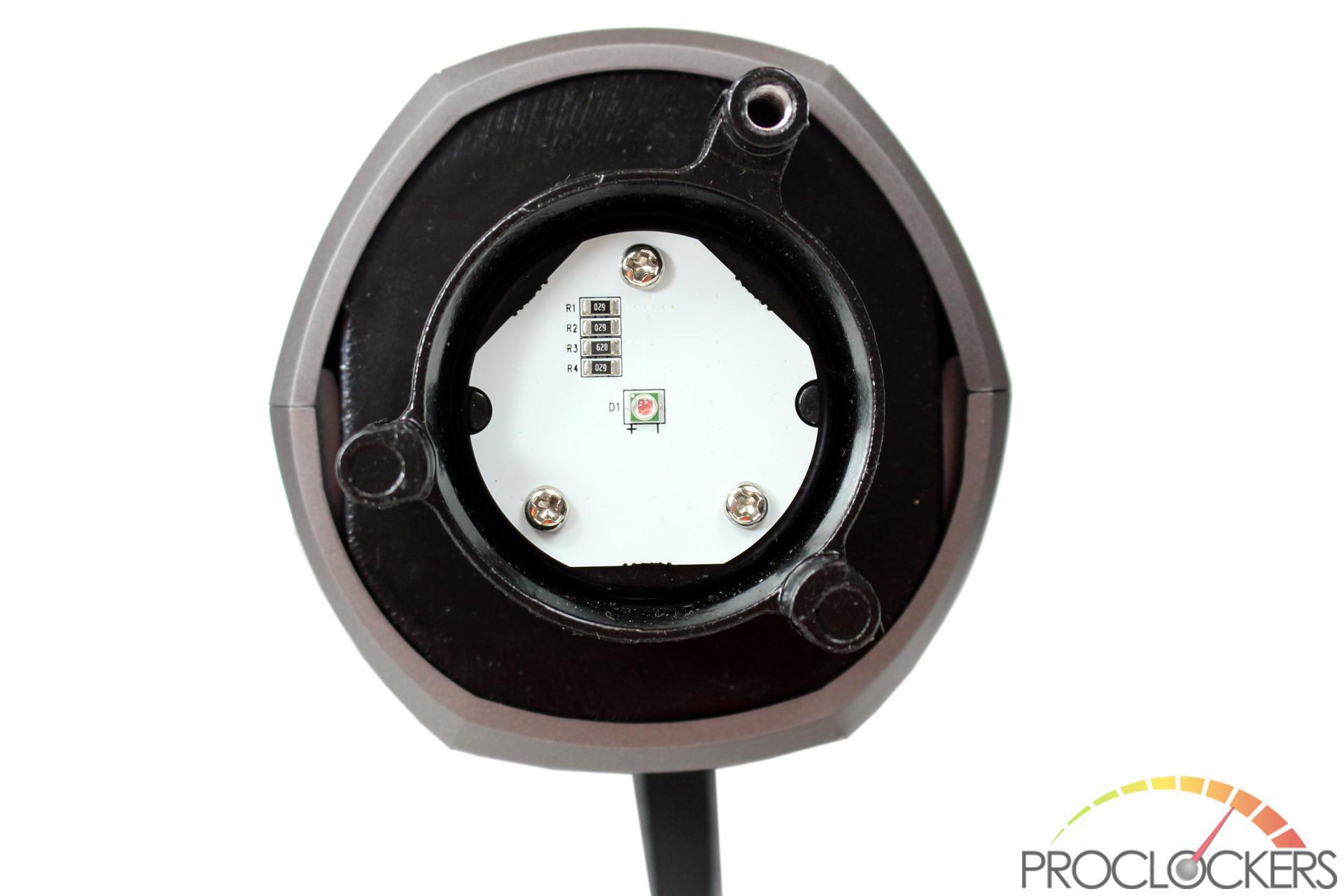 The bottom of the base has a small board with a single LED in it.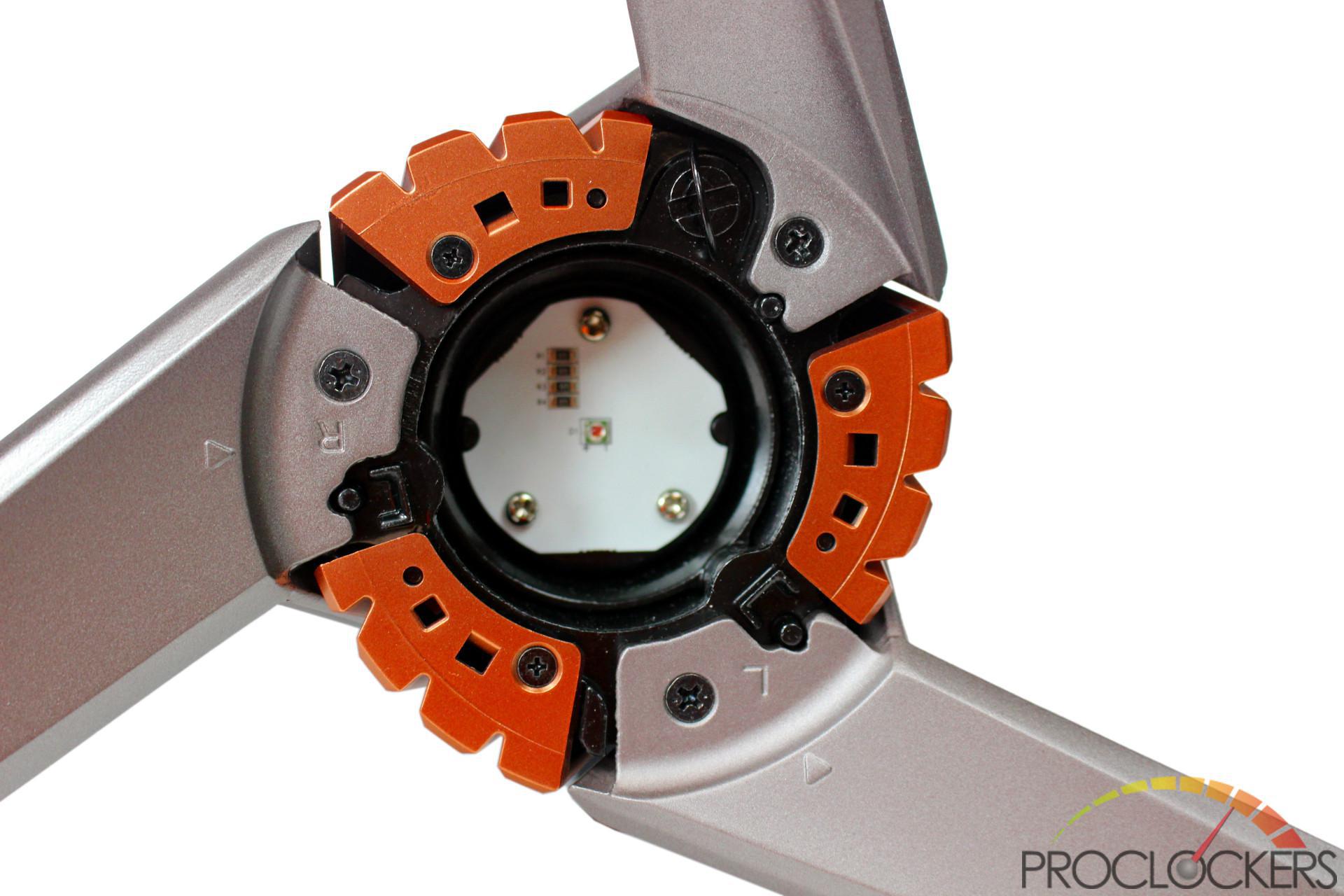 The feet twist on to the upright part of the base, and a single thumbscrew holds it in place.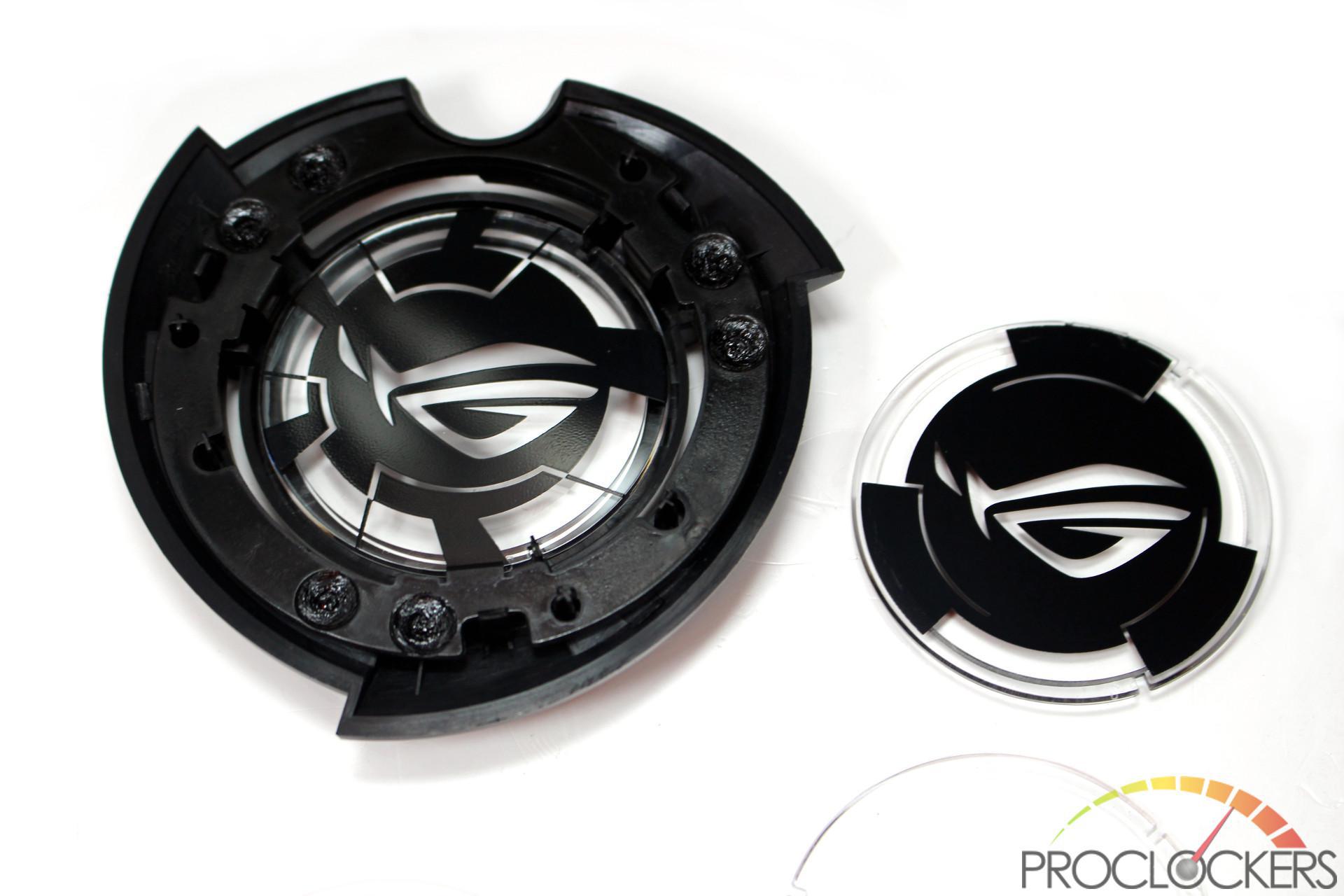 Once you pick an included design or make your own, you snap it into the black trim.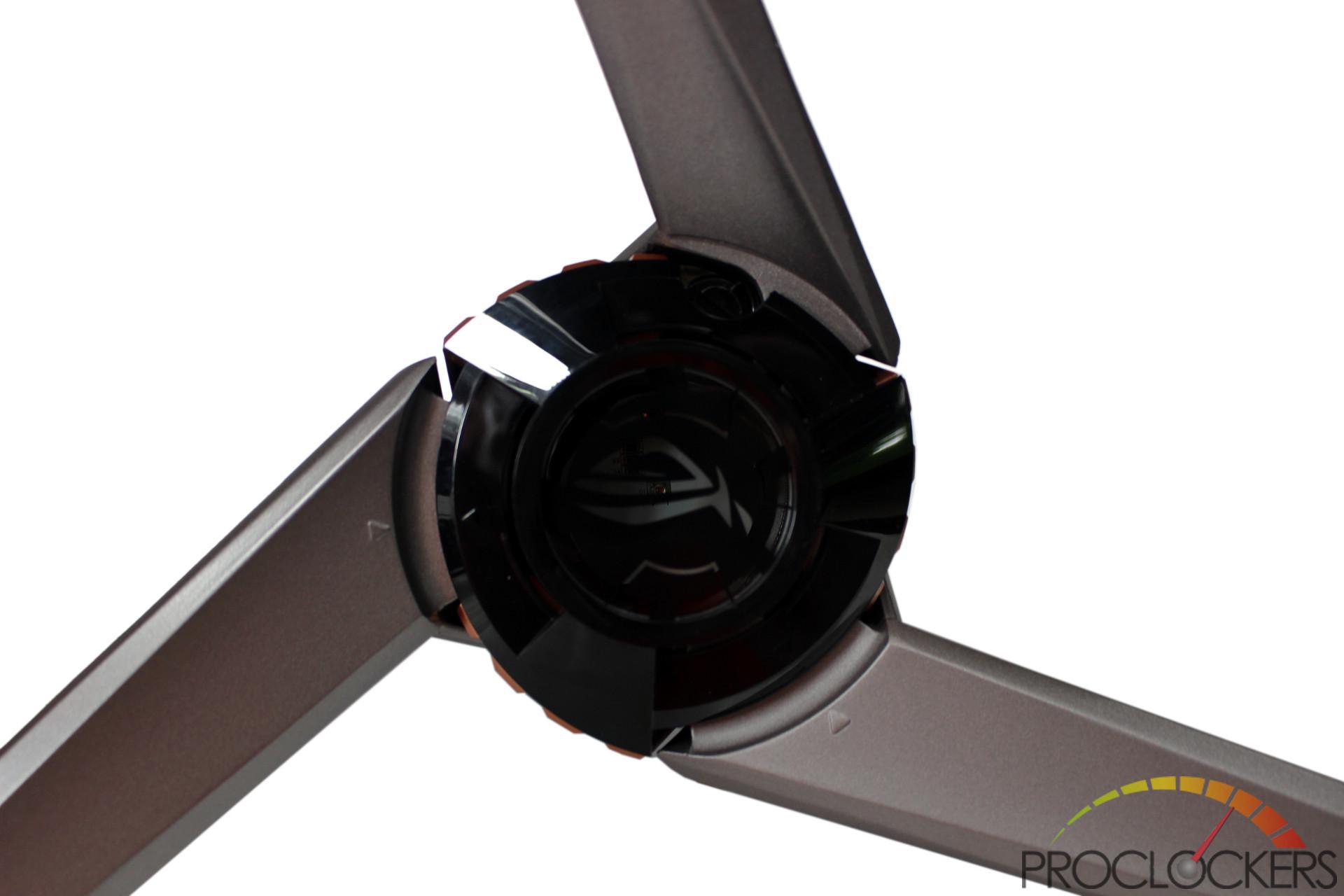 The trim then twists into place on the bottom of the stand.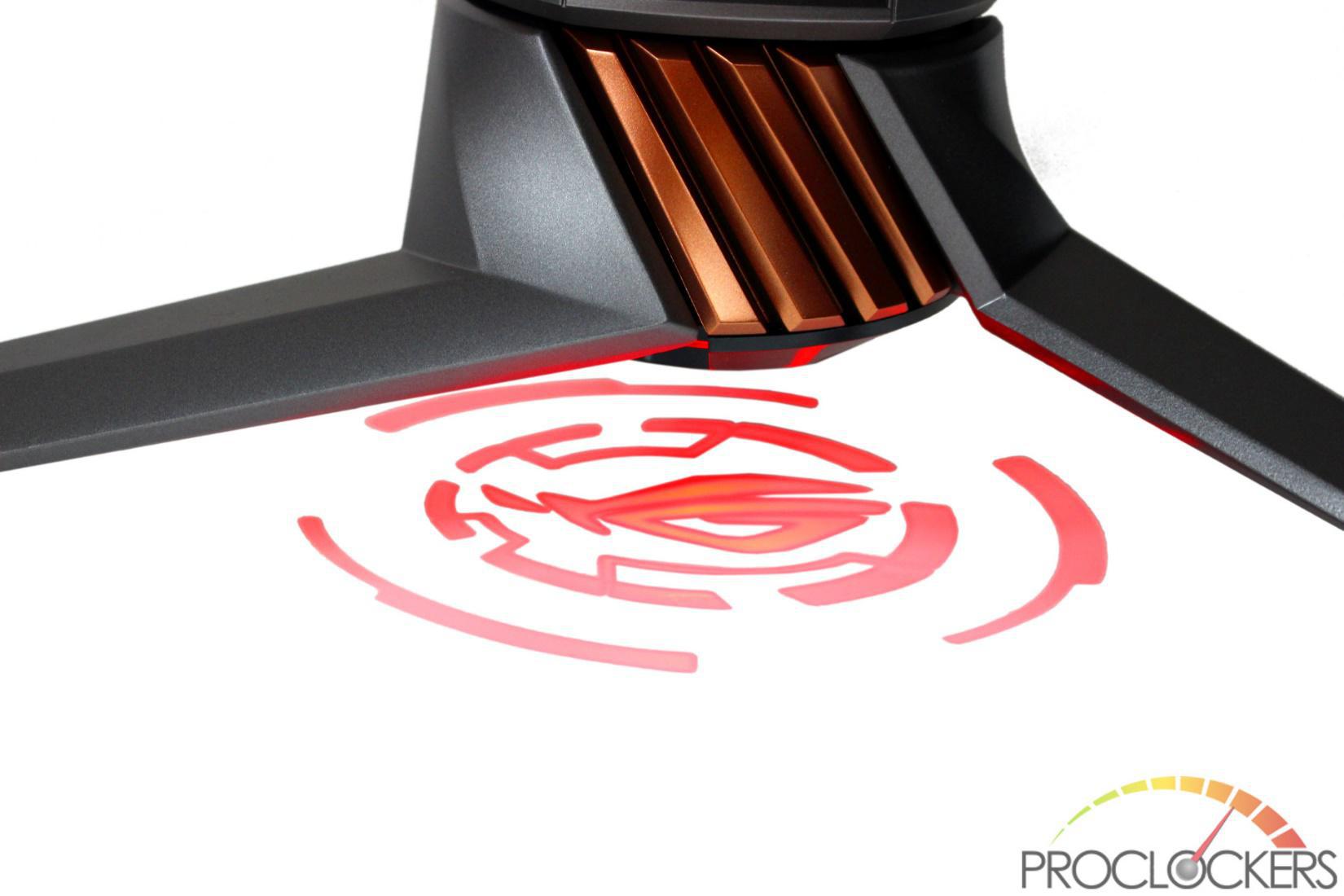 The area right under the monitor stand glows with a red logo. It looks a lot better in person than it does here though.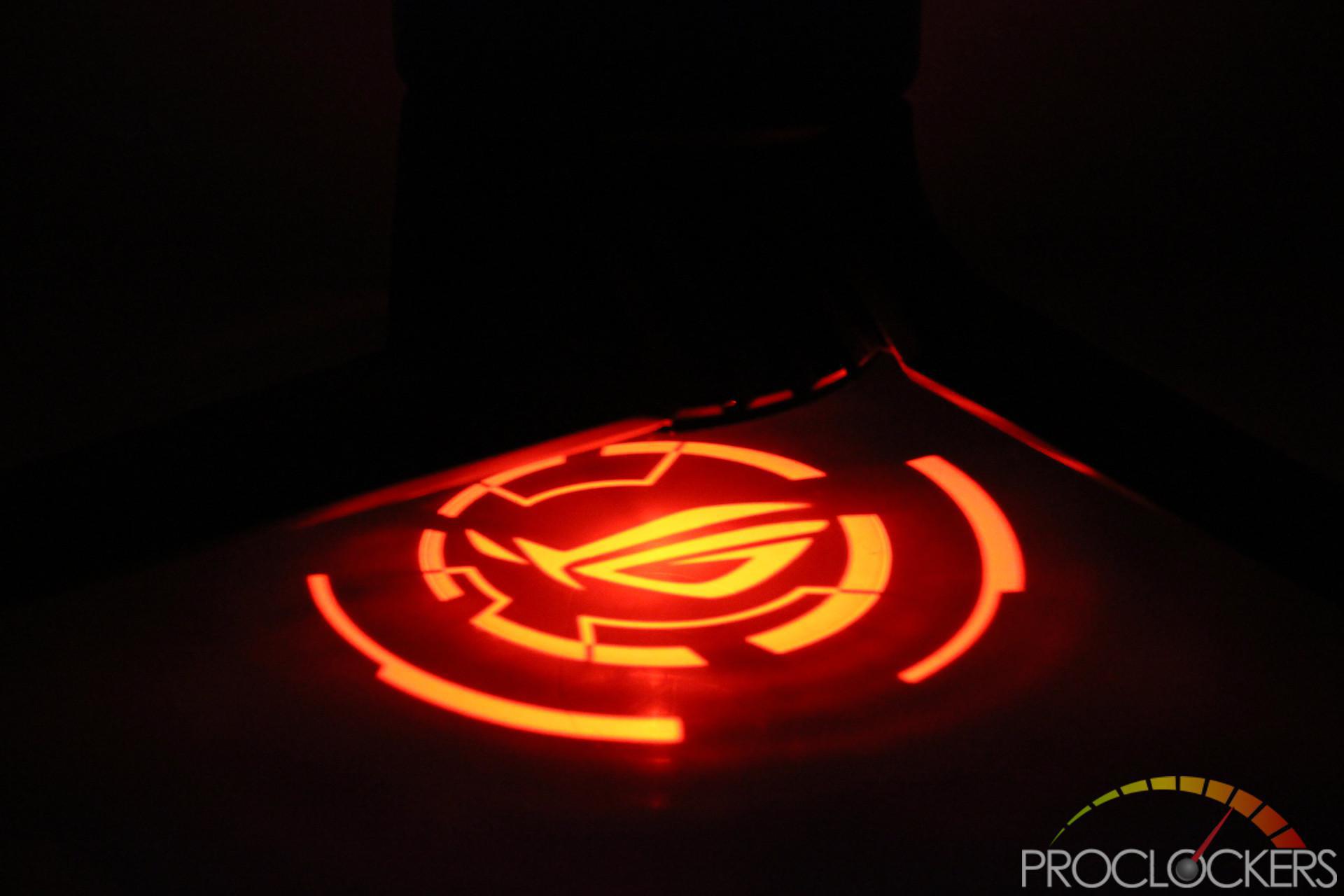 This shot in the dark looks a little better now doesn't it?
System Configuration, Software & Testing
CPU: Intel Core i9-9900k
Motherboard: ASUS ROG Maximus XI Extreme
RAM: 16GB G.Skill TridentZ RGB 3200MHz
GPU: Nvidia RTX 2080Ti Founders Edition, XFX Radeon RX 550.
SSD: Samsung 960 PRO 2TB
OS: Windows 10 Professional X64 1803
ASUS Aura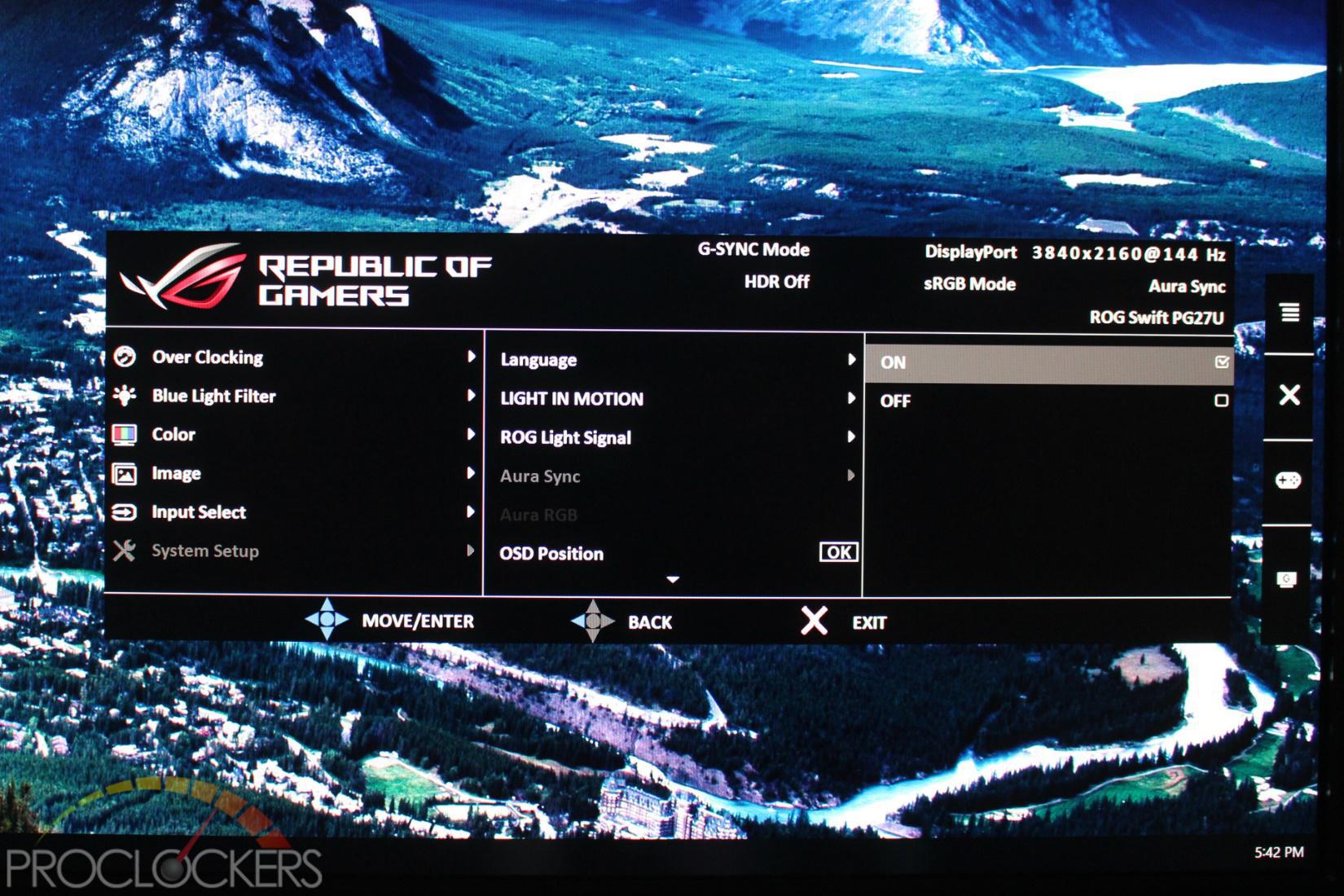 Before you can control the lighting, you have to enable Aura Sync in the monitors' menu and connect a USB cable.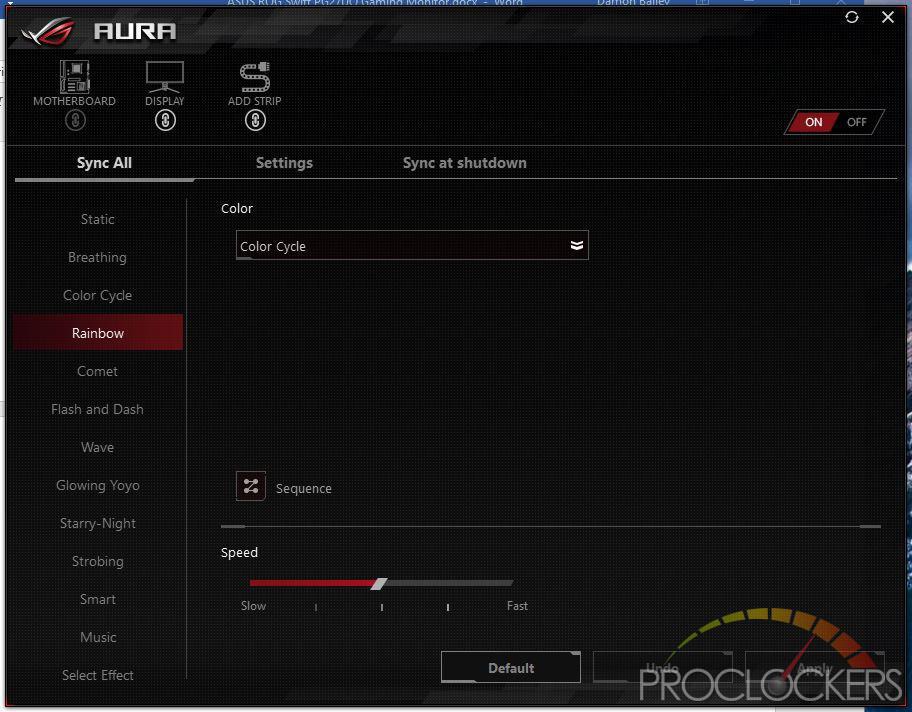 If you are familiar with any of ASUS's RGB enabled products, which is pretty much everything at this point, you'll likely be familiar with AURA. The usual fare is here, ranging from static colors to dynamic effects to reactive patterns that move to the music.
Game Features
GamePlus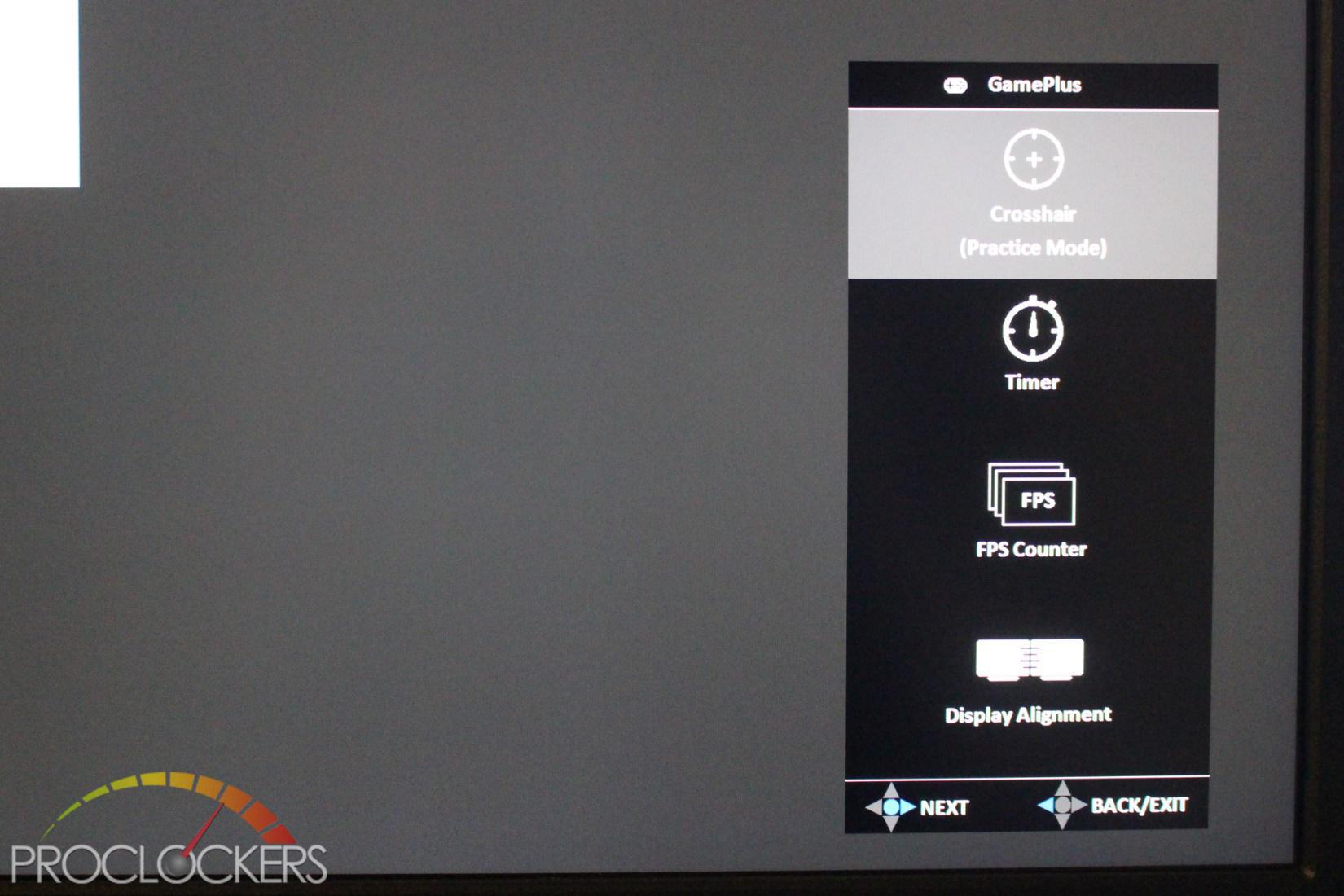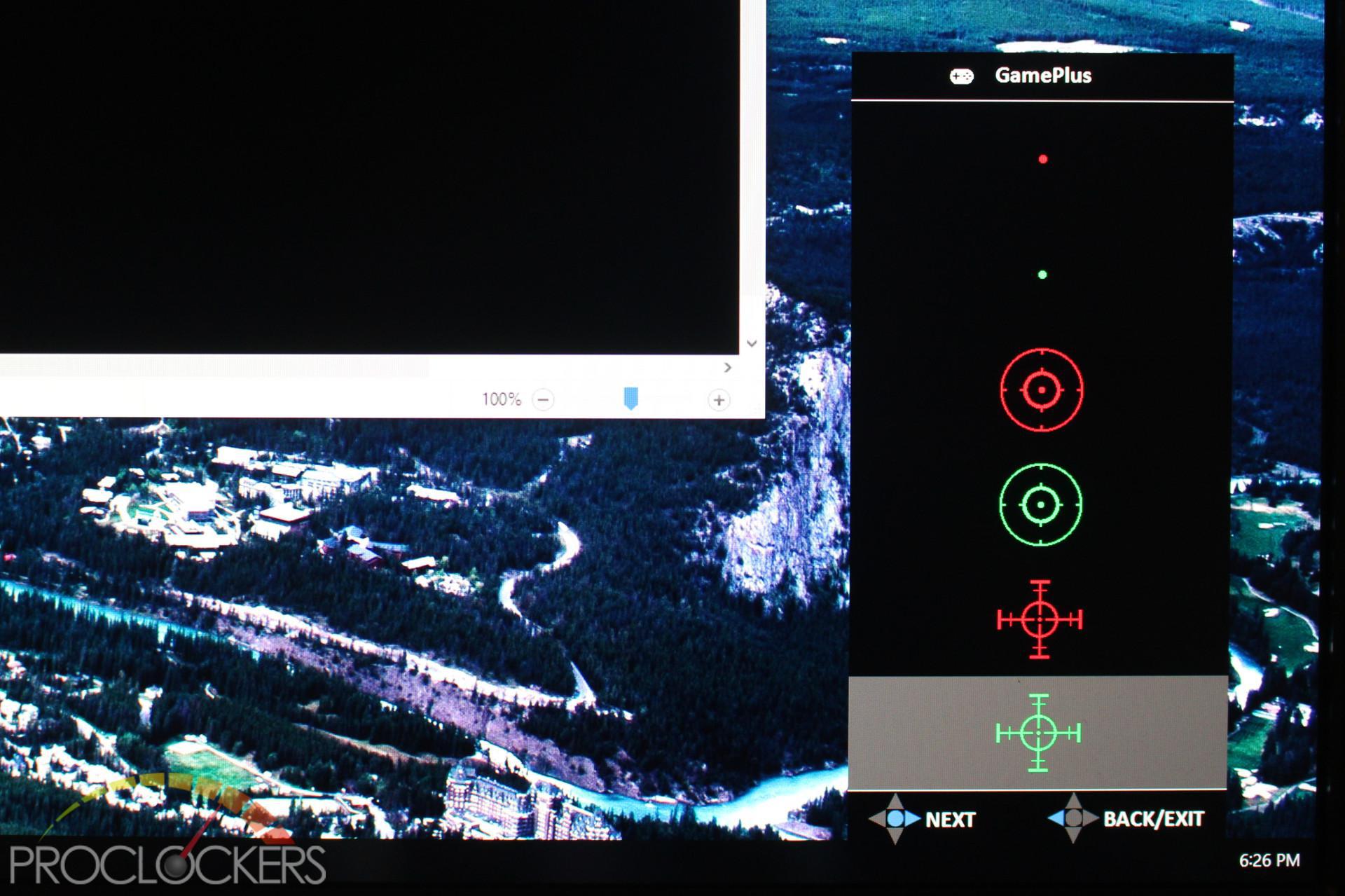 Bright red or bright red crosshairs for any game, need we say more?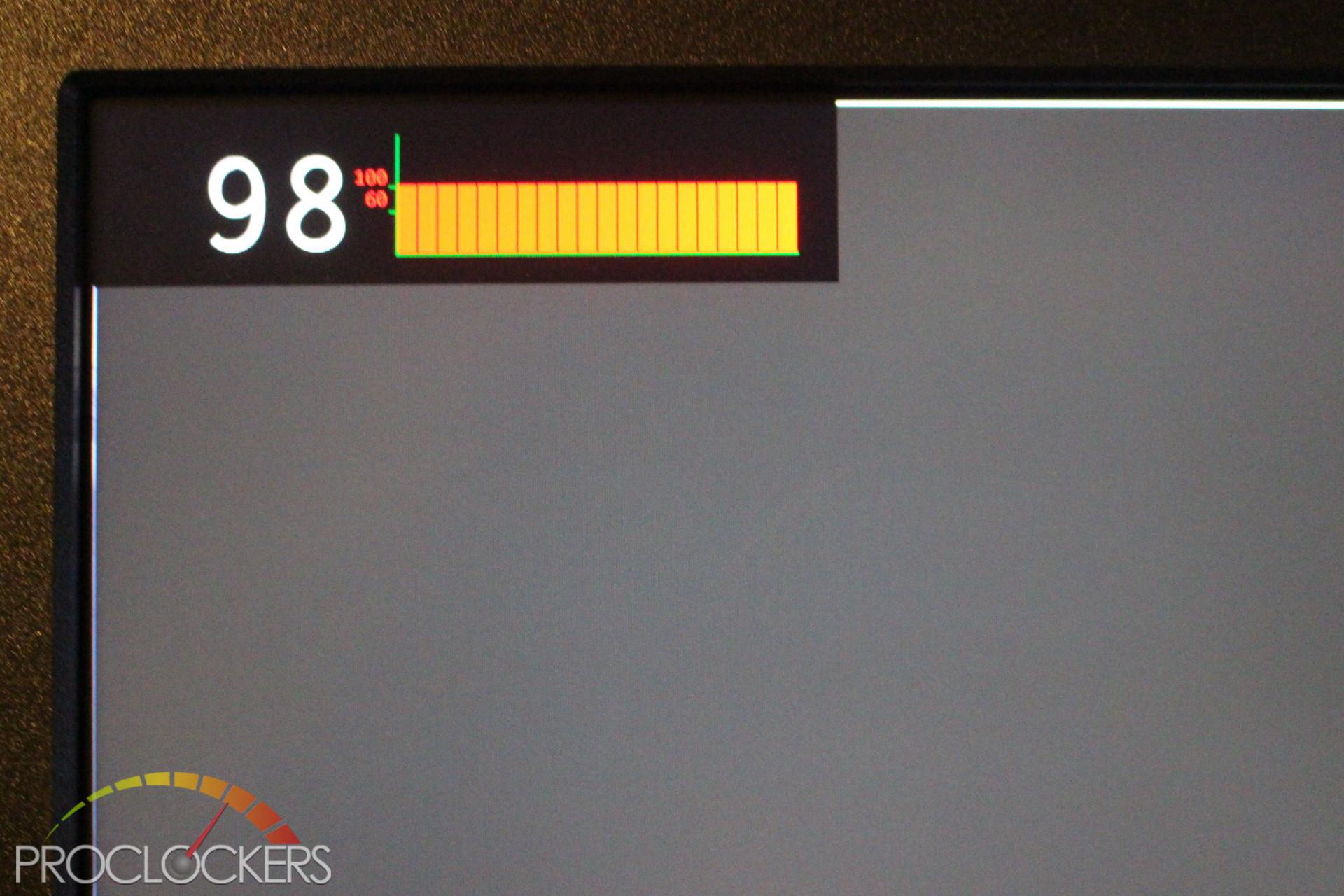 FPS Counter with or without a graph, keep tabs on performance in any game or program.
GameVisual
Picture optimizations for any scenario.
On-Screen Display (OSD)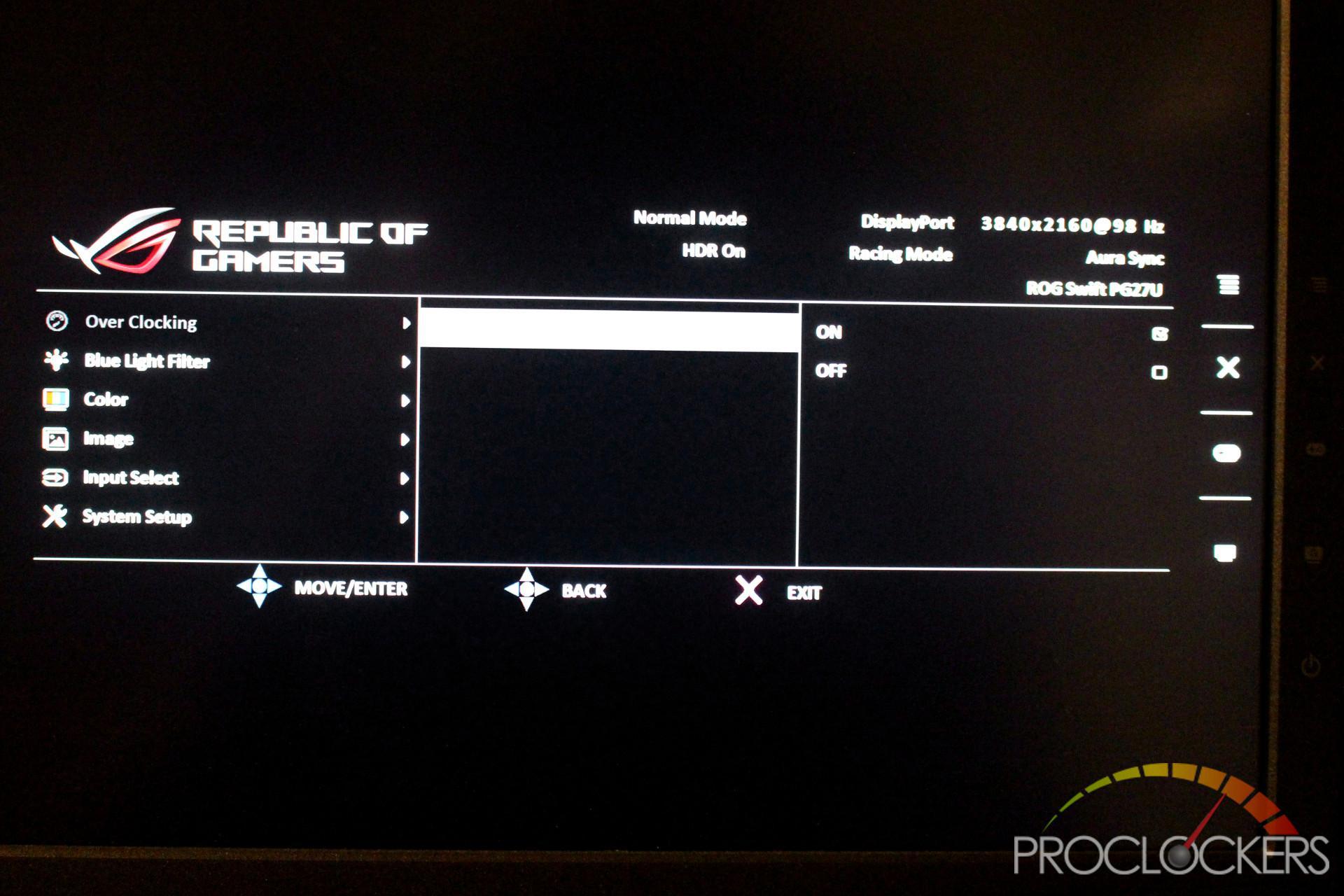 If you want to attempt to go above 120Hz, you need to enable overclocking here.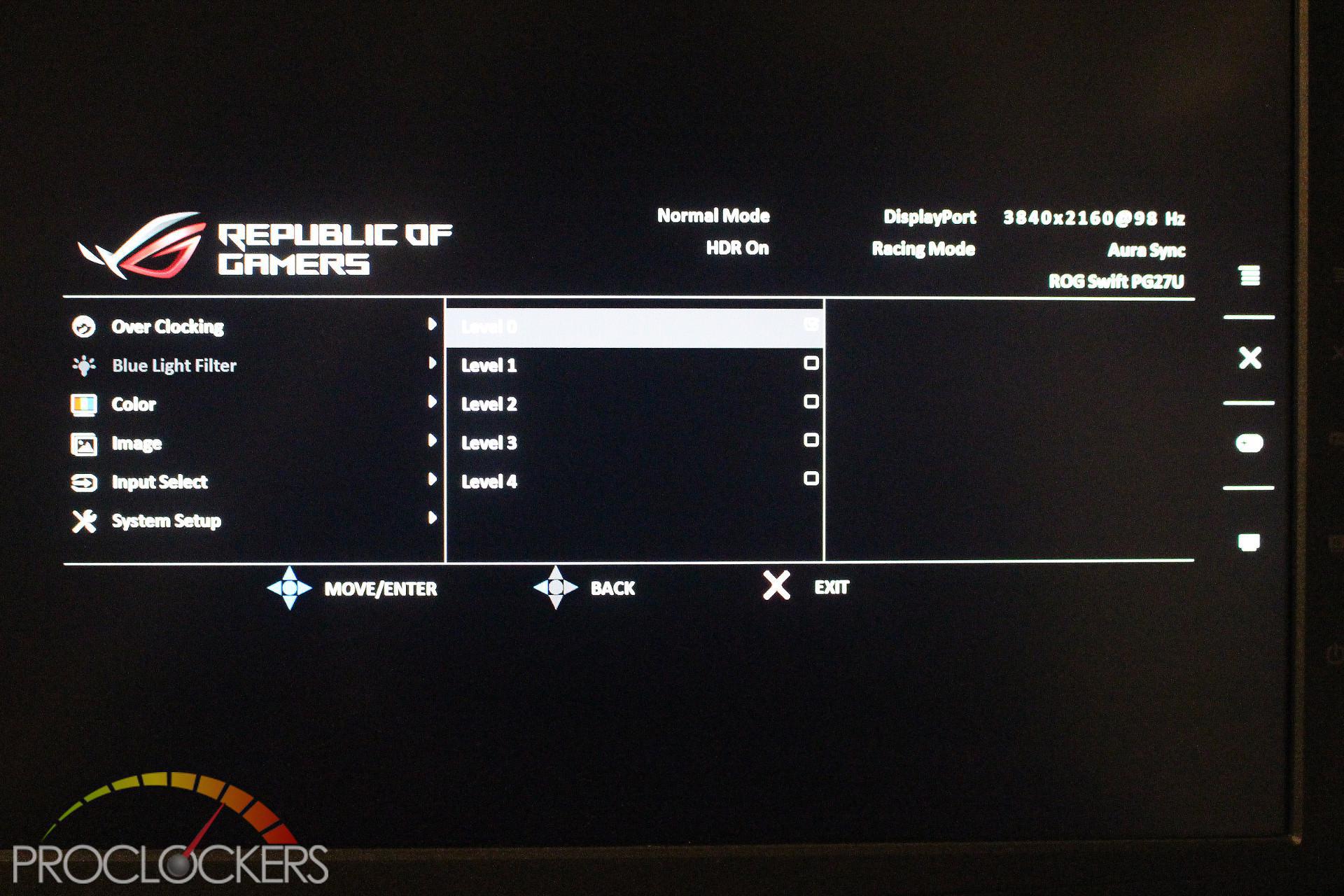 Asus's Blue Light Filter can reduce eye-strain for those late nights and marathon gaming sessions.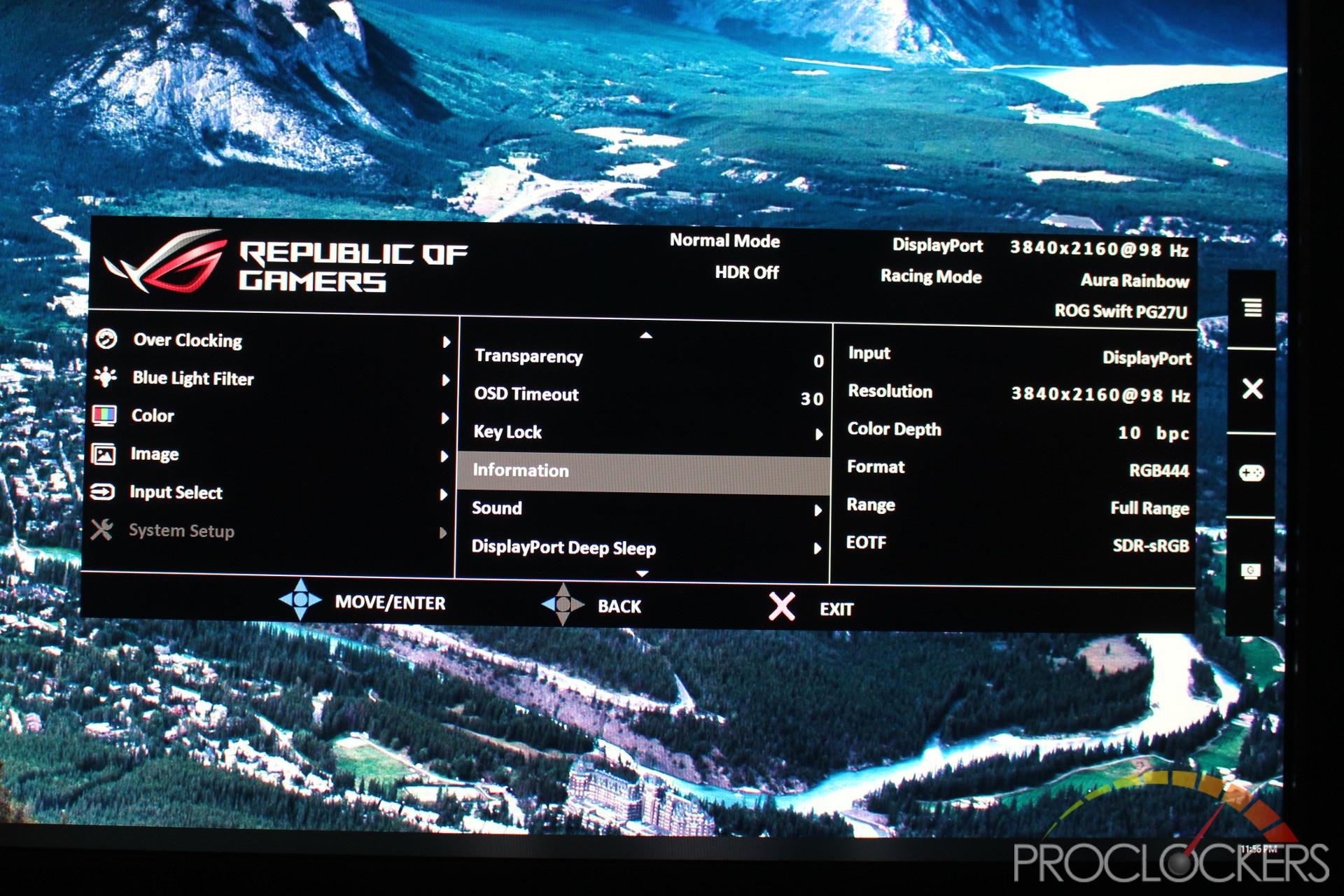 We'll skip over all the normal boring stuff like color, color temps, brightness, and contrast adjustments and input select and jump down to the System Setup area. The Information section is a great place to see exactly what is going on and your current settings.
DisplayPort 1.4 & Chroma Subsampling
DisplayPort 1.4 was finalized early in 2016 and has only very recently started appearing in 2018 but ASUS is already crashing into its limits with the ROG Swift PG27U. It has the bandwidth to transmit 4K SDR video up to 120 Hz at 8-bit color, or 4K 120 Hz with 10-bit color as long as Display Stream Compression (DSC) is used. Switching to High Dynamic Range (HDR) eats up some bandwidth, so this reduces your maximum refresh rates at 4K HDR down to 98Hz.
So how exactly can Asus get the ROG Swift PG27U up to 144Hz at all, let alone with HDR running? Chroma Subsampling. What exactly is this? Any image information on a display is made up of two parts, Chroma (Color info such as red, green, or blue) and Luma (Brightness info such as black, grey or white). Asus takes advantage of the fact that this display can render more colors than a typical eye can perceive by reducing color information sent to free up some extra bandwidth. This is done by letting adjacent pixels share color information while each still retains its luminance information. The Human eye is far more sensitive to light levels, so brightness information can't be tampered with without being quite noticeable but you might not notice a slight reduction in color quality.
The one place you can sometimes see this is small text with high contrast, such as black letters over a white background. With two adjacent pixels sharing an average color between them, it almost has the effect of antialiasing. What would normally be a sharp contrast between a letter and its background might turn out to be a slightly blurry grey instead.
98Hz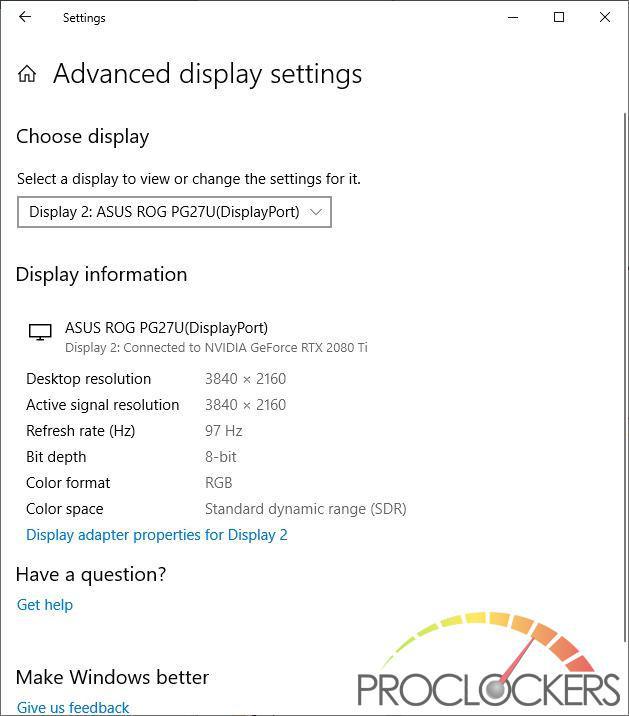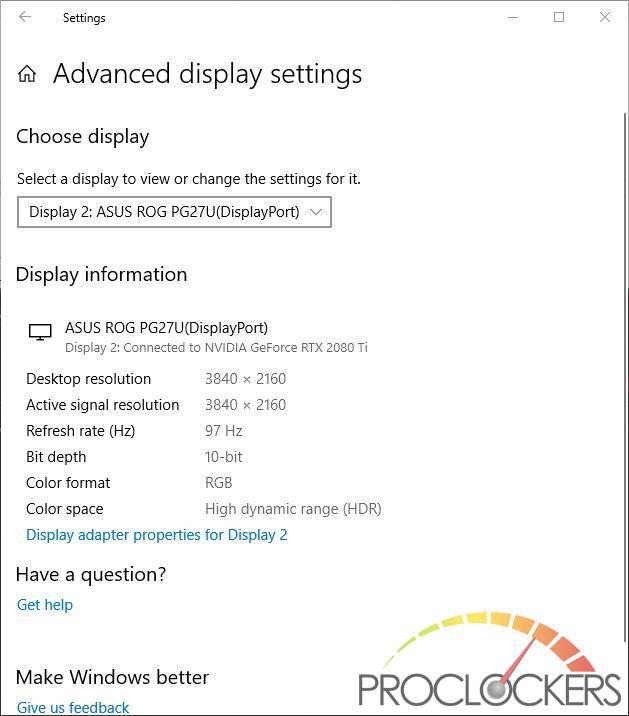 120Hz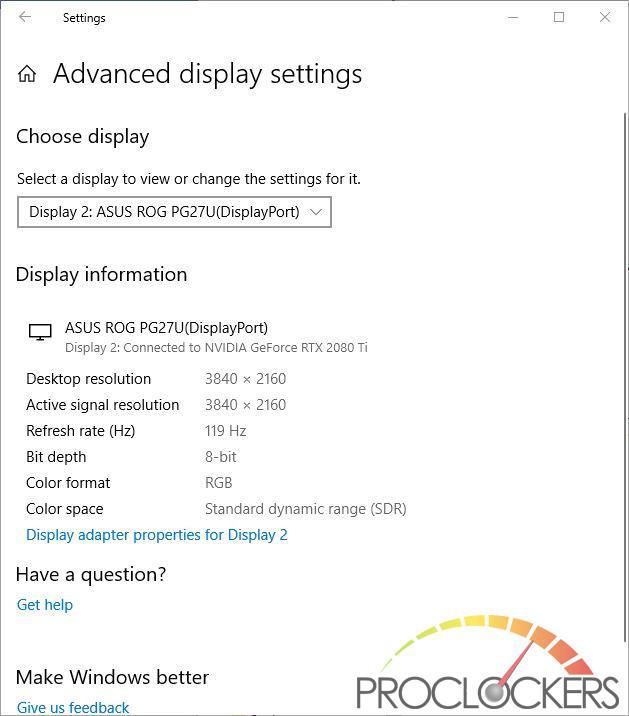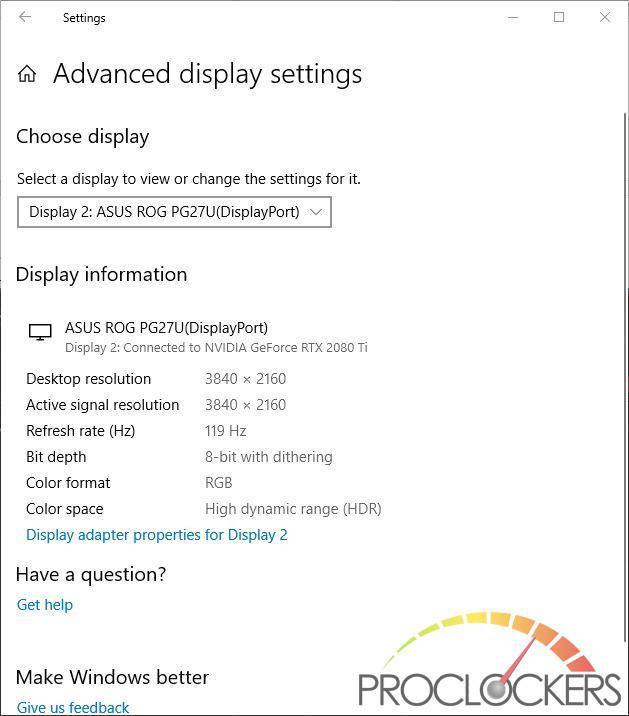 144Hz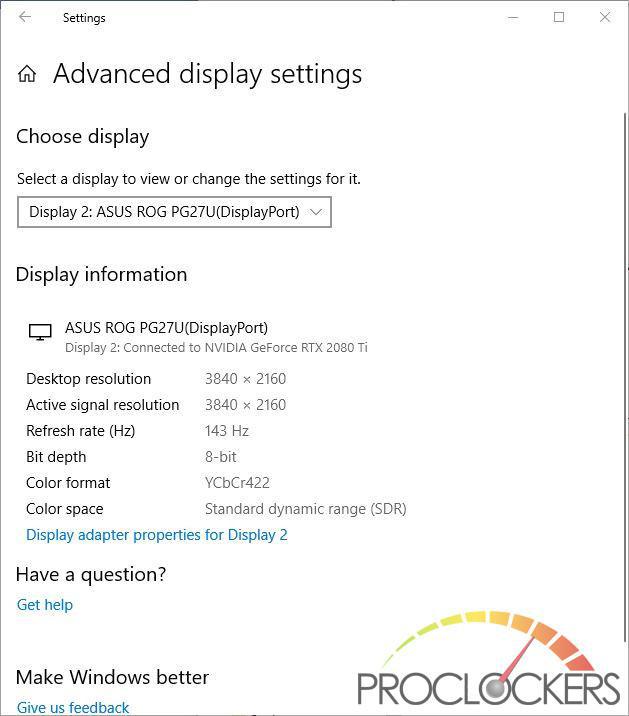 A couple of interesting things to note here. First is that SDR is always running at 8-bit color, even in WCR mode.
Next is that at 120Hz, we see HDR mode starting to have to make compromises, dropping from 10bit color to 8bit with dithering. At 144Hz, both SDR and HDR content both have to drop to 4:2:2 Chrome sub-sampling to meet the bandwidth requirements, but HDR is able to jump back up to 10-bit color.
What happens if we drop the resolution, can we run full color with no compromises at say, 1440p?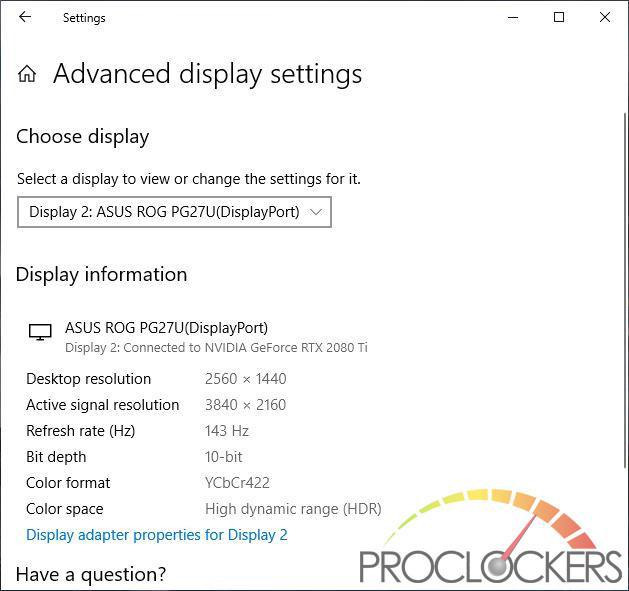 Here we hit something interesting. It seems even though we set the monitor to 2560×1440 resolution which Nvidia control panel and Windows itself is quite happy to do, the monitor will only accept signals at its native 3840×2160 resolution. This forces the display data to be upscaled to 2160p before leaving the video card and still saturates the DisplayPort connection.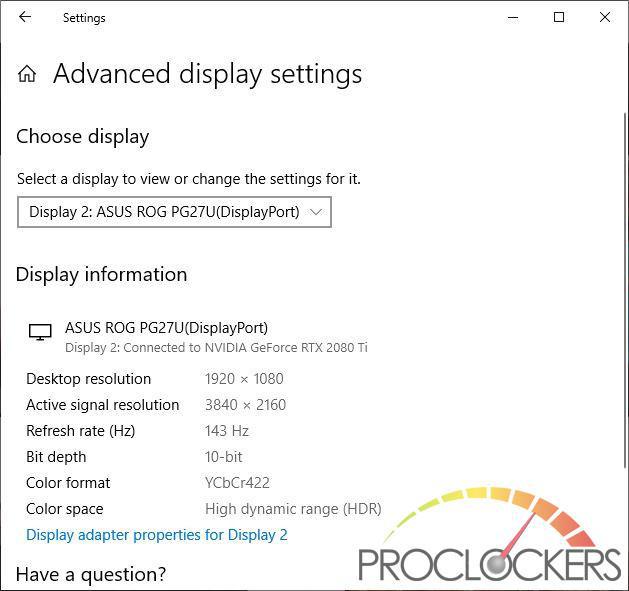 Even dropping down to a pedestrian 1080p, we see the same behavior exhibited. So much for that idea huh?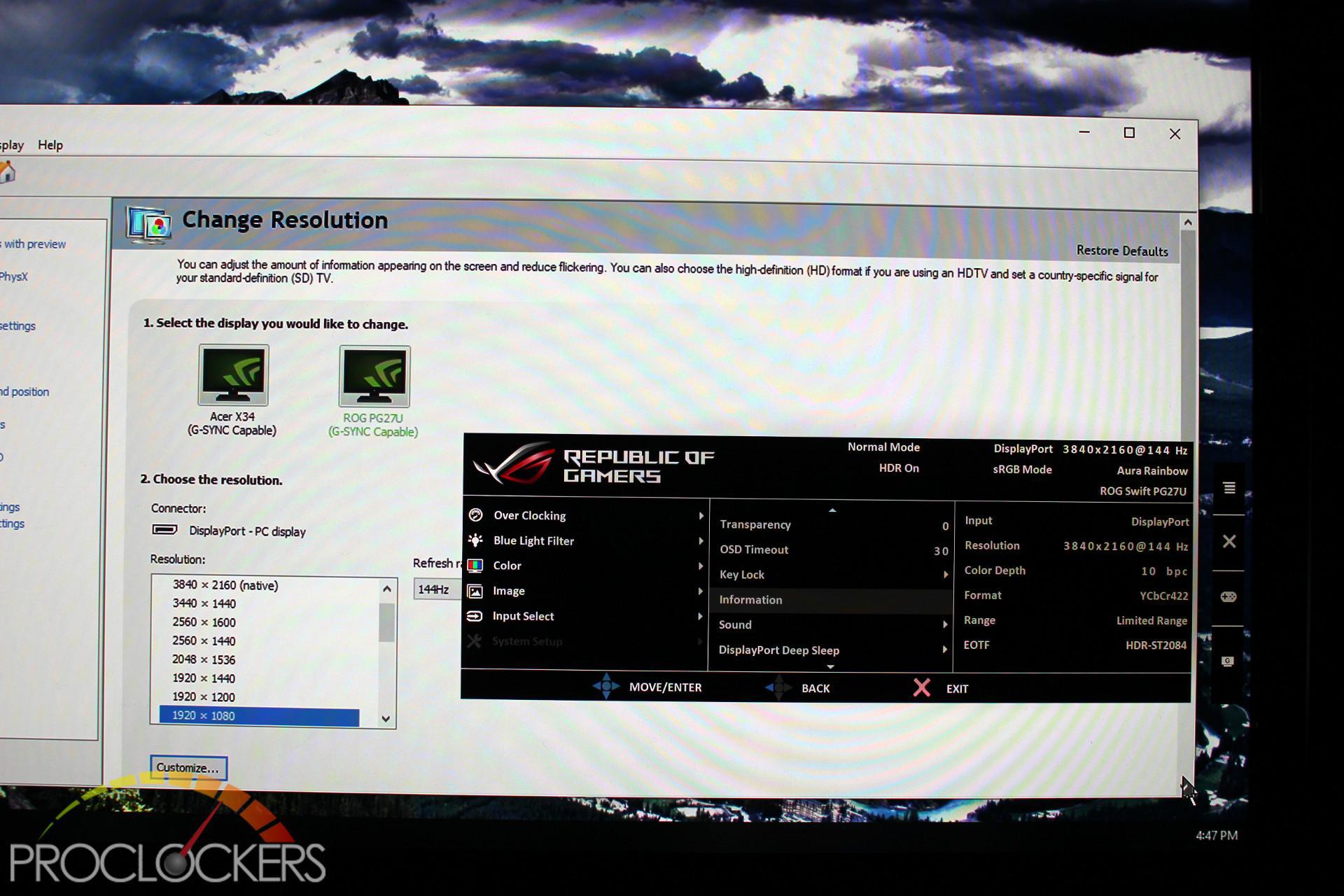 Just to confirm, even with the display running at a supposed 1080 from Windows and Nvidia, the monitor does indeed still show it's input as 2160p@144Hz HDR.
HDR Game Testing
Shadow of the Tomb Raider
Experience Lara Croft's defining moment as she becomes the Tomb Raider. In Shadow of the Tomb Raider, Lara must master a deadly jungle, overcome terrifying tombs, and persevere through her darkest hour. As she races to save the world from a Maya apocalypse, Lara will ultimately be forged into the Tomb Raider she is destined to be.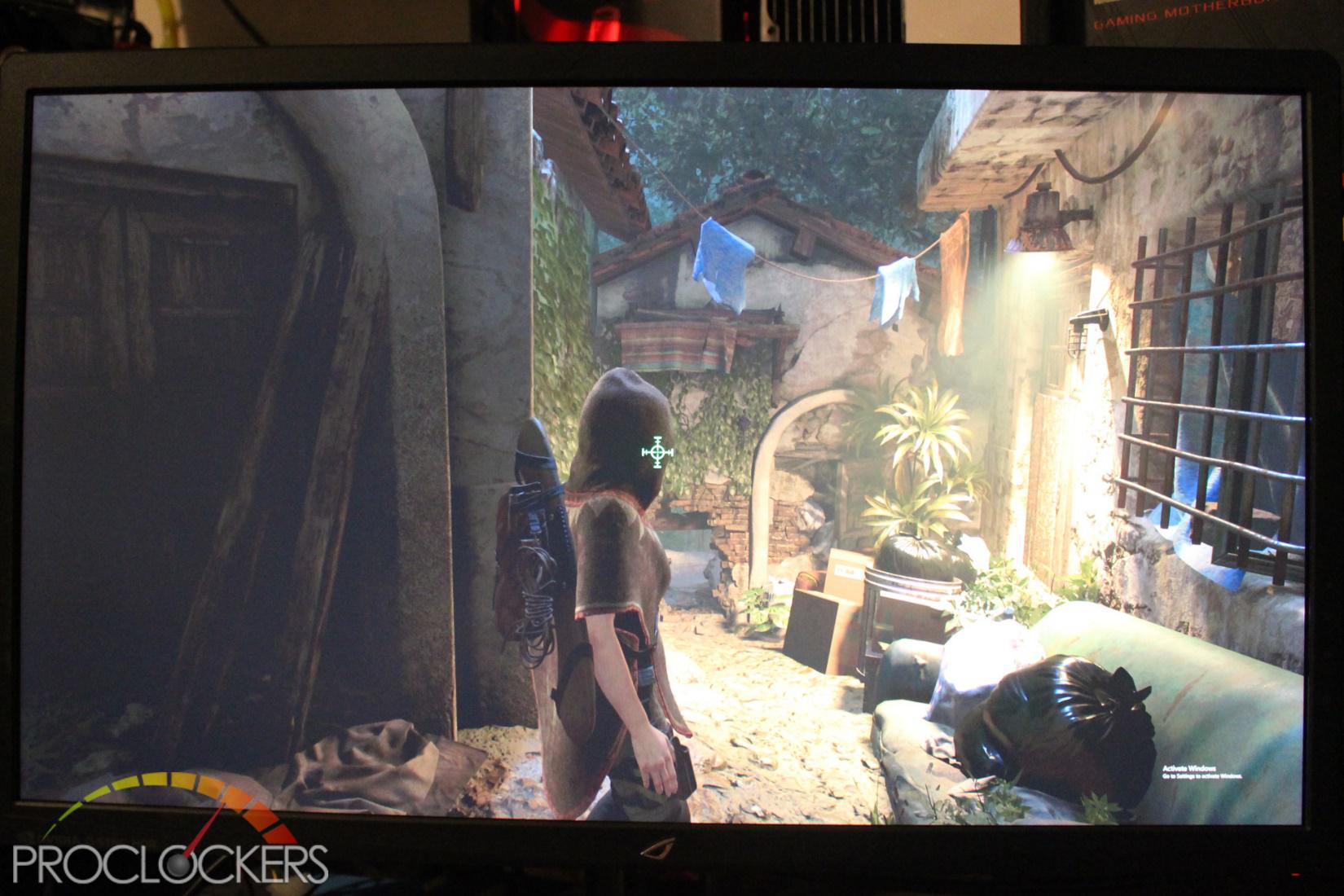 This recent addition to the Laura Croft universe supports HDR right out of the box. The game looks great in normal SDR Mode, but let's turn on HDR and see what happens.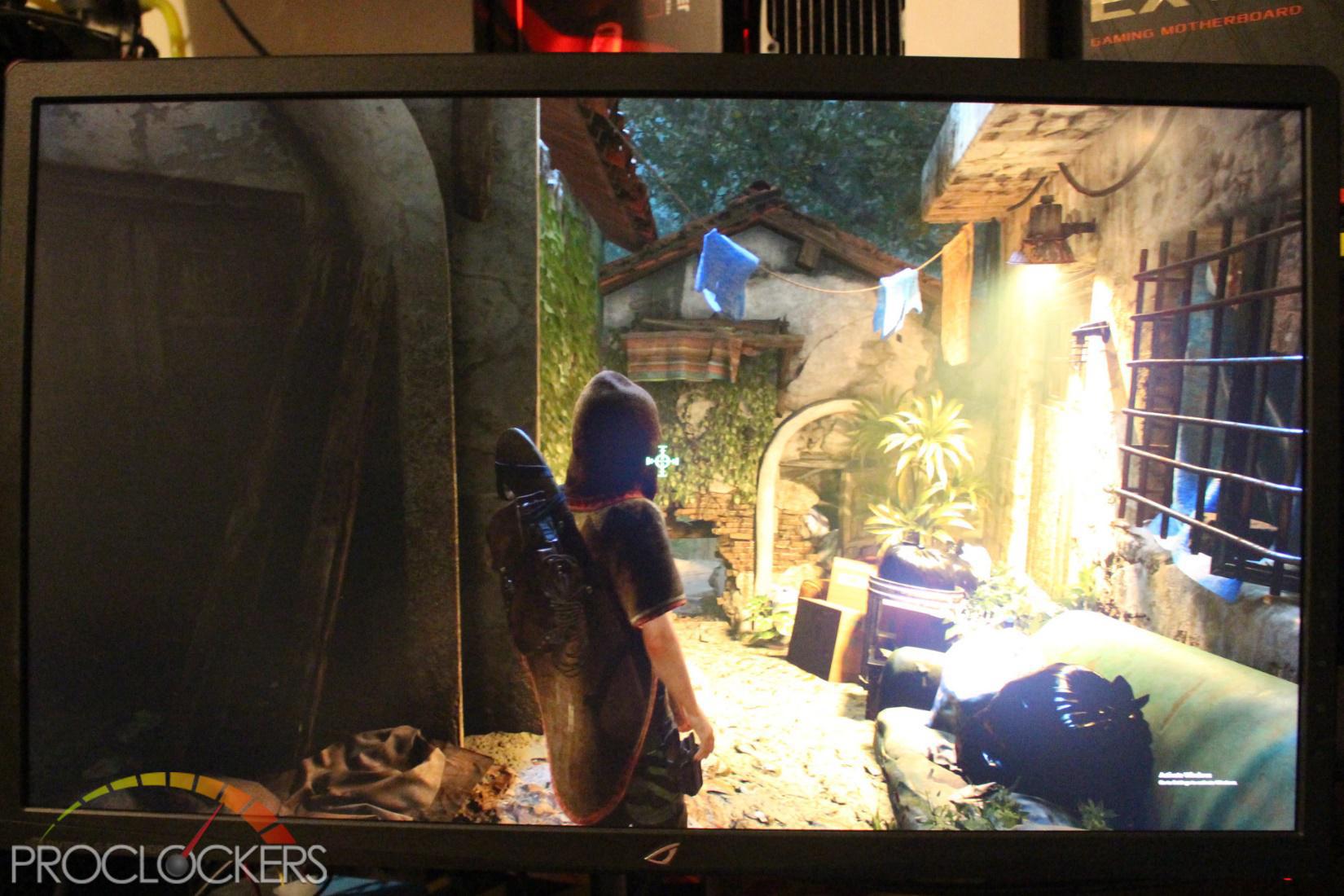 Wow, what a difference! The colors are more saturated, but the difference between the now much darker dark areas and the bright light areas is much more striking.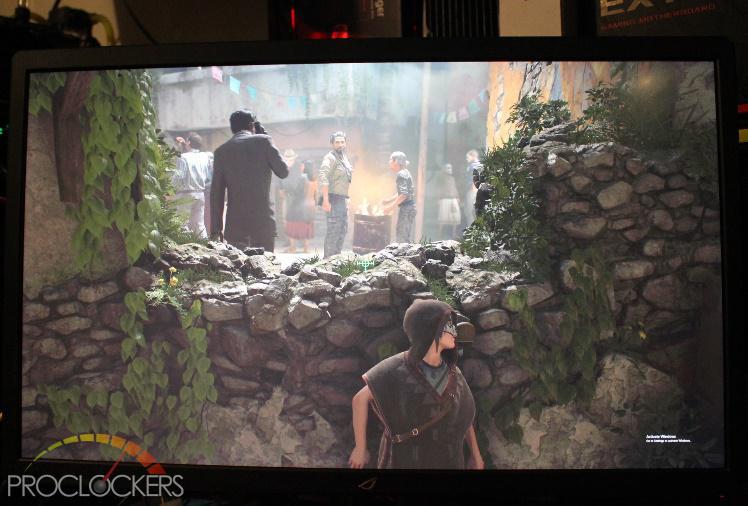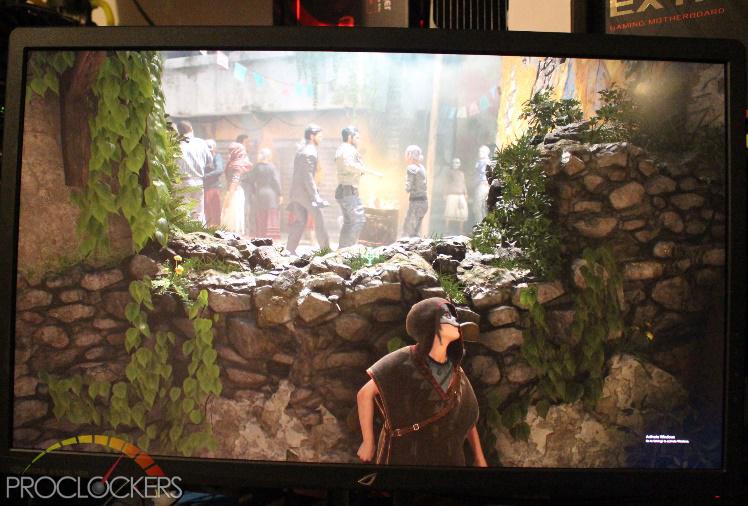 SDR vs HDR #2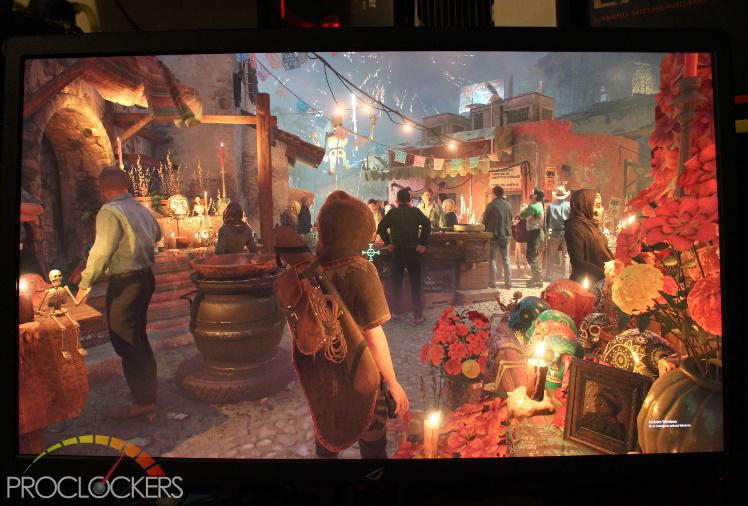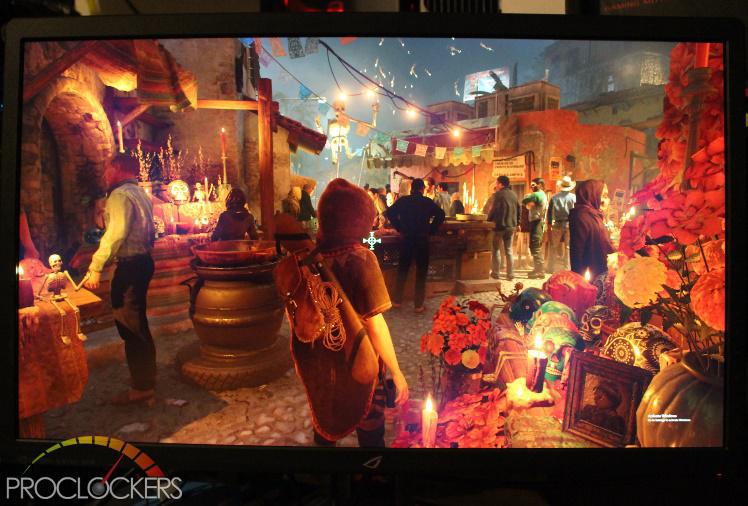 SDR vs HDR #3.
Far Cry 5
Anything can happen. Everything will.
Welcome to Hope County, Montana, land of the free and the brave, but also home to a fanatical doomsday cult—known as The Project at Eden's Gate—that is threatening the community's freedom. Stand up to the cult's leaders, Joseph Seed, and the Heralds, as you spark the fires of resistance that will liberate the besieged community.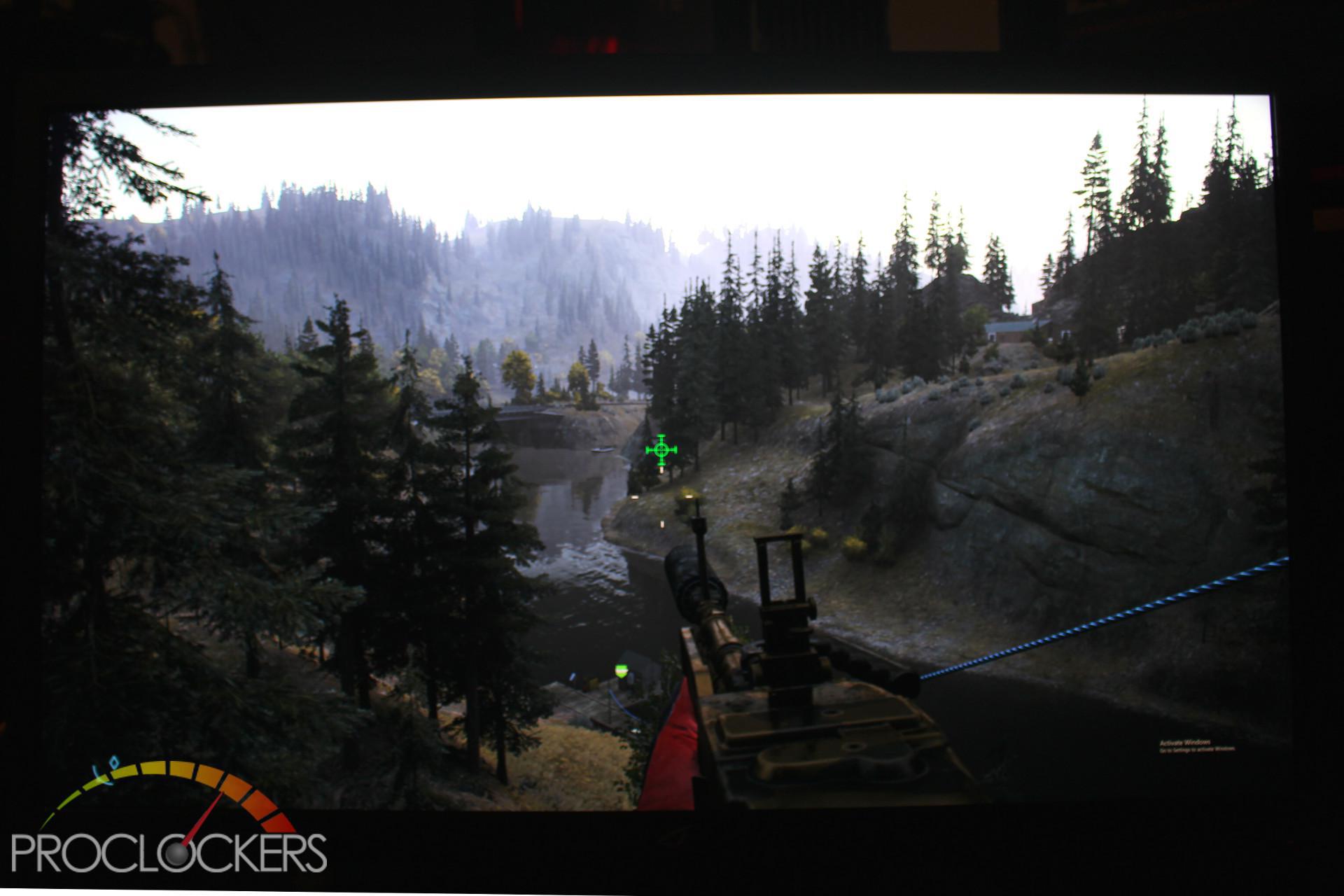 Far Cry 5 is another more recent title that supports HDR.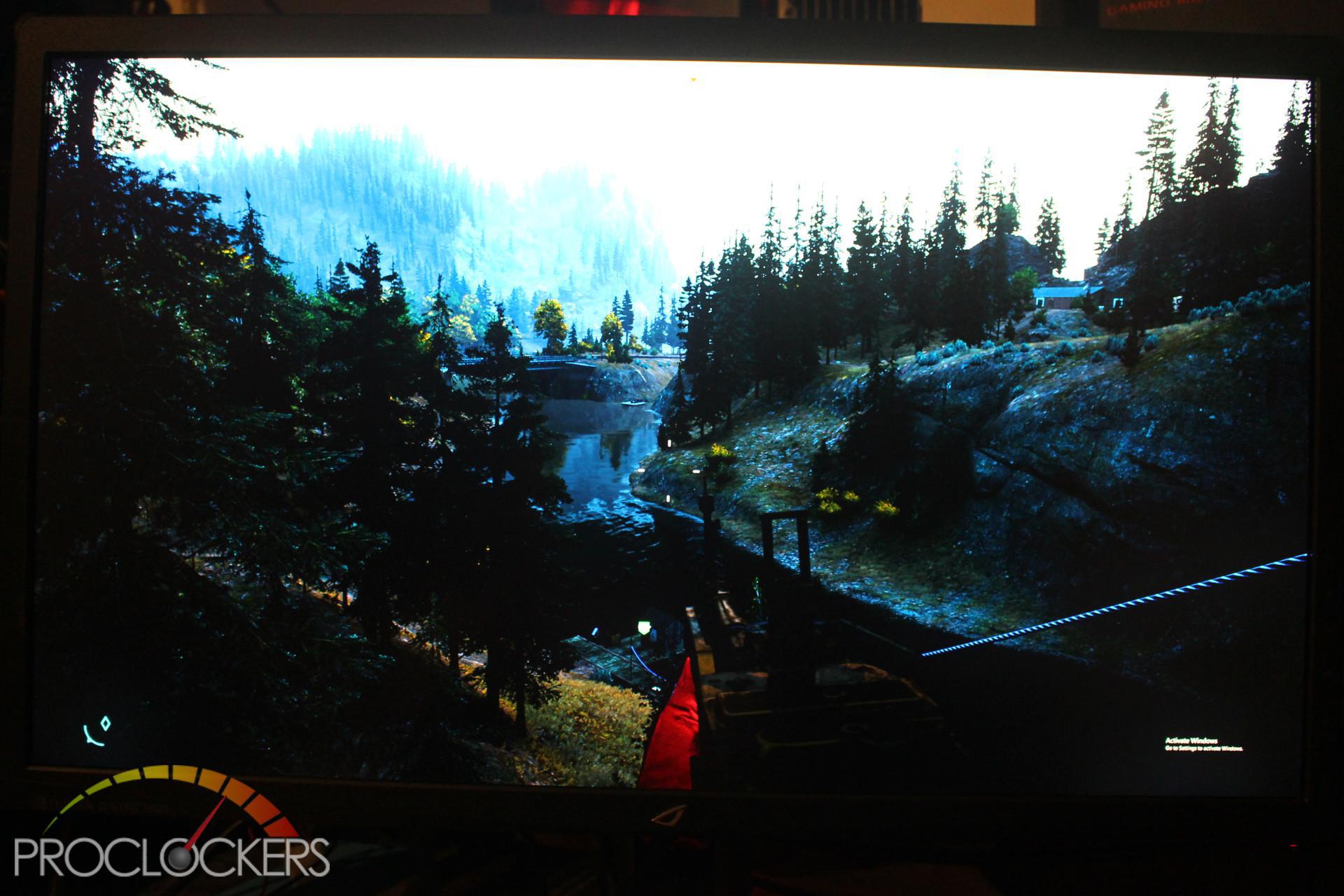 The mountainous region of the fictional Hope County Montana is quite striking with its deep shadows and bright skylines. While our camera doesn't capture the sky as much more than a bleached out blob of near white, you can still make out details in person quite clearly.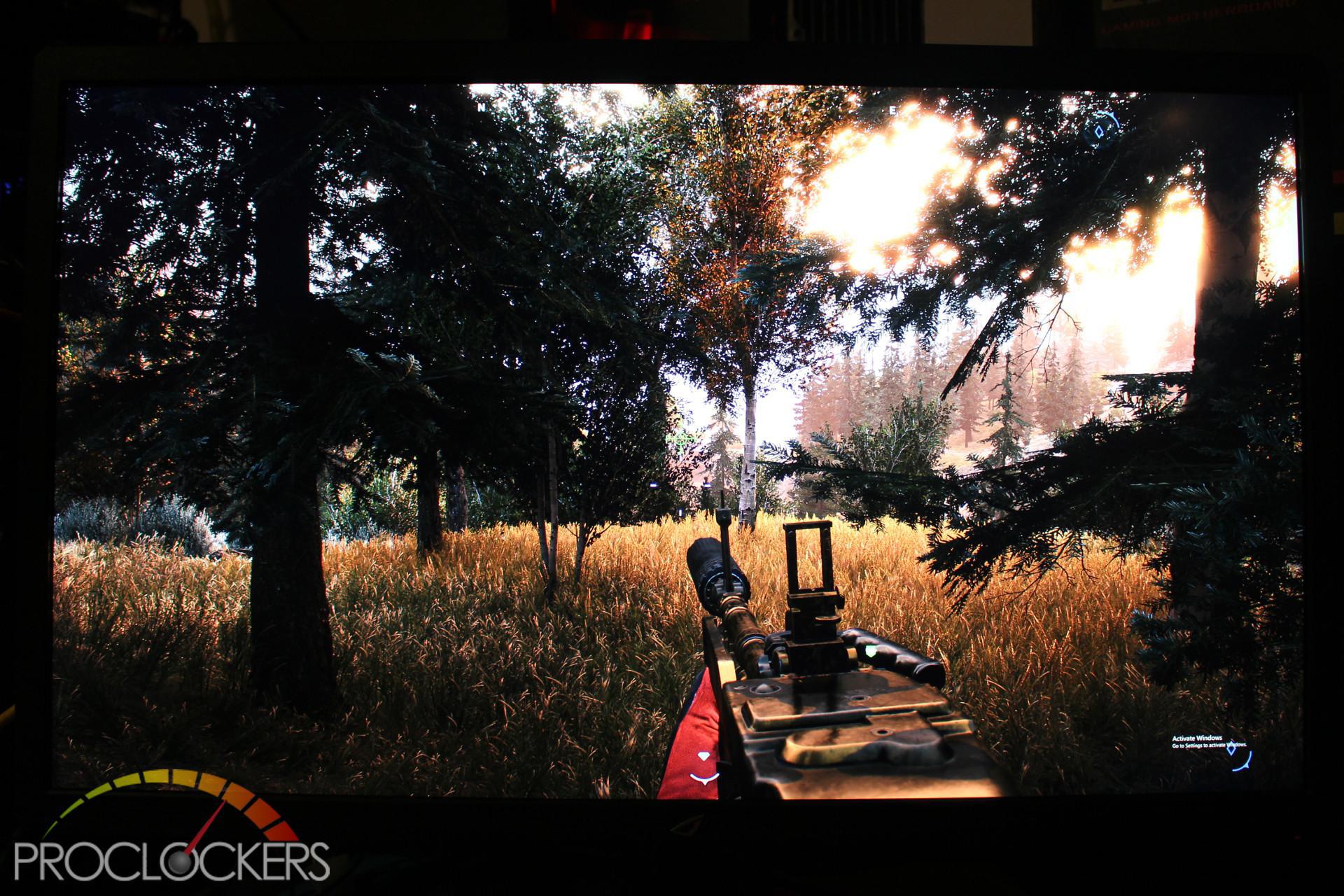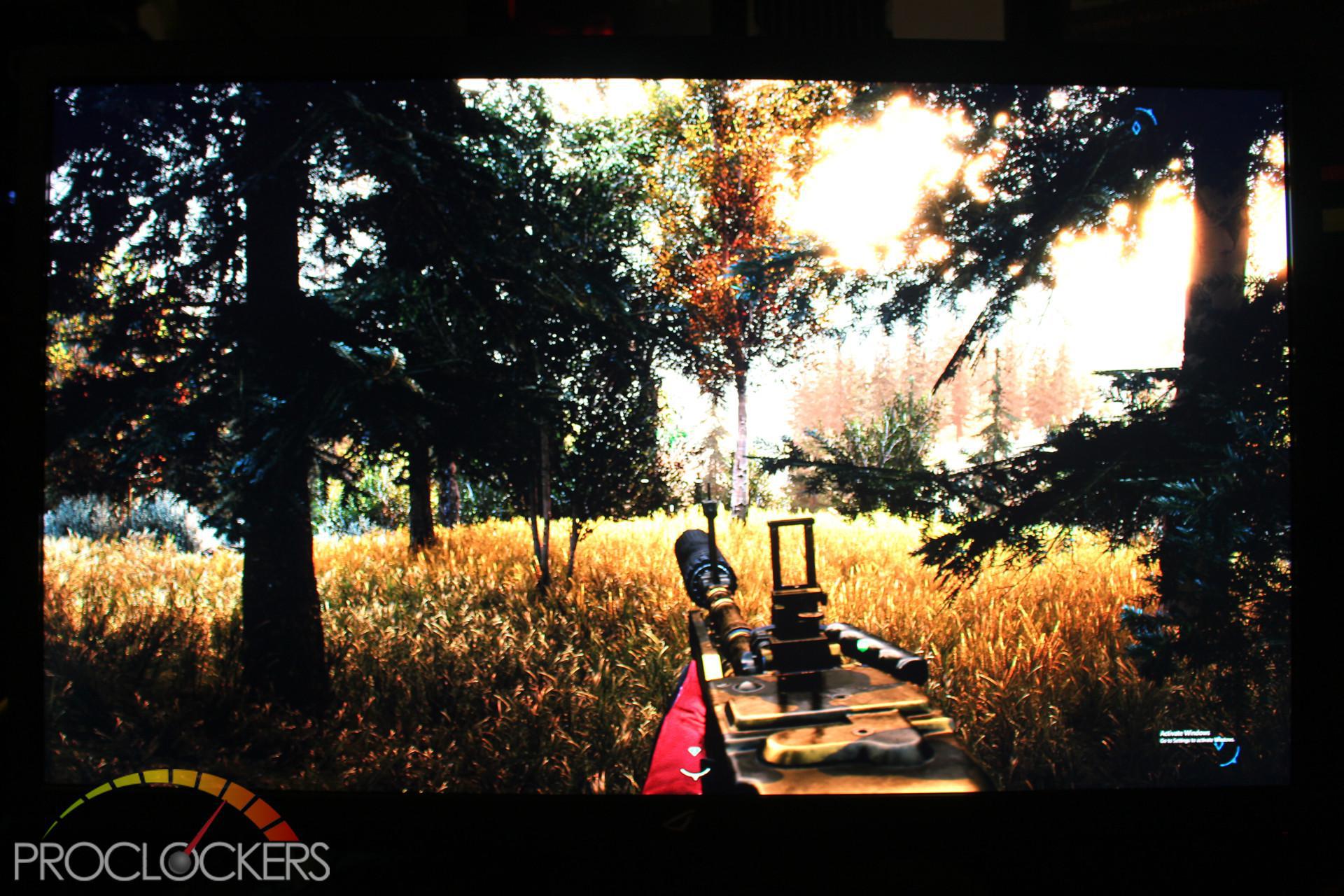 SDR vs HDR #2. This one doesn't show on camera quite as well as in person. The shadows behind the trees are deep and the sun shining through the foliage is nearly as blinding as in real life.
Basic Testing
VESA DisplayHDR Test
The DisplayHDR™ Test Tool allows users to confirm the display parameters including brightness, color and contrast performance of high dynamic range (HDR) laptop and desktop monitors as per the set forth in VESA's High-Performance Monitor and Display Compliance Test Specification (DisplayHDR).
Created by VESA®, the Video Electronics Standards Association, this new test tool has a simple keyboard interface that enables professional and lab-level users of off-the-shelf calibration colorimeters to test and evaluate HDR displays at the three performance levels (DisplayHDR 400, 600 and 1000) outlined in the DisplayHDR specification. See https://DisplayHDR.org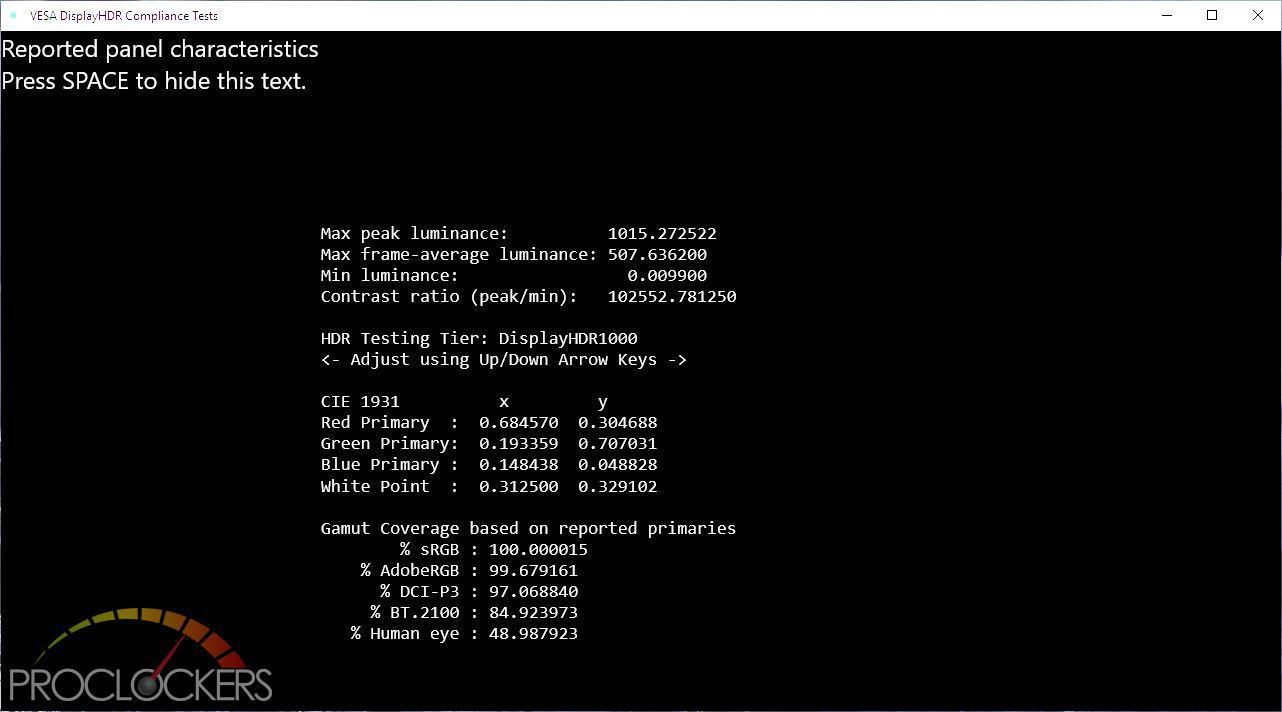 This free tool has some handy features. This screen shows what the monitor itself reports as its capabilities. We see a reported peak brightness of 1015 nits, just above what is required for the HDR1000 certification. We see a peak contrast ratio of just over 100,000:1 and the 97% DCI-P3 Color space coverage.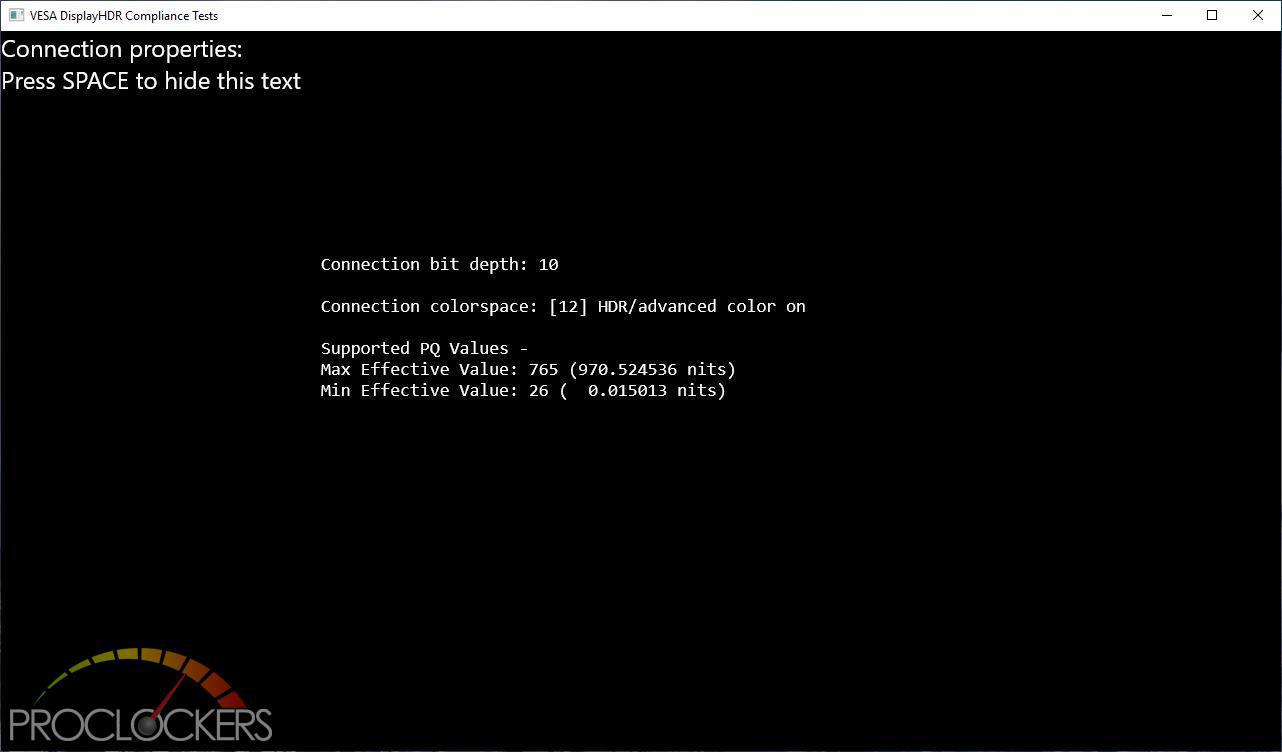 With HDR enabled in windows, the ROG Swift reports an effective range of 0.01 to 970 Nits.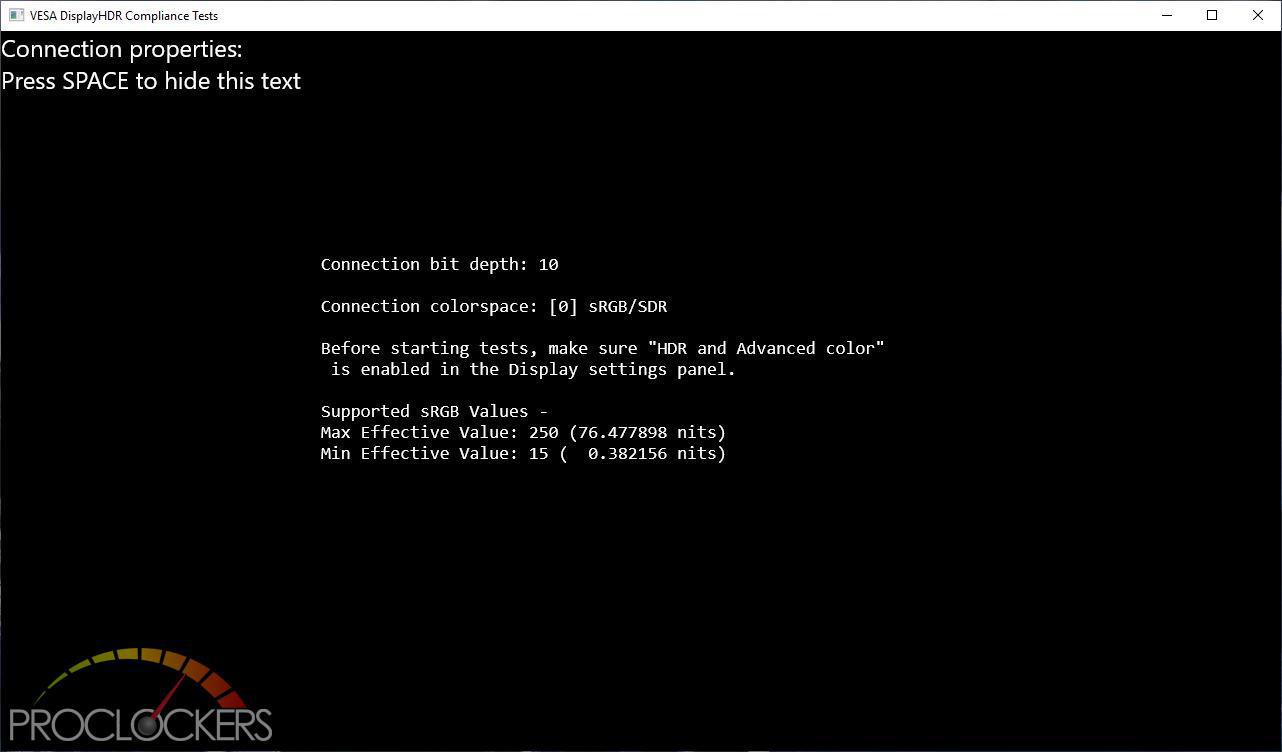 In SDR mode, the PG27U drops down to a range of 0.38 to 76 nits.
DisplayCAL
DisplayCAL (formerly known as dispcalGUI) is a display calibration and profiling solution with a focus on accuracy and versatility (in fact, the author is of the honest opinion it may be the most accurate and versatile ICC compatible display profiling solution available anywhere). At its core, it relies on ArgyllCMS, an open source color management system, to take measurements, create calibrations and profiles, and for a variety of other advanced color related tasks.
SDR – sRGB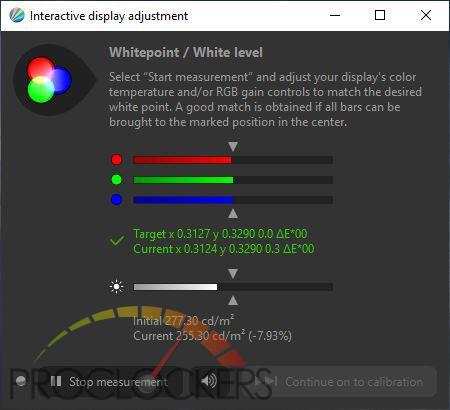 Starting with a Standard Dynamic Range and sRGB mode, we get an average initial brightness of 277 nits. A quick calibration gives us a DeltaE of 0.3 and reduces the brightness slightly to 255 nits.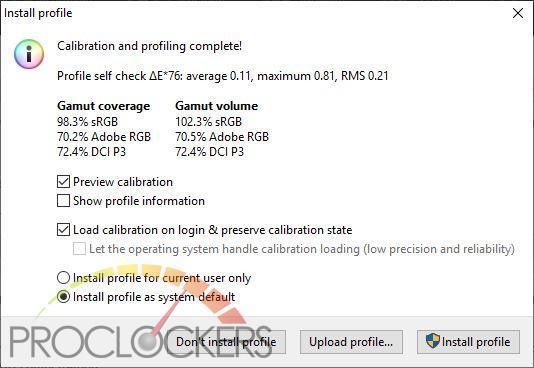 After a required quick calibration, we get the above color space reproduction numbers, hitting a decent 72.4% coverage of DCI-P3, but this falls quite a bit short of ASUS's specifications.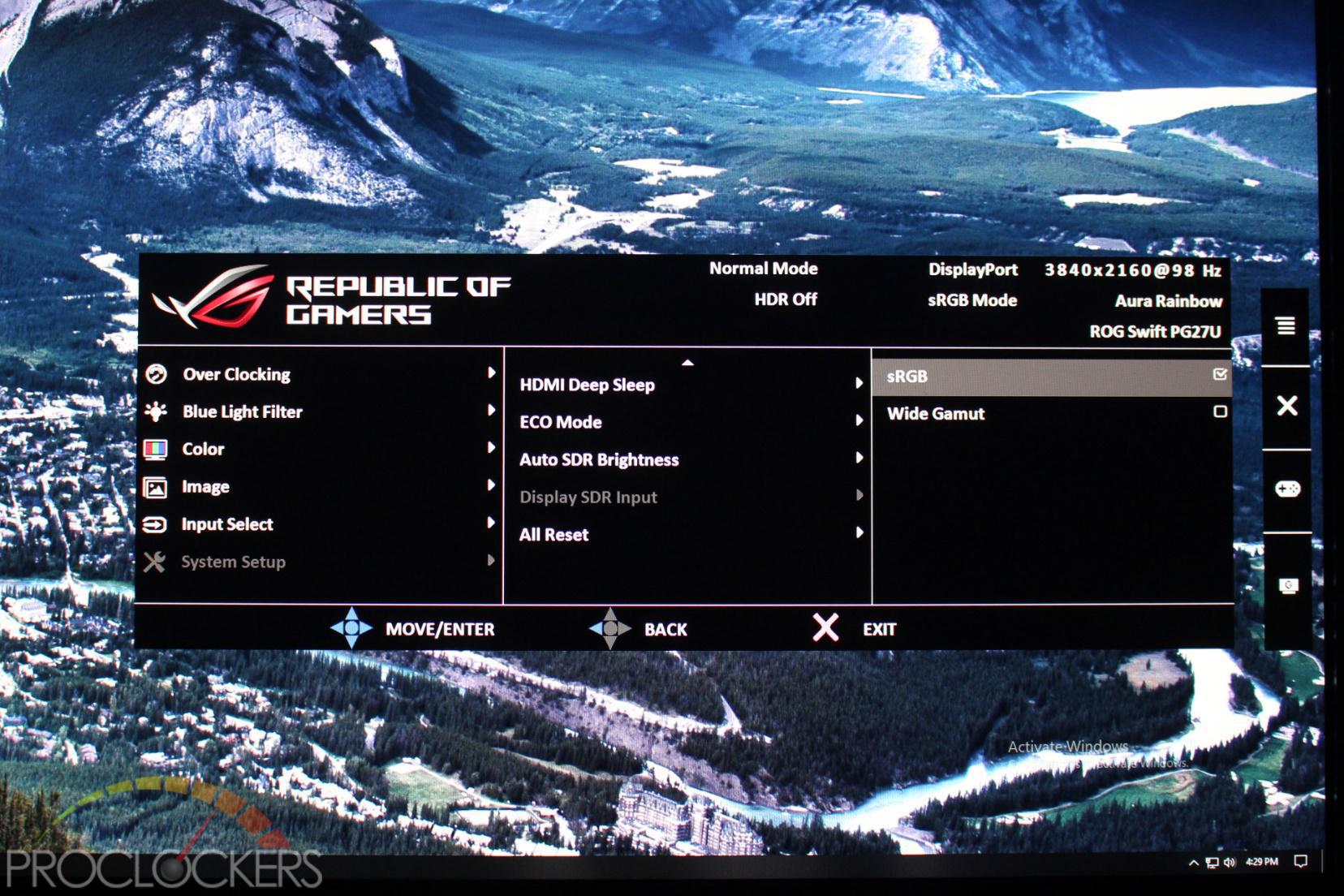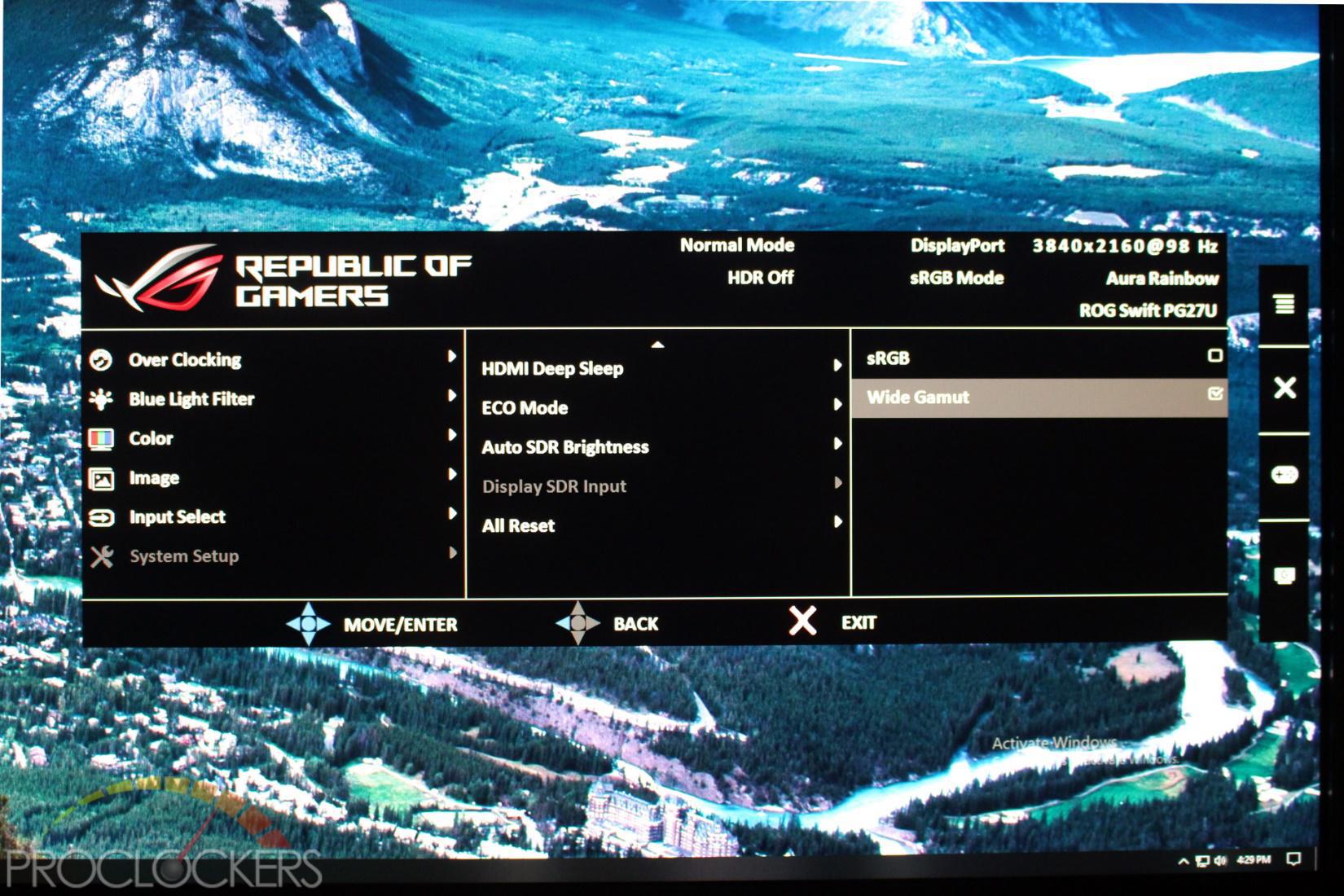 Turning on WCG mode in the OSD makes an immediate and noticeable difference in the screen, and for the better. Colors are much more robust and realistic. Let's see what change this makes.
SDR – WCG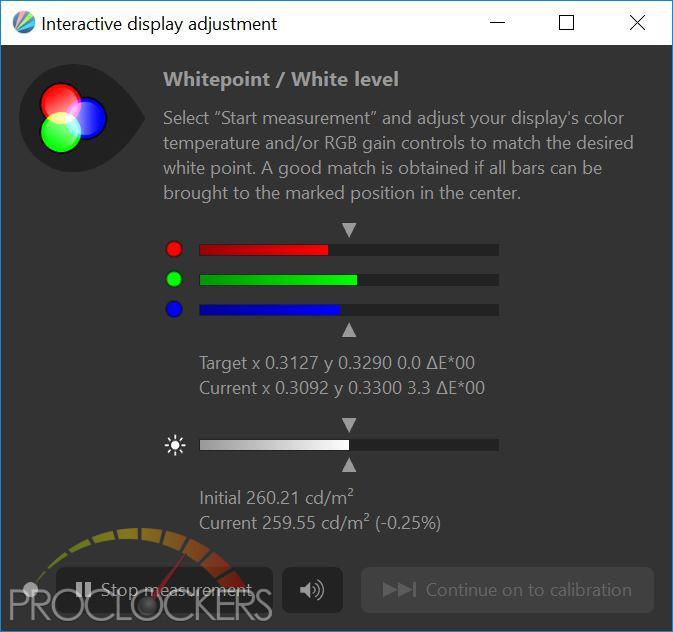 Turning on WCG mode in the OSD makes an immediate and noticeable difference in the colors on-screen. Let's see what else changes shall we?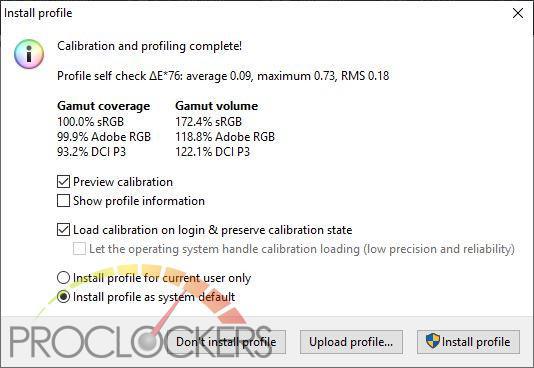 This shows as a radical jump in Color space reproduction. We start out at 93.2% of DCI-P3 but after a quick calibration, this jumps to a staggering 122%, far above ASUS's specification.
HDR Mode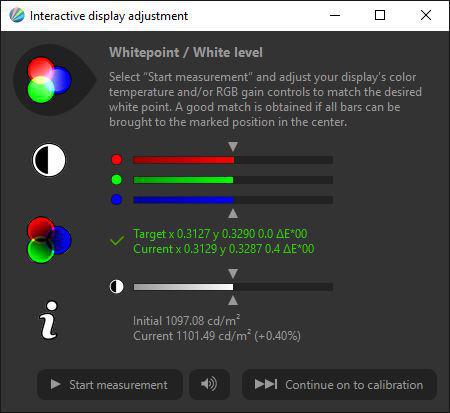 Turning on HDR mode lets the backlight jump to a blinding 1100 nits.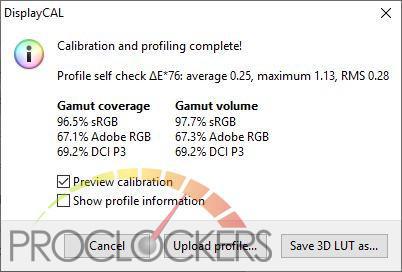 Moving to HDR gives a hit to color reproduction, back to around the sRGB range in SDR mode.
Power Usage:
Power off –25.7W (Yes, it draws more power while 'off' than on and in standby.)
Standby – 28.6W for a short while then dropping down to under 1W.
SDR – 71.5W
HDR – 148.8W
Bottom Light on/off difference– 1.6W
Top light on/off difference – 0.8W
SpectraCal CalMAN 2018 Ultimate Testing


CalMAN Ultimate is the master product for all other CalMAN software combined. It has by far the most workflows and most extensive hardware support of any CalMAN software and is licensed for use by professional calibrators, large production houses, corporations, and display reviewers. CalMAN Ultimate also allows users to create custom workflows tailored specifically to their own calibration needs.
Key Features:
Optimize display settings for brightness, contrast, and resolution
Achieve optimal colorspace and gamma targets
Conduct CMS (color management system) and multipoint grayscale calibrations
Analyze display performance with an advanced Quick Analysis Workflow
Create comprehensive Customer Reports for each calibration
Automate the calibration process with AutoCal™ Technology for select display models
Access display settings through DDC (direct display control) with supported display models
Generate 3D LUTs for select home theater video processors and studio reference monitors
Calibrate computer monitors with ICC+™ Technology from CalMAN RGB
Calibrate multi-panel video walls with the new Display Matching workflow.
Calibrate home theaters, studios, and commercial displays for hundreds of customers, no purchase of additional software licenses necessary
Create customized reports and workflows in Design Mode
Test Setup
We will be testing with the Datacolor Spyder 5 Colorimeter. This is an affordable colorimeter capable of working with light levels up to 5000 Nits, plenty to test this screen at its maximum HDR brightness.
This section of testing is also performed with the monitor running from an AMD Radeon RX550 GPU. Nvidia consumer class cards such as the GeForce GTX and RTX family are limited to 8-bit color unless running a full-screen Direct X program like most games when running Microsoft Windows. Nvidia professional series cards such as the Quadro family do not have this limitation, nor does any AMD Radeon GPU. The good news here is that this monitor is aimed at gamers, and games can take advantage of a 10-bit color depth, which is the makings of some very nice visuals when coupled with HDR. https://nvidia.custhelp.com/app/answers/detail/a_id/3011/~/10-bit-per-color-support-on-nvidia-geforce-gpus
SDR Testing
Wide Gamut Color mode enabled from OSD, but this is the factory calibrated 'out-of-the-box' performance and running at native 3840×2160 Resolution and 98Hz to avoid Chroma sub-sampling.
9-Point Screen Uniformity:
30% Grey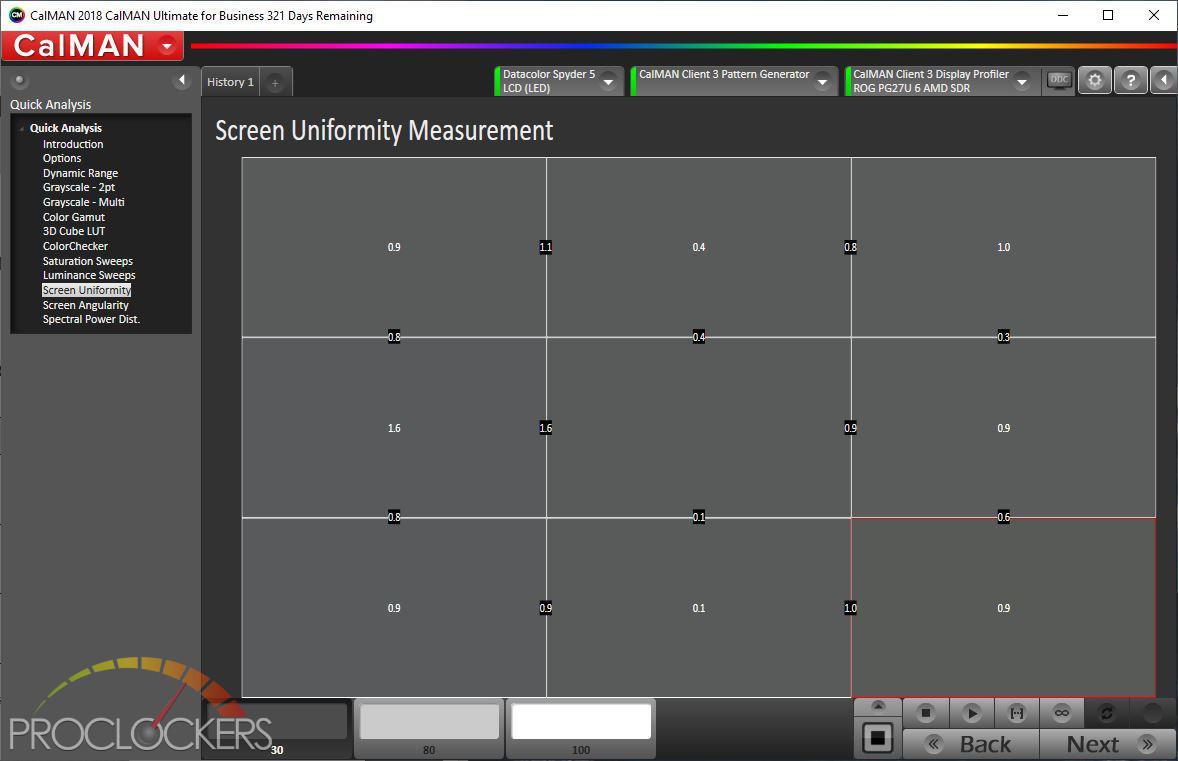 80% Grey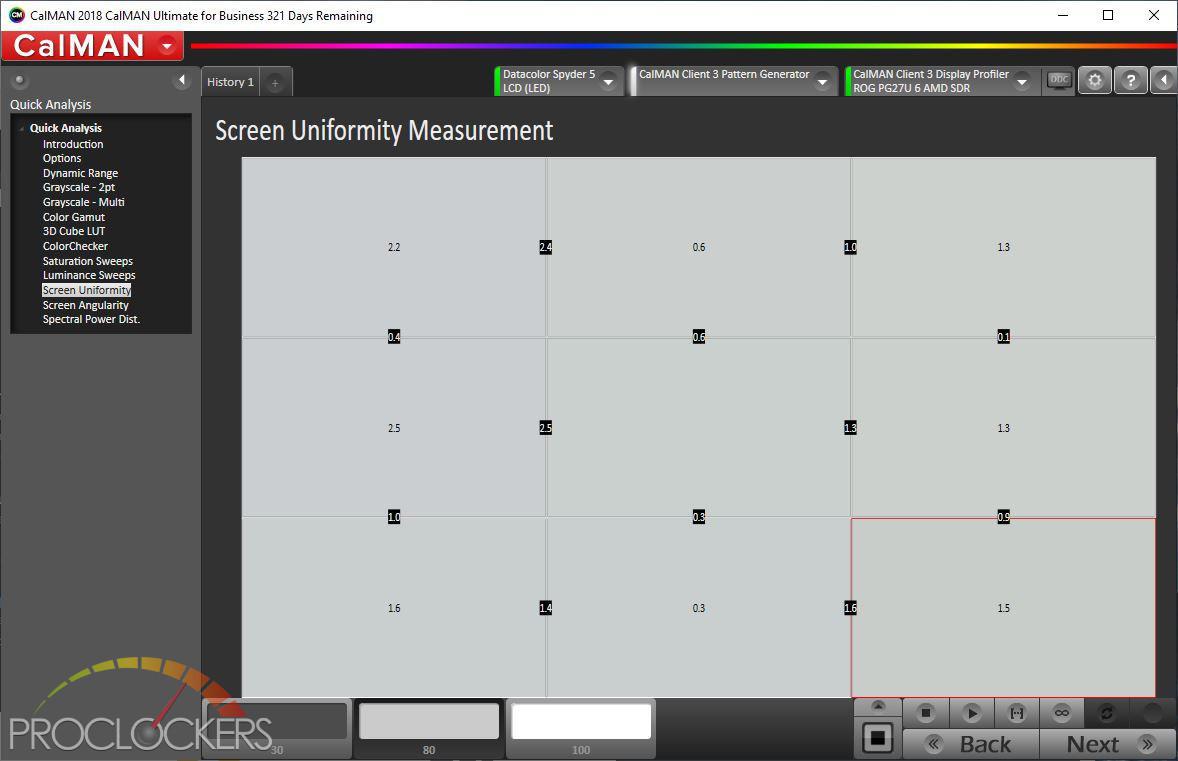 100% White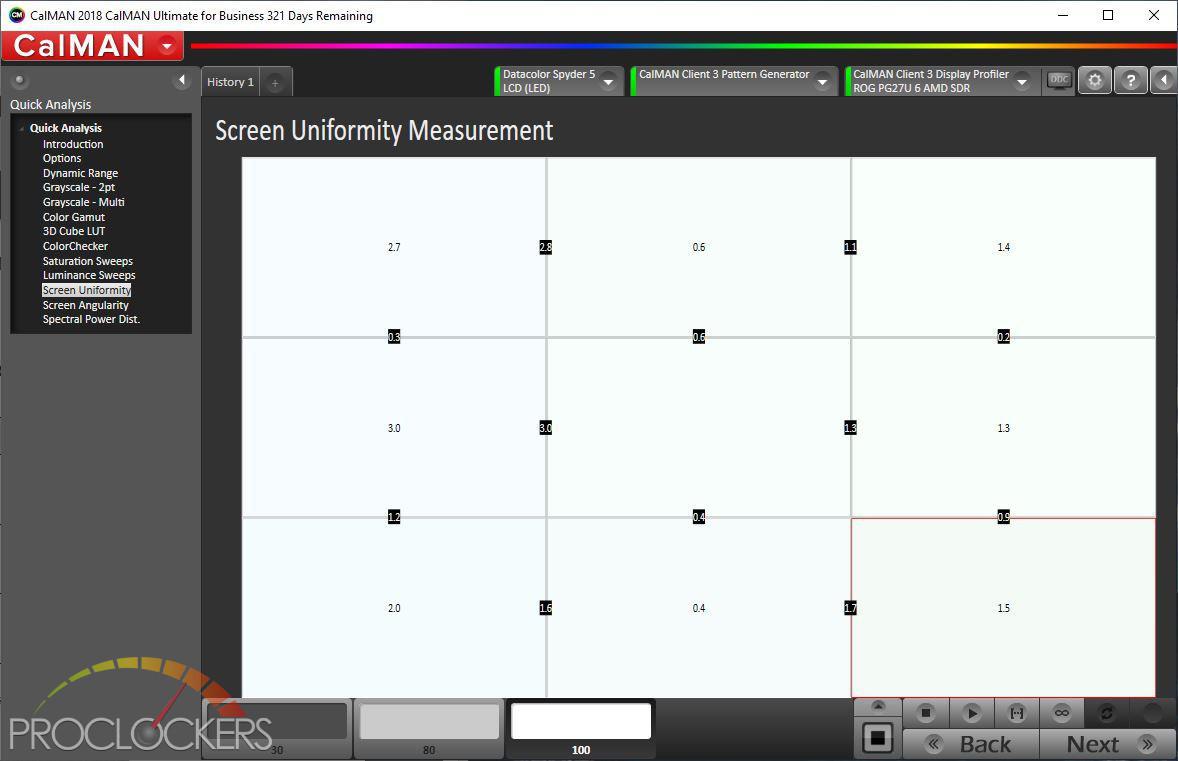 This test measures the difference between the center of the screen out the various other areas. A DeltaE of 3.0 or less is considered good, and a DeltaE of less than 1.0 is considered to be a difference imperceptible to the human eye. This test shows us that the ROG Swift does a solid job keeping things even across it's 27" screen, but the eagle-eyed among us may be able to notice a slight difference from the left and upper left edges of the monitor compared to the center.
Screen Angularity Measurement
The angularity test measures the display at different angles to measure chromaticity and luminance shifts off axis. We measure the primary and secondary colors in addition to white and 75% grey. This gives us a solid view of issues. Typically, this would be measured with a spectrophotometer at +/- 10° and +/-15° from perpendicular, but we are using a colorimeter at five points across the screen horizontally to detect shifts in color reproduction.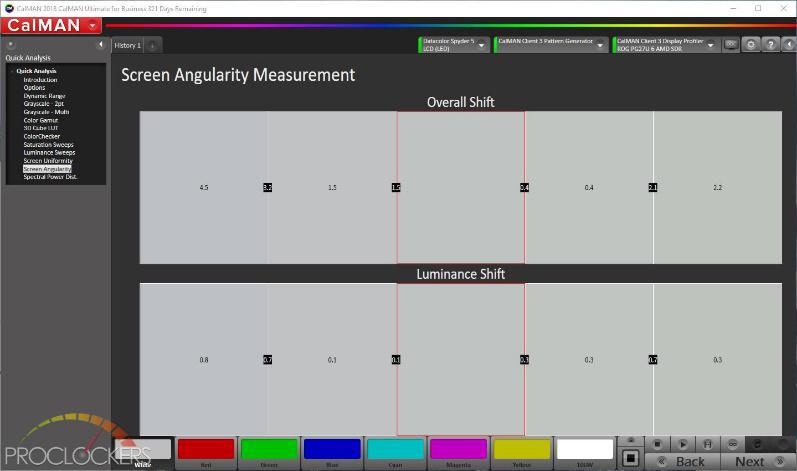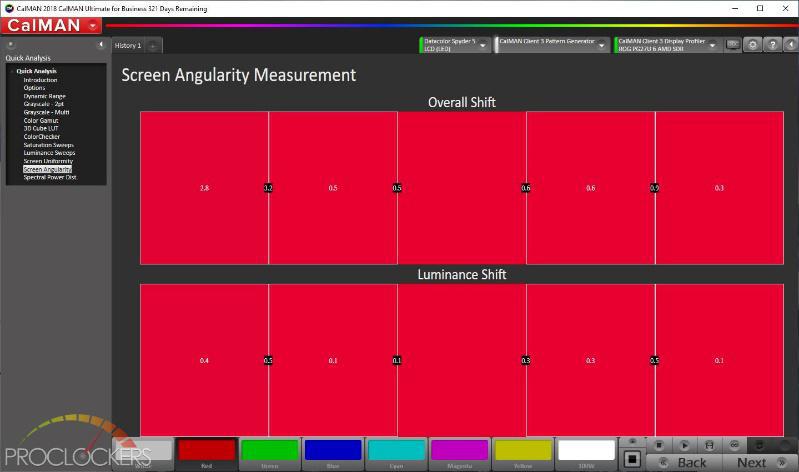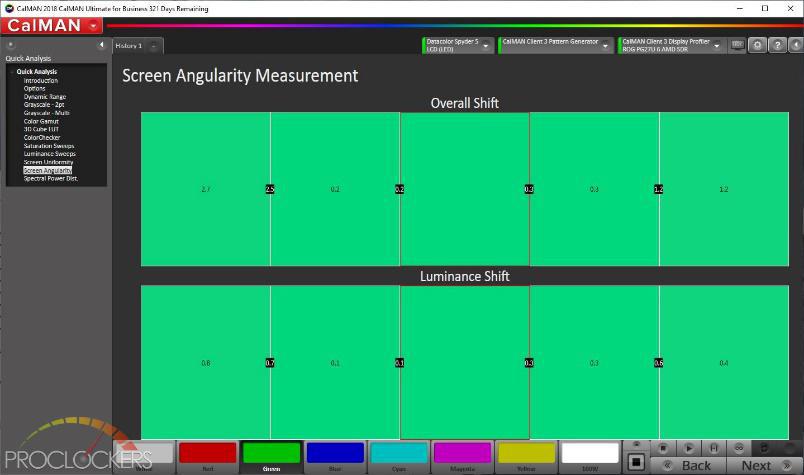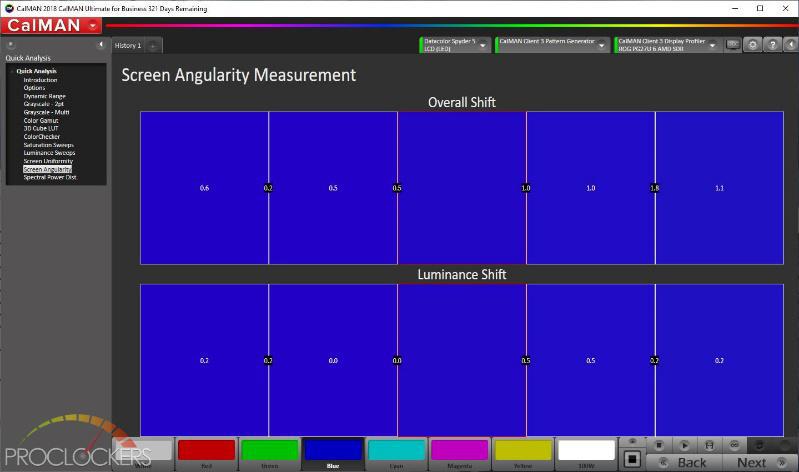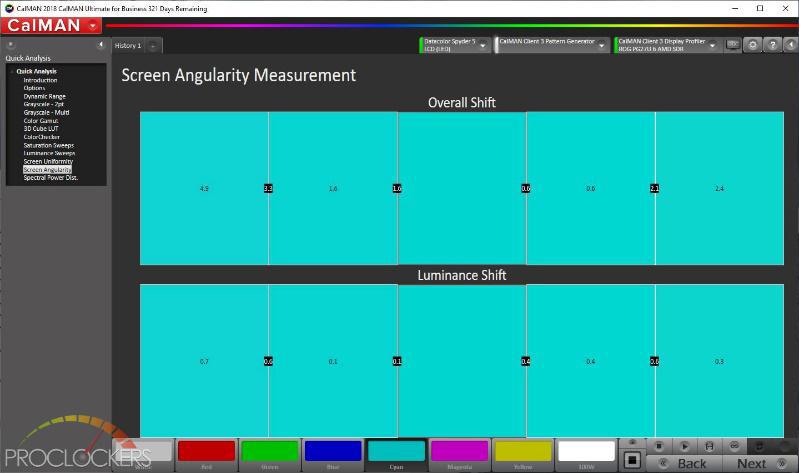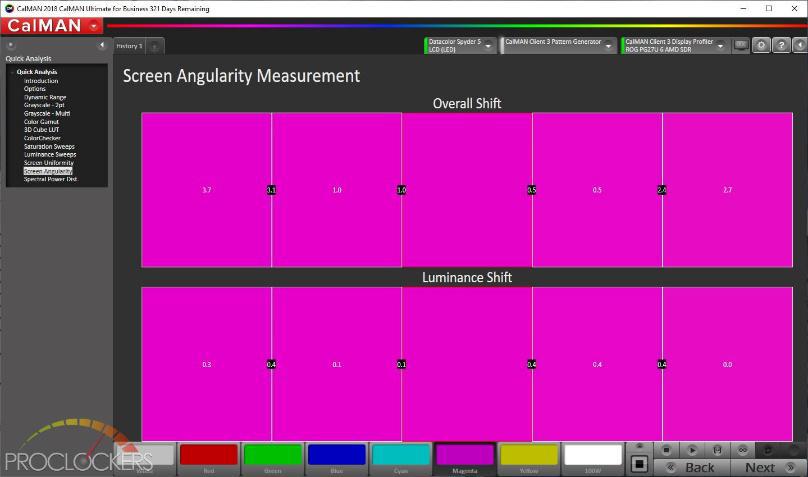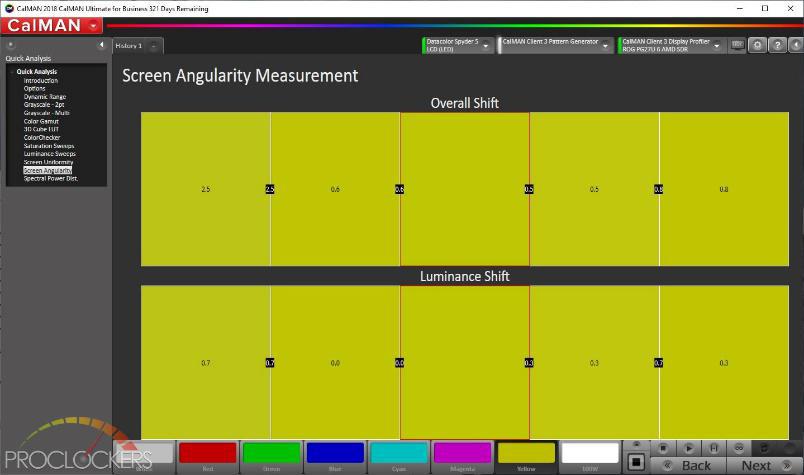 We see that the blue primary color is pretty even across the screen, but red shifts noticeably on the left edge, along with green which skews white toward the cool end of the spectrum. Again, this is a very small shift, but the most color sensitive viewers might be able to pick out a difference in some circumstances. The vast majority of users will never notice though.
Color Gamut
CIE 1976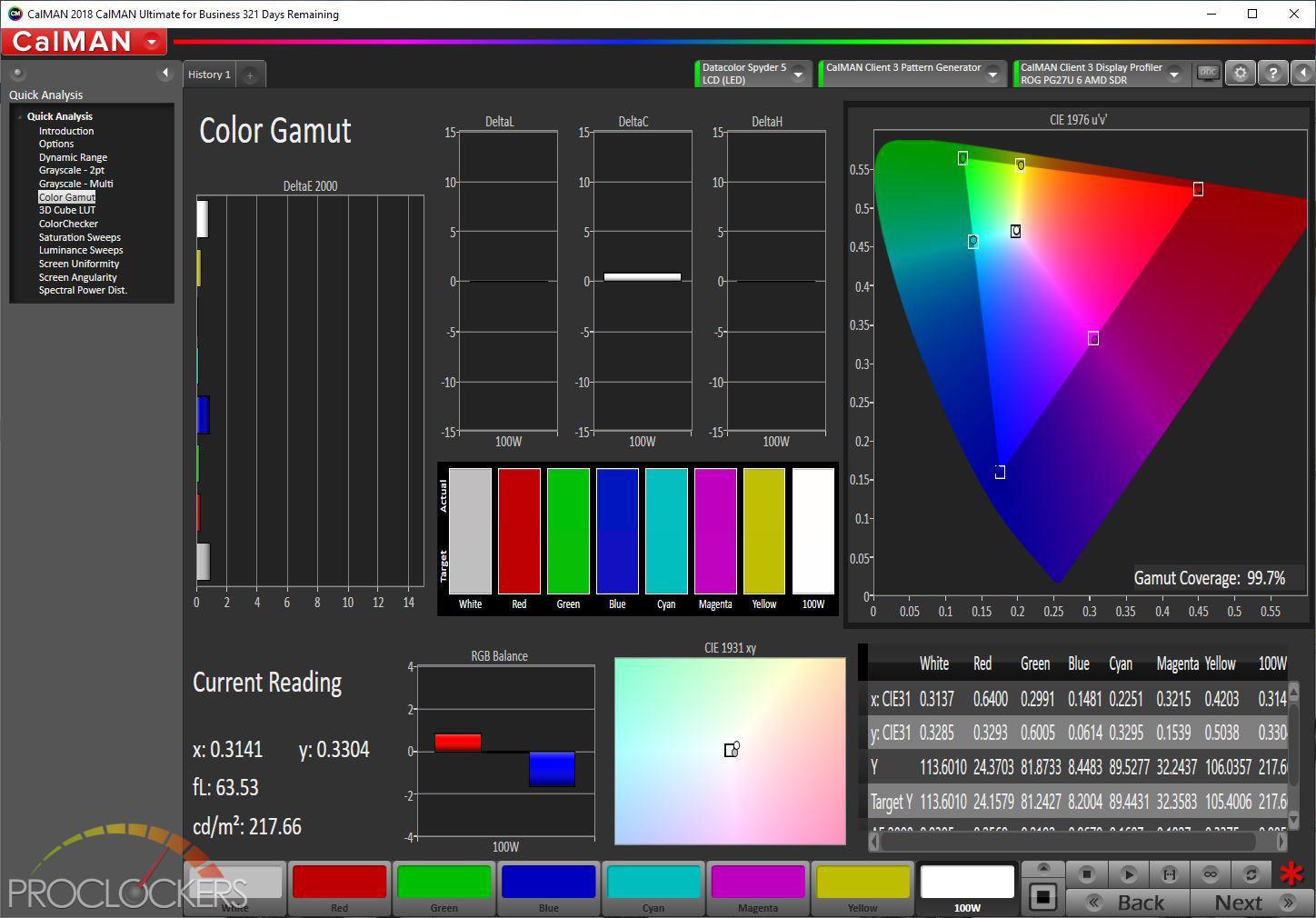 X-rite / Pantone ColorChecker Targets.
This test checks for color reproductions of things you would see in the real world such as human skin tones, foliage and flowers and is used as a color reproduction standard for photography and cinema.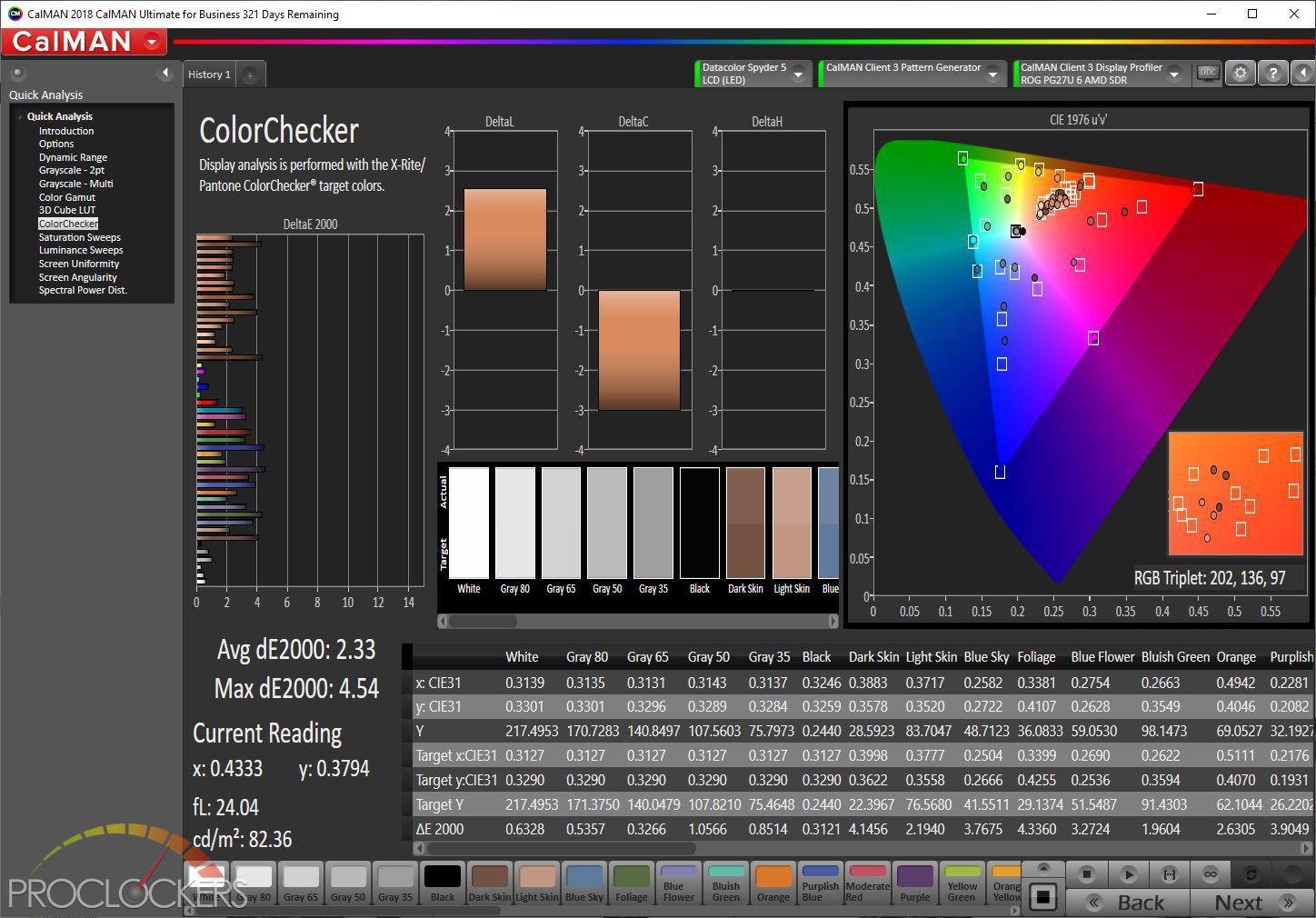 ASUS's ROG Swift PG27U does a respectable job here with an average DeltaE of 2.33, good enough for all but the most intense color accurate work. Asus claims a color accuracy of equal or less than a DeltaE of 3, and we are averaging below that quite easily.
Color Saturation Sweep
This test checks each of the three primaries (Red, Blue, Green) and three secondaries (Cyan, Magenta, Yellow) colors for saturation at 20,40,60,80 and 100% saturation.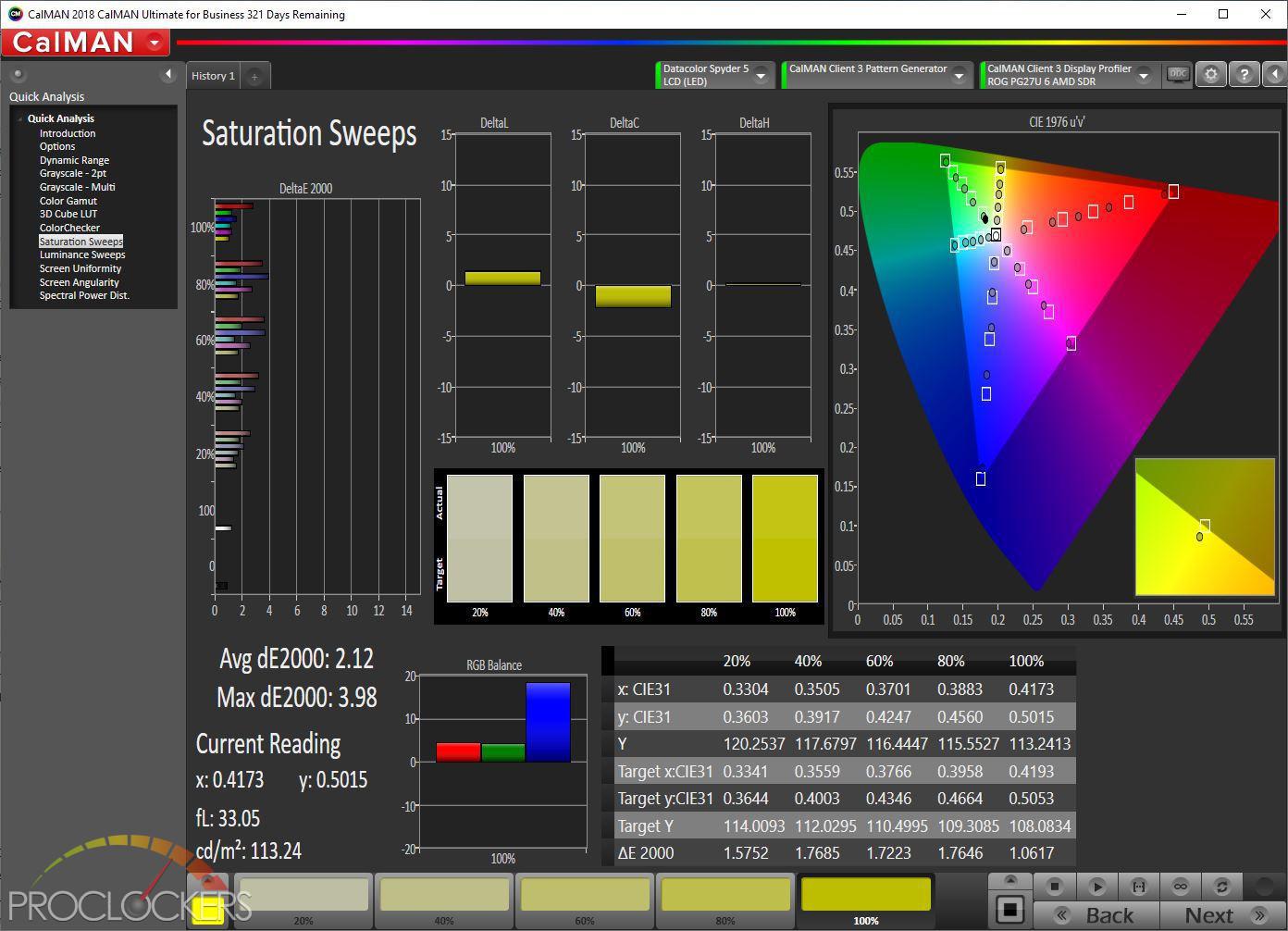 The Swift monitor again does a really good job out of the box by holding an average DeltaE of just over 2, again, well below Asus's claimed △E≦ 3.
Multi-point Grayscale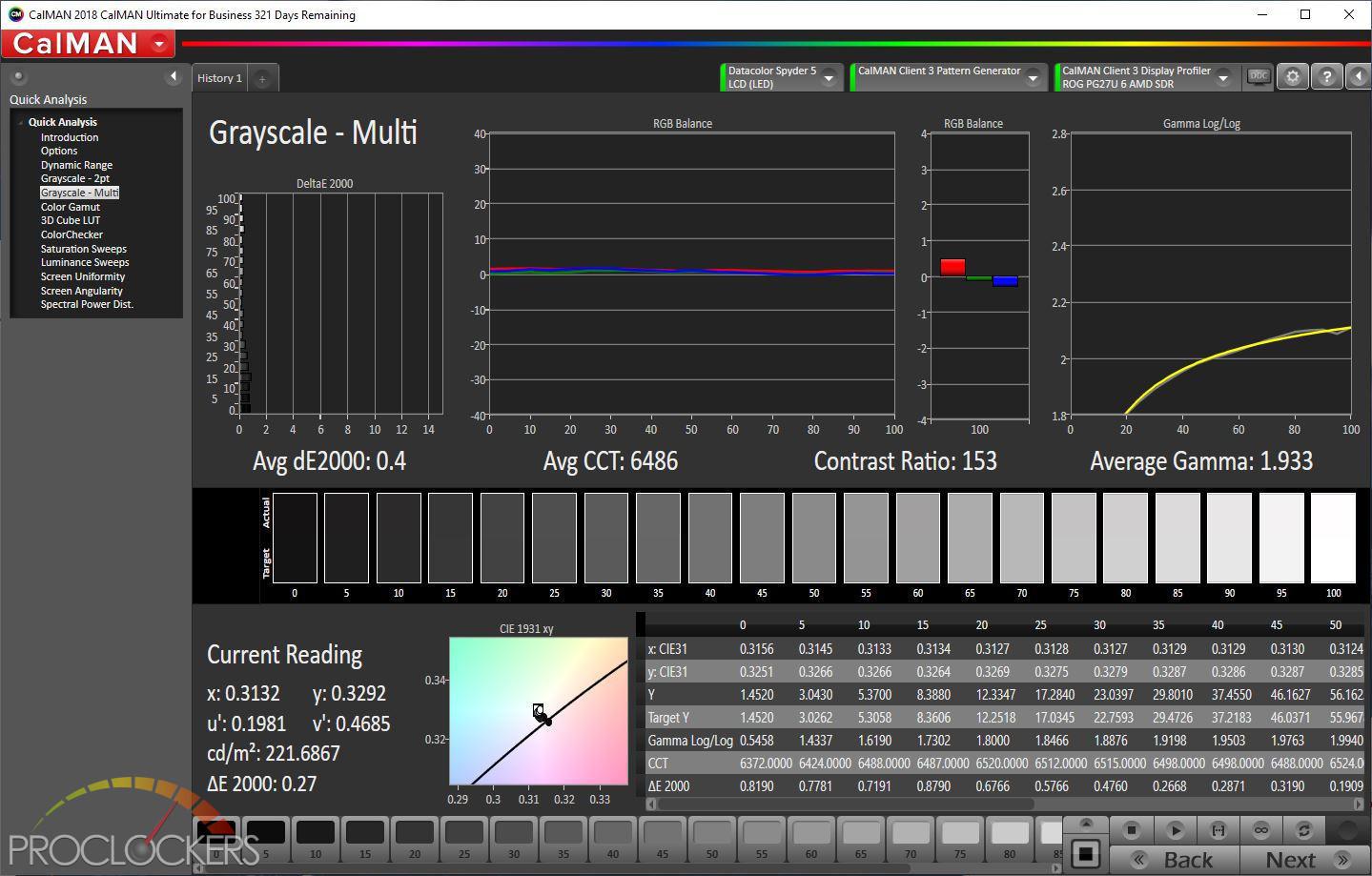 If the ROG Swift PG27U has great color reproduction, it is nothing compared to it's black and white accuracy. With an average DeltaE of 0.4, most of which comes from the very darkest end of the sweep, the accuracy here is legendary. An average color temperature of 6486K is just imperceivably warmer than the standard 6500K target which means the ROG Swift holds a nice neutral white with no visually noticeable warm or cool shift from black to pure 100% white. Excellent!
Luminance Testing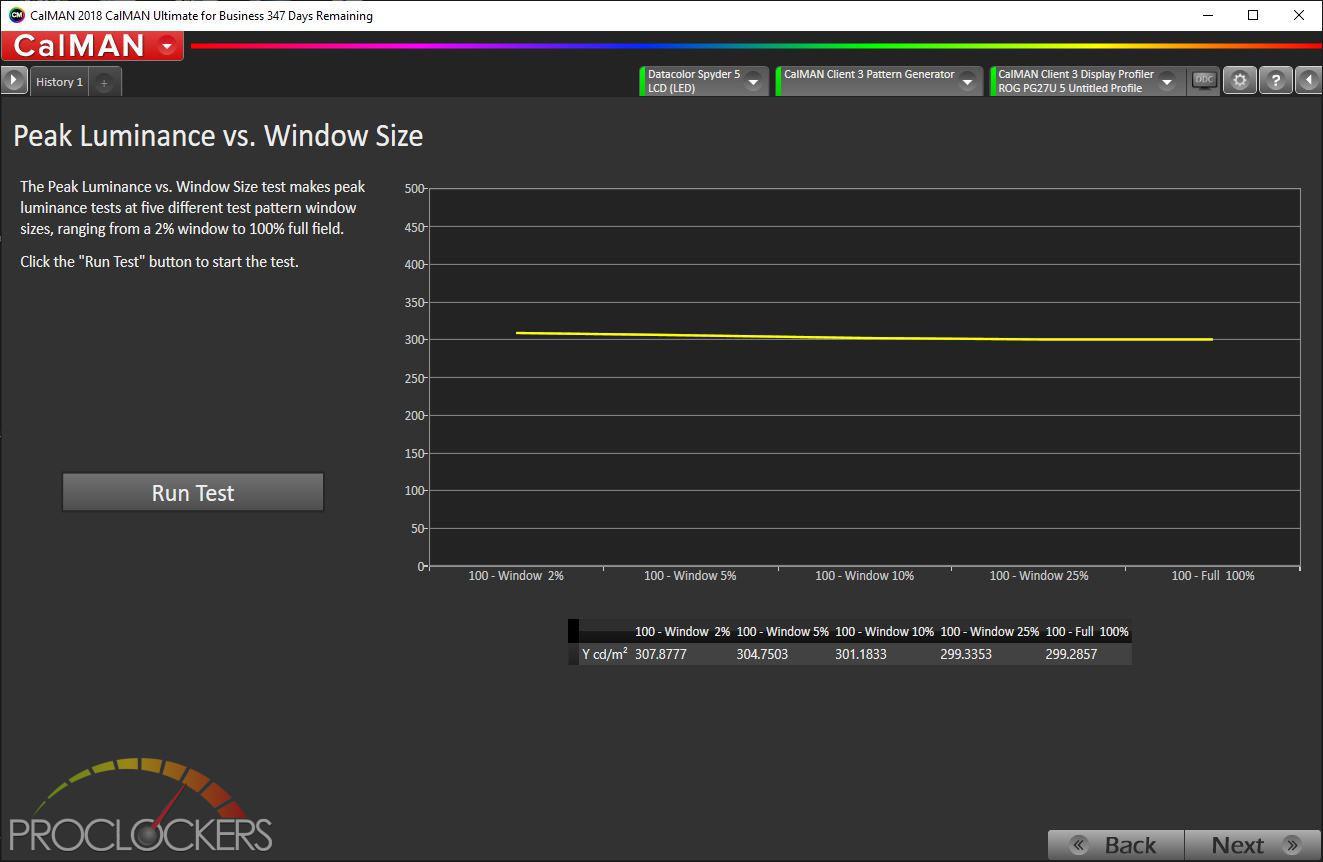 This test shows how stable the backlighting system is when displaying a very small amount of white up to a full screen 100% white background. We see a deviation of about 5 nits from 2% white to 100% white screen coverage which is great.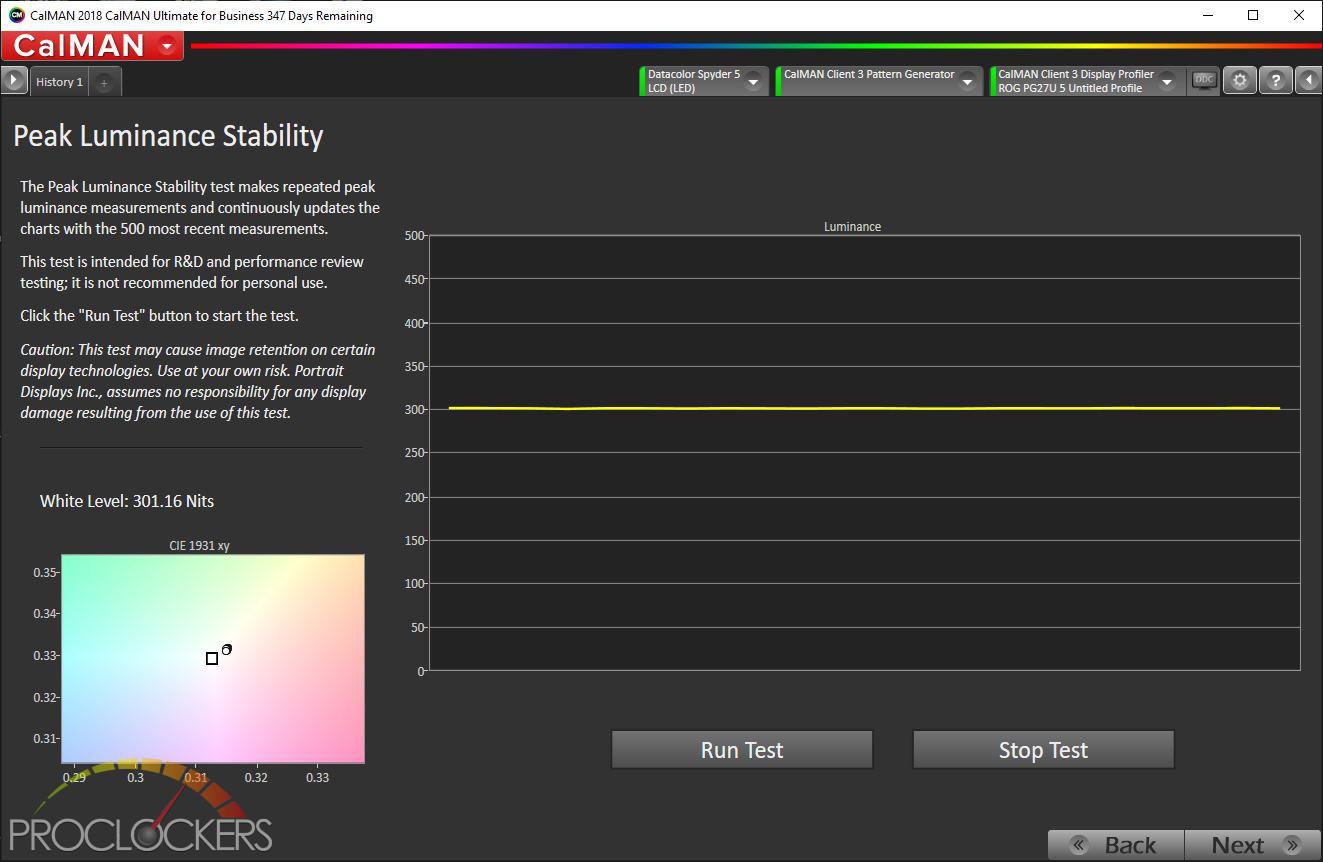 This test shows how long the backlighting system can maintain a stable level of illumination. Over about an hour and hundreds of test samples, the backlight is very stable and maintains its SDR brightness of 301 nits quite perfectly with almost zero deviation. Cheaper backlight systems may only be able to maintain peak brightness for a limited amount of time before sagging, but not the ROG Swift.
Standard Color Volume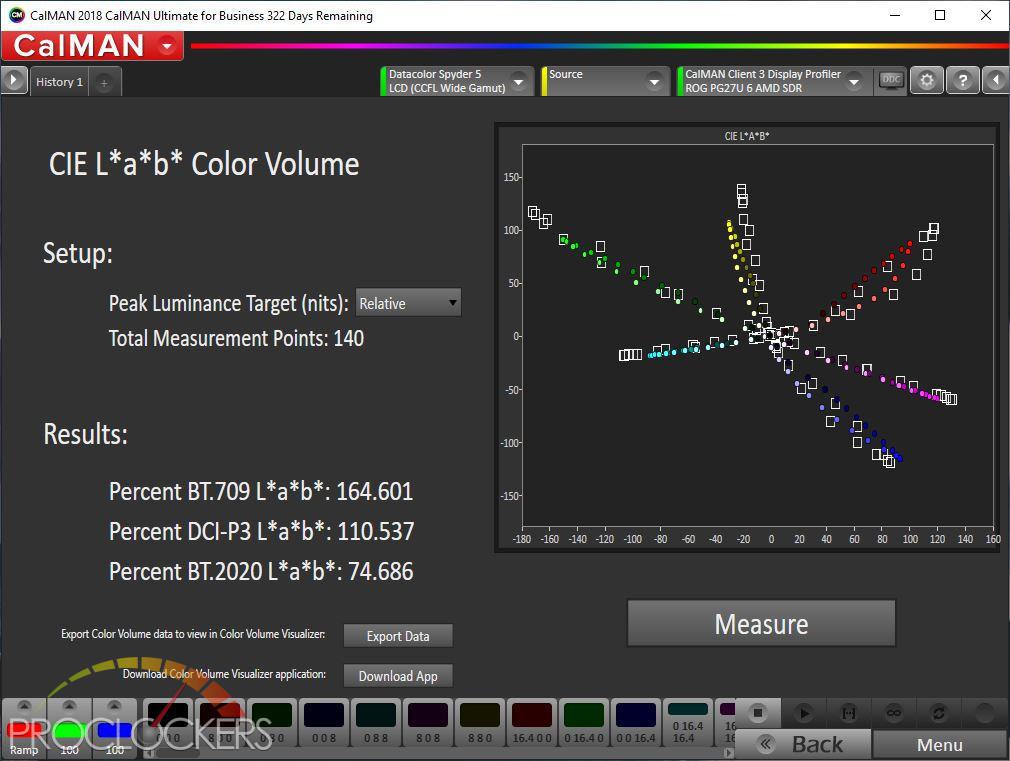 Here we see the ROG Swift PG27U actually exceeding its specs by a fair margin. The monitor claims to have 97% of the DCI-P3 color space but we actually measured just over 110%
Perceptual Color Volume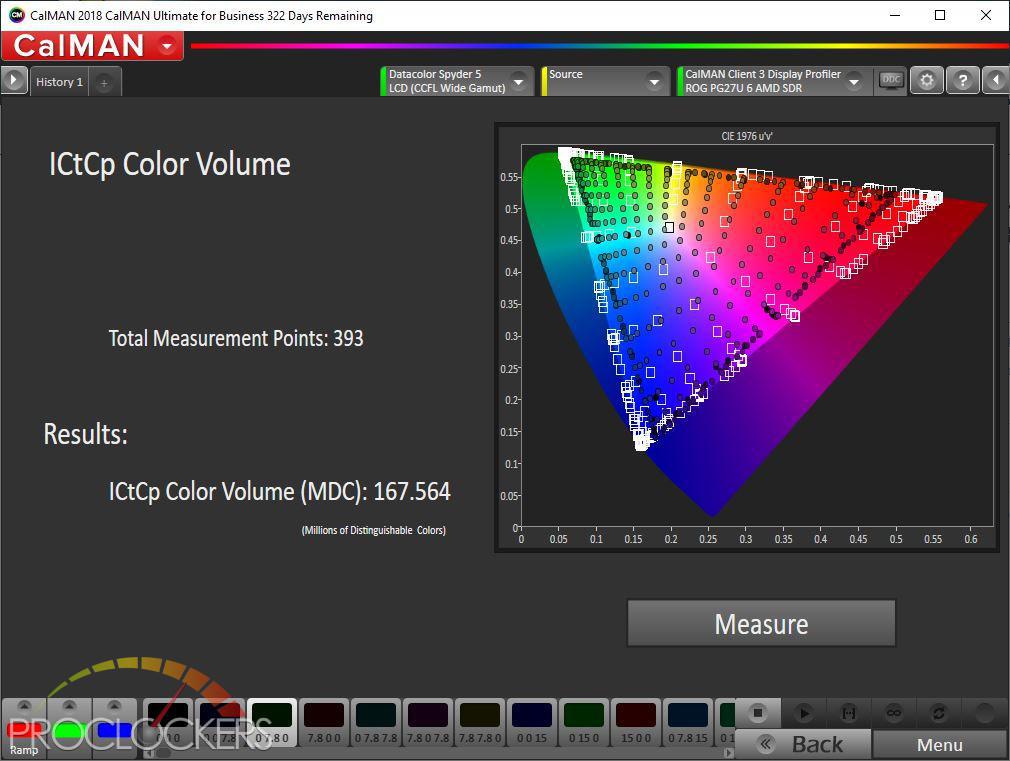 The lCtCp Color space is a more recent metric designed to measure Ultra High Definition displays such as 4KUHD and 8KUHD and beyond while considering the capabilities of Wide Color Gamut and High Dynamic Range. This metric is given in millions of distinguishable colors (MDC). While 10-bit color can mathematically display just over a staggering 1 Billion colors, we measured an MDC value of 167.564. This means the display in its current state can display around 167,564,000 different discernable colors.
Final Thoughts & Conclusion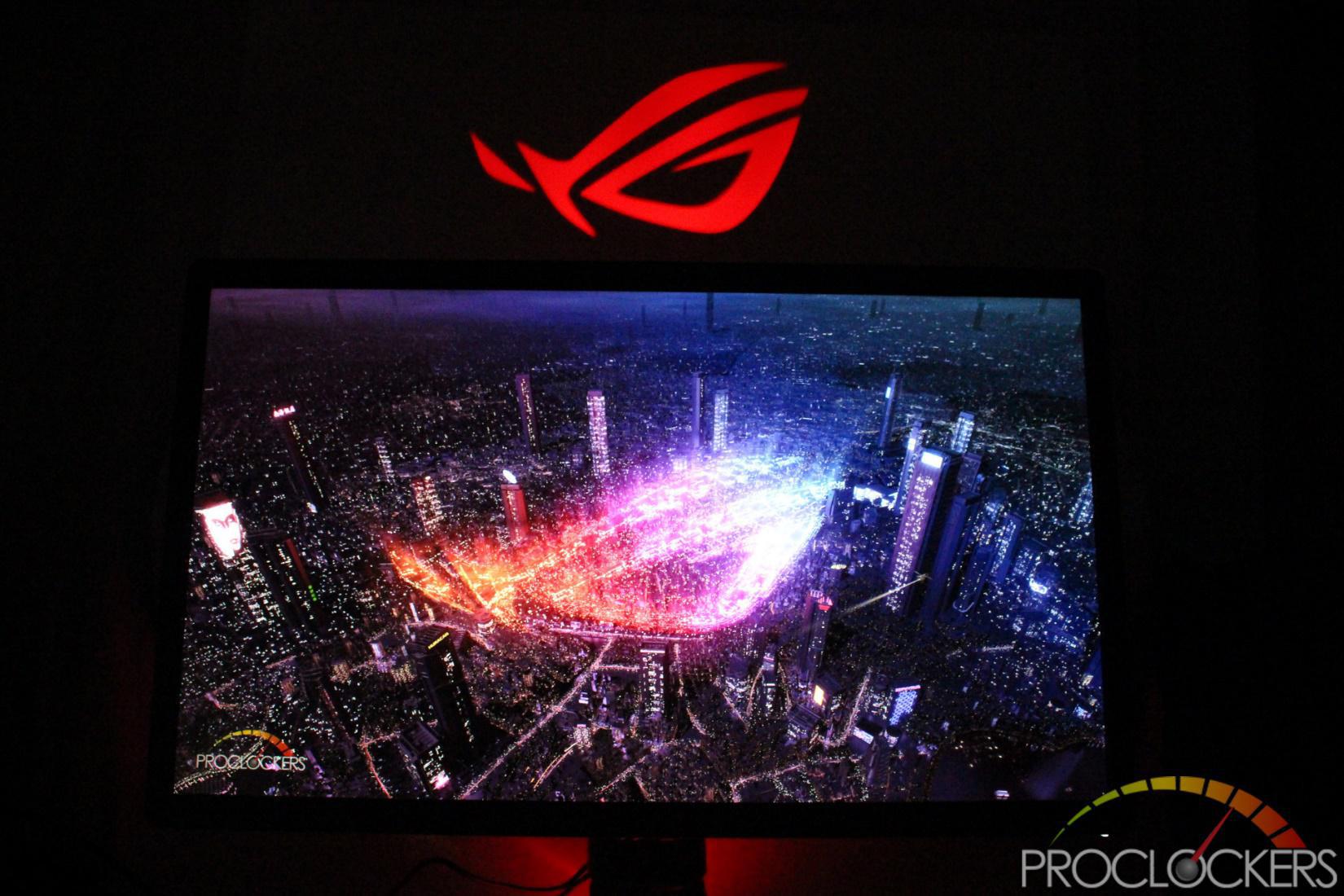 Conclusion….Where to start? Let's start with the negatives. Okay okay, there really isn't a direct negative with this monster. It's $2000 on the street, more than an entire gaming computer setup for many people, but this is a bleeding edge flagship from tomorrow here today checking every box it can find. 4K? Check. HDR? Check. High refresh rate? Yup. IPS panel? That too. Full Array Local Dimming backlight? Only 384 zones. Quantum Dot something-something? Still a check. Aura Sync RGB? If you must. G-sync support? 100%. Asus Rapid Replacement premium warranty? A full three years.

That brings us to negative number 2. Slinging more than 8 million pixels around at up to 144 times a second. It's certainly no mean feat, but it can be done, for a price. Let's call it how it is though. If you are looking at the ROG Swift PG27U as anything more serious than your post-Power-Ball winning bucket list, you already have a serious machine to connect this to. That, and the word 'budget' probably means settling for 2-day shipping rather than ponying up for overnight.

In all seriousness, the ROG Swift PG27U is an incredible piece of hardware, and just may well be the final piece you need to complete your dream build. Fast paced gaming on it is smooth as silk and the colors and HDR just suck you into the point losing hours of your life to a good game is quite easy to do. It's really hard to put down in black and white the experience you get from this monitor. It's just as hard to capture the visuals you experience on camera to display here.

<![CDATA[ */ var zbjs = {"ajaxurl":"https:\/\/gaminggorilla.com\/wp-admin\/admin-ajax.php","md5":"d8e8b24d2fa18d2999e0fddcdd418586","tags":[],"categories":["Hardware"]}; /* ]]>