ASUS WS X299 SAGE Motherboard Review
Introduction
With the seemingly constant releases of the next 'best thing in gaming', it's easy to forget that gaming only makes up a small portion of the PC world. While it doesn't take much of a machine to check emails and check out pictures on social media, more than a few people make a living off of getting work done on a PC. When time is money, you need the best, and you need to get things done. With ASUS's WS or Work Station line you can pack your system will all the power you need to get the job done.
ProClockers would like to thank ASUS for sending the WS X299 SAGE to us to check out!
ASUS's take on the WS X299 SAGE:
The new WS X299 Sage blends tremendous GPU performance with up to Quad-SLI support, server-grade validation, and comprehensive cooling options to deliver the perfect system build for training neural networks and crunching other scalable compute loads. Dual PLX chips extend the number of PCIe lanes to provide additional expansion slots, giving you robust connectivity options to configure your system with the tools you need to get your job done.
Designed for 7th generation LGA2066 socket Intel® Core™ X-Series processors with dual M.2, front panel USB 3.1 Gen2, Dual Gigabit Intel® LAN, support for Thunderbolt 3, Intel® VROC and Intel®Optane™Memory compatibility
OC Design featuring ASUS ProClock and T-Topology Technology extends CPU and Memory overclocking margins while providing the flexibility to extract every ounce of performance for memory speeds of DDR4-4133 MHz and beyond
5-Way Optimization featuring Auto-Tuning and FanXpert 4 delivers automatic overclocking profiles for maximum OC performance while headers for thermal sensors, AIO pump, and watercooling provide dynamic system cooling
Patent-pending SafeSlot features an injection molding process that integrates metal framing for stronger, firmly anchored PCIe slots built for heavyweight GPUs, ideal for supporting 3-Way NVIDIA®SLI® or AMD® CrossfireX™
Industry-leading 7.1-channel HD audio enhanced by ASUS exclusive Realtek S1220A featuring Crystal Sound 3, DTS Headphone:X and driven by Japanese capacitors for warm, immersive sound
Complete IT Infrastructure Management with ASMB9 Out-of-band remote management and In-band ASUS Control Center providing a complete server management solution reducing IT operating costs with features like remote BIOS updating, monitoring multiple systems via mobile device, and one-click software updates/dispatching.
AURA Sync RGB lighting via Addressable RGB header features a nearly endless spectrum of colors with the ability to synchronize effects across an ever-expanding ecosystem of AURA Sync enabled products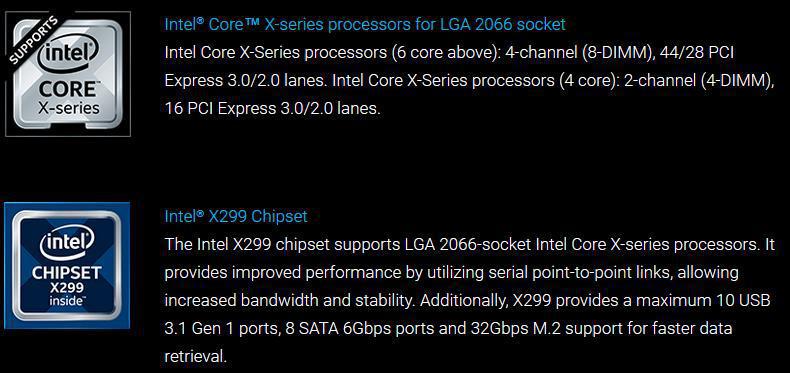 Features & Specifications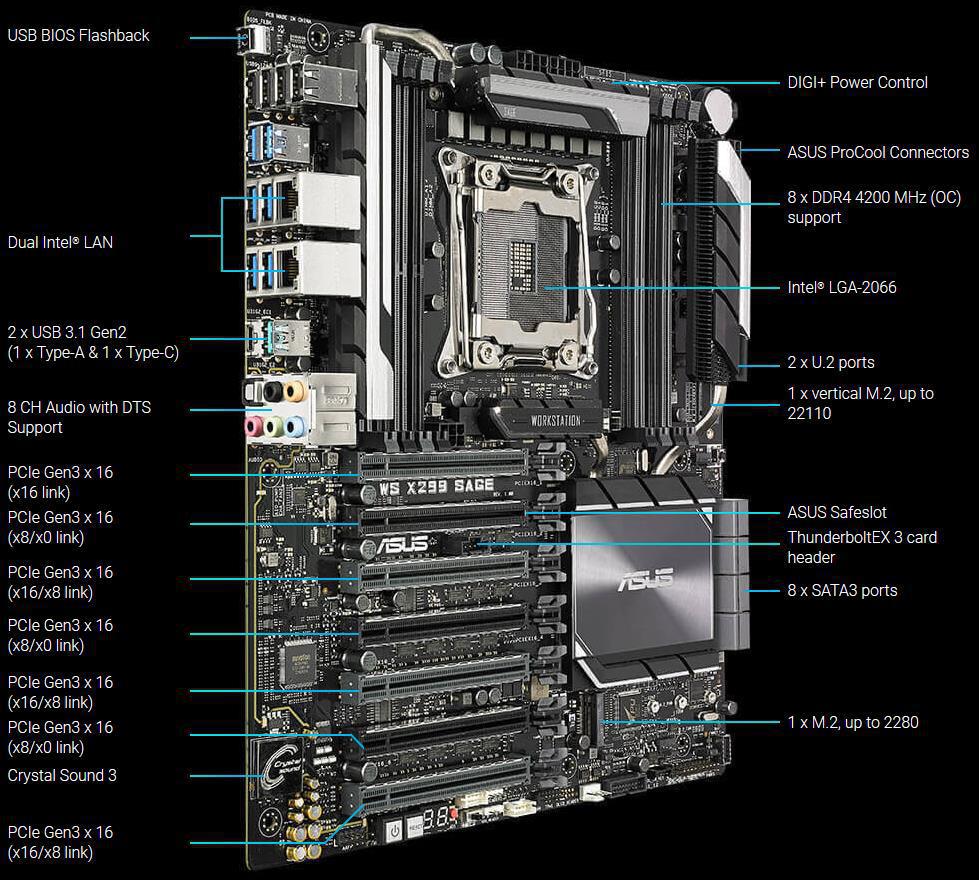 Multi-GPU support
WS X299 Sage fits up to four dual-slot graphics cards and supports both NVIDIA® SLI™ and AMD CrossFireX™ 4-way configurations to enable multi-GPU setups that harness the full power of the latest graphics technologies, including NVIDIA® Quadro®. With performance beyond 15.23 TFLOPS*, NVIDIA Quadro is the perfect complement to WS X299 Sage, delivering the best performance for design, modeling, medical research, and processing-intensive simulation and rendering applications.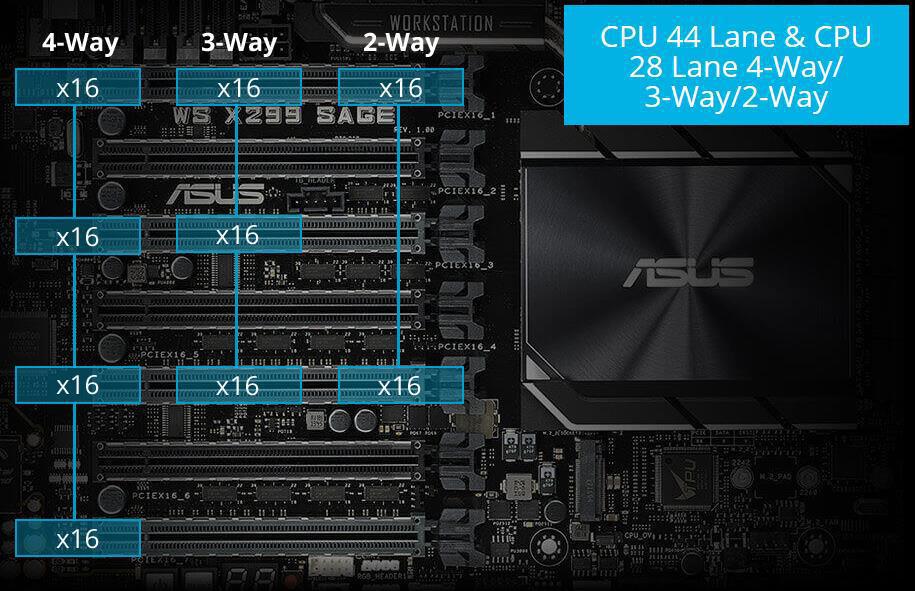 ASUS Control Center
WS X299 Sage features ASUS Control Center (ACC), a centralized and integrated IT management platform for monitoring and controlling ASUS commercial products, including servers, workstations, and digital signage. ACC enables remote BIOS updates, monitoring of multiple systems via mobile devices, and one-click software updates and dispatching, allowing easier server management for any IT infrastructure.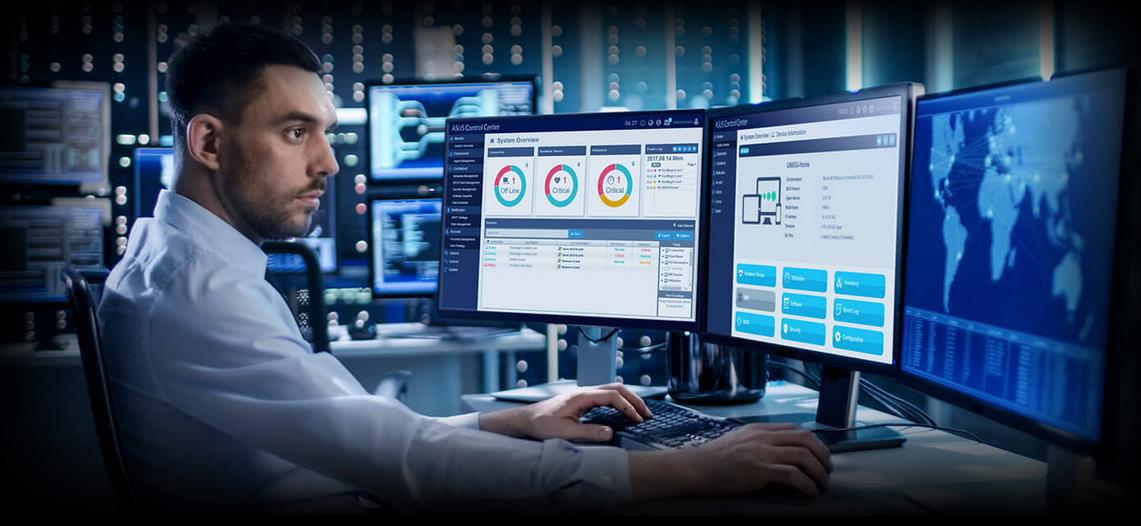 5-Way Optimization
One-click overclocking and cooling
ASUS 5-Way Optimization makes your workstation smart. One click takes care of complex tuning, dynamically optimizing essential aspects of the system to provide overclocking and cooling profiles that are tailored for your rig.
An automated tuning utility that optimizes overclocking and cooling profiles for your unique system configuration.
Fans stay whisper-quiet with everyday computing and deliver optimal airflow when the system is crunching through CPU or GPU-intensive tasks.
Stress test function helps optimize and overclock for CPU- or memory-centric workloads.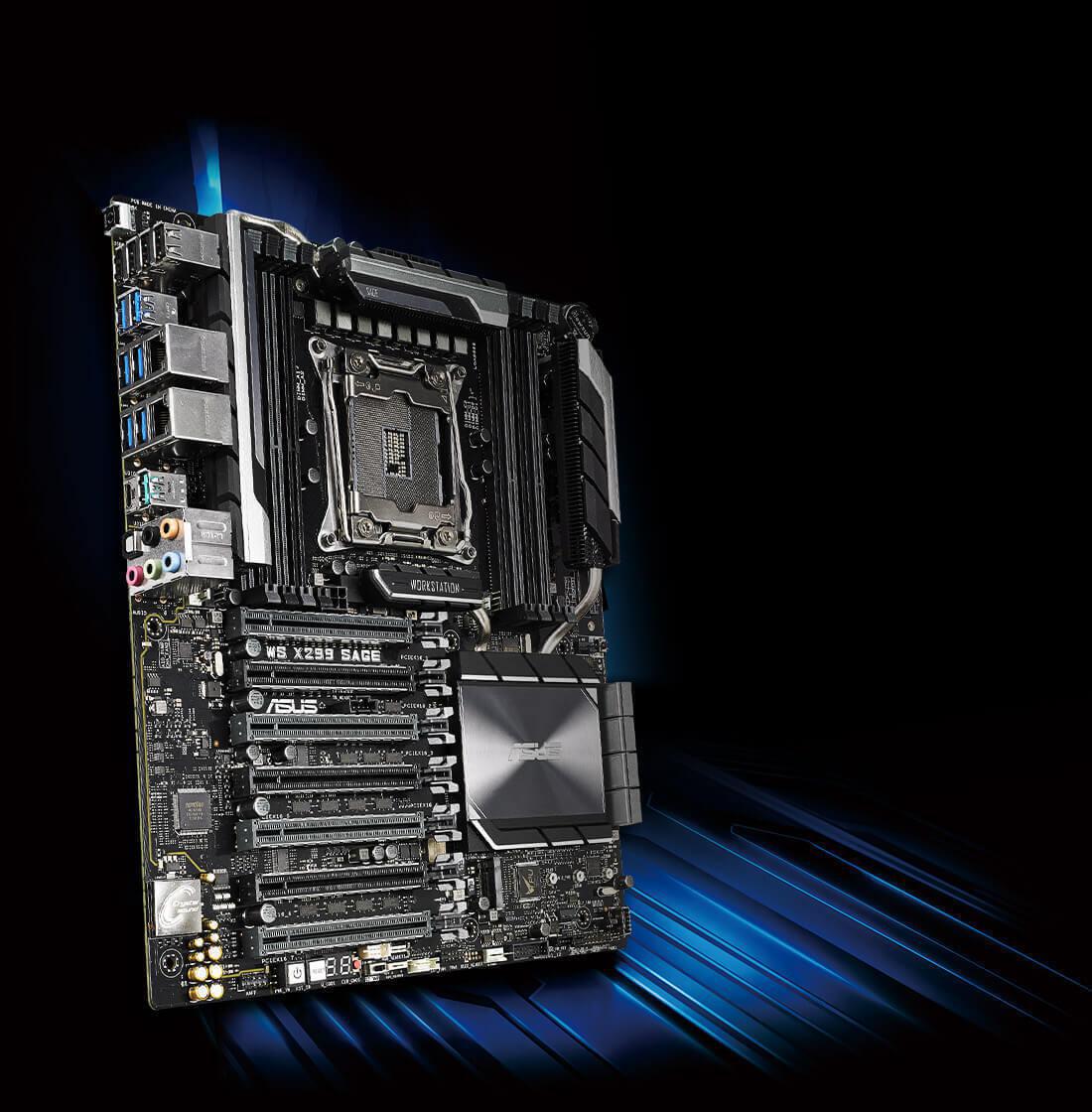 Media-acclaimed UEFI BIOS
The smoothest, slickest mouse-controllable graphical BIOS has been improved to make it even more appealing. Whether you're a PC novice or a seasoned overclocker, EZ and Advanced modes will help you find your way with ease.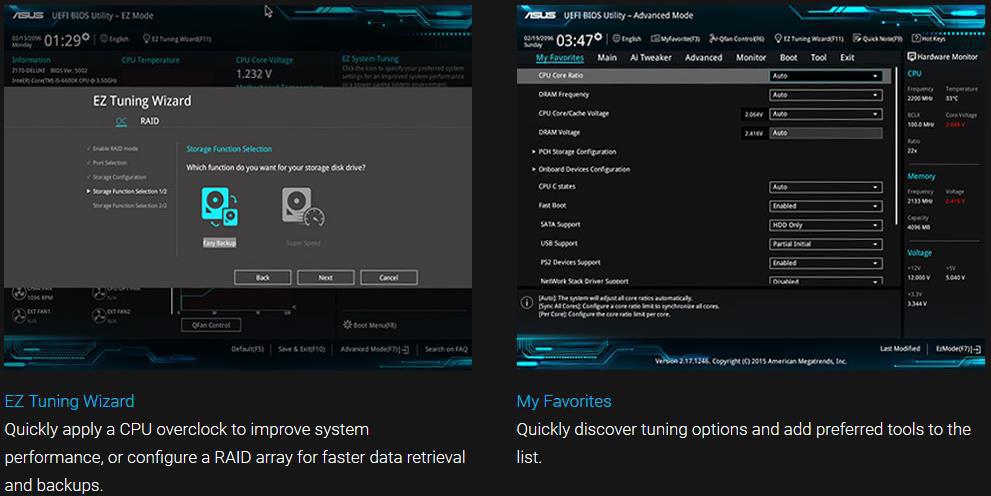 Make your memory go faster
With optimized trace paths for time-aligned signaling and minimal crosstalk, third-generation ASUS T-Topology offers enhanced memory stability and compatibility, allowing support for memory speeds of DDR4-4200MHz and beyond.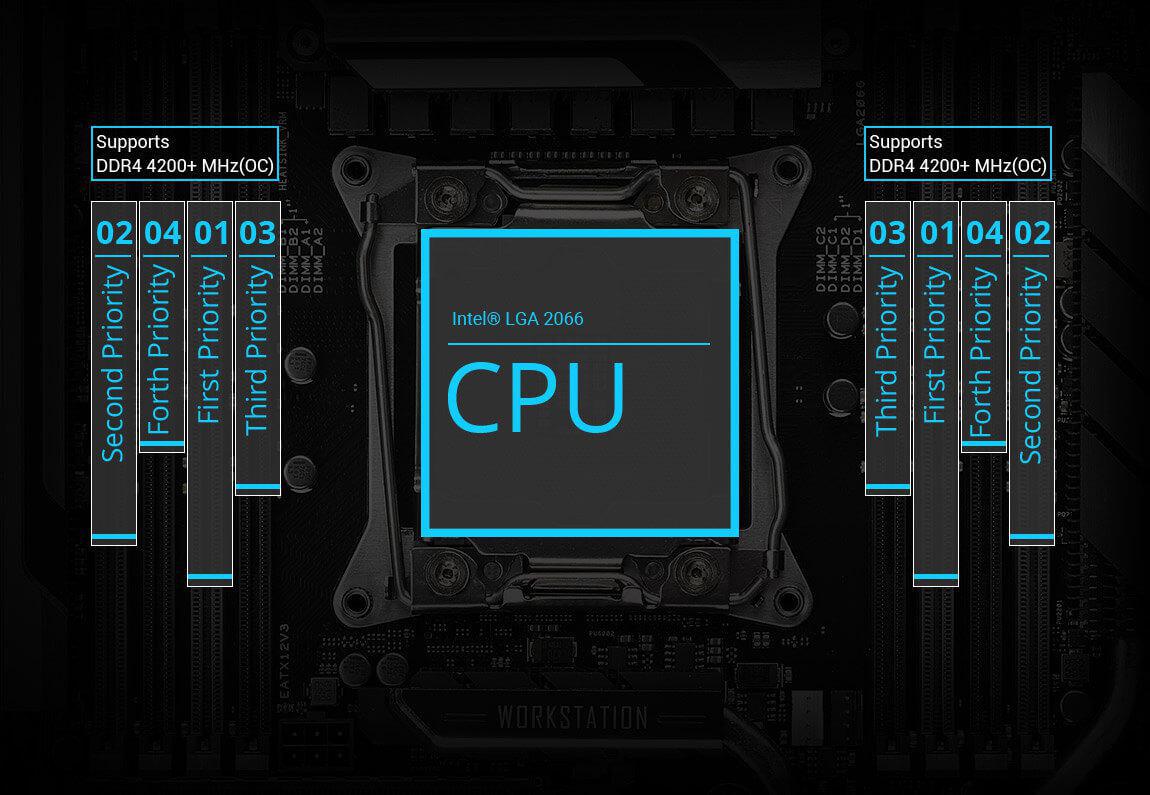 OC Design – ASUS PRO Clock II Technology
WS X299 Sage includes a dedicated base-clock (BCLK) generator that extends CPU and memory overclocking margins. This custom solution works in tandem with the TPU to enhance voltage and BCLK overclocking control, providing the flexibility to extract every ounce of performance from Intel® Core™ X-series processors.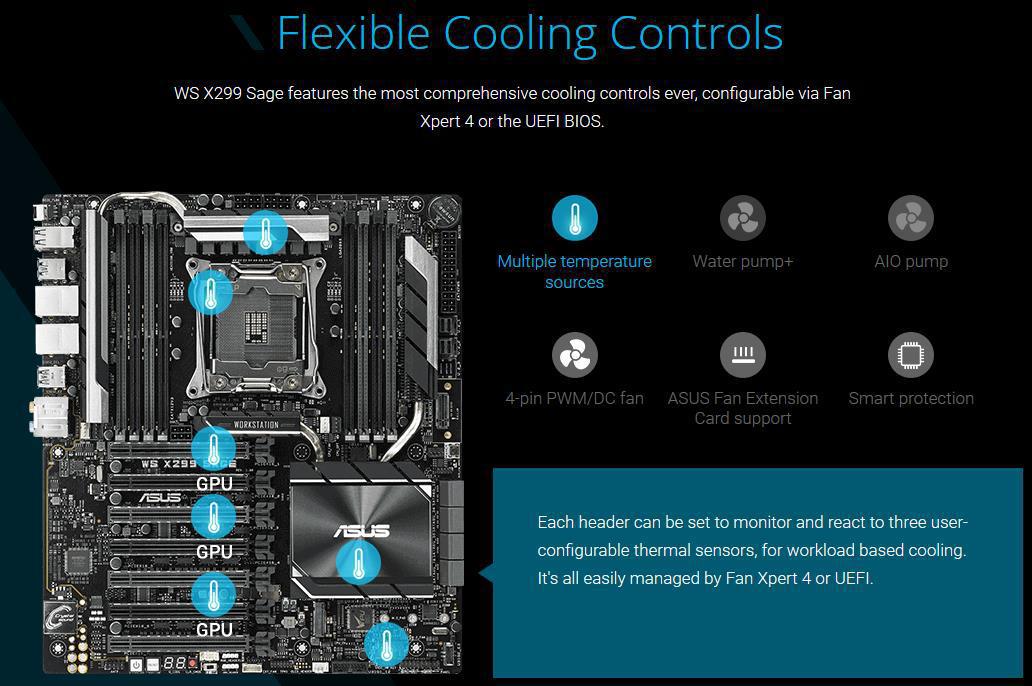 Ultra-efficient VRM Heatsink
Designed for the powerful Intel Core X-series processor with up to 18 cores, WS X299 Sage features a capable thermal design to ensure maximum performance with no CPU throttling. Consisting of an ultra-efficient VRM heatsink with a metal fin array design that maximizes surface area for heat dissipation, plus an additional heatsink and connecting heat pipe to further increase cooling performance, this innovative thermal design ensures WS X299 Sage is always ready to handle any task, no matter how demanding.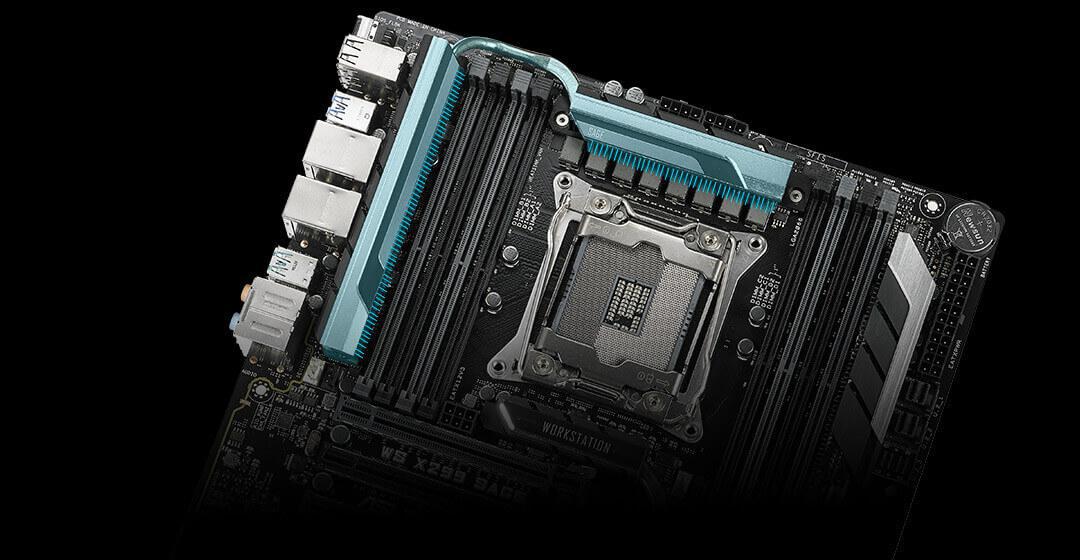 Multiple PLX heatsinks
With its dual PLX chips that increase the number of available PCIe lanes to enable 4-way GPU configurations, WS X299 Sage also features a robust thermal solution to dissipate the heat that comes with routing so much high-speed traffic. An additional heatsink array and heat pipe cover the PLX chips and are positioned in the path of maximum airflow within the chassis, reducing PLX temperatures by up to 20° C to ensure optimal cooling and system stability.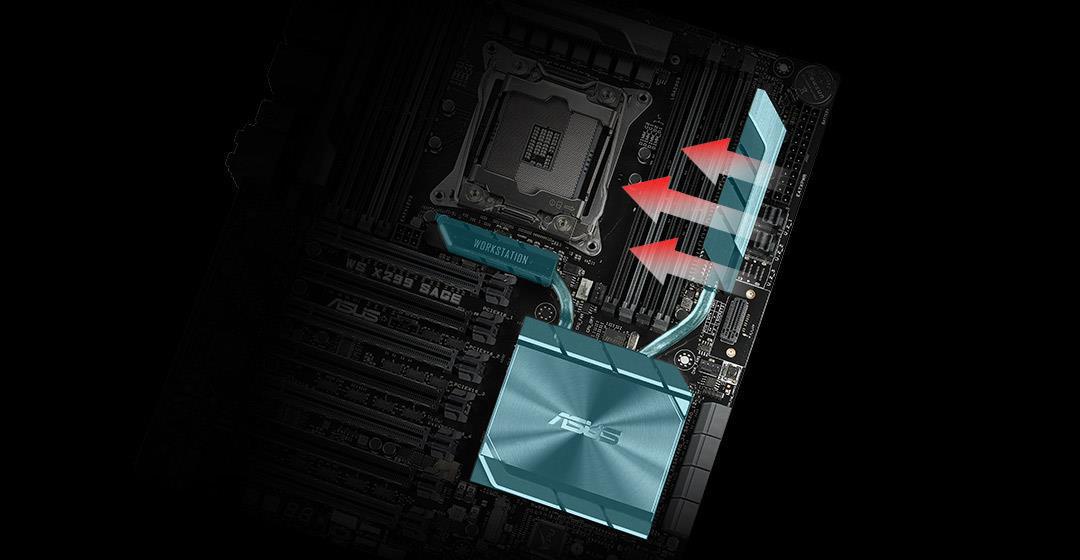 ProCool power connector
ASUS ProCool is the power connector reinvented. Compared with traditional power connectors, ProCool connectors provide a more secure, low resistance connection, enabling better heat dissipation and improved reliability.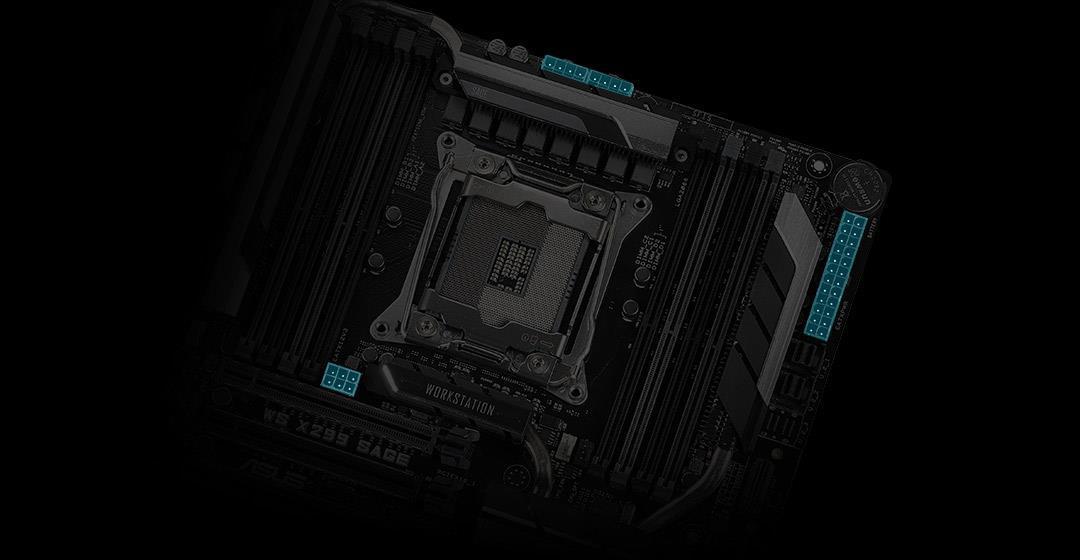 Dual Onboard M.2 – Unleashed storage speeds of up to 32Gbps.
WS X299 Sage features dual onboard M.2 slots, each operating at X4 PCI Express 3.0 to provide an abundant 32Gbps of bandwidth.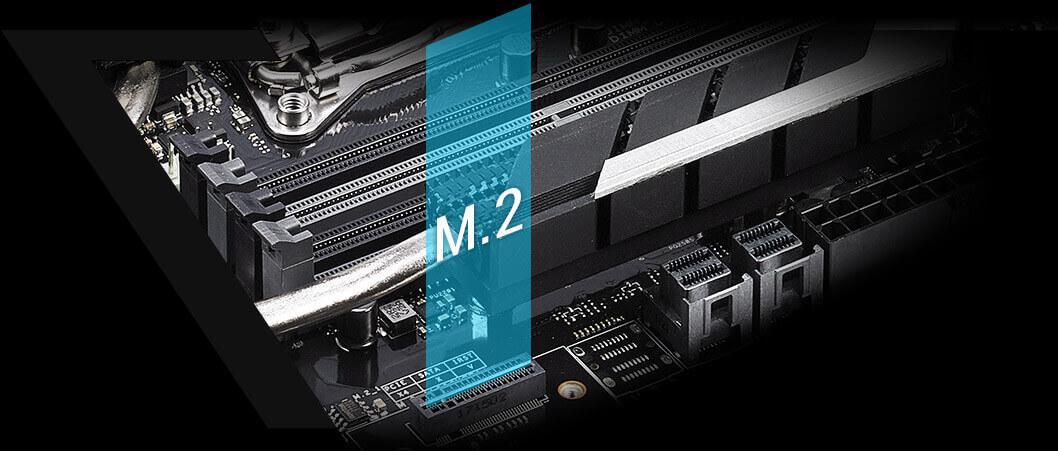 VROC – Upgrade your RAID
Intel Virtual RAID on CPU (VROC) obliterates PCH-based RAID arrays that are bottlenecked by the 32Gbps limit of the DMI bus, allowing you to utilize CPU PCIe lanes to configure a bootable RAID array that can transfer data at insane speeds.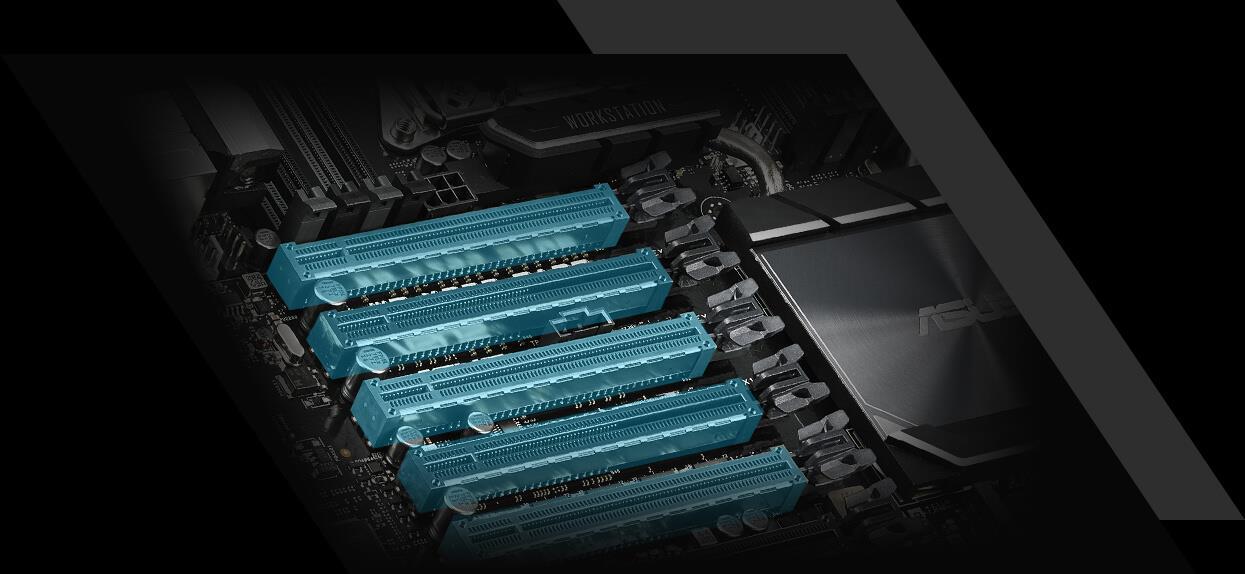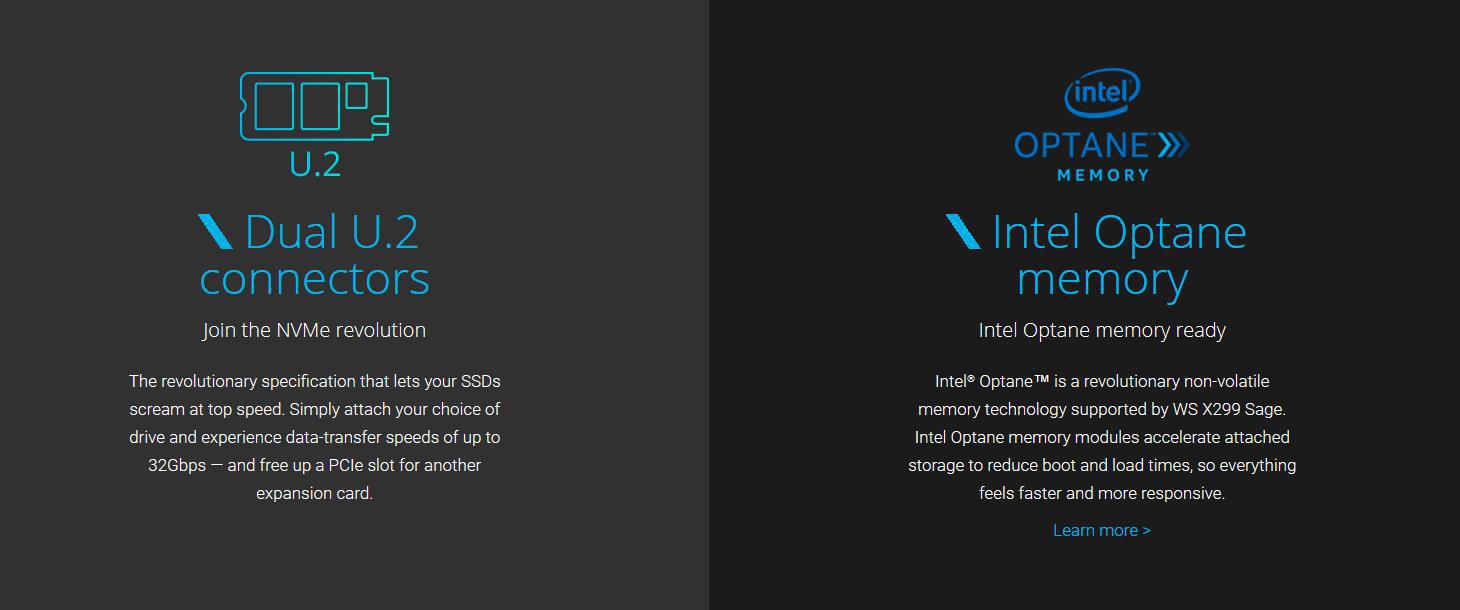 USB 3.1 Gen 2 front-panel connector – Future-proof connectivity
WS X299 Sage's front panel USB 3.1 connector is ready for next-gen PC cases and devices.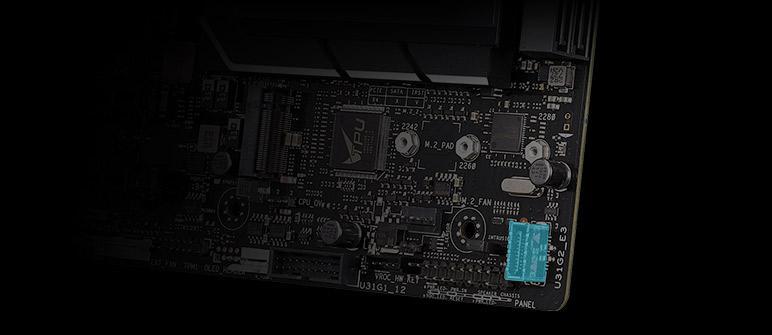 USB 3.1 Gen 2 Type-A & Type-C – Ultimate-speed 10Gbps with USB 3.1 Gen 2 onboard
With backward-compatible USB 3.1 Gen 2 Type-A™ and reversible USB 3.1 Gen 2 Type-C™ ports, you'll experience ultimate connection flexibility and blazing data-transfer speeds of up to 10Gbps.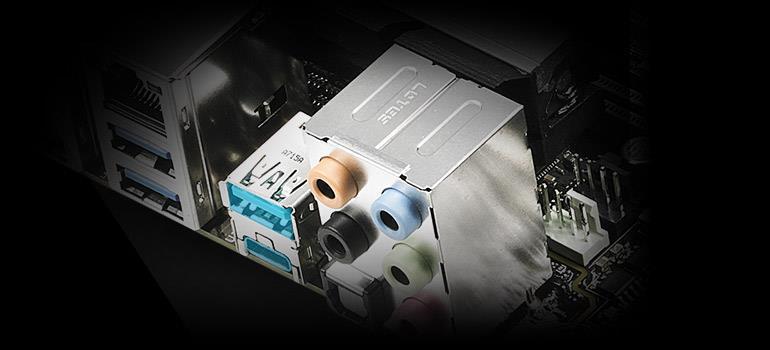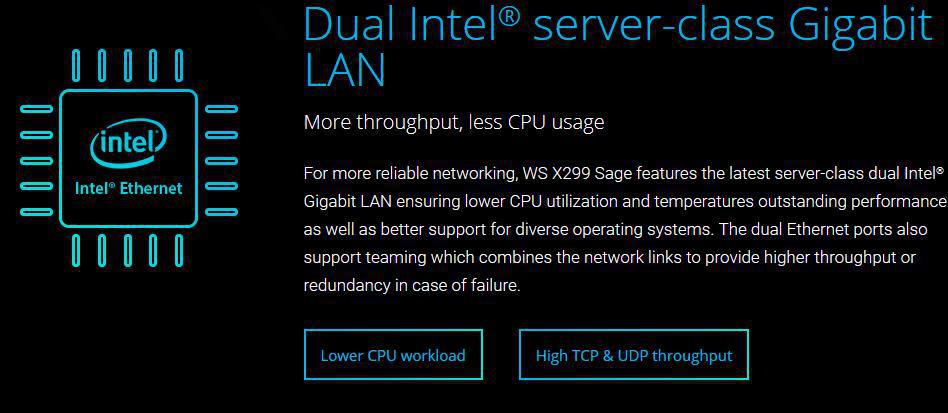 Server-grade memory validation
WS X299 Sage supports up to 128GB of quad-channel DDR4 RAM to readily handle the larger datasets found in professional workloads. Strict validation with a wide variety of memory types and operating conditions — including factors such as time, temperature and voltage ranges — ensures that WS X299 Sage provides the reliability and stability professionals depend upon to get their work done.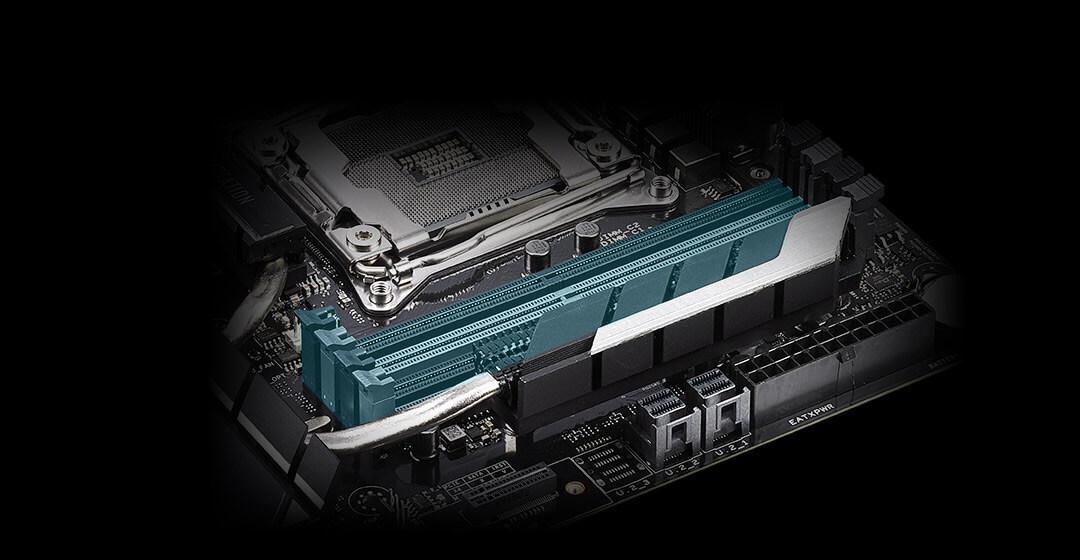 SafeSlot – Protect your Graphics Card Investment
SafeSlot is the PCIe slot reinvented by ASUS and engineered to provide protect your graphics card investment. Manufactured in a single step using a new insert-molding process, SafeSlot integrates the slot with fortifying metal for an inherently stronger slot, which is then firmly anchored to the PCB through additional solder points.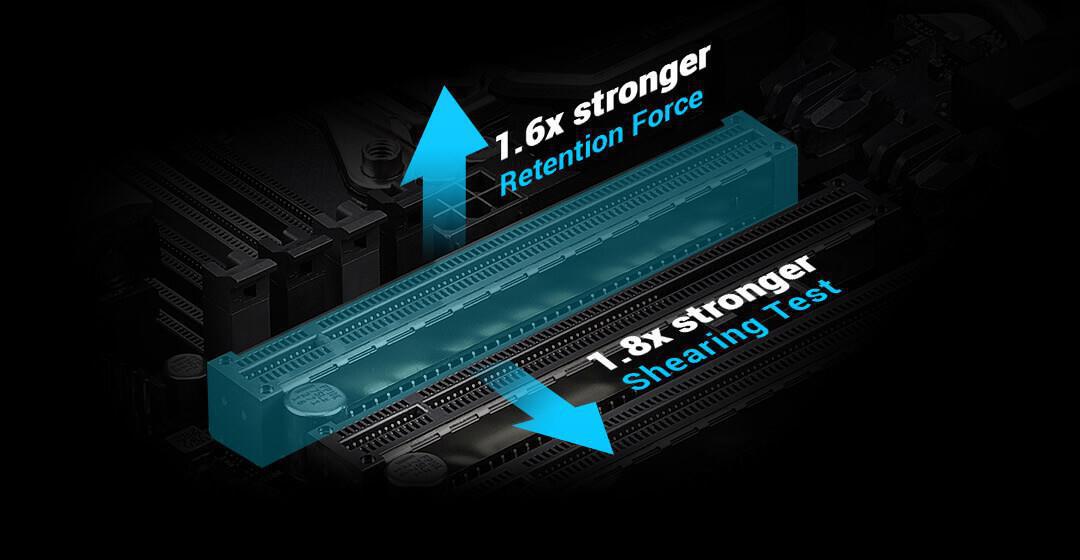 Specifications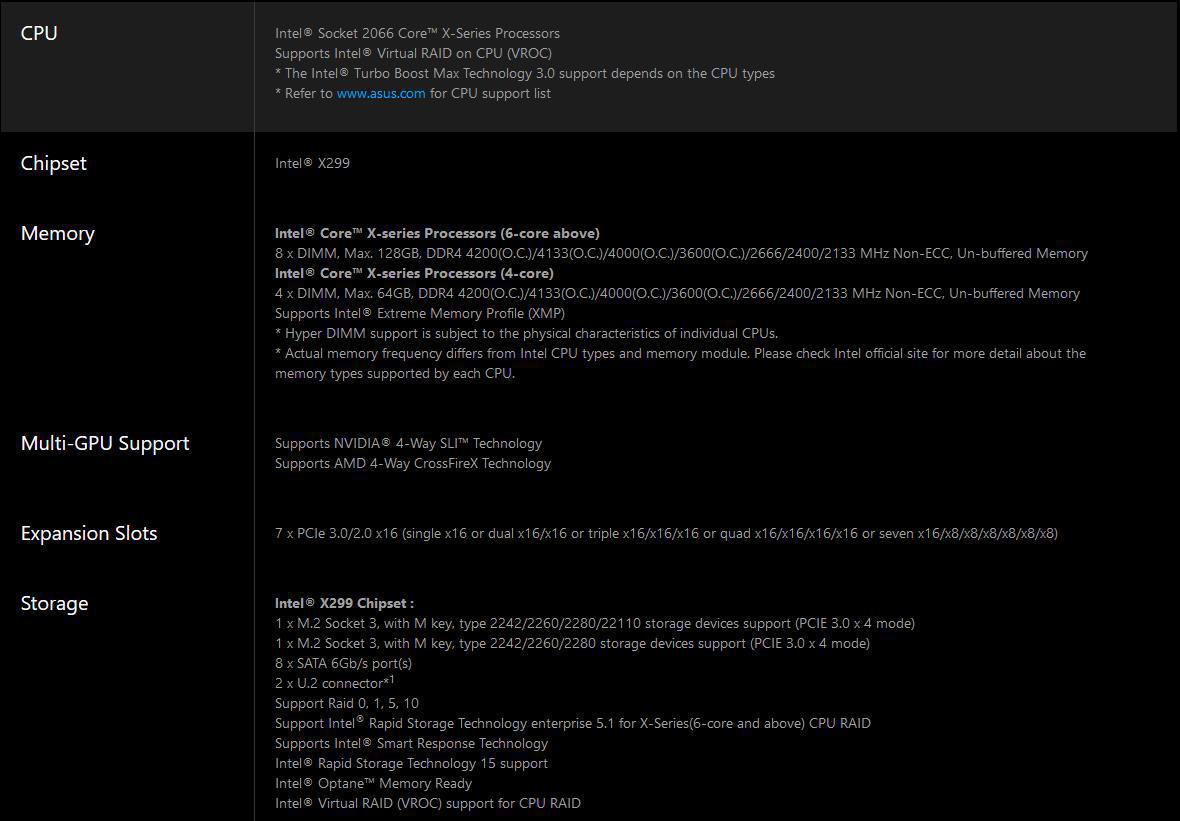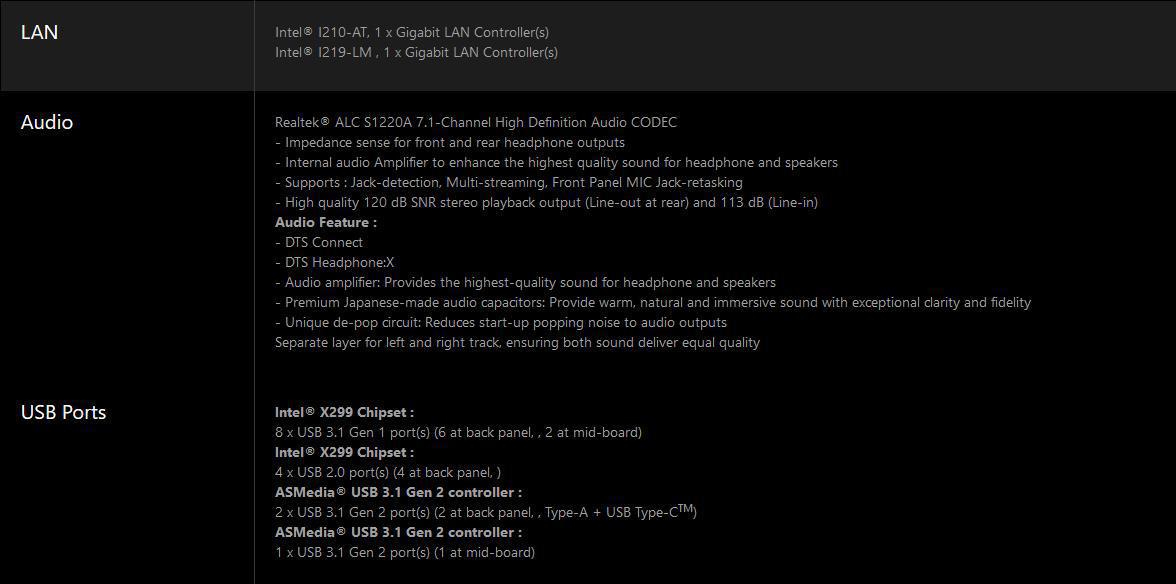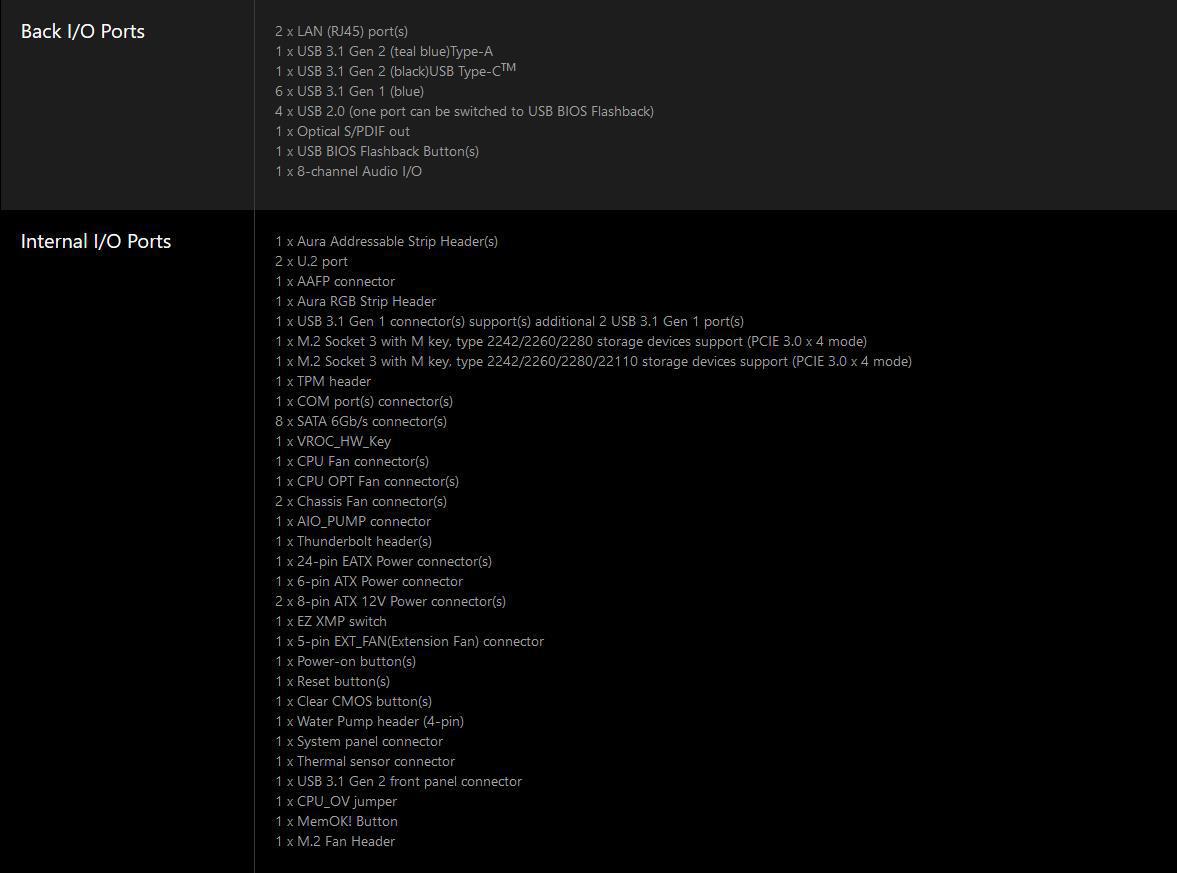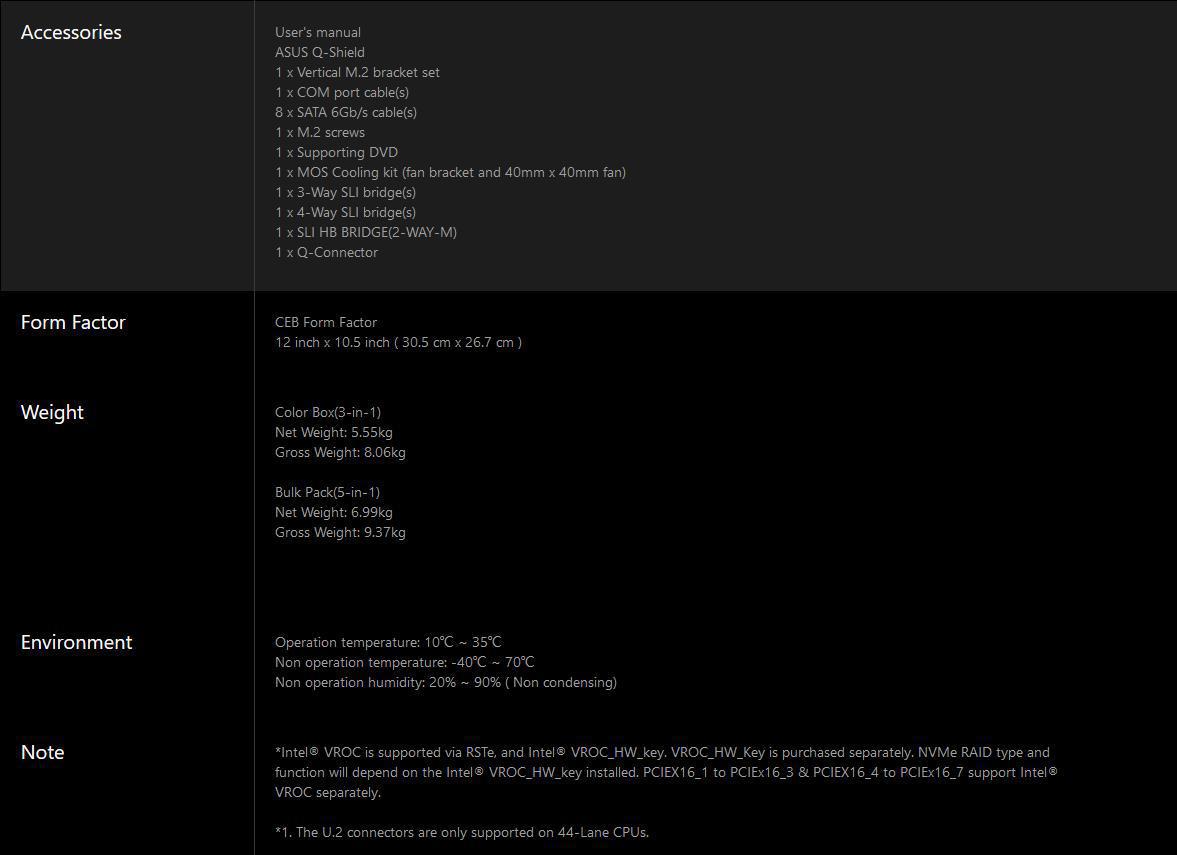 Packaging & Unboxing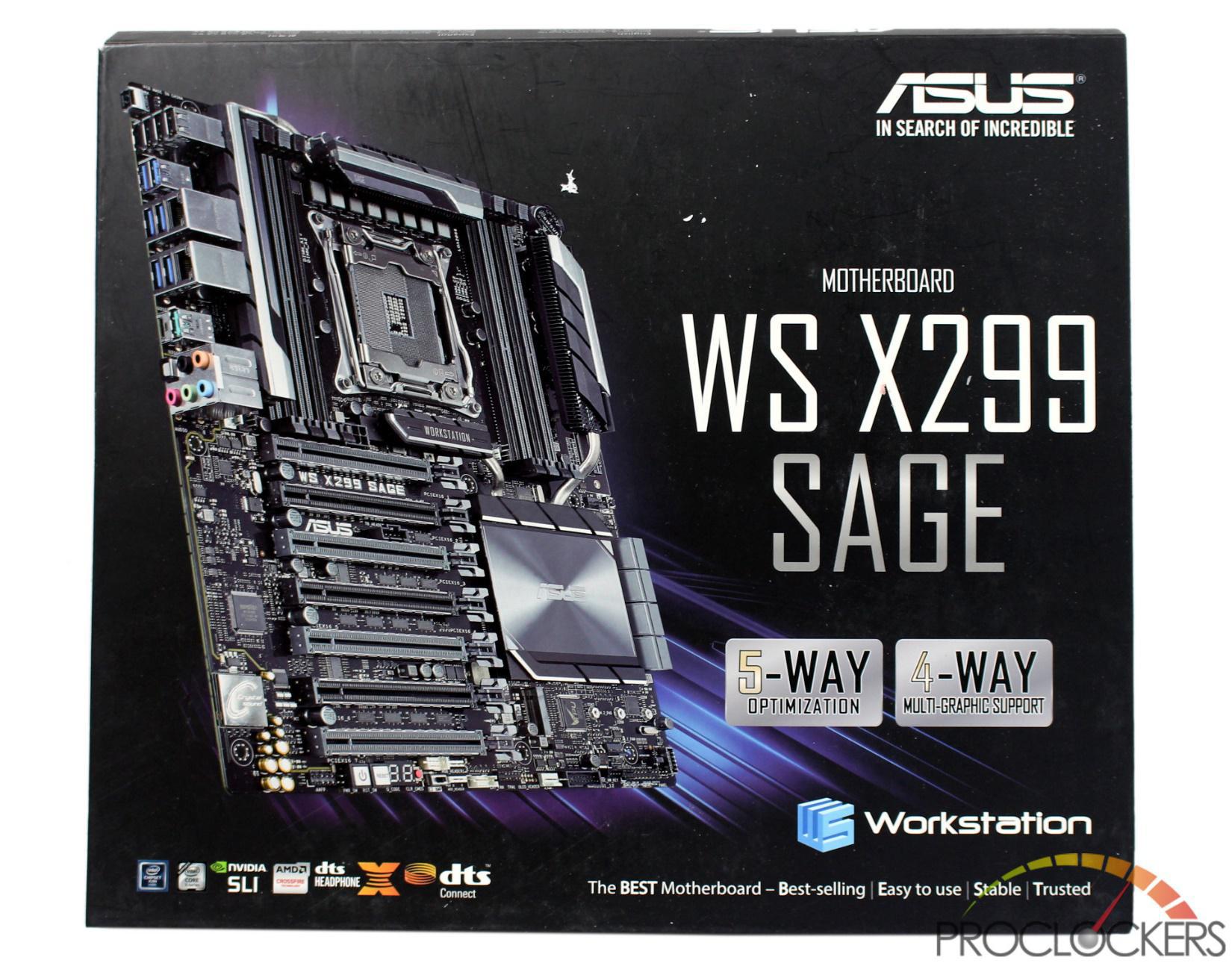 ASUS's WS X299 SAGE comes in a black box with a full-color picture of the board on the front. The model is right in the middle of the right-hand side.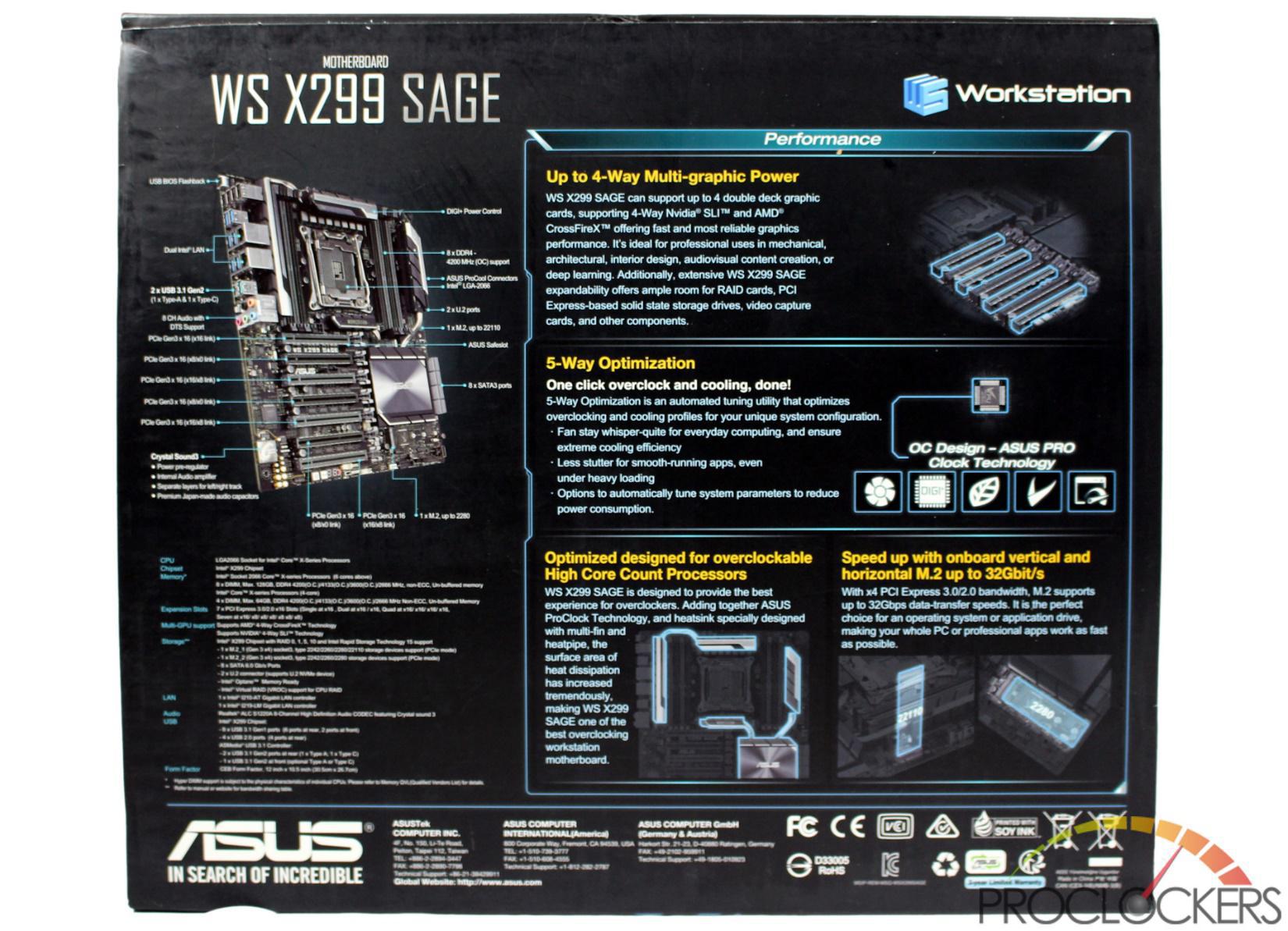 The rear of the box has a smaller picture of the board with many of the ports called out and some specifications under it. Most of the rear, however, is take up with explanations of the important features of the board.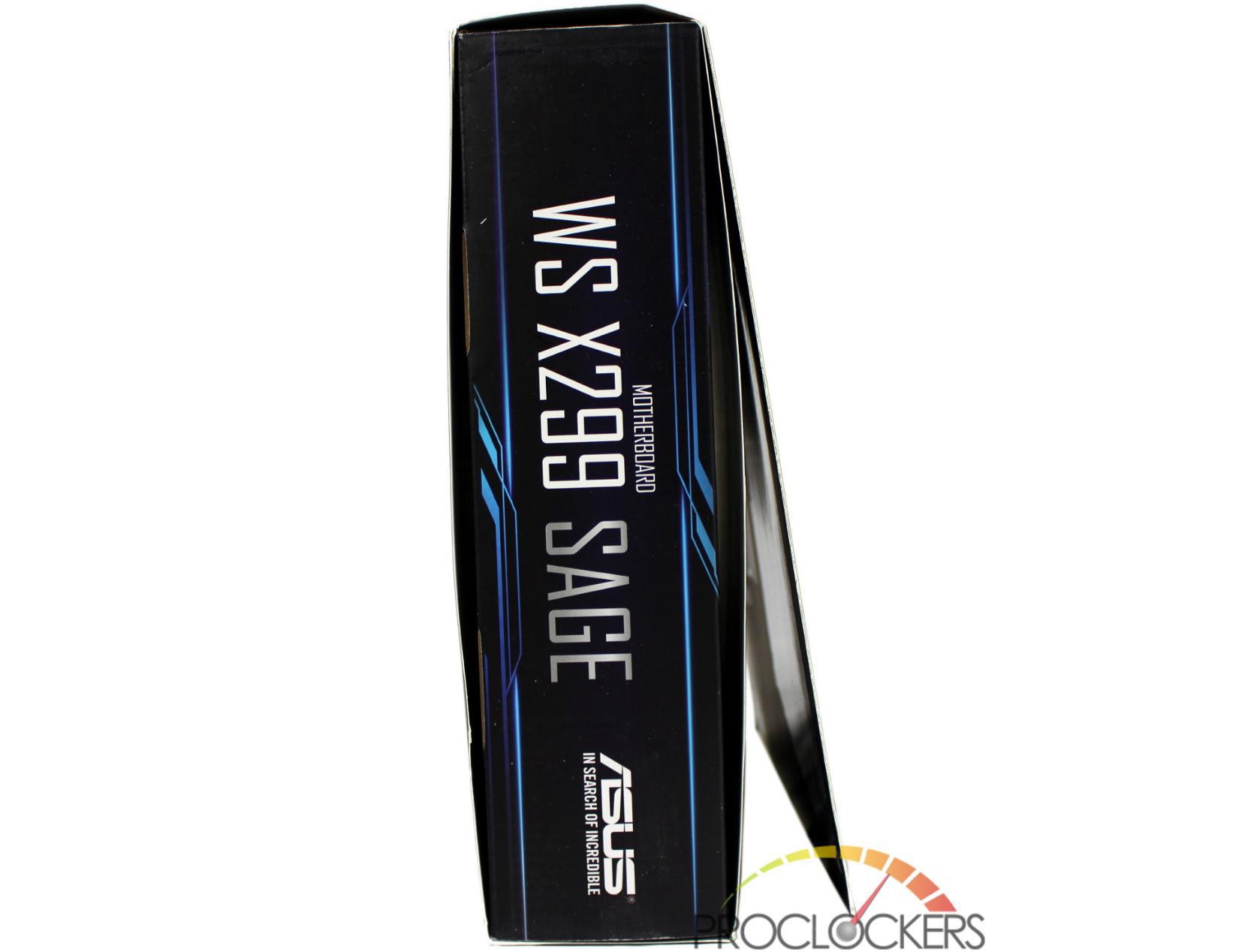 The front of the box is actually a flap that flips up.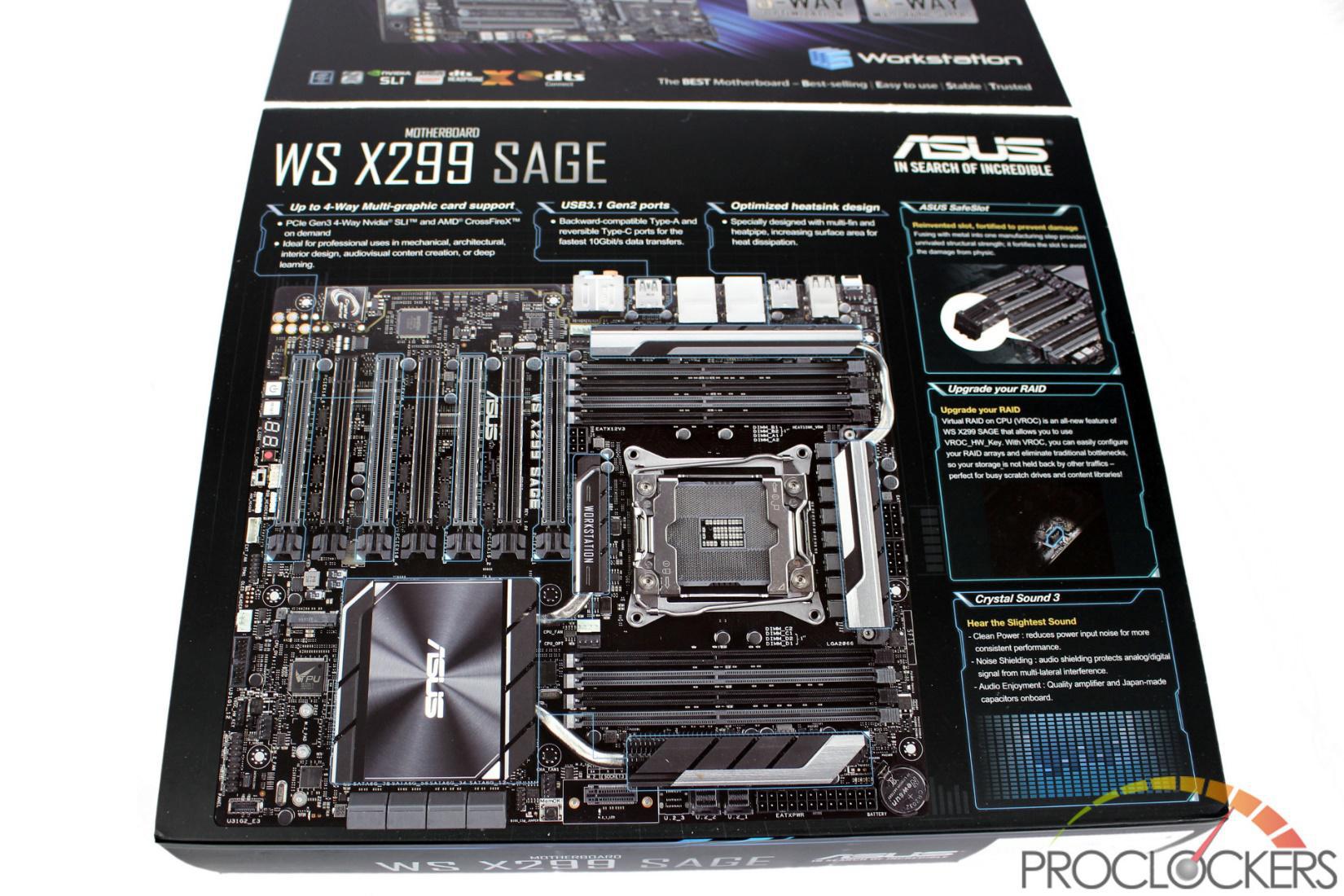 Inside the front flap are even more details about the board and its features.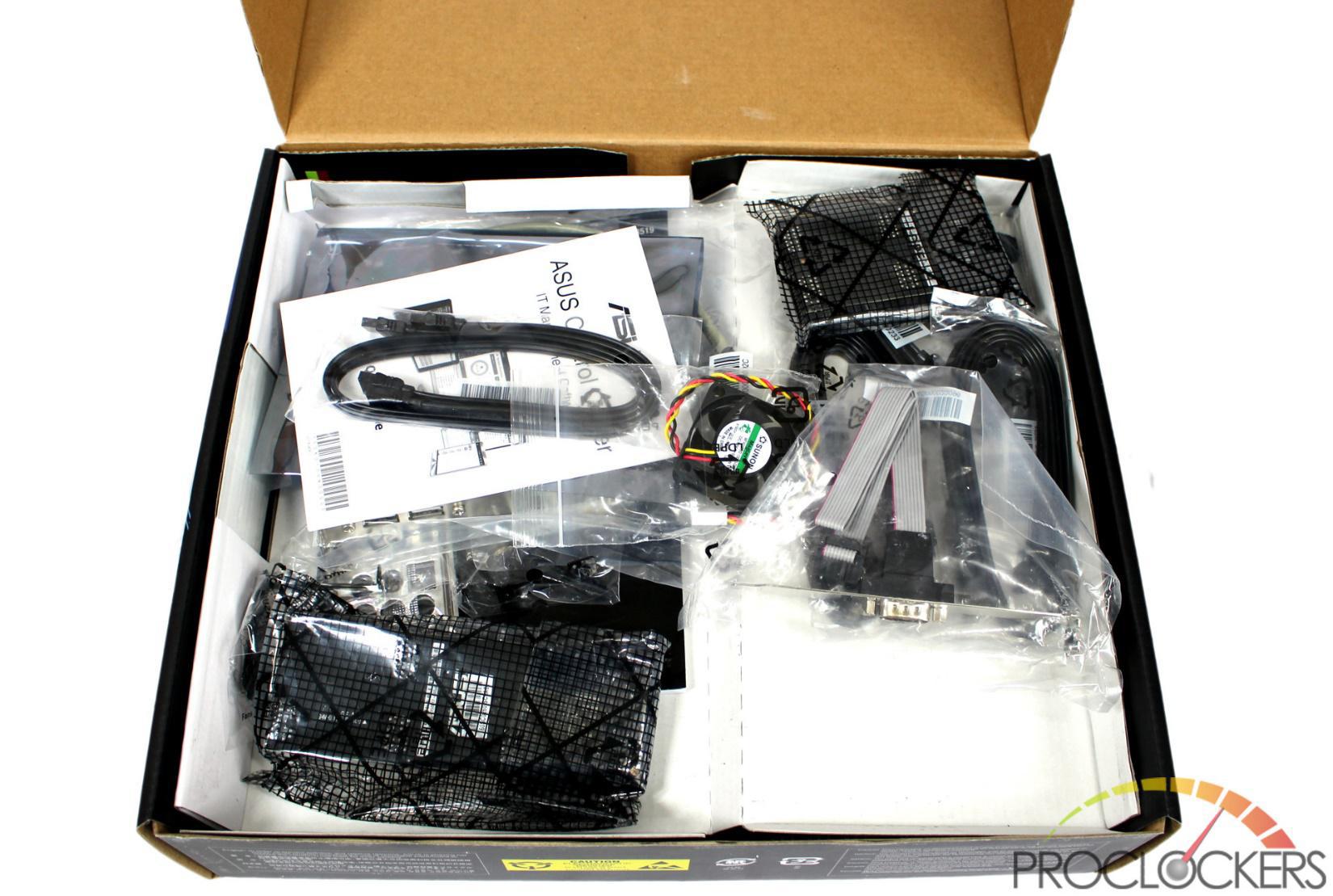 Once you remove the outer sleeve you can open the box up. You are immediately greeted with a small mountain of included extras.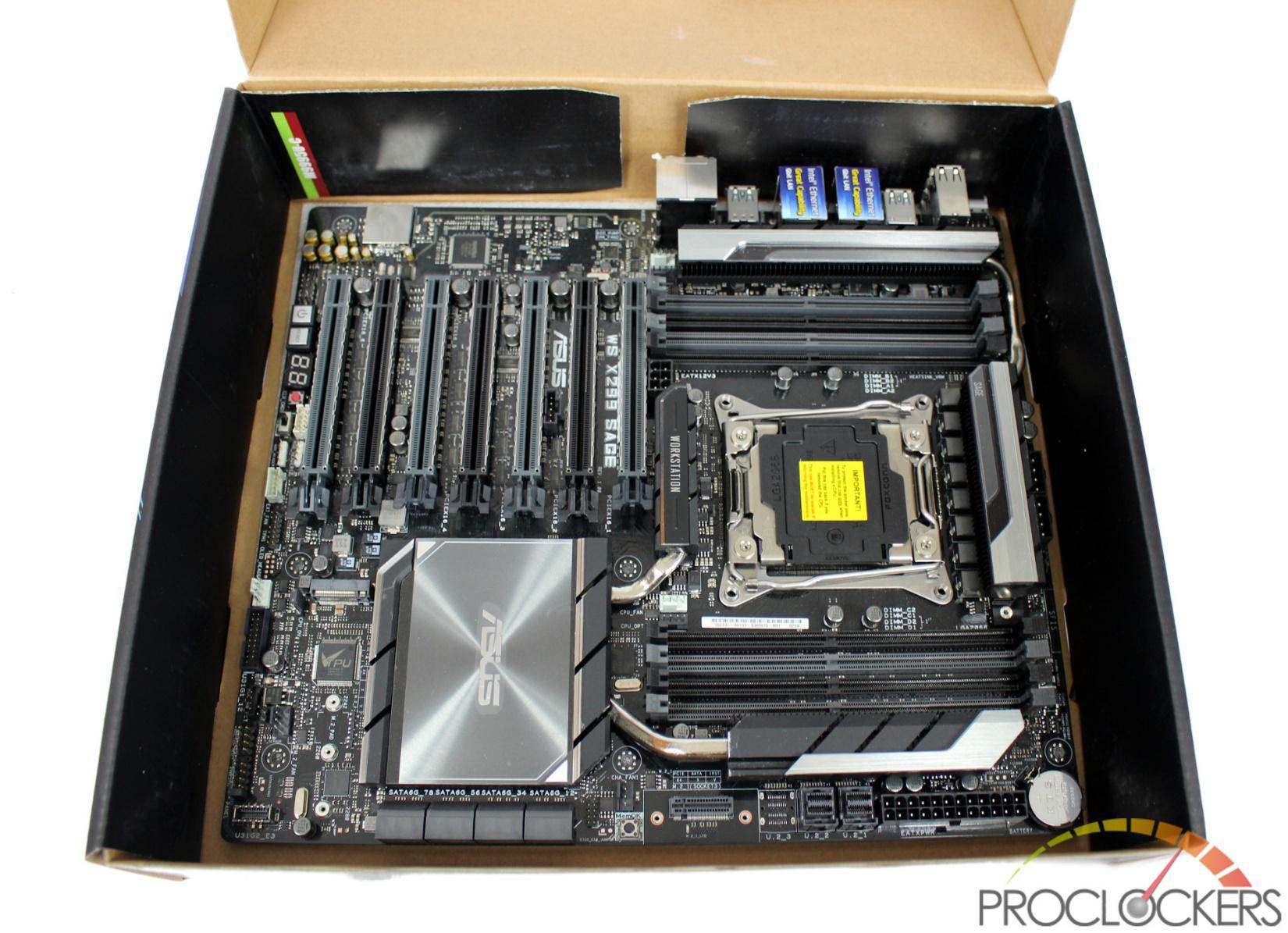 Underneath the top cover, you finally get to see this glorious grey and black monster.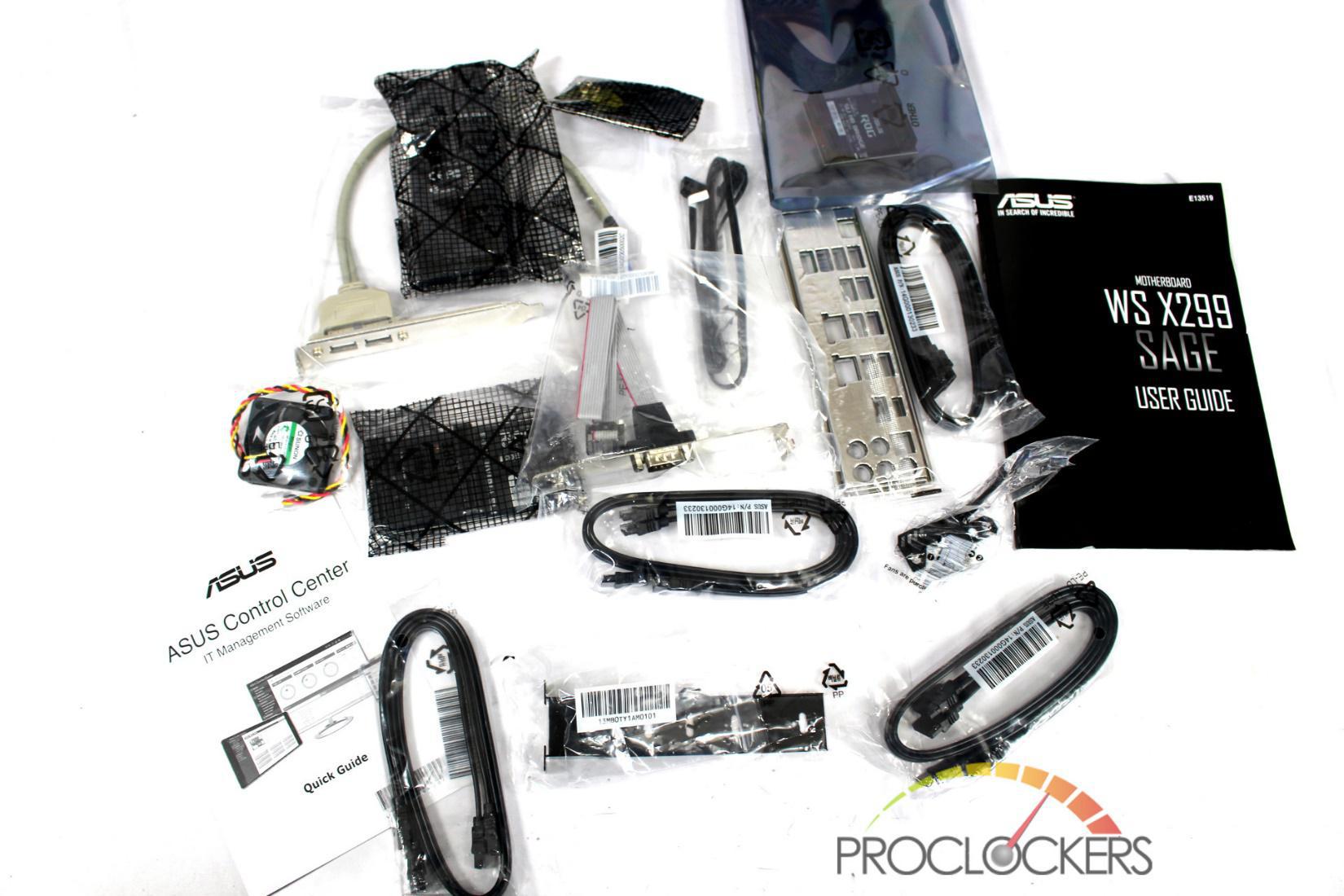 Included extras are plentiful. Manual booklet, rear I/O shield, driver disk, and SATA cables are here as usual. You get a handful of SLI bridges in various flavors, RGB cable, vertical M.2 drive stand, a cooling fan and stand, USB expansion and even a DB9 serial cable breakout
A Closer Look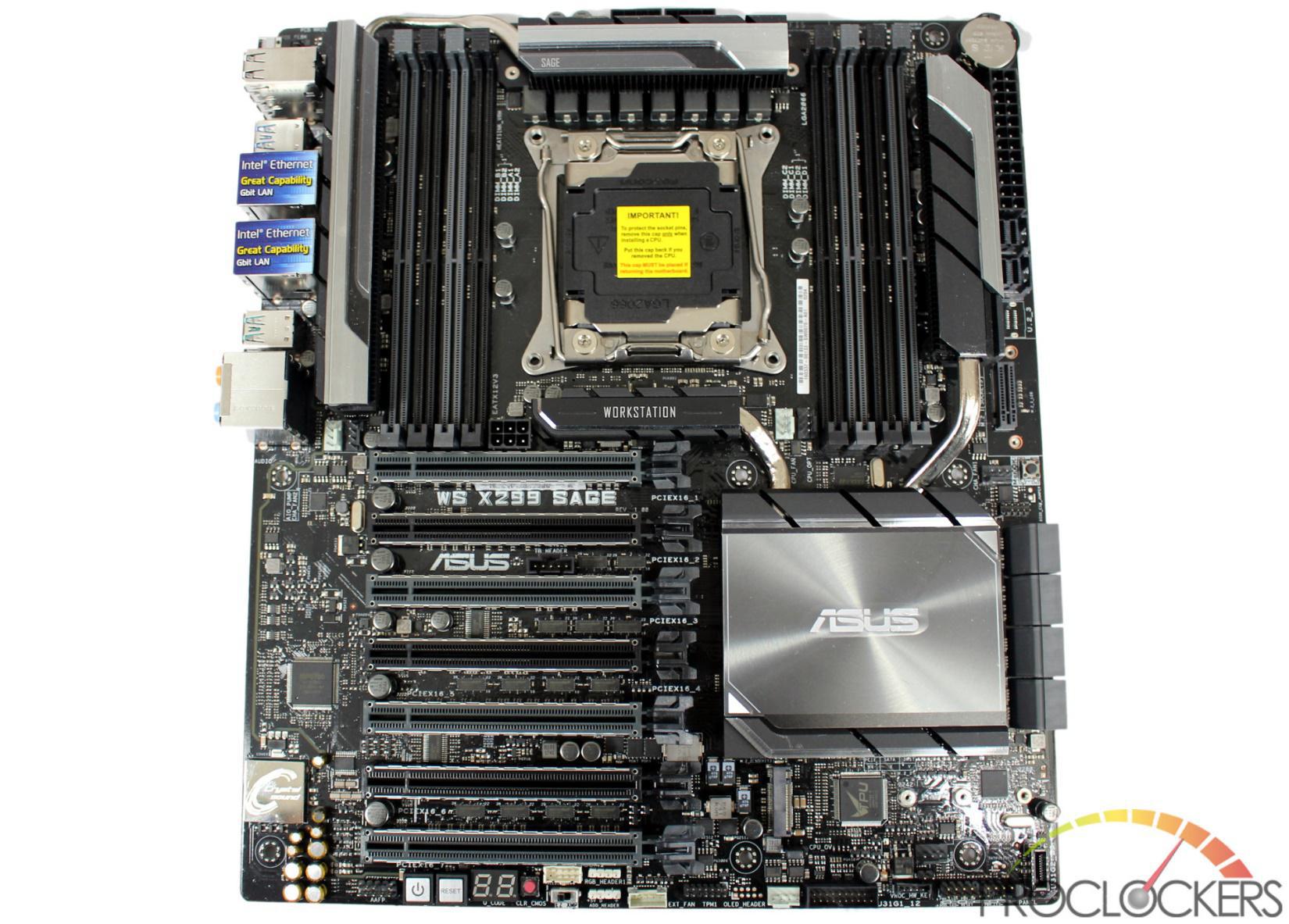 The X299 SAGE workstation board appears to be ATX sized but is actually SSI CEB form-factor which comes from the server world. Don't worry, it will fit most cases supporting EATX and even many ATX cases but be aware it does extend towards the front a bit more than a normal ATX board will. Otherwise, the layout is pretty standard.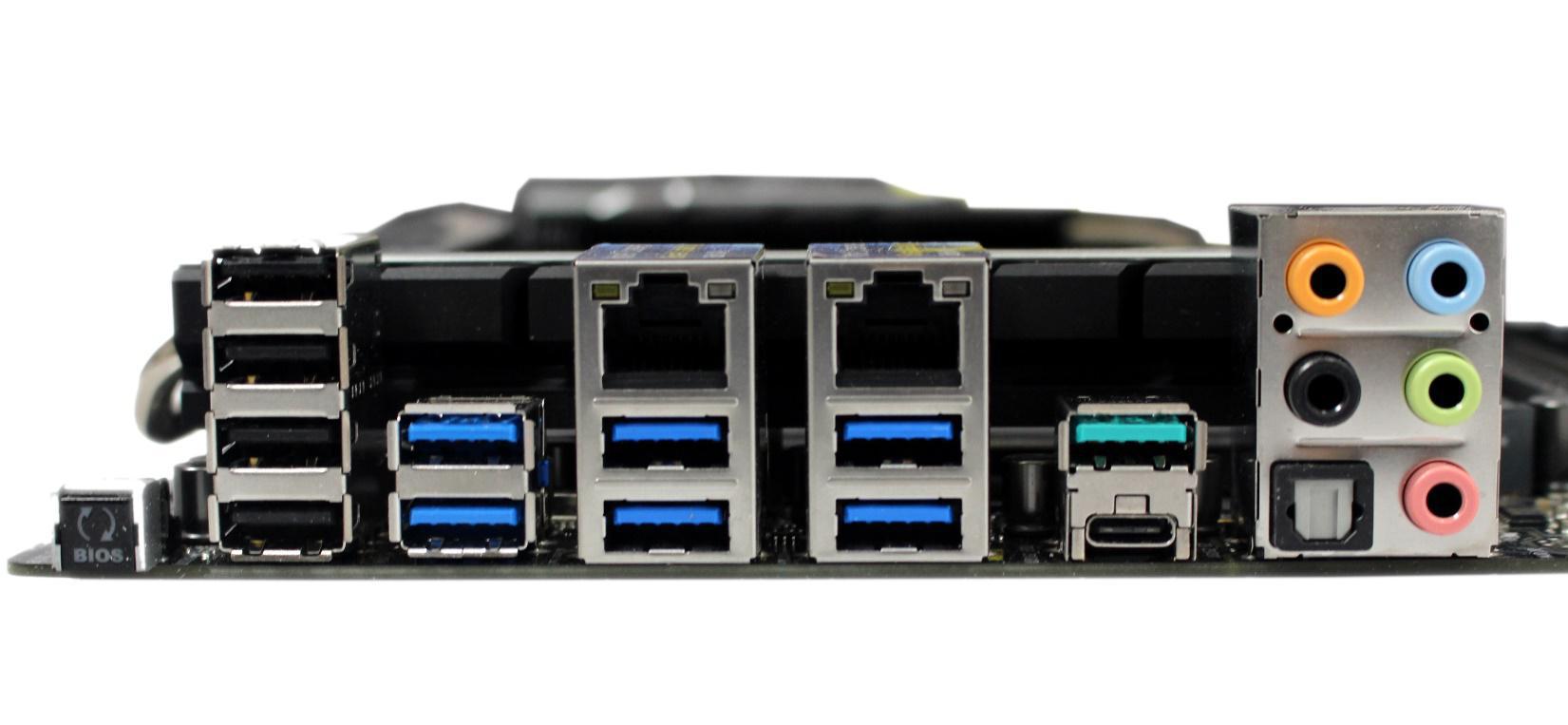 Rear I/O covers all of the bases. A dozen USB ports comprised of six USB 3.1 gen 1, two 3.1 gen 2 and a quartet of 2.0 ports takes up most of the space. A pair of Intel Gigabit Ethernet ports sits in the center, a USB BIOS Flashback button, 8 channel audio, and optical audio output round out the list.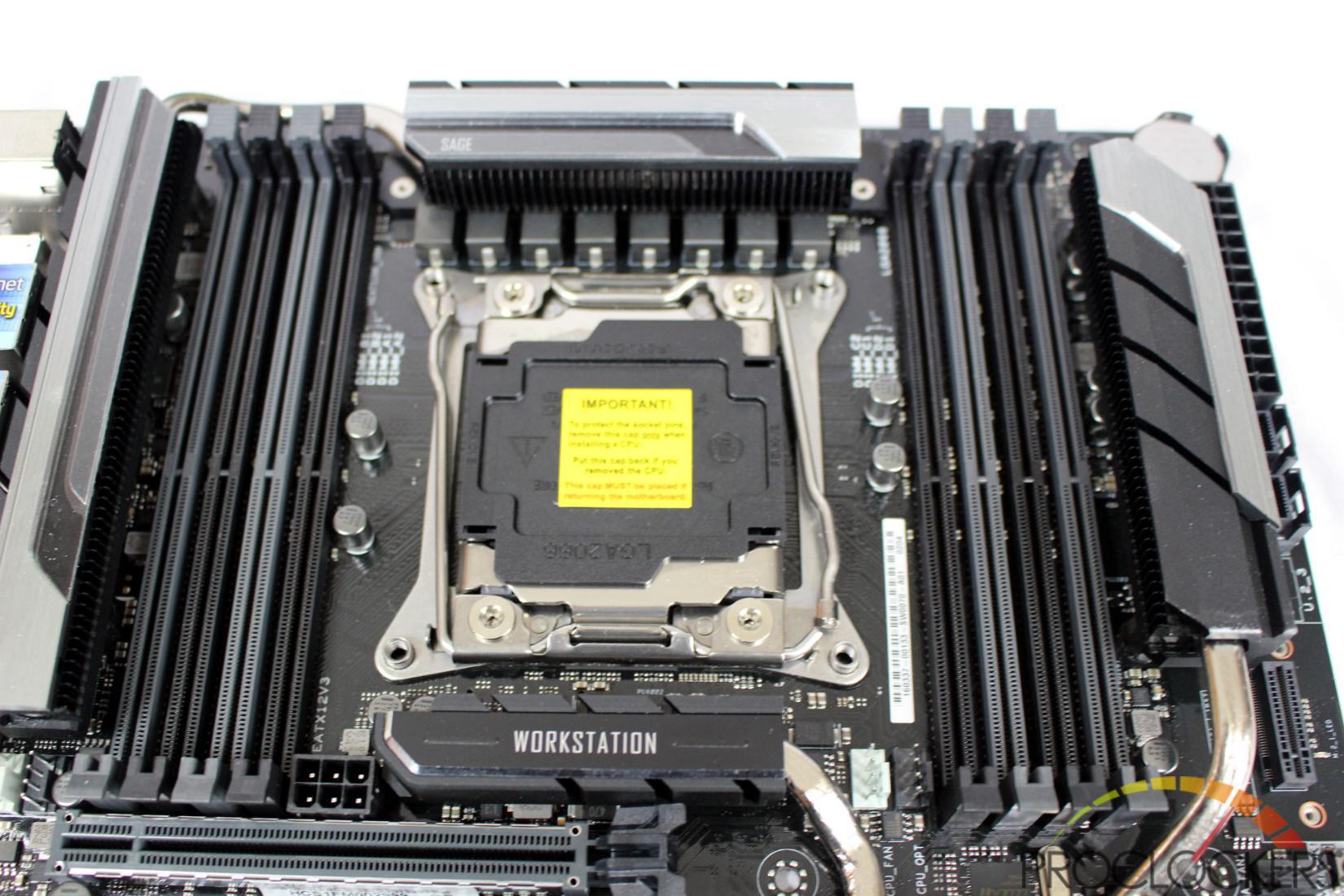 The top half of the board is pretty much entirely socket, ram slots and heatsinks. Eight DDR4 DIMM slots flank Intel's LGA 2066 socket. The VRM's are above the CPU socket and are cooled by a heatsink directly over them and heatpiped over to another larger heatsink along the rear I/I area. To the right of the memory slots and below the socket are two heatsinks connected to the chipset heatsink that also cools a pair of PLX PCIe switches giving you a staggering number of PCIe slots to work with as if the stack of seven PCIe x16 slots on the bottom wasn't indication enough. A vertical M.2 socket and a pair of U.2 connections sit along the front edge near the main 24-pin power. Just out of sight here are twin 8-pin EPS connectors right up close to the top VRM heatsink.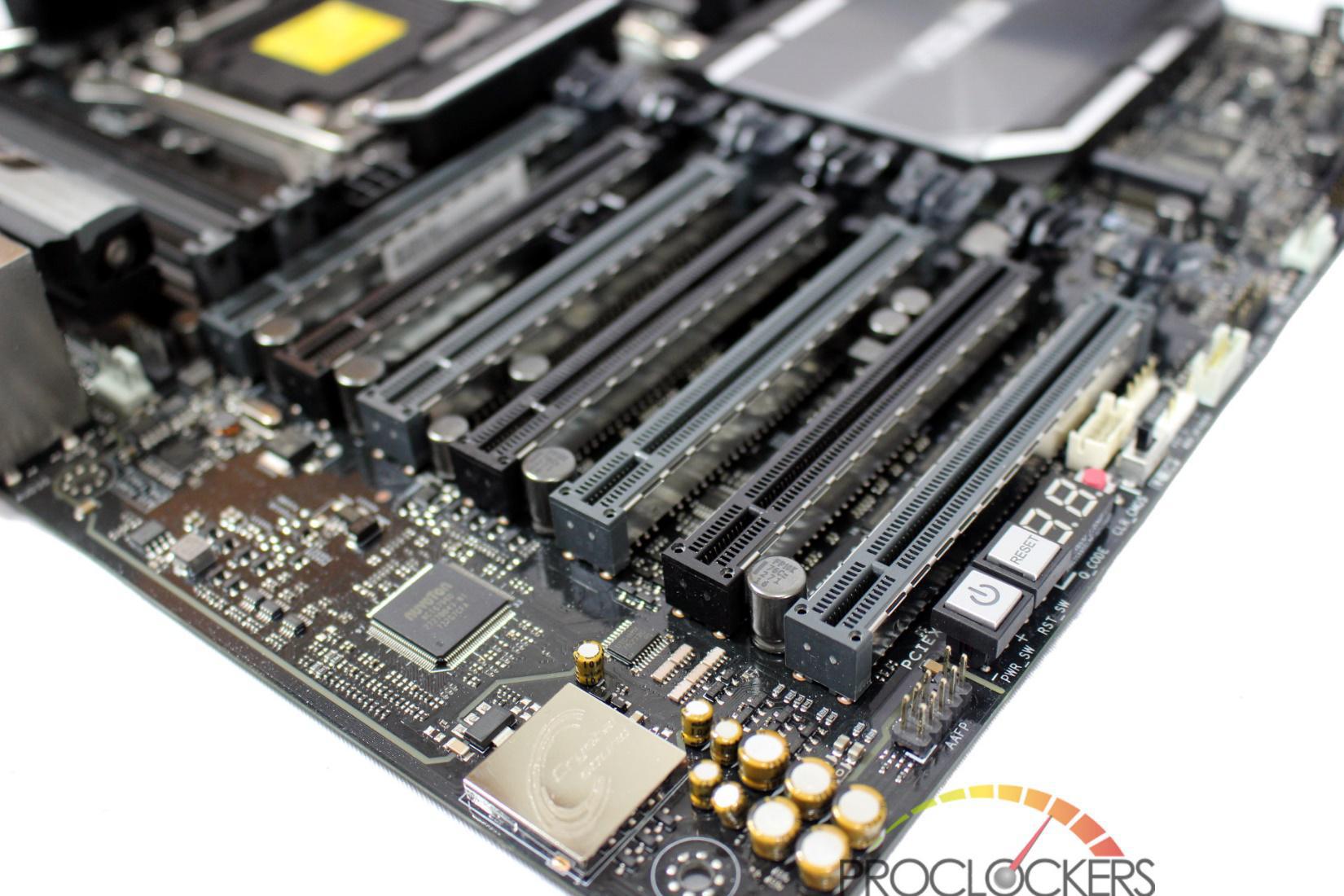 The pair of PLX switches gives you access to 64 PCIe lanes that can be used for up to Quad Graphics cards in full x16 mode each, or seven expansion cards in an x16/x8/x8/x8/x8/x8/x8 configuration. This is a workstation board, multiple GPUs or computes cards along with high-speed storage and networking are right in its wheelhouse.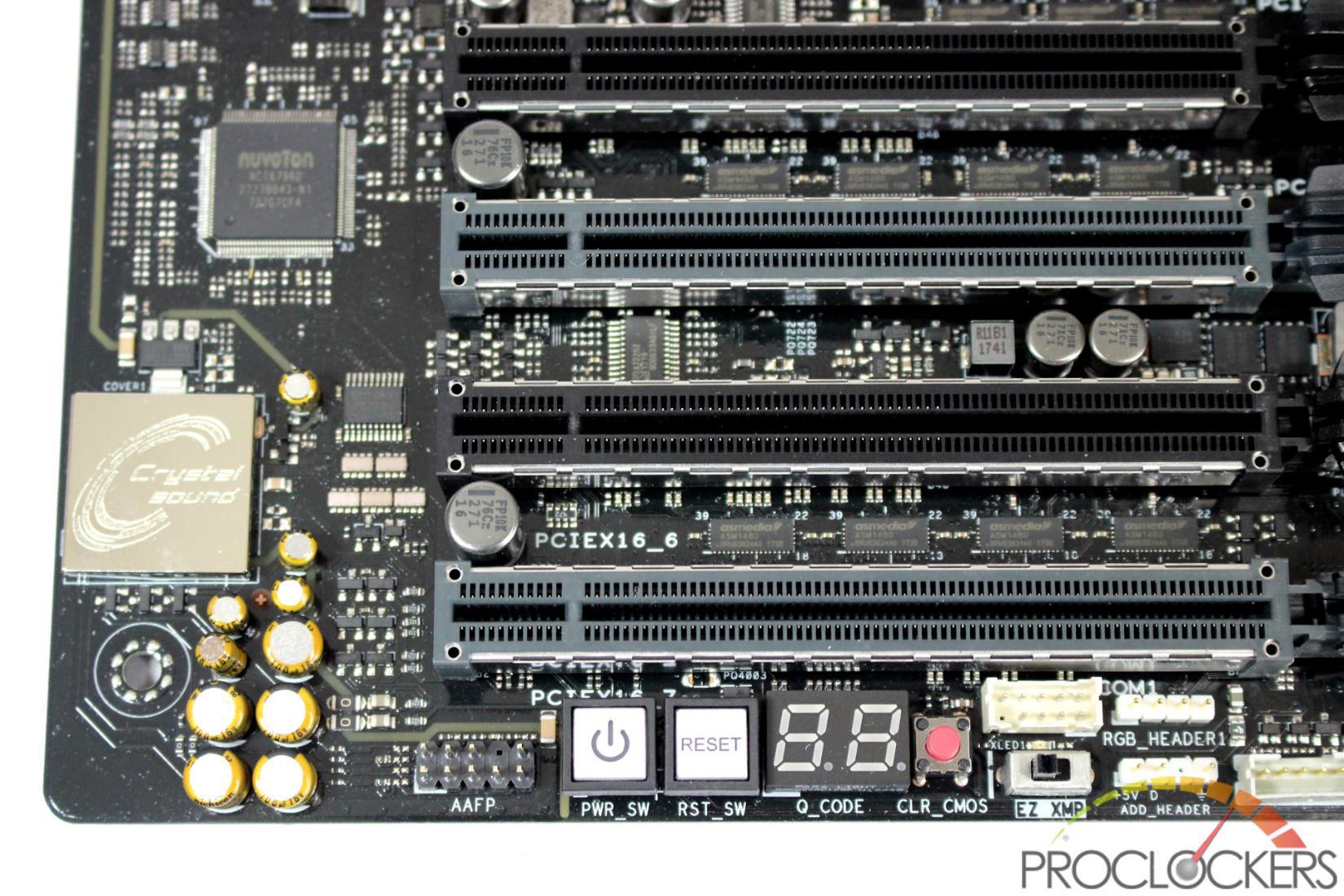 There are quite a few things to note along the bottom of the board. A front panel audio header starts us out but then moves into power and reset switches, a Q-code display, and a clear CMOS button. Next is a switch to enable XMP without having to enter the BIOS, the COM port header. Next are a pair of RGB headers both analog and digital and ASUS External fan extension connector.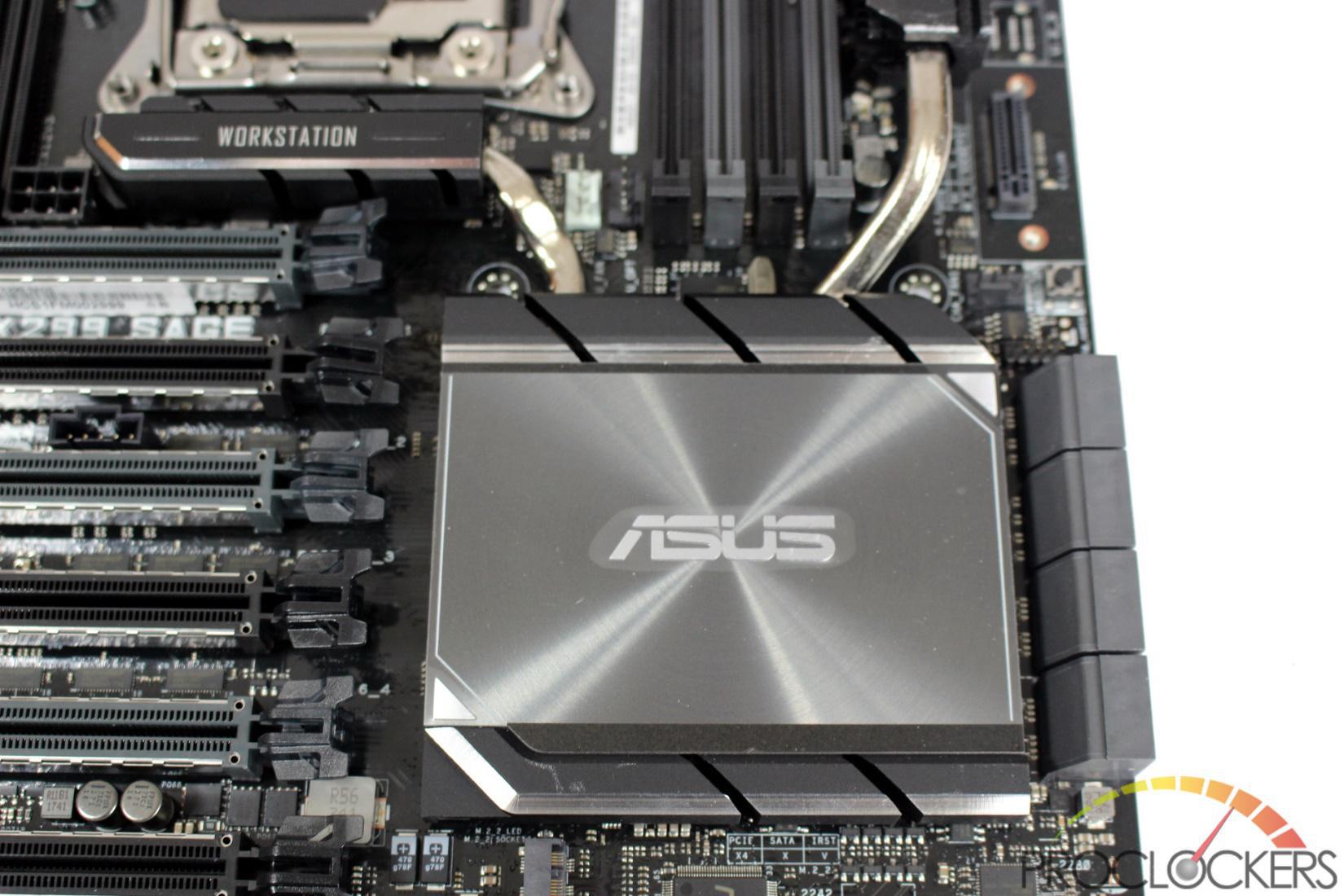 The front corner of the board is mostly a heatsink. Under it is the 2nd M.2 slot, front panel I/O connections, front panel USB 3.0 and 3.1 headers, two fan headers, and the VROC key connector. To the right are eight SATA ports, with another fan header above it next to the MemOK button.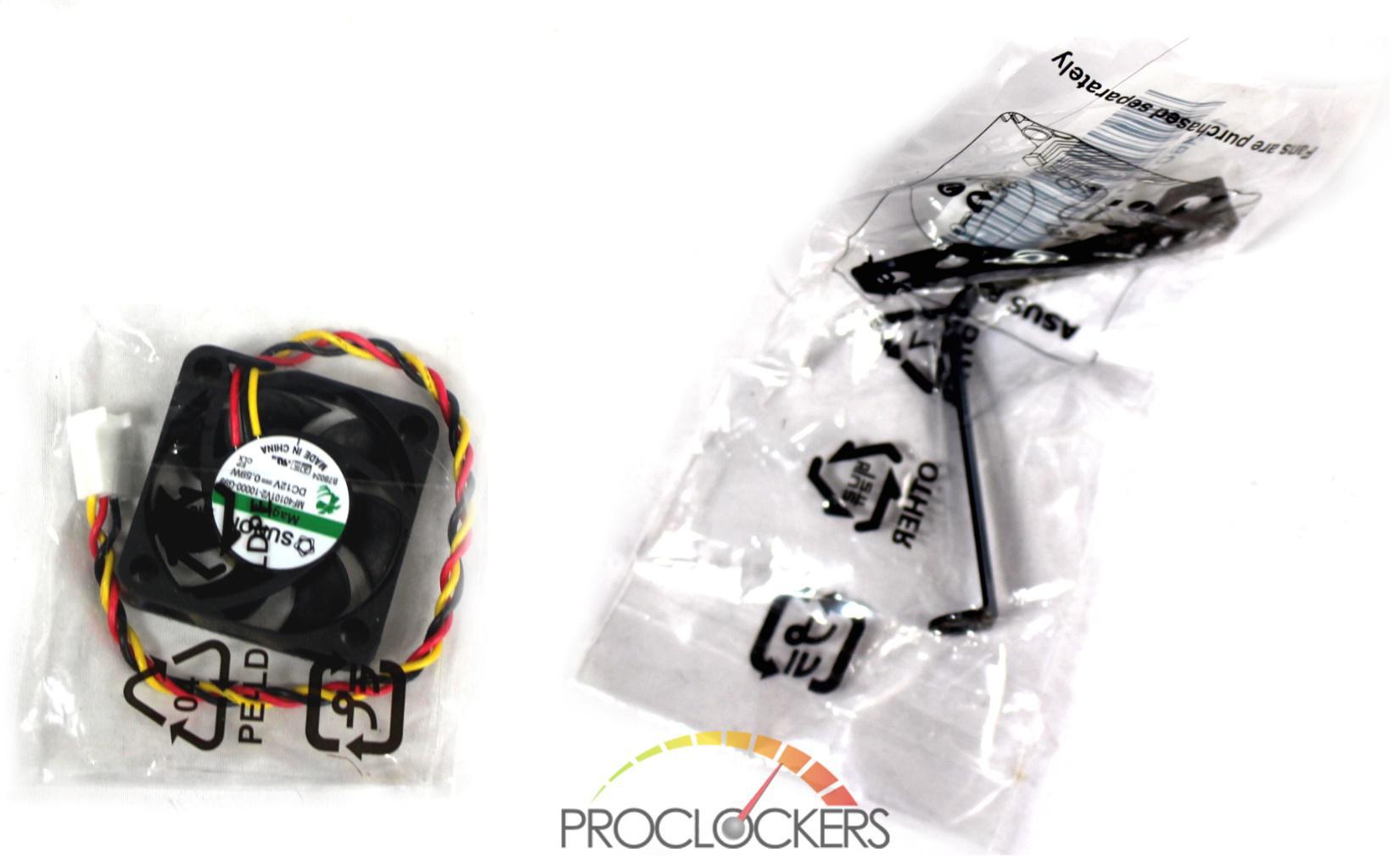 ASUS includes a fan that the manual shows installed in the position below, but we had clearance issues with the VRM heatsink, EPS power connectors and/or the ram slots depending on how we moved it so we just gave up and removed it. The only place we can really see any use would be over the lower M.2 socket, but that is heavily depending on room behind expansions cards. In the end, we really couldn't figure out any reasonable use for this item so we tossed it back in the box.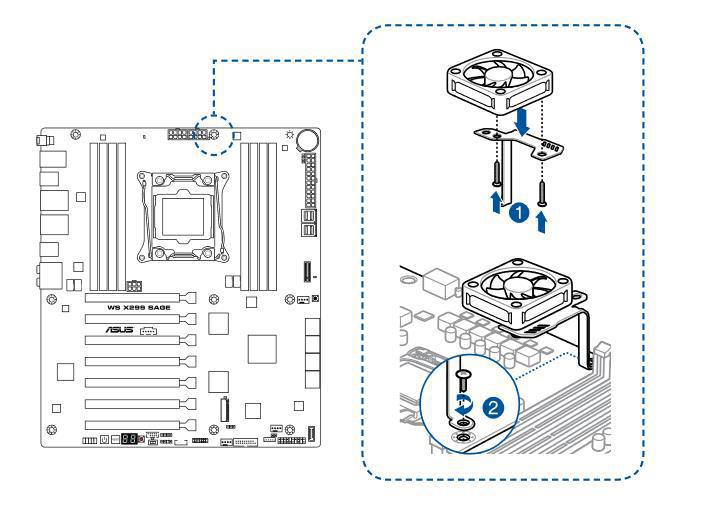 With so many PCIe lanes to play with, you can install up to quad GPUs and ASUS provides SLI bridges for dual high bandwidth cards, as well as regular triple and quad configurations.
IF needed, ASUS includes rear brackets to break out another pair of USB ports as well as the onboard DB9 com port.
System Configuration & BIOS
CPU: Intel Core i7-7820X
Motherboard: ASUS WS X299 SAGE
RAM: 64GB GeIL EVO Spear 3200Mhz
GPU: Galax GTX 1070 HOF
SSD: Samsung 960 Pro 2TB
OS: Windows 10 Professional X64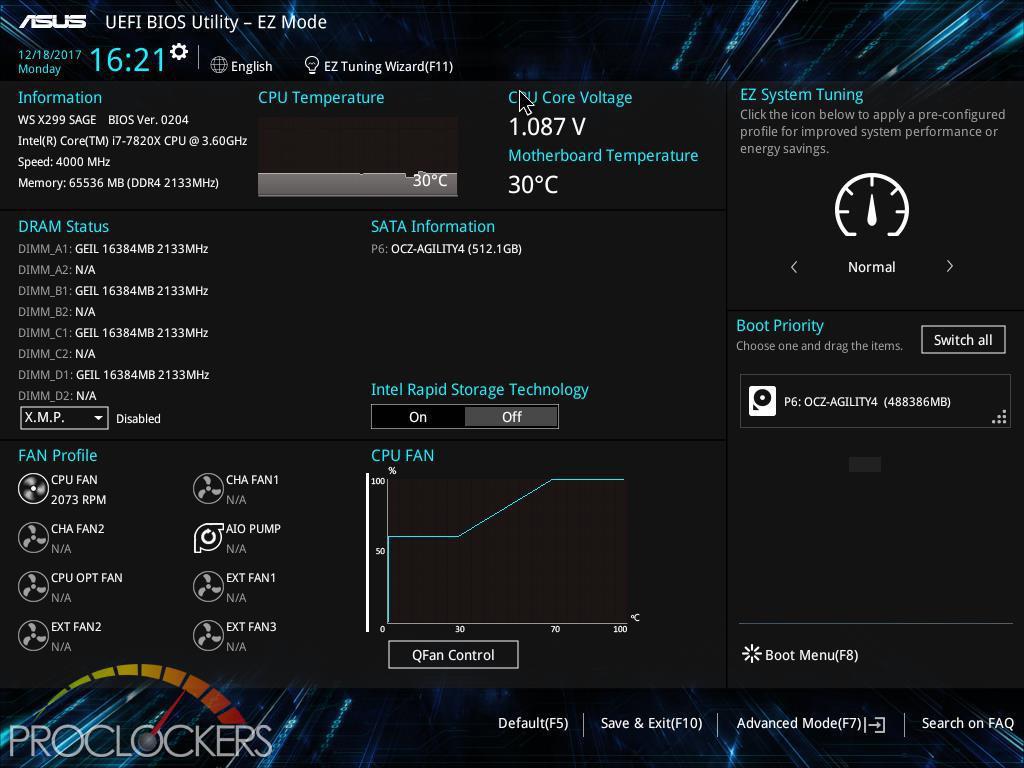 Like nearly all of ASUS's boards, entering the BIOS the first time brings you to the EZ Mode setup screen. Here you can access everything needed on one page to get up and moving quickly, as well as cast a quick glance at things like fan and pump speeds.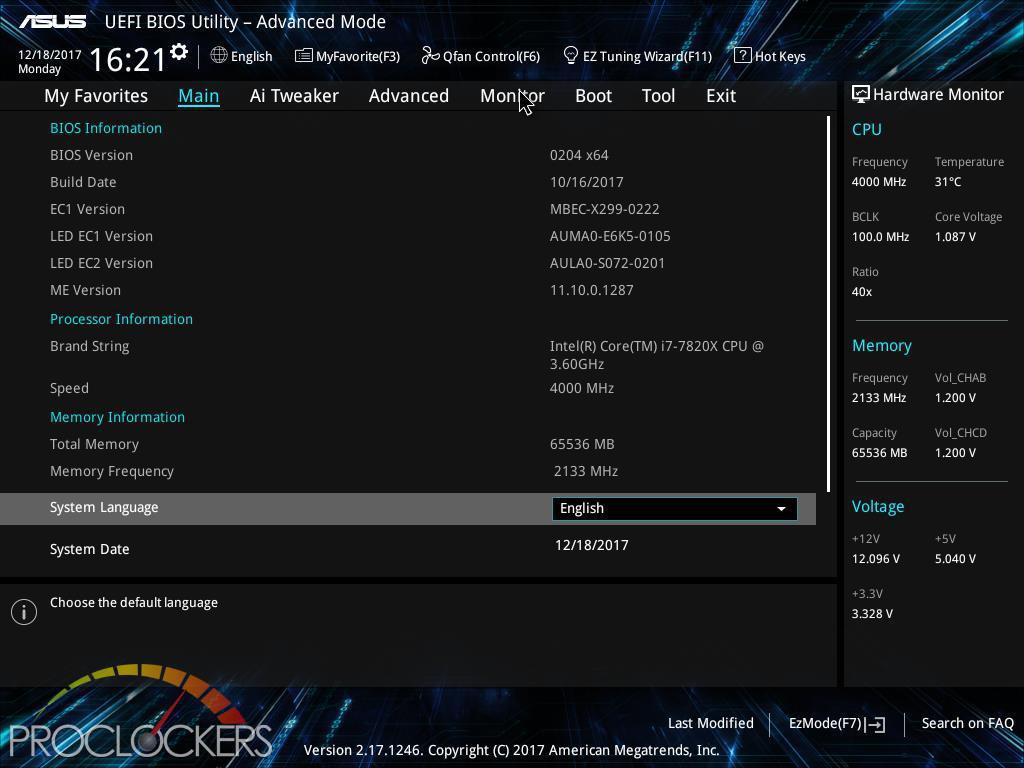 Hitting F7 brings you to the advanced mode area of the BIOS. The main landing page gives a quick rundown of the system.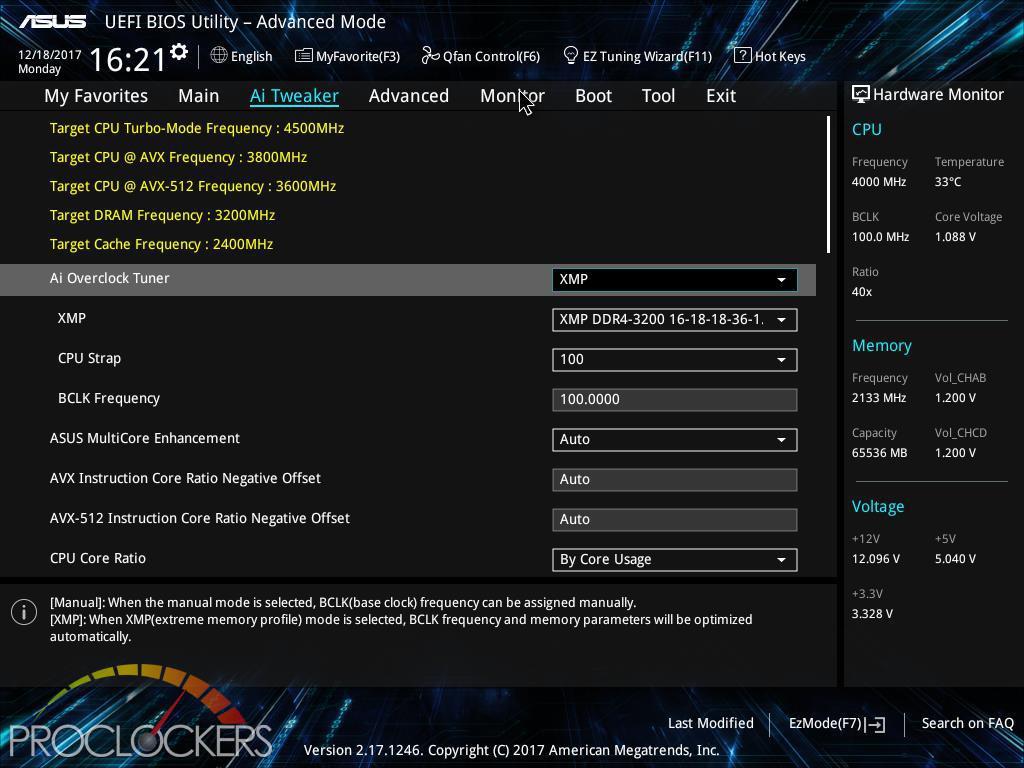 Ai Tweaker is the section you want to hit if you want to do some overclocking. You'll want to at least set your ram to its XMP overclocked speeds at least if you didn't already flip the onboard switch or catch it on the EZ screen.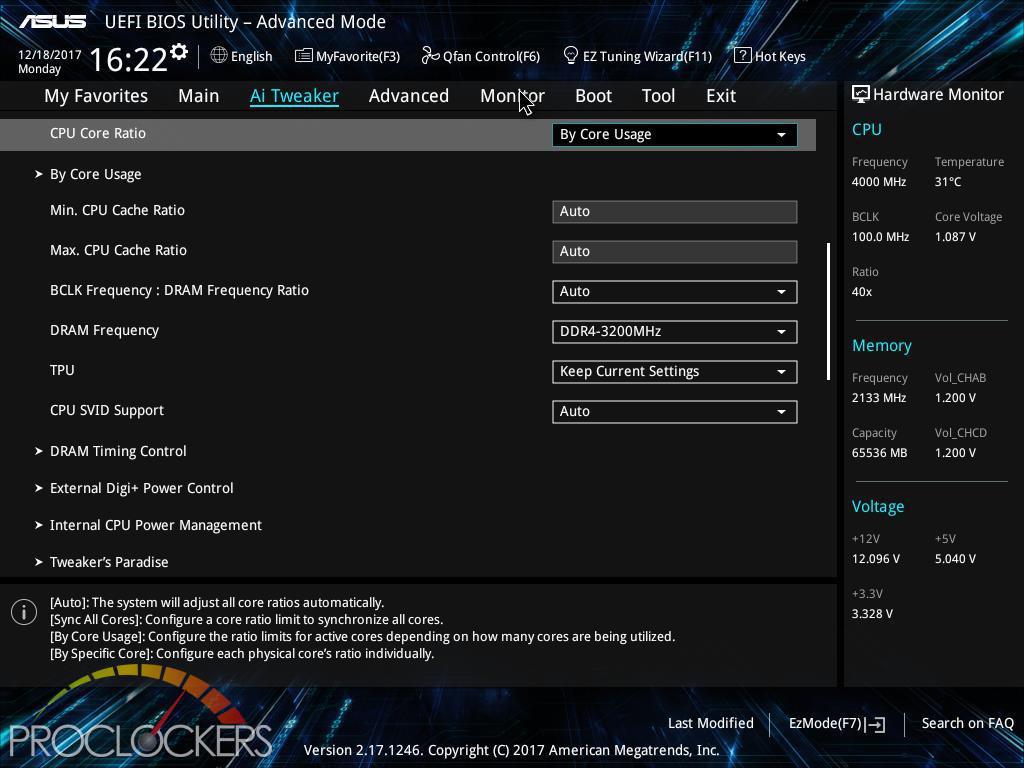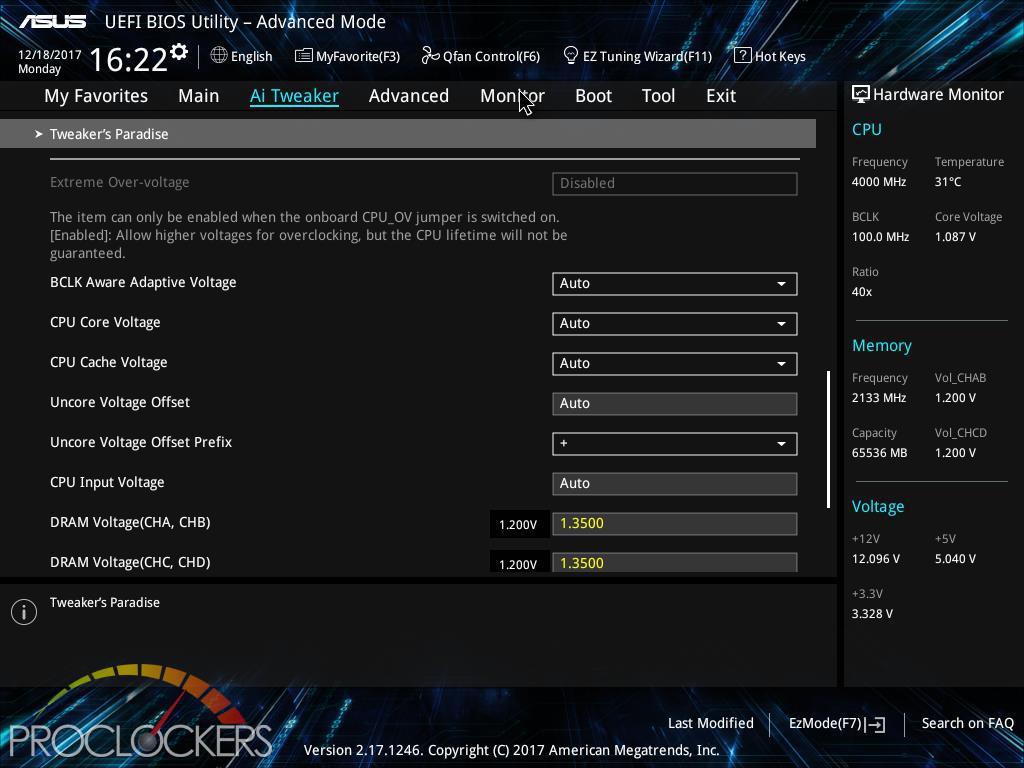 There are tons and tons more settings on further down including several specific sub-menus.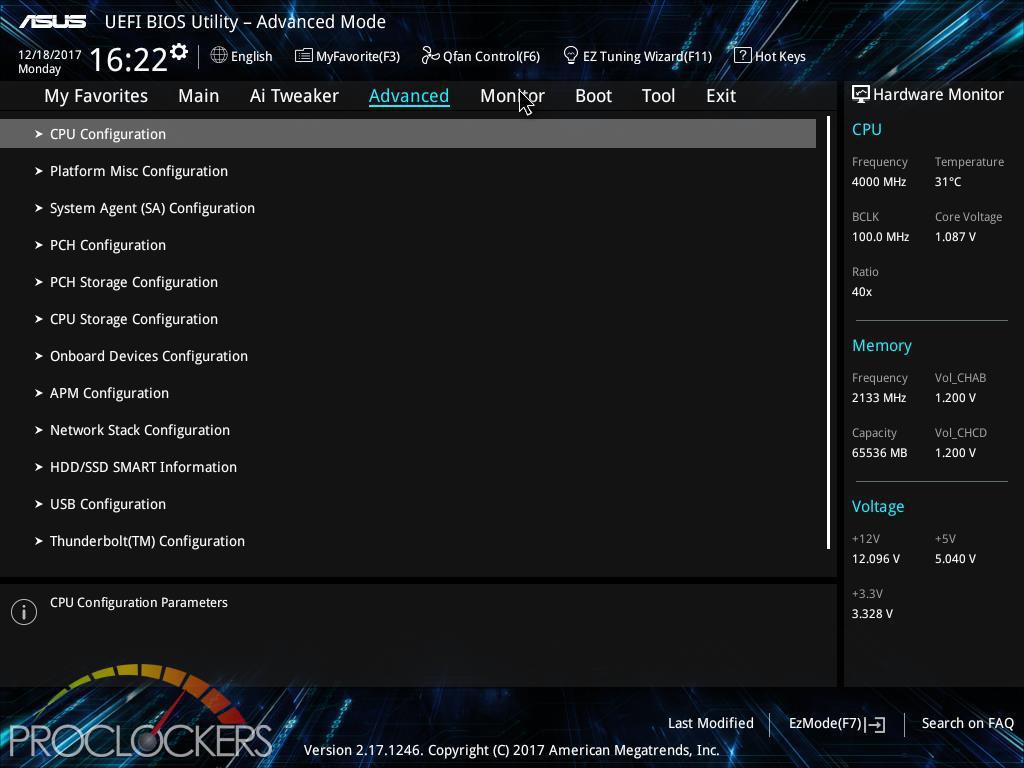 The Advanced tab has another veritable mountain of settings broke out into well-grouped pages.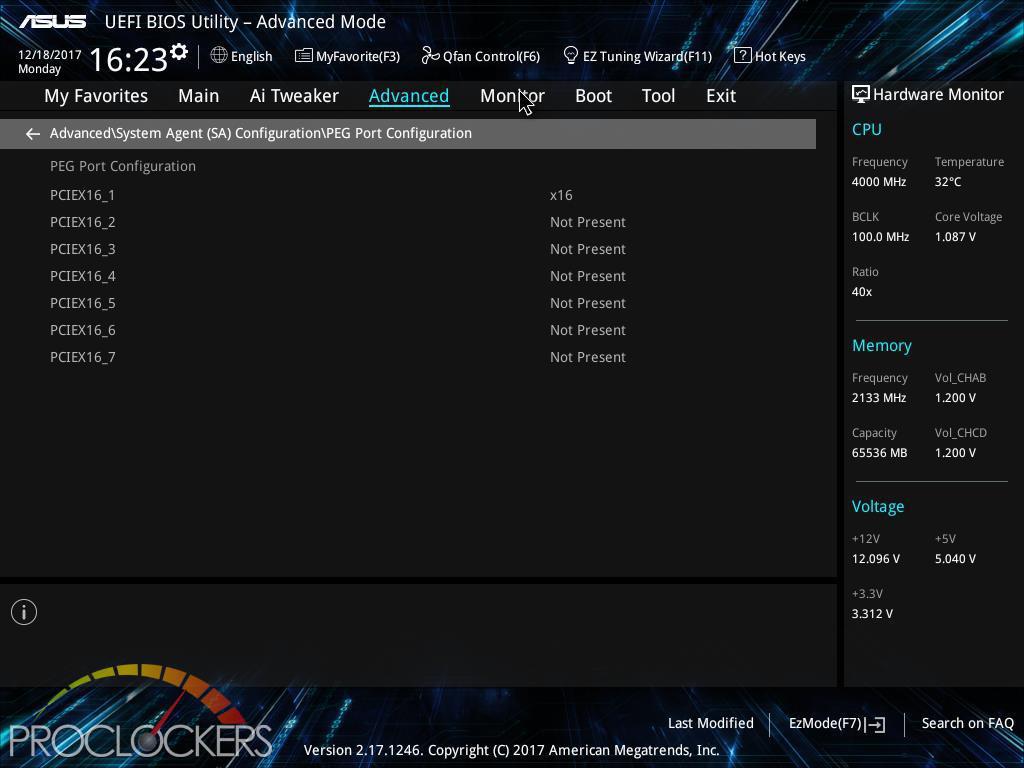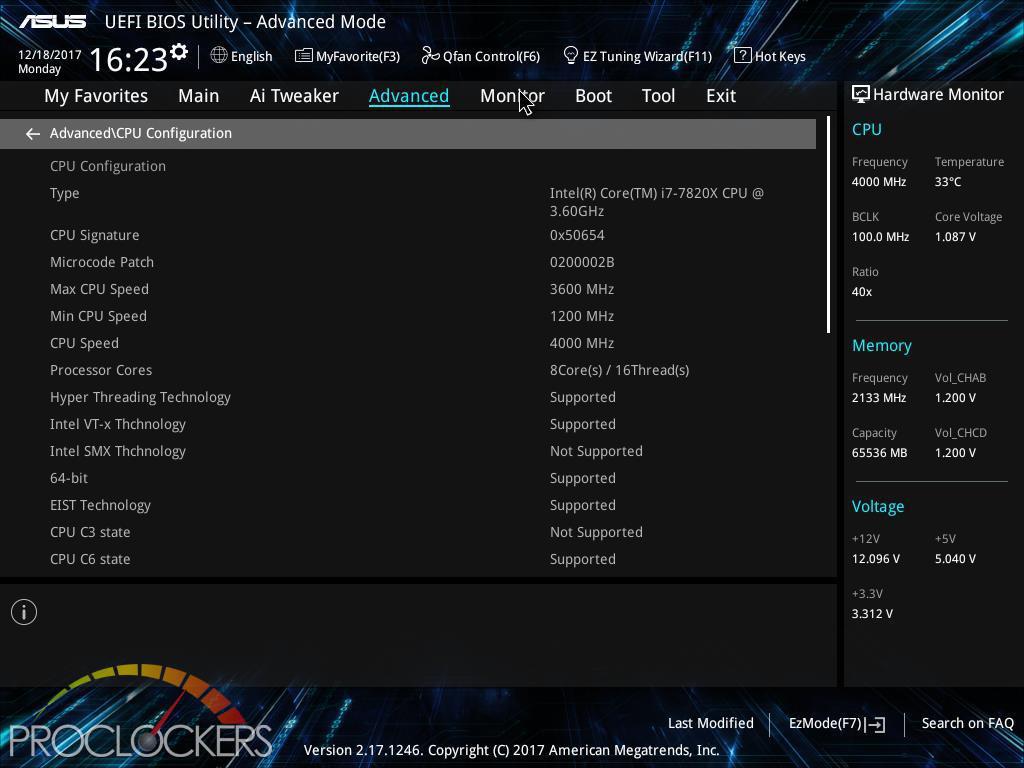 The Monitor tab gives you live readings of all voltage rails, fan and pump speeds, even external fans and temps if you have compatible hardware connected. You can also access Q-fan from the bottom of this page as well.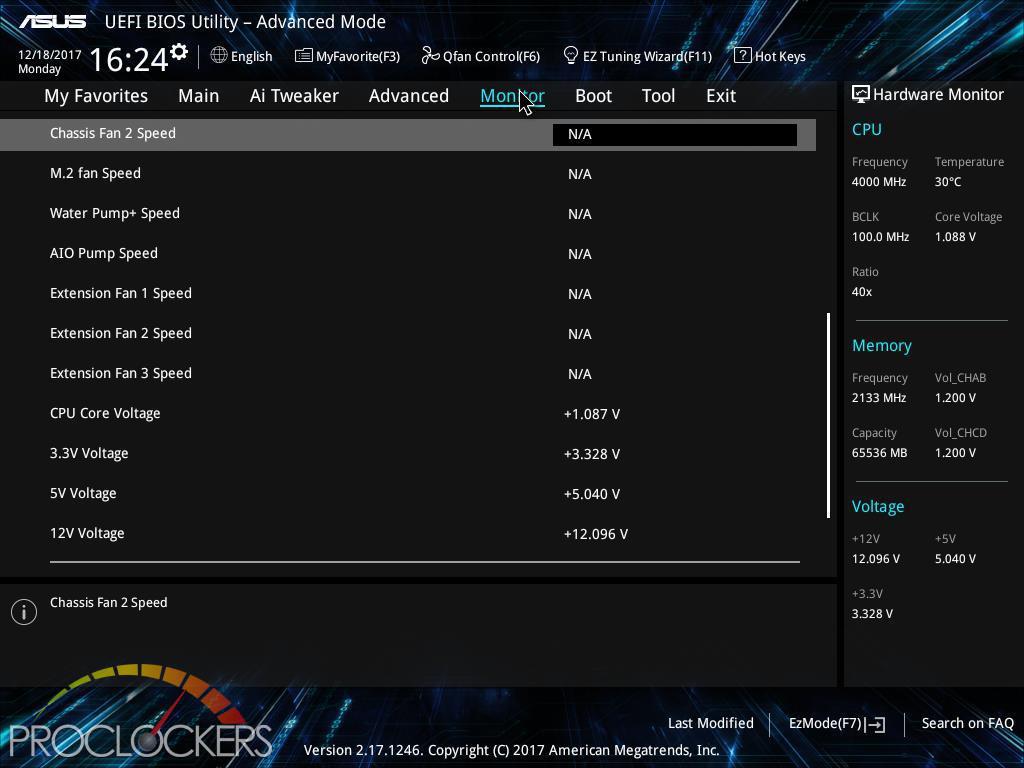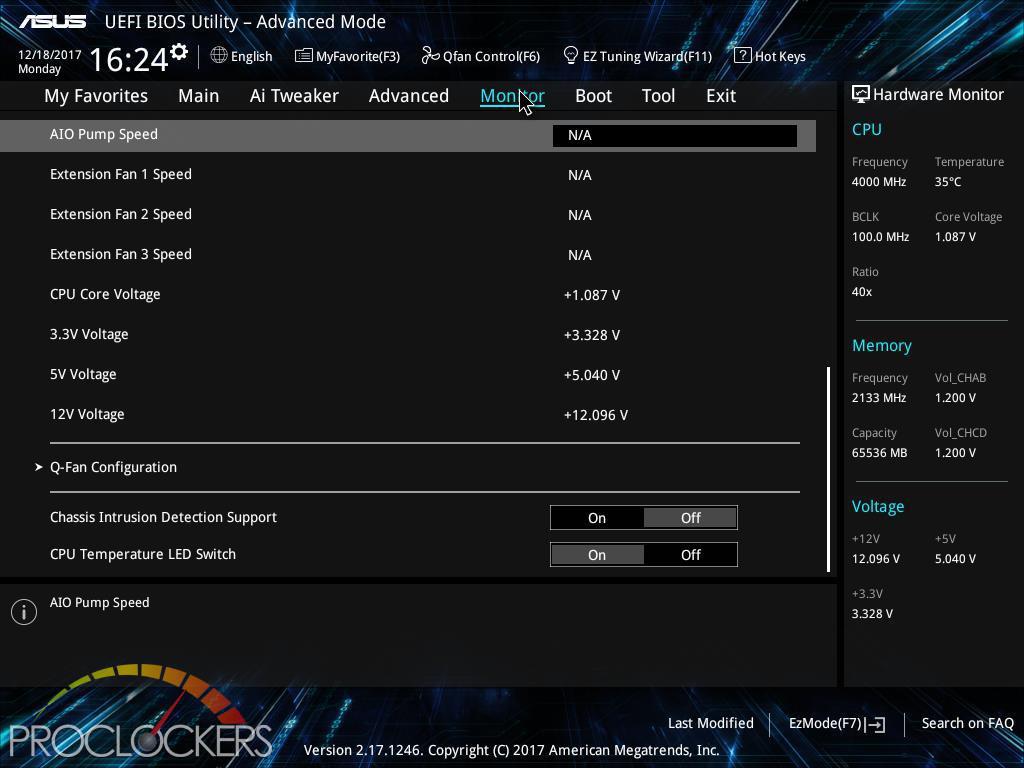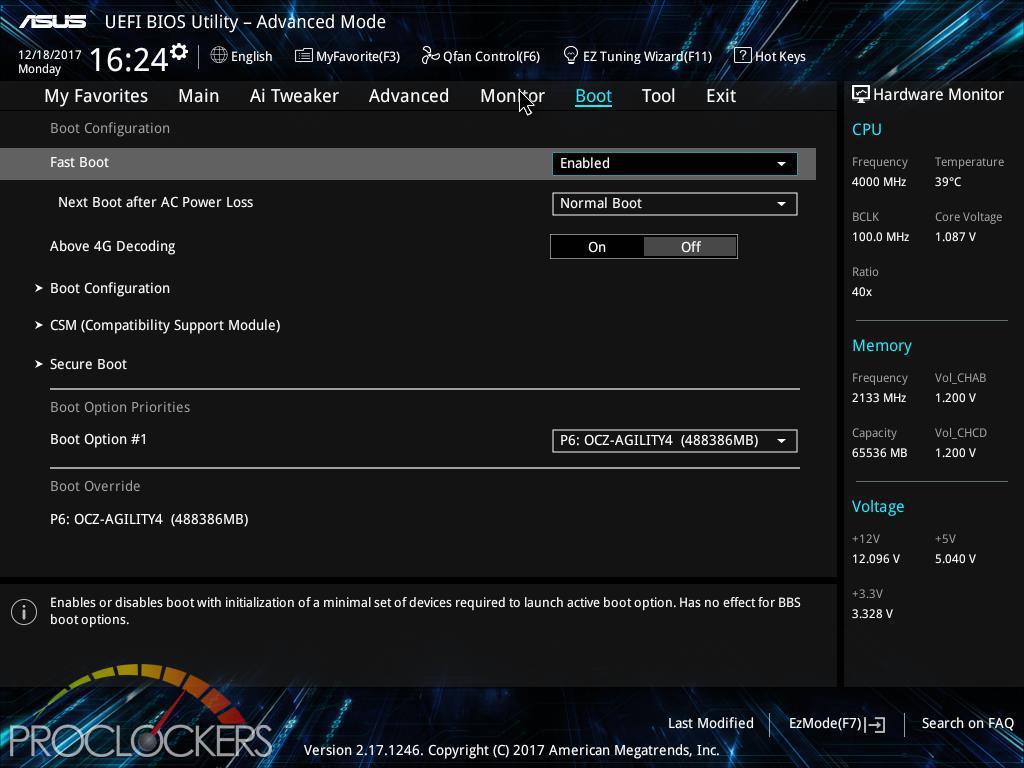 The boot section is pretty cut and dry, you won't spend much time here unless you have multiple bootable drives installed at the same time which is certainly possible on a workstation.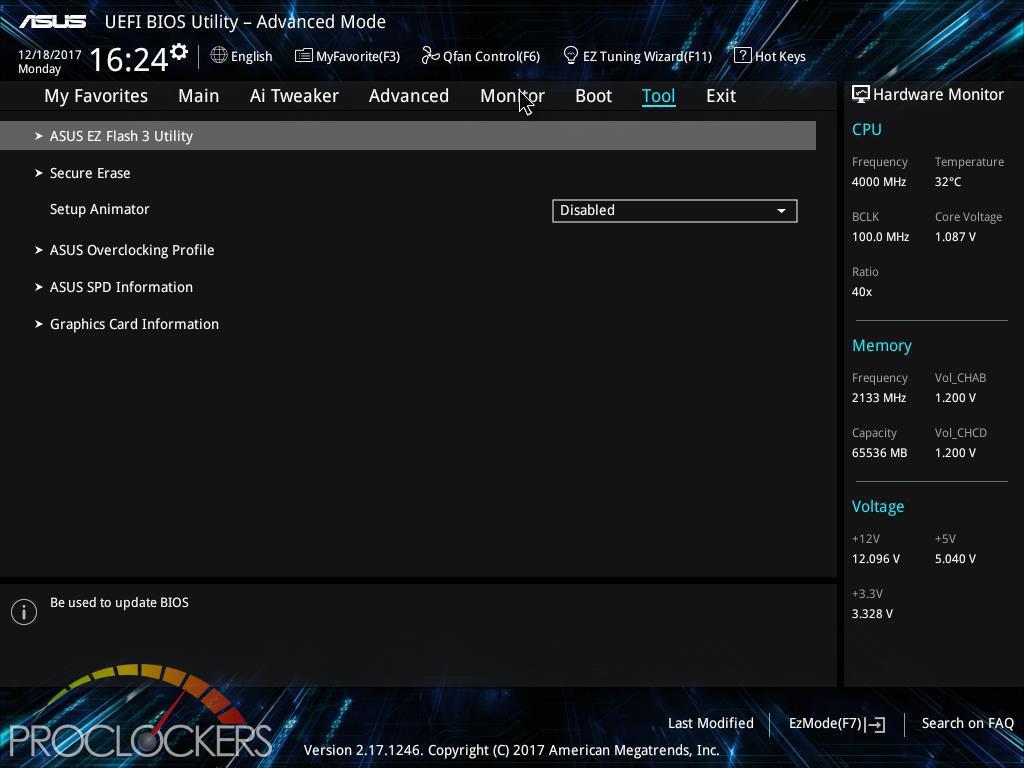 The Tools section is our first stop to access ASUS's EZ Flash 3 utility to load the very latest BIOS.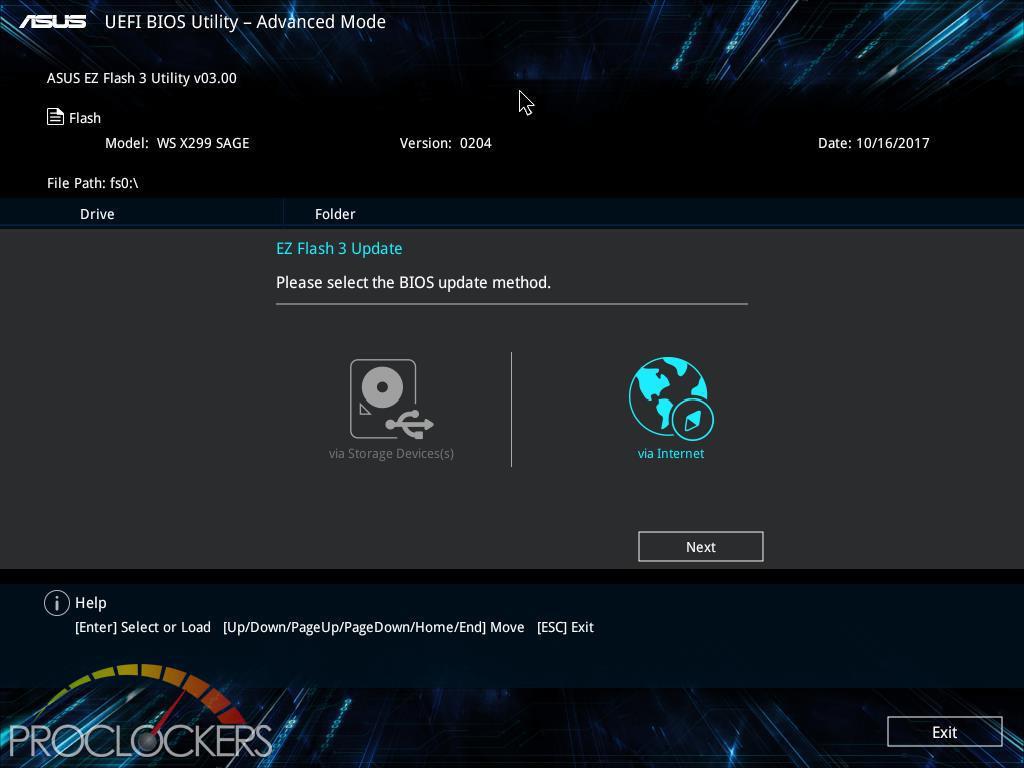 If you connect one of the Ethernet ports to a hardwired connection with internet access, you can grab the latest BIOS from here with no fuss.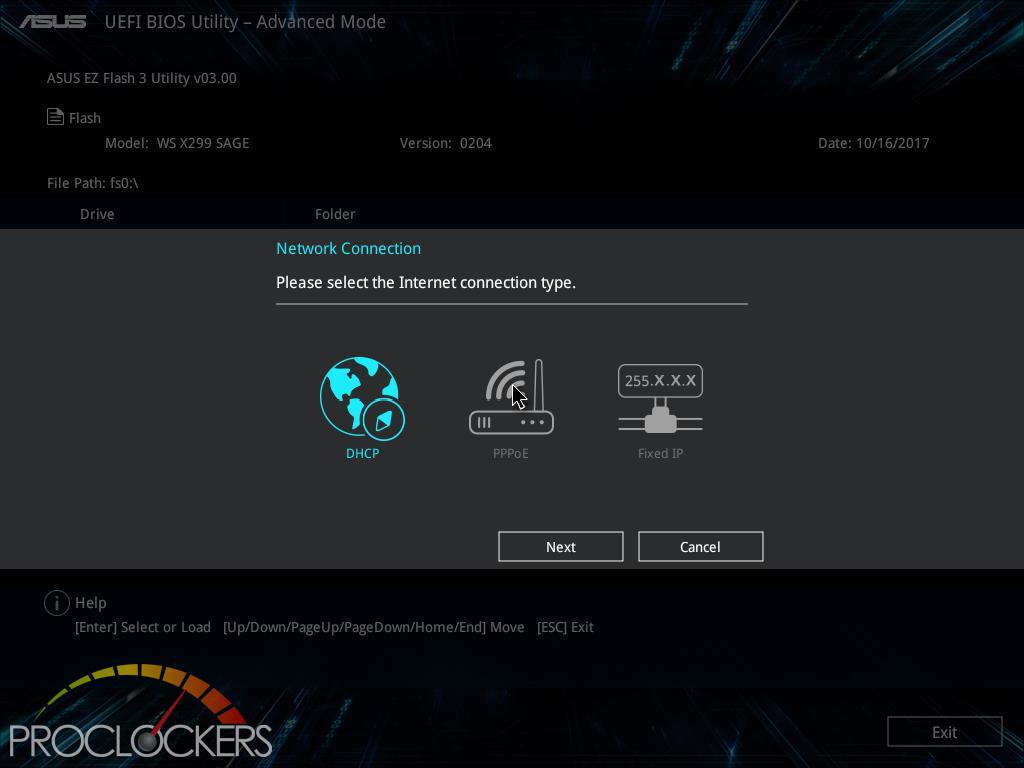 A few easy questions about your network configuration and you're off to the races.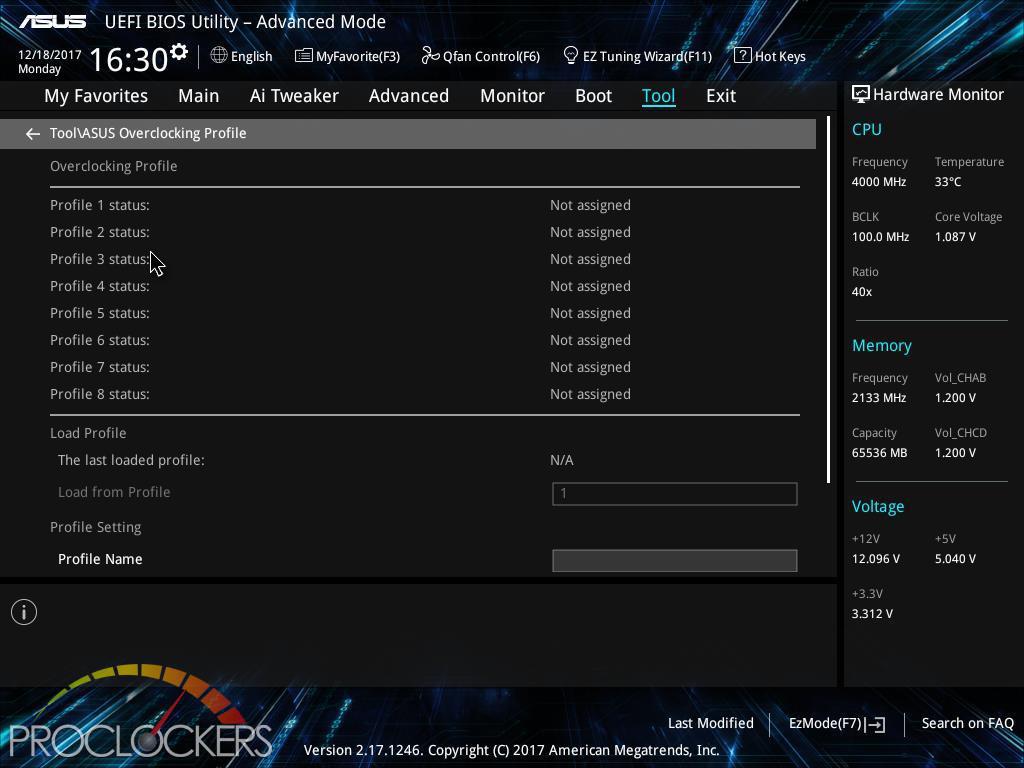 The tools tab also has room for up to eight overclocking profiles.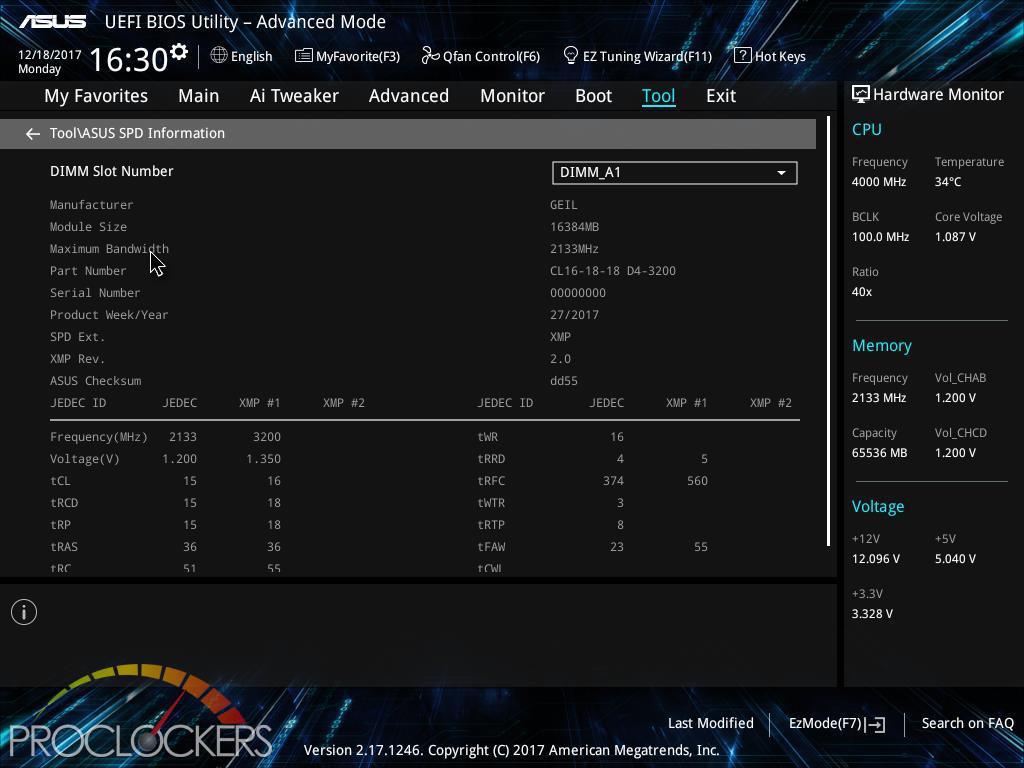 The SPD Info page certainly has its uses.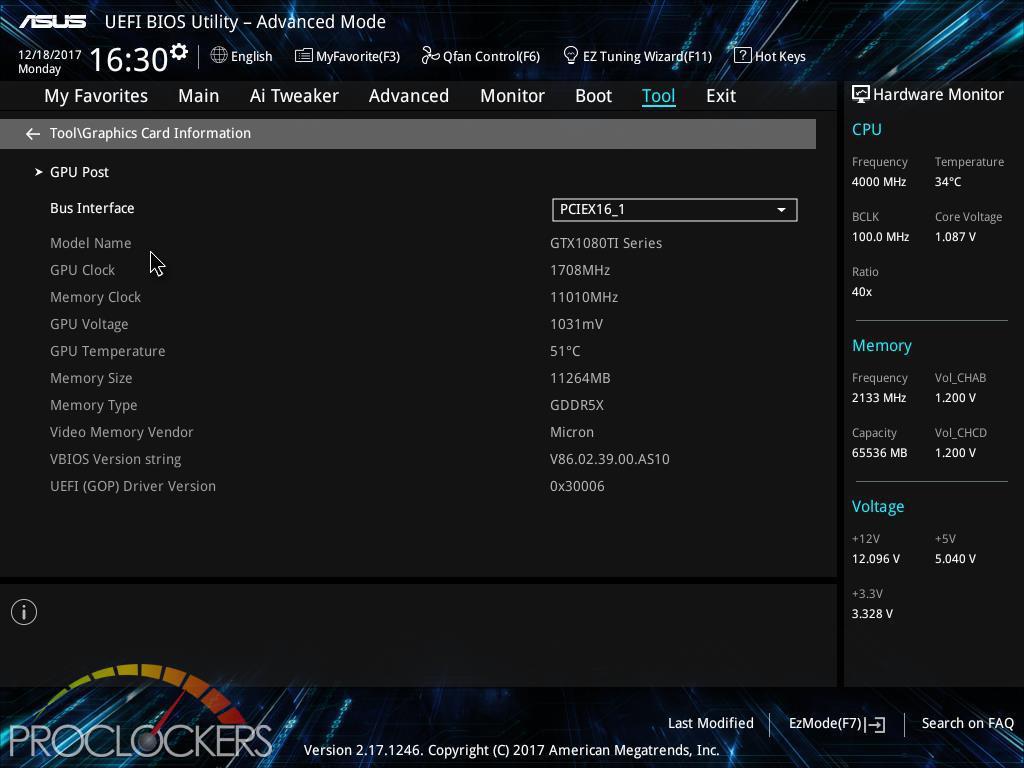 The GPU information page will show you basic information about the card installed such as what it is and what speed the PCIe bus is running, but when used with an ASUS card like we tested above, you get just a little more detailed information.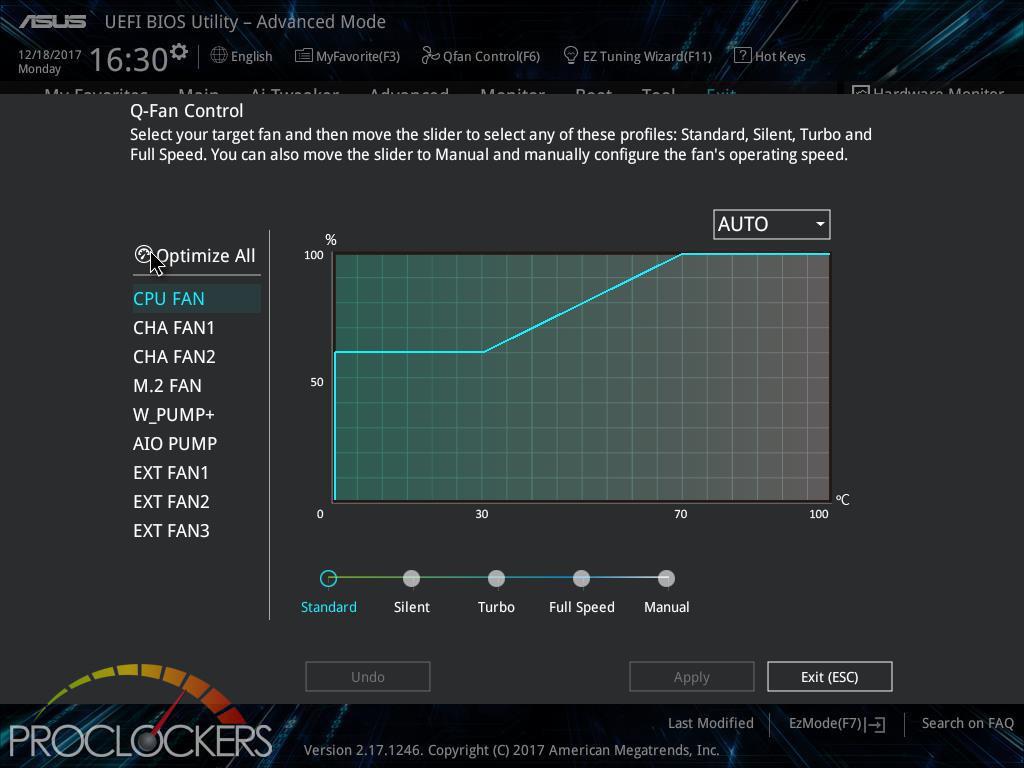 Q-fan can be accessed from the monitor tab, or directly at any time by pressing F6.
Software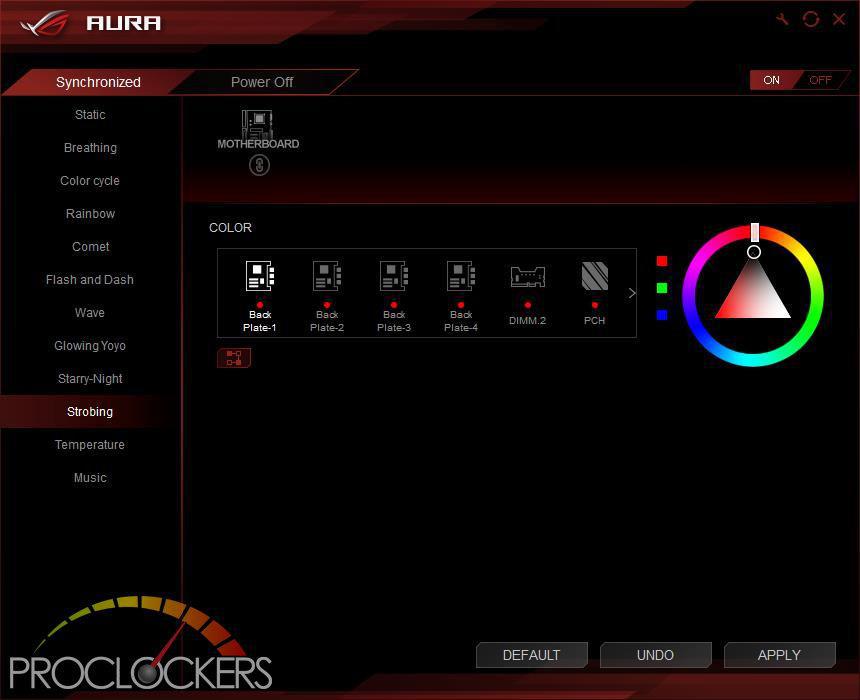 The Rear I/O Area lighting, the center ROG logo, and the lower area lighting as well as all analog RGB and Digital RGB headers are controlled by ASUS's AURA software on the Extreme. There are quite a few effects to choose from, both static and dynamic, but our favorite was the Flash and Dance, as well as the Temperature mode.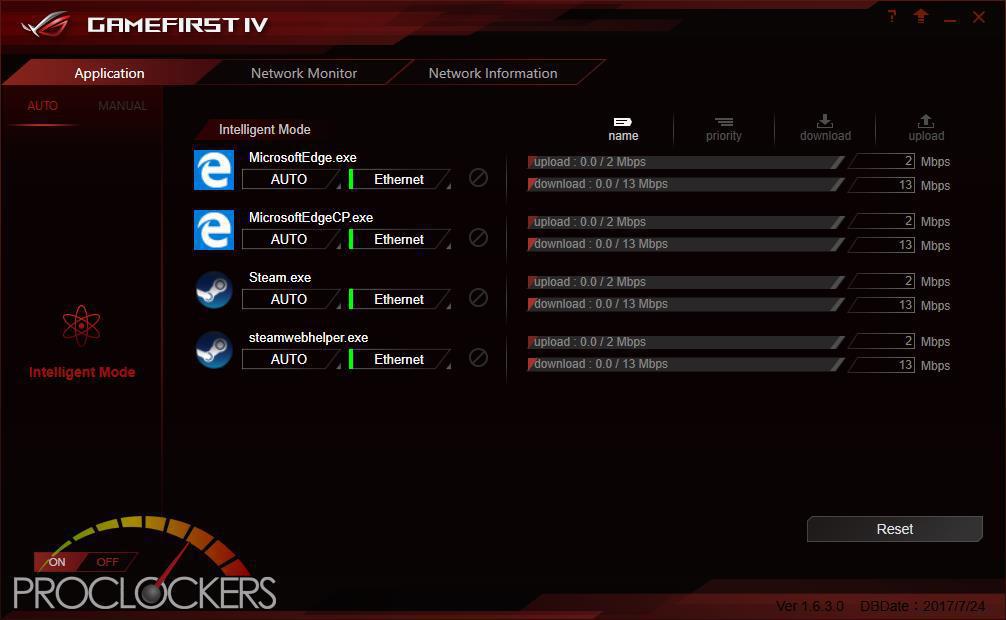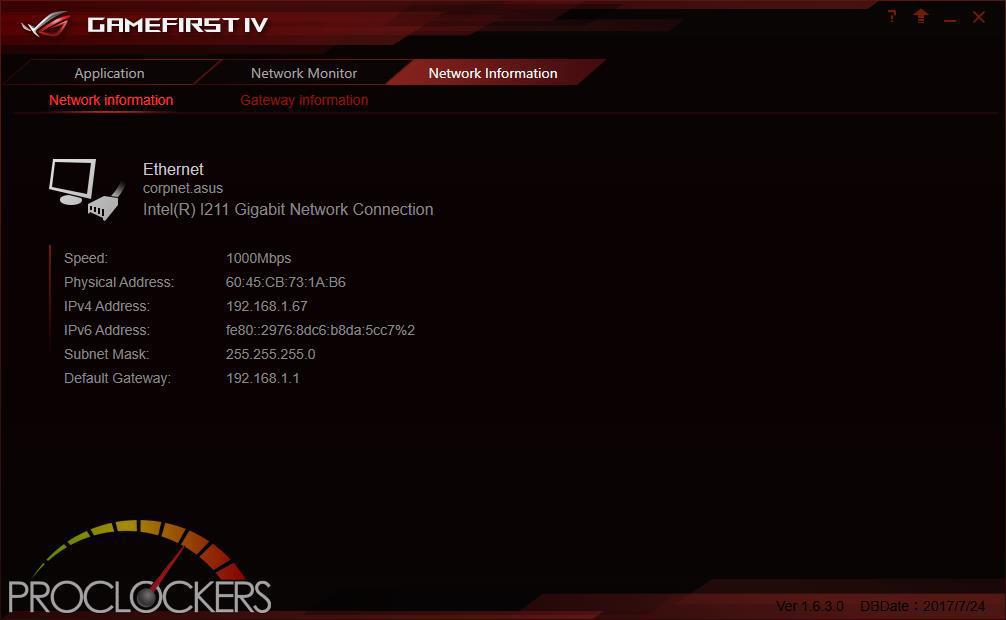 The GameFirst IV Application allows you to Monitor and control all traffic over the Intel Gigabit Lan connection, as well as see statistics and vital information. By Default, the application runs in intelligent mode and will prioritize Traffic based on its purpose, but you can switch to Manual mode and take over full control. You can see here while browsing the web and installing games on Steam for benchmarking where most of the bandwidth is being used.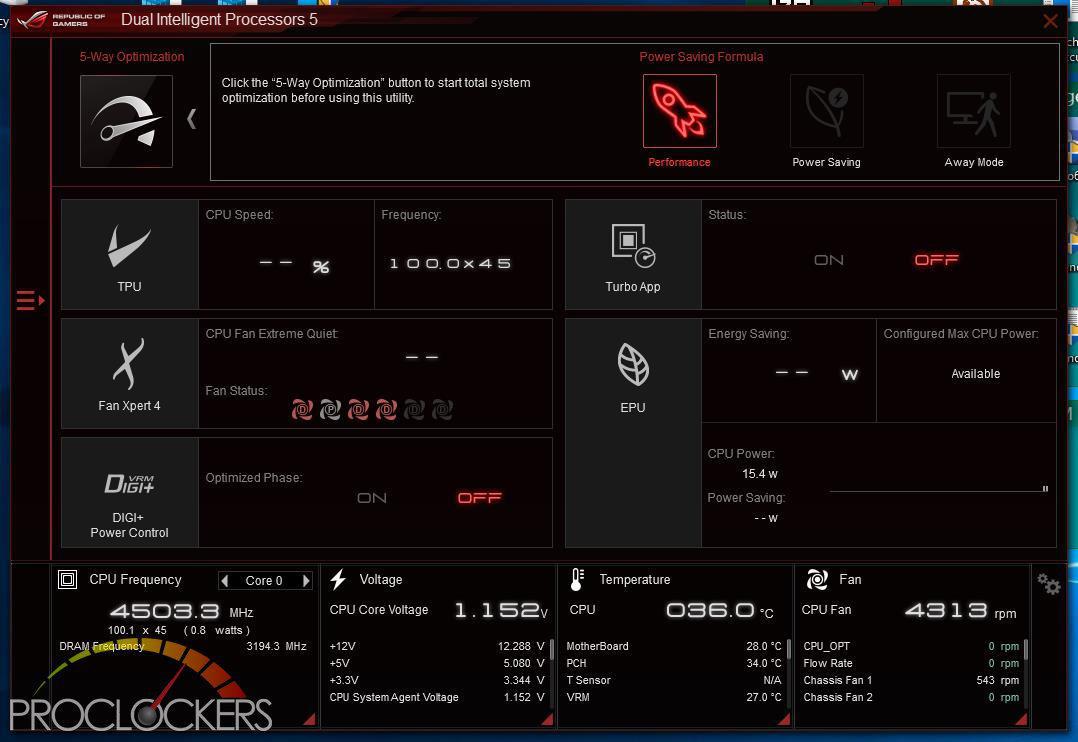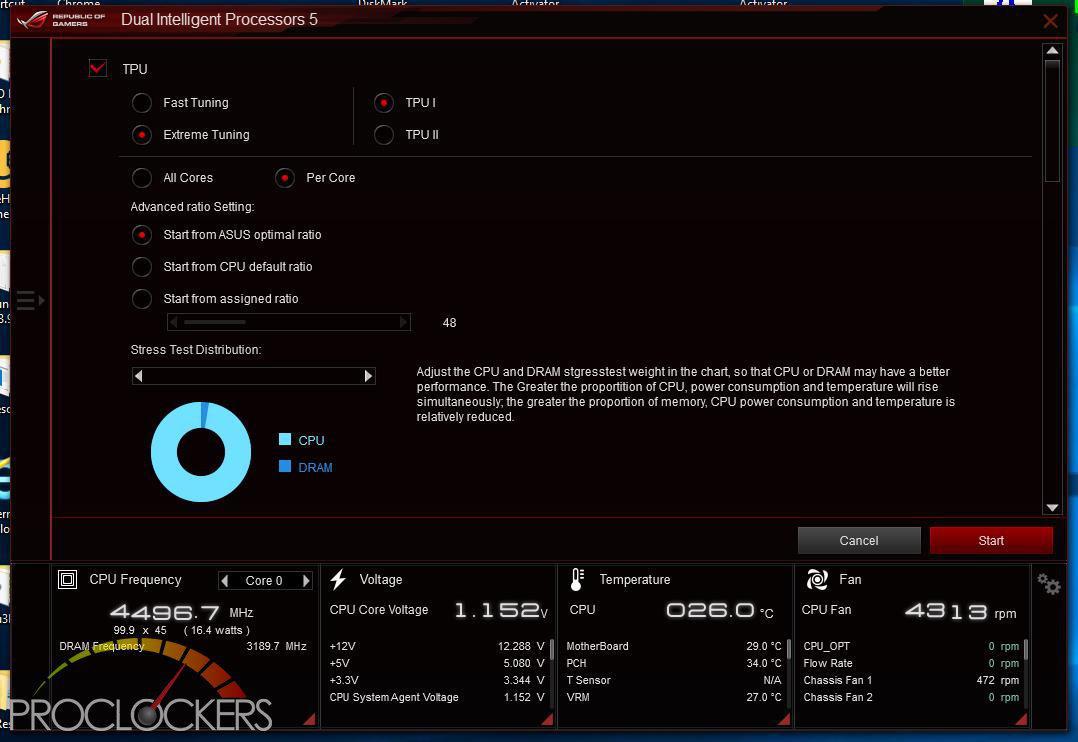 ASUS's Dual Intelligent Processors 5 application is a powerhouse and one you don't want to miss. Anything related to optimizing performance can be found here, from switching profiles to Auto overclocking to manual overclocking and change voltages and fan settings are here. You can even clean out temp and other unneeded files in a few clicks all from one application.
This application also runs similar to a desktop widget, gives you quick access to cooling, performance profiles and PC Cleaner without opening the full application.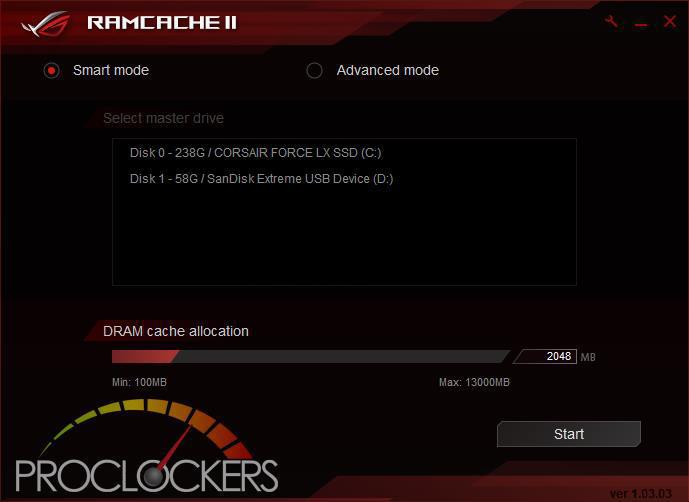 ASUS's RAMCACHE II carves off a user selectable portion of system memory to speed up Disk transfers. Even if you have the fastest NVMe drive out there, using your ram as a cache can speed it up significantly.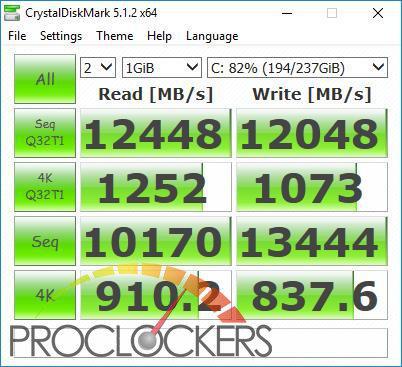 As you can see, this makes a standard SATA SSD into a Monster! More than 12GB/s from a drive rated for 500MB/s is pretty snappy, and at the cost of a few unused GB's of ram.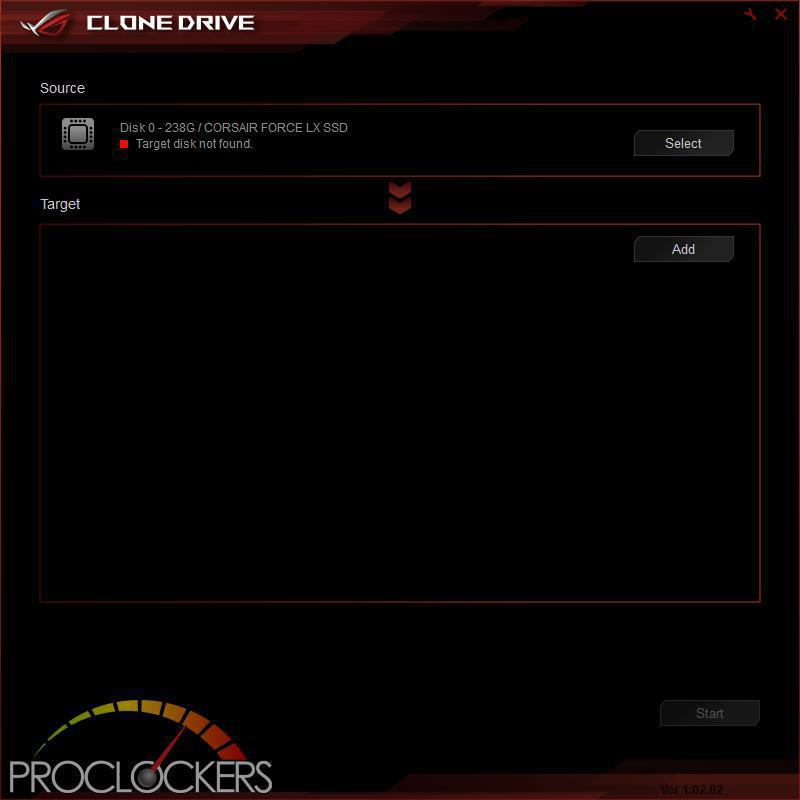 Clone Drive does exactly what the name implies. If you need to migrate to a new larger or faster SSD down the road, simply cone it over and away you go. It does work for data drives as well, not just your OS drive.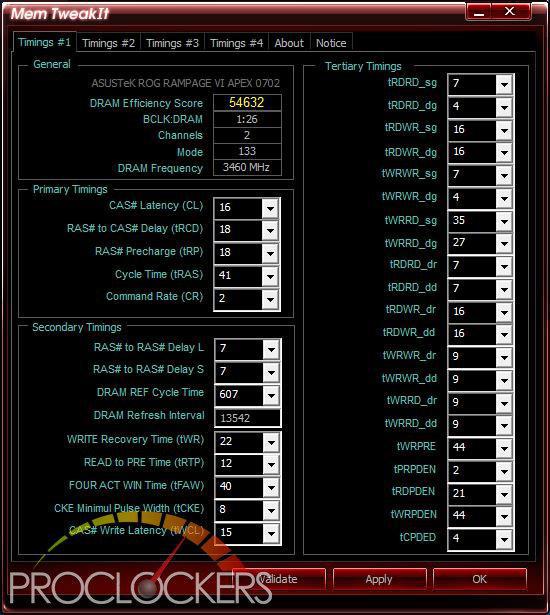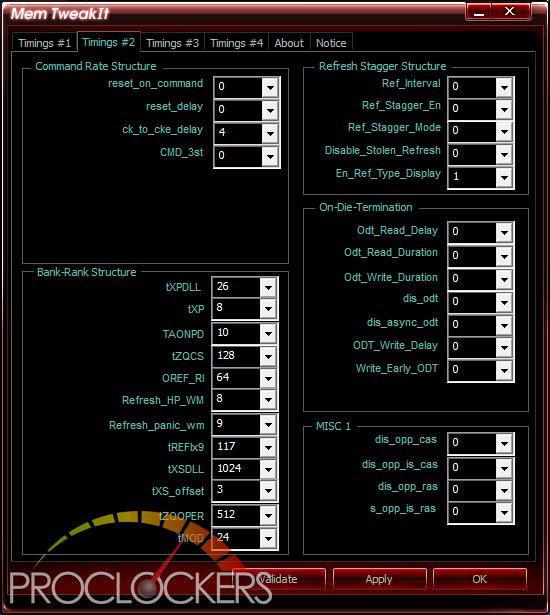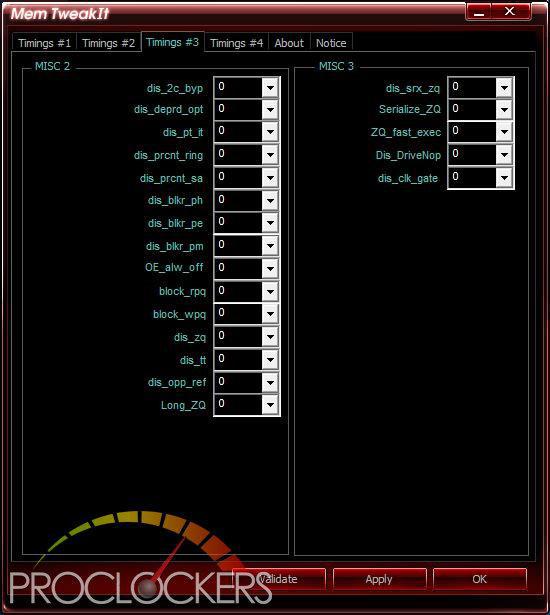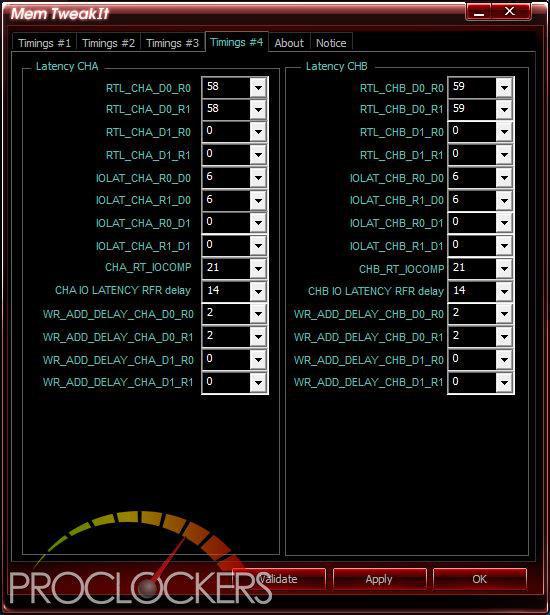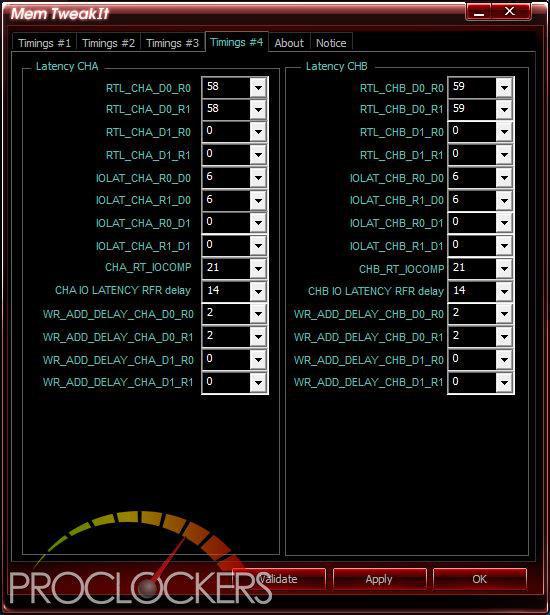 One Thing in the overclocking world that is a pain is overclocking your memory. For the most part, any change requires a reboot to BIOS. With ASUS's MEM TweakIT, that isn't the case. Almost everything can be adjusted live right from your desktop.
Overwolf
Overwolf is a clever, unobtrusive overlay that keeps you in the game and allows you to browse the Web, email, IM, stream or record while you play. The overlay features color-matched ROG skins that show you're part of an elite pack. Grab it now from the Overwolf Appstore!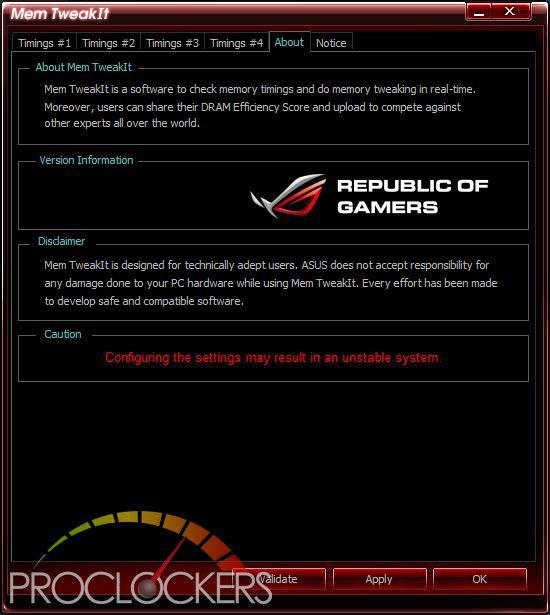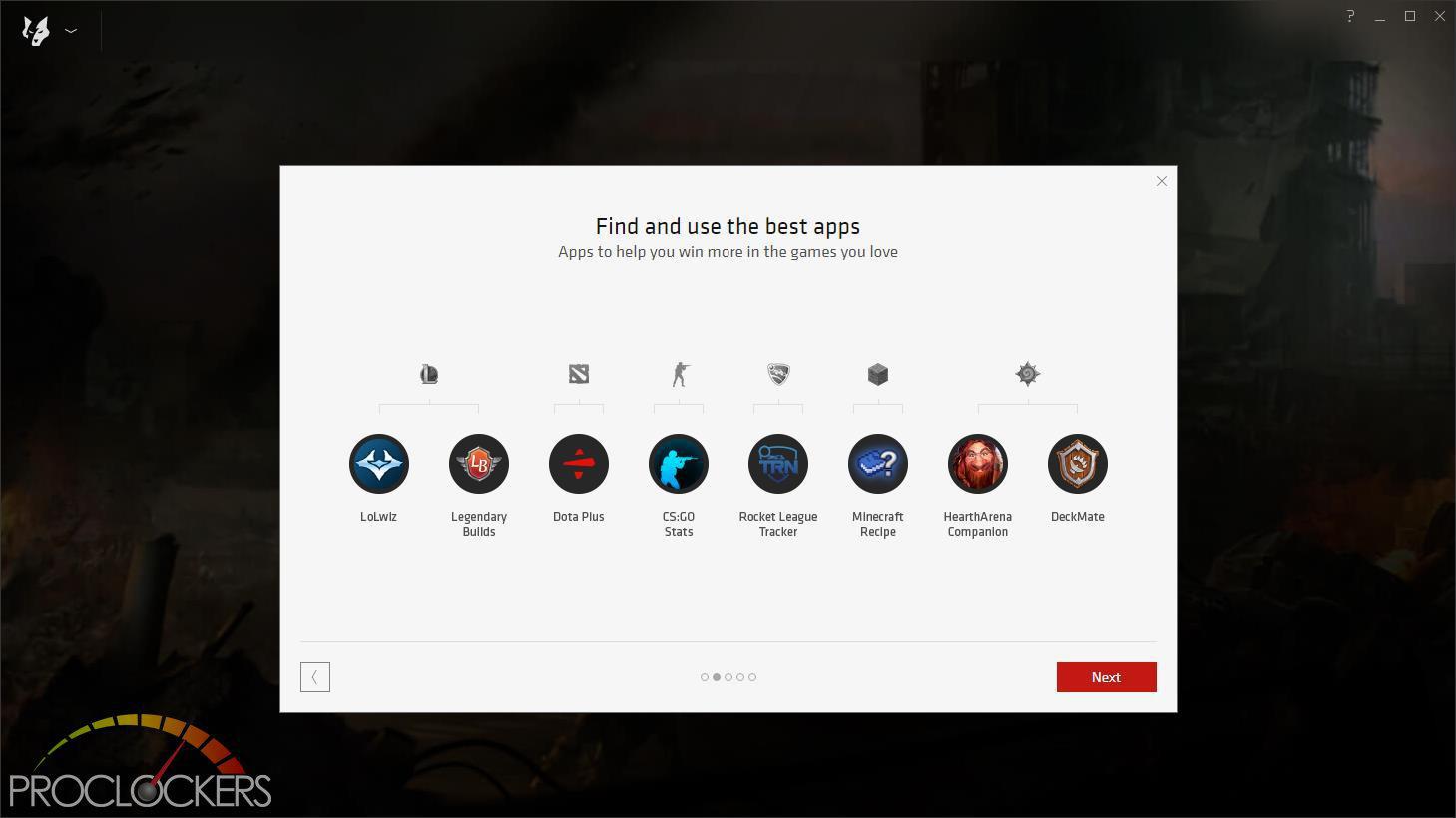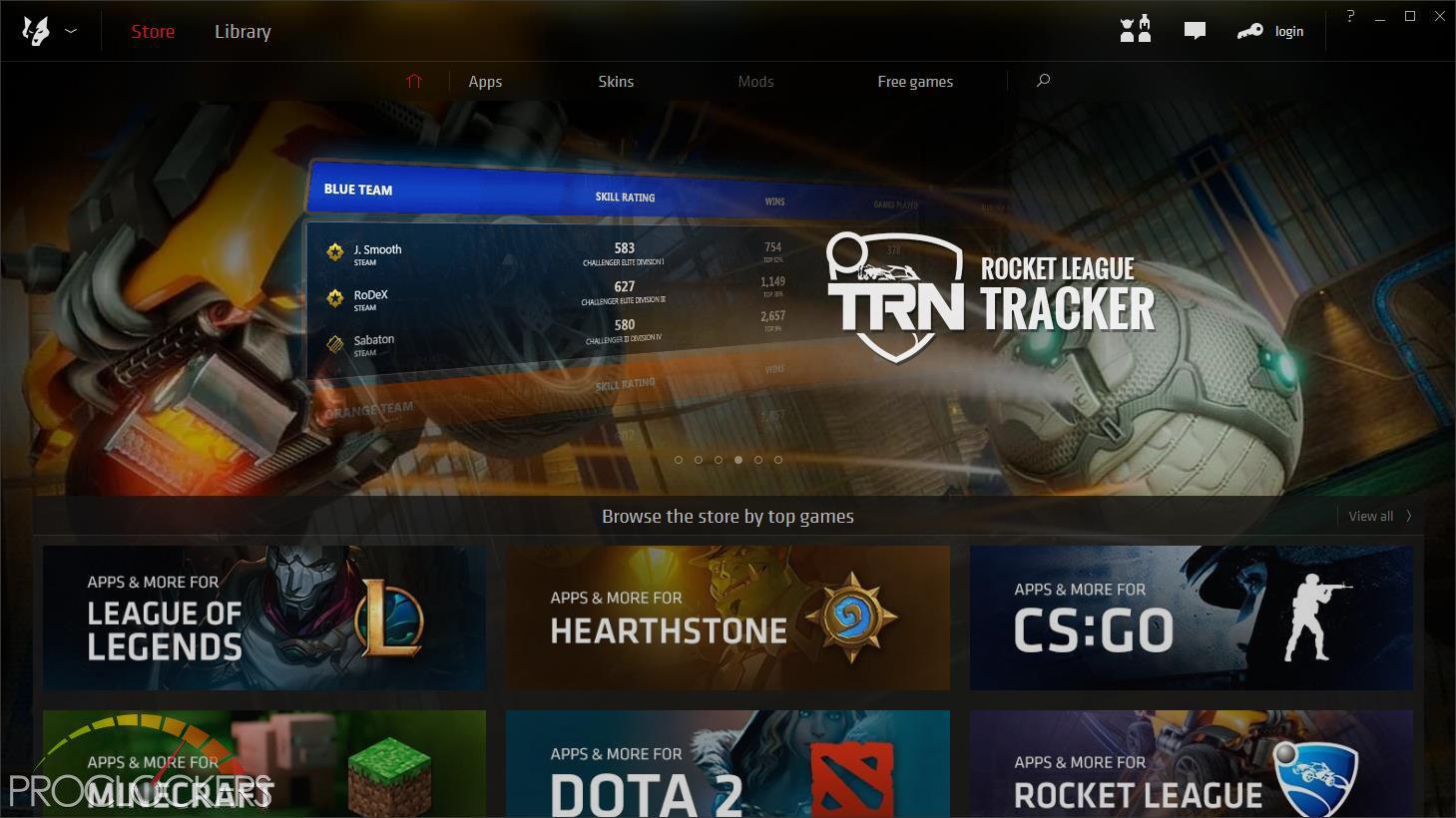 Overwolf provides access to lots of tools for many popular games, as well as some handy utilities for streaming and online play.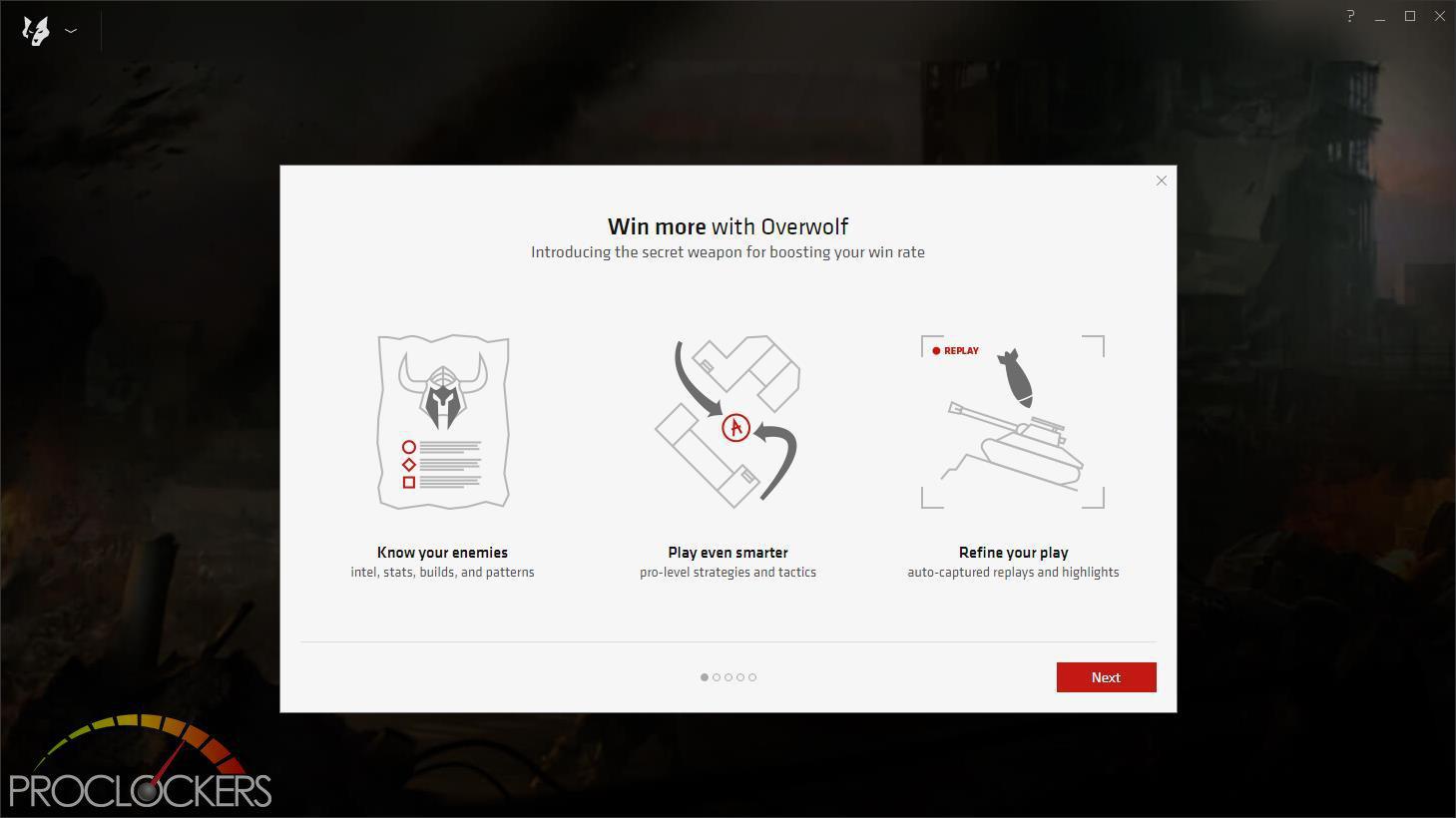 +
Overwolf also comes with a small desktop widget similar to Dual Intelligent Processors 5.
Performance & Testing
General Performance Testing
All performance testing was done with an i7-8700K and GTX 1070 at default clock speed. CPU was left with Speed Step and Turbo Boost enabled. The only setting changed was enabling XMP memory settings in the BIOS. Games where ran at a resolution of 1920 x 1080 and higher settings enabled as noted.
PCMark 8
"Use the PCMark 8 Storage benchmark to test the performance of SSDs, HDDs and hybrid drives with traces recorded from Adobe Creative Suite, Microsoft Office and a selection of popular games. You can test the system drive or any other recognized storage device, including local external drives. Unlike synthetic storage tests, the PCMark 8 Storage benchmark highlights real-world performance differences between storage devices."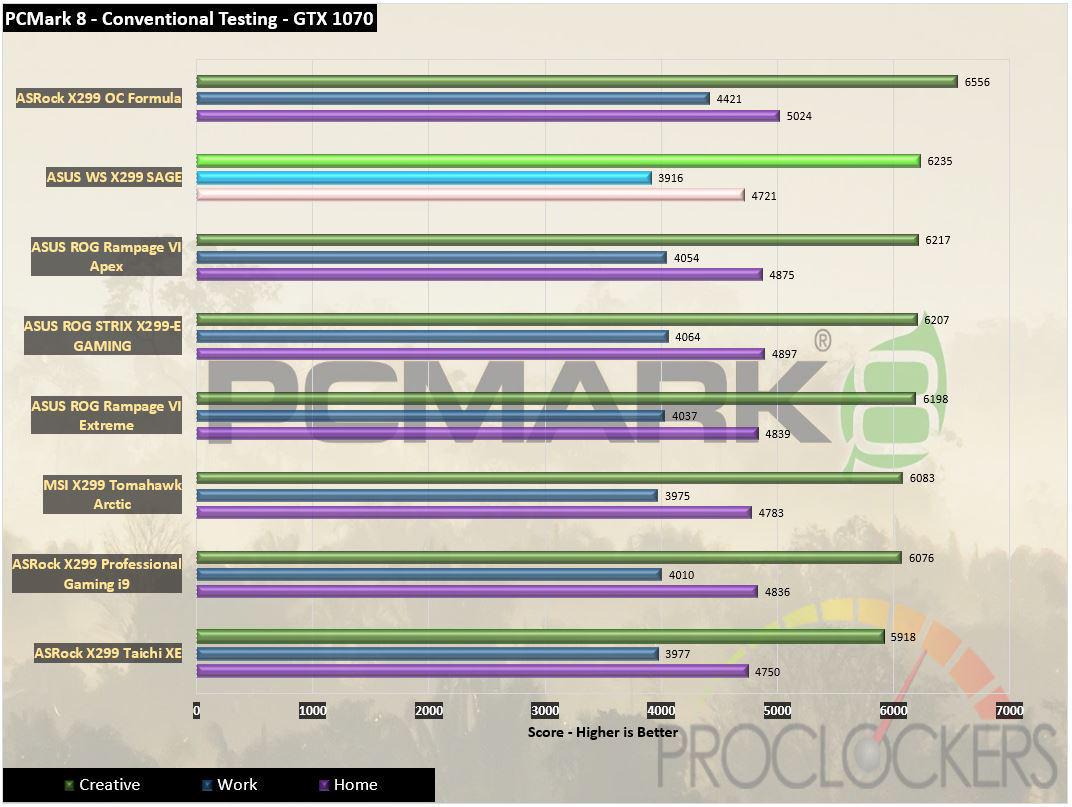 In productivity tasks, it's no surprise the WS X299 SAGE does great.
CPU Performance Testing
Super PI Modded 1.5
"In August 1995, the calculation of pi up to 4,294,960,000 decimal digits was succeeded by using a supercomputer at the University of Tokyo. The program was written by D.Takahashi in collaboration with Dr.Y.Kanada at the computer center. This record should be the current world record. (Details are shown in the windows help.) This record-breaking program was ported to personal computer environments such as Windows NT and Windows 95. In order to calculate 33.55 million digits, it takes 3 days with a Pentium 90 MHz, 40 MB main memory and 340 MB available storage."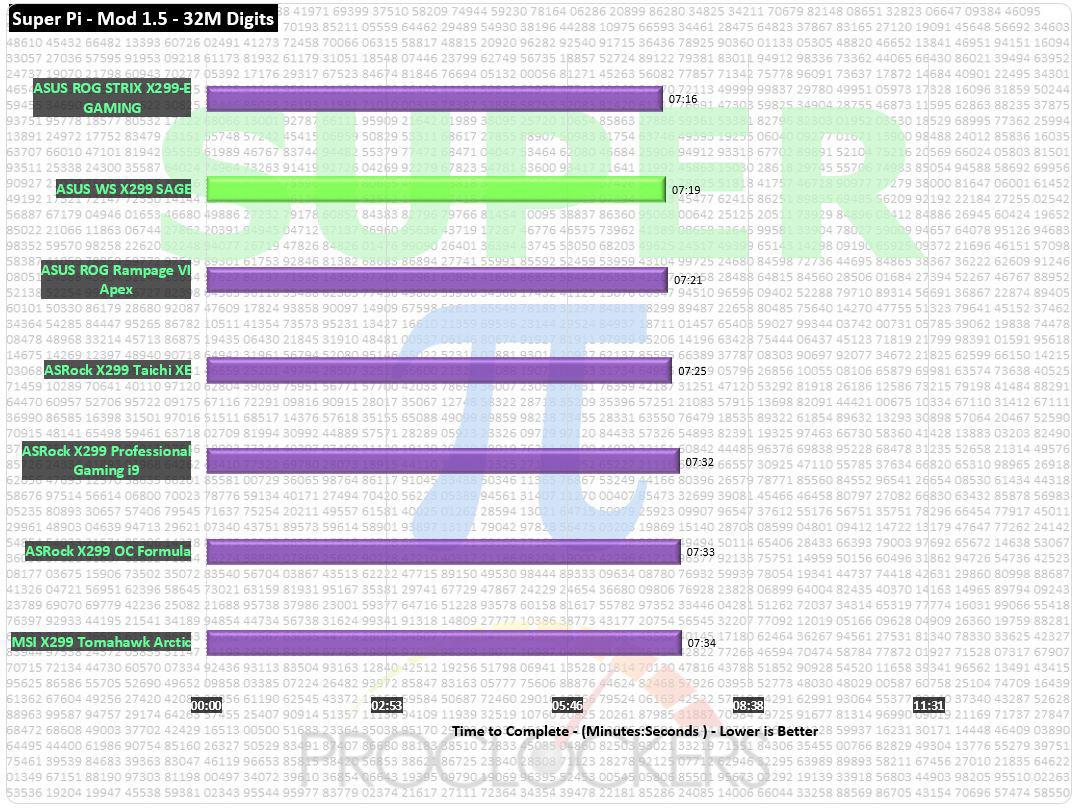 Even on single threaded compute, the Sage does a solid job, coming in at a shade over 7 minutes and 19 seconds.
CINEBENCH R15
"CINEBENCH is a real-world cross platform test suite that evaluates your computer's performance capabilities. CINEBENCH is based on MAXON's award-winning animation software CINEMA 4D, which is used extensively by studios and production houses worldwide for 3D content creation. MAXON software has been used in blockbuster movies such as Iron Man 3, Oblivion, Life of Pi or Prometheus and much more.
CINEBENCH is the perfect tool to compare CPU and graphics performance across various systems and platforms (Windows and OS X). And best of all: It's completely free."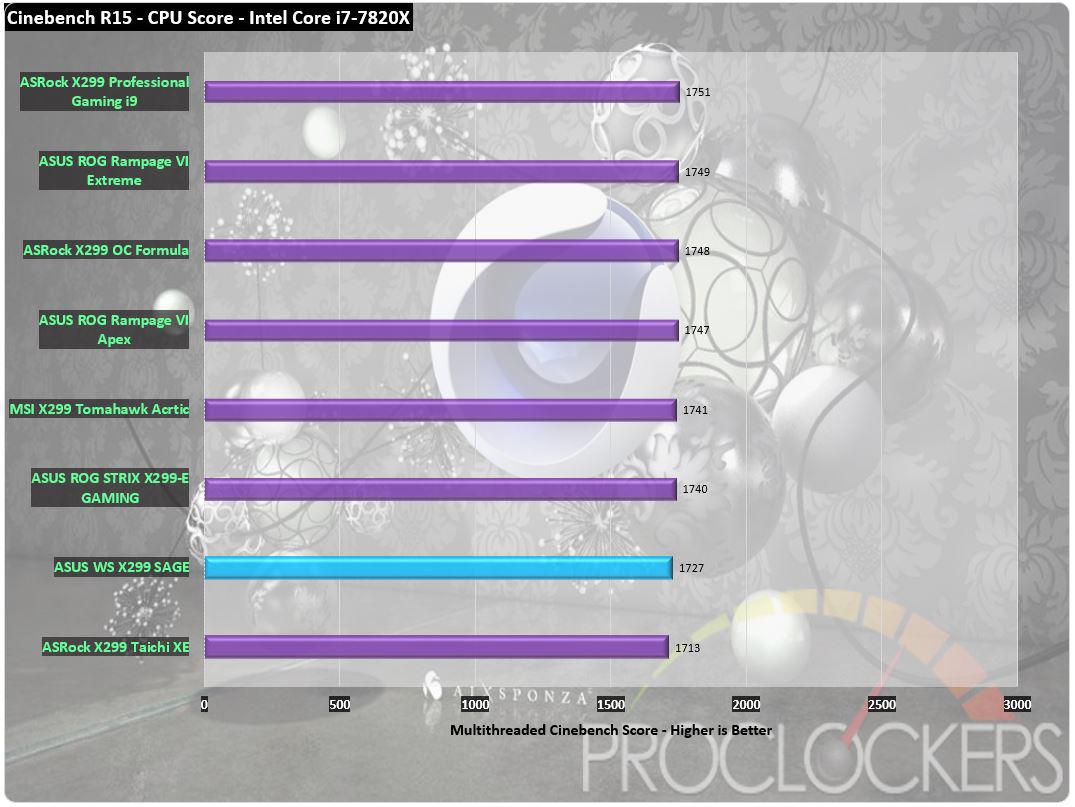 Multi-threaded performance is strong, within 25 points of first place.
7-Zip
The benchmark shows a rating of MIPS (million instructions per second). The rating value is calculated from the measured speed, and it is normalized with results of Intel Core 2 CPU with multi-threading option switched off. So if you have modern CPU from Intel or AMD, rating values in single-thread mode must be close to real CPU frequency. There are two tests, compression with LZMA method and decompression with LZMA method. Once the total passes reach 100, the score is taken.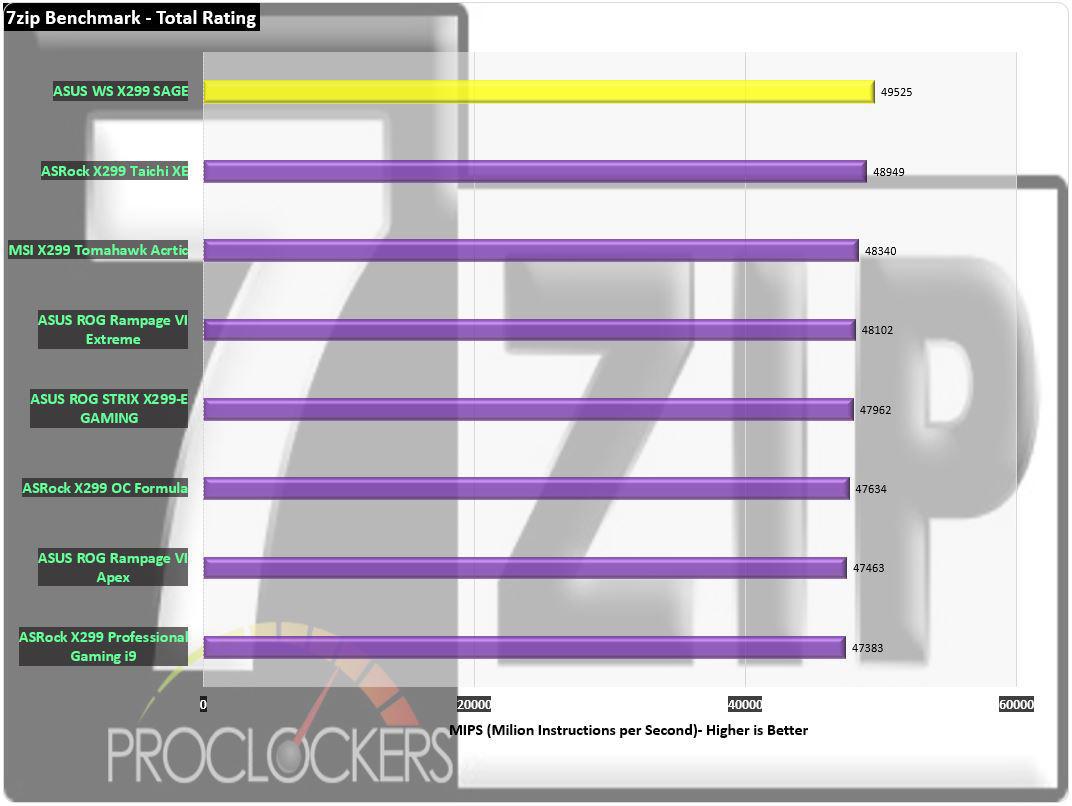 7zip really loves the workstation platform, giving us our best score yet.
Memory Performance Testing
AIDA64 Engineer Edition
"FinalWire Ltd. today announced the immediate availability of AIDA64 Extreme Edition 1.50 software, a streamlined diagnostic and benchmarking tool for home users; and the immediate availability of AIDA64 Business Edition 1.50 software, an essential network management solution for small and medium scale enterprises. The new AIDA64 update implements AVX-optimized benchmarks for the upcoming Intel Sandy Bridge processors, adds a brand new video encoding benchmark, and supports the latest AMD and NVIDIA graphics processors."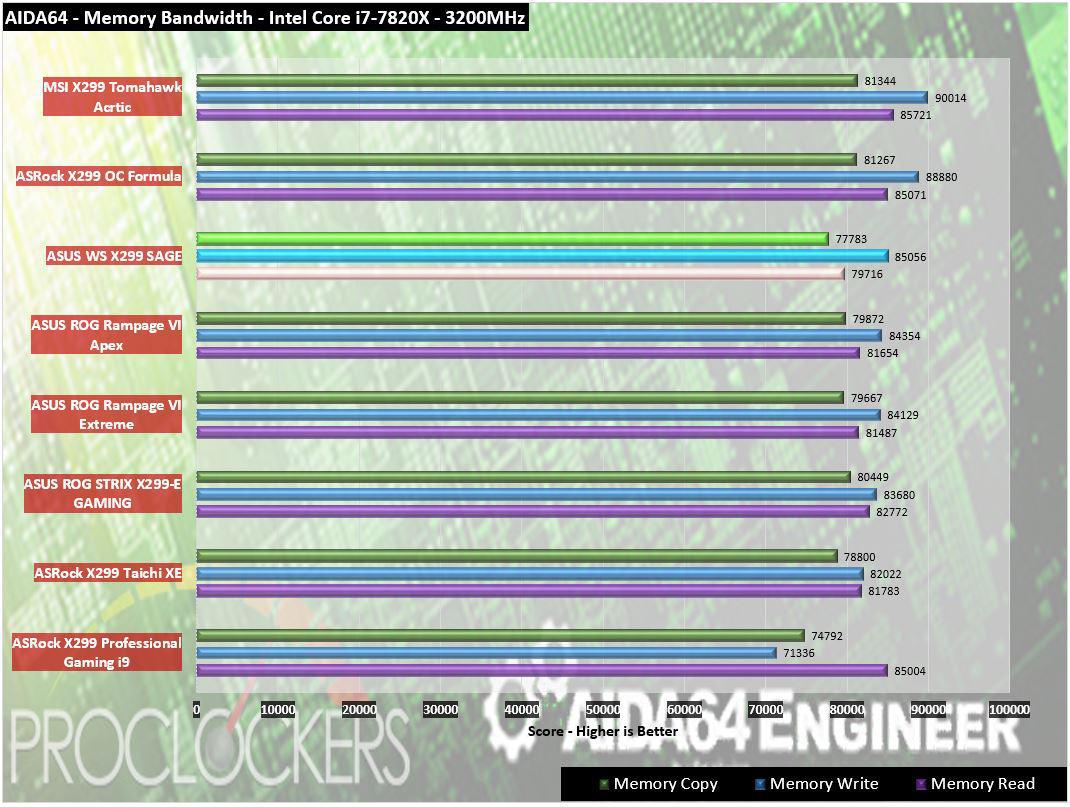 System memory bandwidth as measured by AIDA 64 is decent, but not the fastest we've seen.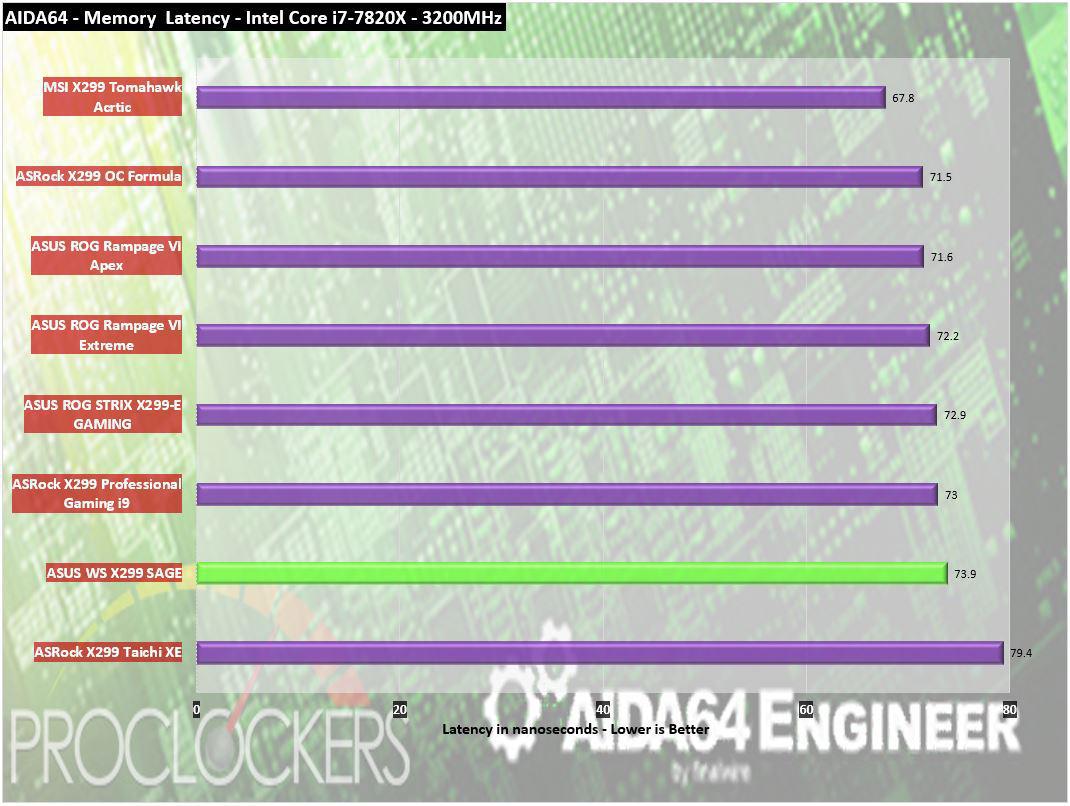 On latency, the SAGE scores a respectable 73.9 nanoseconds. Decent, but not first place for quad channel memory.
Passmark Performance Test – Memory Mark – Threaded
"Fast, easy to use, PC speed testing and benchmarking. PassMark PerformanceTest ™ allows you to objectively benchmark a PC using a variety of different speed tests and compare the results to other computers."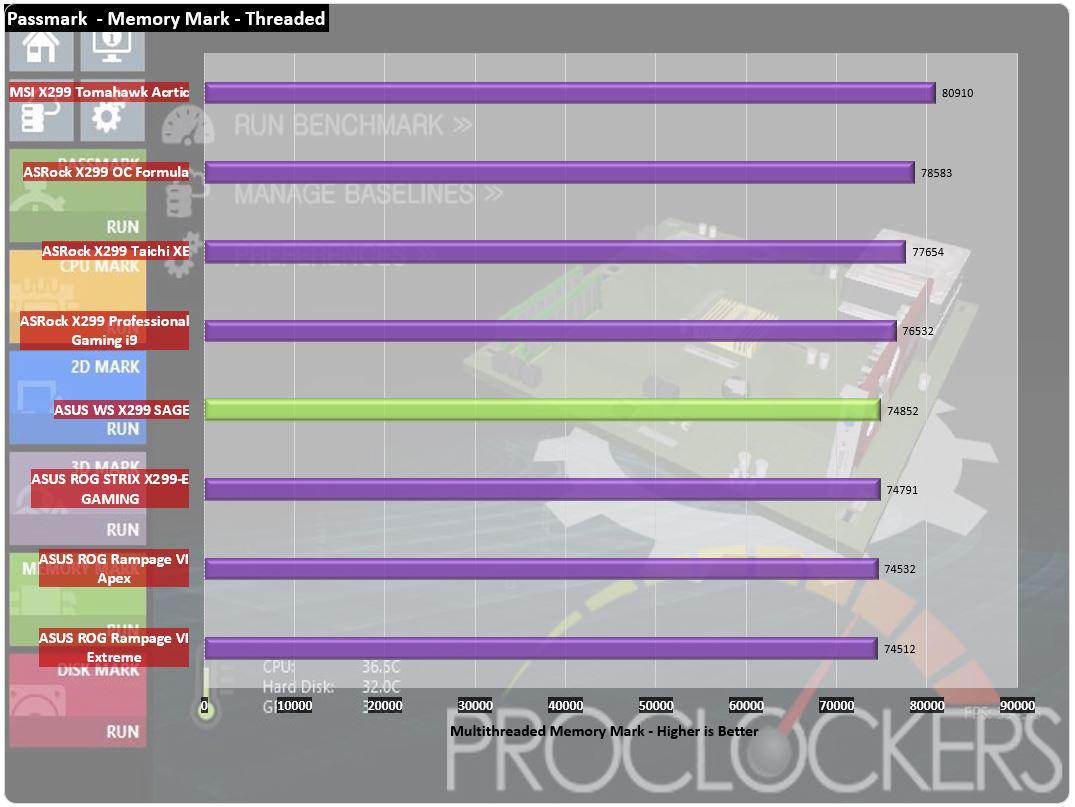 Passmark shows a similar trend, just under 75k points scored.
SiSoft Sandra
"SiSoftware Sandra provides a robust package of diagnostic tools for testing your system and teasing out its problems–or potential headaches."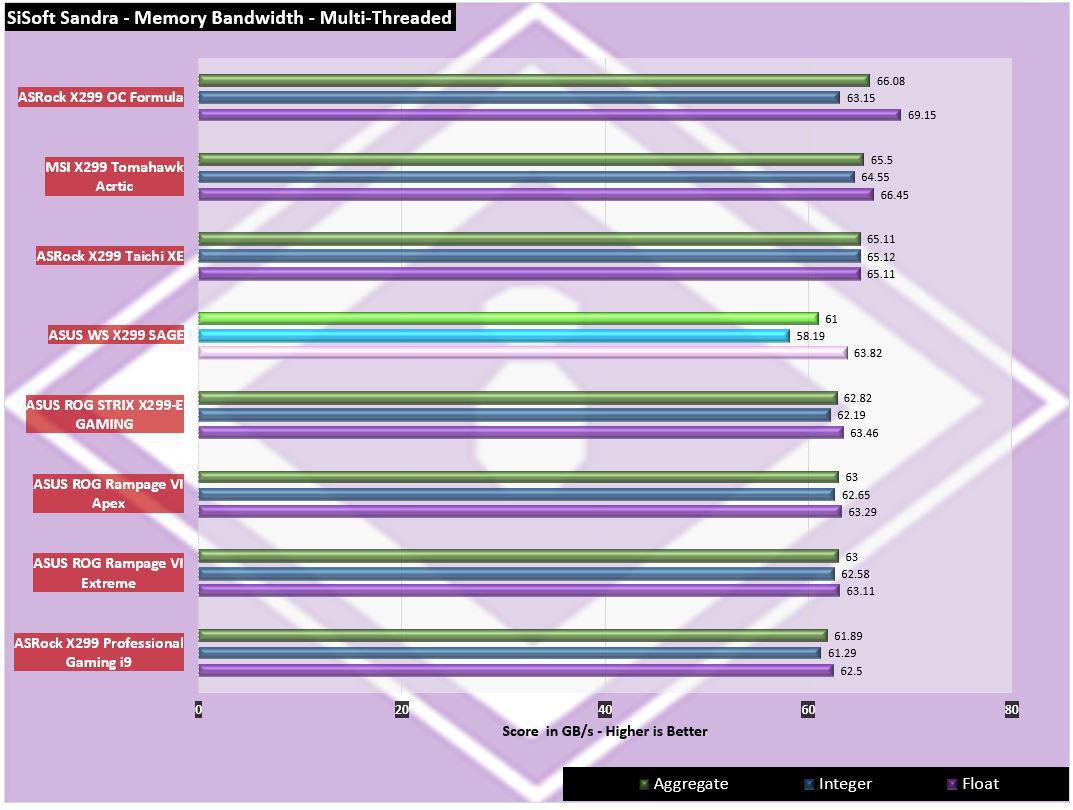 Sisoft shows strong float performance, but a bit lower in integer and aggregate.
Storage Testing
ATTO Disk Benchmark
"As the industry's leading provider of high-performance storage & network connectivity products, ATTO has created a widely-accepted Disk Benchmark freeware utility to help measure storage system performance. As one of the top tools utilized in the industry, Disk Benchmark identifies performance in hard drives, solid state drives, RAID arrays as well as connections to storage. Top drive manufacturers, like Hitachi, build and test every drive using the ATTO Disk Benchmark"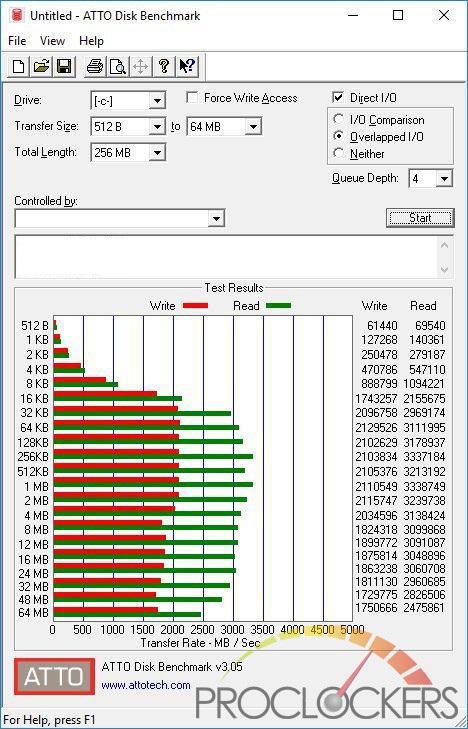 Using the easy to access vertical M.2 port, ATTO shows solid performance out of our Samsung 960 Pro Drive.
CrystalDiskMark 6.0
"CrystalDiskMark is designed to quickly test the performance of your hard drives. Currently, the program allows measuring sequential and random read/write speeds."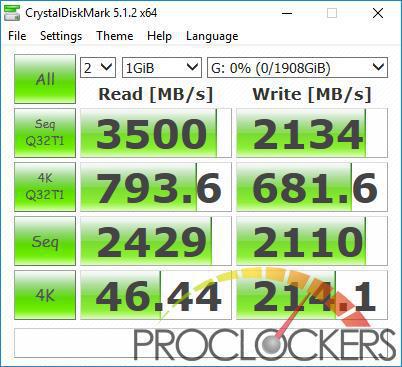 A Samsung 960 Pro 2TB M.2 SSD shows full performance again.
AS SSD
The AS SSD benchmark determines the performance of Solid State Drives (SSD). The tool contains six synthetic and three copy tests.
The synthetic tests determine the sequential and random read and write performance of the SSD. These tests are performed without using the operating system cache. In the Seq test, the program measures how long it takes to read and write a 1 GB file. In the 4K test, read and write performance is determined for randomly selected 4K blocks. The 4K-64 Third test is equivalent to the 4K procedure, except that the read and write operations are distributed to 64 threads. This test should show differences between the IDE operating mode where NCQ is not supported and the AHCI mode for SSDs with Native Command Queuing (NCQ). The additional compression test can measure the performance of the SSD as a function of the compressibility of the data. This is especially important for the controllers that are used to increase the performance and life of the cell compression.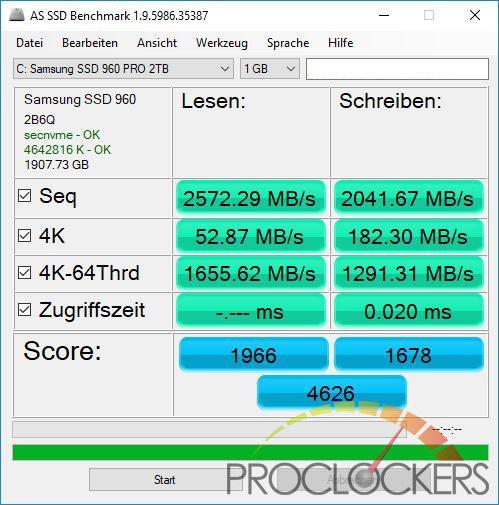 AS SSD shows right where we expect.
Game Testing
3DMark – Fire Strike
"Fire Strike is a showcase DirectX 11 benchmark designed for today's high-performance gaming PCs. It is our most ambitious and technical benchmark ever, featuring real-time graphics rendered with detail and complexity far beyond what is found in other benchmarks and games today"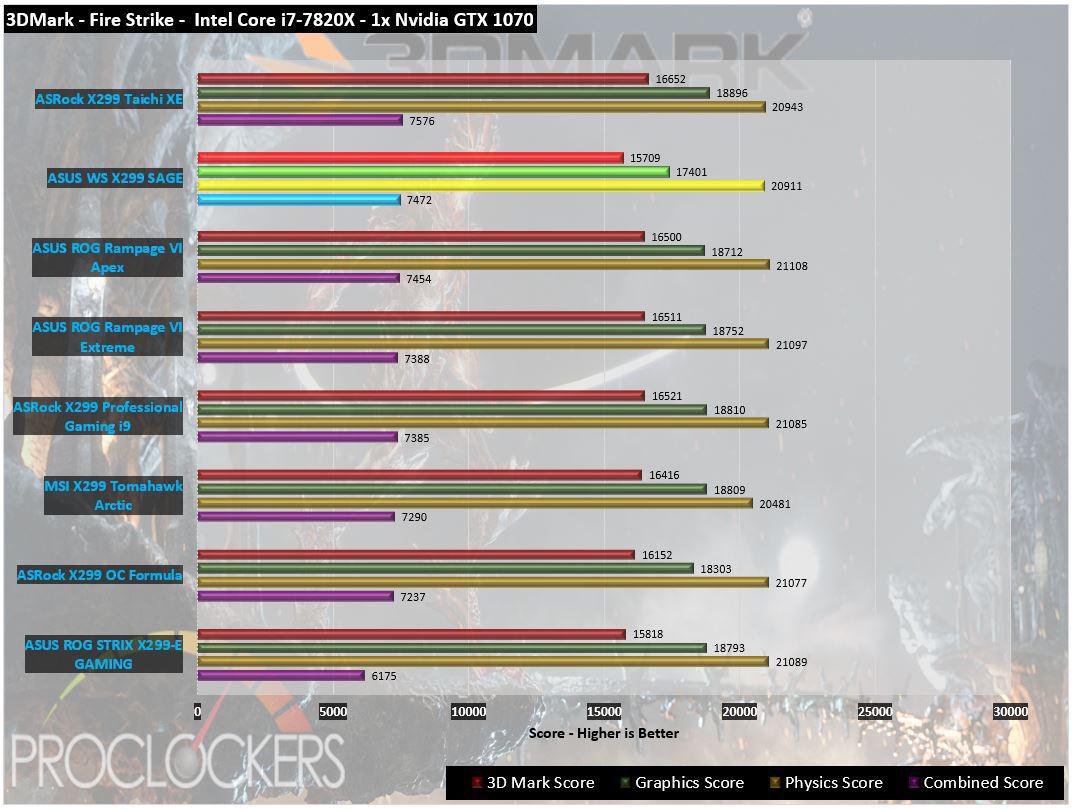 While the SAGE is built to work, apparently it can play too!
3DMark – Time Spy
"3Dmark Time Spy is a new DirectX 12 benchmark test for Windows 10 gaming PCs. Time Spay is one of the first DirectX 12 apps to be built "the right way" from the ground up to fully realize the performance gains that the new API offers. With DirectX 12 engine, which supports new API features like asynchronous compute, explicit multi-adapter, and multi-threading, Time Spy is the ideal test for benchmarking the latest graphics cards."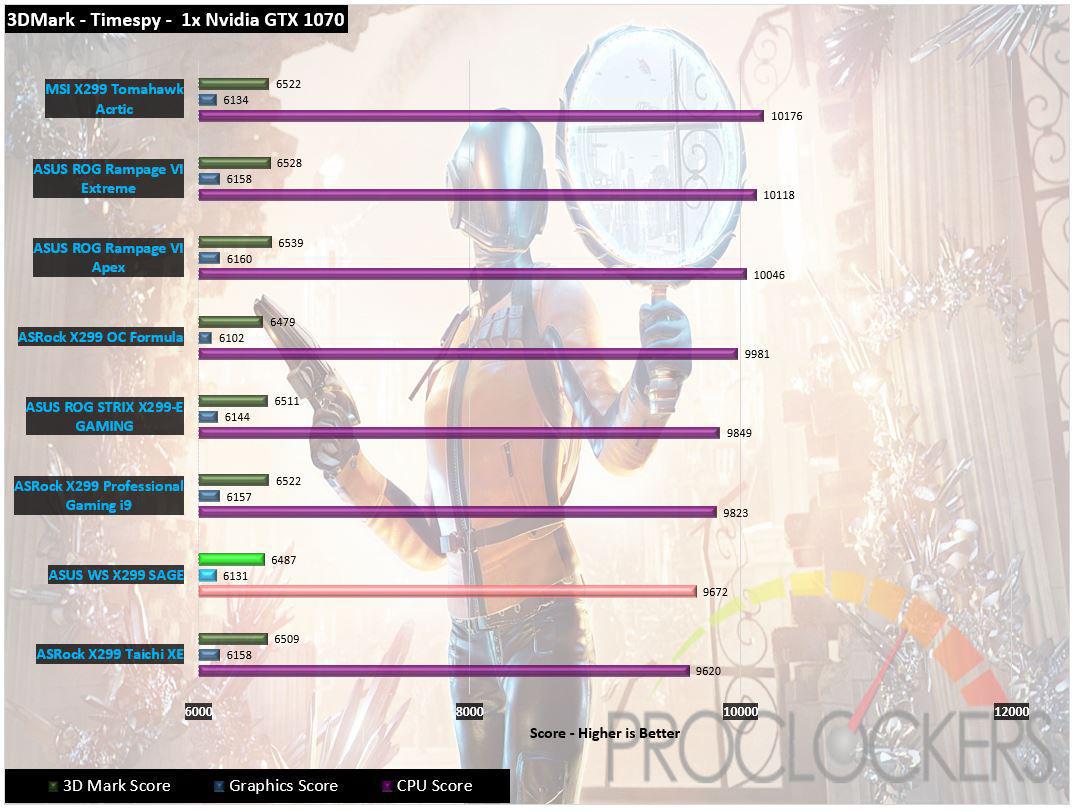 Timespy scores a bit lower, but still good results.
Grand Theft Auto: V
"When a young street hustler, a retired bank robber, and a terrifying psychopath find themselves entangled with some of the most frightening and deranged elements of the criminal underworld, the U.S. government and the entertainment industry, they must pull off a series of dangerous heists to survive in a ruthless city in which they can trust nobody, least of all each other."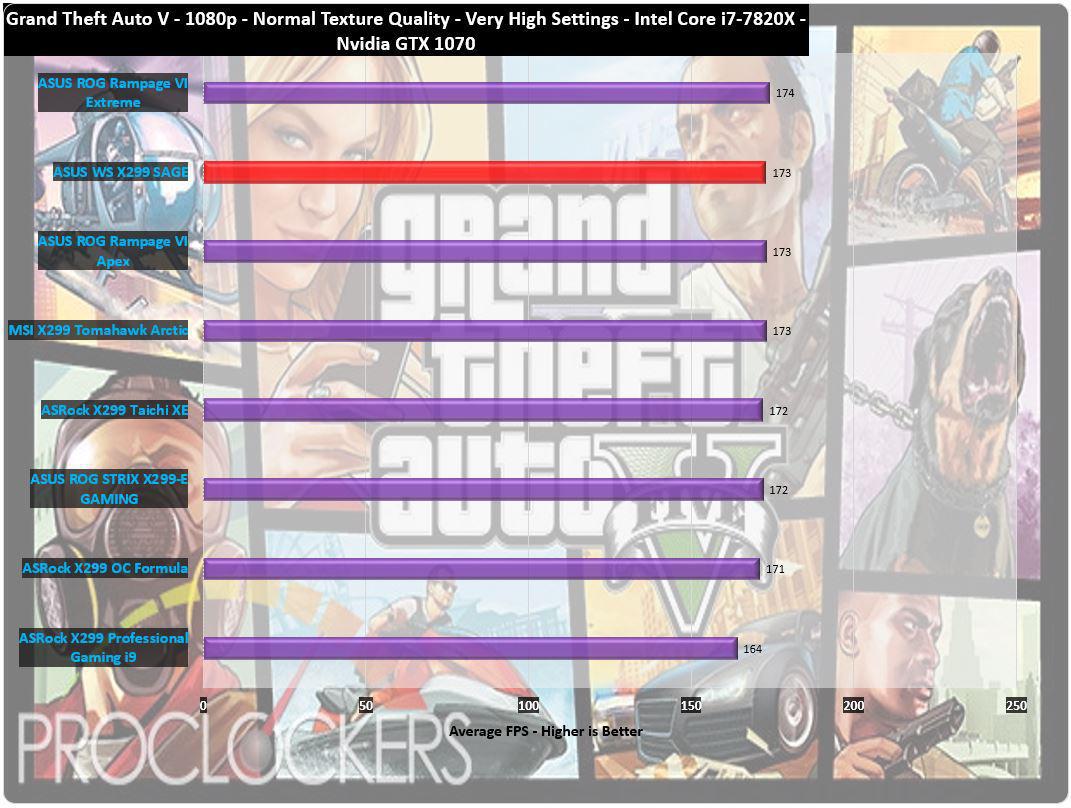 Grand Theft Auto V is notorious for hitting more than just your GPU and the SAGE is up to the task.
Metro: Last Light
"It Is the Year 2034. Beneath the ruins of post-apocalyptic Moscow, in the tunnels of the Metro, the remnants of mankind are besieged by deadly threats from outside – and within. Mutants stalk the catacombs beneath the desolate surface, and hunt amidst the poisoned skies above."
Developed by 4A Games and published by Deepsilver, Metro: Last Light uses the 4A game engine. At its highest settings, the 4A game engine is capable of bringing all but the most extreme gaming systems to their knees.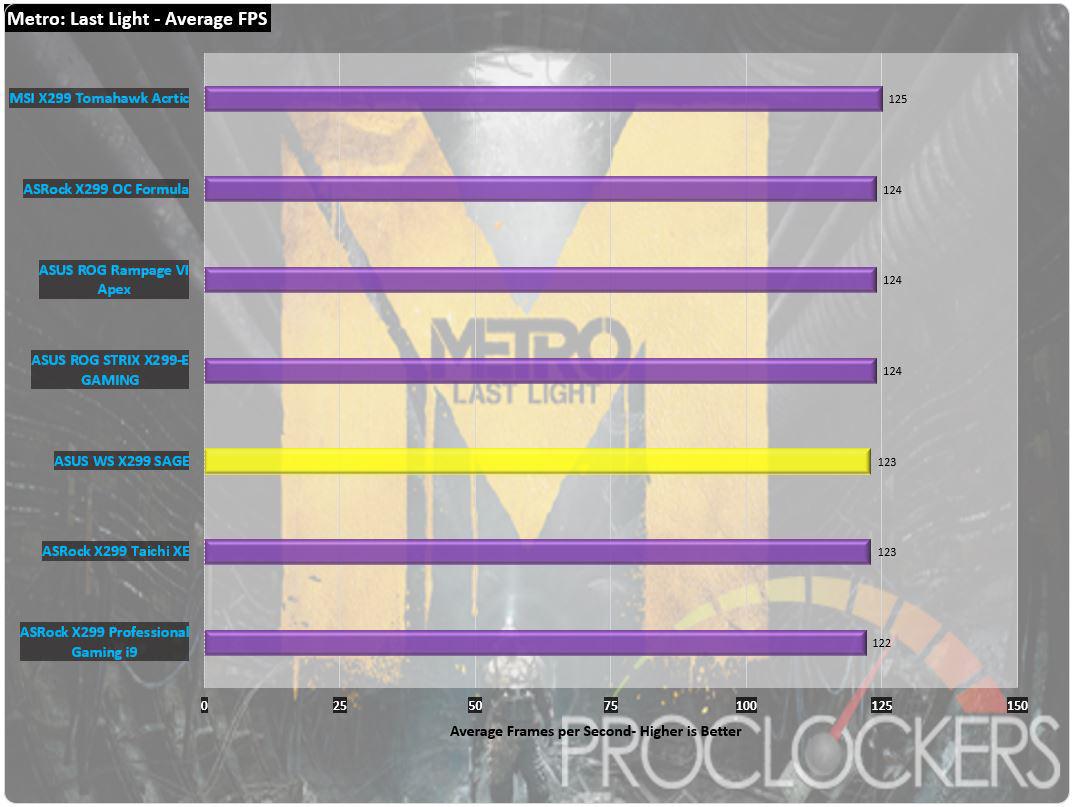 Metro Last Light also comes in with a solid score near the middle of the pack.
Thief
"Garrett, the Master Thief, steps out of the shadows into the City. In this treacherous place, where the Baron's Watch spreads a rising tide of fear and oppression, his skills are the only things he can trust. Even the most cautious citizens and their best-guarded possessions are not safe from his reach."
Thief was developed by Eidos-Montréal and published by SQUARE ENIX, Eidos Interactive. The newest game in our benchmark suite, Thief is also one of the most demanding and has the highest recommended system requirements. Those heavy requirements allow it to use the Unreal 3 game engine to great effect. It also features AMD's Mantle API, as well as Microsoft's common DirectX 11 API.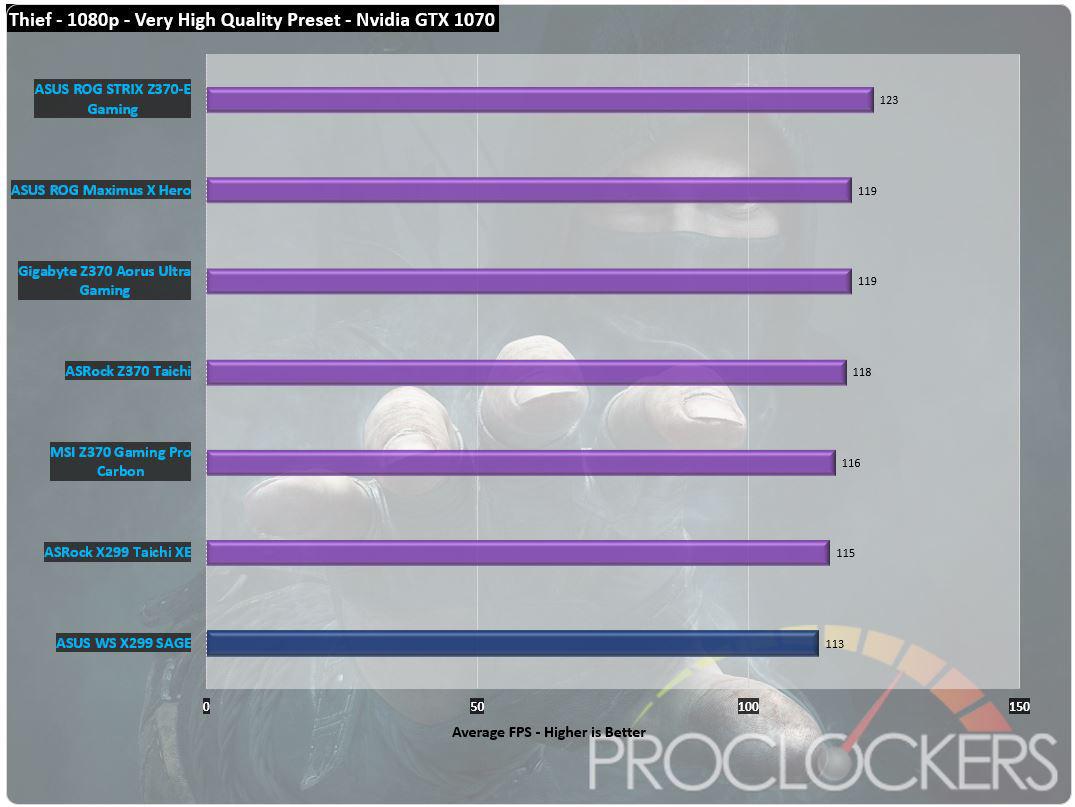 Our final game is Thief. The SAGE does well here but slides into the last place by a few FPS.
Overclocking
We start out with stock settings and try to see how far we can push the CPU and memory systems before we encounter system instability or crashing. Once we find a benchmark stable overclock, we run a few tests and note the increase of score. For fun, we often push the clock up as far as it will go and still boot to windows. While not in any way stable, it's fun to see how far you can actually push it.
One of the calling cards for this type of system is the ability to use a normal consumer CPU to overclock as opposed to a more locked down system based around a Xeon.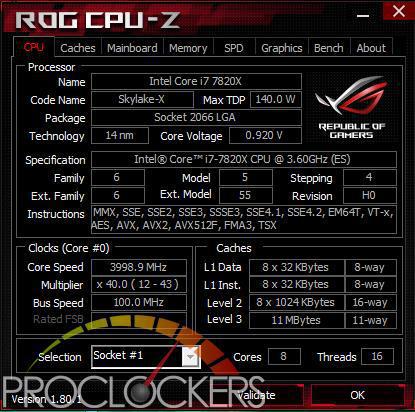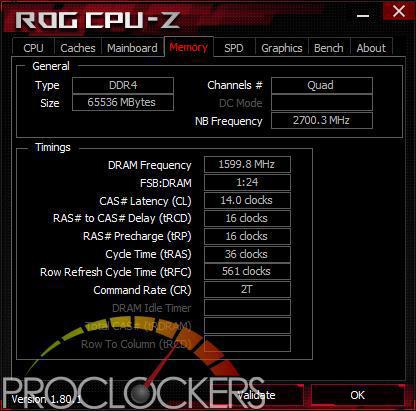 Starting out from a base 3.6Ghz, shown here with Turbo Boost 3.0 pushing us up to 4Ghz at this particular moment, and the ram set at XMP speeds of 3200Mhz @ C14 timings, we see how far we can go.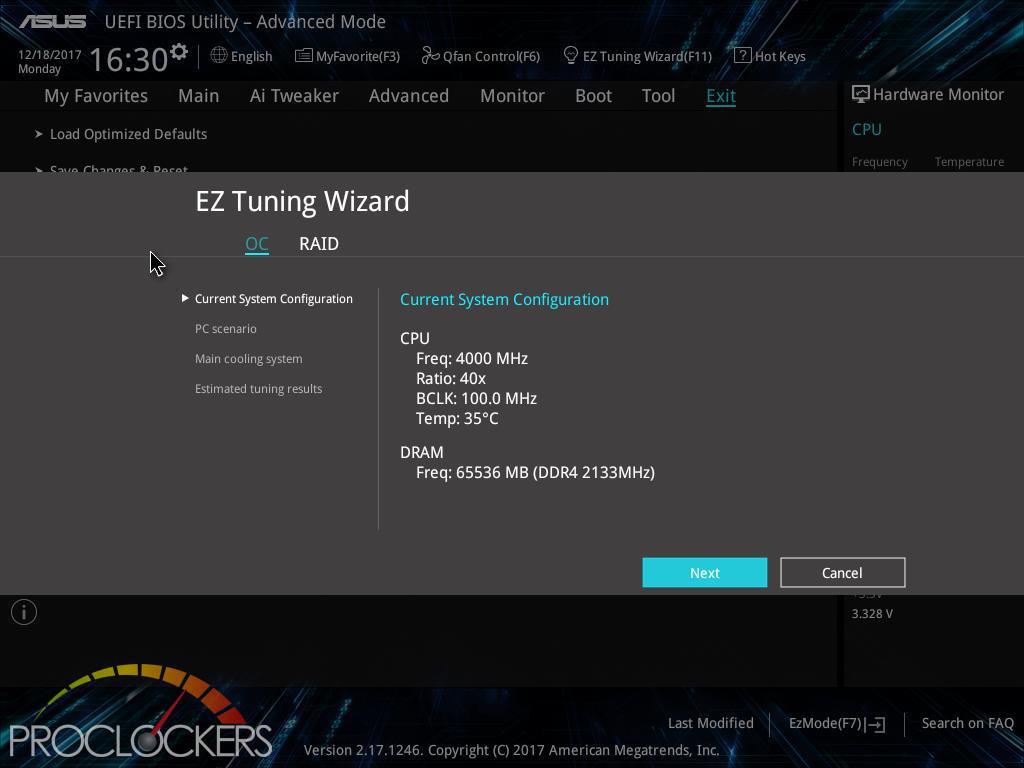 We've had a really decent experience with ASUS's EZ Tuning wizard on the ROG side of the world, we expect it to behave similarly here but we'll see.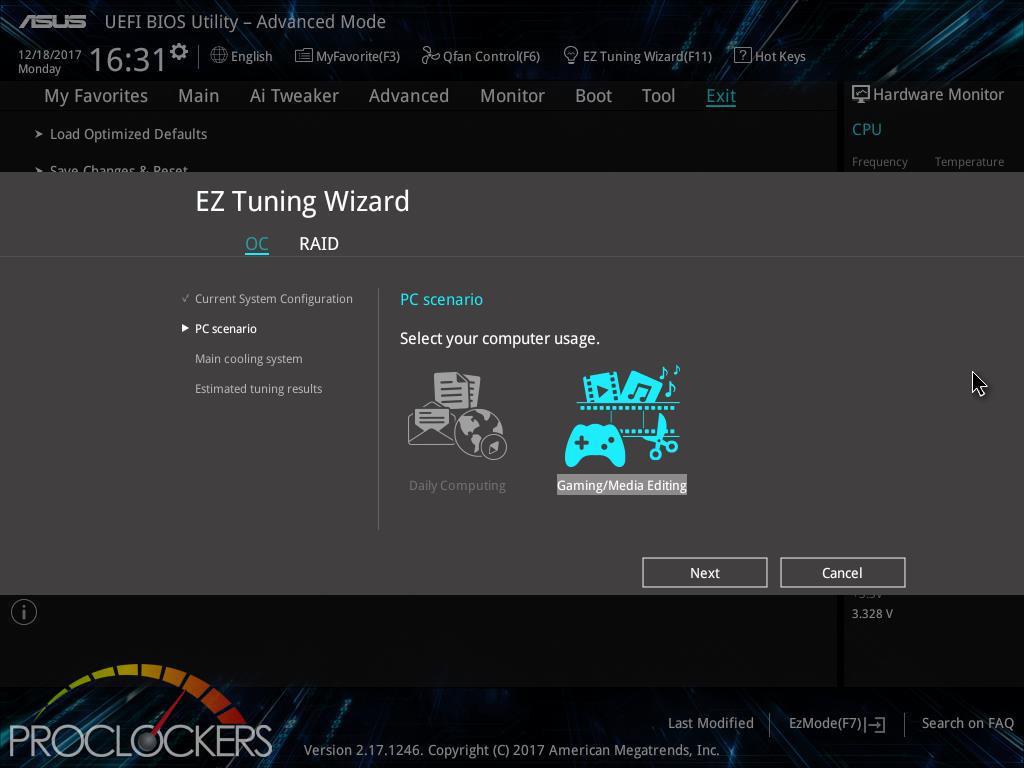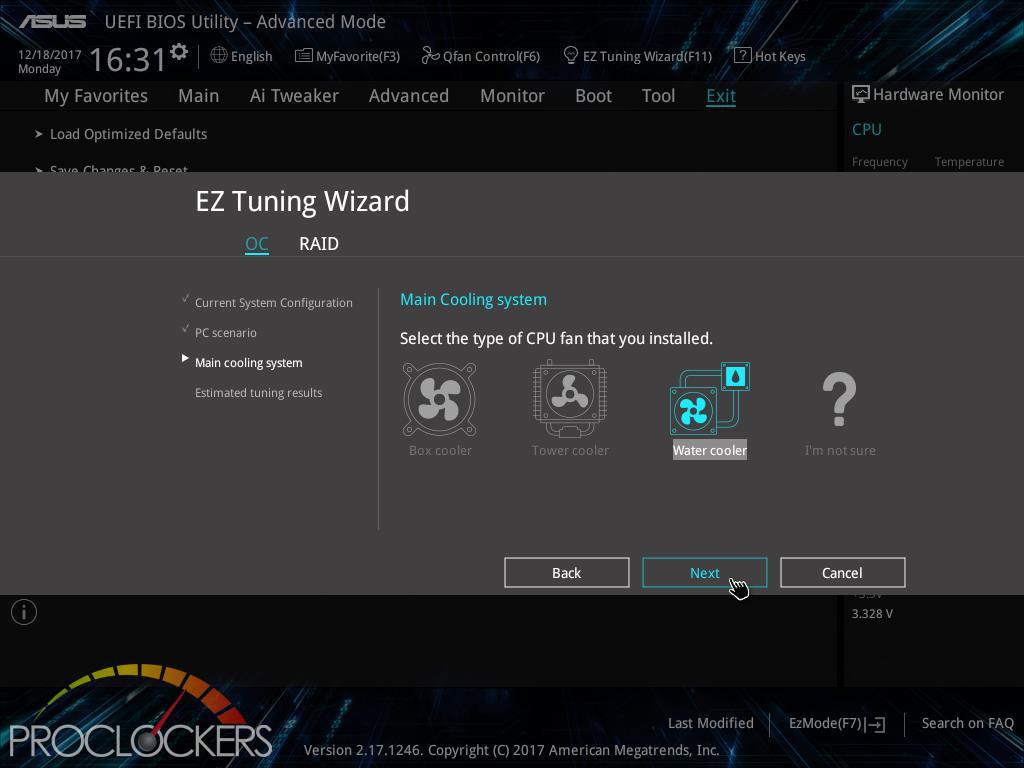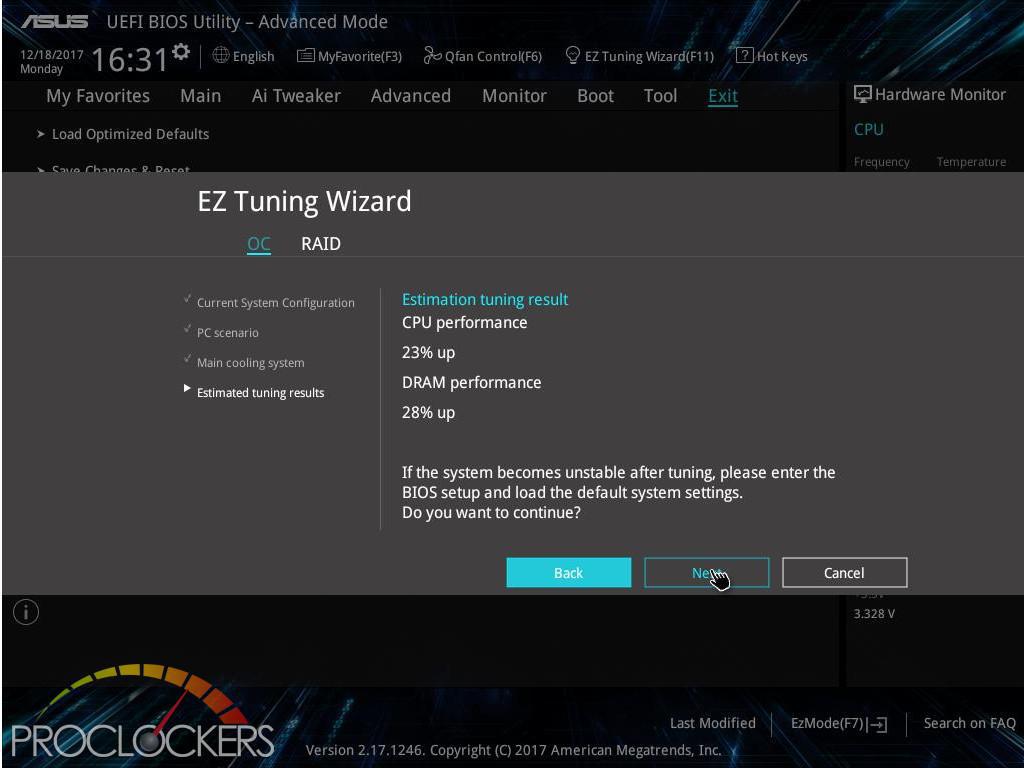 Answering a few questions about system use and cooling gets you an estimated increase in performance.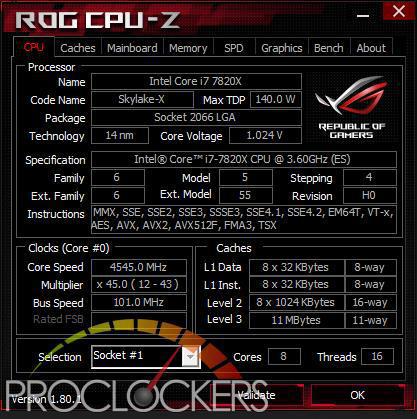 It ended up giving us a touch over 4.5Ghz, which is a great jump over the stock 3.6Ghz, but we know this particular CPU can do more.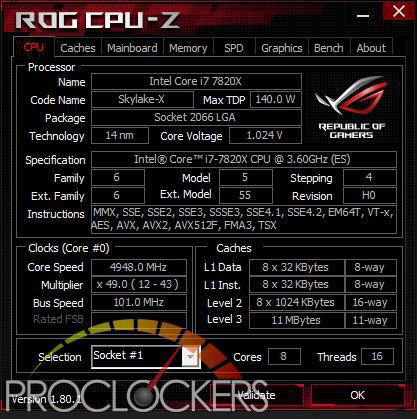 Poking around a but manually, we managed to push the i7-7820X to a very respectable almost 4.95 GHz.
We were able to push on to 5.0GHz, but couldn't get 100% stability. We did manage to complete a Cinebench run and narrowly missed 2200 points which are great for this CPU.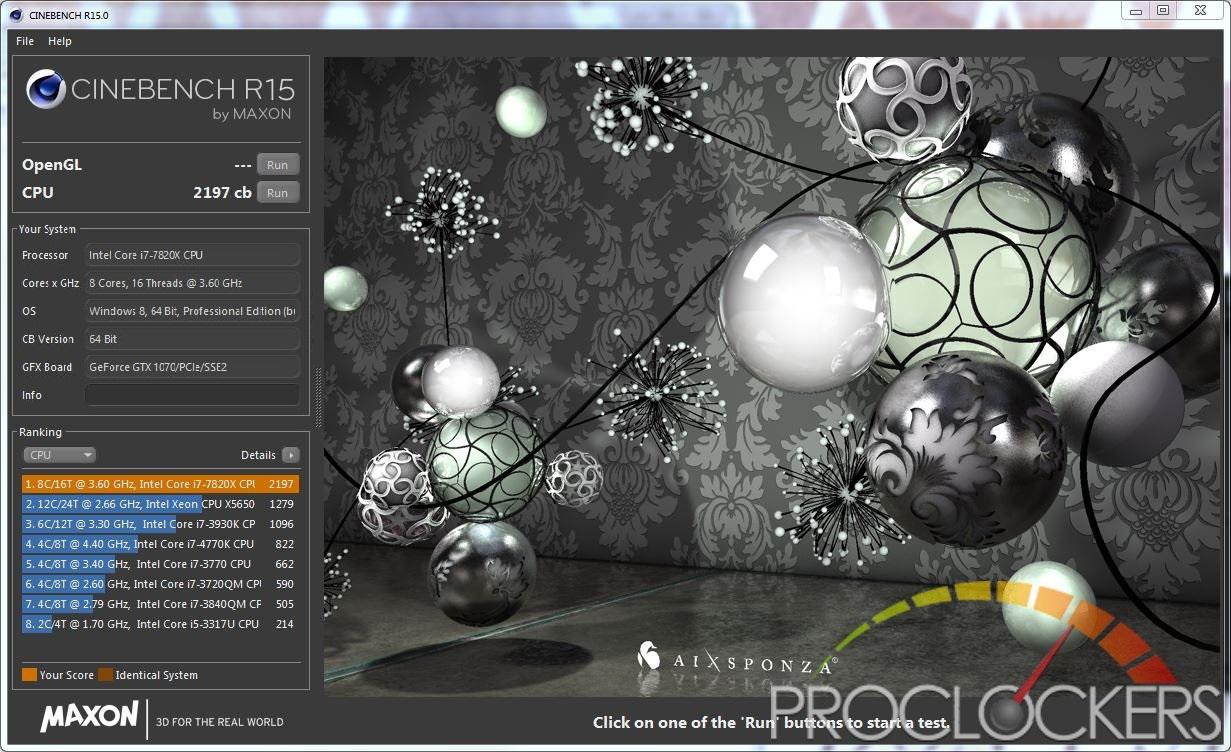 Final Thoughts & Conclusion
If you need an incredible amount of power, overclocking headroom and more PCIe lanes than you can shake a stick at all deliciously glazed over ASUS's nearly bulletproof Workstation platform, the WS X299 SAGE is your go-to board. It's retired X99 relatives were some of our favorite boards and the current platform holds on to the legacy. We've been in love with the neutral gunmetal greys and blacks of many of ASUS's products lately and are glad to see it back. Just because you work form your machine, doesn't mean it can't look good as well.

We can't complain about performance anywhere. Workstation type tasks score great, gaming scores are solid, and storage performance was about perfect. Does your gaming computer work? Does your work computer game? With ASUS's WS X299 SAGE, you can do both, probably even at the same time.

<![CDATA[ */ var zbjs = {"ajaxurl":"https:\/\/gaminggorilla.com\/wp-admin\/admin-ajax.php","md5":"d8e8b24d2fa18d2999e0fddcdd418586","tags":[],"categories":["Hardware"]}; /* ]]>