Be Quiet! Pure Base 500 DX Review
The Be Quiet! Pure Base 500DX promises exceptional airflow and significant quiet.
Does it deliver? Let's first take a look at the manufacturer's specs:
High airflow intake front panel and top cover for maximum performance
Three Pure Wings 2 140mm fans guarantee high cooling performance and silent operation
ARGB LED at the front and inside the case
USB 3.1 Type C Gen. 2 for the latest hardware
Water cooling ready for radiators of up to 360mm
Up to two SSDs can be installed prominently behind the window panel
Generous space for high-end graphics cards and large coolers
Side panel made of tempered glass
Three-year manufacturer's warranty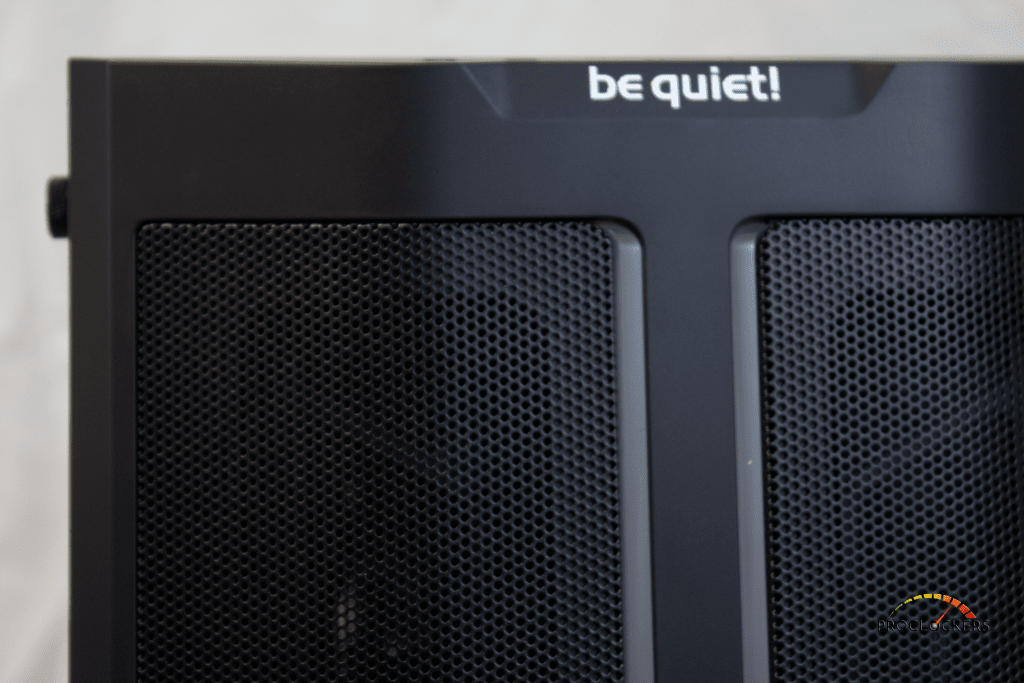 Starting up front, you can see a complete mesh grill allowing adequate air intake. With the front panel off, you'll find a fine mesh filter to help avoid dust clogging up your intake fan(s). The mesh filter is easily removed for periodic cleaning. Behind the filter is one of the three preinstalled Pure Wings 2 140mm fans.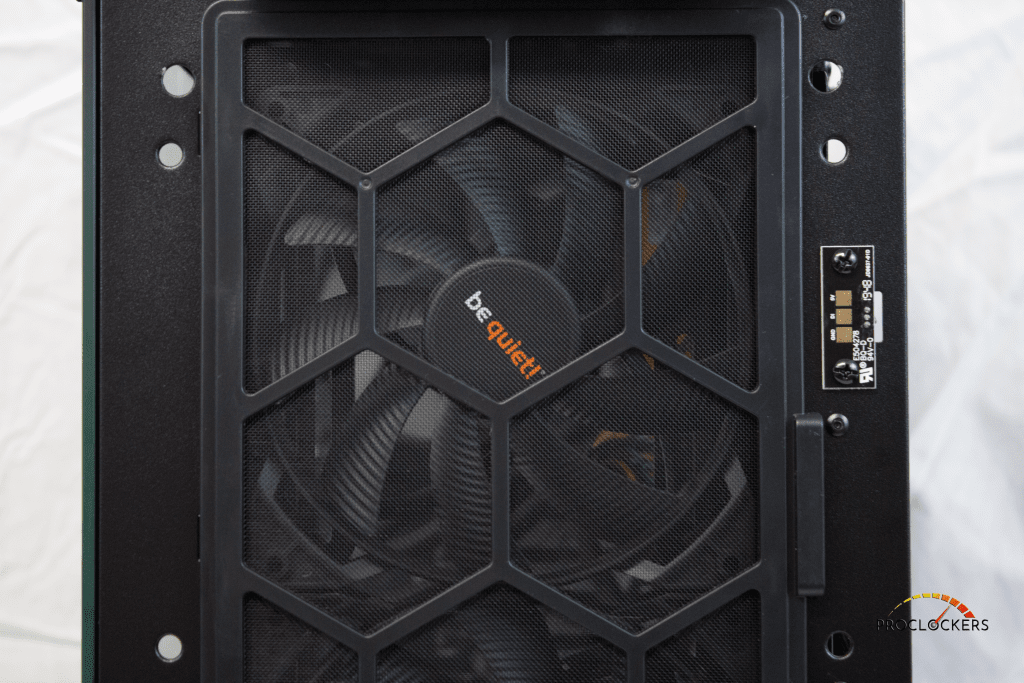 From there, let's go to the top. Along the front I/O panel live the USB Type C port, USB 3.0 port, power button, 3.5mm headphone and microphone jacks, and RGB control button. Behind that, and under a magnetic dust cover, is where you'll find the top fan mounts, with one fan preinstalled.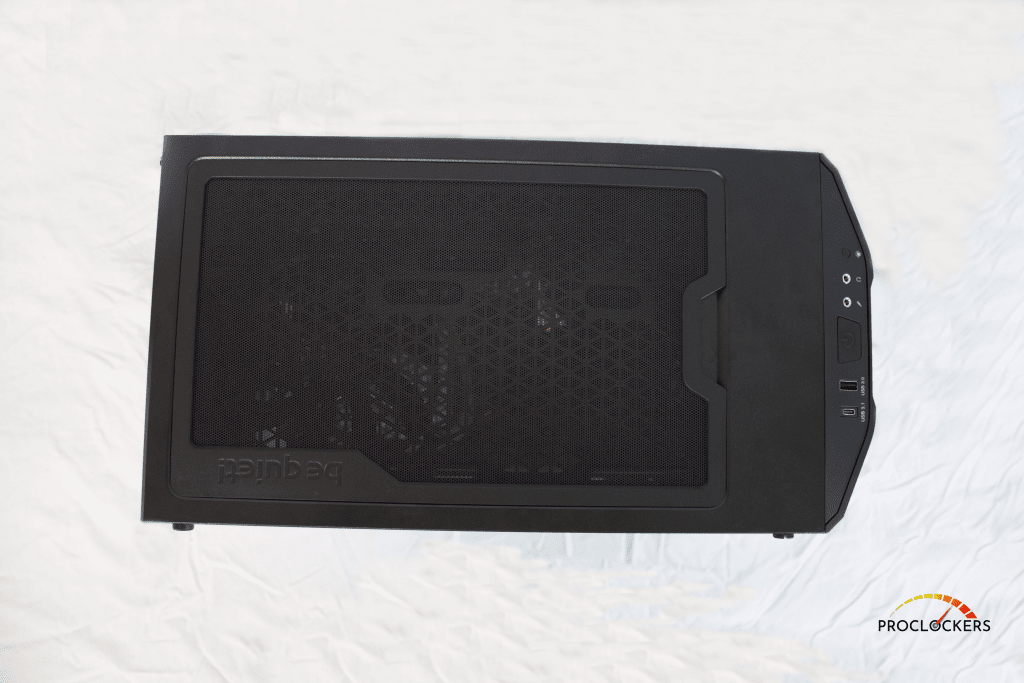 With the left and right side panels off, it's clear that the Pure Base 500 DX offers you a lot of options. Full ATX, M-ATX, and Mini-ITX motherboards will all fit against the motherboard tray, and standoffs are conveniently installed for you. To the right of the motherboard tray is a vertical SSD mounting panel where two SSDs can be installed. Behind the motherboard tray, along the right side, are some Be Quiet! branded hook and loop type cable management straps.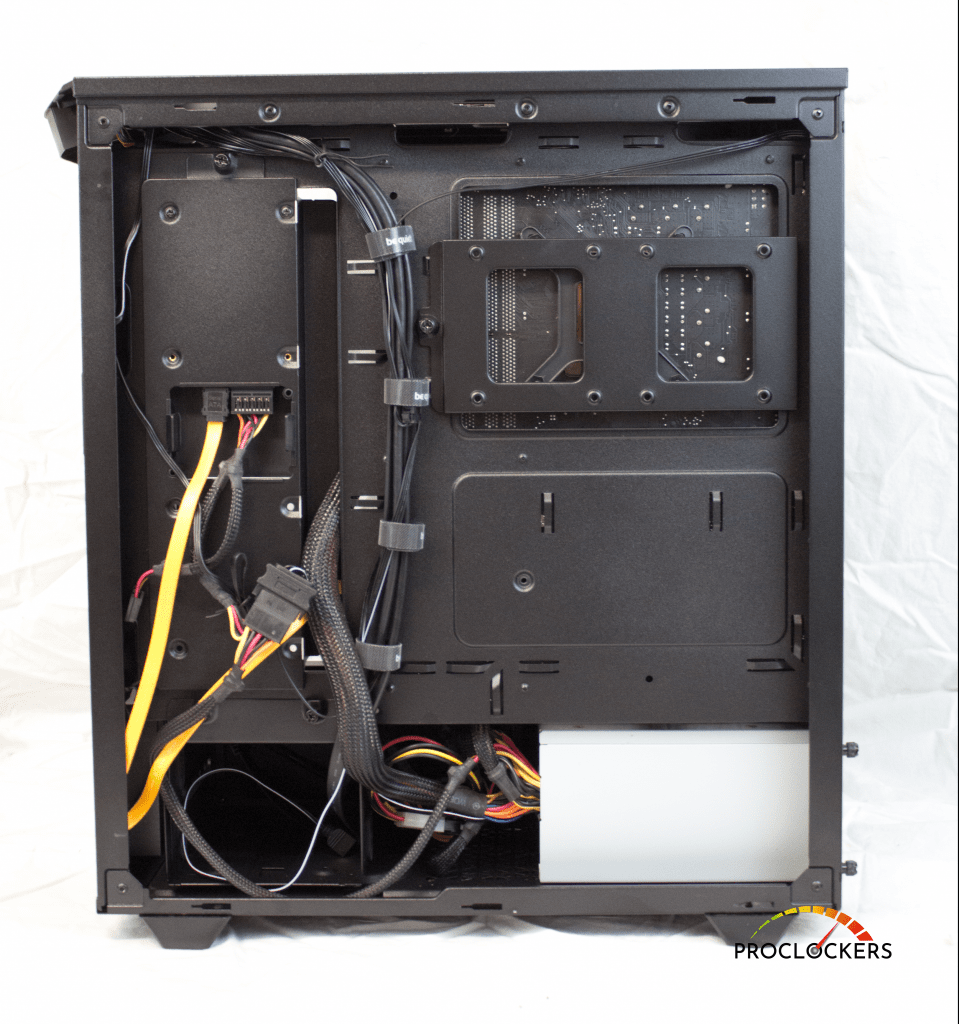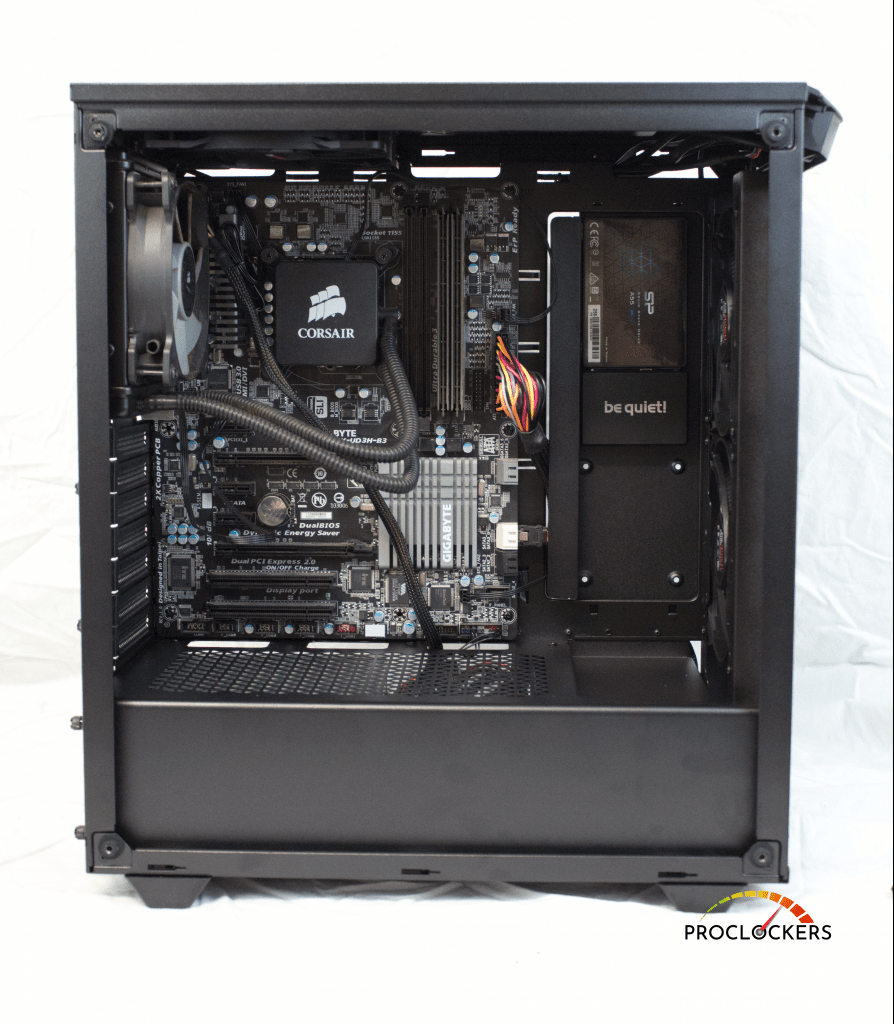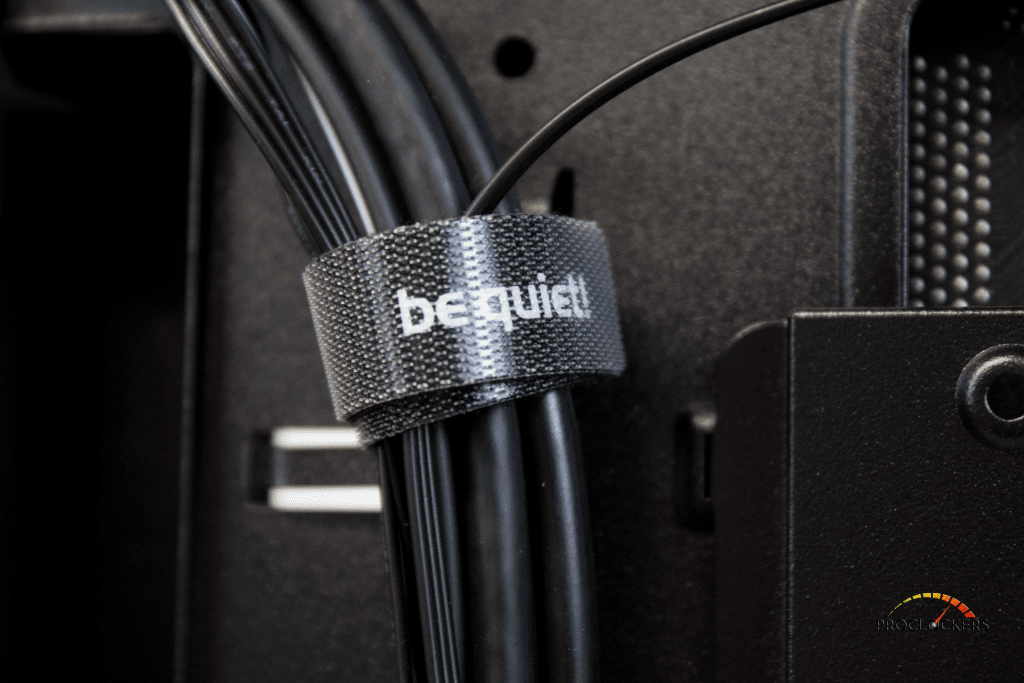 Power supply mounting allows for standard ATX or PS/2 power supplies and is neatly covered by a shroud. In front of that, you'll find a hard drive cage for standard hard disk drives.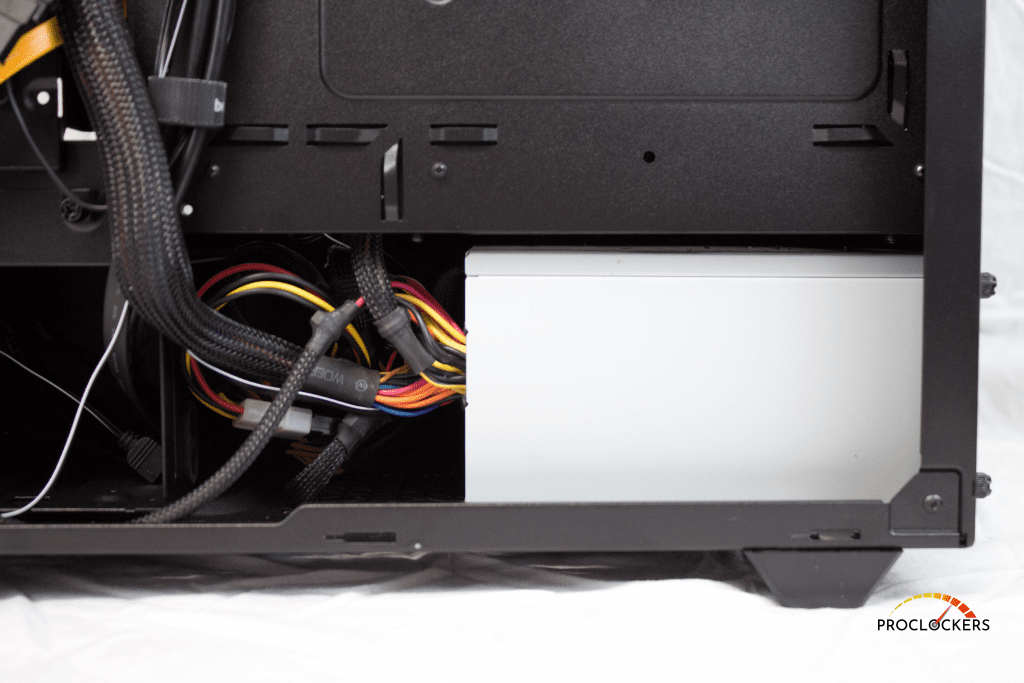 RGB Lighting is also included with the Pure Base 500DX. Be Quiet! has some lighting modes baked in for you, but you can use your own lighting schemes with the included RGB motherboard header.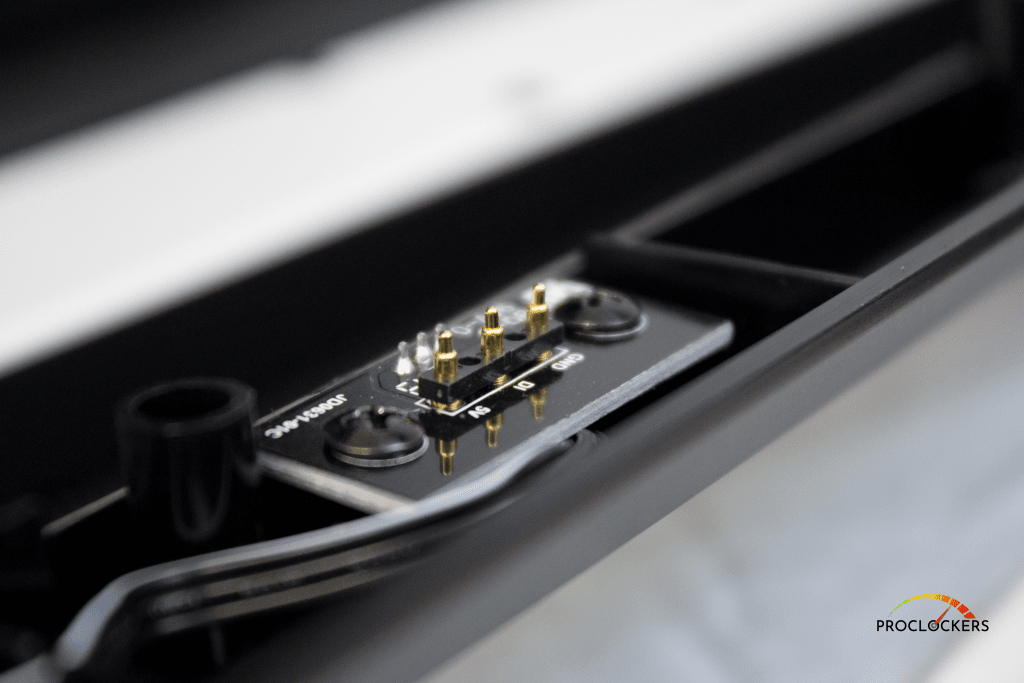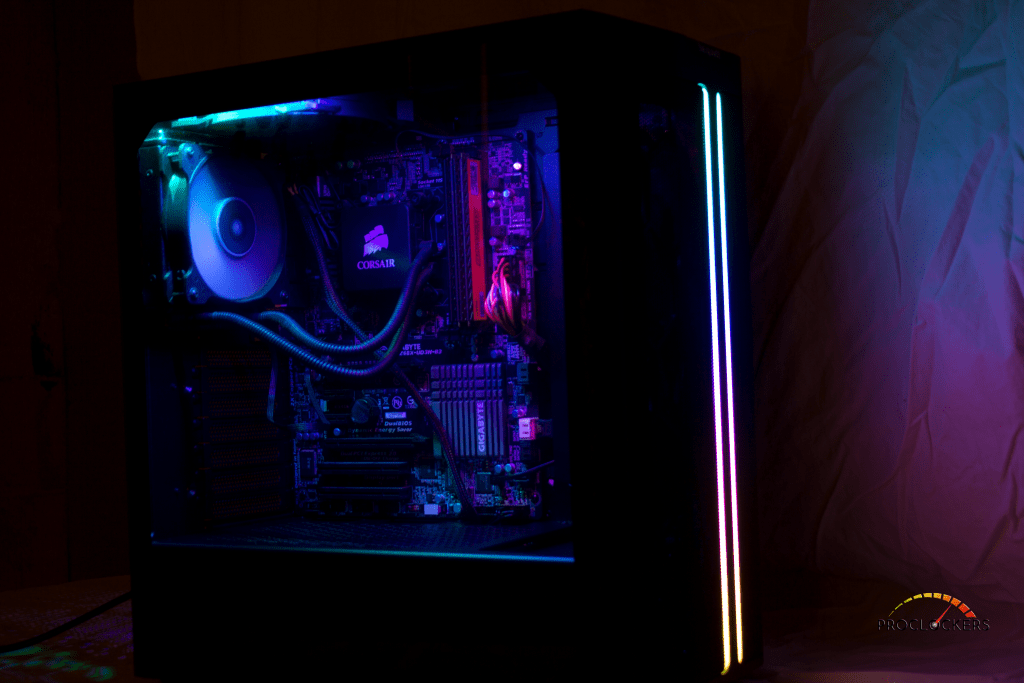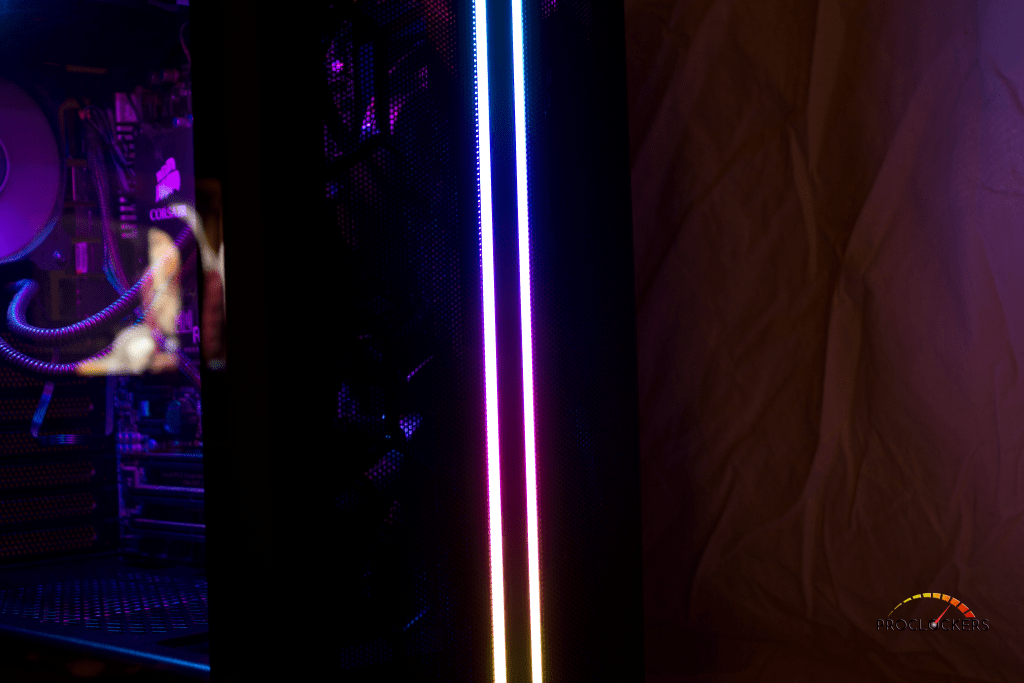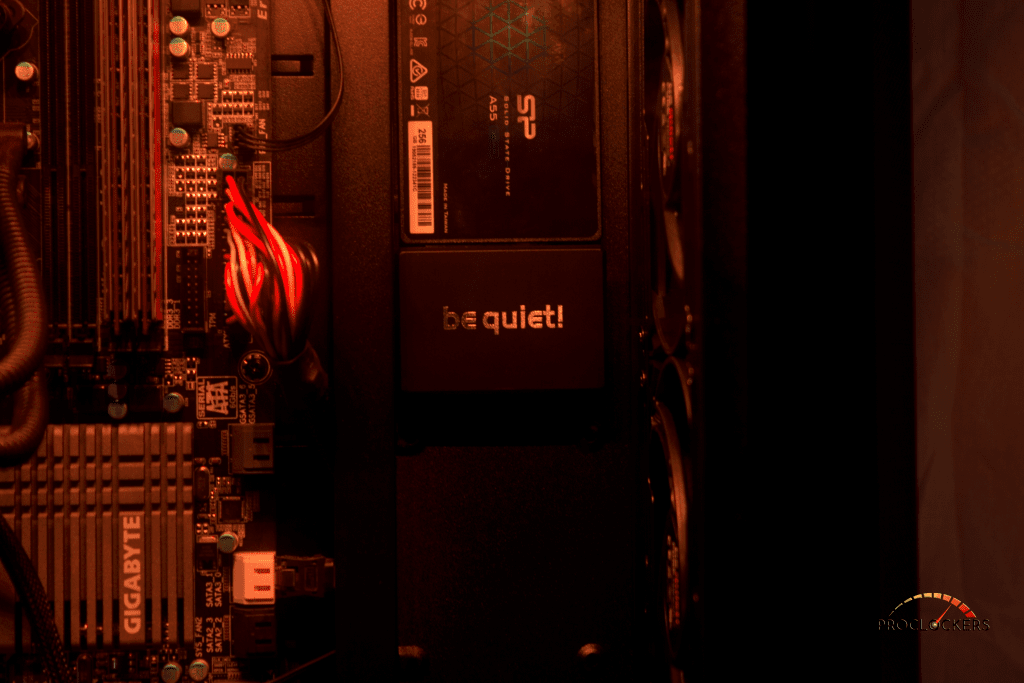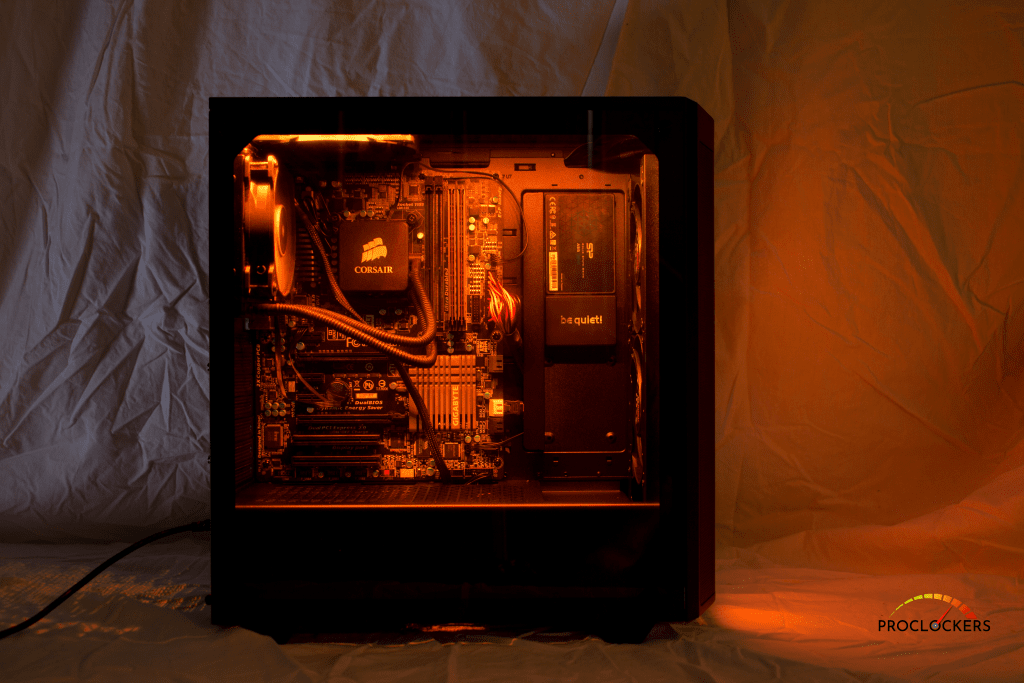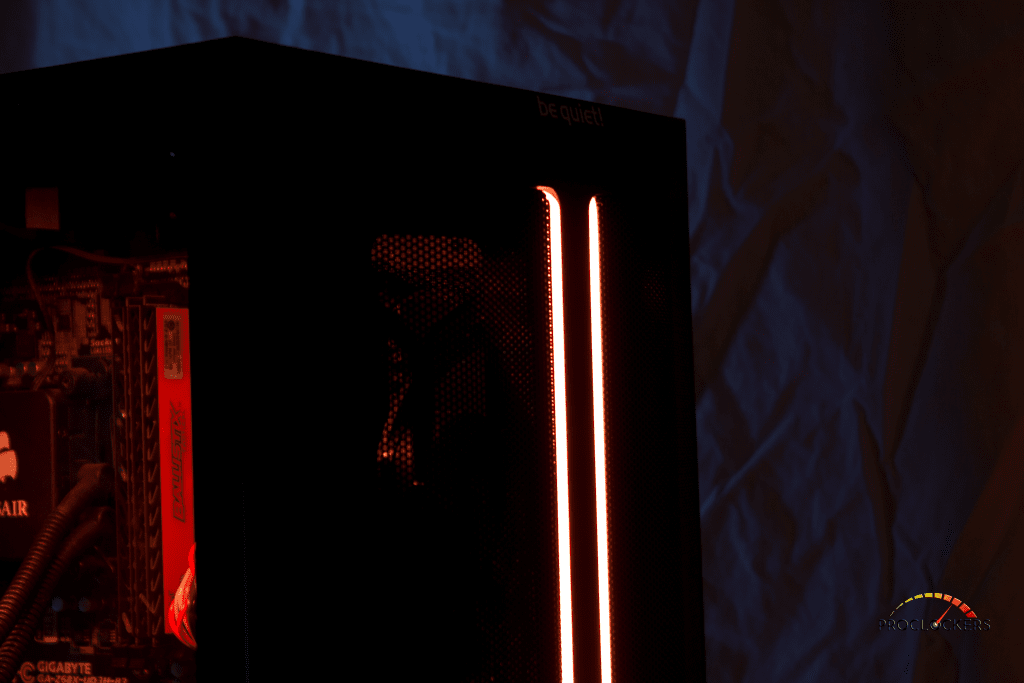 Be Quiet! Pure Base 500 DX BUILDING
That should cover all of the specs, so let's get to what really matters: Building.
I transferred an older system into this case just for our review. Frankly, it was harder getting the components out of the old case than installing them in this one. (By the way, it might be time for you to clean out your system if you haven't done it in a while.) I did have to move the rear fan to the front mounting bracket to allow for my all-in-one CPU cooler to fit. Again, very easy. The Pure Base 500DX has space up front for two 140mm fans or a 360mm water cooling radiator. I did find that the paint around the rear fan mounting holes scratches easily. Not a deal-breaker if you're installing another fan, but it's worth noting. If you have some painting skills, this can be touched up quite easily,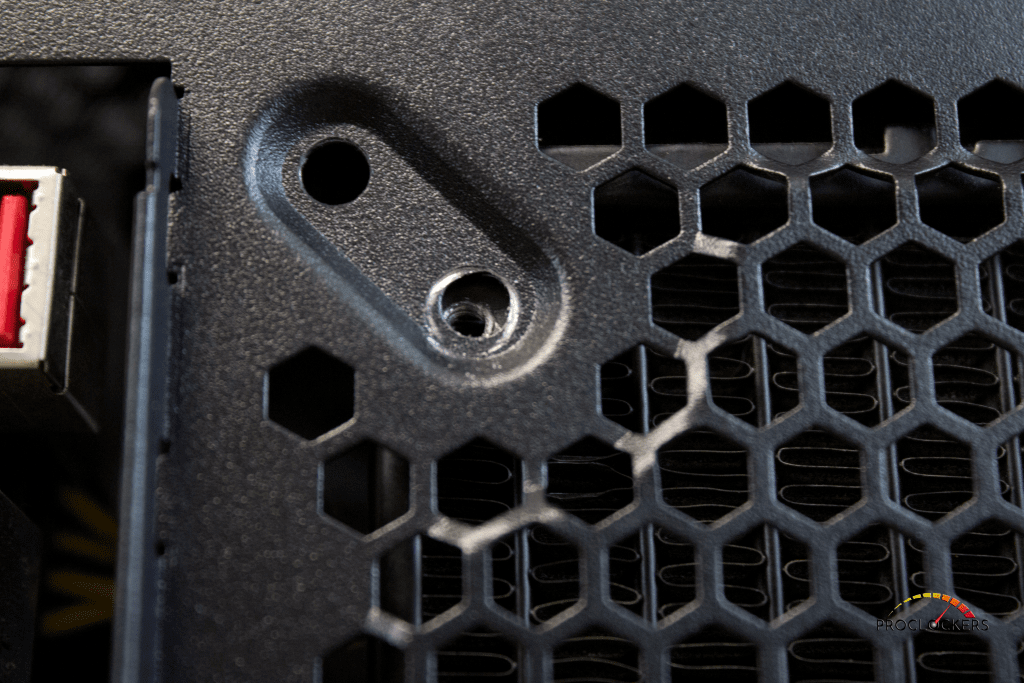 I'm not here to try to sell you on this case. I admit I'm a middle-aged man who has been a little behind the times on certain modern computer components, so maybe I'm easily impressed by some things. That said, I don't think anyone could argue against the Be Quiet! Pure Base 500DX being an attractive case. There's lots of room inside for a great gaming build with water cooling. The tempered glass left panel allows you to see all of those great components. The RGB lighting, while it doesn't add to functionality, certainly adds to the overall appearance. Lighting is just fun.
The three included Pure Wings 2 140mm fans are very quiet. Seriously, I don't think I've ever heard fans as quiet as these. Though they're running at only 900 RPM, they still provide great airflow.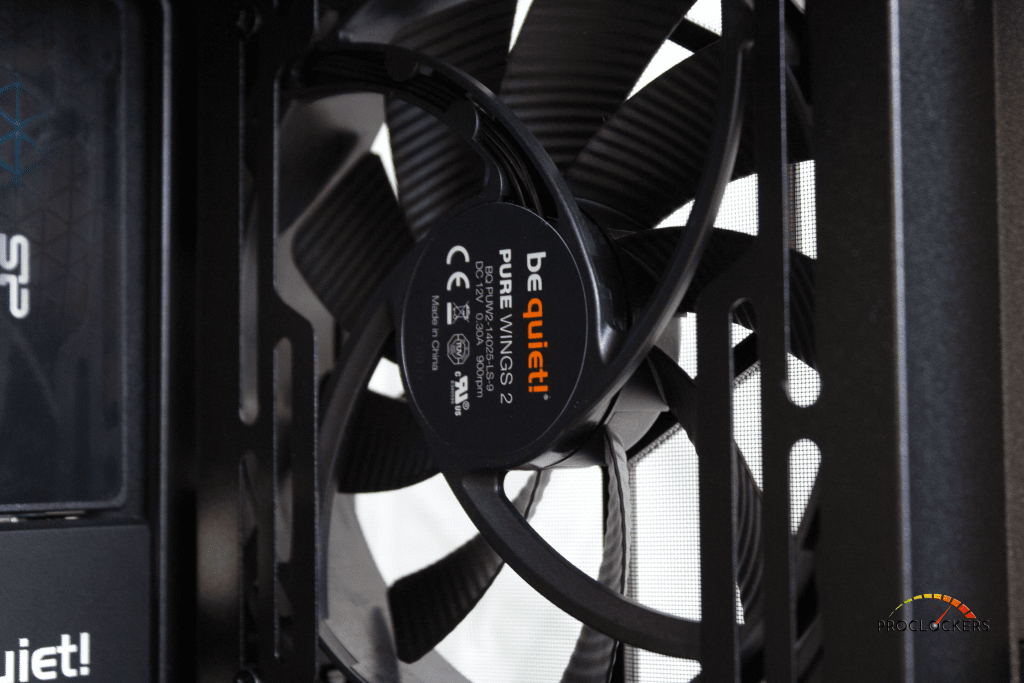 Where could Be Quiet! Improve with this case? I thought it was a little short at first glance. Now that I actually had some time to work with the case, it's not that bad. These days, we don't need a lot of additional height for optical drives and stacks of Hard Drives. In my main computer, I run a single SSD and two Hard Drives for storage. I do think some rubber grommets could help prevent paint scratches around the fan mounting holes. Another thing I noticed is that the front panel isn't easily removed. I was afraid it would break when I was pulling it off. Some mounting screws might have been a better option here. The rest of the front panel is smartly designed, though. The two RGB strips add some fun lighting, and the mesh allows almost unrestricted airflow. I also appreciated how the RGB strip connects to the case. Three contacts allow power to the lighting. You don't have to fight with extra wiring when you build your system.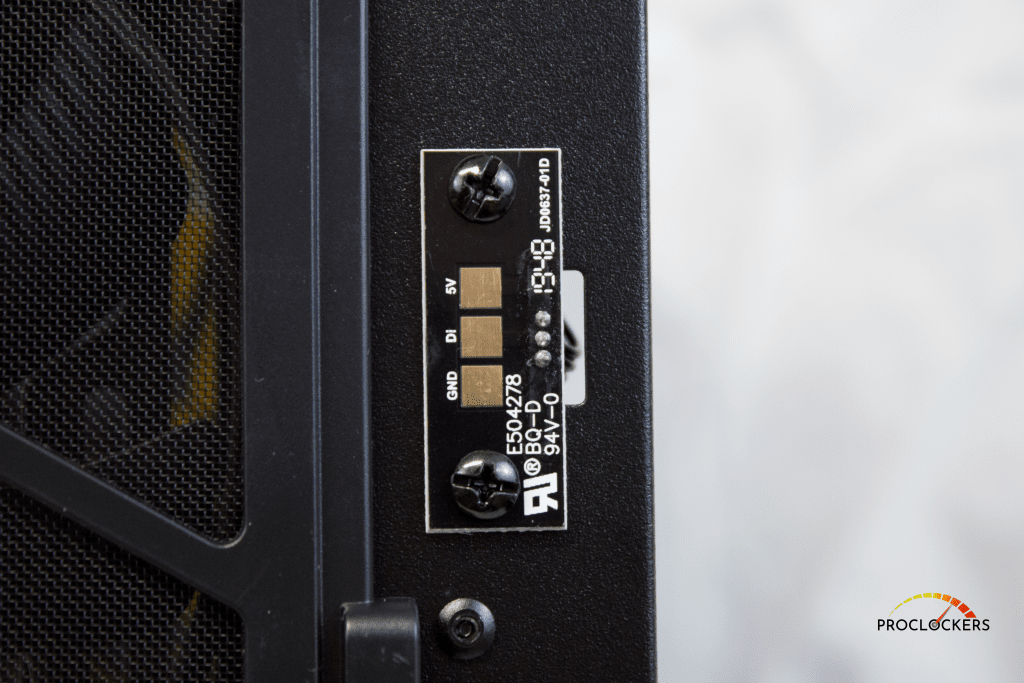 Pro Clockers would like to thank Be Quiet! for providing this sample for our review.

Check out the video review here:

<![CDATA[ */ var zbjs = {"ajaxurl":"https:\/\/gaminggorilla.com\/wp-admin\/admin-ajax.php","md5":"d8e8b24d2fa18d2999e0fddcdd418586","tags":[],"categories":["Hardware"]}; /* ]]>