EVGA SuperNOVA 650 GM SFX 650W Power Supply Review
Introduction
EVGA is pretty well known for making BIG power supplies. Reaching up to 1600 Watts at 80+ Titanium Level, these monsters have graced many a test bench on the quest for world record benchmark runs. You might be surprised to learn that EVGA also makes very small power supplies as well. We are of course talking physical size rather than wattage. Coming in at a scant 0.77 liters in volume, the SuperNOVA 650GM packs 650 watts power 80+ Gold rated power into a tiny SFX chassis. Is this what you have been looking for? Let's find out!
ProClockers would like to thank EVGA for sending the SuperNOVA 650 GM power supply over to check out!
EVGA's take on the SuperNOVA 650 GM power supply:
Introducing the EVGA SuperNOVA GM line. Available in 450W, 550W, and 650W, these new power supplies are engineered to bring the power, prestige, and performance of EVGA's award-winning power supplies into an SFX-Standard form factor. Featuring 80 Plus Gold-certified efficiency, fully-modular cables, and 100% Japanese capacitors on the Main PCB, the GM's cast a long shadow over its competition. Pint-size, affordable, and packed with everything you need, the EVGA SuperNOVA GM power supplies make short work of tight spaces.
GOLD RATED EFFICIENCY
80 Plus certification ensures your power supply isn't wasting power and turning it into excess heat. Under typical load, this power supply is 90% efficient or higher.
TIGHT VOLTAGE REGULATION(<2%)
A single +12V rail offers the best power output, rail stability and compatibility with the latest hardware. EVGA SuperNova GM power supplies provide up to 54.1A on a single rail!
TO PROTECT AND TO SERVE
This PSU will cover your circuits with complete protection: OCP, OVP, OTP, OPP, SCP, and UVP.
DC TO DC CONVERTER
Voltage step-down for rock-solid power, stability, and minimal signal noise (for 3.3V and 5V)
SFX-STANDARD FORM FACTOR
The GM power supplies will fit all SFX-Standard form factor cases. With the included ATX adapter, these power supplies also support ATX case form factors.
Features & Specifications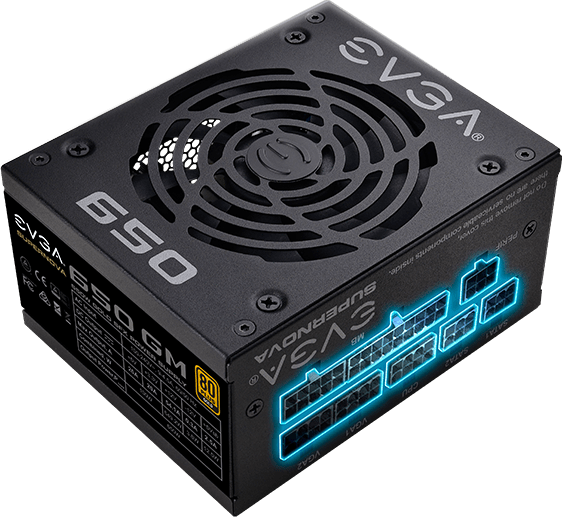 FULLY MODULAR DESIGN
Use only the cables you need, reducing cable clutter and improving airflow.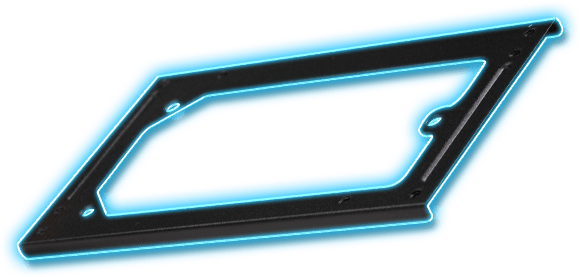 SFX TO ATX BRACKET ADAPTER INCLUDED
The GM power supplies were designed to power systems built in the smallest of PC cases, but are equally capable of powering systems built in a standard ATX form factor.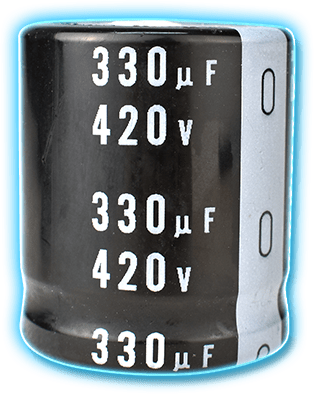 RELIABLE 100% JAPANESE CAPACITORS ON MAIN PCB
Get the most reliability and greatest performance with the use of the highest possible quality Japanese capacitors on the most critical system components.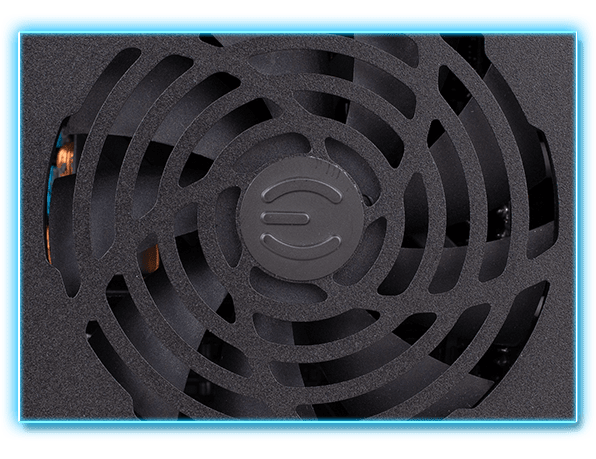 92MM DURABLE DOUBLE-BALL BEARING FAN
A high-quality double-ball bearing fan gives the GM power supplies an excellent thermal and acoustic profile, and its high reliability ensures a long PSU lifetime.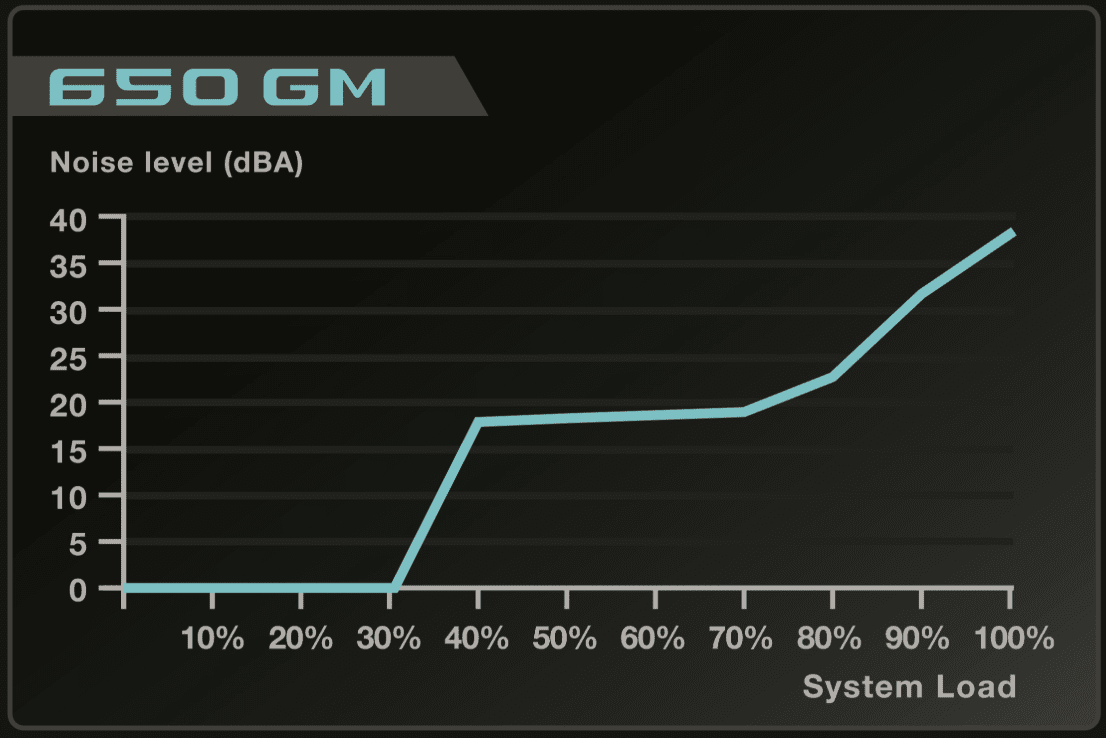 whisper silent…
EVGA Auto ECO mode ensures that the power supply stays completely silent during low to medium loads. The fan does not spin until necessary, allowing for completely silent operation!
Features:
100% Japanese Capacitors on Main PCB ensure long-term reliability
80 PLUS Gold certified, with 90% (115VAC) / 92% (220VAC~240VAC) efficiency or higher under typical loads
Fully Modular to reduce clutter and improve airflow
Heavy-duty protections, including OVP (Over Voltage Protection), UVP (Under Voltage Protection), OCP (Over Current Protection), OPP (Over Power Protection), SCP (Short Circuit Protection), and OTP (Over Temperature Protection)
Double Ball Bearing fan for exceptional reliability and quiet operation
SFX-Standard Form Factor packs large power into a small space for compatibility with mITX cases and compact gaming systems
Auto ECO Mode to ensure silent operation under low to medium loads with no configuration necessary
Active Power Factor Correction
Heavy-duty protections, including:
OVP (Over Voltage Protection)
UVP (Under Voltage Protection)
OCP (Over Current Protection)
OPP (Over Power Protection)
SCP (Short Circuit Protection)
OTP (Over Temperature Protection)

Packaging & Unboxing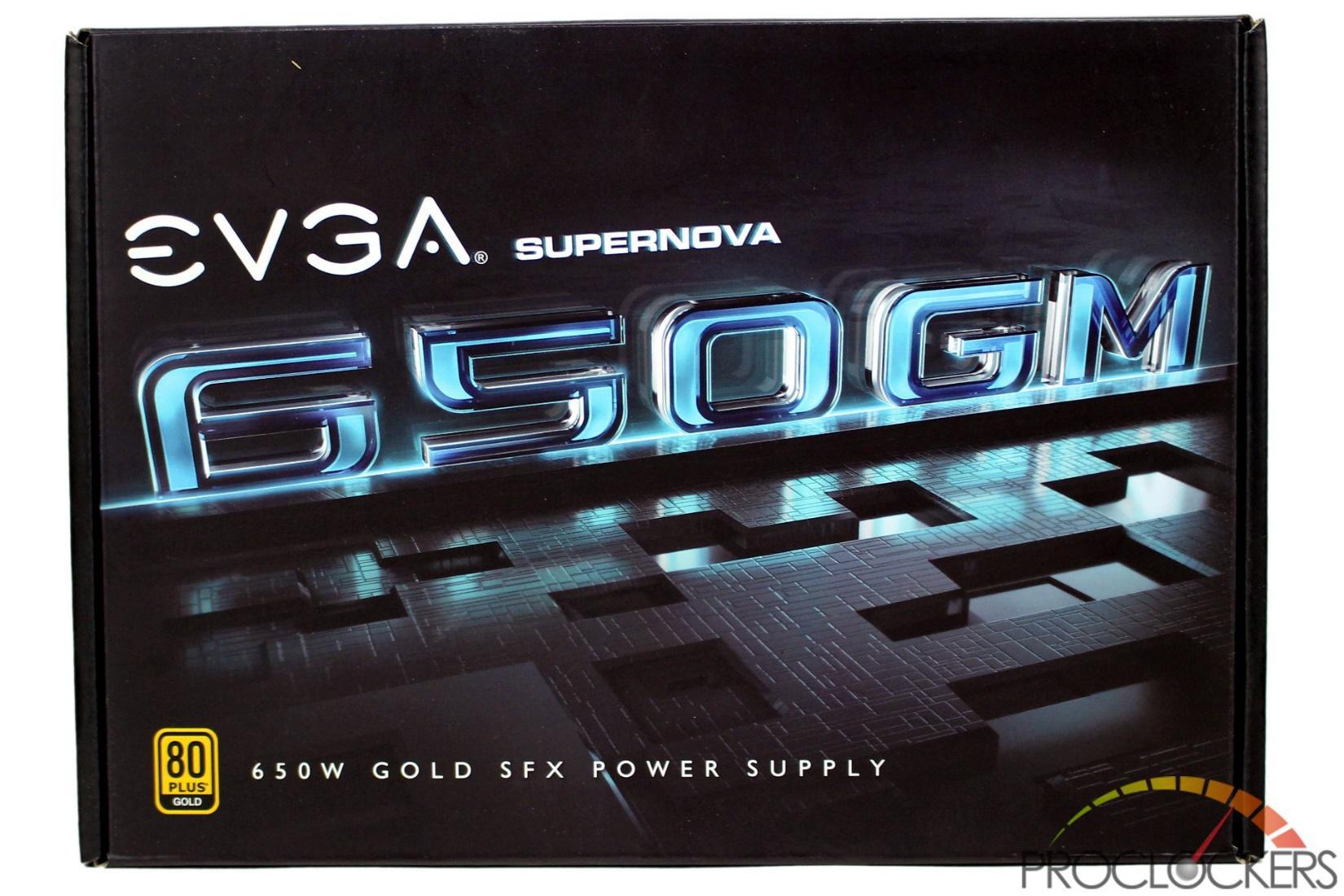 EVGA's SuperNOVA 650GM comes in a rather colorful box for EVGA. The model is an electric blue over a pattern of black.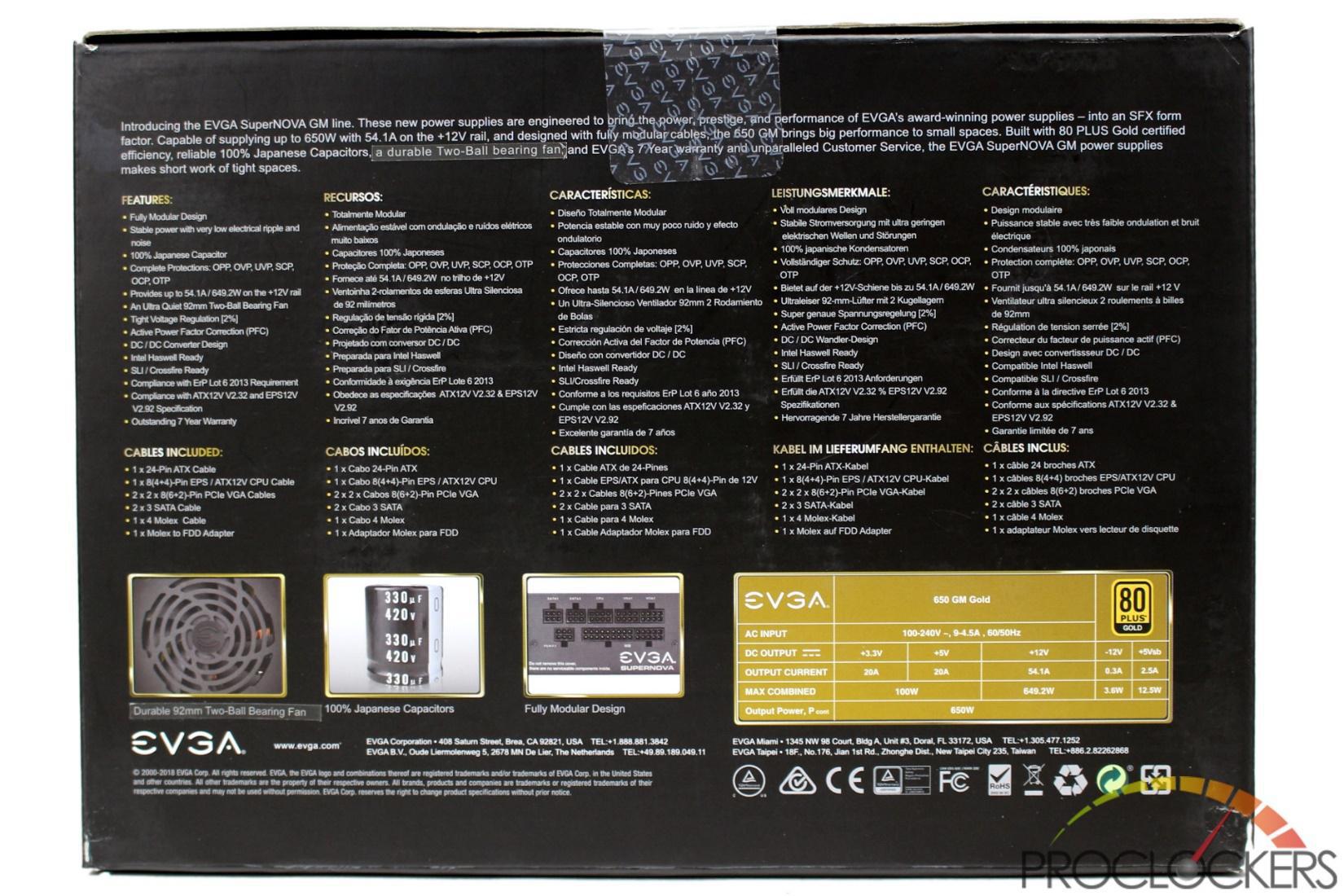 The back of the box has s short blurb about the unit inside as well as features in several languages. Some basic specifications are along the bottom third of the box.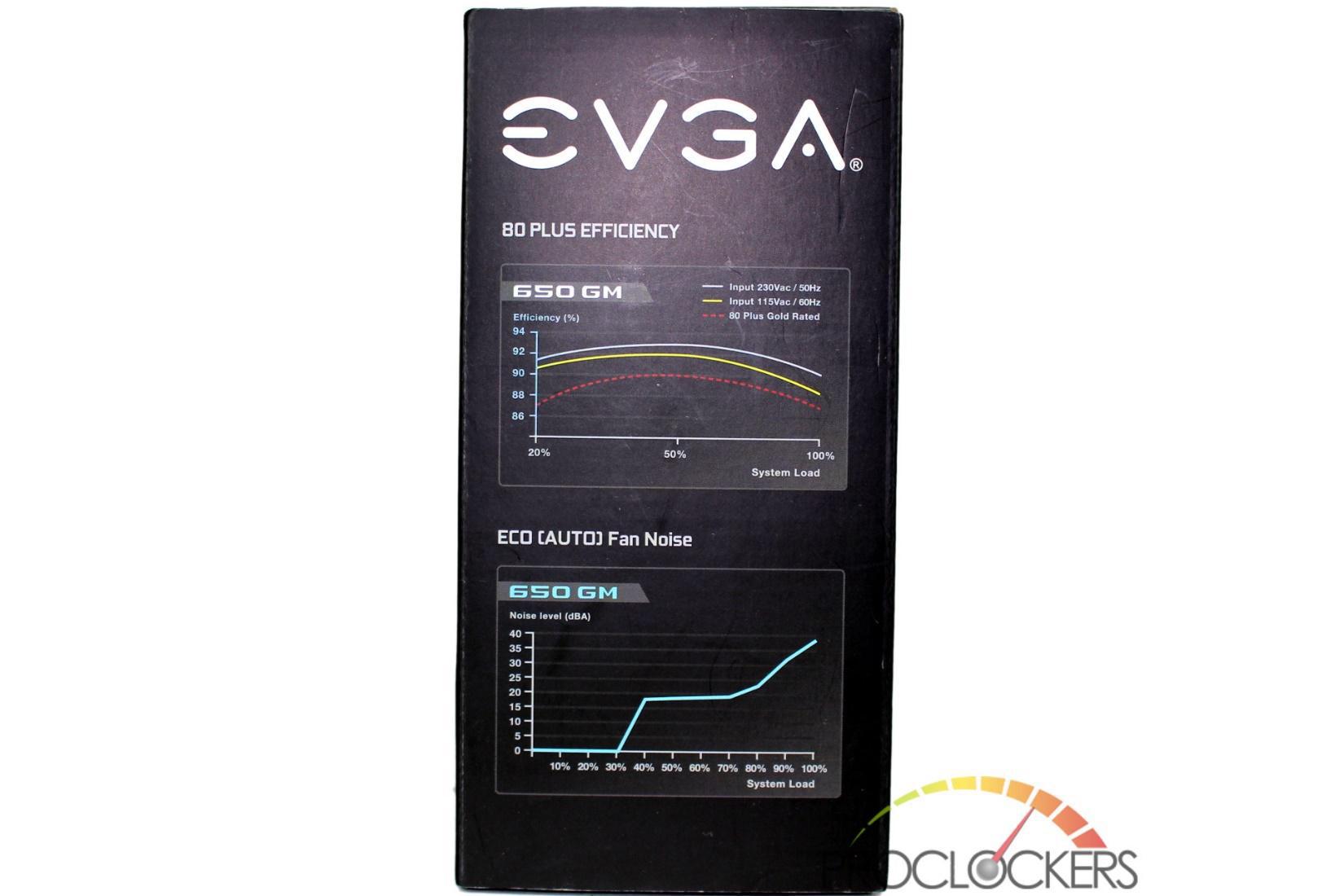 One side of the box has efficiency and fan curves displayed.
Inside, a manual sits on top of a foam block. A pile of cables takes up close to half of the box.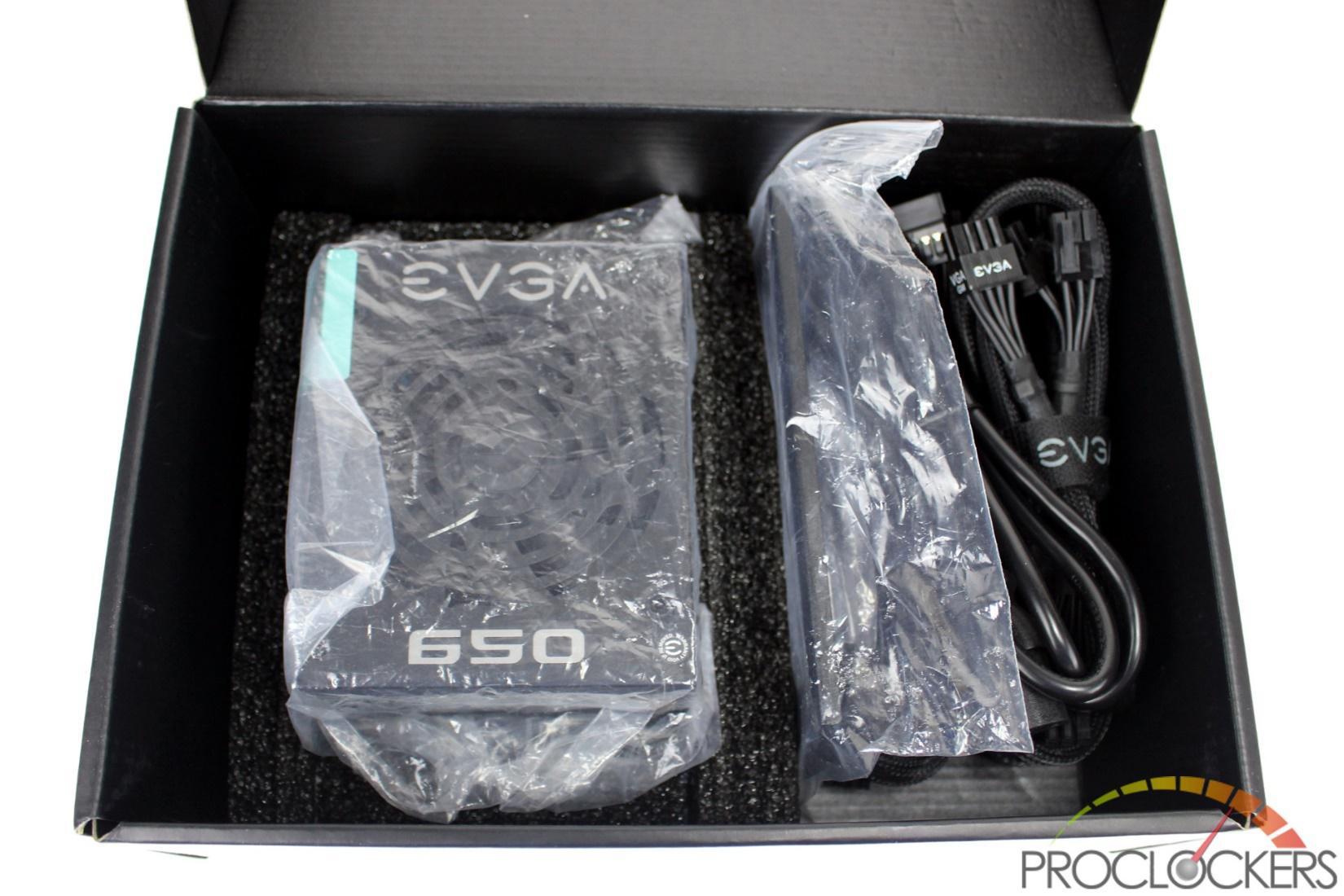 Inside the foam, block is the 650 GM power supply, well protected for transport.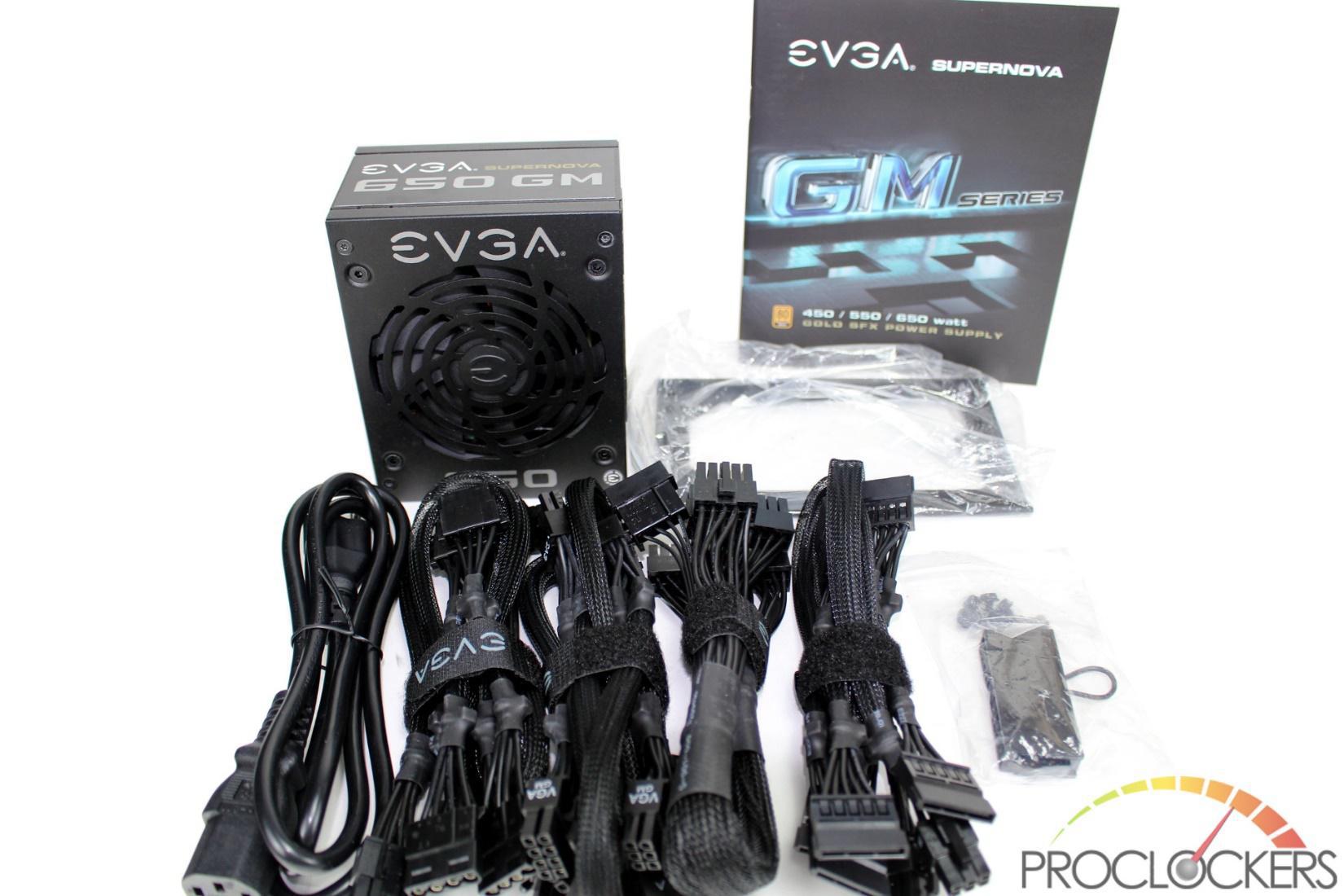 A few other accessories hide in the bottom of the box, including an ATX to SFX adapter plate, and power supply testing jumper, and some mounting screws.
A Closer Look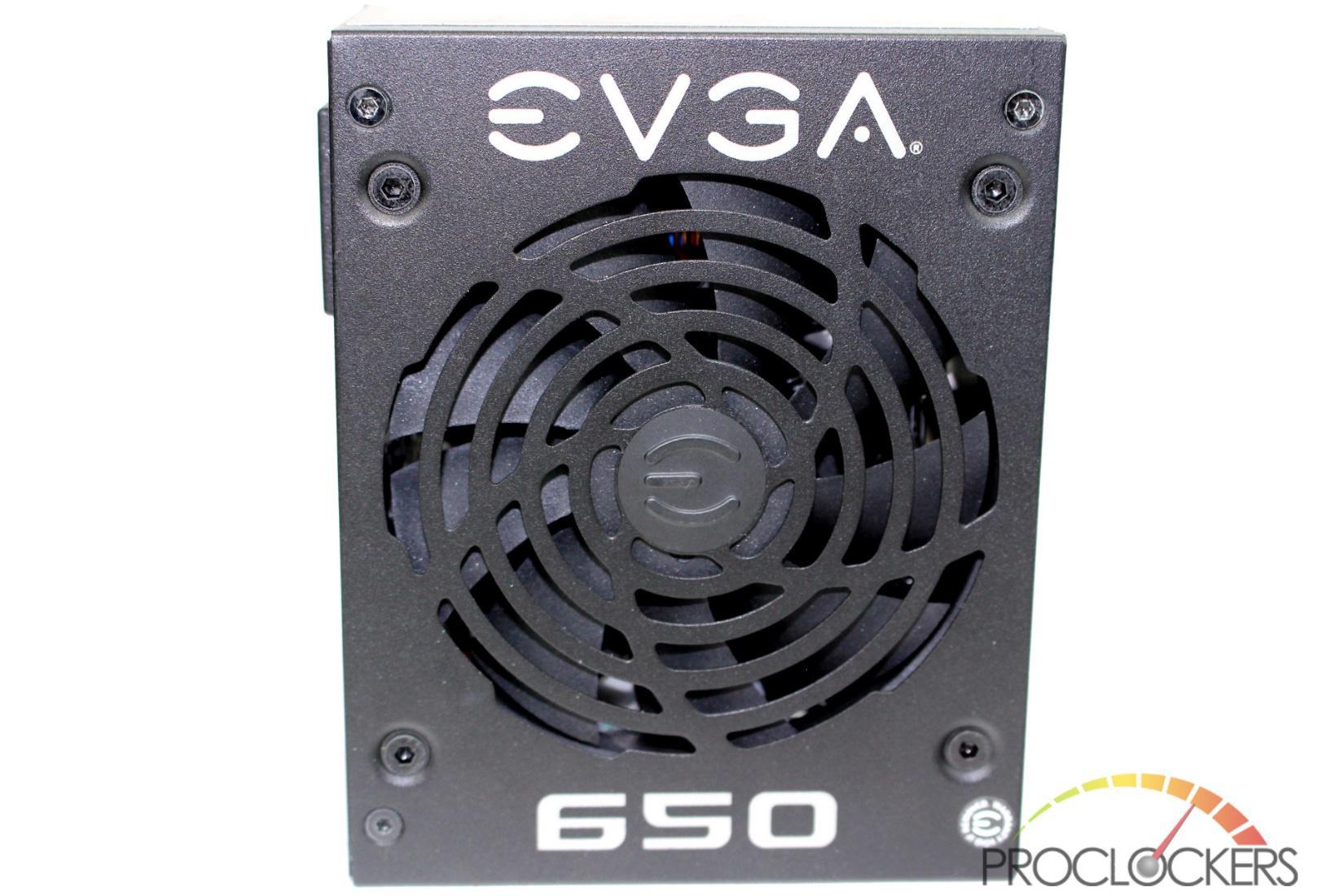 EVGA stamps the fan grill right into the tiny steel chassis with the 92mm cooling fan just under it.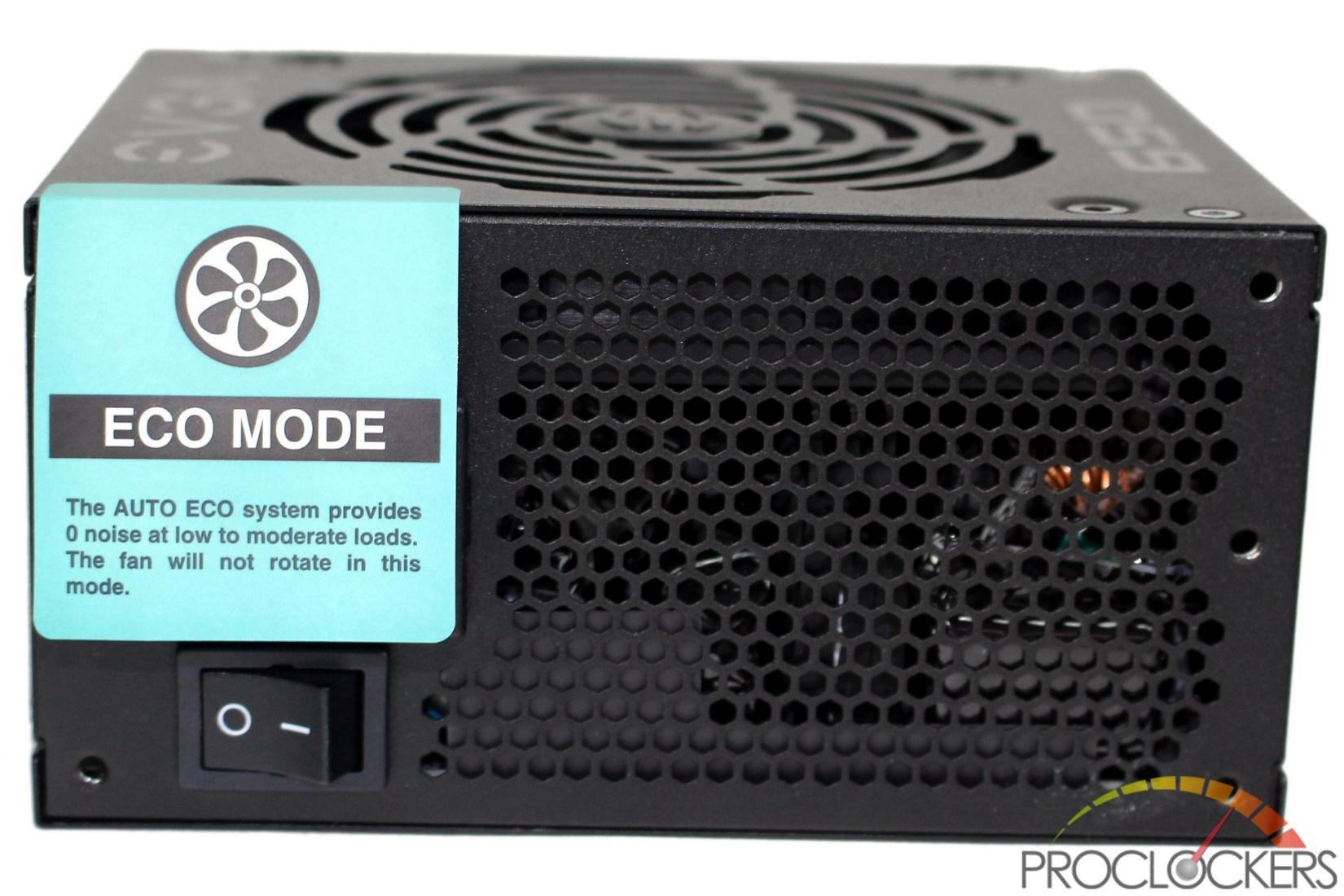 A sticker on the back over the AC inlet plug indicates the fan will not always run if the system load is low enough.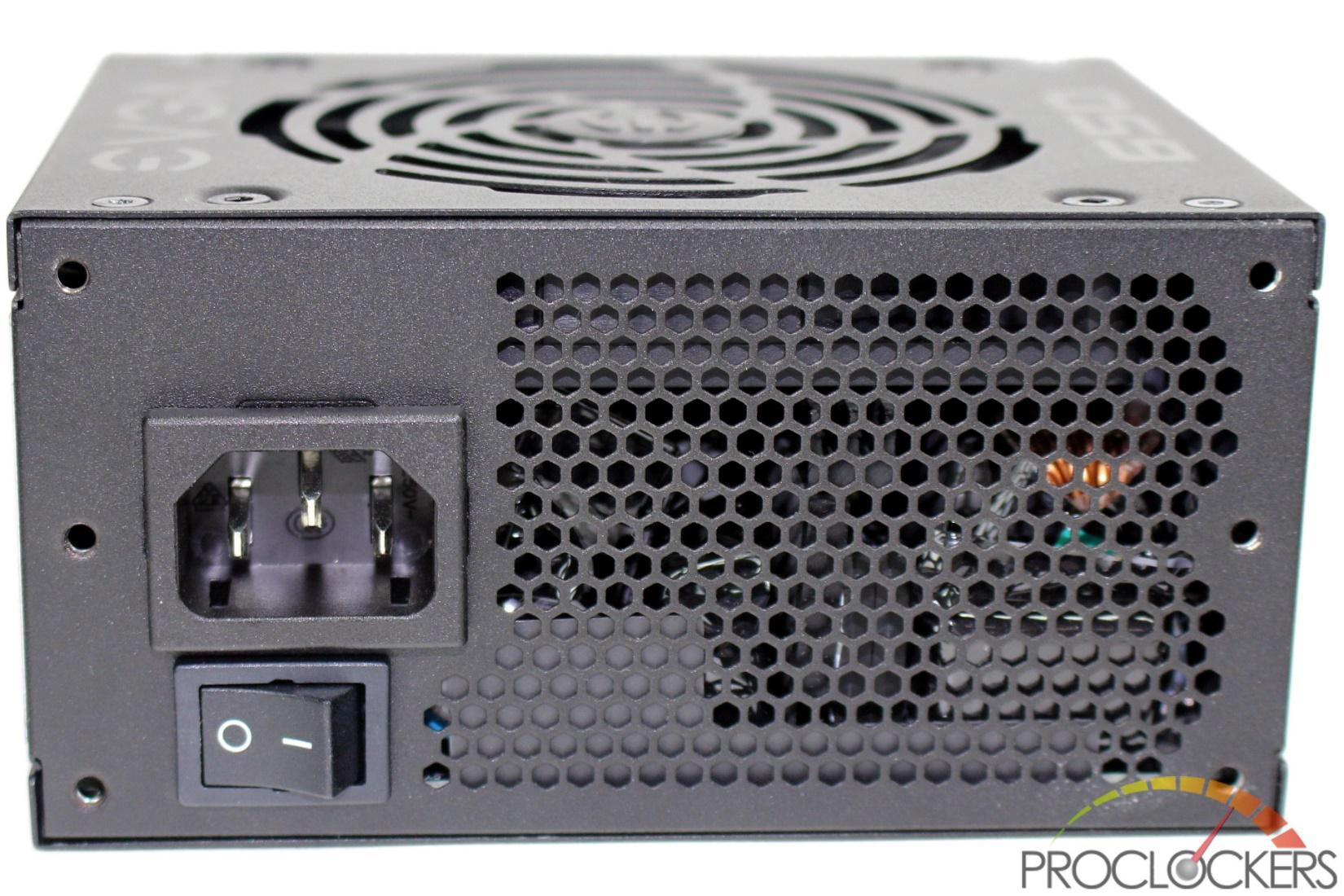 You also get the typical main power switch. Under it with most of the rest of the rear with a hex grill pattern for airflow.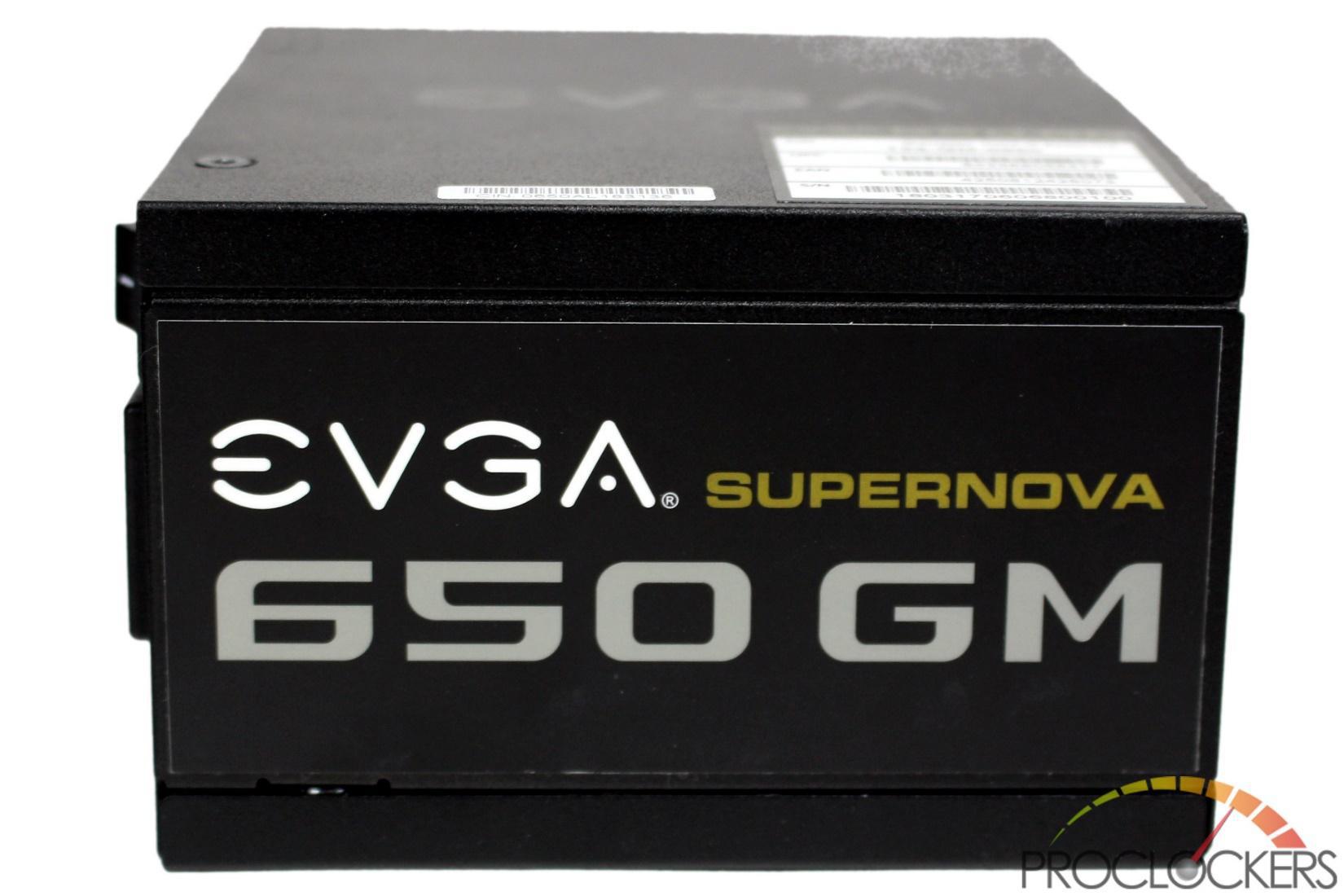 One side of the unit features the EVGA and model logos.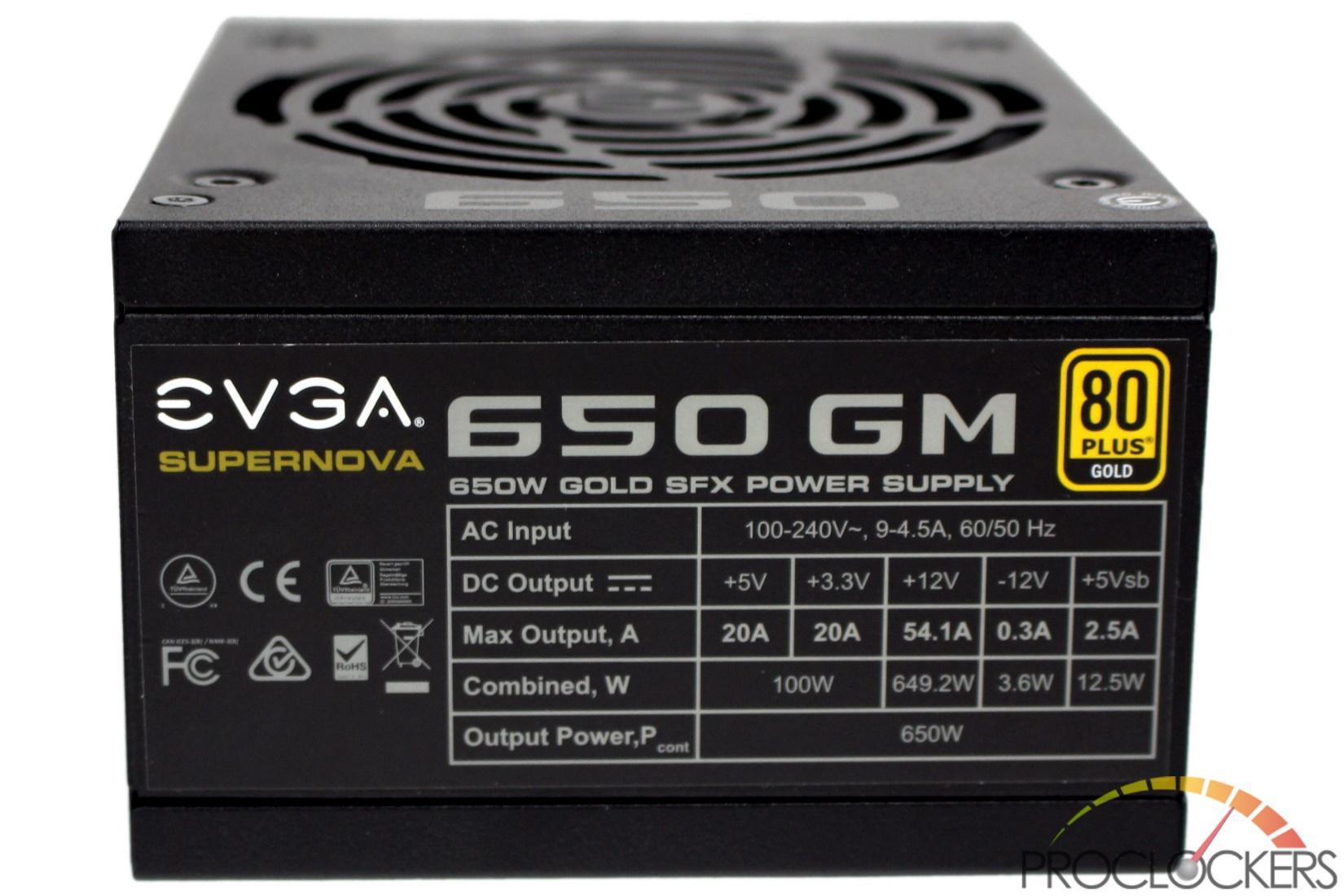 The opposite side is almost entirely taken up with the electrical label.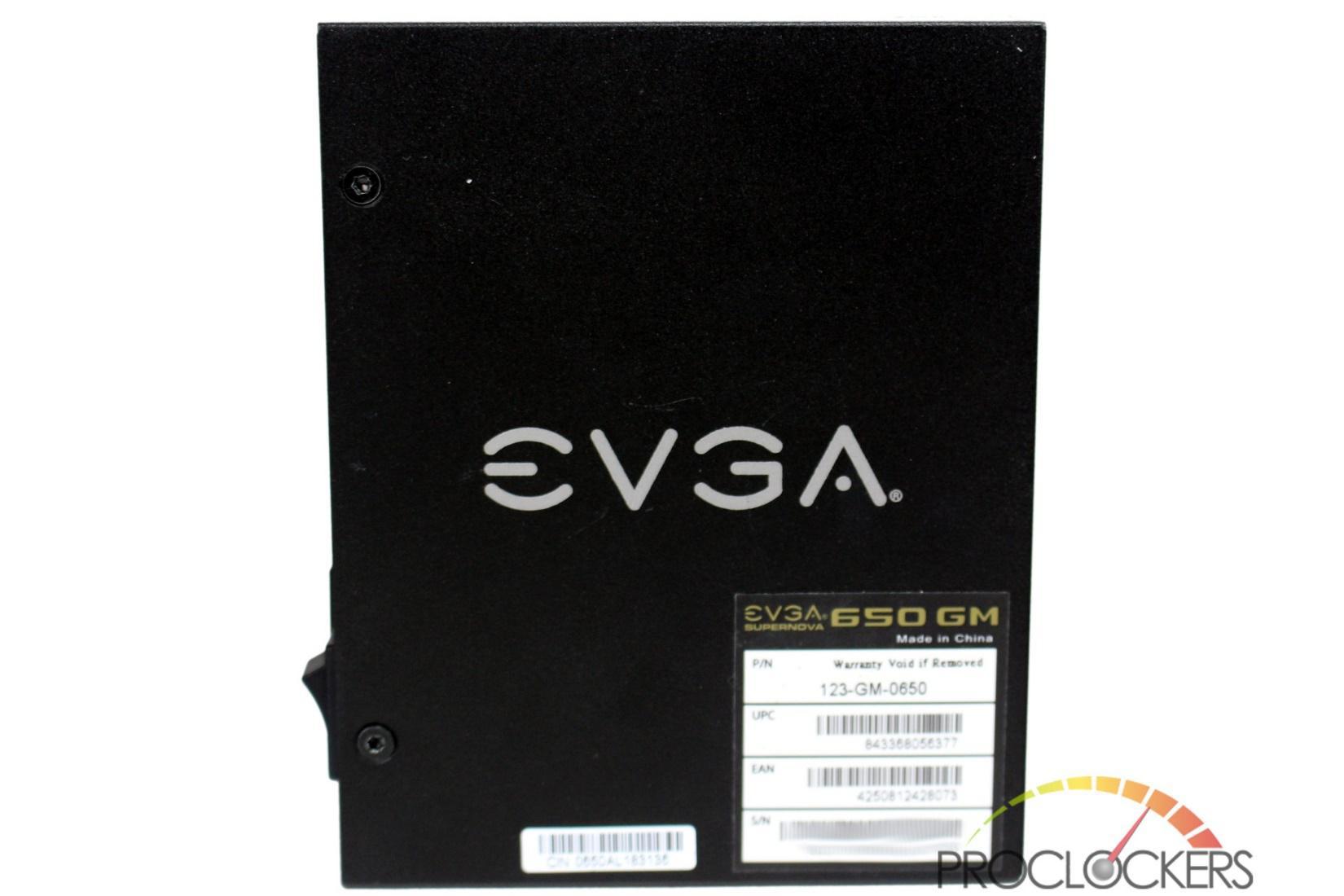 The bottom of the unit doesn't have much to see, only the EVGA logo and the UPC & serial sticker.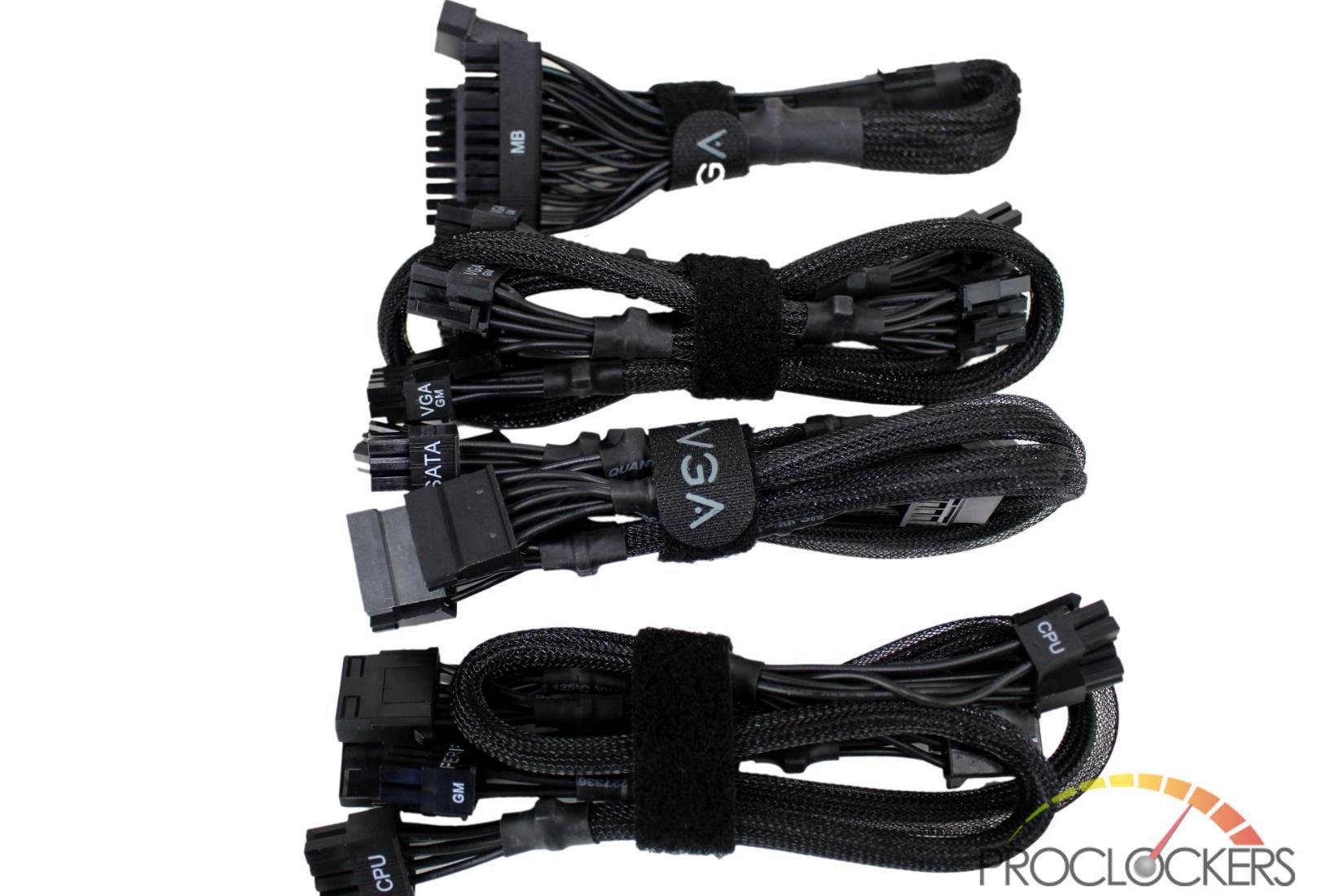 All of the DC output cables come sleeved and wrapped with reusable velcro cable wraps.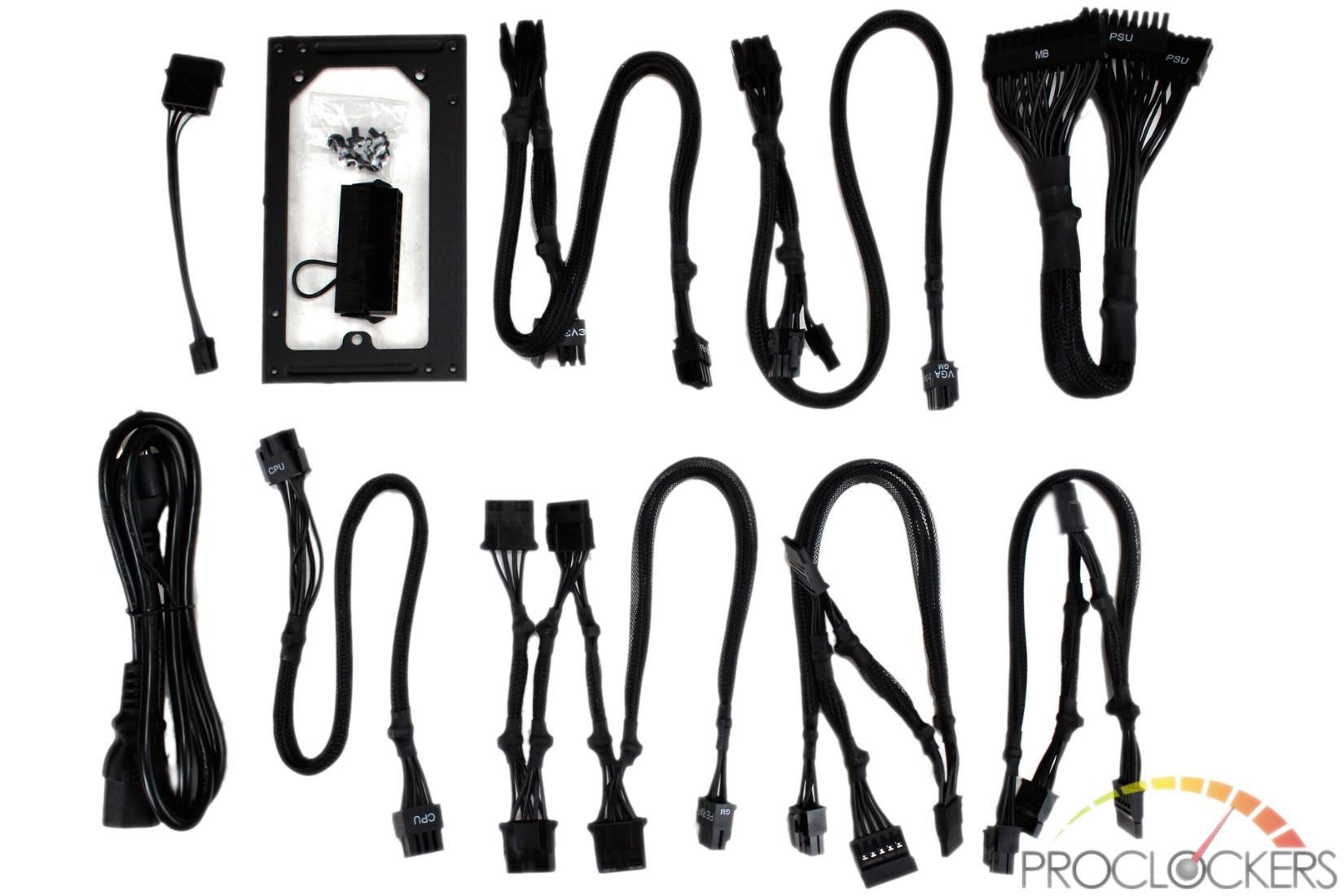 You get eight total cables, the main 24-pin, a single 4+4 EPS power cable, a pair of dual 6+2-pin PCIe cables. Peripheral cables consist of a pair of SATA only cables and a PATA cable. If you need the older berg style connector, EVAG includes an adapter for you.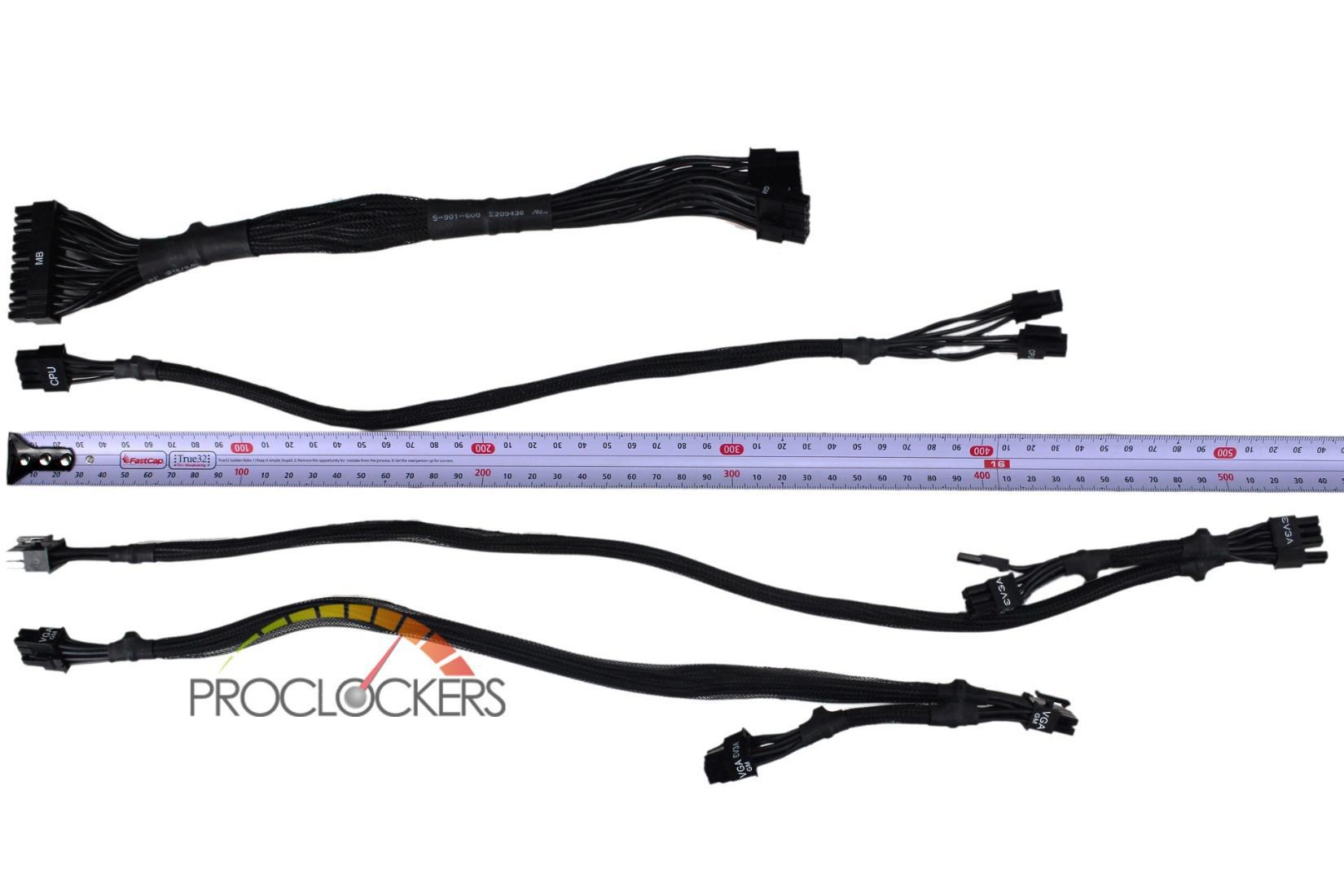 Expectedly, the cables are pretty short, but EVGA does give you plenty of options for your GPU's with two different length PCIe power cables, each with two connectors.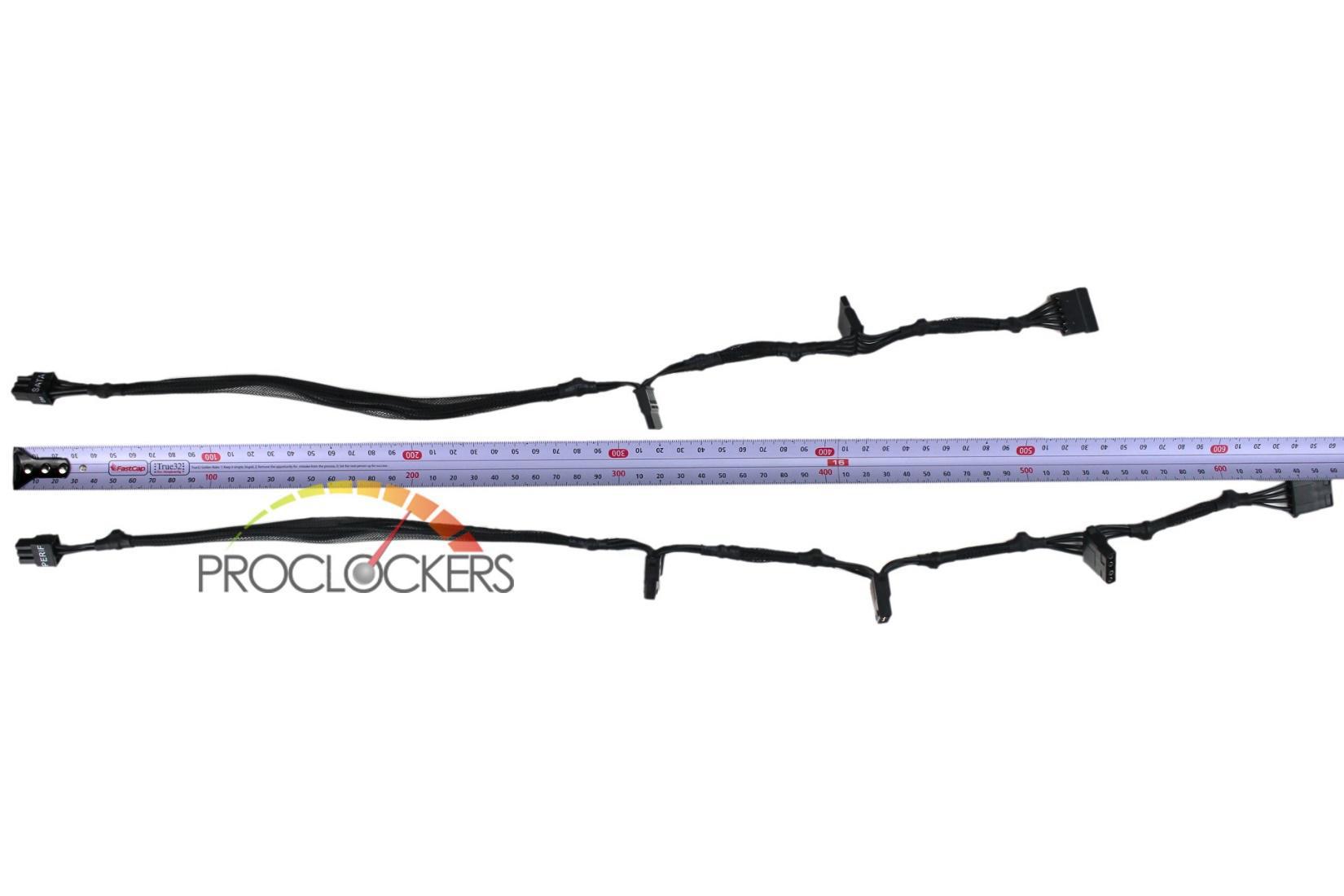 The SATA and PATA power cables are quite long for an SFX unit, this could go either way depending on how compact your build is.
Under the Hood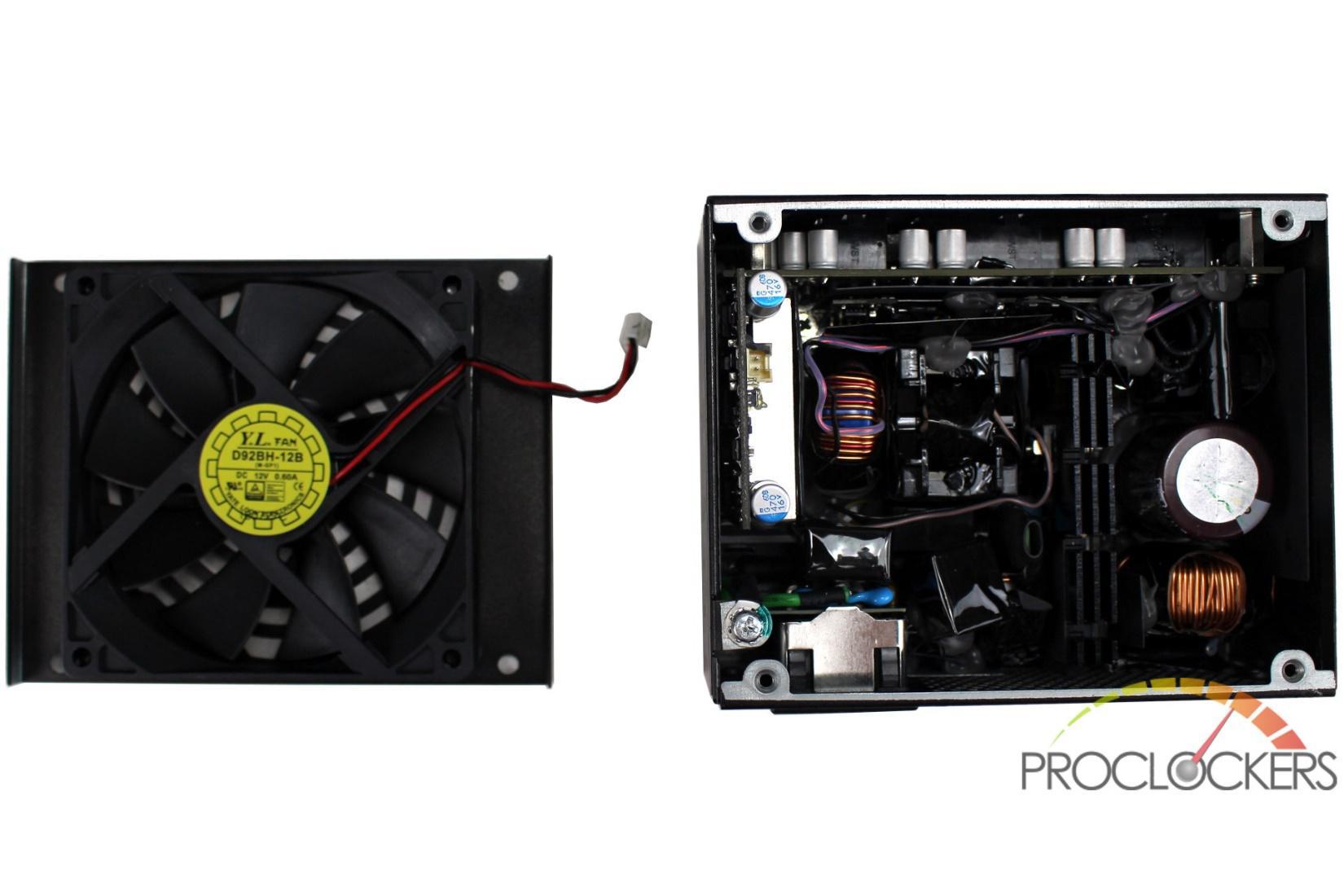 Inside EVGA's SuperNOVA 650 GM is an equally 92mm fan. The rest of the space is quite packed.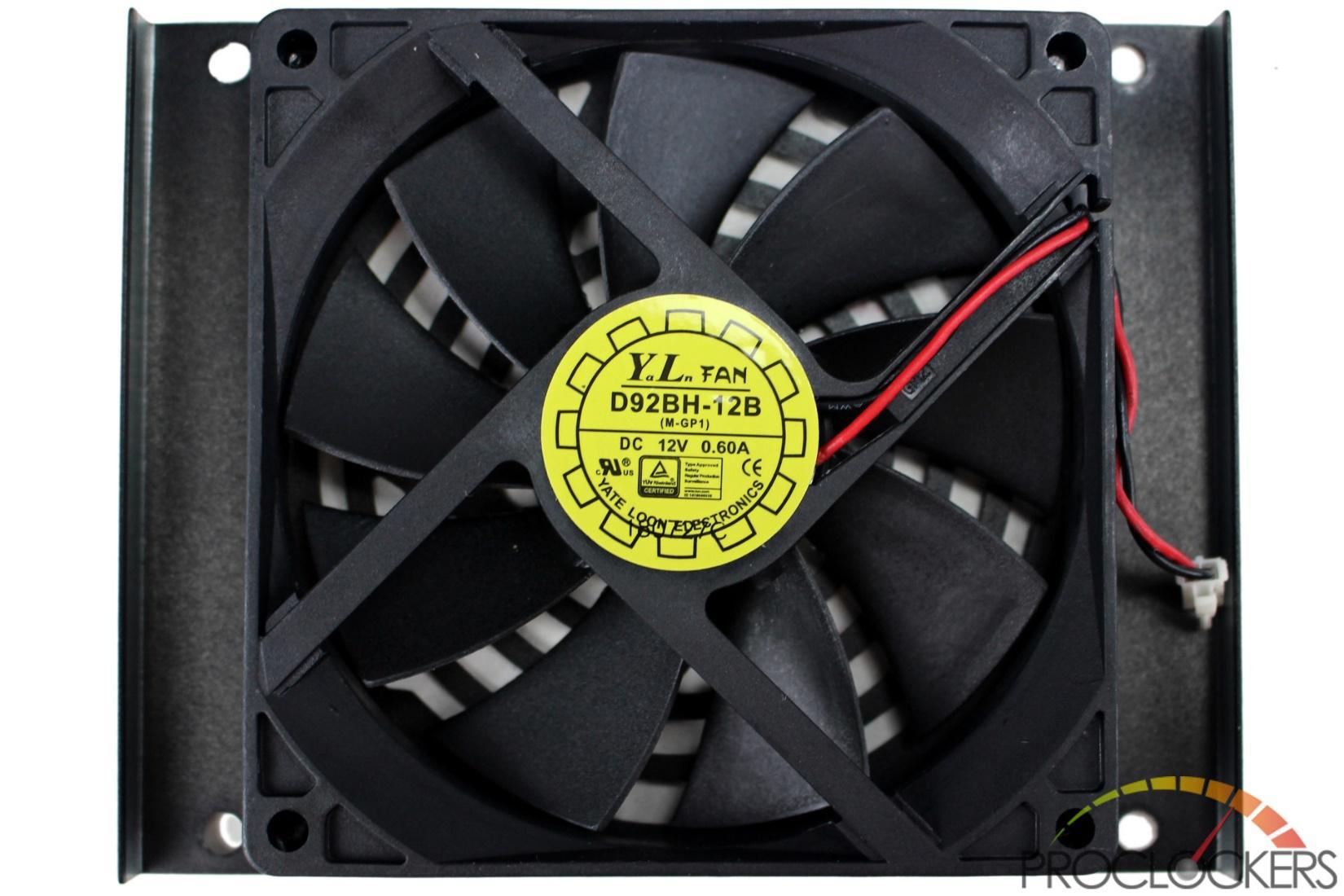 The fan is double ball bearing model from Yate Loon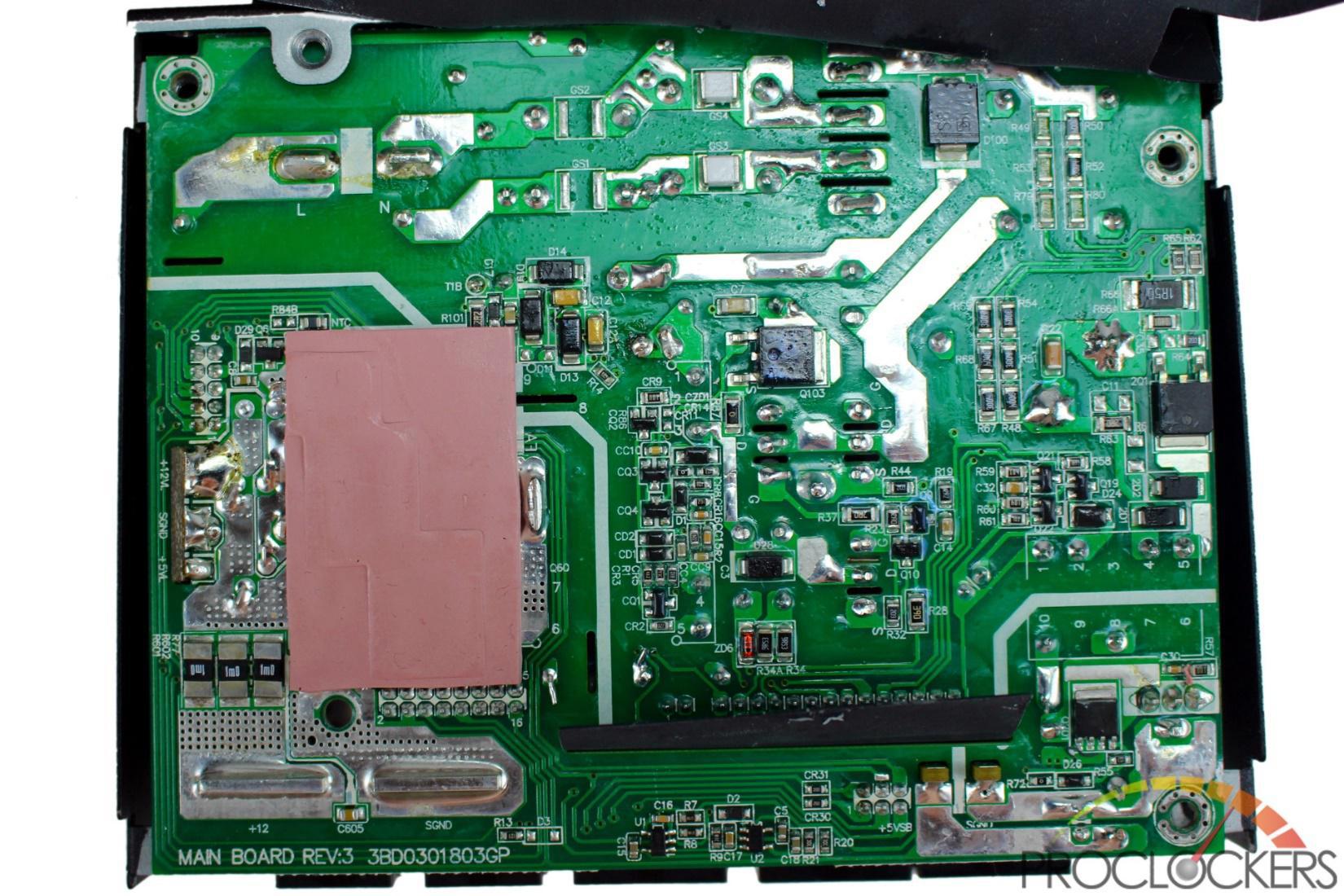 The mainboard has good voltage separation between the high voltage mains and low voltage DC. A large thermal pad sinks of the heat into the metal shell.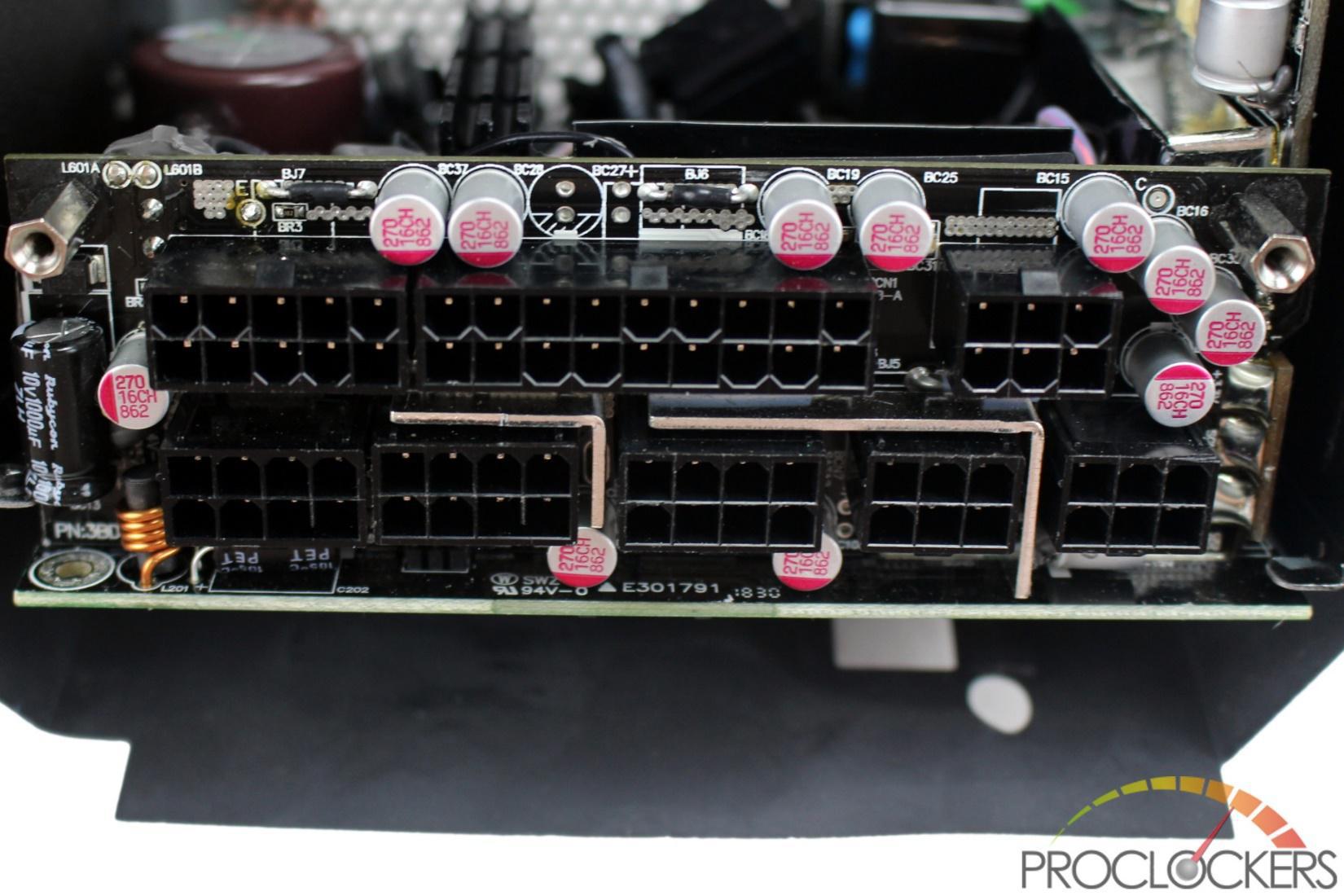 Even though the power supply is small, the 12V bus bars are heavy and make sure that you can pull every last amp out of the 650GM without the rail sagging. Lots of filter capacitors help mitigate ripple.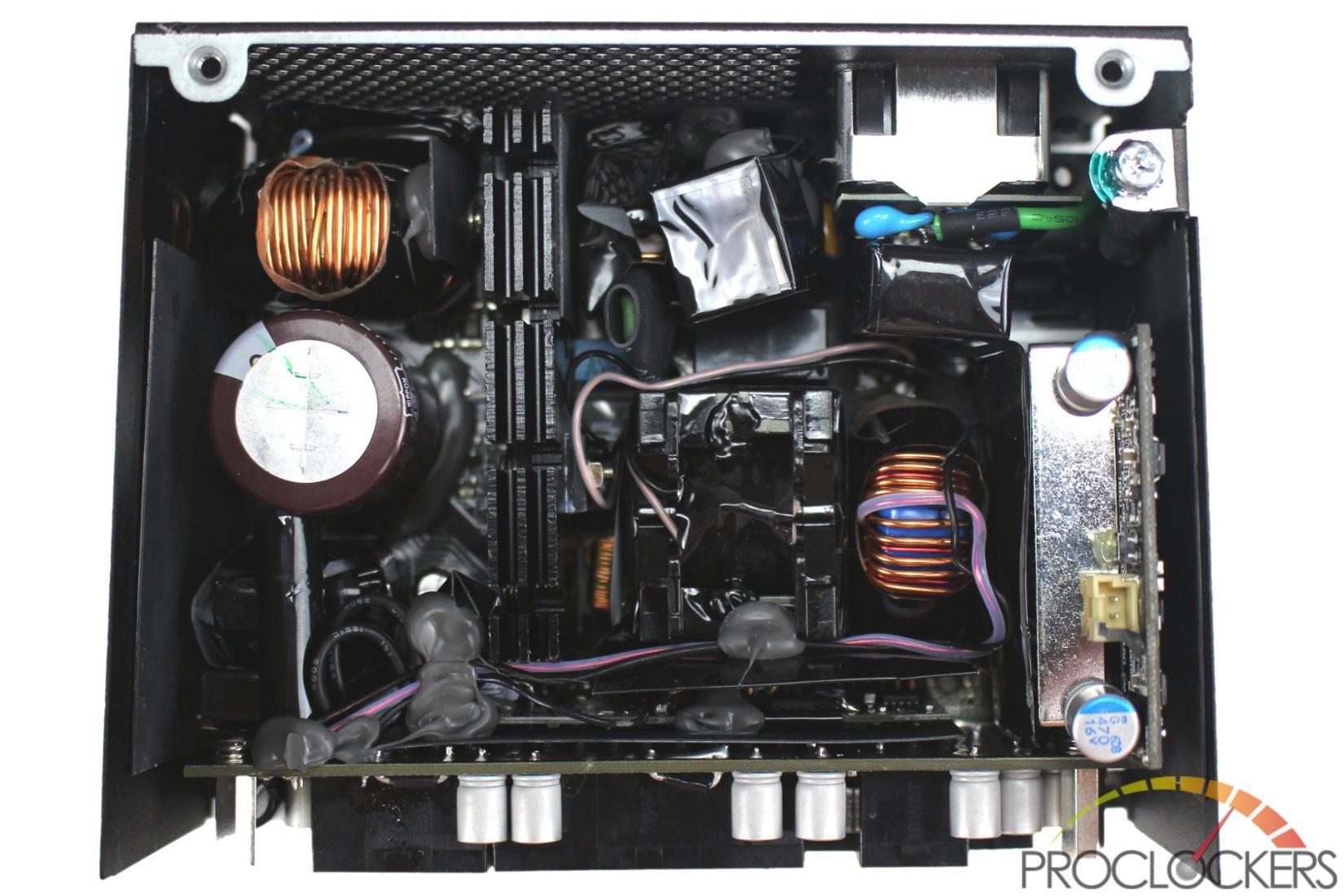 Most of the components inside are blacked out, and even the heatsink has been anodized black.
Testing & Performance
CPU: Intel Core i9-9900k
Motherboard: ASUS ROG Strix Z390-E
RAM: 16GB G.Skill TridentZ Neo 3200 MHz.
GPU: Nvidia RTX 2080 Founders Edition
SSD: Samsung 960 PRO 2TB
OS: Windows 10 Professional X64
We'll start out saying we aren't equipped to do extremely detailed electrical analysis required to pick apart a modern power supply. It takes laboratory-grade dedicated equipment so we'll have to make do with some less precise testing.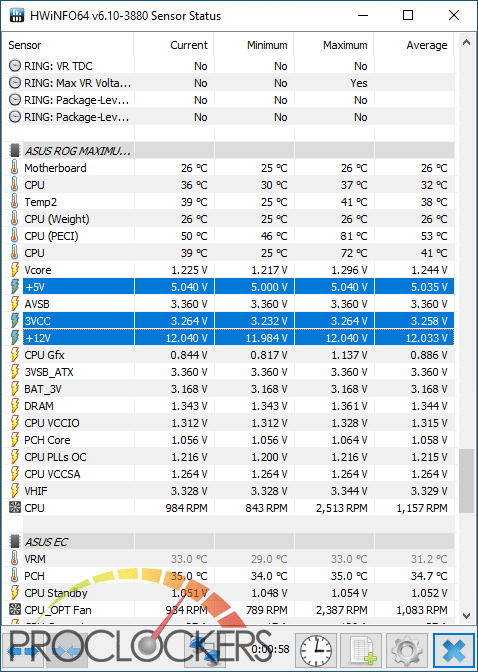 While we normally use a good Fluke Digital Multi-meter, we've found the onboard monitoring solutions in modern motherboards to be quite accurate and able to be easily logged with utilities like HWiNFO.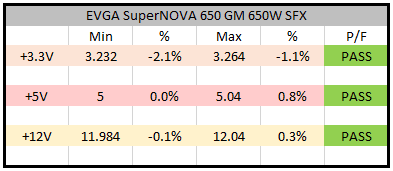 EVGA's 650 GM provides very very good regulation on the 12V main rail with the 5V staying hot on its heels. The 3.3V rail hangs a little more loosely and runs just a hair low, EVGA says within 2%, but we are right on the edge here even though we are still WELL within ATX specifications..
Next, we'll look at ripple on the rails with our Owon VDS-1022/I Digital USB Oscilloscope.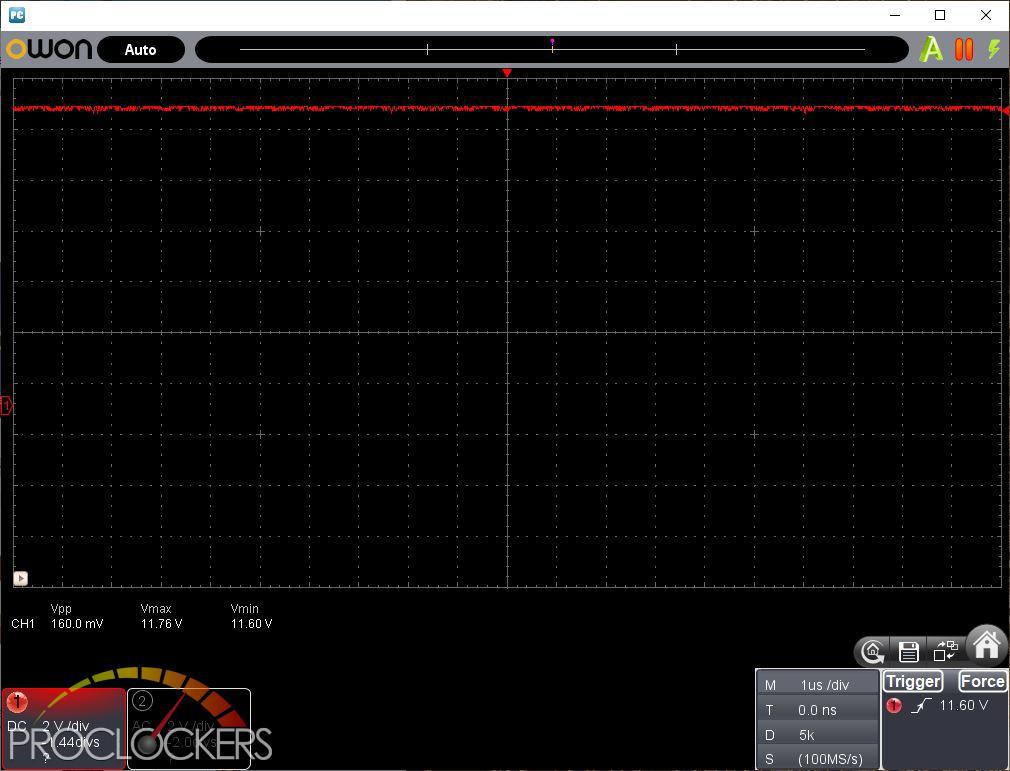 The +12V rail under a stress test load registers a peak of 160mV peak to peak ripple.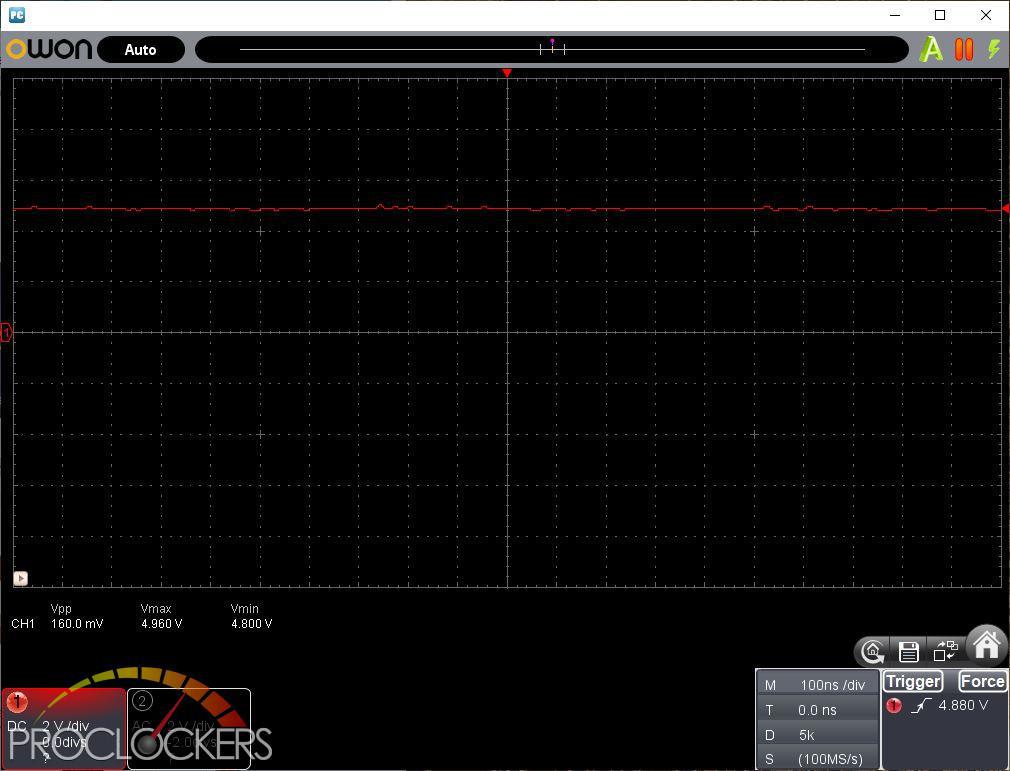 The 5-volt rail comes in around 160mV of ripple.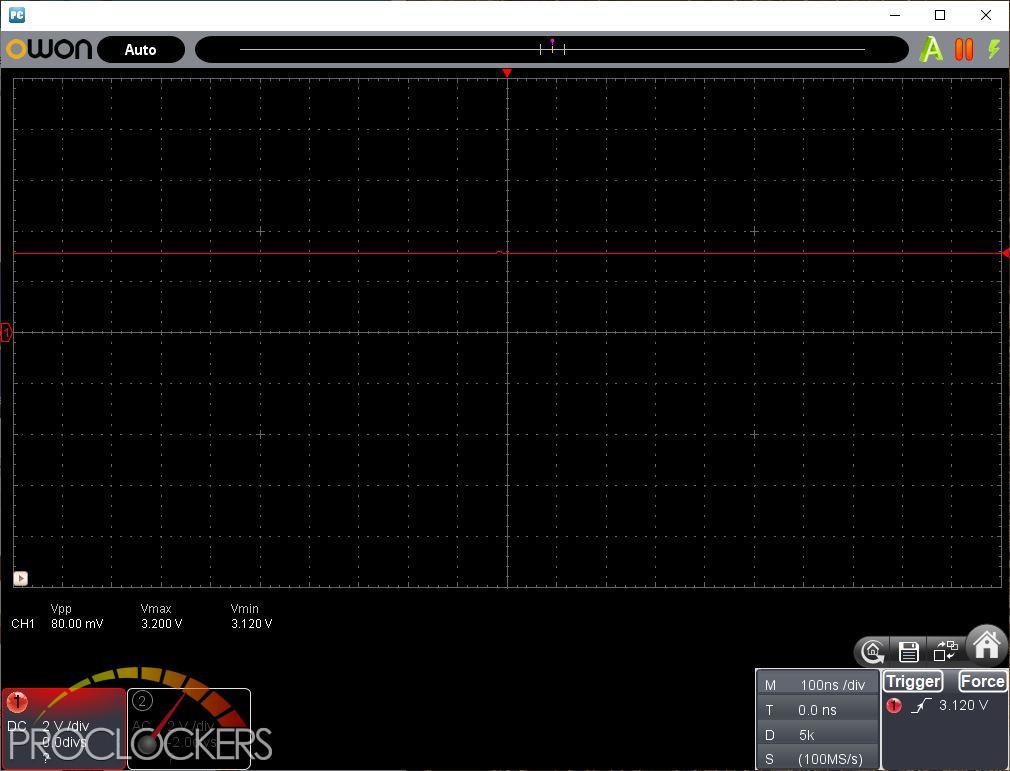 The 3.3V rail does a great job with 80mV of ripple.
Final Thoughts & Conclusion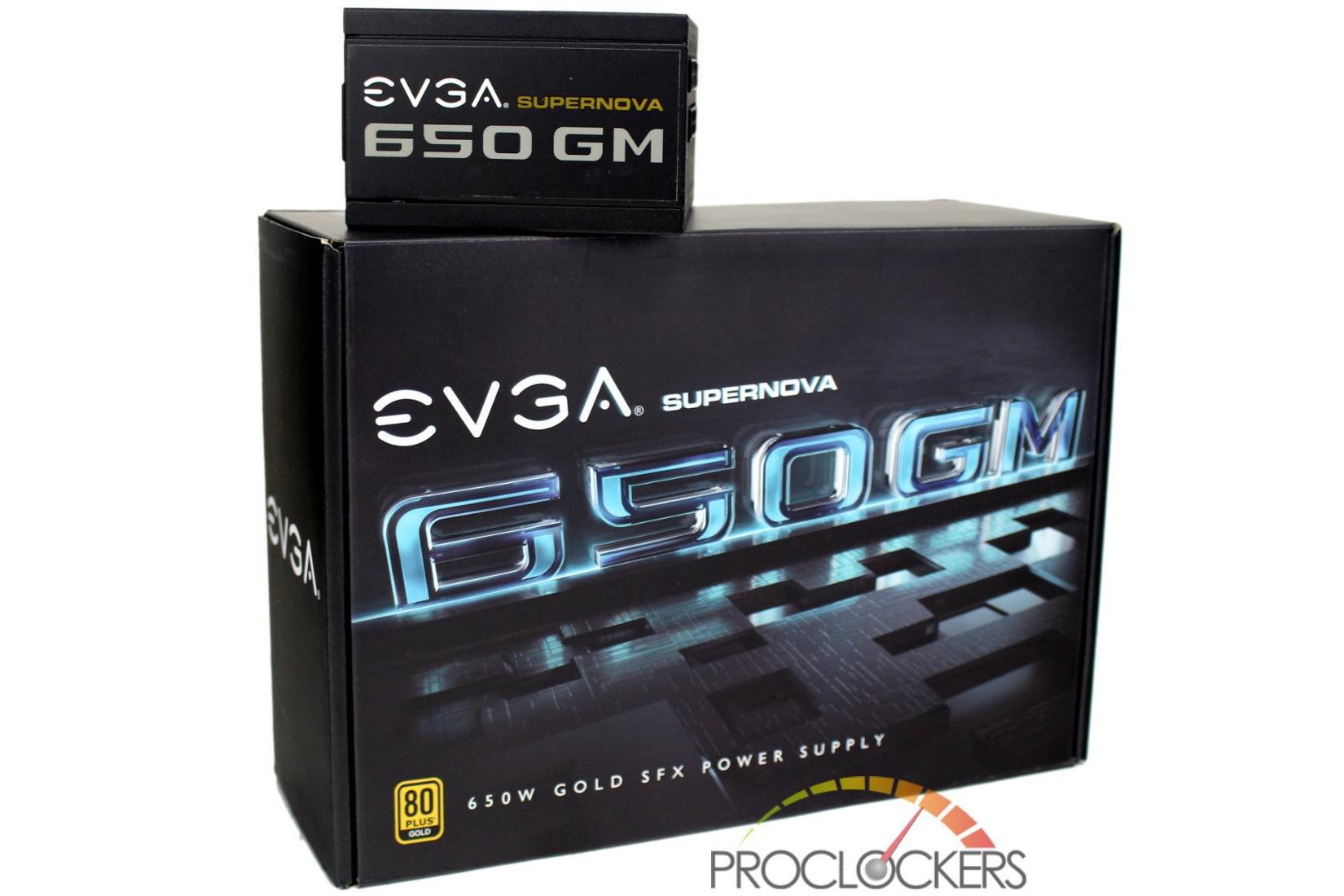 EVGA's legacy of bulletproof SuperNOVA power supplies has been shrunk down to something almost small enough to put in your pocket. 650W is enough for even the most powerful SFX system, even if you overclock, and you have the 80+ Gold rating so you aren't wasting much wattage on heat inside an already tiny build. You can even use the 650GM in a full-sized ATX system and EVGA includes an adapter plate for this purpose. I wasn't personally a big fan of the cables included with the unit. Each end of the cable is zip-tied, quite tightly and then has heat shrink over it. This makes the ends of the cable incredibly stiff and hard to maneuver in tight spaces and this can be important in very cramped builds. If you are the kind that ends up with custom cables, don't worry about it but you may be better served just cutting the heat shrink and zip ties off. Outside of that, we loved everything else, especially the tight voltage regulation on the all-important 12V rail.

Great job EVGA!

<![CDATA[ */ var zbjs = {"ajaxurl":"https:\/\/gaminggorilla.com\/wp-admin\/admin-ajax.php","md5":"d8e8b24d2fa18d2999e0fddcdd418586","tags":[],"categories":["Hardware"]}; /* ]]>