Kingston HyperX Predator DDR4 3000MHz Review
Introduction
Kingston Technology launched the HyperX T1 memory series back in 2008. Soon afterwards, the HyperX T1 became legendary among the enthusiast community and for good reason. HyperX T1 modules featured massive blue heat spreaders that dissipated heat away from the memory chips, a necessity for overclocking. After a four year production run, Kingston to go back to the drawing board and design a new heat spreader with better thermal characteristics. So in 2012, the HyperX Predator was born.
Featuring a superior heat spreader design and some other notable improvements, HyperX Predator series replaced the HyperX T1 series as the flagship of the HyperX memory line. Now 2 years later, DDR4 has been released and Kingston chose the HyperX Predator DDR4 as their first release with the new memory technology. The Kingston HyperX Predator DDR4 offer speeds from 2133 MHz all the way up to a staggering 3000Mhz. They feature very high profile black aluminum heat spreaders with a total memory module height of 53.9mm. At 3000 Mhz, the HyperX Predator DDR4 16GB kit I am reviewing today is at the extreme high end of the memory speed scale and the fastest DDR4 memory kit that Kingston offers. There is no single thing that is subtle about the Predators.
A rather uncommon feature of the HyperX Predator DDR4 is the use of two different XMP profiles. Profile #1 is at the rated 3000 MHz speed, while Profile #2 is at 2666 MHz. If for some reason a user is not able to boot with profile #1, they can select profile #2 instead. Then the user can fine tune the memory from there. Due to the high speed of this memory kit, there are many low and mid-priced motherboards that simply will not be able to run them at all. The very tall aforementioned heat spreader will undoubtedly interfere will many aftermarket air cooler and perhaps some AIO coolers as well.
Kingston's take on HyperX Predator DDR4
Prey on the competition with HyperX® Predator DDR4, offering low CAS latency and the most aggressive timings on high-speed modules for a new generation of performance. HyperX Predator's Intel XMP profiles are optimized for X99 motherboards for compatibility and easy overclocking. Like you, Predator DDR4 keeps its cool while gaming, for a cooler and quieter PC. Stand out from the crowd and maximize heat dissipation with Predator's signature tall heat sink, now in black.
Features
Quad channel available
Capacity 16GB (4×4 GB kits)
Speeds of up to 3000MHz
1.2 & 1.35 voltages for stable overclocking
Intel XMP-ready profiles optimized for Intel X99 series motherboards
Exceptional clock and latency timing specifications to enhance overall system performance
Heat sink design achieves effective consistency of speed while prolonging the memory lifecycle
100 percent factory tested
Let's take a closer look on the next page.
The memory kit is packaged in a rather plain brown box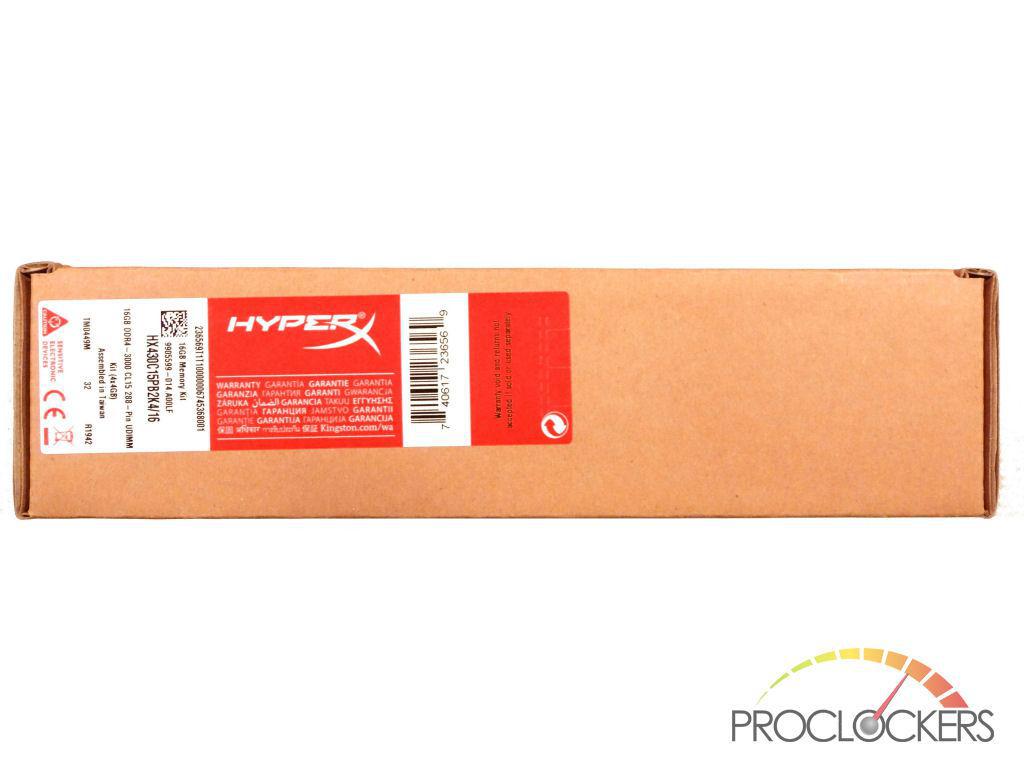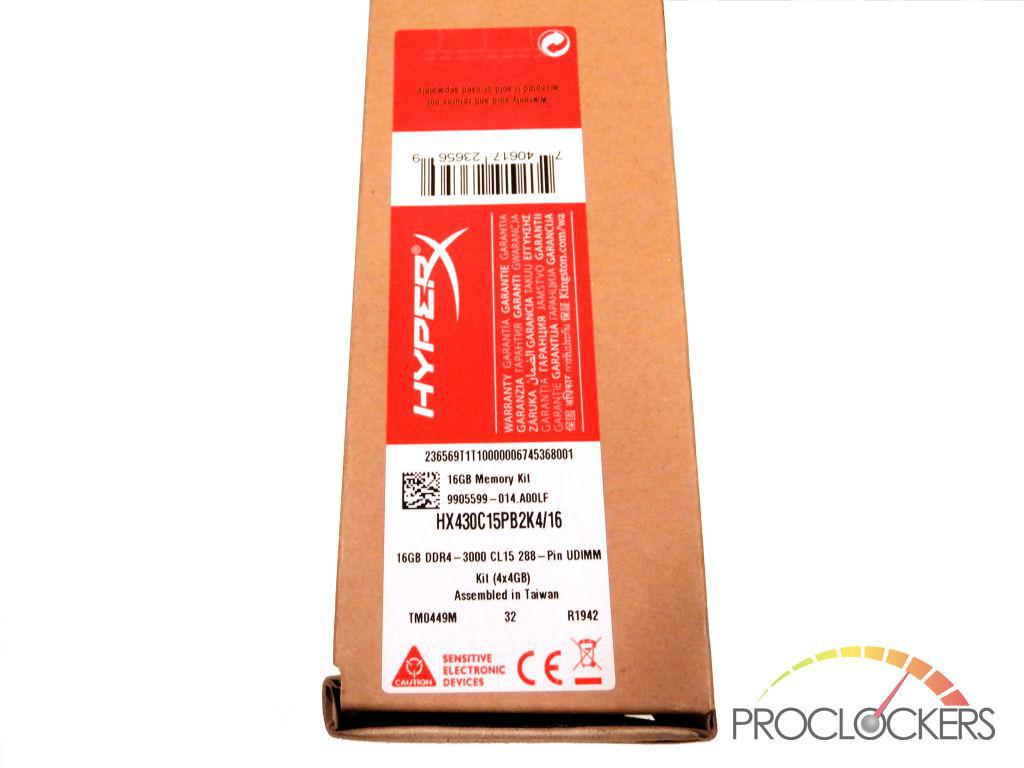 The side of the box has a label with the part number and a brief description on the contents.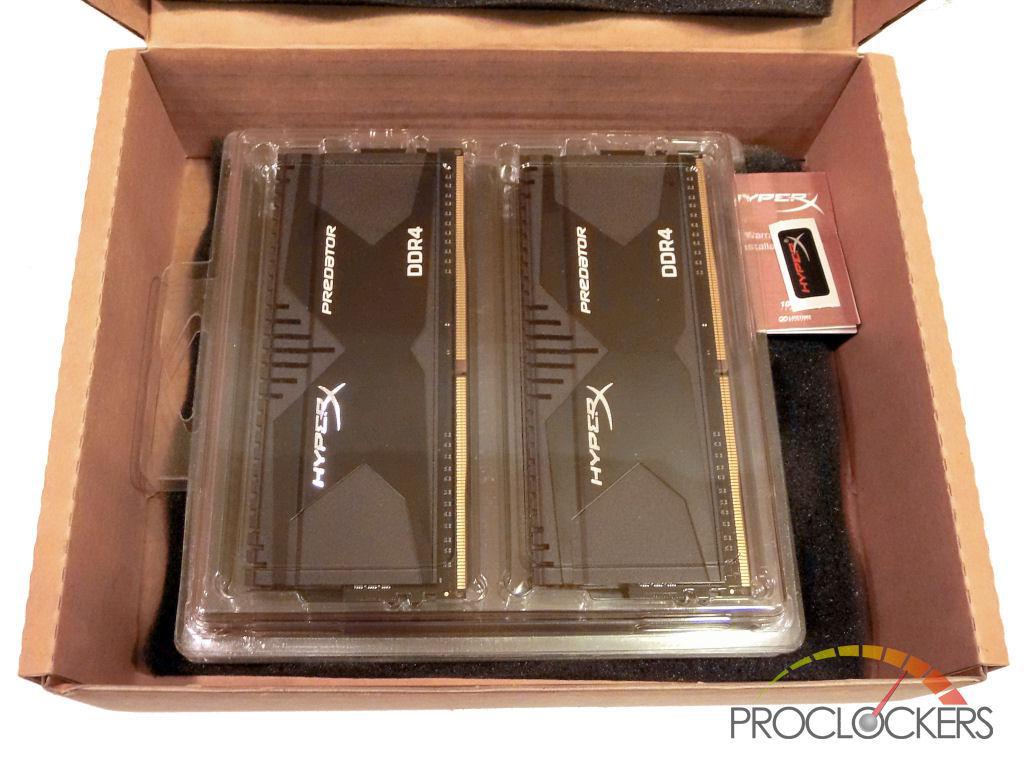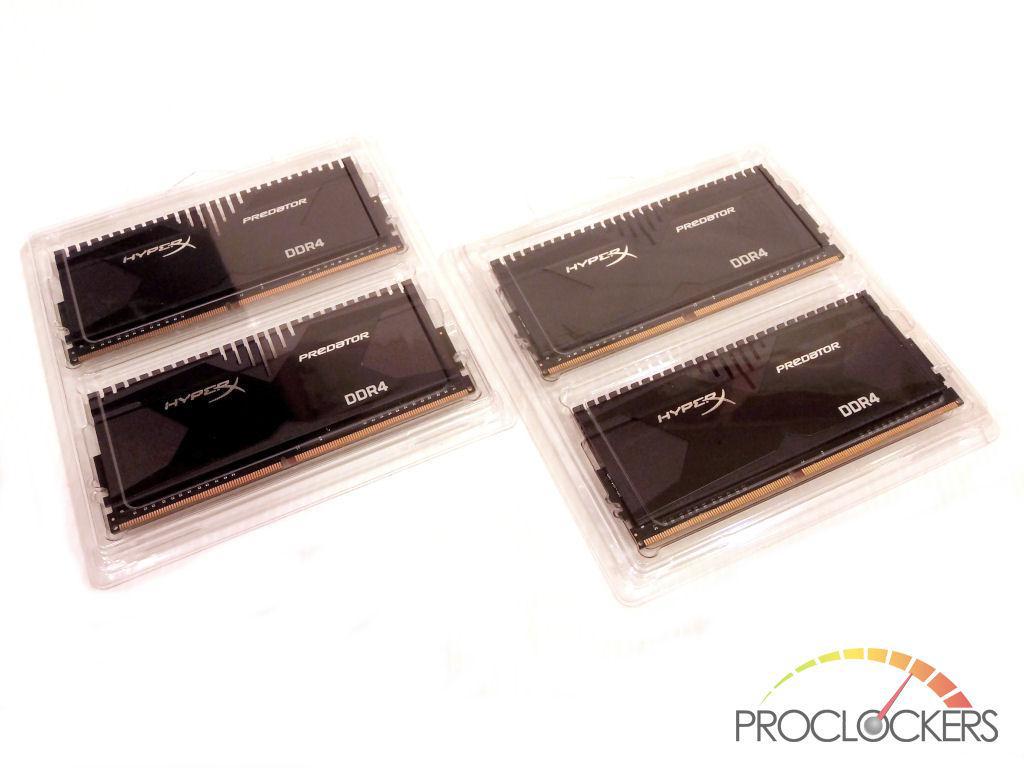 Once inside the box we are greeted with the memory. The memory is protected by a pair of plastic trays. There is also a HyperX case sticker and warranty/installation guide.
Specifications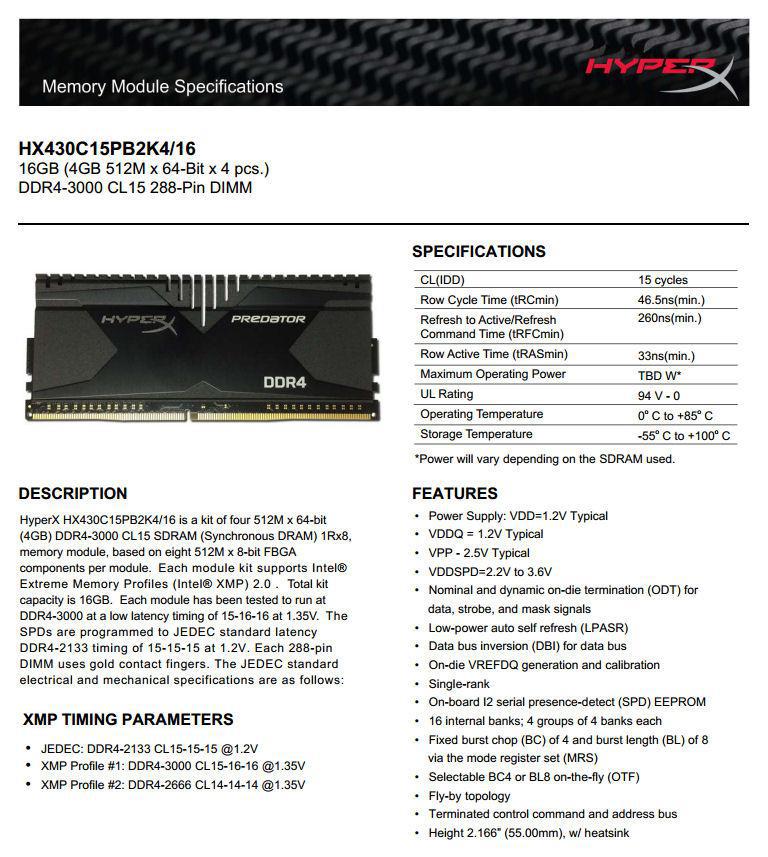 A Closer Look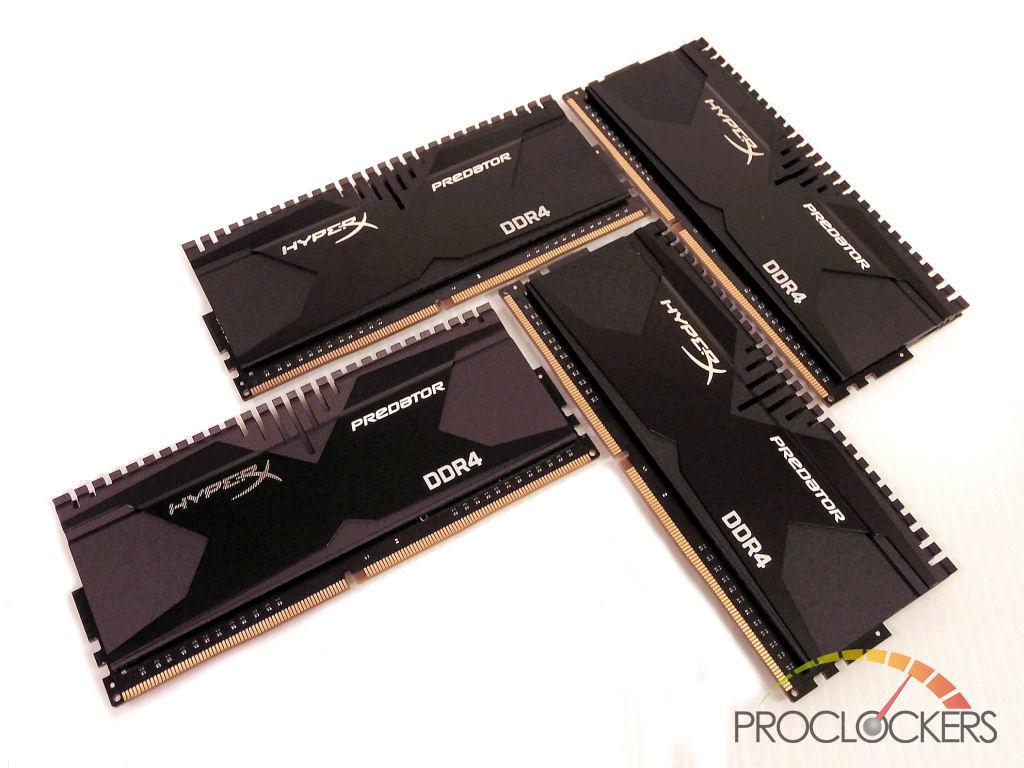 There are very few DDR4 memory kits on the market currently. Kingston's HyperX Predator features one of the bolder designs.
The HyperX Predator RAM features a black aluminum heatsink, with black "X" pattern accent, white printing, and a machined HyperX logo. The entire HyperX Predator DDR4 series feature black PCB's.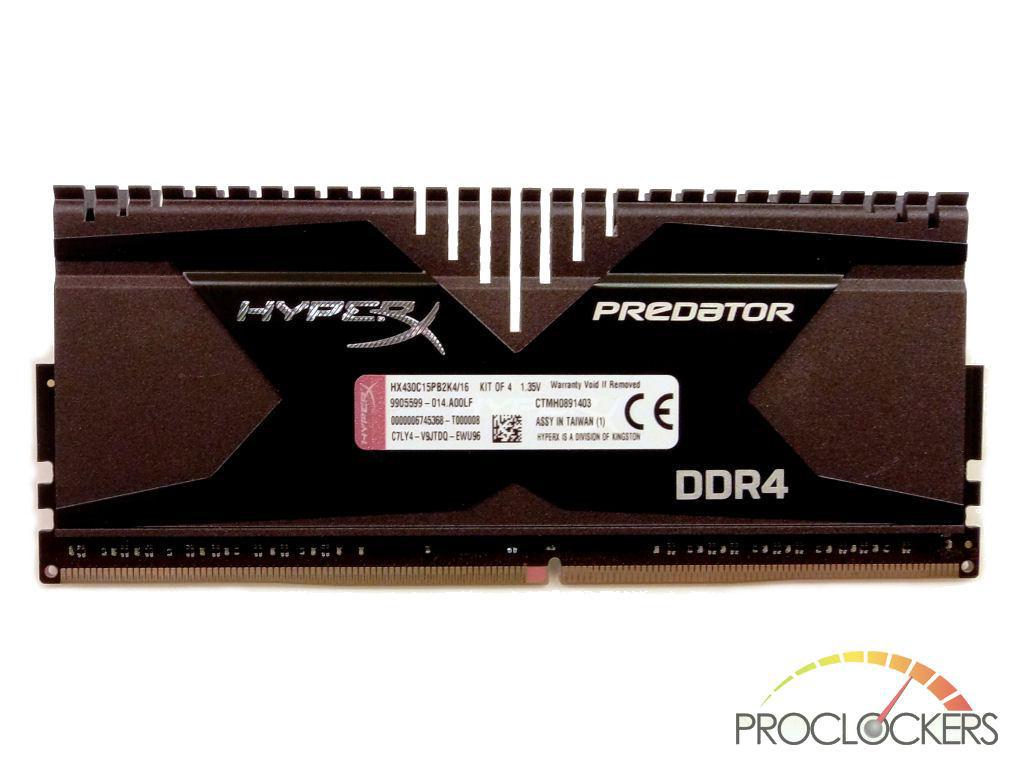 Standing at 54mm tall, the HyperX Predator definitely has a presence. Kingston attaches a label to each memory module that contains all important information regarding that exact module.
On to Testing.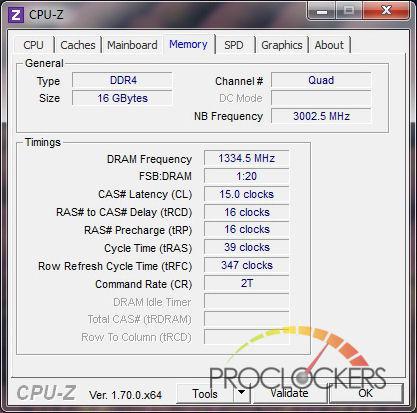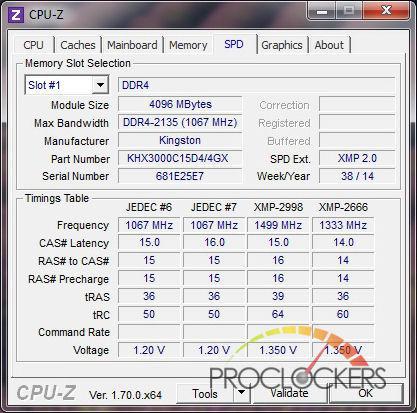 Benchmark Results
AIDA64 Engineer Edition
"FinalWire Ltd. today announced the immediate availability of AIDA64 Extreme Edition 1.50 software, a streamlined diagnostic and benchmarking tool for home users; and the immediate availability of AIDA64 Business Edition 1.50 software, an essential network management solution for small and medium scale enterprises. The new AIDA64 update implements AVX-optimized benchmarks for the upcoming Intel Sandy Bridge processors, adds a brand new video encoding benchmark, and supports the latest AMD and nVIDIA graphics processors."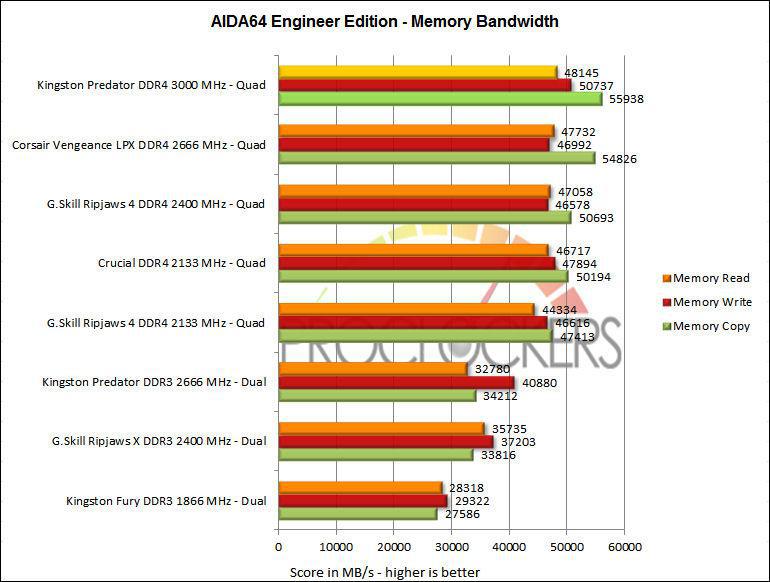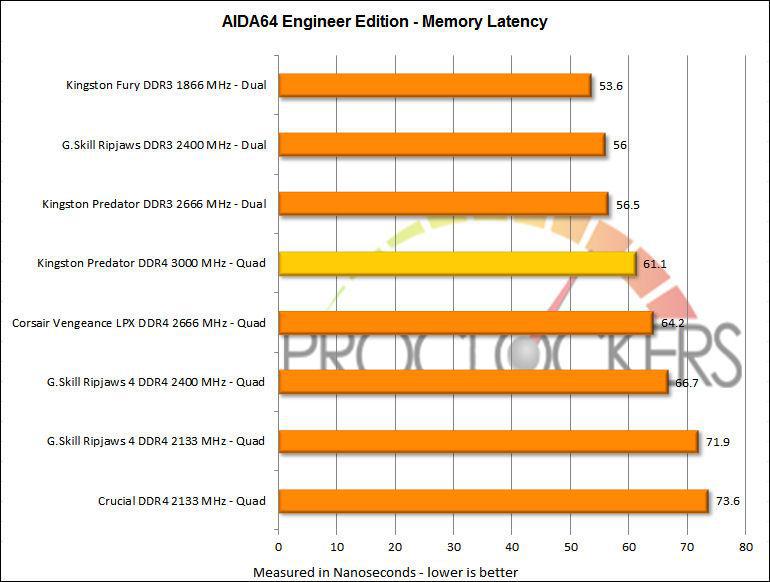 Passmark Performance Test – Memory Mark – Threaded
"Fast, easy to use, PC speed testing and benchmarking. PassMark PerformanceTest ™ allows you to objectively benchmark a PC using a variety of different speed tests and compare the results to other computers."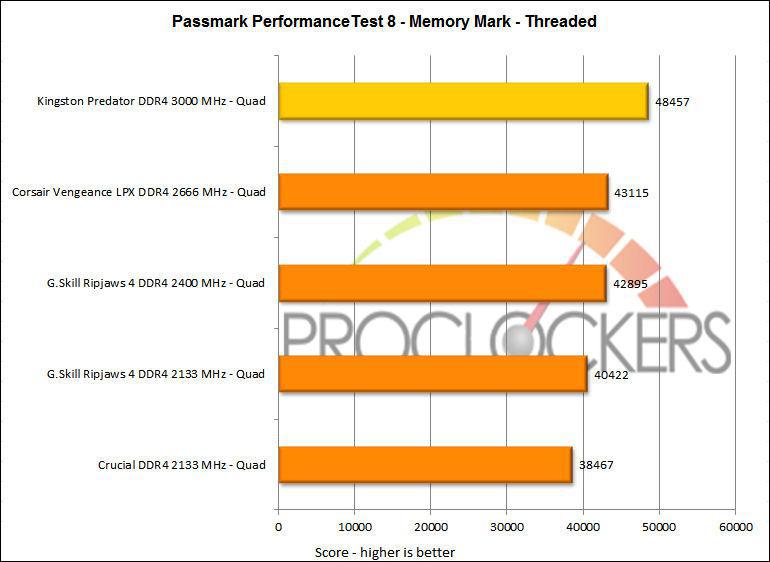 SiSoft Sandra
"SiSoftware Sandra provides a robust package of diagnostic tools for testing your system and teasing out its problems–or potential headaches."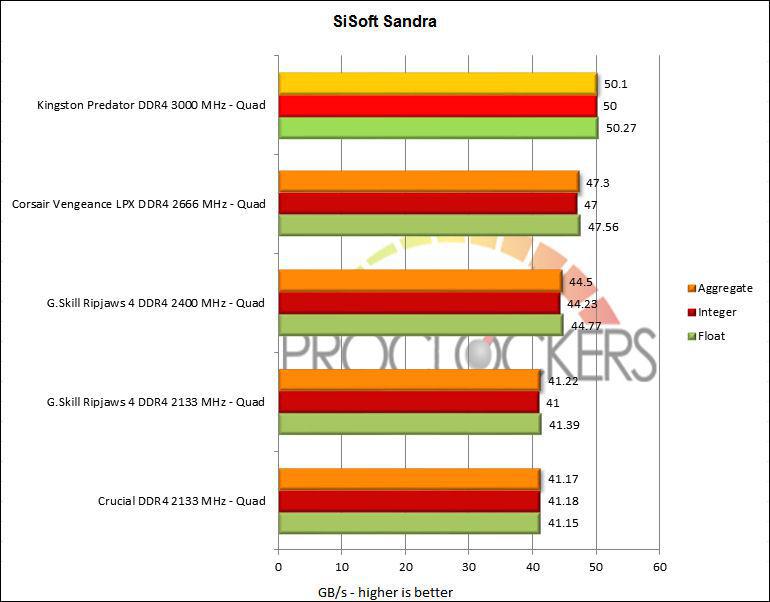 7-Zip
"This form allows you to measure the performance of your computer.The benchmark shows a rating in MIPS (million instructions per second). The rating value is calculated from the measured speed, and it is normalized with results of Intel Core 2 CPU with multi-threading option switched off. So if you have modern CPU from Intel or AMD, rating values in single-thread mode must be close to real CPU frequency. There are two tests, compression with LZMA method and decompression with LZMA method. Once the total passes reaches 100, the score is taken."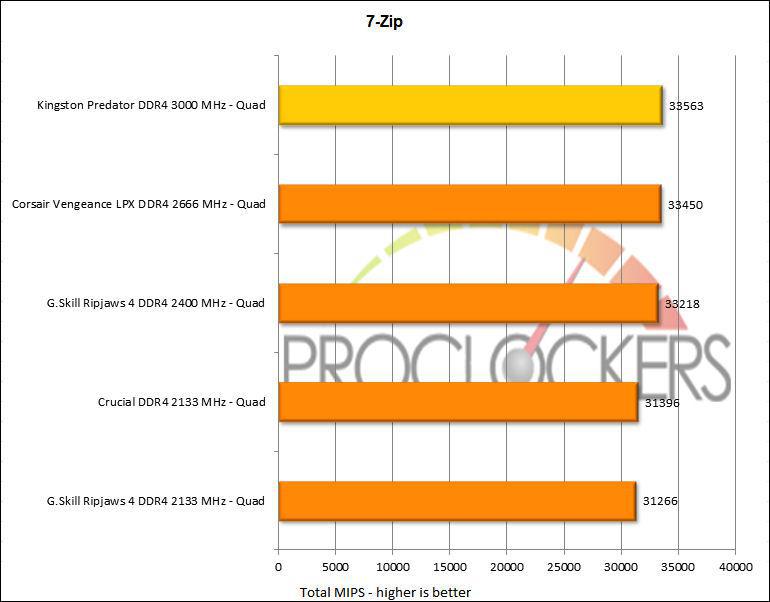 Super Pi Modded 1.5
"In August 1995, the calculation of pi up to 4,294,960,000 decimal digits was succeeded by using a supercomputer at the University of Tokyo. The program was written by D.Takahashi in collaboration with Dr.Y.Kanada at the computer center. This record should be the current world record. (Details are shown in the windows help.) This record-breaking program was ported to personal computer environment such as Windows NT and Windows 95. In order to calculate 33.55 million digits, it takes within 3 days with a Pentium 90 MHz, 40 MB main memory and 340 MB available storage."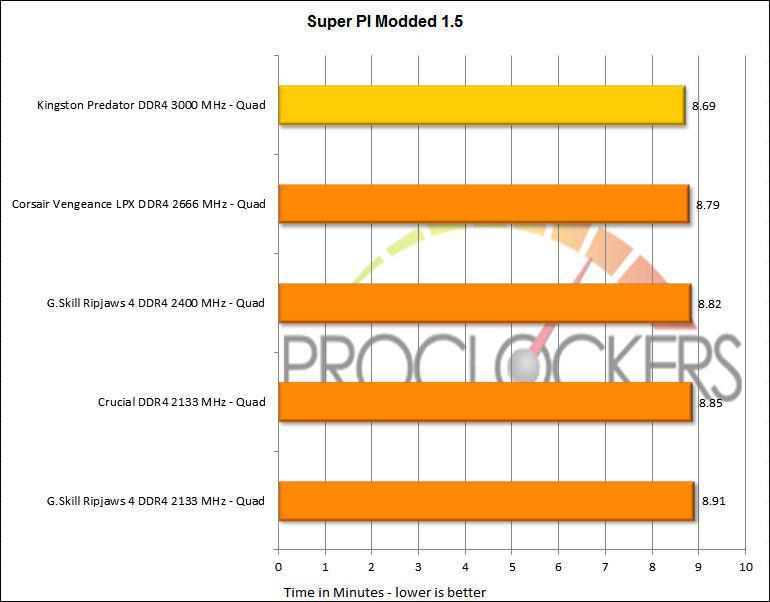 Fritz Chess
"Fritz Chess is a benchmark in which a fictitious game of chess is played. As each move has to be calculated by the computer, it is an excellent test of CPU muscle."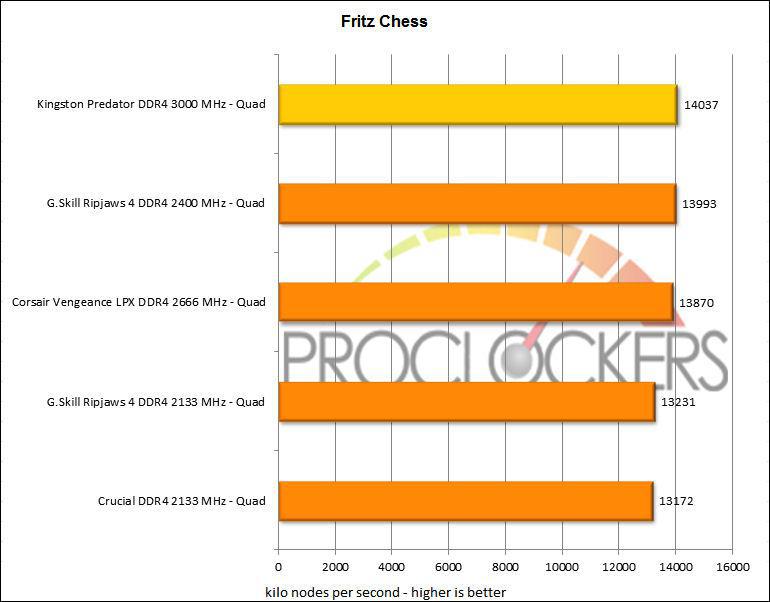 Game testing continued on next page.
Game Benchmark Results
Heaven
"Heaven Benchmark immerses a user into a magical steampunk world of shiny brass, wood and gears. Nested on flying islands, a tiny village with its cozy, sun-heated cobblestone streets, an elaborately crafted dirigible above the expanse of fluffy clouds, and a majestic dragon on the central square gives a true sense of adventure. An interactive experience with fly-by and walk-through modes allows for exploring all corners of this world powered by the cutting-edge UNIGINE Engine that leverages the most advanced capabilities of graphics APIs and turns this benchmark into a visual masterpiece."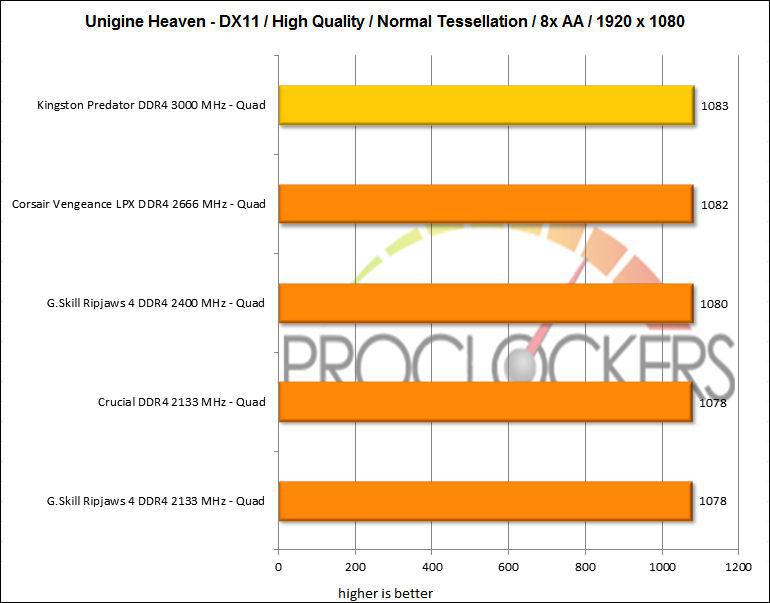 3DMark – Firestrike
"The new 3DMark includes everything you need to benchmark your hardware. With three all new tests you can bench everything from smartphones and tablets, to notebooks and home PCs, to the latest high-end, multi-GPU gaming desktops. And it's not just for Windows. With 3DMark you can compare your scores with Android and iOS devices too. It's the most powerful and flexible 3DMark we've ever created."
Fire Strike is a showcase DirectX 11 benchmark designed for today's high-performance gaming PCs. It is our most ambitious and technical benchmark ever, featuring real-time graphics rendered with detail and complexity far beyond what is found in other benchmarks and games today."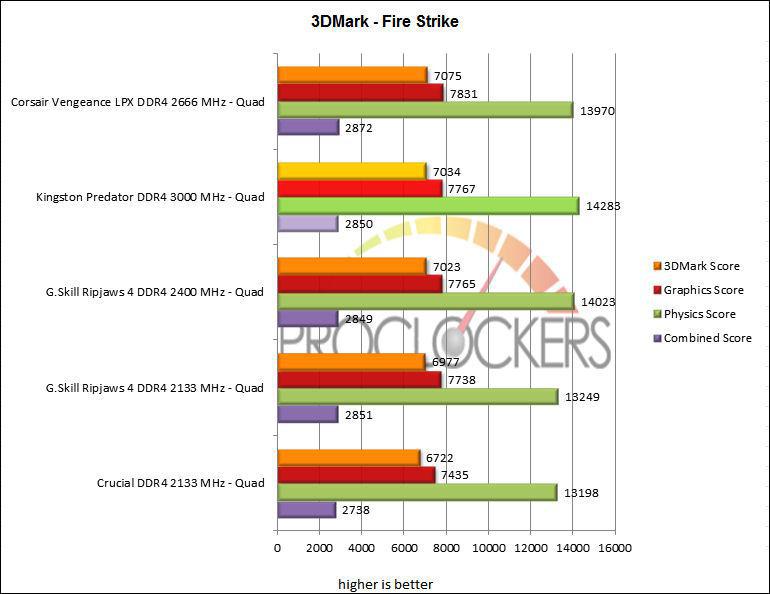 Overclocking
The XMP profile has timings of 15-16-16-39-2T. I raised the voltage from 1.35v to 1.5v, but I was not able to increase the memory multiplier from the original setting of 24 to 26. I loosened the timings to attempt to get even higher clocks, but with limited success. Ultimately, I settled with timings of 15-15-15-38-2T, a BLCK of 127.5MHz, and a multiplier of 24. That yielded a memory frequency of 3060MHz. This offered a noticeable increase in memory throughput.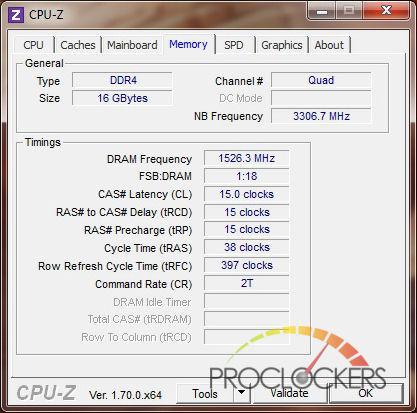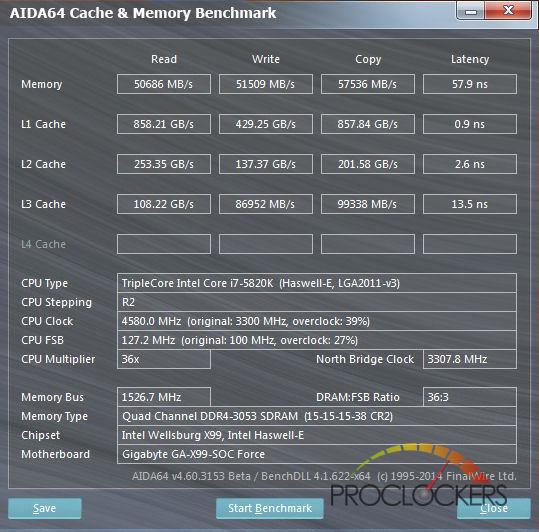 Final thoughts and conclusion are up next
Final Thoughts and Conclusion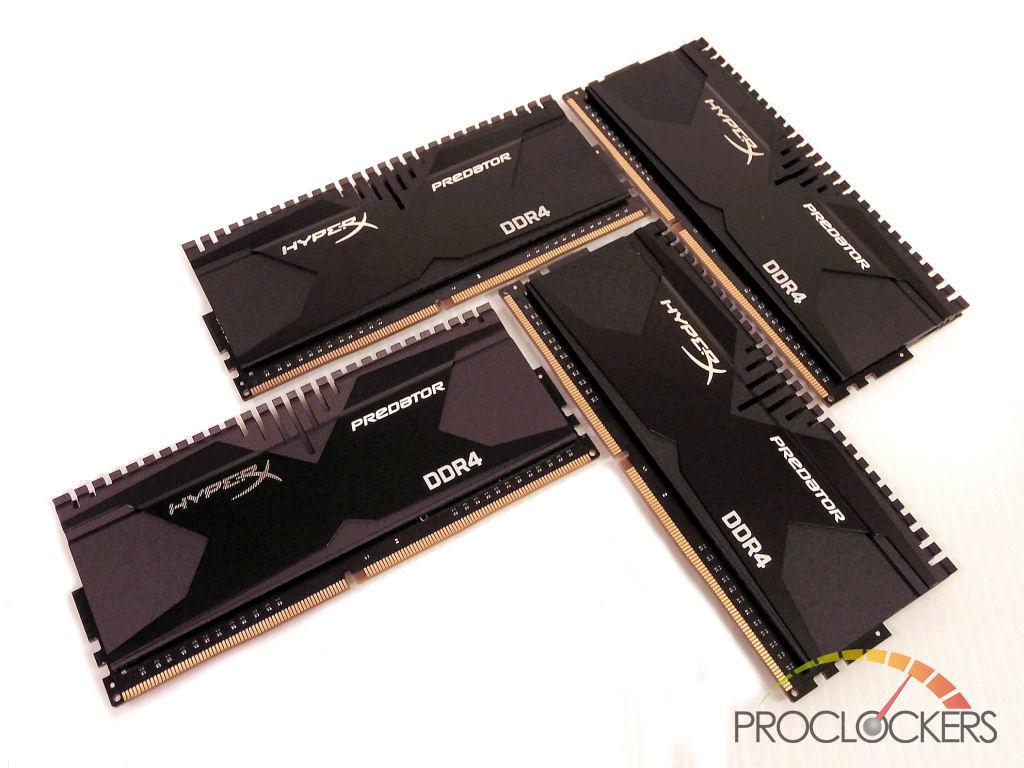 The Kingston HyperX Predator series has been on the market for some time now and I think that says something about how truly impressive it is. There are only a handful of DDR4 memory kits on the market that are available with these extreme memory speeds. This puts the HyperX Predator DDR4 is in a rather exclusive club. The performance at the stock speed of 3000MHz met or exceeded most of my expectations. Adding an additional voltage and tighten the timings strengthened the performance even further.
The HyperX Predator DDR4 black heatspreaders are some of the tallest I have seen. It is that height that makes them a focal point in almost any system with a side window. It is also that height that could cause clearance issues with many aftermarket CPU air coolers. If you are going to be air cooling your CPU with this memory installed, make sure that you take the Predator's 54mm tall heatspreaders into consideration. Chances are though; most individuals that will buy this kit will use a more exotic form of CPU cooling.
At the time of testing, I was able to find this kit at Amazon for $279.99. Though quite a bit of money, this is a competitive price. Like all Kingston memory, they feature a lifetime warranty.
Likes
Fast at Stock Speeds
Unique Cosmetics
Lifetime Warranty
Dislikes
Limited Overclocking Potential
<![CDATA[ */ var zbjs = {"ajaxurl":"https:\/\/gaminggorilla.com\/wp-admin\/admin-ajax.php","md5":"d8e8b24d2fa18d2999e0fddcdd418586","tags":[],"categories":["Hardware"]}; /* ]]>