Cooler Master MasterLiquid ML360R RGB AIO CPU Cooler Review
Introduction
When looking for better cooling performance, most people move away from traditional air coolers and look to AIOs to cool their PCs. AIOs are a popular choice due to their affordability over a full water-cooling loop and how easy they are to set up. Cooler Master has added another cooler to their line of AIOs with the MasterLiquid ML360R RGB.
This AIO brings that additional cooling with its 360mm aluminum radiator and has an upgraded look with the addition of RGB. A lot of value has been added to the ML360R RGB by including 3 x MasterFan Pro 120 Air Balance RGB fans and RGB LED Controller which controls the lighting for the unit. At an MSRP of $159.99, the ML360R RGB hopes to bring an affordable AIO that has the cooling performance and configurable RGB lighting that people are looking for.
We would like to thank Cooler Master for providing us with this cooler to look at.
About Cooler Master
Back in 1992, when the internet was in its early stages and CPUs were measured in MHz rather than GHz, a company called ORYX was born. ORYX later became Cooler Master, which we know the company as today. Started by a rogue product manager who had no funding and no support except a single administrative secretary, he set out to create, innovate and improve products for the PC industry. Starting with its first product, a Socket 7 CPU heat sink in 1993, its product line has since grown to Cases, Peripherals, Fans, and much more. Over the past 25+ years they brought many advancements and firsts to the PC industry (such as the first all copper heat sink) and today, they continue to innovate by bringing new and exciting products to market.
Features & Specifications
Notable Features:
360mm Aluminum radiator
Low-Profile dual chamber RGB pump
3 x MasterFan Pro 120 Air Balance RGB fans
RGB LED Controller
Technical Specifications:
| | |
| --- | --- |
| Product Name | MasterLiquid ML360R RGB |
| Model | MLX-D36M-A20PC-R1 |
| CPU Socket | Intel© LGA 2066/ 2011-v3 / 2011 / 1151 / 1150 / 1155 / 1156 / 1366 / 775 |
| | AMD Socket AM4 / AM3+ / AM3 / AM2+/ AM2 / FM2+ / FM2 / FM1 |
| Radiator Material | Aluminum |
| Radiator Dimensions | 394 x 119 x 27.2mm (15.5 x 4.7 x 1.1″) |
| Fan Dimensions | 120 x 120 x 25 mm (4.7 x 4.7 x 1″) |
| Fan Quantity | 3 PCS |
| Fan Speed | 650 ~ 2000 RPM (PWM) ± 10% |
| Fan Air Flow | 66.7 CFM (Max) |
| Fan Air Pressure | 2.34 mmH2O (Max) |
| Fan MTTF | 160,000 hours |
| Fan Noise Level | 6 ~ 30 dBA |
| Fan Connector | 4-Pin (PWM) |
| Fan Rated Voltage | 12 VDC |
| Pump Dimensions | 83.6 x 71.8 x 52.7 mm (3.3 x 2.8 x 2.1″) |
| Pump MTTF | 70,000 hours |
| Pump Noise Level | < 15 dBA |
| Pump Connector | 3-Pin |
| Pump Rated Voltage | 12 VDC |
| Warranty | 2 Years |
| EAN Code | 4719512071007 |
| UPC Code | 884102043505 |
Packaging & Unboxing
The MasterLiquid ML360R RGB comes in a black and purple box which is common for Cooler Master higher-end products. On the front of the box, you see the ML360R sporting its RGB fans and pump top.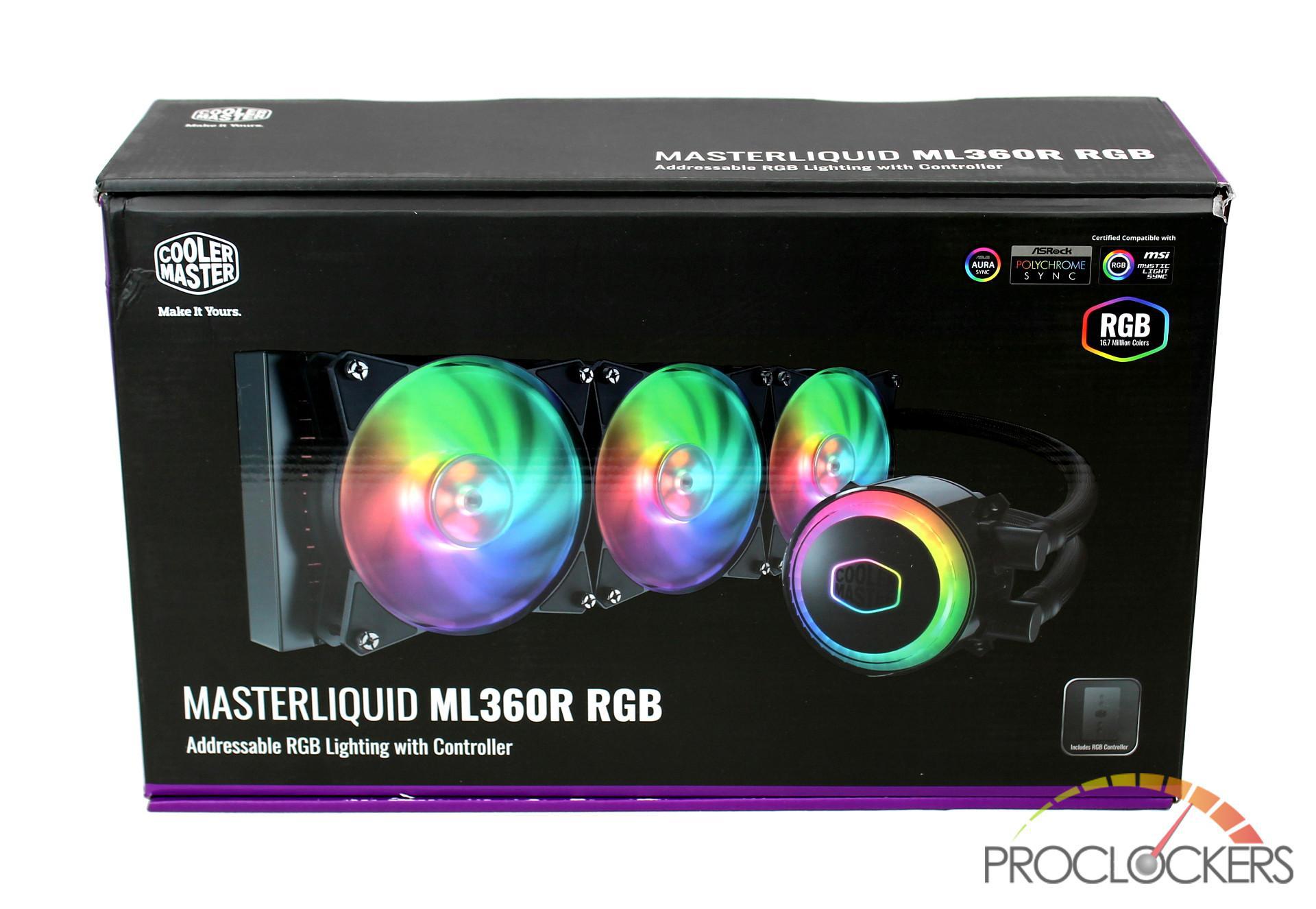 Included on the side of the box is the specification list of the cooler.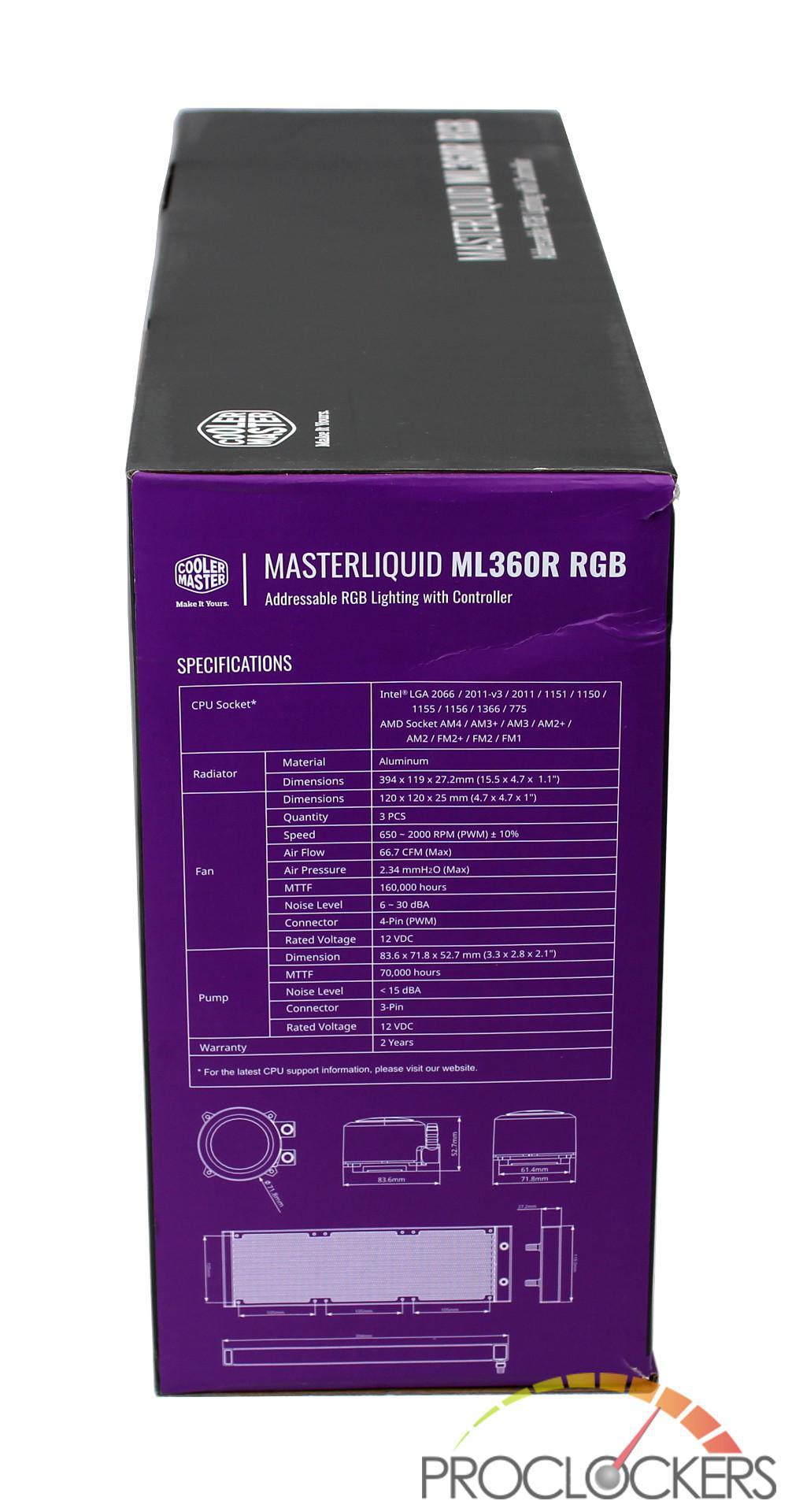 Flipping the box to the other side, you have a visual of a few features of the ML360R RGB.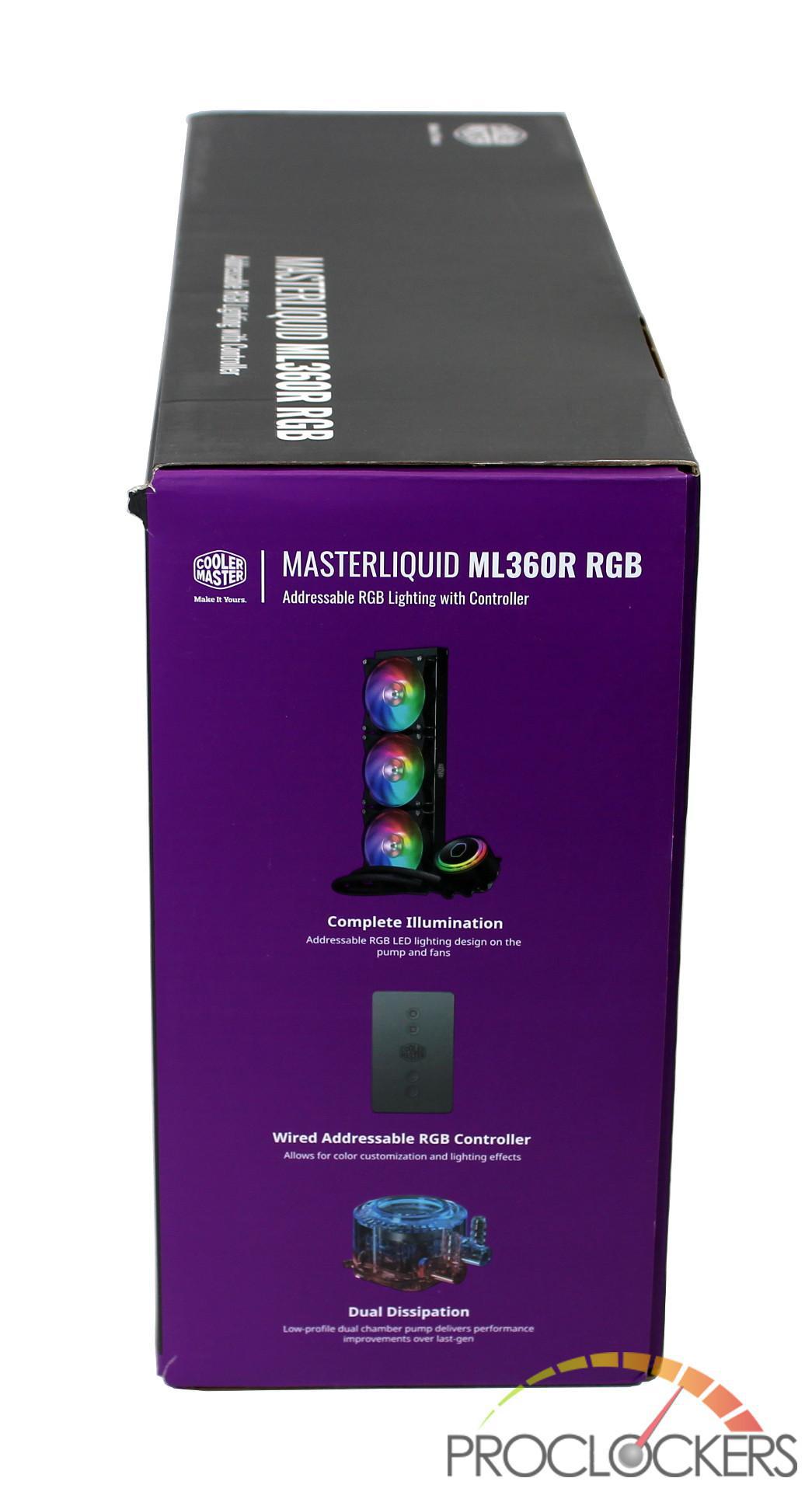 Moving to the back, you have an expanded view of the low-profile dual chamber pump with explanations of each layer and highlights of the ML360R RGB in many languages.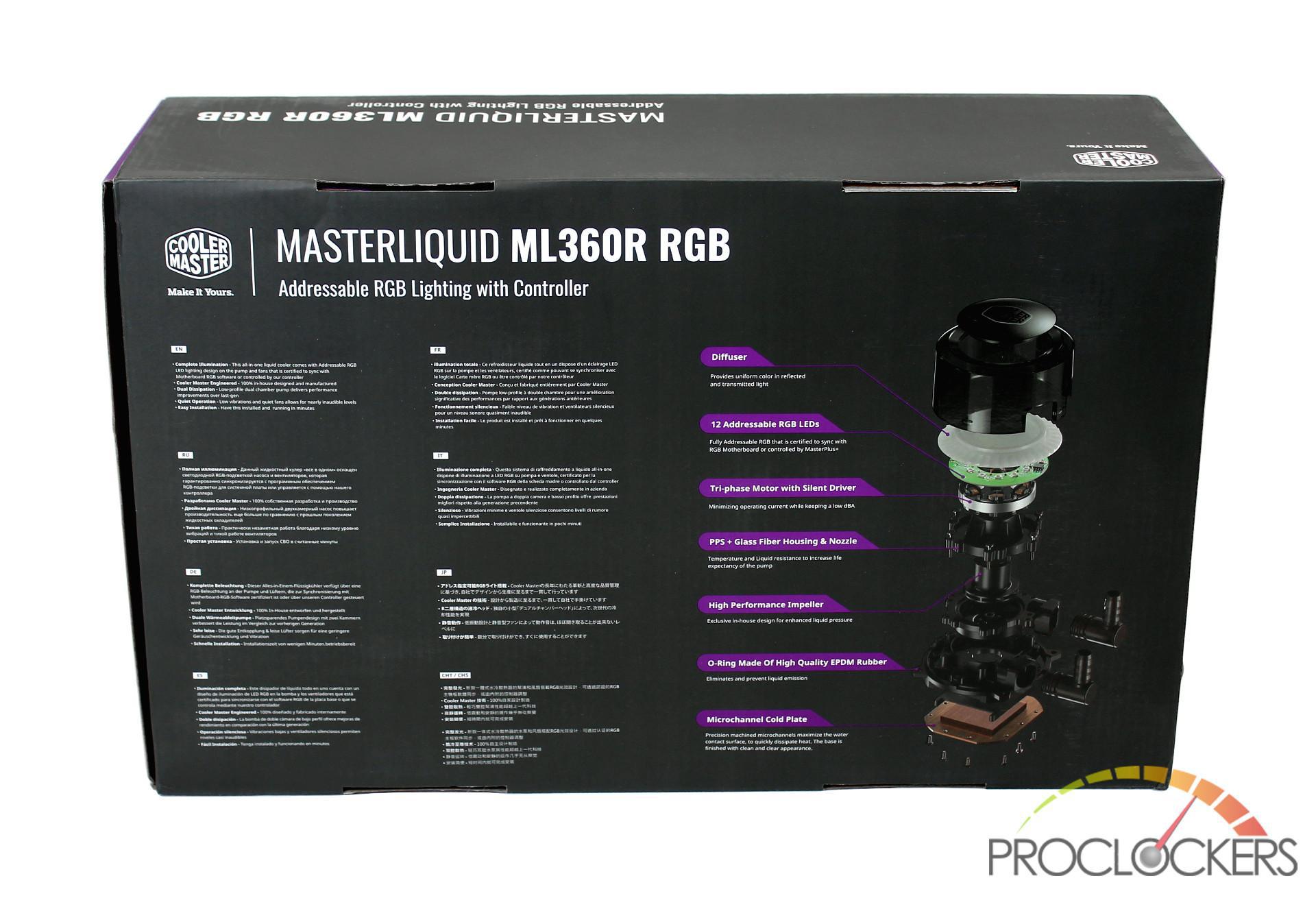 Opening the box, MasterLiquid ML360R RGB and accessories are packaged quite well with a molded cardboard insert.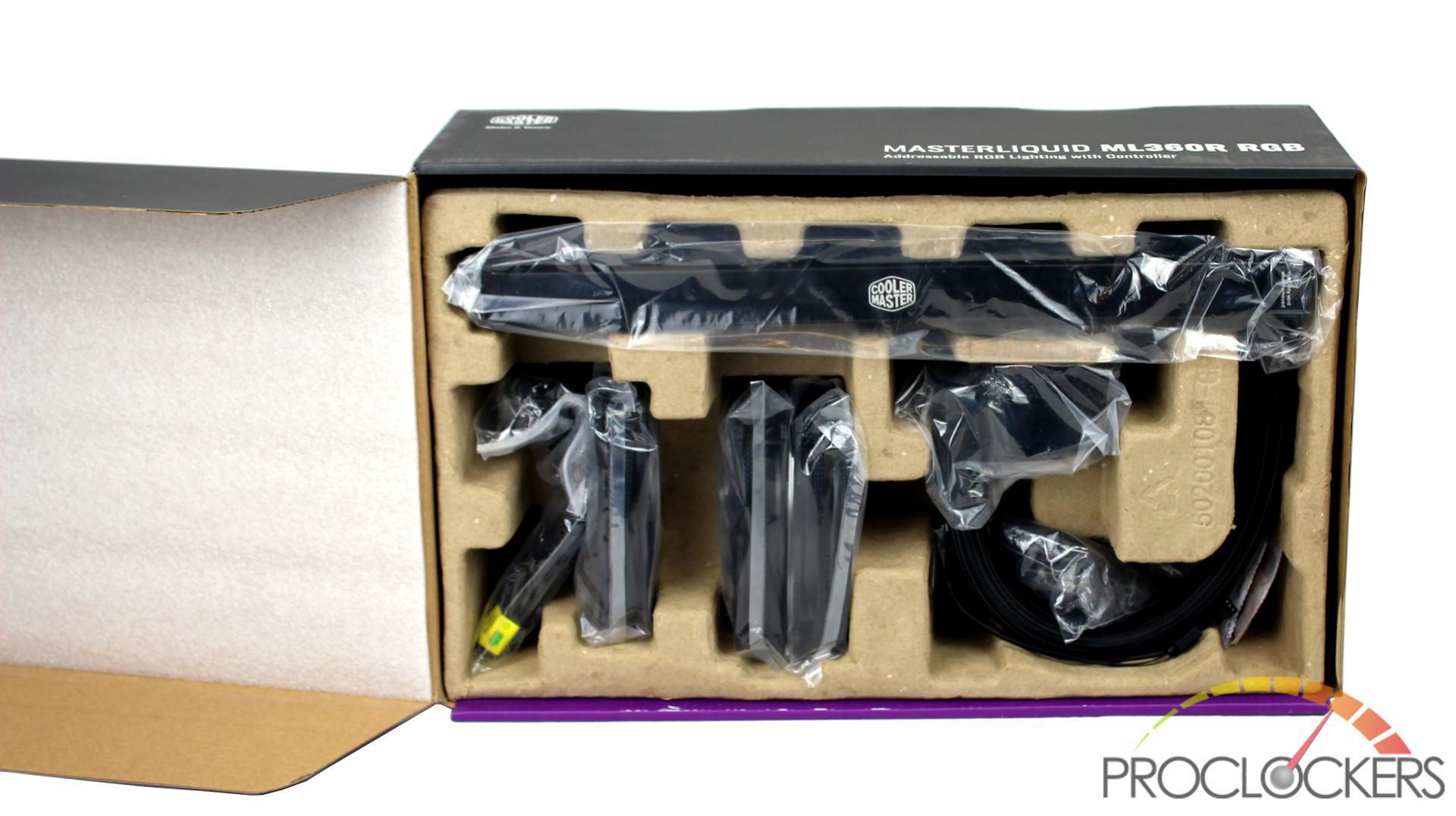 After removing everything from the cardboard packaging, each item was wrapped in plastic bags with the exception of the user and warranty manuals.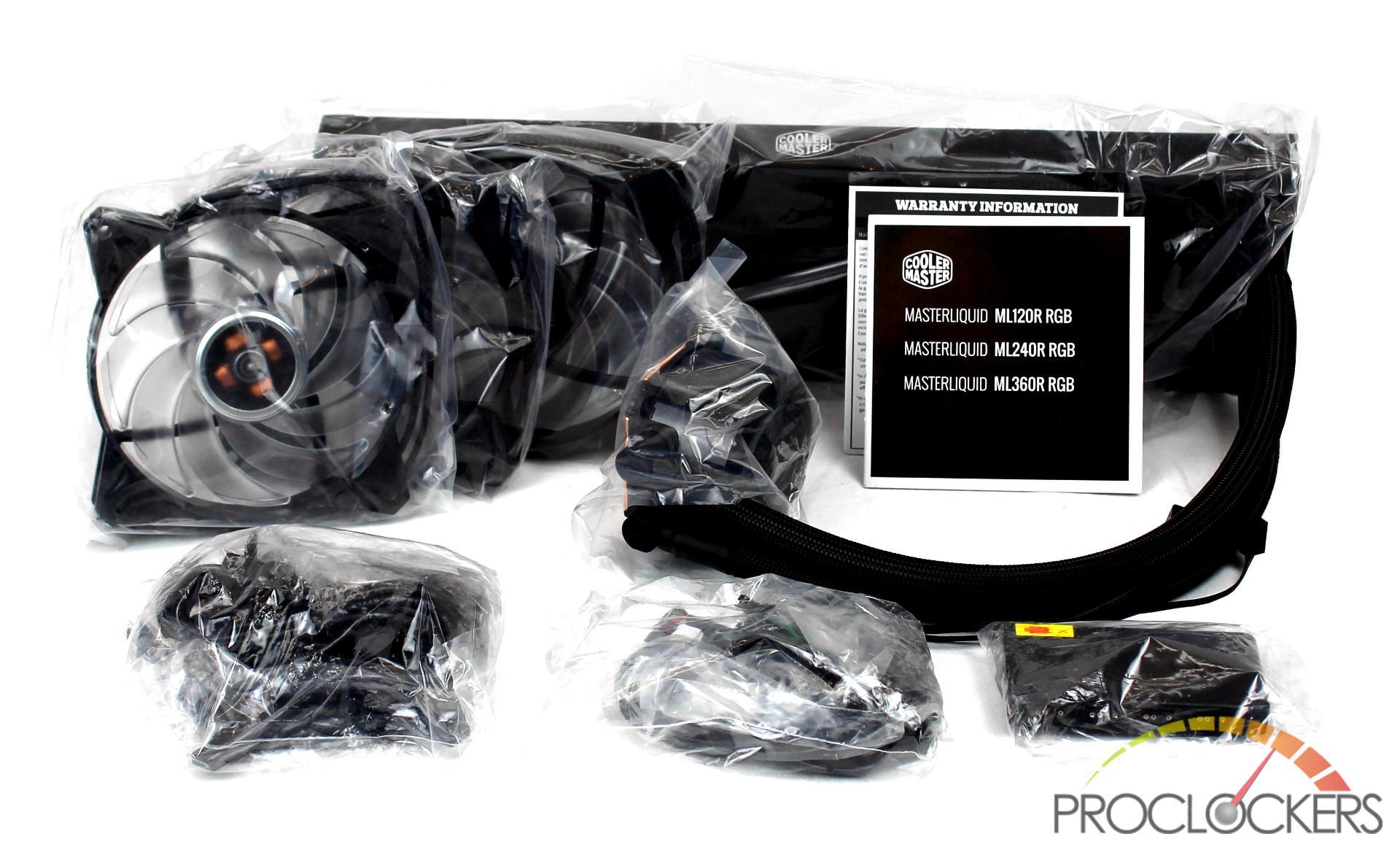 After unwrapping everything and opening the bags included with the ML360R RGB is 3 x MasterFan Pro 120 Air Balance RGB fans, RGB LED controller with USB cable, RGB splitter cable, RGB extension cable, 3 to 1 fan splitter cable, various socket mounting hardware, fan mounting screws, and TIM.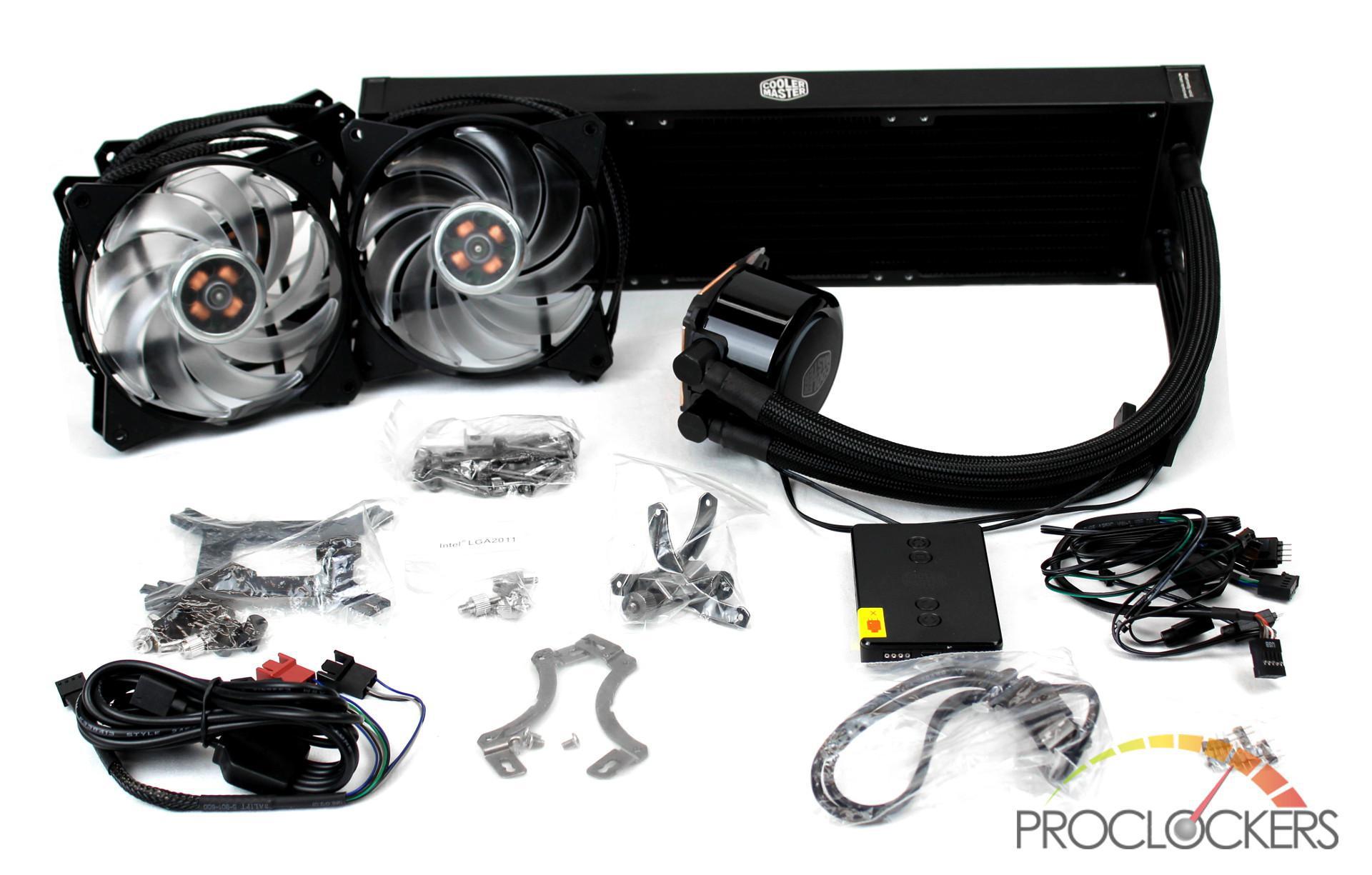 A Closer Look
Once all the packaging has been removed from the ML360R RGB, the first thing that caught my attention was the flexible tubing that is different from other AIO's. This flexibility should make installing the unit much easier, especially when navigating around other components. The radiator itself is painted flat black with a white Cooler Master logo on the side.

Taking a closer look at the fins of the radiator, we measured 14 fins in a 20mm span which equates to approximately 18 fins per inch.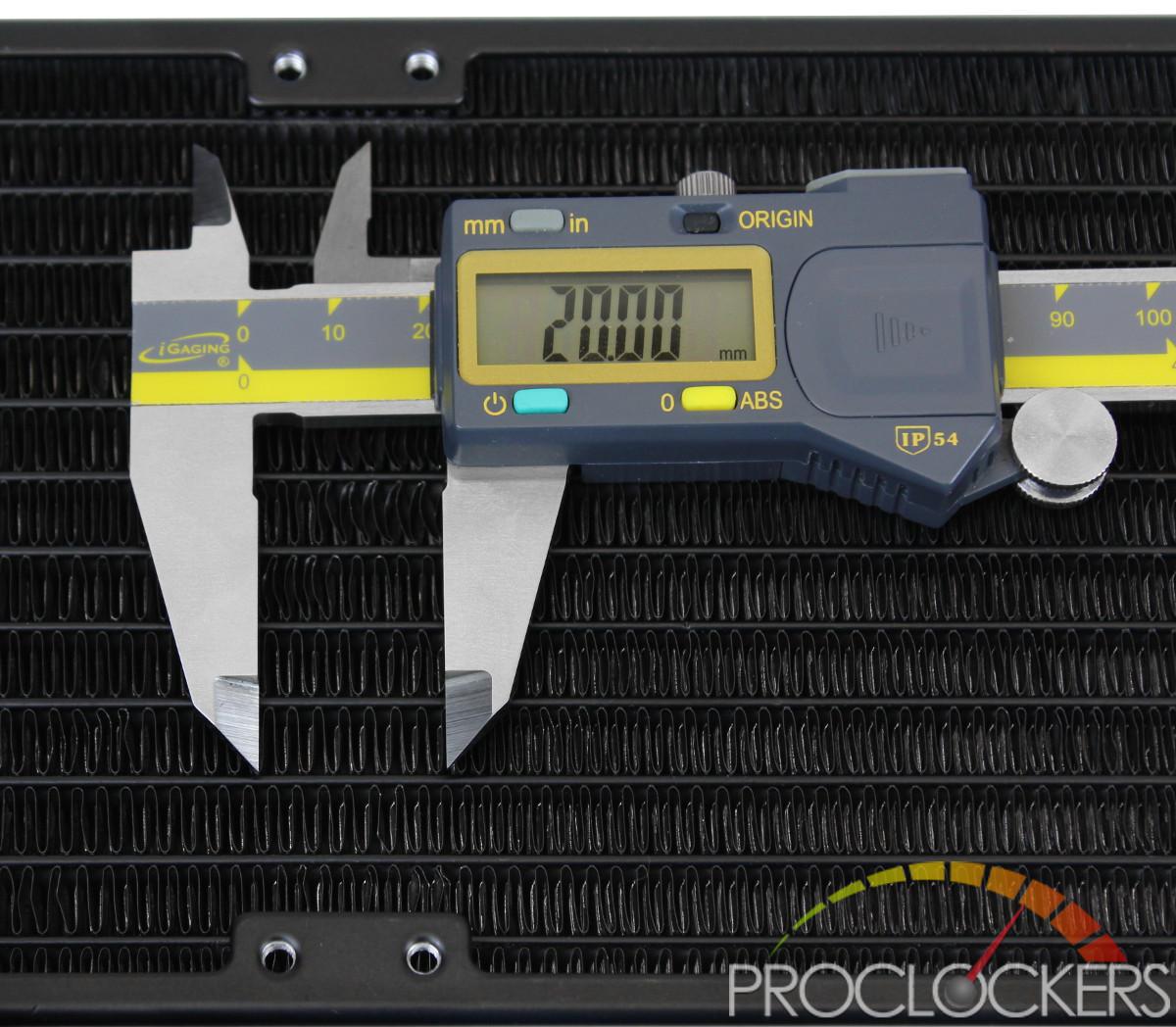 Flipping the radiator over, we can see the AIO pump and black braided tubing. Also visible on the side is a white Cooler Master logo.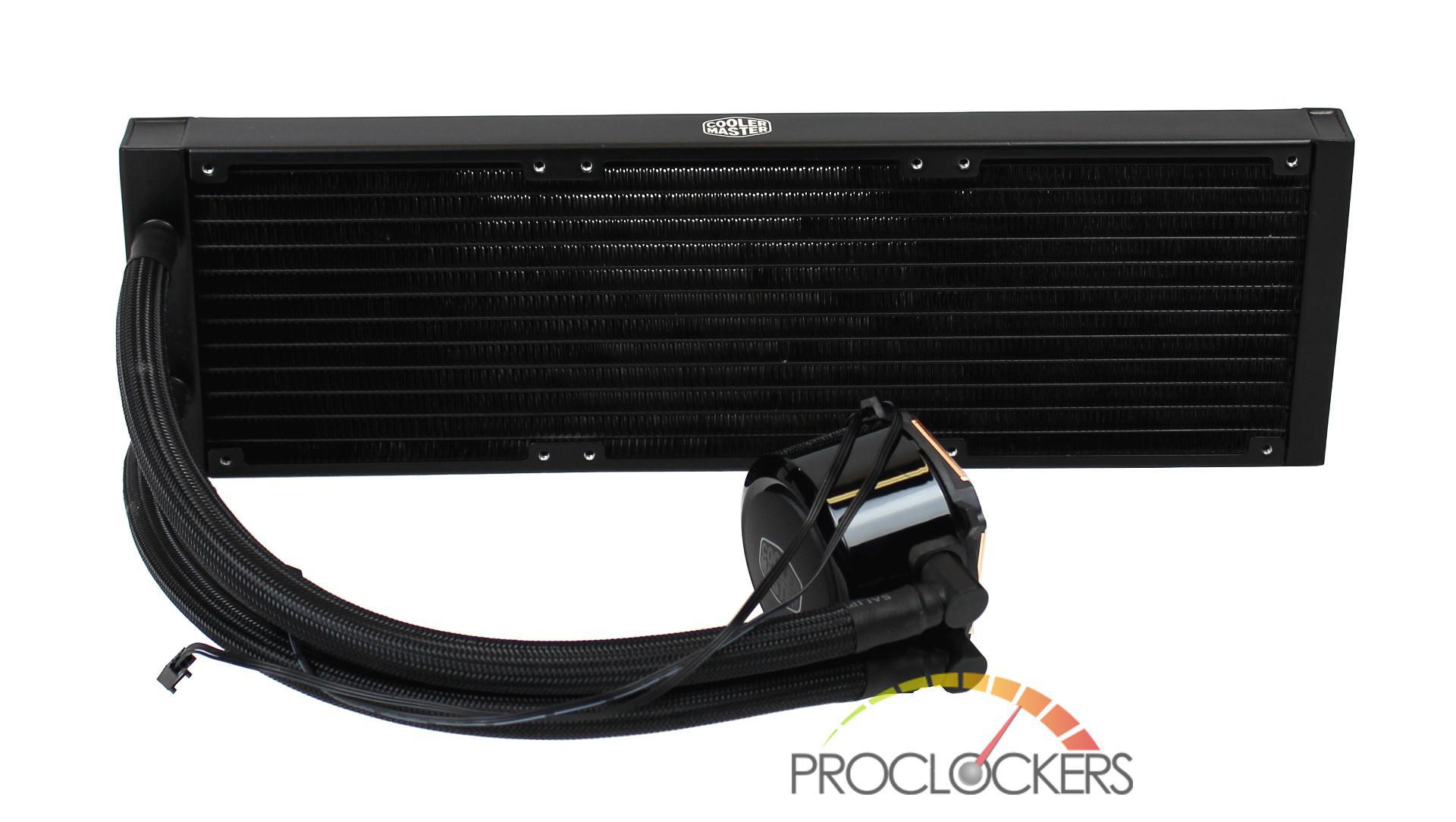 The pump itself has a glossy black exterior and a removable Cooler Master logo top piece which helps diffuse the RGB lights hidden beneath.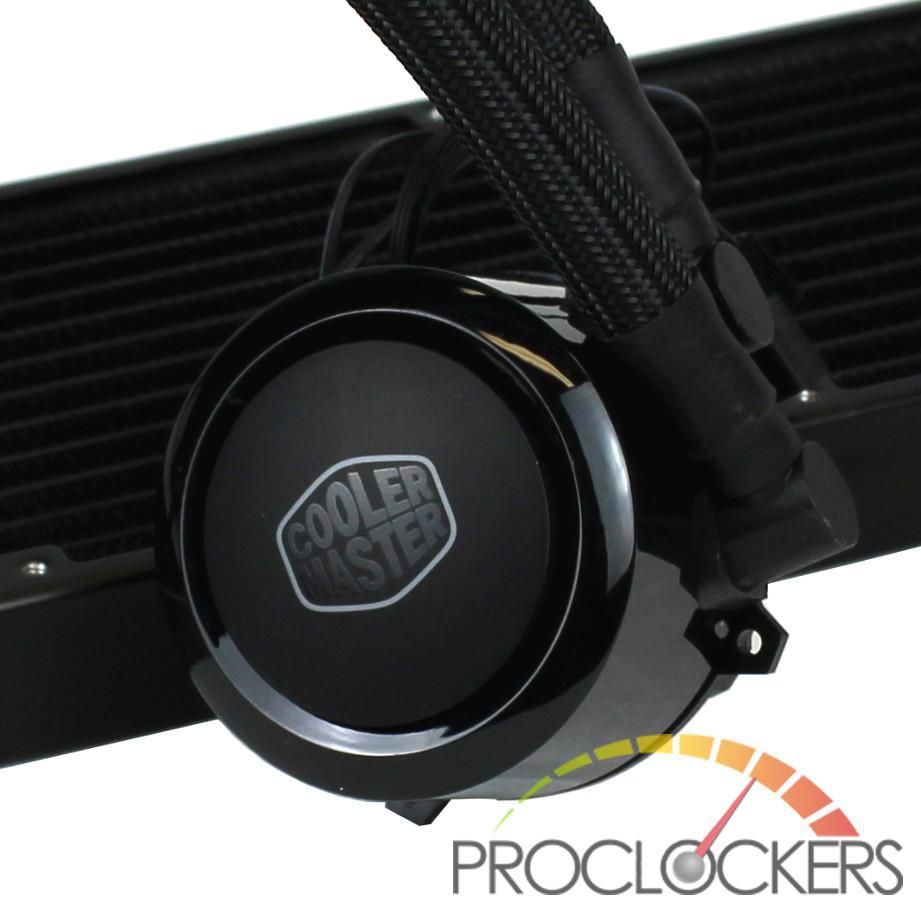 On the bottom of the pump is a solid copper plate with the usual protective film and warning message.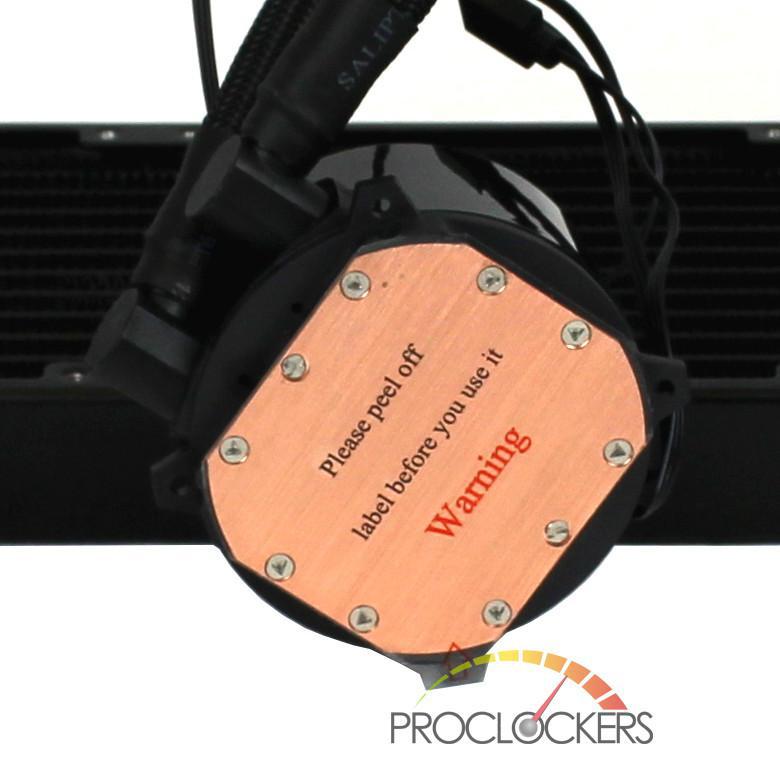 The included MasterFan Pro 120 Air Balance RGB fans look great and should give us a nice balance of silence and performance.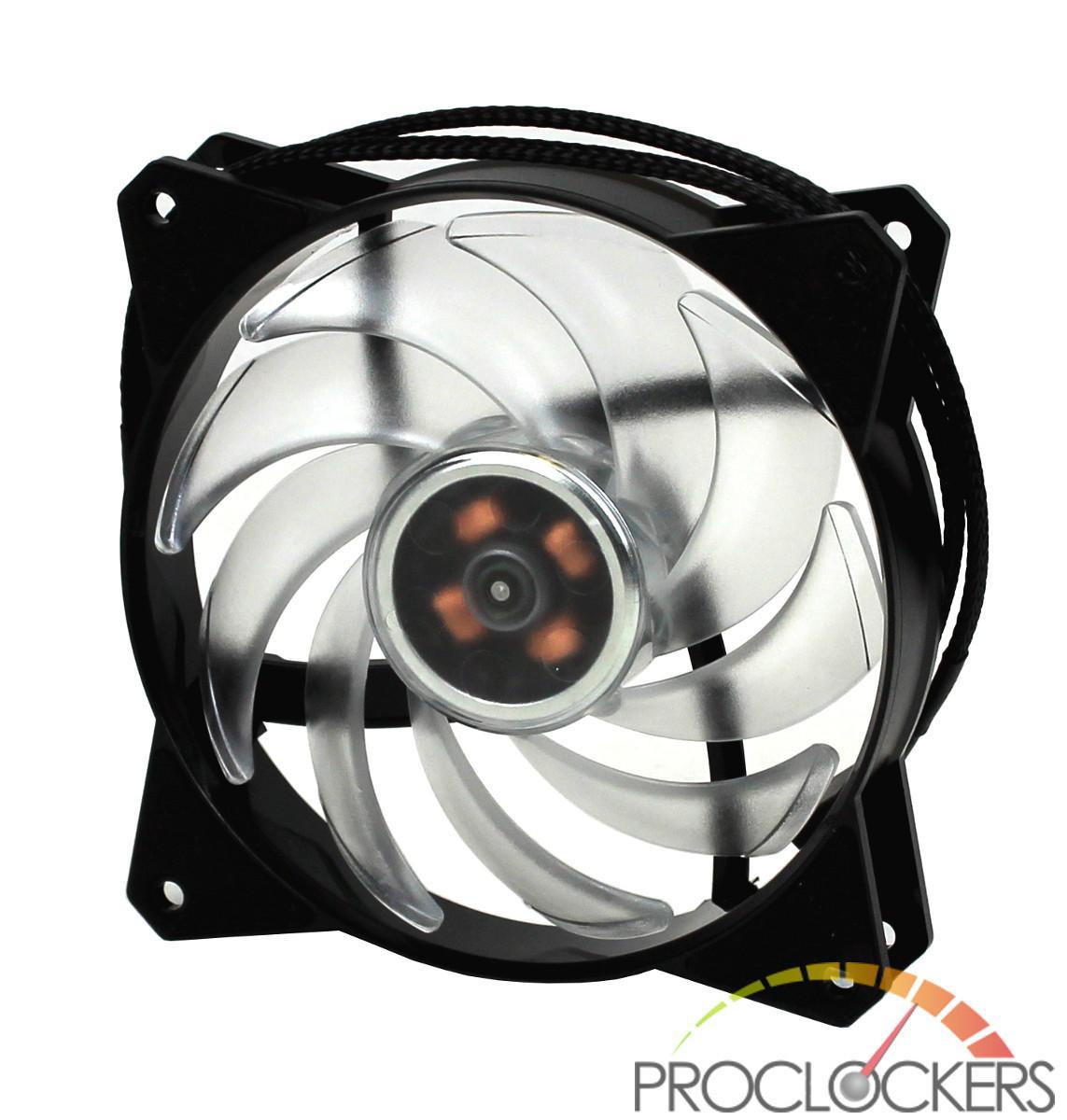 System Configuration & Installation
The test system we are using is:
Cooler Master H500
ASRock Z370 Tachi Motherboard
Intel 8700K Processor Overclocked to 4.6GHz
4 x 4GB Team Group T-Force Delta RGB Ram
MSI X-Gaming RX480 8GB GPU
EVGA 750W P2 PSU
The installation of the MasterLiquid ML360R RGB was fairly painless and the included instructions were easy to follow. The hardest part of the installation was attaching the cooler to the backplate screws. Since the backplate doesn't attach to the motherboard prior to installing the cooler, an extra set of hands are required to hold the backplate in place well placing and screwing in the cooler. Both the pump and the fans all wired into the included RGB LED Controller so that you can control the light via the MasterPlus+ software (we will look at this later in the review) or by using the case's reset button.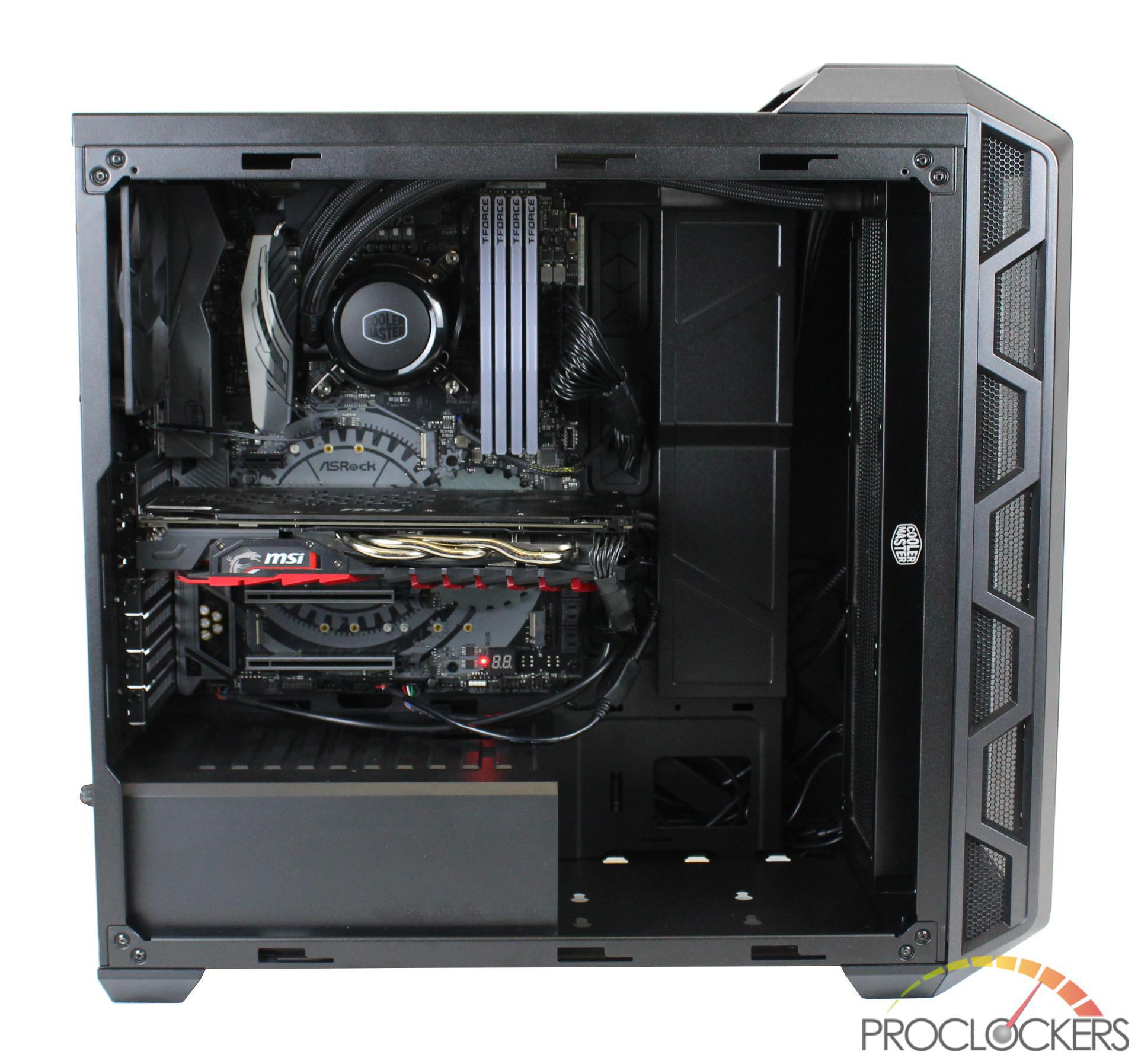 Since the H500 only supports a 240mm radiator I had to install it on the ML360R on front. I actually prefer this as it really shows off the included fans. I booted up the system, the AIO defaults to its "Color Cycle" lighting. The outline of the Cooler Master logo is RGB illuminated as well as the sides around the cap. The fans follow the same pattern since they are all wired into the same controller.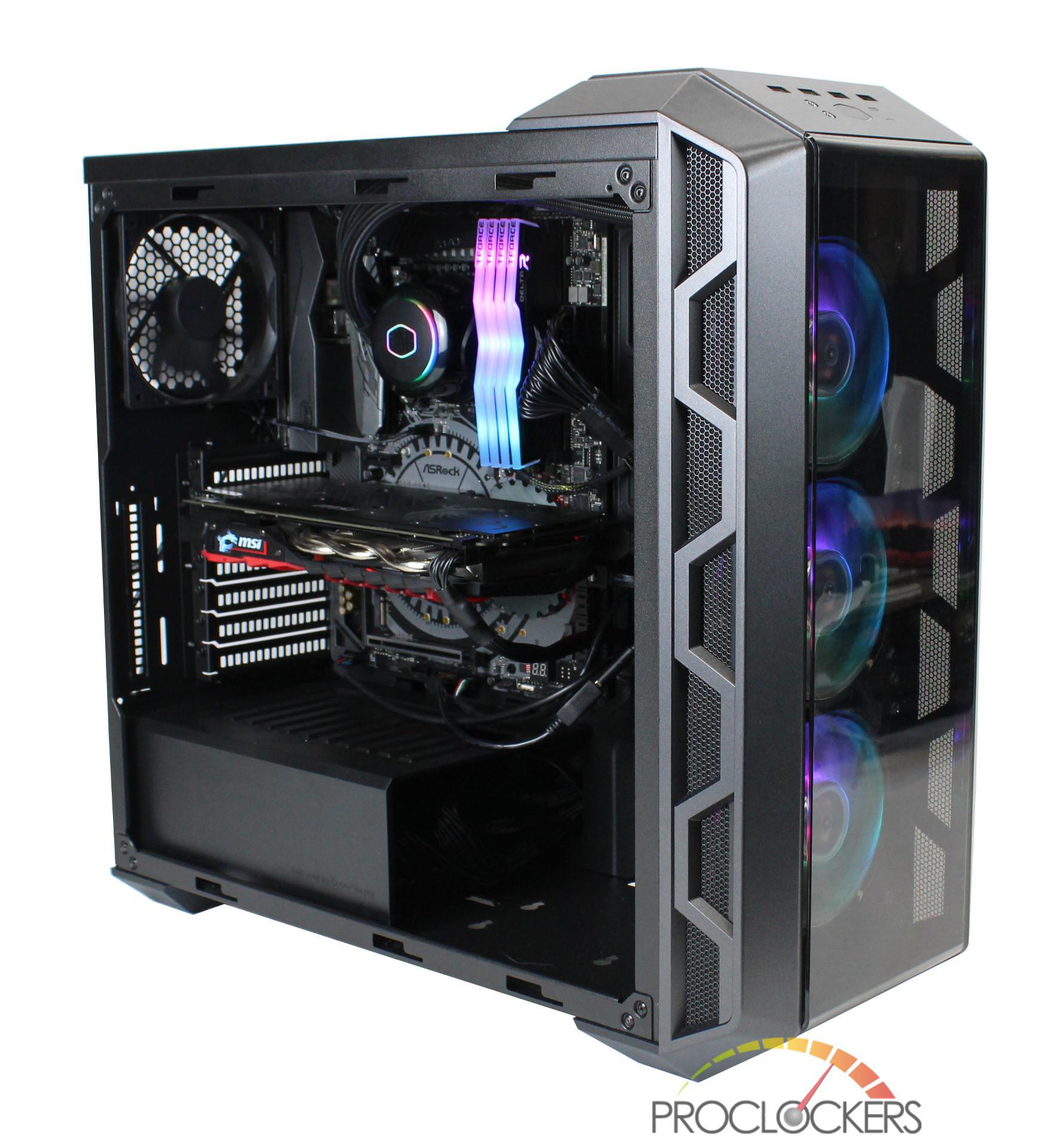 This photo attempts to capture the vivid and beautiful colors that the lights display.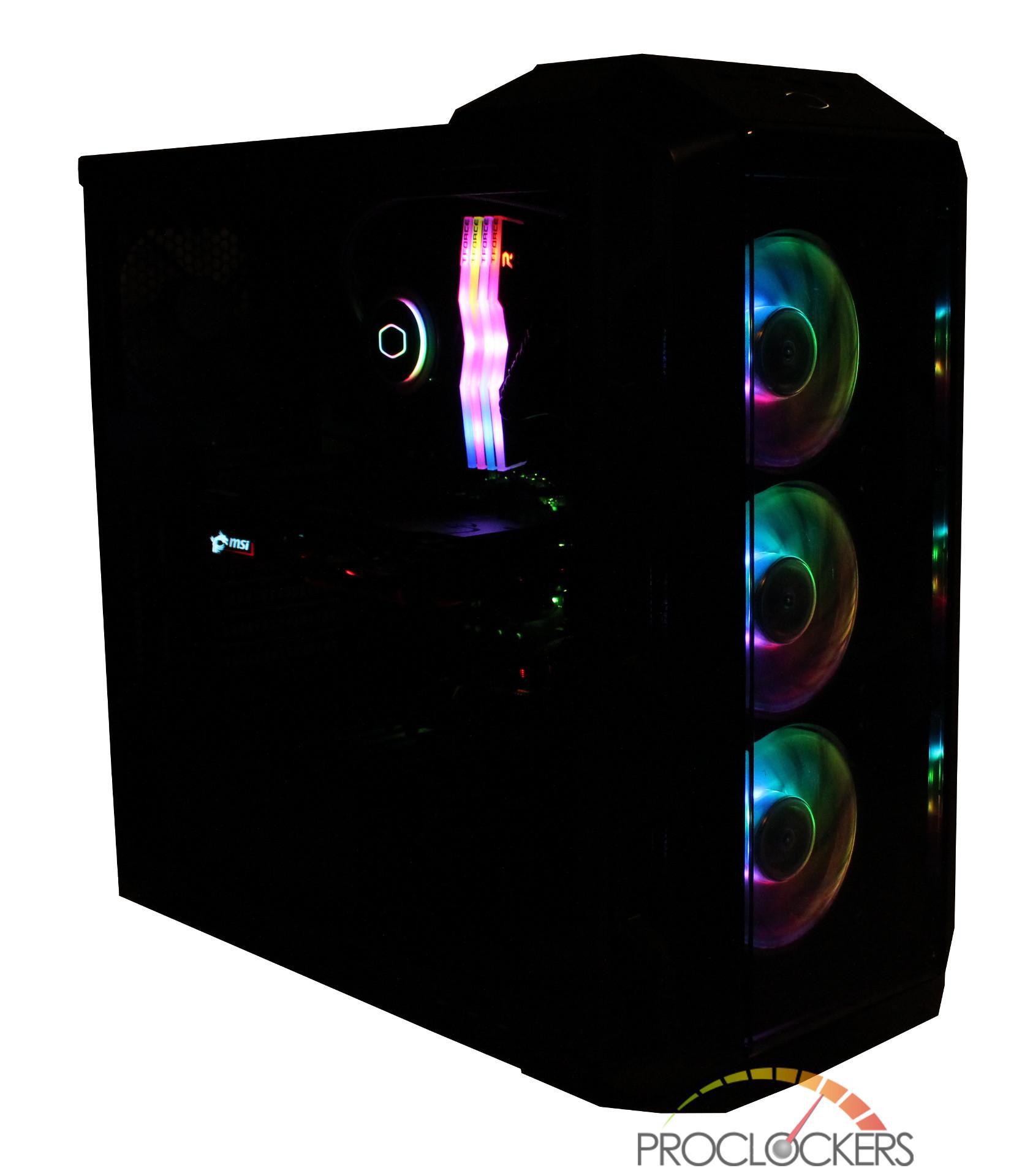 Software
Since the M360R RGB includes a Cooler Master RGB LED controller, you can choose to further customize your lighting with the MasterPlus+ software (which is currently in beta). To be able to configure your RGB LED Controller, you must make sure you have attached it to a USB header on your motherboard with the included cable.
Once attached, when you boot up the software you should see your controller in the "Overview" tab.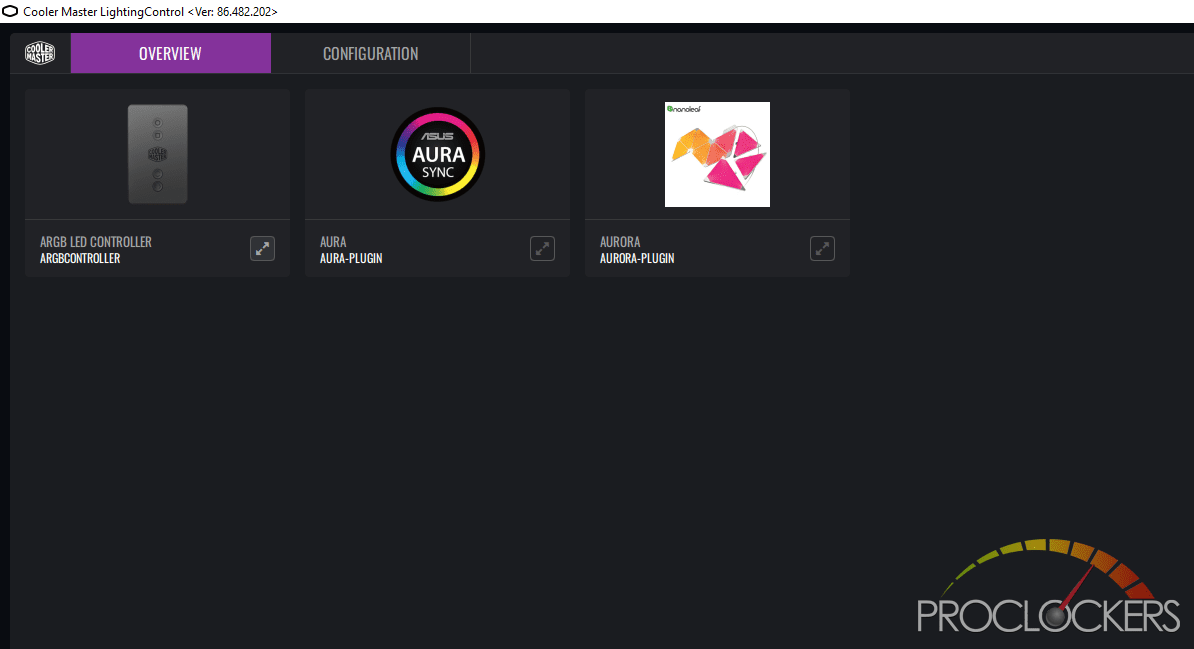 After selecting the RGB controller from the Overview, you are brought to a configuration screen to set up your device. From this screen you select all the hardware connected to the RGB LED controller.
Since the software didn't have the ML360R RGB we decided to use the ML240R RGB instead. This wasn't an issue as all our fans were connected to a single port using the included RGB splitter cable. As you can see, we attached the pumps RGB to port A2 and our fans to A4.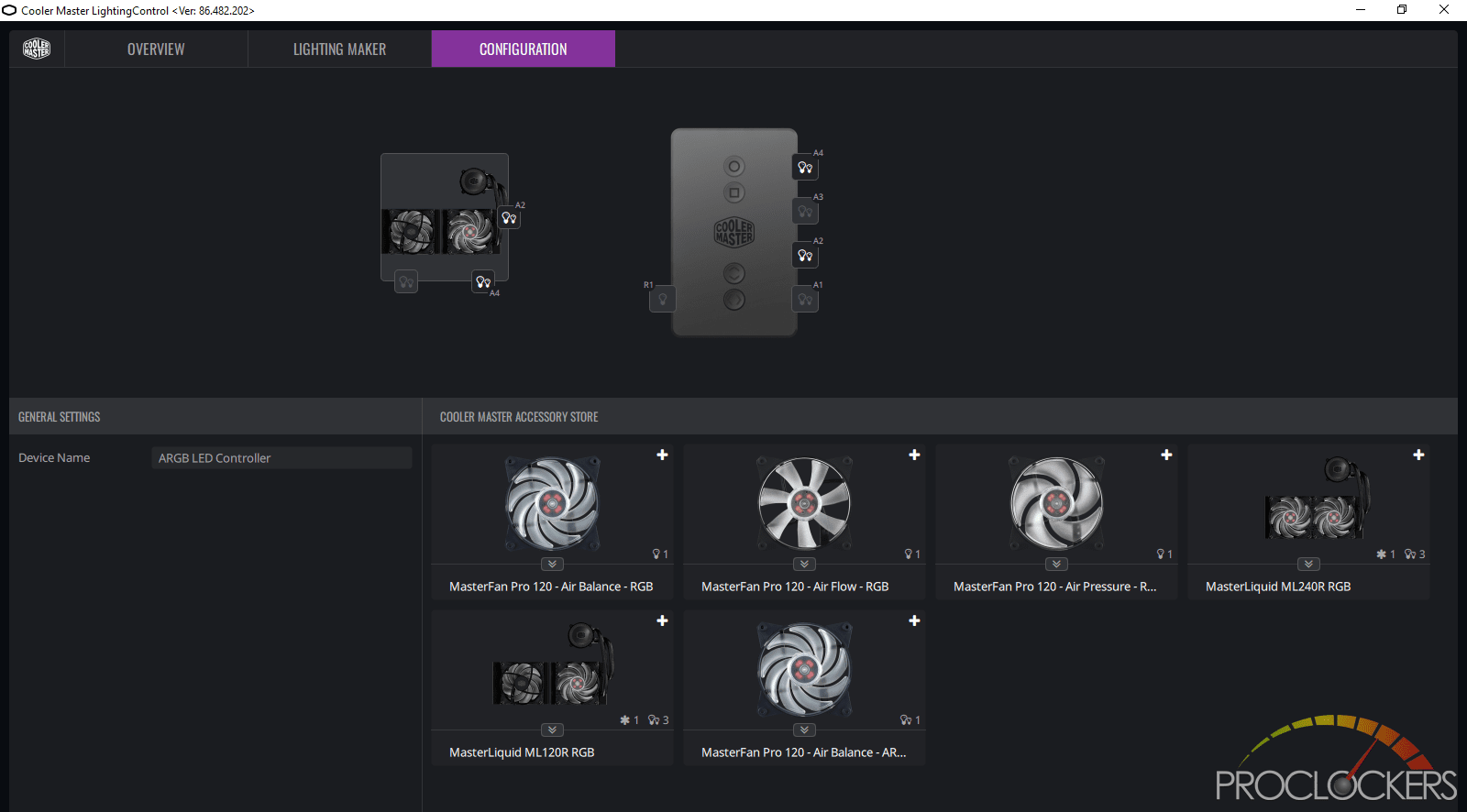 Once configured you are able to apply various light effects such as Color Cycle, Reload, Recoil, Breathing, etc. This seems to apply the effect to all ports and you are not able to apply multiple effects to other ports.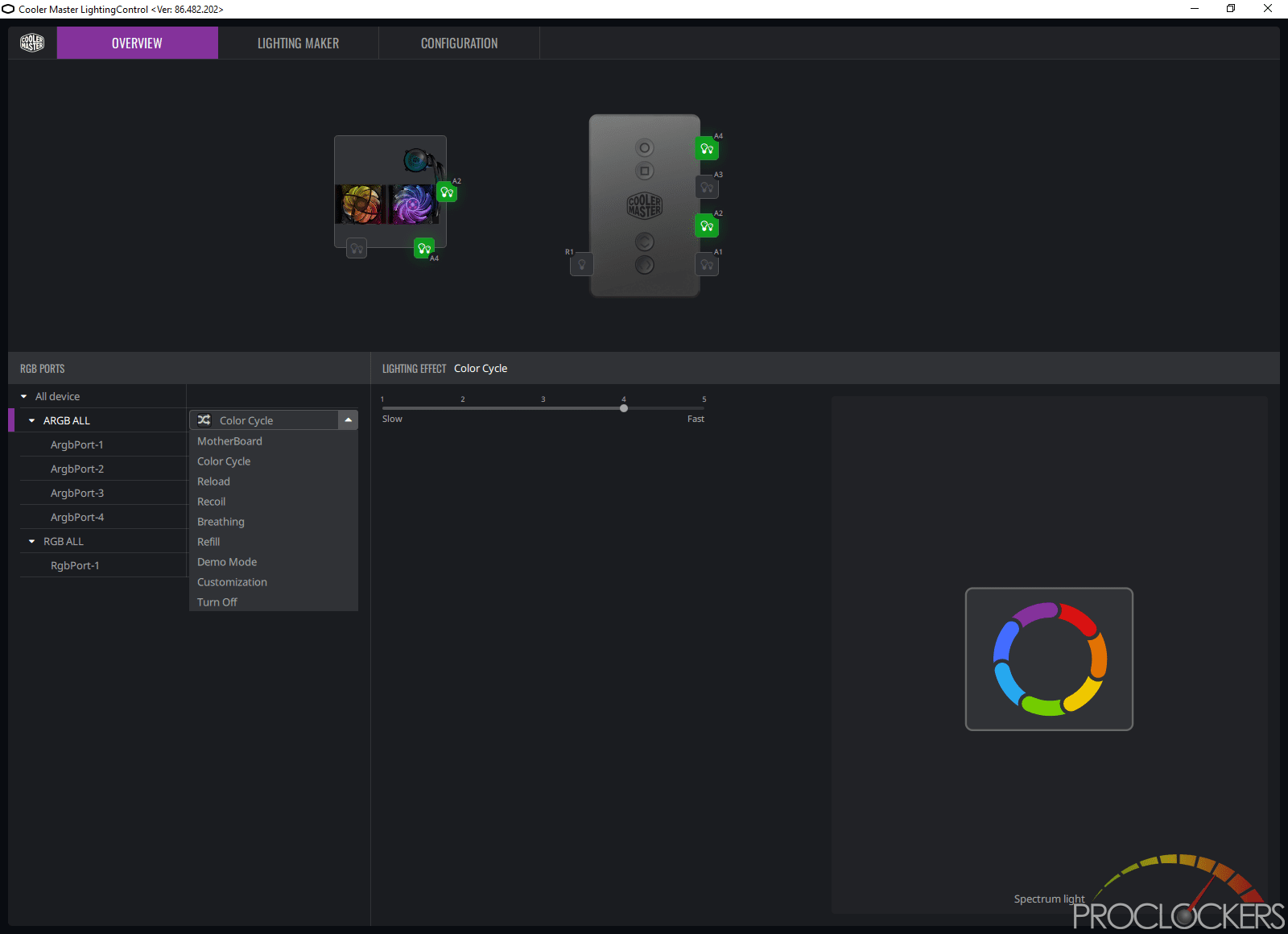 If you wish greater control over your RGB, you can use the "Lighting Maker" which allows you configure each port individually. If you don't want to create your own custom effect you can download and apply various user created ones using the "Lighting Cloud".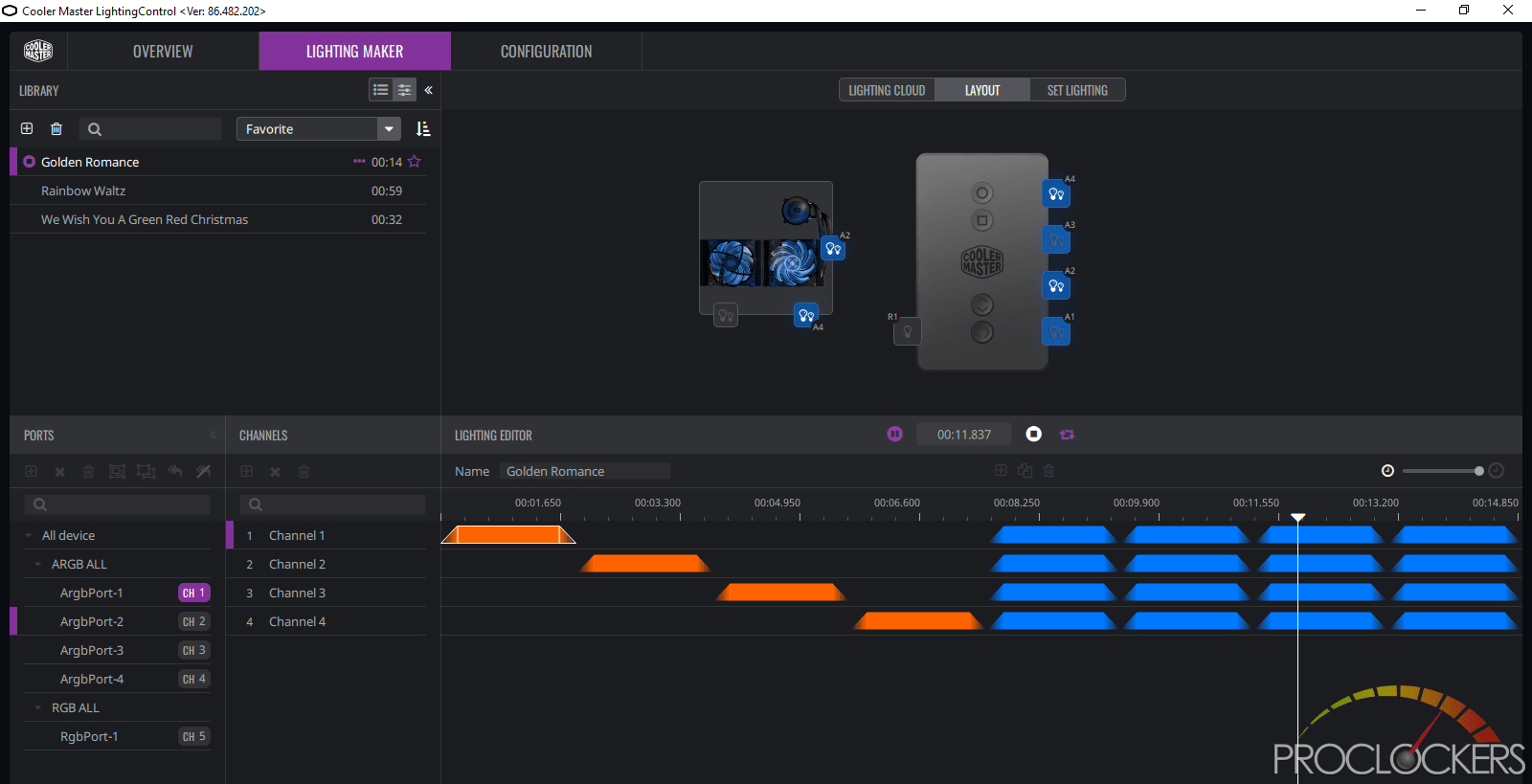 Testing & Performance
For the testing section of this review, we will run the ML360R RGB through 2 different tests, the first designed to challenge our 8700K to produce the most amount of heat possible and the second to give us something that more resembles real-world usage. All tests fans were running at 1500RPM which we found gave us the best silence to performance metric.
For the first set of tests, we decided to go with a well-known program called "Prime95". This program goes through various types of prime calculations which require massive amounts of CPU computations and in turn greatly increases its temperature. For each configuration of the CPU we first let the system idle for 5 minutes to get a fairly accurate idle temperature then proceeded to run Prime95 for 20 minutes to record the average and max load temperatures.
For our first configuration, we used the 8700K at stock frequency and voltage. For our motherboard, this ran all cores at 4.3GHz and produced an idle temperature of 30C, average load temperature of 61c and a max load temperature of 73c.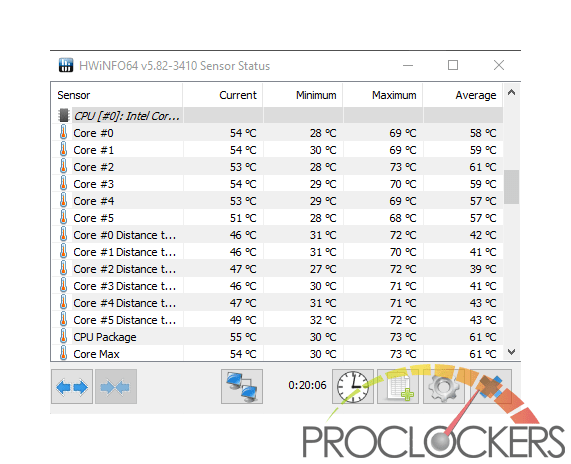 For the next configuration, we applied a stable 4.6GHz clock on all core with the vCore set to 1.30v. This produced an idle temperature or 31c, an average load temperature of 62c and a max load temperature of 79c.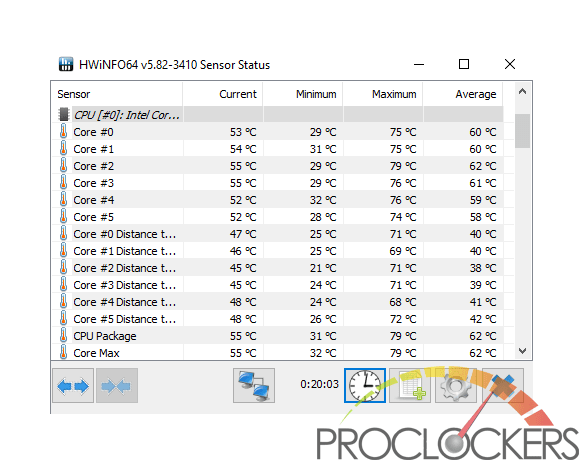 The last stable overclock we were able to get on out 8700K was 4.8GHz on all cores with a vCore of 1.355v. With these settings we had an idle temperature of 32c, an average load temperature of 65c and a max load temperature of 86c.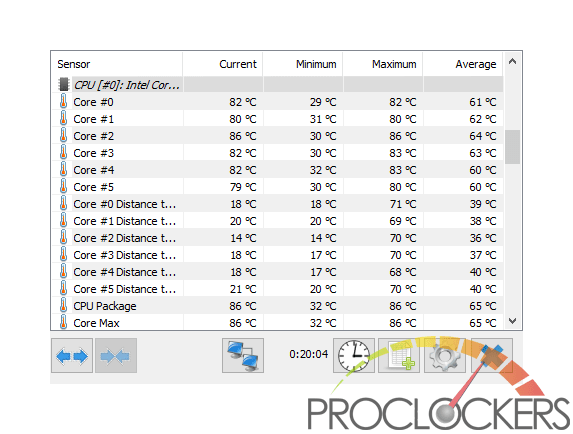 Below is a graph of the results reported above: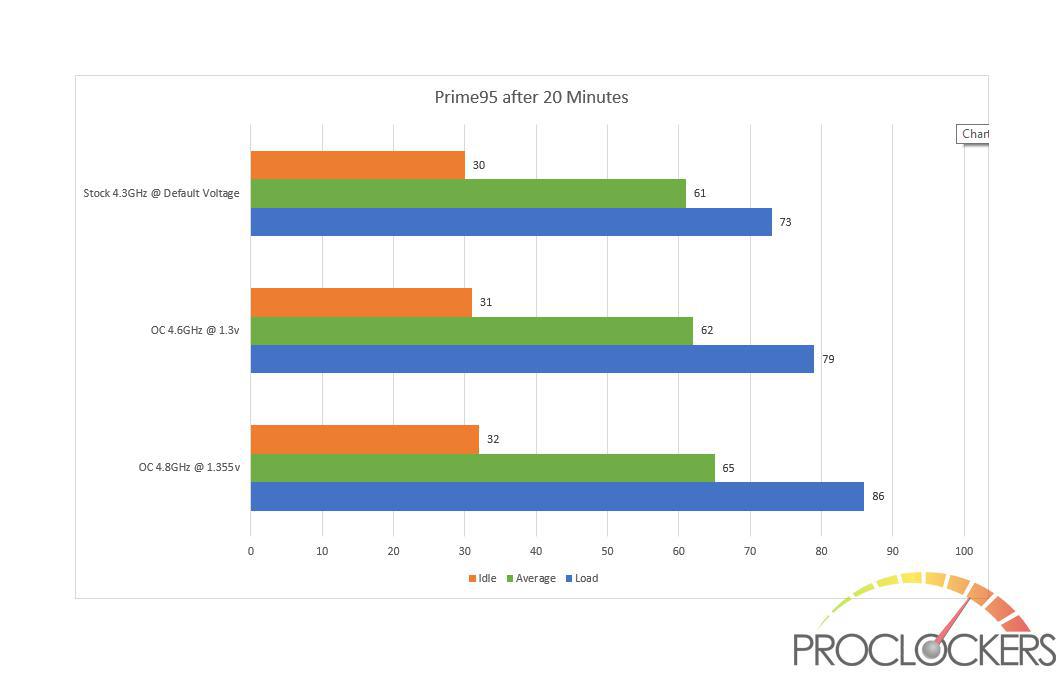 For our second test, we used Cinebench to give us something closer to a real work load. For this test we used the same CPU configurations as the first test and ran Cinebench 5 times in a row. We recorded both the average and max load temperature after the fifth run completed. Below are the compiled results: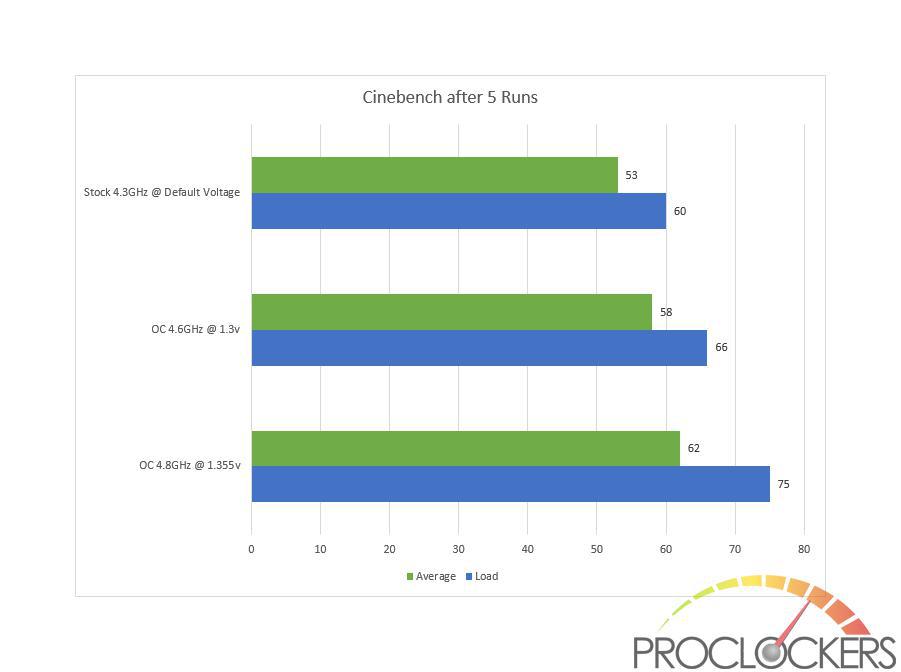 After all the tests, we felt the MasterLiquid ML360R RGB did an amazing job cooling our 8700K and allowed us to get a nice stable 4.8GHz with a maximum temperature of 86c in Prime95 and 75c in Cinebench. This is a vast improvement over our old air cooler which only managed to reach an OC of 4.6GHz with a blistering max load temperature of 94c in Prime95. We did attempt to hit a 4.9/5.0GHz on our 8700K but it just required too much voltage and we could not get a stable clock. I'm sure if you won the silicon lottery with your chip, a 5.0GHz is very achievable with the ML360R RGB. What was also quite impressive was that the pump was pretty much dead silence during our tests with only a few occasions of us being able to hear it and the fans were whisper quiet throughout.
Final Thoughts & Conclusion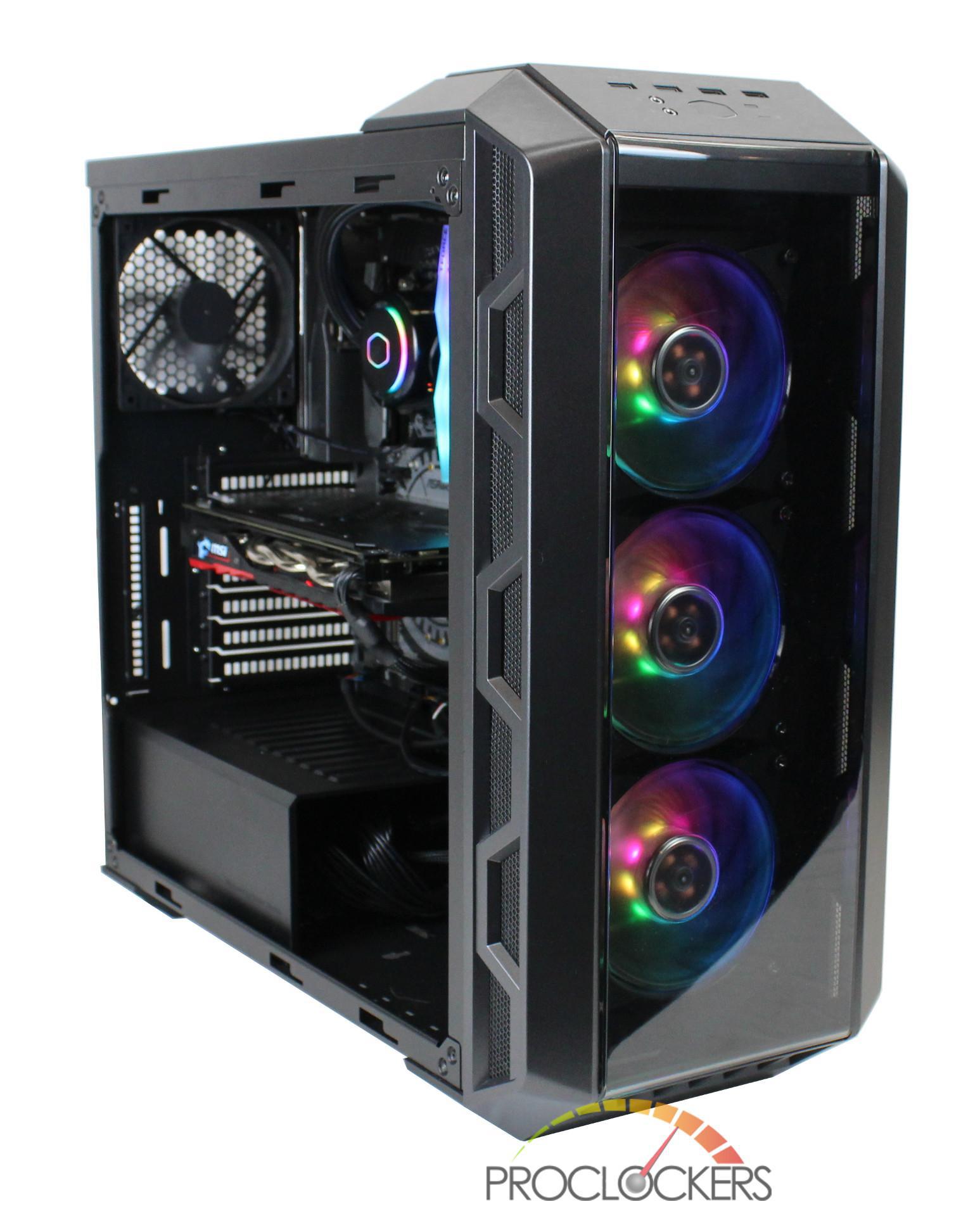 Cooler Master continues to impress me with their products and the MasterLiquid ML360R RGB is no exception. Even with my mediocre 8700K, this AIO managed to achieve a stable 4.8GHz overclock while maintaining a temperature of 75c during our Cinebench tests. Even during the tortuous Prime95 tests both the pump and fans were pretty much whisper silent with the pump only being heard a handful of times. I also really enjoyed the subtle RGB included on pump and the included MasterFan Pro 120 RGB fans really made my H500 acrylic front pop. My only negative would be the MasterPlus+ software seems to be missing a few things but being as it's in beta, I'm sure this will be addressed in the future. Overall, I think Cooler Master has a real winner with the ML360R RGB and I would highly recommend it for anyone looking for a well preforming AIO.

<![CDATA[ */ var zbjs = {"ajaxurl":"https:\/\/gaminggorilla.com\/wp-admin\/admin-ajax.php","md5":"d8e8b24d2fa18d2999e0fddcdd418586","tags":[],"categories":["Hardware"]}; /* ]]>