Corsair Hydro Series H60 120mm Liquid Cooler Review
Introduction
Many in the PC world consider liquid cooling to squarely the realm of enthusiasts and a staple overclocking fanatics, but the truth is, almost every segment of the industry. The benefits of a liquid cooling system are low temperatures, which have positive impacts on the stability and longevity of any system, and noise output.
No one likes noisy fans on an underpowered air cooler. While enthusiasts are very vocal, they make up only a small niche of the market, most of the PC's out there are smaller systems used for media, office work and other productivity tasks, and daily computing like checking email and social media. Most of those users don't need massive cooling power, and certainly aren't interested in fancy lights, monster radiators, and the cost associated, but would really enjoy a PC that stays cool and quiet with no fuss.
Wait, doesn't Corsair already have an H60? Yes, but as computer processors evolve, so must the cooling solutions. Corsair has revamped the Hydro Series H60 with a new thermally-optimized cold plate and low –noise pump coupled to a high-density slim radiator to cope with the cooling needs of today's processors.
Pro Clockers would like to thank Corsair for sending the Hydro Series H60 Liquid cooler over to check out!
Corsair's take on the Hydro H60 Cooler:
The Hydro Series H60 is an all-in-one liquid CPU cooler with a 120mm radiator built for low noise liquid CPU cooling and bold styling with a white LED-lit pump head. Compatible with all current AM4, LGA 1151 and LGA 2066 socket CPUs and equipped with a CORSAIR 120mm SP Series PWM fan, users can adjust the fan speed between 600 RPM to 1,700 RPM for precise control over noise and airflow. A high-density 120mm slim radiator provides a greater surface area for superb heat dissipation, while a thermally-optimized copper cold plate and low-noise pump ensure heat is quietly and efficiently channeled away from your CPU. With tool-free easy installation and CORSAIR engineered cooling, the H60 is everything you need to keep your CPU running fast, cool and quiet.
Features & Specifications
Experience lower CPU temperatures with a 120mm high-density slim-radiator for maximum cooling surface area and performance.
Dynamically adjust fan speed with a 120mm Corsair SP Series PWN Fan
Precise PWM Control: Dynamically adjust fan speed between 600 RPM to 1,700 RPM with a 120mm CORSAIR SP Series PWM fan, making it easy to minimize noise or maximize airflow.
120mm High-Density Radiator: Experience lower CPU temperatures with a 120mm high-density slim-radiator for maximum cooling surface area and performance.
LED Illuminated Pump Head: White LED-lit pump head adds a touch of brilliance to any system build.
Efficient Cold Plate and Pump: Thermally optimized cold plate and low-noise pump design for more efficient, quieter cooling.
Easy to Install: a Modular tool-free mounting bracket for quick and easy installation onto all current AM4, LGA 1151 and LGA 2066 socket CPUs.
Specifications: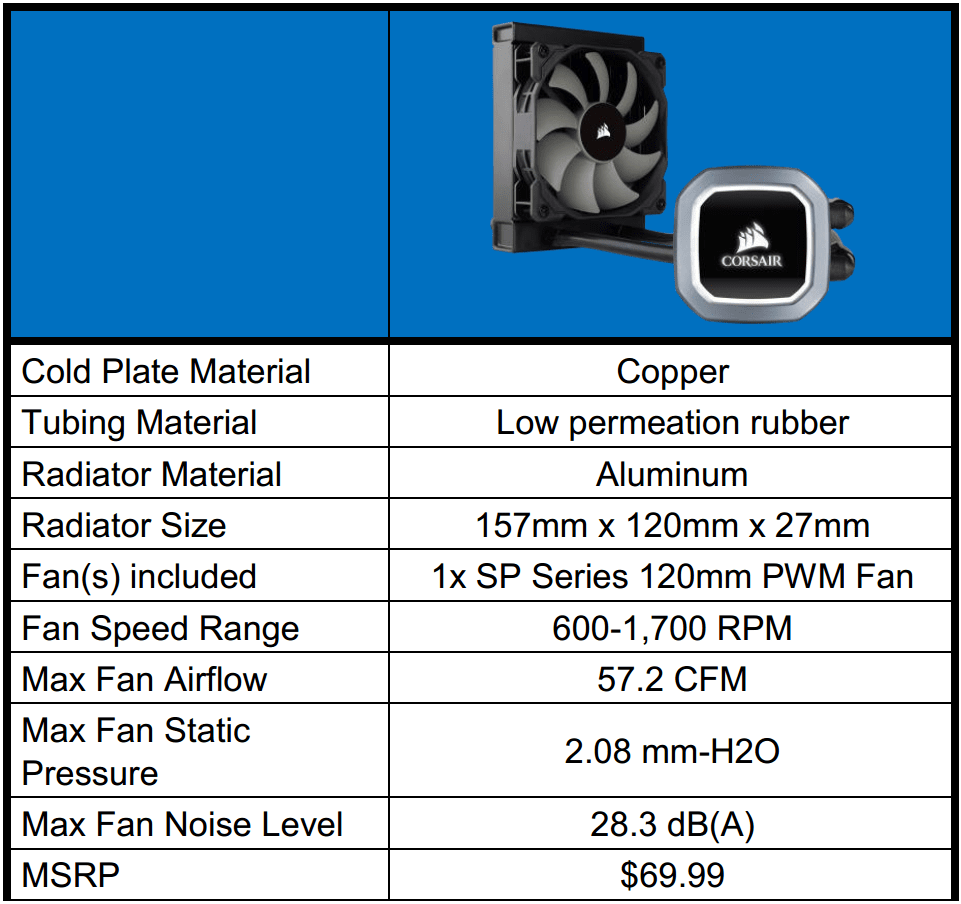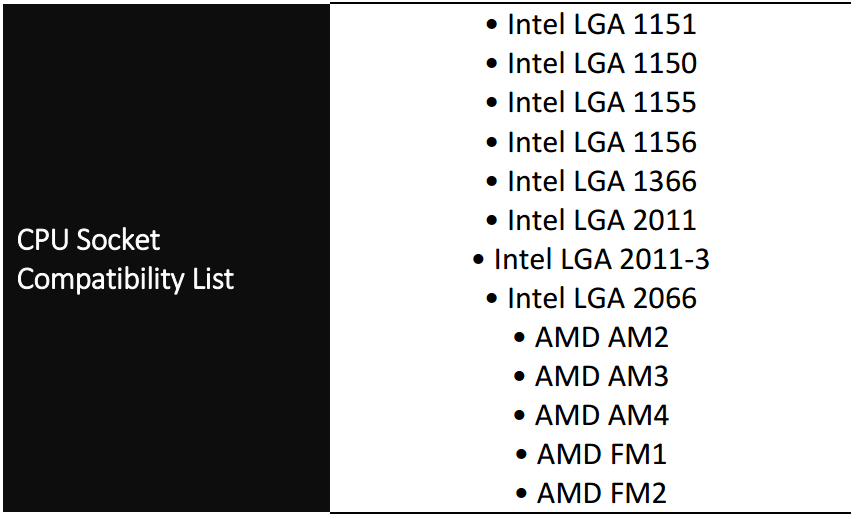 Packaging & Unboxing

If you've messed with any Corsair gear in the last several years, the packaging will look pretty familiar with a picture of the contents on the front over a black background and the edges lined in yellow.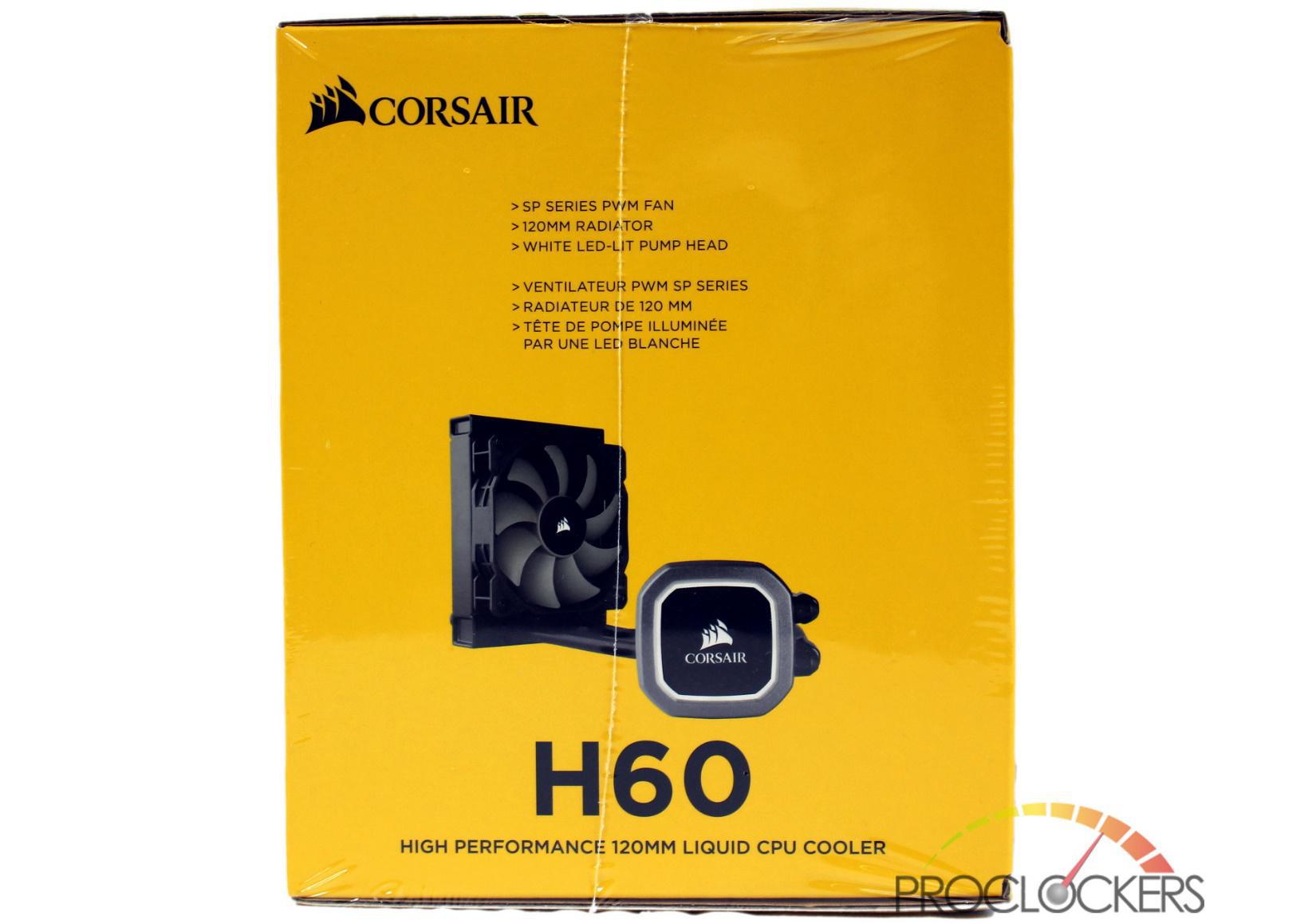 The sides of the packaging are always yellow, and here it lists a few bullet points about the cooler inside.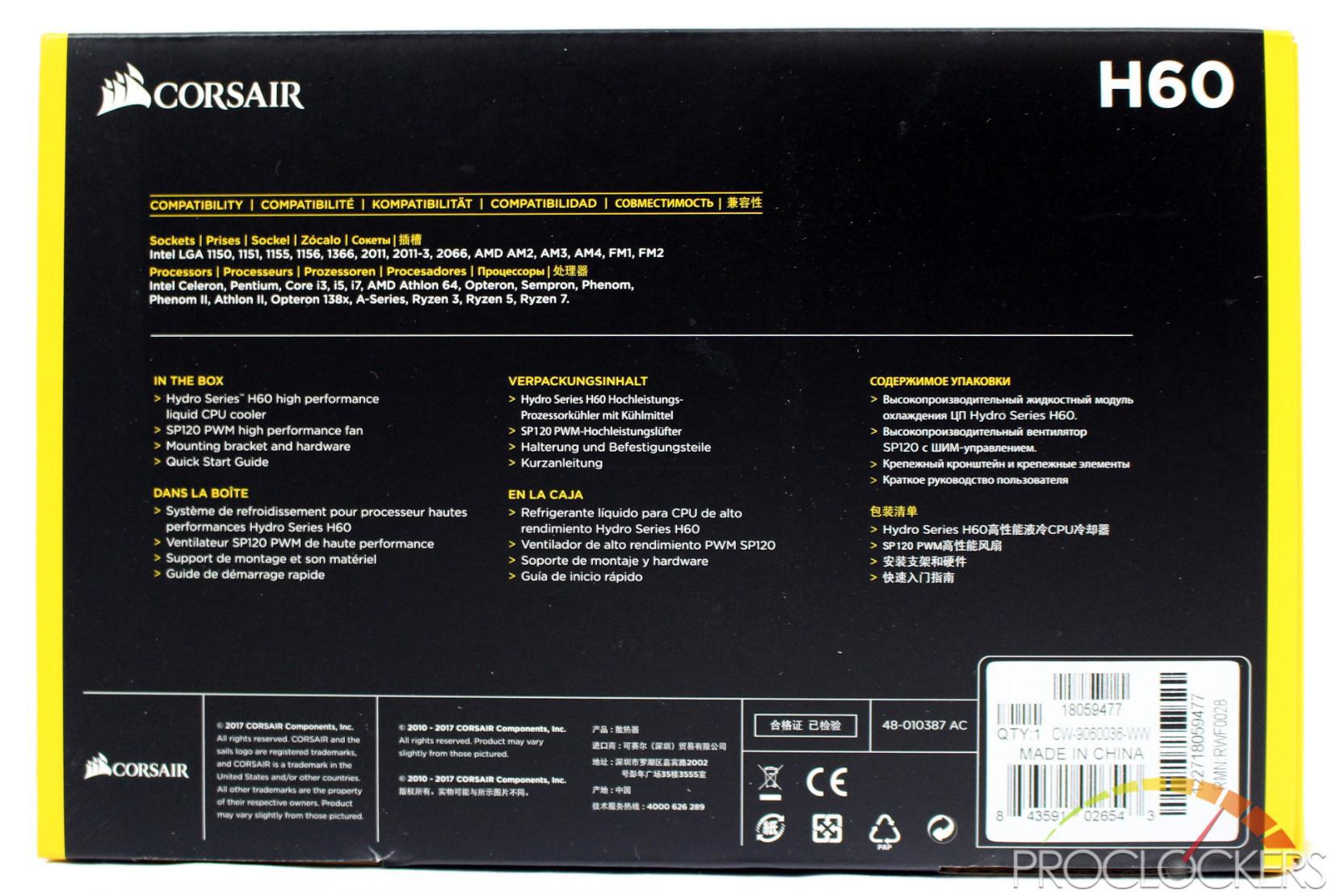 The rear of the box has most of the info you need in several languages including compatibility with various sockets and CPU series, as well as a list of what's in the box.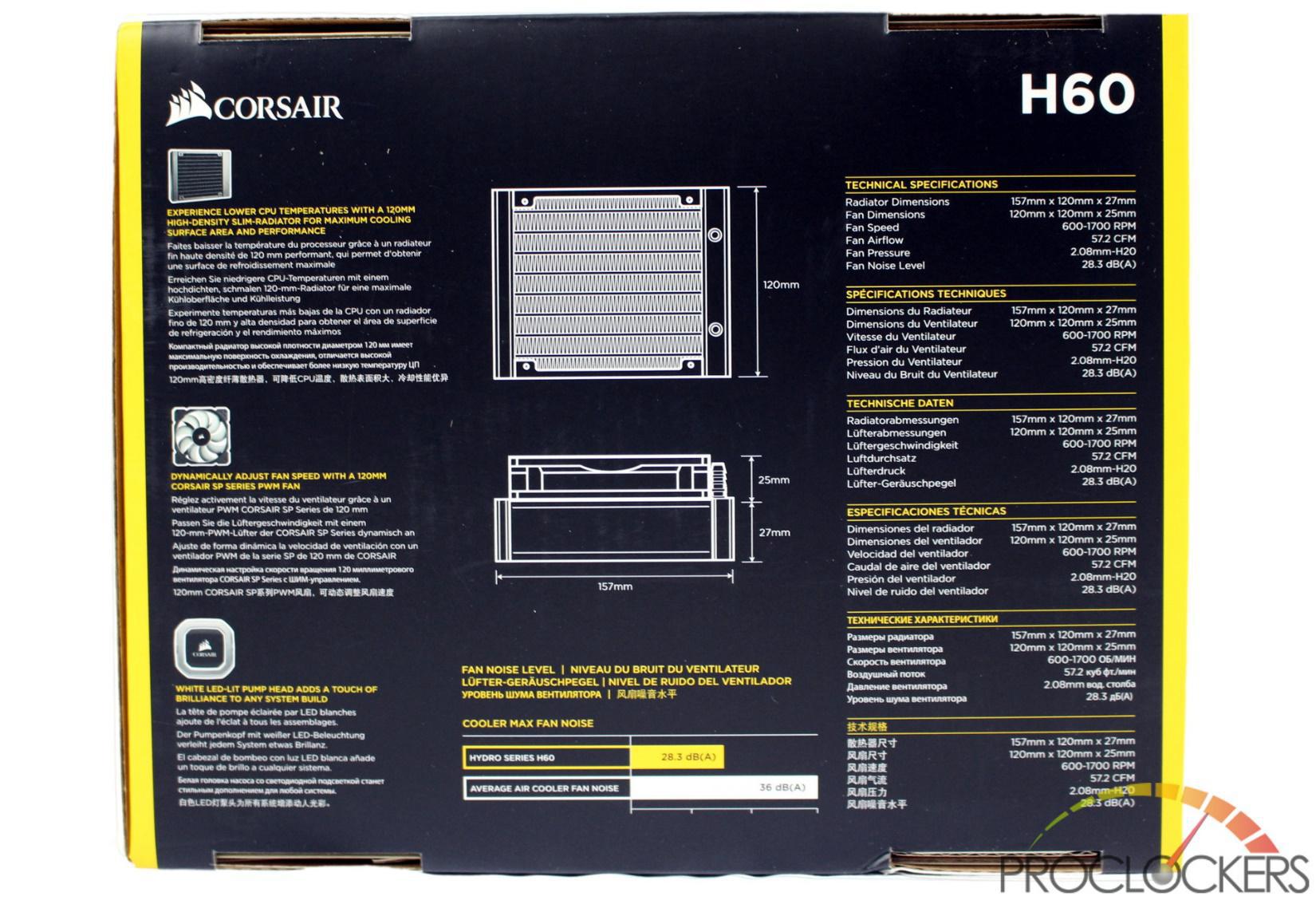 The back of the box has the stand out features highlighted down the left, the specs down the right, and a few diagrams in the middle showing physical dimensions so you can check if the cooler will fit before you even open the box.
The other side of the box is also yellow with a peak of the cooler inside and the model.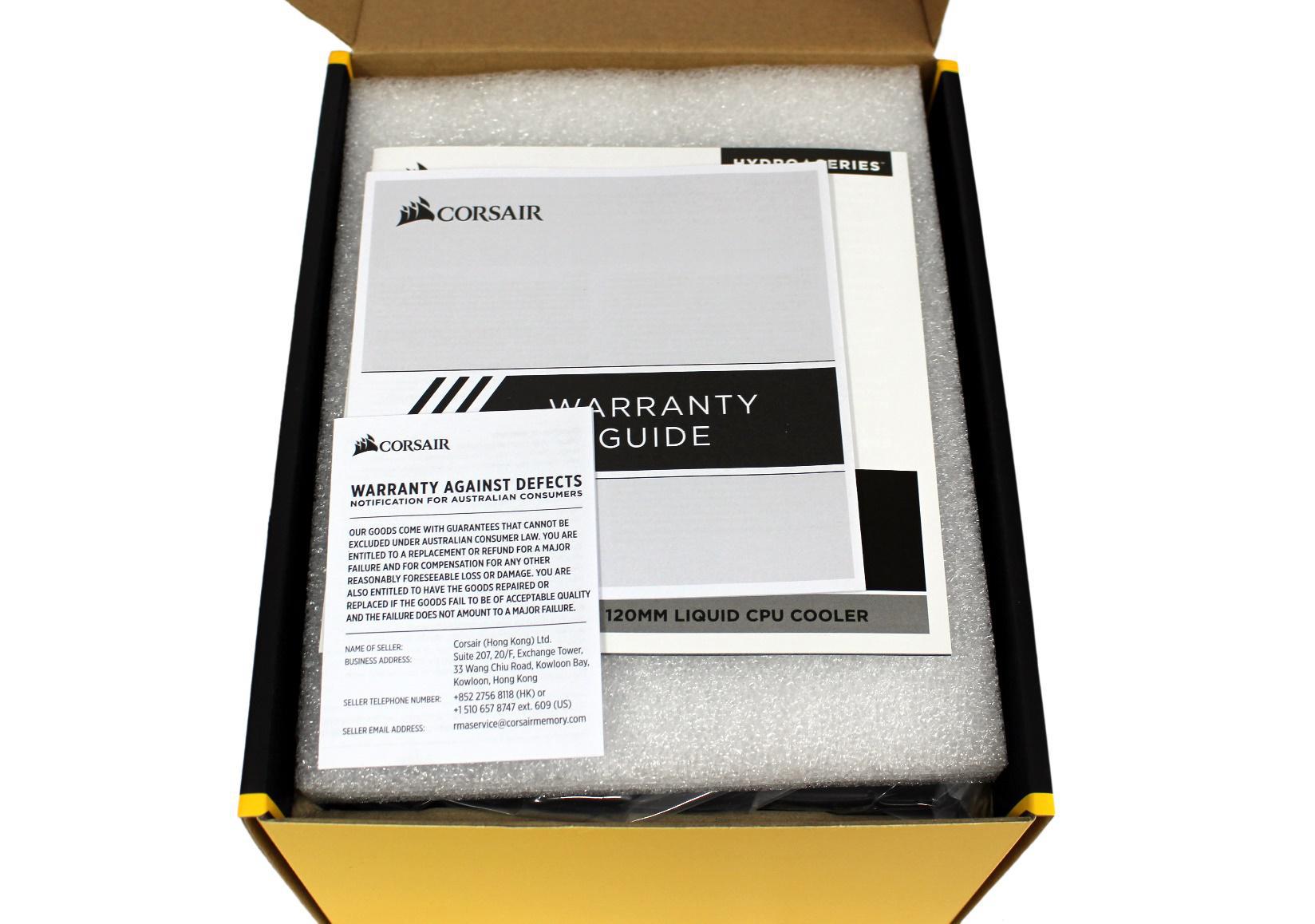 Opening the box up after removing the shrink wrap gives you immediate access to the documentation laying on a foam sheet.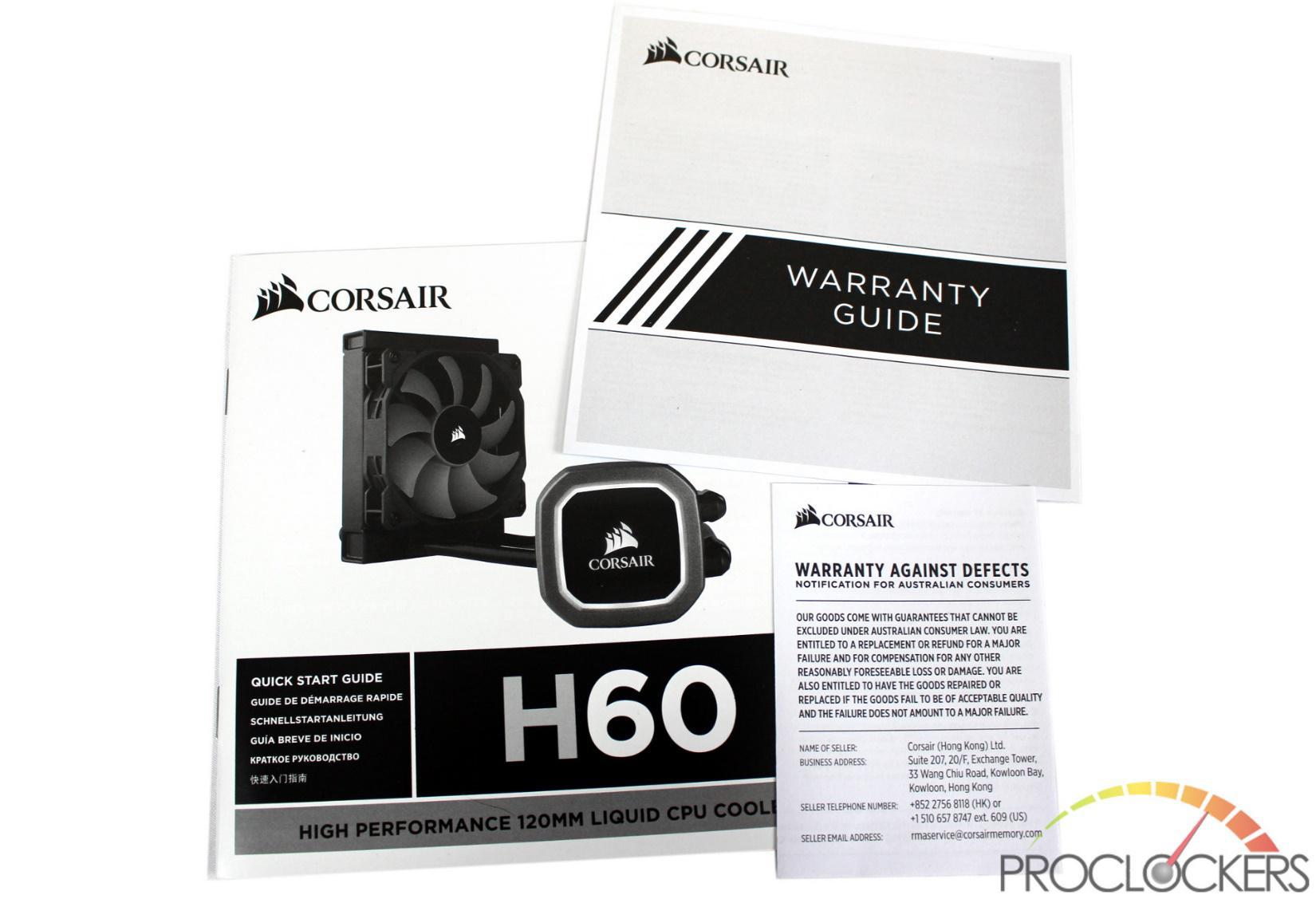 Documentation consists of a warranty guide, warranty statement and quick start guide.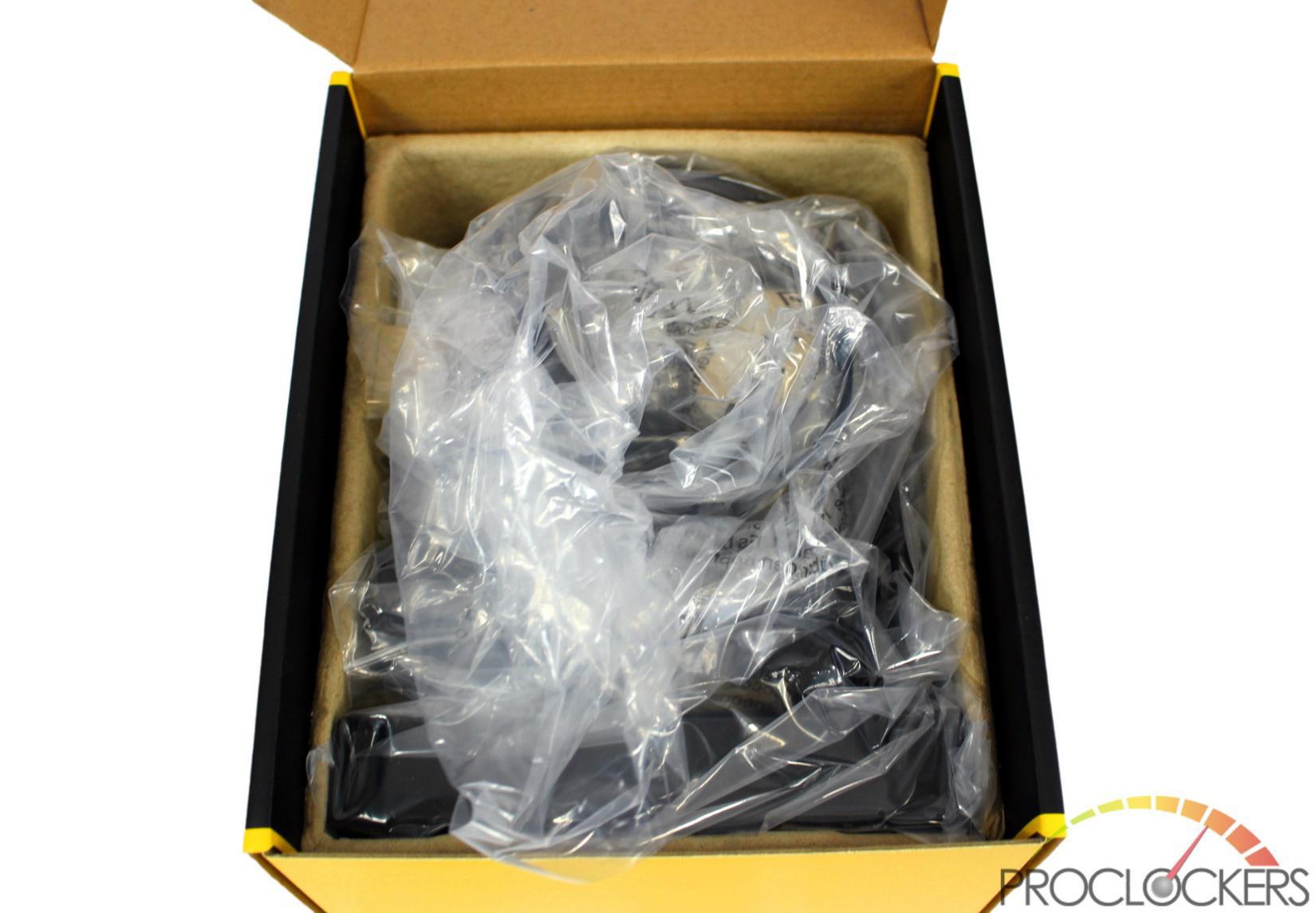 Under the foam sheet is the H60 cooler cradled in the traditional fiber tray wrapped in a heavy plastic bag.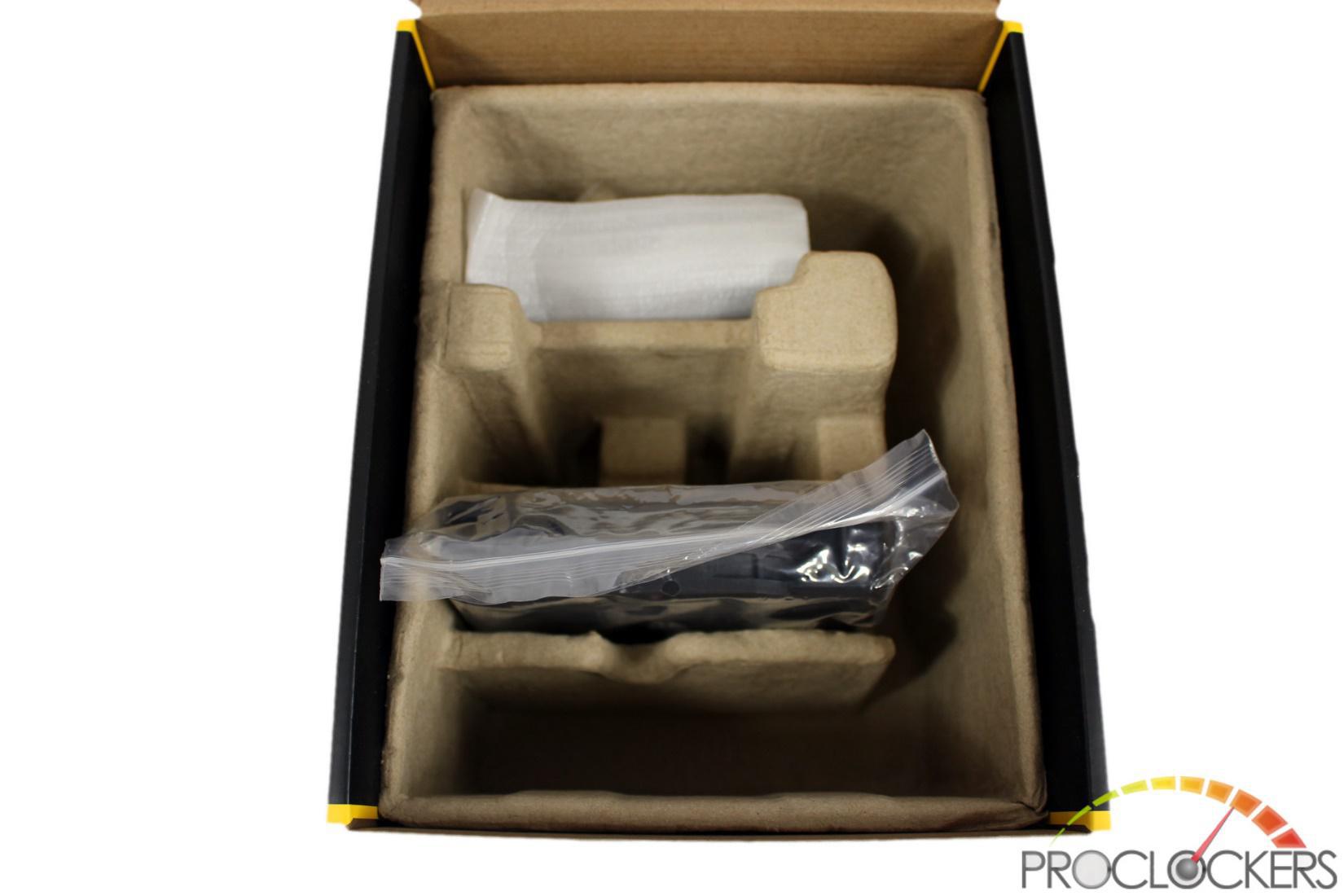 With the cooler out of the way, you can access the single SP series fan the cooler comes with and all of the hardware in a foam wrapper.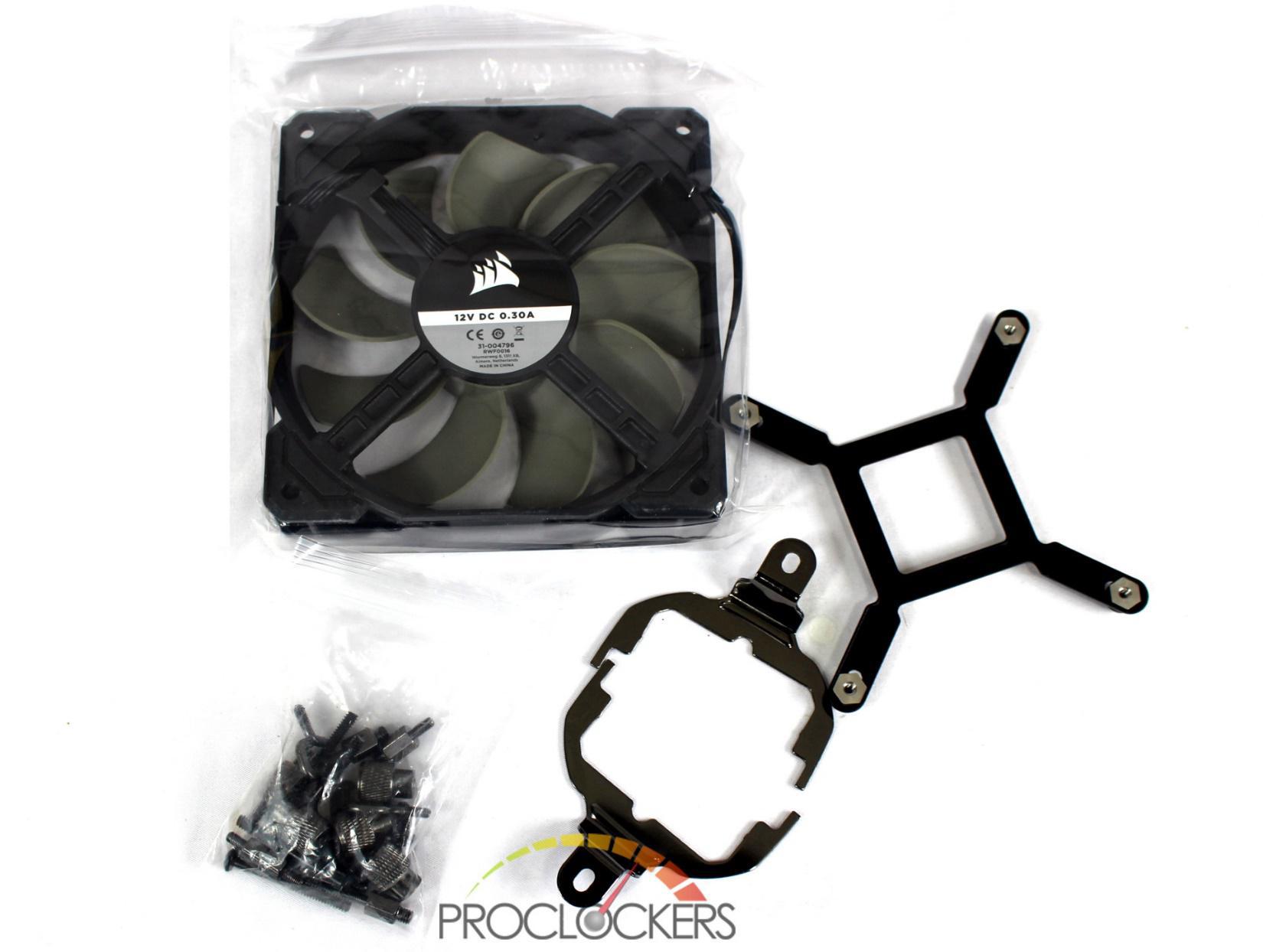 Besides the cooler itself, here is everything included in the box. A baggie of hardware, an AMD bracket (the Intel one is mounted by default), the SP series fan, and the Intel backplate for LGA 1366 and LGA 115X sockets.
A Closer Look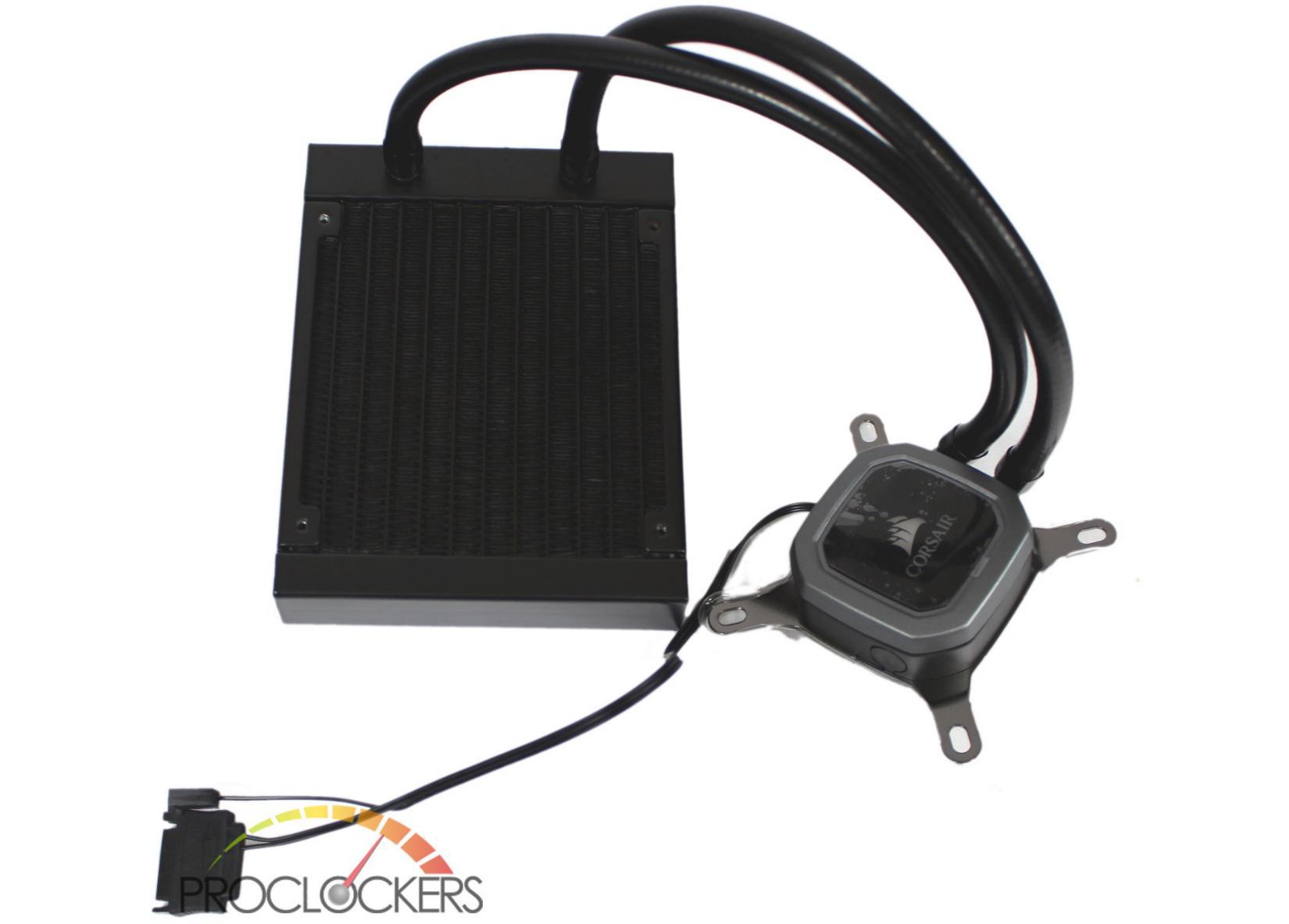 Like most All-in-One coolers, the H60 is a pump and water block assembly connected to a radiator by two hoses.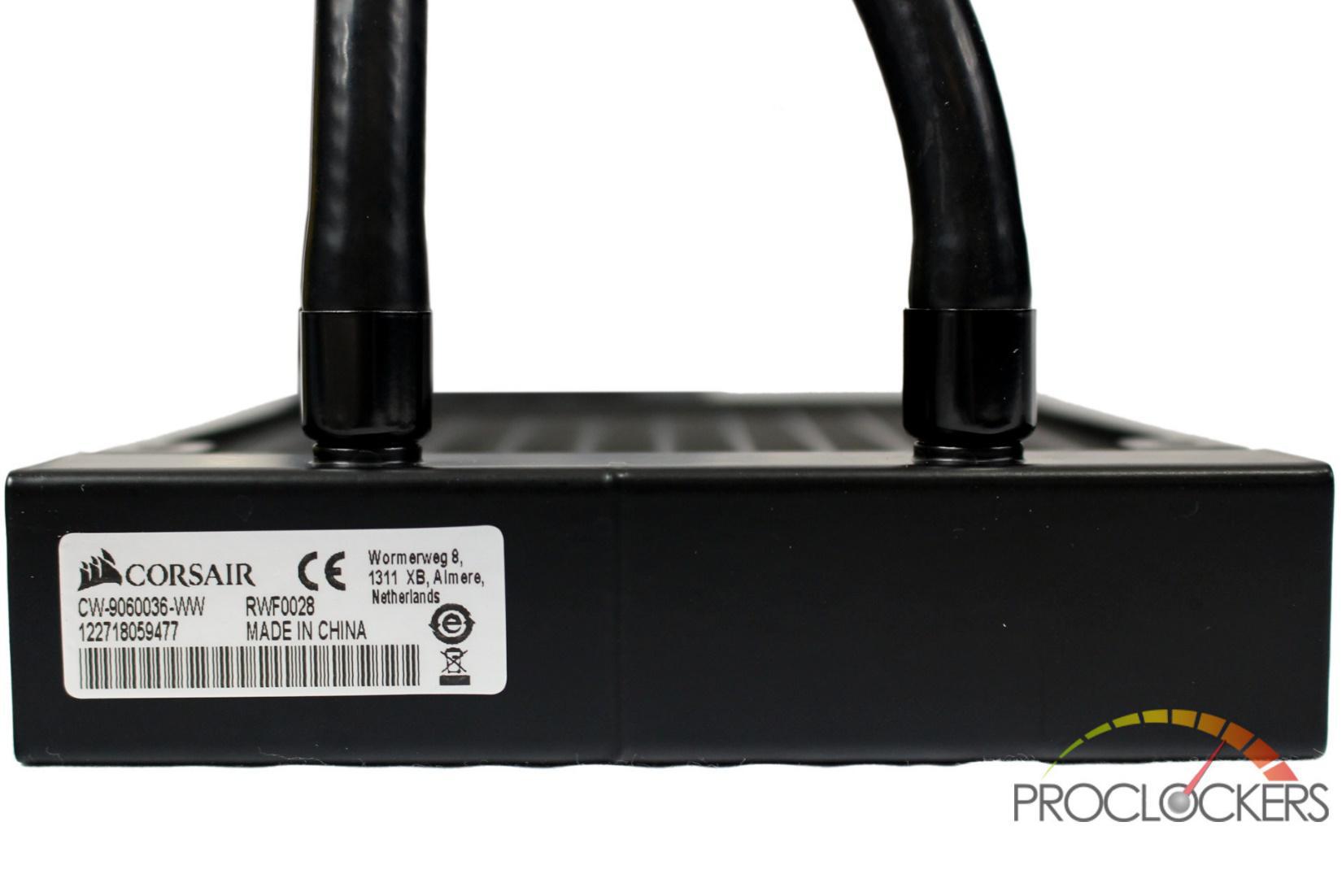 The radiator is 27mm thick, just a shade thicker than a standard 120mm fan.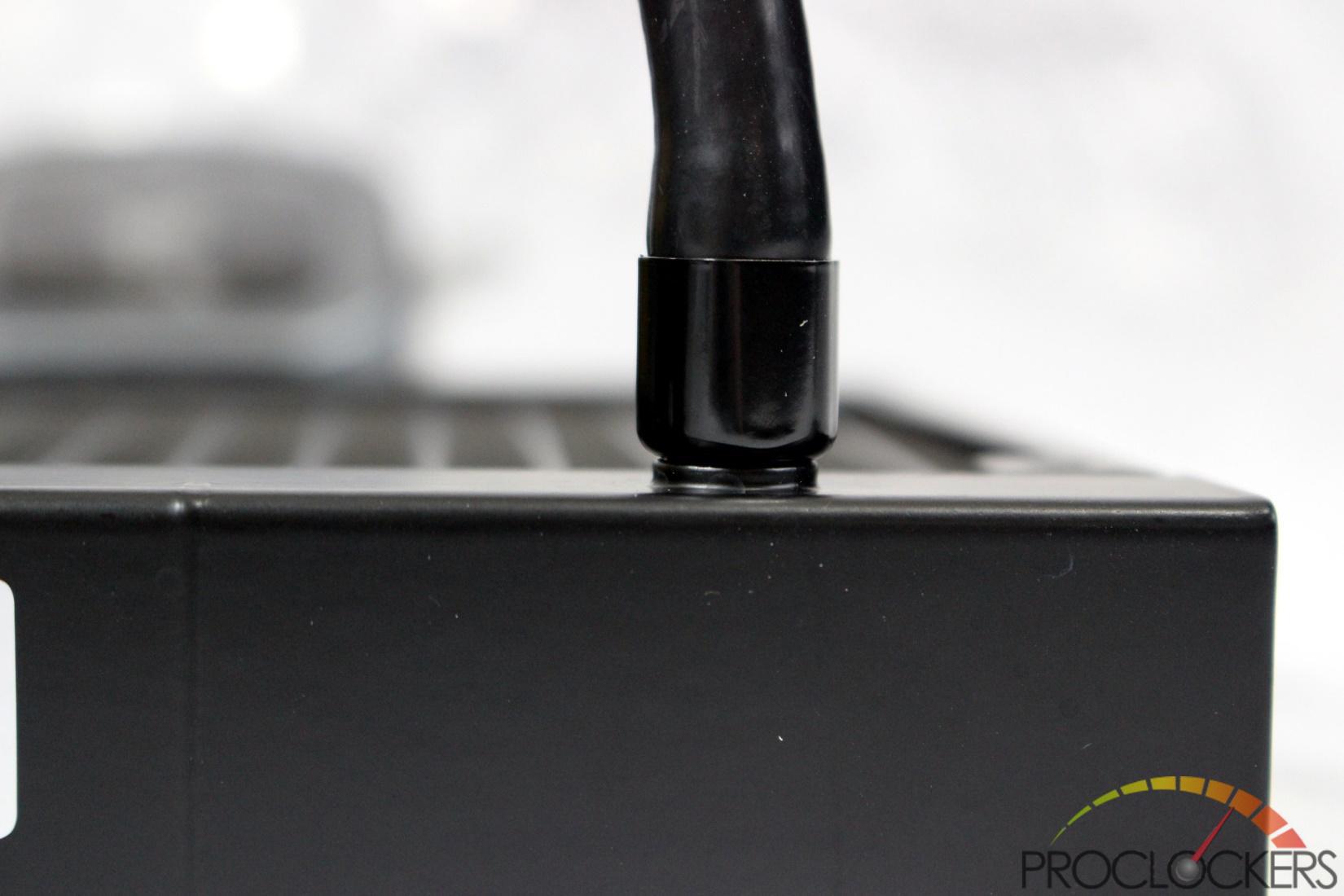 The rubber hoses are crimped onto the radiator barbs with a plastic cover providing an aesthetic finish.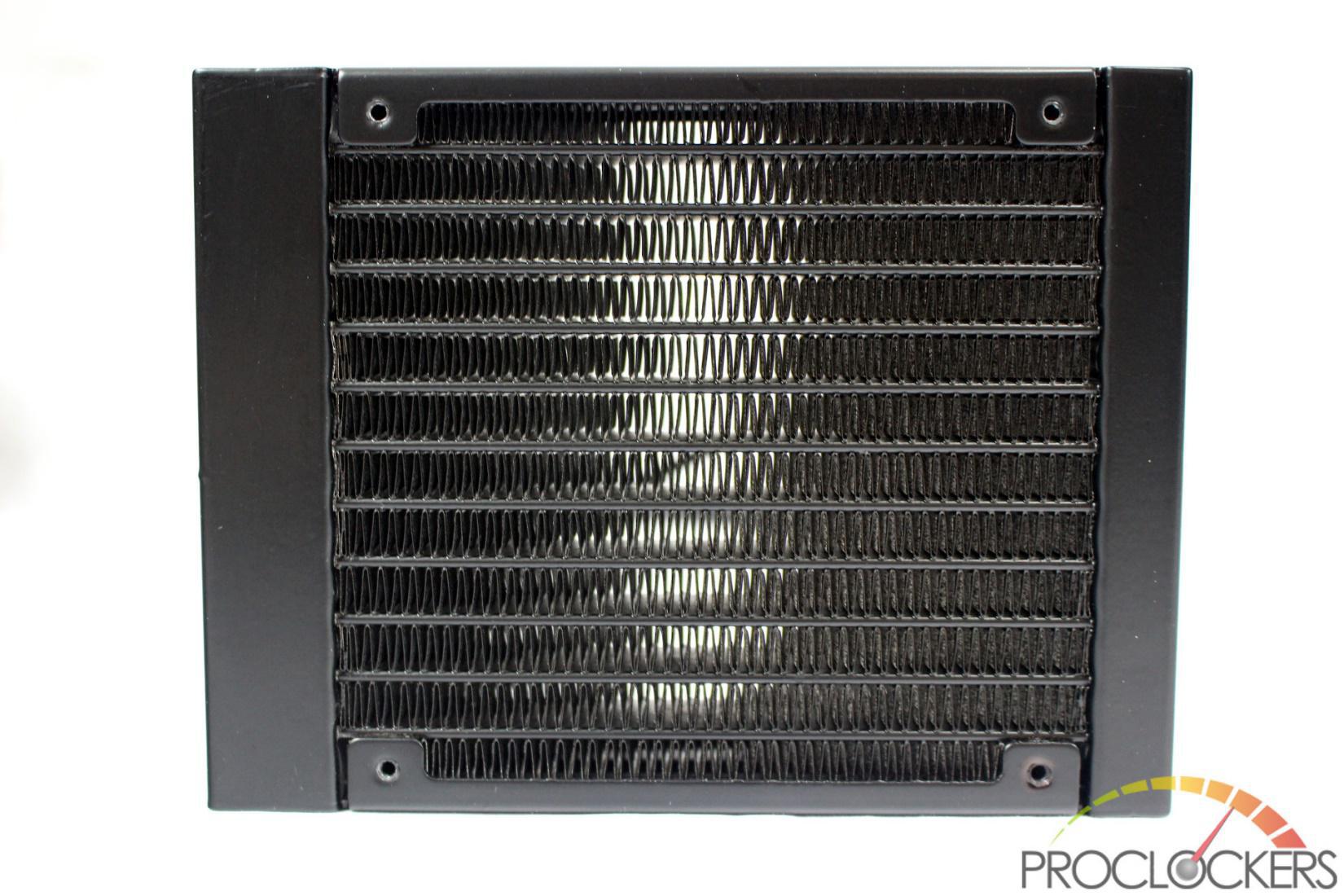 The radiator is very compact, barely extending beyond the 120mm fan by 37mm combined top to bottom and flush with the fan side to side.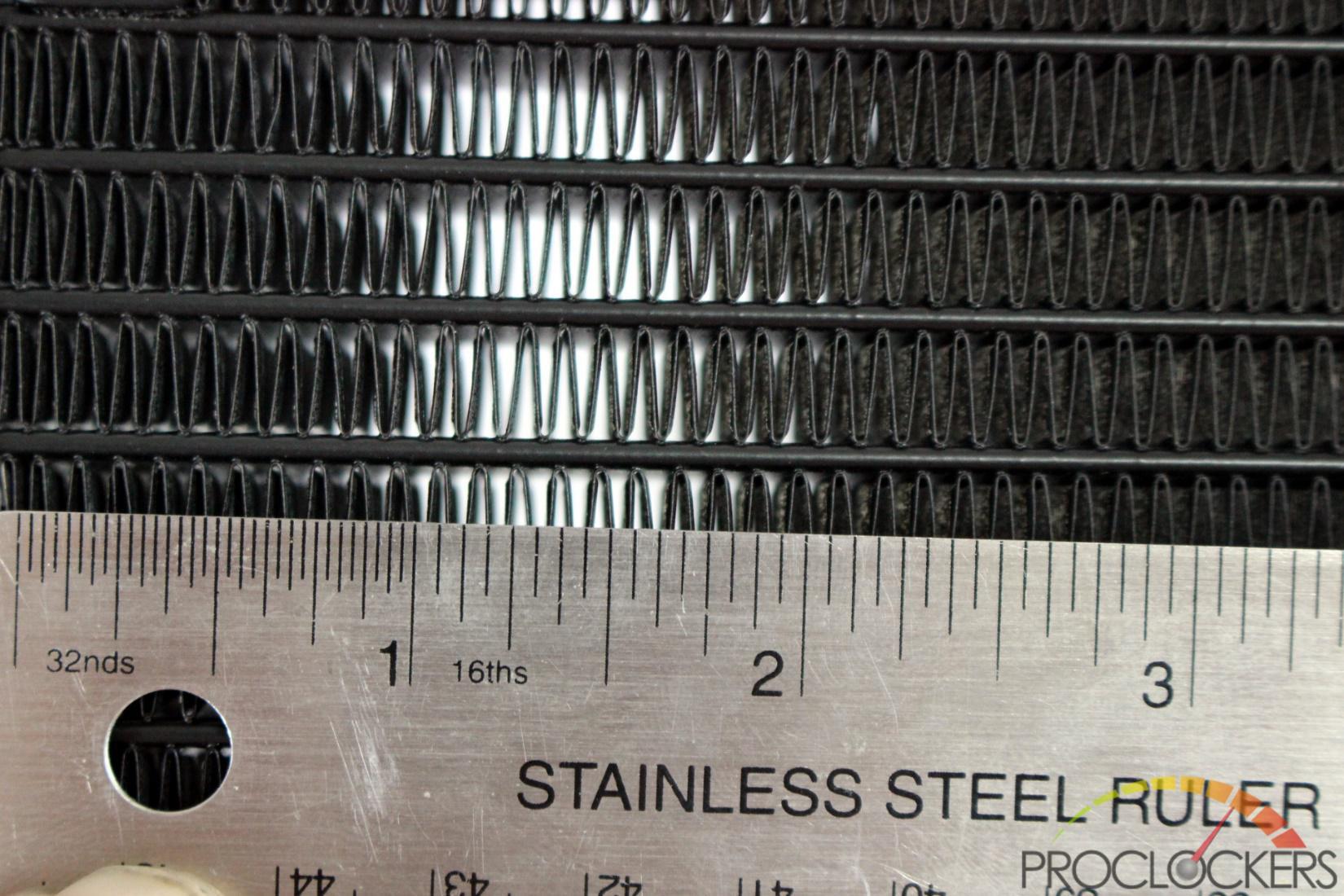 Like our recent H150i PRO, the H60 uses a dense 20 fin per inch radiator.
The hoses are crimped onto swiveling 90-degree barbs on the pump end for easier hose routing but do not twist axially along the hose.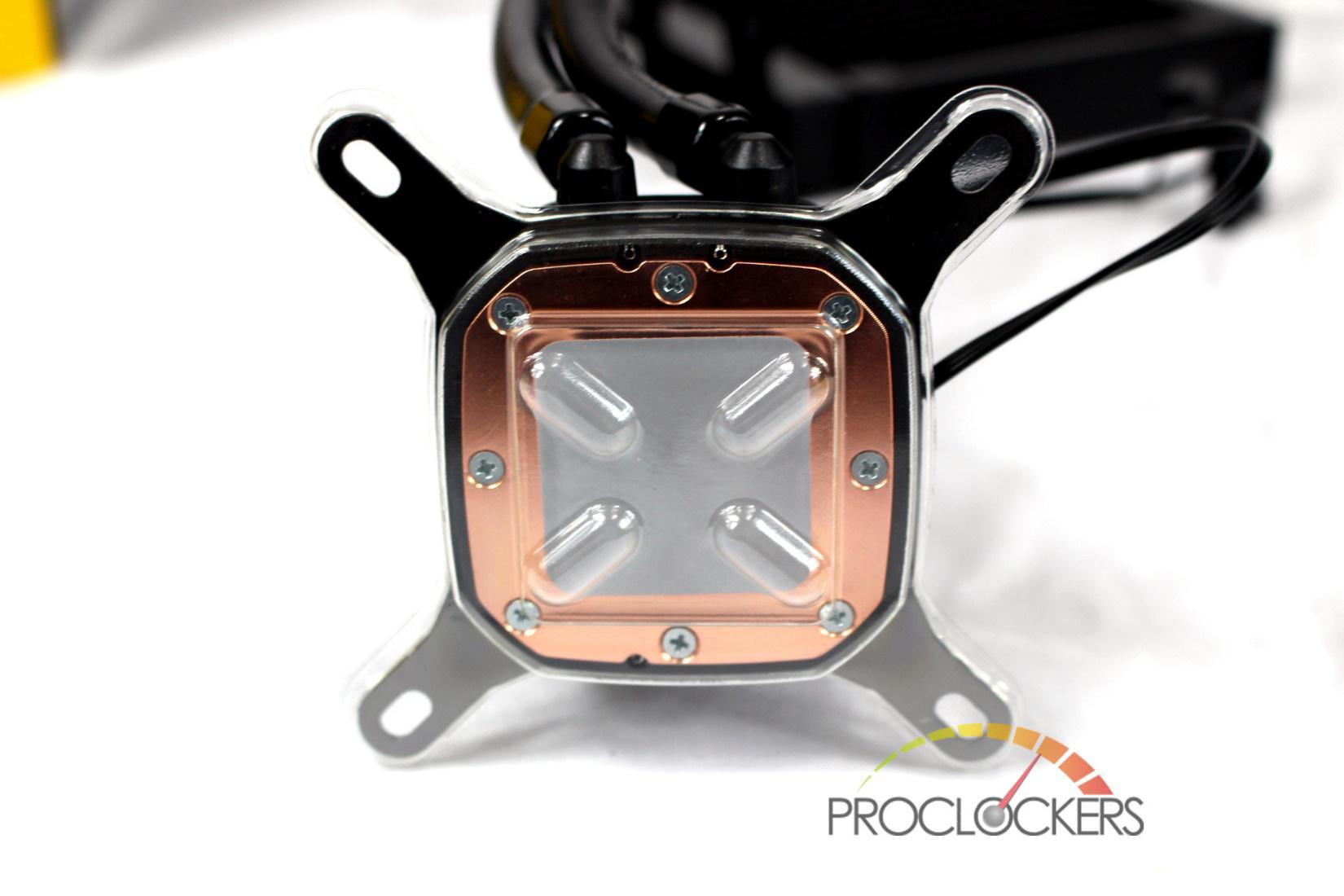 The cold plate comes with thermal material pre-applied and is protected by a clear cap until installation.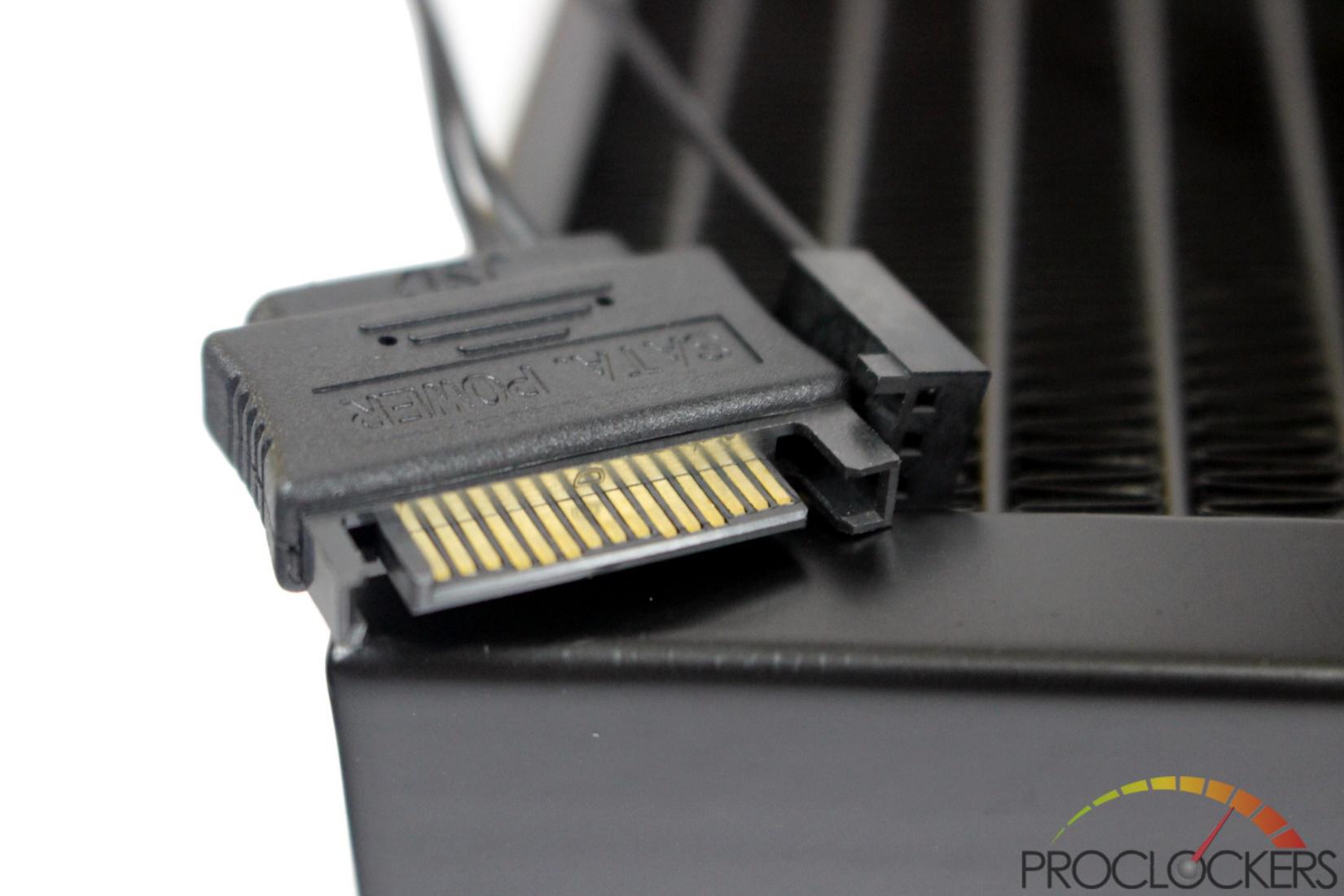 Unlike the 'I' series cooler with tons of additional connectors, the H60's pump only has a SATA power connector and a 3-pin RPM feedback cable to your motherboard. With power provided directly from the power supply, there is no control of the Pump's speed.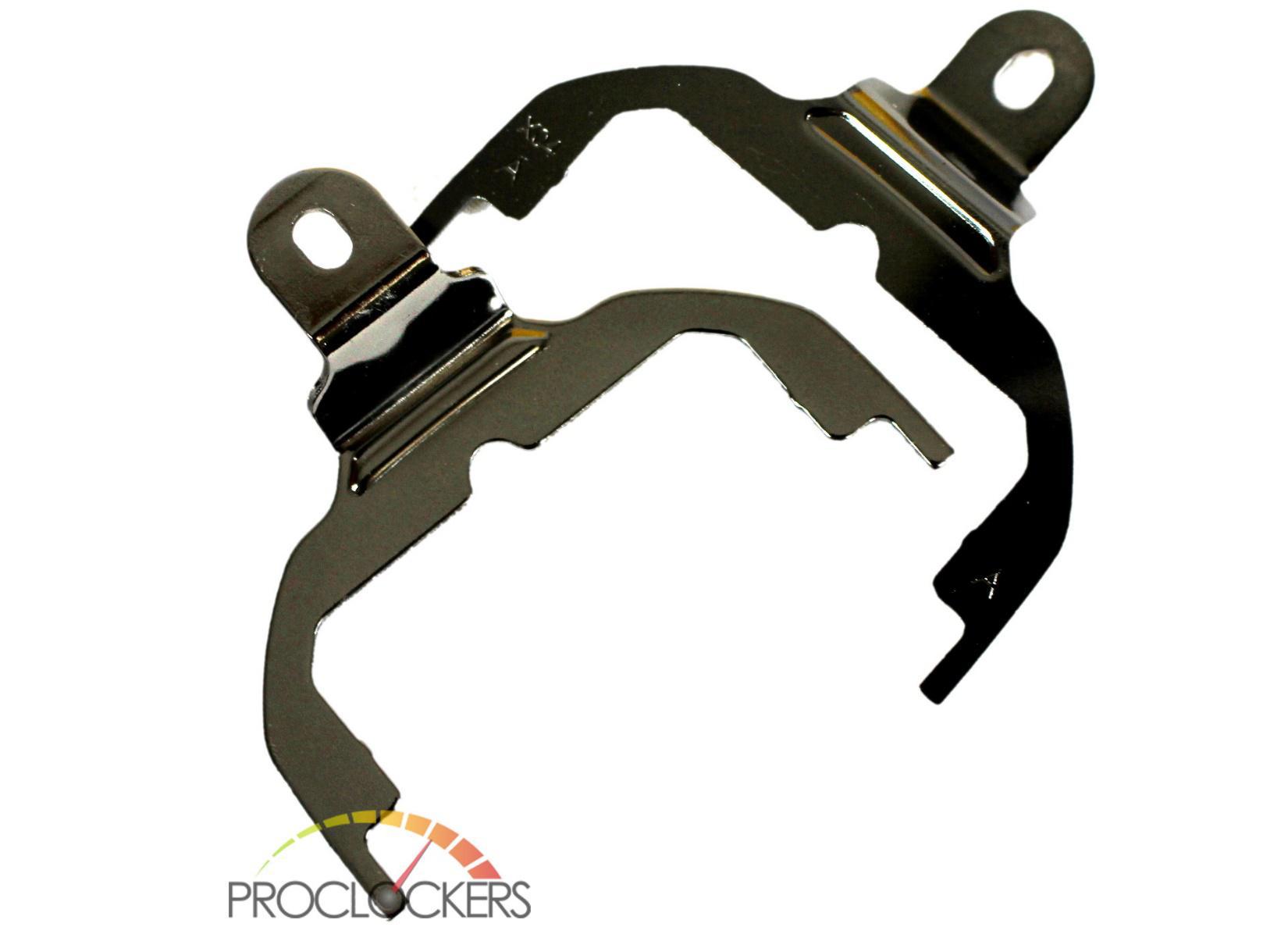 If you are mounting on an AMD platform, you'll need to swap to these brackets on the pump.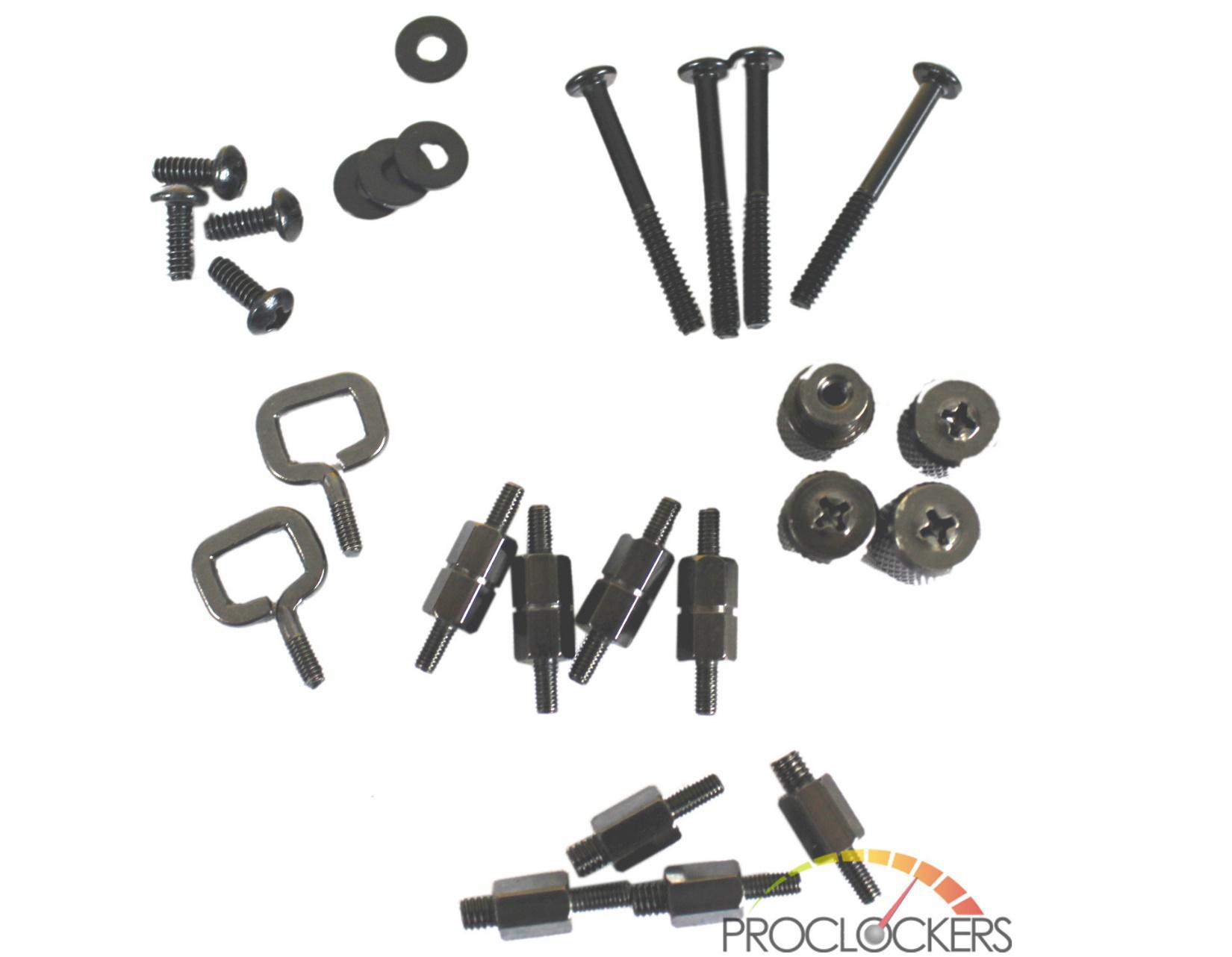 Included hardware is pretty minimal but covers all of the bases. You get short screws for mounting the radiator directly to the case, long screws to either mount the fan or mount everything through the fan, some washer for the fan screws if needed, some AMD pump mounting studs, Intel 1366 and 115X studs, and Intel LGA 20xx studs, as well as the actual mounting thumb screw caps.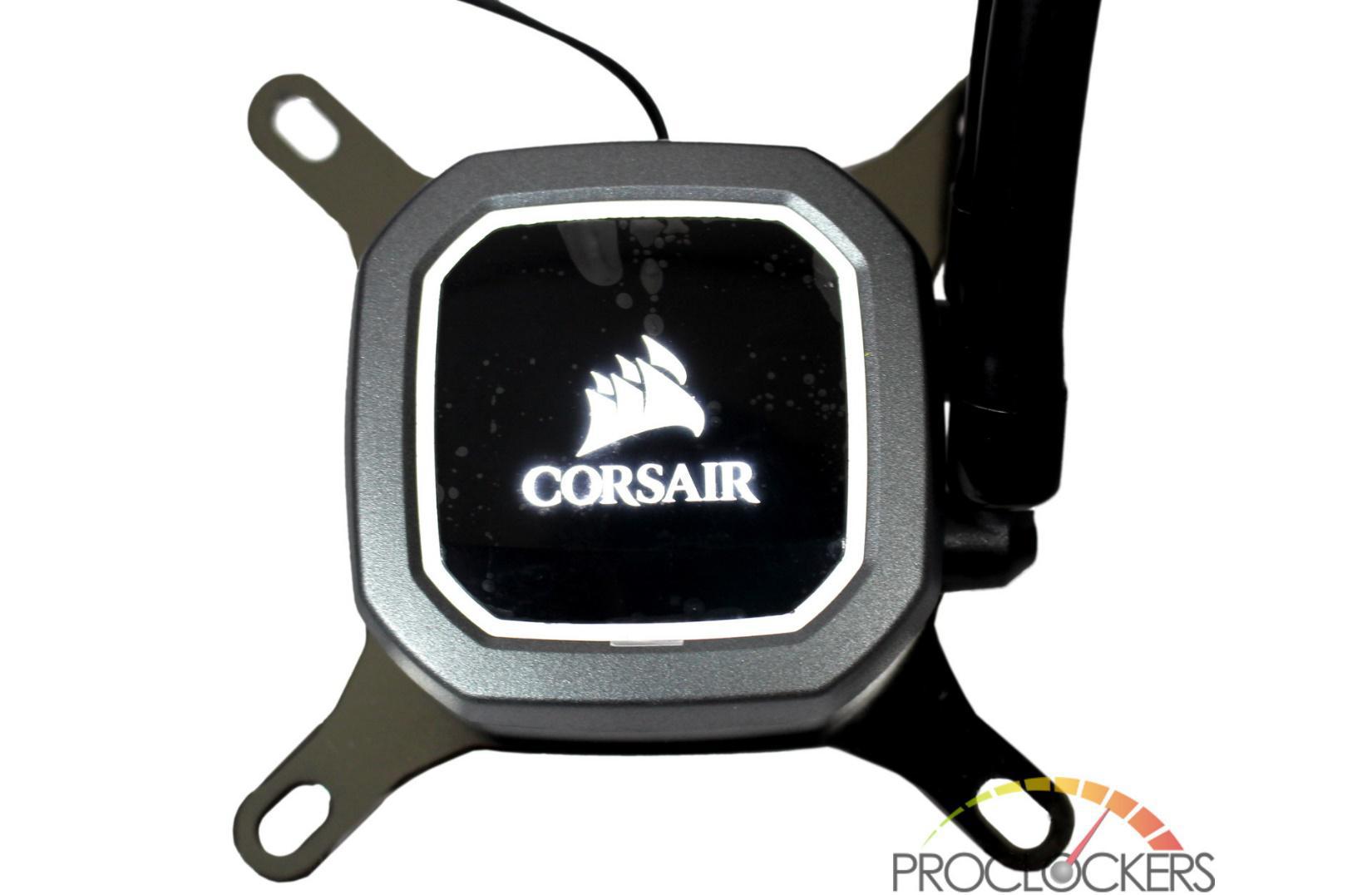 Once powered on, the Pump block will glow a soft white around the edge, as well as the Corsair logo itself. It's not super bright but looks great. It is a true/natural white hue as well, not the funky blueish white that RGB LED's do when trying to make white.
Installation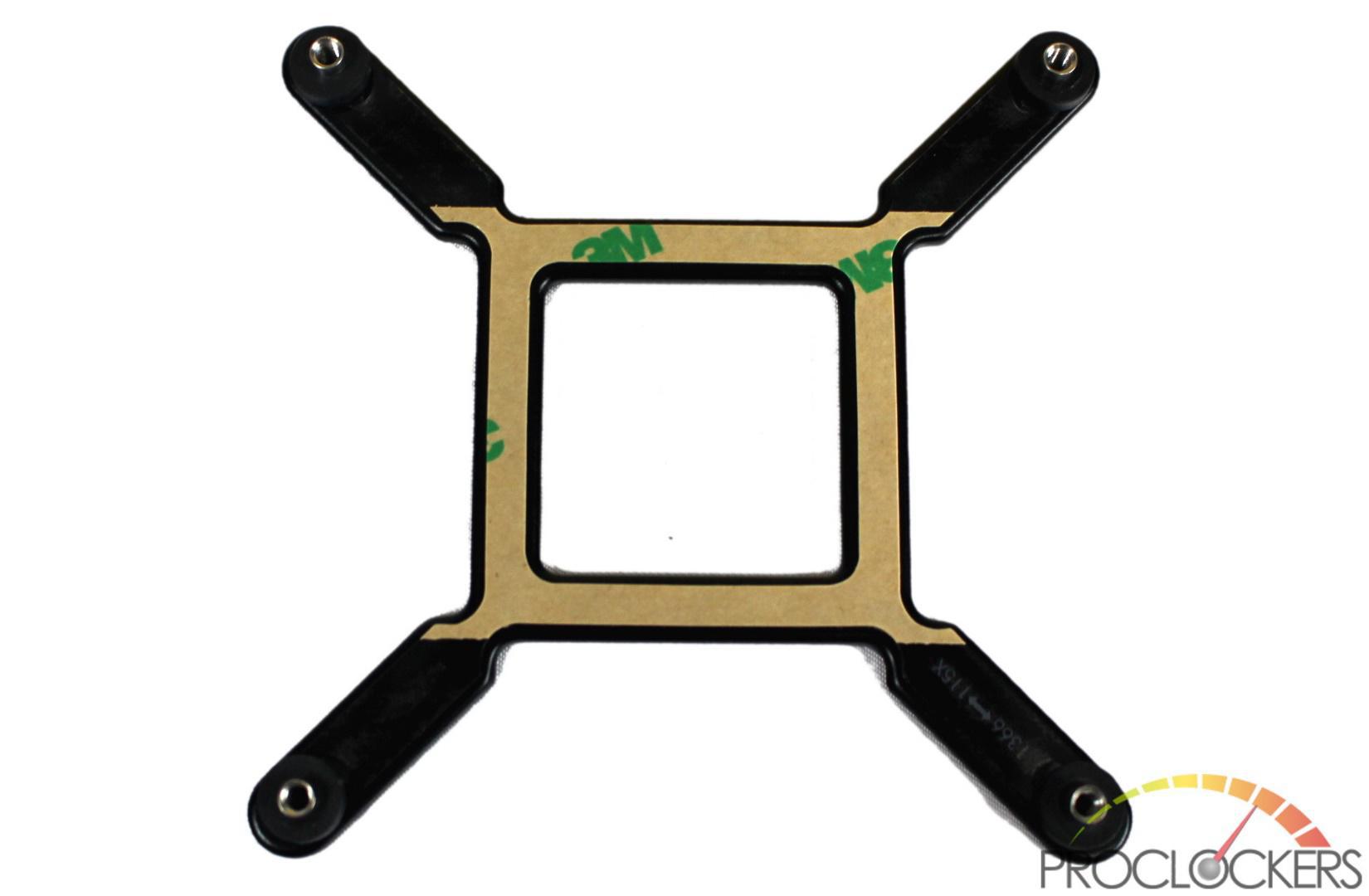 We'll be testing on Intel's 8th generation processor so we'll use the Intel backplate. It comes with a 3M adhesive pre-installed if you need a hand keeping it in place during installation. This can be quite handy if installing the H60 on a board already installed in a case, but you don't have to use the adhesive if you don't need to. We'll caution you on past experience, if you DO use it, you better be sure you want to as the adhesive holds on tight and can be a bit tricky to get loose again.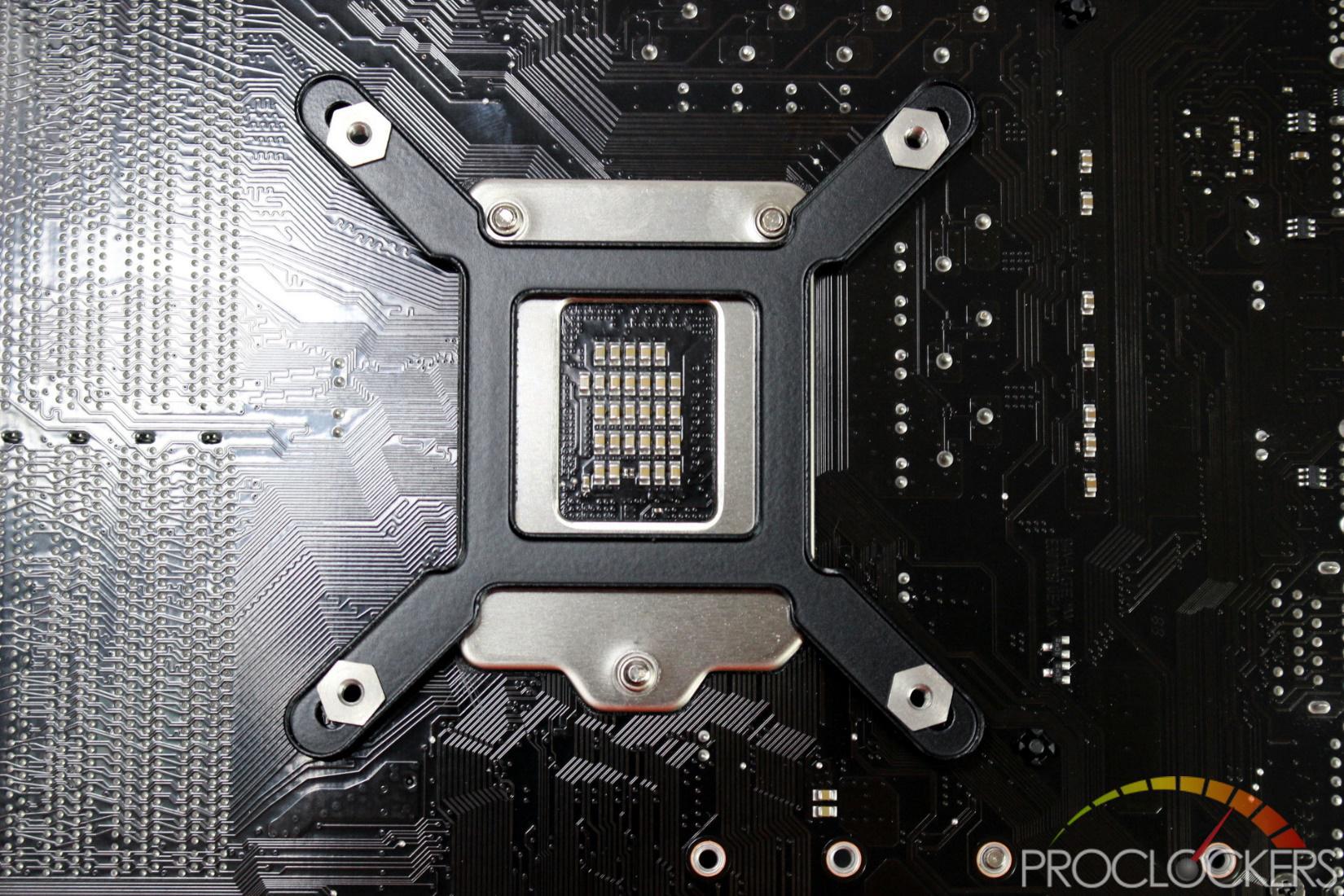 The backplate mounts right over Intel's socket plate and has notches on all 4 sides so it doesn't matter what way you mount it, it will clear the retention bolts either way.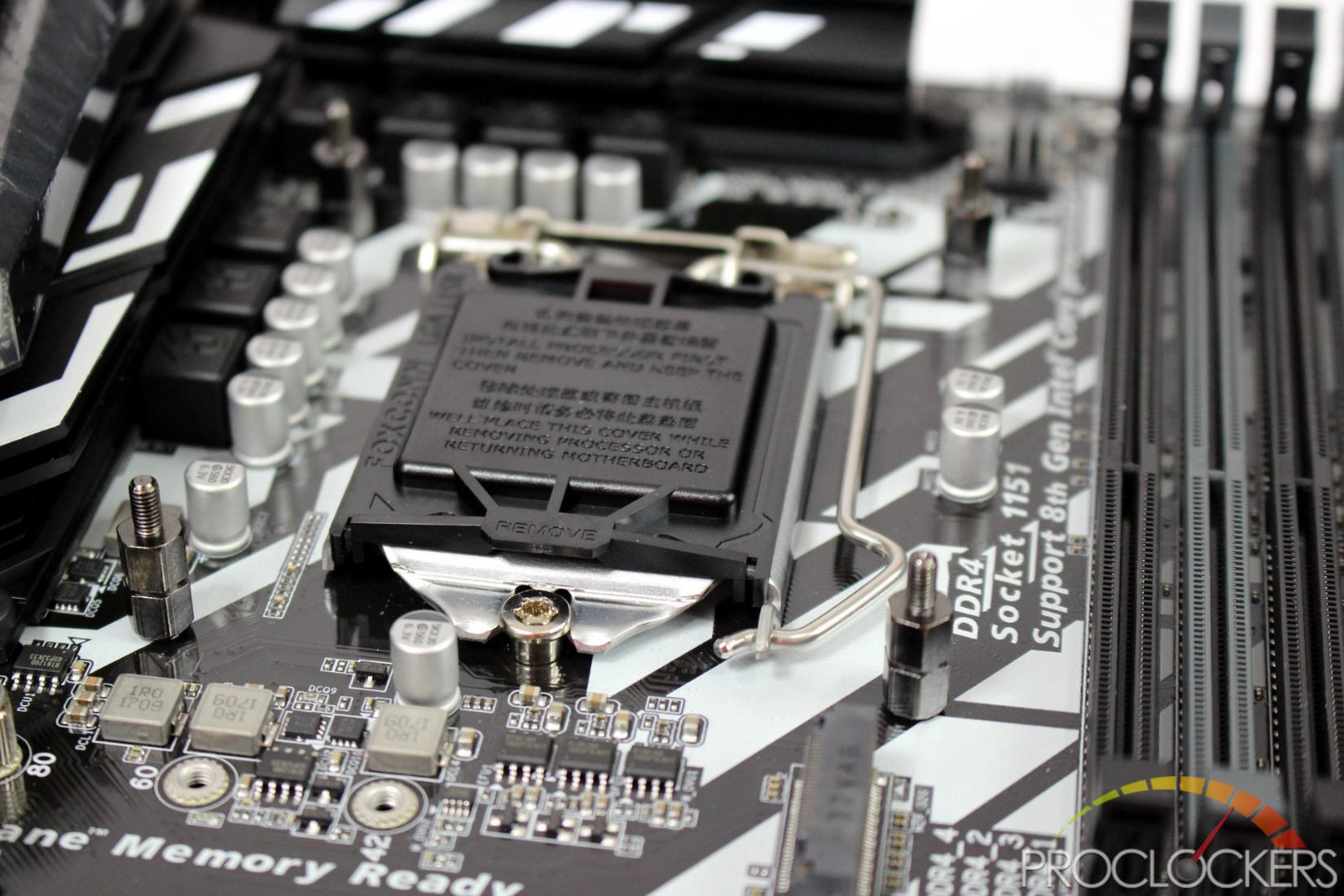 With that done, you simply screw the double ended studs into the backplate you just installed. It is the same thread on both ends so it doesn't matter how you installed them.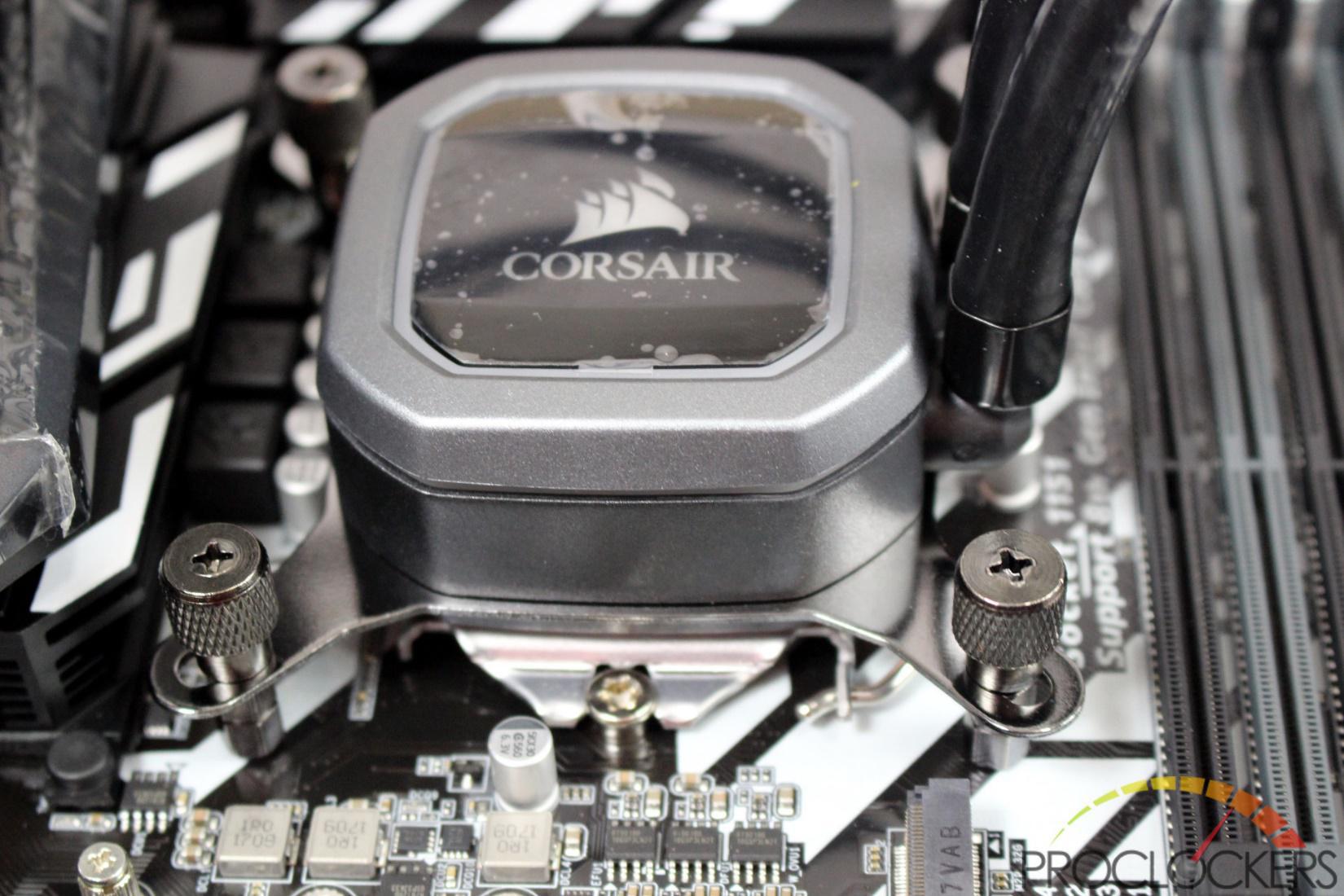 Next, install your CPU, remove the protective cap on the pump, and place over the mounting studs. The last step is tightening the thumb screws down in a crisscross pattern until they bottom out. These only need to be finger tight, the Philips head on the screw is really for easy removal later on.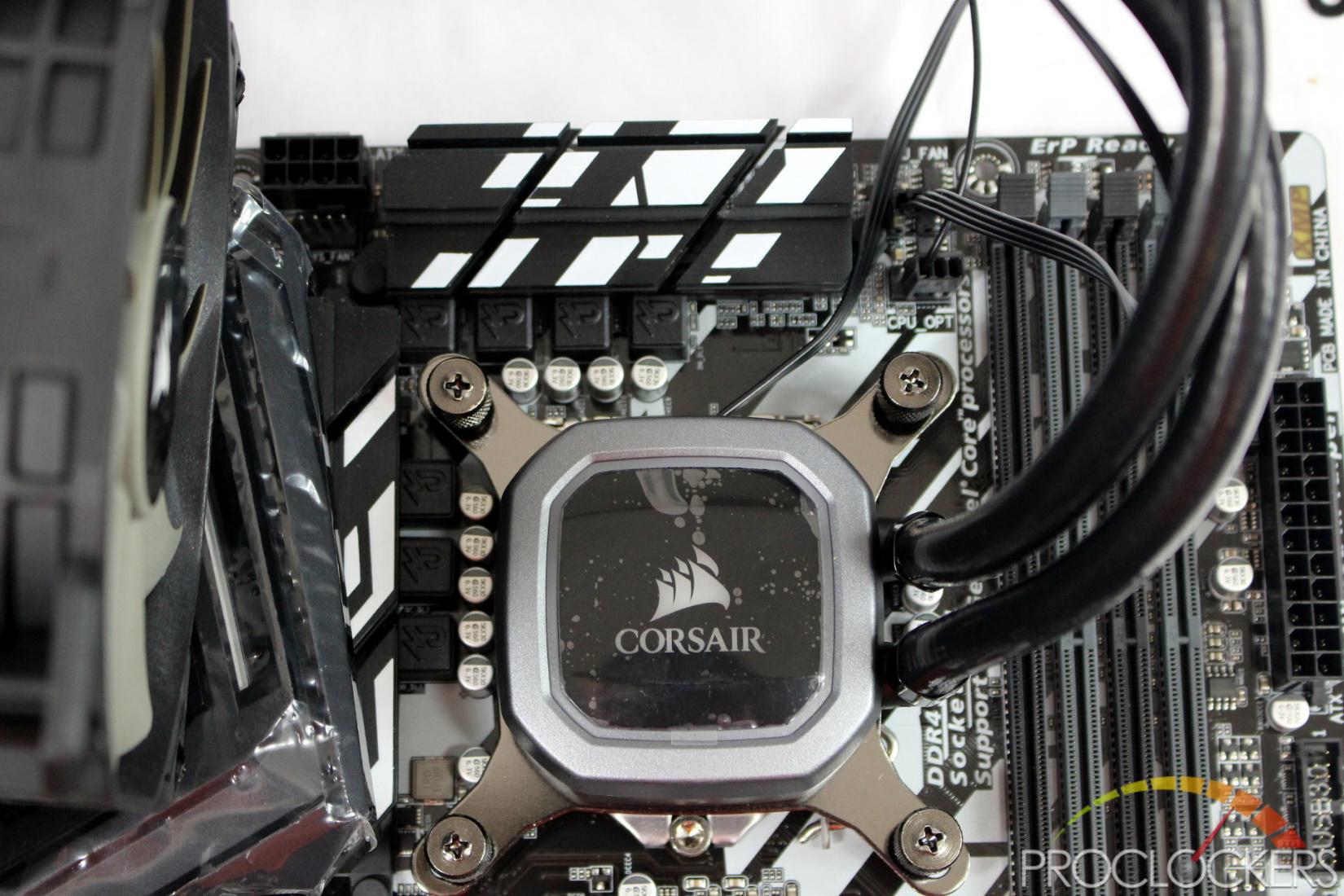 At this point, all that is left is to mount the radiator in about any available 120mm fan space in your given case, mount the fan to the radiator, and plug the fan and pump in.
Performance Testing
Our ambient temperature is 72F/22C for testing. We'll test with the included fan connected to an ASUS Full-Speed fan header for maximum performance.
System Config
CPU: Intel Core i7-8700k
Motherboard: ASUS ROG Maximus X Apex
RAM: 16GB G.Skill TridentZ 3200Mhz
GPU: Galax GTX 1070 HOF
SSD: Samsung 960 PRO 2TB
OS: Windows 10 Professional X64
Cooling: Corsair H60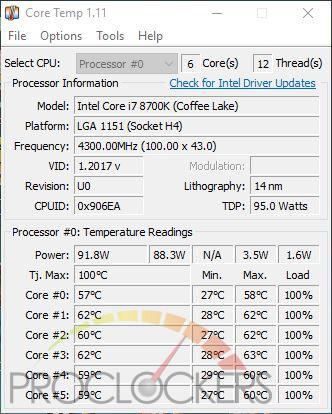 At stock speeds, the 8700K hangs around its 95W TDP and the H60 is more than capable of keeping it cool. Running OCCT stress test, we managed to stay right around 60C after a 30 min run time. Peak temps hit 63C, about 40C Delta-T above ambient.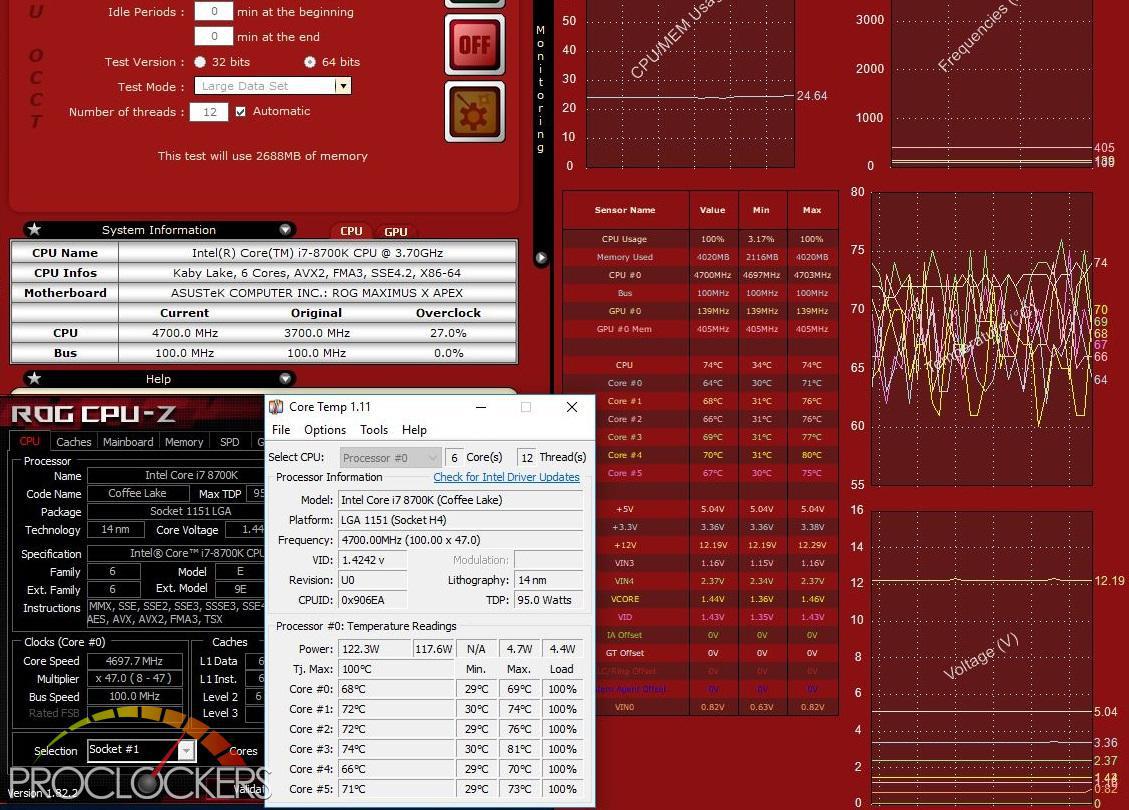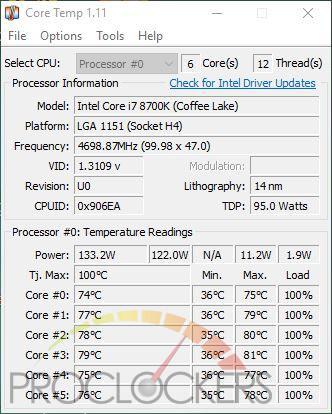 Pushing all 6 cores up to 4.7 GHz gives us about a 135W TDP and brings our peak temps up to 81C with an average of around 77C. This is warm but acceptable temperatures.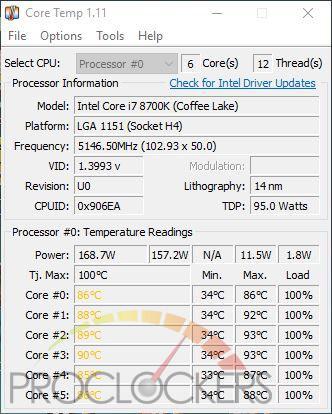 This time we'll get mean. Pushing the clocks up to over 5.1Ghz at 1.4V gives us a TDP close to 175W, about 25 watts above the maximum of the H60.
We see the temps are now less than ideal after less than a minute, hitting mid 90C's and averaging about 89C. At this point, the air coming out of the radiator is noticeable warm but does appear to be right about the limit of what the H60 is capable of dealing with. While it may handle it for short spurts, it is unable to maintain this level of load for any length of time.
Final Thoughts & Conclusion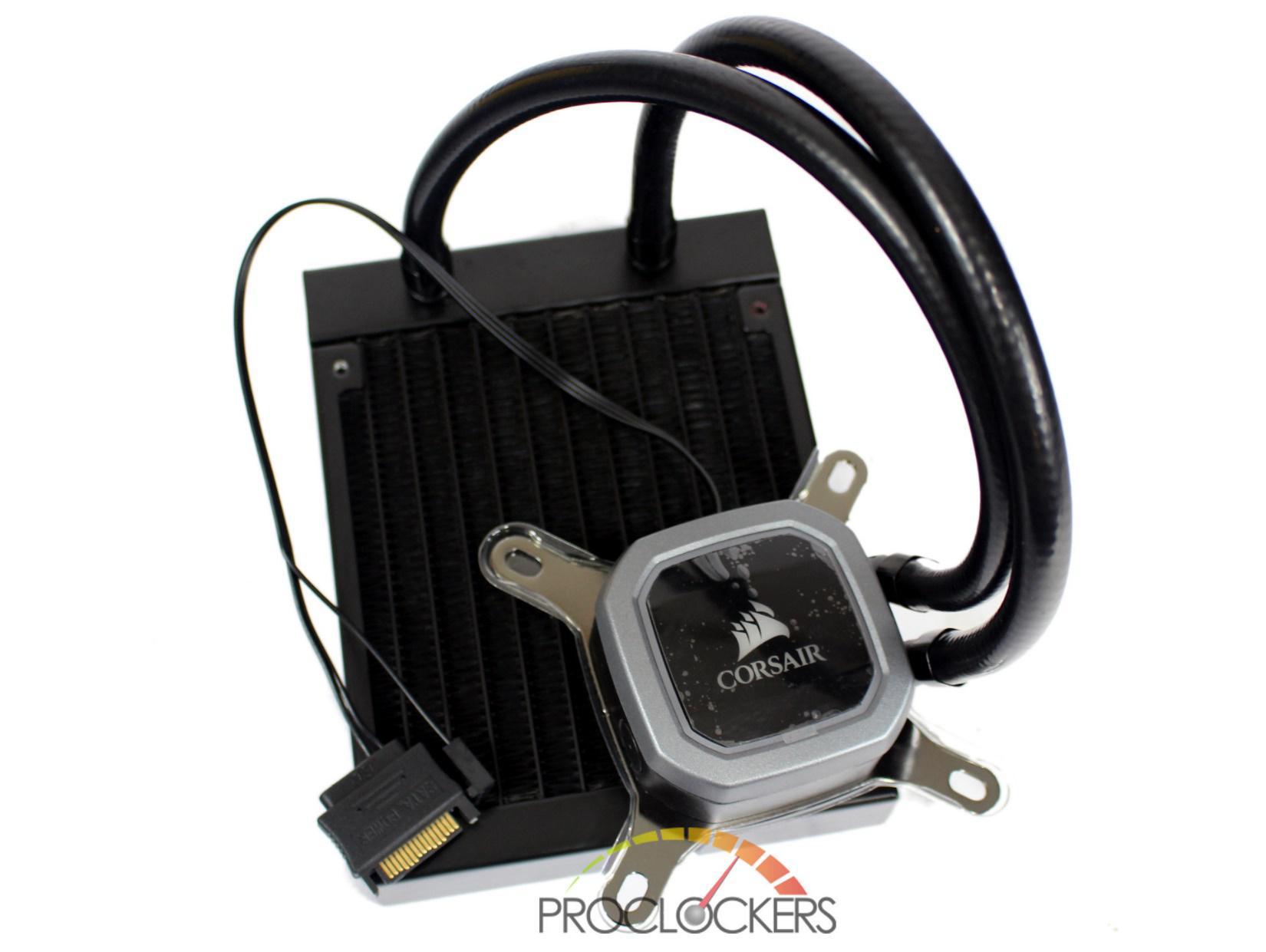 Corsair is arguably one of the most used AIO cooler makers, and for good reason. With a product range spanning from the massive 360mm H150i PRO, down to this 120mm H60, Corsair has a cooler for everyone and everything. High-End Desktop (HEDT) is a small fraction of the market and is largely beyond the capabilities of the H60, but the $70 MSRP puts this cooler square in the market for almost everything else. While we were just barely able to go beyond its limits with a flagship Mainstream CPU heavily overclocked, it handled itself well overall and would be a great match for pretty well any PC that isn't overclocked to the bleeding edge. The fan was audible at full tilt on the open test bench but was a mellow tone that wouldn't be terribly distracting inside a case. The pump itself we never heard, so noise won't be an issue… ever.


Having tested Corsair's more intelligent Coolers with Link capabilities, we do missing being able to tweak and play to some extent, but we end up using most of them in the default state anyway. A select few users may complain about something that is NOT RGB, but many will fall in the range between 'don't care/it costs money' and 'I'm sick of RGB' anyway. Given the compact size, solid performance and affordable price point, it's quite easy to recommend Corsair's Hydro Series H60 to almost anyone for almost any use.

Great Job Corsair!

<![CDATA[ */ var zbjs = {"ajaxurl":"https:\/\/gaminggorilla.com\/wp-admin\/admin-ajax.php","md5":"d8e8b24d2fa18d2999e0fddcdd418586","tags":[],"categories":["Hardware"]}; /* ]]>