Corsair QL series QL120 RGB Fan & Lighting Node CORE Review
Introduction
Unless you've been living under a pretty large rock the last few years, you've probably noticed that literally, everything in the PC world has gone RGB. From peripherals to coolers, power supplies to cases, memory to fans, everything you can think of can be customized and synchronized with ease.
While LED fans have been around forever, and RGB-enabled fans have been around for years now, Corsair has cranked it to eleven and ripped the knob off with the new QL series fans.
Featuring an astounding 34 individually addressable LED's per fan, each QL series fan has more RGB goodness than most gaming machines have combined. While the QL series fans fully work with the entire iCUE family of devices such as the Lighting Node Pro and Commander Pro, a full complement of 6 of these is a staggering 204 LED's, about the limit of these devices. To cope with the insane amount of lights, Corsair includes the new Lighting Node CORE in this 120mm 3-pack kit which can handle a full complement of QL series fans with ease. Let's put our sunglasses on and check them out!
ProClockers would like to thank Corsair for sending the QL120 RGB kit over for us to check out!
Corsair's take on the QL series RGB fans:
Give your PC spectacular lighting from any angle with CORSAIR iCUE QL RGB fans, equipped with 34 individually addressable RGB LEDs across four distinct light loops. Connect to the iCUE Lighting Node CORE (included with all QL RGB multi-fan kits) and iCUE software to control and synchronize your dynamic RGB lighting. Keep your system cool with PWM control, adjusting fan speeds up to 1,500 RPM (120mm) or 1,250 RPM (140mm), while a semi-transparent fan blade ensures both low noise operation and outstanding lighting. Complete with front and back-facing metal logos on the hub and anti-vibration rubber dampers to reduce vibration noise, QL RGB fans create spectacular lighting that doesn't choose sides.
Features & Specifications
34 Individually Addressable RGB LEDs
Four lighting zones – inner and outer loops on both the front and back – with a total of 34 individually addressable RGB LEDs per fan radiate spellbinding colors and effects on either side.

Like most CORSAIR RGB fans, QL RGB has truly individually addressable RGB LEDs. This allows a user to select any number and grouping of LEDs on the fan and set them to any animation or static color through iCUE software.
Front: outer ring – 12x LEDs | inner ring (hub) – 4x LEDs
Rear: outer ring – 12x LEDs | inner ring (hub) – 6x LEDs
iCUE Lighting Node CORE (included in QL RGB multi-fan kits)
Control RGB lighting via CORSAIR iCUE software with this incredibly compact RGB Lighting Controller, cutting down cable clutter with simple USB 2.0 and SATA connections.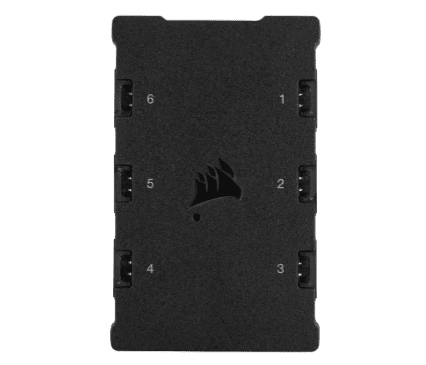 The Lighting Node CORE combines the functions of a CORSAIR iCUE Lighting Node PRO and RGB LED fan hub into one device; it can control the RGB lighting of up to six (6) of the same CORSAIR RGB fan. Unlike the Lighting Node PRO, the Lighting Node CORE does not have a connector for CORSAIR RGB LED strips.
The Lighting Node CORE is included in select CORSAIR multi-fan kits such as QL RGB, and with smart cases such as the CORSAIR 220T and 465X. Replacement units of Lighting Node CORE can only be purchased through corsair.com.
iCUE RGB Lighting controller line-up and comparison: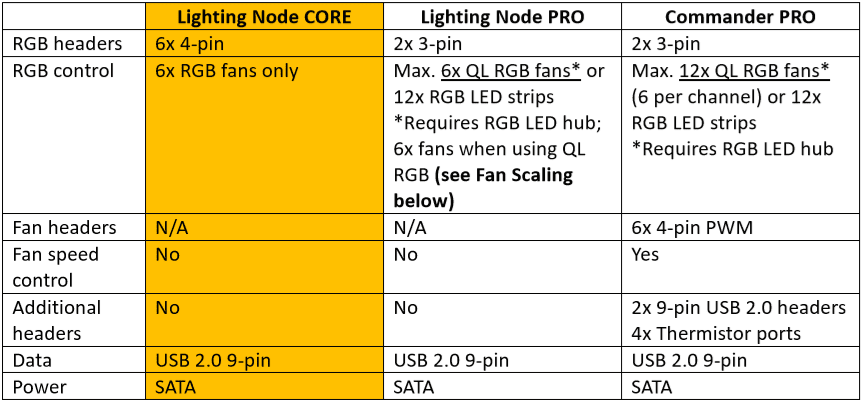 Connection diagram:

The fans must be connected to the Lighting Node CORE in series (1-6). It is suggested to mount fan 1 as the bottom fan as seen in the image below.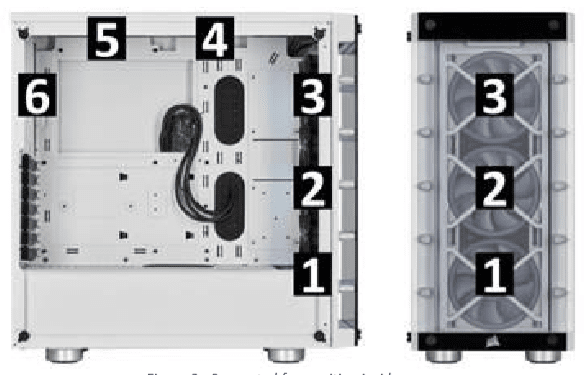 Intelligent Control, Unlimited Possibilities
Create dazzling lighting patterns and effects with powerful CORSAIR iCUE software, bringing your system to life with dynamic RGB lighting synchronized across all your iCUE compatible products.
Please be sure to try out the different lighting animation types: per fan and per channel.

Per Fan effects such as Marquee or Rotary Stack display an animation within a fan and does not "interact" with other fans within the same channel
Per Channel effect such as Sequential, Pong, or Gate display animation that utilizes all the LEDs in the same channel; the animation moves from one fan to another in the same series.

Integrated lighting with select iCUE-integrated games will also be supported soon.
RGB CONTROL
QL RGB fans are compatible with all CORSAIR RGB lighting controllers (Lighting Node CORE [included in QL RGB multi-fan kits], Lighting Node PRO, and Commander PRO). QL RGB fans will officially be supported by iCUE v3.22.
Fan Scaling (Applies only when using iCUE Lighting Node PRO)
With the number of LEDs in our new QL RGB fans, we are pushing the capabilities of our Lighting Node PRO. Therefore, to allow a user to install QL RGB fans along with another type of CORSAIR RGB fan into the second lighting channel of a Lighting Node PRO, we're introducing fan scaling.
Fan scaling determines the amount of RGB fans that can be controlled on one channel depending on the fan type selected for the other LED channel on the Lighting Node PRO.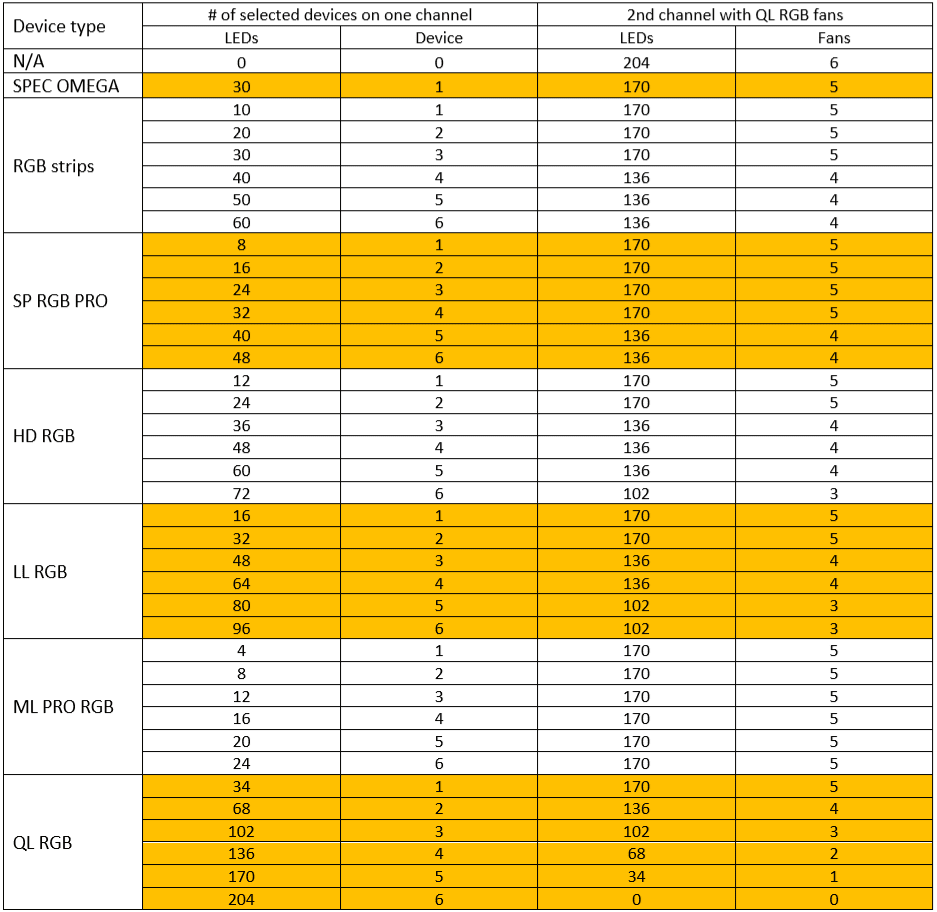 For example, if you select QL RGB fans and set to six (6) fans, the other lighting channel will be disabled. If you were to set six (6) ML PRO RGB fans, iCUE will automatically list five (5) max QL RGB fans for the other channel. If you set six (6) LL RGB fans, iCUE will list three (3) max QL RGB fans on the other channel.
A Lasting Impression
Built with front and back-facing metal CORSAIR logos on the fan hub.

We're doing something different this time around with our QL RGB fan hubs. Previously, we used label stickers to display our logo and pertinent fan information on the fan hubs. QL RGB's front and rear fan hubs are adorned with machined aluminum CORSAIR sails logos. This not only accentuates the elegant design of the QL RGB fan but also reinforces the fact that the QL RGB looks spectacular from any angle.
Fan info is printed on a label that is wrapped around the fan cable.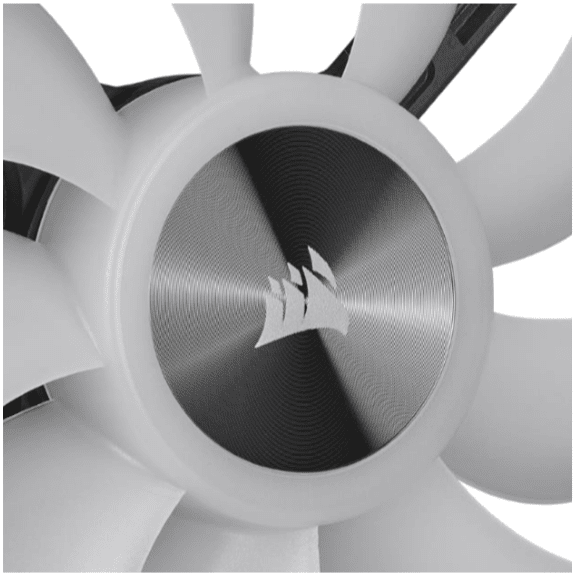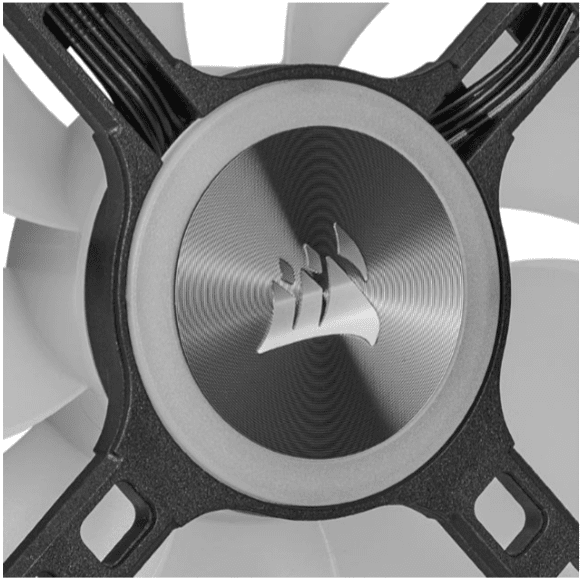 Tech Specs: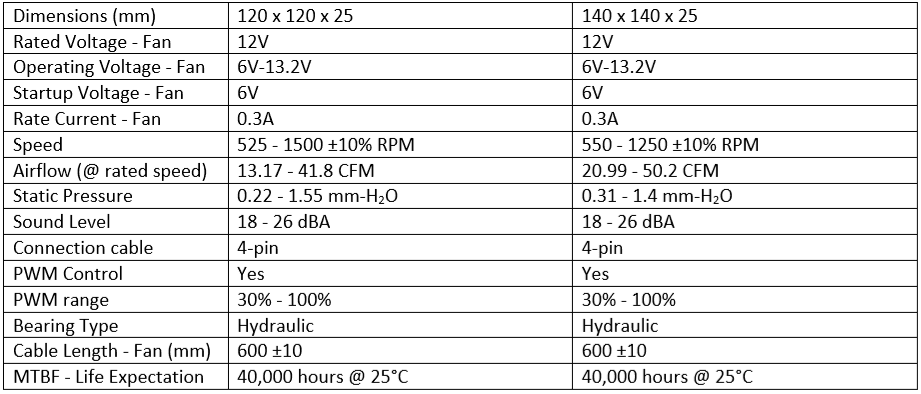 Models:

Packaging & Unboxing

Corsair's packaging for the QL series fans is pretty typical of Corsair, black with yellow trim. A full-color render of the fan inside takes up most of the front.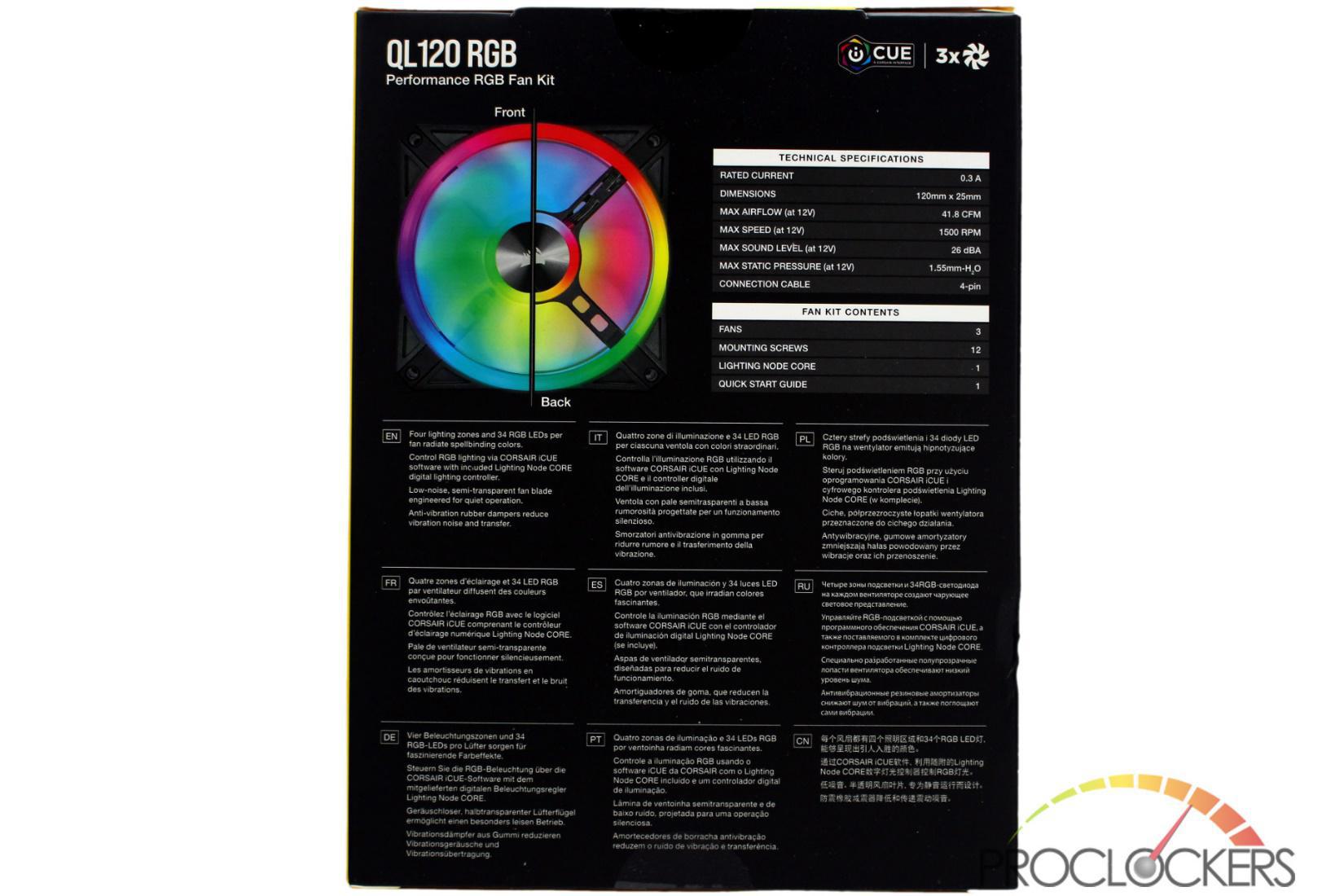 The back of the box lists specifications and what is in the box. You also get a description of the four lighting zones in multiple languages.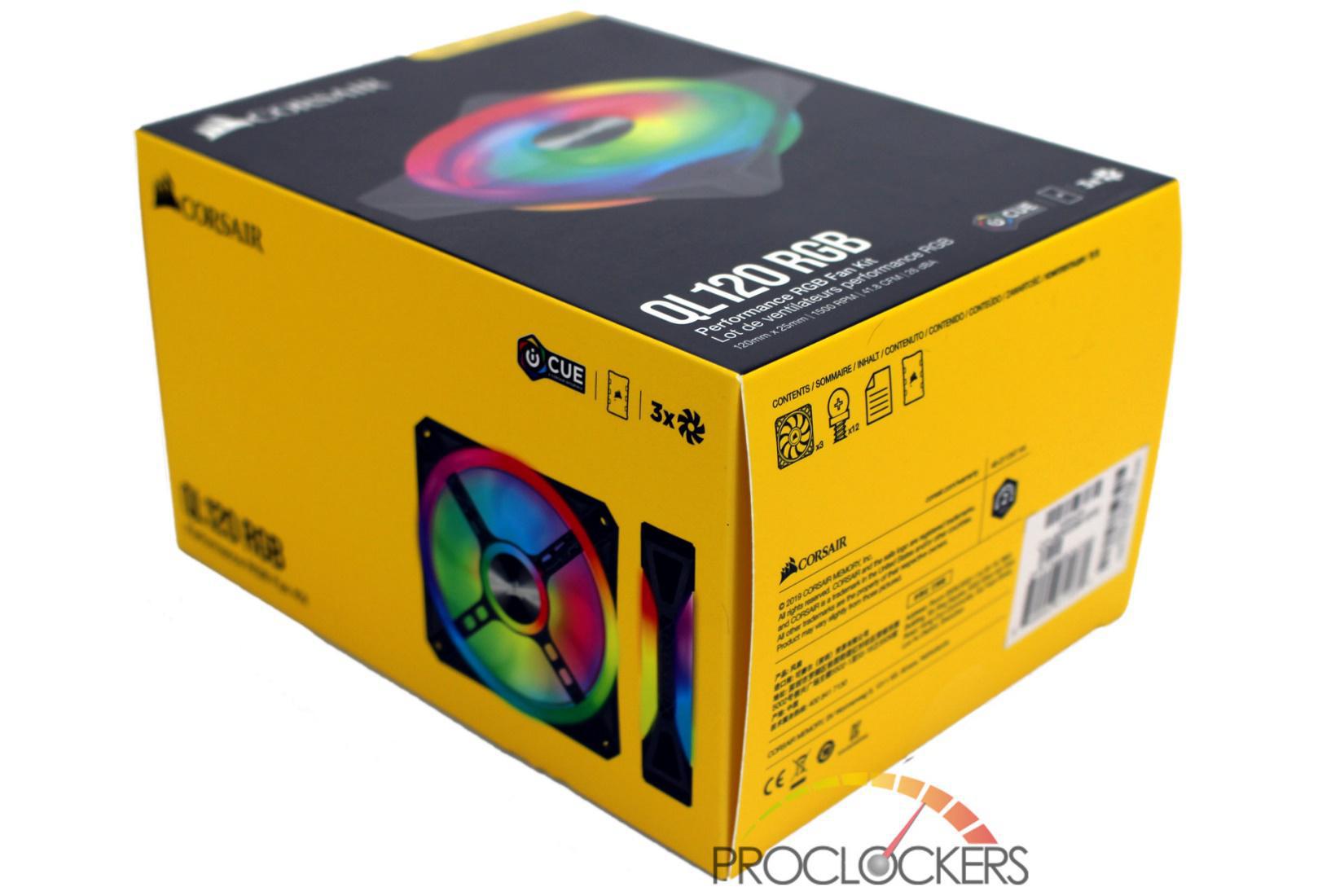 The sides of the box show the model, the contents and pictures of the fans.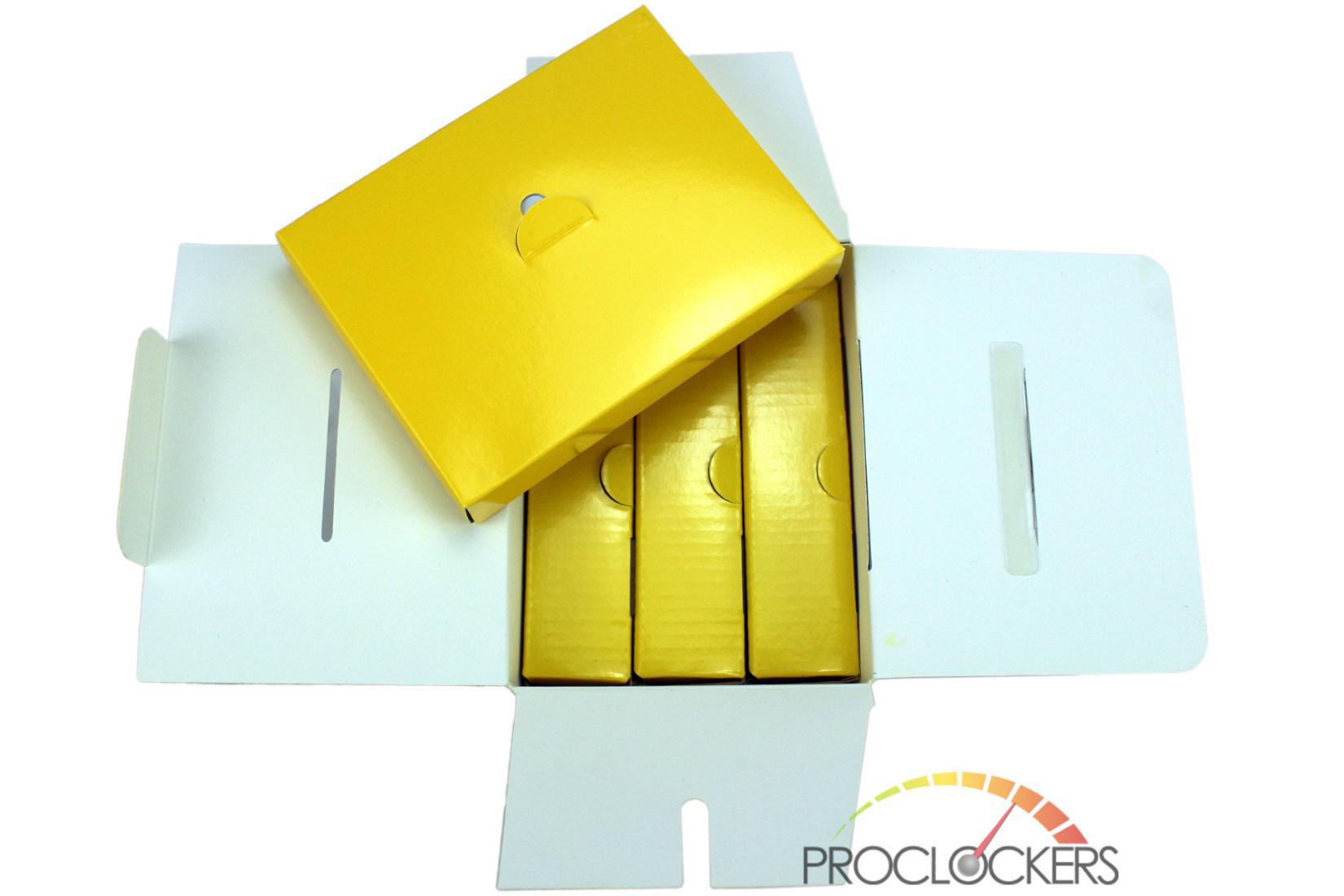 Inside, you find… more boxes. Four of them to be exact.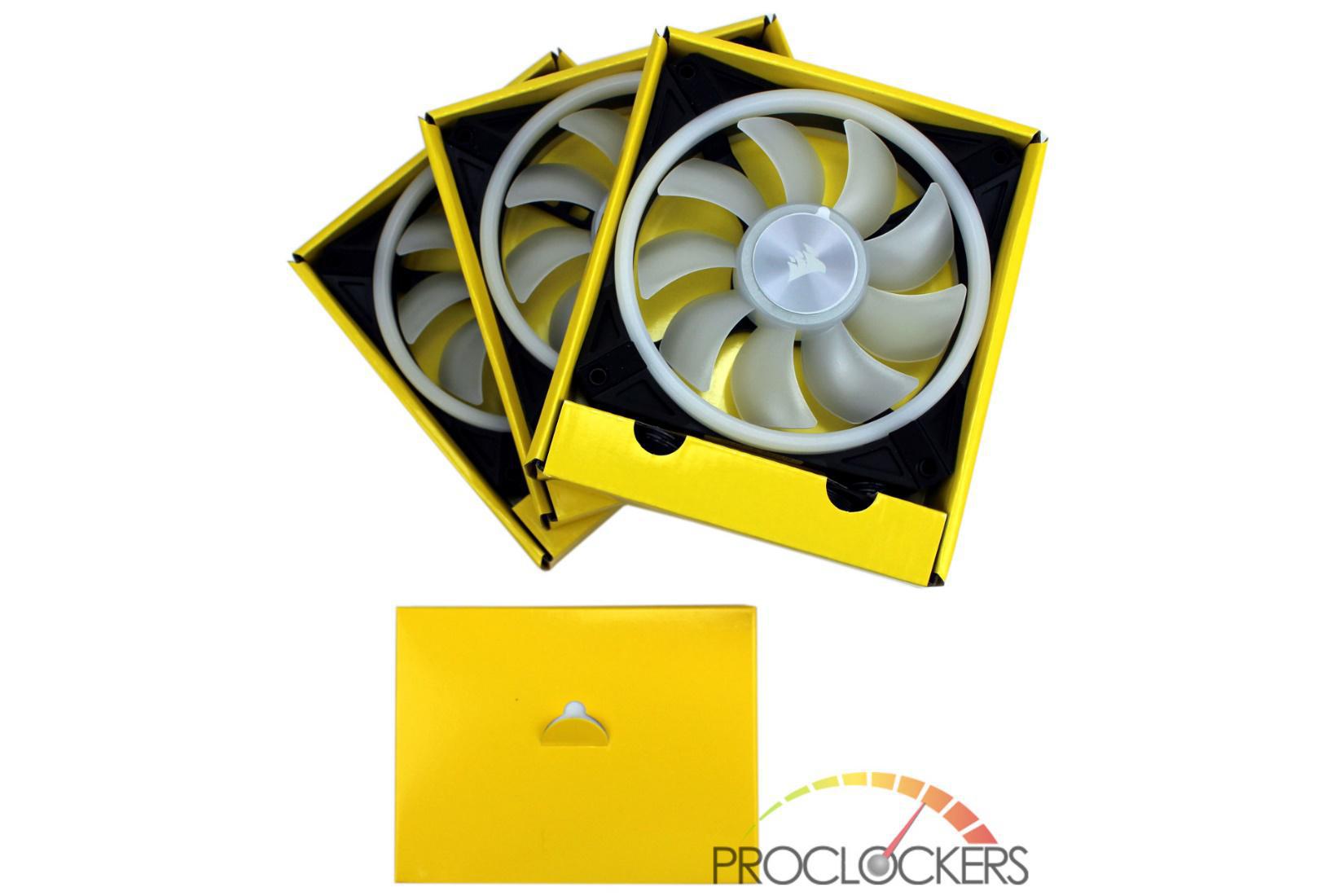 The top one holds the Node CORE and some accessories, the three in the bottom here hold a fan each.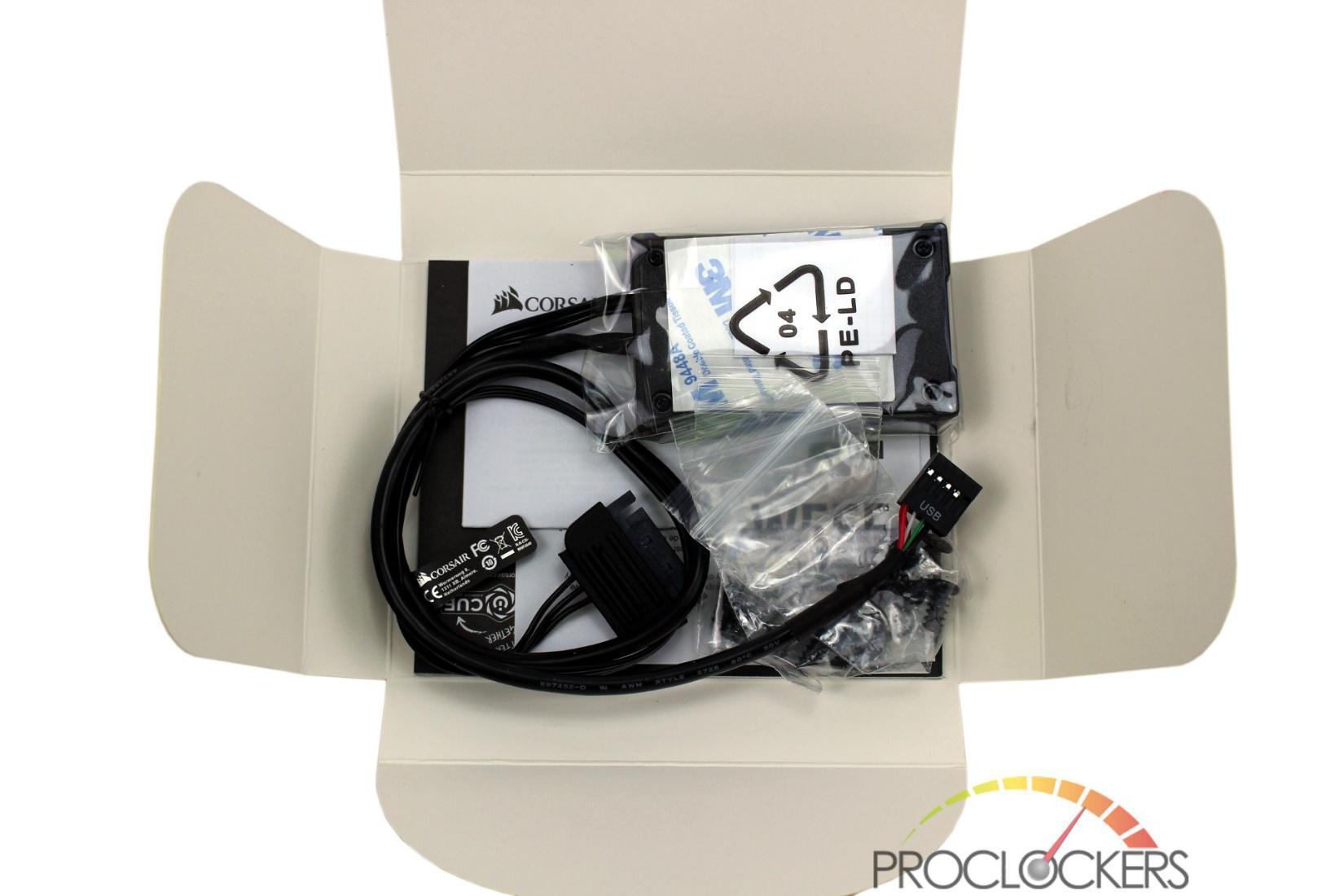 The accessories box is very full.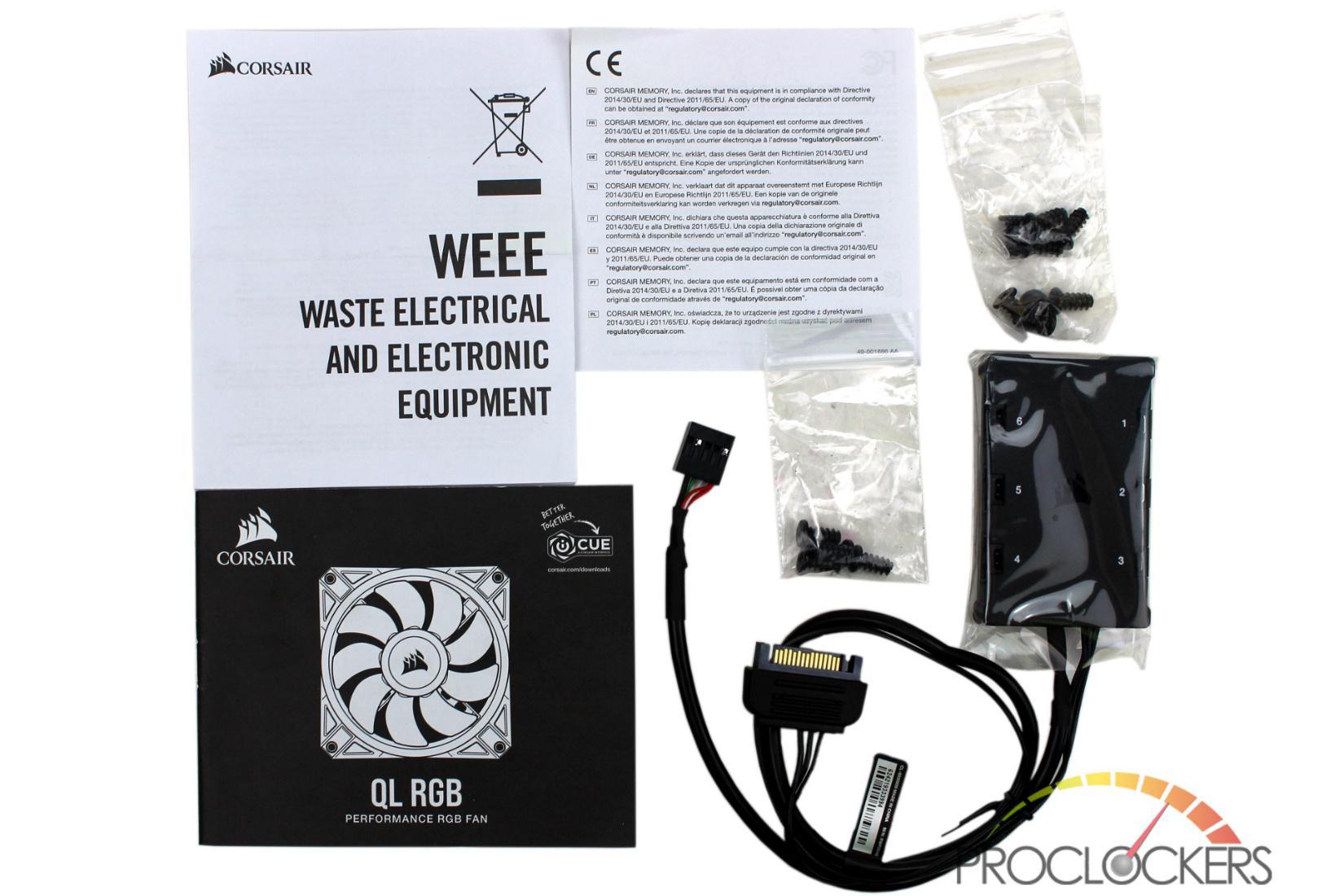 You get some paperwork, the manual, the Lighting Node CORE, and three sets of fan screws.
A Closer Look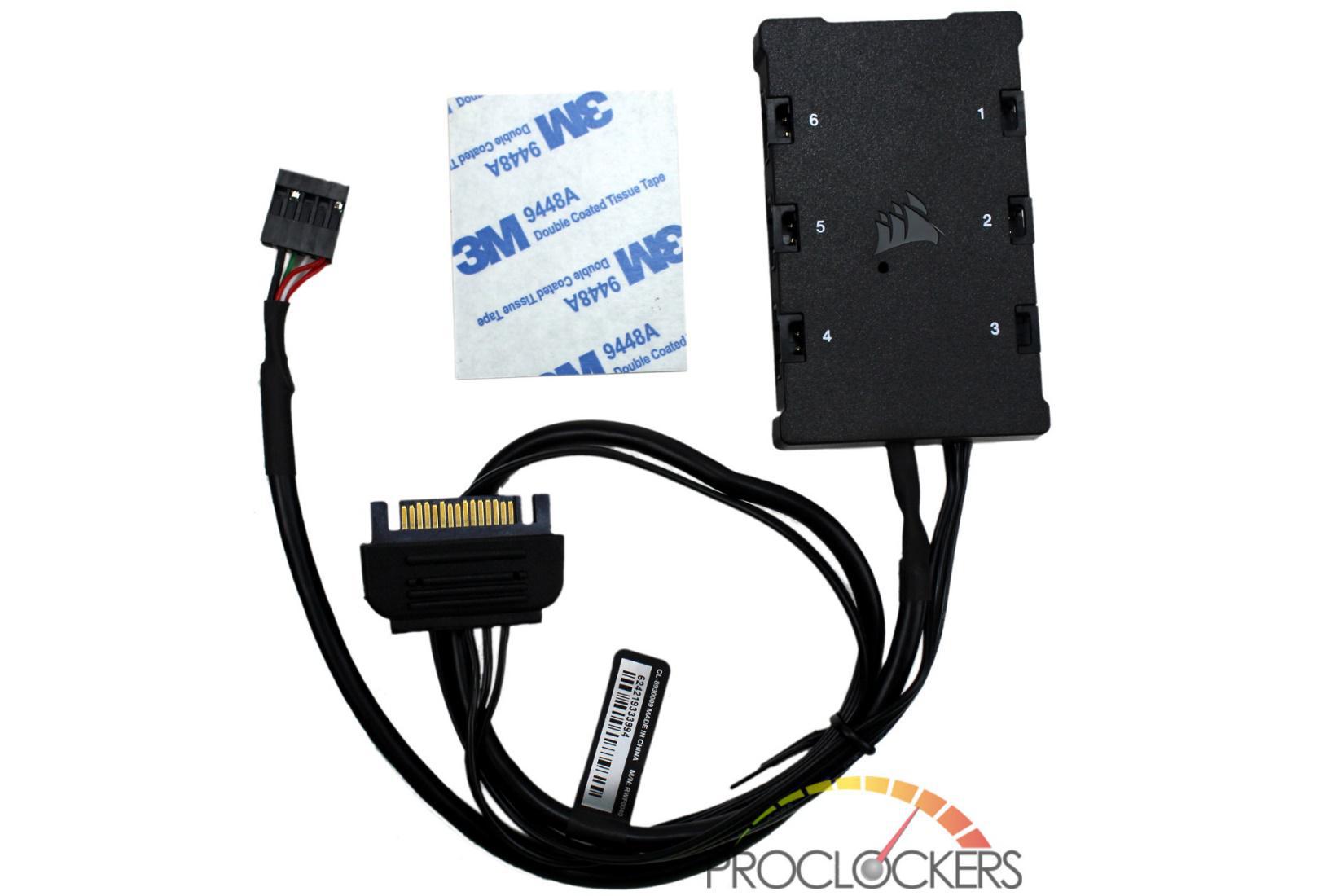 Once you remove the wrapper on the Lighting Node CORE, you also find a mounting pad that can stick the Lighting node to any smooth surface in your case. Please DON'T do this until later on once you have mounted all of your fans and made sure the cables will reach your controller.

The lighting node CORE has 6 ports for RGB fans. You can connect any of Corsair's addressable RGB fans, not just the QL series. You need to connect to the ports in the numbered order for everything to work properly.

The lighting Node CORE is powered from a standard SATA power connection. Connectivity to the system is over USB 2.0 via internal header. Given that USB 2.0 headers are getting rather limited these days, we wish Corsair would use a single header space (a 1×5-pin layout) as this renders the second USB 2.0 port on this header un-usable even though it isn't electrically connected or needed.

The QL series fans themselves have a slightly concave square shape with the corners fileted. The fan blades are translucent, as is the outer light ring on this side. The center hub is covered with a nice metallic Corsair badge.

The rear of the fan looks very similar to the front. The back of the hub also has the same Corsair badge.

The frame is very narrow on all four sides so that you can easily see both outer light rings from the side. This should look pretty neat installed.

Overall the fans have a rather unique appearance with minimal frame components surrounding a ton of RGB diffusing translucent plastic.

Connectivity to the fan is over two cables, a standard 4-pin PWM fan cable, and corsair's 4-pin addressable RGB cable. Both are well labeled.

Even without a computer connection, powering up the Lighting Node CORE lets the fans swirl in glorious RGB waves.

The crazy amount of LED's inside gives you a crazy amount of lighting, and you can easily see it from every angle. Without a computer connection to iCUE, you can't control the brightness. The lighting is so bright, it washes out our camera sensor, but the lighting is nice and rich in person.
System Config & Software
CPU: Intel Core i9-7900X
Mobo: EVGA X299 Micro
CPU Cooler: Be Quiet! Dark Rock Slim
GPU: MSI RTX 2080 Super Gaming X Trio
Case: NZXT H400i
Fans: Corsair QL120 x3 + Lighting Node CORE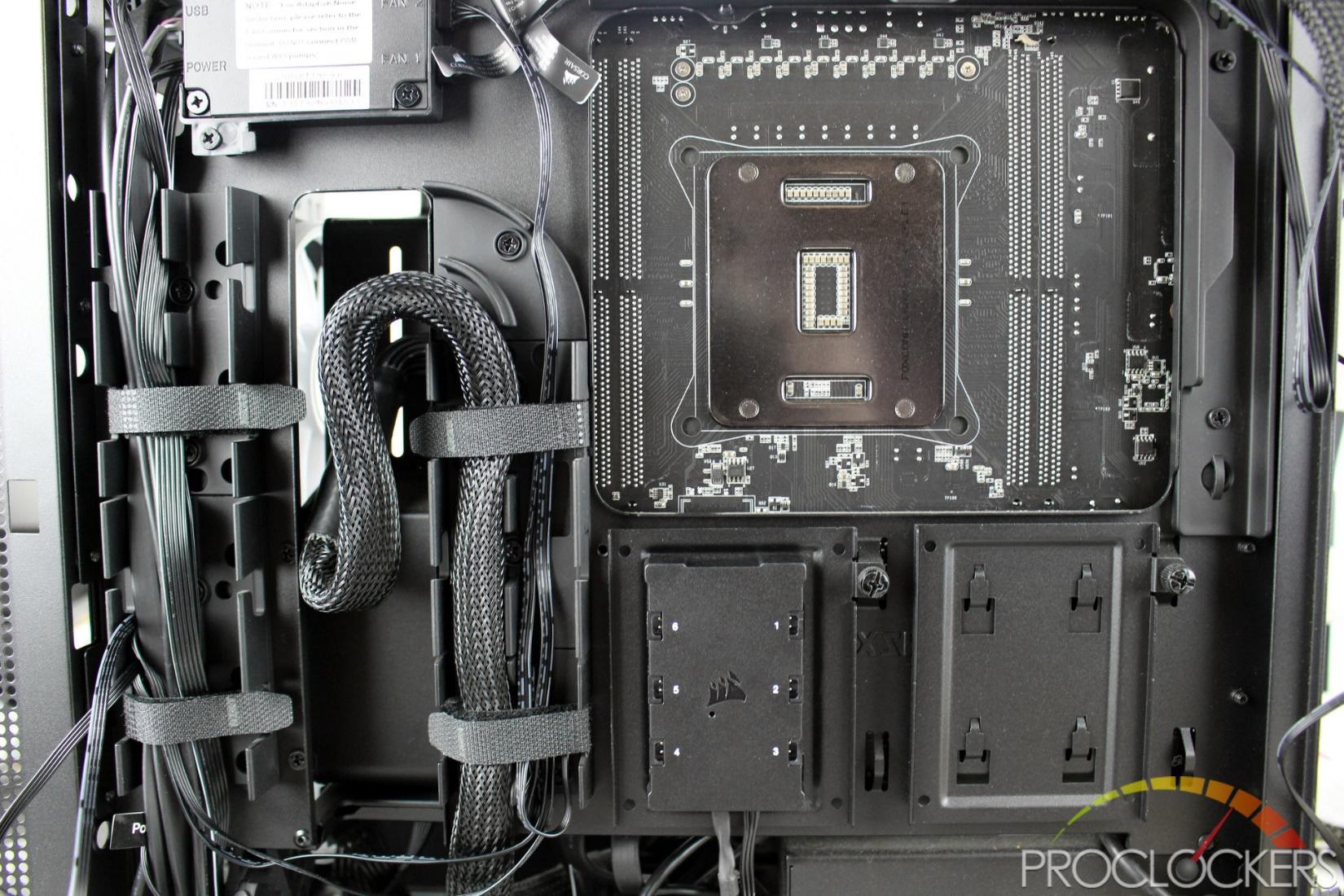 Installation is a snap. We ended up using the included double-sided adhesive to stick the Lighting Node CORE to an empty 2.5" SSD tray as it was in the middle of our case and easily reachable by all of the fans.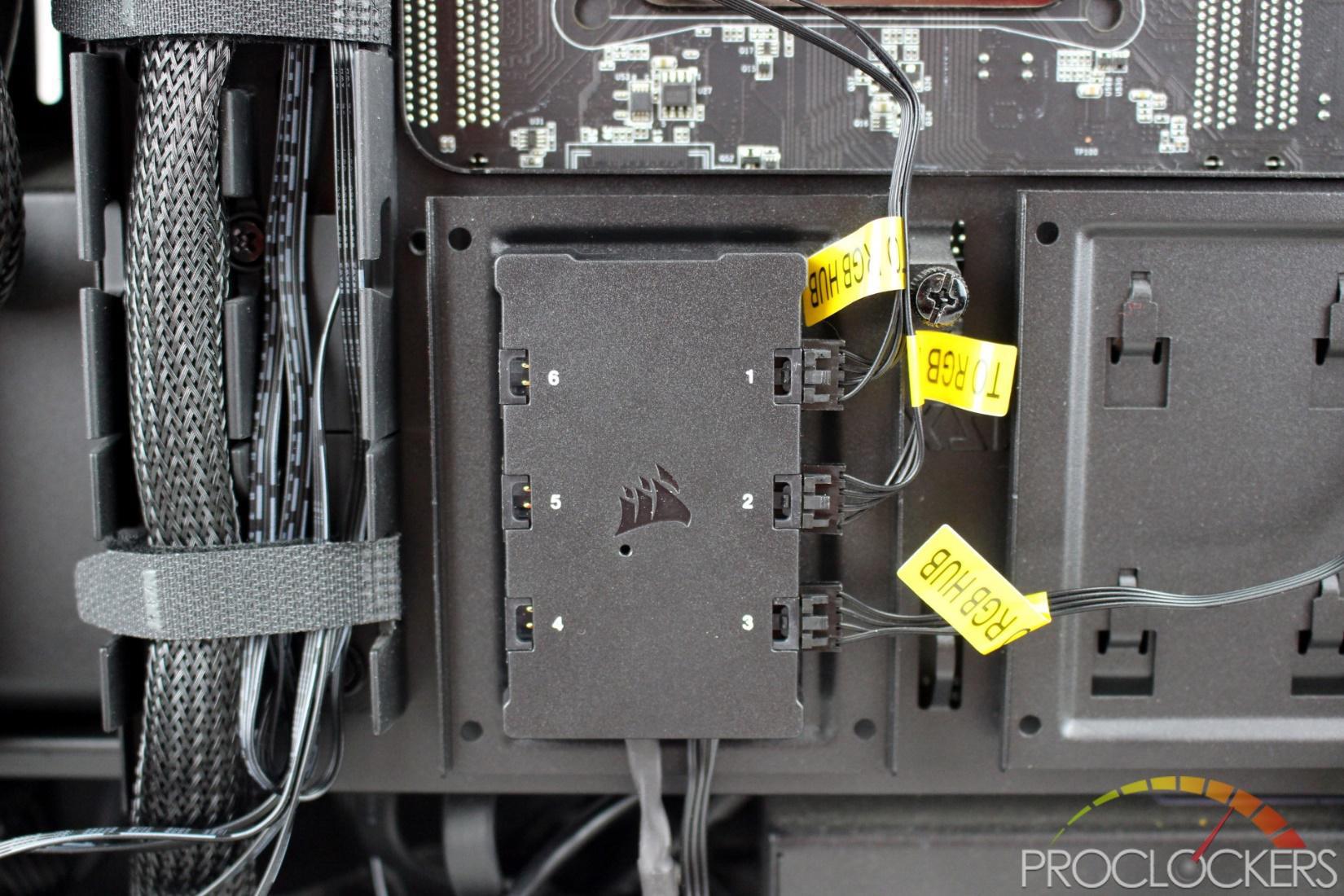 After mounting the fans to the case top and rear we connected the three fans, front to back, to connectors one, two and three in order. The power was plugged in and the USB cable routed to an open motherboard header.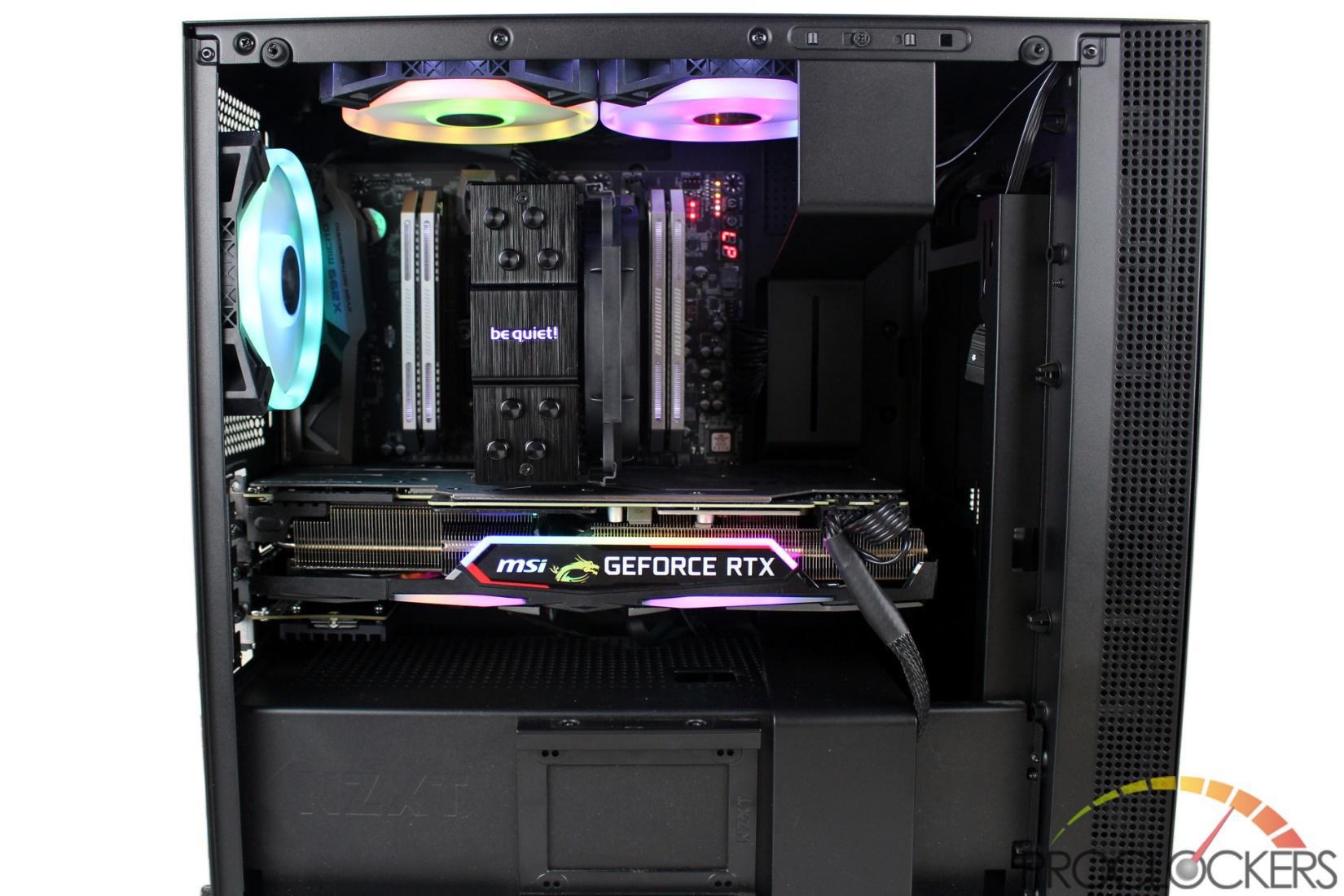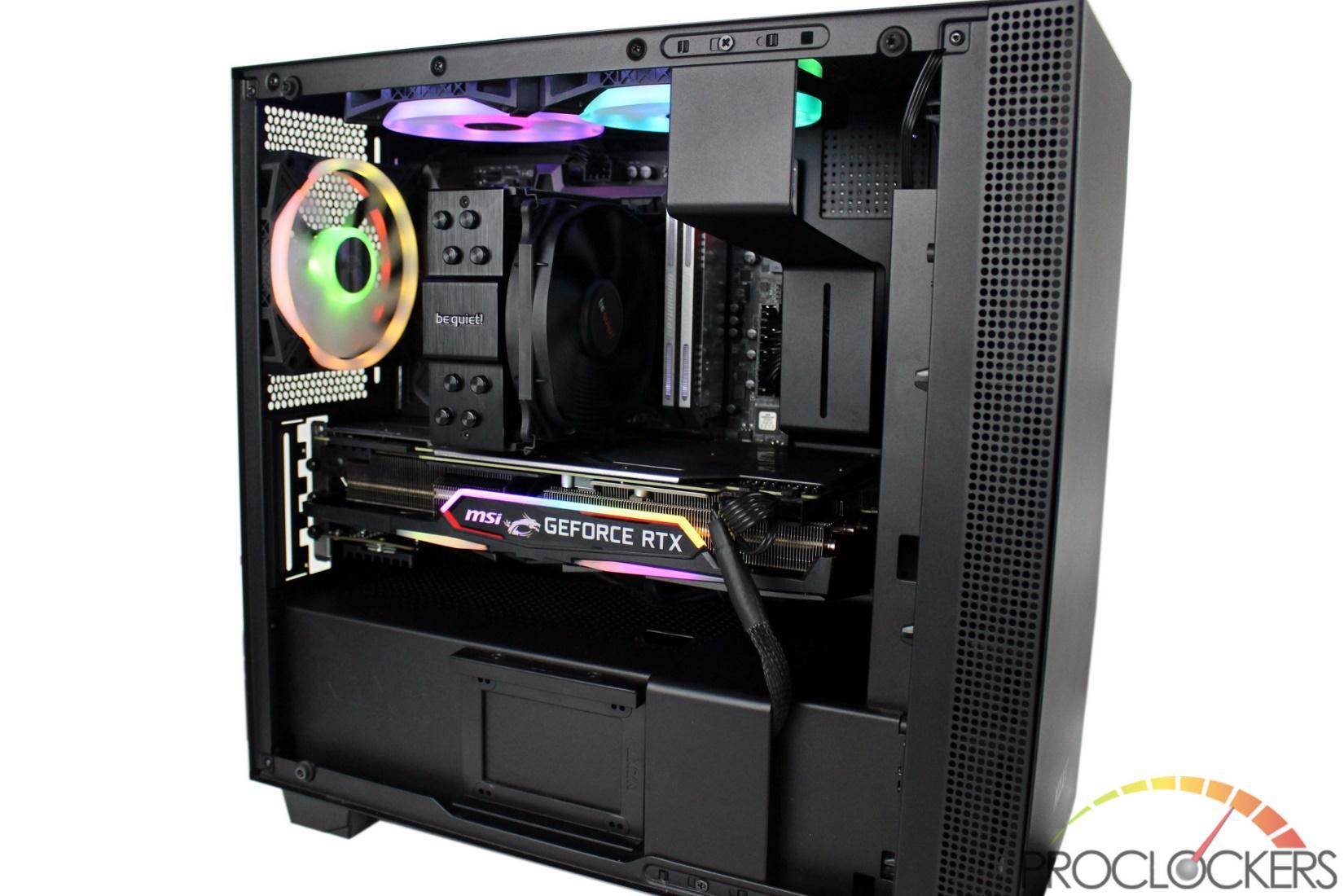 When we first power the system up, we are greeted with a barrage of rainbow lighting.
Corsair's iCUE
Command your entire setup through a single interface, personalizing your system's performance and visuals to your exacting preferences.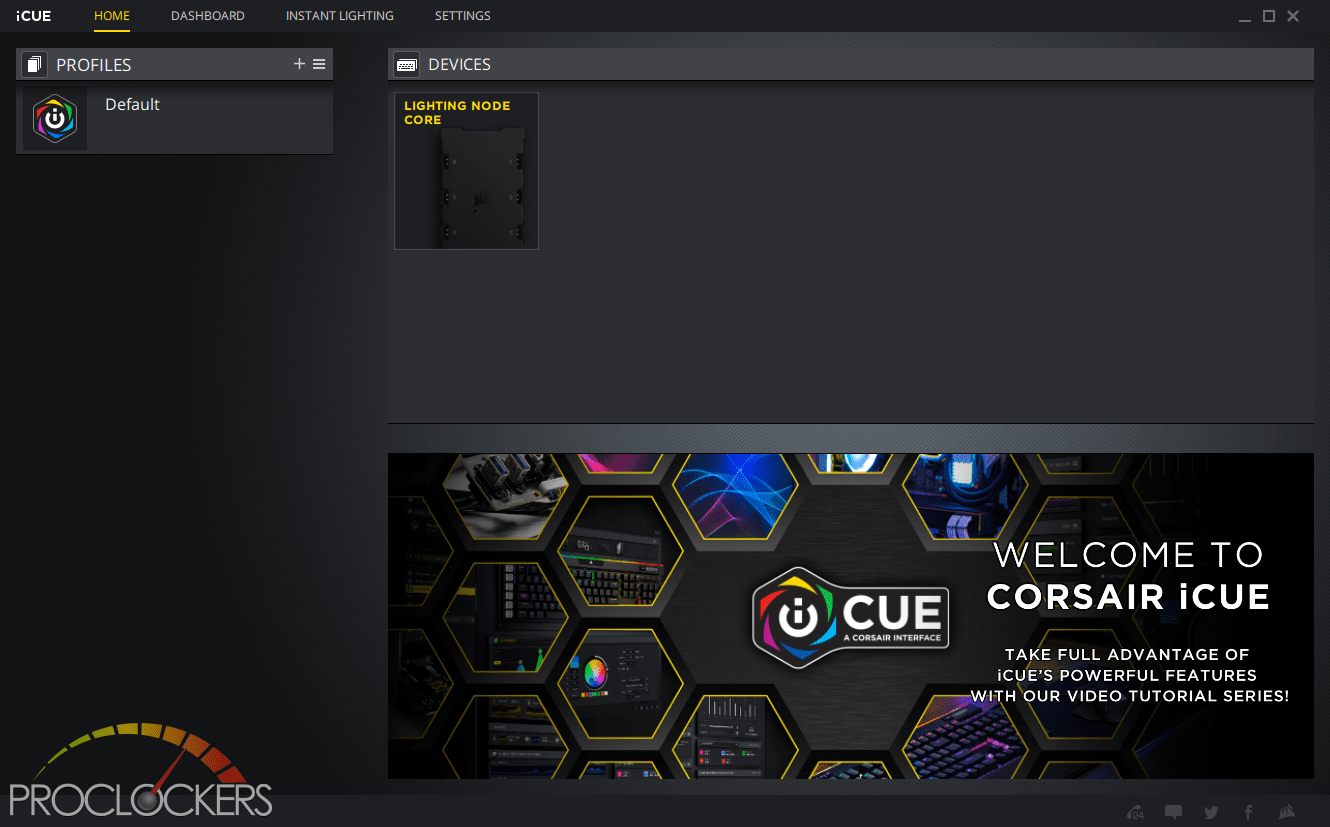 When you launch iCUE, you will see all of your Corsair devices listed on the dashboard. We only have the Lighting Node CORE connected, so that is all that shows up.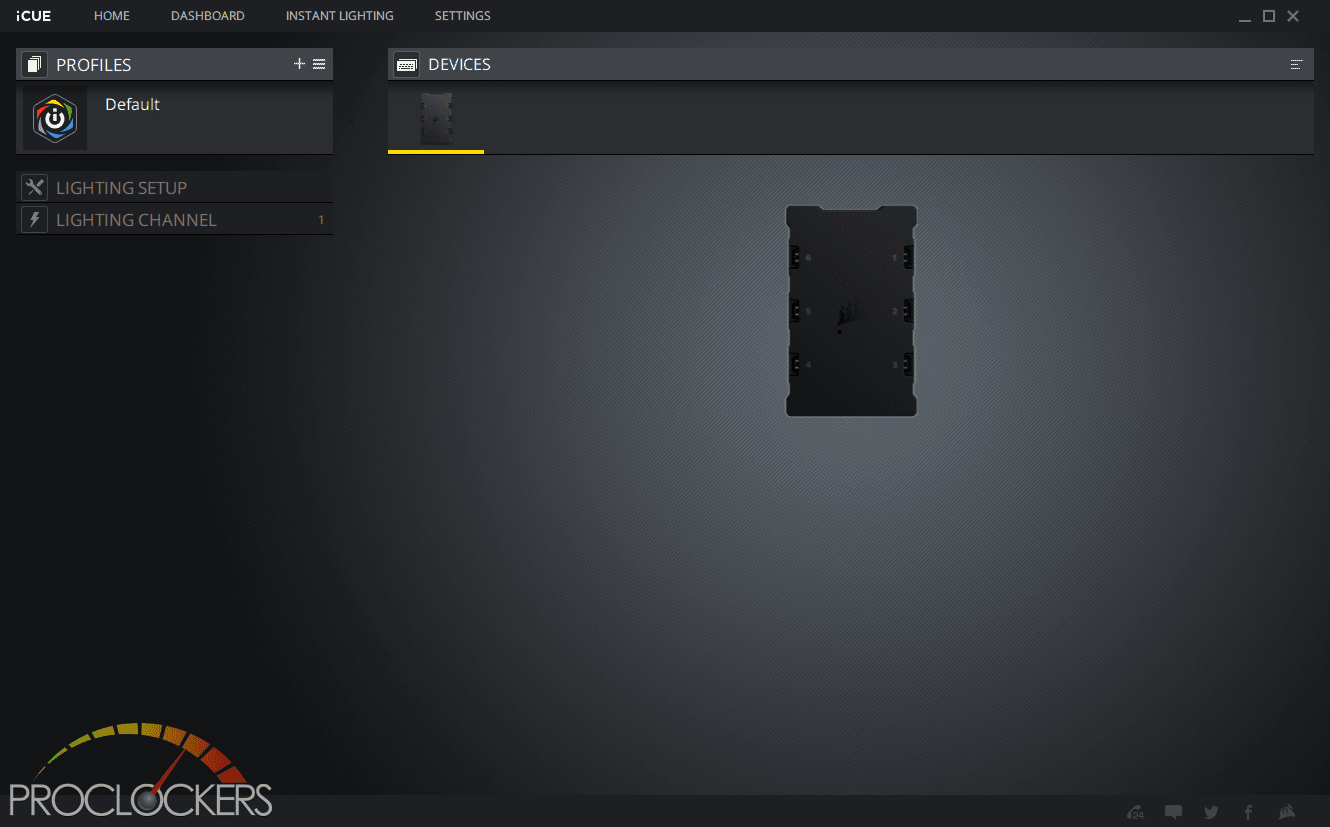 Clicking on the Node CORE gets you the configuration page for this device.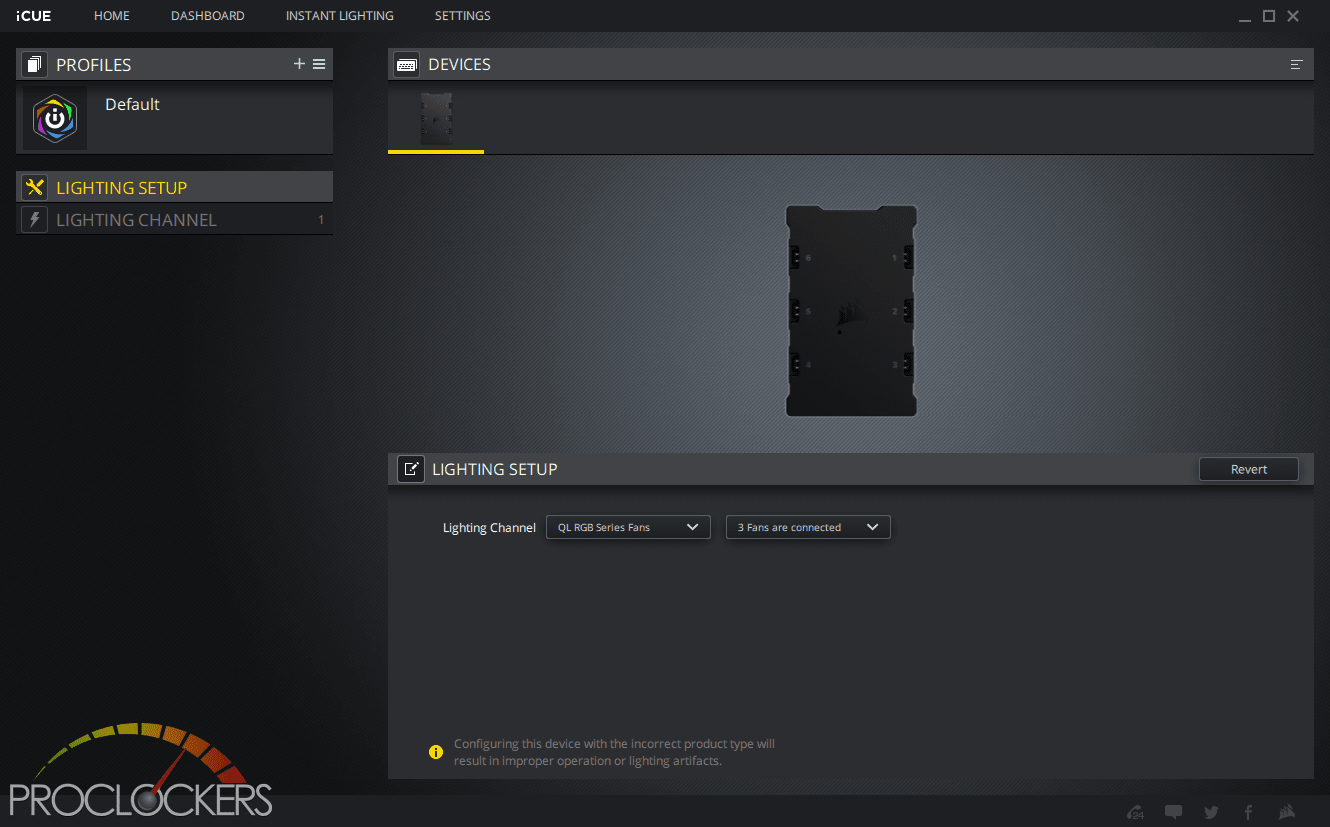 You'll need to first go to the lighting setup and make sure you have the correct fan style selected QL RGB series in this case, and the number of fans connected, three in our case.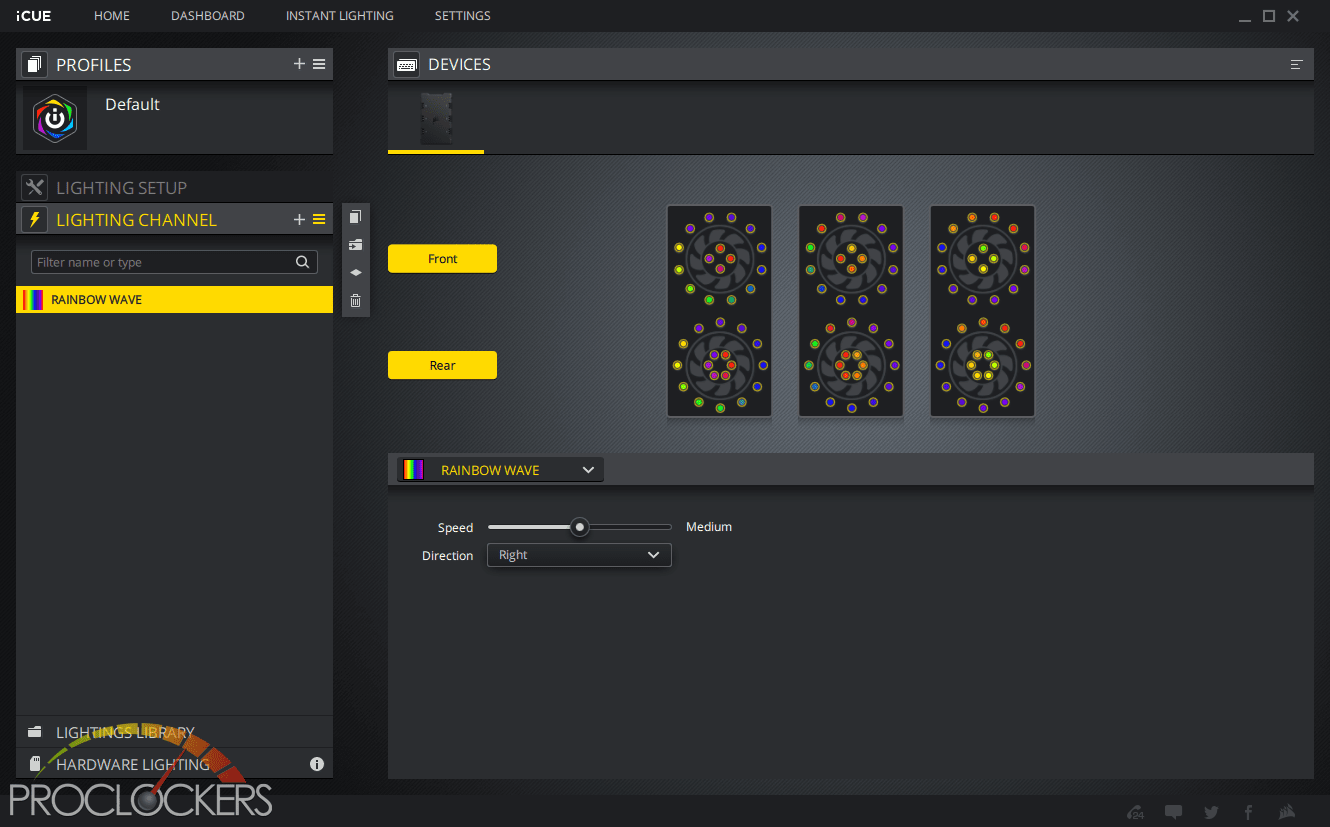 From there you click down on the lighting channel, and you see the three fans represented, the top row for the front face of each fan, and the lower row for the rear face.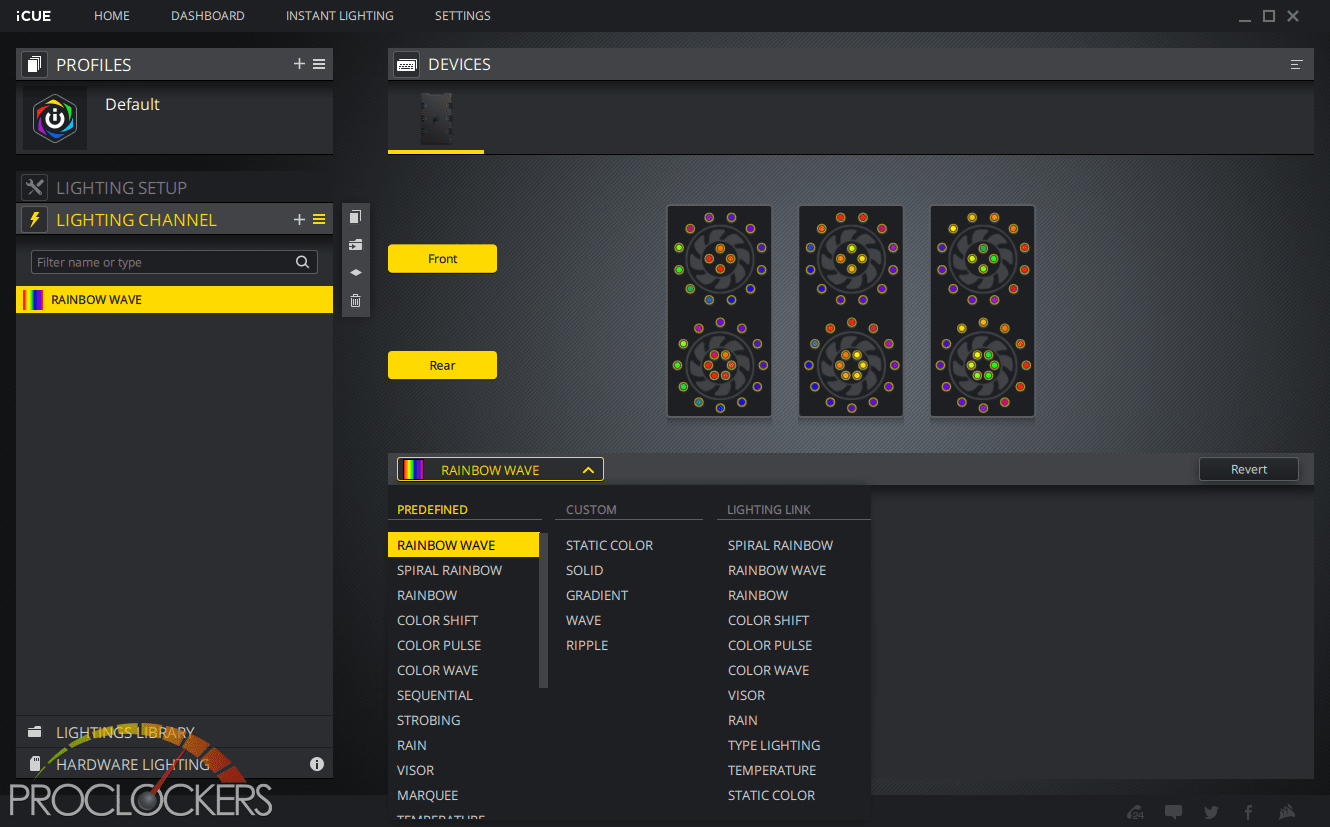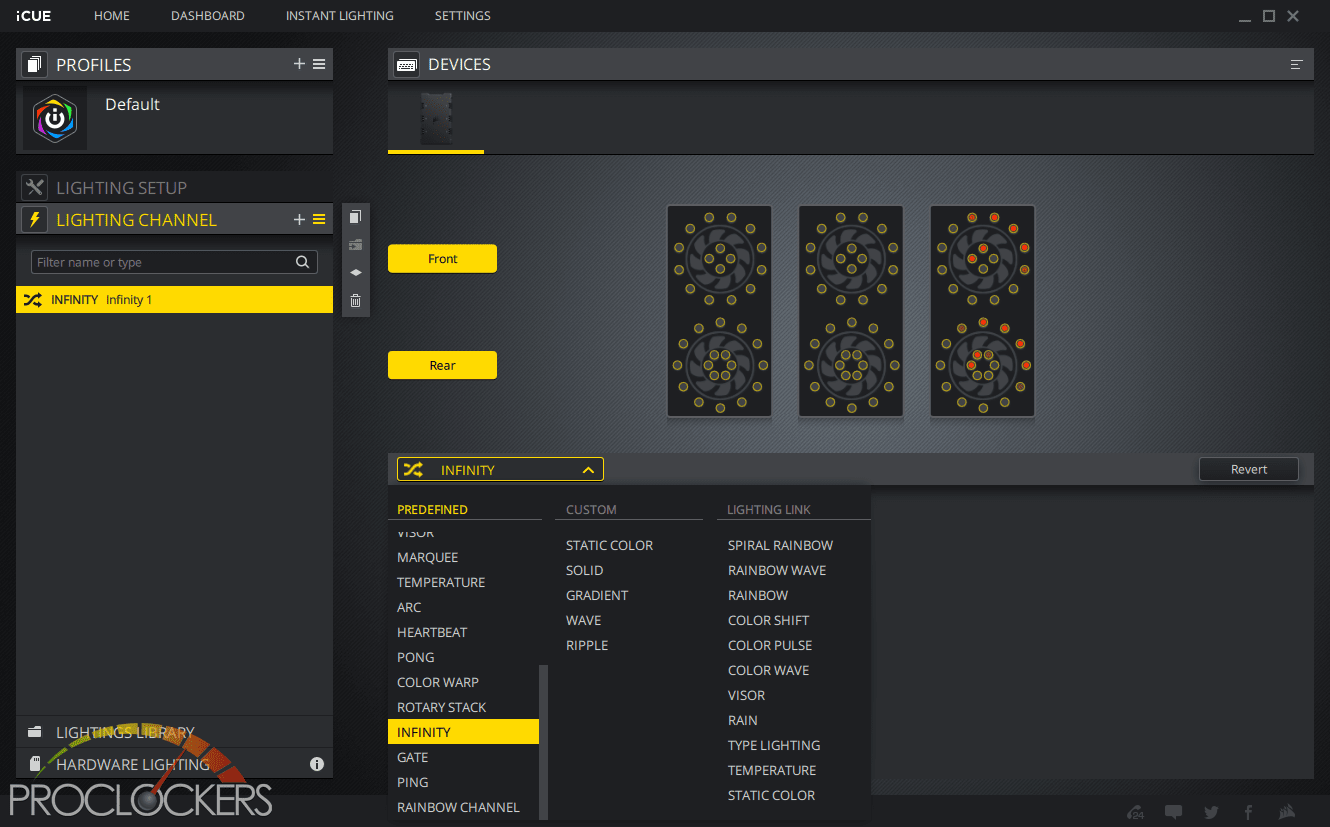 You can select from a huge list of predefined presets, make sure to scroll down as there are quite a few more and the scroll bars aren't visible unless you hover your mouse over them. We would like to see Corsair make these multiple columns side by side rather than one long list. It's really easy to overlook about half of the presets because of this.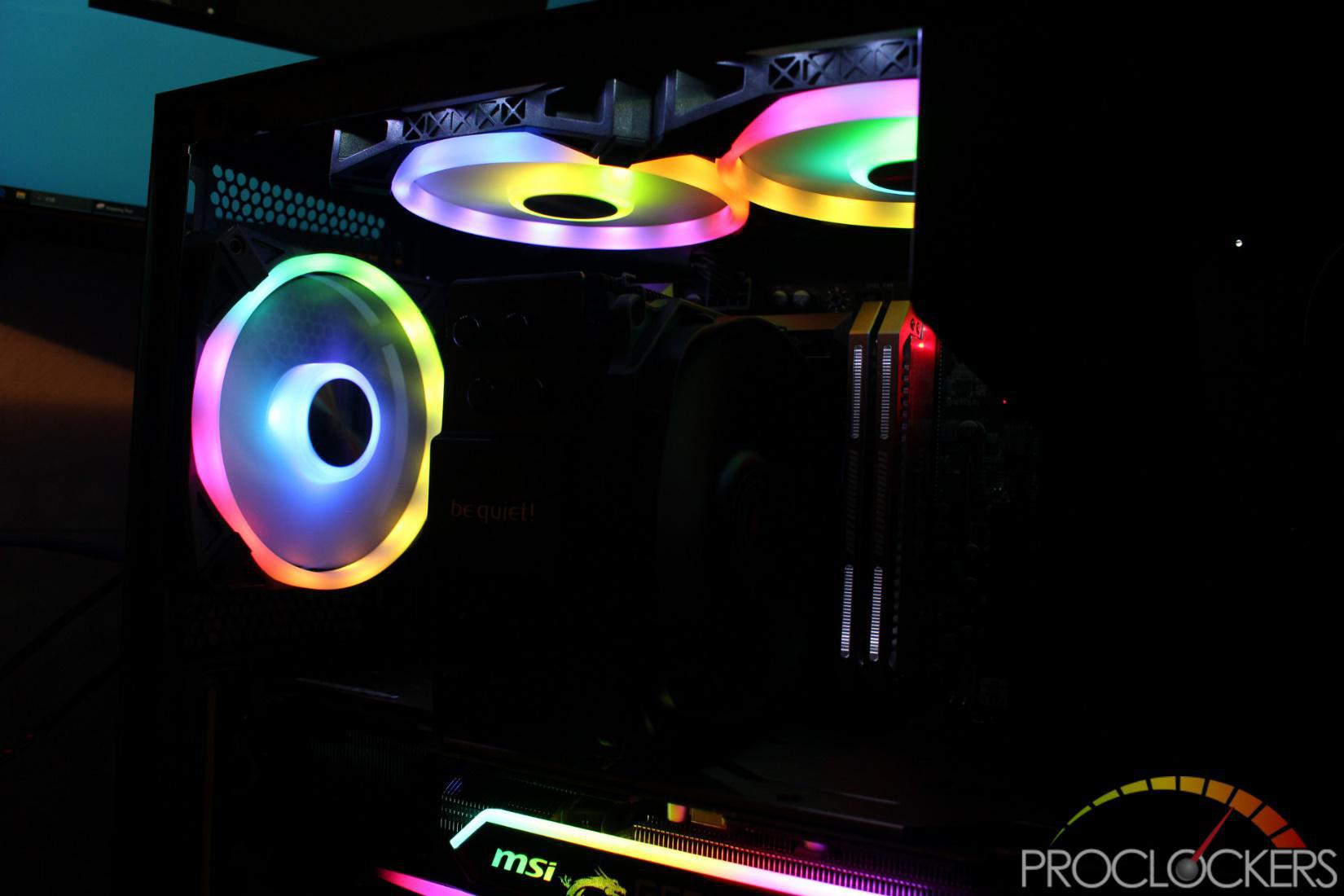 The Rainbow Wave is the default.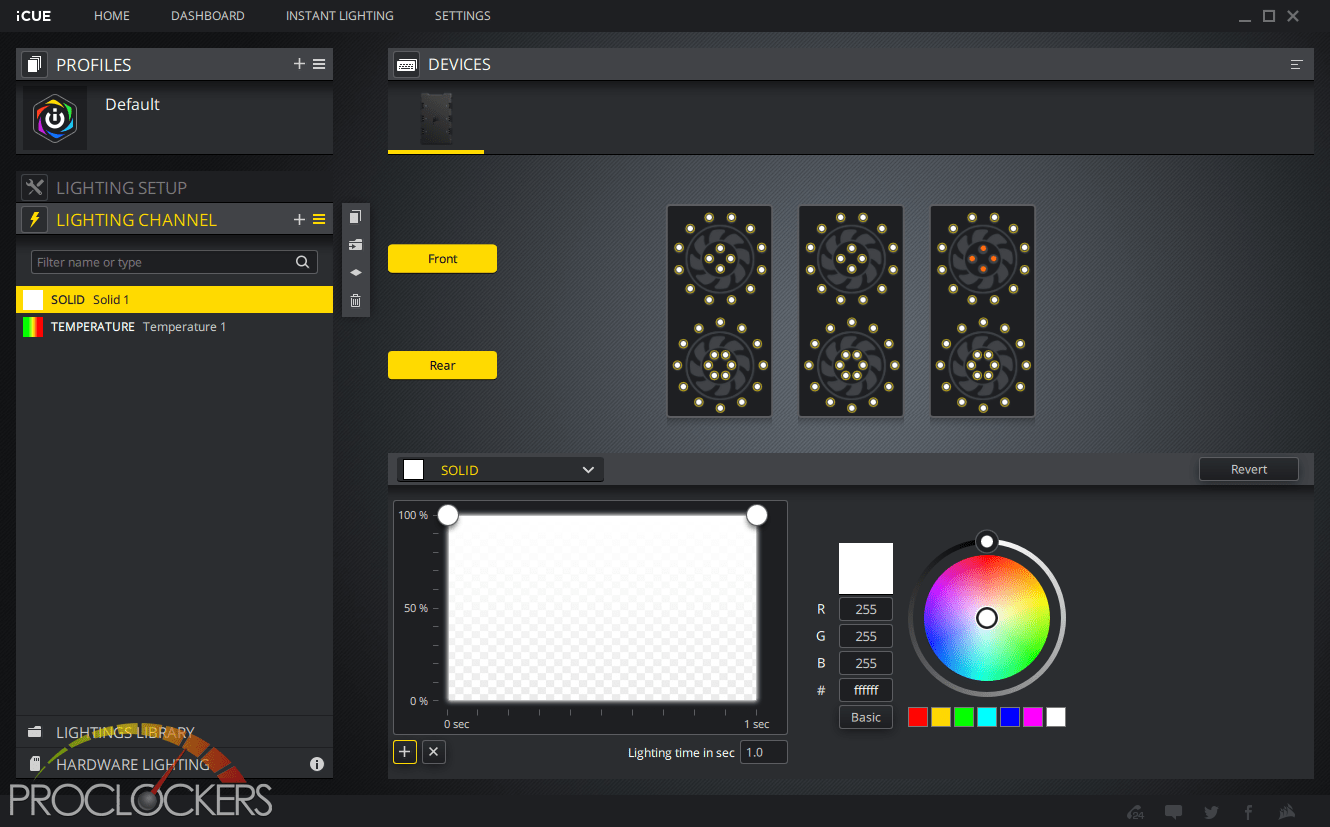 You can also set up more than one lighting option and pick which LED's this applies to by dragging a box around them. You can use the CTRL to select more pixels individually or drag more boxes. In this instance, we turned the fans all solid white except the front center fan hub shows red, yellow and green depending on the CPU temperature.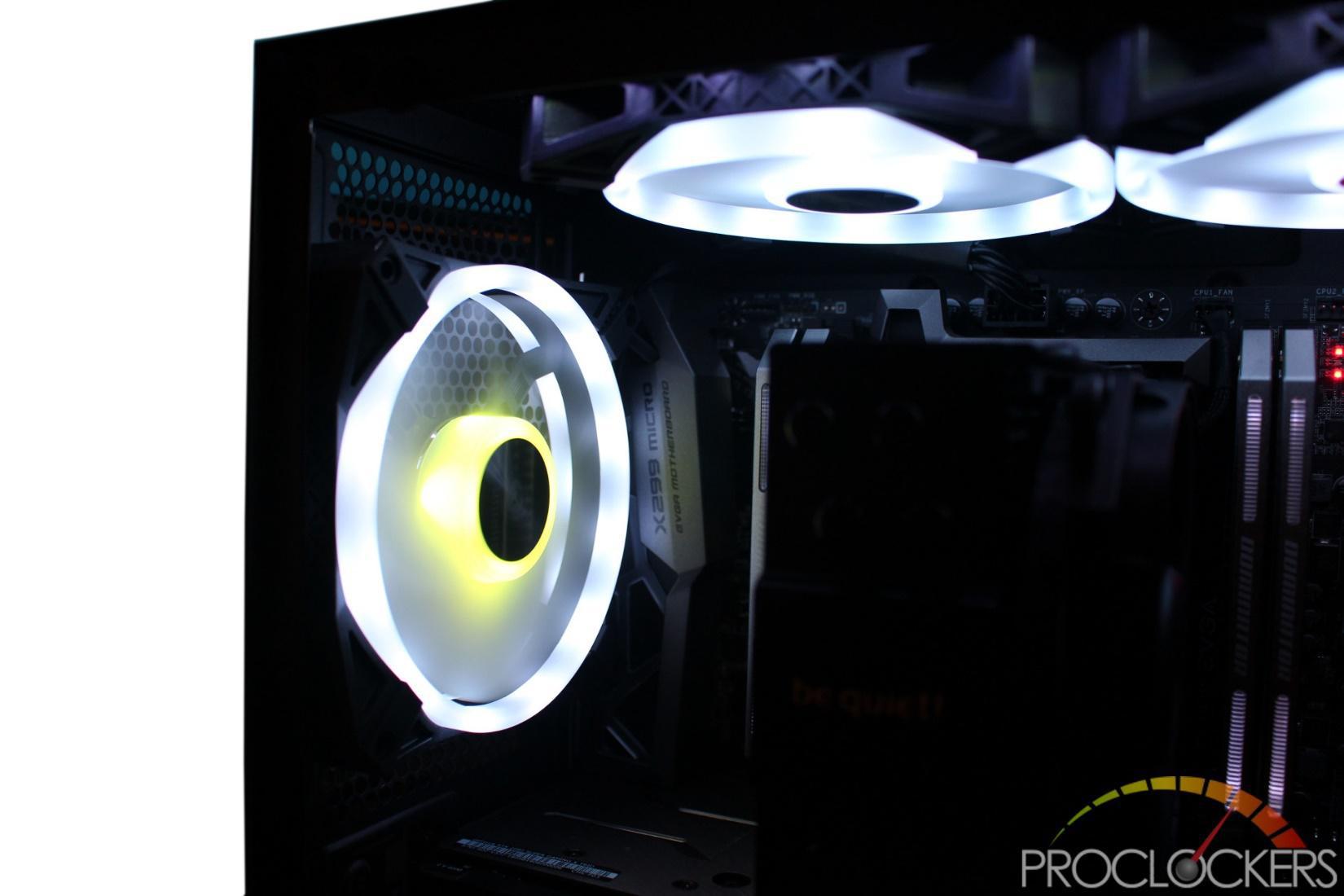 While we picked the entire front fan hub, you can literally set every single one of the 34 LED's per fan to a different color, pattern or effect. The only limit is your imagination.
Final Thoughts & Conclusion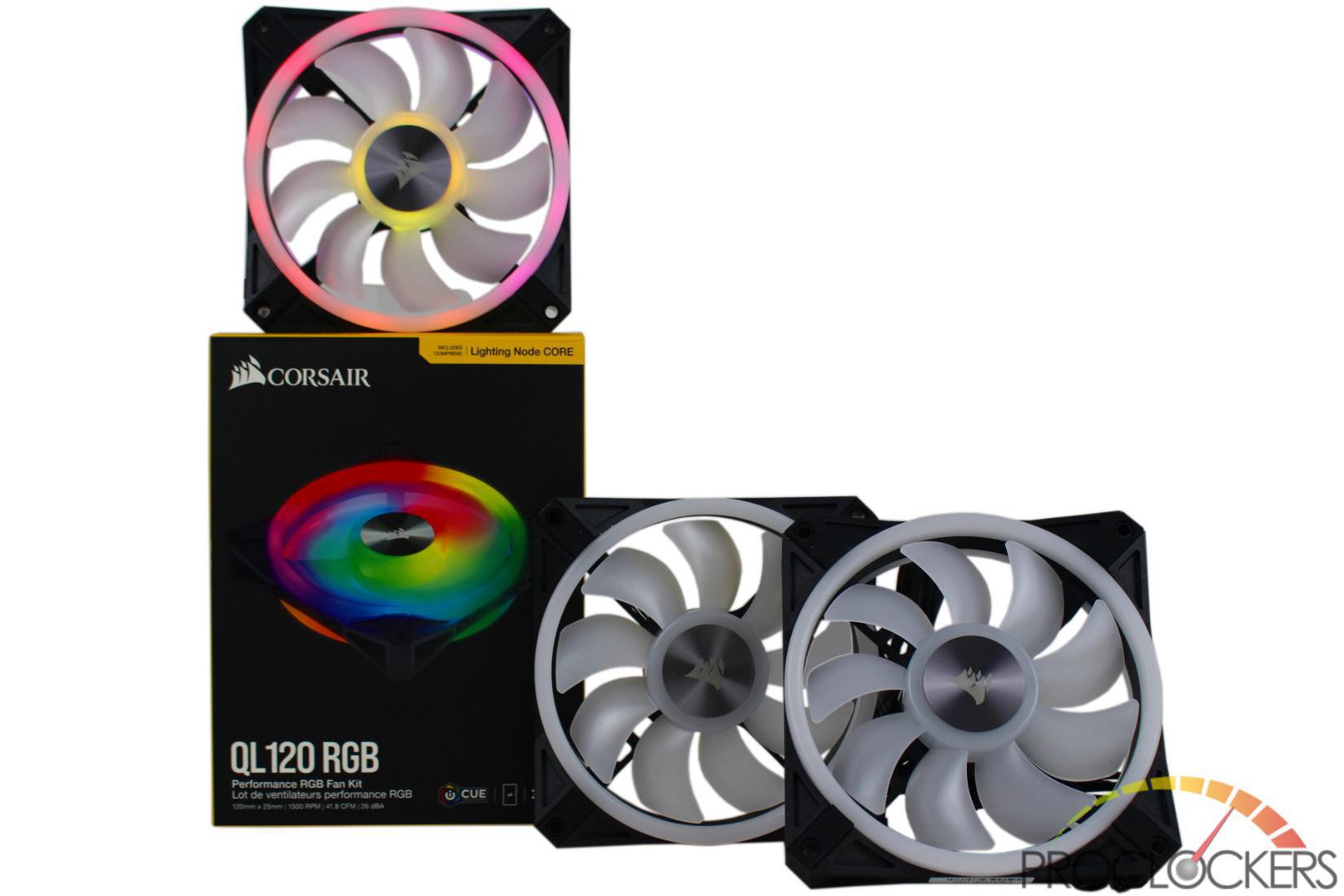 As long as you aren't the dark and mysterious, anti-RGB type of computer enthusiast, it's hard to do anything but love Corsair's new QL RGB series fans. The lighting is awesome, and being able to control everything in new ways, like interior facing lighting and exterior facing lighting really opens up some customization options. While the fans are really nice here, the real power comes from combining them with iCUE. To be frank, Corsair's older system control software left a lot to be desired. The newer iCUE is a completely different animal though, and very little software on the market even comes close to the power and flexibility it provides. With more than 100 RGB LEDs at your disposal from this 3-fan kit alone, being able to literally do something different with every single LED is just miles ahead of everyone else. From a performance standpoint, we have zero to complain about. They move a decent amount of air for a case fan and can handle lighter duty in the radiator world if liquid cooling is your thing. With a maximum speed of 1500RPM and vibration damping rubber mounting points on each corner, they look great while staying inaudible at all times as well.
Great job Corsair!