Cougar Screamer X: Plug and Play RGB Microphone Review
Today we're diving into Cougar Screamer X all-purpose RGB studio microphone. I'll be trying this beauty in different uses, modes, and environments to get down to its strengths and weaknesses. Lastly, I'll try my best to keep this simple and to-the-point, for our readers who are not so tech-savvy.
With tons of options for gaming headsets nowadays, it's tempting to take an all-in-one approach. A good one may have all you need to communicate during games or have occasional calls without worrying about sound feedback from your pc or laptop. But if you want to level up your game, or maybe just share your golden voice with the world (ahem), let's admit–, those tiny boom mics won't sound as good as a dedicated desktop mic.
With this, Cougar's Screamer X prides itself on its comprehensive capabilities for either solo use or with a group.
So to test this beast, I casually used it for 3 weeks for gaming comms, solo/ group calls, and recording.
Let's cut down the chase and see what's inside the box.
MY FAVOURITE PART: UNBOXING!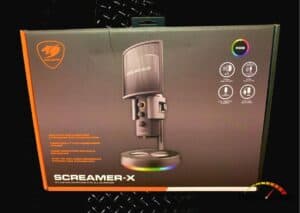 Upon receiving the Screamer X, my first words were, "Wow, it's big." Yes, it comes in a bulky box with the following items:
Screamer-X Microphone
RGB Stand with USB Hub and Cougar's Logo
Detachable Pop-filter with Cougar's Logo
3/8″ To 5/8″ Threaded Screw Adapter
3 M L-shape Type-C to USB-A Cable for Microphone
1.2 M Type-C to USB-A Cable for RGB Stand
2 Velcro cable ties
User Manual
Before opening it, I shook the box to check if there were some loose items inside, and there were none. Everything inside is neatly and tightly secured with customized foam that holds the mic and RGB stand in their respective places, while all the smaller items are tucked underneath.
Upon seeing the Screamer X in the box, I must admit that I spent some time appreciating its aesthetics in matte black. It's undoubtedly IG-worthy!
Now that we're done with the unboxing, let's go straight to checking the items that build Screamer X and its features.
See the next page for more photos, sound recordings and a complete review of Screamer X.
COUGAR SCREAMER X MICROPHONE: USES AND FUNCTIONALITIES
Trying to figure out which microphone to buy can be really intimidating because there's a lot of technical jargon in reviews and even in marketing materials. Being a newbie like me, it's also frustrating to think that I should learn all of these before I'd be able to understand their functions and features. But worry no more because I've already done the testing and research for you, and I'll try to explain them all using words everyone can understand, lol.
COUGAR SCREAMER X: STUDIO MICROPHONE FOR ALL-PURPOSE MEDIA PRODUCTION
"The Screamer-X is a must-have for the next generation of content creators, video editors, and artists. Its multiple microphone omnidirectional modes and easy-to-use USB plug and play design is tailored for streaming, interview, and instrument recording. Triple large microphones and noise reduction gives you the crisp clarity and contemporary tools for today's multi-task creator."
FEATURES IN A GLANCE:
Intuitive Tap to Mute Button Indication
Environmental Noise Reduction Switch
3 Omni-dimensional Microphones
4 Pick-up Polar Patterns: Cardioid, Shotgun, Bi-directional & Omni-directional
Convenient Lag-free Monitoring
Type-C Connection for Faultless Transmission
Double Pop Filter: Internal and Detachable Kit
Mounting Screw Hold for Crane Microphone Stand
Anti-vibration through Multiple Rubber Materials
Adjustable RGB Lighting Base & USB High-speed Hub
Plug and Play
COUGAR SCREAMER X: MICROPHONE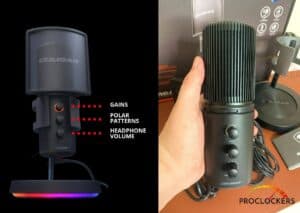 FRONT PART OF THE MIC
The mic is a pure black beauty with control knobs for gains, modes, and headphone volume.
GAINS
Screamer X's gain control knob has an orange LED light around it with 10 levels.
Commonly, people mistake gains to be the same as volume. So, let me explain here quickly the difference between the two.

'Gain' controls are usually used to get a good input level. It amplifies all sounds, affecting the sound quality. So, increasing gains could also increase the sound's clarity, but if it's turned too high, the sound could also be distorted.

As a rule of thumb, if the recording level is too low, you may turn up the gain to increase clarity and sound quality. If the recording level is too high, you just need to turn down the gain to avoid sound distortion.

While 'Volume' controls tend to be at the end of the signal chain, and it does affect the level of the sound output or how we hear the sound but NOT the sound's quality and clarity.
It's functional, especially during gameplays, and your game's sound gets a little too loud; you may increase your mic's gains to bring more clarity to your voice. Another cool thing here is that even when I had the mic gain at max, it didn't distort my voice. Results were the same when I was on a call or doing a recording.
I also enjoyed making live ASMR sounds for my friends during calls, and it also goes well on recording. I suggest trying this too, as it's incredibly fun!
If you want the best sound quality from it, however, I suggest you position yourself not more than 12 inches away from the mic. You can still be heard even if you're a meter away from the mic, but you'll notice a big difference as the distance increases.
POLAR PATTERNS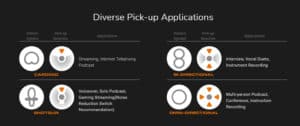 Most USB mics I see only have 1 to 2 pick up polar patterns, but Cougar's Screamer X has 4 mode options: Cardioid, Shotgun, Bi-directional, and Omni-directional.
Thanks to its 3 Omni-dimensional Microphones, having multiple mode options added flexibility to Screamer X's usage. You'll be able to adjust the mode depending on what purpose you'll use the mic for. Given these, you could also use it either solo, with a group of people at a teleconference, or even in a 1-on-1 interview.
I tried the mic on Skype, Discord, and Gmeet. I was amazed by how the mic only picks up the nearest sounds. So, even if you're playing your favourite shooting game with loud sounds and without turning on noise reduction, the mic's going to pick your voice up. You don't need to worry about the sound from your computer hurting your teammate's ears. Smart right?
Another one that's often misunderstood is polar patterns; it's how well the microphone can capture sound from different directions. It tells you how the mic should be placed to maximize pickup of your desired sound source while minimizing feedback or pickup of unwanted sounds.
HEADPHONE VOLUME
There are 9 volume levels for headphones (yeah, this is for headphone volume and not mic volume), and this goes hand-in-hand with the 3mm jack output so you can monitor the sound in real-time. Though it doesn't have a knob for mic volume, it wasn't really a big deal since you can control it through your pc before starting.
CONVENIENTLY PLACED MUTE BUTTON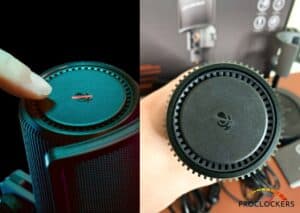 It also has a big play/mute button on top that lights up red when muted. The placing and design of the mute button is very creative, as it doesn't obstruct when you're moving the mic for some adjustments. The red LED signal that lights up when the mute button is on comes in handy, especially when you're using it in a group setting, as it could easily be reached and seen by all.
DOUBLE FILTERS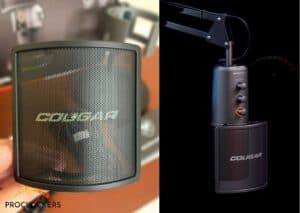 The mic has a built-in filter, and the package also includes a detachable pop-filter with Cougar's logo. Double filters allow you to accurately capture what you're saying without noise, like wind, a blast of hard letters (like B's, P's, T's), and so on, which is really useful for me as I tend to pronounce B's and P's harder. Don't judge me, lol.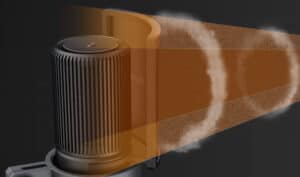 You may also rotate the metallic mesh up to 360 degrees, making it easier to place in your direction. Attaching and detaching the pop-filter is very easy as you just need to push it lightly to clip it to the mic and use your finger to unhook the clip gently. Remember not to pull out the filter straight from the mic as you might break the clip.
Note that, the metallic mesh filter is reversible, so the logo will not be upside down when you're using a crane holder. Also, cleaning the metallic mesh is easier when removed from its frame. These are just some tiny but well-thought details that add to Screamer X's charm.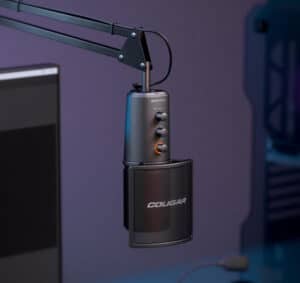 ENVIRONMENTAL NOISE REDUCTION SWITCH
At the bottom, near the edge of the mic's front side, you'll see the noise reduction switch. It can easily be turned on/off and easily seen, especially if the mic's tilted upward. It comes with an orange LED indicator placed just above the NR switch, at the lower front of the mic. However, I prefer not using the noise reduction as it's so strong that it makes my voice sound robotic, which is quite weird.
Here are audio recordings to compare when noise reduction is on/off.
SCENARIO 1:
With background noise from the fan around 2 feet away from the mic.
NR OFF
NR ON
SCENARIO 2:
With background music from my iPhone X at 80% volume.
NR OFF W/ BACKGROUND NOISE
NR ON W/ BACKGROUND NOISE
I also tried using the mic during a call with people freely talking (without shouting) in my background, again noise reduction was off. The group in my background was around 1.5 meters away from the mic, and it's lovely that the person I'm talking with on the other line doesn't hear them, especially when I'm talking.
OUTPUTS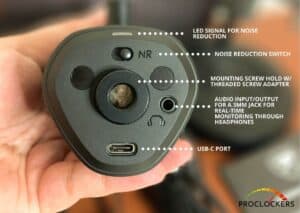 You just literally need to plug and play to use the mic, which I find convenient and newbie-friendly. Unlike other studio mics, Screamer X is not intimidating and very easy to use.
The bottom part also has audio input/output for a 3mm jack for real-time monitoring through headphones. It also has an exclusive 90-degree USB-C to USB-A cable for seamless sound transmission, causing less delay/ lag during calls/ use.
Lastly, the big hole at the centre is a mounting screw hold for a crane mic stand. The black plastic attached is a 3/8″ To 5/8″ Threaded Screw Adapter (sorry guys, I forgot to take a photo without the screw adapter in it). It's nice that it already comes with a screw adapter that made it ready for a crane mic stand–if you already have one, that is, because the crane mic stand is sold separately.
COUGAR SCREAMER X: RGB MICROPHONE STAND
This RGB mic stand is the centre of Screamer X's aesthetic appeal. There's RGB light surrounding its base that you may power up through a 1.2m exclusive USB-C to USB-A cable and switch on with a small button at the lower back of the stand, just above the LED light. It has the usual eight RGB colours and four illuminating styles that you can change through the same button.
Illuminating Styles:
RGB Rainbow
Gradient Changes
Breathing Colours
Single Colour
Screamer X's RGB stand's not just all about the looks. It's also sturdy and has multiple anti-vibration structures to support the mic. Because the vertical support is made of metal, it's pretty heavy for a stand. It also helps stabilize the mic when used and won't budge with small sudden table movements or light mouse taps while playing your favourite game. Lastly, it has an extra USB 3.0 hub that you may use for extension.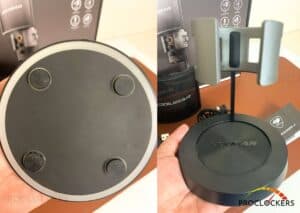 SPECIFICATIONS:
Power consumption (Max.): 5V /130 mA
Sample/bit rate: 96kHz/24bit
Drivers: Three COUGAR Exclusive 16mm Condensers
Polar Patterns: Cardioid, Shotgun, Bi-directional, Omni-directional
Frequency Response: 20Hz-20kHz
Sensitivity: -45+/-3dB (at 1kHz)
Max SPL: 120dB
Dimension (mm): 100 x 75 x 193
Dimension with Stand: (mm)134 x 136 x 257
Weight (g): 310
Weight with Stand (g): 799
Connection: Through Exclusive 90-degree USB-C to USB-A Cable
Cable Length: 3m
TAKEAWAYS!
To sum it up, Cougar did a great job on Screamer X's aesthetic and array of functionalities. (Kudos there, Cougar team!)
With Screamer X's diverse options for modes and controls, I was able to quickly fine-tune my voice during calls or games. Controls for gain and headphone volume can also easily be turned, while the control for mode options have a lock, so you'll need more force to turn it. For me, being able to lock the mode control is really helpful as accidentally turning it during use can be avoided.
I love how these can be controlled physically through the mic itself and without going to an application or system. It's very convenient, especially when you're doing something on your screen and don't have an external mic control or mixer. It would also be better to have a mic volume on it, but it's not a big deal since it can be controlled in the setting before using the mic.
I would highly suggest it for people who are not yet that knowledgeable with mics, as it's effortless to set up. Your voice will also be very clear especially if the gain is at max. Plus, all its functionalities are straightforward, making it easy to use for different platforms and purposes.
The little details like the pop-up filter's design and how conveniently the buttons plus outputs are placed deserves a double thumbs-up!
The only concern I have is my voice becoming quite robotic when noise reduction is on. But I don't really mind this because the polar pattern pick up made up for it.
So, like usual, here are the things I want to add for future models:
A compact, hard-shell bag for the mic to make it portable.
I don't know how, but it would be lovely Cougar could make the voice less robotic when noise reduction's in use.
Nonetheless, Cougar's Screamer X is a good investment for all budding content creators as it looks good on camera, and you'll sound like a pro for 149.90 USD.
Lastly, I want to thank Cougar Gaming for sending us this beast for review.
So, that's it! I hope you had fun with our Cougar Screamer X review and that it helped in your purchasing decisions. See you on our next one! Ciao!
COUGAR SCREAMER X: STUDIO MICROPHONE FOR ALL-PURPOSE: 8/10 paws
*All of our reviews are not paid, and we just keep the review samples sent to us.