Vissles LP85: Thinnest Mechanical Keyboard Review
Today we're diving into Vissles LP85丨The World's Thinnest Optical-Mechanical Keyboard.
Mechanical Keyboards have become super popular again since 2020 when the Covid19 pandemic spread worldwide. With everyone from well-known brands to start-ups releasing all kinds of models and designs, its fame quickly reached IGers and Tiktok-ers taking extremely aesthetic photos, doing ASMR, or playing with their keyboard's RGB functions. It indeed became a must-have accessory for most PC users and even those using laptops— gamer or not, everyone's just gushing over owning one, and of course, that includes me!
Mechanical keyboards are quicker, sturdier, and give off a lot of typing satisfaction because of their unique typing and audible feedback. With these, it's easy to see how mechanical keyboards became so popular. But also because of these features, mechanical keyboards tend to be bigger, louder, and more tiring to type on, unlike membrane keyboards.
Now let's see the real deal behind this beauty!
SATISFACTION IN UNBOXING VISSLES LP85
By now, you probably already know how much I get excited about unboxing stuff. So I'll start with how beautifully wrapped Vissles LP85 is.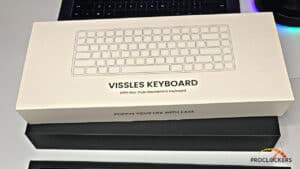 Its packaging also shows Vissles' approach to functional and minimalistic designs. It comes in a black box with a white paper board holding the box together— it has Vissles LP85's outline at the front and all its info and functionalities at a glance on other sides.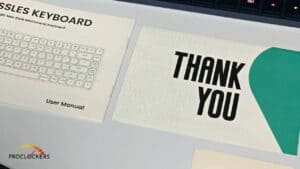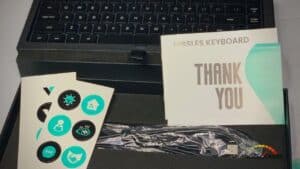 In the box, you'll see the LP85, neatly secured in customized cardboard to hold it. After lifting the black ribbon, you'll see the manual, some stickers, a cute thank you card, and a USB-C cable for connection and charging. Upon holding into this keyboard, one thing that I genuinely appreciate is its aluminum chassis. It's compact, nice to the touch, and aesthetically pleasing to the eyes, especially when turned on.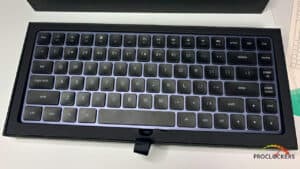 Now that we're done with the unboxing, let's see Vissles LP85's features and functionalities in detail.
VISSLES LP85'S FEATURES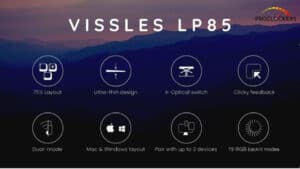 Vissles LP85's aesthetic is minimalist and reminiscent of Apple's iconic style, but there's a lot more than its sleek and portable design.
VISSLES LP85'S SLEEK BUILD AND PORTABILITY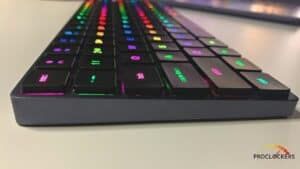 LP85 is a compact 75% Mac style, low profile mechanical keyboard with optical switches and aluminum chassis. Even though it's in aluminum housing, it's ultra-thin and only weighs 547g and, in fact, is the world's thinnest mechanical keyboard. It's 12mm in height, 3 mm higher than an Apple magic keyboard. Given its mechanical features, Vissles development in LP85's surely lit.
Because of these, it's portable and easy to carry around your home or fit in your bag to work in your favorite cafe—that's just one thing I love about Vissles LP85.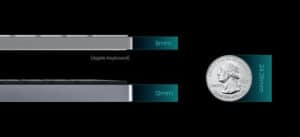 This mechanical keyboard feels solid and polished, including all the keys and the Bluetooth toggle switch on the upper side. Its aluminum housing also gives a solid surface to type on, meaning it doesn't flex even a bit while you're typing, even if you purposely press on it to see if it'll feel feebly— you'll see how hard and sturdy its housing is.
You can also choose from either black or white scheme in either mac or windows layout. In this case, I chose a black one in windows layout as it matches my Huawei D14.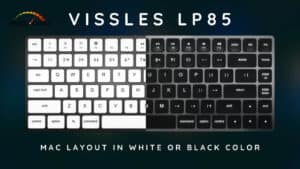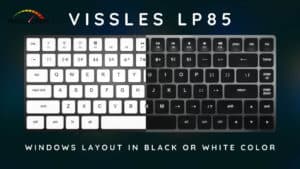 Lastly, it has long rubber feet on the bottom's upper and lower sides that make it stable, and there's no chance of it moving around when in use, even if you place it on your tilted laptop.
VISSLES LP85: RGB BACKLIGHT
LP85 also features an RGB backlight under each keycap, which is a nice upgrade from V84— where the RGB backlight doesn't reflect in each keycap. LP85's RGB backlight shows both solid and pastel colors and allows you to choose from a unique set of 19 dynamics and 8 monochrome backlit modes.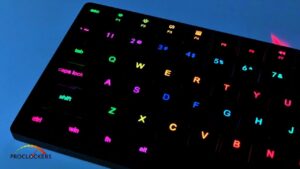 These modes can be changed using fn + delete keys. You can also make different backlight adjustments, from controlling the brightness to changing the direction and speed of the light effects—different FN key combinations for all functions are also clearly explained in the user manual.
There are also some nice little touches made by Vissles using the RGB backlight. First, the CAPS LOCK key has a light that toggles with its function, so you can quickly tell when it is on even when you're using different backlight modes. Second, when the keyboard is low in battery, its RGB light pattern will change into a circular motion at the center that slowly moves outwards.
Vissles LP85's backlight is also colorful, vibrant, and stands out even in a lit room, unlike most RGB keyboards nowadays that you can only appreciate in a dim room setting.
VISSLES LP85: BATTERY AND CONNECTIVITY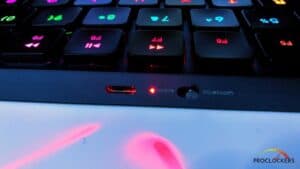 Of course, when checking out any wireless gadgets, it's a must to check their battery and connectivity. So let's see what Vissles LP85 can offer in terms of battery and connectivity.
CONNECTIVITY
LP85 has a dual-mode connectivity function, so you can use it through Bluetooth or a USB- C cable, and its functionality is pretty straightforward that you just need to turn your Bluetooth toggle on/off depending on what mode you'll use.
When in Bluetooth mode, you can easily link it up to 3 devices and swap between them quickly using a combination of the Fn key plus the Q, W, or E keys.
You can also switch from MAC/Windows in an instant with key combinations using the keyboard. Its default system is set to MAC, but you can easily switch to Windows by pressing FN + A keys— then just wait for the A key to blink thrice, and voila!
BATTERY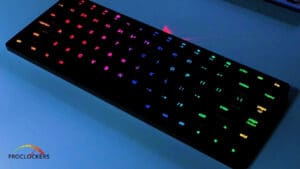 It has a 2000mAh built-in battery. To test how many days it'll last with the backlight on, I drained its battery from the day I got it. I then fully charged it before I started counting the days that the keyboard can be used wirelessly before it needs charging.
Amazingly, I got to use it for almost two weeks for around 4 to 8 hrs a day with its backlight on before the red light signals for charging. The red LED indicator lights up to signal that the battery is already below 20% and needs charging.
Another thing that I love about Vissles LP85 is its sleep function that helps preserve its battery for extended use, wherein the backlight enters sleep mode after 5 minutes of idle time, and the keyboard after 30 minutes.
You just need to press any button to re-activate it, and it'll take a few seconds for both to connect again to your pc/laptop.
PREMIUM OPTICAL SWITCH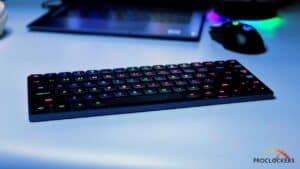 Another thing that you need to pay attention to when shopping for a mechanical keyboard is the kind of switch it has and whether it offers auditory and tactile feedback (these are the sound the keys make and the bounce or feels it gives when pressed). It's also important to check its actuation force or the amount of pressure the switches require (pressure you need to apply on pressing the keycaps) to activate. These greatly affect a keyboard's functionalities, ergonomics, and typing satisfaction.
LP85 has premium X-optical switches that deliver a light beam of 0.2ms, paired with the short actuation distance of 1.2mm pre-travel and 2.5mm total travel.
WHAT IS AN ACTUATION DISTANCE?

It's simply the key indicator of a keyboard's responsiveness.

To explain it further, we could look at two different travel distance. First is pre-travel, which refers to how far you must press the key before it actuates or before the keyboard detects a keypress, usually at 1.5mm. Second is total travel distance, in which how much further you can press the key after it has actuated, wherein it's normally between 2.5 and 4 mm.

So, the shorter the pre-travel actuation distance, the better for you don't have to press down the keycap fully to get the keystroke to register, leading to faster typing.

Also, mechanical keyboards usually have a shorter actuation distance than standard keyboards, making them faster and the go-to choice for pro-gamers."
For comparison purposes, LP85 has a shorter actuation distance than most of its competitors, making it great for typing and gaming enthusiasts who demand instant actuation. It gives a satisfying clicky sound and typing feel feedback, but its sound is not too loud compared to Cherry MX Blue, and its optical switches are also lightweight and easy on the fingers.
Vissles also used high-quality ABS keycaps for LP85, which are fingerprint-resistant and have soft-touch coating. These features I really liked, as I hate seeing fingerprints on my gadgets, and its soft-touch coating added value to its premium build.
THE VERDICT
Vissles, a promising US-based start-up, launched in 2018. They developed their first product, a keyboard through Kickstarter, and positioned it to compete against Keychron K2. But now, Vissles is stepping away from traditional mechanical keyboards with its latest product launch of LP85 on Kickstarter, which is quite impressive.
KUDOS TO VISSLES!
I must say that Vissles has done a fantastic job on LP85's build, and its aluminum housing doesn't just give off a premium look and feel, but it also makes LP85 more durable than most of its competitors. The optical switch gives LP85 personality, as its typing feels and clicky sound is unique from other mechanical keys.
LP85 has a mechanical keyboard's tactility and performance in a compact and less finger-fatiguing low-profile design. Its low-profile optical switches give you the clicky feel of a mechanical keyboard but ergonomically help prevent fatigue from long hours of typing.
It's also very portable and easy to carry around your home or fit in your bag to work in your favorite cafe—that's one thing that I love about Vissles LP85. You can place it on your table or your laptop just like how I prefer, and because of its rubber footings, it doesn't fall even if my laptop is tilted a bit. On top of this, it perfectly compliments my 14-inch laptop.
Given all of this, it's also worth noting that it's ideal for both gaming and typing. Its custom fast switches, a USB-C connection paired with Bluetooth for everyone working from home like me, n-key rollover, and its wide range of RGB lighting modes made Vissles' LP85 look just like an Apple mechanical keyboard with a cool RGB aesthetic.
With so many options, you can match the light mode with your game battle intensity or your mood, or even create a calming space in your work or gaming station.
Now, down to the things I wish LP85 have:
A pouch or envelope-like bag to keep the keyboard, so it'll be easier to bring outside without worrying about it having any scratches.
I hope it also has magnetic and detachable footpads.
It would be nice to see a high-profile model with the same functions and classy-ness as Vissles' LP85.
So, is Vissles LP85 a good buy?
I'm going to give it a BIG YES! With a rating of 9/10 paws

I'll definitely buy this one and highly recommend it to all, especially those looking for a minimalist and compact mechanical keyboard or simply for a magic keyboard alternative. Vissles' LP85 is indeed the first one of its kind!

We would like to thank the Vissles team for sending us this beauty. I really appreciate LP85 and looking forward to more high-quality products from Vissles.

*All of our reviews are not paid, and we just keep the review samples sent to us.

<![CDATA[ */ var zbjs = {"ajaxurl":"https:\/\/gaminggorilla.com\/wp-admin\/admin-ajax.php","md5":"d8e8b24d2fa18d2999e0fddcdd418586","tags":[],"categories":["Hardware"]}; /* ]]>