Crucial X8 1TB Portable SSD Review
Introduction
One of the biggest issues with data is the constantly growing amount of it we need, and the need to have it with us.
A byproduct of this is the need for speed. Those old USB 2.0 drives you had a few years ago are fine for a few documents, but transferring hundreds of gigabytes to or from them is something that takes seemingly eons in a time of instant data. Crucial gets around this problem by using the latest connectivity and internal architecture on its X8 series portable SSD. Capable of hitting transfer speeds of around 1GB a second, you don't have to wait hours to take your large files along for the ride. It may even be faster than your internal storage! Taking advantage of USB's faster 10gbps speeds and near-universal Type-C compatibility, the X8 can connect to anything and move data at your speed. Let's take a little closer look and see how it does!
ProClockers would like to thank Crucial for sending us the 1TB version of the X8 SSD to check out!
Crucial's take on the X8 Portable SSD:
Protect your memories with the Crucial X8 Portable SSD — back up important photos, videos, and documents with up to 1TB capacity. Expand storage on your PS4, Xbox One, iPad Pro, Android device, or simply free up space on your computer quickly with speeds up to 1050MB/s. The Crucial X8 runs up to 1.8x faster than other portable SSDs and up to 7.5x faster than portable HDDs.1 Store with confidence on the Crucial X8.
Features & Specifications

Works with Multiple Devices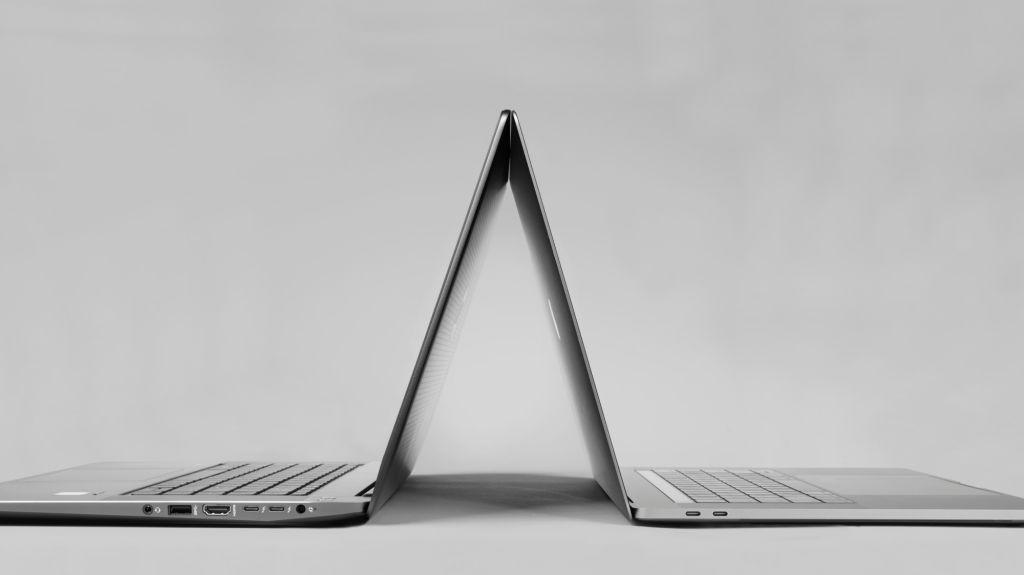 Fast, easy storage for your PC and Mac
Quickly and easily add storage to your PC and Mac with the Crucial X8 Portable SSD. Just plug it in — no reformatting required. Back up important photos, videos, and documents with up to 1TB capacity. Encrypt your drive and protect your data using Windows Bitlocker to Go or Apple's FileVault. Crucial X8 also works with popular endpoint protection services from brands like Symantec and McAfee.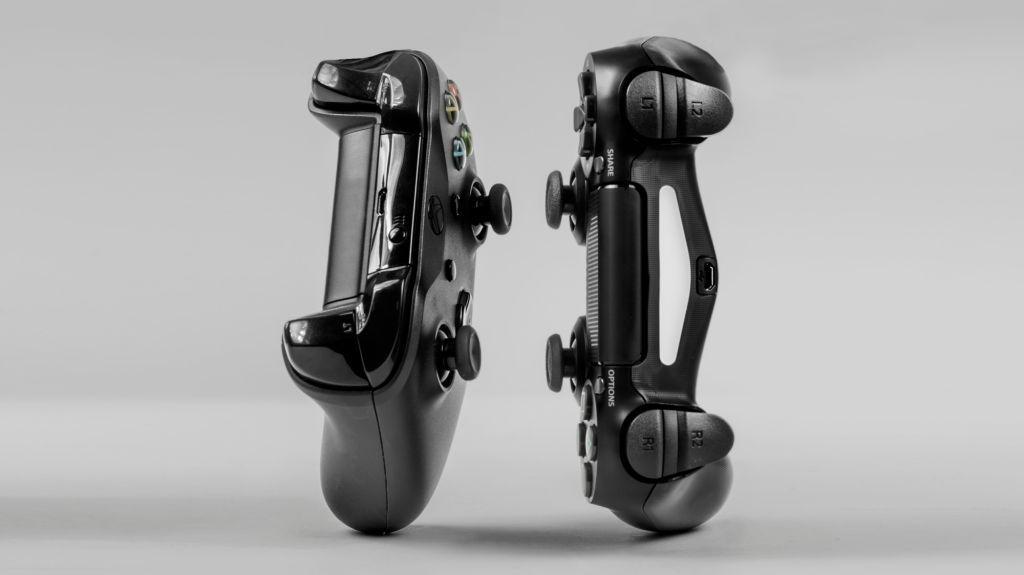 Supercharge your PS4 and Xbox One storage
Plug the Crucial X8 Portable SSD into your PS4 or Xbox One and expand your gaming world³. With up to 1TB of storage, you'll spend less time deleting files and more time in the game.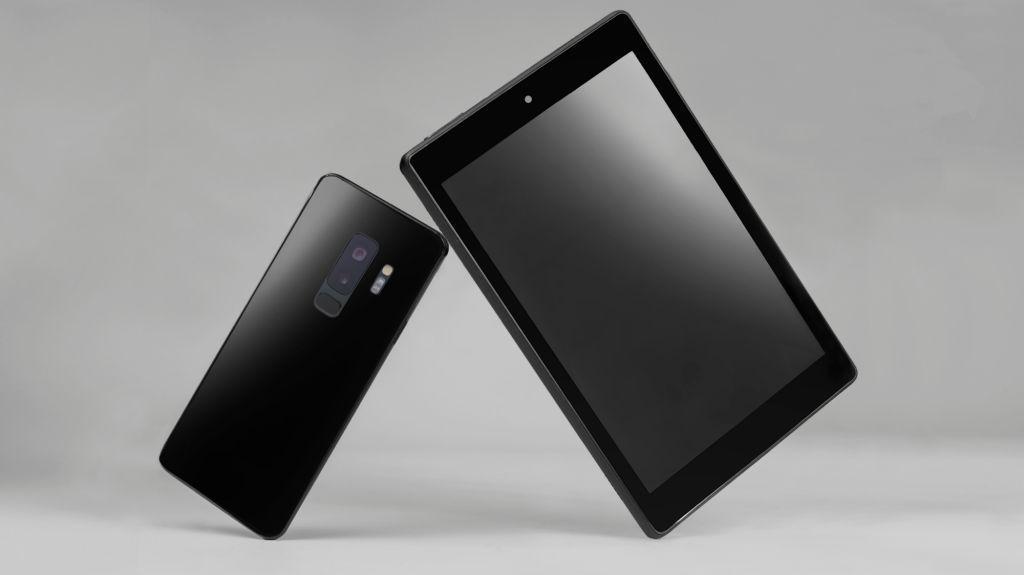 Expand Android storage for all your movies and shows4
Download your Netflix or Amazon videos to the Crucial X8, allowing you to save LTE data and enjoy the high-fidelity video while in transit or offline. Store up to 1TB of photos and videos on your Android smartphone or tablet. Works with popular photo-editing software like Adobe Photoshop Express on Android.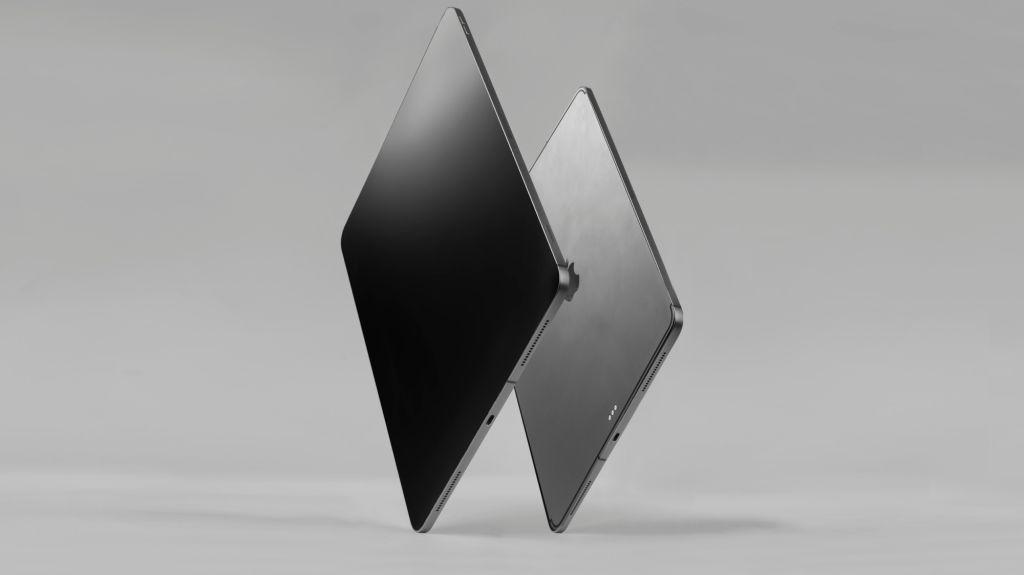 More capacity for your creativity on iPad Pro [2018 USB-C model]
Unleash your creative energy in the field with the Crucial X8 portable SSD and Apple's iPad Pro. Add up to 1TB of capacity to your tablet instantly. Curate, edit, and export multi-stream video without your computer or an internet connection. Seamlessly works with popular video-editing software like LumaFusion.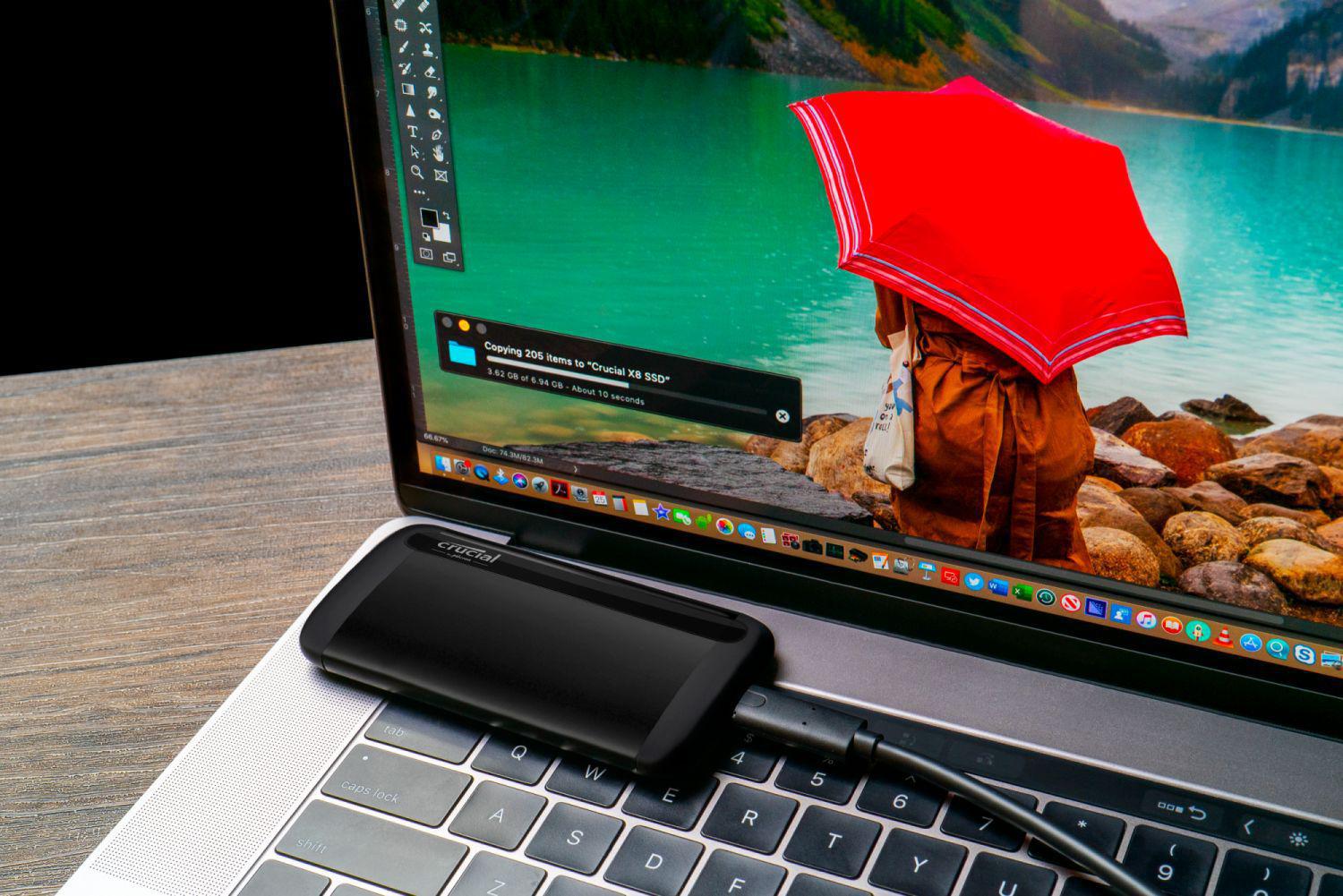 Phenomenal Speed
Wherever you are, access your games, photos, and videos quickly — even offline. With read speeds up to 1050MB/s, you can load files up to 1.8x faster than most portable SSDs, 7.5x faster than portable hard drives, and 100x faster than USB flash drives.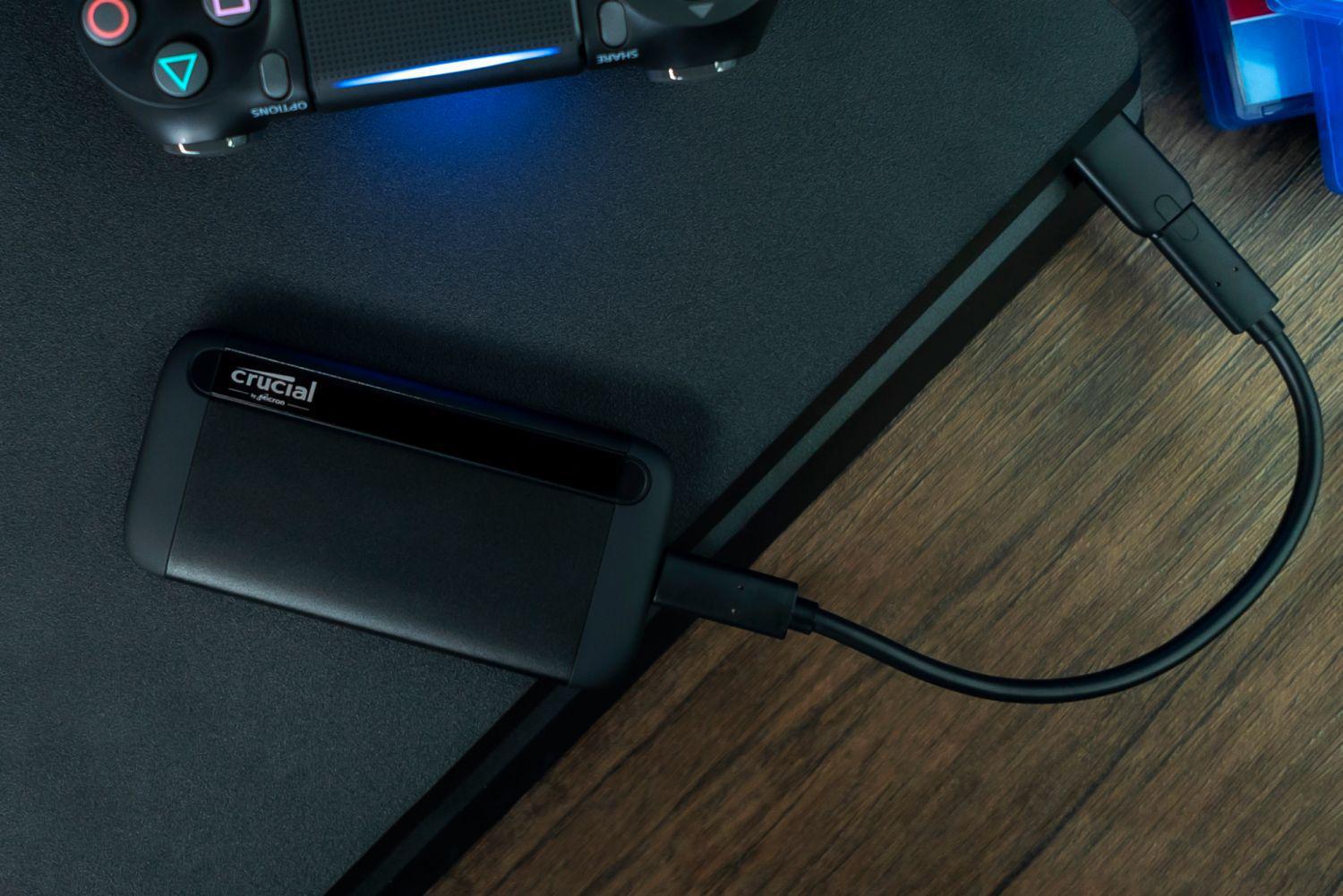 Works with a Broad Range of Devices
Increase storage capacity for nearly any computer, tablet, phone, or console. Works with Windows, Mac, iPad Pro, Chromebook, Android, Linux, PS4, and Xbox. Connect with a USB-C 3.2 Gen2 interface or use our included adapters for USB-C or USB-A connections.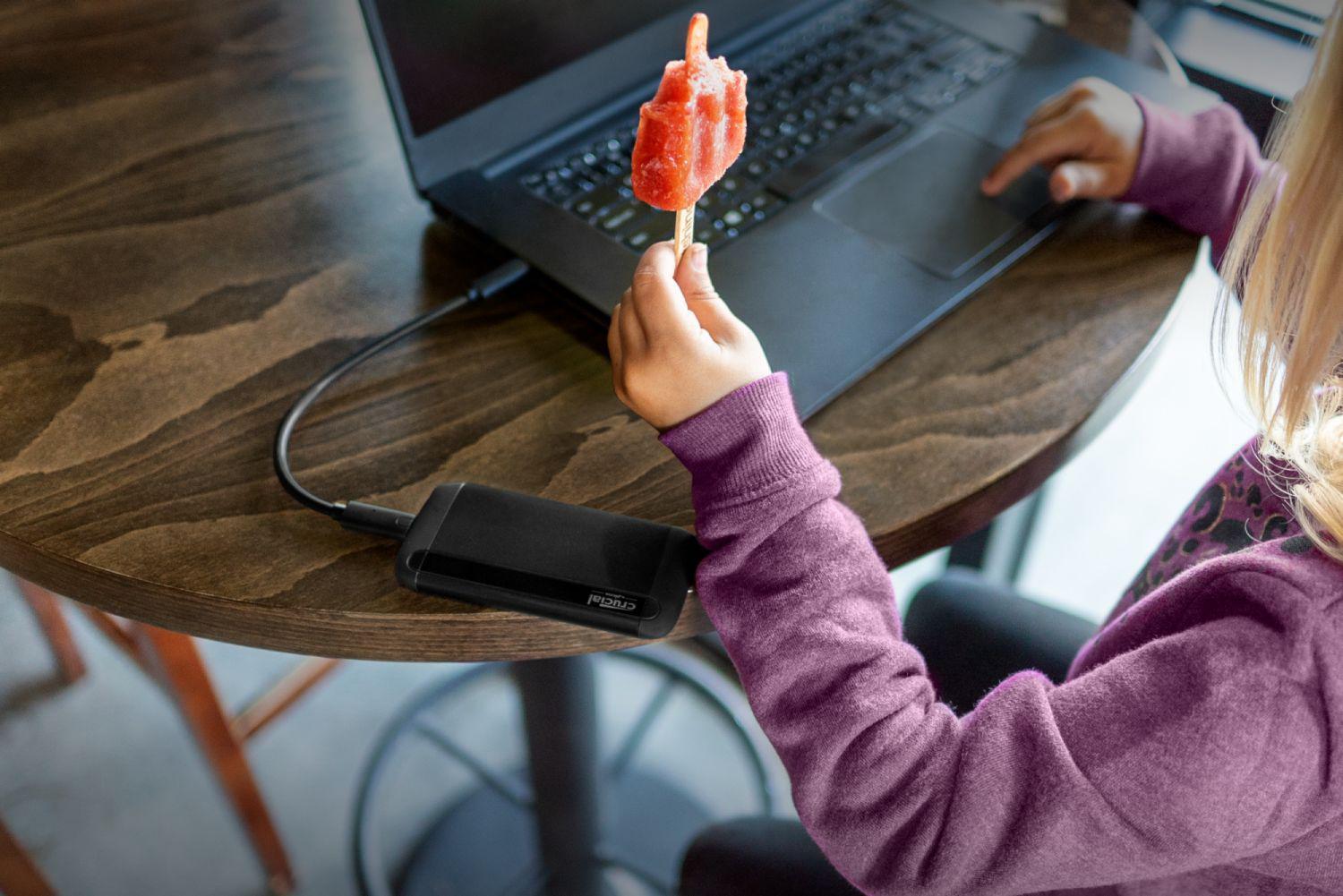 Built for the Toughest Conditions
Indoors or outdoors, at home or off the grid, the X8 is manufactured to be durable, rugged, and compact. Tested against extreme temperatures, shock, vibration, and even a 7.5-foot drop, you can trust that your drive will withstand the elements.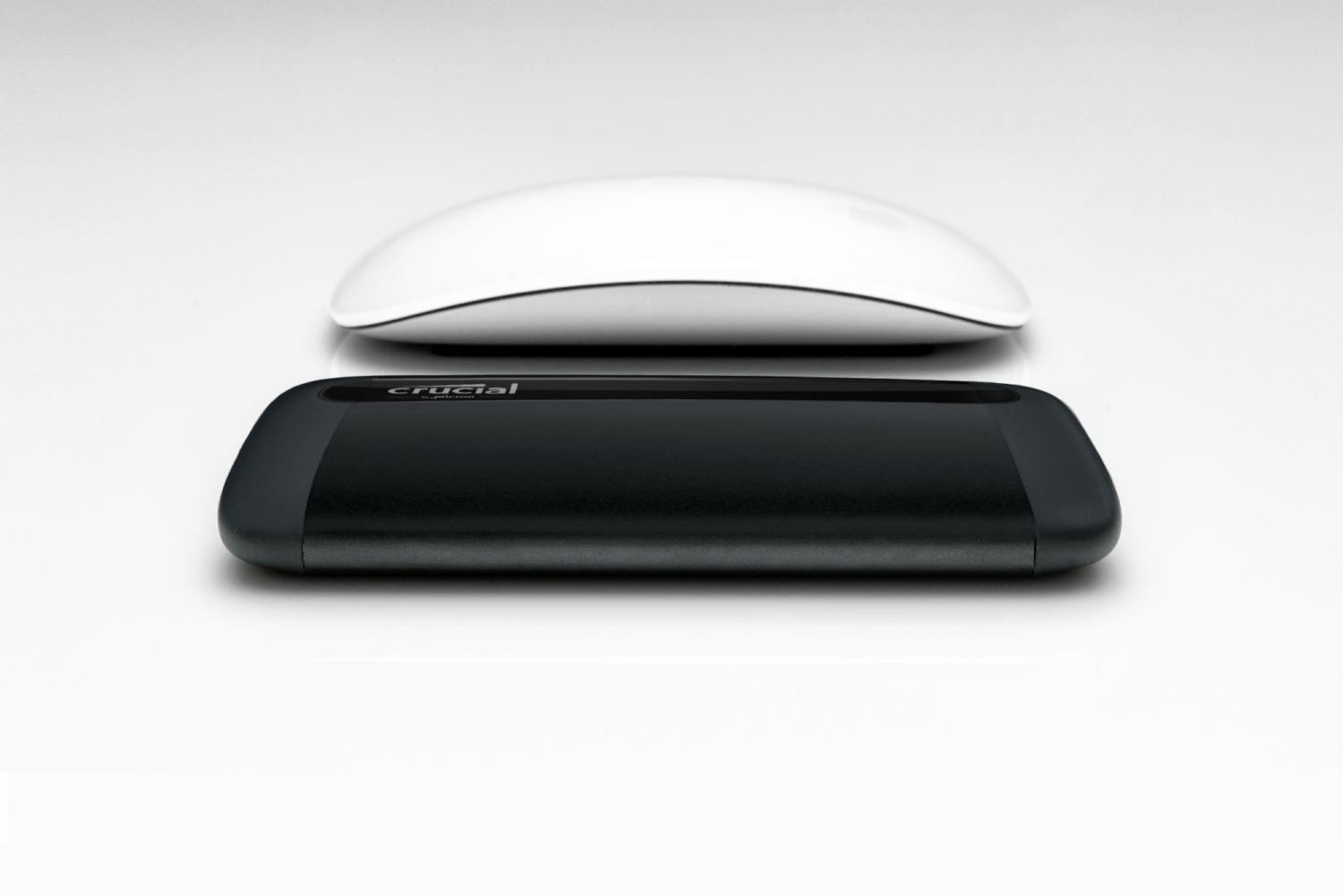 Sleek Style, Innovative Design
Form meets function with the Crucial X8. Built with a unibody core of anodized aluminum, the case not only looks and feels great but dissipates heat efficiently to maximize performance.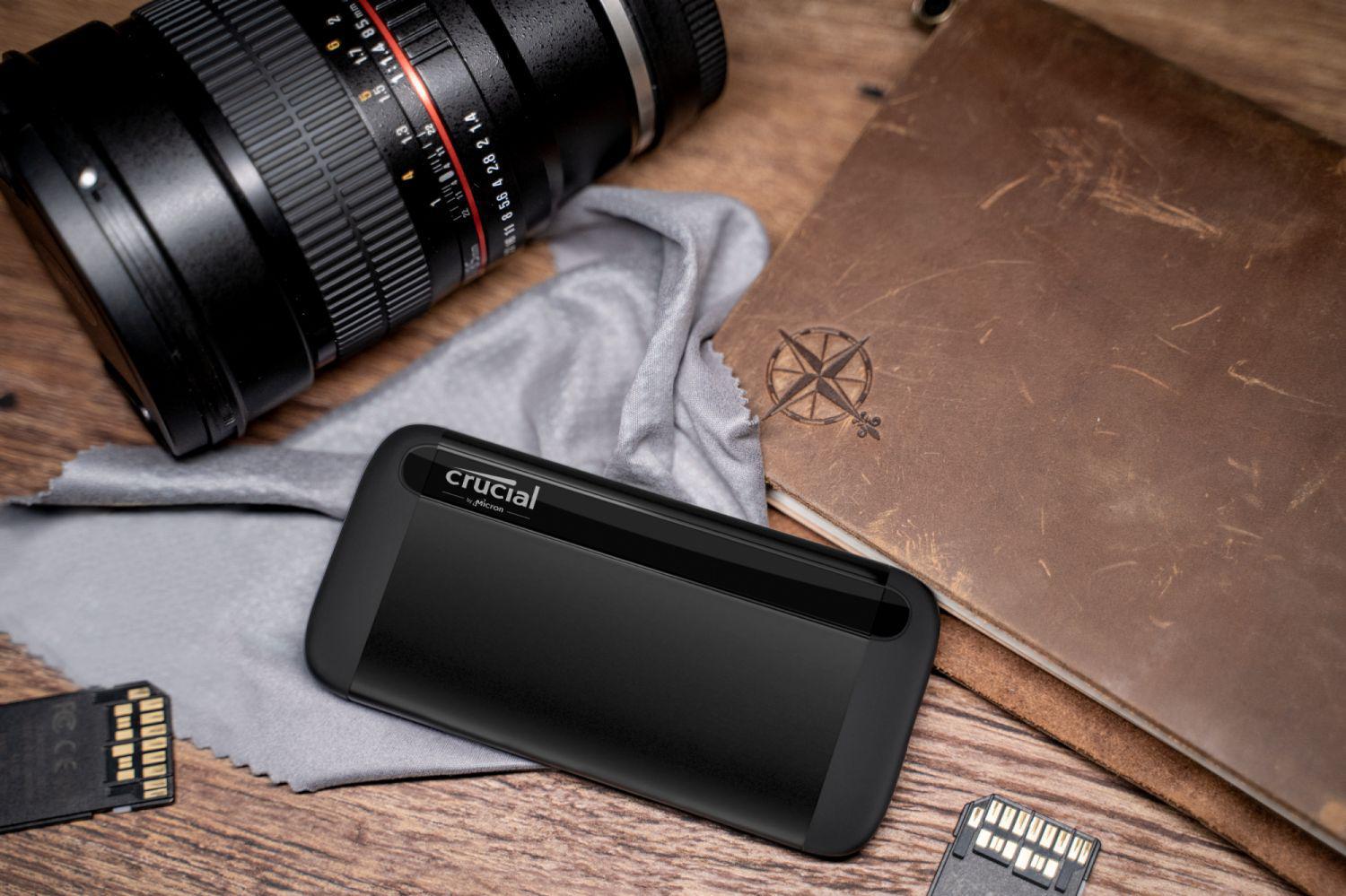 Complete Data Protection
Store your photos, videos, and files with confidence. You can use Windows Backup, macOS Time Machine, Windows Bitlocker to Go, and Apple FileVault, along with third-party endpoint-protection software suites like Symantec and McAfee.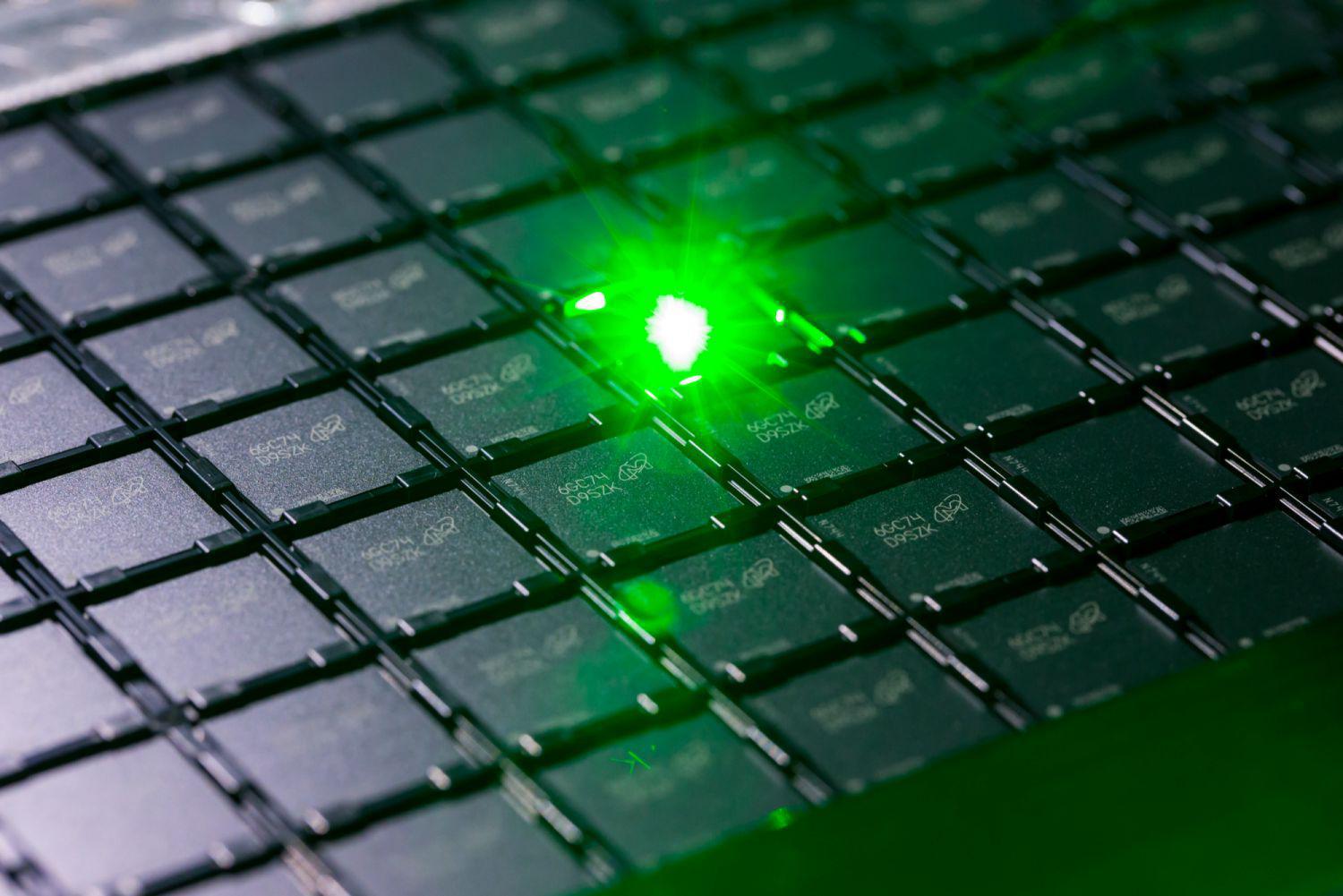 A Reputation for Reliability
When you need ultimate peace of mind, trust the expert quality and engineering innovation of Crucial, a brand of Micron®, one of the leading flash storage manufacturers in the world. The Crucial X8 Portable SSD is backed by a 3-year limited warranty worldwide. Enjoy comprehensive support materials, such as operating instructions for various platforms and articles on maximizing your drive's performance.
Product Specifications
Form Factor: Portable Solid-State Drive
Total Capacity: 1TB
Warranty: MANUFACTURER'S 3 YEAR
Specs: 1TB Crucial X8 Portable SSD • USB 3.1 Gen-2 • Up to 1050MB/s Sequential Read
Series: X8
Product Line: Client SSD
Interface: USB 3.1
Density SSD: 1TB
Device Type: Portable Solid-State Drive
Package Content: Crucial X8 Portable SSD; USB 3.2 Gen2 Type-C to Type-C USB cable (10Gb/s); USB 3.2 Gen1/USB 3.0 Type-C to USB-A adapter (5Gb/s); Quick-Start Guide
Unboxing & A Closer Look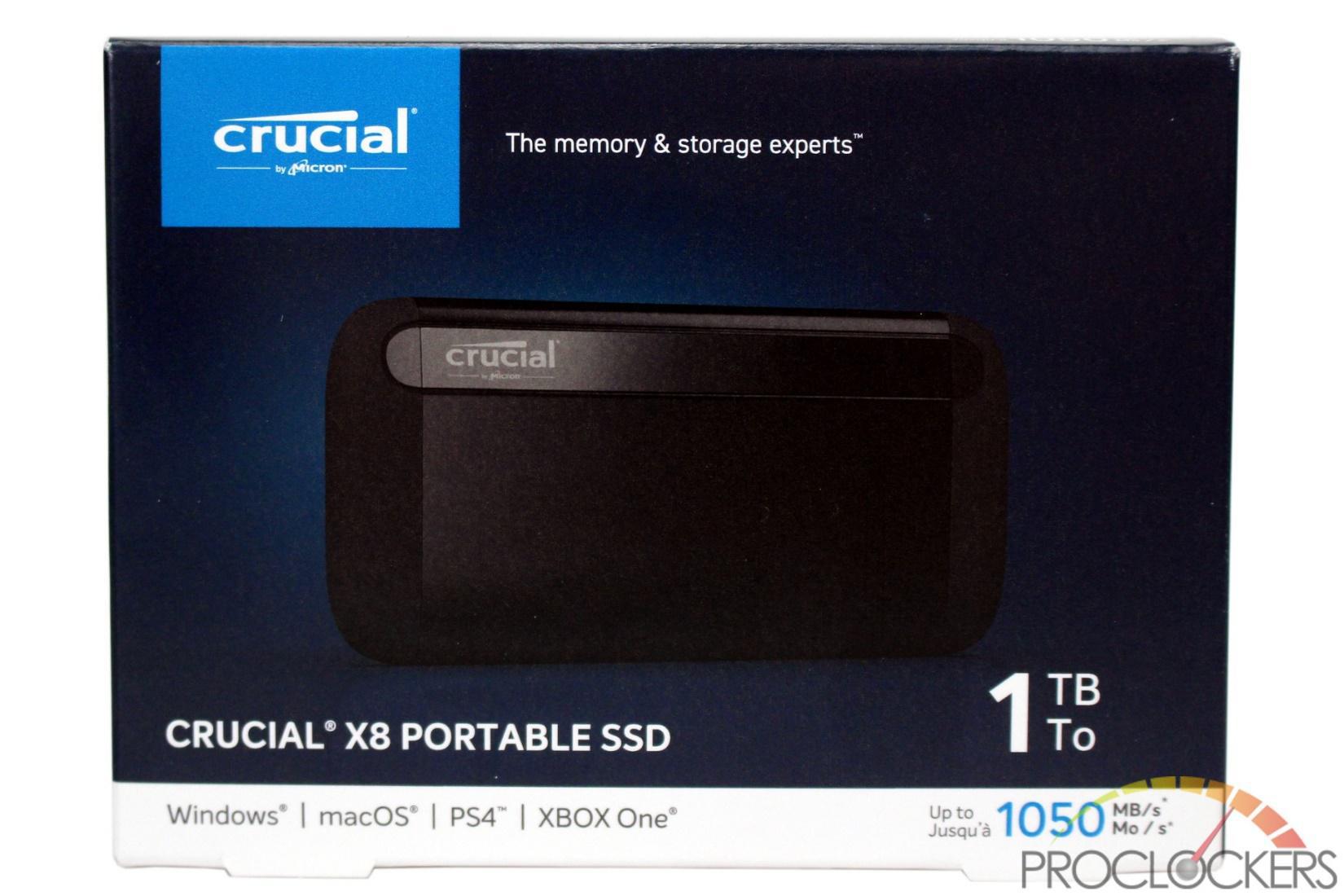 Crucial's X8 comes in a small blue and white box with a Lifesize picture of the drive on the front. Capacity is noted in the lower right corner.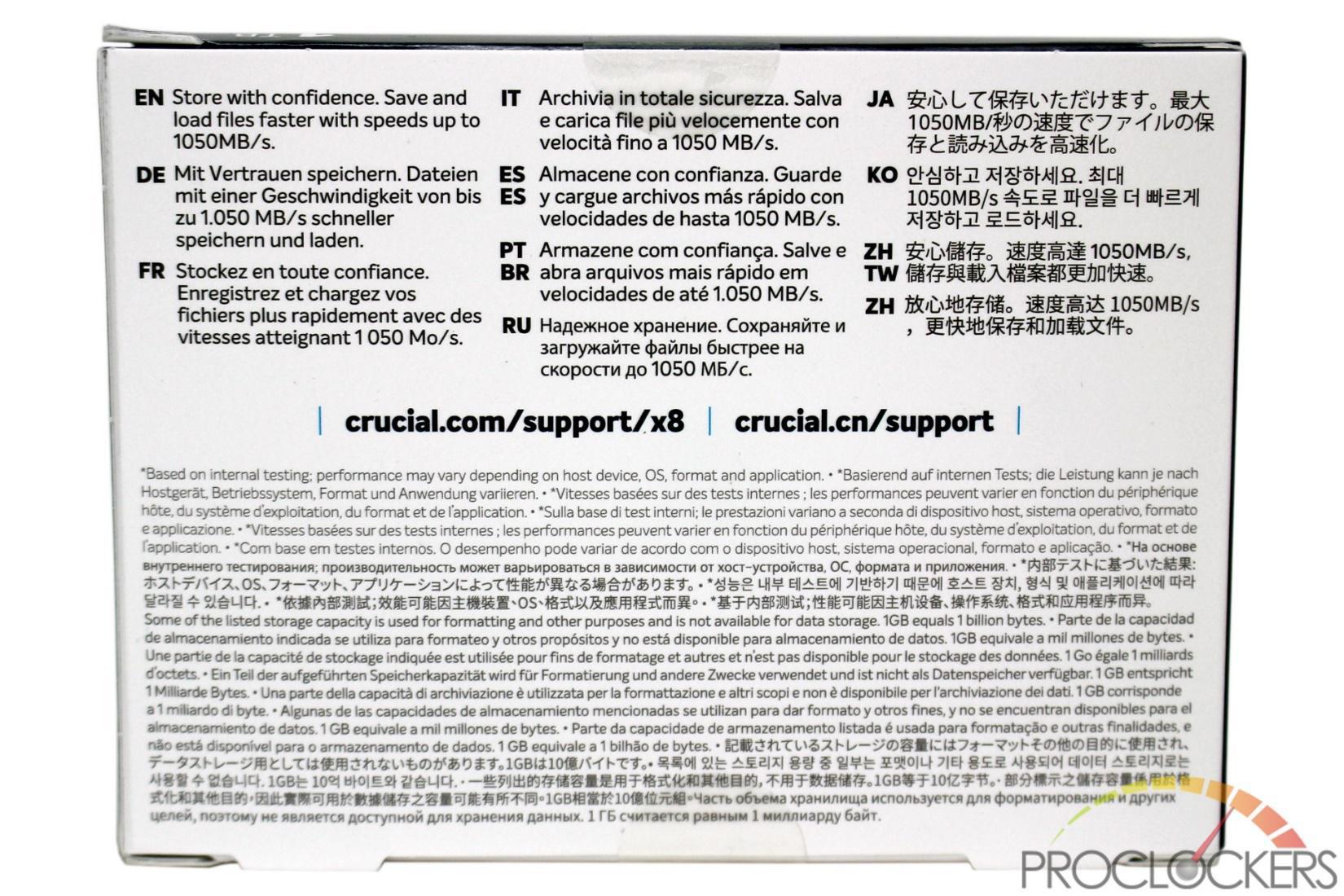 The rear of the box has basic info in a multitude of languages.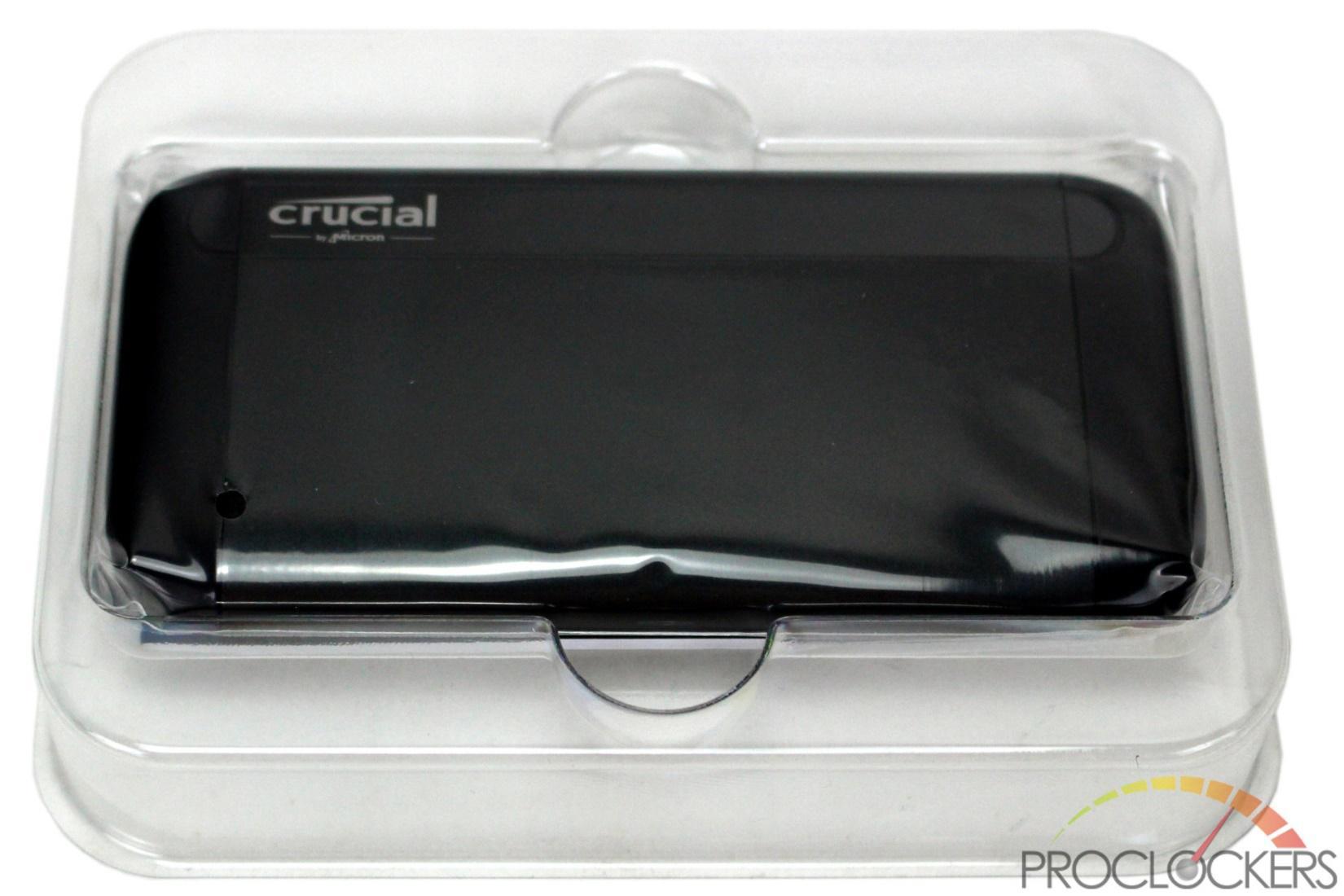 Inside the box, the X8 is contained inside a clear bag and lays in a plastic tray.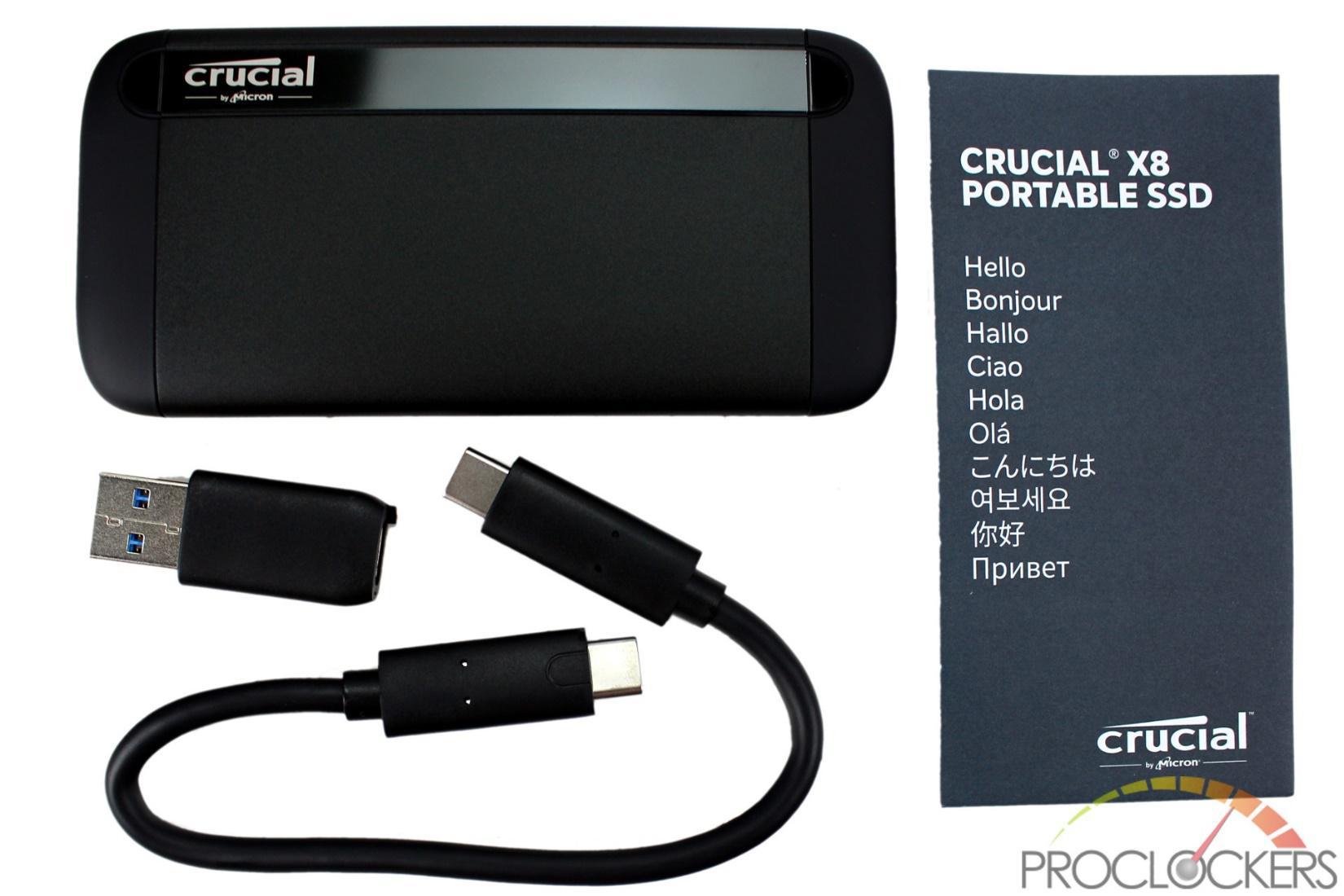 Under it, the USB cable, Type A adapter and a manual can be found.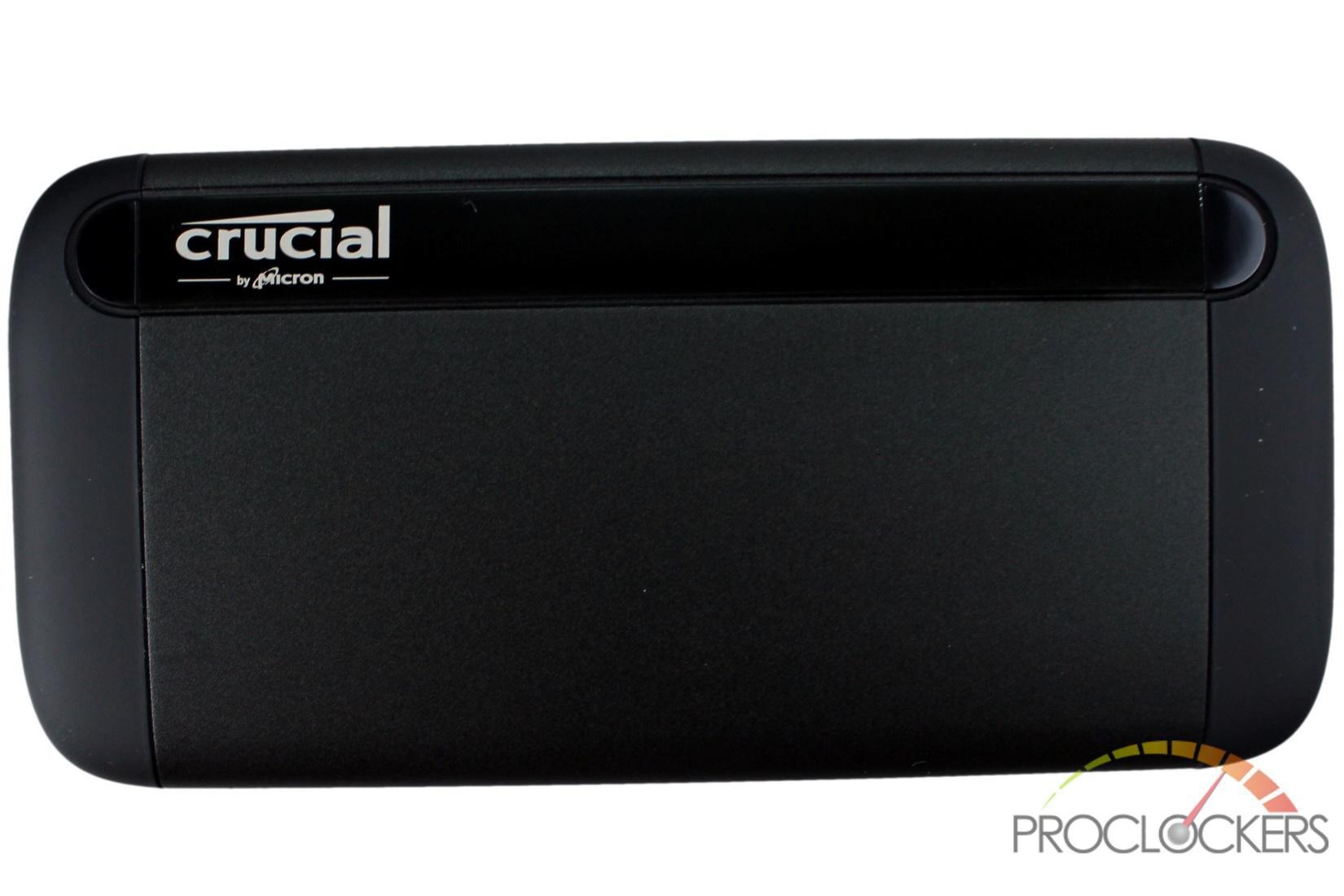 The X8 drive itself is mostly anodized aluminum with two plastic end caps coated with a soft-touch coating.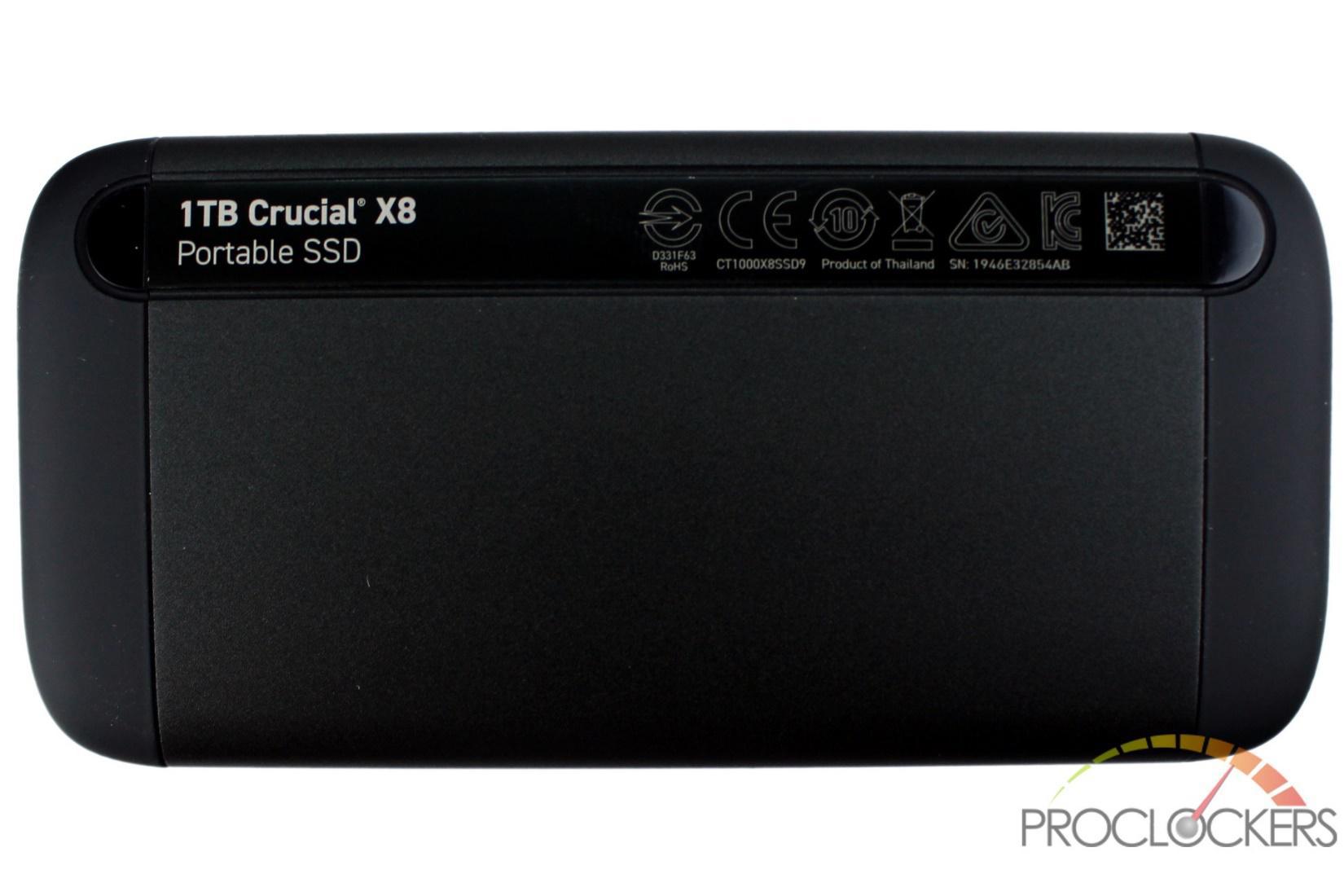 The back of the drive looks similar but shows the capacity.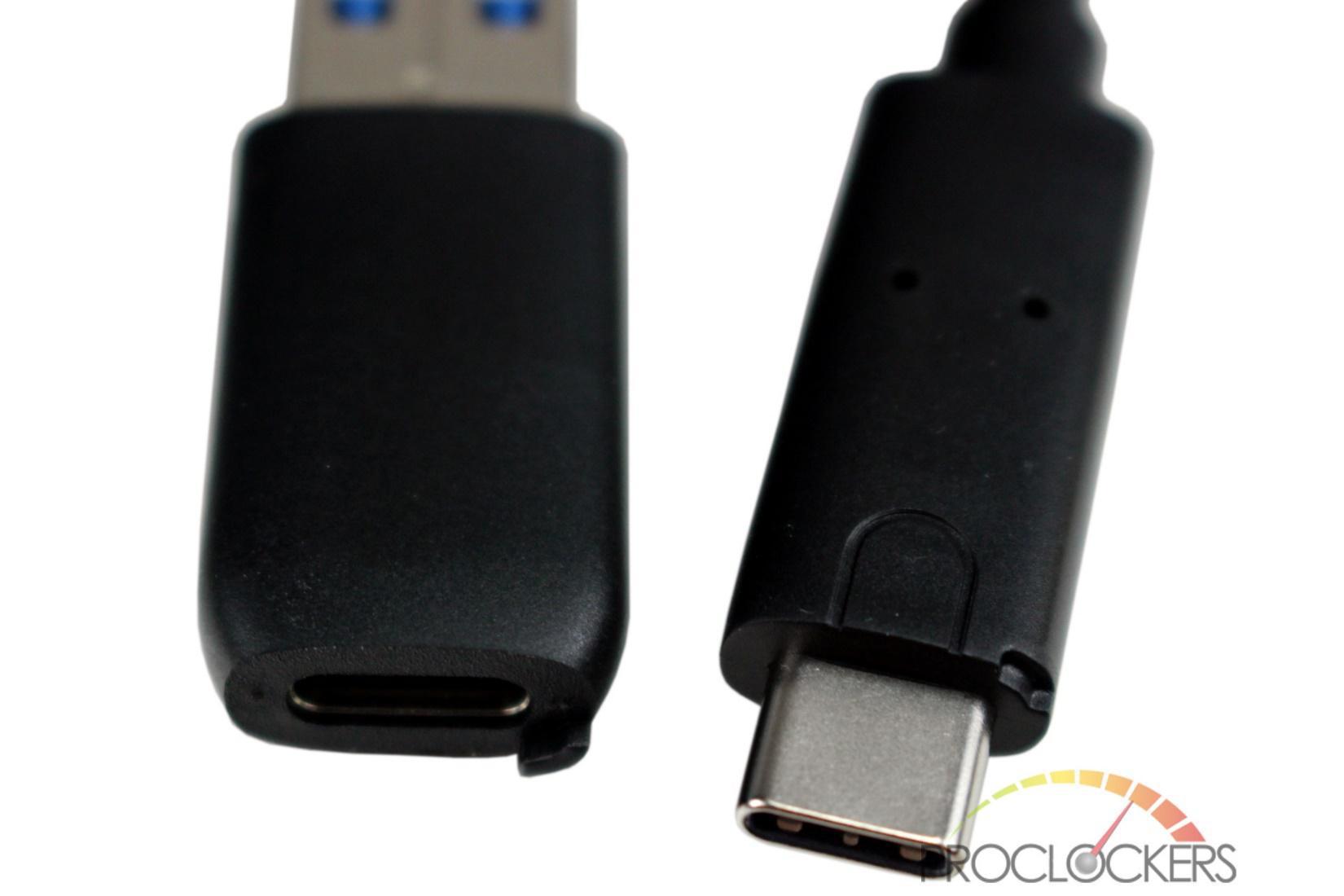 The included USB Type C cable looks pretty typical, but the Type-A adapter has a little tab sticking out of one corner than needs to made with the notch in the cable.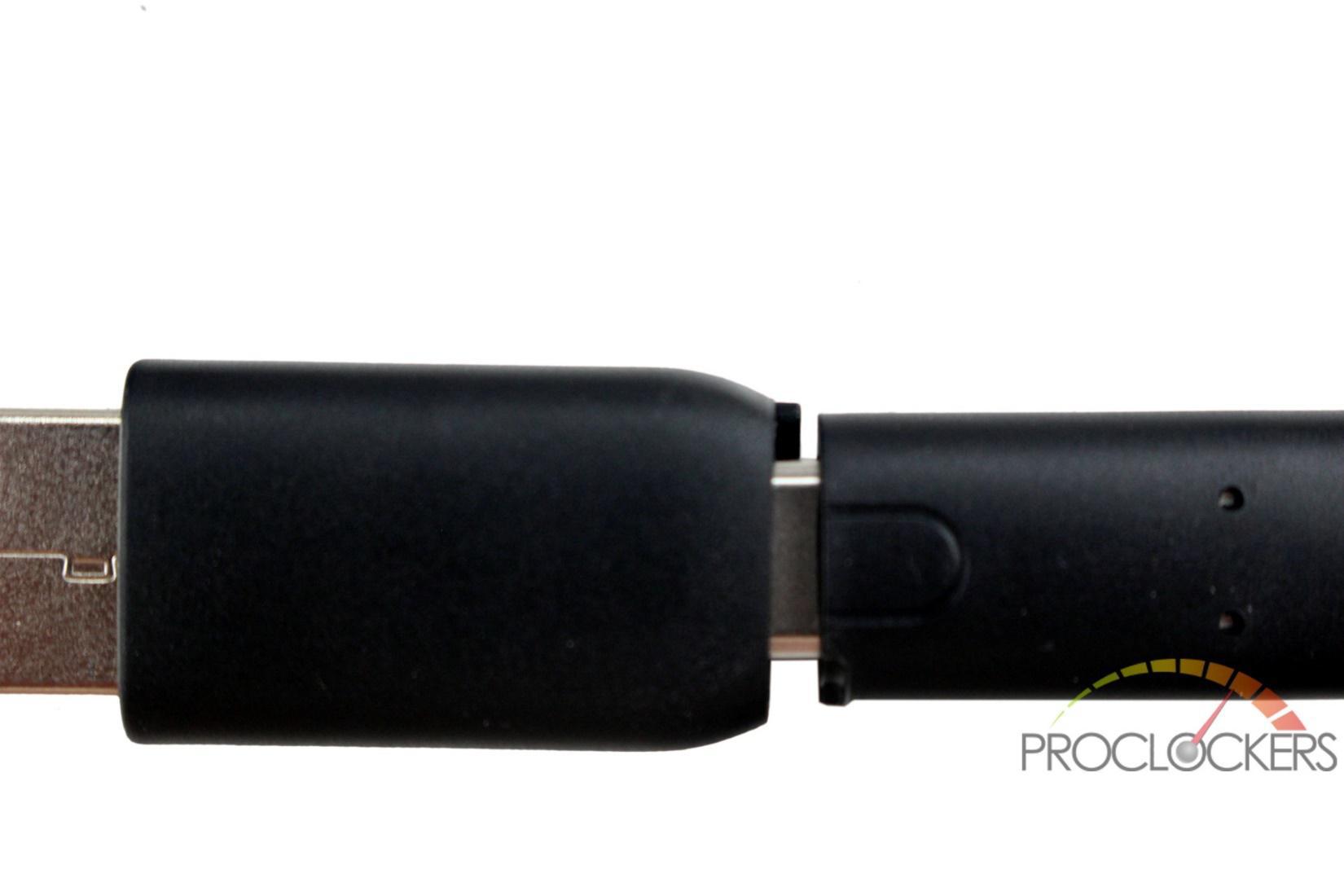 The adapter and cable both need to be aligned correctly for the cable to plug in all the way.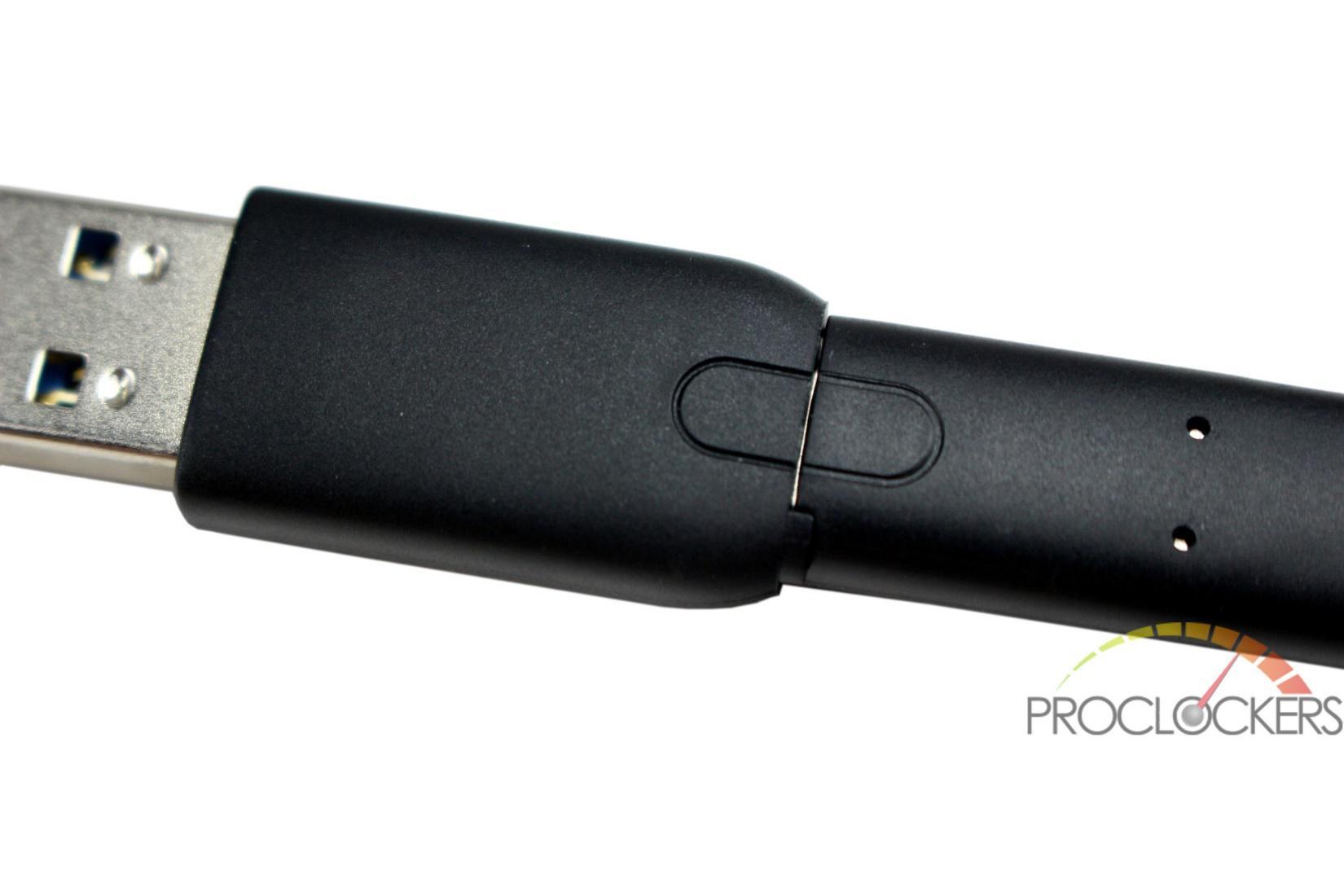 The adapter and cable both have a mark on one side to easily identify the correct orientation.
Software
This free downloadable tool enables your Crucial SSD to become even faster and allows it to get periodic updates so it's constantly performing at its best. With Storage Executive, you can see how much storage (GB) you've used, download the latest firmware, monitor the drive's temperature, reset your encryption password, and enable the Momentum Cache feature, which makes many SSD operations up to 10x faster.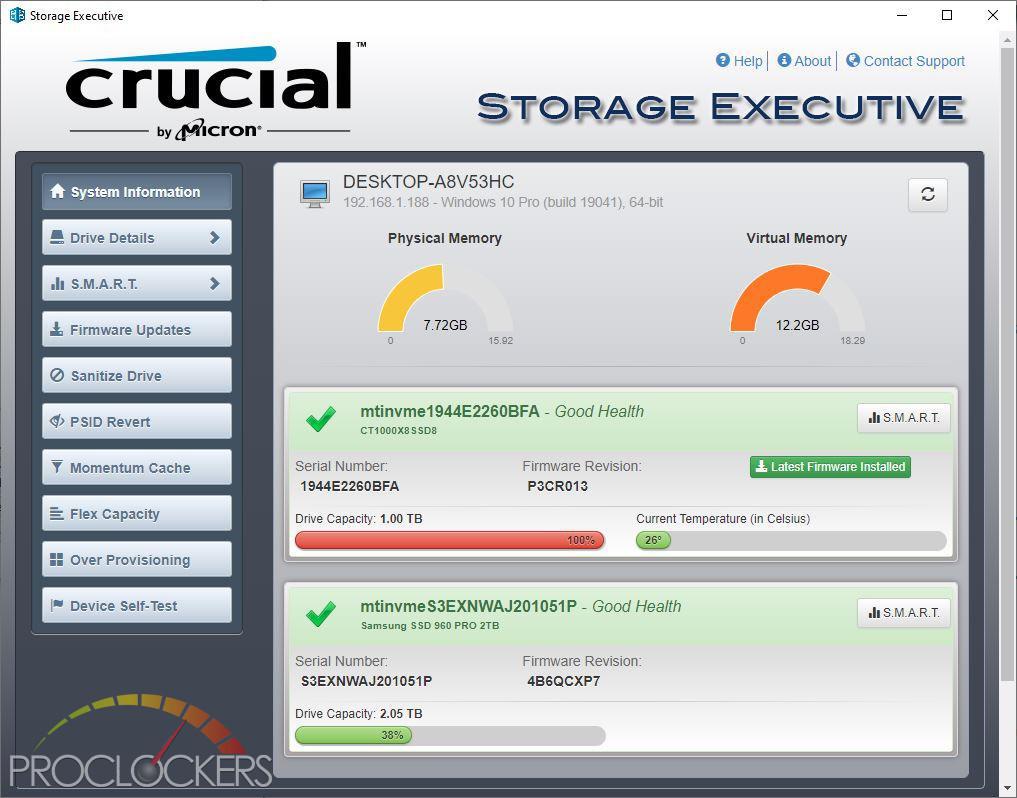 The landing page shows system information such as system memory used, as well as info about each drive in the system, not just the X8.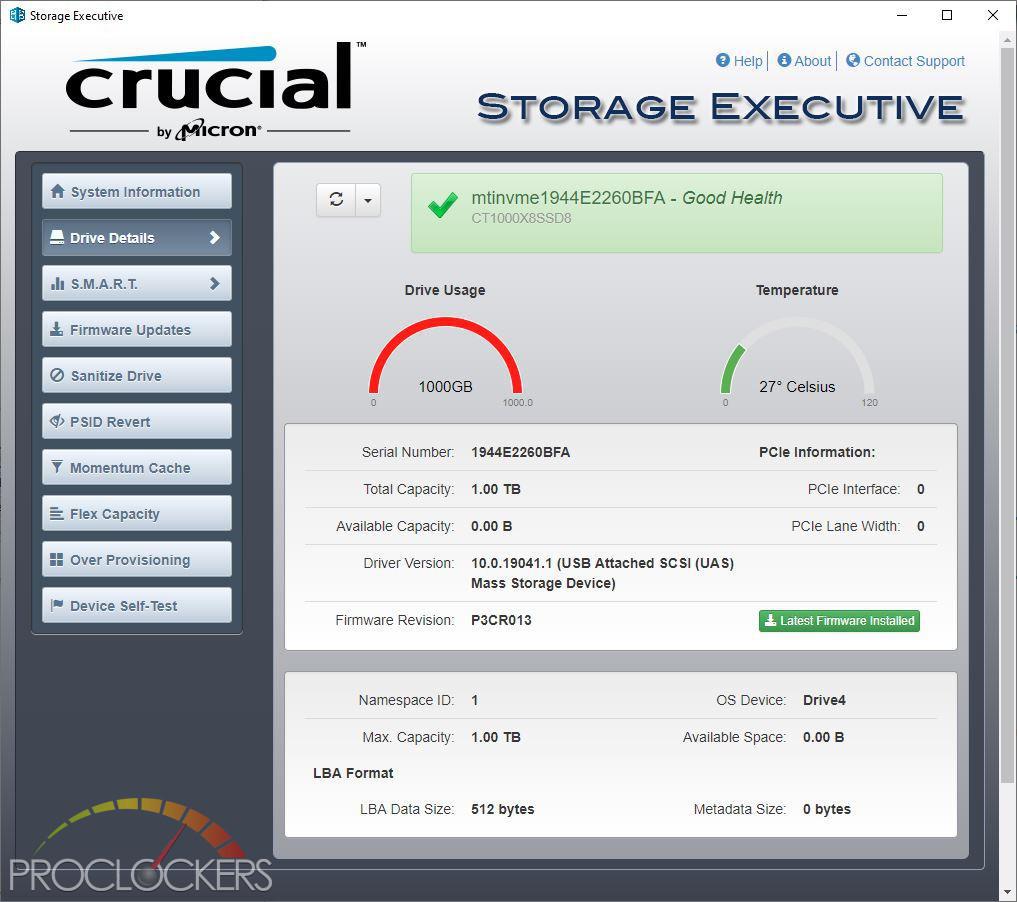 When we hit the drive details button, we can dial in and see everything about the drive, including the firmware revision.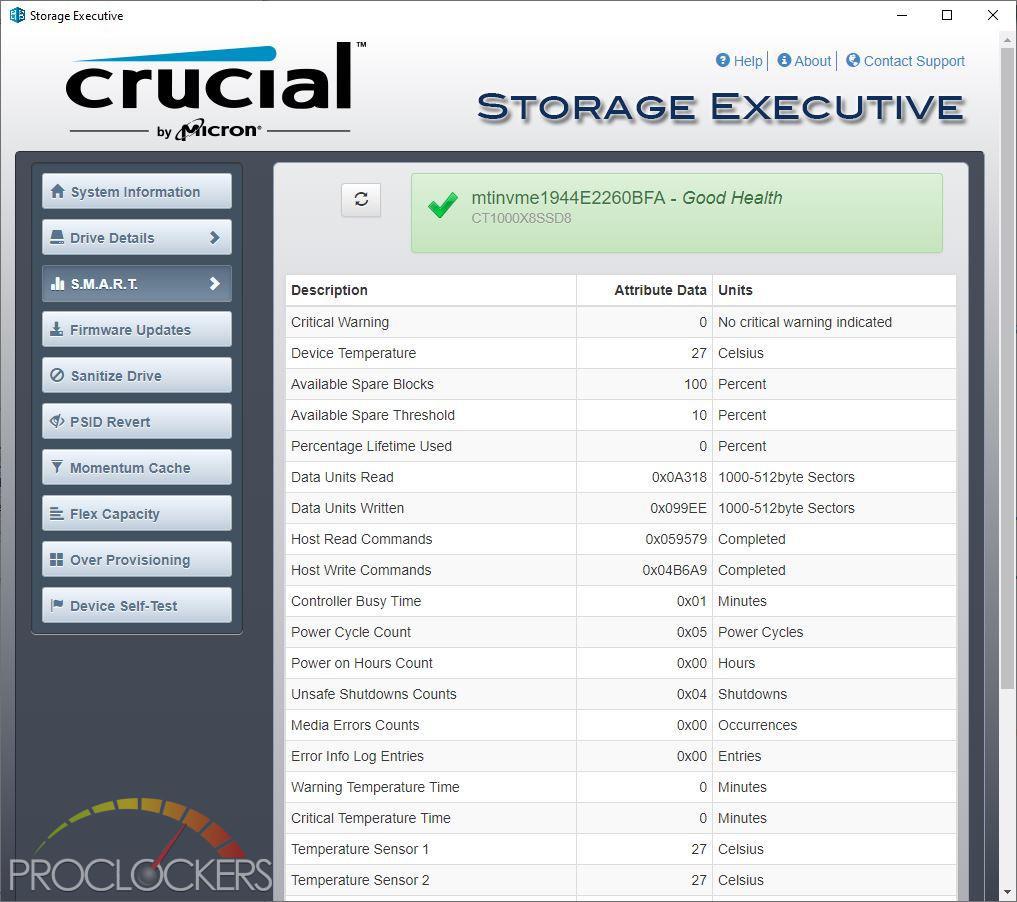 The SMART status tab shows a deep dive on drive statistics and health.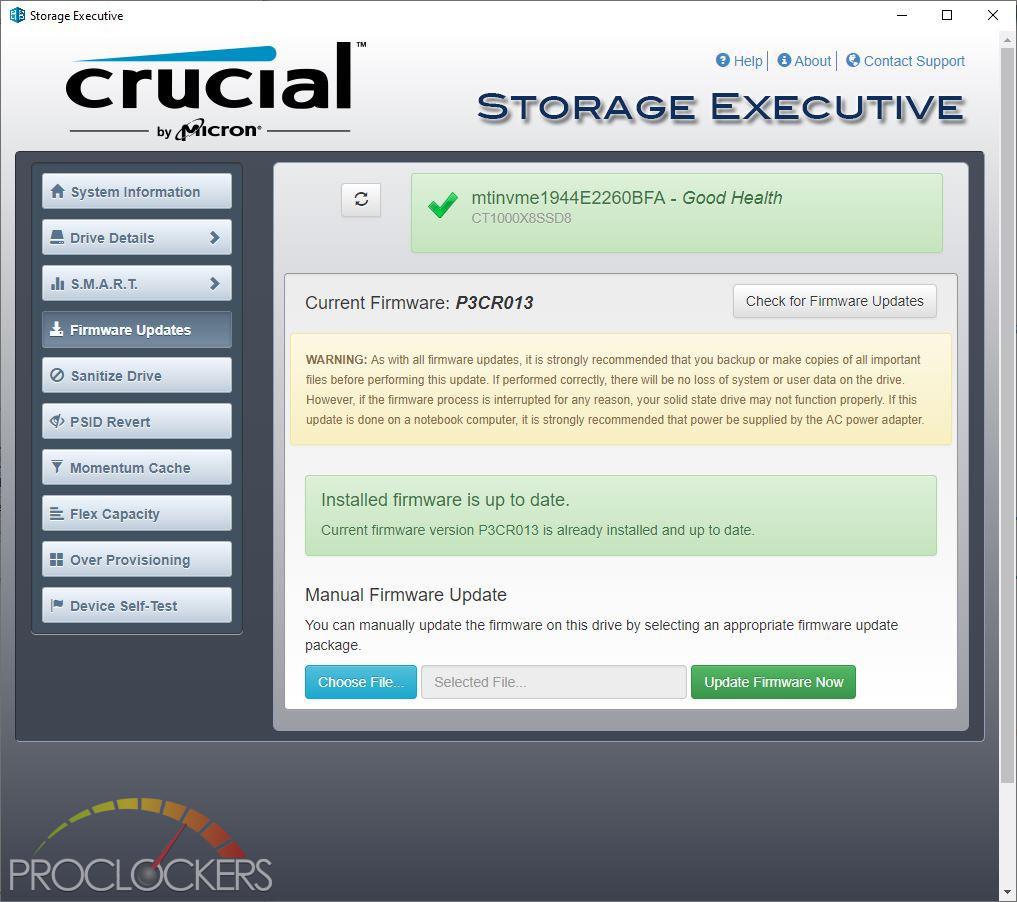 The next button would allow you to update the firmware if there was a new version available.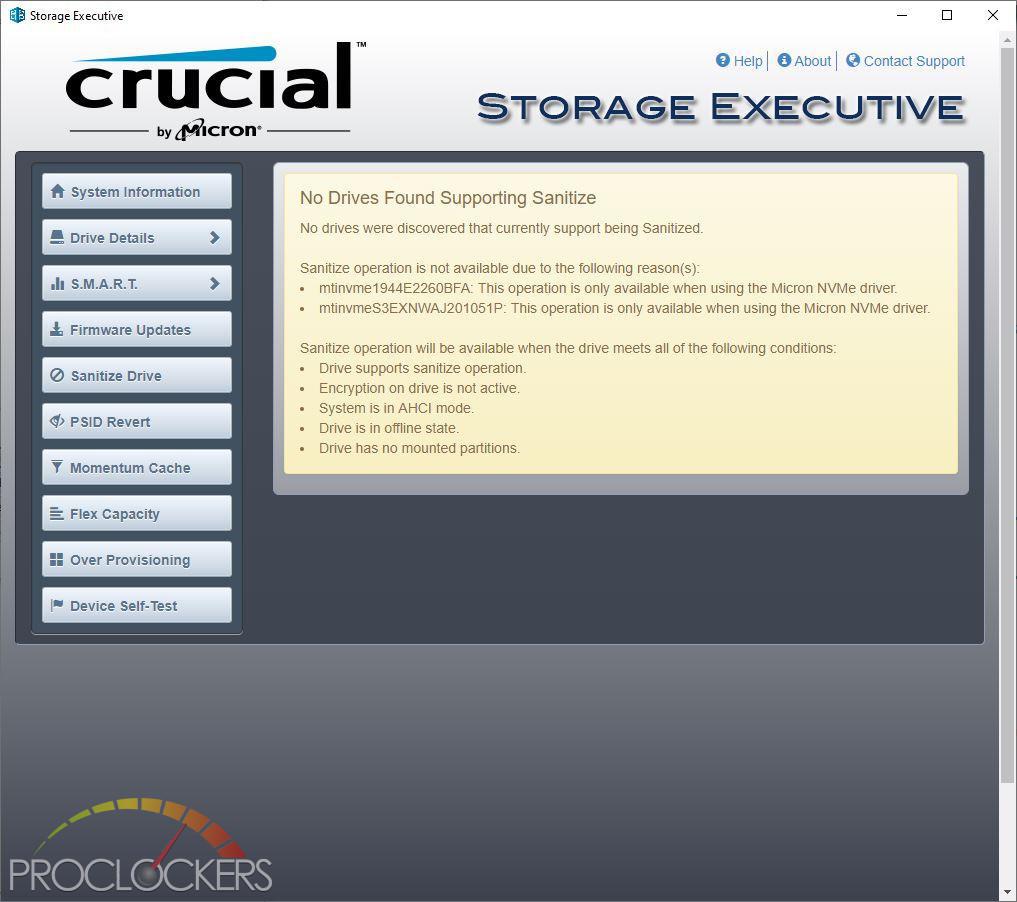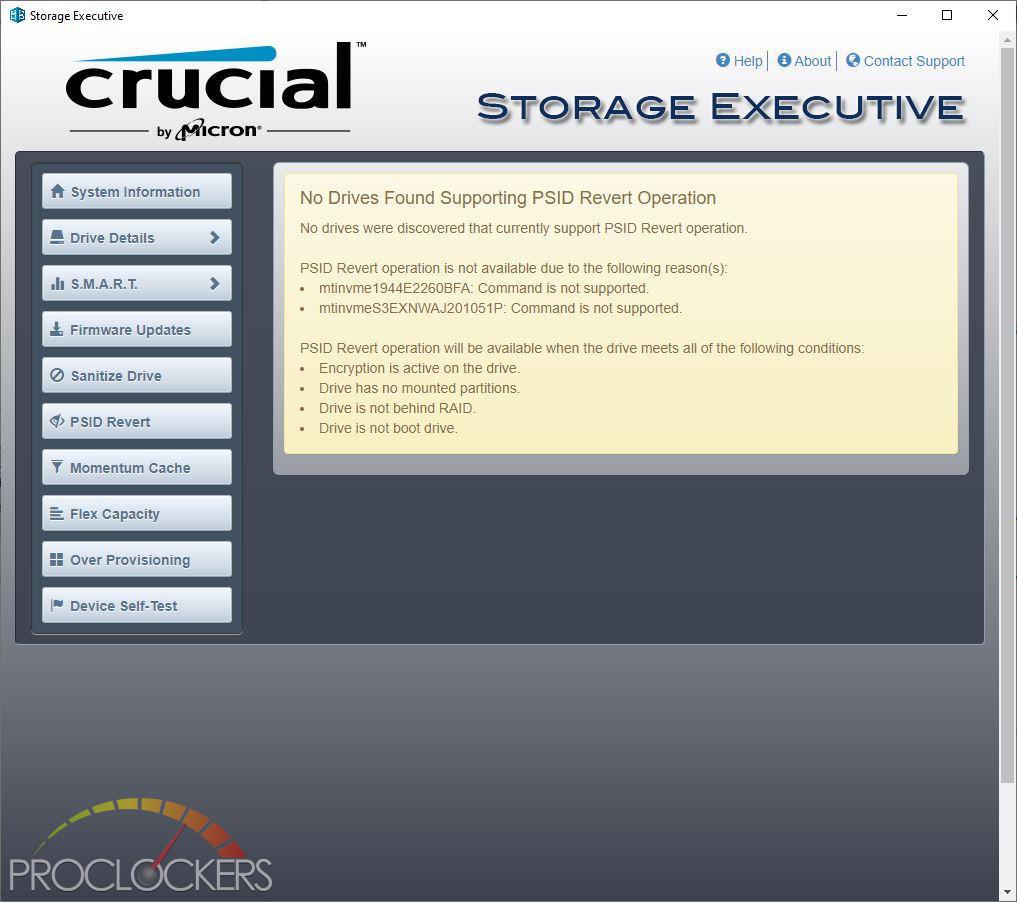 The sanitize and PSID revert options don't really apply here thanks to the USB interface.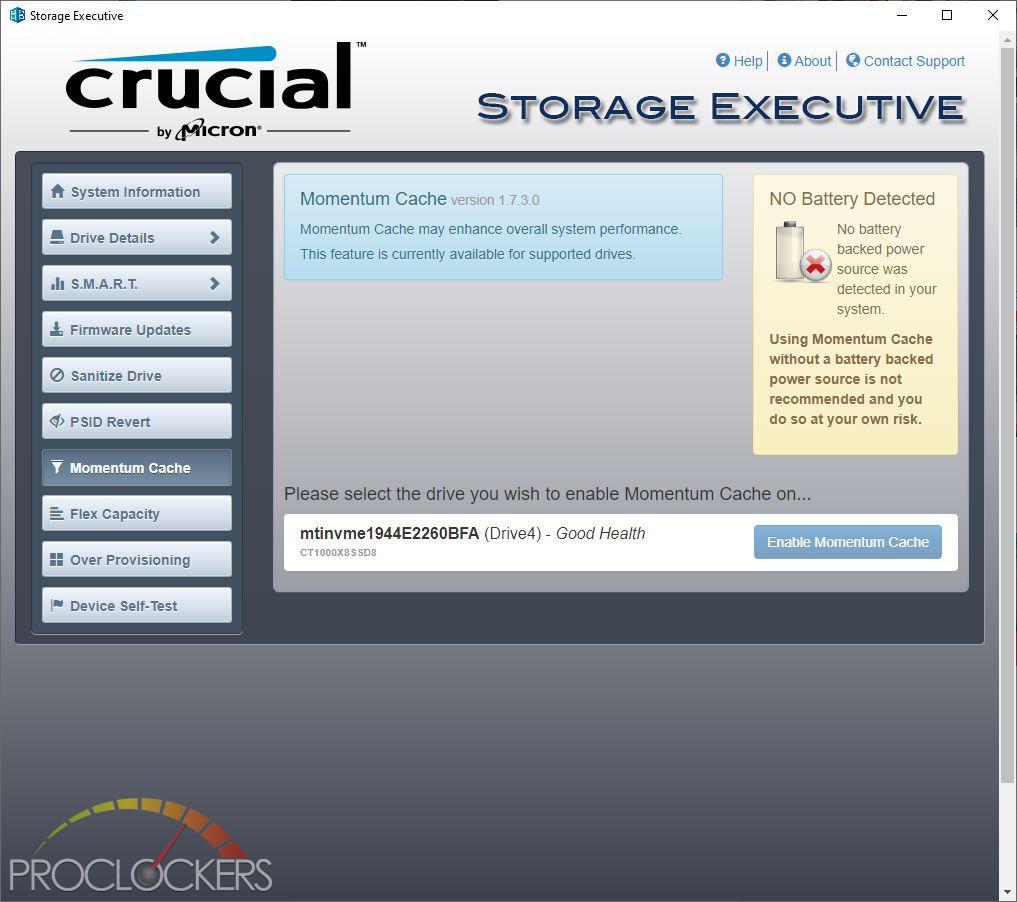 Momentum cache is almost pointless given how fast the drive already is, but you can enable system ram caching here if you want.
System Configuration & Testing
CPU: Intel Core i9-9900K
Motherboard: ASUS ROG Strix Z390-I Gaming
RAM: 16GB G.Skill TridentZ RGB 3200Mhz
GPU: Nvidia RTX 2080Ti FE
Drive: Orico GV100 512GB
OS: Windows 10 Professional 1909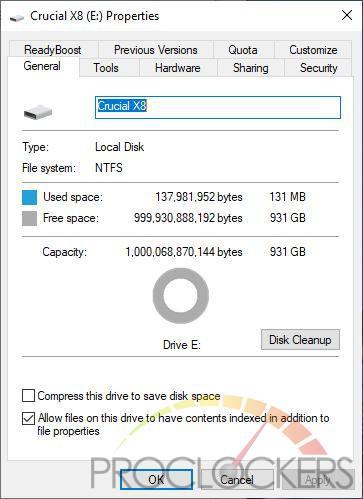 Windows shows us 931GB of space available after formatting.
CrystalDiskInfo
A HDD/SSD utility software which supports a part of USB, Intel RAID, and NVMe.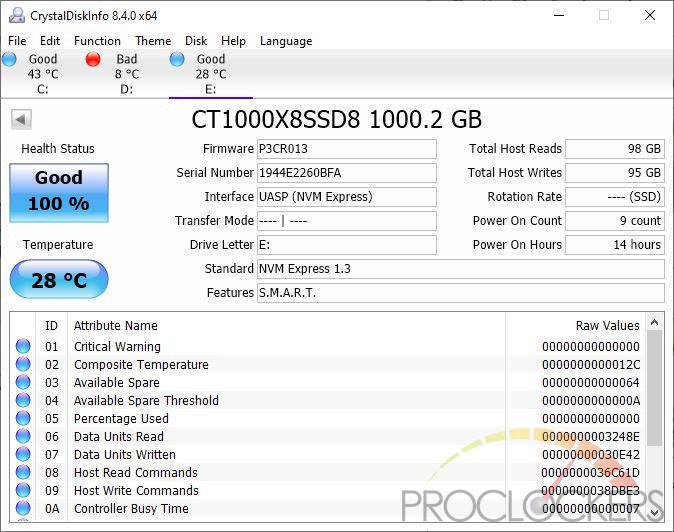 CrystalDiskInfo shows the drive connected with USB Attached SCSI Protocol with NVMe Express 1.3.
ATTO Disk Benchmark
"As the industry's leading provider of high-performance storage & network connectivity products, ATTO has created a widely-accepted Disk Benchmark freeware utility to help measure storage system performance. As one of the top tools utilized in the industry, Disk Benchmark identifies performance in hard drives, solid-state drives, RAID arrays as well as connections to storage. Top drive manufacturers, like Hitachi, build and test every drive using the ATTO Disk Benchmark"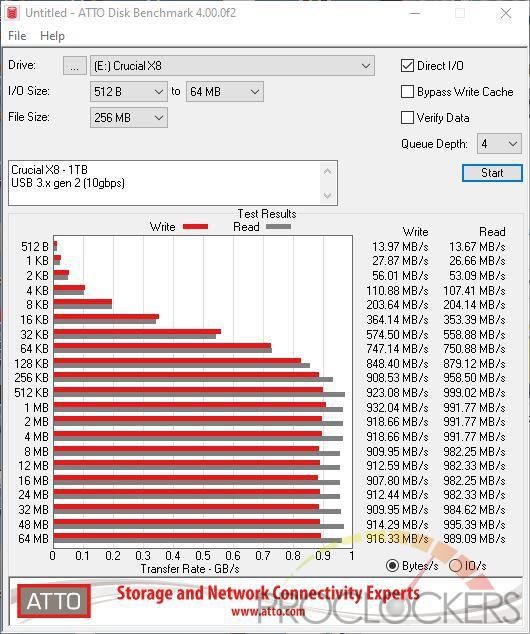 Atto gives us very close to the rated 1050MB/s on reads with writes only trailing slightly, off to a good start! This is really slamming the limits of 10gbps USB and every USB controller is different, so missing the 1050MB/s by less than 60MB/s is close enough.
CrystalDiskMark 6.0
"CrystalDiskMark is designed to quickly test the performance of your hard drives. Currently, the program allows measuring sequential and random read/write speeds."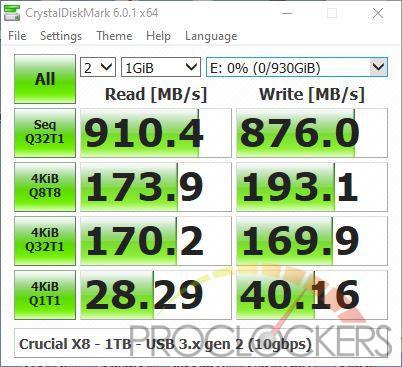 We see speeds just a hair slower than advertised but still one of the fastest USB drives we've seen.
Anvil's Storage Utilities
Anvil's Storage Utilities is a powerful tool that was designed in order to provide you with a simple means of assessing the read and write performance of your Solid State Drive or Hard Disk Drive.
The benchmark tool helps you monitor and check the response time of your unit as well as view the system information collected using Windows Management Instrumentation (WMI).
Anvil's Storage Utilities has been designed to be the most comprehensive benchmark tool for Solid State Drives on the market. That does not mean that you can't use it for conventional platter-based drives as well, but you do get the most out of the program when you test the speed and performance of SSDs with it. The program has gone through a series of beta and release candidate builds already and is currently available as Release Candidate 3. It is usually linked from this forum thread, which currently is not the case for the RC build which you can download here directly. You can't use previous builds as they are set to expire automatically.
You can run a benchmark right away by selecting a drive from the menu at the top right or check out the settings first to make sure everything is configured correctly here. Here you can simulate a compression level of the test file, e.g. database, application or uncompressed, and whether you'd like to use the same test file on consecutive runs or generate a new one every time. As far as benchmarks go, you can run a standard SSD benchmark that is testing read, write, or both performances of the drive, or run threaded IO benchmarks only.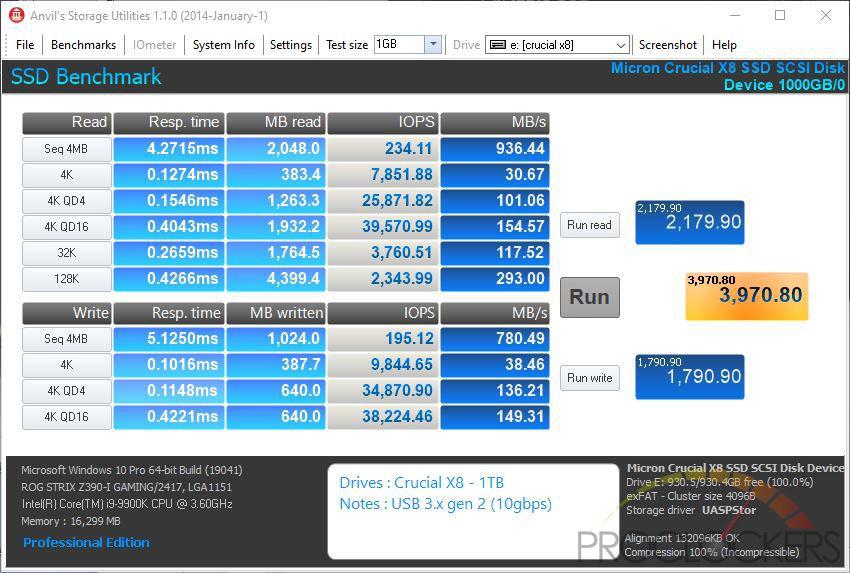 Anvil shows a little lower on the sequential speeds like normal but shows very fast response times (low latency) and manages the best score we've ever gotten on a USB drive.
AS SSD
The AS SSD benchmark determines the performance of Solid State Drives (SSD). The tool contains six synthetic and three copy tests.
The synthetic tests determine the sequential and random read and write performance of the SSD. These tests are carried out without using the operating system cache. In Seq-test the program measures how long it takes to read a 1 GB file to write respectively. 4K test the read and write performance is determined at random 4K blocks. The 4K-64 corresponds to the test Third 4K procedure except that the read and write operations are distributed to 64 threads. This test should SSDs pose with Native Command Queuing (NCQ), differences between the IDE operation mode where NCQ is not supported, and the AHCI mode. The additional compression test can measure the power of the SSD in response to the compressibility of the data. This is especially for the controllers that use to increase the performance and life of the cell compression, important.
In the first three synthetic tests and the compression test, the size of the test file 1 GB. Finally, the access time of the SSD is calculated, wherein the access to read over the entire capacity of the SSD (Full Stroke) is determined. The write access test, however, is done with a 1 GB big test file.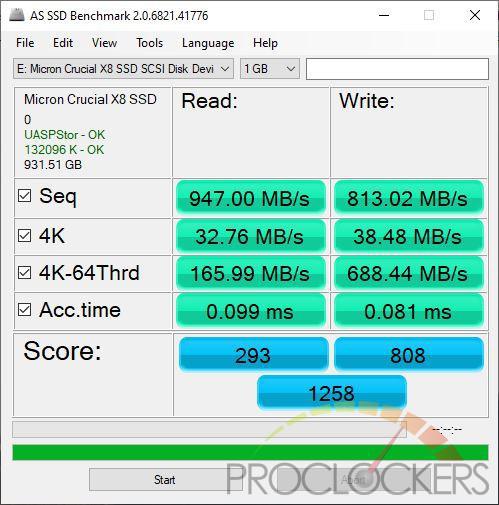 AS SSD uses a little different testing method but shows really good speeds.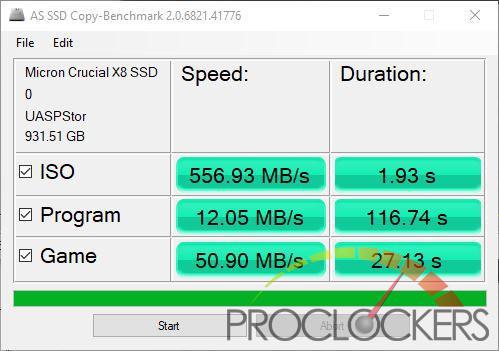 The copy benchmarks really choke on the Program and Game segments for some reason. We tried rebooting, and about everything but kept getting the same results here. This is the only test we saw an anomaly in testing, so we'll call it just that.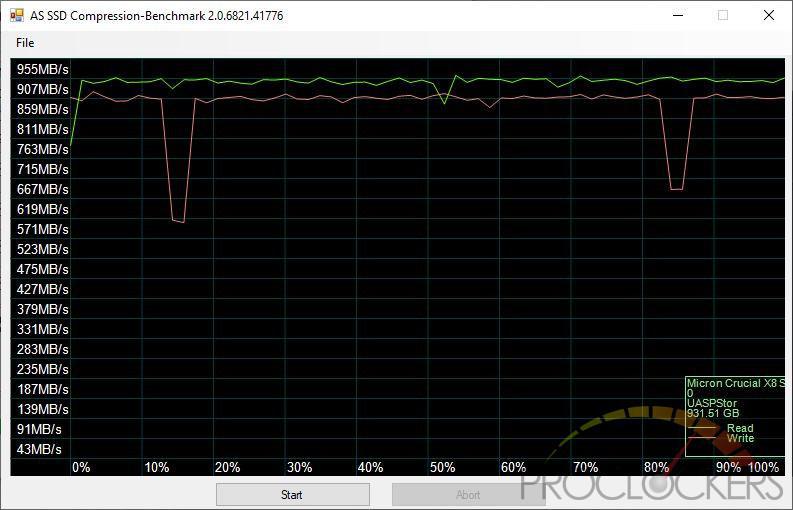 On the compression segment, we see sustained fast and stable read and write performance across the entire drive.
Final Thoughts & Conclusion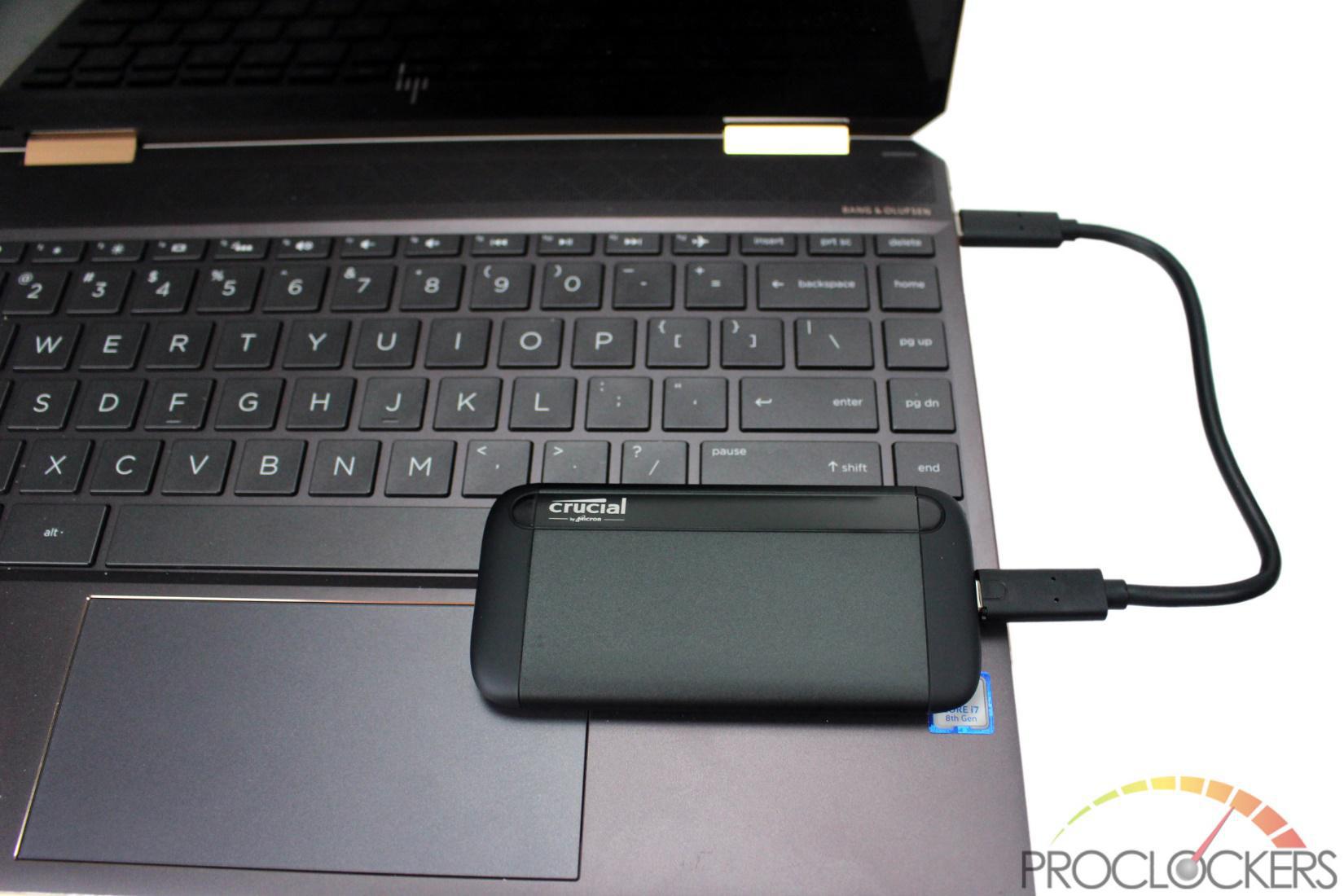 Crucial's X8 portable SSD is a must-have for anyone that needs to keep a large amount of data with them, and can't wait around all day for it to transfer from devices. In fact, the X8 is fast enough that you can work directly from it without having to transfer files to your computer first. With a world full of mobile content creators and professionals with large data sets, this will be a serious time saver. The USB Type-C interface makes it flexible enough to dance between all of your devices with ease, and the included Type-A adapter gives you near-complete compatibility.

Great job Crucial!

<![CDATA[ */ var zbjs = {"ajaxurl":"https:\/\/gaminggorilla.com\/wp-admin\/admin-ajax.php","md5":"d8e8b24d2fa18d2999e0fddcdd418586","tags":[],"categories":["Hardware"]}; /* ]]>