ID-COOLING AURAFLOW X 240 AIO CPU Cooler Review
Introduction
With the ever-increasing clock speeds and core counts of today's processors, you're often looking for a better cooling solution to get the most out of your processor. A common type of cooler that people often gravitate to is an AIO (All-In-One) cooler. For the budget ordinated customer looking to spend under $100, you are typically stuck with a 120mm AIO. Even though 120mm AIOs are adequate for your processor, if you are looking to do any type of overclocking, you really should be looking for something bigger. That's where ID-COOLING's AURAFLOWx 240 AIO fits in offering 240mm radiator space, RGB newly designed pump, and 2 x 120mm ARGB fans. With all these features, they still manage to stay under the $100 price point with an MSRP of $89.99.
We would like to thank ID-COOLING for sending us the AURAFLOWx 240 for review.
About ID-Cooling
Founded in 2013, ID-Cooling teamed up with a few veterans of the PC industry with over 10 years experience in cooling solutions. ID-Cooling specializes in CPU AIR/AIO coolers but they also developed other products such as fans, PSU's and computer chassis. With its own independent RD team, they are able to develop innovated cooling solutions in heatpipe, vapor chamber and cold plate technology which has allowed them to bring high performing coolers to market.
Features & Specifications
Notable Features:
Newly design pump
RGB pump top
2 x RGB fans included
Technical Specifications:
Compatibility
Intel LGA2066/2011/1366/1151/1150/1155/1156
AMD TR4/AM4/FM2+/FM2/FM1/AM3+/AM3/AM2+/AM2
TDP
250W
Radiator Dimension
276×120×27mm
Radiator Material
Aluminum
Tube Material
Premium Sleeved Tubing
Tube Length
400mm
Waterblock Dimension
72x72x47.3mm
Cold Plate Material
Copper
Pump Current
0.36A
Pump Speed
2100±10%RPM
Pump Bearing
Ceramic Bearing
Pump Life Expectancy
50,000 Hrs
Pump Noise Level
25dB(A)
Fan Dimension
120×120×25mm
Included Fans
2pcs
Fan Speed
700~1800±10%RPM
Max. Air Flow
74.5CFM
Max. Static Pressure
2.15mmH2O
Noise
18~35.2dB(A)
Rated Voltage
12VDC
Operating Voltage
10.8~13.2VDC
Started Voltage
7VDC
Rated Current
0.2A
Power Input
2.4W
Bearing Type
Hydraulic Bearing
Packaging & Unboxing
The AURAFLOWx 240 arrives in a black and orange box with a photo of the AIO all lit up on the front. Also included on the front is a list of its notable features and AURAFLOW's RGB compatibility with various pieces of software.
The back of the box contains important measurements, fan/pump specifications, motherboard sync compatibility, and CPU socket compatibility of the AURAFLOWx.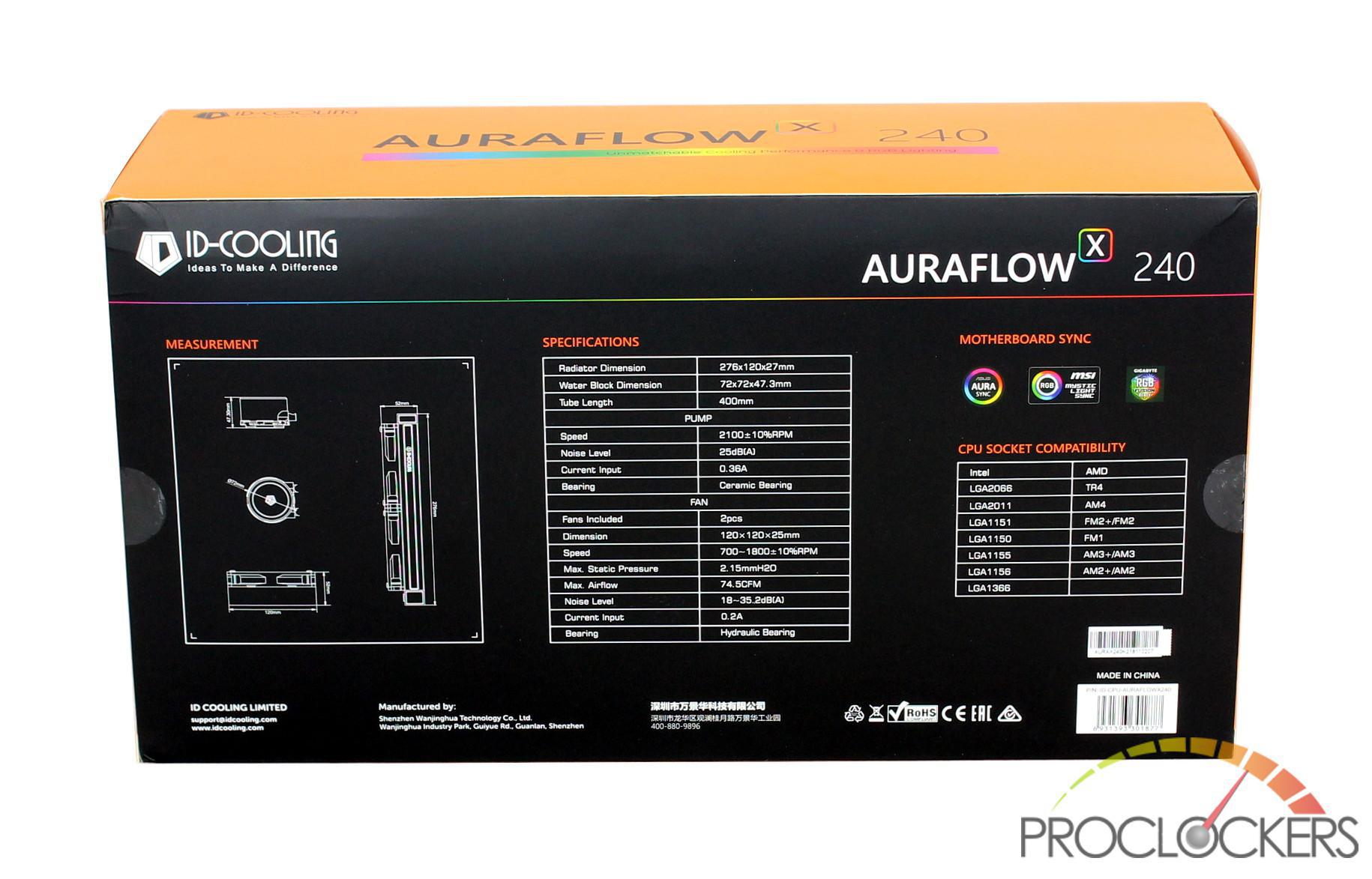 The sides on the box are all orange in color and feature ID-COOLING and AURAFLOW branding with the slogan "Unmatchable Cooling Performance & RGB Lighting"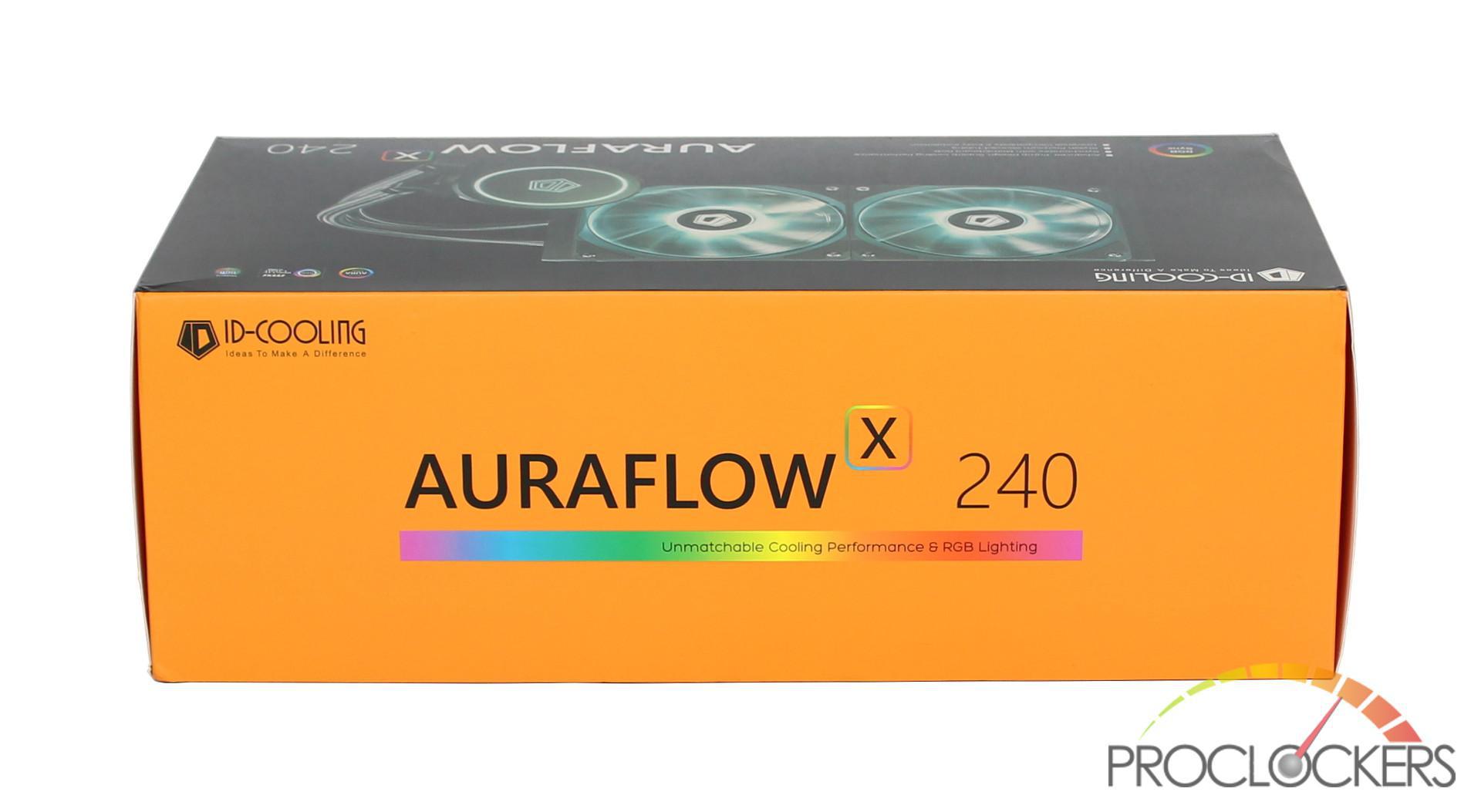 Opening the box, the AURAFLOW is neatly packaged in a molded cardboard insert with everything placed in thick plastic bags.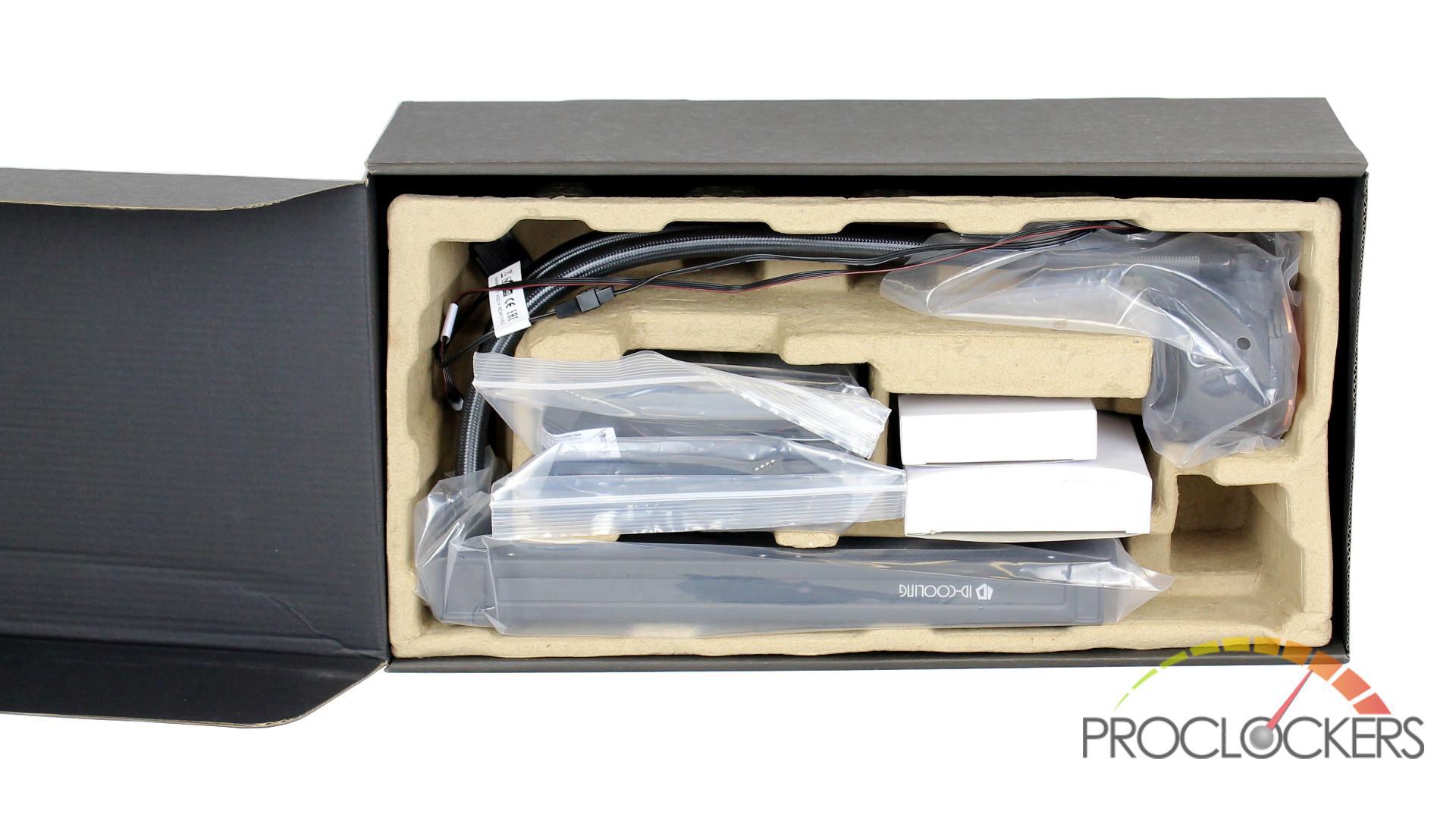 In addition to the AURAFLOWx 240, other accessories included are:
CPU mounting hardware
Fan/Radiator mounting screws
Thermal paste
RGB controller
RGB splitter
User guide
2 x ID-12025M12S DC Brushless 120mm RGB fans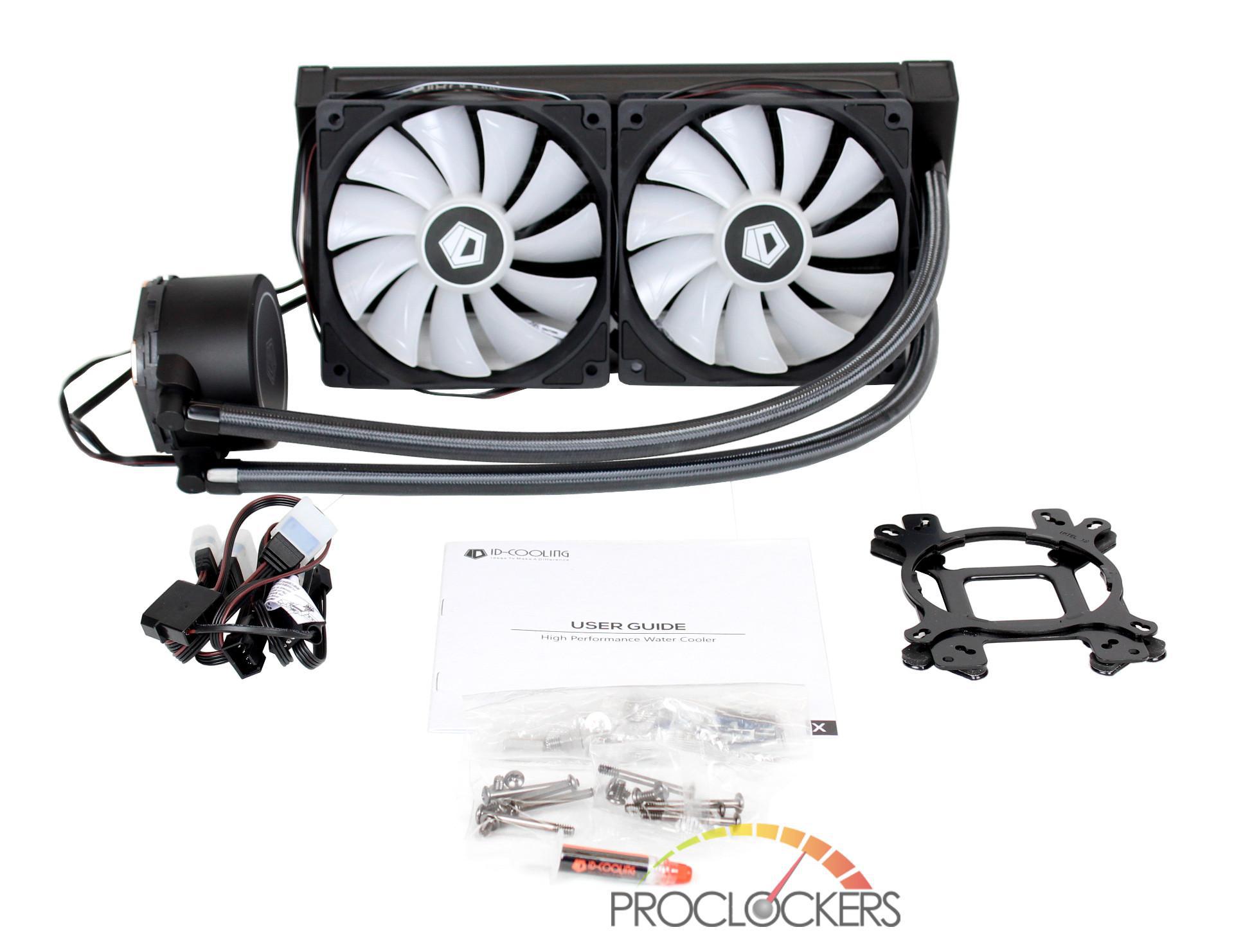 A Closer Look
The AURAFLOW has an all-black finish with a brushed plate on its side which features ID-COOLING's logo and branding.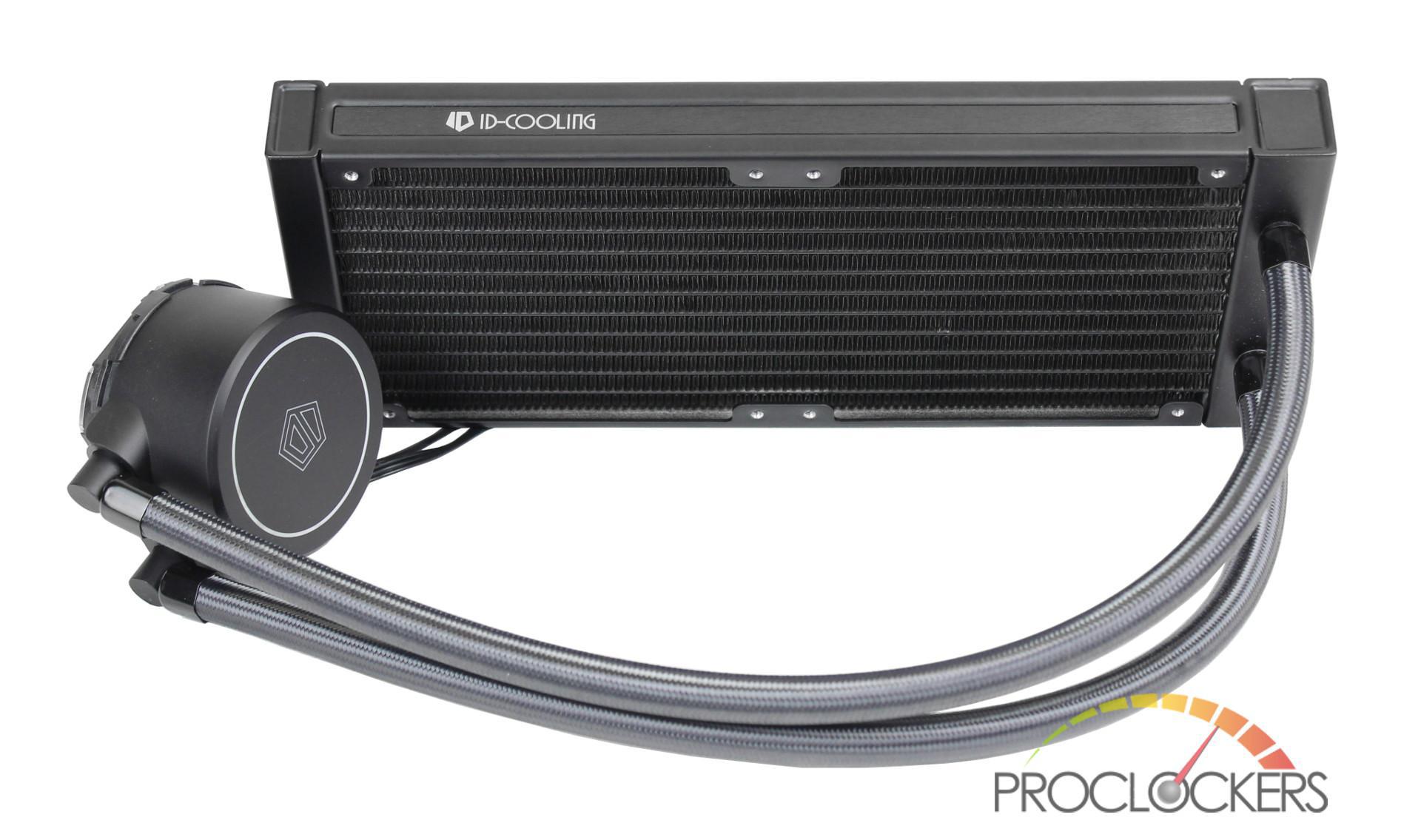 Taking a closer look at the radiator, the AURAFLOW has approximately 20 fins per inch.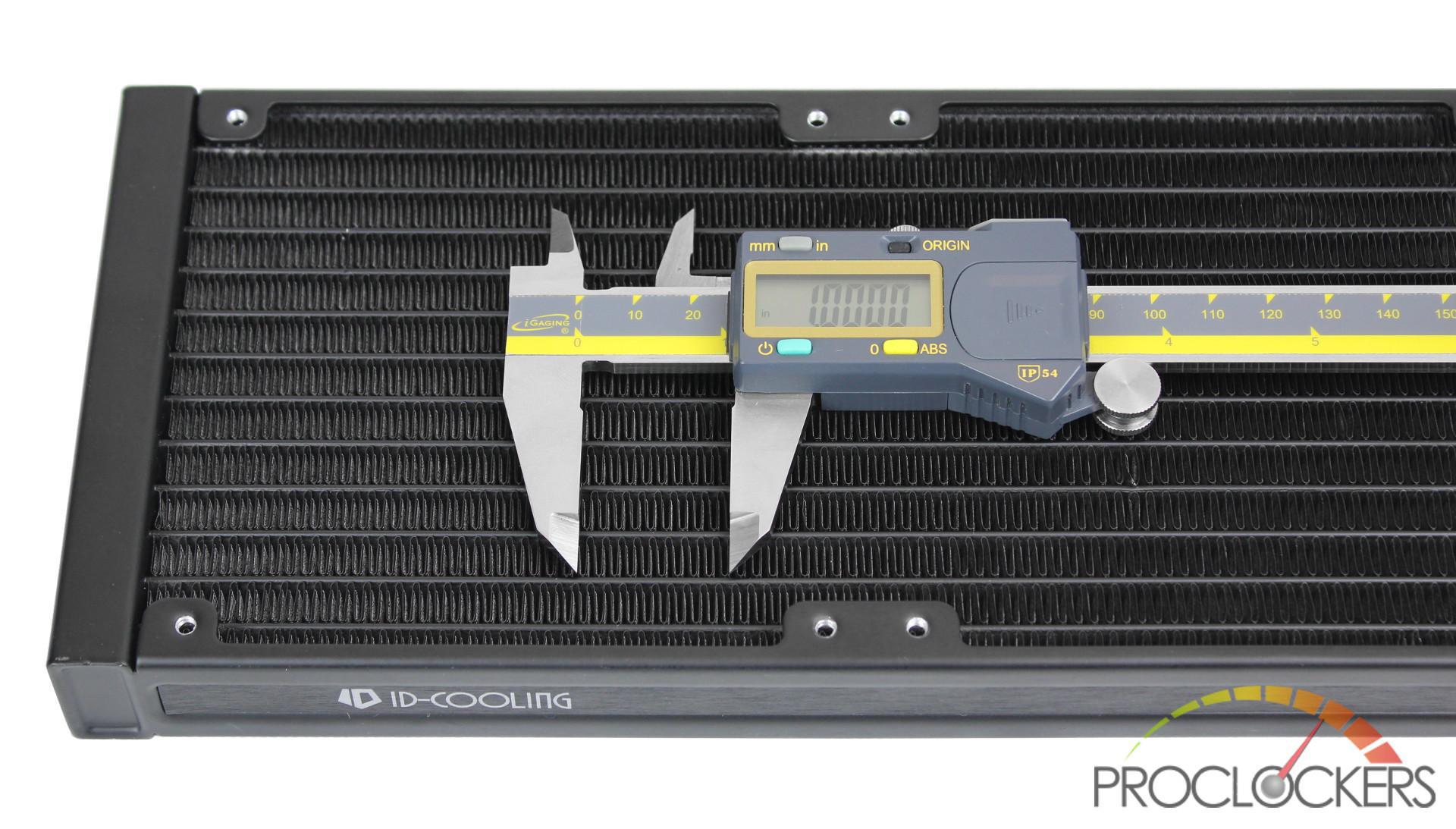 The pump top consists of a matte black finish and the top features the ID-COOLING logo and ring which are RGB backlit.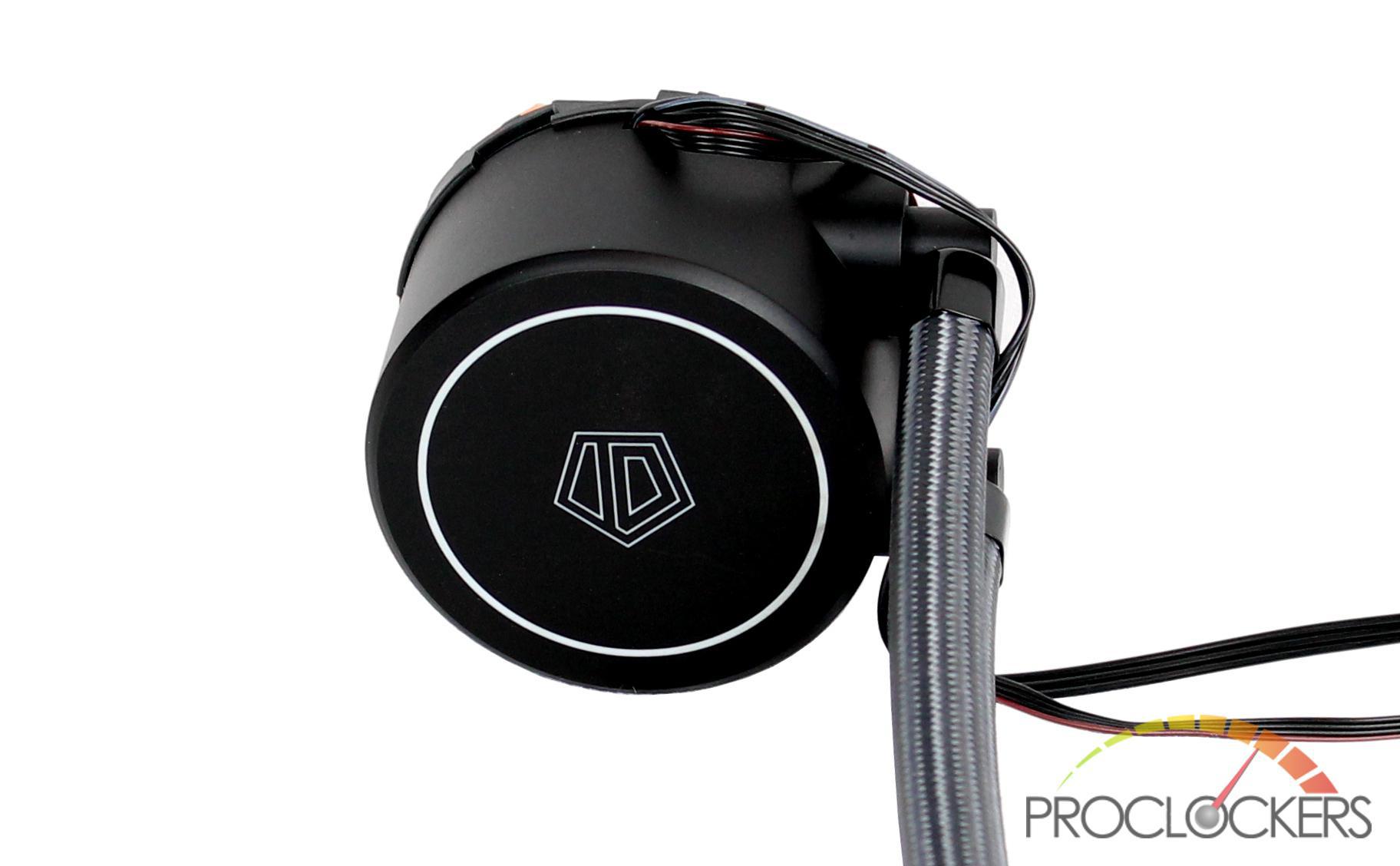 Looking toward the side of the pump top we can see that ID-COOLING has included rotary fitting. This should make it easy to install and route the tubing inside your case.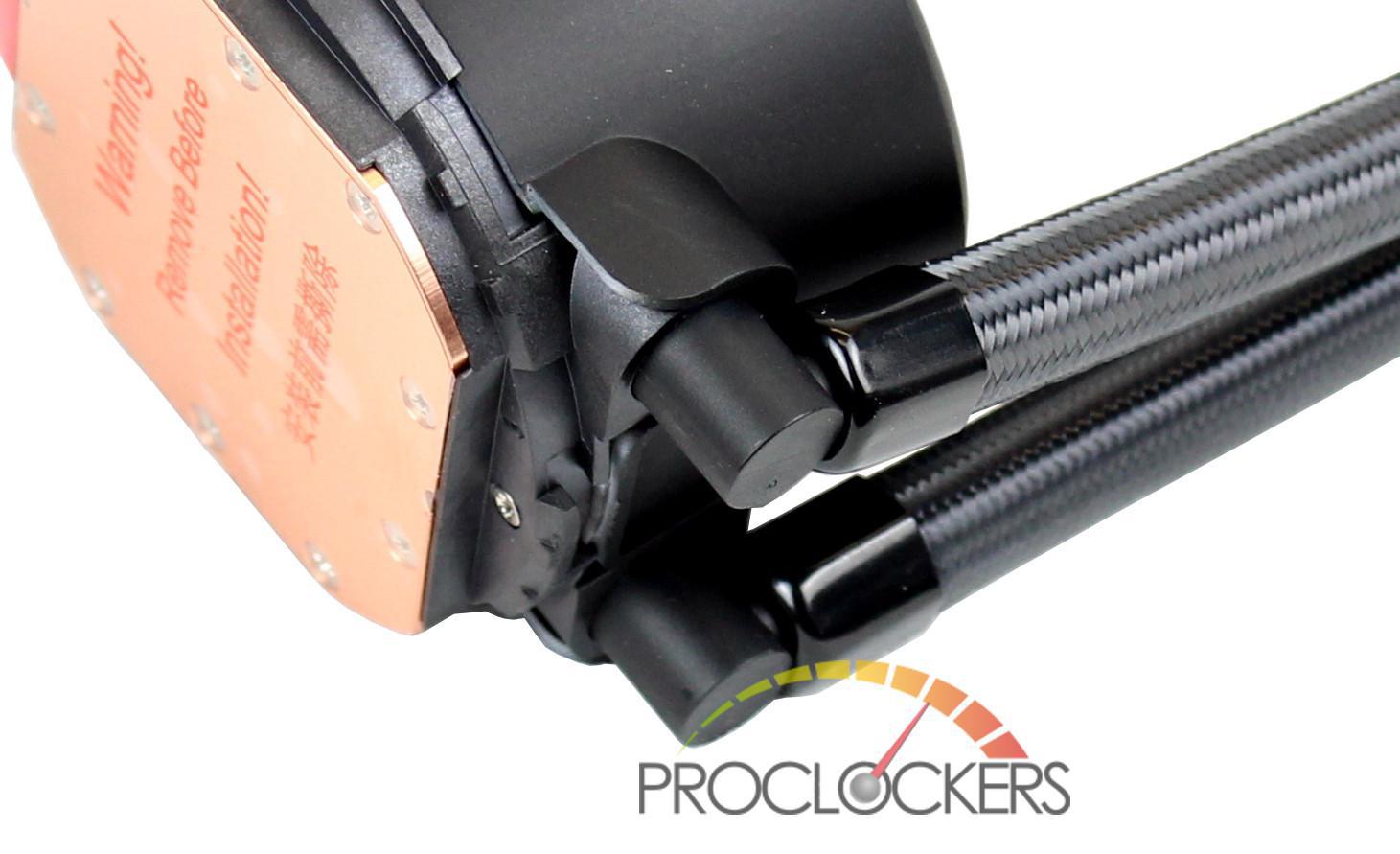 On the bottom of the pump is a solid copper plate with a protective film that needs to be removed during installation.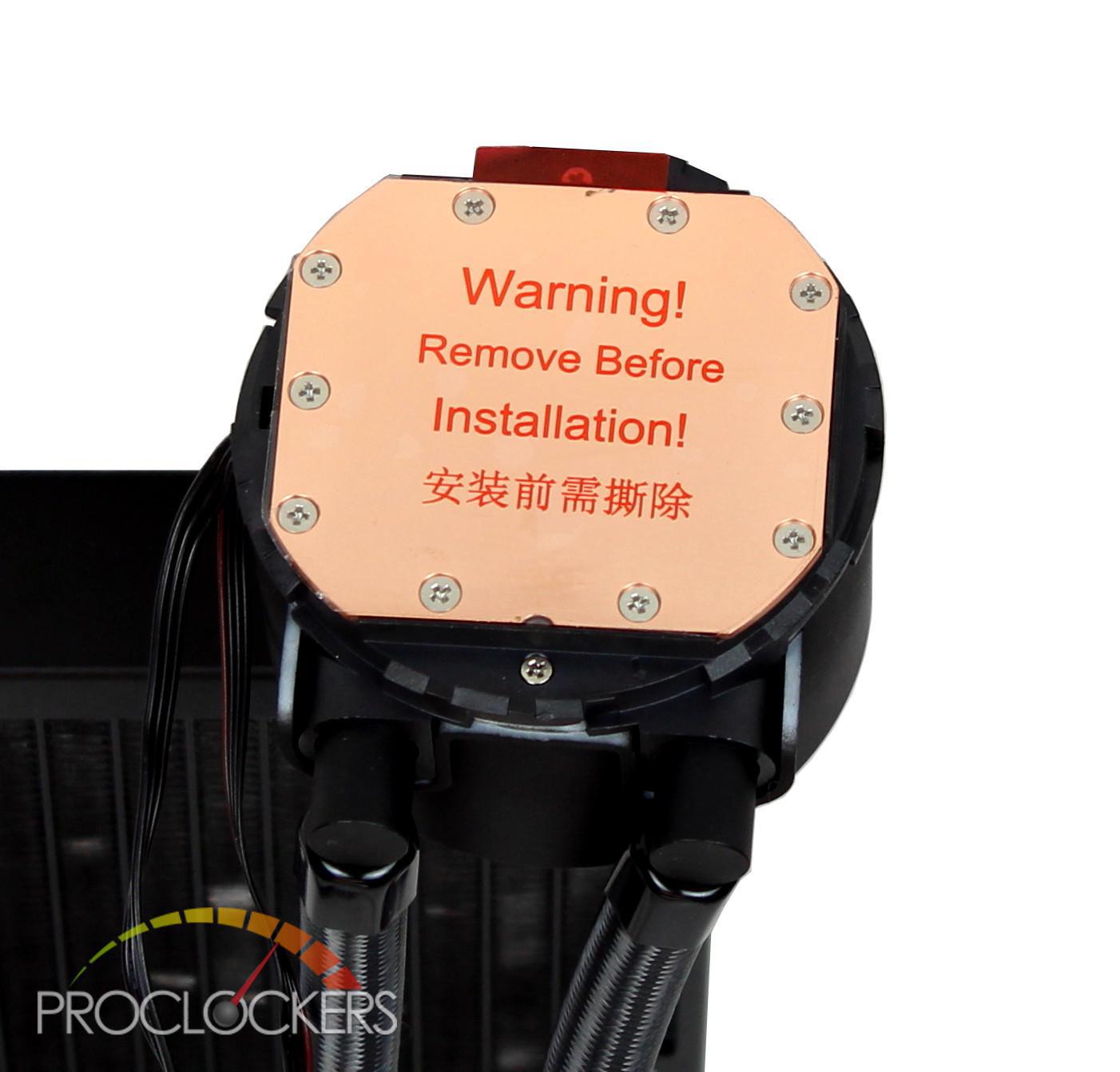 Attached to the pump and radiator is flexible tubing that has braided sleeving. The tubes themselves are a good length which should make for easy installation at the top or front of your case.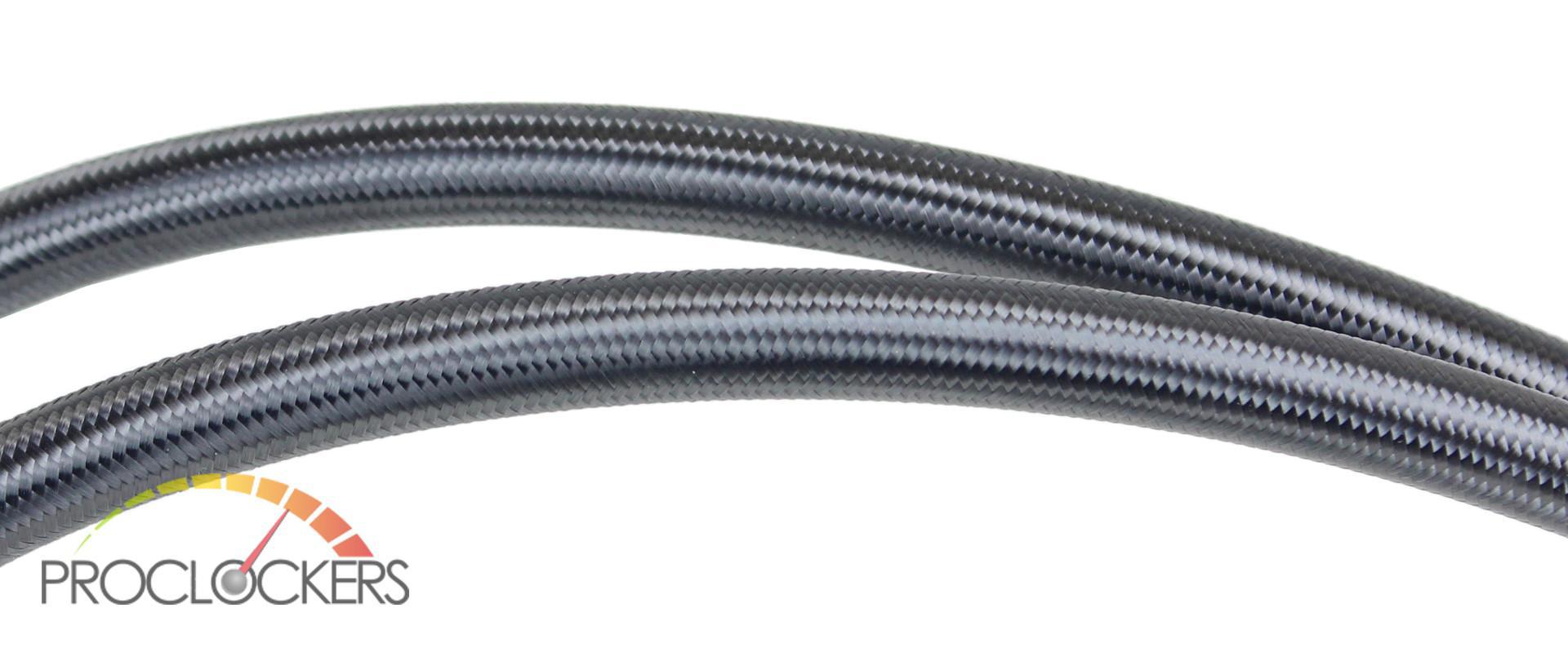 The included fans are all black with white transparent blades and an ID-COOLING logo in the center. In the corners, ID-COOLING has also preinstalled some rubber pads to help with vibrations well in use.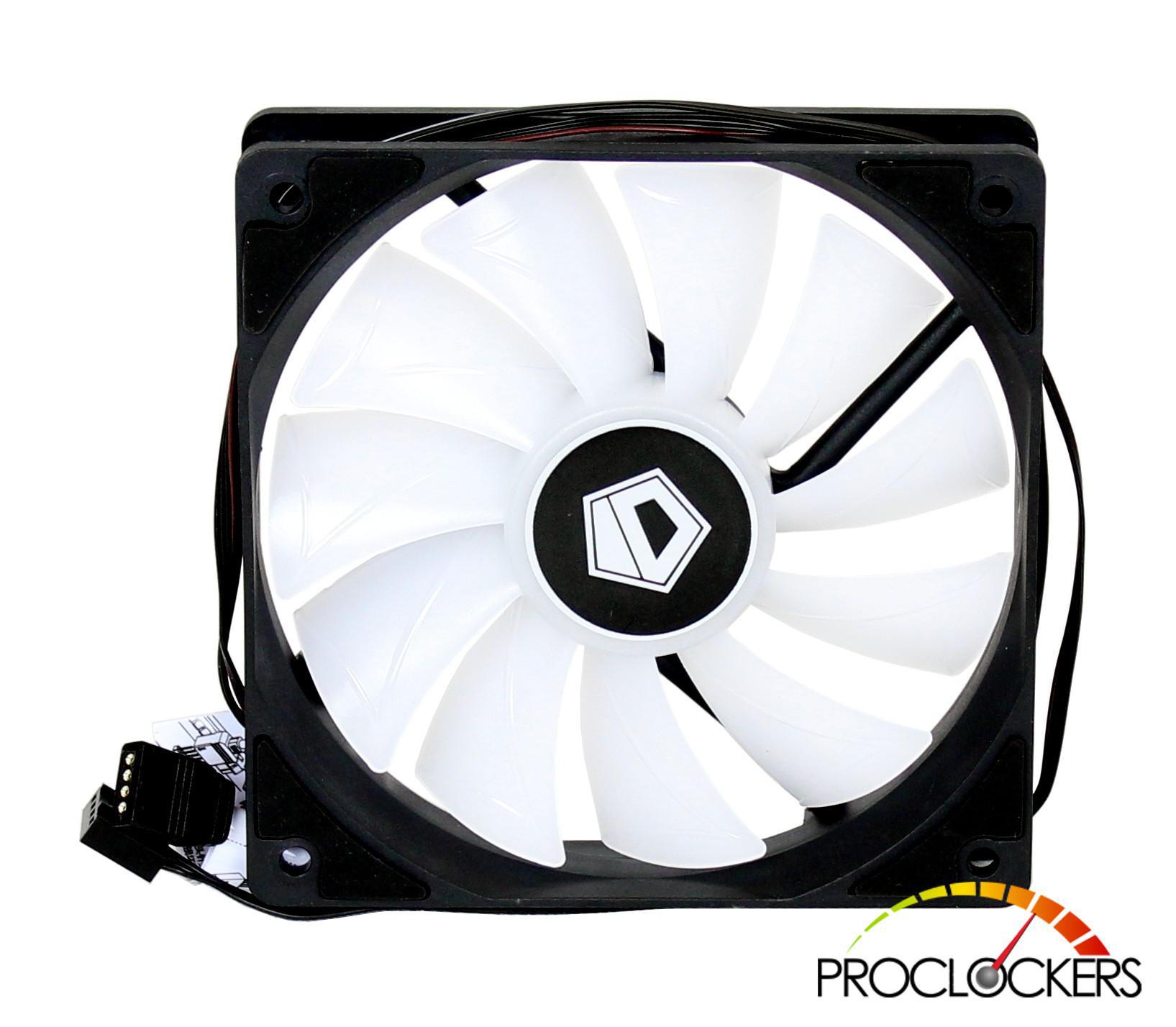 System Configuration & Installation
The test system we are using is:
Cooler Master MB530P
ASRock Z370 Tachi Motherboard
Intel 8700K Processor
4 x 4GB Team Group T-Force Delta RGB Ram
MSI GAMING RX480 8GB
EVGA 750W P2 PSU
The installation for the AUROFLOWx was a breeze and the included instructions were easy to follow. We installed the radiator in the front of the case with the fan's setup as intake. This configuration has always provided us with superior results and showcases the RGB fan nicely at the front of the case. The tubing was easily routed to not hide any of our components and due to its length and it wasn't stressed in any way.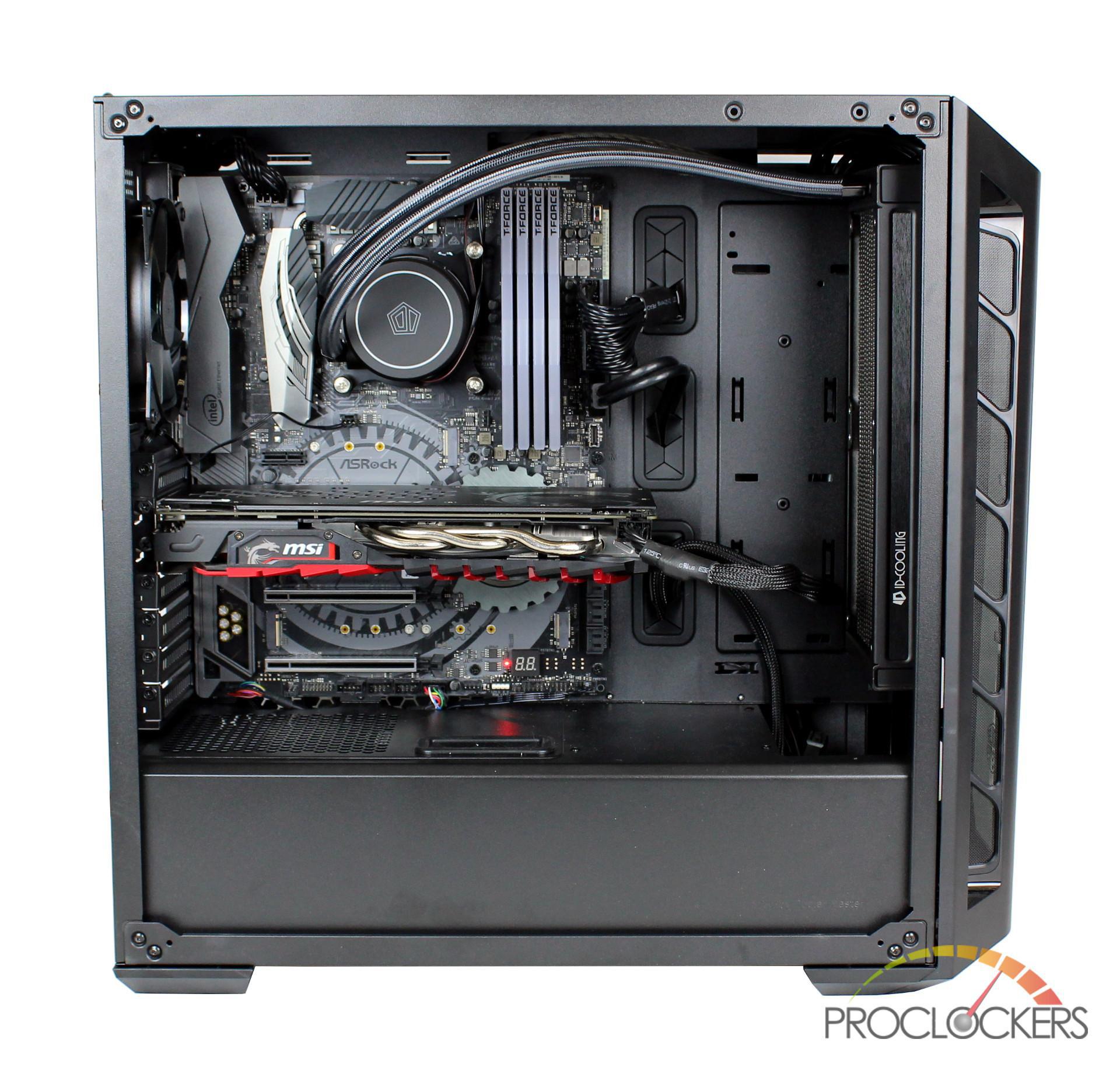 With the system powered on, the ring and the ID-COOLING logo lit up bright blue. With the included RGB controller, I went through various modes/colors and settled on a color cycle effect to match my T-Force ram. Other effects included were statically lit color, fading in/out, and blinking in/out. With each of these effects, you can change the color and speed of the animation.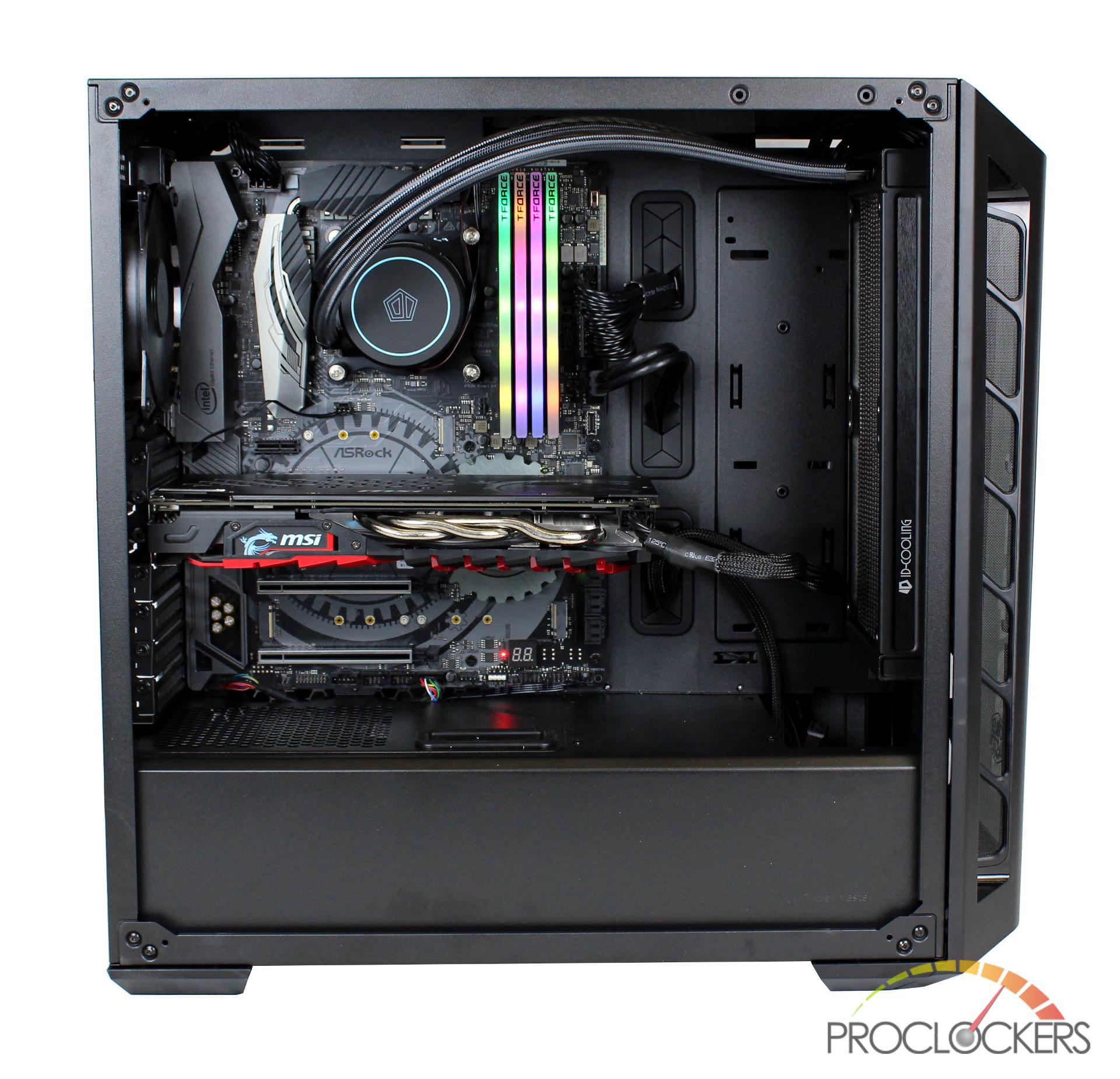 When the lights were turned off, both the pump top and fans look amazing in the Cooler Master MB530P.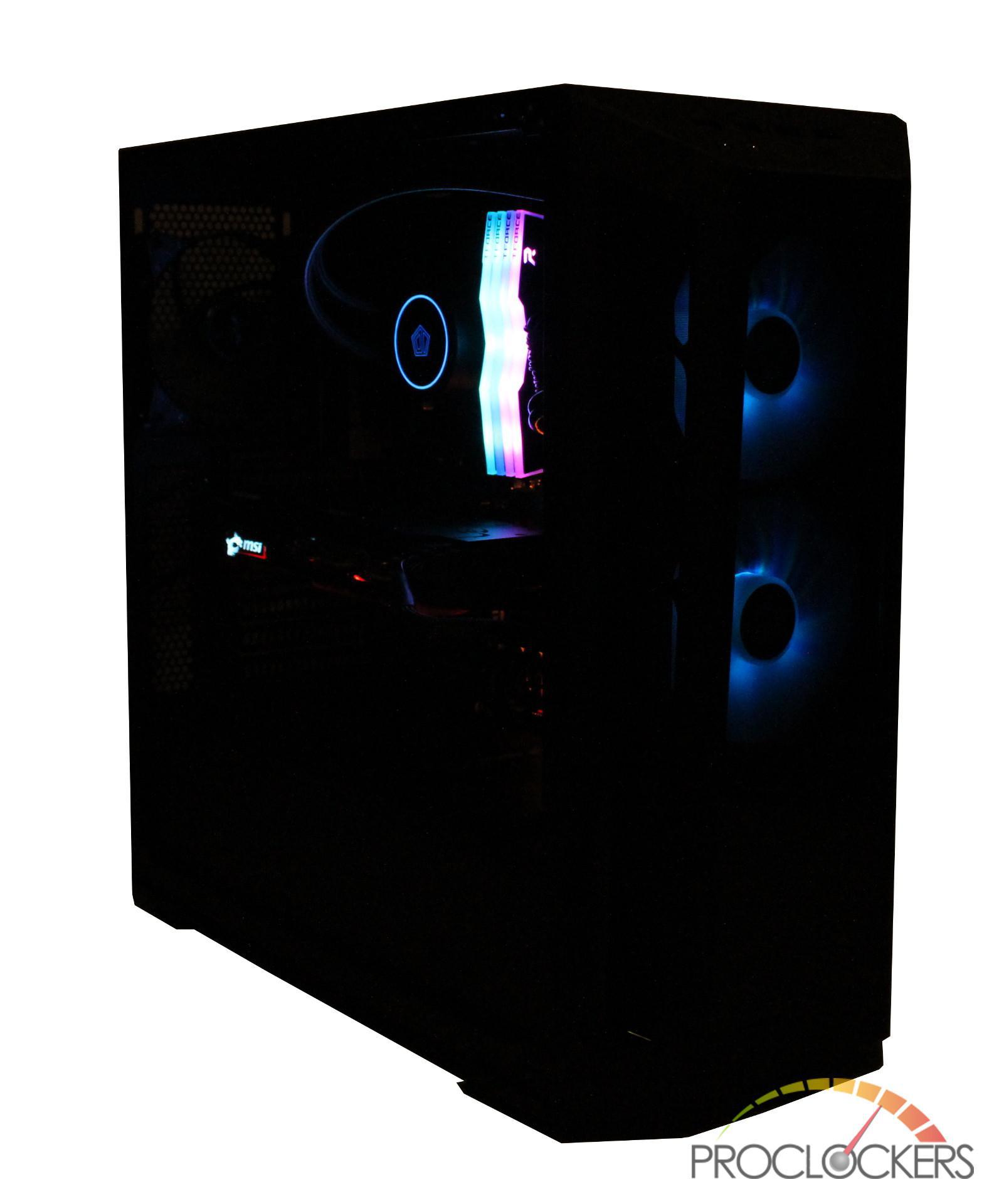 Performance Testing
To test the AURAFLOWx 240's cooling abilities we will be running it through 2 different testing scenarios. The first is a true torture test with a well-known program called "Prime95". This really pushes the 8700K to its limits and produce a massive amount of heat that then has to be dissipated by the AURAFLOW. The second test will simulate more of a real-world workload by using the benchmark "Cinebench R15" and running it 5 consecutive times. We have found that this test should produce temperatures that you would see your system produce when doing heavy workloads.
To start our testing, we ran our 8700K at stock speeds which have a clock of 4.3GHz when running AVX workloads. Once we configured our 8700K at stock speeds, we let the system idle for 5 minutes and recorded the lowest temperature and then proceed running Prime95 for 20 minutes. Once our run of Prime95 had concluded, we record both the maximum and average temperature and the CPU Package. We then proceed to our Cinebench test by running the CPU benchmark 5 times in a row and then also recording the CPU Package temperatures.
With stock settings, we see our idle temperature level out at 29c and after our Prime95 run we top out at 75c with an average temperature of 62c. In Cinebench, the AURAFLOW manages to keep the 8700k at a cool 63c with an average temperature of 60c.
Prime95 – 4.3GHz @ Stock Voltage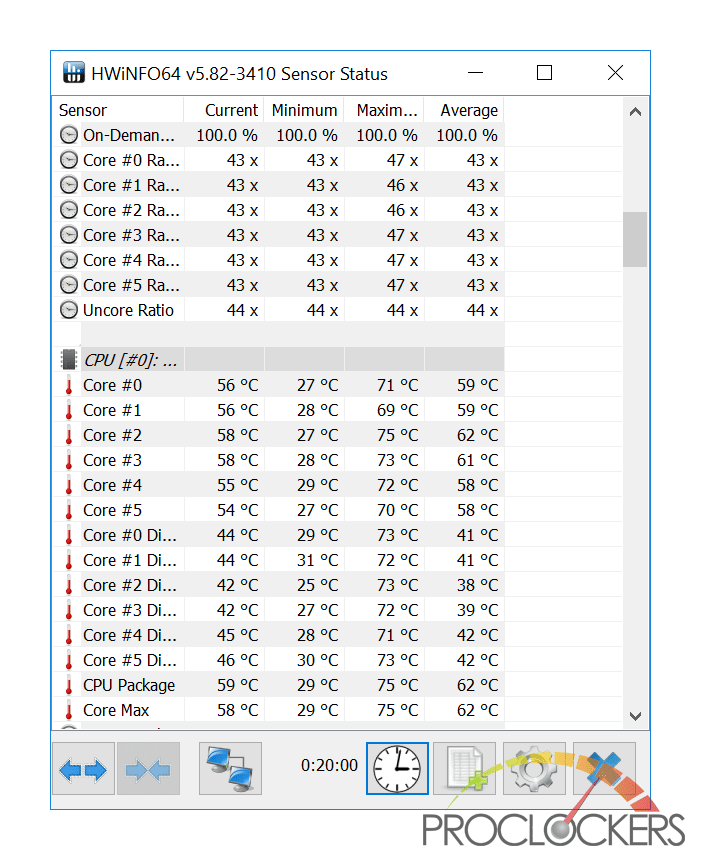 Cinebench – 4.3GHz @ Stock Voltage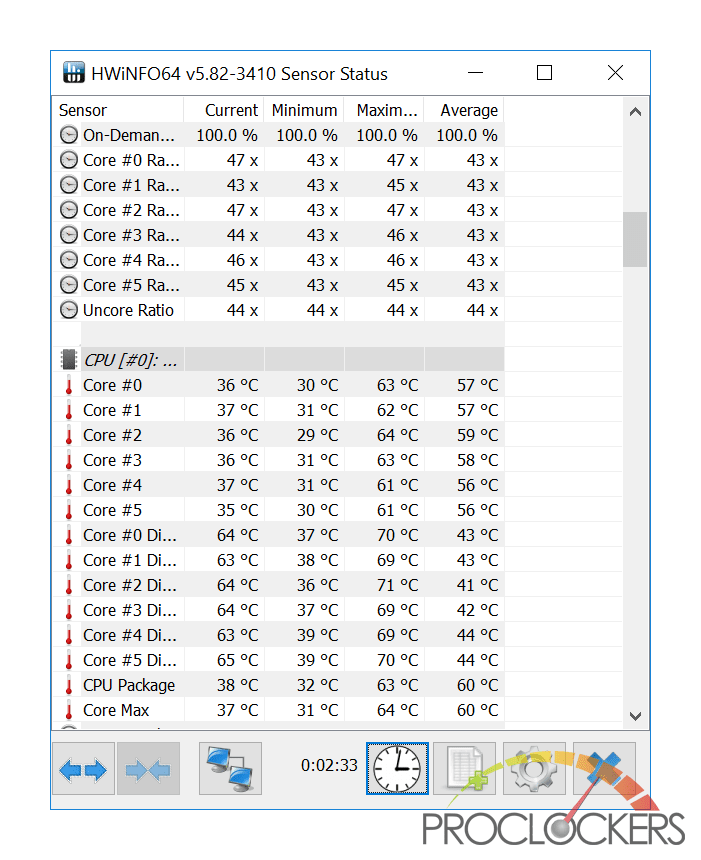 These temperatures are well below our self-imposed max temperature of 90c so we proceeded to clock our 8700K to the 4.6GHz profile. With the increase clock speed and voltage, we see the idle temperature rise a few degrees which settled at 31c. We saw similar increases in our Prime95 test with the max temperature increasing 4c to a 79c and our average temperature now hitting 64c. Cinebench also saw a slight increase in temperature with the max now sitting at 67c and the average 61c.
Prime95 – 4.6GHz @ 1.3v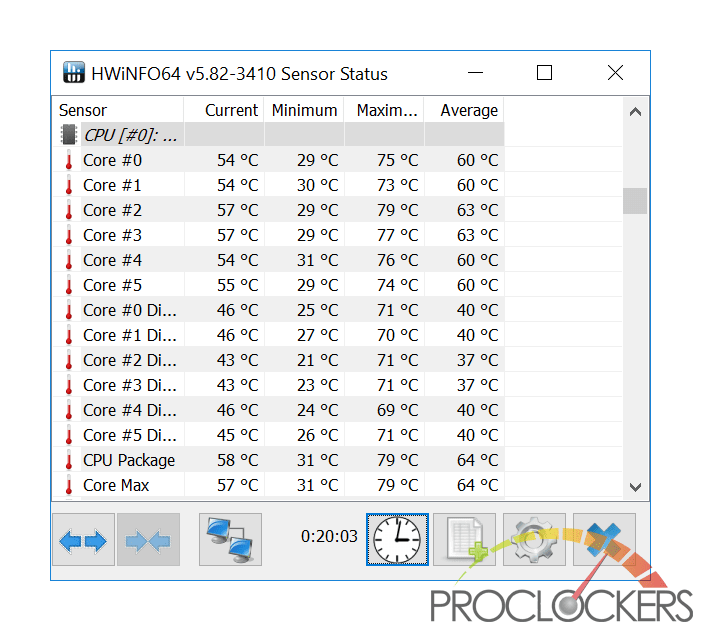 Cinebench – 4.6GHz @ 1.3v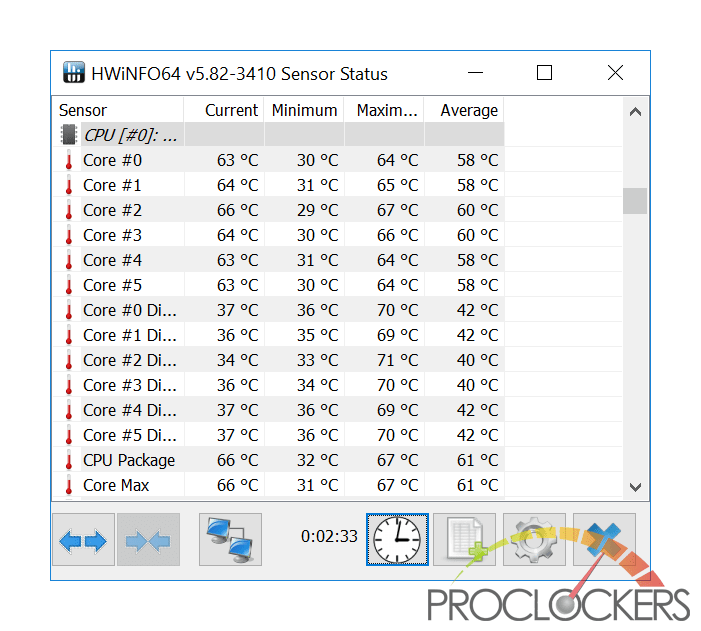 We still have plenty of headroom so we proceed to overclock the 8700k to its final stable profile of 4.8GHz with a voltage of 1.355. We have attempted in the past for a higher clock rate but the 8700K just can't maintain a stable OC with any amount of voltage we throw at it. In our final run, we see our idle temperature have a modest increase of 1c with it sitting at 32c. In Prime95, we do see that additional voltage at work with a max temperature increase of 9c topping out at 88c with the average only increasing 4c to 68c. This is mirrored in the Cinebench test with the max temperature now sitting 8c higher at 75c with an average temperature of 68c.
Prime95 – 4.8GHz @ 1.355v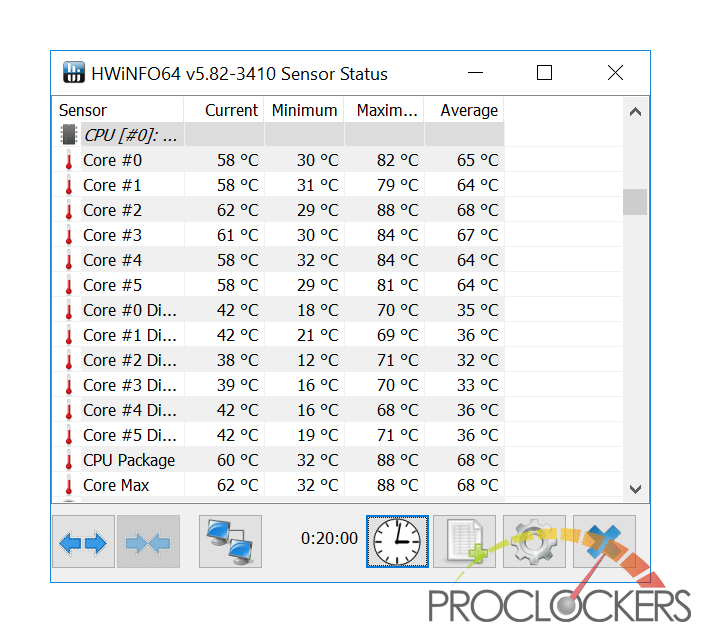 Cinebench – 4.8GHz @ 1.355v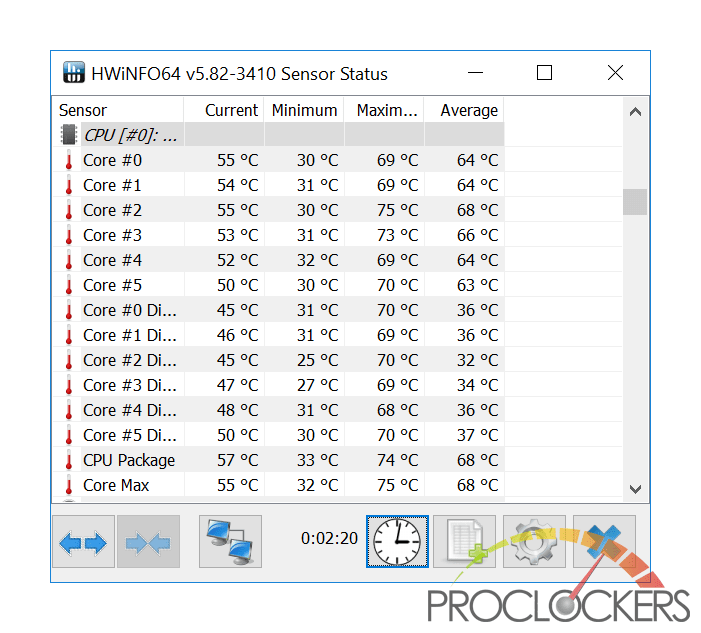 The AURAFLOWx 240 did an amazing job at keeping the 8700k temperature down and with it, we managed to hit our max clock of 4.8GHz while maintaining a temperature below 90c in Prime95.
Final Thoughts & Conclusion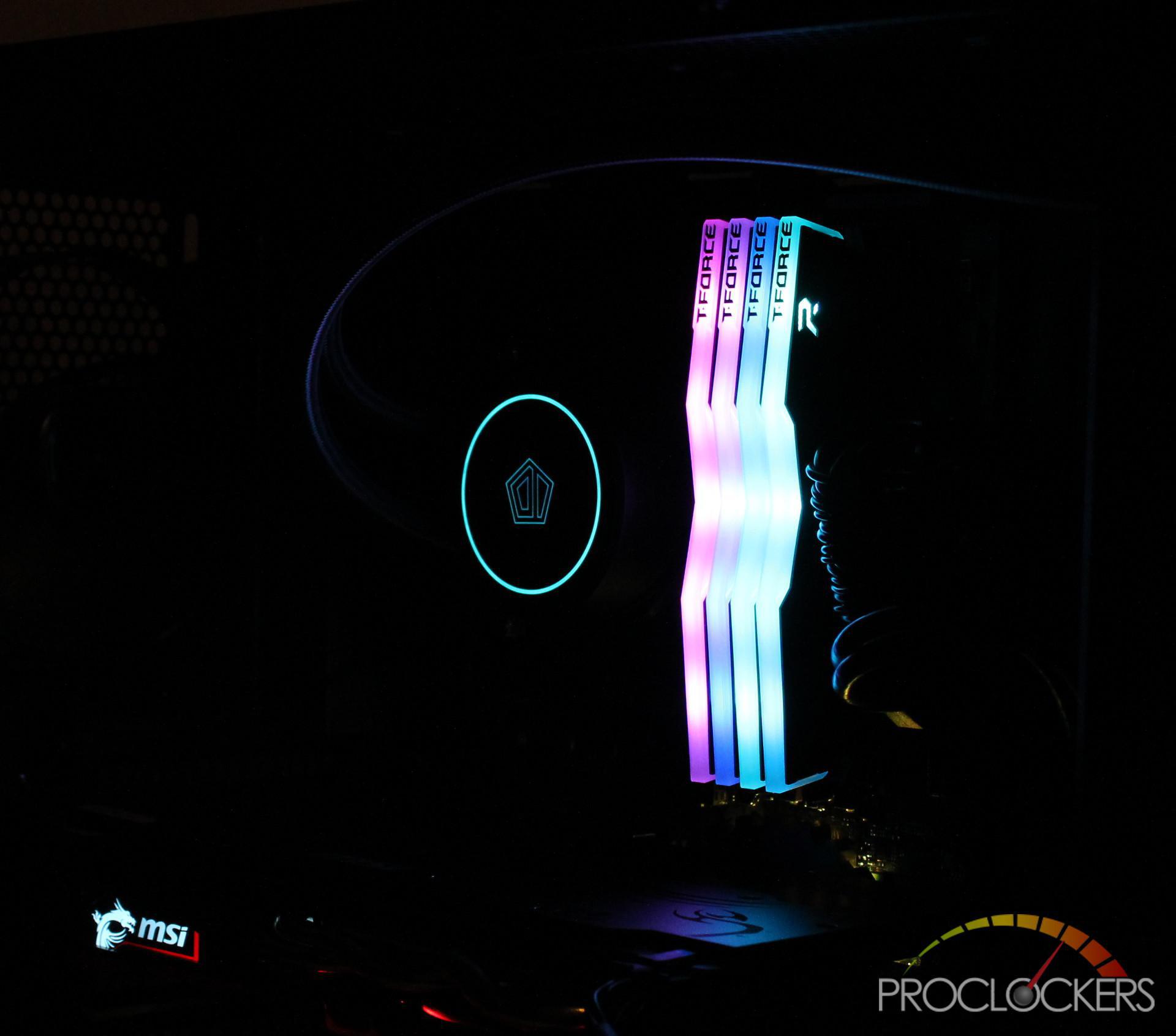 With the AURAFLOWx 240 being only an $89.99 cooler, I wondered how it would hold up to coolers sporting a much heftier price tag. I was extremely pleased when it was able to hit 4.8GHz on my toasty 8700k, which puts it in the company with other more expensive coolers. Not only did it perform extremely well, the pump top/fan's look great when all lit up and with the included RGB controller, it can match any build. With the performance of the AURAFLOW and the added value of the RGB fans with a controller, you would be hard pressed to find a better deal.

I'm continually impressed with the coolers ID-COOLING is bringing to market and look forward to their next one.

Amazing job ID-COOLING!

<![CDATA[ */ var zbjs = {"ajaxurl":"https:\/\/gaminggorilla.com\/wp-admin\/admin-ajax.php","md5":"d8e8b24d2fa18d2999e0fddcdd418586","tags":[],"categories":["Hardware"]}; /* ]]>