FSP HYDRO PTM+ 1200W Liquid-Cooled Power Supply Review
Introduction
Quick, what's your first thought when you hear "liquid-cooled Power Supply"? We won't fault you if your first thought is something along the lines of this being a terrifying way to earn a Darwin award, but we can assure you this is perfectly safe, and approved by about every safety agency that matters. If you are of the type that is instantly intrigued by the thought of one more heat producing device integrated into your loop, keep reading. What if I told you this power supply can be overclocked? Okay, maybe not in the traditional sense measured in hertz, but you can get a couple hundred more watts out of it if it's being liquid cooled. FSP even includes everything needed for a loop in this kit to get you up and going in case you aren't already running a custom loop. Did we mention 80+ Platinum efficiency, a full set of single sleeved and fully modular cables and Aura sync compatible RGB lighting? Let's go check it out!
ProClockers would like to thank FSP for loaning us the HYDRO PTM+ 1200W Liquid Cooled power supply to check out!
FSP's take on the HYDRO PTM+ 1200W Liquid Cooled Power:
FSP's latest PSU – Hydro PTM+ is a unique, patented liquid-cooled PSU developed to meet the industry's highest safety standards. Created exclusively in collaboration with Bitspower, a renowned maker of liquid cooling solutions for PC. This is the world's first mass-produced liquid-cooled PSU with 80 PLUS® Platinum certification and stunning LED lights to ensure that your system will always stand out. With the liquid cooling feature enabled, the 1200W model is able to increase its power rating from 1200W to 1400W, while the 850W is able to increase its power rating from 850W to 1000W. It delivers extra power without the need of the PSU fan for cooling, while still remaining efficient (below 50%) when running in silent mode.
Complies with ATX12V v2.4 & EPS12V v2.92
High Efficiency ≥ 92%
Active PFC ≥ 0.9
Complies with 80PLUS® Platinum Certification
Hybrid Cooling System with 135mm Silent Fan & liquid cooling
+12V Single-Rail Design
Full Modular with Ribbon Cables
Full Japanese Capacitors
World's First Platinum Liquid Cooled PSU
Built-in RGB Lighting & Controller
Unique Product ID with changeable Side Stickers for DIY Enthusiasts and Gamers
Complete Protections: OCP, OVP, SCP, OPP, OTP
Global Safety Approved
Features & Specifications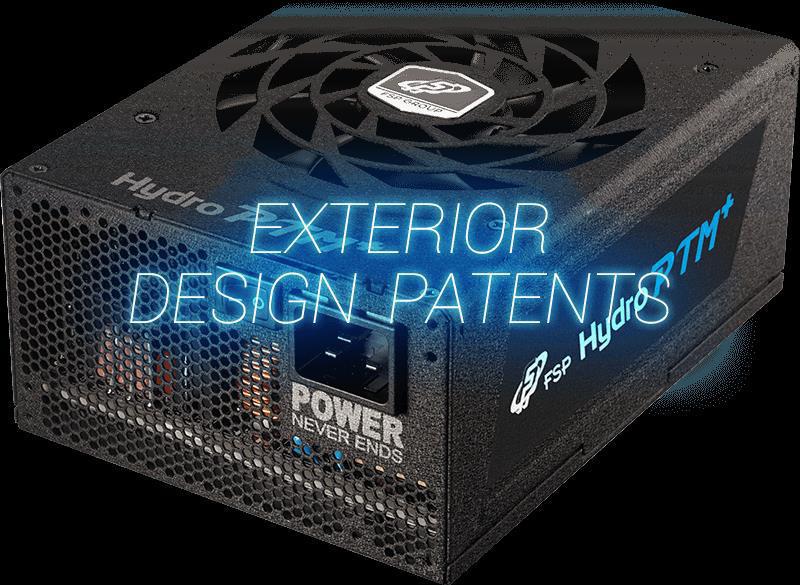 Unique and Rugged ID for Mod
Any serious PC build enthusiast will simply love HYDRO PTM+. Its unique combination of features includes gorgeous LED RGB lighting, a power rating of 1200W when air cooled, going up to 1400W when liquid cooled, and an 80 PLUS® Platinum certification with 92% efficiency rating.

Intelligent Fan Speed Control
HYDRO PTM+ 1200W was built to be silent. Fanless mode (0 dBA) is engaged at below 50% of system load for silent operation when water-cooling is installed. Once surpassing the predefined thermal limitation, the 135 mm FDB fan automatically and dynamically starts to spin according to the system load.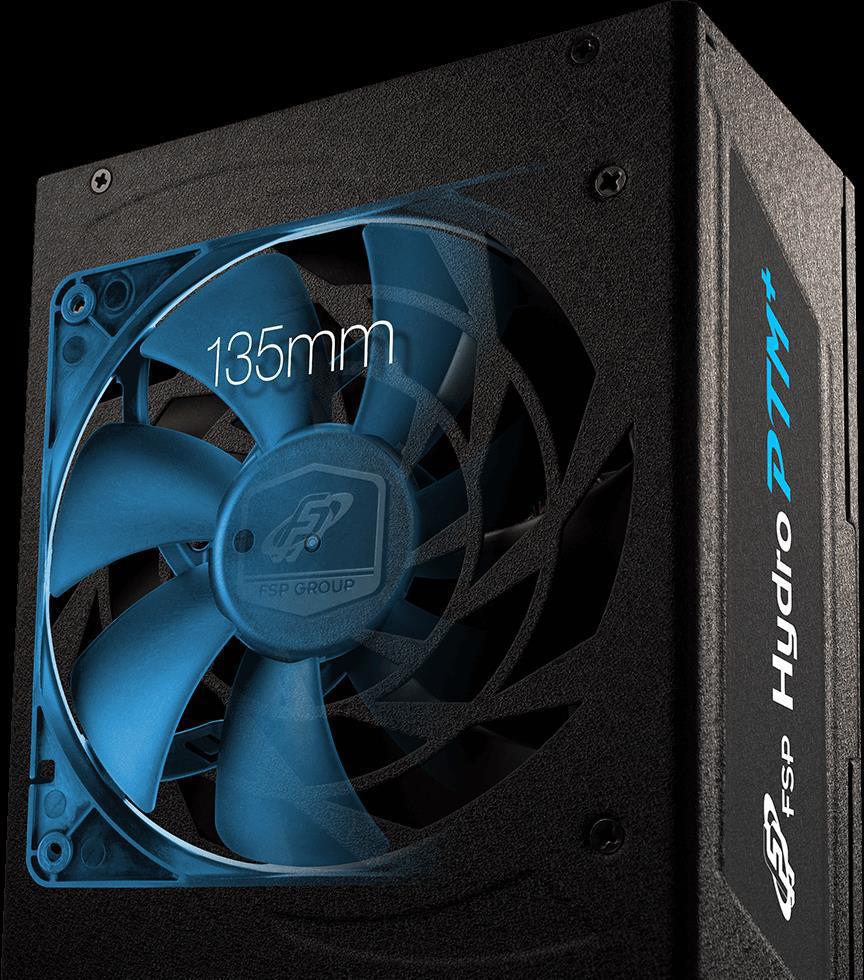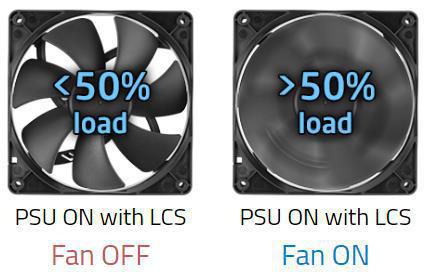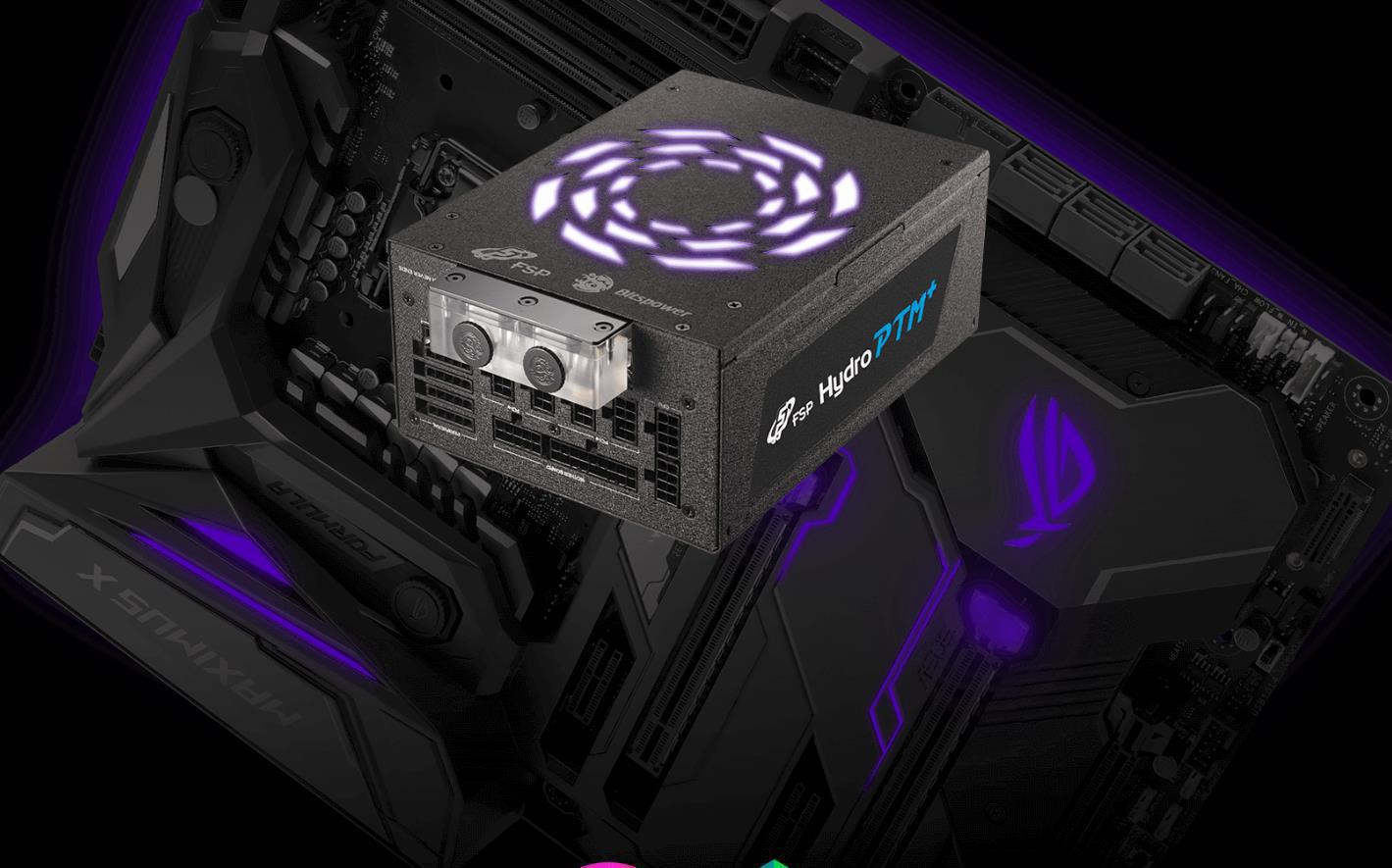 Aura Sync
FSP has teamed up with ASUS to bring Aura Sync RGB lighting technology, enabled through Aura Sync compatible motherboards, providing a nearly endless spectrum of RGB lighting colors and patterns for your system.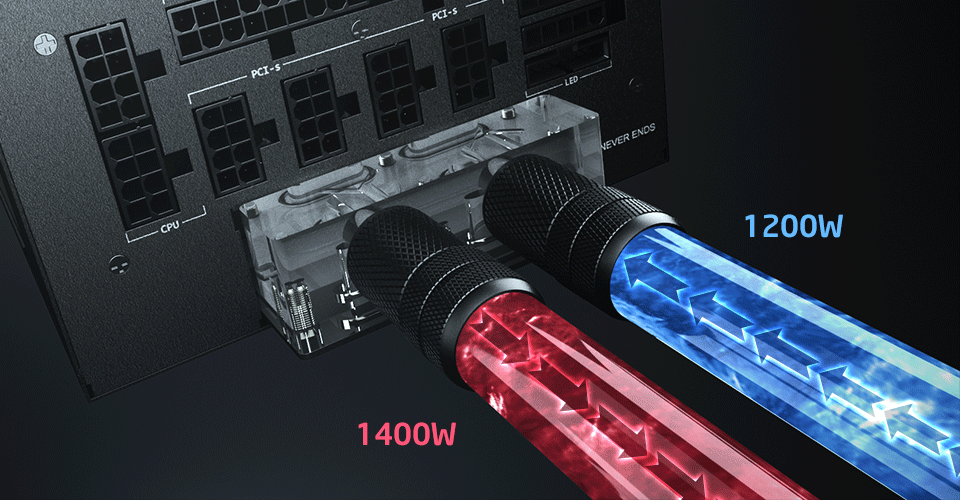 Excitement of Power Overclocking
Liquid Cooled Power On! An innovative water-cooling solution, HYDRO PTM+ enables overclocking of the peak output from 1200W up to 1400W when enabled.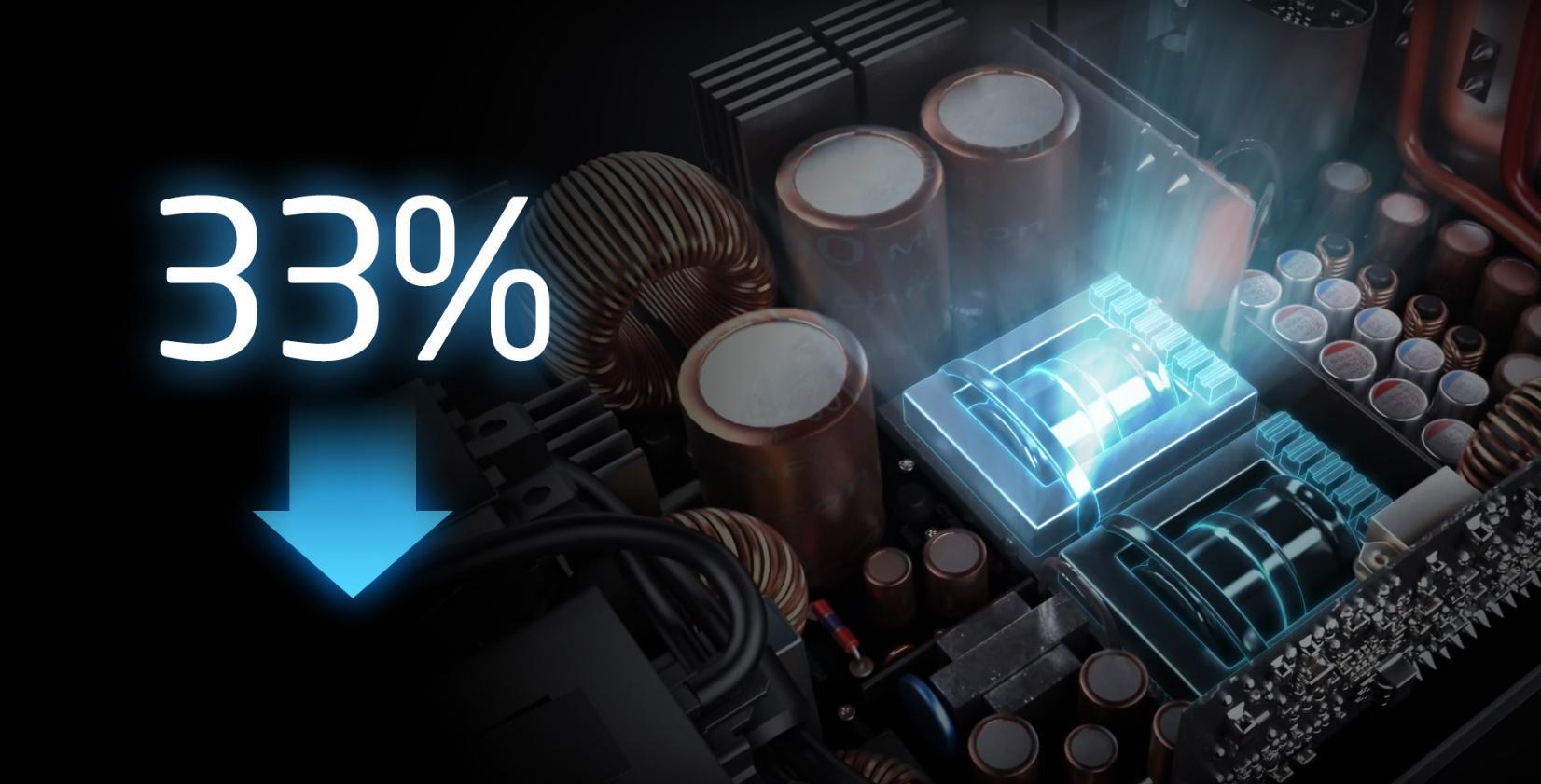 Ultimate Cooling
In the lab test, under 50˚C ambient temperature and 100% loading condition, HYDRO PTM+ provides the supreme cooling performance from 100˚C to 70.8˚C on Transformer when liquid cooled power on.

FSP Co-developed with Bitspower
Bitspower, a renowned creator of PC liquid-cooling solutions and visionary of revolutionary manufacturing, firmly stands behind FSP's team of engineers and product developers.

Supports Latest CPU Systems
HYDRO PTM+ fully supports high-performance systems, complies with the most recent Intel and AMD, ATX12V v2.4 & EPS12V v2.92 specifications.
Full Modular Design with Ribbon Cable
The modular cable design simplifies installation, improves ventilation and gives flexibility and simplicity, allowing you to choose only the necessary cables.
Advanced Circuit Design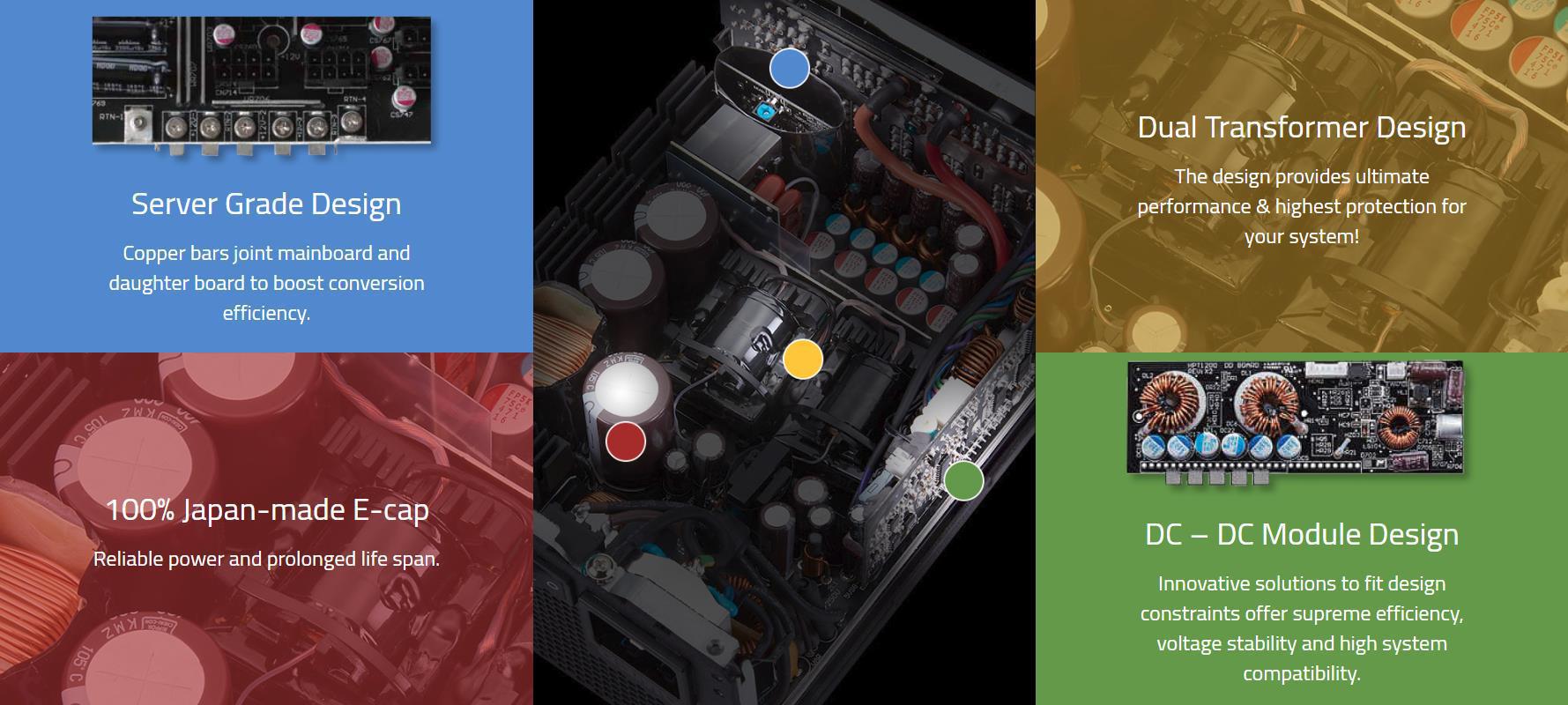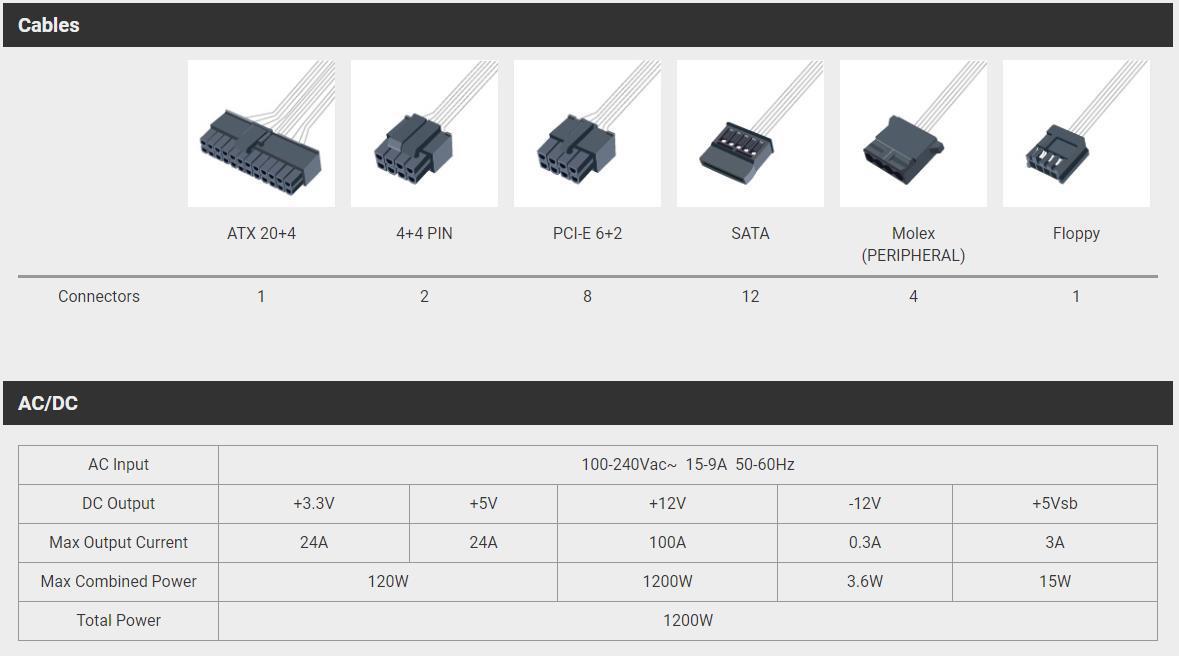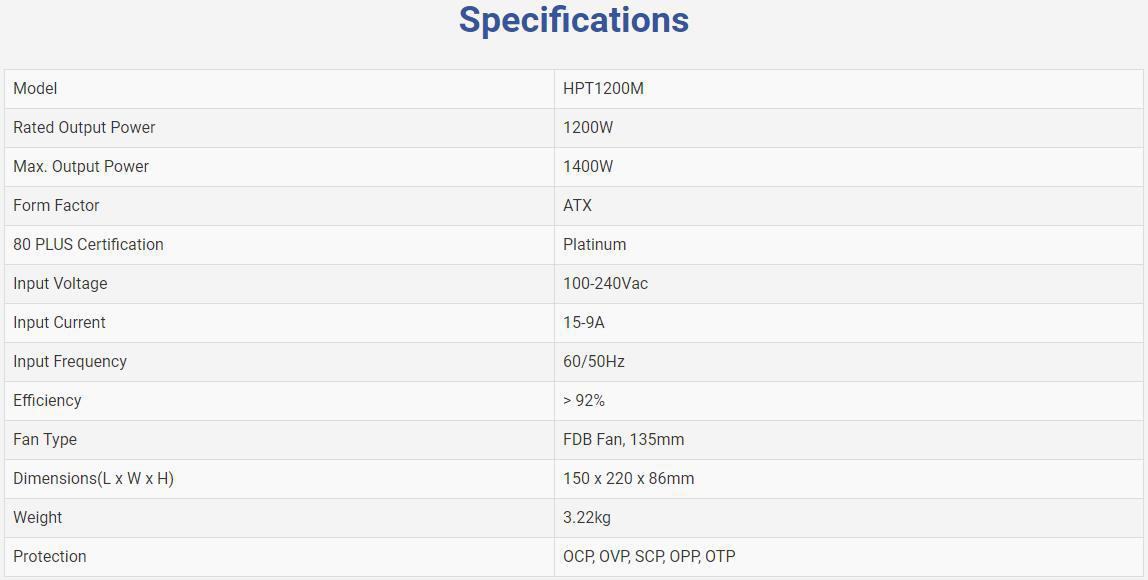 Packaging & Unboxing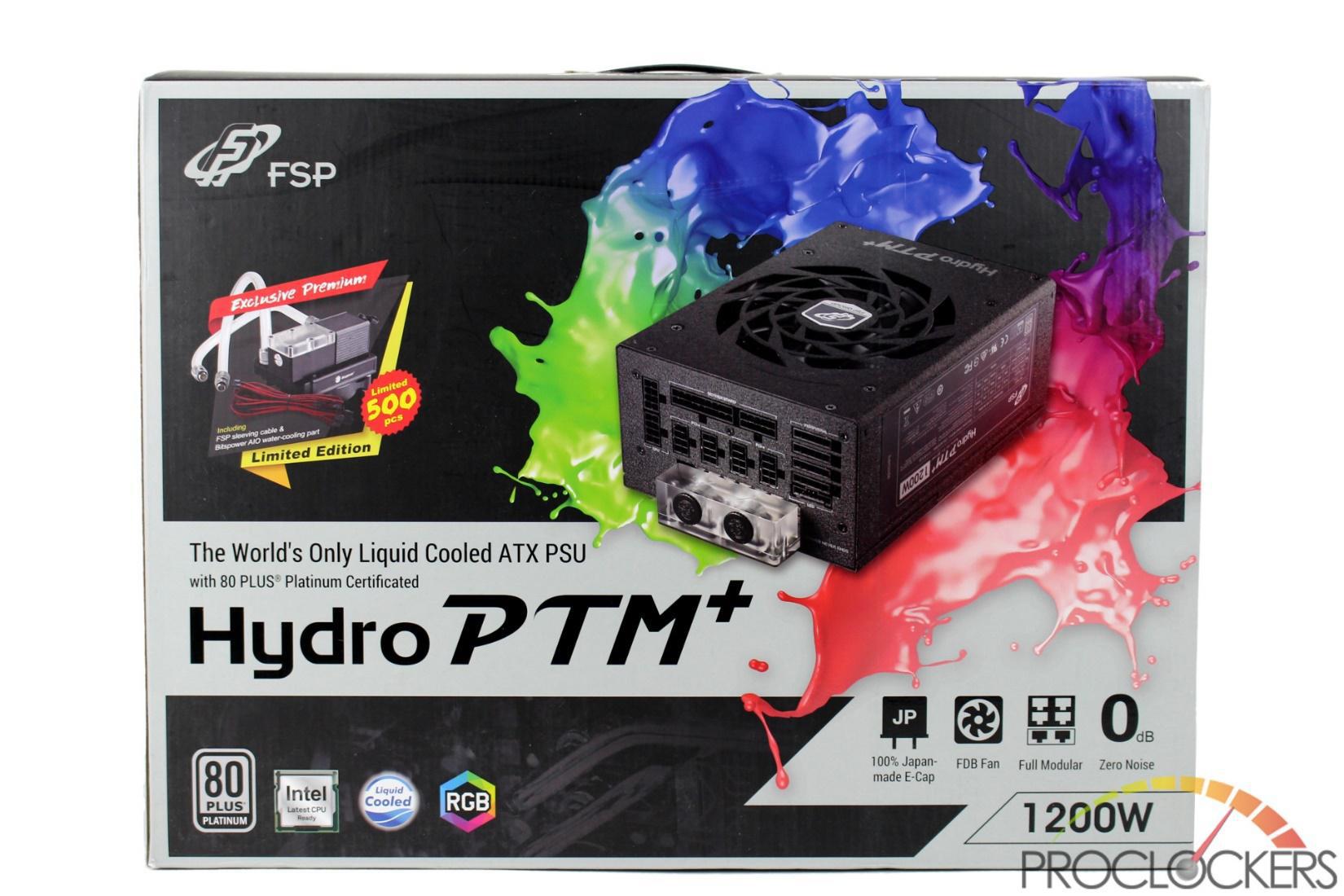 FSP's Hydro PTM+ 1200W Liquid Cooled power supply comes in a monster-sized box. An image of the power supply itself sits in the middle of a splash of color. Our limited edition sampled comes with everything needed to liquid cool the power supply.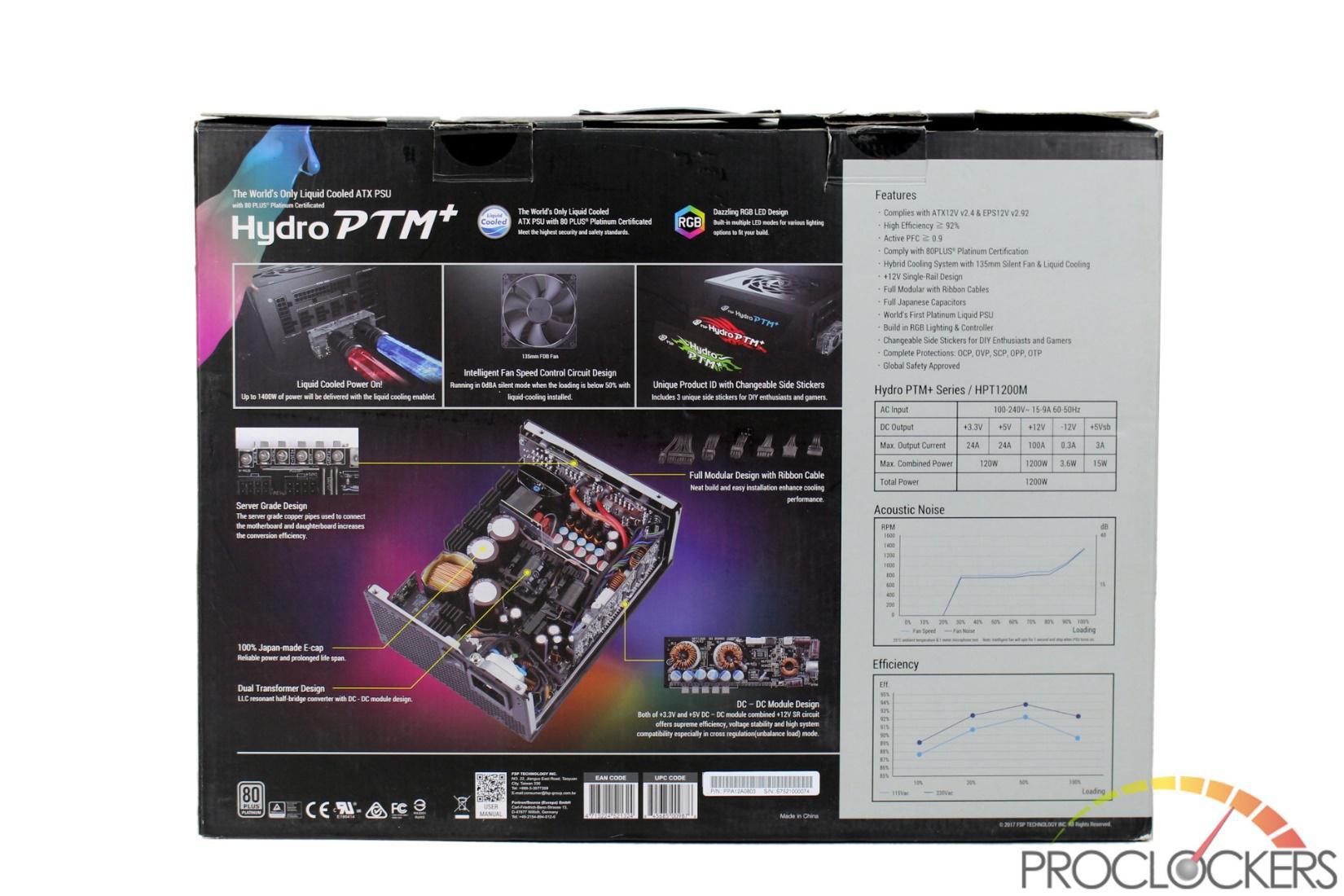 The rear of the box used most of the space to show features of the Hydro PSU. The right 1/3rd of the box shows specs and some extra information like it's efficiency curve and acoustic noise output at different load levels.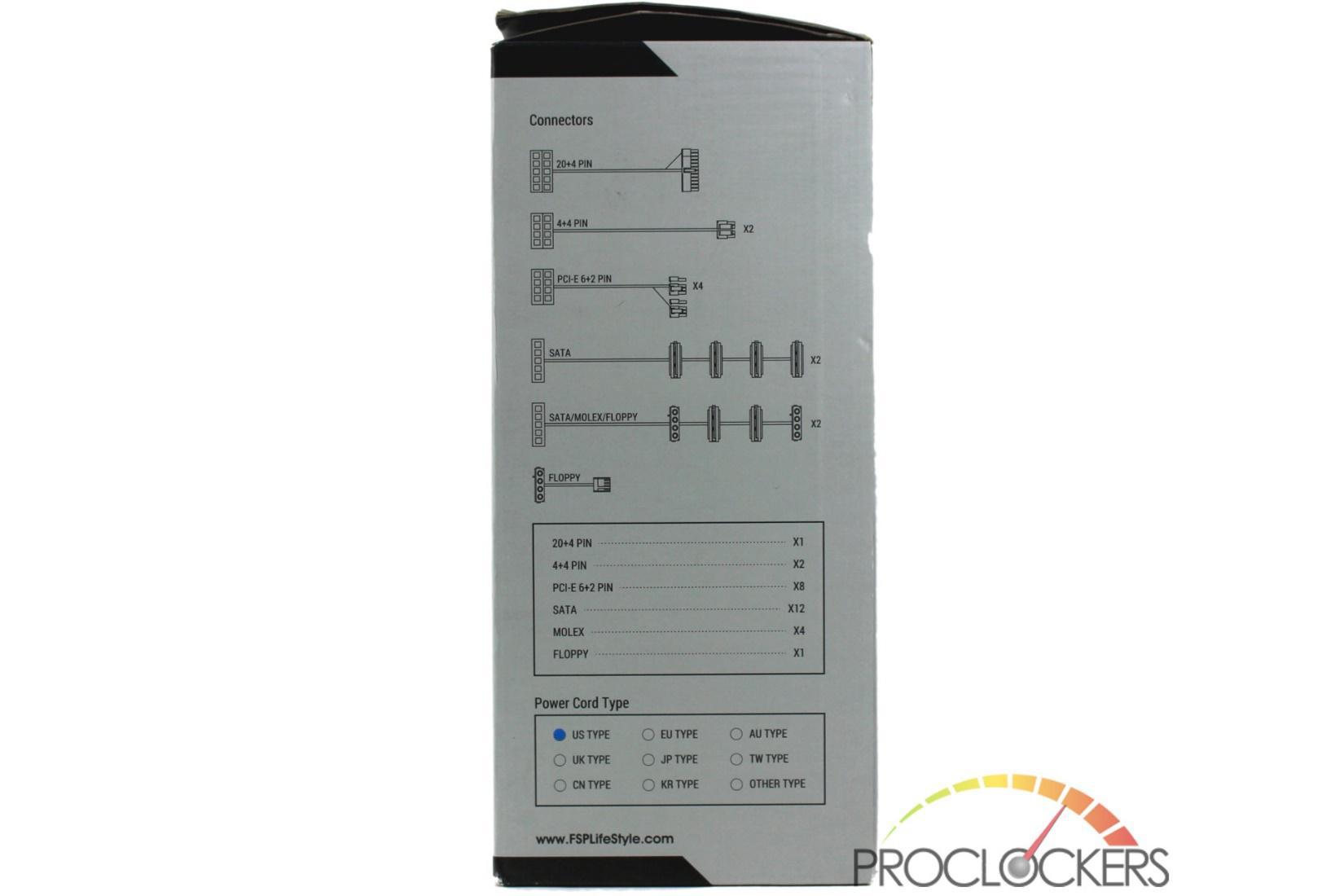 One edge of the box shows what cables and connectors the power supply provides.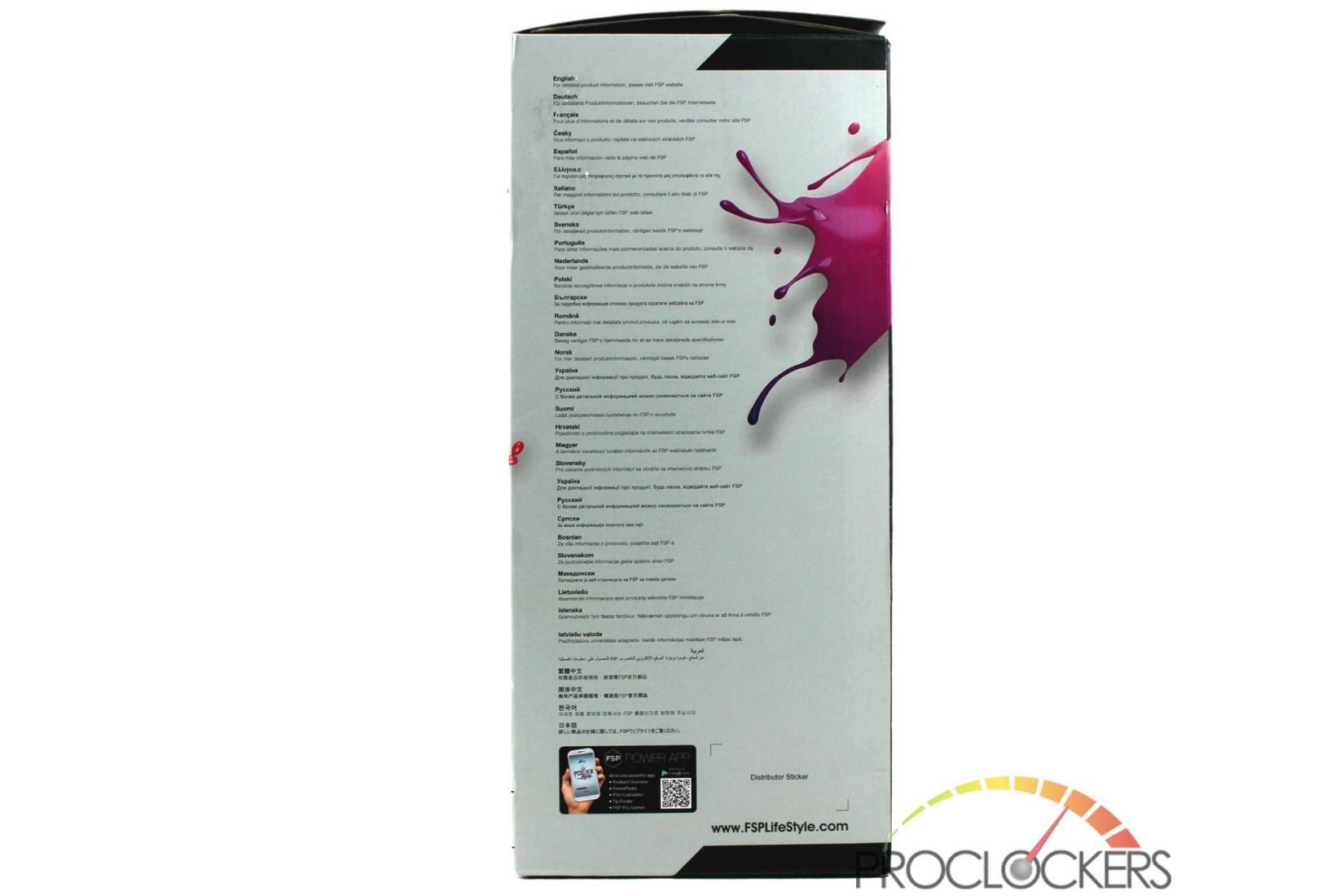 The other end of the box directs the end user to check out FSP's website for more information.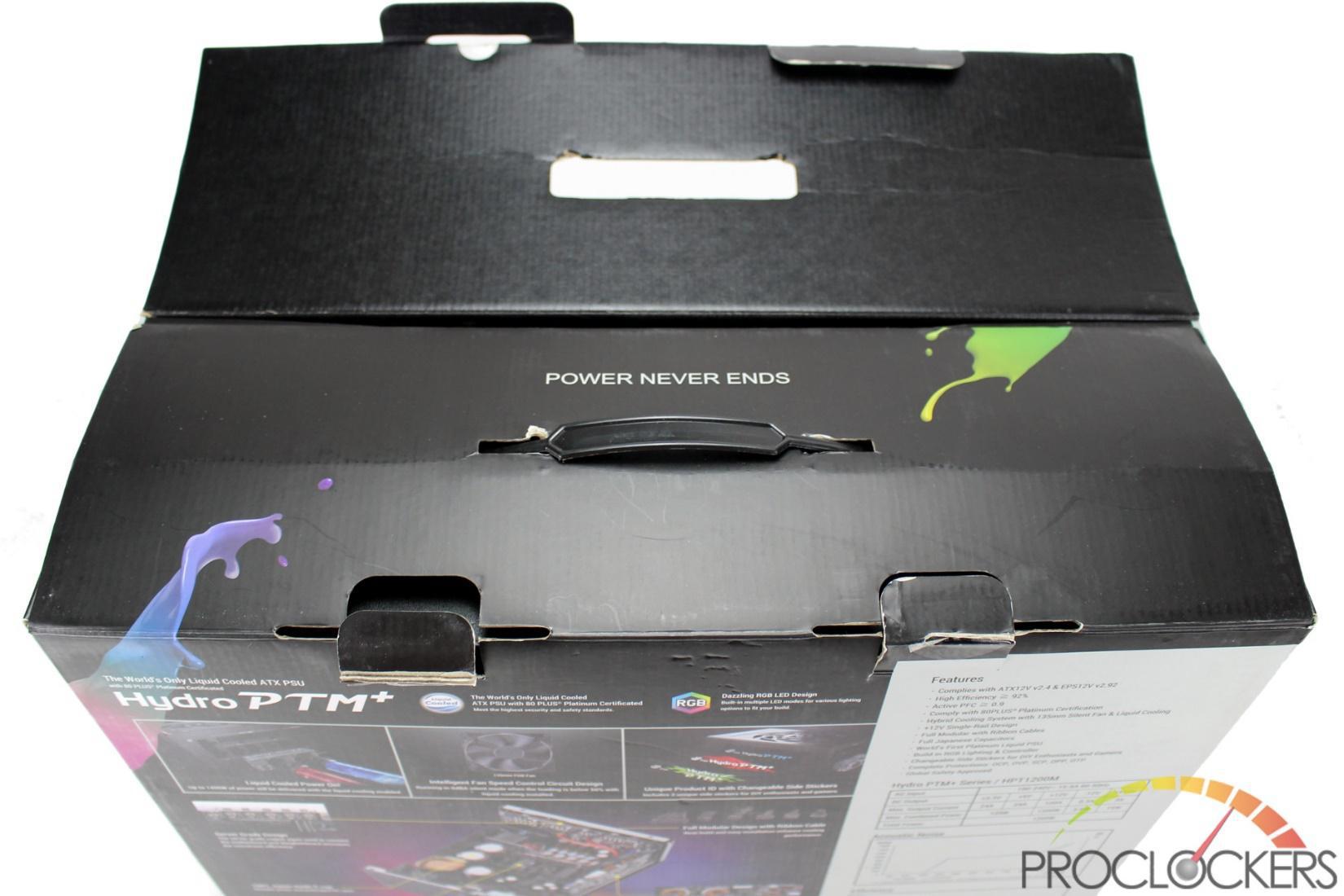 When you start opening the box, you are greeted with the slogan "Power Never Ends".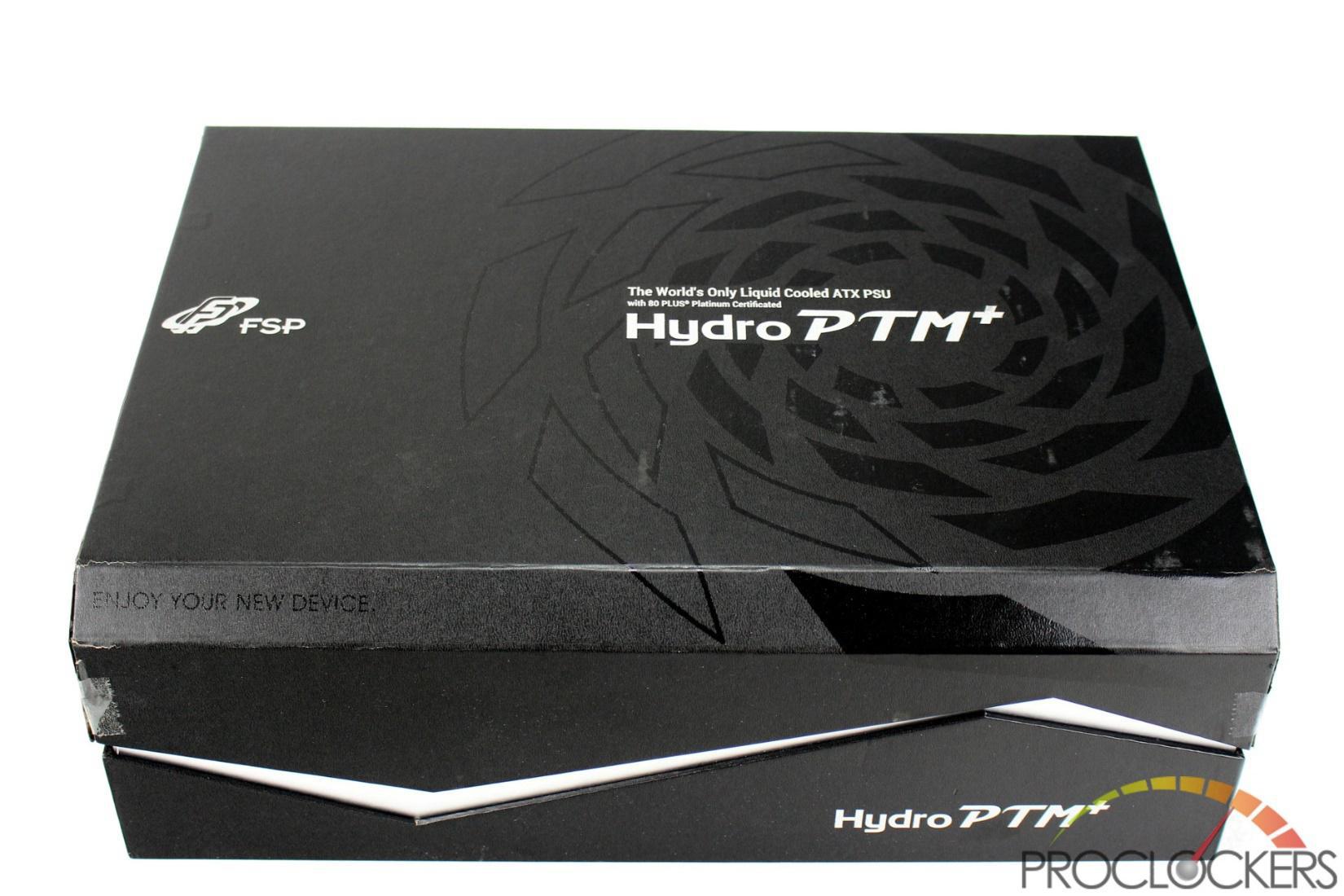 Inside is another decorative case that actually holds everything.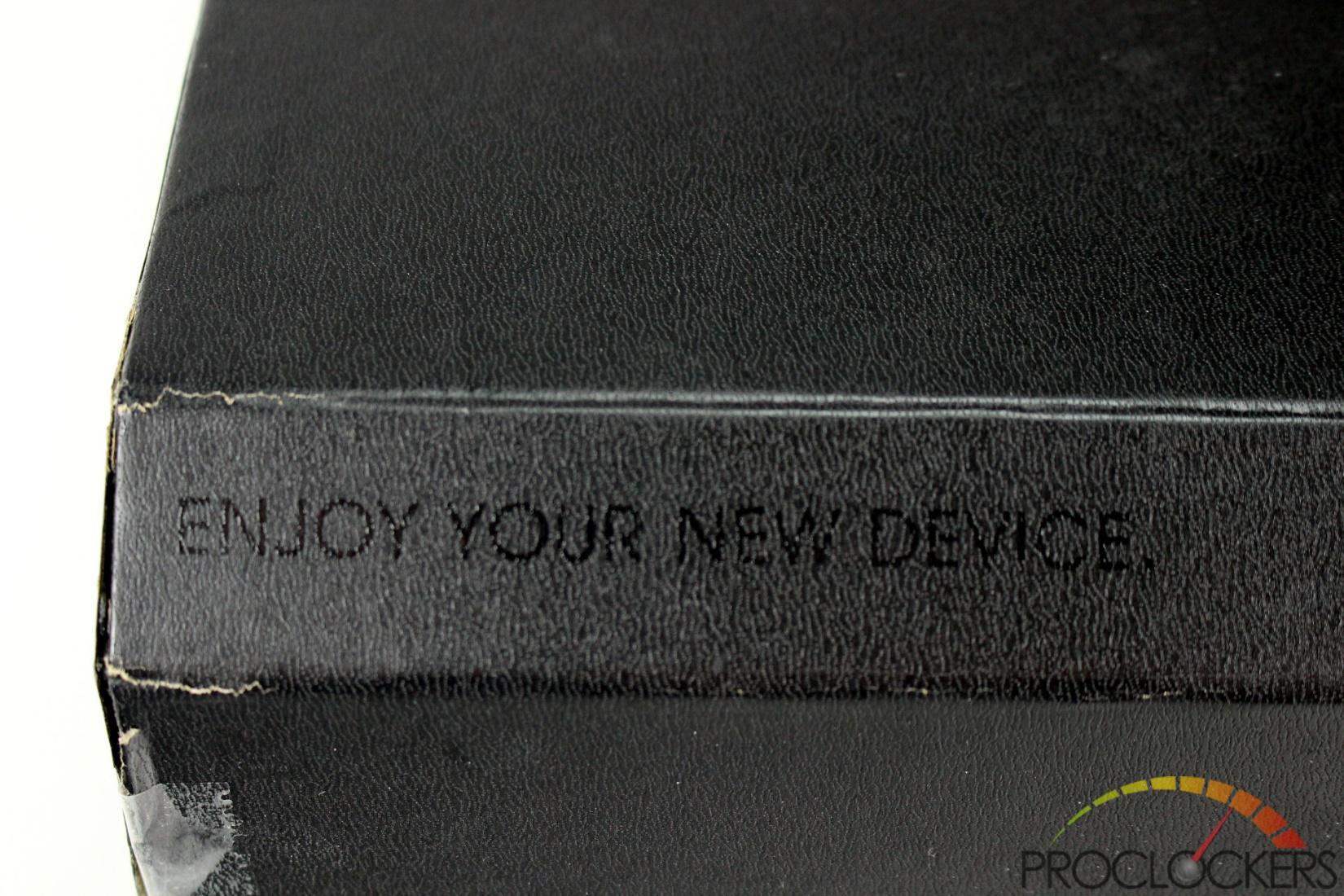 The edge of the box welcomes you to the FSP family.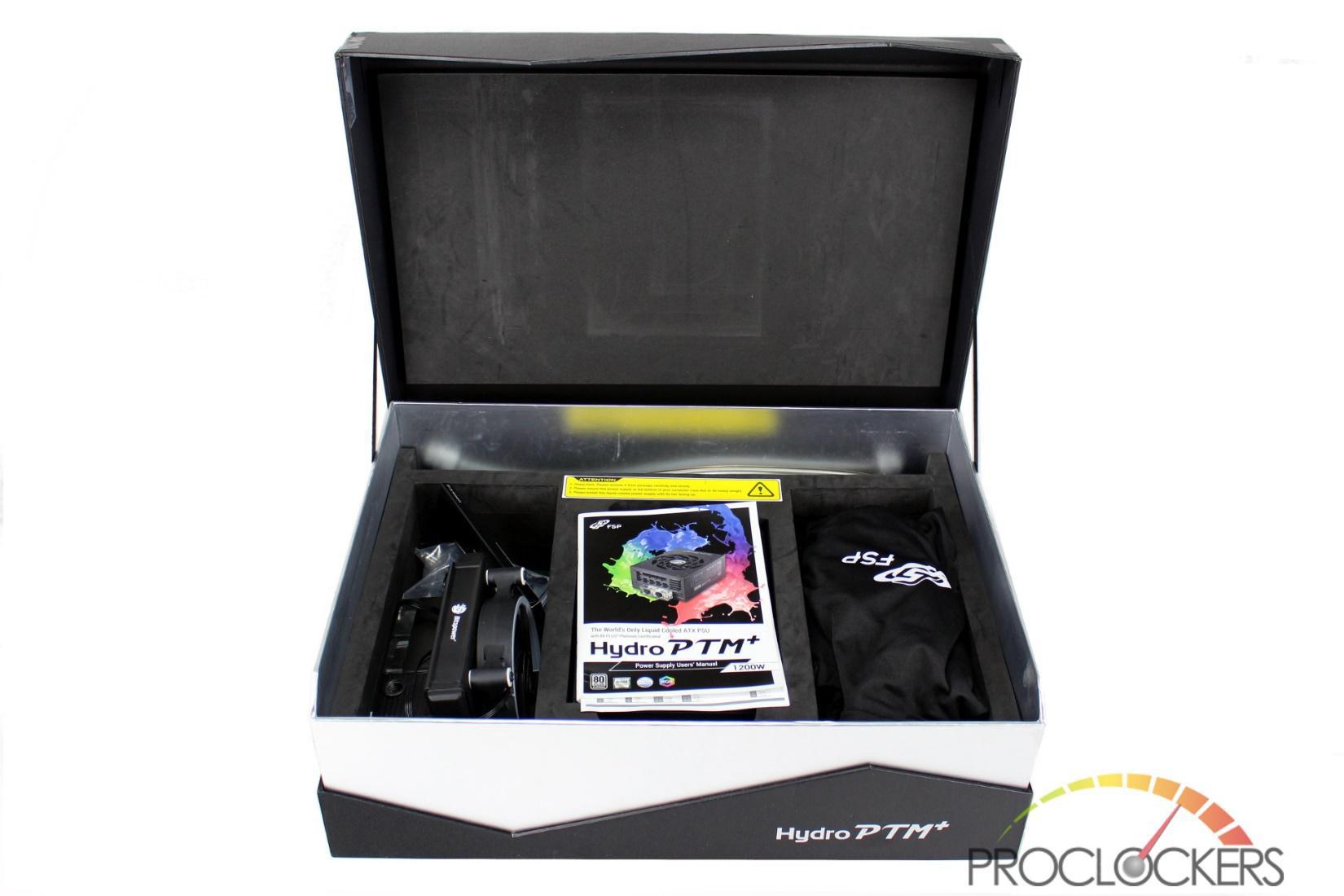 The lid of the case opens up like a briefcase on arms that hold it in place. On the left side is the included water cooling system, and the right side has a bag that holds most of the cables and accessories.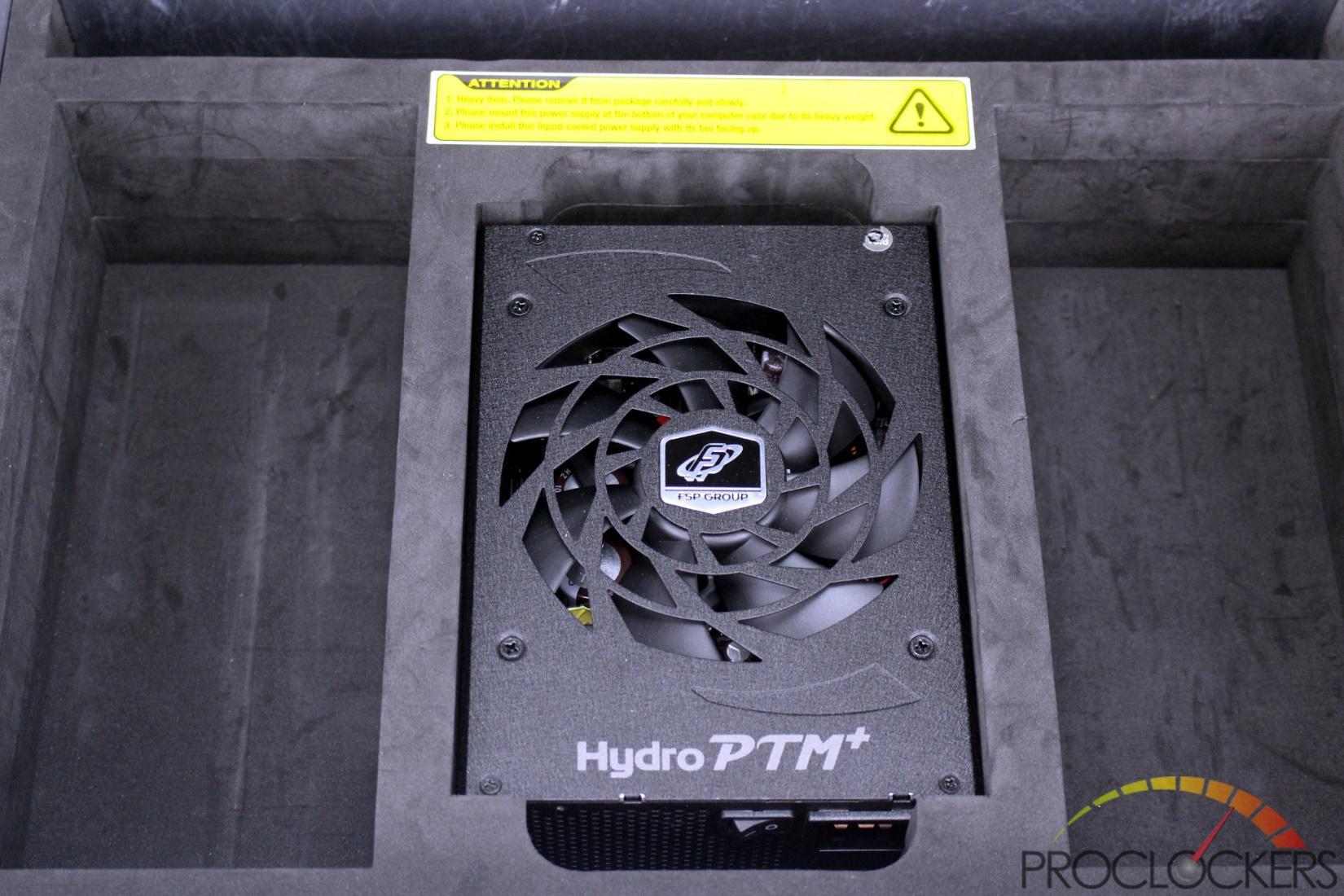 The center compartment cradles the power supply in a massive block of foam.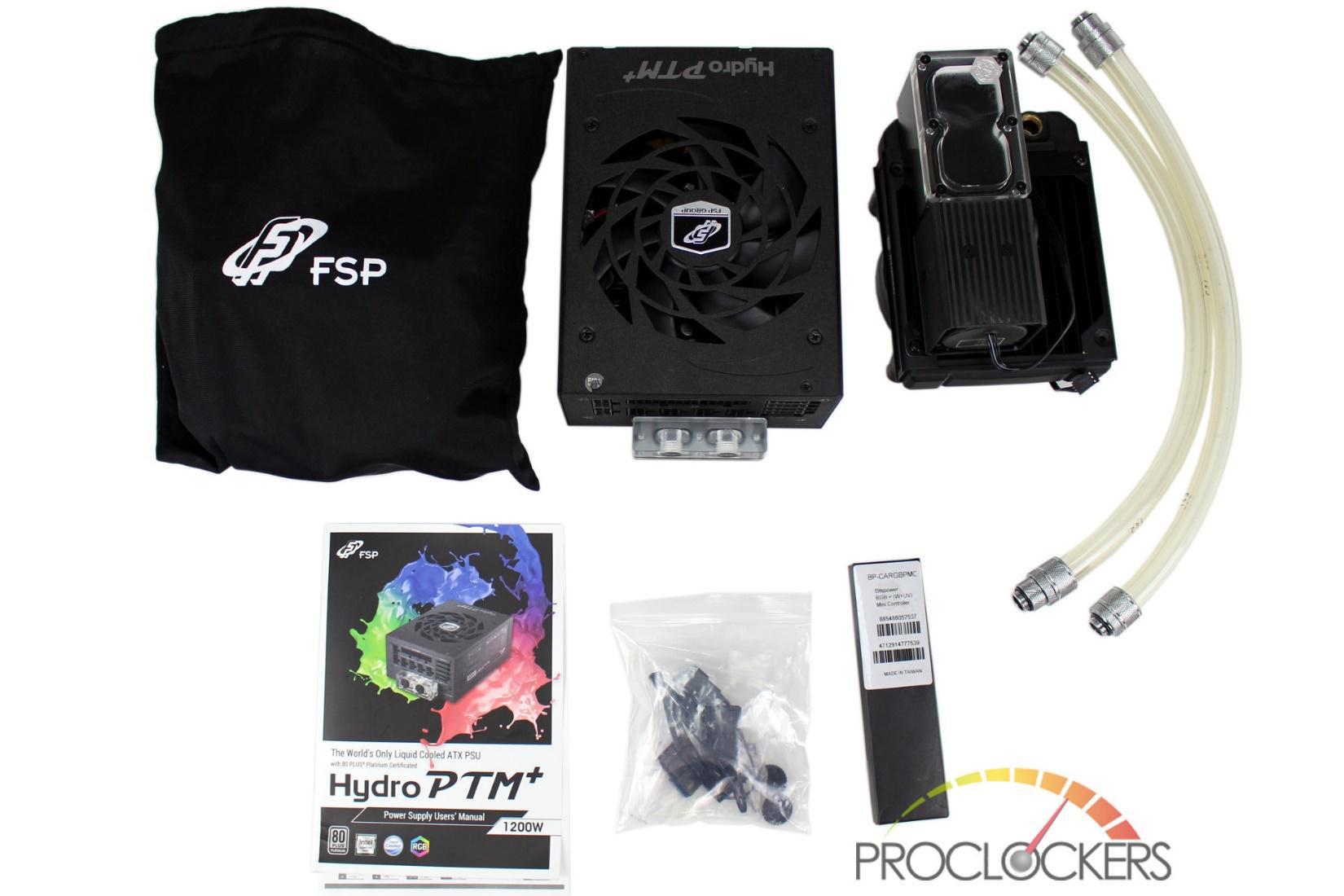 You get the bag of cables, the power supply, the cooling unit, two hoses, a manual, a bag of accessories, and a stand-alone RGB controller.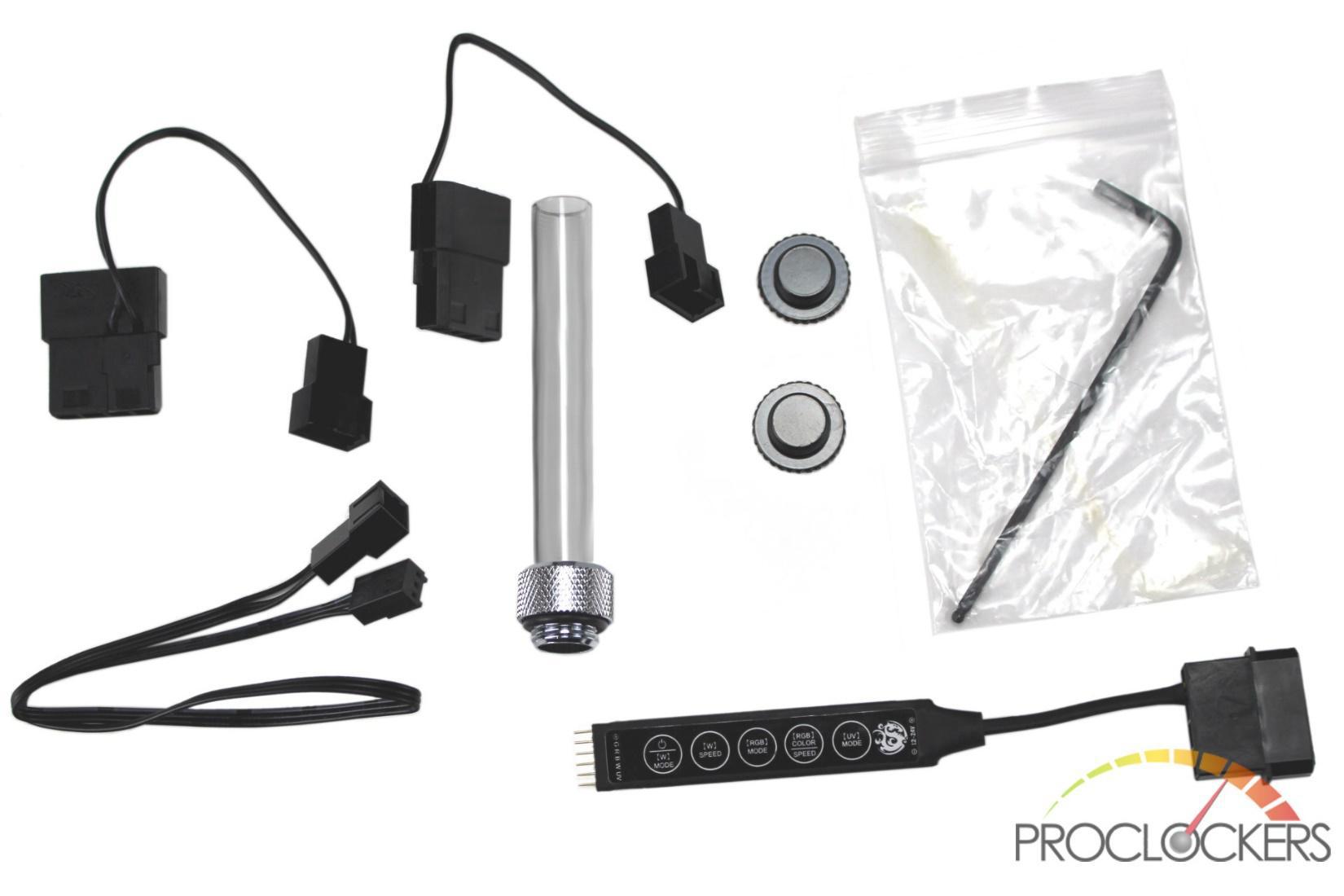 You get a couple of port plugs, a drain stub fitting, the standalone RGB controller, some PSU to fan adapters, and a fan extension cable.
A Closer Look

FSP's Hydro PTM+ 1200W liquid cooled power supply has a very distinctive fan grill pattern. The entire power supply has a textured paint finish. The Hydro PTM+ logo is painted on one end.

The label is pretty typical, it shows all the electrical specifications.

The other side of the power supply has FSP's logos.

The rear of the power supply has a standard IEC-C20 power inlet. A mains power switch sits left of it and the Power Never Ends slogan sits under it. The rest of the rear is covered in a honeycomb grill. Interestingly, the standard mounting pattern is mirrored so that the power supply can be mounted either direction even if your case wouldn't normally support it.

The other end of the power supply looks like most modular power supplies, well, except for the liquid terminal that is.

The bottom of the power supply has what looks like the same fan grill pattern as the air-cooled side, but you can see the water block and even a flow indicator through the grill.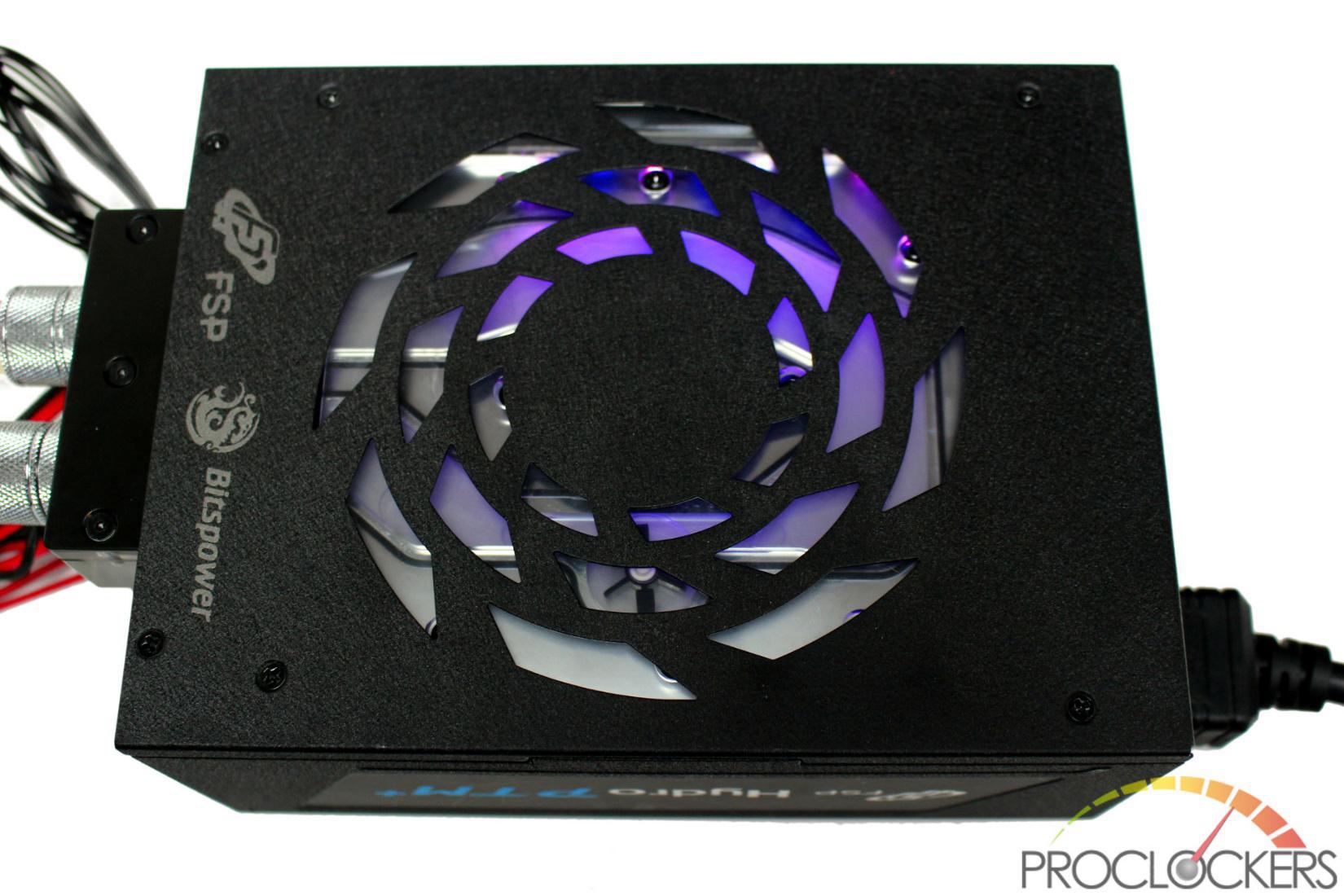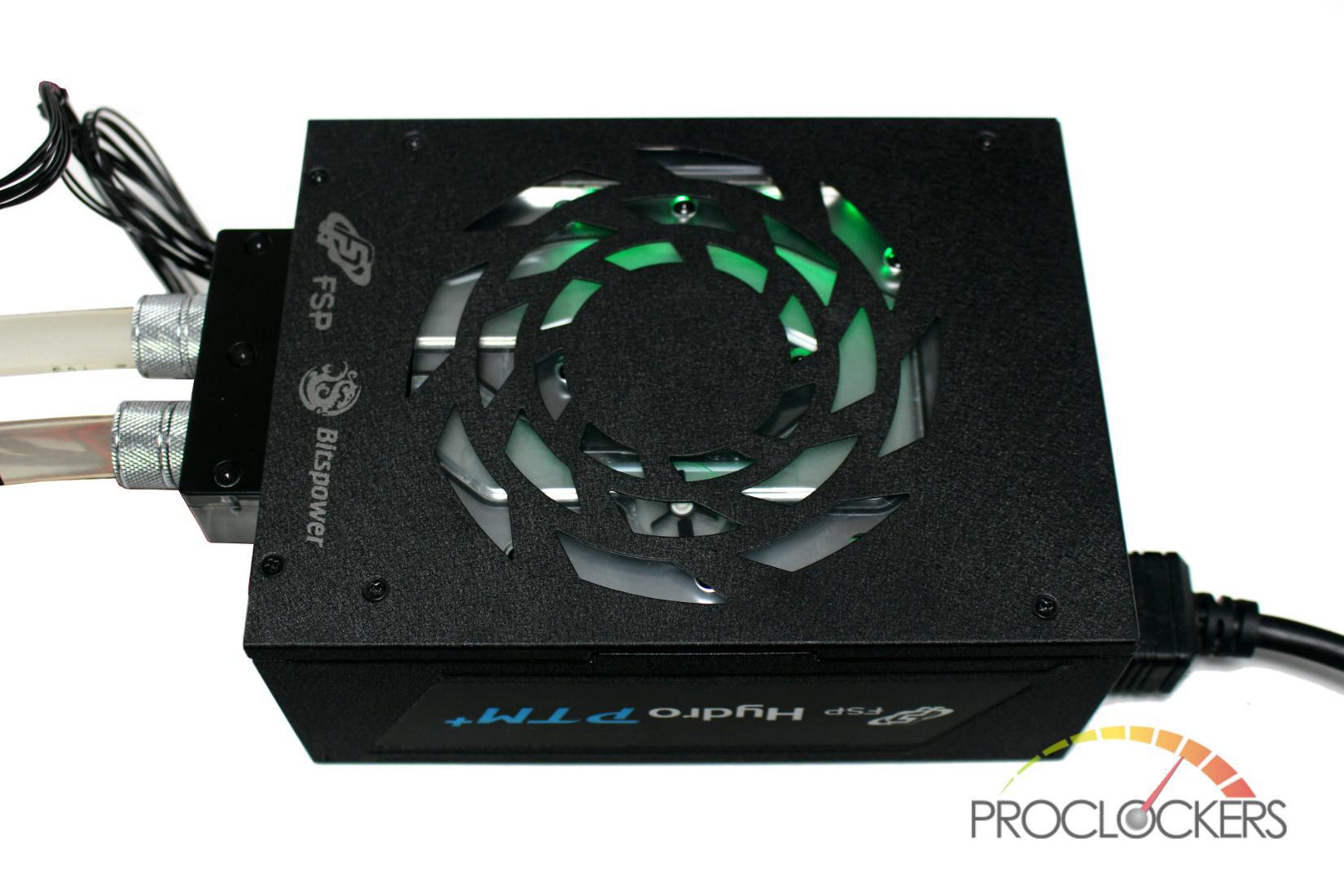 The included lighting controller can light up the block in white, UV LED, or standard RGB. No compromise here, you can do anything you want.

Power cables include four GPU cables that fan out to twin 6+2 connectors for up to 8 PCIe connectors. All for cables are twin connectors that are daisy chained. We would really like to have seen a couple of single connectors only.

The motherboard cables include a 20+4 pin main cable and a pair of CPU cables that are each 4+4 pin.

Peripheral cables include two cables that alternate between two SATA and two 4-pin connectors and two cables that have four SATA connectors each only.

The included cooling system is pretty much a preassembled custom loop from Bitspower. A pump and small reservoir are pre-mounted on and connected to the 120mm radiator, and a fan is mated to the other side.

The pump outlet and radiator inlet are the only two ports exposed for connecting to the PSU. Water cooling enthusiasts may initially be a bit skeptical about the amount of radiator that is partially obstructed by the pump and res, but you have to keep in mind you are not cooling a core component putting out hundreds of watts of heat, only tens of watts worst-case from a highly efficient power supply.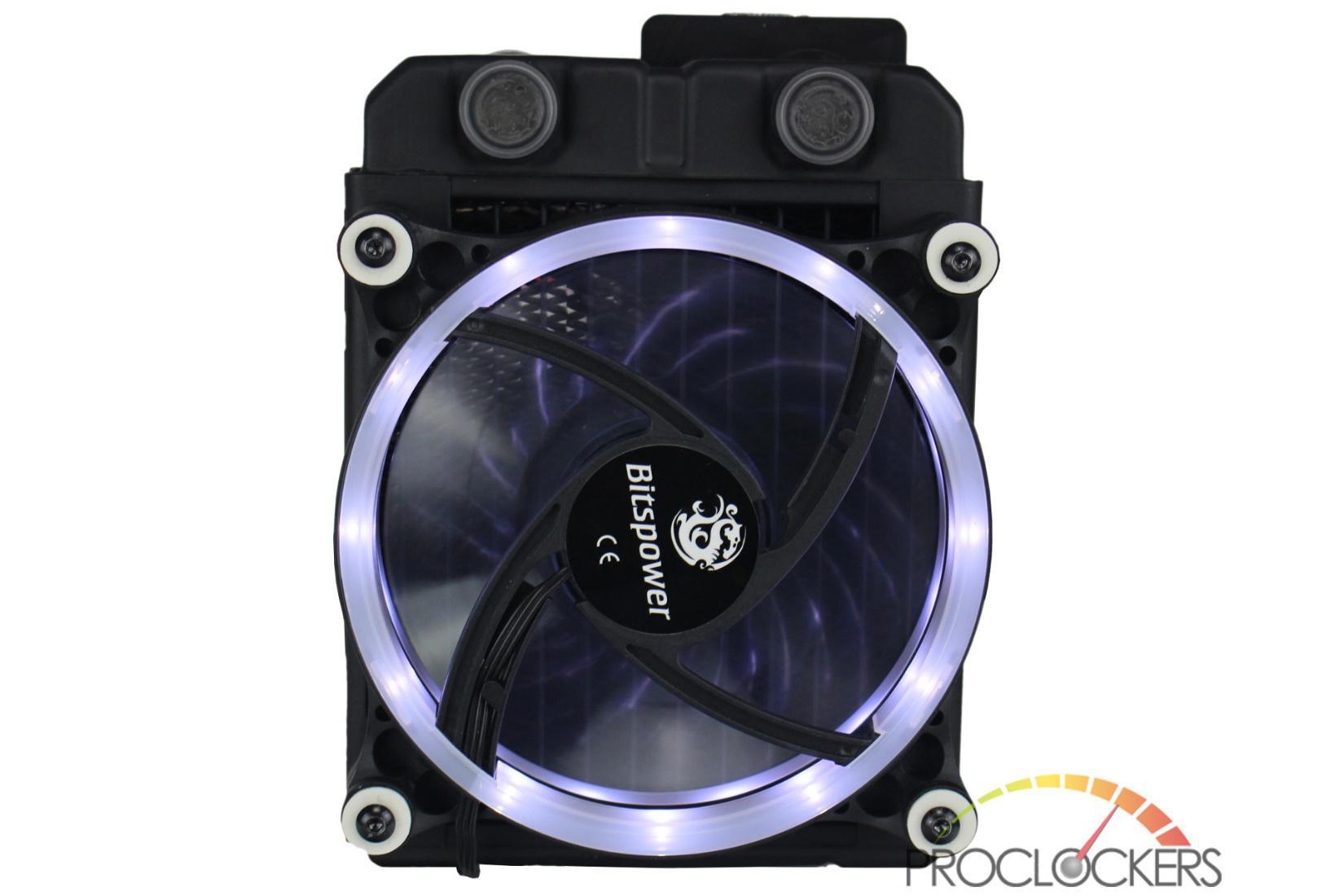 The included Bitspower fan lights up steadily in a cool white. The rotating blades reflect the LED's and look pretty sweet. There are no RGB capabilities though, and the lighting cant be turned off.

The tubes provide are already connected to compression fittings, one end is static and the other of each section is rotary.

The lighting system is connected to the power supply by one of a few cables depending on what you want to use to control the lighting. You can connect to a motherboard RGB header or the included stand-alone controller.
On the Inside

*Note from the Editor*
At the request of FSP Group, this section has been removed until further notice. We appologize for any inconveinience to our loyal readers, and we are currently discussing this request with FSP Group and we hope to be able to return this content.
Testing & Performance
CPU: Intel Core i7-8700k
Motherboard: ASUS ROG Maximus X Apex
RAM: 32GB HyperX Predator RGB 3200Mhz
GPU: Nvidia RTX 2080 Founders Edition
SSD: Samsung 960 PRO 2TB
OS: Windows 10 Professional X64
We'll start out saying we aren't equipped to do extremely detailed electrical analysis required to pick apart a modern power supply. It takes laboratory grade dedicated equipment to tell much difference between similar units, so we'll have to make do with some less precise testing.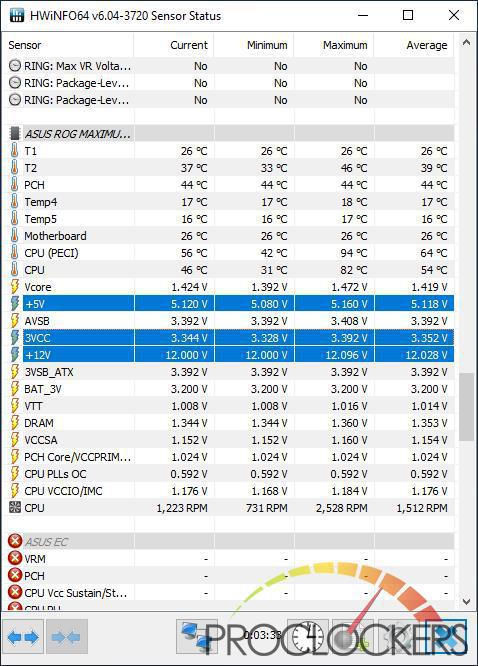 While we normally use a good Fluke Digital Multi-meter, we've found the onboard monitoring solutions in modern motherboards to be quite accurate and able to be easily logged with utilities like HWiNFO.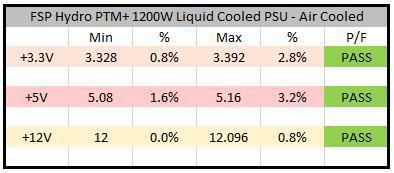 We see really nice voltage regulation on the 12V rail under load and idle both. Regulation on the 5V and 3.3V rail isn't quite as tight but is still very good.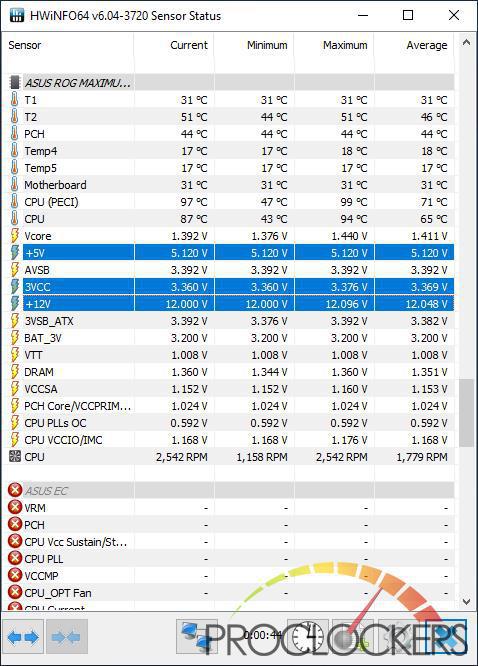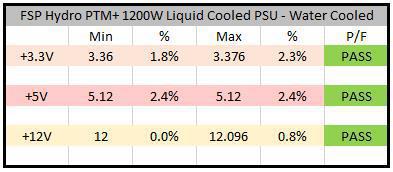 We don't really see much change once the PSU is liquid cooled on the 12V rail, but the 3.3V and 5V rail's both seem to tighten up just a bit.
Next, we'll look at ripple on the rails with our Owon VDS-1022/I Digital USB Oscilloscope.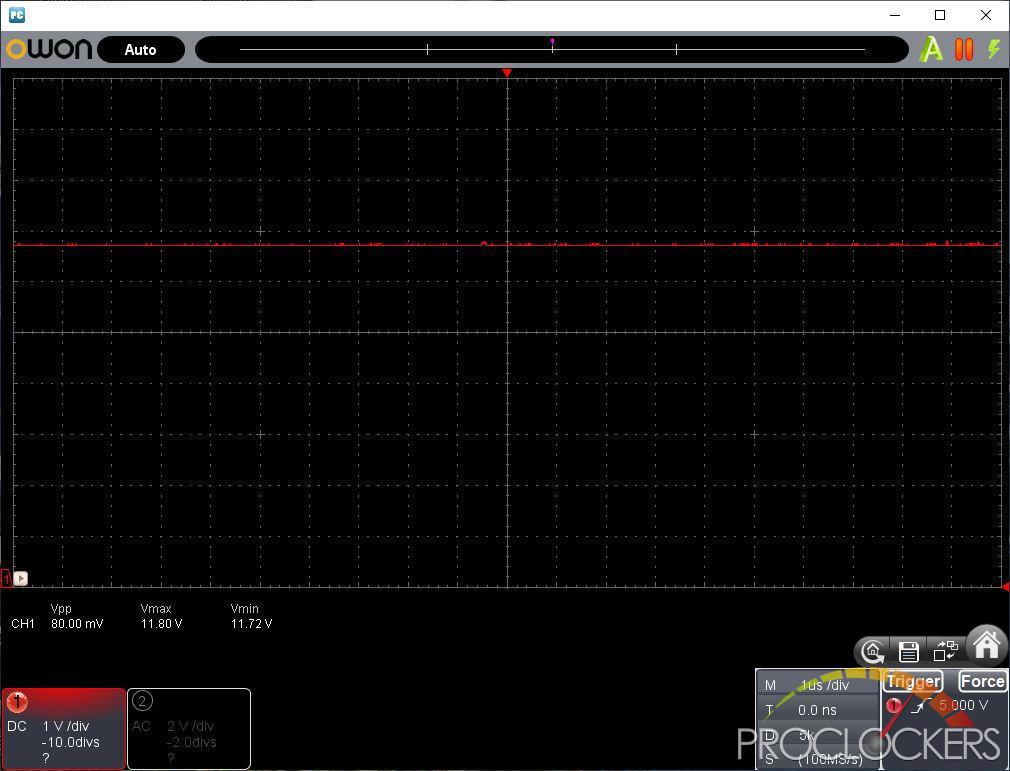 The +12V rail under a stress test load registers a peak of an 80mV peak to peak ripple, quite good.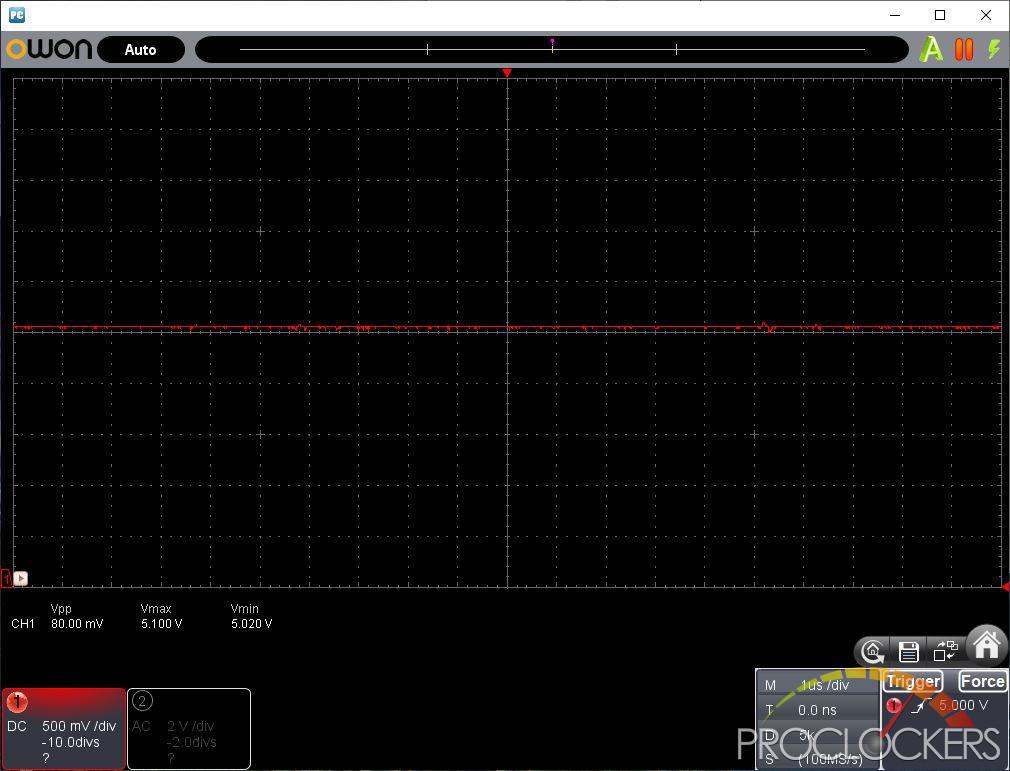 The 5-volt rails fairs about the same at around 80mV of ripple.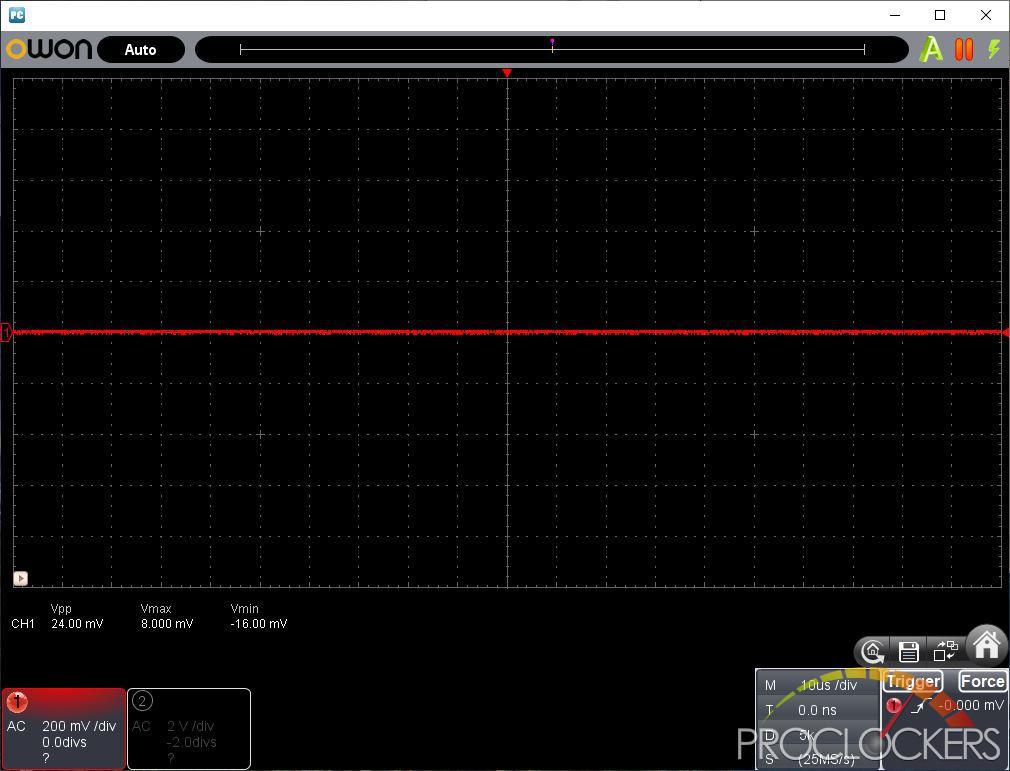 The 3.3V rail does an excellent job with 24mV of ripple. Modern systems typically put very little load on the 3.3V rail.
FLIR Thermal Imaging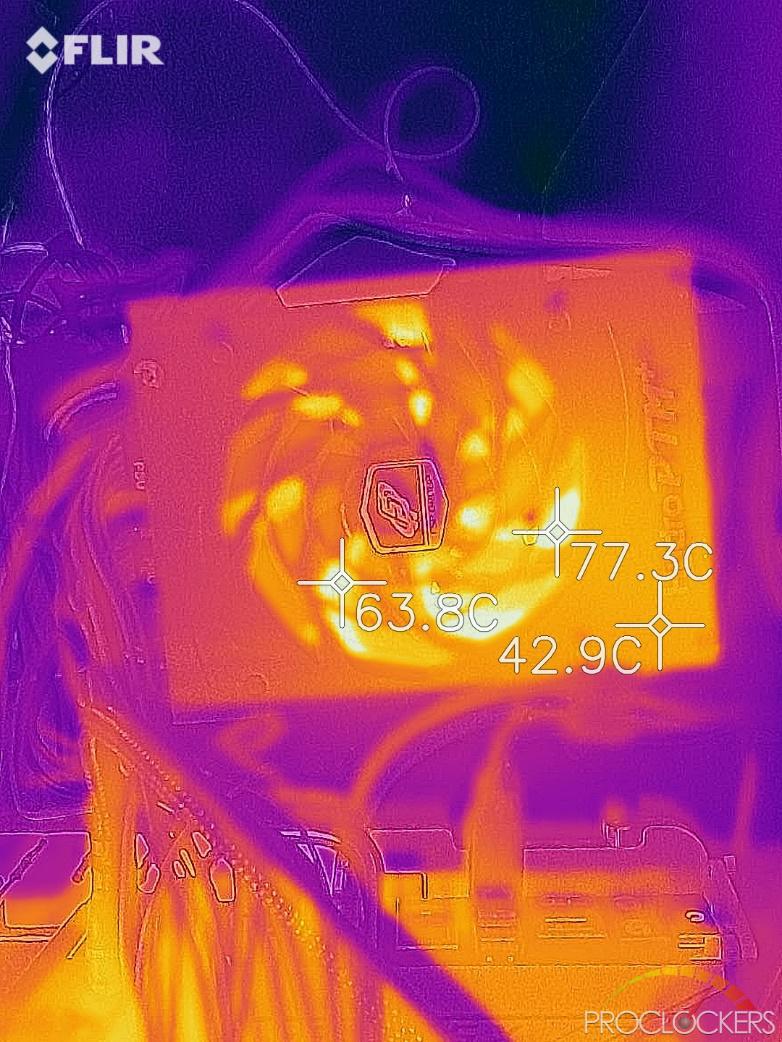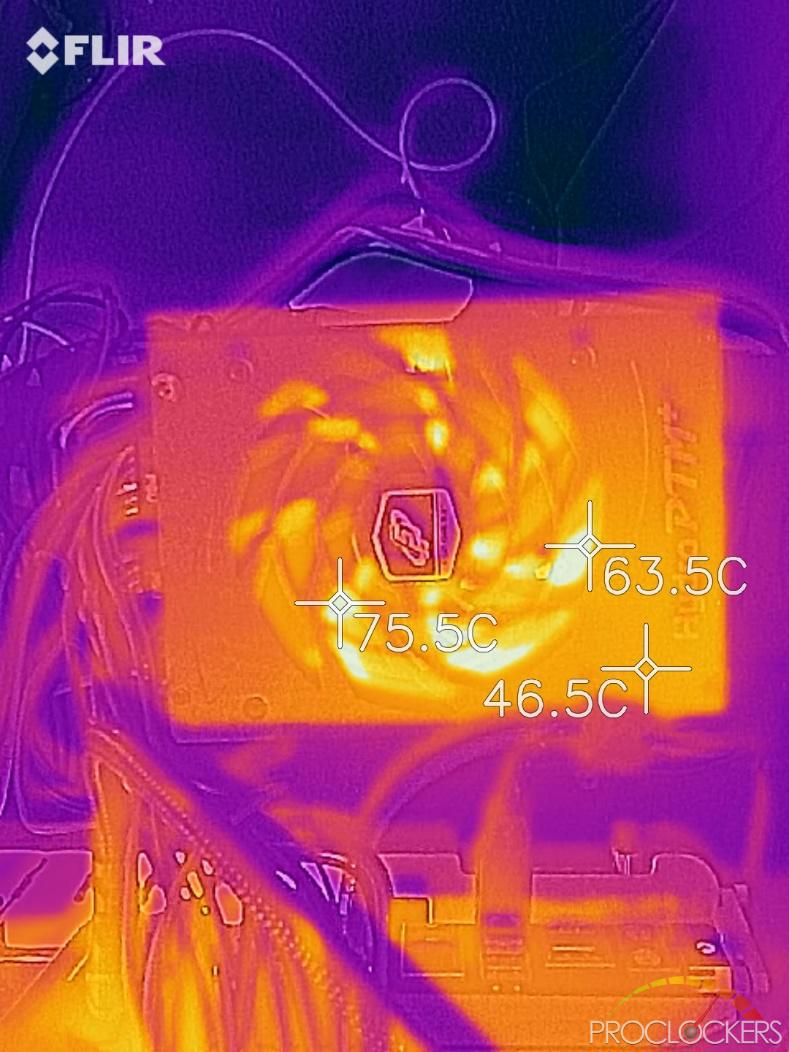 After an hour of Stress testing loads, we see internal temperatures of mid to upper 70C's. The PSU Casing heats up to nearly 50C just from the radiant heat.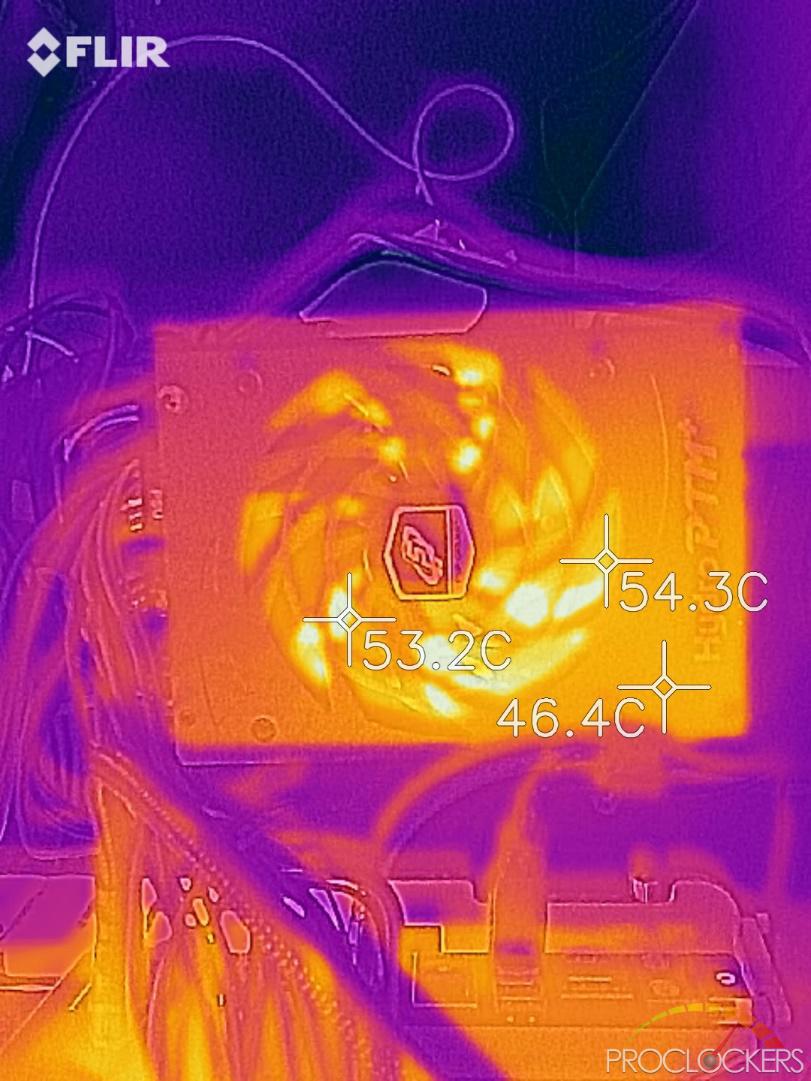 Once we fire up the included cooling loop (filled with straight distilled water only), we see temps fall to the mid 50C range in a matter of only a few minutes.
Final Thoughts & Conclusion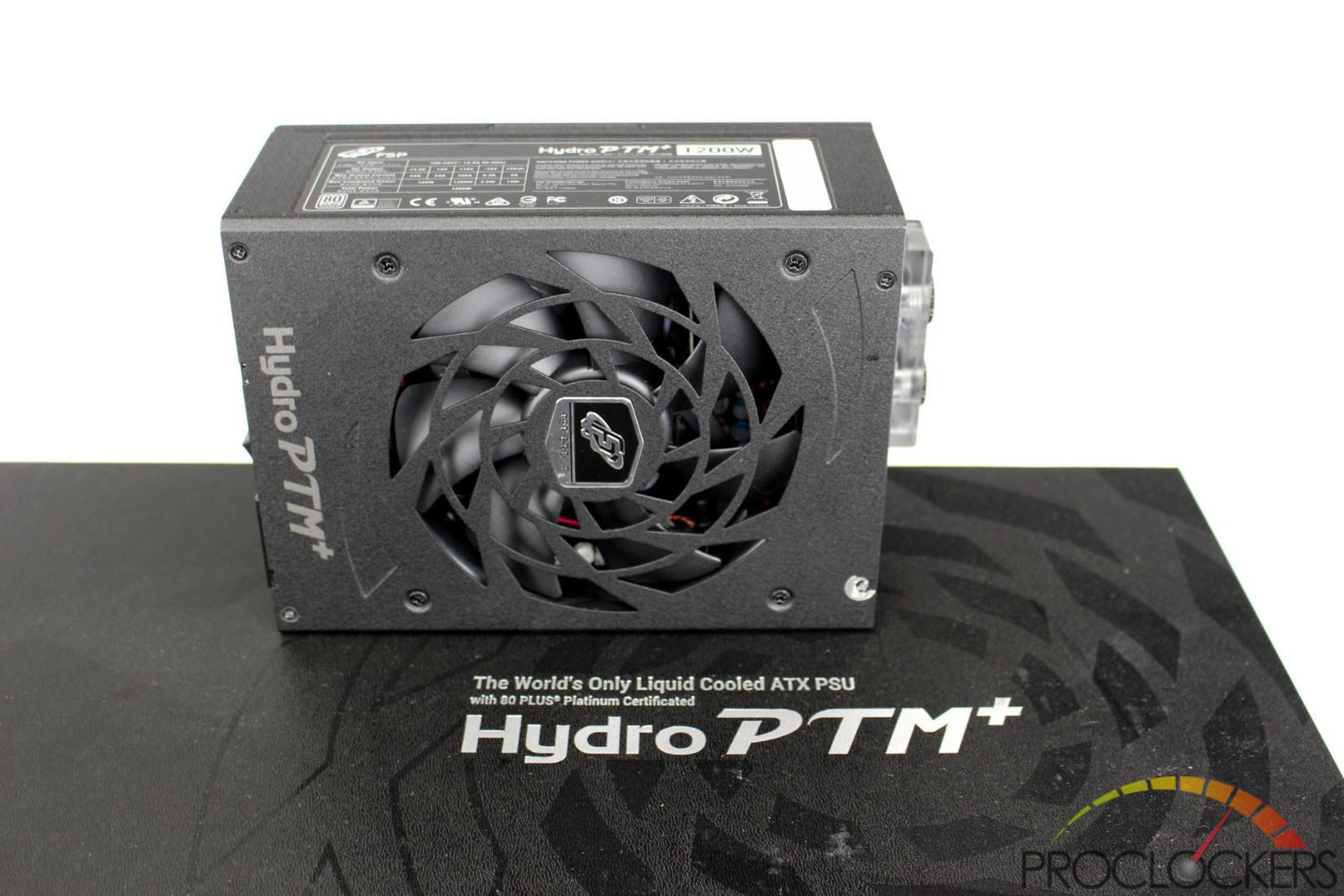 FSP has managed to marry two previously mutually exclusive technologies into a single functional device, high wattage electricity, and water cooling. If you are still cringing about having liquids a fraction of an inch from mains power, we can assure you this is perfectly safe. It's hard to convey in pictures, but Bitspower builds great hardware and the system FSP has integrated into this unit is extremely well built. It's also on the bottom of the PSU and only coupled with thermal pads. If somehow there WAS a leak, it would be below the power components and it would drain away harmlessly.
FSP's Hydro PTM+ 1200W gave us very stable voltages, and very little ripple, everything you want in that extremely important little box that makes your entire machine work. While most power supplies are hidden in a separate compartment or under a cover in your case, this is one PSU you'll want to proudly display. While you don't *have* to water-cool it, there are certainly some benefits to doing as such. Right out of the gate, we saw a very quick drop of around 25C, no small feat. You can also pull another 200W, bringing you up to 1400W of very high-quality power for that dream machine. Let's be honest, you wouldn't buy a liquid cooled power supply unless you plan on water cooling it, but yes, you can use air cooling until you are ready.
If we had to nitpick something, it would be the fans. In a world of RGB-everything, it's strange to see a single-color fan like on the radiator that can't be controlled. The fan inside the PSU itself is a typical black fan. FSP already has RGB in place for the water block, so would love to have seen that brought to the fan as well. It's entirely aesthetic and entirely subjective, but throw it on the wish list if you would. Outside of that, there is nothing here but love.
Great job FSP!