Noctua has introduced their dual-tower heat sink with two fans in 2009 and set a new trend in terms of air cooling. But as years passed, the original NH-D14 got lower down the list, and other models performed better. Noctua then introduced the new NH-D15 dual-tower CPU cooler on April 8th 2014, and although it's been well over six years, it still performs great today while keeping your system silent.
Knowing Noctua is great at keeping noise levels low, we're ready to test it and see what temperatures and noise levels reaches under load. Let's look at the box, the accessories it comes with, specs and test results before reaching a conclusion.
Noctua NH-D15 – Cooler Specifications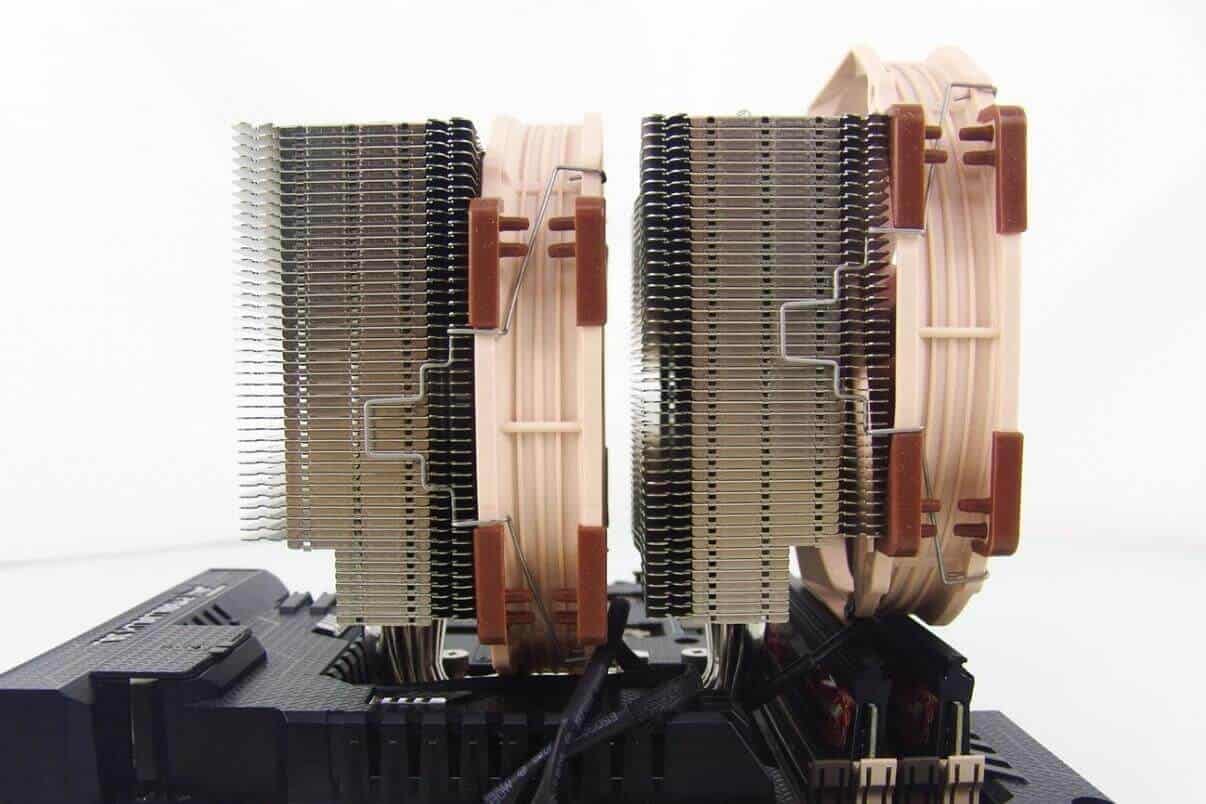 Socket compatibility: Intel LGA2066, LGA2011-0 & LGA2011-3 (Square ILM), LGA1200, LGA1156, LGA1155, LGA1151, LGA1150 & AMD AM2, AM2+, AM3, AM3+, FM1, FM2, FM2+ (backplate required), AM4 (included since 2019, older coolers require NM-AM4)
Height (without fan): 160 mm
Width (without fan): 150 mm
Depth (without fan): 135 mm
Height (with fan): 165 mm
Width (with fan): 150 mm
Depth (with fan): 161 mm
Weight (with fan): 1320 g
Material: Copper (base and heat-pipes), aluminium (cooling fins), soldered joints & nickel plating
Fan compatibility: 140x150x25 (with 120mm mounting holes), 140x140x25 (with 120mm mounting holes), 120x120x25
Scope of delivery: 2x NF-A15 PWM premium fan, 2x Low-Noise Adaptor (L.N.A.), Y-cable, NT-H1 high-grade thermal compound, SecuFirm2™ Mounting Kit, Noctua Metal Case-Badge
Warranty: 6 Years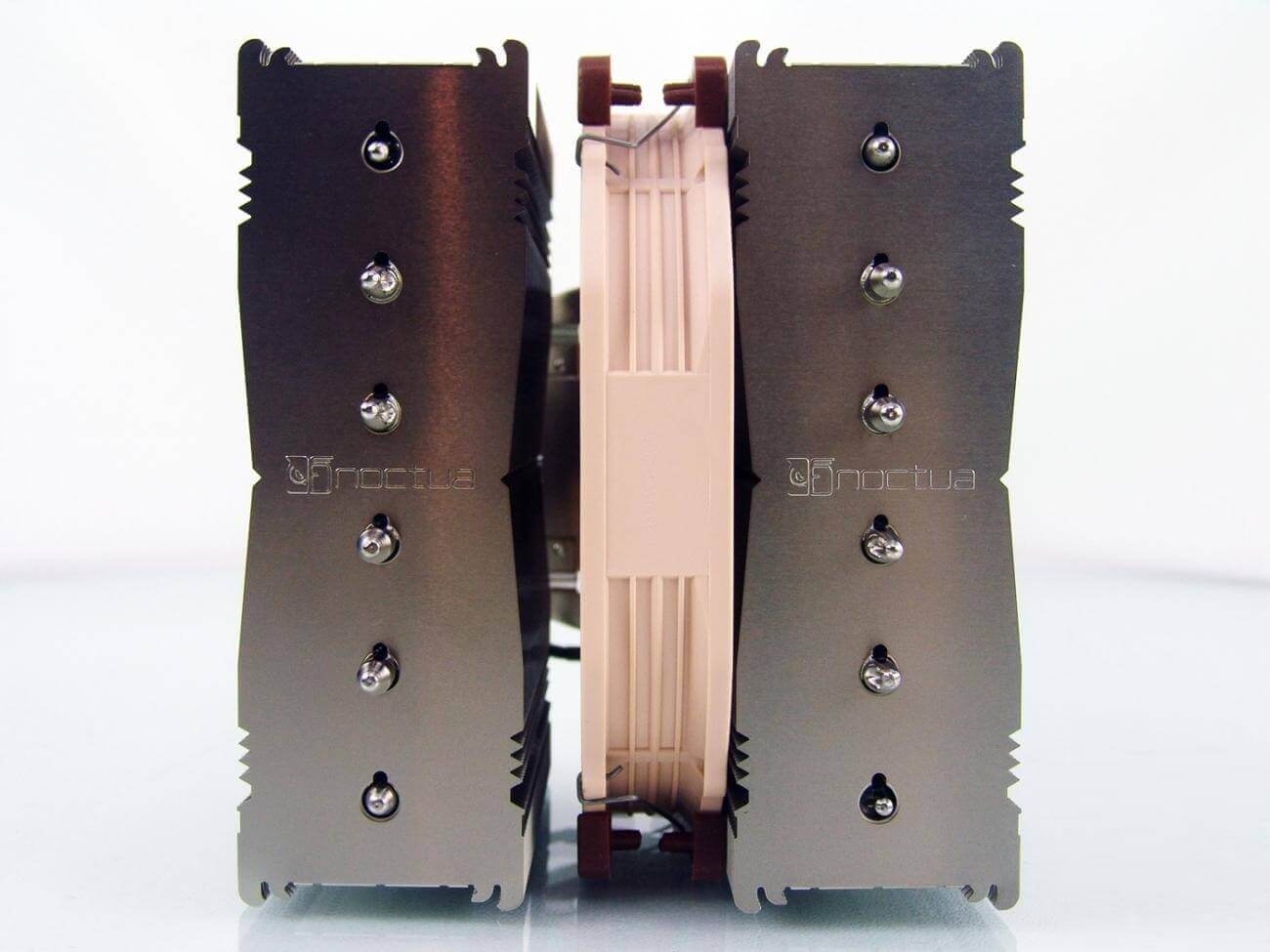 Noctua NH-D15 – FAN Specification
Model: 2x Noctua NF-A15 PWM
Bearing: SSO2
Rotational speed (+/- 10%): 1500 RPM
Rotational speed with L.N.A. (+/- 10%): 1200 RPM
Rotational speed (PWM, +/-20%): 300 RPM
Airflow: 140,2 m³/h
Airflow with L.N.A.: 115,5 m³/h
acoustical noise: 24,6 dB(A)
acoustical noise with L.N.A.: 19,2 dB(A)
Voltage range: 12 V
MTTF: > 150.000 h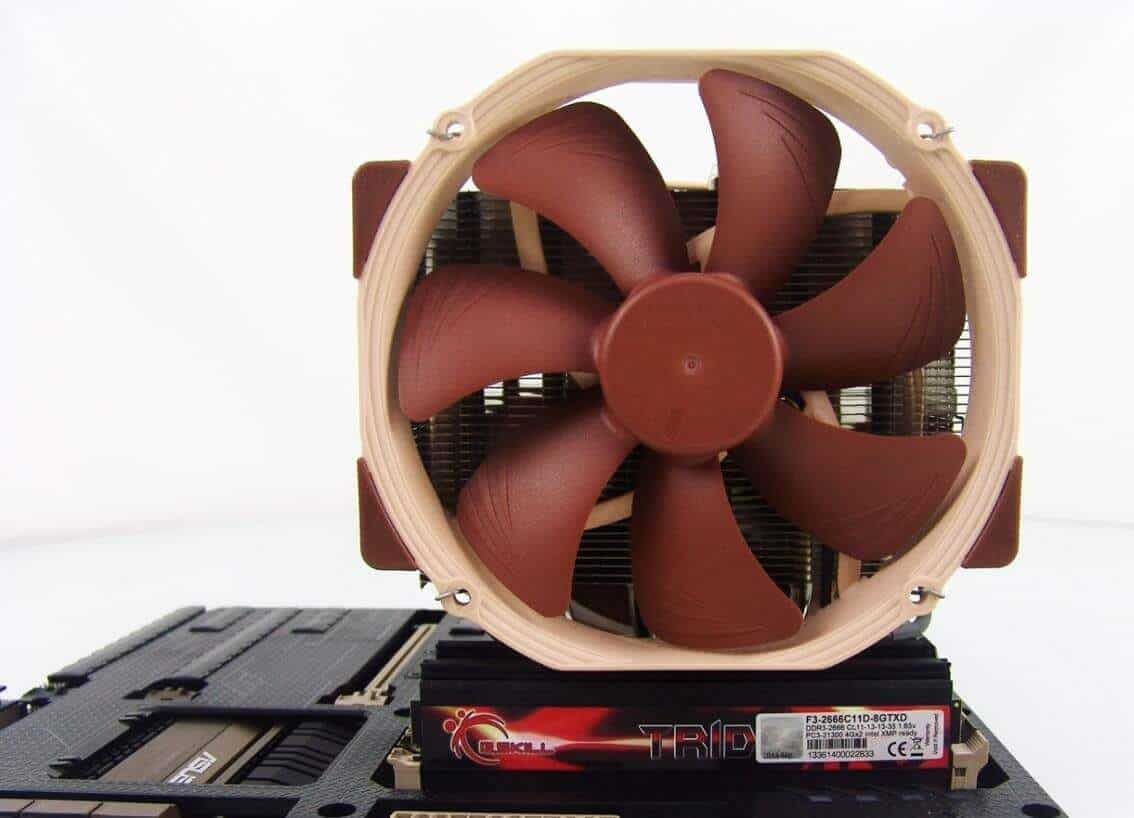 As you can see, the NH-D15 has two NF-A15 PWM fans that cool the towers, delivering 140.2 cubic meters per hour of airflow. In terms of noise, they're rated at a level of 24,6 dB(A).
Compared to the NH-D14, Noctua claims that the NH-D15 fans have 25-30% more airflow, meaning we'll surely see it climb up that list towards the top.
Noctua NH-D15 – Packaging and Accessories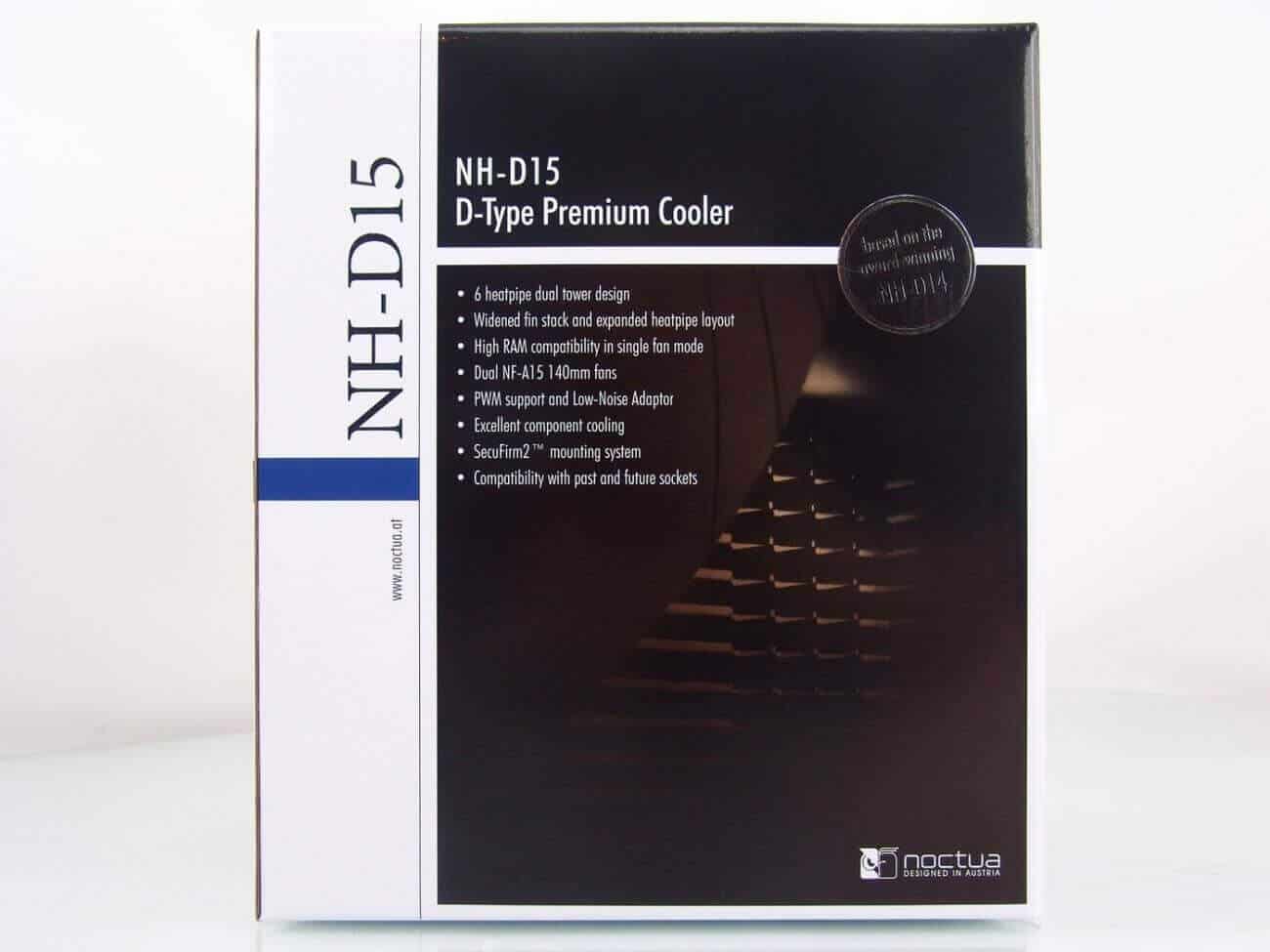 The NH-D15 comes in a typical Noctua package with a white and brown design. The key features of the CPU air cooler are highlighted in front of the box, and on the left side, we see the specifications. On the right side of the box, we see a summary of the cooler. Last but not least, on the backside, there are details about some of its features, and the accessories the CPU air cooler comes with.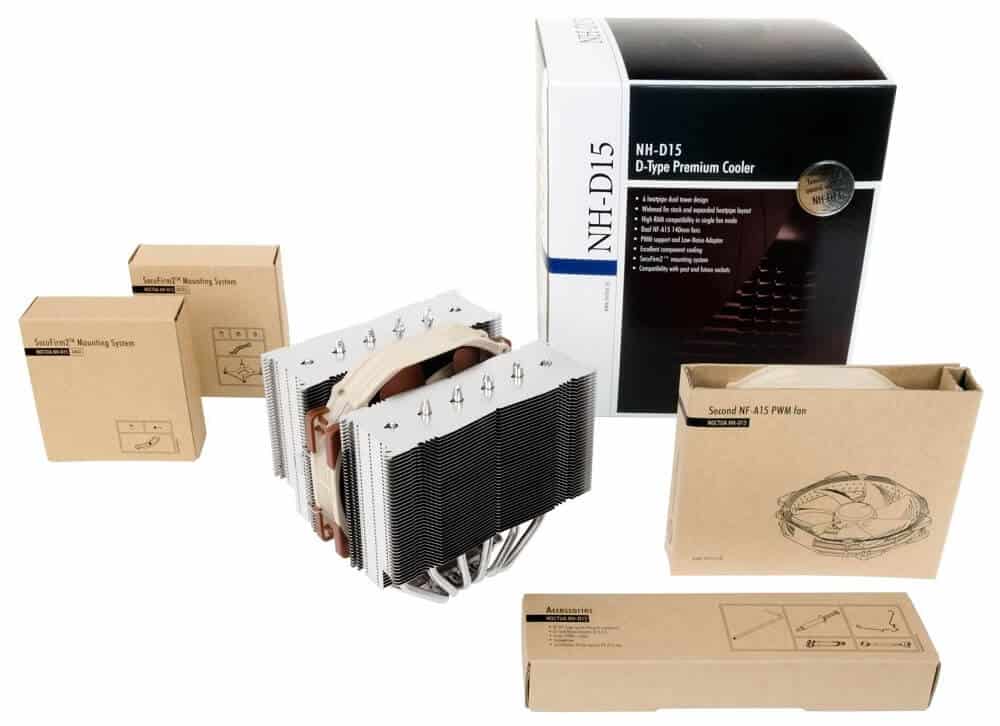 Inside the box, the cooler and fan are surrounded by foam to keep them safe. Each component is boxed separately and properly labelled.
Taking the cooler out of the box, we see the dual tower in all its might. One of the fans is already installed in the middle, while the second one is boxed separately and optional.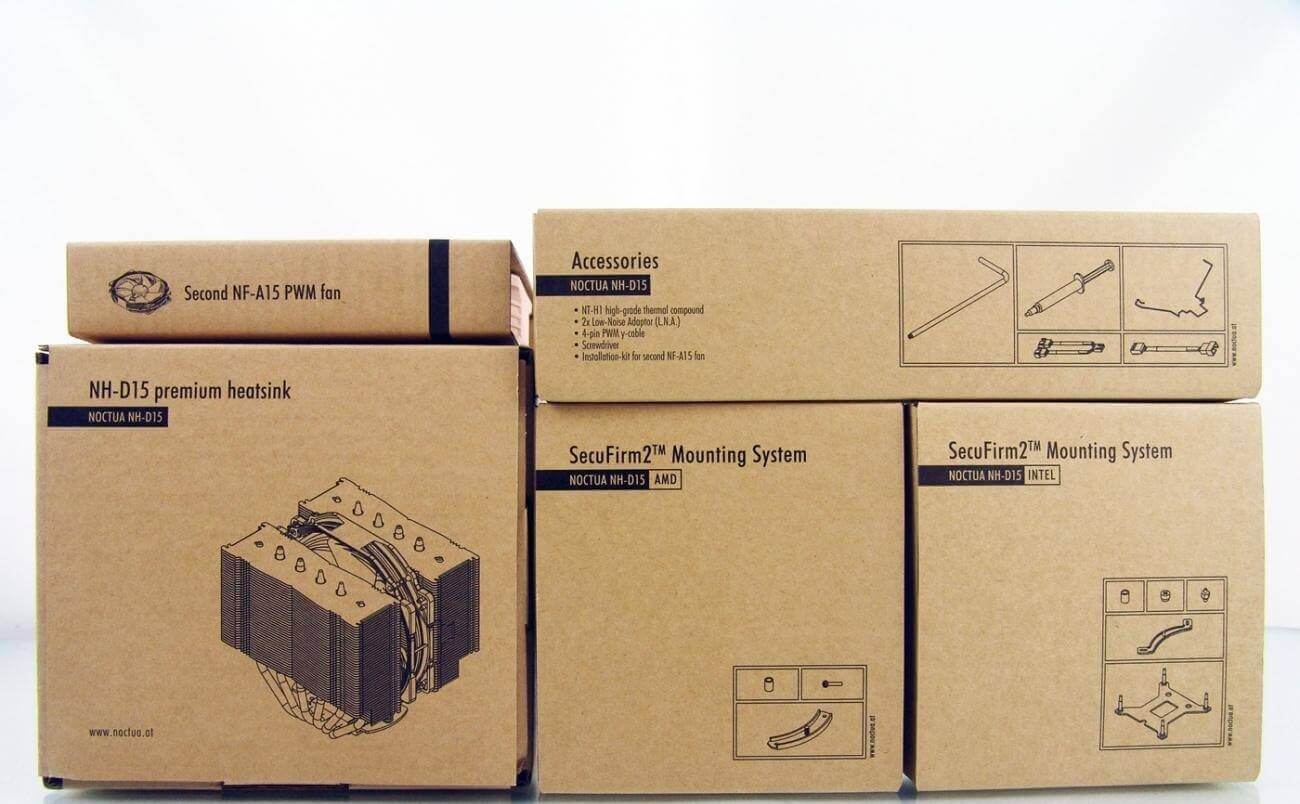 The cooler has six heat pipes that pass through 7 shorter fins and then the rest of the 38 larger fins. This is what sets apart the new NH-D15 from the NH-D14. The NH-D15 now has a stack of short fins that allows the installation/removal of memory cards.
As for the installed fan in the middle, it is clipped with wire fan clips and has rubber isolation to keep everything silent while it cools the CPU.
Adding the second fan, we see just how big this air cooler can get, weighing in at 1320 grams!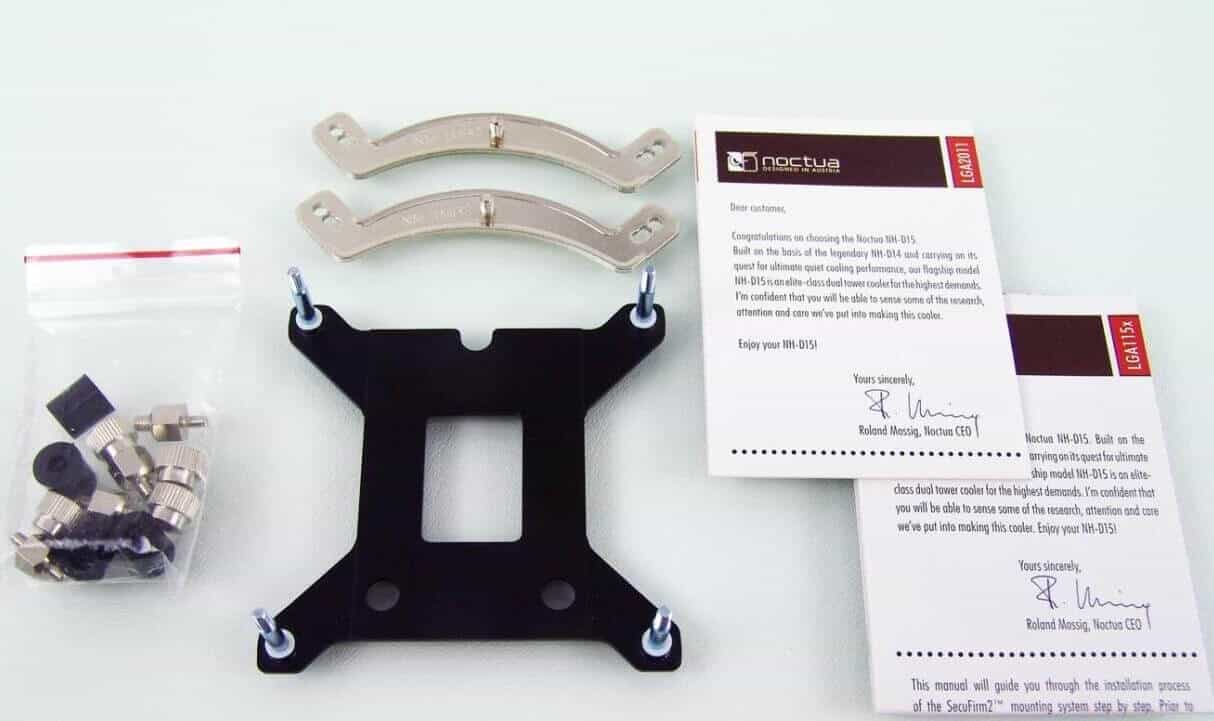 The accessories that come in the box are all you need to mount the air cooler: AMD mounting kit, Intel mounting kit, instructions, rubber case fan mounts, case screws, screwdriver, a tube of NT-H1, a Y-splitter cable, two LNA adapters and wire mounts that you'll use to install the second fan.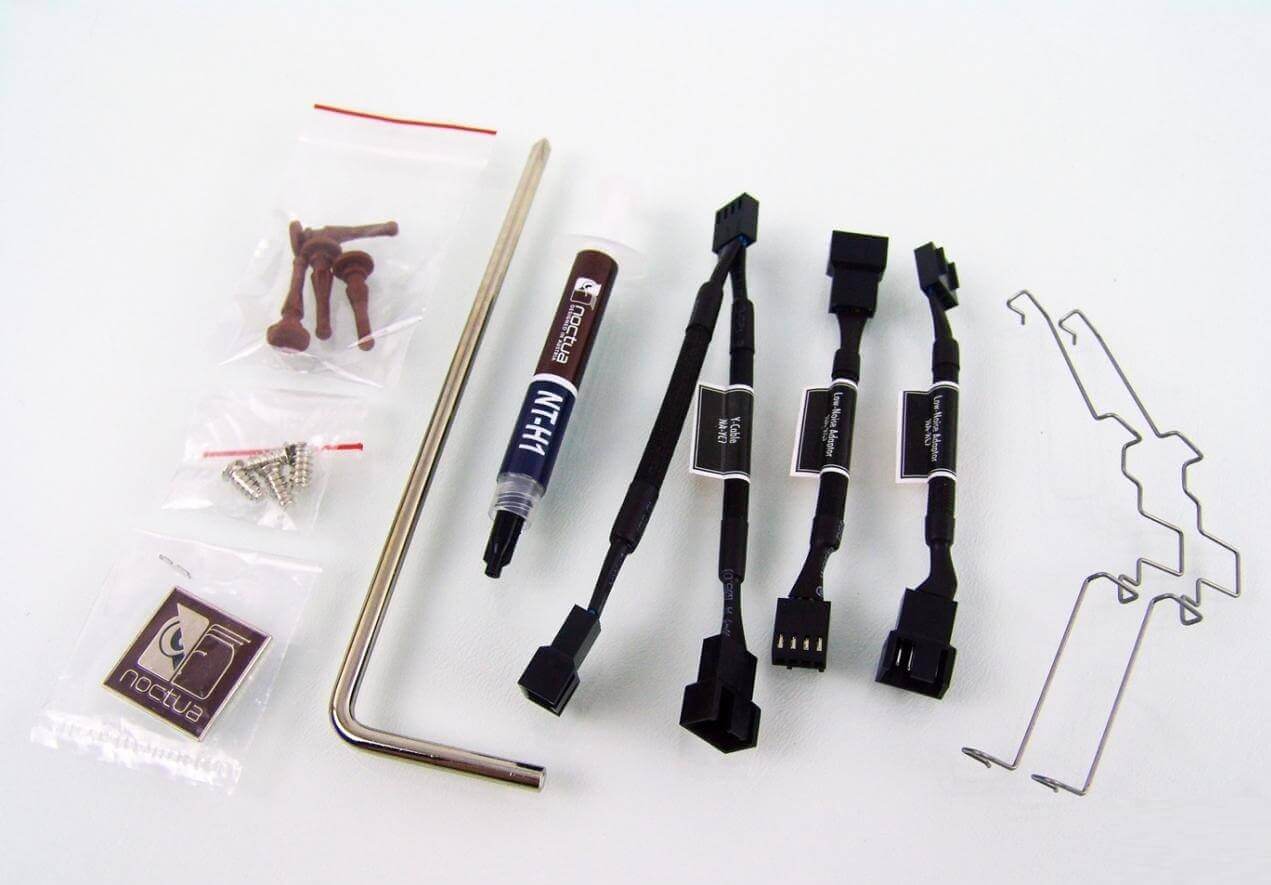 Both fans need a four-pin fan header and PWM functionality, as noted in the spec list above.
Installing the Noctua NH-D15 is easy, but you'll have to plan out the wiring of your system because the air cooler will take up most of the top half space of the motherboard. A great tip for better airflow is to install the second fan towards the rear of the chassis so that all the hot air goes out. Plus, this would leave enough room to install or remove memory cards.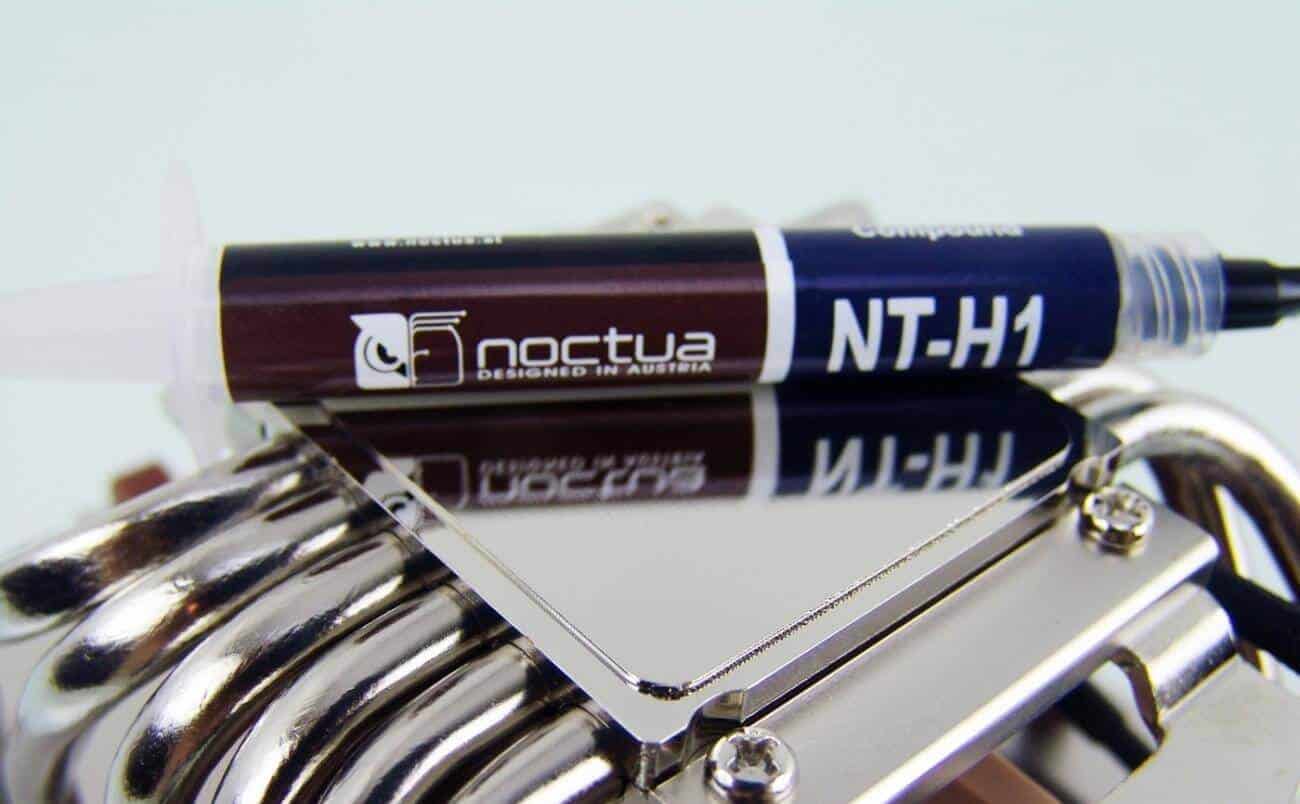 Now let's head over to testing the air cooler and see how it fares in terms of temperature and noise levels.
Noctua NH-D15 – Thermal and Noise Level Tests
We used an Intel i7 4770K for testing and, at stock load, the Noctua NH-D15 managed to cool it down to 49.5 degrees Celsius. Compared to the smaller and cheaper Noctua NH-U12S, it lowered the temps by 6 degrees Celsius.
The fans were spinning at 1100 RPM, and once reaching the 26.5 temperature, they went idle. The NH-D15 is in the top five air coolers and only manages to go down to rank 6 when the CPU is overclocked.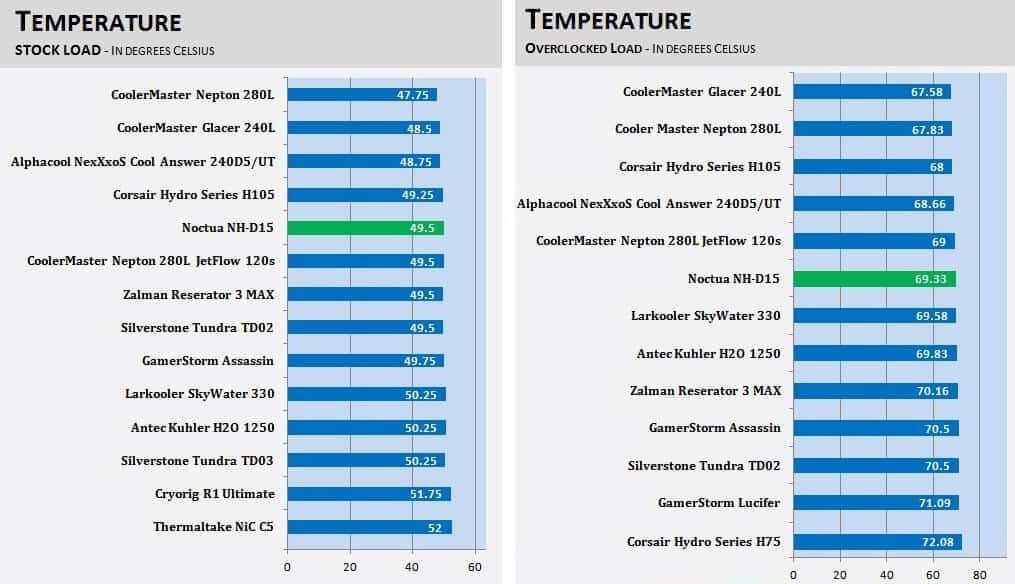 The NH-D15 managed to keep the CPU at 69.33 degrees Celsius, losing to the CoolerMaster Nepton 280L JetFlow 120s by only 0.33 degrees Celsius.
But when it comes to noise levels, the Noctua NH-D15 does take the crown! At 7.5V supplied, the fans were spinning at 1100 RPM and delivered only 24 dB of noise – the equivalent of a slight hum if you're close to the fans. At idle, a PSU or a video card will surely make more noise than the Noctua NH-D15.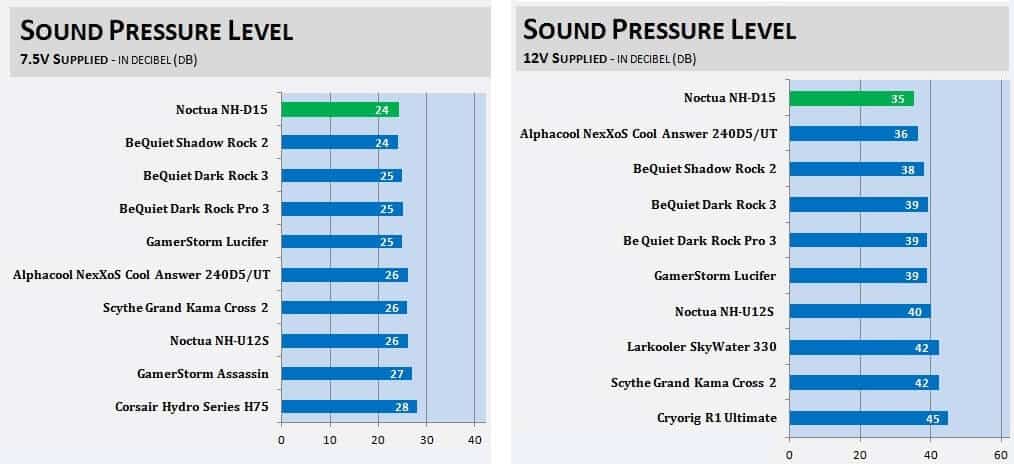 Even when pushed at 12V, the noise levels stayed low enough and only made a whooshing noise, barely noticeable at 35 dB of noise.
Noctua NH-D15 – Final Thoughts
The NH-D14 was great, and the NH-D15 is even better, so we can say we're huge fans of this air cooler. If you're thinking of overclocking your CPU, the NH-D15 will do a great job at keeping it cool and being silent. The only issue we'd have with this air cooler is its size, but if you've got enough room in your chassis, you shouldn't think twice before getting an NH-D15.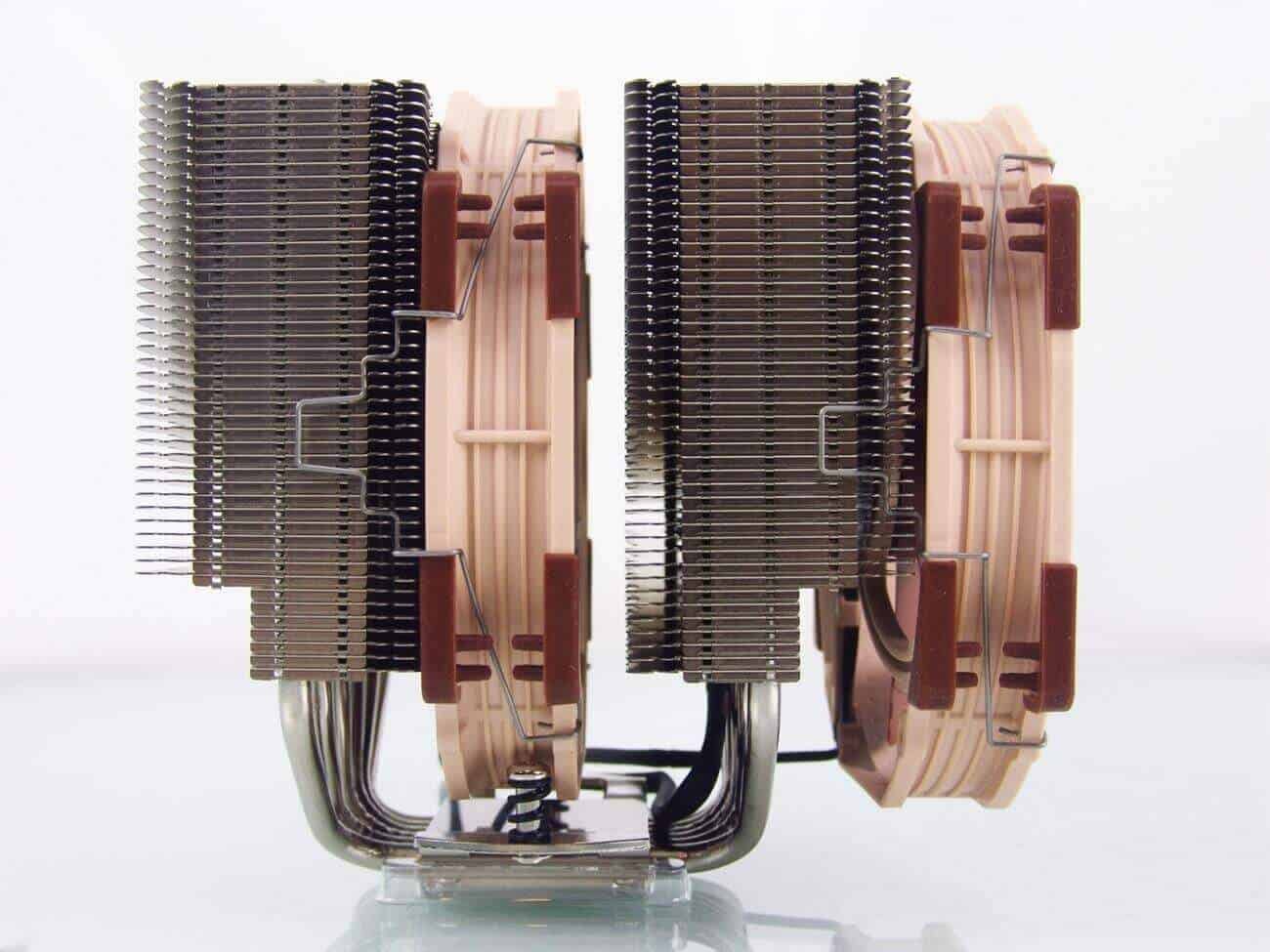 And if you're not really into the brown/beige colours, there's a (much more expensive) Noctua NH-D15 chromax.black version – this sweet CPU air cooler is all-black and looks amazing!
We cannot say anything bad about the NH-D15 because it's a solid product, which offers high-quality performance for a great price tag ($89). This is a beast of a cooler, crowned the king of the sneakiest CPU air cooler on the market that will cool your CPU.