NVidia RTX 3070 Ti Review
Nvidia may have announced the first three GPUs earlier this fall in the form of RTX 3070, RTX 3080, and RTX 3090, but these are not the only video cards coming this year. Nvidia has officially announced the 3060 Ti, which is available starting at $399 (released on December 2nd).
And that's not the only new GPU joining the 30-series. The RTX 3070 Ti is also joining the ranks and promises better performance than the RTX 3070, directly competing with AMD's Radeon RX 6800.
Let's take a look at the specs, performance, price, and availability of the Nvidia RTX 3070 Ti in our review.
Nvidia RTX 3070 Ti – Specs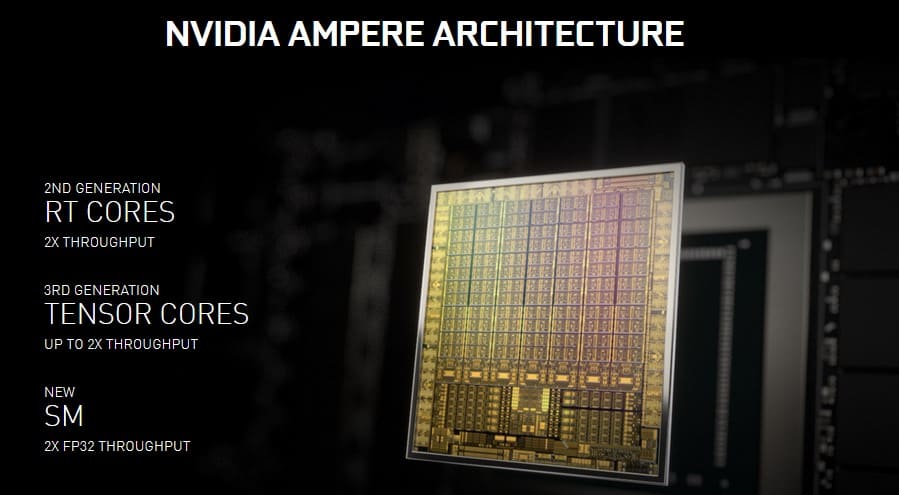 Graphics Processor
GPU Name: GA102-150
Architecture: Ampere
Foundry: Samsung
Process Size: 8 nm
Transistors: 28.3 billion
Die Size: 628 mm²
Memory
Memory Size: 10 GB
Memory Type: GDDR6X
Memory Bus: 320 bit
Bandwidth: 760 GB/s
Clock Speeds
Base Clock: 1500 MHz
Boost Clock: 1725 MHz
Memory Clock: 1750 MHz / 14 Gbps effective
Graphics Features
DirectX: 12 Ultimate (12_2)
OpenGL: 4.6
OpenCL: 2.0
Vulkan: 1.2
CUDA: 8.6
Shader Model: 6.5

Board Design
Slot Width: Dual-slot
Length: 242 mm / 9.5 inches
Width: 112 mm / 4.4 inches
TDP: 320 W
Suggested PSU: 350+ W
Outputs: 1x HDMI, 3x DisplayPort
Power Connectors: 1x 12-pin
Board Number: PG132 SKU 35
Render Config
CUDA Cores: 7424
TMUs: 192
ROPs: 96
SM Count: 48
Tensor Cores: 232
RT Cores: 58
L1 Cache: 128 KB (per SM)
L2 Cache: 4 MB
Theoretical Performance
Pixel Rate: 165.6 GPixel/s
Texture Rate: 331.2 GTexel/s
FP16 (half) performance: 21.20 TFLOPS (1:1)
FP32 (float) performance: 21.20 TFLOPS
FP64 (double) performance: 331.2 GFLOPS (1:64)
Graphics Card
Release Date: 2021
Generation: GeForce 30
Production: Unreleased
Launch Price: 599 USD
Bus Interface: PCIe 4.0 x16
Now all these specs are rumors coming from Videocardz and Tech Power Up sources. According to these outlets, this is how the Nvidia RTX 3070 Ti should look like. If these specs do end up being correct, this means that the new GPU should fill the gap between the GeForce RTX 3080 and RTX 3070 models and directly compete with the AMD Radeon RX 6800.
The Nvidia RTX 3070 Ti will have 7424 CUDA cores and the same memory configuration as the RTX 3080, and the same TGP.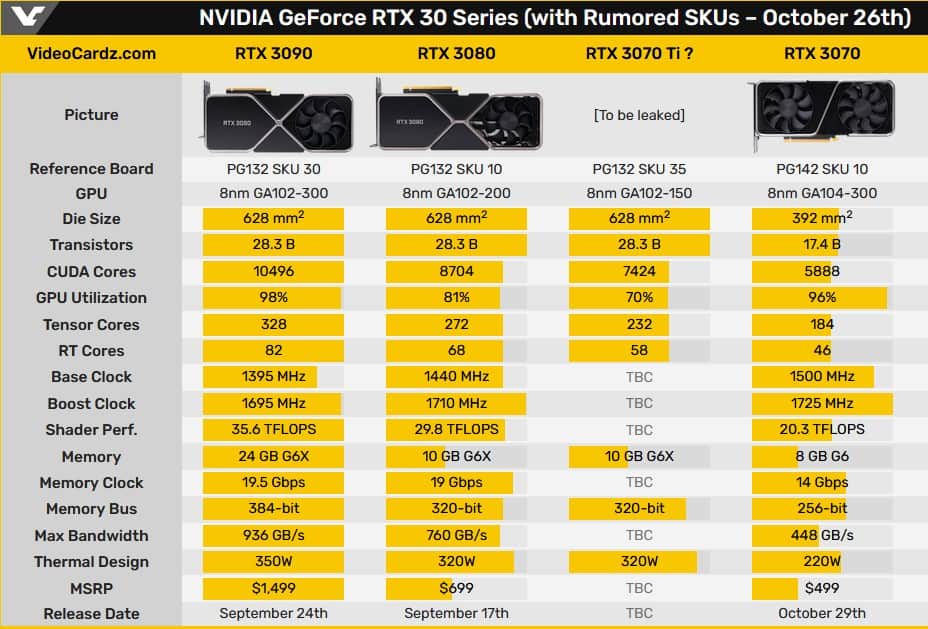 Nvidia RTX 3070 Ti – Benchmarks and Tests
According to the sources, the Nvidia RTX 3070 Ti is a quick response to the Radeon RX 6800, which was recently released.
The RTX 3070 Ti will be an upgrade to the RTX 3070, as we can see in these relative performance scores.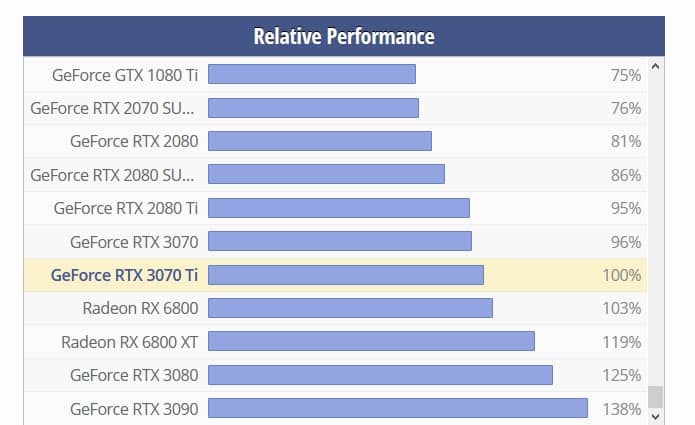 The RTX 3070 Ti hasn't yet been spotted on any benchmark software, so there are no test results to show us how much power it packs.
Nvidia RTX 3070 Ti – Price & Availability
The Nvidia RTX 3070 Ti will be available in 2021 at a launch price of around 599 USD. We will probably hear about it only a few days before being released on the market, similar to what happened with the RTX 3060 Ti.
Nvidia RTX 3070 Ti – Final Thoughts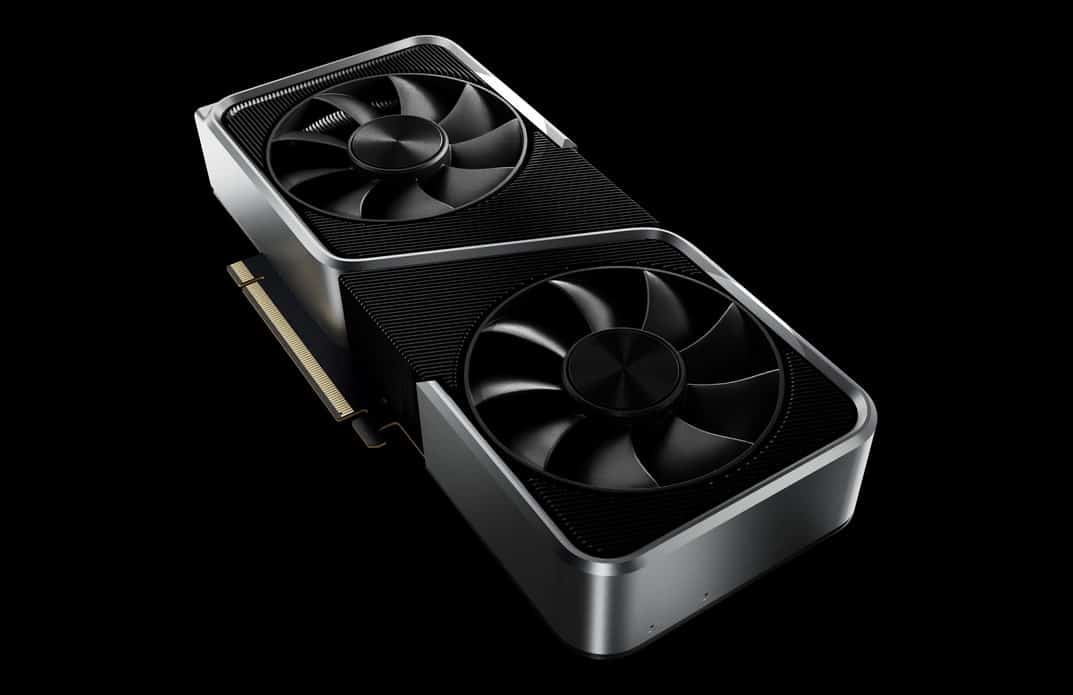 The RTX-30 series is slowly growing, adding new members to its family. However, the cheapest cards in the form of the RTX 3070 or RTX 3060 Ti have quickly disappeared from the stores, leaving plenty of users that wanted to upgrade with no option. With the Nvidia RTX 3070 Ti heading over next year, there's still one more chance to grab a new GPU.

<![CDATA[ */ var zbjs = {"ajaxurl":"https:\/\/gaminggorilla.com\/wp-admin\/admin-ajax.php","md5":"d8e8b24d2fa18d2999e0fddcdd418586","tags":[],"categories":["Hardware"]}; /* ]]>