Thermaltake TH240 AIO Cooler Review
Everyone knows Intel's thermal performance hasn't been great lately. I'm currently running one of the hottest in recent years, the 10900K.
Thermaltake sent us an all-in-one cooler that might be able to tame this hot beast. The Thermaltake TH240 ARBG Sync.
Check out the specs below, and then we'll dive into some thermal testing using Blender.
P/N
CL-W286-PL12SW-A
Pump
Rated Voltage: 12 V / 5V
Rated Current : 0.38A & 0.25A
Motor Speed : 3300 R.P.M
Water Block
Material: Copper
Fan
Dimension: 120 x 120 x 25 mm
Speed: 1500 RPM
Noise Level: 28.2 dB-A
Rated Voltage: 12 V & 5 V
Max. Air Flow: 59.28 CFM
Max. Pressure: 1.31 mm-H2O
Connector: 2510–3 Pin , 5 V ARGB header–3 Pin
Tube
Length: 400 mm
Material: Rubber
Radiator
Dimension: 273x 120 x 27 mm
Compatibility
Intel LGA 2066/2011-3/2011/1366/1200/1156/1155/1151/1150
AMD FM2/FM1/AM4/AM3+/AM3/AM2+/AM2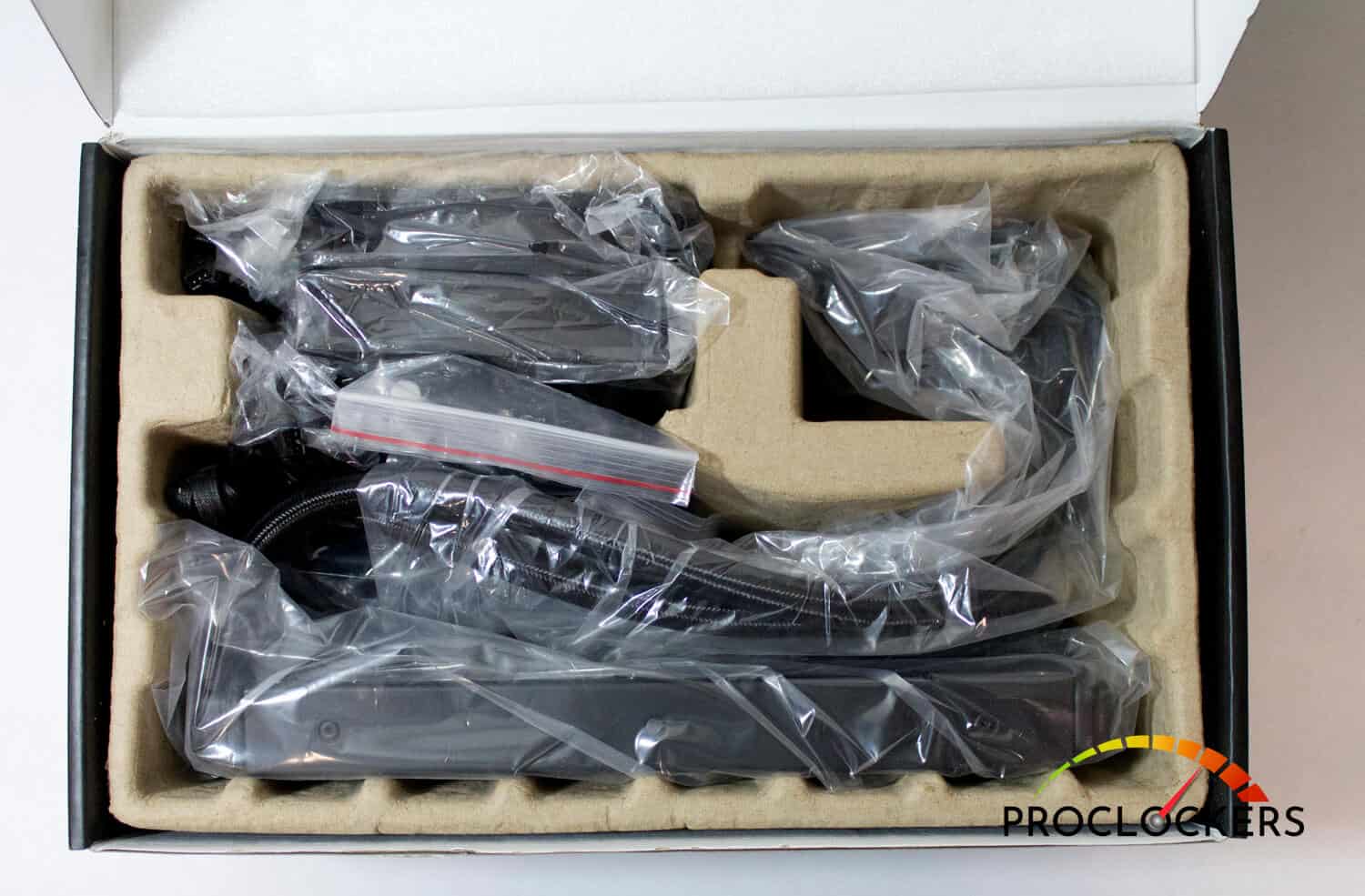 The cooler got to me with no visible damage on the box. Installation, as with most all-in-one coolers, was fairly easy. Thermaltake provides everything you need in the box. Mounting hardware for Intel and AMD, two 120x120x25 mm PWM fans with ARBG, the radiator, cooling block/pump, and thermal paste. The hardest part was managing the cables so my build retains its clean look. I cleaned off the old thermal paste with alcohol and a paper towel and used the included thermal paste that Thermaltake provides.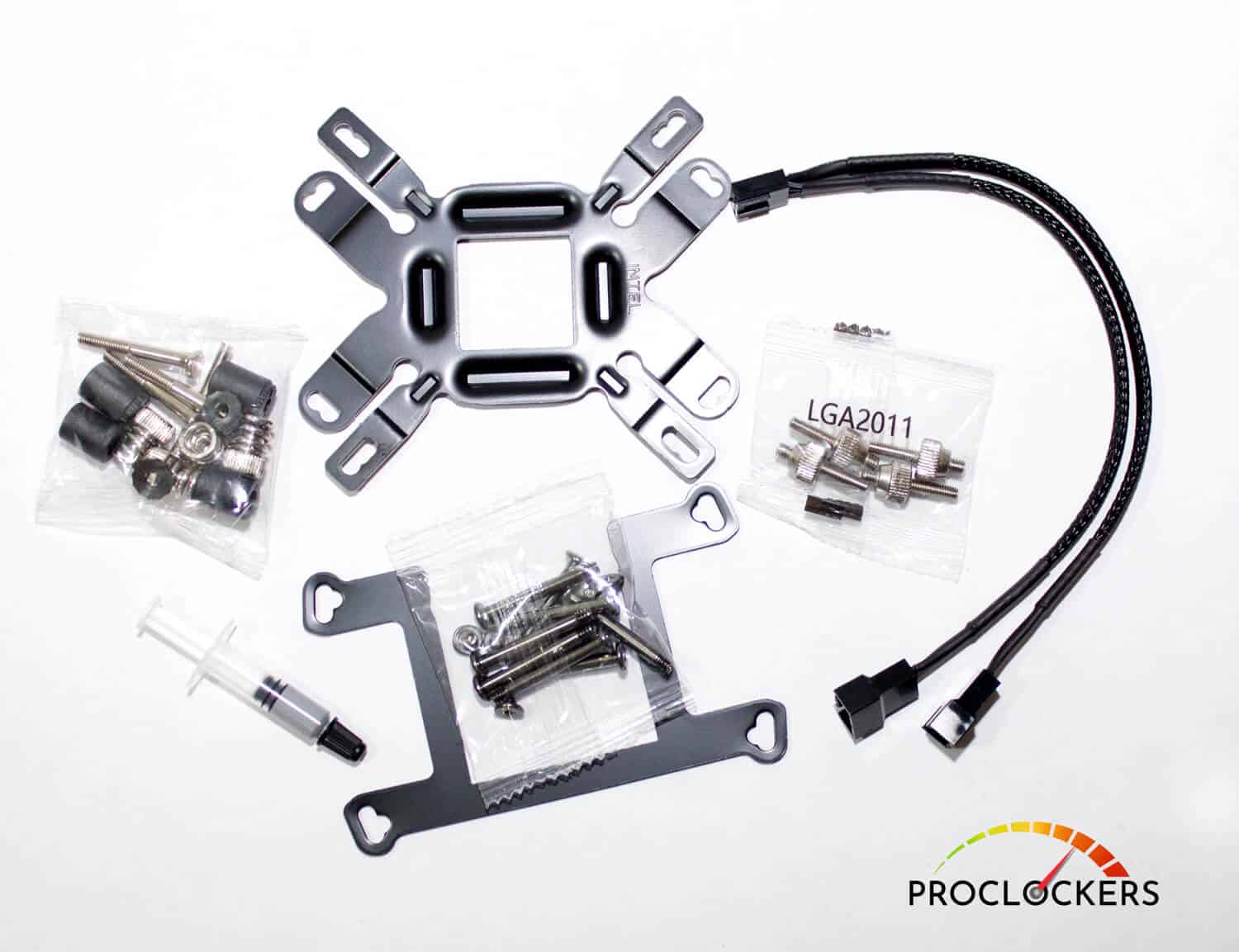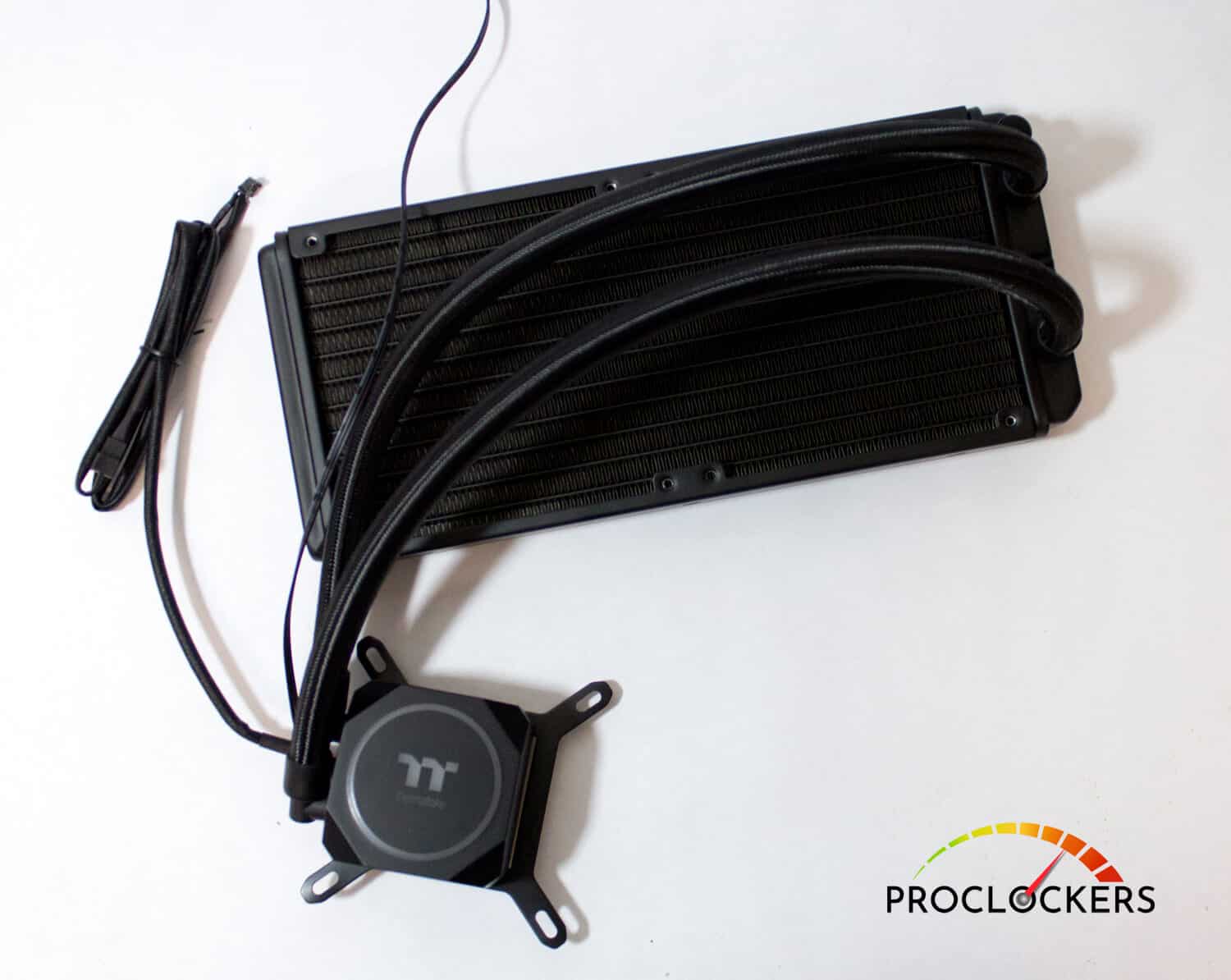 THERMALTAKE TH240 AIO COOLER: TESTING
Testing was completed with the following hardware:
Custom-built PC
Cougar Gaming DarkBlader X5
ASUS Maximus XII Formula
Intel 10900K
XFX Radeon RX 6900XT
Lexar Hades 32 GB DDR4 3600
Crucial BX500 240GB Internal SSD
Windows 11 operating system
Room temperature 70° F
Jumping straight into Blender, I completed three CPU benchmark tests using BMW27, classroom, and fishy cat. BMW27 took 2m16s to complete. Temps on all cores ranged from 26°C (78.8°F) to 29°C (84.2°F) while the system was idle. During the BMW27 benchmark, Core #4 reached the hottest at 91°C (195.8°F).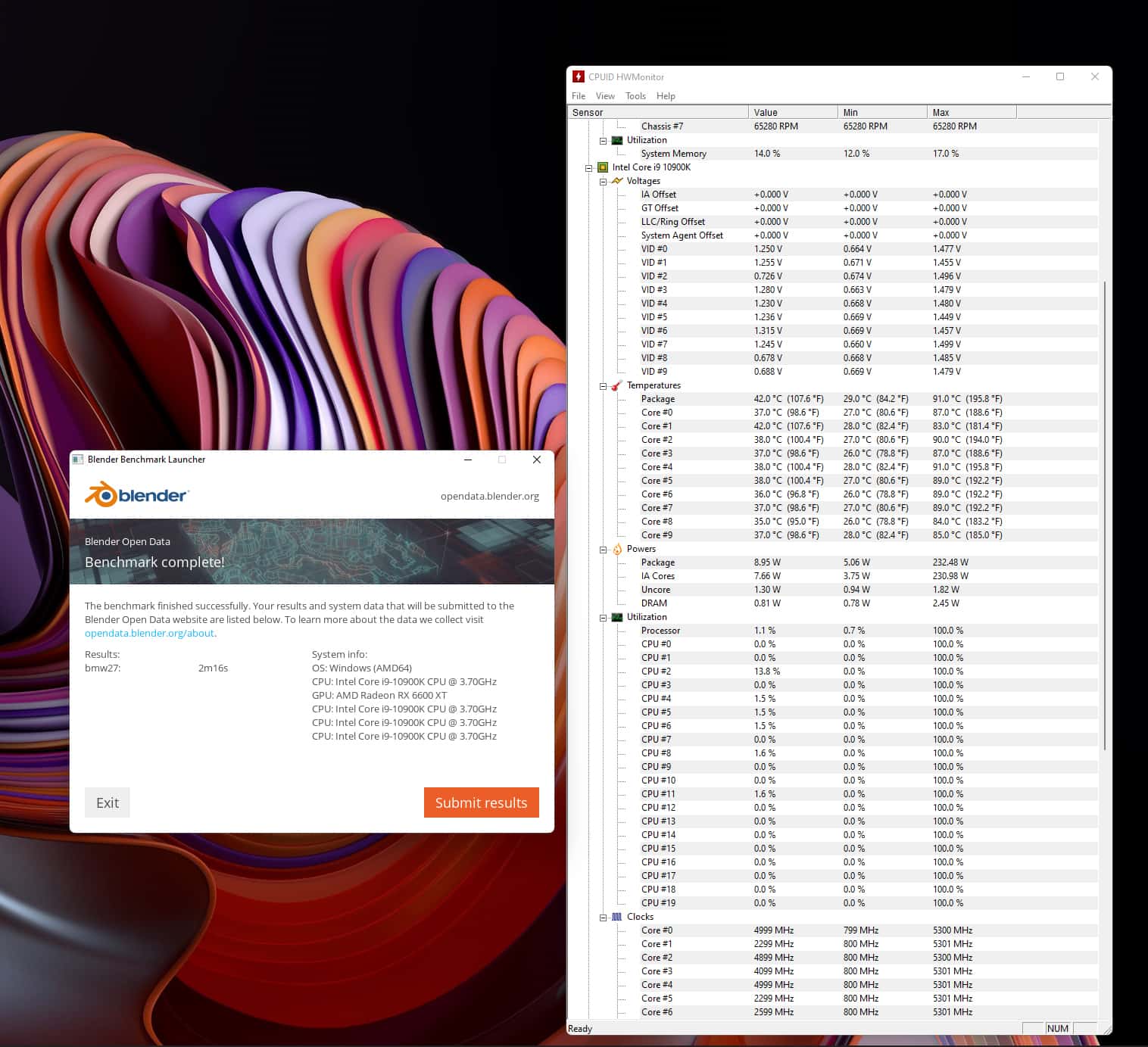 The classroom benchmark took 6m 18s to complete. Again, temps on all cores ranged from 26°C (78.8°F) to 29°C (84.2°F) while the system was idle. During the classroom benchmark, Core #4 was again the hottest at 93° C (195.8°F).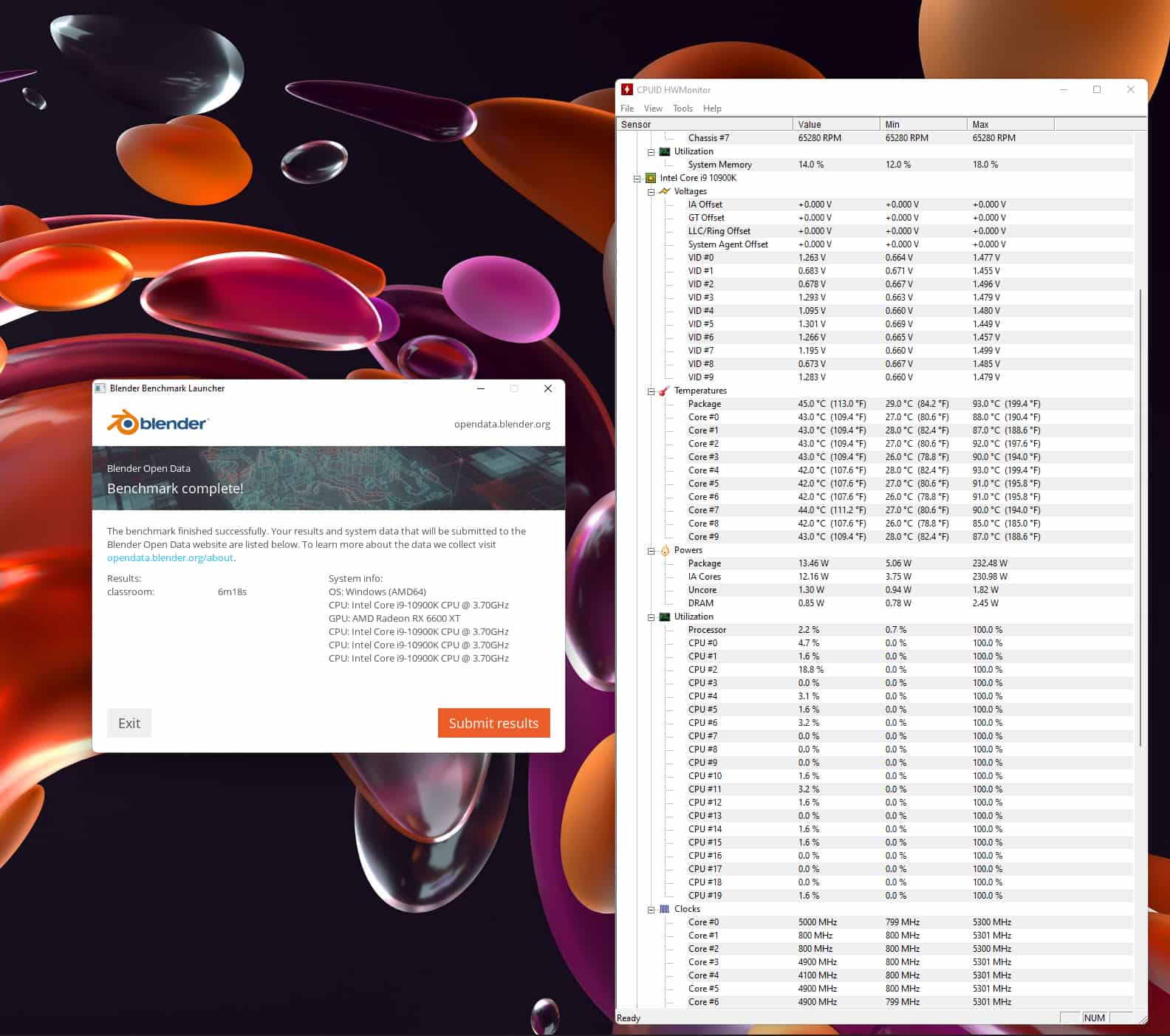 Fishy cat was the last benchmark I ran and seemed to be the average of the three tests. It took 3m 10s to complete. With the same idle temperature readings as the previous two tests, Core #4 was again the hottest reaching a maximum temperature of 91°C (195.8°F).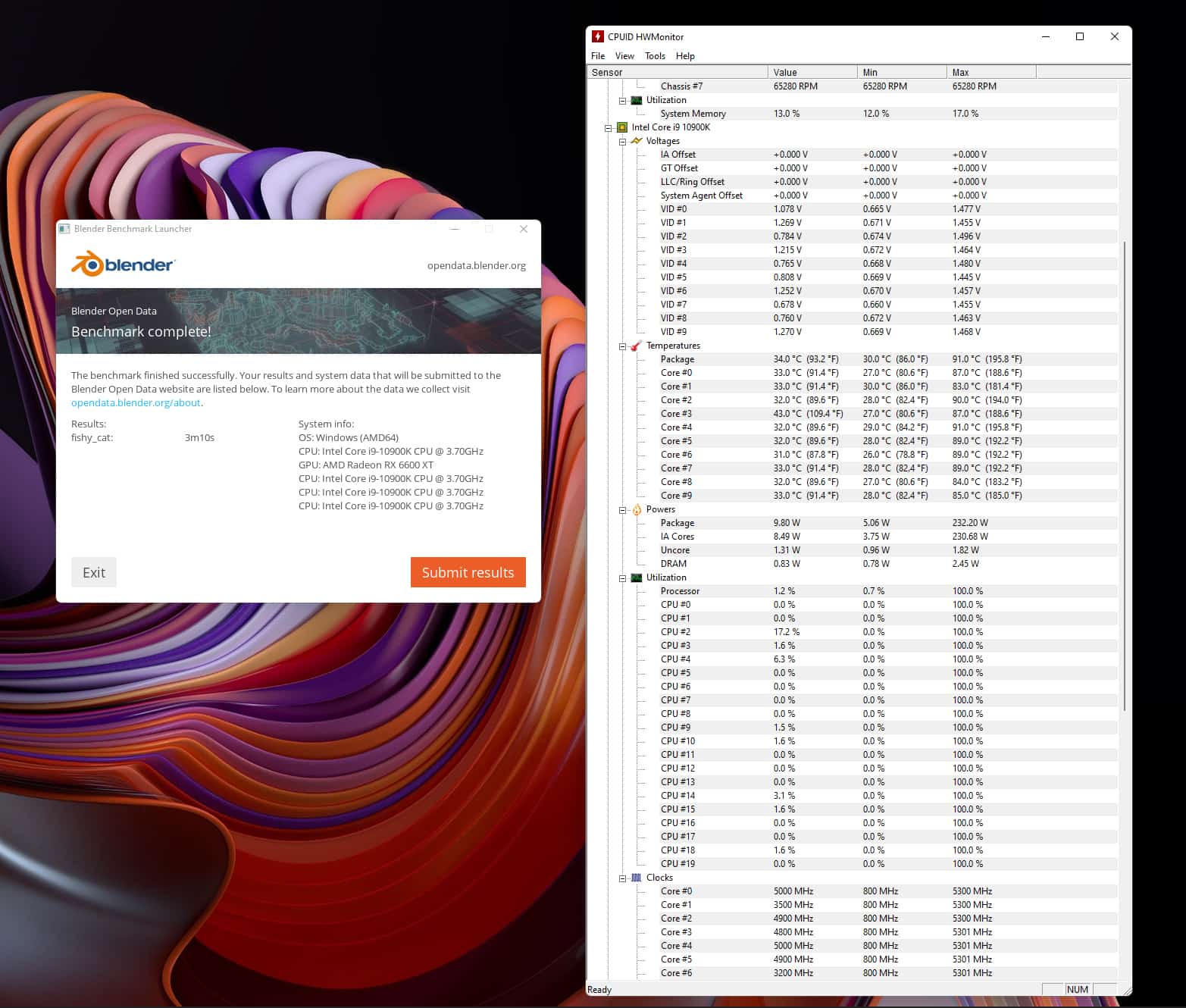 The Intel 10900K is capable of boosting to 4.9GHz on all cores with Intel's Thermal Velocity Boost. I've seen mine boost to 5.3GHz as reported by Asus Armory Crate. This is, however, under ideal operating conditions. Once the CPU temperature reaches 70°C (158°F), it'll drop performance by 100MHz on each core. So, while my computer was still functioning during benchmark testing, performance did take a small hit.
My fan settings are configured with my Q-Fan Control in my ASUS BIOS settings. I want to keep things as cool as I can. As you can see in the graphs below, I have the fans set to reach full speed when the CPU temperature reaches 40°C with pump speed set to 100% at all times. During all of my testing, fan speed ramping was clearly audible. While some might find fan noise annoying, I don't mind it. To me, an audible cue that fans are speeding up to keep your CPU cool is just reassurance that things are working as they should and I don't need to worry about the CPU completely overheating and reaching a thermal protect cycle.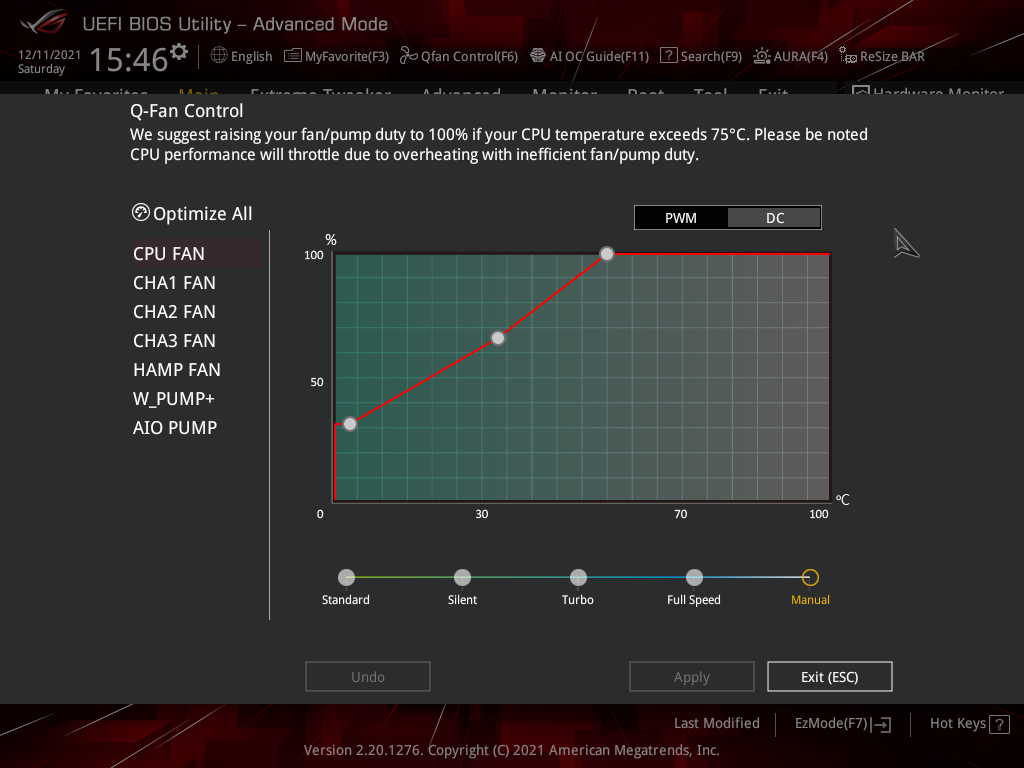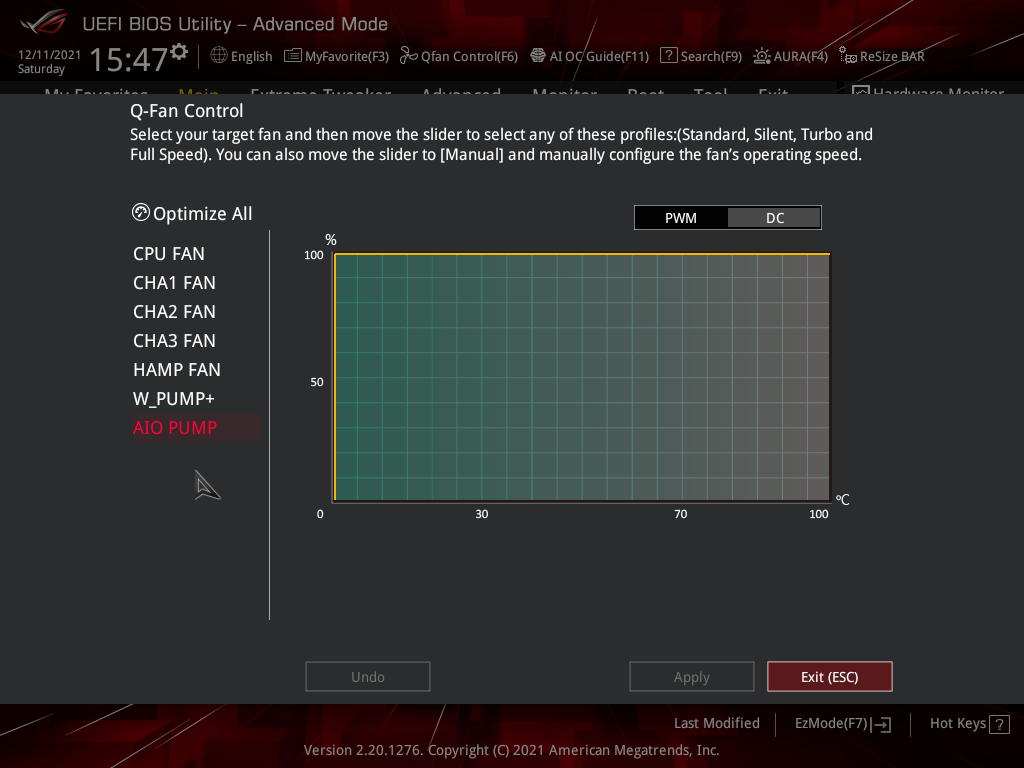 To measure fan noise, I used the dB Meter app on my iPhone 11. My phone was placed on top of my case just above where I have the TH240 installed. Ambient room noise measured 45dB. I ran the BMW27 Blender benchmark again, this time to record fan speed and noise. While the benchmark was running, the fans maxed out at 1575RPM, and noise measured 51dB. For comparison, normal conversation clocks in around 60dB according to the CDC.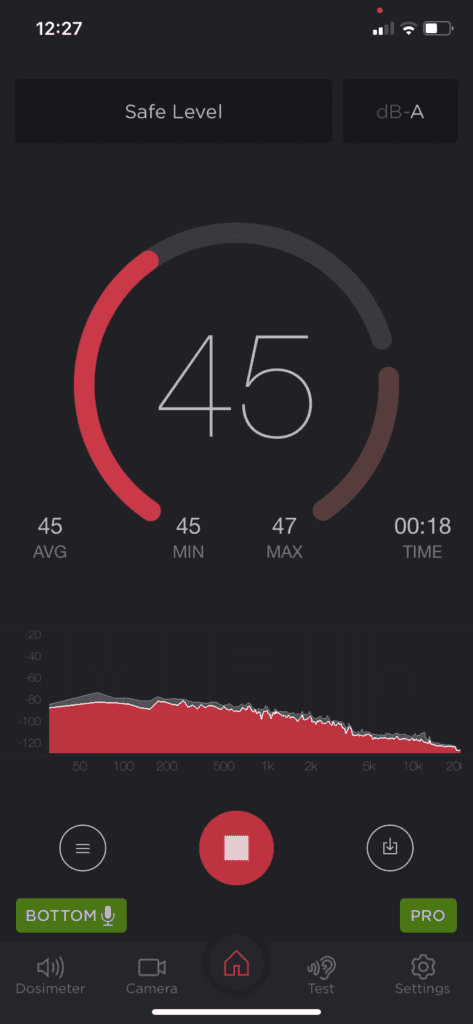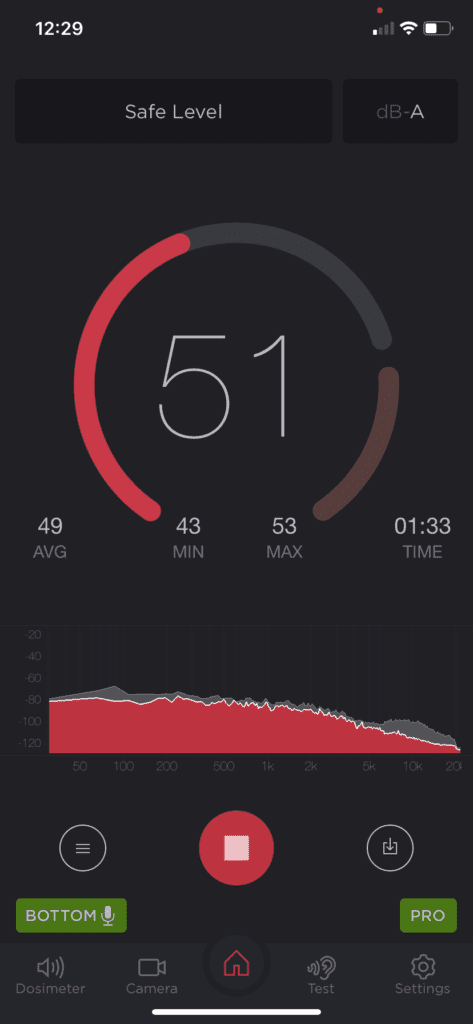 THERMALTAKE TH240 AIO COOLER: RGB
The Thermaltake TH240 includes RGB fans and water block/pump housing. If your motherboard doesn't support addressable RGB, a lighting controller is included. The TH240 is compatible with ASUS Aura Sync, Gigabyte RGB Fusion 2.0, MSI mystic light sync, and ASRock POLYCHROME RGB. Simply plug the included RGB header plug into your motherboard's 5V RGB header, and use your motherboard manufacturer's supplied software to maximize your RGB lighting potential. Select any of the preinstalled lighting effects, customize your own, or if you prefer, lighting can be kept off altogether.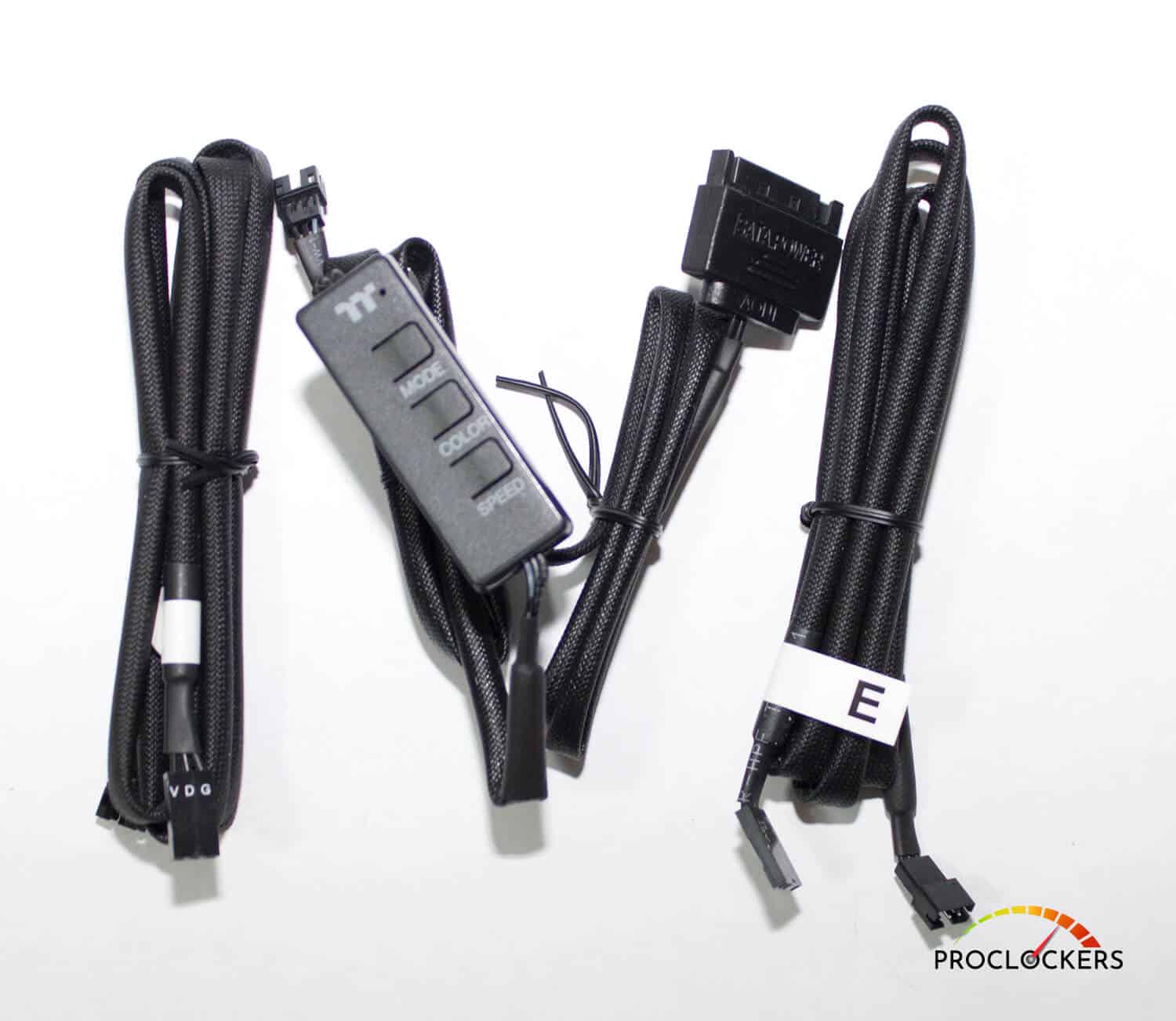 FINAL THOUGHTS
In my opinion, the Thermaltake TH240 ARGB Sync performed well. It had a tough contender to deal with. Intel's 10900K isn't known for keeping its cool. While it didn't keep the CPU from thermal throttling, the TH240 did keep the CPU from entering a thermal protect cycle. Any performance degradation due to thermal throttling wasn't noticeable on the user end.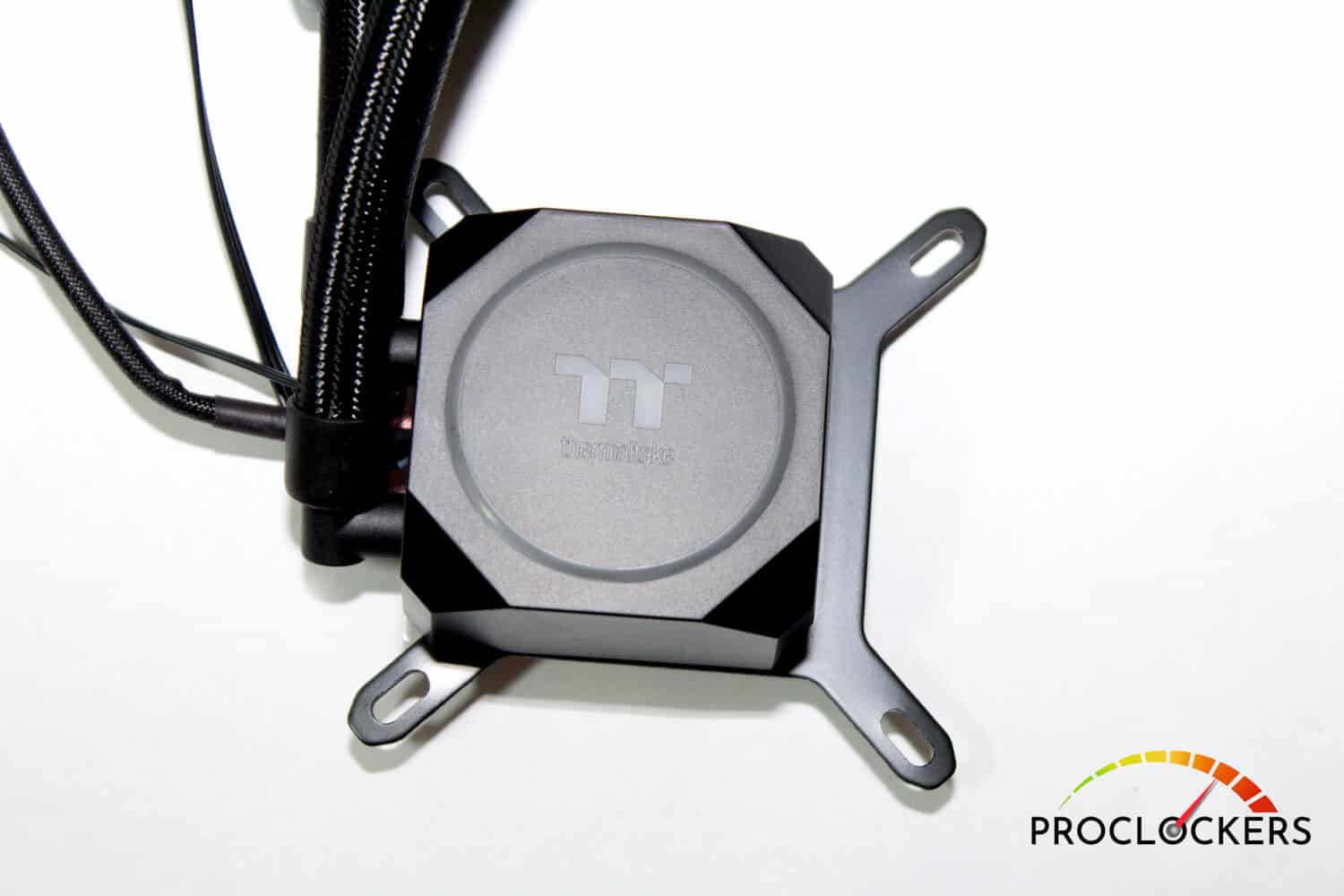 At the time of this writing, the Thermaltake TH240 ARGB Sync can be purchased for $109.99.

Product support page:
https://www.thermaltakeusa.com/th240-argb-sync-aio-liquid-cooler.html

<![CDATA[ */ var zbjs = {"ajaxurl":"https:\/\/gaminggorilla.com\/wp-admin\/admin-ajax.php","md5":"d8e8b24d2fa18d2999e0fddcdd418586","tags":[],"categories":["Hardware"]}; /* ]]>