Thermaltake TOUGHAIR 310 CPU Cooler Review
The Thermaltake TOUGHAIR 310 is advertised as "A single tower designed CPU cooler equipped with an optimized 120 mm high static pressure fan and newly designed heat sink, which guarantees its outstanding performance".
With universal compatibility in mind, the TOUGHAIR 310 will fit both Intel and AMD sockets. How does it perform in the real world? Using an Intel 10900K processor, we tested it and found out.
Thermaltake TOUGHAIR 310 CPU Cooler Review
Everything you need for a simple install is included in the box. Screws, mounting brackets, standoffs, fan, the cooler itself, and thermal paste. Total install time for me was around 20 minutes. That includes the removal of my Silverstone PF 360.
The first thing I noticed is that this cooler is big. I'm using a Cougar Gaming DarkBlader X5 case. With all of my reviews, I've never had an issue with things fitting, or almost fitting, or not fitting at all. The TOUGHAIR 310 looked like it would challenge that. At a glance, it didn't look like the tempered glass side panel would go back on. Thankfully, it did. No clearance issues. With everything installed, it's time to test.
Thermaltake TOUGHAIR 310 CPU Cooler: Testing and Specifications
Testing was completed with the following hardware:
Custom-built PC
Cougar Gaming DarkBlader X5
ASUS Maximus XII Formula
Intel 10900K
XFX Radeon RX 6900XT
Lexar Hades 32 GB DDR4 3600
Crucial BX500 240GB Internal SSD
Windows 11 operating system
Ambient room temperature 71°F.
Once again, I turned to Blender Benchmark to stress my CPU, and monitored temps with CPUID HWMonitor. With my system sitting idle, the overall CPU package temperature was sitting at 35°C (95°F). As you might have seen with my Thermaltake TH240 review, my idle temperature was 29°C (82.4°F). Right away, I had high hopes for this cooler. A quick restart to check my fan settings in my BIOS, I performed a fan optimization test and let the BIOS configure fan speeds. At idle, the cooler fan should be spinning at roughly 57% of its maximum 2000 RPM, and will hit its max at 60°C. Those settings seem acceptable to me, so time for the actual benchmarks.
The first test was the BMW27 benchmark. Completed in 2m 16s, the CPU hit a maximum of 100°C (212°F).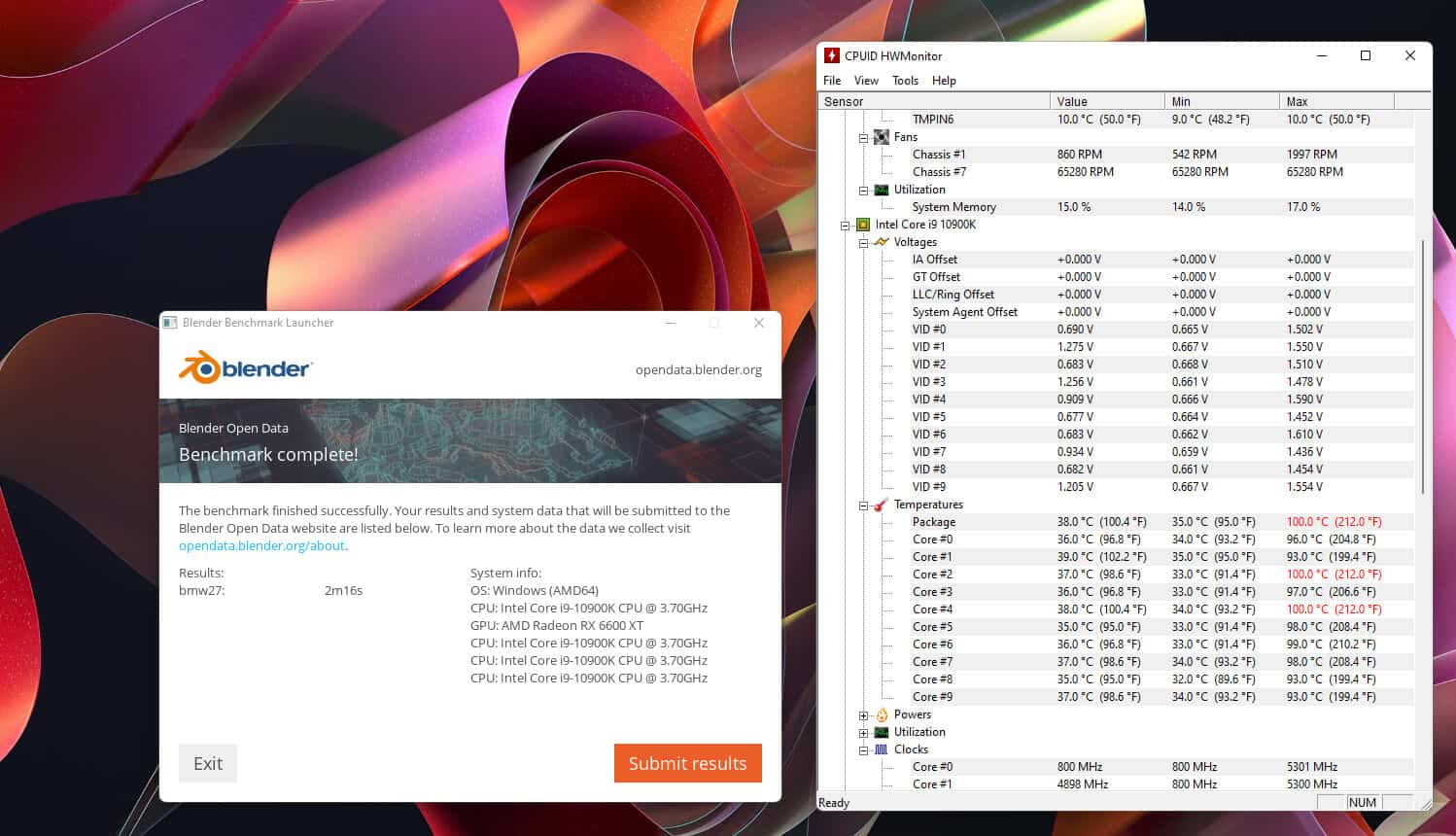 Next was the Classroom benchmark. This test took 6m 22s to complete with the same results. Maximum CPU temp of 100°C (212°F).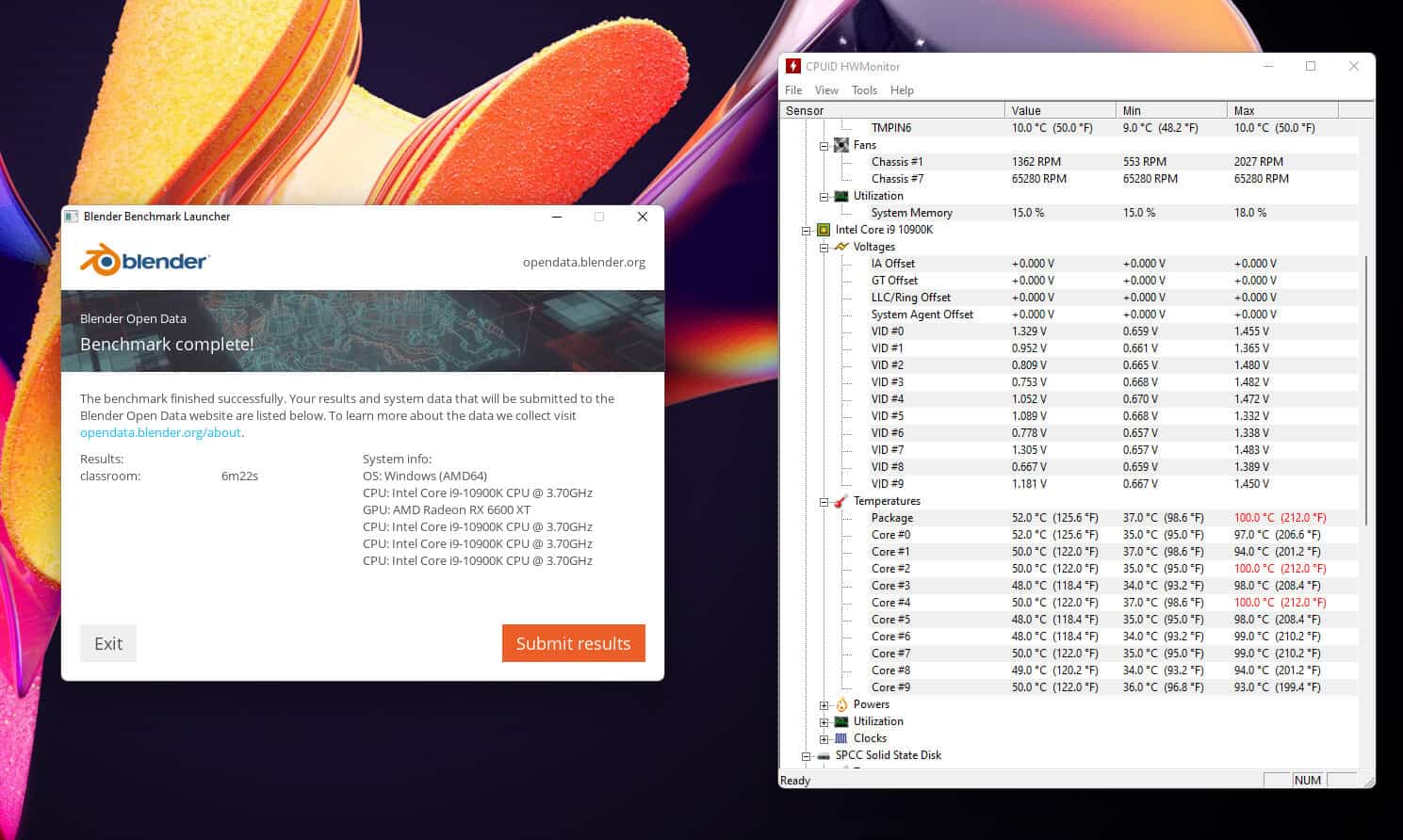 Obviously, the CPU is hitting its thermal throttle limits and then some. At this point, I shut the computer down. Those temps just can't be right. I had to do something wrong during installation. I could hear the fan ramping up when the CPU got hotter, and placing my hand at the rear of the case confirmed that air was moving through the fins of the cooler as I could feel warm air being exhausted.
Blaming user error is usually my first step when troubleshooting. I'm that guy that will build a new system and forget to hit the switch on the power supply while wondering why it won't turn on. Something had to be loose, and the cooler wasn't making good contact with the CPU. Maybe I used too little thermal paste. Did I peel the plastic protection sticker? First inspection showed that the cooler was tight and making good contact with the CPU. So, I took it all apart. Thermal paste was evenly distributed over the CPU and heat pipes, and I remembered to peel the plastic protection sticker that coolers ship with from the manufacturer. I cleaned up the thermal paste with alcohol, reapplied, and reinstalled the cooler.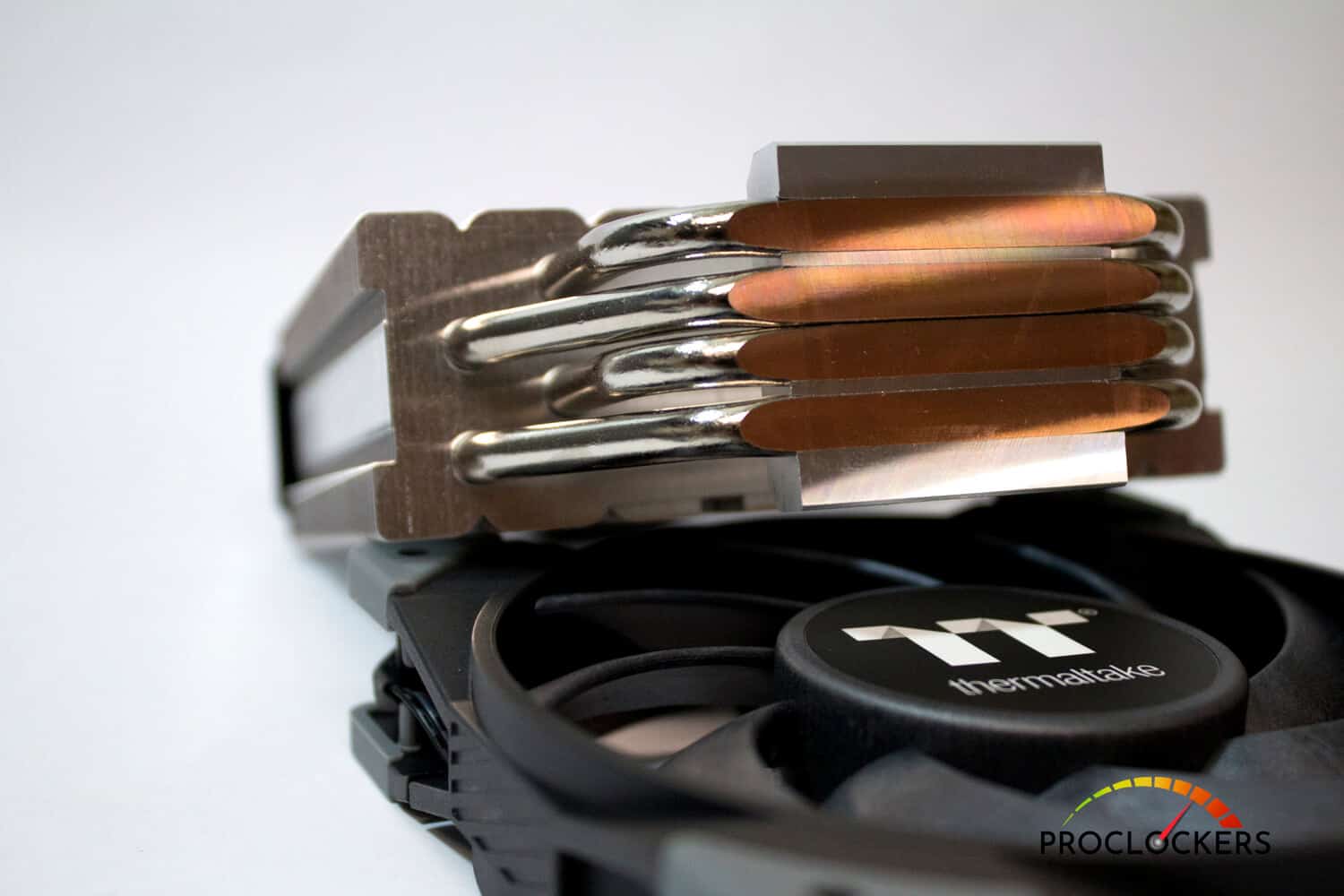 After running BMW27 again, the temperatures didn't change, so I didn't run another benchmark. This cooler just doesn't perform well under an extreme load. And that's something to consider if you're looking at this cooler as an upgrade to your stock Intel or AMD cooler and don't want an AIO cooler. Benchmarks are great for collecting data, but they aren't an accurate representation of performance over time. They're meant for stressing and reporting.
Thermaltake TOUGHAIR 310 CPU Cooler Review
Full transparency here, I was tempted to remove the TOUGHAIR 310 and reinstall my AIO cooler. But benchmarks alone aren't real-world uses. I decided to leave it installed and use my computer normally for a couple of weeks. I wanted to see if I could notice any performance degradation in my daily uses. From simple word document creation and web browsing to photo editing to gaming and video creation, I'm happy to report I've noticed nothing in the way of system performance issues. I can't monitor CPU temps 24/7, but every time I've checked with HWMonitor, my CPU hasn't hit more than 50°C (122°F) even with my house furnace running and pumping heat into my basement.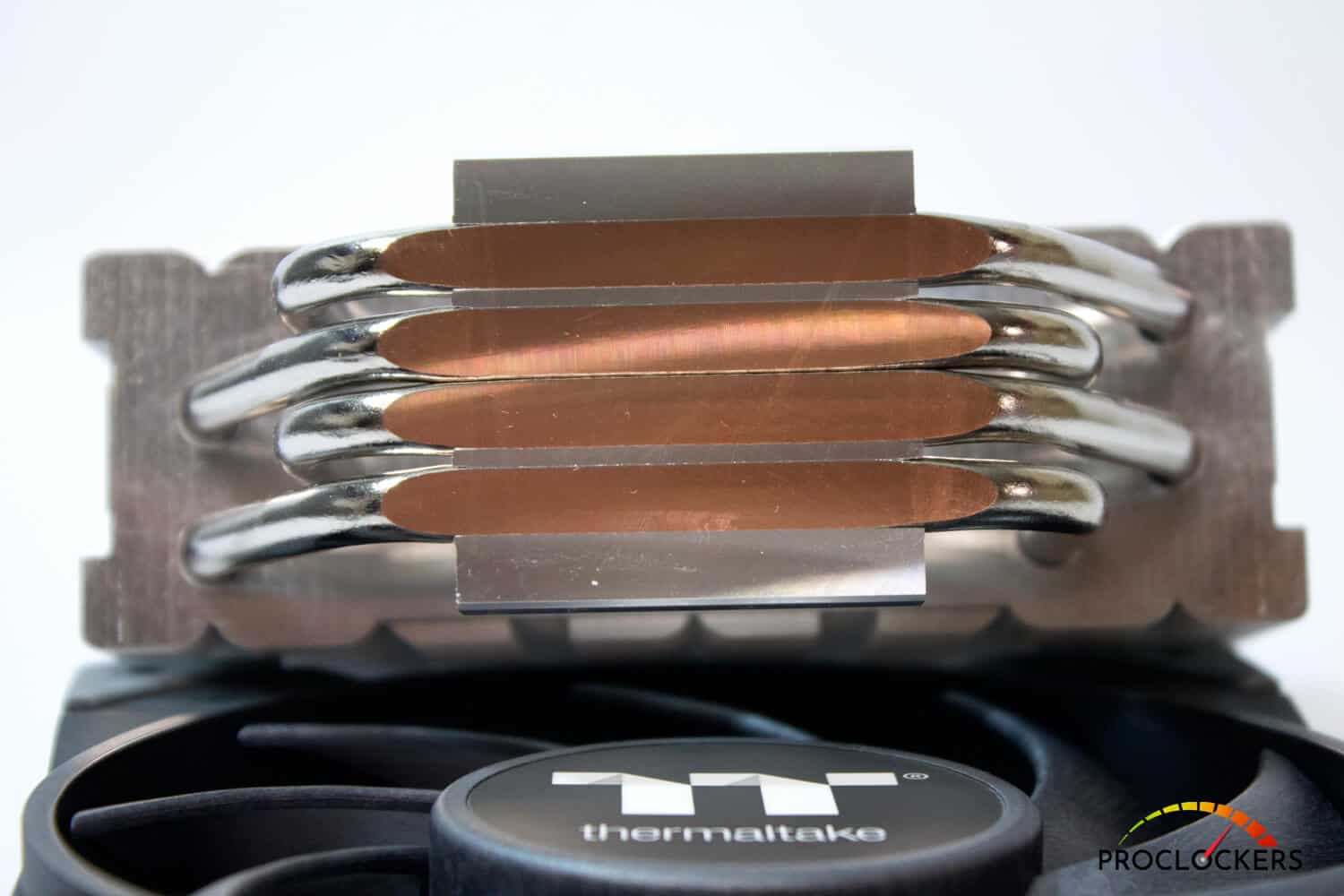 ProClockers would like to thank Thermaltake for providing this sample for our review.
Product support page: https://www.thermaltake.com/toughair-310-cpu-cooler.html

<![CDATA[ */ var zbjs = {"ajaxurl":"https:\/\/gaminggorilla.com\/wp-admin\/admin-ajax.php","md5":"d8e8b24d2fa18d2999e0fddcdd418586","tags":[],"categories":["Hardware"]}; /* ]]>