ZOTAC GAMING GeForce RTX 2070 AMP Extreme Review
Introduction
Nvidia's RTX 2070 has proven in these past short few weeks to be a good match for the gaming masses. Great performance at a reasonable price plus the latest in gaming tech is a good mix. Zotac has set out to add their own special mix and make a good product great. Featuring a massive triple fan cooler with Spectra lighting, and a 225W TDP that is nearly 30% higher than reference, Zotac is setting the Amp Extreme up for success, so let's see how they did!
ProClockers would like to thank Zotac for sending over the GeForce RTX 2070 AMP Extreme to check out!
ZOTAC take on the GAMING GeForce RTX 2070 AMP Extreme:
The all-new generation of ZOTAC GAMING GeForce graphics cards are here. The powerful new GeForce RTX™ 2070 takes advantage of the cutting-edge NVIDIA Turing™ architecture to immerse you in incredible realism and performance in the latest games. The future of gaming starts here.
Features:
IceStorm 2.0
Active Fan Control
GDDR6 memory
SPECTRA Lighting System
FireStorm
Wraparound Backplate
Features & Specifications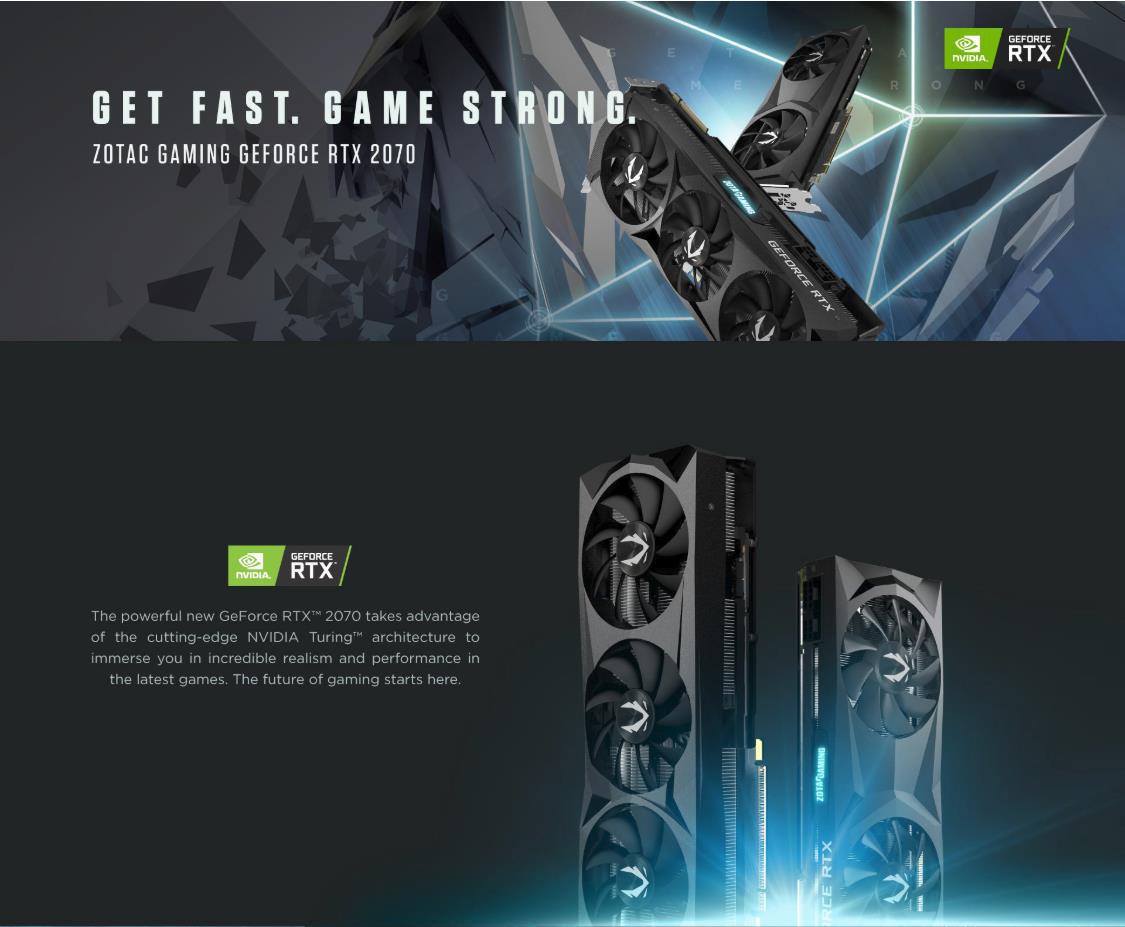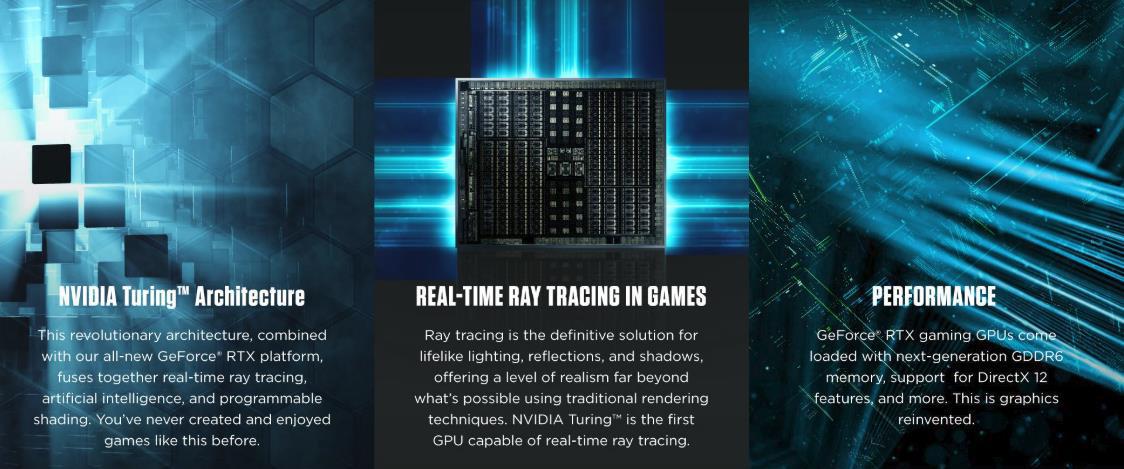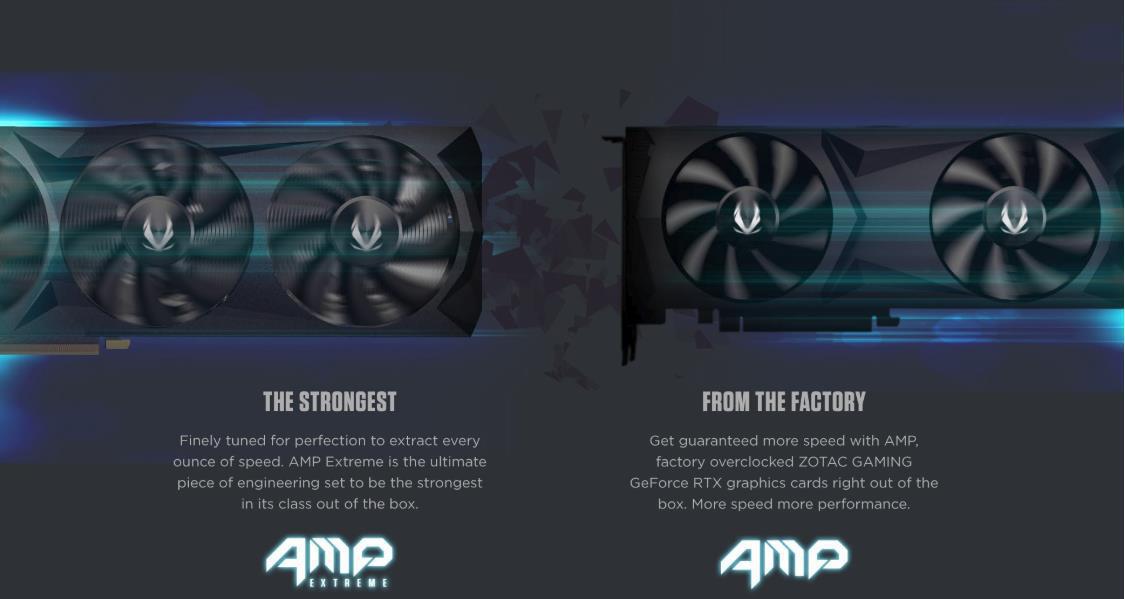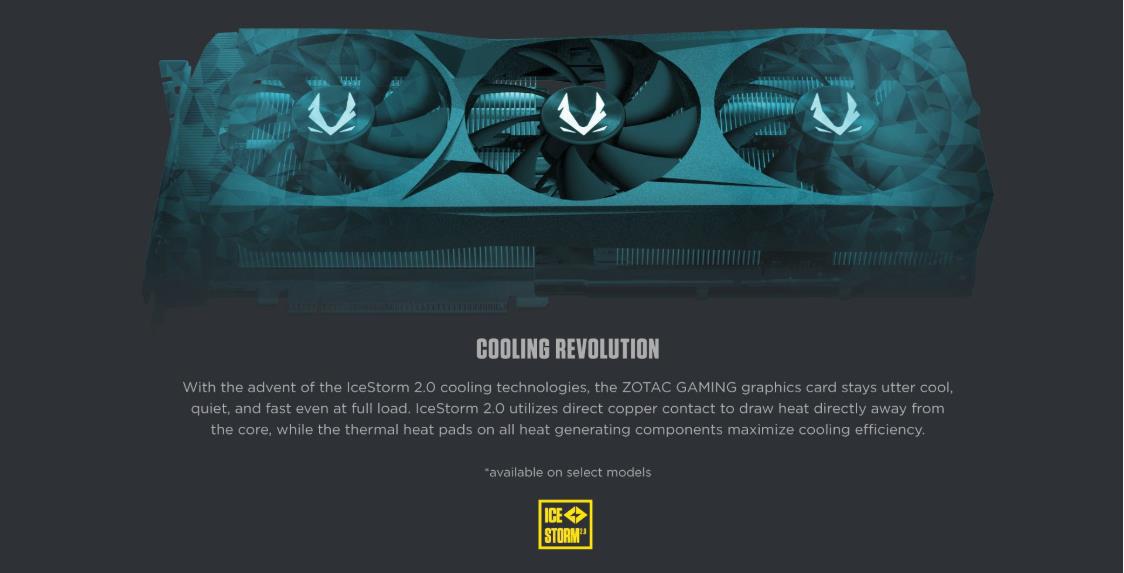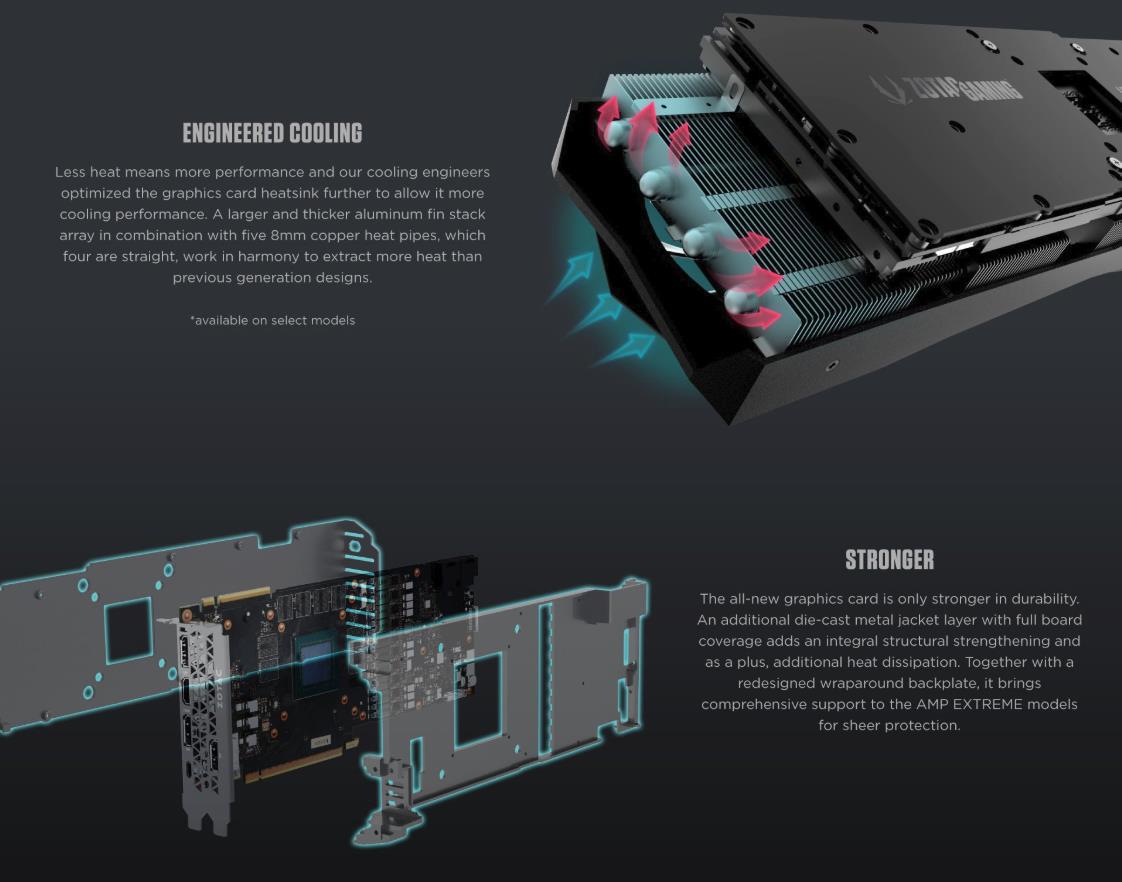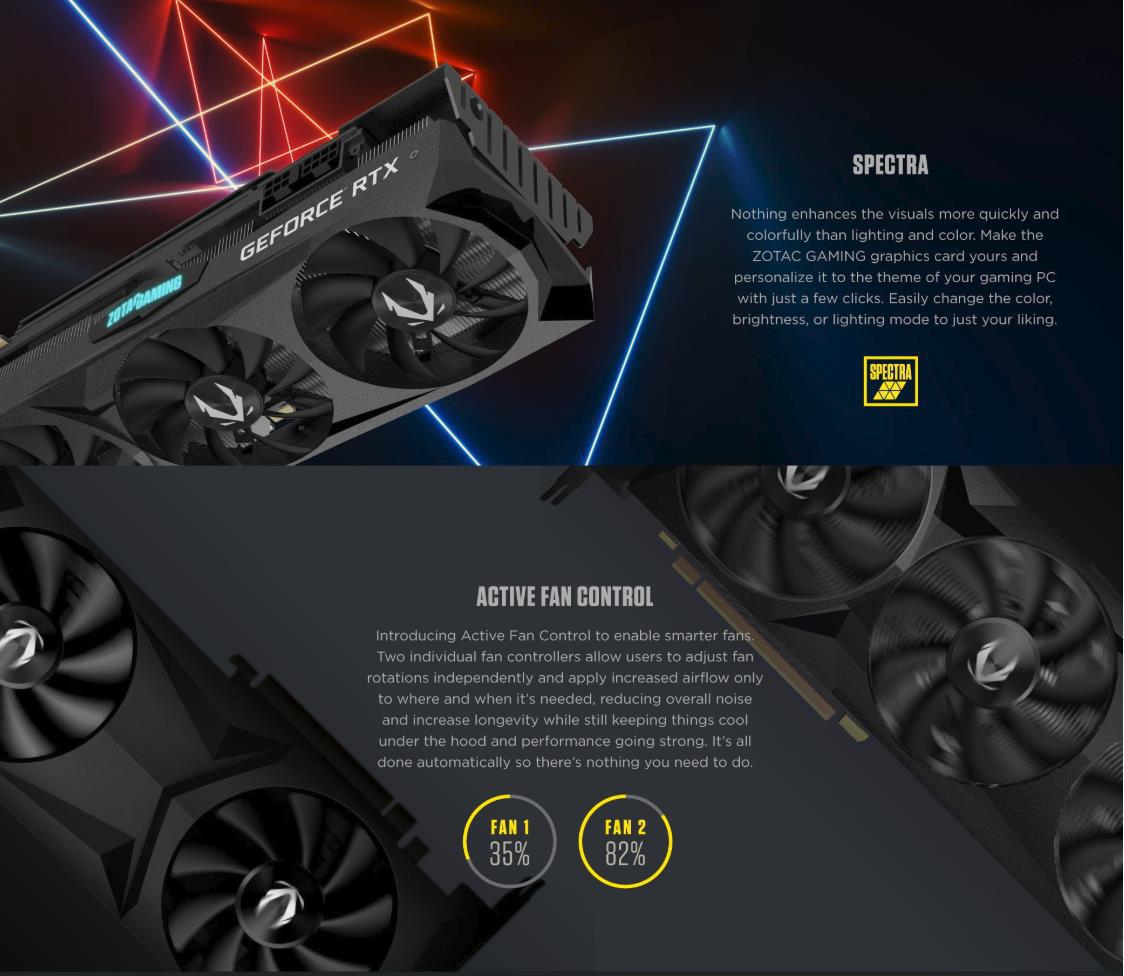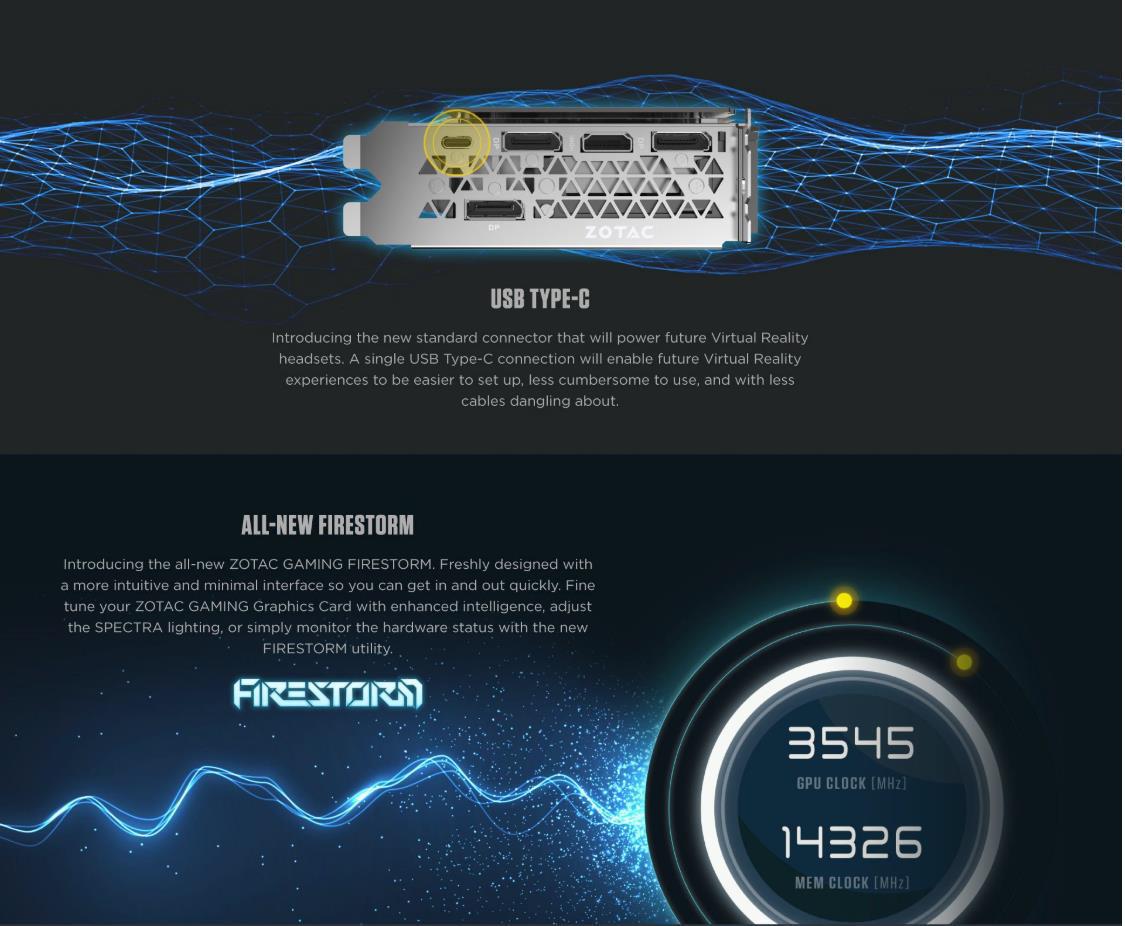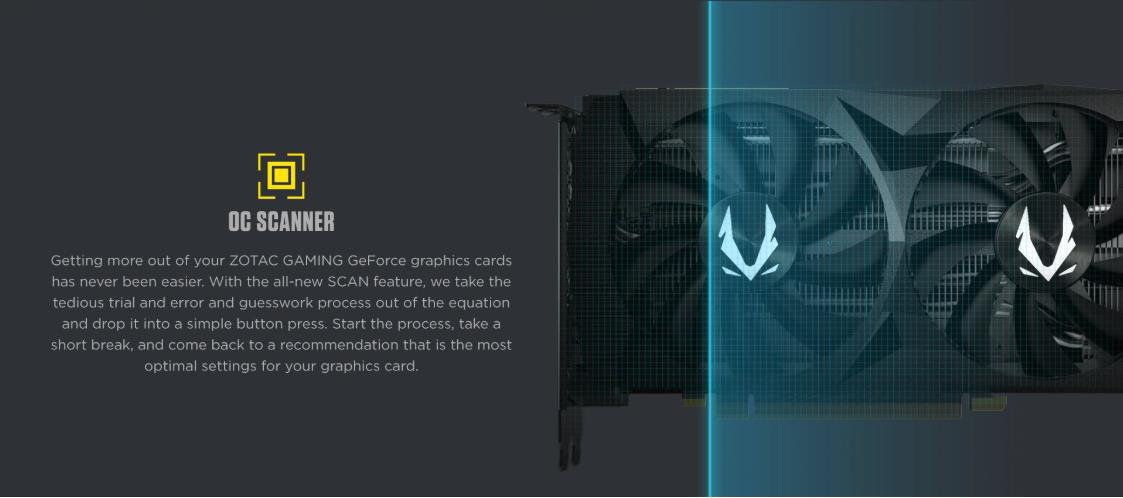 Specifications: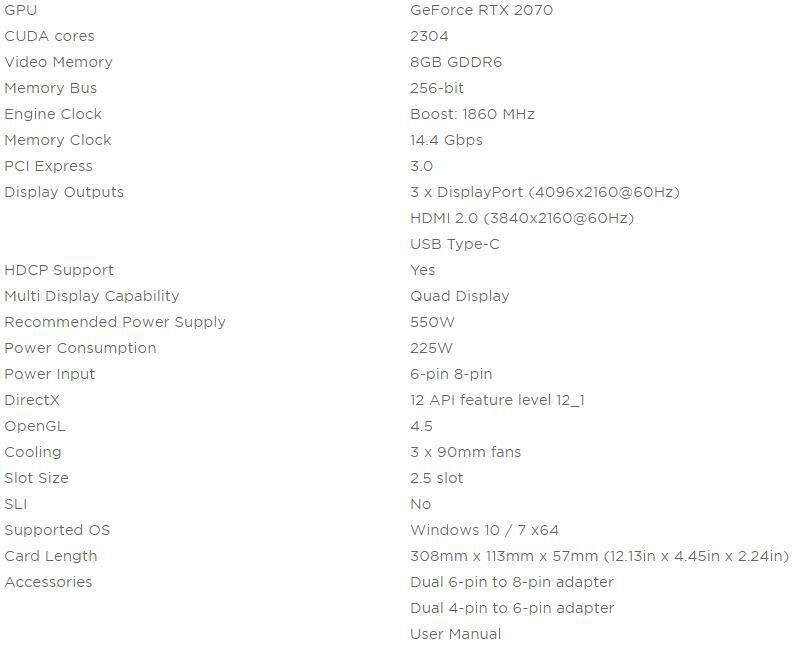 Packaging & Unboxing

Zotac's Gaming RTX 2070 Amp Extreme comes in a decorative box with lots of subtle details. The Zotac Gaming logo is drawn in metallic letters across the top. The AMP EXTREME logo is in metallic paint on the top right corner. The usual Nvidia insignia holds down the bottom right corner.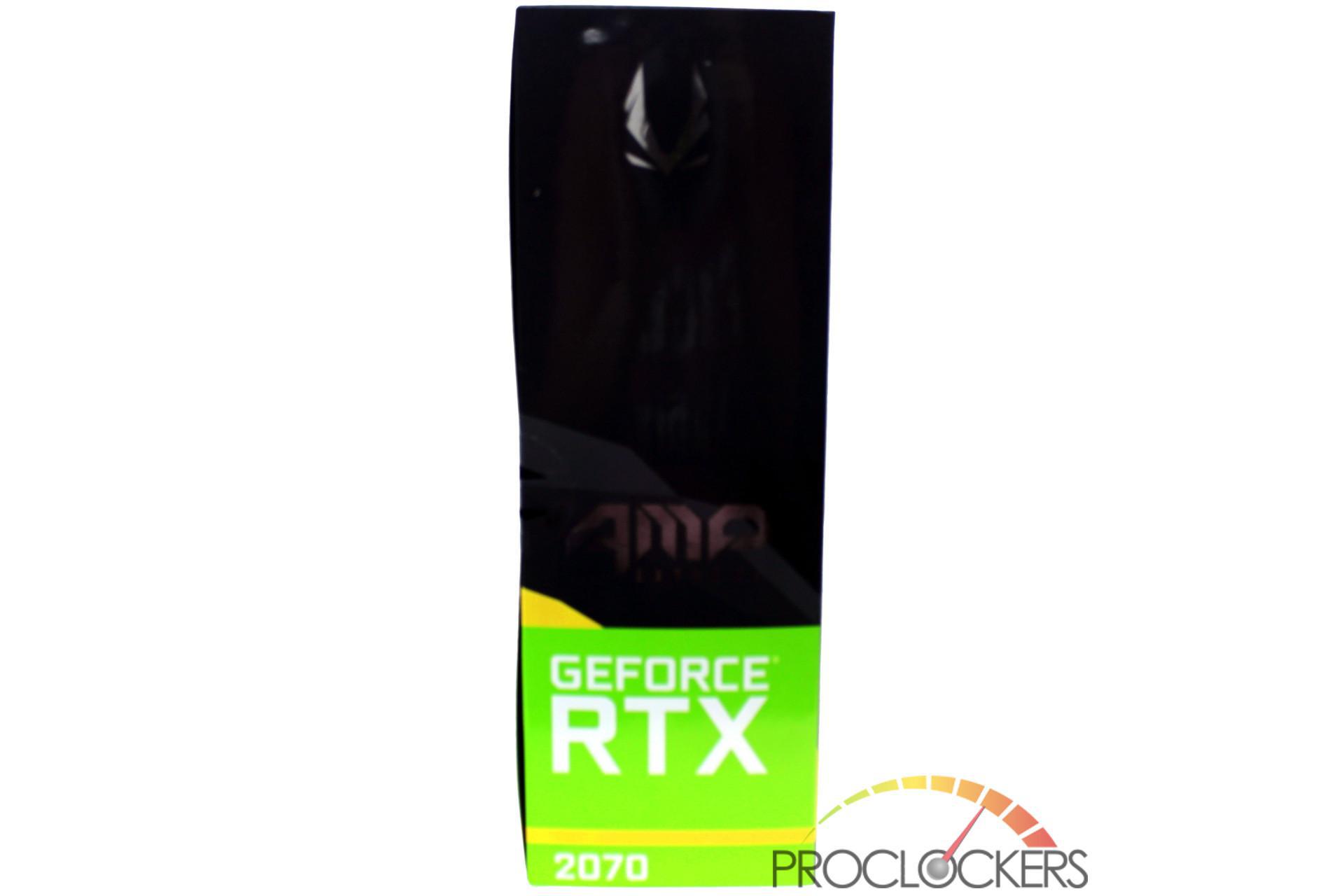 The ends of the box have just the RTX 2080 logs and the Zotac Gaming Logo. The AMP EXTREME logo again makes an appears on the sides of the box.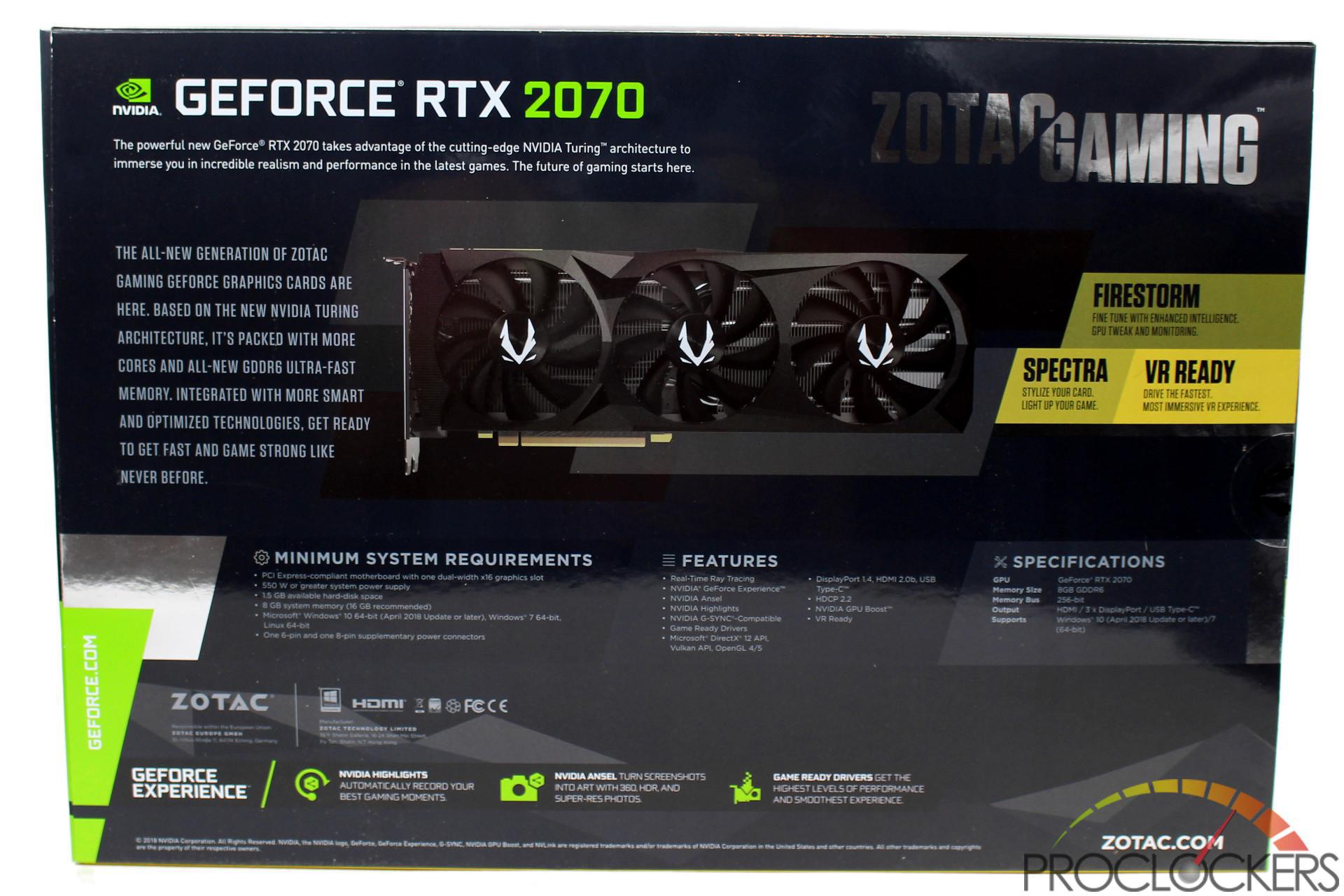 The rear of the box has a blurb about the Nvidia RTX lineup as well as the Zotac gaming lineup. Minimum system requirements, features, and specs run along the center.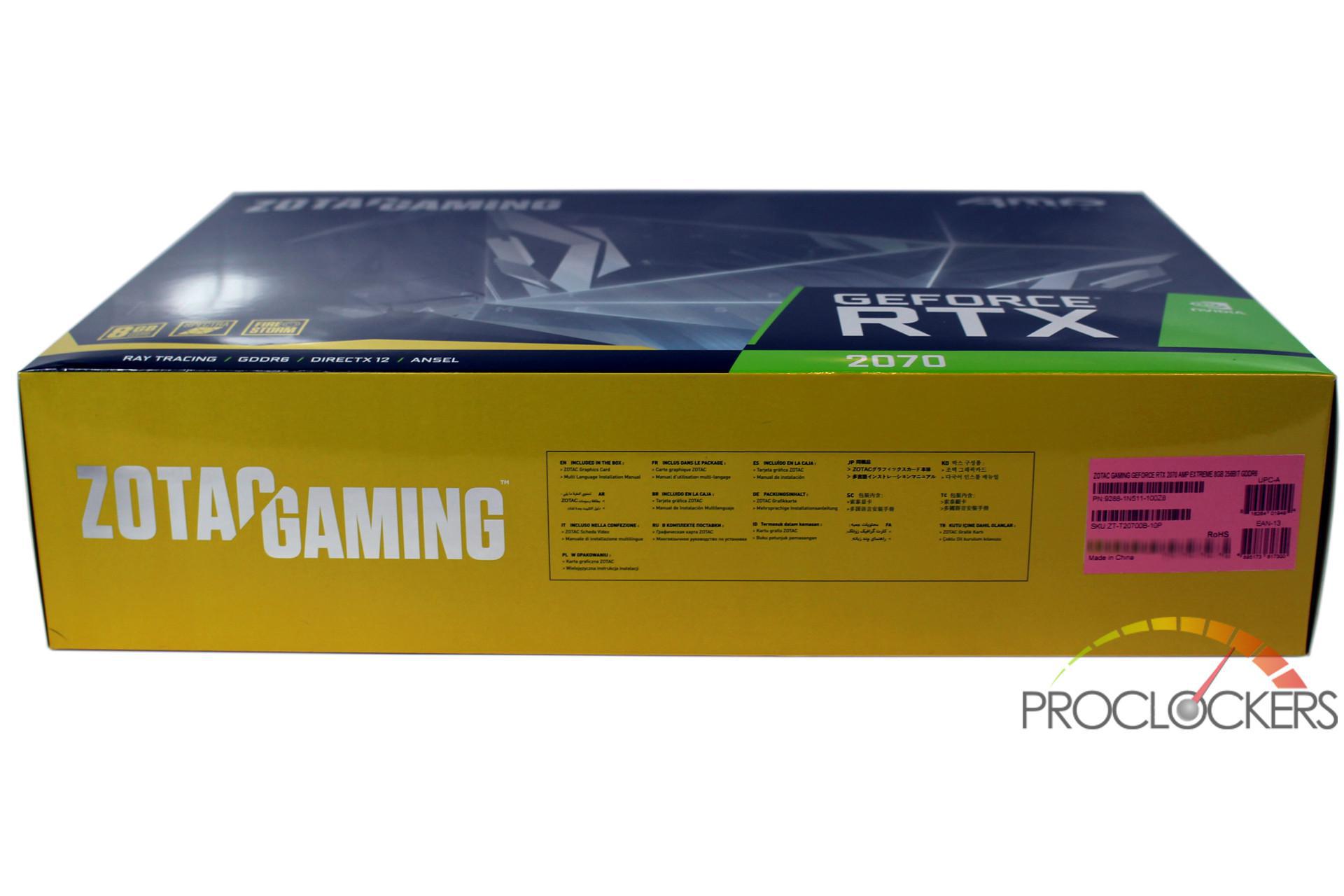 The bottom of the box has the UPC sticker and what is in the box in several languages.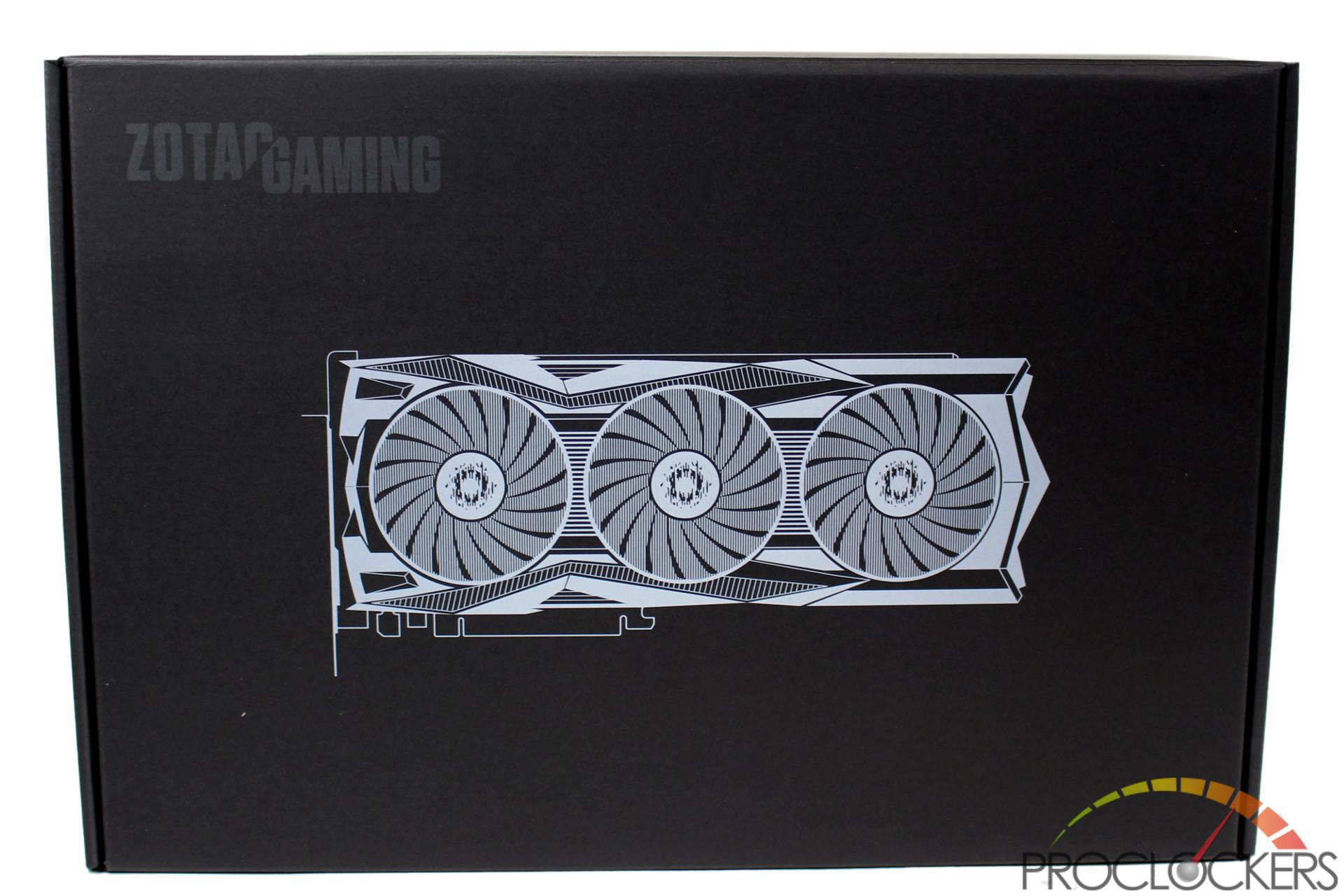 Inside the colorful sleeve is a black box with the Zotac Gaming logo in the top left in a subtle grey and an image of a video card in the center in white.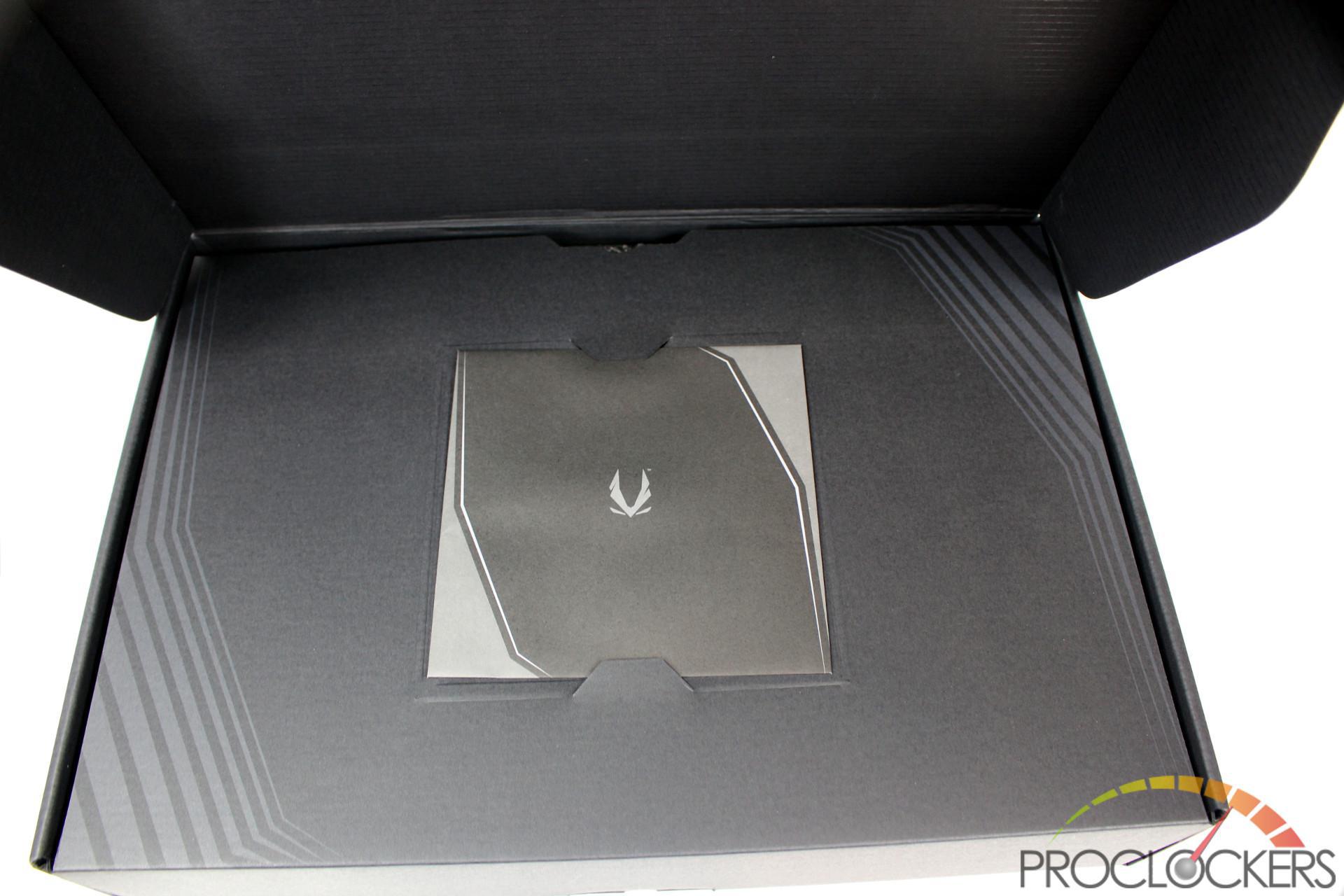 The inner flap holds a small envelope with only the Zotac Gaming on it. Inside the envelope is an installation manual.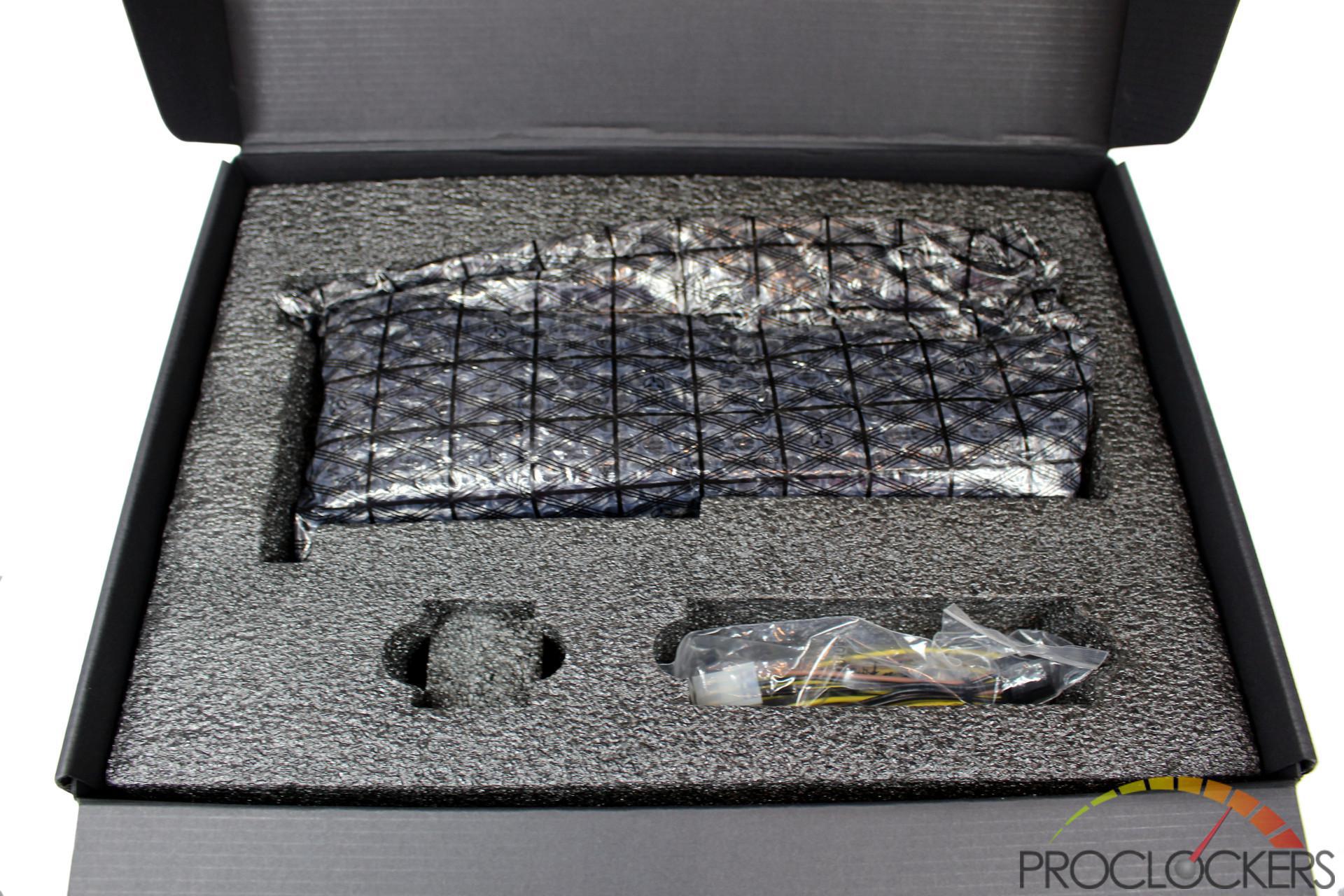 The RTX 2070 Amp Extreme itself is in an ESD bag in a cutout in a large foam block.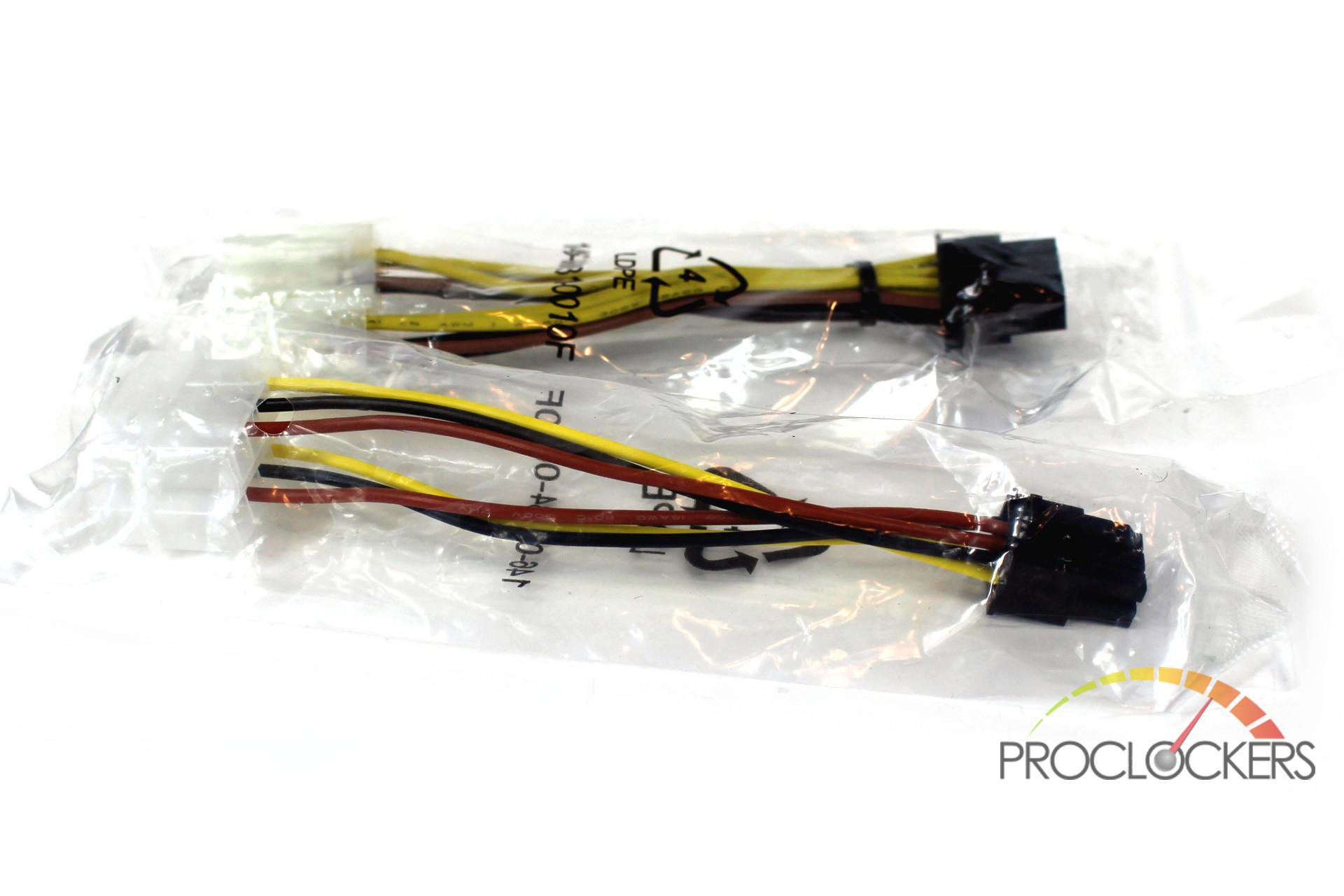 In the extra hole in the foam block are two molex to PCIe adapters.
A Closer Look
Zotac's Amp Extreme is a standard height card that doesn't extend much past the rear I/O bracket much. This should make those with smaller form factor cases happy. The card is quite long in comparison though, just over 12 inches makes it just as long as if not a hair longer than most aftermarket cards.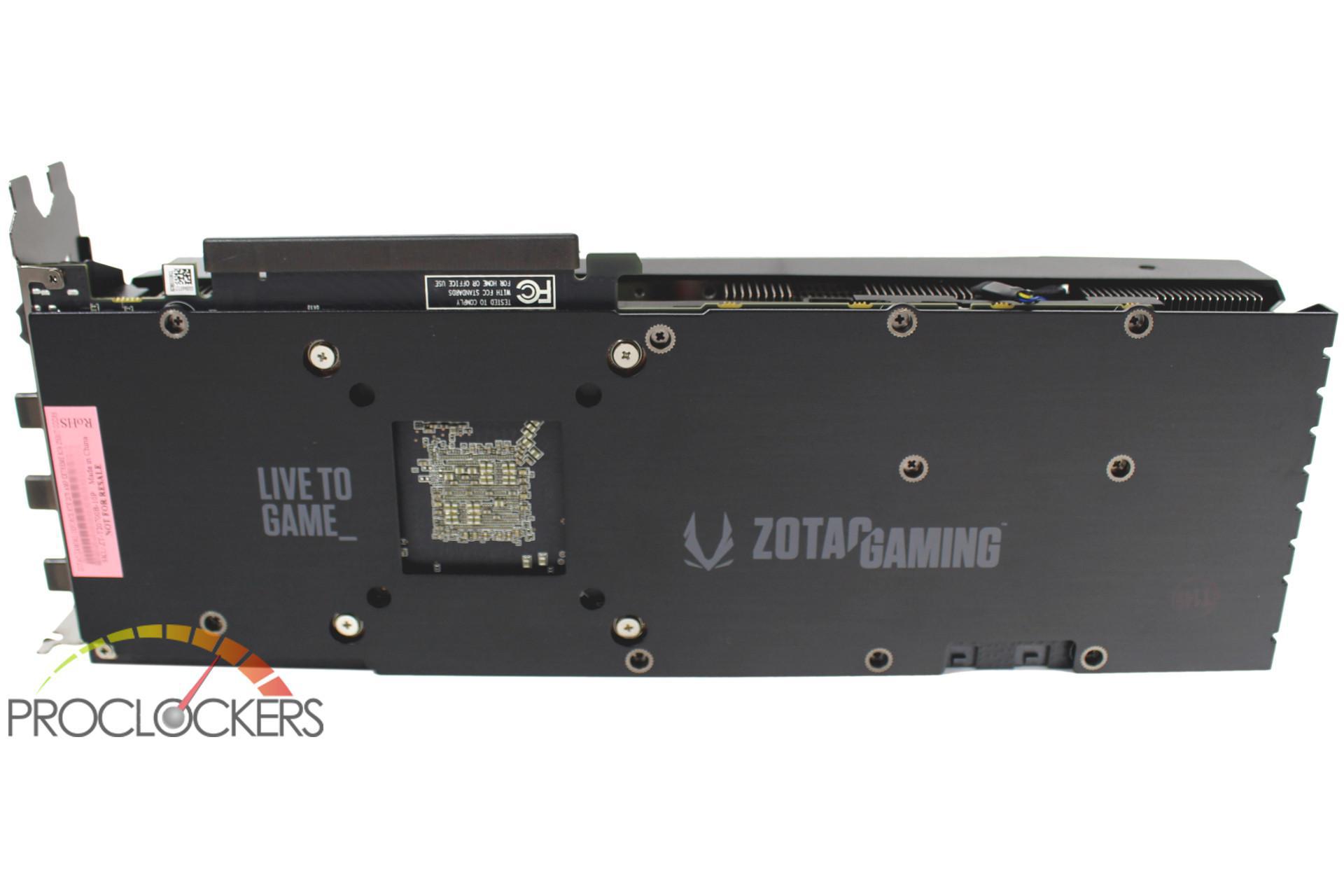 Zotac uses a one-piece back plate to cover the entire card with a cutout directly over where the GPU die sits as well as a small cutout where the power connections are. The Zotac Gaming and Live to Game_ Logos are silk screened on the back of the brushed finish.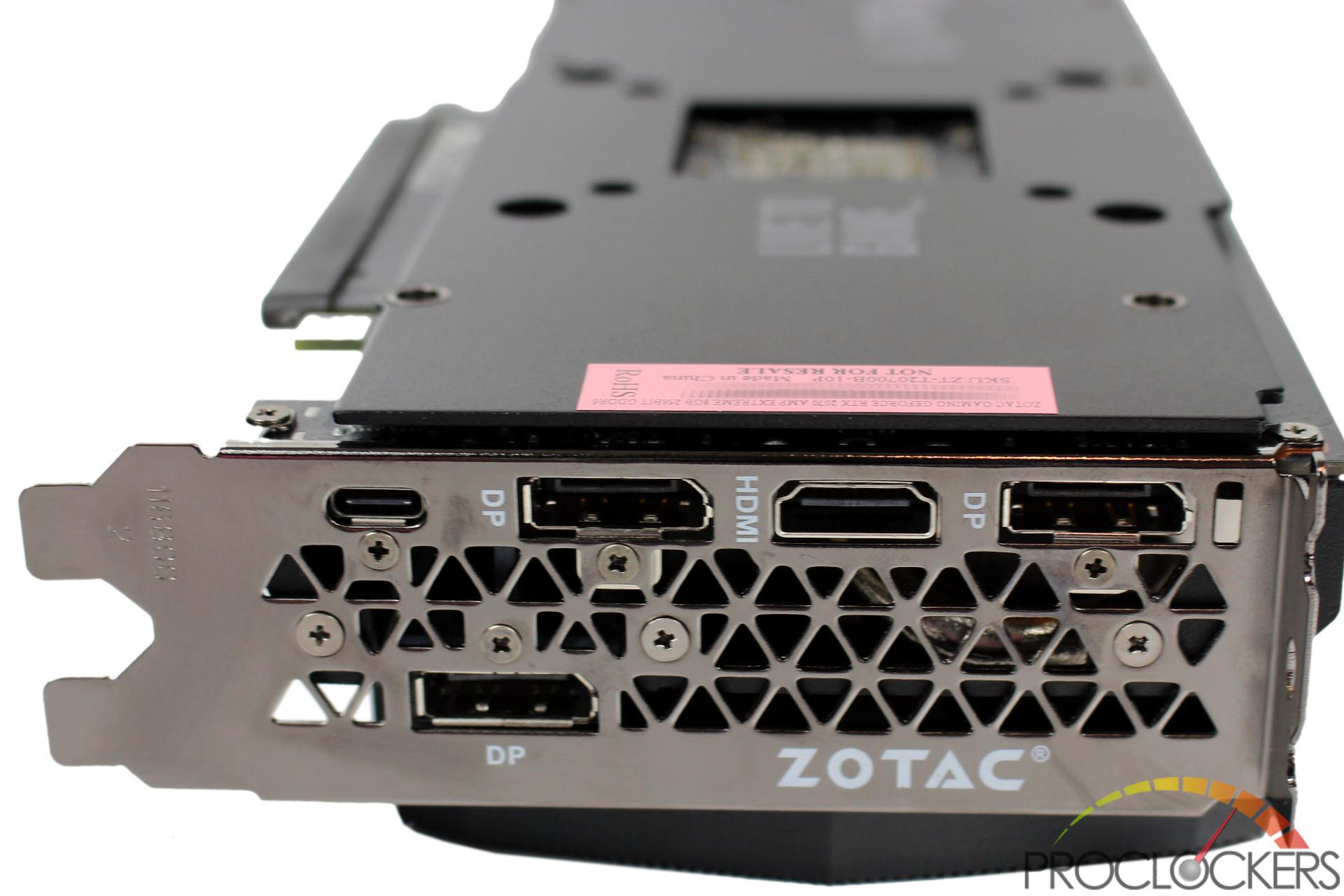 Video outputs follow the default Nvidia layout with a trio of DisplayPort 1.4 connections, an HDMI 2.0b, and a USB Type-C with support for the upcoming Virtual Link.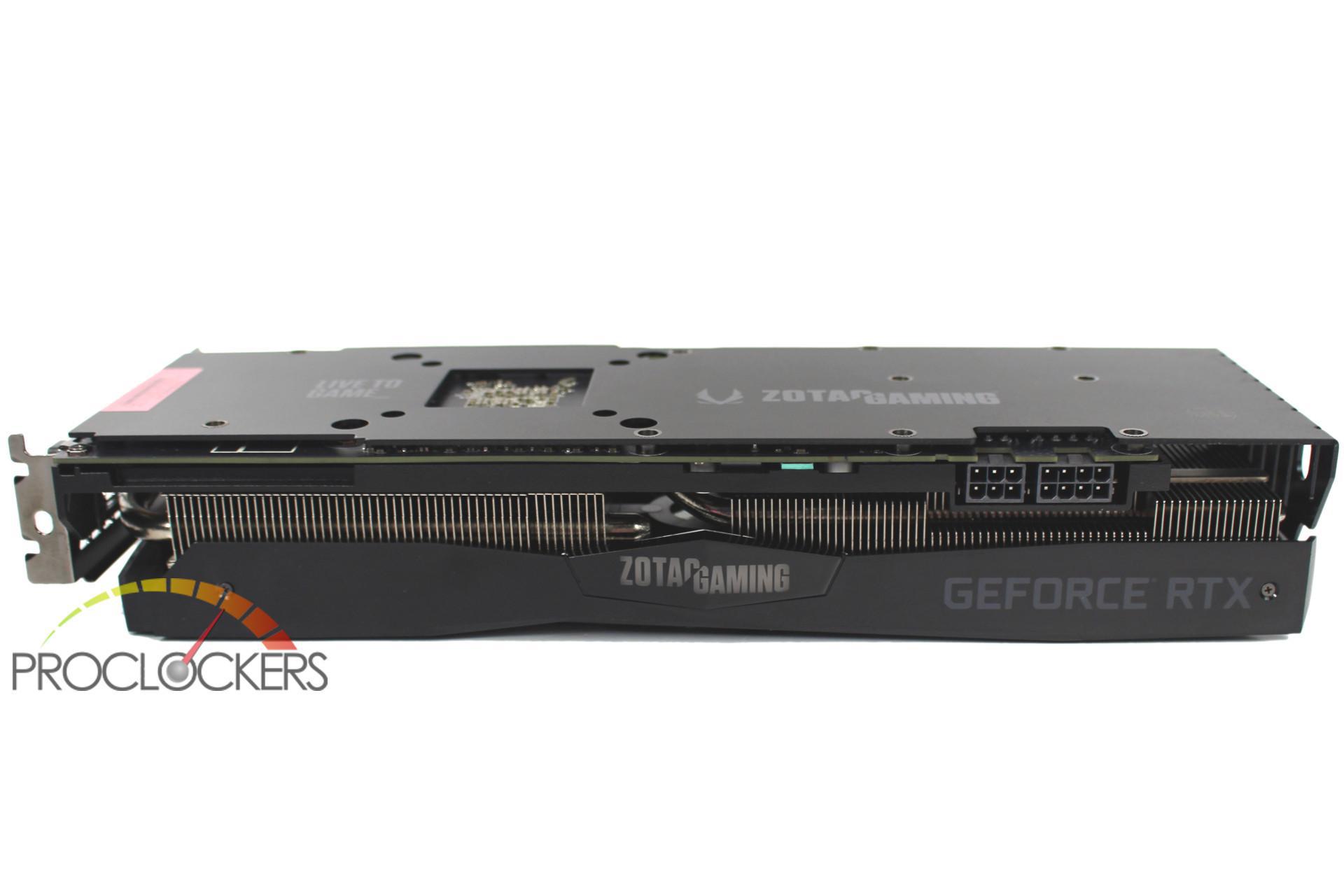 Power is provided with a 6-pin and 8-pin connection at the rear of the PCB. The cooling solution extends beyond the end of the card.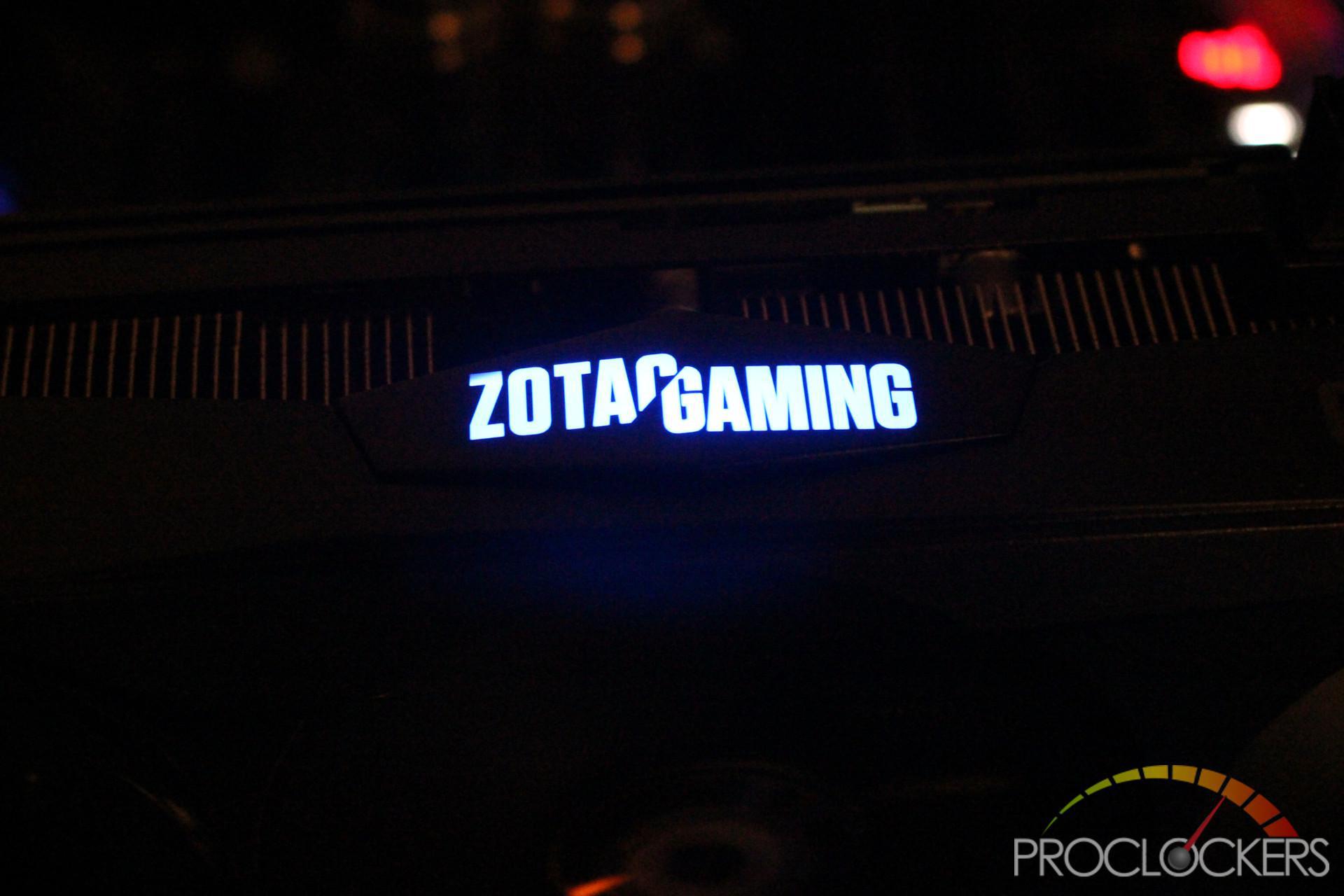 The Zotac Gaming logo on the side of the card lights up in blue by default but is Spectra Enabled.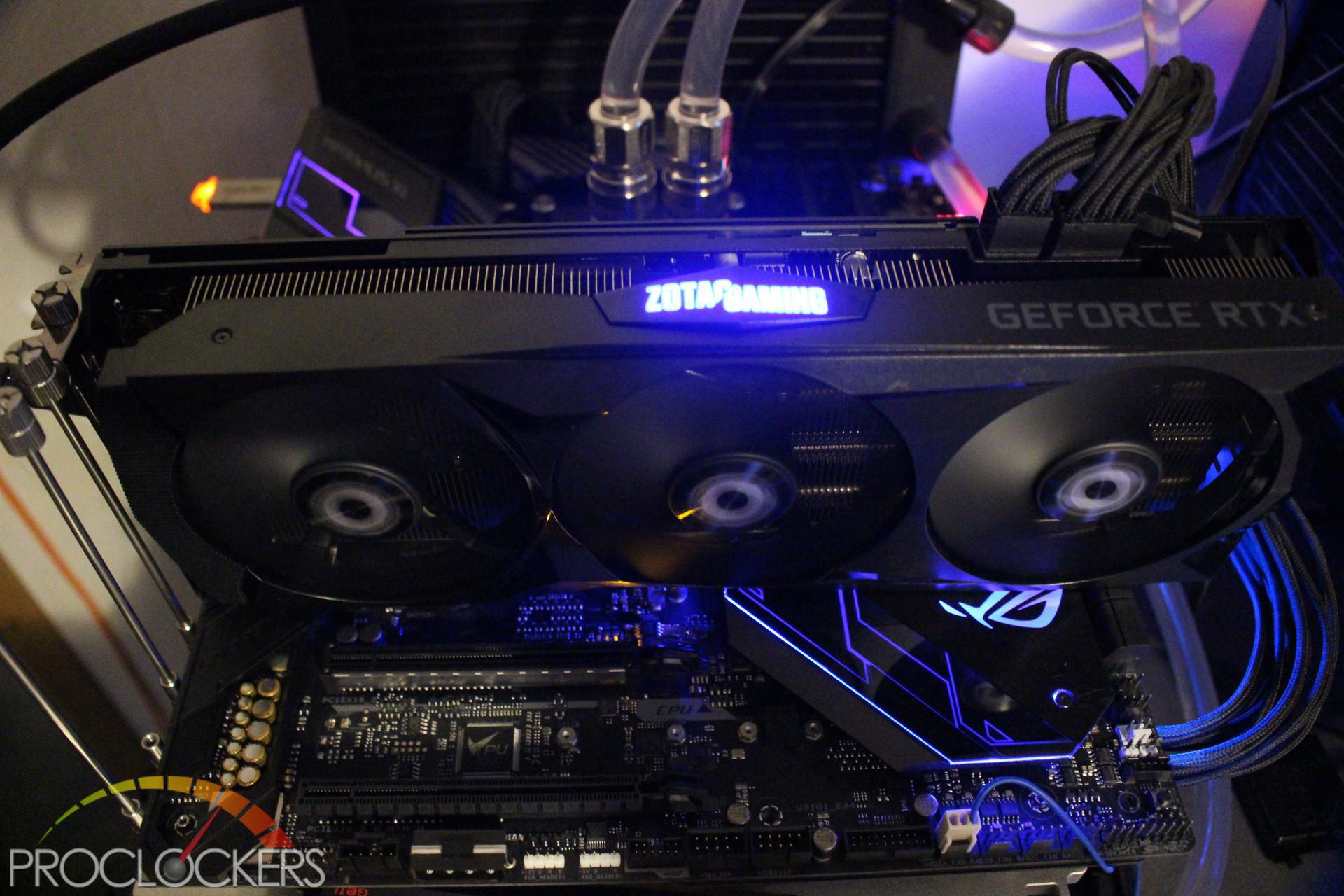 Zotac's Firestorm utility contains a Spectra section for controlling the lighting or turning it off.
Under the Hood
After removing several screws, we can remove the full-length backplate, we didn't see any thermal pads to help sink heat away from the board like some models out there.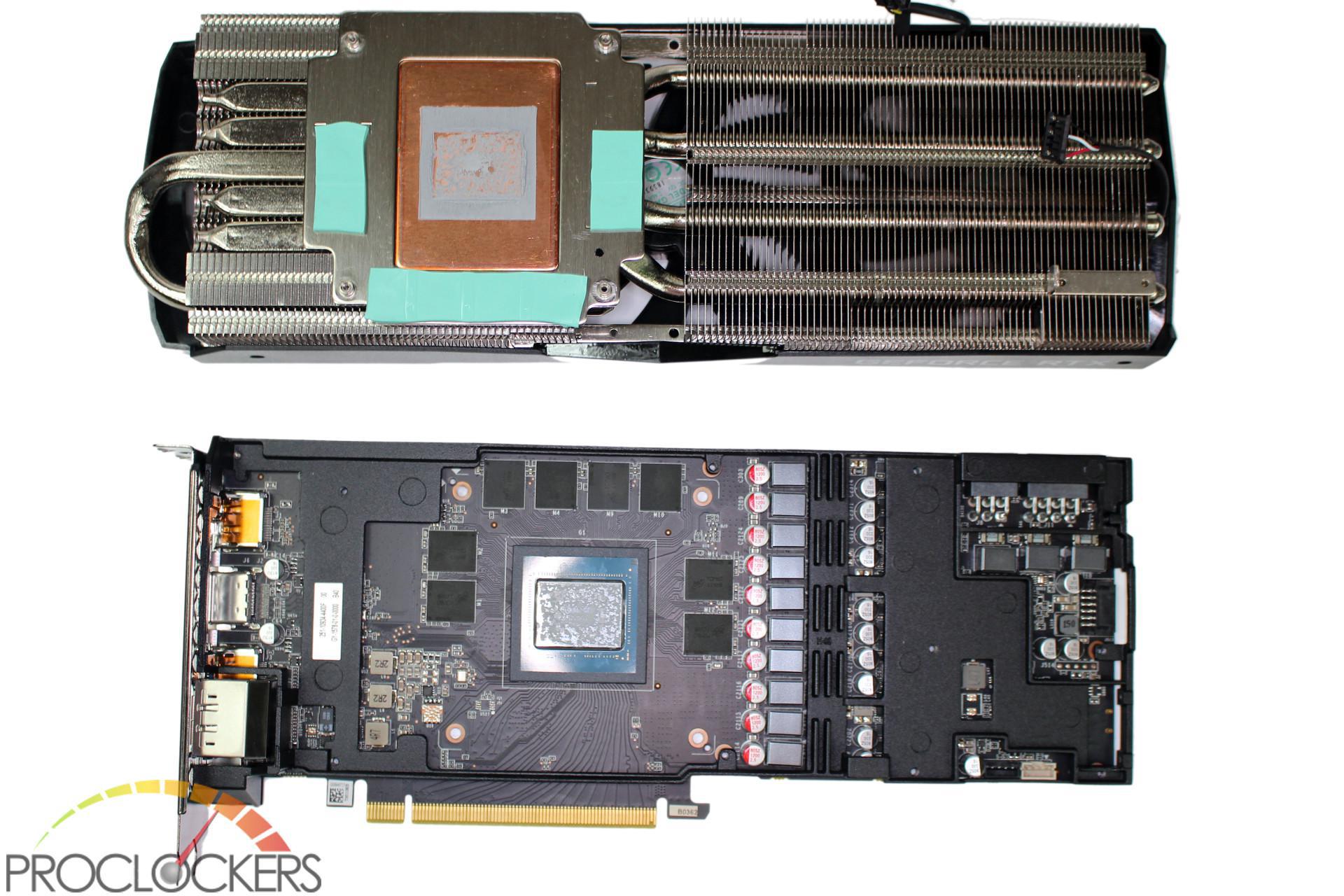 Four screws around the GPU die and one more not as obvious near the rear of the card hold the heatsink on. An RGB plug at the rear of the card and two fan connectors to one side need to be removed as well.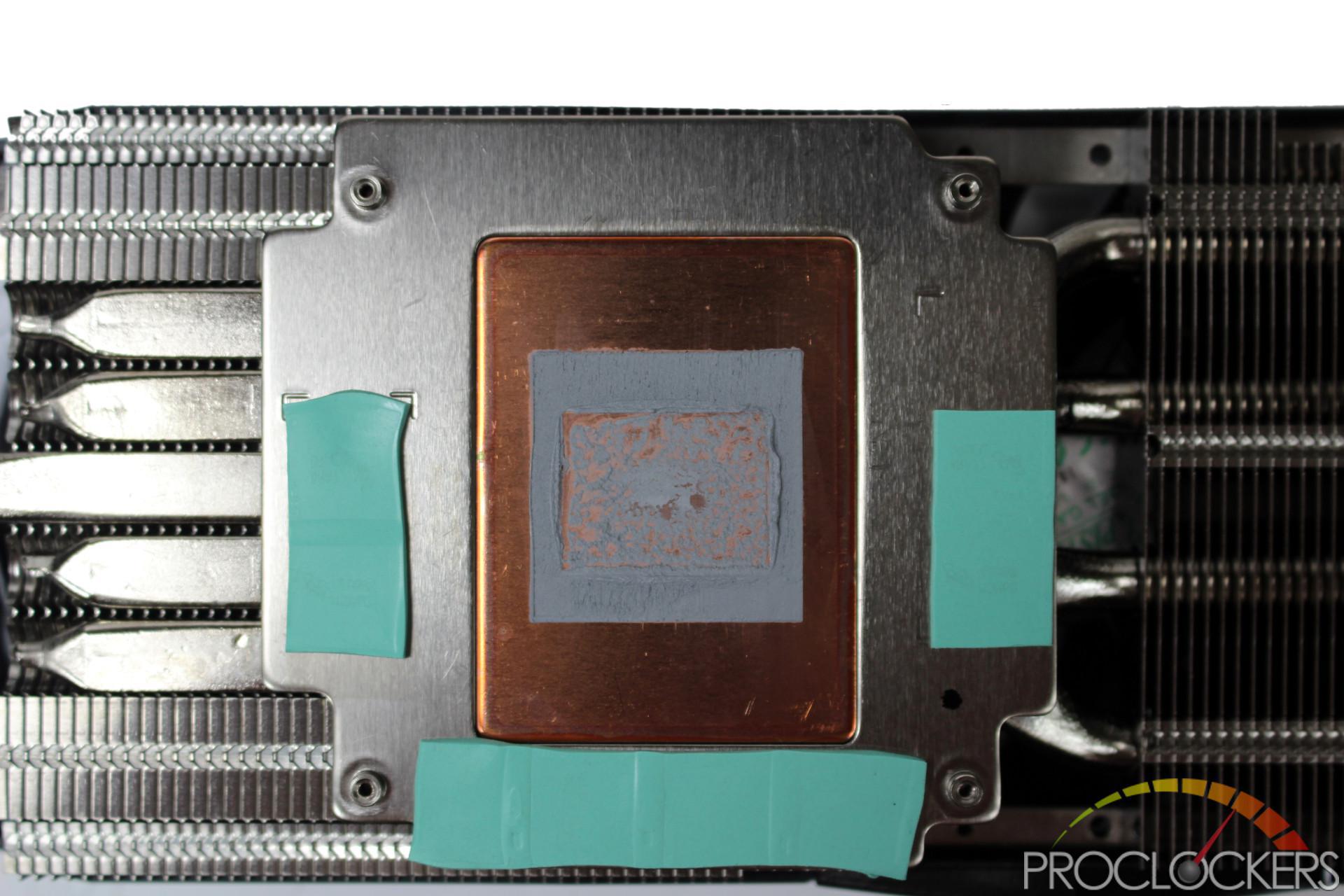 The GPU die contact area is solid copper and but the aluminum plate around it also sinks heat from the VRAM.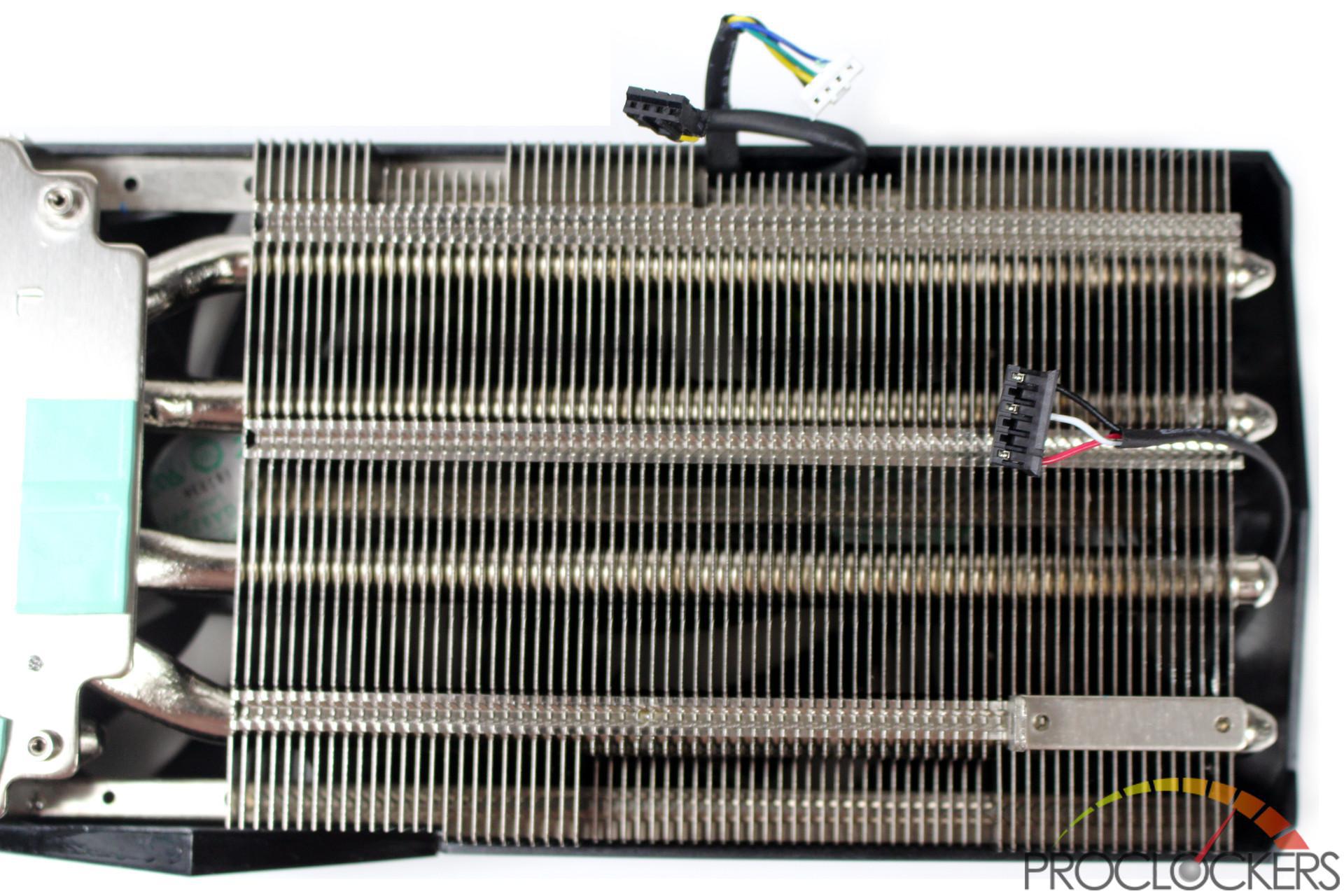 A total of 5 large heatsinks move heat around the assembly, four of which extend through the entire rear area.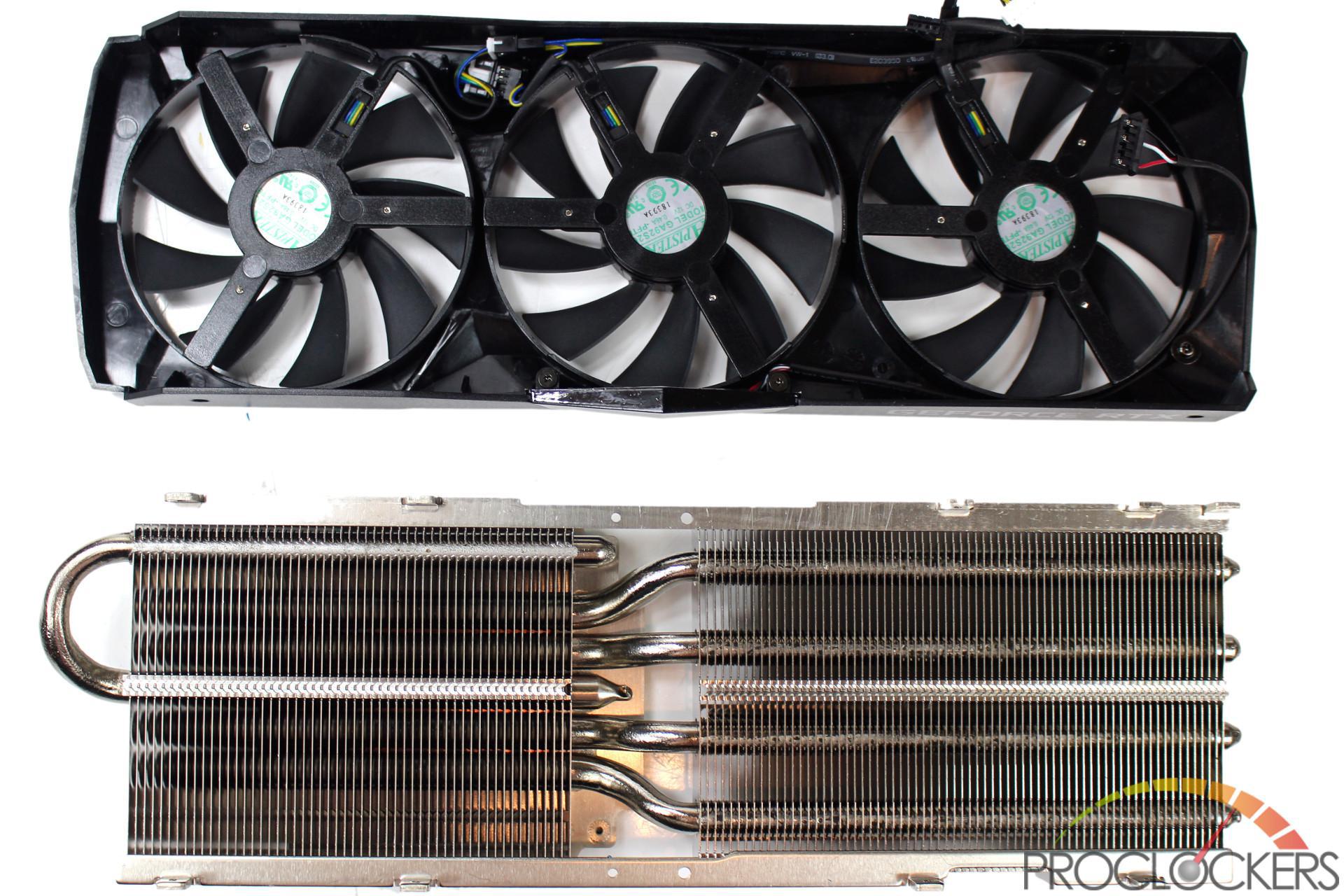 Four more screws hold the fan shroud on the heatsink.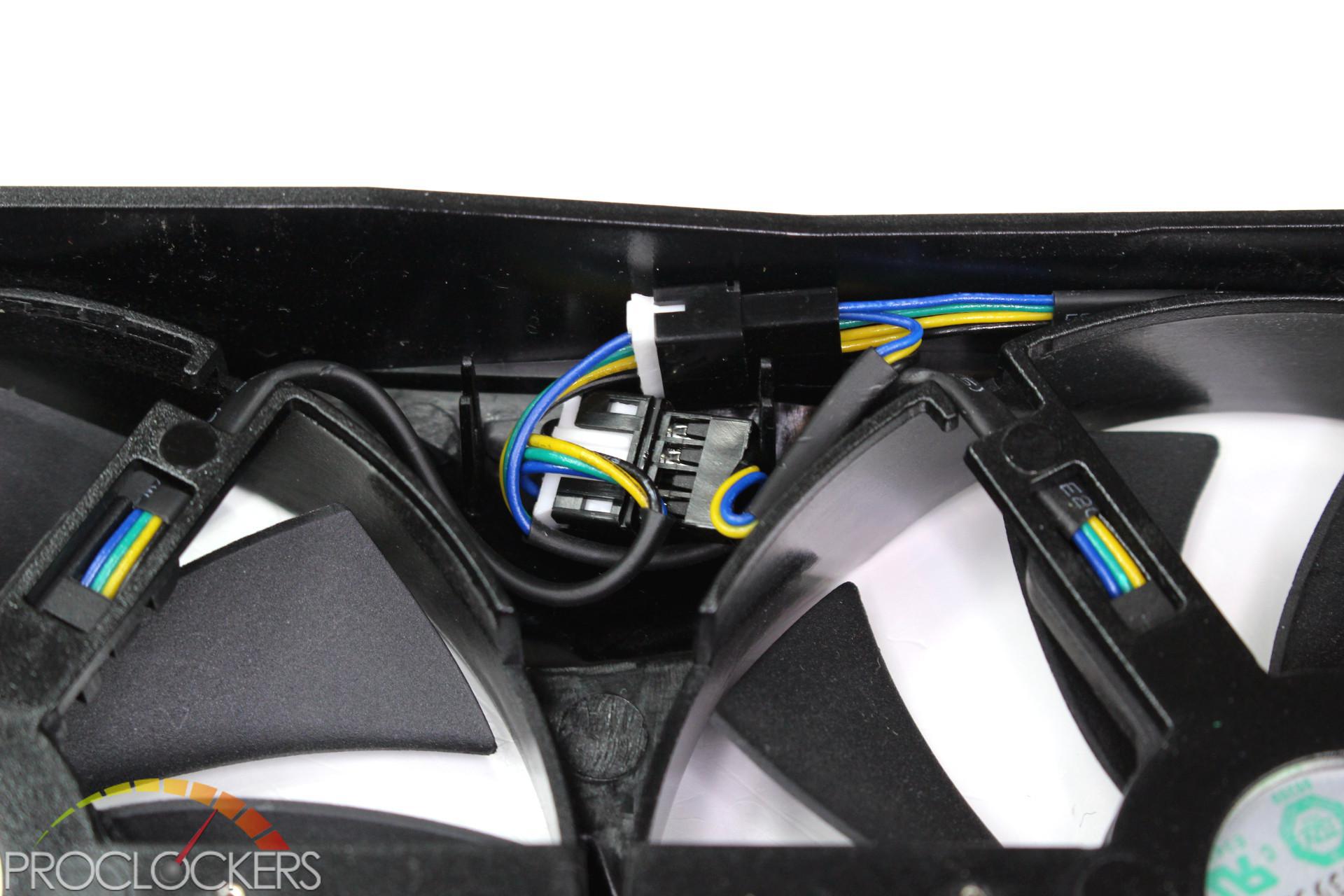 The front two fans share one fan header from the GPU via a splitter tucked neatly in one corner between the fans.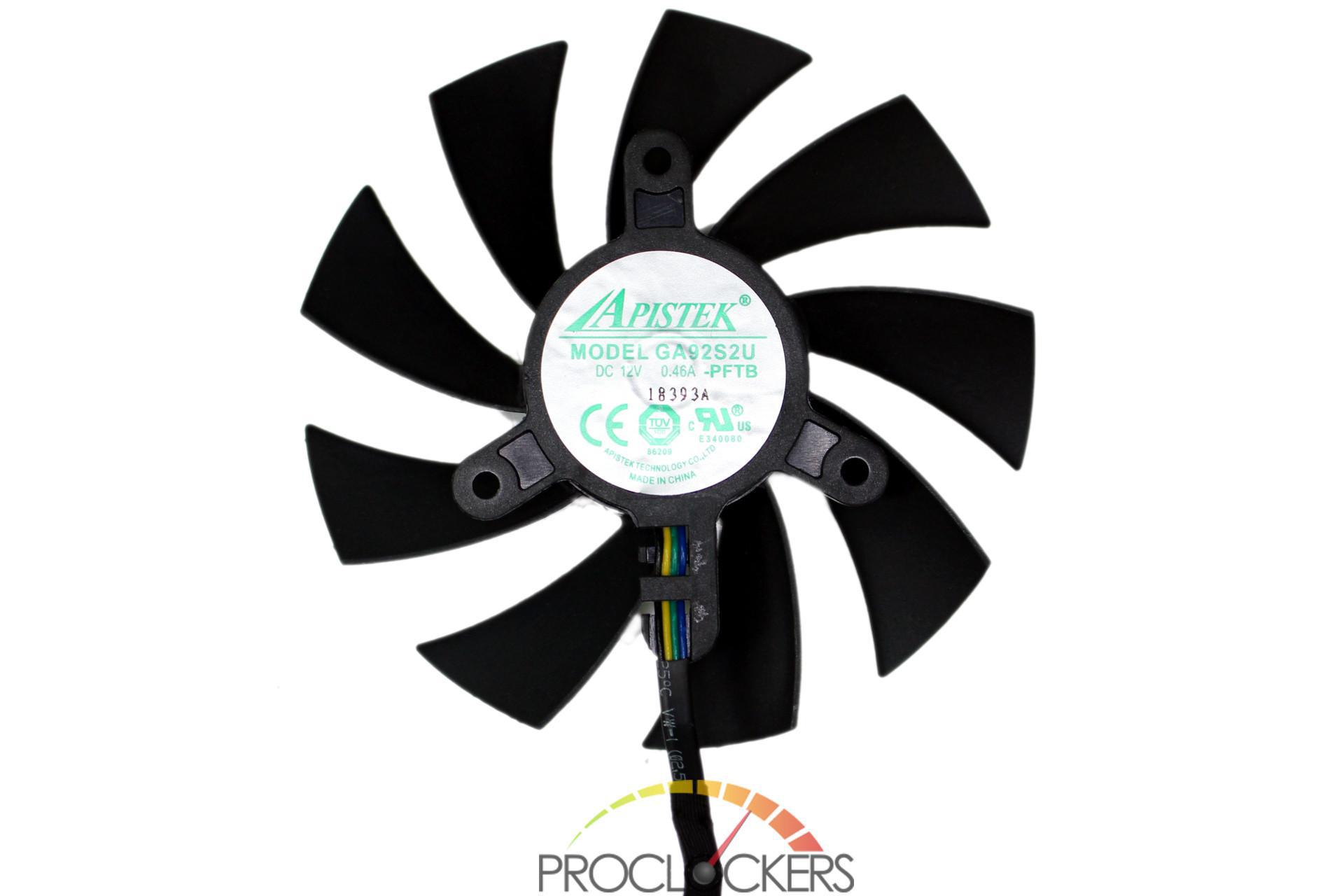 Apistek GA92S2U fans rated 0.45A 4-pin PWM fans are easily replaceable should one ever fail and are found online quite readily, albeit with slightly different blade geometry.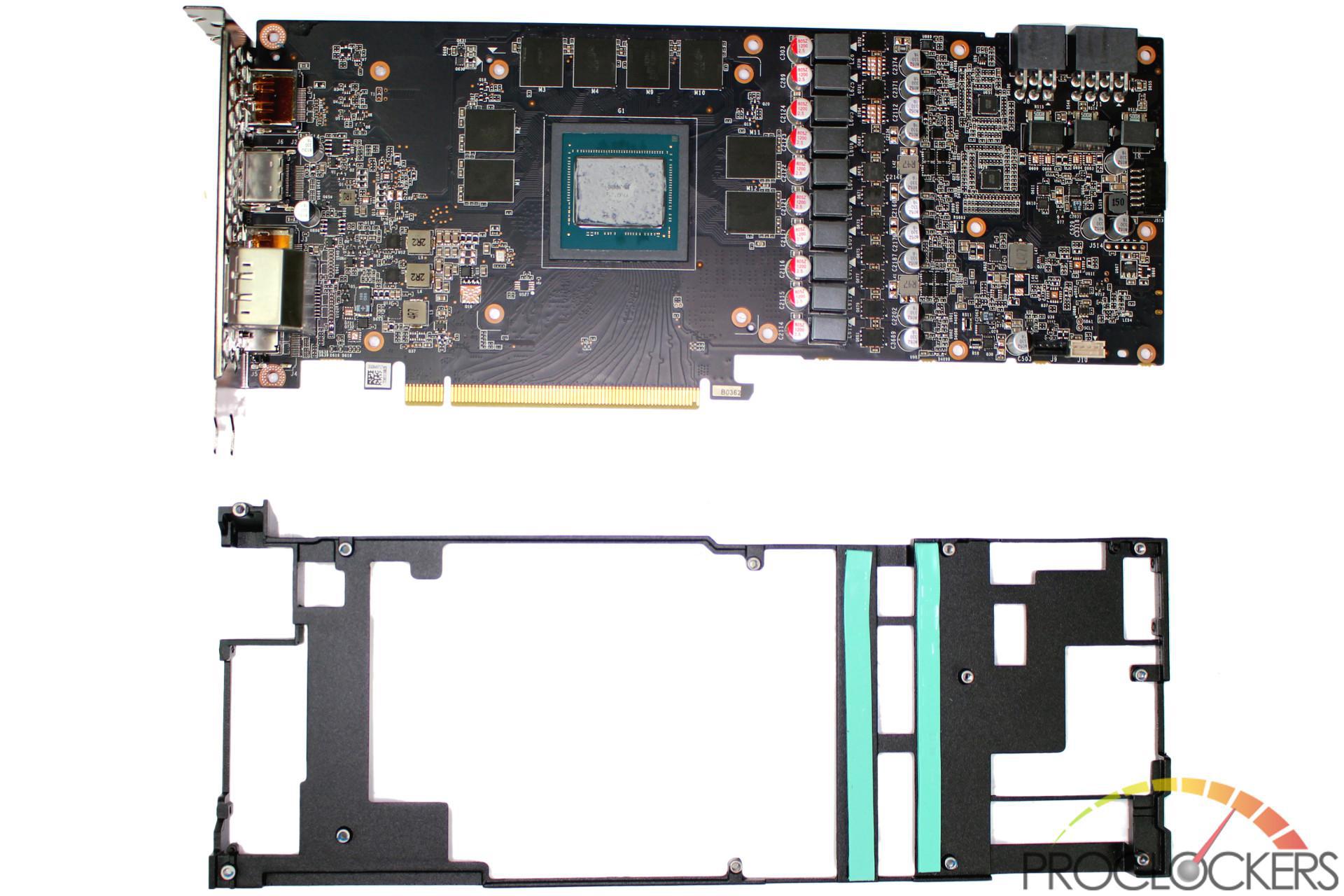 A few more screws through the rear I/O bracket hold the subframe in place. This frame cools the main VRM stages as well as providing an extra bit of structure and support to the card.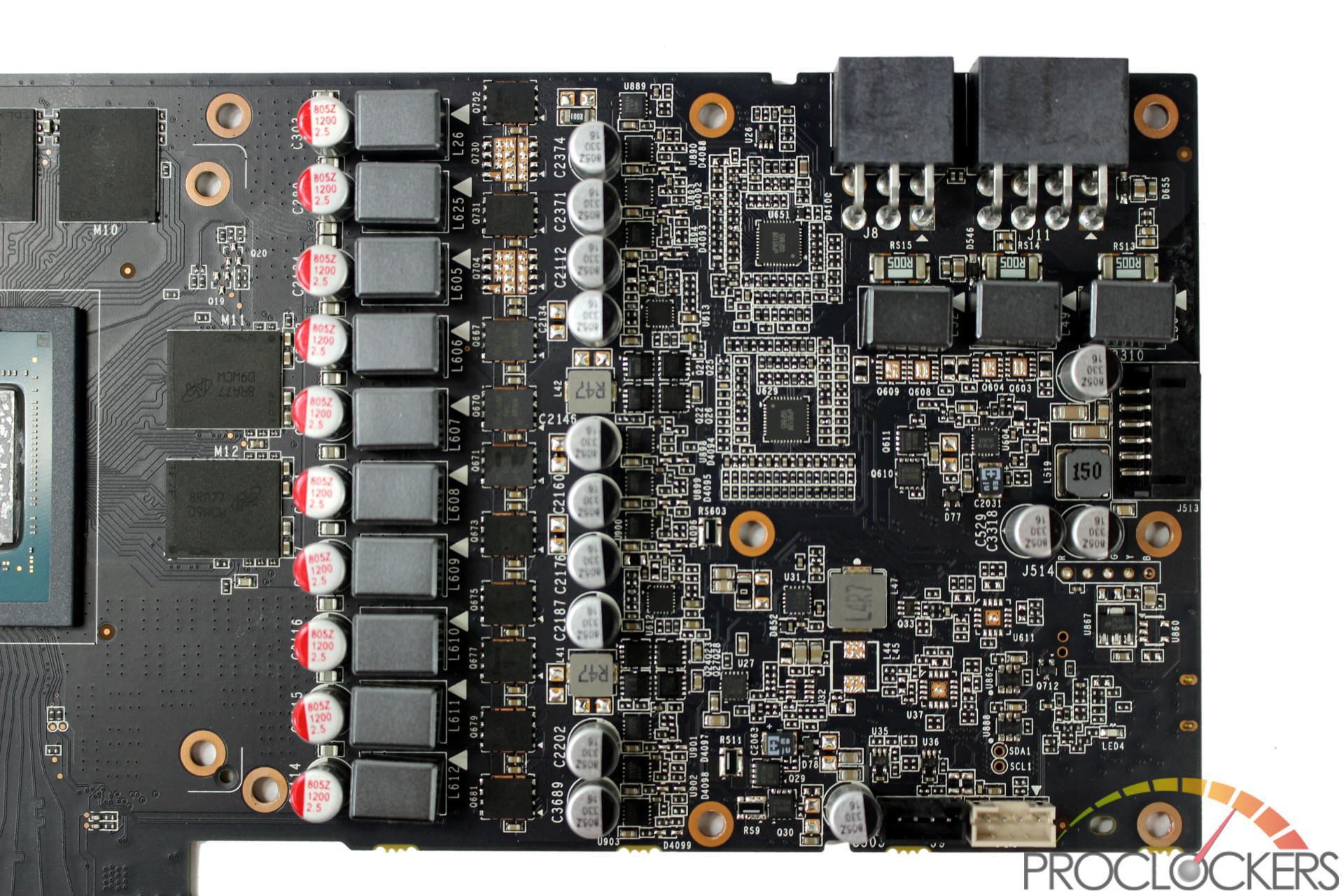 Nvidia uses six phases for a reference card but Zotac AMP's it up to no less than ten phases.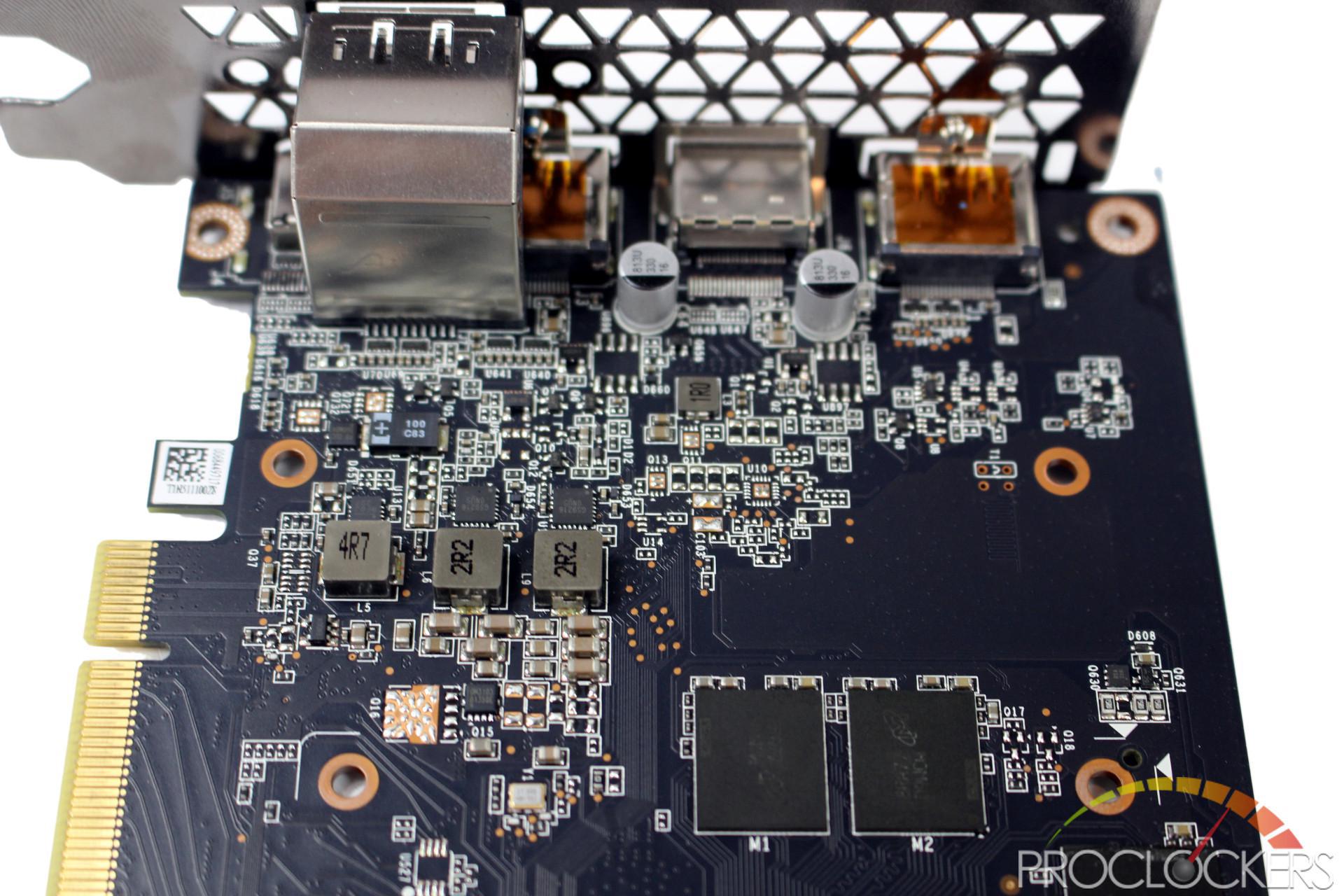 There is another smaller VRM at the front of the card. We're not sure if it's for the memory, but it is most likely for the power delivery feature of the USB Type-C Virtual Link port on the rear of the card.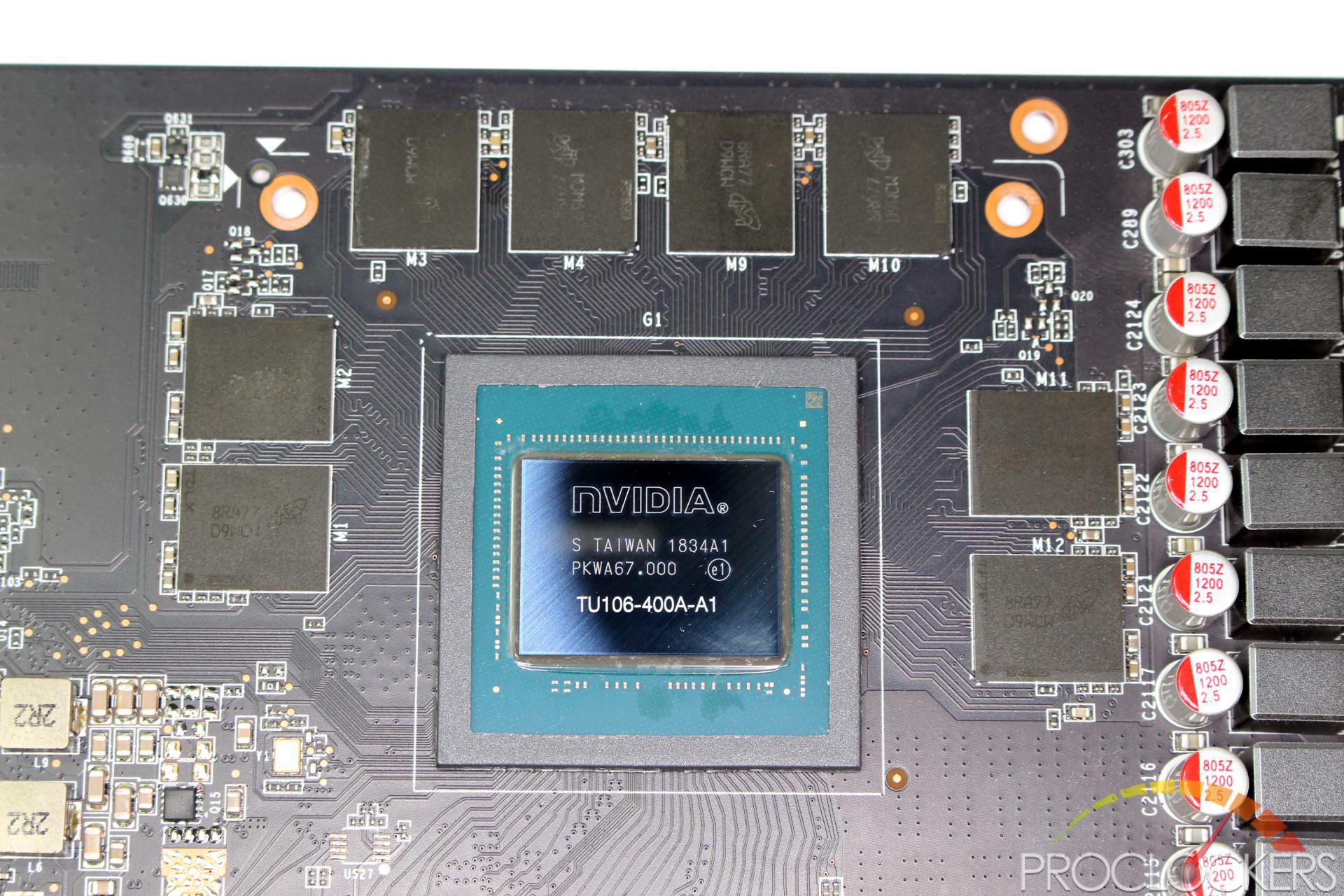 Eight memory IC's surround the GPU die.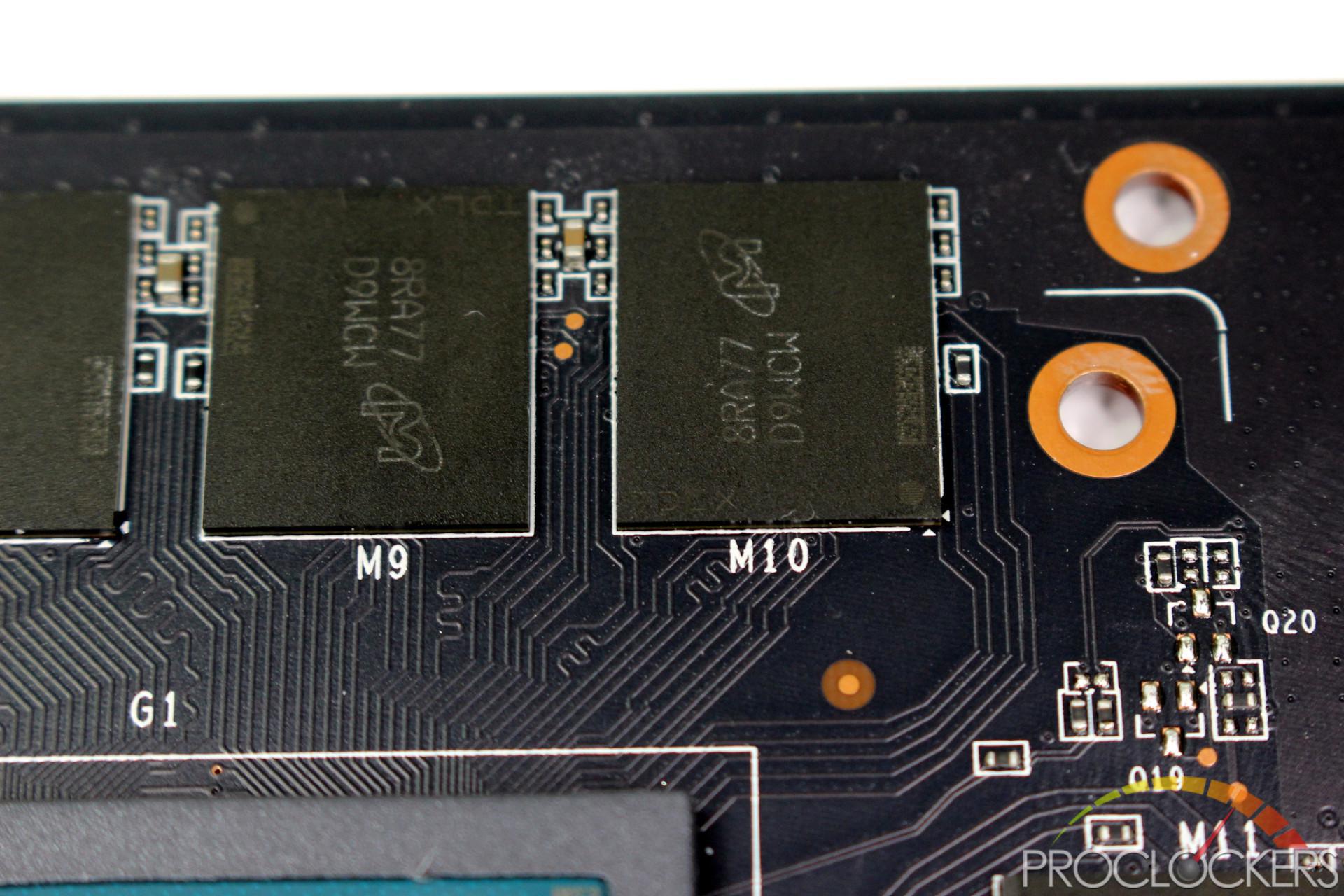 Each memory module is a Micron 1GB GDDR6 module.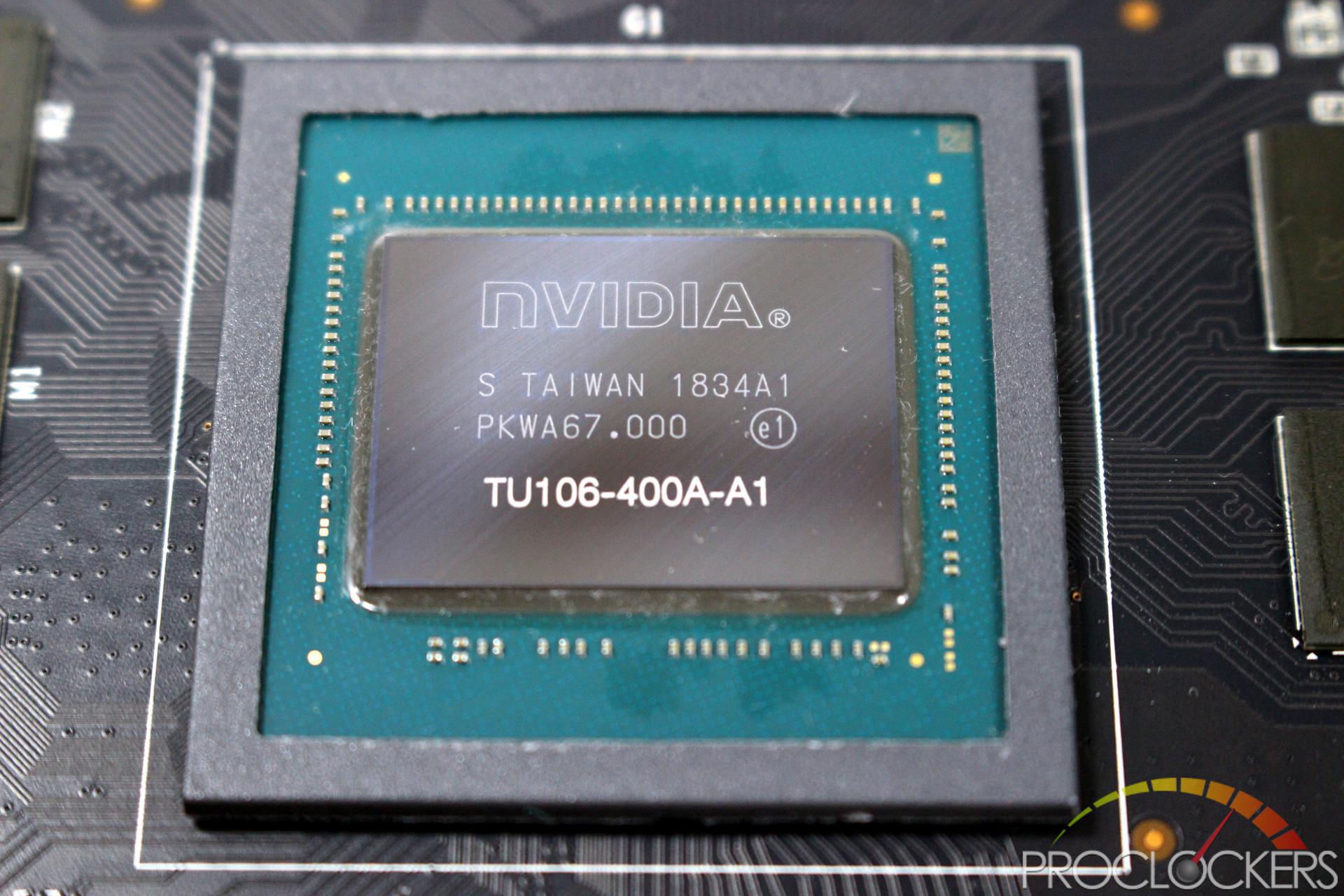 The obligatory Die-shot. Our Zotac RTX 2070 AMP Extreme carries not only the TU106-400 designation but also a new 'A' in the part number. Nvidia is pre-screening dies this generation into two bins, the more capable dies carry the 'A' designation while the ones used on the stock, non-overclocked cards are minus this character.
System Configuration & Software
CPU: Intel Core i7-8700K
GPU: Zotac Gaming RTX 2070 Amp Extreme
Mobo: ASUS ROG Maximus XI Extreme
Ram: 32GB GeIL Evo Spear 3200MHz C16
SSD: Toshiba OCZ RD400 512GB
Chassis: Streacom Open BenchTable
OS: Microsoft Windows 10 Professional
Zotac Firestorm:
Get more control of your graphics card with our new FireStorm utility. Redesigned from the ground up, extract more performance from your ZOTAC graphics card. Tweaking and tuning are quick and easy with an optimized user interface that presents users with clock speed adjustments, fan control, fan profile, Spectra LED customization, GPU monitoring functions, and much more.
With a ZOTAC GeForce® card with SPECTRA support, you can customize your LED Lighting with FireStorm. Select among a wide spectrum of colors + off, 8 different brightness settings, multiple lighting modes, and even adjust multiple independent zones.*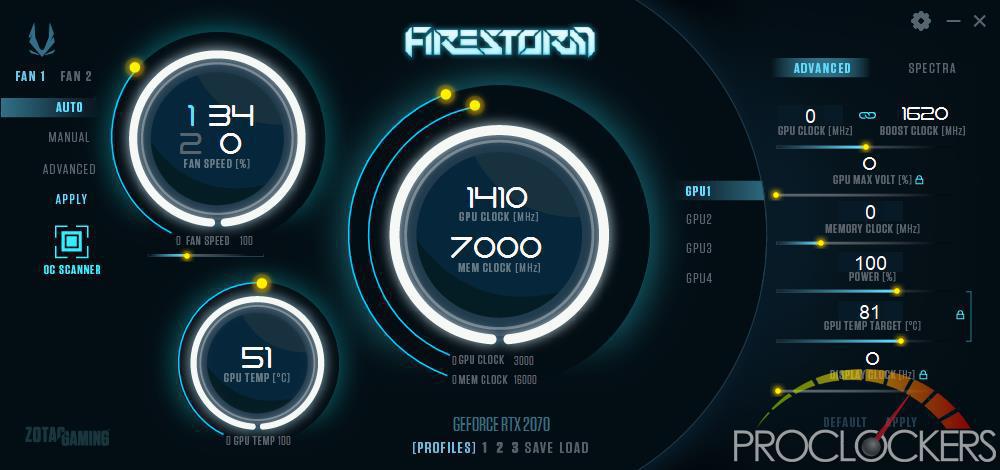 Zotac's newly updated Firestorm tuning software provides everything you need to tweak up to four GPU's. Fan speeds, clock speeds, voltages, and even power and temperature targets can be adjusted quickly. You can save up to three profiles to easily recall settings later on.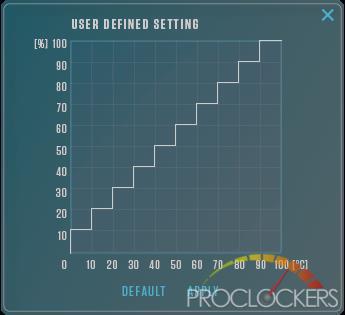 Besides manual and auto settings on the fans, you can specify a custom curve that meets your needs.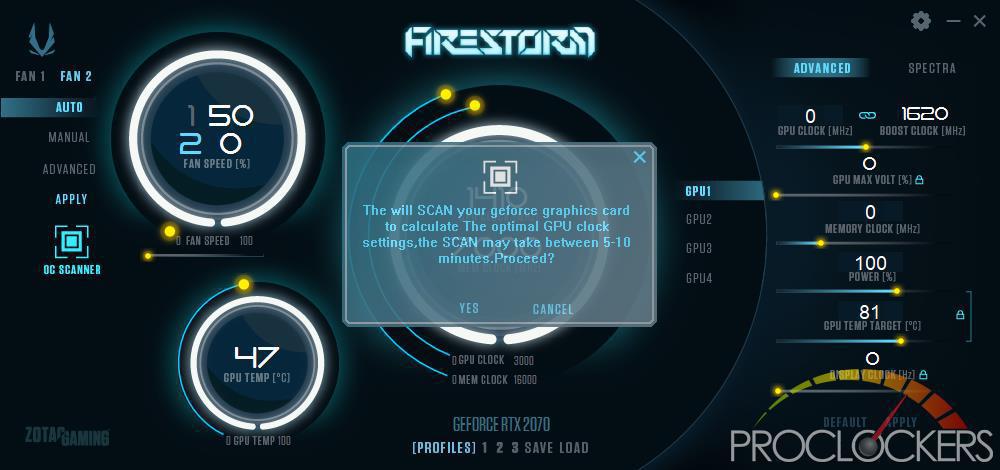 Nvidia's new OC Scanner can be accessed on the left side near the center of the screen. The OC Scanner is new to the Turning architecture and will tweak the magic formula that Nvidia uses behind the scenes to make a very custom performance curve for your specific GPU.
Synthetic Testing
Futuremark 3DMark
3DMark includes everything you need to benchmark your PC and mobile devices in one app. Whether you're gaming on a smartphone, tablet, notebook, or a desktop gaming PC, 3DMark includes a benchmark designed specifically for your hardware.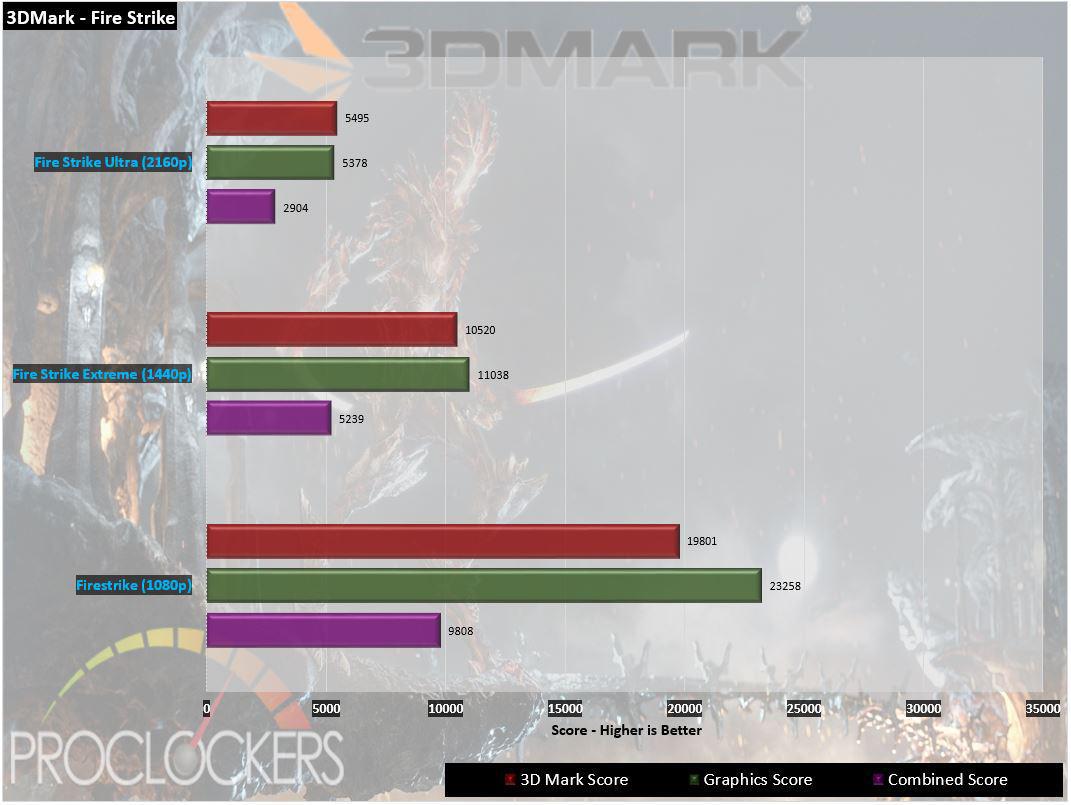 Zotac's RTX 2070 Amp Extreme kills it in 3D Marks Firestrike, scoring well over 23K in graphics at 1080p, the highest we've seen from an RTX 2070 card.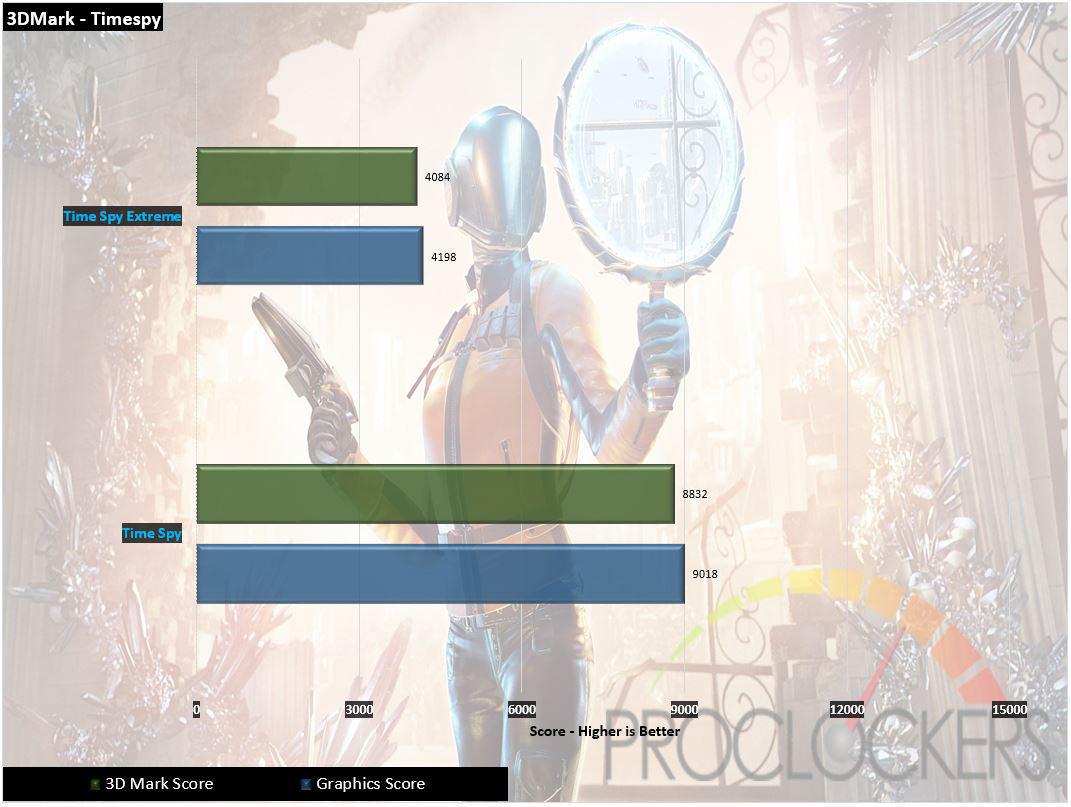 Timespy manages 62fps and 55 fps in the graphics tests for a score of 9245, again, quite a bit ahead of our other RTX 2070's.
Futuremark VRMark
The performance requirements for VR games are much higher than for typical PC games. So if you're thinking about buying an HTC Vive or an Oculus Rift, wouldn't you like to know that your PC is ready for VR?
VRMark includes three VR benchmark tests that run on your monitor, no headset required, or on a connected HMD. At the end of each test, you'll see whether your PC is VR ready, and if not, how far it falls short.
Orange Room Test – The Orange Room benchmark shows the impressive level of detail that can be achieved on a PC that meets the recommended hardware requirements for the HTC Vive and Oculus Rift. If your PC passes this test, it's ready for the two most popular VR systems available today.
Cyan Room Test – Cyan Room is a DirectX 12 benchmark. It features a large, complex scene and many eye-catching effects. Cyan Room shows how using an API with less overhead can help developers deliver impressive VR experiences even on modest PC systems.
Blue Room Test – The Blue Room is a much more demanding test. It's ideal for benchmarking the latest graphics cards. With its massive 5K rendering resolution and spectacular volumetric lighting effects, the Blue Room sets the bar for future hardware generations.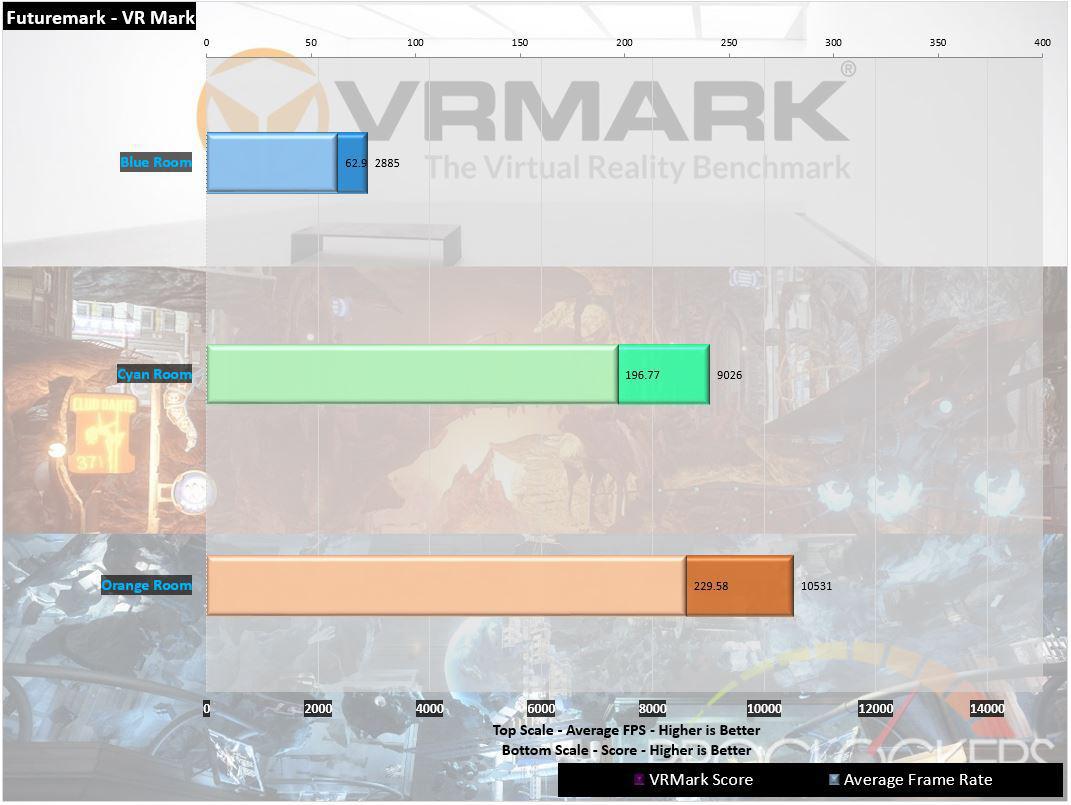 The RTX 2070 is targeted at 1440p gaming so it's of little surprise that it scores well in the mid-range Cyan room and lower. The extremely demanding Blue Room targets 109FPS but the 2070 falls just a bit short of providing a flawless experience.
Unigine Heaven
Heaven Benchmark is a GPU-intensive benchmark that hammers graphics cards to the limits. This powerful tool can be effectively used to determine the stability of a GPU under extremely stressful conditions, as well as check the cooling system's potential for maximum heat output.
The benchmark immerses a user into a magical steampunk world of shiny brass, wood, and gears. Nested on flying islands, a tiny village with its cozy, sun-heated cobblestone streets, and a majestic dragon on the central square gives a true sense of adventure. An interactive experience with fly-by and walk-through modes allows for exploring all corners of this world powered by the cutting-edge UNIGINE Engine that leverages the most advanced capabilities of graphics APIs and turns this bench into a visual masterpiece.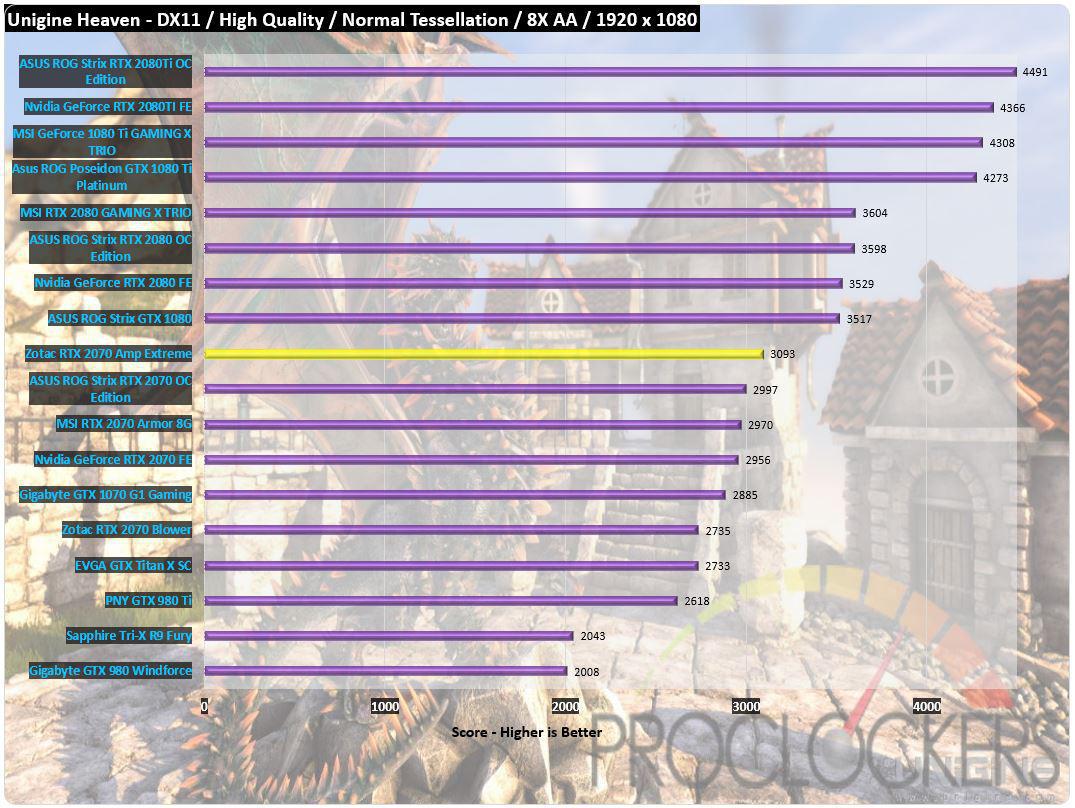 At 1080P and mid-range settings, The 2070 Amp Extreme scores 3093 points which is right around the GTX 1080 range and nearly 400 points higher than Zotac's reference model blower card.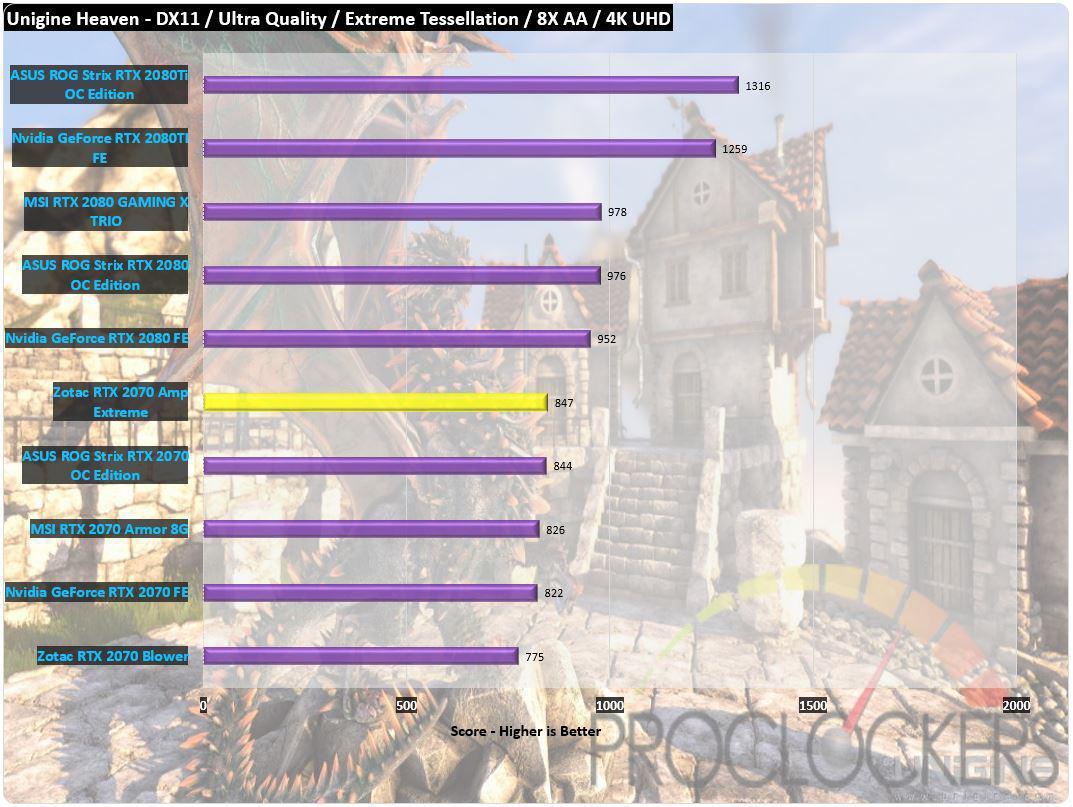 At 4K and more demanding settings, the Turing architecture pulls ahead of the previous generation and the Amp Extreme ends up only about 100 points behind our reference RTX 2080.
Unigine Superposition
Extreme performance and stability test for PC hardware: video card, power supply, cooling system. Check your rig in stock and overclocking modes with a real-life load! Also includes interactive experience in a beautiful, detailed environment.
A lone professor performs dangerous experiments in an abandoned classroom, day in and day out. Obsessed with inventions and discoveries beyond the wildest dreams, he strives to prove his ideas.
Once you come to this place in the early morning, you would not meet him there. The eerie thing is a loud bang from the laboratory heard a few moments ago. What was that? You have the only chance to cast some light upon this incident by going deeply into the matter of quantum theory: thorough visual inspection of professor's records and instruments will help to lift the veil on the mystery.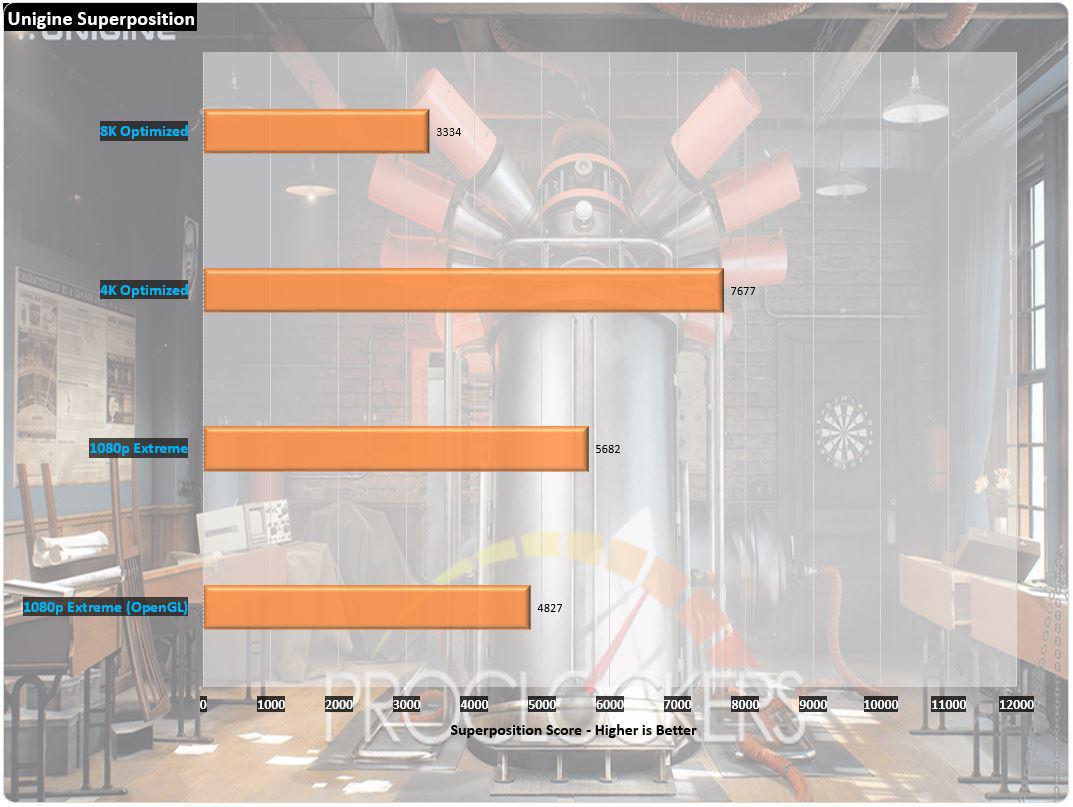 At 4K on optimized settings, the RTX 2070 Amp Extreme averages just over 57 FPS and scores a healthy 7677 points, the fastest 2070 we've tested by a pretty wide margin.
Game Testing
Ashes of the Singularity
Planet by planet, a war is raging across the galaxy. The technological singularity has given humanity the power to expand further than they ever have before. Now, they compete with each other and their sentient artificial intelligence adversaries for control of newfound worlds.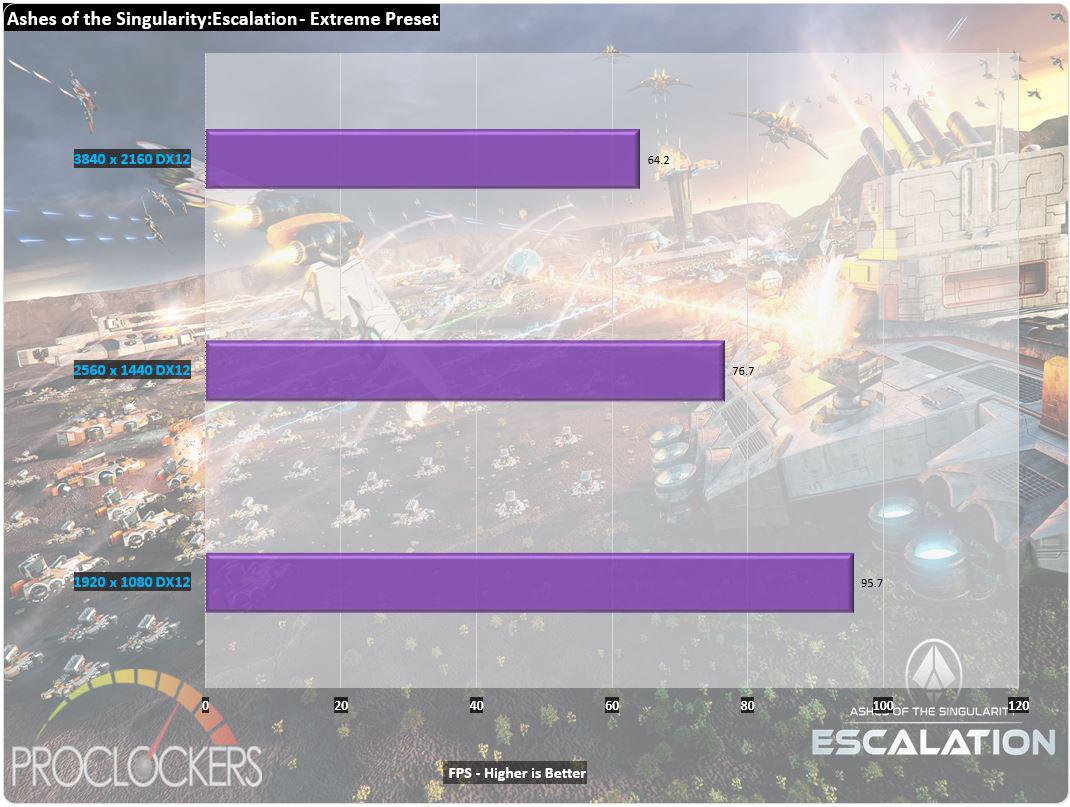 Even at the extreme preset, Zotac's RTX 2070 Amp Extreme can swing 4K at more than 60 FPS. At 1440p, it manages almost 77 FPS on average and nearly 96 FPS at 1080.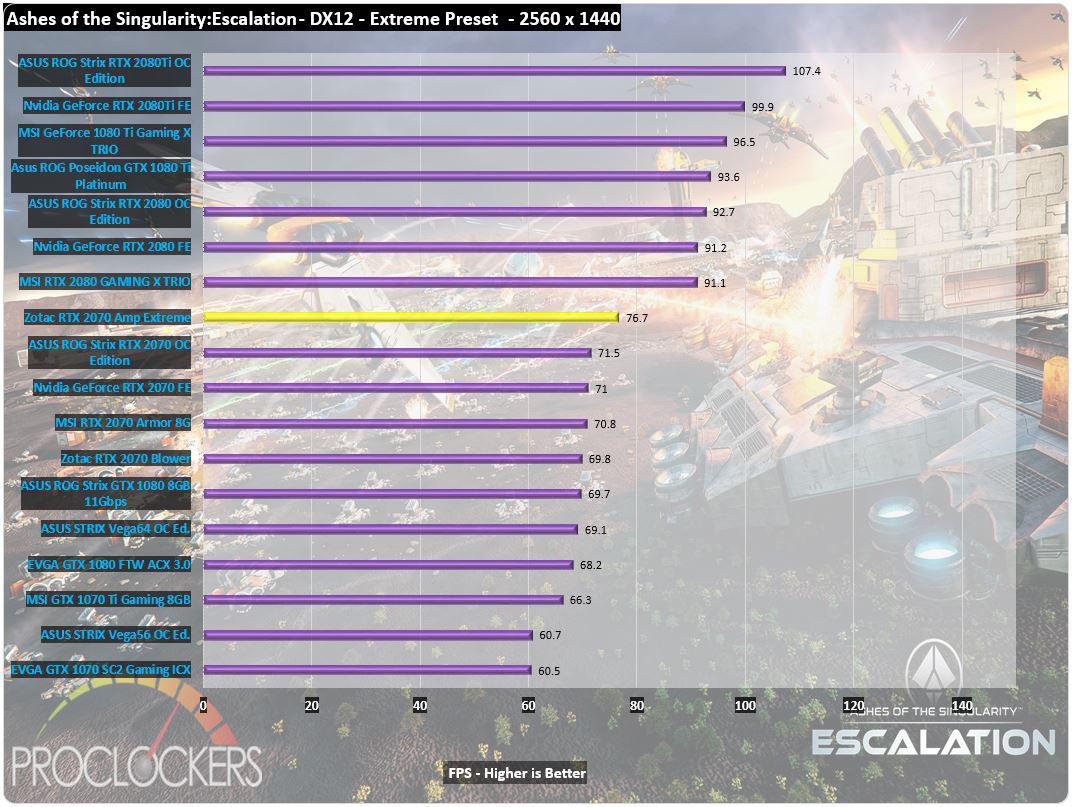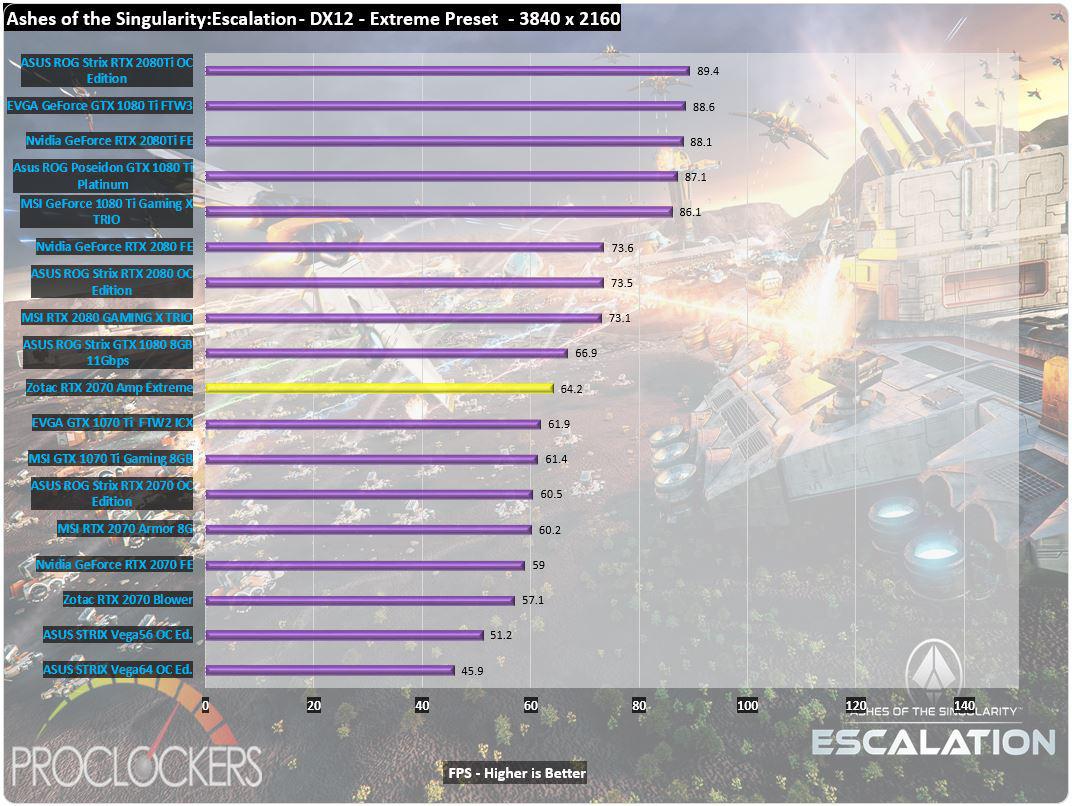 At all resolutions, the Amp Extreme is easily the fastest RTX 2070 we've tested by a decent margin.
Dues Ex: Mankind Divided
The year is 2029, and mechanically augmented humans have now been deemed outcasts, living a life of complete and total segregation from the rest of society.
Now an experienced covert operative, Adam Jensen is forced to operate in a world that has grown to despise his kind. Armed with a new arsenal of state-of-the-art weapons and augmentations, he must choose the right approach, along with who to trust, in order to unravel a vast worldwide conspiracy.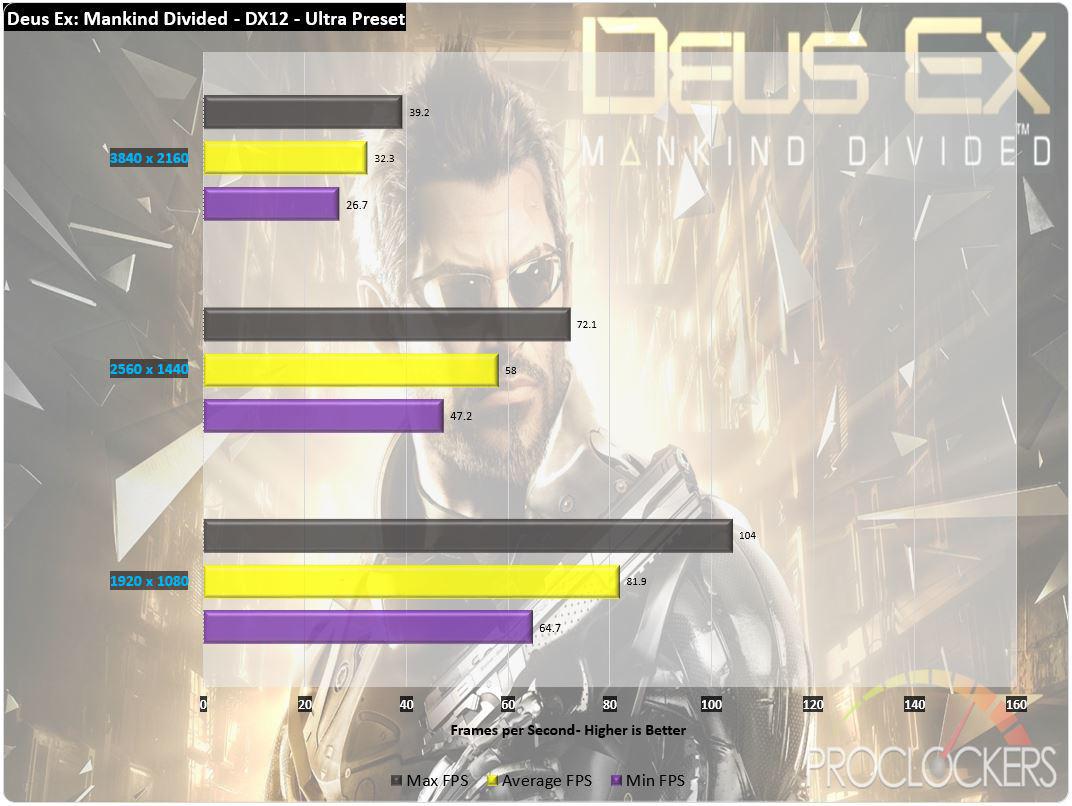 Deus Ex is fully playable at 1440p but the Ultra preset is just a little too demanding at 4K to maintain good framerates on max settings.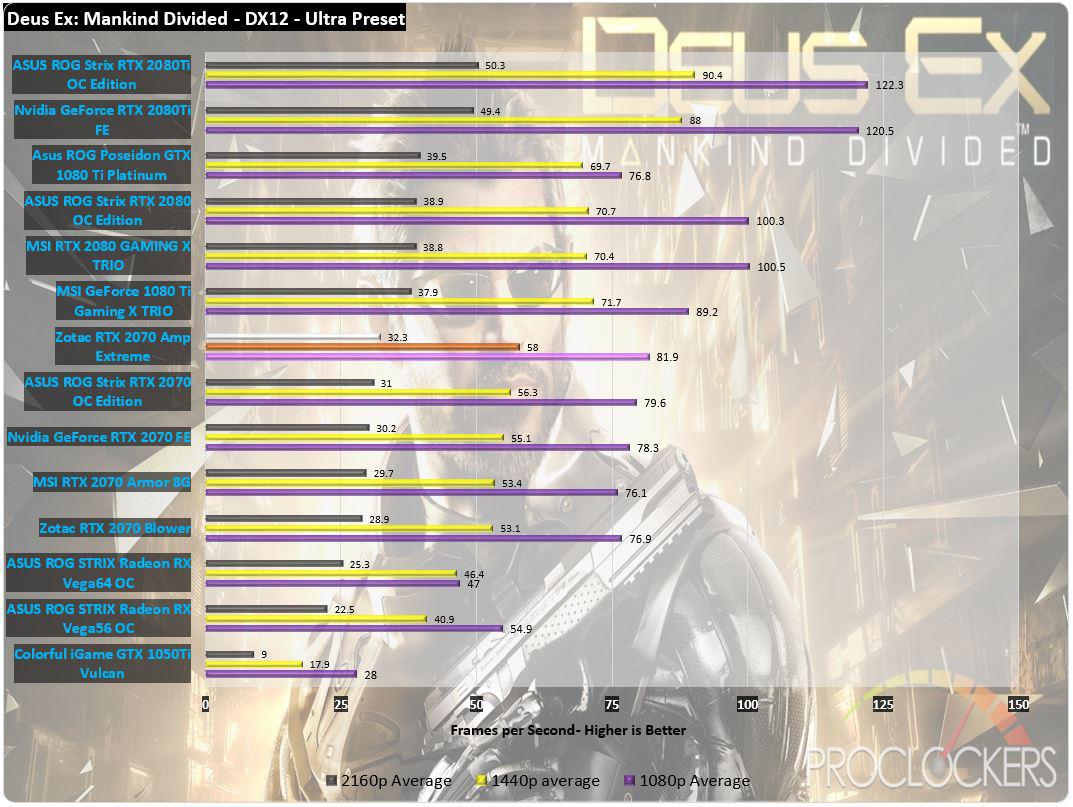 In comparison, the RTX 2070 Amp Extreme is hot on the heels of the GTX 1080Ti.
Middle-Earth: Shadow of War
In the epic sequel to the award-winning Middle-earth: Shadow of Mordor, go behind enemy lines to forge an army, conquer Fortresses and dominate Mordor from within. Experience how the award-winning Nemesis System creates unique personal stories with every enemy and follower, and confront the full power of the Dark Lord Sauron and his Ringwraiths in this epic new story of Middle-earth.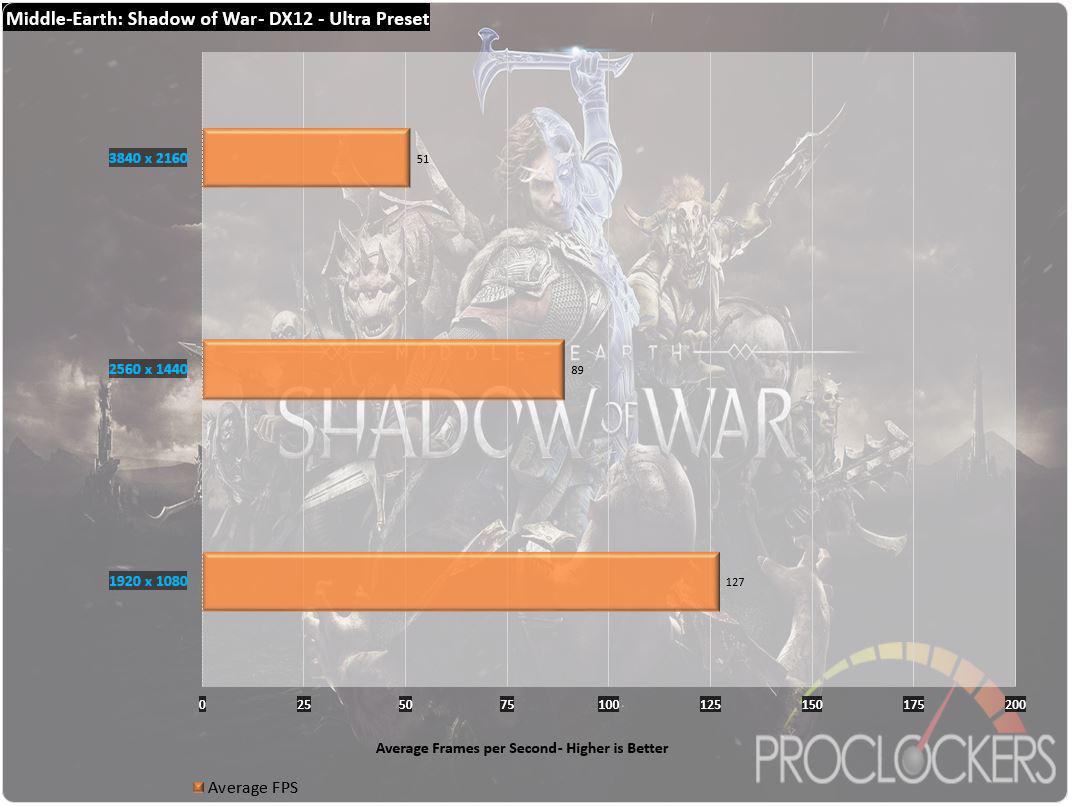 Middle-Earth: Shadow of War comes in at 51 FPS on average at 4K at max settings which is playable, and 89 FPS at 1440p.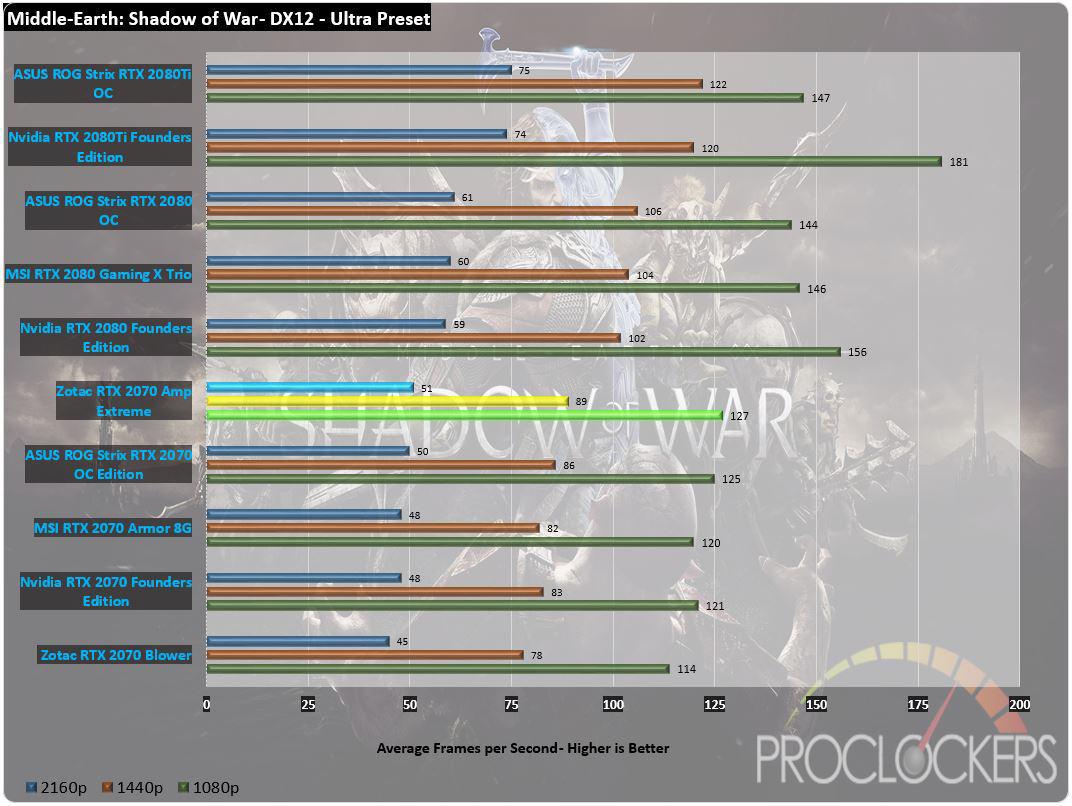 The gap between the RTX 2070 and 2080 cards really isn't that wide and the Amp Extreme makes it seem pretty small.
Rise of the Tomb Raider
Rise of the Tomb Raider is an action-adventure video game developed by Crystal Dynamics and published by Square Enix. It is the sequel to the 2013 video game Tomb Raider, a reboot of the Tomb Raider franchise. It was released on Xbox One and Xbox 360 in November 2015 and for Microsoft Windows in January 2016. It is set to release for PlayStation 4 in the second half of 2016.
Rise of the Tomb Raider was officially announced in June 2014. The game's storyline follows Lara Croft as she ventures into Siberia in search of the legendary city of Kitezh, whilst battling a paramilitary organization that intends on beating her to the city's promise of immortality. Presented from a third-person perspective, the game primarily focuses on survival and combat, while the player may also explore its landscape and various optional tombs. Camilla Luddington returns to voice and performs her role as Lara.
Upon release, Rise of the Tomb Raider received positive reviews, with critics praising its graphics, gameplay, and characterization. It was the best-selling Xbox One game during Christmas week and had sold over one million copies by the end of 2015. Additional content was also released, including a new story campaign, a new gameplay mode, as well as new outfits and weapons for Lara.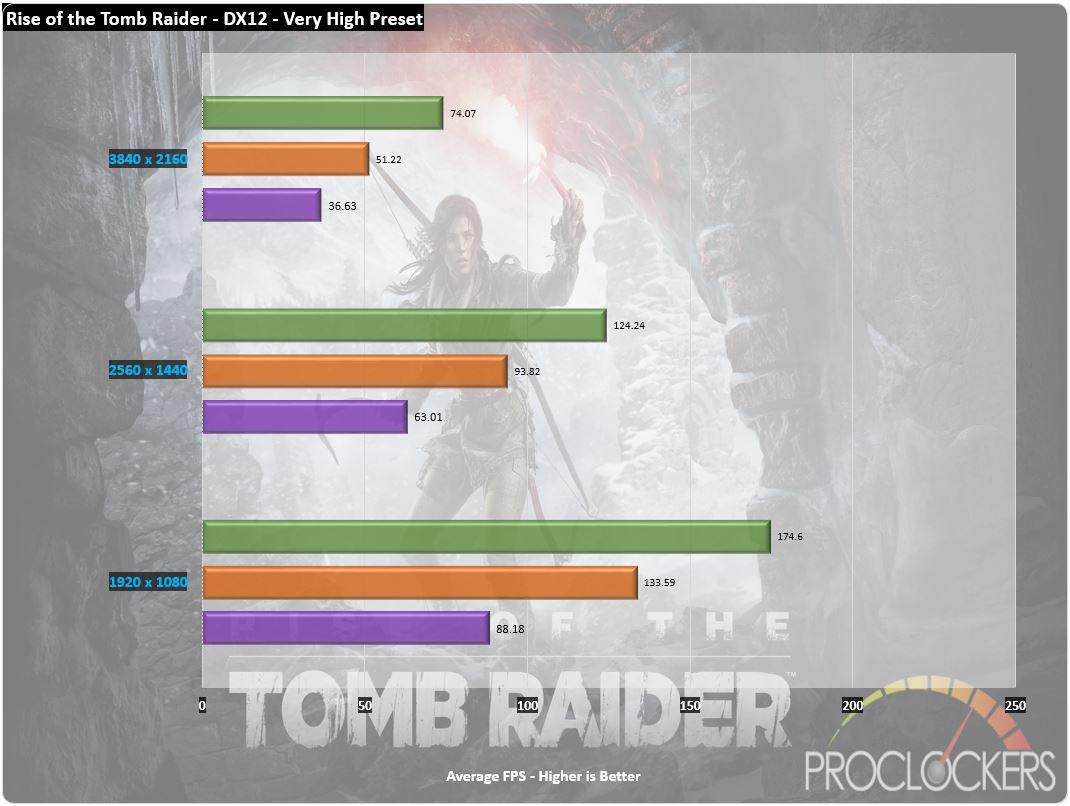 Rise of the Tomb Raider is playable at all resolutions here, 1440p screams in at 94 FPS while 4K slides in a little over 50.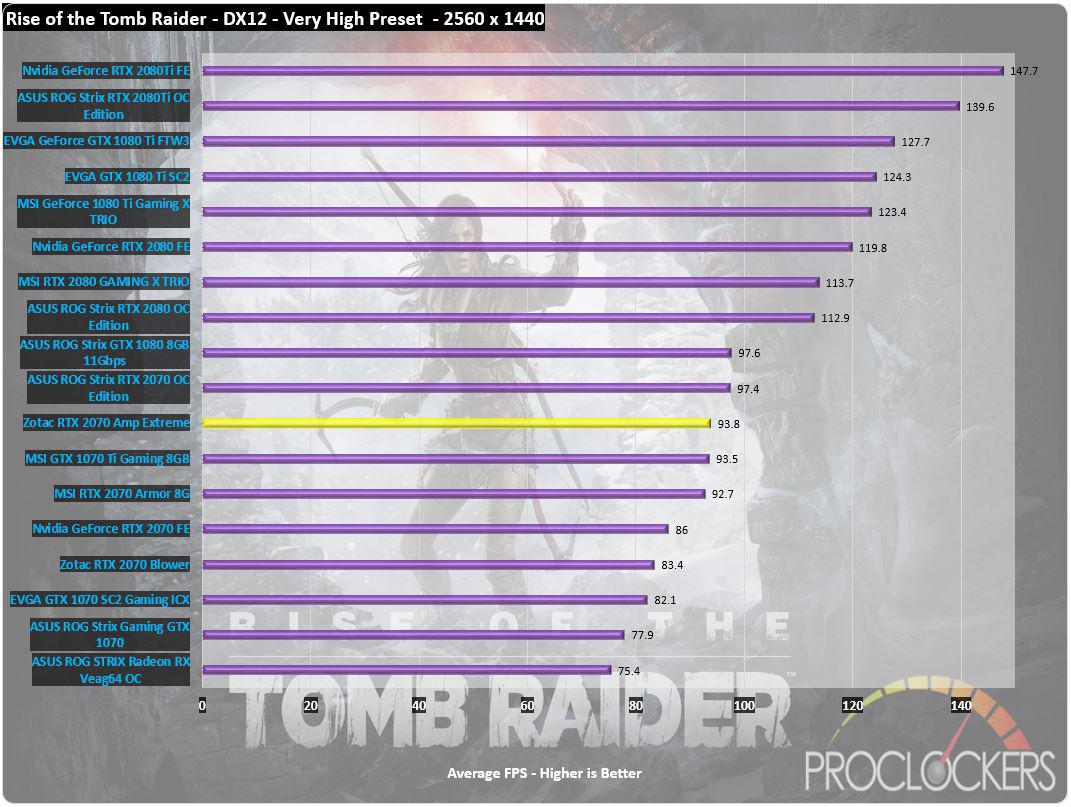 Zotac's RTX 2070 Amp Extreme comes in 2nd place between the RTX 2070's for the first and only time in our testing.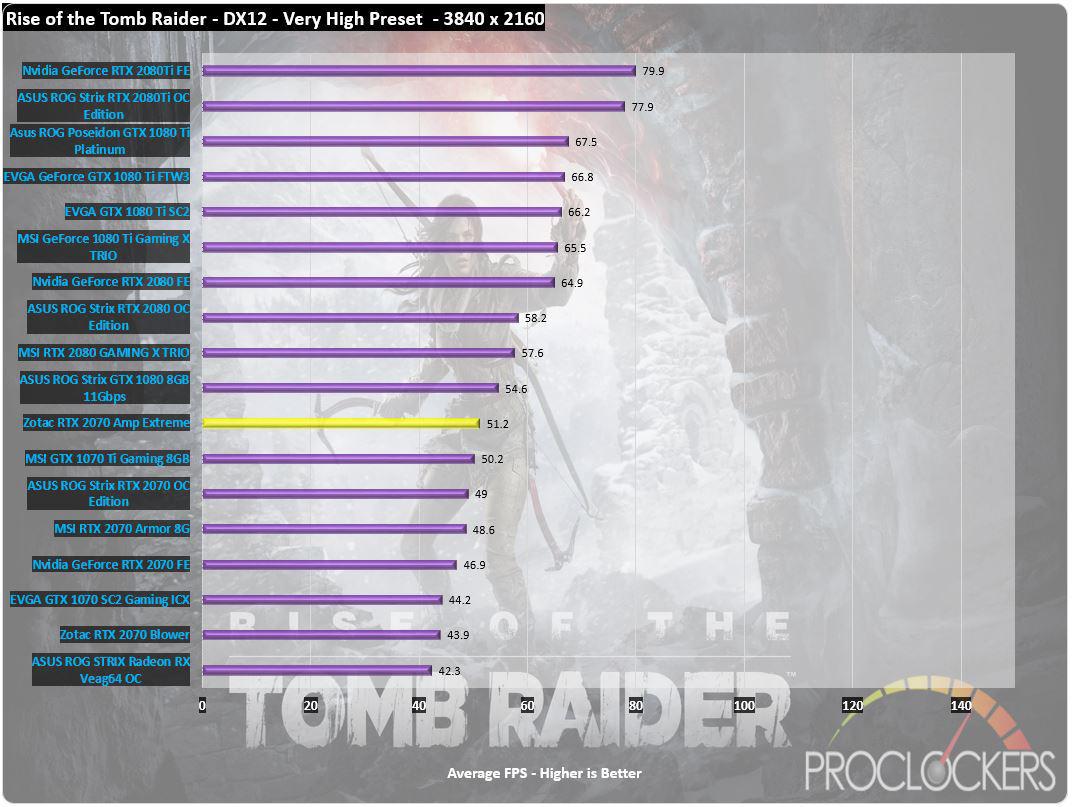 At 4K UHD, the 2070 Amp Extreme is fighting its way through GTX 1080's and closing in on the RTX 2080 range.
Grand Theft Auto: V
"When a young street hustler, a retired bank robber, and a terrifying psychopath find themselves entangled with some of the most frightening and deranged elements of the criminal underworld, the U.S. government and the entertainment industry, they must pull off a series of dangerous heists to survive in a ruthless city in which they can trust nobody, least of all each other.
Grand Theft Auto V for PC offers players the option to explore the award-winning world of Los Santos and Blaine County in resolutions of up to 4k and beyond, as well as the chance to experience the game running at 60 frames per second."
Grand Theft Auto: V is the oldest game in our benchmark suite but still proves to be a heavy load on high settings and resolutions. The game offers players a huge range of PC-specific customization options, including over 25 separate configurable settings for texture quality, shaders, tessellation, anti-aliasing and more. It has the highest recommended system requirements in our game benchmark suite.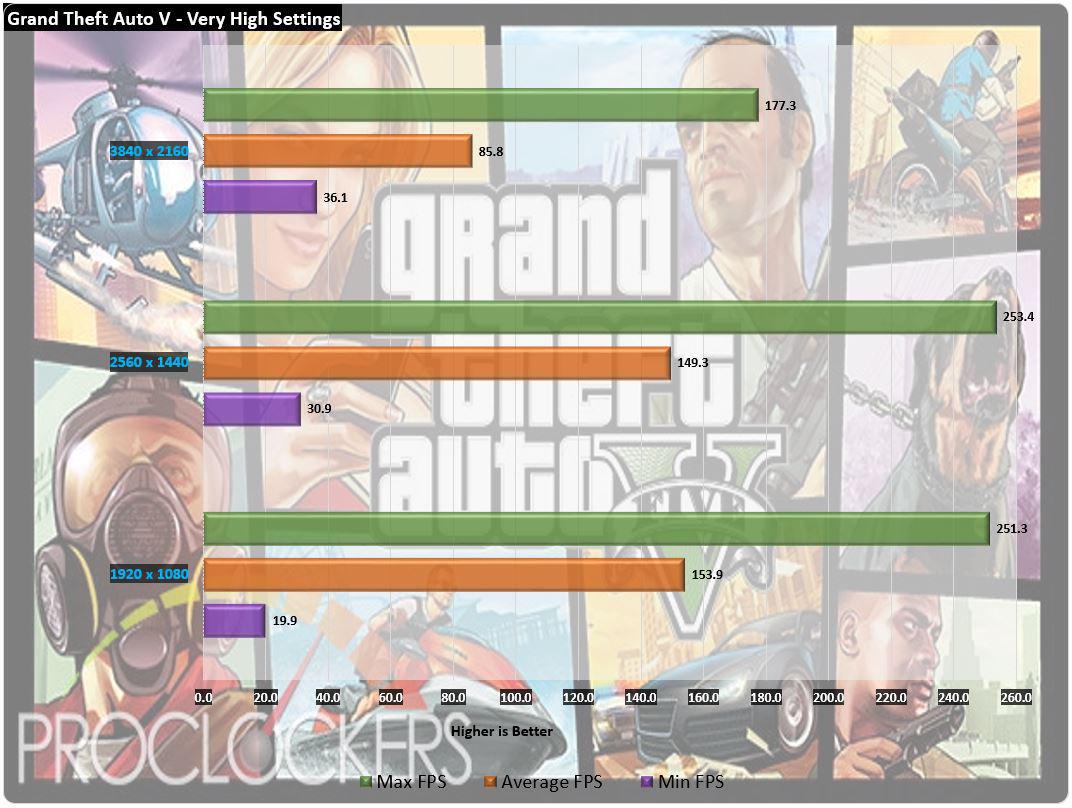 At our settings, the RTX 2070 can handle 4K UHD and below without trying too hard.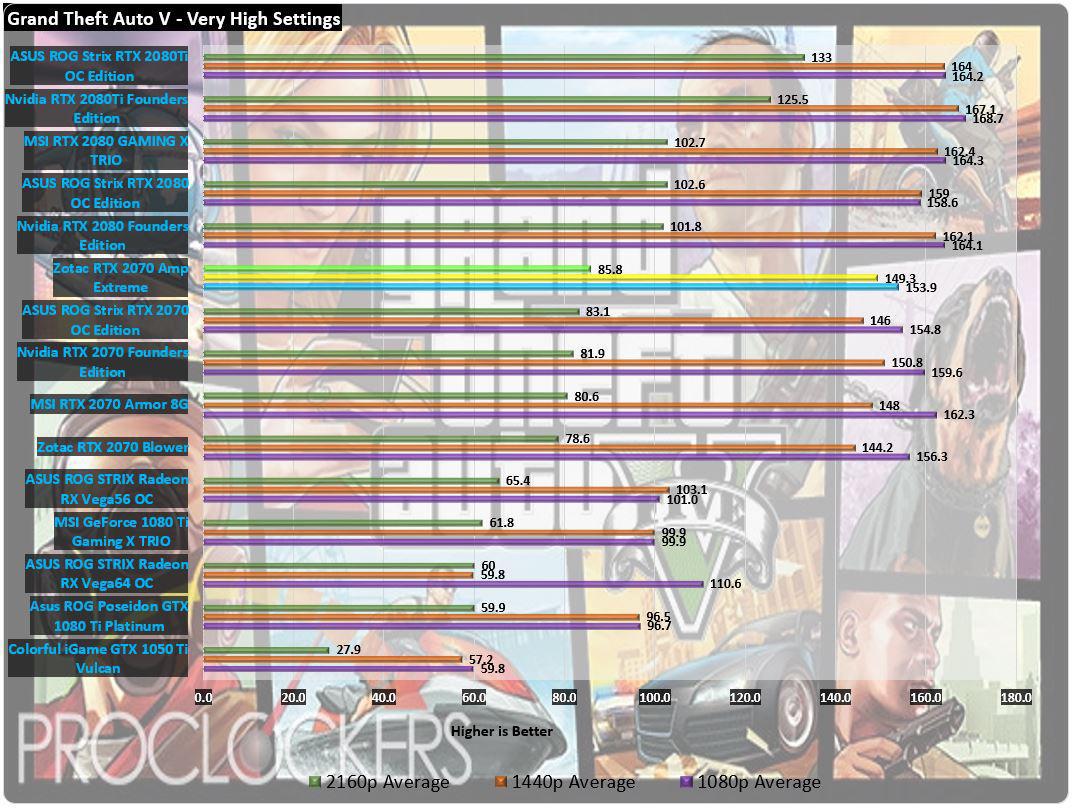 When pitted against the pack, the Amp Extreme card is closing in on the RTX 2080 cards.
Metro: Last Light
"It Is the Year 2034. Beneath the ruins of post-apocalyptic Moscow, in the tunnels of the Metro, the remnants of mankind are besieged by deadly threats from outside – and within. Mutants stalk the catacombs beneath the desolate surface, and hunt amidst the poisoned skies above."
Developed by 4A Games and published by Deepsilver, Metro: Last Light uses the 4A game engine. At its highest settings, the 4A game engine is capable of bringing all but the most extreme gaming systems to their knees.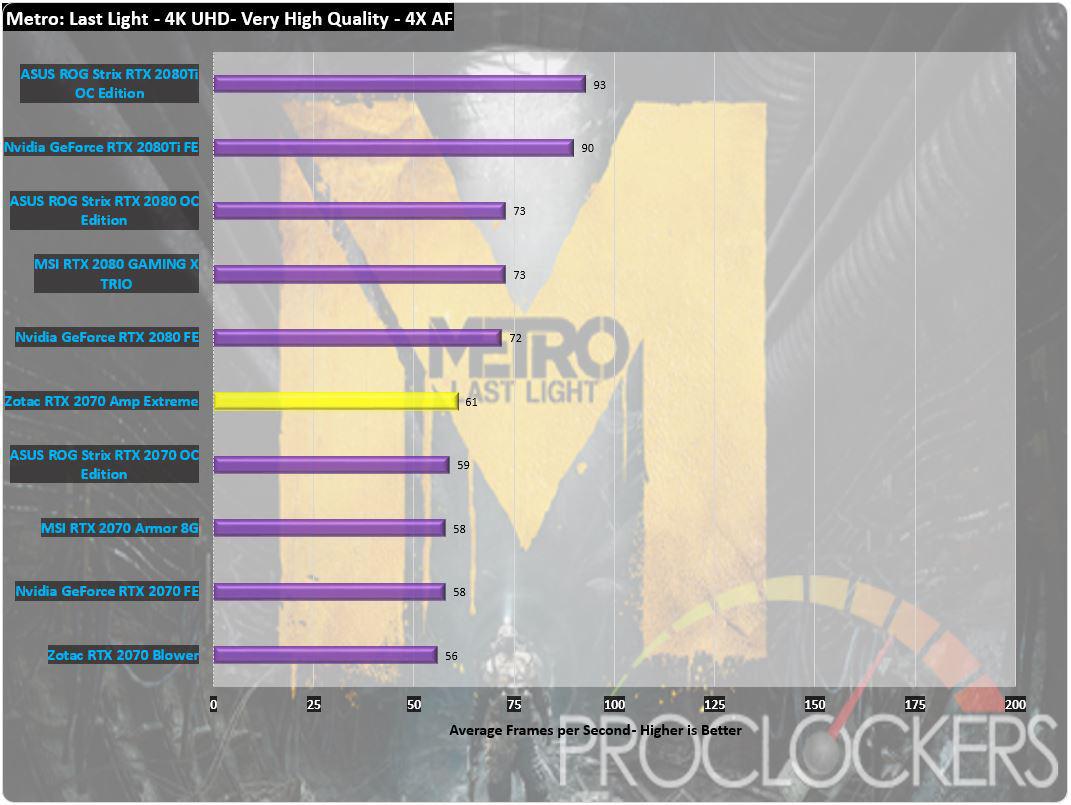 We'll skip the lower end 1080p run and just cut to the chase at 4K and high settings. Even with this demanding load, Zotac's RTX 2070 Amp Extreme manages to stay above 60 FPS.
Overclocking, Power & Temps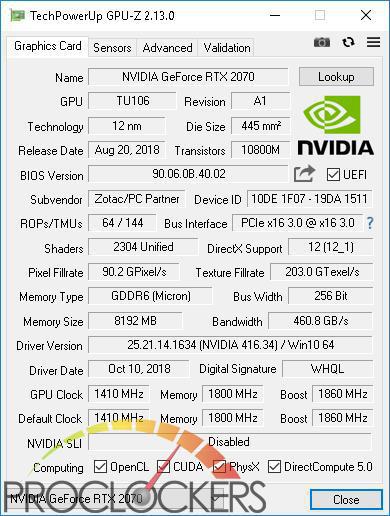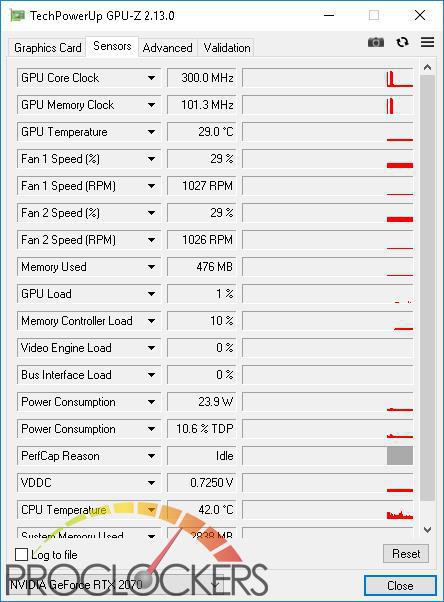 At idle, Zotac's RTX 2070 Amp Extreme idles at 300MHz. The fans sit at around 29% or 1025 RPM which lets the temperature stay under 30C. Total system power draw runs around 105W from the wall.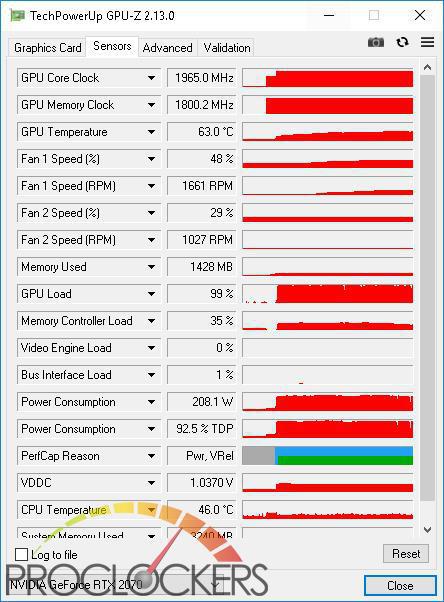 Under load at stock, we see the card spike to as high as 2100MHz but falls to around 1965MHz as it heats up. Power draw at this point hovers around 330W from the wall which gives us about 225W of additional power draw from the GPU alone, right on par with its rated TDP.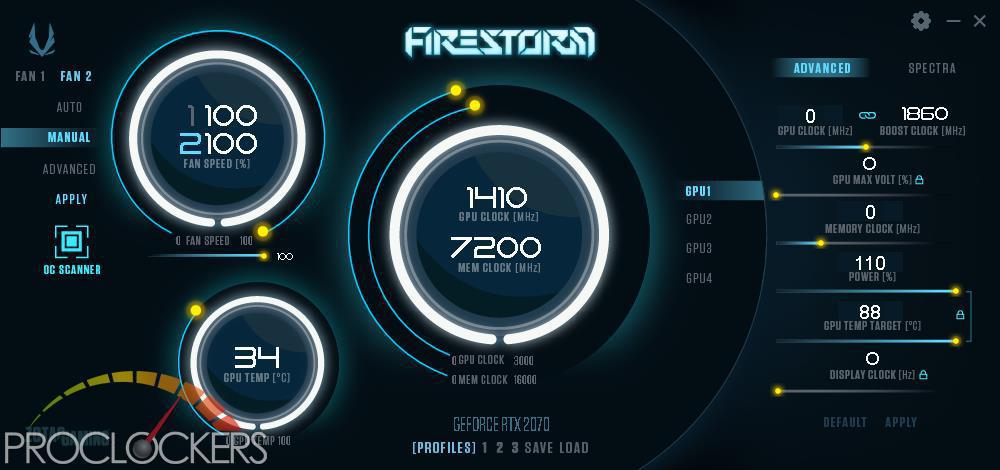 We'll ramp the fan to 100% as well as max out the power limit to 110% next.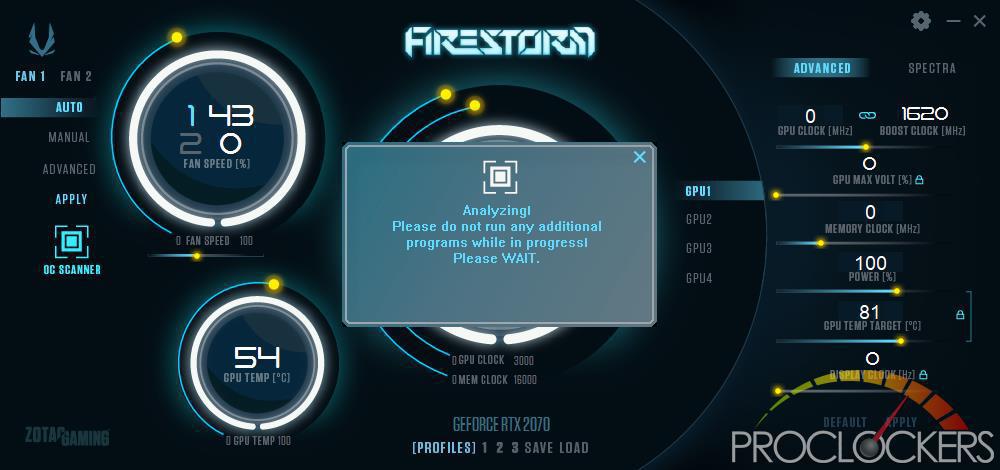 We tried the OC scanner feature first.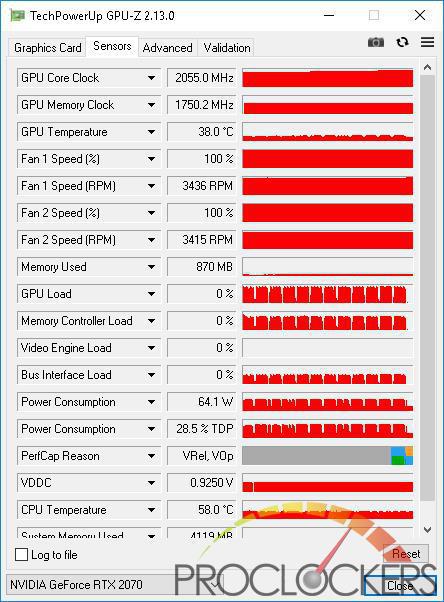 It slowly ramps up to almost 2100MHz before finishing.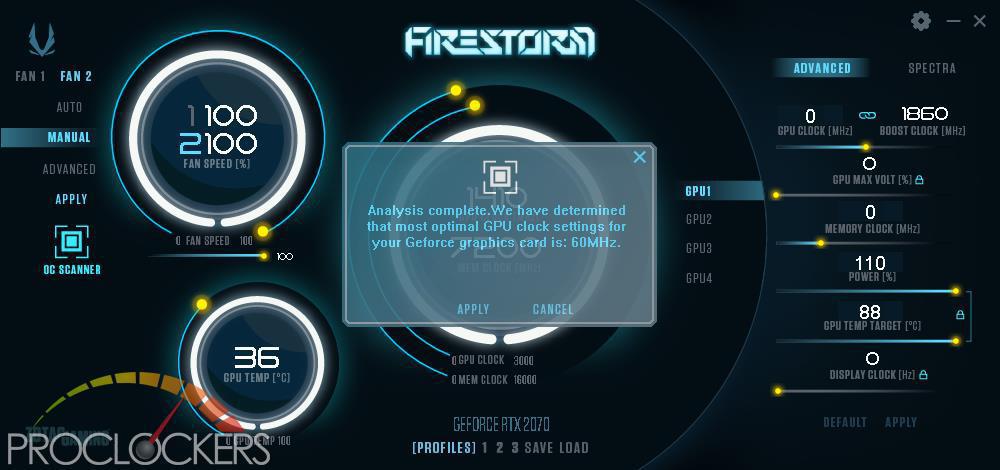 It gives us a boost of 60MHz supposedly.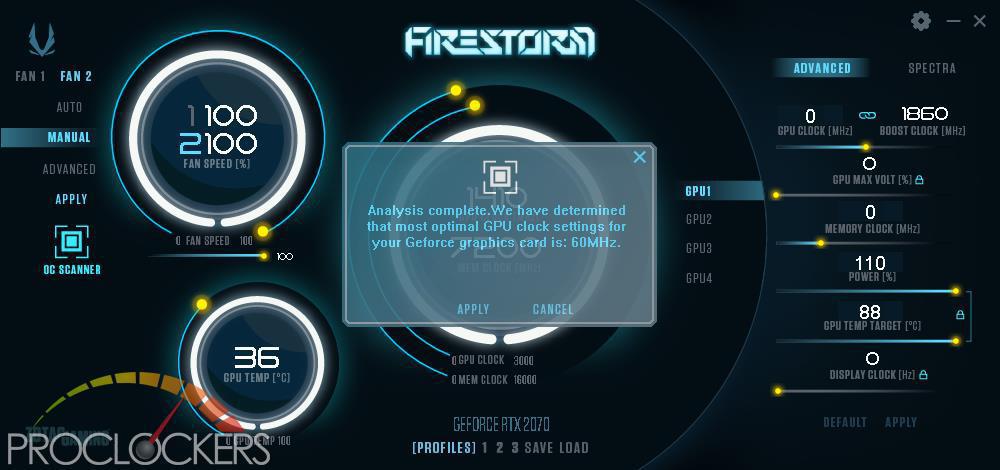 Interestingly, this seems to hurt our scores more than help. Our 'stock' Timespy ran came in at 9245. We'll move on manually from here.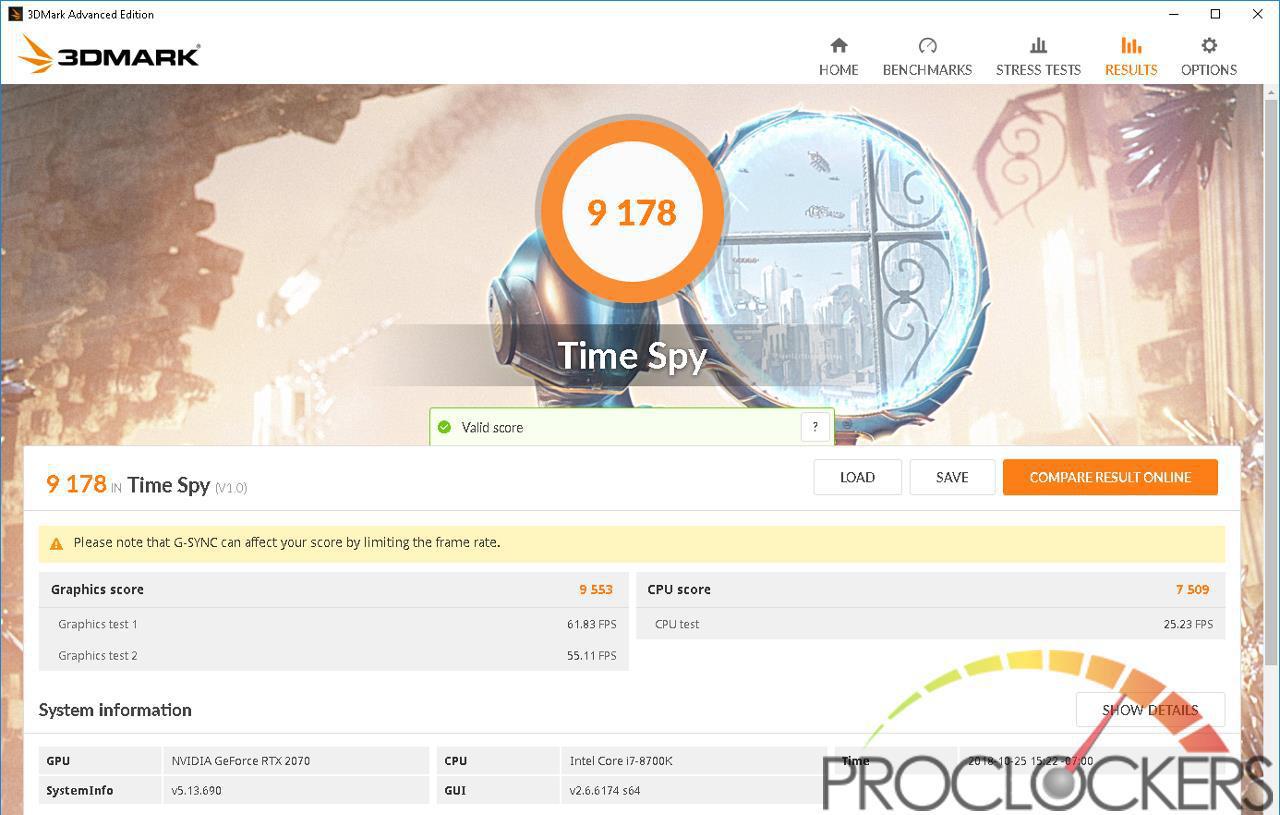 After resetting to defaults and again setting the power target to 110%, we were able to slowly raise the memory speed up to +750MHz for an effective speed of just over 15.5 GHz. This makes our score jump pretty nicely.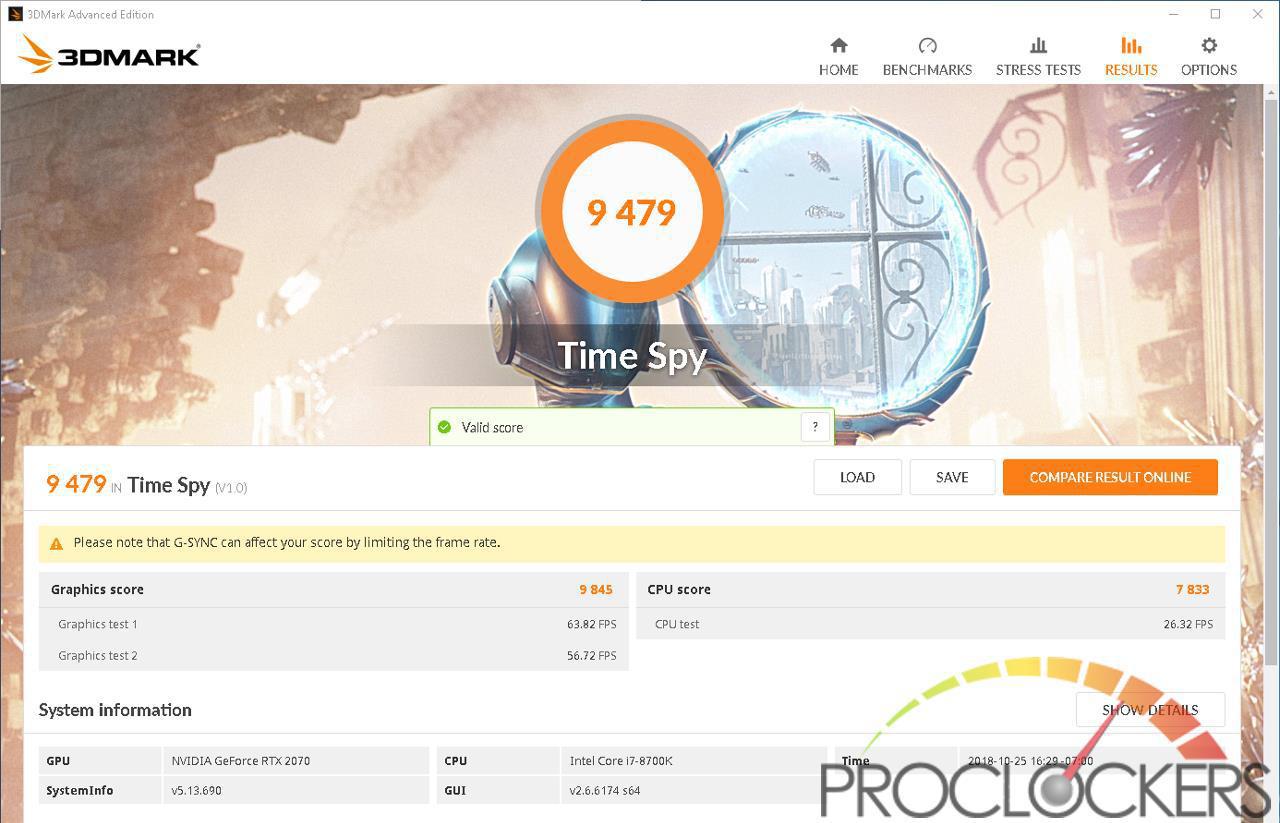 We push the GPU core speed to +40 MHz with the memory still at +750 MHz and get nearly 9700 points out of Timespy, 'only' a 5% increase but the Amp Extreme starts out well ahead of all of our other RTX 2070 cards.
FLIR Thermal Imaging
We'll start out with a big Thank You to FLIR for sending us the FLIR ONE PRO to assist in this segment of our reviews.
About the FLIR ONE PRO:
The FLIR ONE Pro gives you the power to find invisible problems faster than ever. Combining a higher-resolution thermal sensor able to measure temperatures up to 400°C with powerful measurement tools and report generation capability, the FLIR ONE Pro will work as hard as you do. Its revolutionary VividIR™ image processing lets you see more details and provide your customers with proof that you solved their problem right the first time. The updated design includes the revolutionary OneFit™ adjustable connector to fit your phone, without taking the phone out of its compatible protective case. An improved FLIR ONE app lets you measure multiple temperatures or regions of interest at once and stream to your smartwatch for remote viewing. Whether you're inspecting electrical panels, looking for HVAC problems, or finding water damage, the new FLIR ONE Pro is a tool no serious professional should be without.
THERMAL IMAGING: HOW IT WORKS
Thermal cameras work by converting that heat energy, emitted or reflected by practically everything on earth, into color images. These color images enable anyone to not only see in total darkness and through smoke and haze but to also safely measure temperature without touching a surface. They are sensitive enough to differentiate temperature differences to fractions of a degree.

Want one yourself or want to know more?
(http://www.flir.com/flirone/pro/#models)
Testing environment – approximately 20C/68F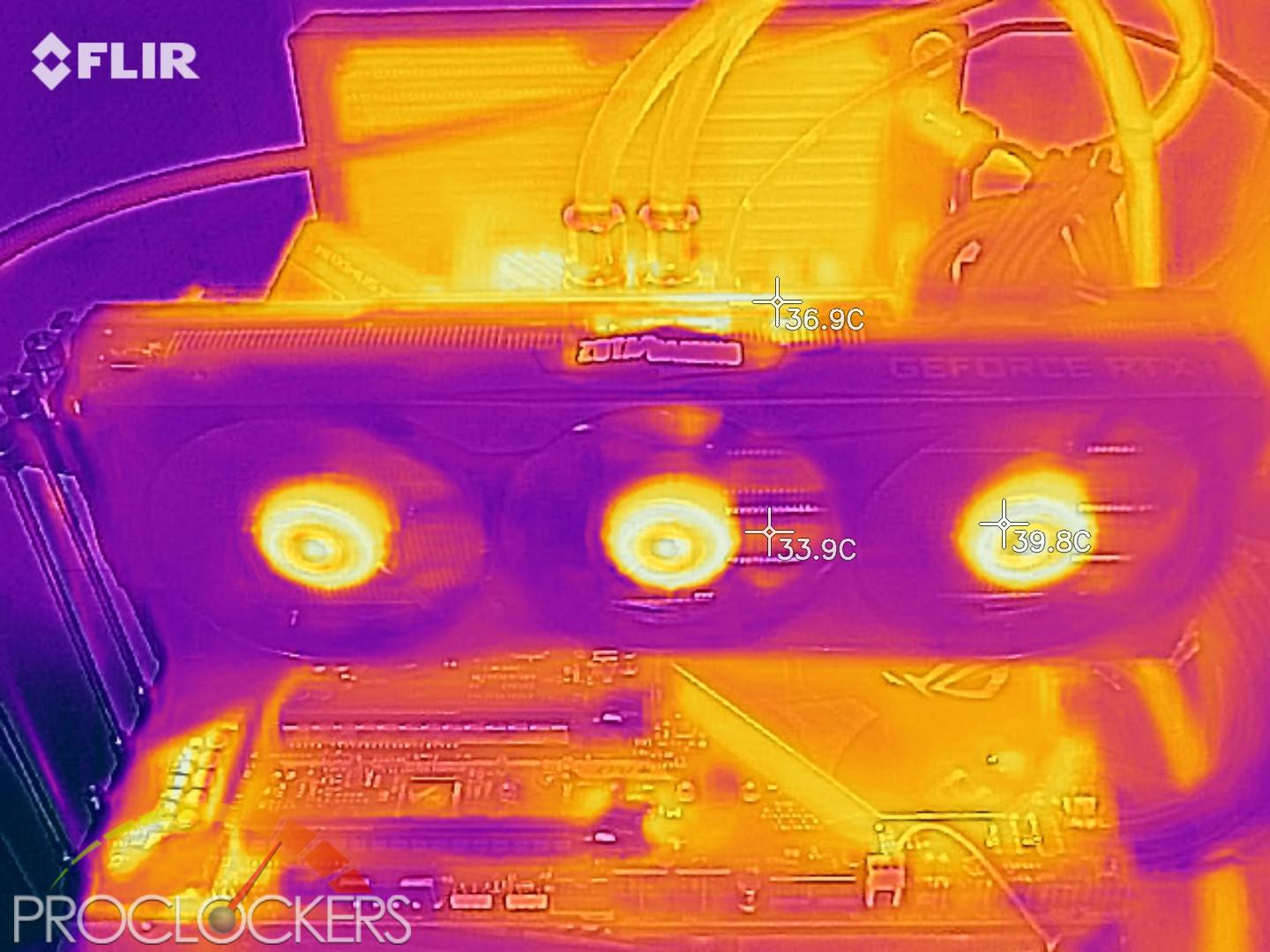 At idle you can see the fans are about the hardest working device in the entire system with the hubs noticeable warmer than the rest of the card.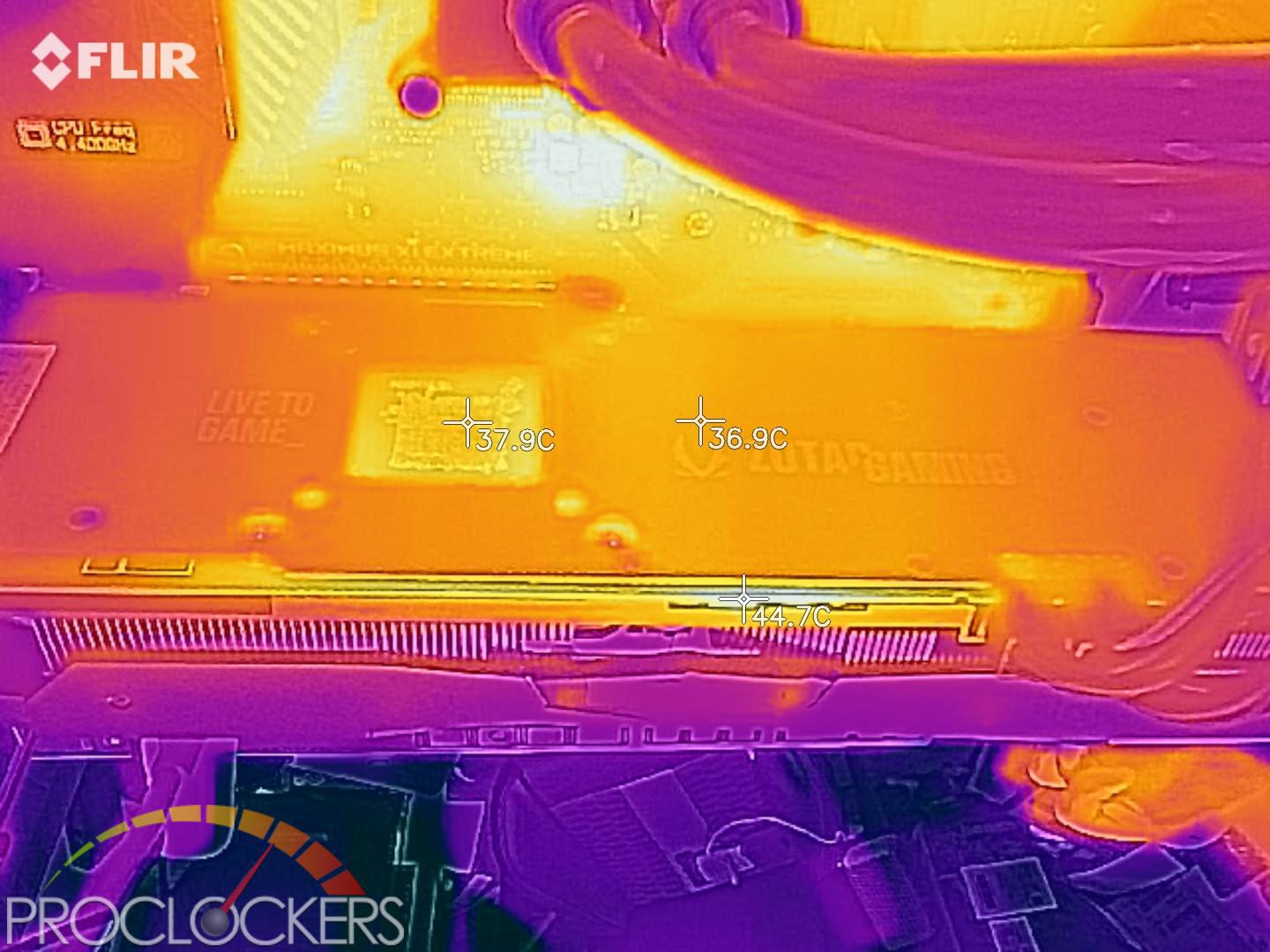 Our open test bench really doesn't have any natural air flow so what little heat there is on the back of the card really isn't dissipated, but most won't consider temps in the mid 30C range much to even think twice about.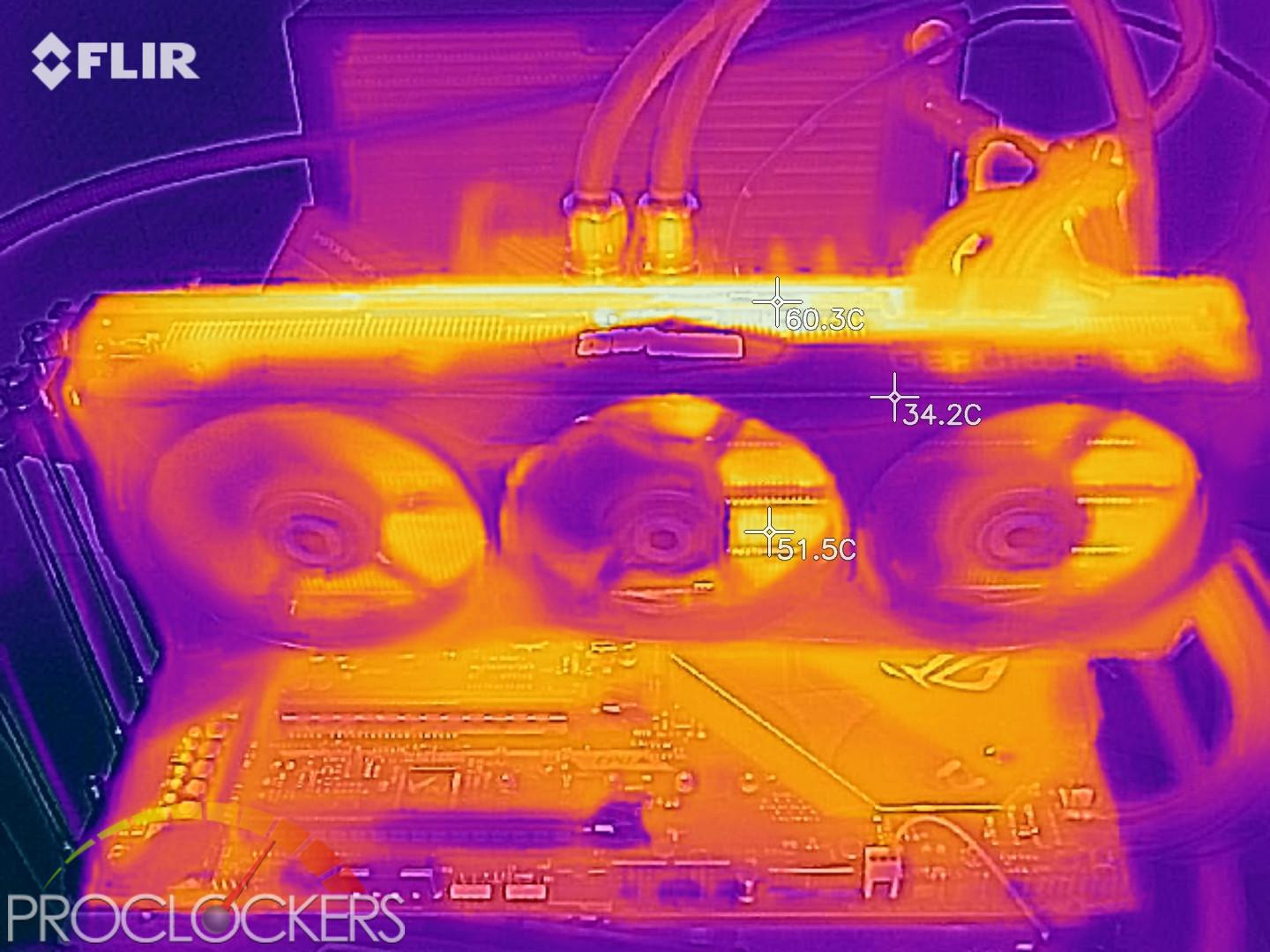 Zotac's triple fan cooler doesn't have much of an issue keeping the card cool under full load. The heatsink itself barely gets to 60C in the warmest spot with most of it averaging around 50-52C. The actual GPU die itself reports a peak temp of 64C to software utilities while stabilizing at around 1965MHz.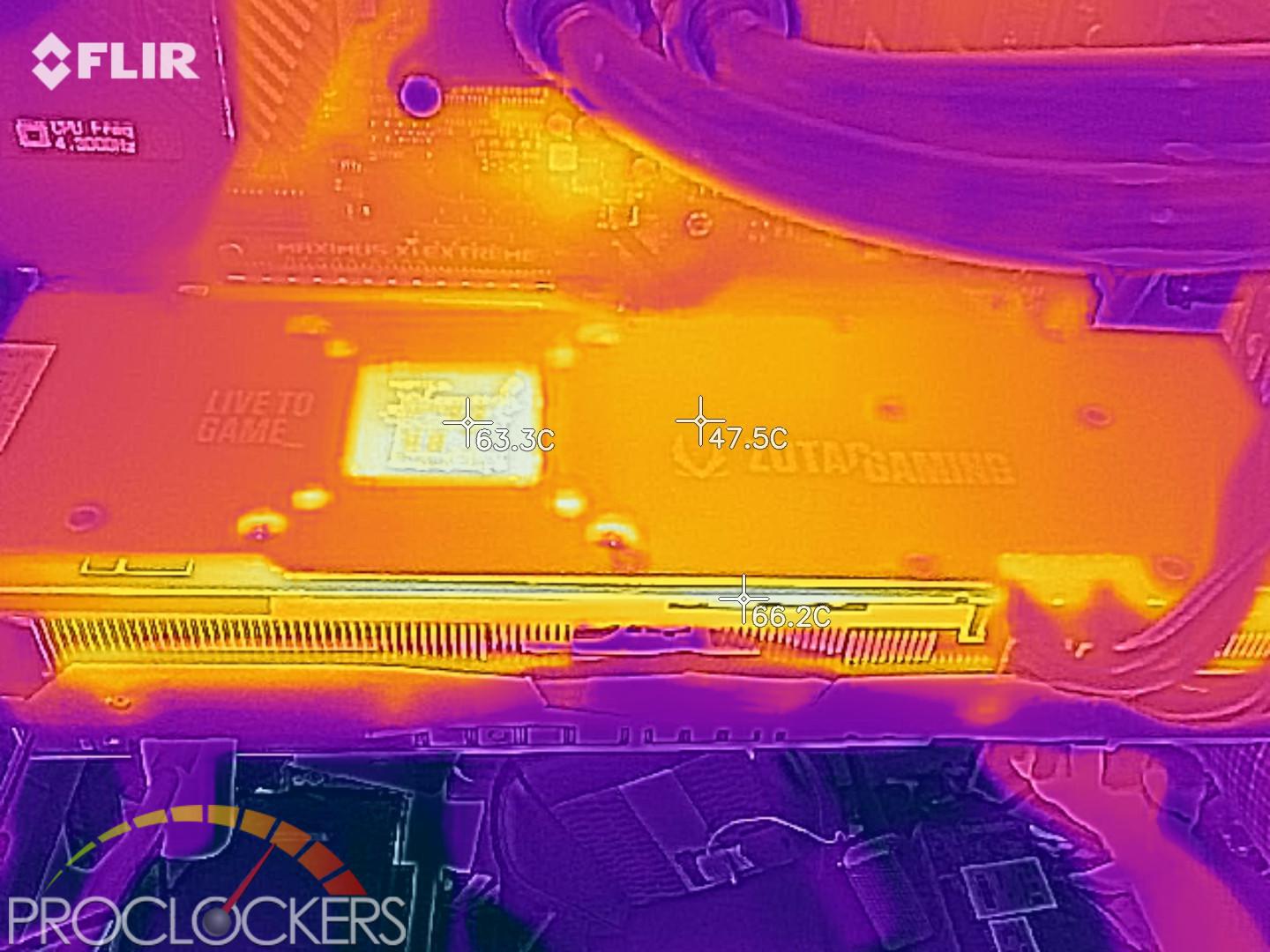 You can see the back of the card around the GPU die gets to a similar temp as reported in software while the back plate itself ends up about 15C cooler thanks to not being used to dissipate heat.
Final Thoughts & Conclusion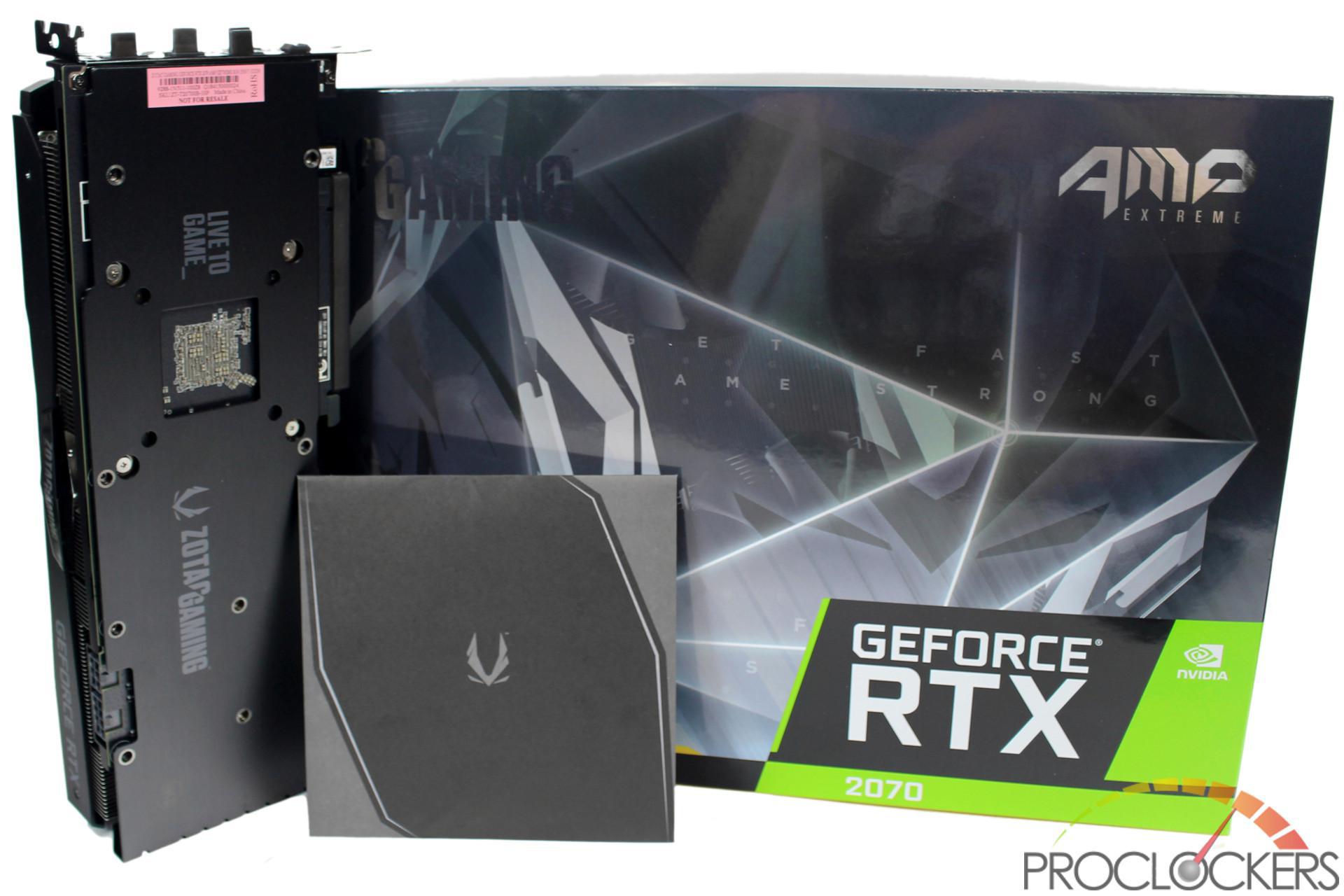 Zotac has never been shy about pushing the boundaries with its Amp family of cards, and the RTX 2070 Amp Extreme is no exception. Performance is off the charts for an RTX 2070, so much so we would wonder if someone made a mistake and stuffed some unannounced RTX 2070Ti chip in here if we hadn't ripped it apart and see the die ourselves. In fact, performance out of the box is so high that the Amp Extreme is fighting a little outside of its weight class and taking on RTX 2080 cards more so than RTX 2070's.

In a world seeming overrun with RGB-everything, we are kind of glad Zotac chose to limit the bling here to just the Spectra enabled logo. While that's a bit of a subjective opinion, it does make the Amp Extreme a bit of a 'sleeper' in comparison to many cards on the market that are all bark and no bite. Those with smaller systems will probably appreciate the narrow card pending they can accommodate the 308mm length. The cooler itself works quite well and keeps the card chilly even when overclocked, and doesn't have to try too hard so the fans never ramp up much to make noise.

Epic Job Zotac!

<![CDATA[ */ var zbjs = {"ajaxurl":"https:\/\/gaminggorilla.com\/wp-admin\/admin-ajax.php","md5":"d8e8b24d2fa18d2999e0fddcdd418586","tags":[],"categories":["Hardware"]}; /* ]]>